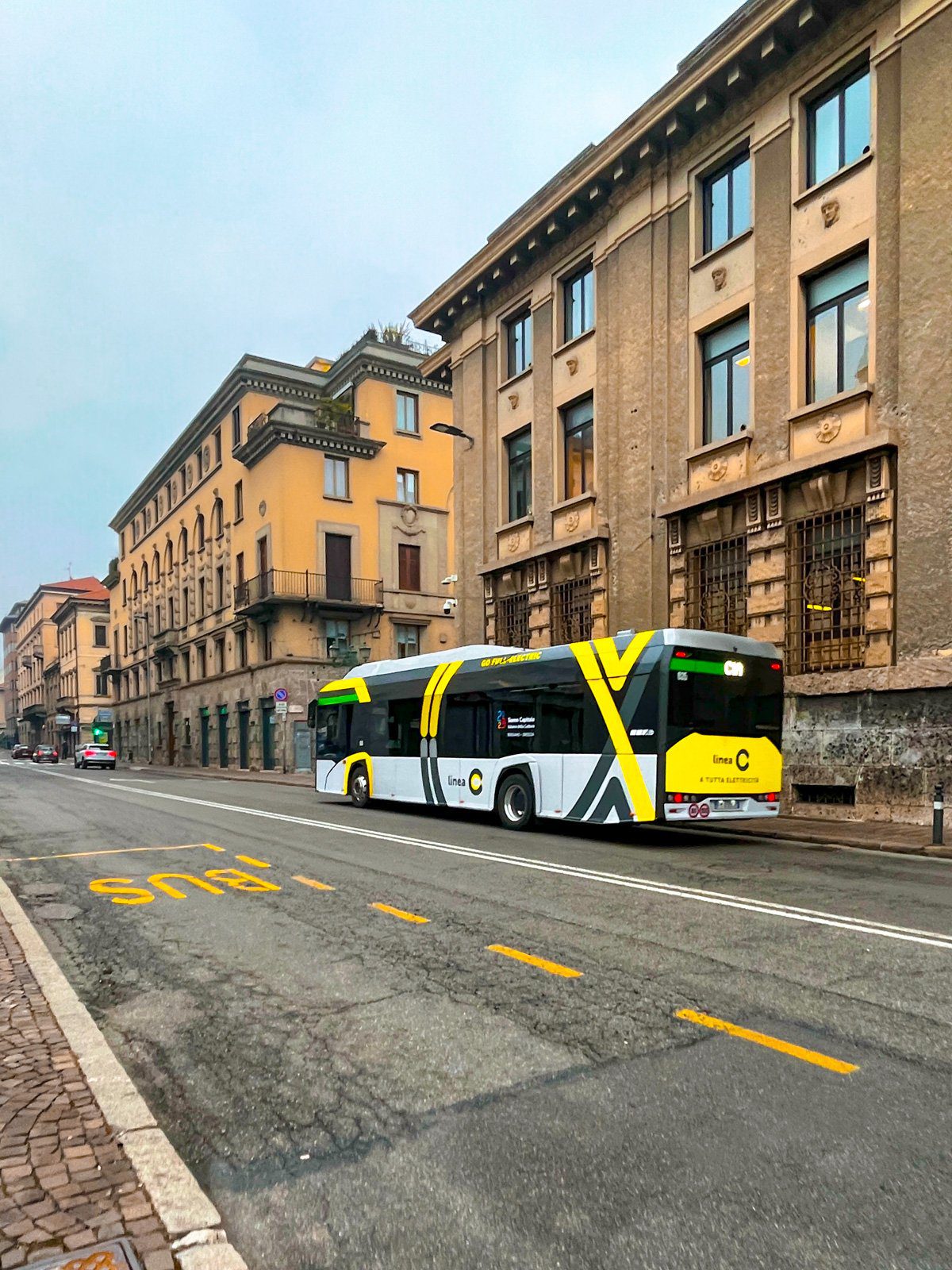 Last Updated on March 19, 2022
Planning a budget-friendly trip across Italy? Or are you a new expat in Italy trying to get around? Buses may be the right mode of transportation for you. But, like traveling or living in any new country, understanding all the ins and outs of how buses in Italy work is overwhelming. So, as a seasoned Italy-traveler and now as a local, I'm sharing everything you must know about getting around by bus in Italy.
There's also one other thing to note about this guide, that goes for pretty much everything you need to know about Italy: Italians like to do things in their own way.
So while I am going to cover everything you need to know about buses in Italy, you should also know that details will vary from city to city and region to region.
The majority of what I will talk about should apply everywhere, and I will reference specific cases where they don't (for example, details that vary between city buses and regional buses in general.) But I recommend taking in all this info, heading to the bus website in the area you plan to travel or move to, and take note of what particular differences they might operate with.
If you have questions about a specific bus company, city, or region, write them in a comment so I can give you a detailed and relevant answer!
For now I will do my best to comprehensively cover Italy's bus systems!
Some of these links are affiliate links. This means if you make a purchase through that link, I receive a small commission at no extra cost to you. Read my full disclosure!
Must-Know Italian Words Related to Bus Travel
Buses are not the most common transportation choice of tourists (traveling by train in Italy is much more popular), so if you are reading this post to prepare for an upcoming trip, you'll want to note these Italian words you may see. As a new expat, they'll help you navigate the bus system the first few times.
Don't worry too much though! You will find most labels and signs have an English translation, but this list will also be helpful if you have to ask for directions and information or while buying your ticket.
Autobus or Pullman – Bus
Stazione degli autobus – Bus station
Linea – Bus line/route
Orari – Bus schedule
Posto – Seat
Abbonamento – Bus pass (mensile = monthly, annuale = yearly)
Biglietto – Ticket
Zona – Zone

This refers to the routes buses take. How many zones your route travels through affects your ticket. In essence, if you have to travel longer through more zones, the ticket costs more. This usually applies to city bus routes (but not all cities, so check with the city you will be traveling in or moving to!)

Corsa/Corse – Ride

When you buy your ticket, you may want to buy more than one at a time. For example, you can ask for "un biglietto 3 zone, 10 corse". This means your route covers three zones and that you are buying a ticket that is valid for 10 rides.

Timbrare il biglietto – Validate your ticket

This is an important phrase to know when planning to take any public transportation in Italy. Scroll to the section "on the bus" to know exactly how to validate your ticket to avoid a fine.

Fermata – Bus stop
Fermata Prenotata – Stop requested

You'll see this sign light up on the bus if someone has requested a stop.

Capolinea – First and last stop
Uscita/Entrata – Exit/Entrance
---
Types of Buses in Italy
Since this post is all about buses in Italy, I couldn't leave anything out! Throughout this guide, you'll find all the information is specific to the different kinds of buses in Italy, so you know exactly how to get around on each one.
City Buses
Italian cities are complete with a robust transportation system, particularly in the north of Italy. Buses are frequent and cover many different routes.
City-specific companies operate city buses. For example, I live in Bergamo and the bus company is ATB – Azienda Trasporti Bergamo. In Milan, it's ATM – Azienda Trasporti Milanesi.
Regional Buses
Italy is made up of 20 regions and within those regions are provinces. Regional buses connect you to smaller towns and cities within the province and region, so they cover further distances.
These buses typically don't have as many stops along their route as city buses. Arriva Italia and Bustalia are two of the many regional bus companies – jump around their sites to understand better what regional networks are like.
Although buses aren't the go-to transportation for visiting tourists, regional buses can better connect you to hidden gems and areas off-the-beaten-path where trains don't stop!
Third-Party Buses
Here's the catch: there is no national bus line in Italy. You cannot get from one region to another by bus, unless it is operated by a third-party.
Third-party bus companies that operate in Italy are Flixbus and those that cover airport transfers.
Flixbus is a super affordable way to travel around Italy. Bus travel isn't usually preferred since it takes so much more time than train travel, and it's less flexible than renting a car and driving in Italy. But for budget travelers with a lot of time, it is definitely the cheapest way to get around.
There are also tour company buses that you can book for day excursions, usually popular routes (like Florence to Cinque Terre).
Good to know: If you plan on traveling to Italy in 2022, current rules are in place on buses regarding Covid-19 (the rules may vary by company or region.) In most areas, the only face masks allowed on board are KN95/FFP2 masks (and you must always keep your mask on the bus). Also in most areas, you need the equivalent of a Green Pass "Rafforzato", meaning you've received you've received two doses of vaccine or recently healed from the sickness, to ride the bus.
---
Understanding the Bus Timetables in Italy
Know that understanding the bus timetables in Italy is super confusing at the beginning. As a new ex-pat, you will have some time to adjust and even make a few mistakes to learn from along the way. As a tourist, I recommend you actually go to the bus station or headquarters early (maybe even the day before you plan to use it) to make sure you have the right route and the right ticket.
Regional bus timetables are usually straightforward – they make stops in the main areas of cities and towns, which are usually all listed on the route. The price to take a regional bus will vary based on the distance you are traveling.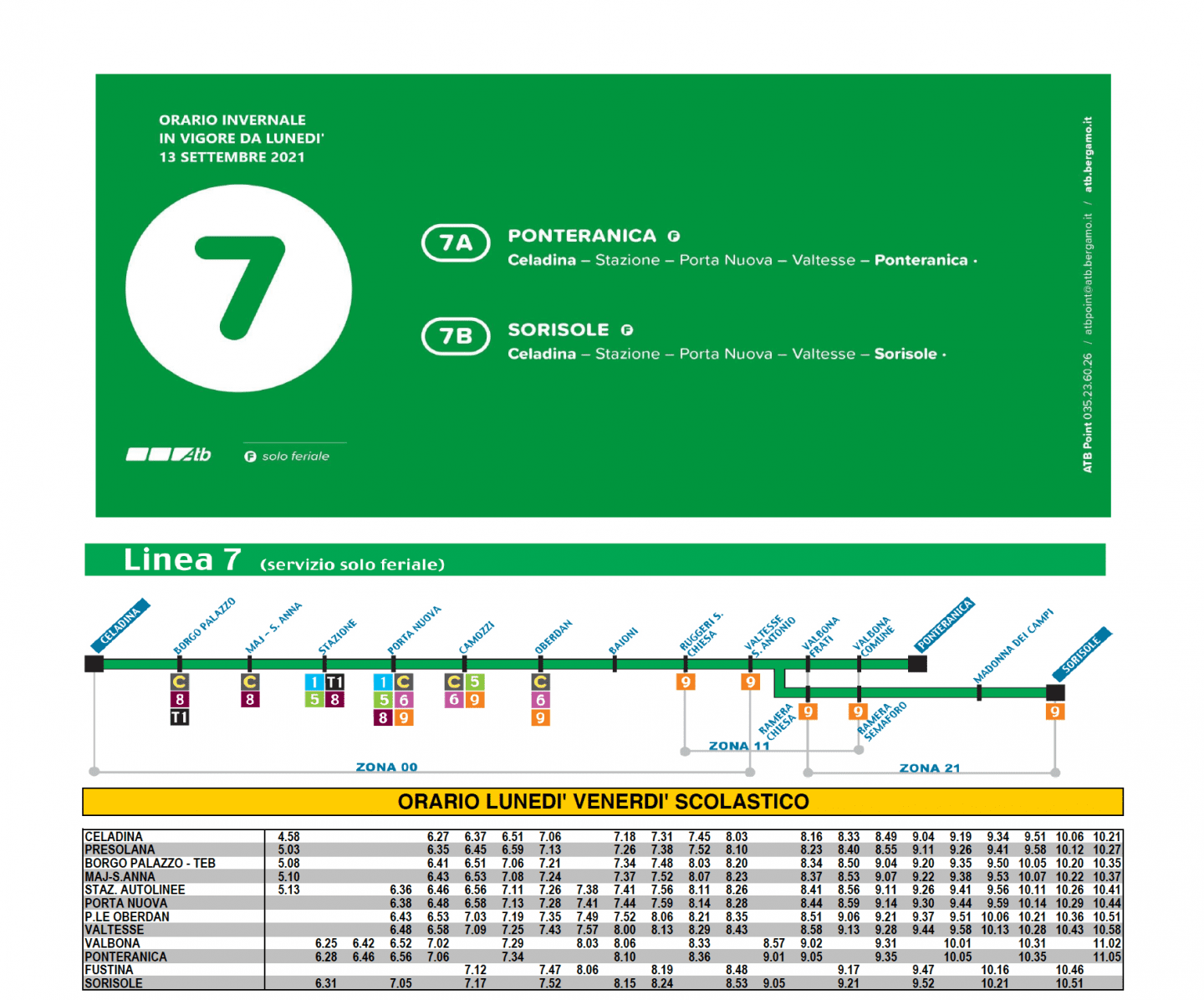 Many different bus lines make up the city bus network. When reading the city bus timetable for your route, keep in mind that they usually make extra stops along the route at bus stops that aren't listed on the timetable.
For some city buses, the bus ticket cost is dependent upon how many "zones" you are traveling through. The more zones you travel through, the higher the price of the ticket. Every city is different though – the beauty (and sometimes pain) of Italy.
This example bus schedule shows you what time the bus arrives along with each stop – your job is to find the bus that includes both your pick up and destination and look at those columns of times only!
Since every area is different, I won't elaborate too much on reading this specific example. Luckily, lots of city bus websites now have search engines to help you calculate your ride and help you get where you are going!
---
How to Buy Bus Tickets in Italy
Types of Tickets
When you go to buy your ticket (biglietto, carnet) may depend on the type of ticket you need.
Abbonamento
The "abbonamento" or pass, which can be monthly or annual, best serves the interest of people living in Italy and using buses more than 10 times a month.
The bus passes carry two advantages if you are traveling frequently with the bus: firstly, you don't have to worry about always buying a ticket , and secondly, they are cheaper compared to the cost of one-way tickets added up. The exact options and steps to applying may vary from city to region and the bus operating companies.
On city buses, the price will also vary for these passes depending on how many zones your desired route covers. The longer the route, usually the more zones, and therefore the slight bumps in price.
You usually have to purchase these passes from the bus company office in your city because they require you bring identification to create a new bus ID card for you.
One-way ticket
One-way tickets are most commonly sold for city buses. They have a period of time that they are valid for use, usually 90 minutes, so within the 90 minutes from validating your ticket on the bus, you can use that ticket for as many rides as you want.
However, if it's after 90 minutes (or whatever time period your ticket says) from the ticket's validation, you'll need a new ticket to take the bus.
Read on to find out why validating your ticket is so important!
Roundtrip ticket
Regional buses usually sell roundtrip tickets and it's pretty straightforward – keep your ticket for the return trip!
Carnet
A "carnet" is a collection of tickets you buy at one time. For example, if you have to take the bus back and forth for 5 days, you would want to buy a "carnet 10 corse" and then you'd specify how many zones your route covers so the seller knows what ticket to give you.
Every time you get on the bus, you validate that ticket and the machine will punch out one of the numbers to show you have used that ride.
This can be a ticket option for tourists, especially those staying a bit longer in certain areas, but I still suggest comparing the price with the tourist tickets (details below). The tourist tickets allow for unlimited rides in a specific time period, whereas the carnet will allow you however many rides you purchase.
Tourist Tickets (24 hour and 72 hour)
Lots of cities' bus companies will offer a friendly price for tourists. These tickets usually have a validity from 24 to 72 hours, so tourists can have unlimited rides within that time period.
Again, the length of the routes usually affect the price of these tickets. The further you go, the higher the price.
Good to know: Depending on the bus company, you may have to pay extra to bring suitcases on board. Consult the specific area in Italy you are traveling in to find out if bringing luggage on the bus is an extra charge.
Where to Buy
Tabaccheria
Shops called "tabaccheria", which are small convenience stores that also sell stamps, cigarettes, and newspapers, sell bus tickets. You will find them scattered around town and marked with a big "T" sign outside.
To buy a ticket, you have to ask the clerk at the counter exactly what kind of ticket you would like. They should also know enough about the bus system to help you if you're not sure what ticket you need.
Good to know: When buying tickets at the "tabaccheria" shops, you will likely only be allowed to pay in cash.
Bus Company Touchpoints
Bus companies in cities and regions will have a headquarters. The regional buses usually have their offices/ticket window at the main bus station, which is typically near the train station.
It is typically only at the headquarters that you can purchase a monthly or yearly pass, renew your pass, or handle any other customer service-related problems. They also sell all the other types of tickets.
On The Bus
On city buses, there are several machines where you can pay for your ticket. Some regional bus companies may also let you buy your ticket in cash while getting on the bus.
There is a machine that takes cash (remember the currency is the euro in Italy), but note that these machines don't give change. The tickets printed on the bus are already validated.
There is also a machine that allows you to buy your ticket with debit or credit card. To round it out, some buses are also equipped with contactless pay machines where you just have to tap your card and you are good to go.
Apps
Most bus companies also have apps these days through which you can purchase your ticket. Because this ticket doesn't get stamped by the validation machine on the bus, you are fine with just this ticket available on your mobile device.
---
Bus Stops in Italy
City Bus Stops
What do bus stops in cities look like in Italy? Italy is well-connected by public transportation, so you will see lots of buses all the time in cities, as well as pass by many bus stops.
Bus stops are usually a small covered area with a bench and next to a tall pole that is labeled "fermata", or stop in Italian. The pole will also have a sign displaying information for that bus stop – what route is passing at that bus stop, which direction it is going, if there is an airport bus, and may also have the hours of the bus schedules printed (if you're not at a super busy bus stop with many lines.)
Good to know: You will use different bus stops to go and to come back on the same route since the direction of the route changes. The sign attached to the pole will tell you what bus route stops at that stop and in what direction the bus is going. You will always get on and off the bus from the right-hand side, so whatever side of the street the bus stop is on, you can figure out easily if it's the route to go towards your destination or to return.
Bus Stations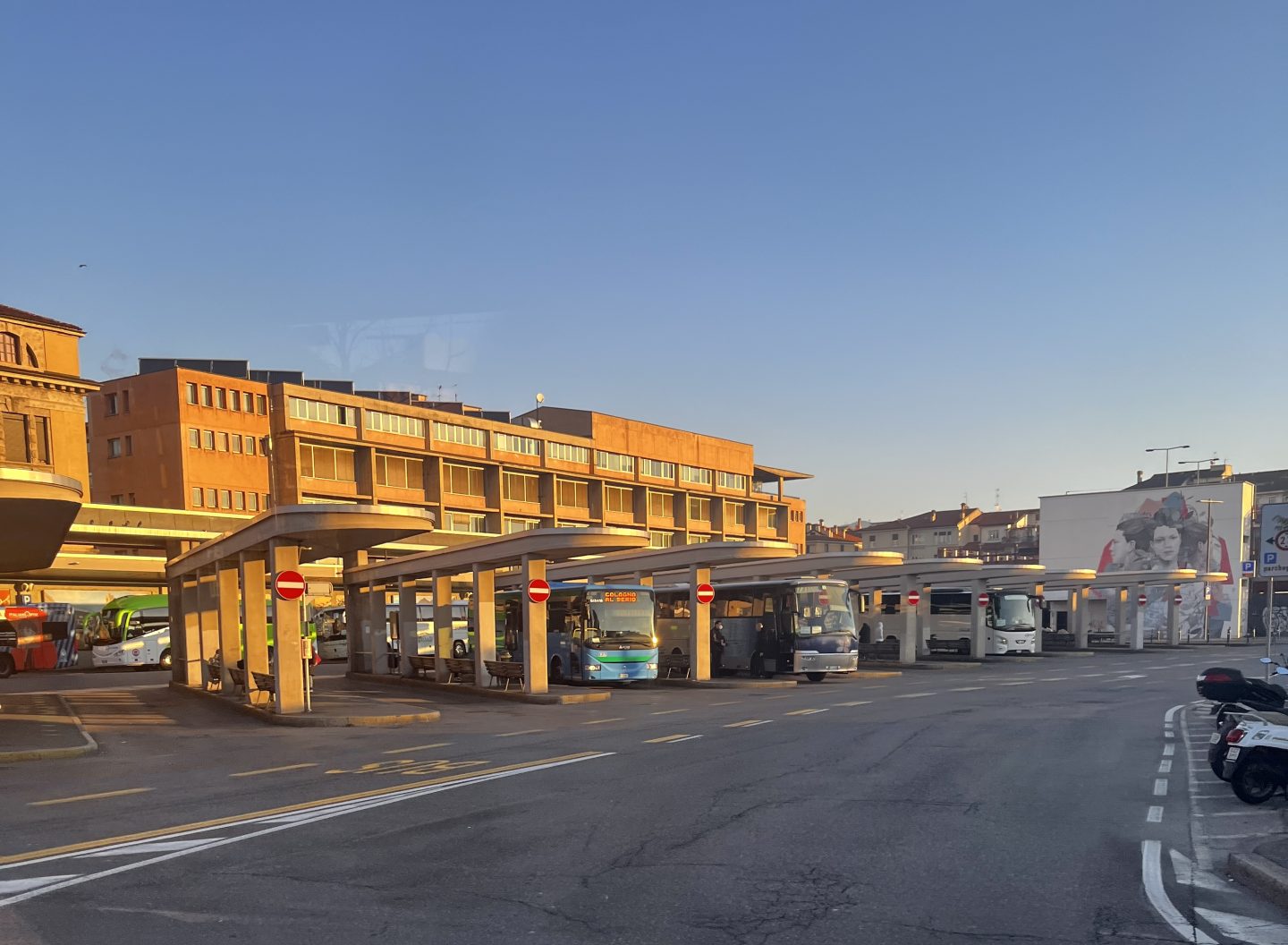 Bus stations are typically where regional buses will stop. They are bus hubs, usually also close to train or tram stations in main cities.
The layout of bus stations in Italy vary, but you will usually find that there is a ticket office, a departure board, and numbered platforms where buses pull in and out of, picking up and dropping off passengers. The departure board will let you know what number platform your bus is located at and advise you of any delays/changes to the buses.
Third-Party Bus Locations
If you book a bus with a third-party company, for airport transfer or traveling between regions, the company should let you know where the stop is once you purchase your ticket.
---
How to Use the Bus in Italy
Once you've done all the pre-trip prep, it's time to "salire su" (get on) the bus! From here, it's pretty simple – but I remember how nerve-wracking it was for me the first time I was navigating the bus system!
What to Expect on the Bus
First, let me give you a quick overview of what the bus is like. There are typically three entrances on city buses (one at the front, middle, and back), but regional buses can vary. When I took a regional bus in Tuscany, it was like a coach bus and had one entrance at the front. Other regional/provincial buses are super long and have more then three entrances.
Seats face both the front and back of the bus – if you get motion sickness easily, try to get a seat facing the front. There are also many poles and overhead handrails to hang onto.
In the middle of the bus is an open area dedicated to those with a stroller or wheelchair. There is also signage for handicapped/elderly seating next to designated seats. If you sit in one of those seats, it's proper bus etiquette to give it up to someone who is handicapped or elderly.
Buses in Italy are accessible for wheelchairs, but I
Provincial buses resemble this style and regional buses may be similar to this or they may be more in the style of a coach bus, like I mentioned before, with cushioned seating all facing the front of the bus.
As a rule-of-thumb, you enter from the front or back and exit out the middle. Buses also thoroughly mark emergency exits.
Good to know: You'll want to grab a handrail or sit down quickly – bus drivers do not wait to get underway!
How to Validate Your Ticket
In Italy, on nearly all public transportation, you'll need to do something called "timbrare il biglietto", or validate your ticket.
There will be a small box on the bus (one at the front and back) where you must insert your ticket. When you hear a loud click sound, you can withdraw your ticket. The machine stamps (or punches if you have a carnet) your ticket with a time – you have until this time to use your ticket getting on and off the bus as many times as you want.
If you have a bus pass, you don't have to do any type of validation.
The reason you must validate your ticket is because you could incur a heavy fine for not doing so. Buses can be randomly checked at any time, like other public transportation in Italy, to verify you have a valid ticket for your ride. If you don't stamp the ticket, authorities don't know if you are using that ticket beyond its monetary value.
How to Request a Stop
You're on the bus, you've validated your ticket, now all you have to do is worry about getting off at your destination!
On city and provincial buses, you just have to hit a button, which are conveniently located throughout the bus. Once you hit it, there should be a sign at the front or middle of the bus that flashes or lights up saying "fermata prenotata", meaning stop requested. A "ding" sounds to confirm that your stop was requested.
Once the button is hit once, you don't have to hit it again, even if someone else hit the button for the same stop.
On regional buses, it's typical that the bus will stop at every stop listed on the route. You shouldn't have to reserve a stop – just pay attention for when you're approaching your destination town.
---
Italy Bus Travel Tips
You'll need to fill out paperwork to apply for a monthly or annual bus pass. You'll have to provide information from your ID (or permit to stay, "permesso di soggiorno") and about the bus route you are taking, so they can give you the appropriate pass.
Arrive at bus stops 5 minutes before the arrival time on the timetable. This is the rule-of-thumb in Italy. The bus has the right to pass and continue on arriving within that margin of time.
Subscribe to alerts on strikes and service changes. Check alerts on the bus company's website for news like national strikes that result in fewer buses passing (or some not at all within a specific time period.) Also, around the holidays, bus lines will change their services.
Students take public buses to get to school. There are no separate school buses in Italy! If you can control when you get on the bus, try to avoid around school hours – it will be much fuller. Buses also base their schedules on the school week and school holidays.
Don't get spooked by how bus drivers drive. Being an expat for almost a year now, I have to say I still have not gotten used to the chaotic driving in Italy. That being said, drivers know what they're doing. It's incredibly impressive seeing them navigate the narrow streets and make the tightest turns (but I do wish they would go slower sometimes.)
---
Final Thoughts
The bus system in Italy varies from city to city and region to region. No doubt it will take some getting used to and it will be a quick learning curve for travelers and expats.
But what I love about taking the bus in Italy is the same thing I love about solo travel – the confidence-boosting satisfaction of achieving something on my own. It's an objectively small accomplishment that can make a big difference in your confidence in being independent while traveling or while adjusting to your new life abroad.
Have a question about bus travel in Italy? Leave it in a comment so I can answer it!
Save these tips on Pinterest!
I hope this guide to buses in Italy is super useful in its detail. It may not be the most exciting travel topic, but it is a practical tool for getting around in an unfamiliar country, whether as a new expat or a visiting tourist!
XOXO
Michela