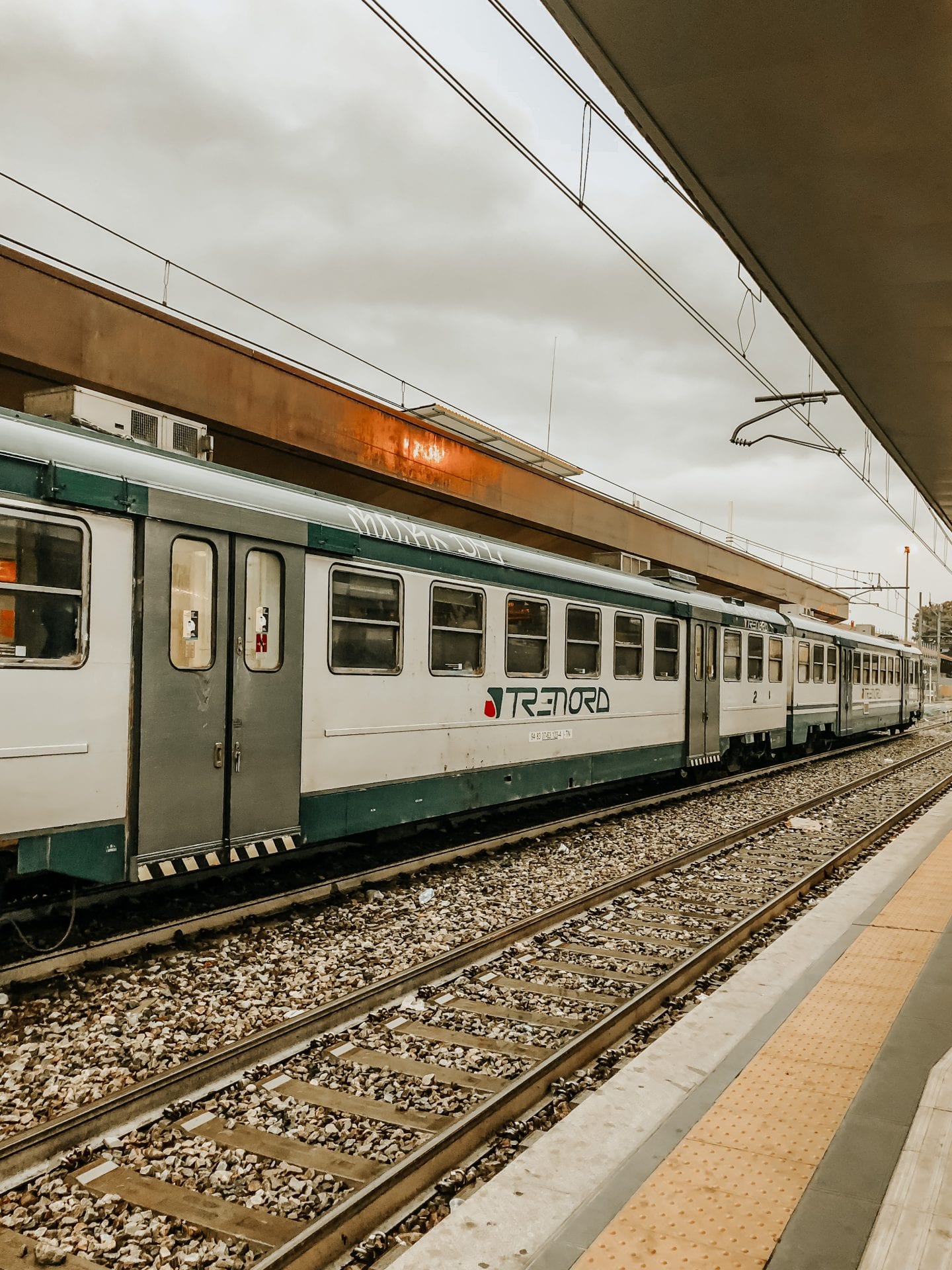 Last Updated on February 23, 2022
One reason why everyone is drawn to Italy is not only because of its many beautiful landscapes but because of how easy it is to get to them. Italy's train system connects almost every place you'd want to visit, from tiny villages to the biggest and most famous cities. However, it can be confusing and difficult to plan Italy train travel if you've never done it before. After three years of traveling all over Italy by train, I'm here to walk you through what is an ultimate guide to Italy train travel, from booking your ticket to taking your seat.
If you're planning a trip to Italy, be sure to check out my Ultimate Guide to Planning a Trip to Italy, in which I cover a ton of the other topics you're probably thinking about right now for your trip.
Oh, and don't forget your face mask on the train these days! I recommend adjustable, washable, and reusable face masks that are super comfortable and handy.
Some of these links are affiliate links. This means if you make a purchase through that link, I receive a small commission at no extra cost to you. Read my full disclosure!
---
Booking A Train
When booking a train, you have several options. You can buy the ticket ahead of time online, either directly through the train company or through other transportation search engines, which I will mention below.
I prefer to purchase them straight through the train company but either works fine! You will receive an email straight away with an attachment that is your train ticket.
Your train ticket should state where you're traveling to and/or from, what times, and what carriage you are sitting in. There is also a QR code on the ticket that may have to be scanned on the train.
I recommend taking a screenshot of the ticket just in case your email doesn't open on the train if you don't have WiFi or data that's working. Some trains have WiFi, some don't, so it's best to just take a picture ahead of time in case!
Trenitalia
I always go with Trenitalia when I am traveling through Italy. They are the biggest train company in Italy, the other main company being Italo. I choose Trenitalia because I'm familiar with their trains and I love them!
I usually book straight through the Trenitalia website, which is originally in Italian but you can set as English. You can buy both one way and roundtrip tickets!
In your search, you also initially search for the hour that you prefer the train to leave and to come back. I recommend setting the hour parameters as early as possible and as late as possible in case you're unsure what time you'll be traveling. Then you can see all your options for hours and prices!
Omio

If I don't book through Trenitalia, then my favorite resource for transportation options is Omio. If you put your trip in the search including the dates, it will actually tell you three different options of travel – train, bus, and plane.
It will show you if any of the three transportation options are unavailable between your two destinations.
Plus, it displays prices and times from different companies so you can compare more options!
Omio can actually be a great starting point for planning your transportation since it compares different transportation options and companies for your trip!
At the Station
I also mentioned you can book a train at the train station. That's part of what makes train travel so easy in comparison to air travel!
There is usually a ticket counter or a few self-service machines at which you can purchase your ticket. In this case, you will get a printed ticket. This is a good option if you're not certain what time you want to return on your trip.
I've actually bought my tickets round-trip and then discovered I wanted to leave at an earlier time. You have to use the tickets for the correct train, so I had to pay for another ticket in order to leave earlier!
---
What to Expect at Train Stations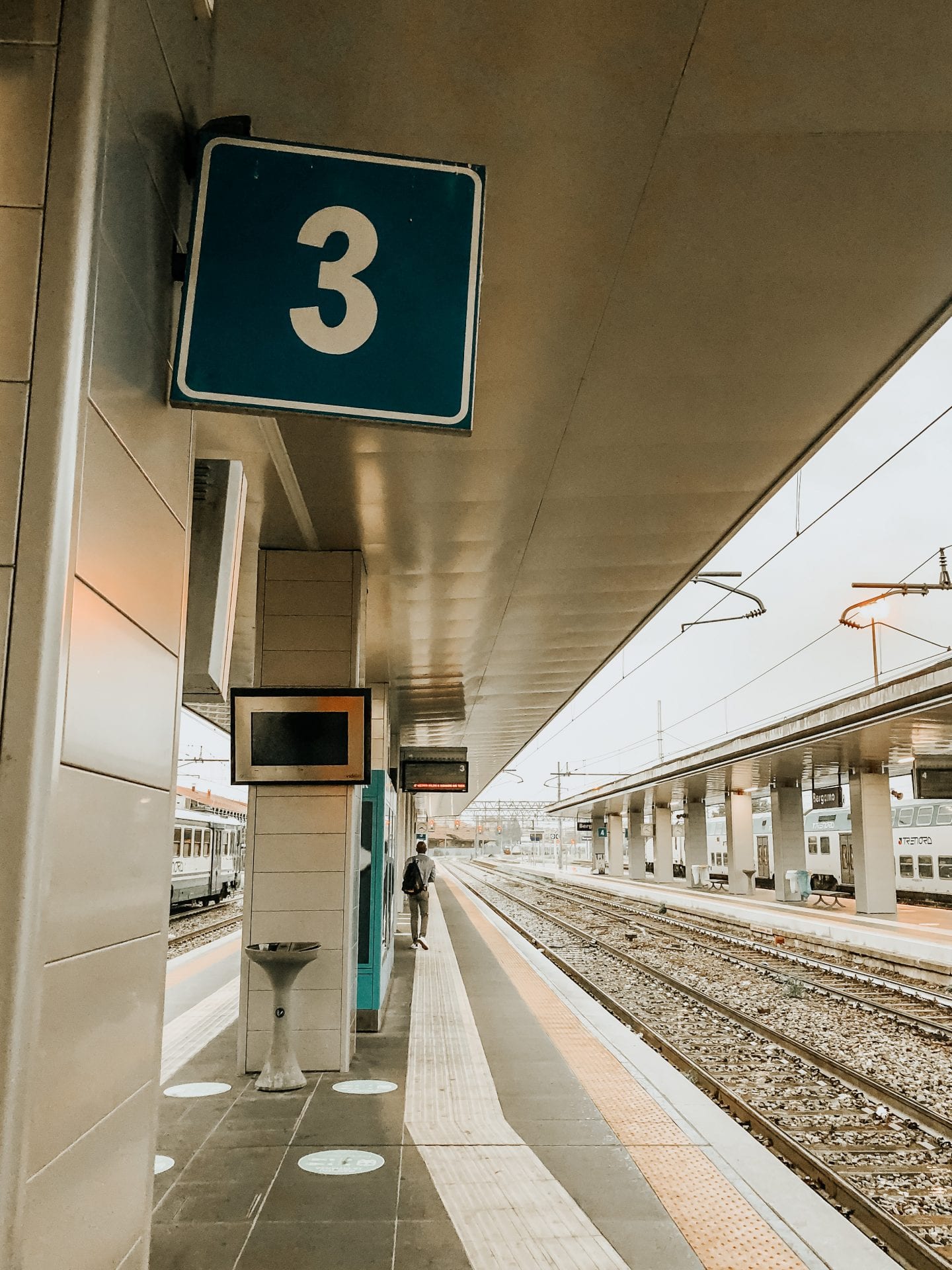 Now if you haven't traveled to Italy before, a train station can be a little confusing. There's a little Italian lingo that will help you out in navigating Italy's train stations.
Important Italian Words To Know
Treno/Treni – Train/Trains
Biglietto – Ticket
Binario – The platform on which the train arrives. In every train station there is a timetable of the train schedule and on it is where you find what "binario" your train is arriving at.
Timbrare il Biglietto – A unique thing to Italian train travel which basically means validating your ticket. I will explain more about this in the Using Your Ticket section below.
Arrivi – Arrivals
Partenze – Departures
Servizi – Toilets! A note about the bathrooms in train stations is that you usually have to pay around 1 euro to use them and it only takes coins.
Carrozza – Carriage. The carriages of the train are numbered and if you are taking a large enough train you will be assigned a seat in a specific carriage!
Controllore – The person that comes to check your ticket on the train.
Timetable
As I mentioned, every station has a screen of the schedule of trains arriving and departing. This is where you will look to find your train!
Pay careful attention here – lots of trains come and go from the same places, like major cities, so it's likely there are several trains that say your destination. Double-check the number of the train you're taking on your ticket with the schedule.
Another thing to be careful about is that sometimes your destination isn't listed on the schedule because the train is continuing on to its final destination and your town is a stop on the way. It can be confusing, like Italy train travel in general, so this is again where you simply have to check the train number that is listed on your ticket!
Shopping & Cafes
At every major train station, such as Venice, Rome, Milan, etc., there are shops and multiple cafes to grab a snack. You can take food on the train!
Plus if you're on a larger train, there is usually a dining cart if you would like to buy something.
---
What to Expect on the Train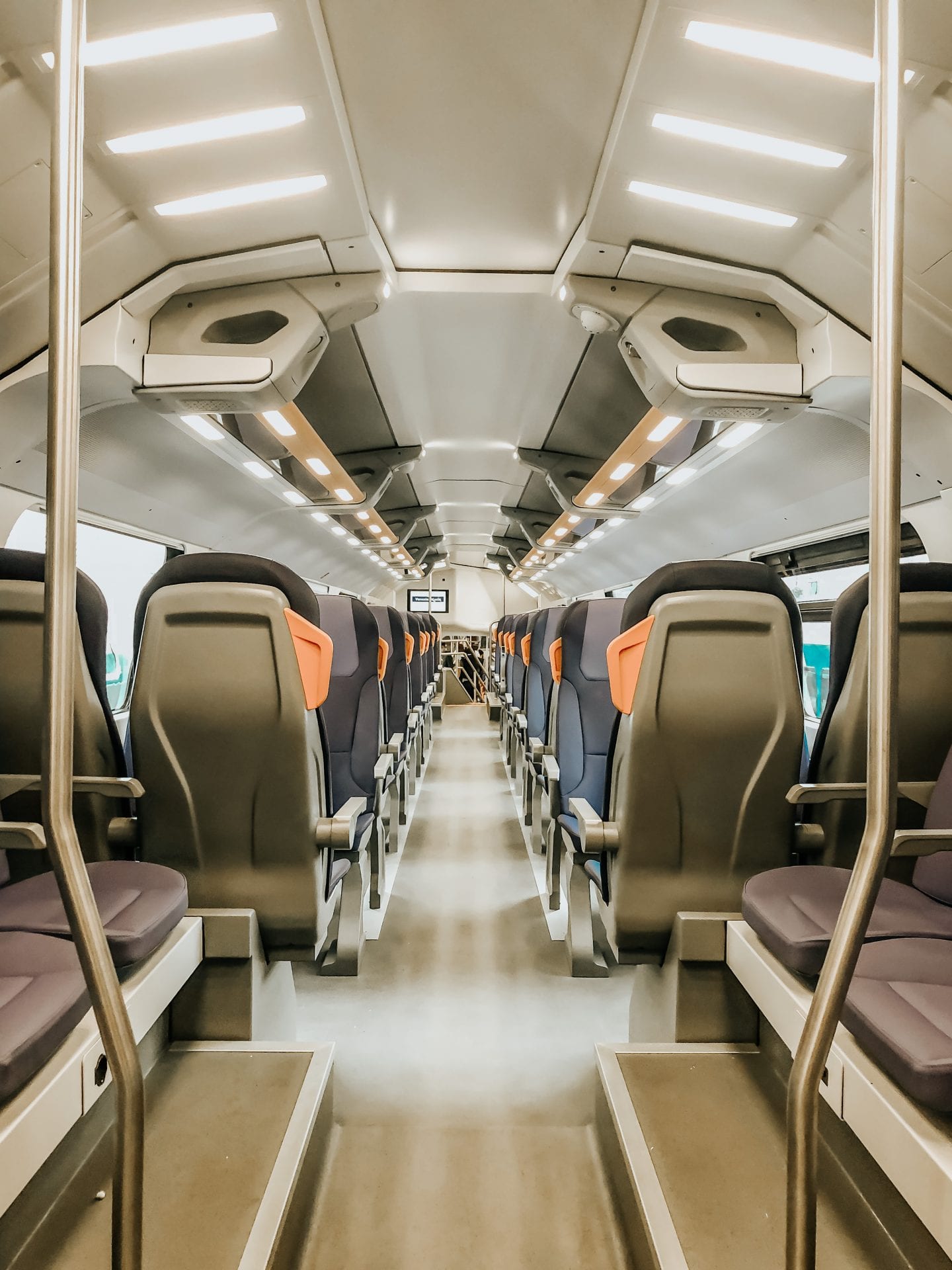 So, you've booked a ticket and figured out how to navigate the station, but how should you prepare for the train itself? These are just a few of the details, but I suggest if you're planning on using Italy train travel systems to either leave a comment with your specific question or contact me!
Using Your Ticket (Important Info!)
On the train, a conductor comes around to check your tickets. If you have it electronically, you just show them on your phone.
One thing to note about this is the possibility of your phone dying. I highly suggest bringing a portable charger so you're not stuck in the mud. My favorite portable charger is the Anker Powercore and I never travel without it.
If you have a paper ticket, then there's an important thing you have to do, of which I already mentioned. You have to validate or "timbrare" your ticket!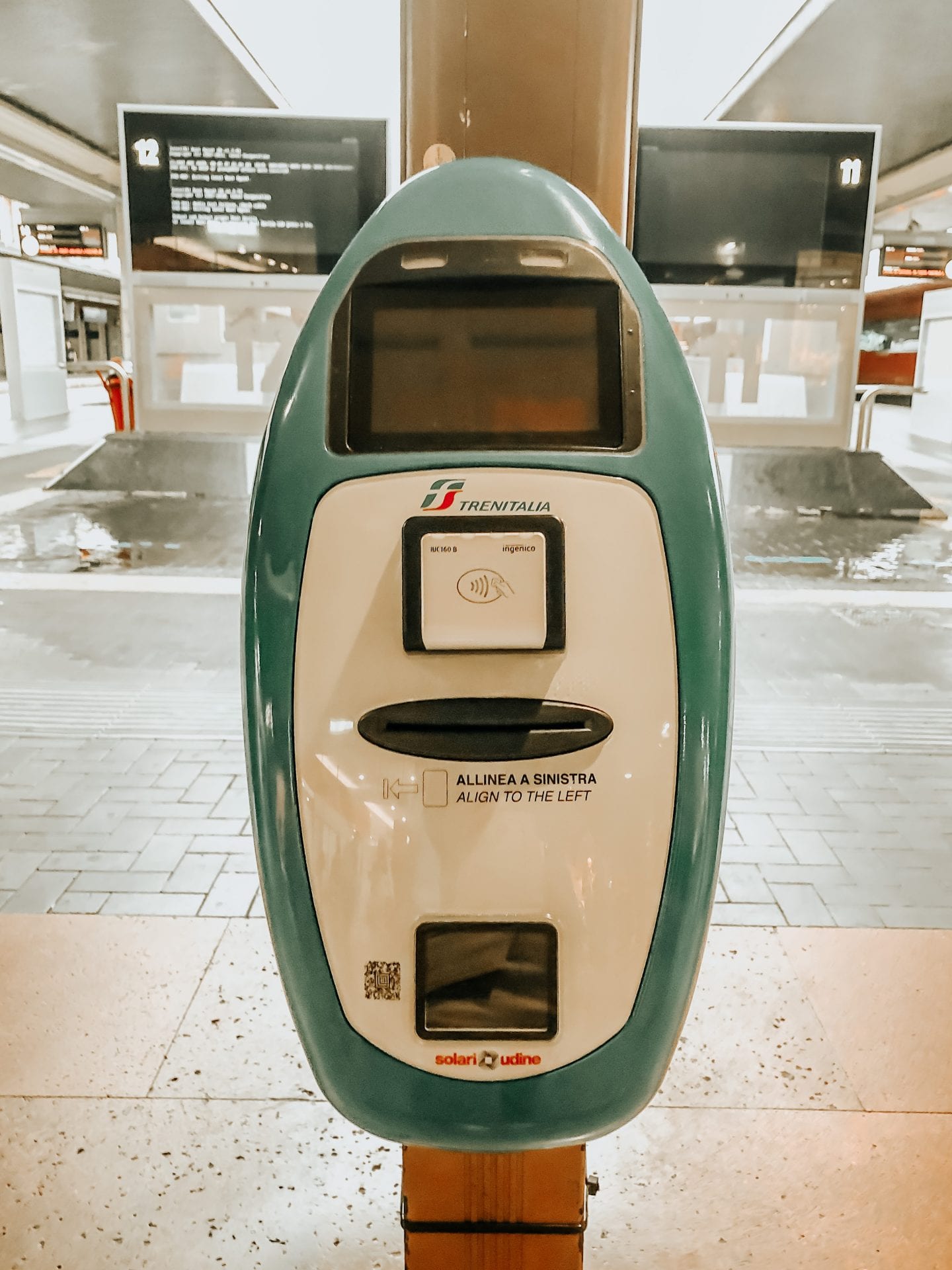 There are little green machines on the wall in train stations, in which you insert your paper ticket to validate.
This is super important because otherwise you will be issued a fine and they will not care if you are a tourist or you can't read Italian!
The fine can 50 euros PER PERSON or more! Be sure to get some sort of receipt for paying the fine. And don't make this costly mistake!
WiFi & Electronics
You can obviously use your electronics on trains and there is often an outlet and/or USB plug to charge your devices. On smaller regional trains, they may not be there, so again I suggest the Anker PowerCore Portable Charger.
WiFi is also iffy. Again, almost all the bigger trains will offer it for free, such as trains going from Venice to Rome or Florence to Naples. But if you are taking a regional train, there most likely won't be WiFi.
Another way to avoid that issue would be to buy a SIM card upon your arrival in Italy. That way you'll have data and pay less than you would your international phone plan.
Luggage
I've traveled to Italy several times and much of my Italy train travel has just been for day trips or weekend getaways. However, there have been times where I've had to transfer cities with a lot more luggage than I would like.
Luckily, on those larger trains there is a rack for heavier luggage, as well as racks above the seats and between them. So if you've also been searching if you can bring luggage on trains, you can.
Pro Tip: Get there as early as you can if you have a lot of luggage. You want to be one of the first to get on the train when it arrives because the luggage racks can get full super quickly.
---
Budget Tips for Italy Train Travel
Trains are usually quite an inexpensive mode of travel since they are so widely available in Italy. So, trains are a budget tip in themselves!
Be Flexible
Most of the time, getting a good deal on a train has to do with working around the available times. On my latest train adventure, the ticket was around 20 euros for certain times, and for others, it was almost triple that!
The other thing about being flexible is to book your ticket as far as you can in advance for the best price.
The beauty of Italy train travel is that they're easy to take for a last-minute getaway. However, if you can plan ahead, you will save yourself some money.
Lastly, about flexibility, – which is a costly mistake I made – is to maybe hold off on booking your return ticket.
As I mentioned, I actually paid for another ticket to go home earlier (on several occasions) because I overestimated the time I would be in a place.
Make sure to not make any of the other costly mistakes I've made traveling Europe, which you can warn yourself about now by taking a glance at that post.
Discount Passes
I've never used them before, but Trenitalia has special discounts and offers for certain trips or age groups. There are for example special offers for young adults, offers for seniors, and even getaway packages.
---
I hope this post helped you get to know more information about Italian train travel before you embark on your Italian adventure! Once you actually get to the station and go on your adventure, you'll get the hang of how everything works.
And you'll fall even more in love with Italy and train travel just like I did!
---
Are you planning to travel Italy by train? Where would you like to go? Leave a comment with your thoughts or your own tips!
Don't forget to save these tips to your Pinterest!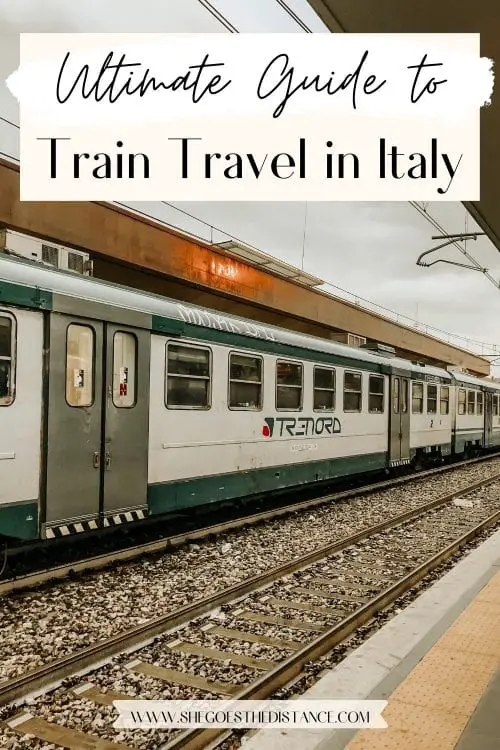 Wishing you all Buon Viaggio on your next trip and hopefully it's on a train in the Italian countryside!
XOXO
Michela