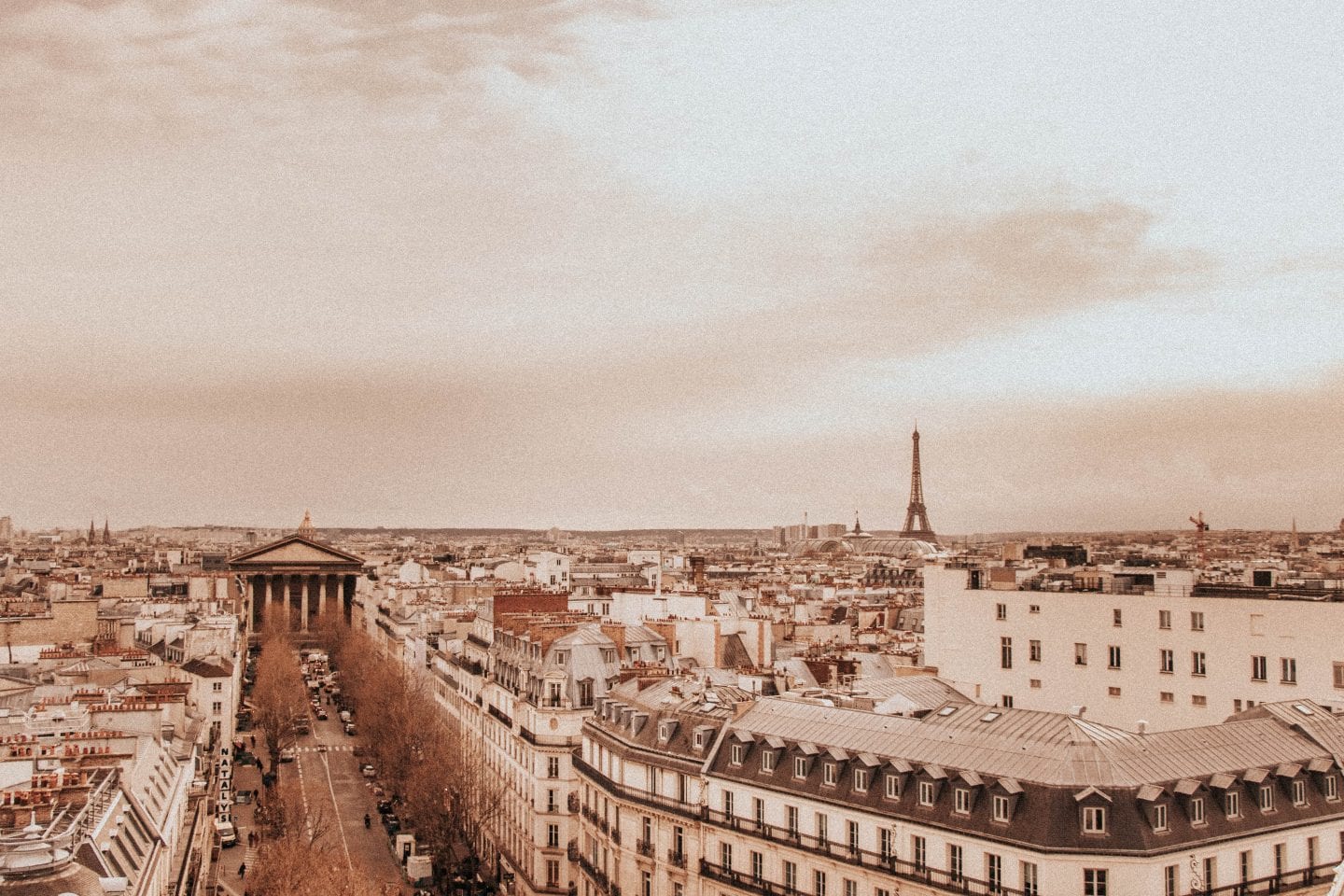 Last Updated on December 8, 2022
Paris is one of the most popular cities in the world and rightly so! You may think you've seen it all once you've hit all the main attractions, like the Notre Dame Cathedral and Eiffel Tower, on your Paris bucket list. But you've only scratched the surface of what the City of Lights has to offer! Here are some of the sweetest unique things to do in Paris to spice up your itinerary.
One of the most magical parts about assembling a list of unique things to do in Paris is that many ideas are related to quite commonplace things. Like, the kinds things you'd find you'd be doing as if you were living there. Because, in reality, the most non-unique things to do in Paris are the most touristy, which hardly any local does.
Avoiding or limiting the tourist attractions on your itinerary will allow you more time to actually experience that city from the perspective of a local, which is always a worthy travel goal!
The best part though is that "normal" things in Paris, at least to foreigners, are a hundred times better than anywhere else.
Paris makes even the simplest thing feel magical!
So, let's get into some of the best unique things to do in Paris to chase that feeling!
---
Go Thrift Shopping
Parisian style is timeless, so why not indulge in the vintage looks of Parisians' pasts?
Thrift shopping in Paris is so much fun. Not only do you get to find the cutest boutique-style stores, but you get to experience the authenticity of French culture through their fashion.
Now, that's not to say thrift shopping in Paris is always budget-friendly. Luxe items are often still a bit pricey (which is sadly expected for Parisian vintage.)
Here are some thrift stores to visit in Paris:
Come On Eileen
Bis Boutique Solidaire
Chinemachine
Bleach Vintage Store
---
Sip The Best Hot Chocolate at Angelina
Angelina is an absolute must stop for me in Paris – it's all things girly, elegant, and regal!
Picture ornate flourishes in the decor, posh table settings complete with fluffy pastel macaroons and delicate teacups. Oh, and one of the best hot chocolates in the WORLD!
And I'm not just making that up myself, check out this list. (Angelina is #3!)
The white hot chocolate is my personal recommendation for you! Silky, delectable, and luxe.
Angelina is no secret, so expect to be joined for your tea by many others in the dining room.
But it's certainly a unique break from sight-seeing and transports you to your vintage, chic Paris dreams!
---
Spend an Afternoon at the Park
Because Paris is so famous, a lot of tourist's itineraries are jam-packed, hopping from one attraction to another.
But like I said, I believe the beauty of Paris shines through in the calmest and most commonplace moments.
That's why I suggest you reserve time to simply do nothing and enjoy Paris as if you lived there.
Stroll through the Tuileries or Luxembourg Gardens like you just got off work and you need a relaxing moment.
If you want to make it even more picturesque, stop by a patisserie to grab a baguette or some pastries and set up an afternoon picnic on the grounds.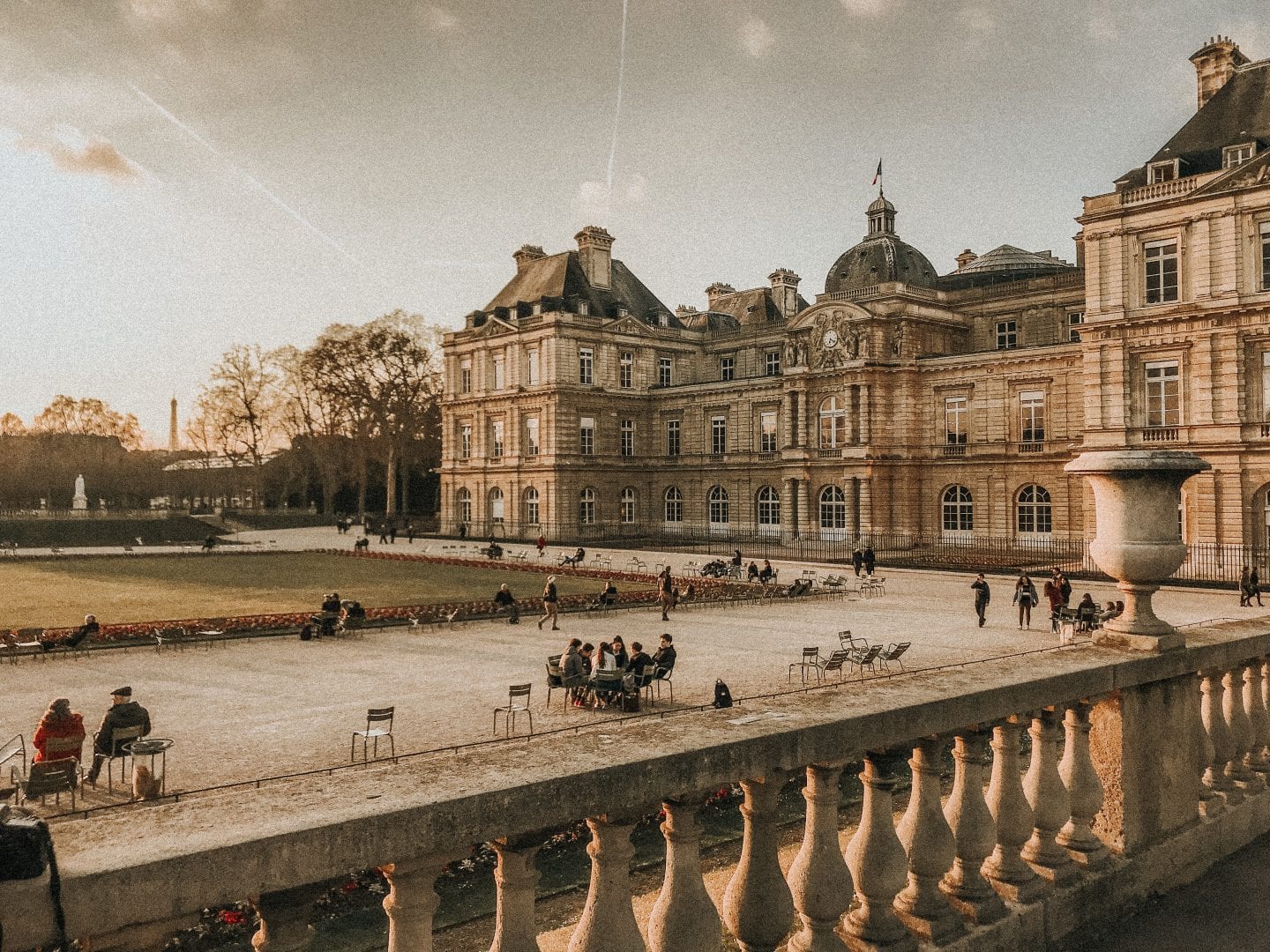 The way to not feel like a tourist and find unique things to do in Paris is to take a break from all the touristy things!
---
Track Down Beautiful Bookstores
There's something about standing in bookstores that just makes you feel like anything is possible.
It's similar to sitting in an airport realizing how big the world really is and how tiny but impactful of space we occupy.
Being surrounded by millions of words, the faint scent of paper in the air, the soft sounds of crisp pages being turned or creaky floors being traversed – it's such a visceral environment. And Paris bookstores have all of that sensory stimulation, plus a whole lot of charm.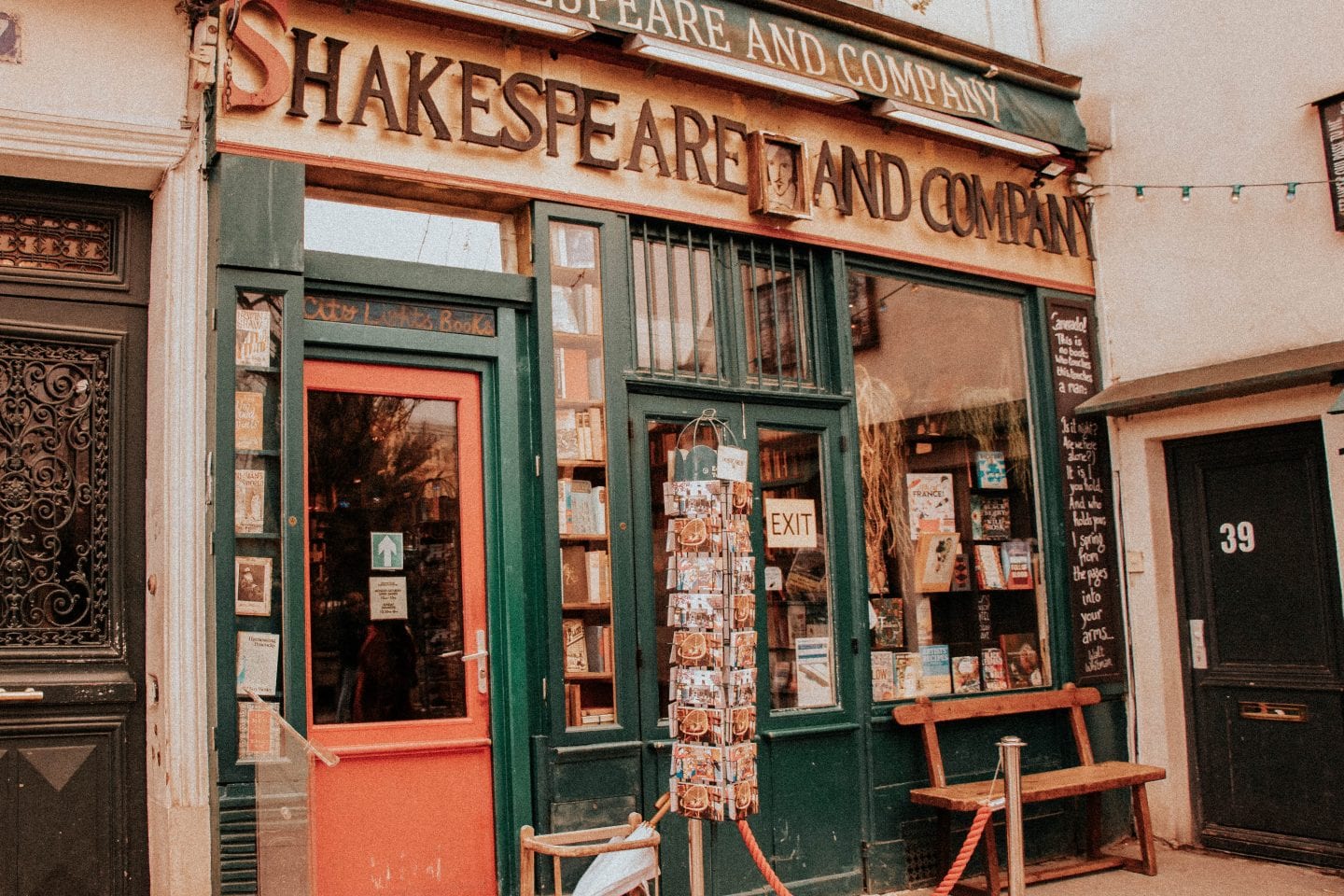 Here are a few of my favorite bookstores in Paris, from big and beautiful to quaint and antique hidden gems:
Shakespeare and Company
Librairie Galignani
San Francisco Book Co.
---
Discover Rooftop Views
Try to convince me otherwise, but there's nothing that beats a rooftop view. It's always a pinch-me moment – and who doesn't want to have as many amazing pinch-me experiences in their lifetime as they can?
One of my favorite rooftop views is at the top of Printemps Department Store, near the Galeries Lafayette.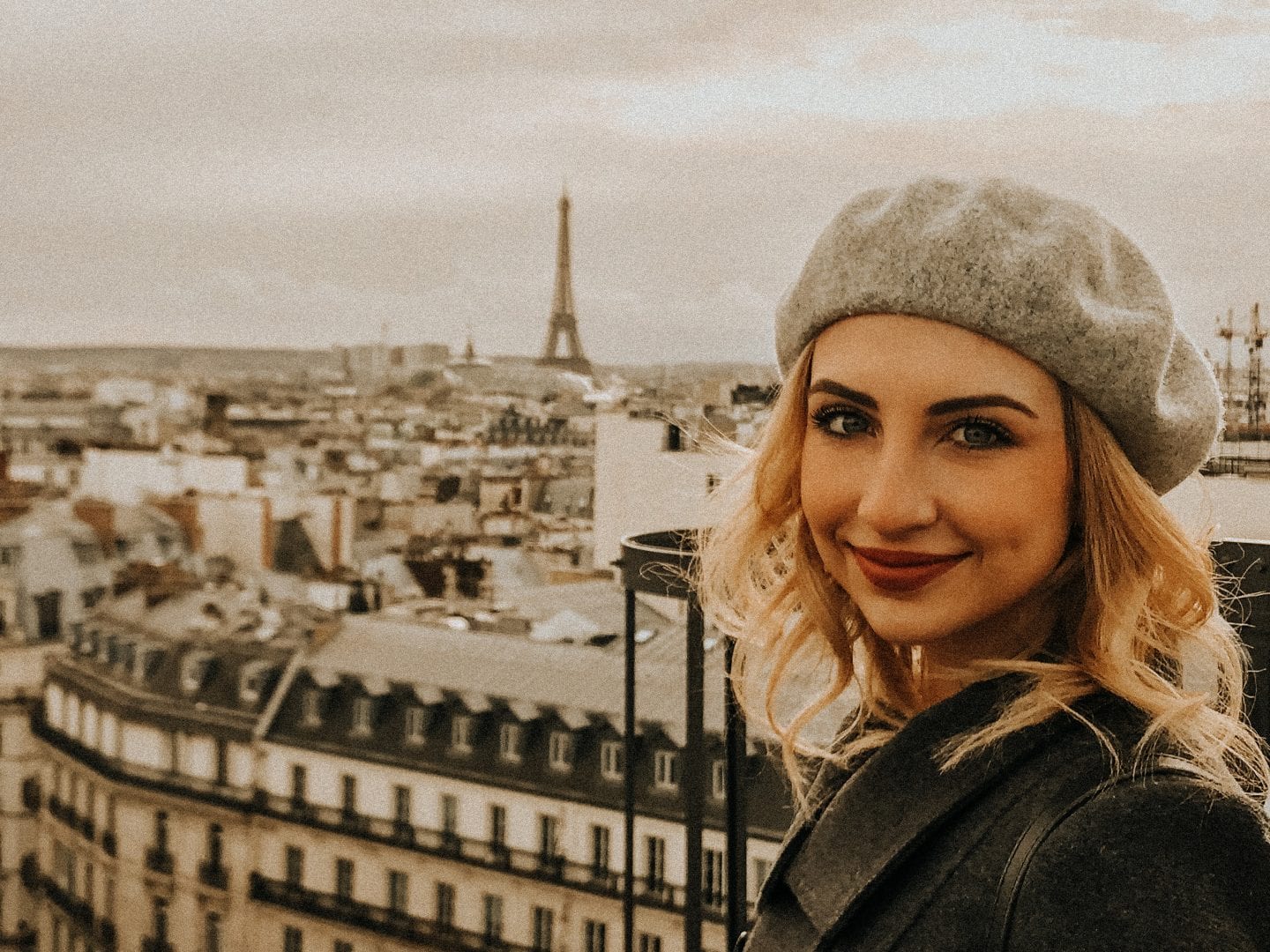 There's actually quite a fancy restaurant at the top, Perruche, if you're looking to be bougie and glamorous!
However, if you're a budget traveler like me, you can also take the elevator up just to take in the view! (Save your money for the department store shopping – compromises ladies!)
---
Rise Early for Amazing Photo Opportunities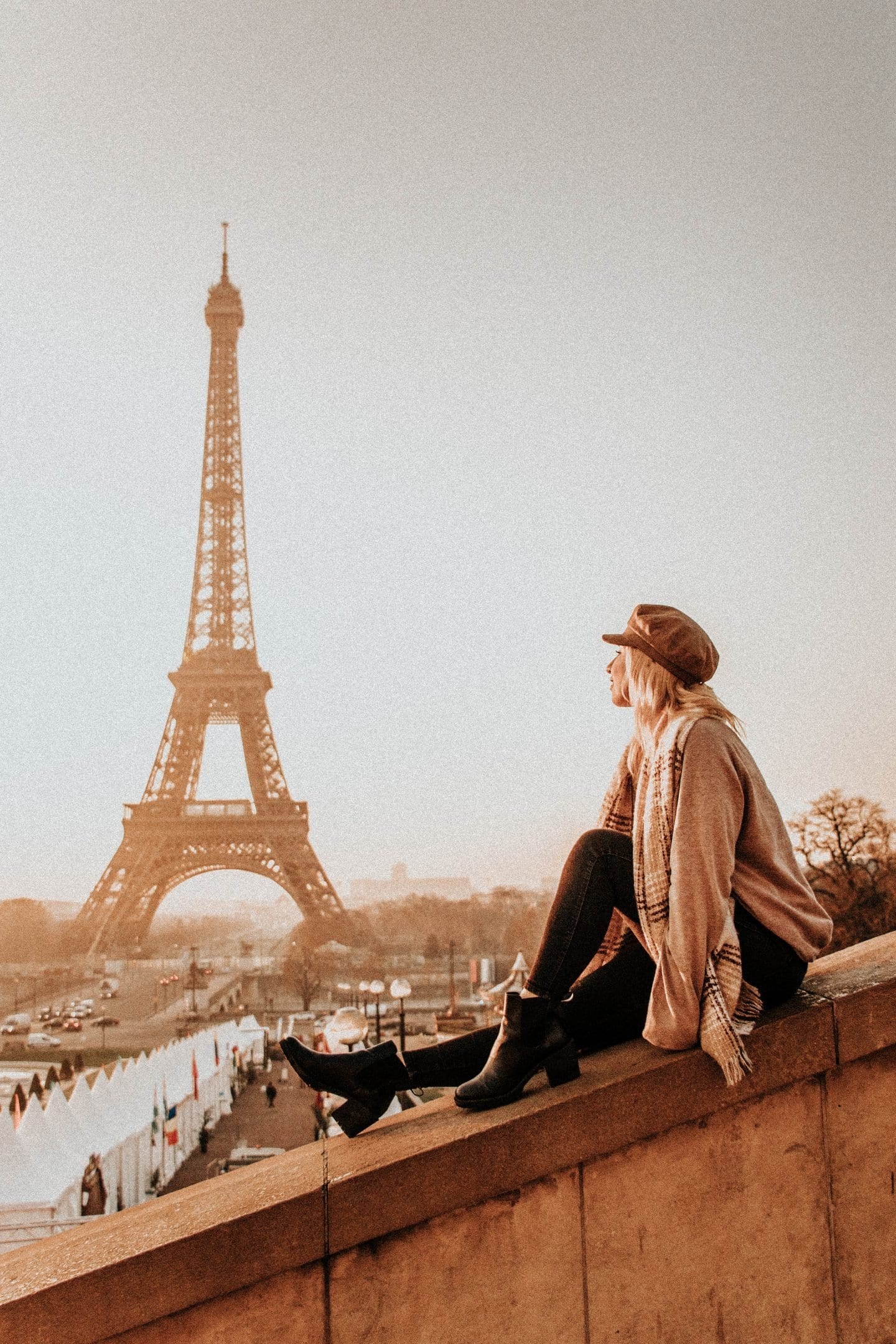 Paris is so peaceful in the morning, so regardless of whether you're interested in taking photos, it's simply worth waking up to experience the city at dawn.
You can go to the Trocadero to see the sunrise over the Eiffel Tower or walk the usually crowded streets in their quietest state to start your day off with the calmest and most positive state of mind.
But, I mention the amazing photo opportunities because they truly are amazing!
Pro Tip: The biggest secret behind taking photos at famous places without people in them is to simply wake up before most people!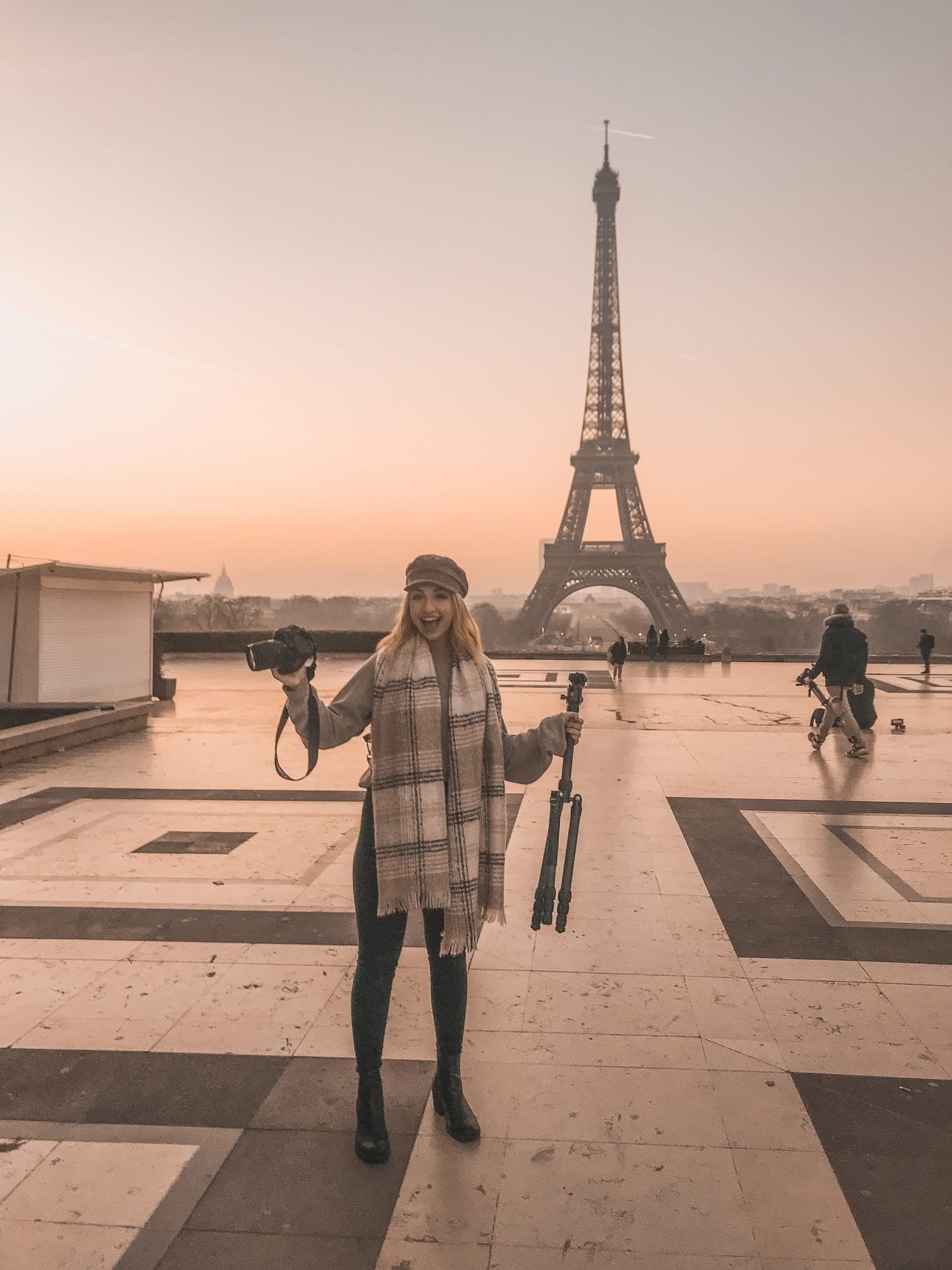 Not only will the lighting be soft and fantastic(!), but you'll get to enjoy taking stunning photos of lifelong memories without sharing the background with hundreds of your fellow tourist strangers.
---
Go Cafe-Hopping & People-Watching
Paris is obviously well-known for its café culture, with tons of cute and quaint cafés in each of its arrondissements.
French café culture is also perfectly designed for people-watching (one of my favorite things to do).
You'll find almost all restaurants and cafés have outdoor seating along the sidewalk so that you are always involved in the hustle and bustle of the city!
One that's super well-known and potentially the poster child for Parisian cafés is Café de Flore.
It's actually not hard at all to get a seat here despite how famous it is, being one of Paris' oldest cafés.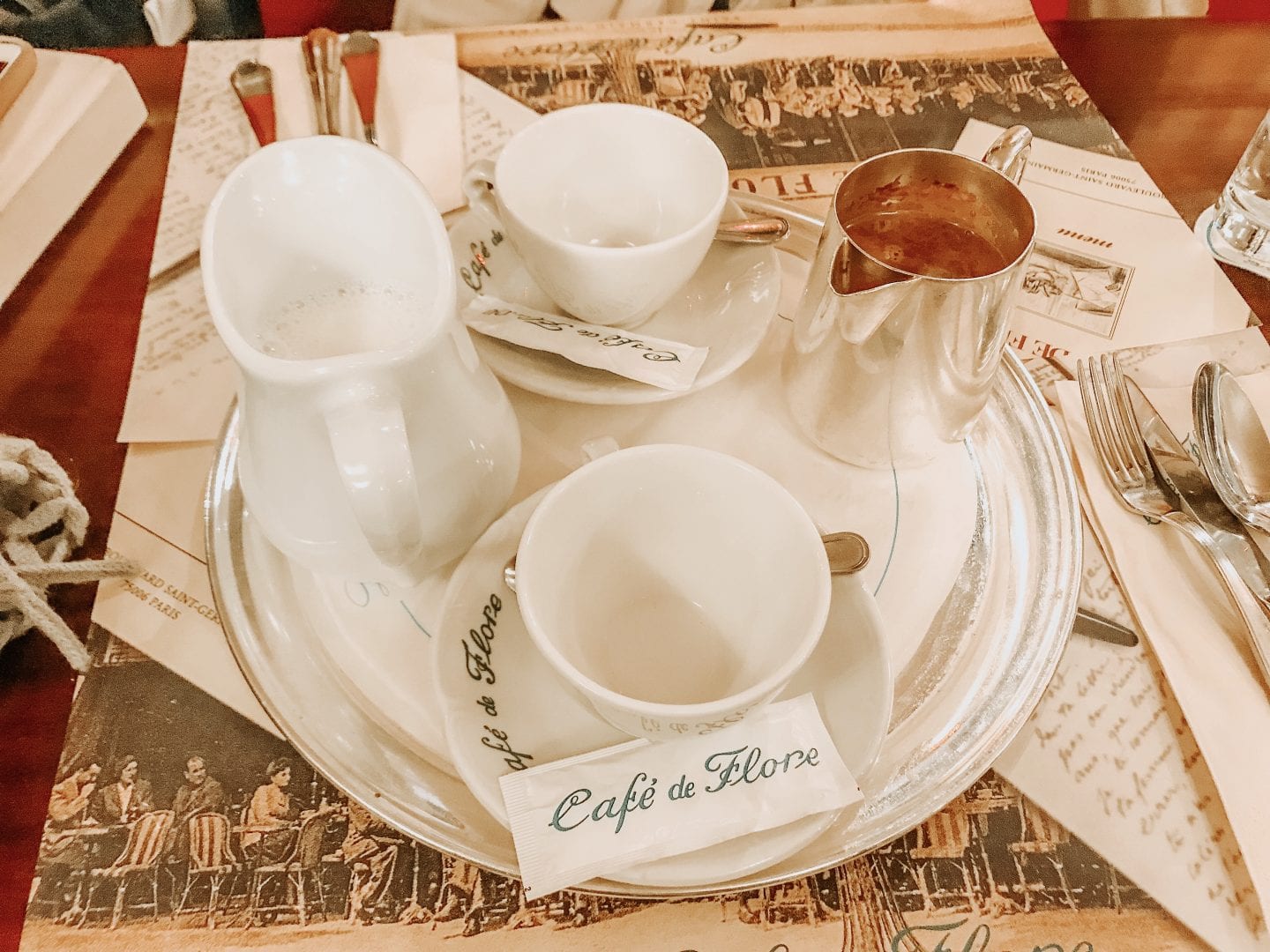 What I love the most about it is sitting in the café that so many notable artists and creatives have sat in over the past century – including Pablo Picasso, Ernest Hemingway, and Brigitte Bardot – intensely triggers your sense of self.
It's the perfect place for introspection and inspiration and as travelers, we are always seeking that to drive our continuous understanding of the world around us.
---
Visit the Most Colorful Street in Paris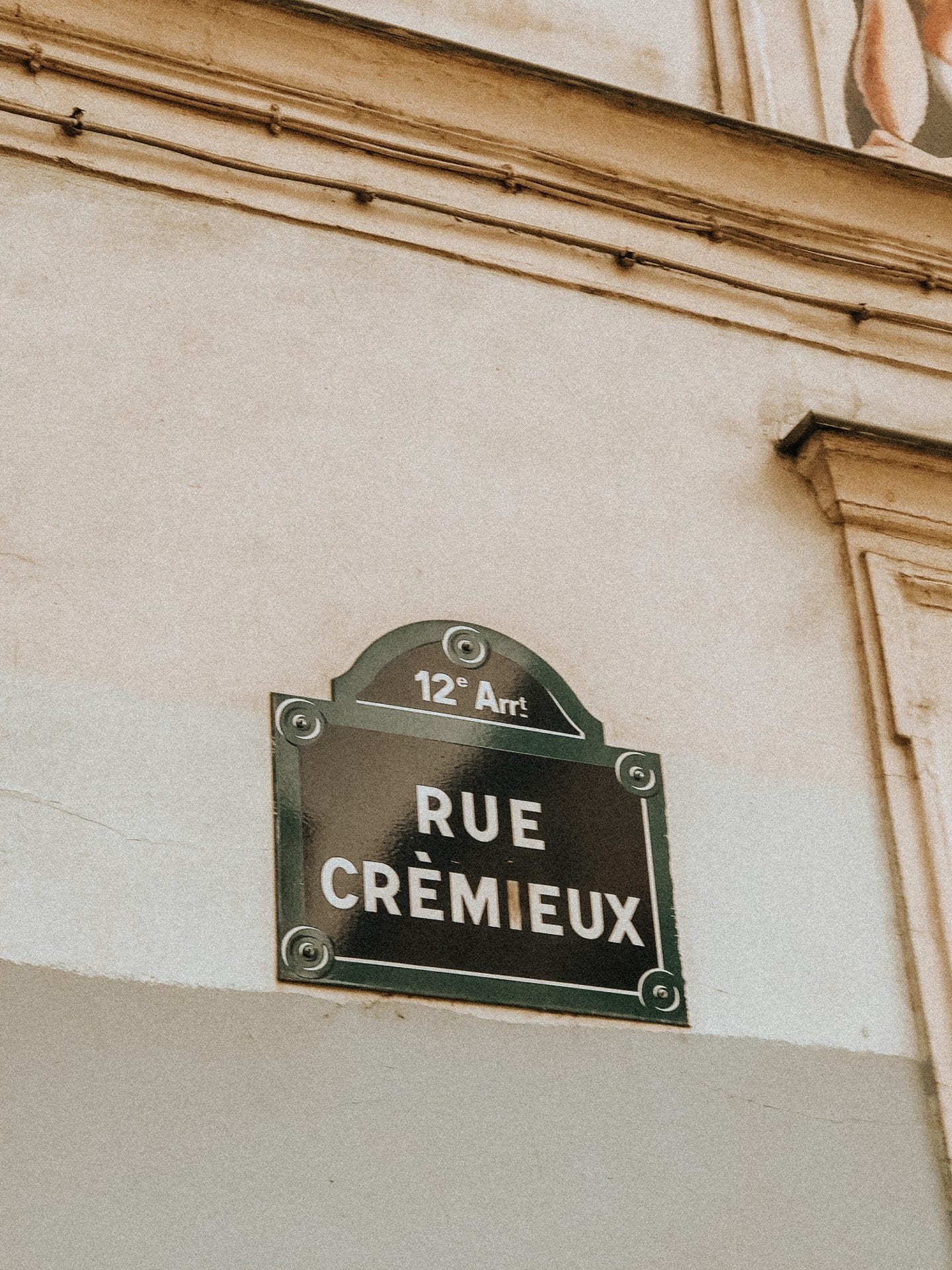 Rue de Crémieux has actually become quite popular on some itineraries, but it certainly wasn't known when I first went to Paris!
This little street looks like it doesn't even belong in Paris!
Of course, it's got the beautiful architecture, but in more of cutesy, delicate way than an intimidatingly grandiose way.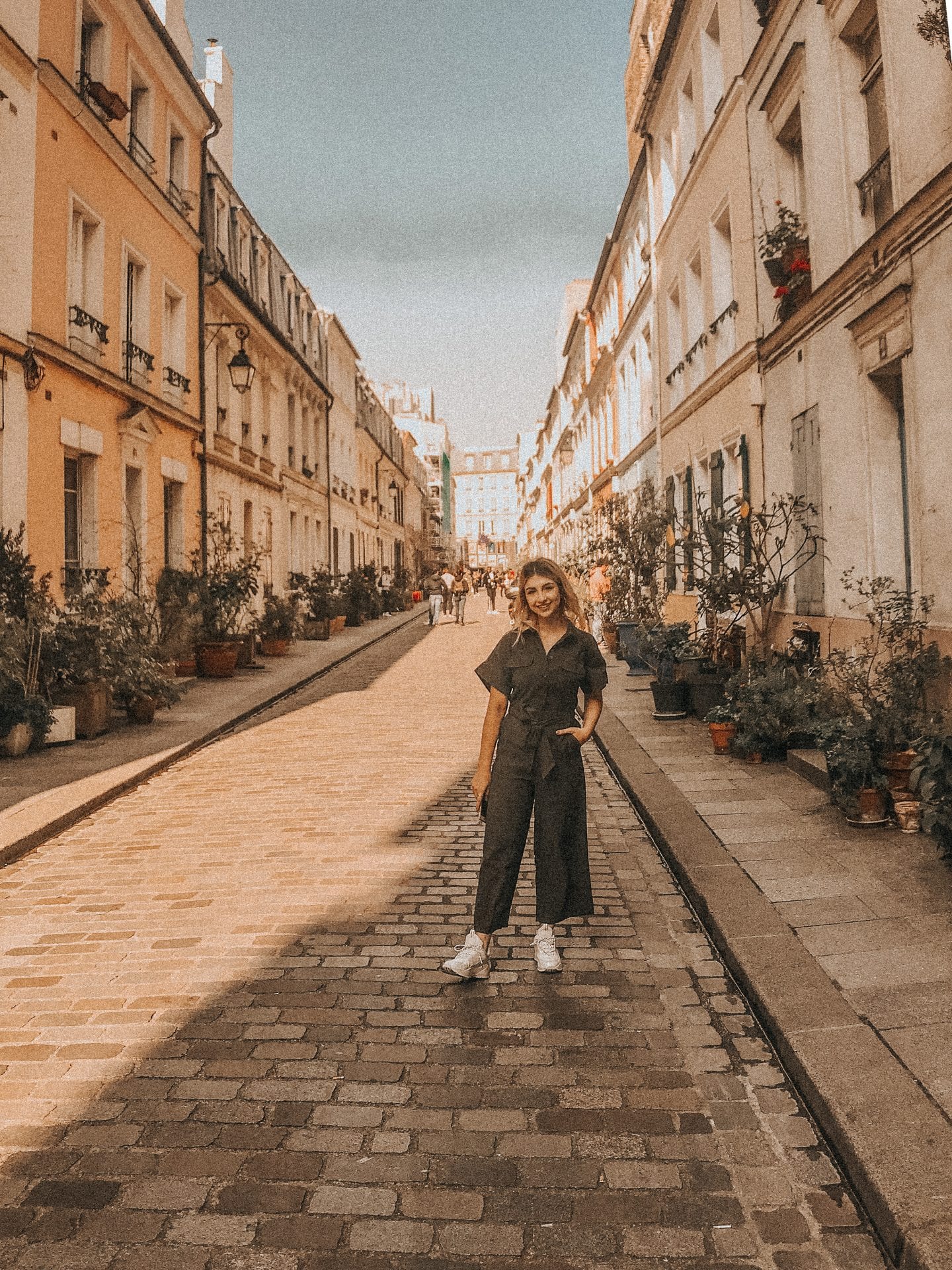 All the houses are painted in beautiful pastel colors and could make for the girliest photo backdrop.
It's a bit further from the city center, but if you have the time, it's a unique stop on your Paris itinerary. I enjoy it because it allows you to get out of the main area of Paris!
---
Venture out into Lesser-Known Arrondissements
Which brings me to my last of unique things to do in Paris – go somewhere unique!
While the likes of St. Germain and Montmartre are quintessential to experience the chic glamour and cozy streets of Paris, sometimes it's nice to get into the neighborhoods that feel lived in and authentic.
Consider going out to the Place de la Bastille or Bassin de la Villette!
The area of Place de la Bastille is interesting because it is literally the place where the Bastille prison stood before it was destroyed in the French Revolution, the first symbol for Republicanism.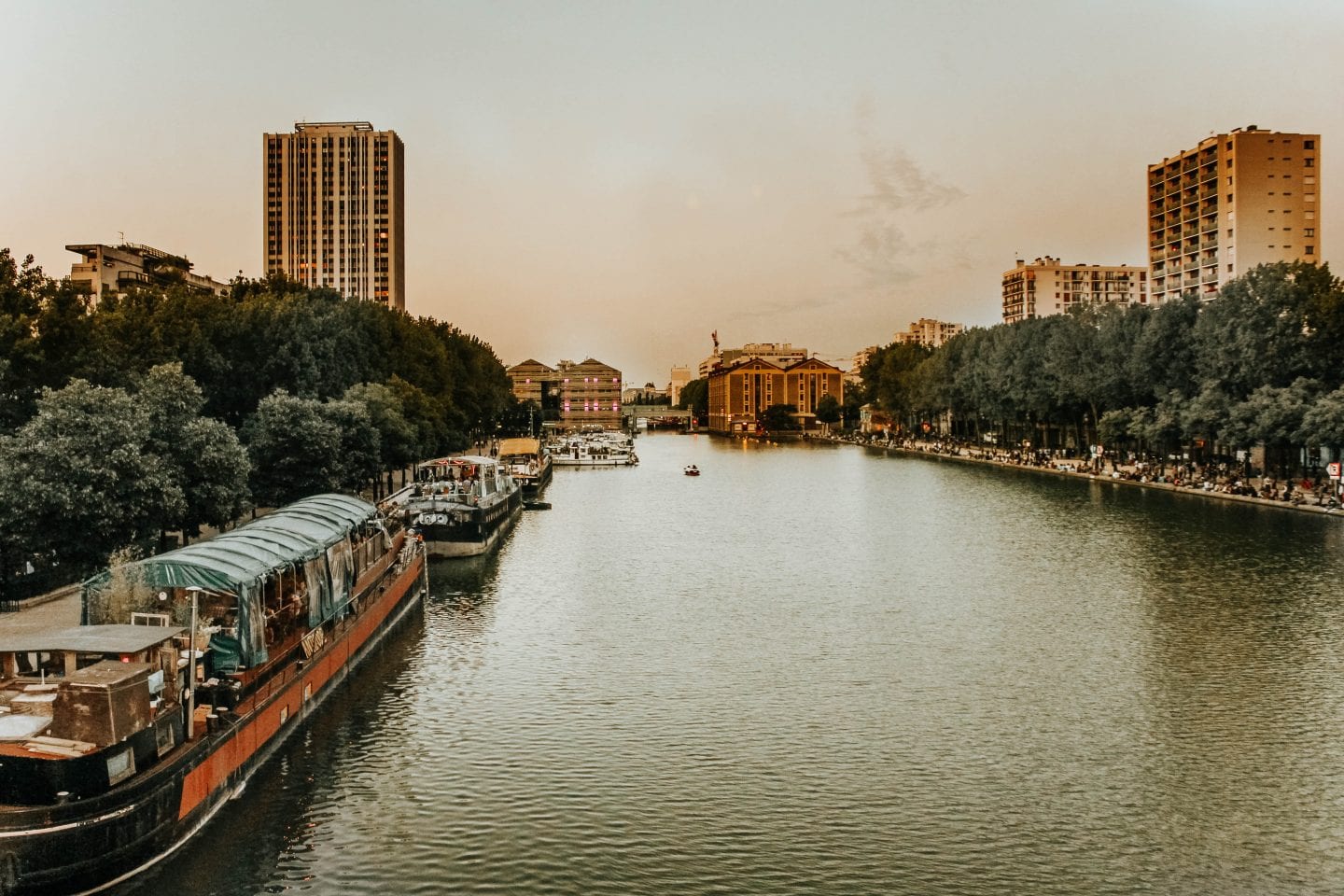 Bassin de la Villette is a lake and canal area of Paris.
I actually stayed here the first time I went to Paris and while it was no Shangri-La with an Eiffel Tower view, it was the perfect experience of real Paris.
People playing bocce ball along the canal, enjoying live music, doing street art and simply living life. Sounds awesome, right?
---
Extra Paris Trip Planning Resources
These are all perfect places to add to your Paris itinerary, but round out the rest of your trip planning with some of my other Paris posts!
Don't forget to Pin this for your future Paris trip inspiration!
I hope you all enjoyed this post and got some ideas of unique things to do in Paris to add to your own itinerary!
XOXO
Michela