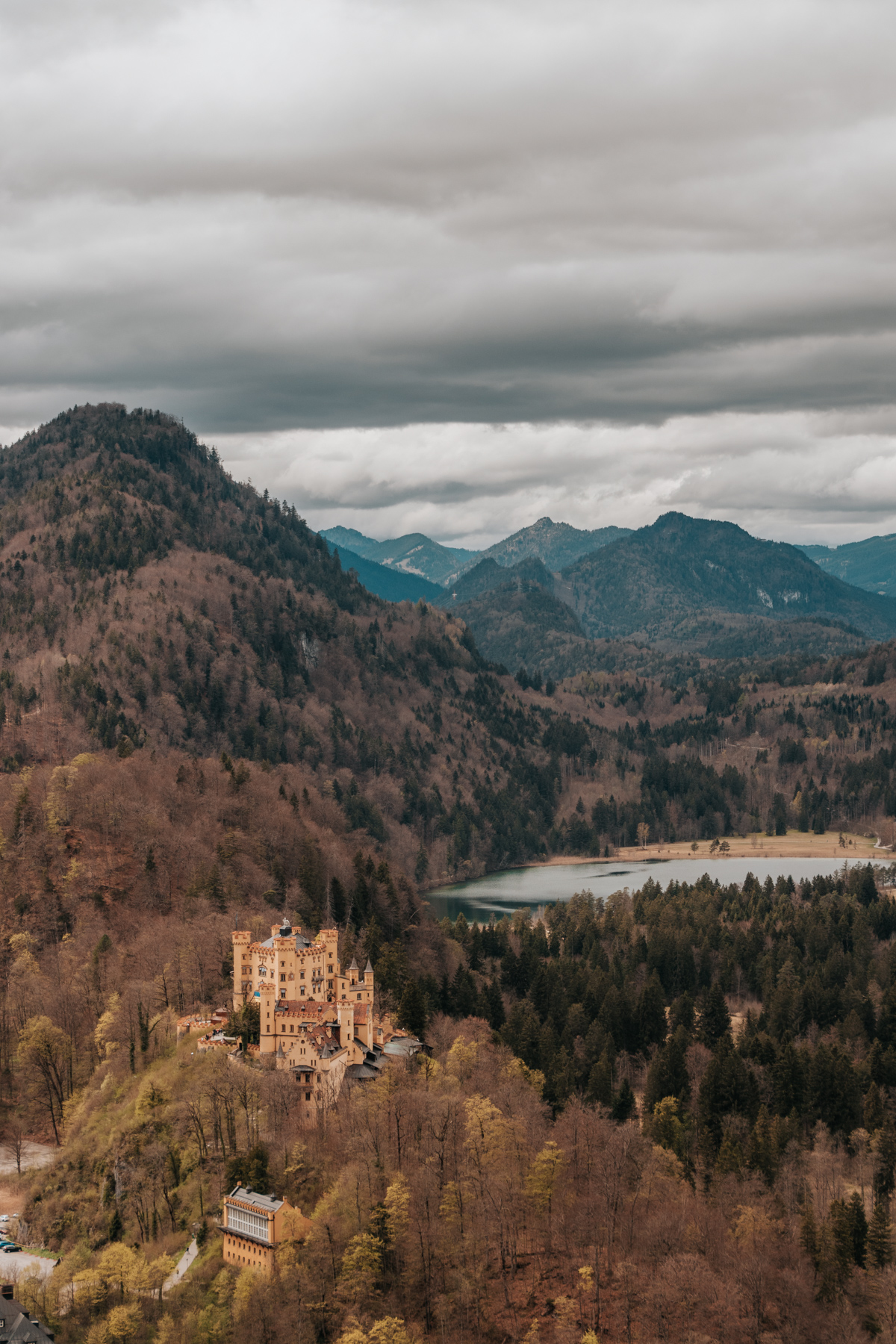 Last Updated on February 18, 2023
Neuschwanstein Castle is one of the most famous landmarks in Germany but you may be looking for more while on your trip to Bavaria! Look no further than these 10 best things to do near Neuschwanstein Castle, from attractions in close vicinity where you can use up extra time to other famous landmarks and cities you could make a day trip out of.
Some of these links are affiliate links. This means if you make a purchase through that link, I receive a small commission at no extra cost to you. Read my full disclosure!
Hohenschwangau Castle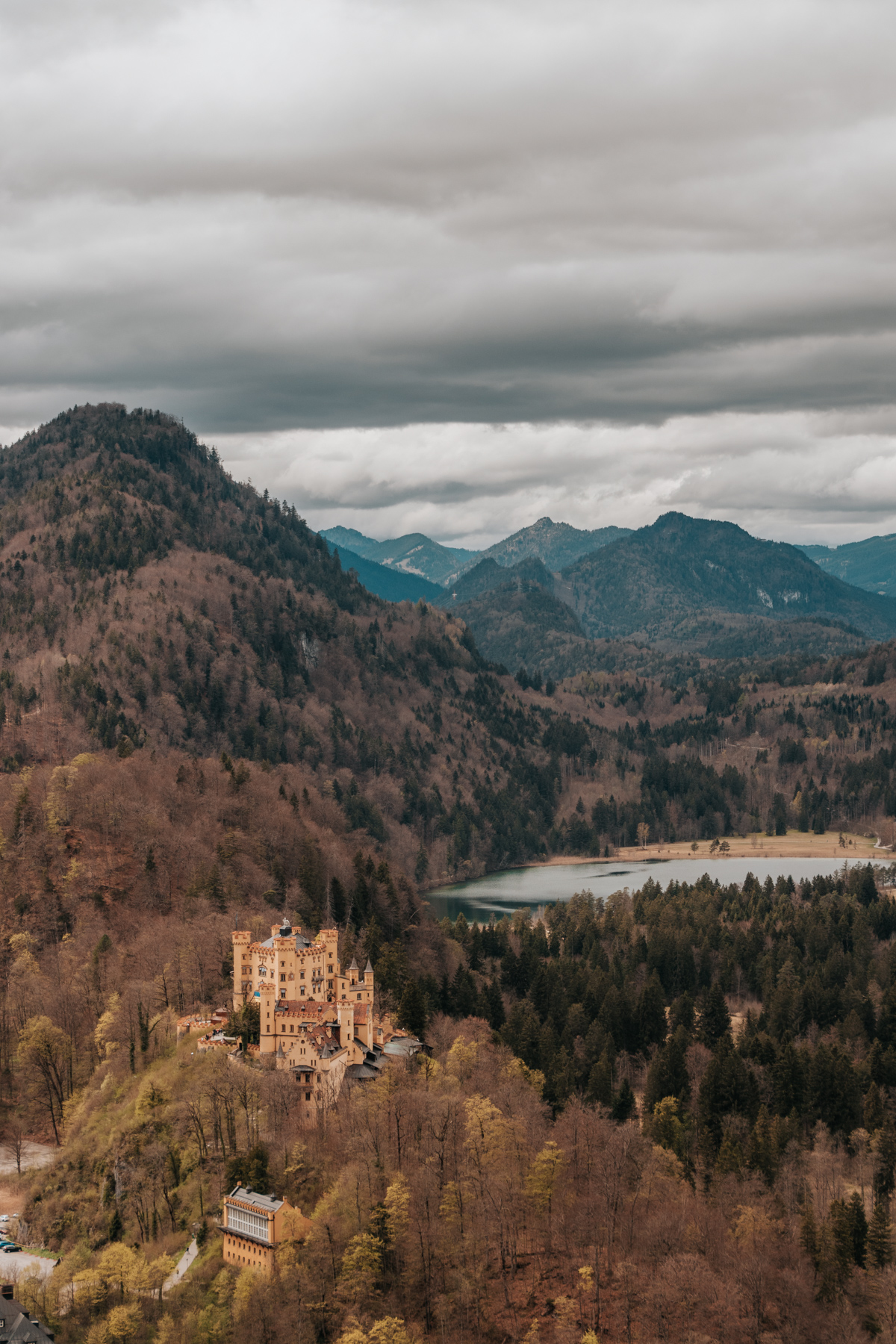 Visiting Hohenschwangau Castle is the easiest must-do near Neuschwanstein Castle – they're literally next to each other!
While Neuschwanstein Castle was a project King Ludwig II of Bavaria had been working on a few years before his sudden death, Hohenschwangau Castle was the summer residence in which King Ludwig, his brother Otto, and the rest of the Bavarian Royal Family actually grew up and lived.
The castle has a strikingly colorful exterior of yellow and red, with courtyards that overlook Lake Alpsee as well as Lake Forggensee in the distance.
To enter the castle, the same rules apply as visiting Neuschwanstein Castle – you must have a ticket for a tour. I highly recommend you buy your tickets online at the official website to secure a spot, but you can also buy them on-site at the ticket center.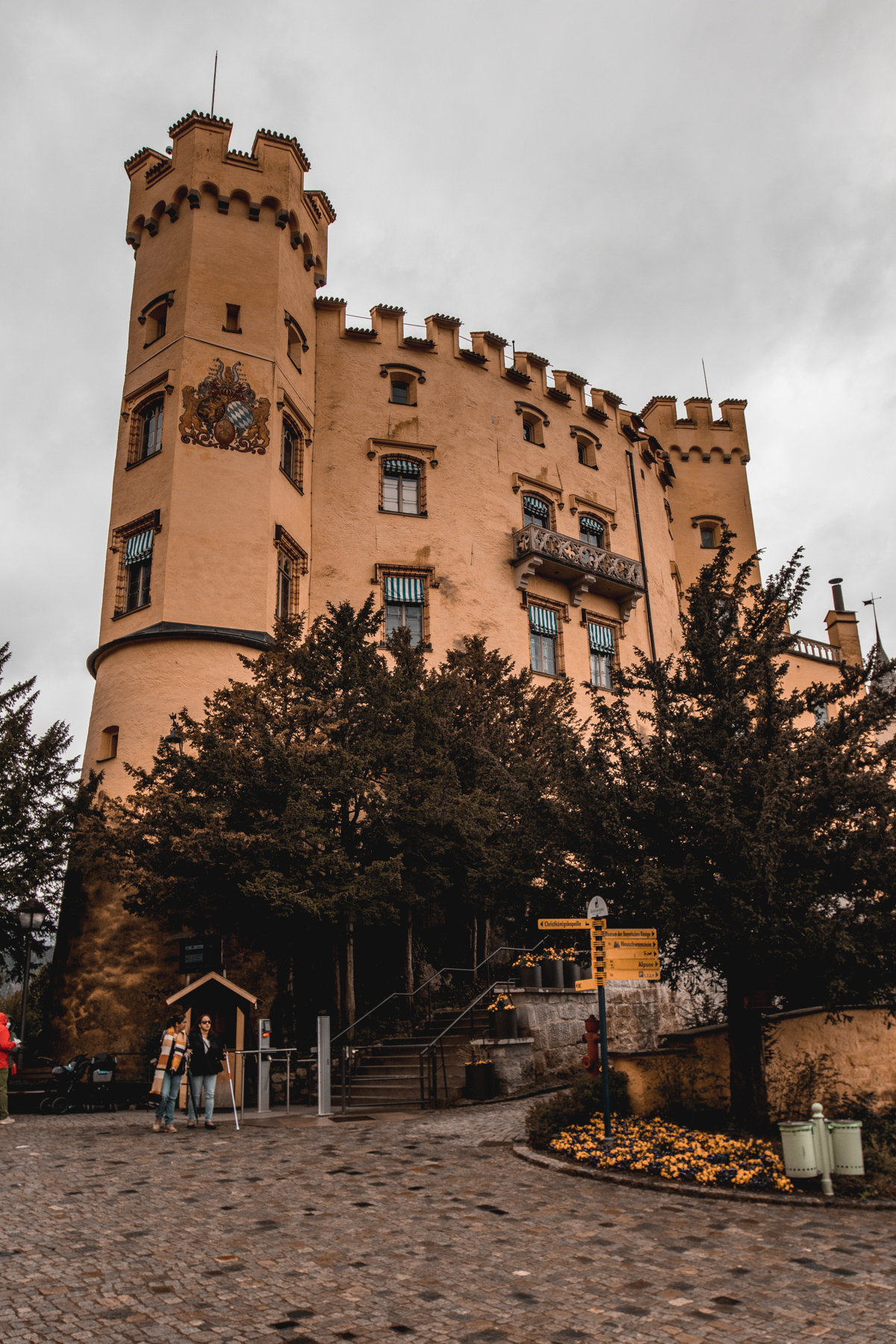 Museum of the Bavarian Kings
The Museum of the Bavarian Kings is the next easiest and closest thing to do near Neuschwanstein.
A common complaint from visitors is that the tours of the castles are too short – that's where the museum comes in. If you really want to dive into the royal family history, then the museum is a must-stop. Tons of artifacts combined with special rooms like the Panoramic Window room make the museum not just interesting, but also its own beautiful destination.
It is located next to Lake Alpensee and also has its own waterfront restaurant. The entrance ticket for the museum is 14€ for adults (16.50€ if you buy ahead of time online.)
Hiking Trails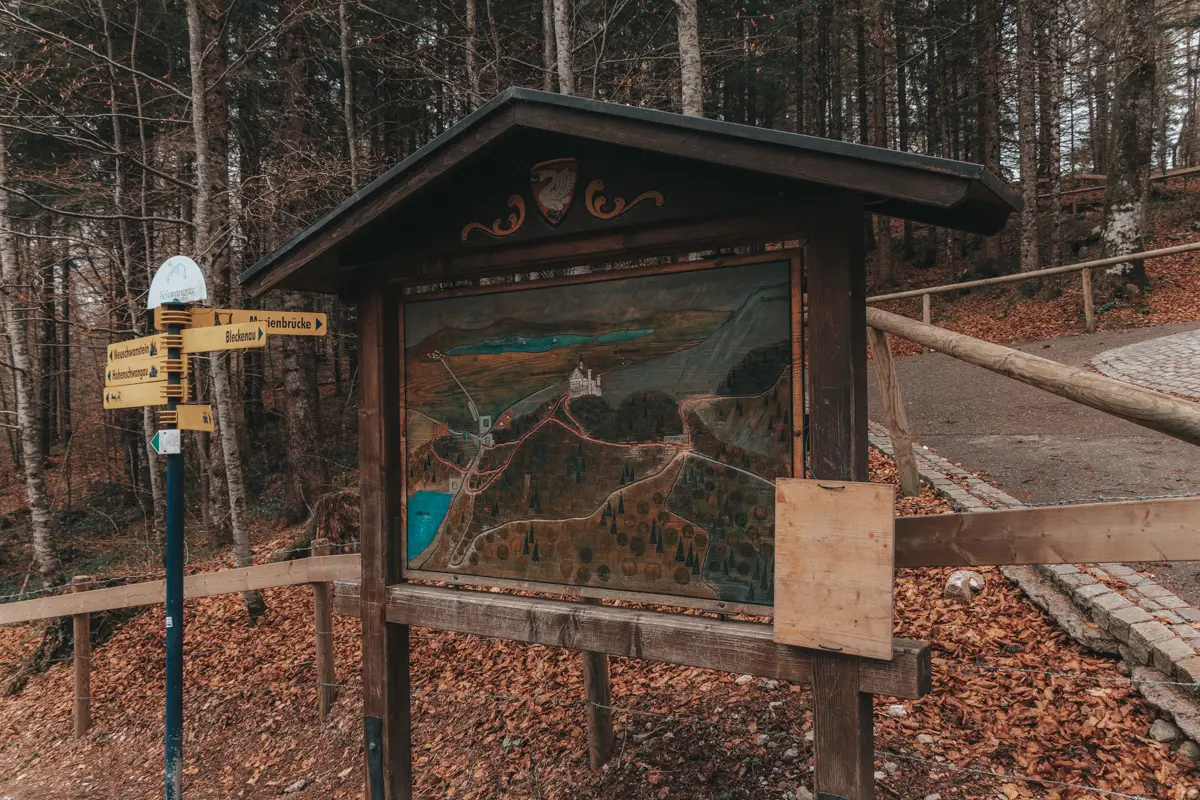 While most visitors to Neuschwanstein will stick to the main paved walkway and sights like Marienbrücke (Mary's Bridge), you can find special views by going off-the-beaten-path along the various hiking trails in this part of the Bavarian mountains.
Starting from where the shuttle bus to Neuschwanstein drops passengers off (just above the entrance to Marienbrücke) is a trail that takes you to high vantage point overlooking the castle. The hiking trail takes around 30 minutes to complete but it is also steep.
Tegelberg Cable Car
The Tegelberg is a mountain in Bavaria famous for hiking, rock climbing, and via ferrata – an iron climbing path. It's part of Schwangau and just a five minute's drive from Neuschwanstein Castle.
The cable car is an expensive trip considering its short duration – 24€ for a roundtrip ticket. But if you love the outdoors, hiking, climbing, etc., it would be the perfect stop to add to your Bavaria itinerary.
Füssen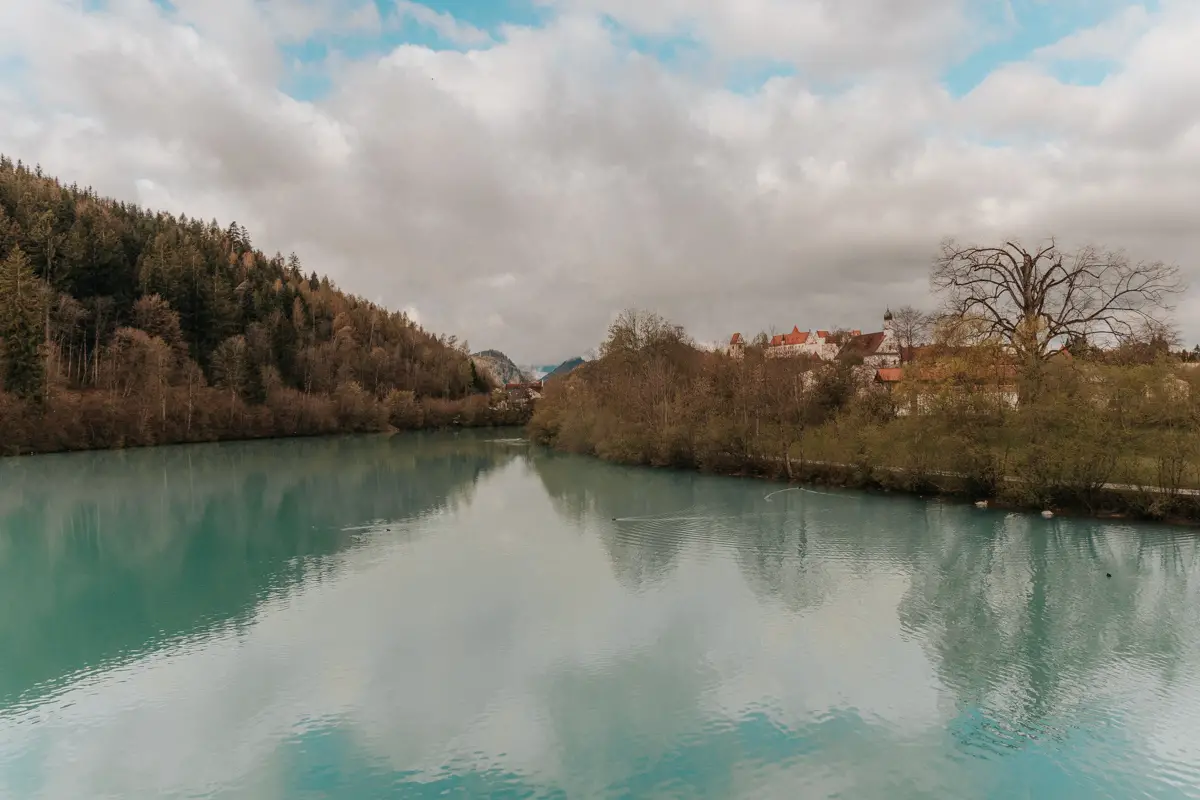 Füssen is the town next door to Neuschwanstein Castle. The village may be small but it actually has quite a few attractions to boast and its charming colorful houses are worth a stroll!
The first is the Altstadt, or Old Town, and the striking Hohes Castle perched above the river and town center. You can walk around the gardens and courtyard of the castle for free, as well as catch a good view. You could climb the tower or visit the art gallery for 6€ but the most spectacular part of the building is its painted facade dating back to 1499.
Next, head to the Lechfall just on the outskirts of town, where you'll find a bridge suspended over short, wide waterfalls, and a stream of incredible milky blue water, resembling a gorge. There is also a unique monument to Richard Wagner, the German composer, with his bust placed in the side of the cliff.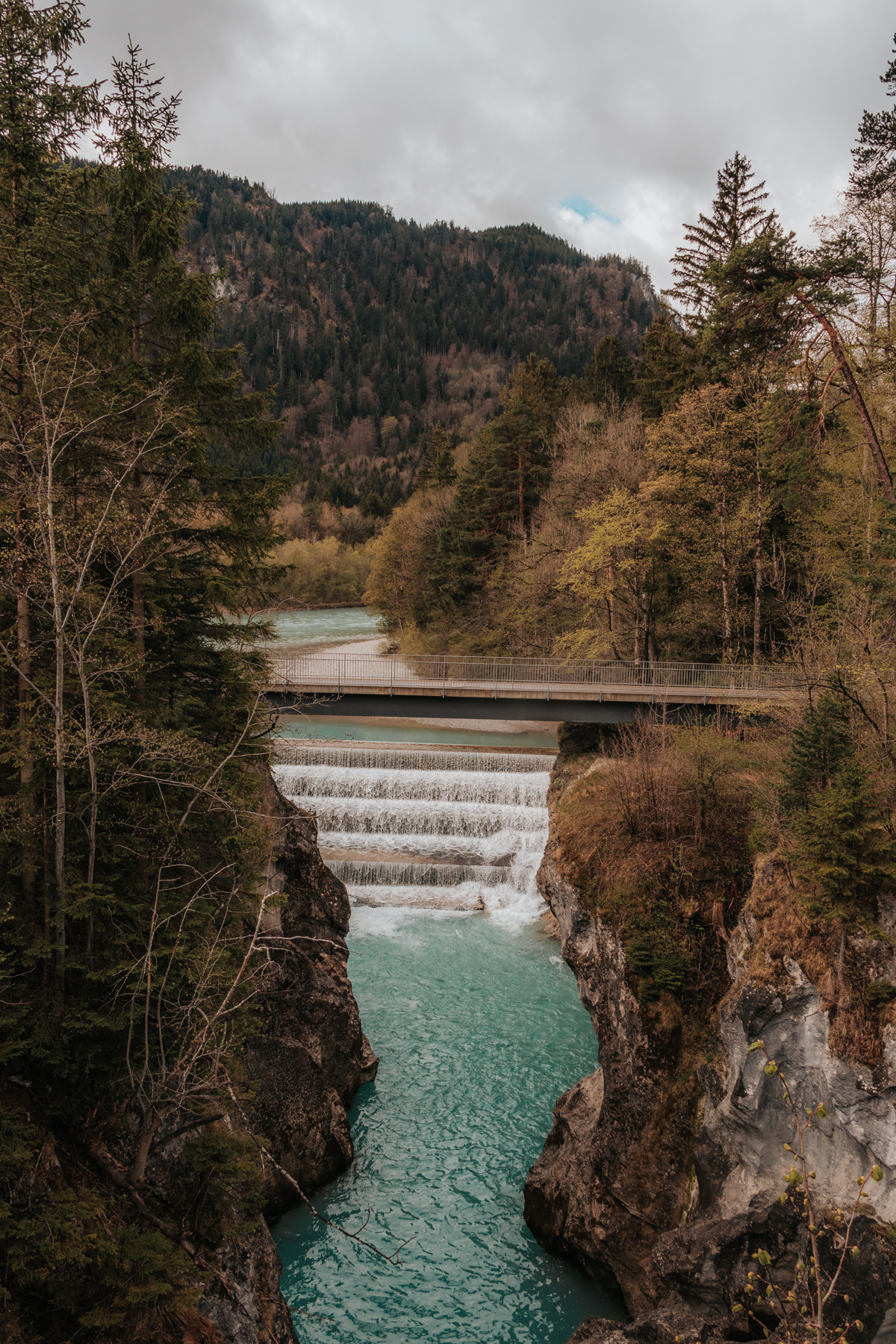 The last place I must recommend you visit is RIWA, a fun and unique restaurant at the Hotel Sonne in the center of Füssen. RIWA stands for Richard Wagner – as you can see everyone is proud of this famed composer – and the interior to the food is all aesthetically put together, blending old and new with a bit of retro.
Ehrenburg Castle & Tibetan Bridge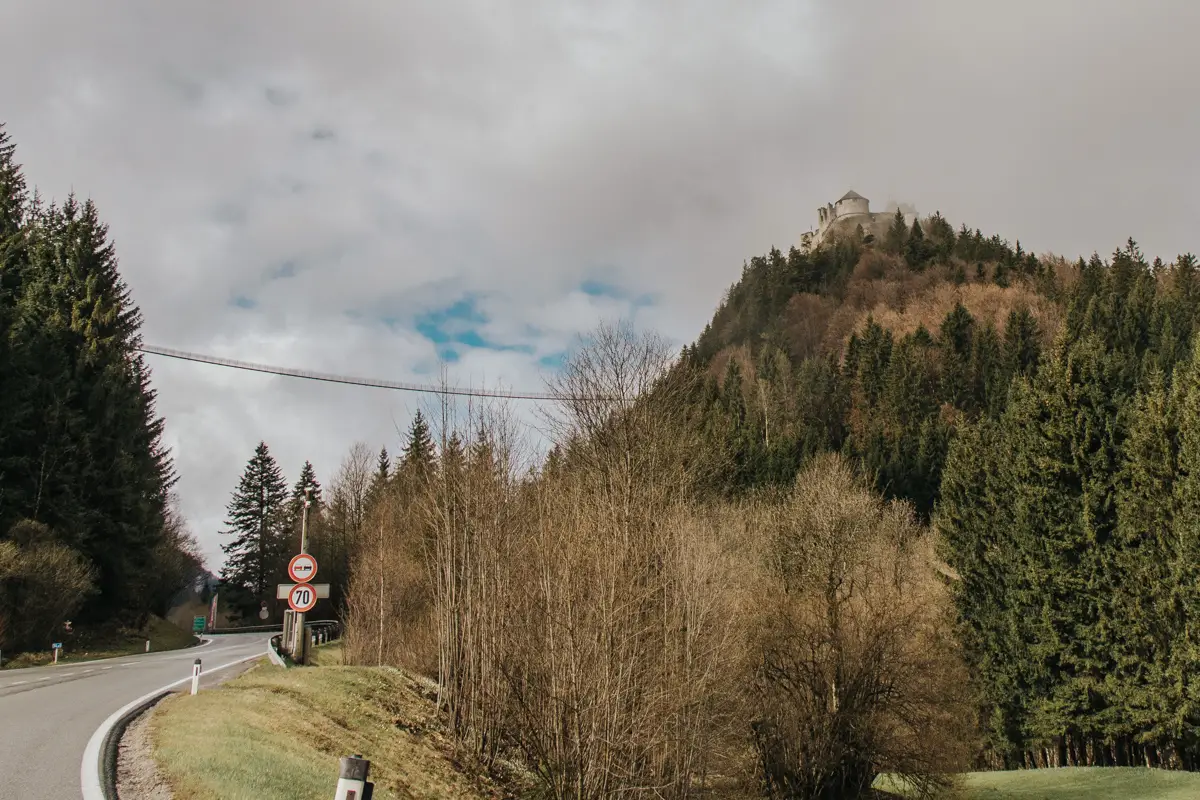 One of the locations I passed along my road trip through Austria and Germany that I WISH I had been able to stop at is the Ehrenberg Castle ruins.
This castle looks like the most spectacular, fantasy castle that has ever existed. While we were passing by, the clouds even made their way through the castle, giving it an even more mystifying look (although through my camera lens it just looks a little bit hazy – whoops!) But I swear in person, this location is breathtaking.
It's located in Ruette, Austria, just 20 minutes from Neuschwanstein Castle. It was built in 1296, making it 600 years older than Neuschwanstein.
What makes it even more unique is that just beside it is one of the longest Tibetan bridges in the world, Highline 179.
For more info on visiting these amazing ruins and bridge, check out the official website.
Lake Eibsee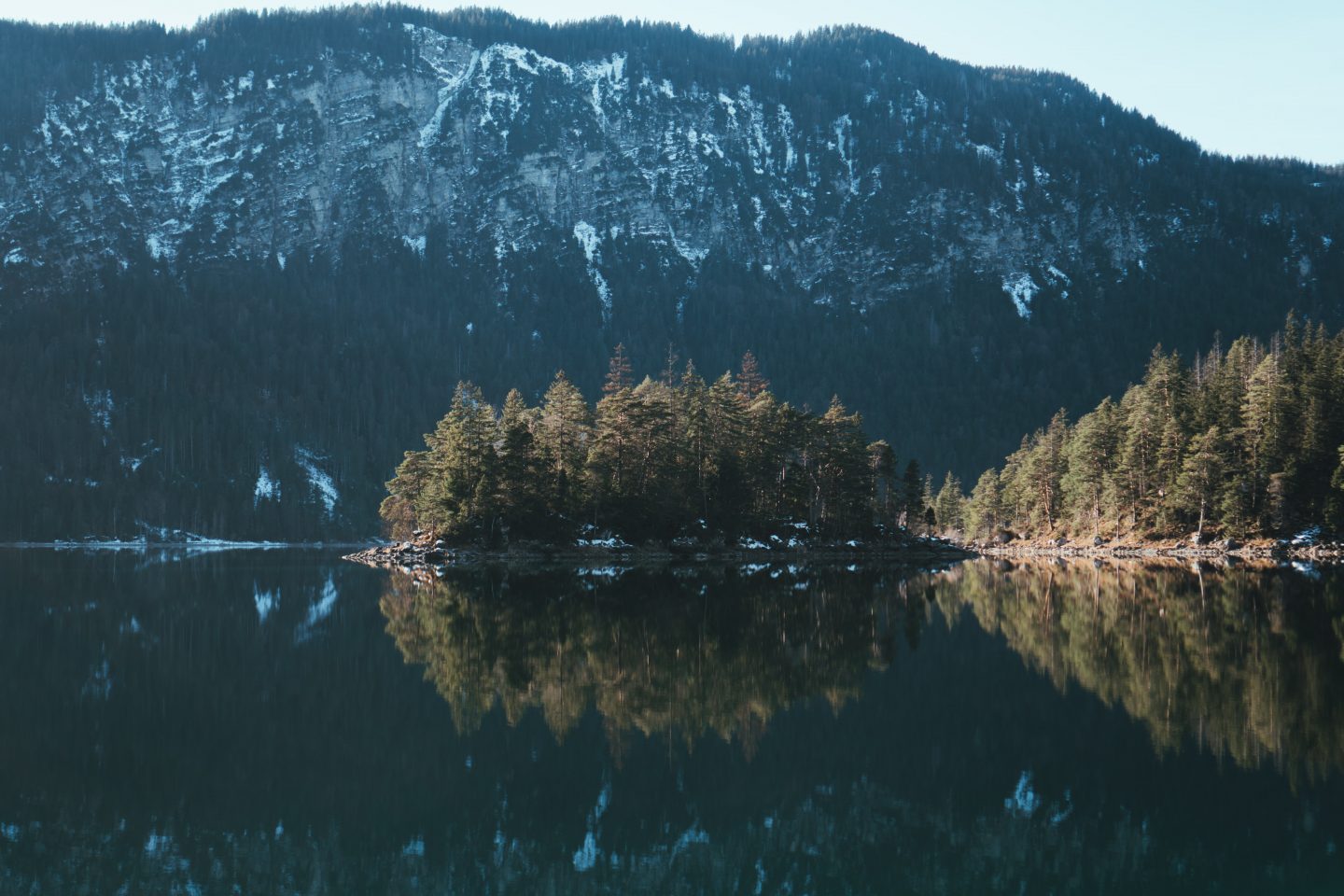 Lake Eibsee is one of the most popular lakes in Bavaria. Its waters are crystal clear and its uniqueness is characterized by the formation of tiny islands dotted all throughout the lake. Not to mention the incredible Wetterstein mountain chain it is surrounded by, including Germany's highest peak, the Zugspitze.
The lake can be enjoyed by renting a wooden paddleboat, going on a motorboat tour, or swimming (be aware – the water is freezing all year long!)
You can find more information on what to see and do at Lake Eibsee, as well as all the transportation options for getting there, here.
Linderhof Palace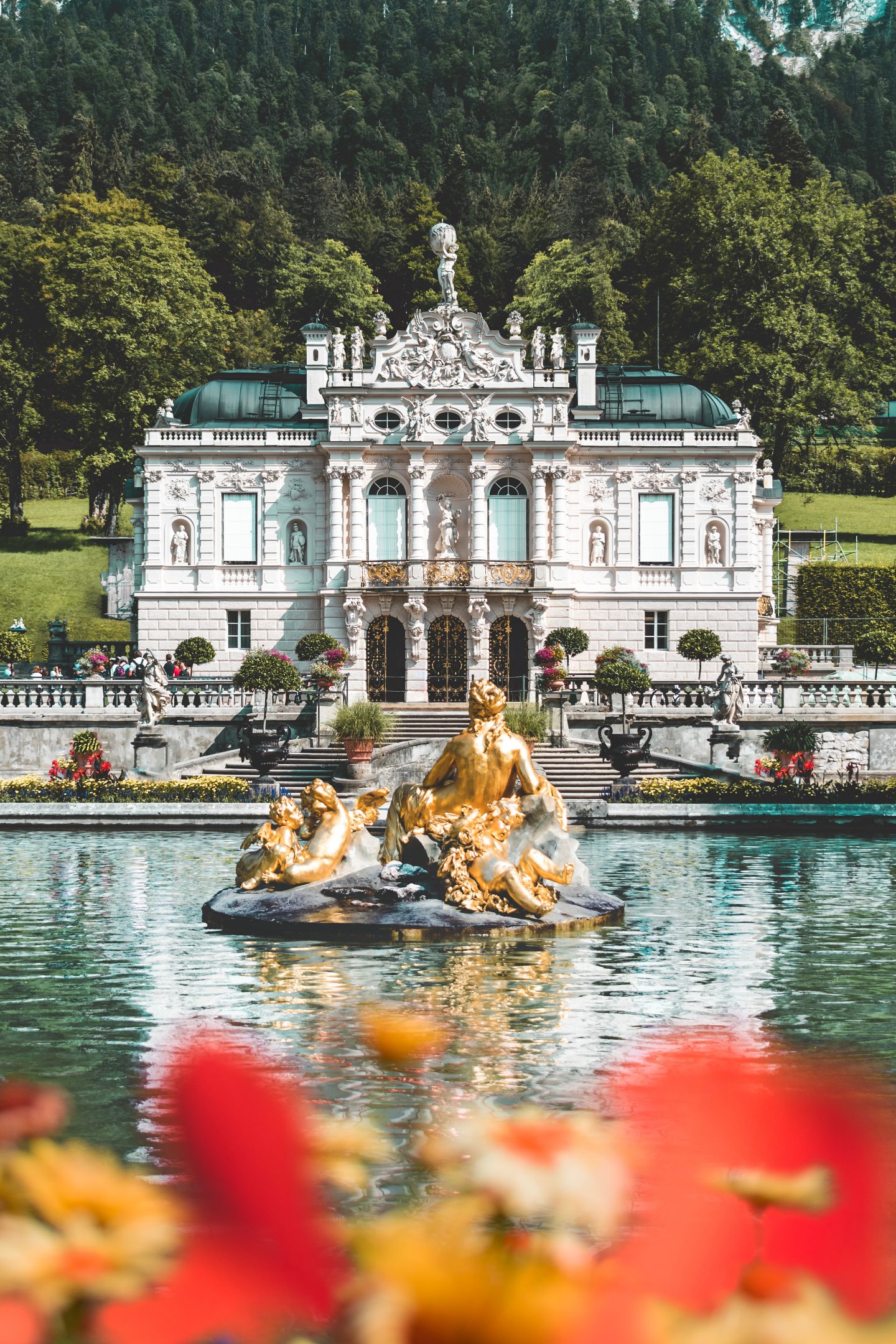 One thing is clear: Germany has no shortage of opulent castles and residences once belonging to the royal family. Included on that list and often paired with a trip to Neuschwanstein Castle is the Linderhof Palace.
The Linderhof Palace is located in Ettal, Germany, characterized by its opulent interior and exterior, as well as pristine gardens. You have the option of touring both the palace and park buildings for 10€ or just the park buildings for 5€.
How to Reach Linderhof Palace
The easiest and most practical way to reach Linderhof Palace is by car, a 50-minute drive from Neuschwanstein Castle.
If you don't have a car, you can take a train from Füssen to Oberammergau and from the station take bus 9622 to reach Linderhof.
You could also reach Linderhof Palace by booking a joint day trip with Neuschwanstein Castle from Munich.
Innsbruck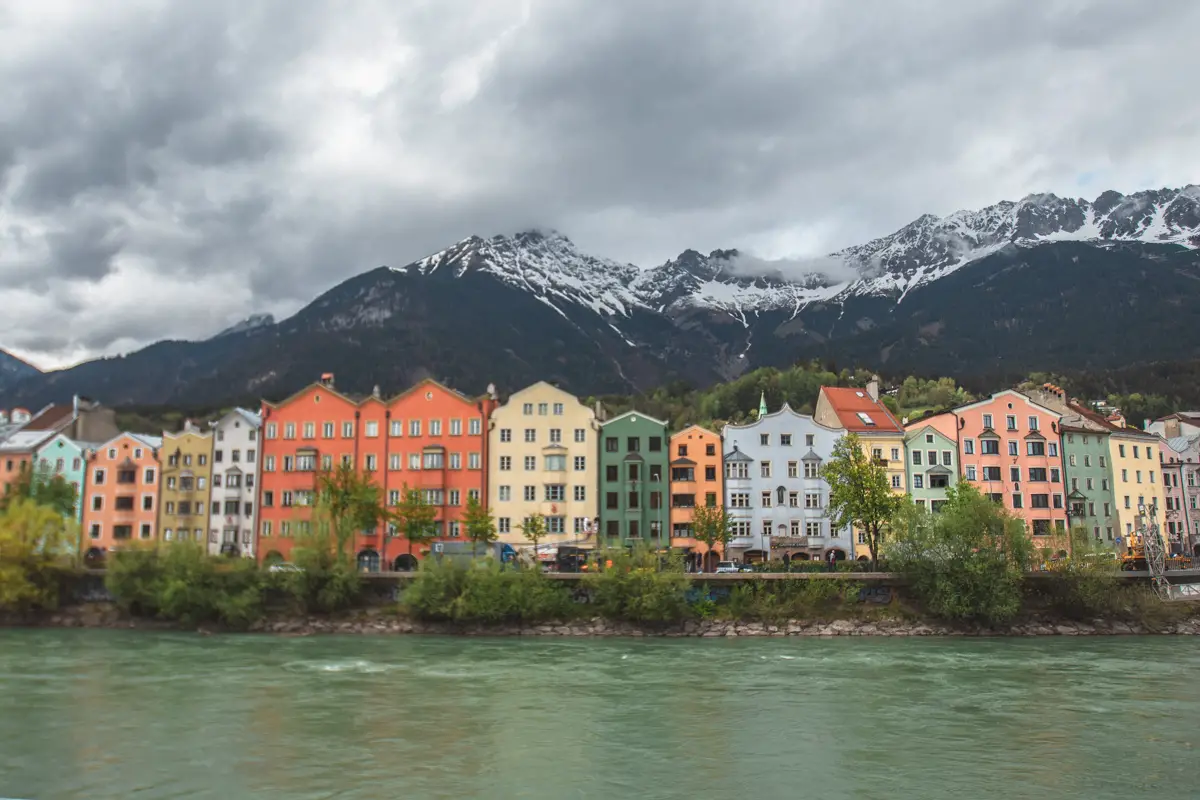 Innsbruck is the capital city of Tyrol in western Austria and a perfect city break from Neuschwanstein. Because of its further distance, it will work best as a day trip or overnight stay from Neuschwanstein Castle. But the trip is well worth it!
I have a full guide to visiting Innsbruck in one day, so I won't ramble too much in this post, but the city is one of the prettiest in Europe. Its smaller size allows it to keep a laidback and storybook charm that other European cities can lack. Some of the best things to do are climb the Stadtturm clock tower and take the Nordkette cable car.
How to Reach Innsbruck
The only practical way to really reach Innsbruck from Neuschwanstein Castle is to drive. Innsbruck is about a 90-minute drive south of Neuschwanstein Castle.
One of the best parts about this drive is that you get to go through the Fernpass in Austria, which is an extremely scenic motorway and will be full of other beautiful places along the way you'll want to stop at.
Pro Tip: You'll need to buy a vignette, or highway pass, to travel on the roadways in Austria. It cost 9€ for a validity of ten days and can be bought at any of the gas stations close to the Austria/Germany border.
Munich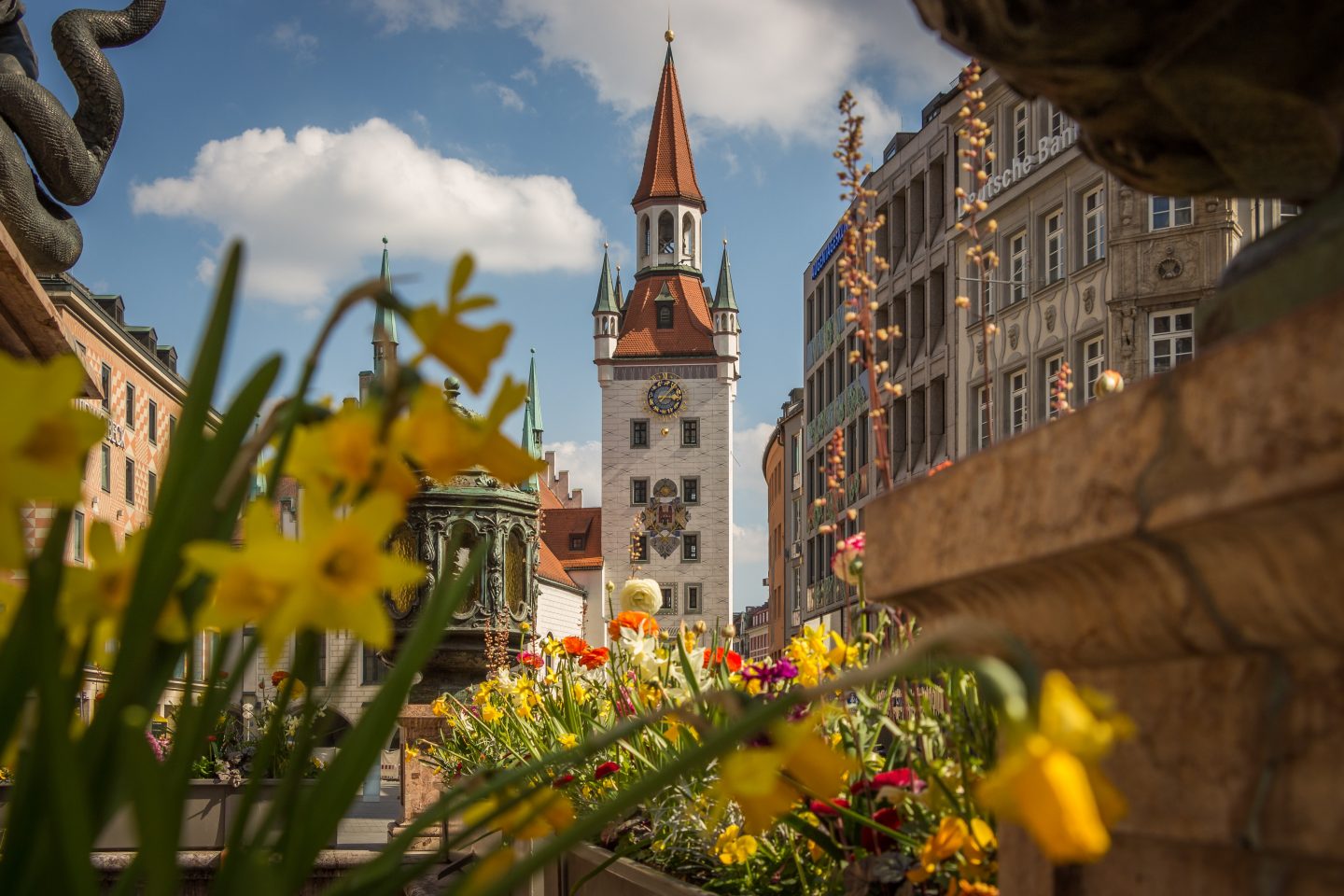 One of the most popular ways to get to Neuschwanstein Castle is to take a day trip from Munich. If you're road tripping your way through Europe, why not go the other way around?
Munich is a 90-minute drive from Neuschwanstein, so it would have to be a day trip or overnight activity in order to fit on your Neuschwanstein itinerary. But with a city as beautiful, big, and cultural as Munich so close by, it can be an easy and worthy addition to your trip!
How to Reach Munich from Neuschwanstein
There are 2 main ways to reach Munich from Neuschwanstein Castle: by car or bus + train
If you're traveling by car, luckily the drive is straightforward and nearly all on a major roadway. You'll take the B17 north and then the A96 motorway to the east to reach Munich.
If you prefer to go by train, head to the Füssen train station via Bus 78 which connect Neuschwanstein castle and the train station with rides all day long.
---
Final Thoughts
A trip to Neuschwanstein Castle is once-in-a-lifetime – why not discover a bunch of other beautiful sites along the way and after your visit? While visiting the castle is special, it also doesn't typically take up an entire day – maybe half a day at most.
That's why having ideas for what to do around Neuschwanstein can help you make the most of your time in Bavaria and southern Germany. Hopefully this post has given you tons of ideas for your trip planning!
For new destination guides and travel tips sent straight to your inbox, sign up for my weekly newsletter!
What are you most excited to see on this list? Let me know in a comment!
Save these ideas on Pinterest for later reference!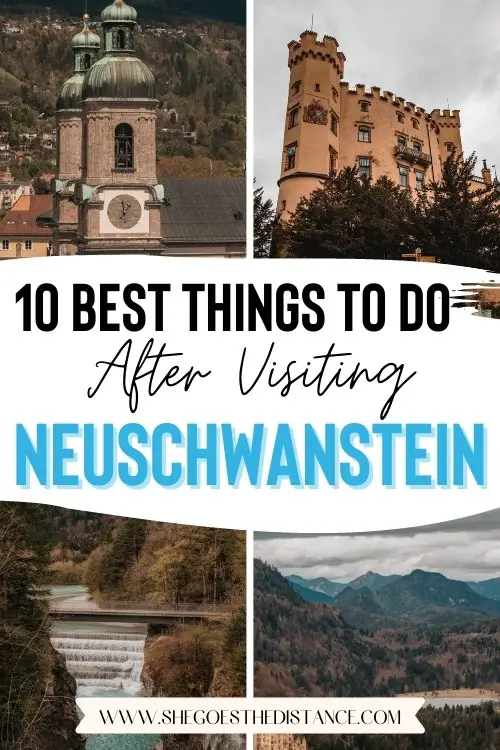 I hope these ideas of things to do near Neuschwanstein Castle help you round out your itinerary and lead you to discover beautiful places you've never heard of before!
XOXO
Michela