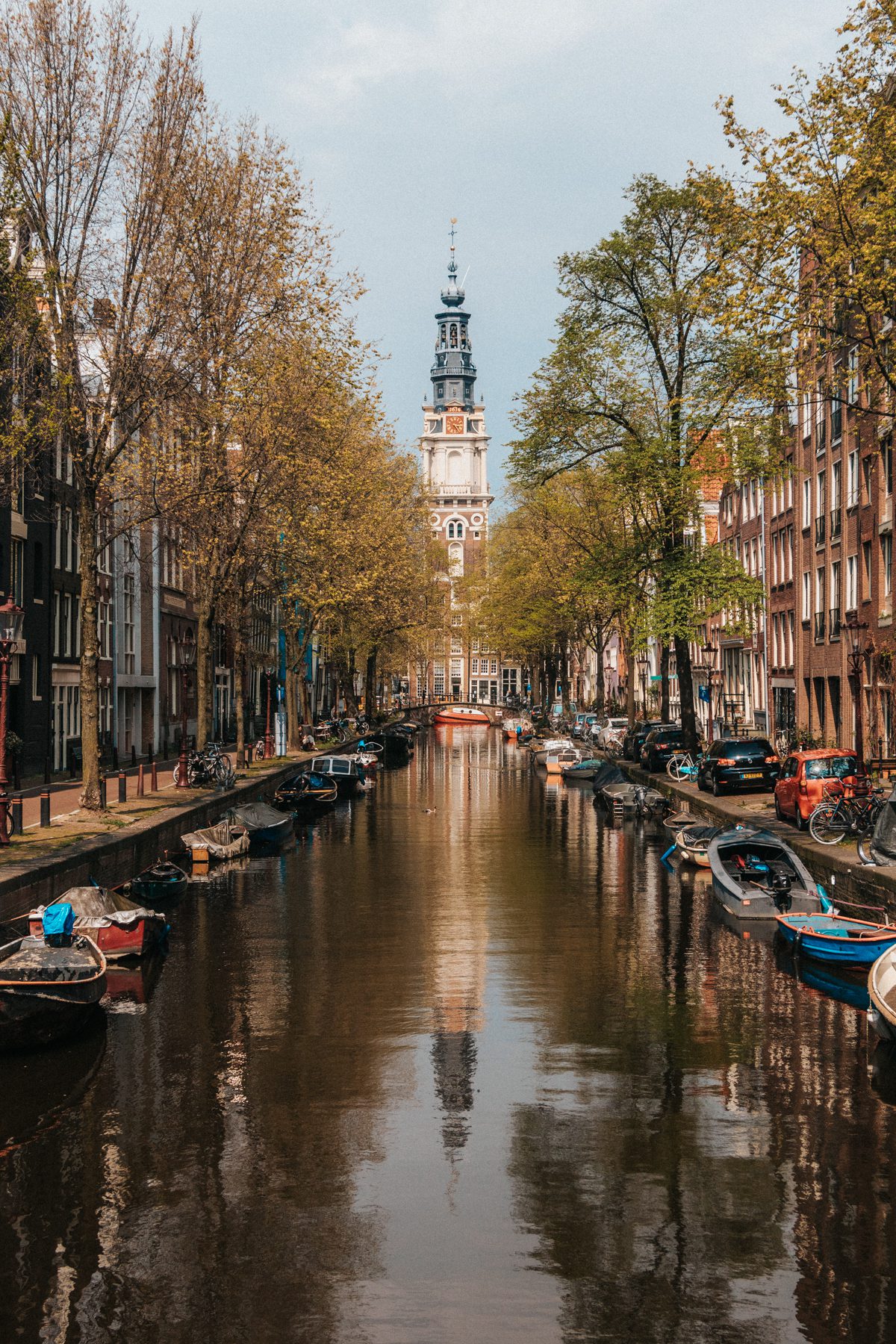 Last Updated on July 11, 2023
Amsterdam is one of the most beautiful cities in Europe. You could easily spend a week exploring the city center and its surroundings, but even if you just have a weekend in Amsterdam, you can see this charming, cosmopolitan city's best sights! Discover how to make the most of 2 days in Amsterdam in this detailed travel guide, from all the things to do and see to practical information for a stress-free trip.
Some of these links are affiliate links. This means if you make a purchase through that link, I receive a small commission at no extra cost to you. Read my full disclosure!
---
Two Days in Amsterdam Itinerary: Day 1
Day 1 of your two day Amsterdam itinerary is all about exploring the heart of the city center.
Breakfast at The Pancake Bakery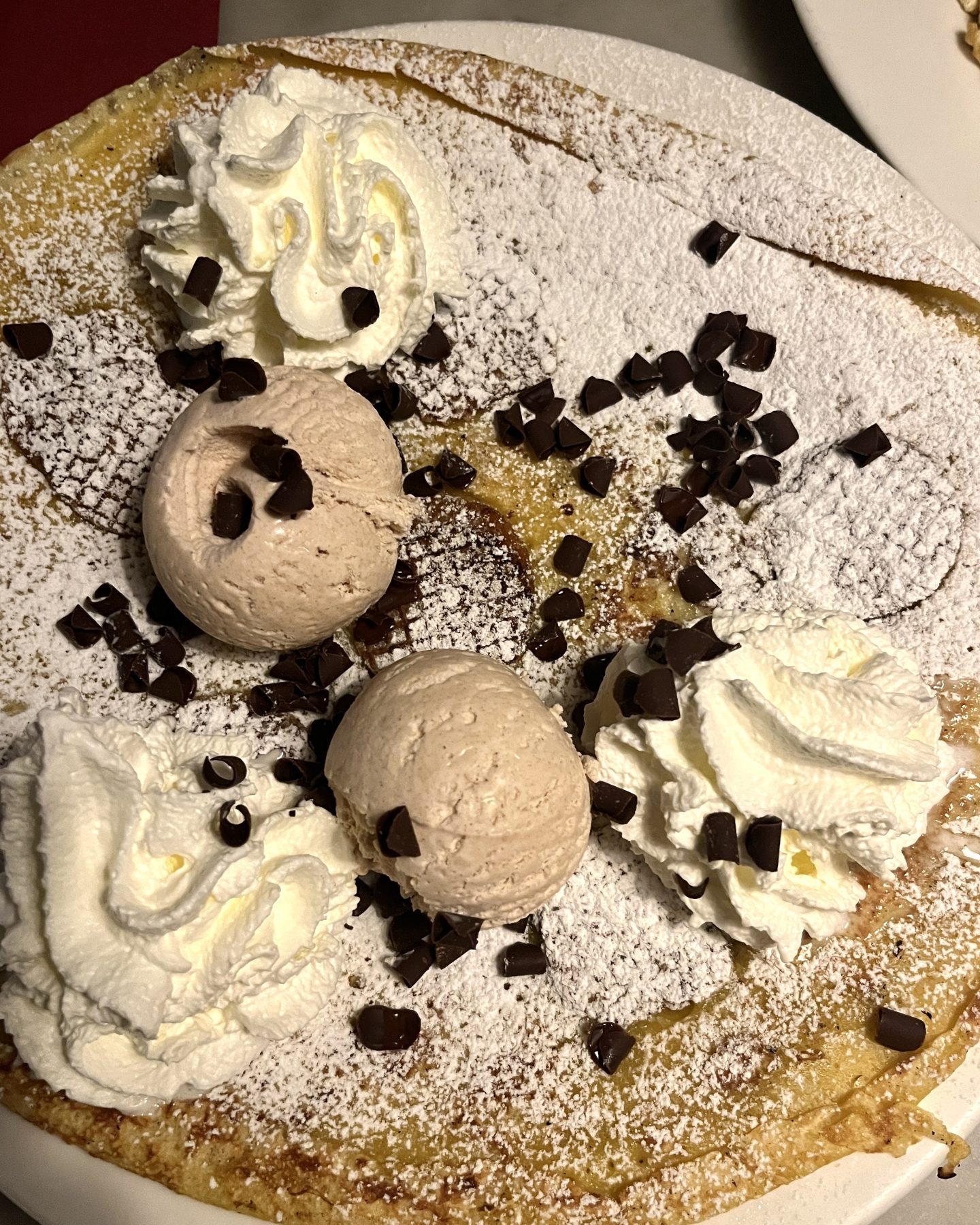 Start your day in Amsterdam with breakfast royalty at The Pancake Bakery.
This restaurant is tucked along the street between canal houses with a dark and rustic atmosphere. It is famous for its thin, crepe-like Dutch pancakes, but potentially even more famous for pancake toppings!
We ordered the Dutch pancakes which were topped with stroopwafel chunks, cinnamon ice cream and chocolate flakes. Warning: you will need to walk all day in Amsterdam to work these calories off!
Anna Frank Museum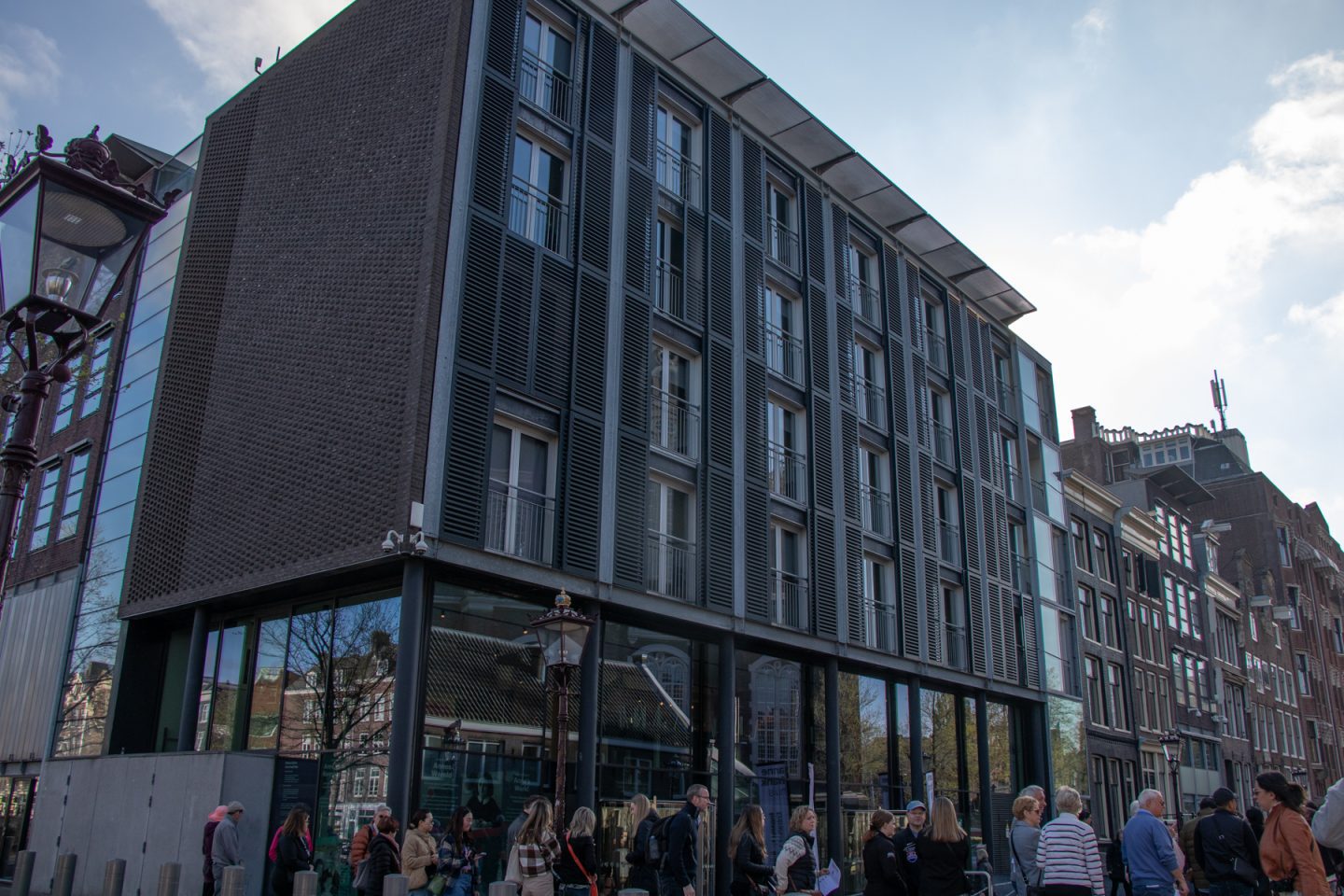 One of the things I regret not being able to do is visit the Anne Frank Museum. It is unarguably the most popular attraction in Amsterdam.
And it is also a great example of my first practical tip for you if it is your first time visiting Amsterdam. Do not wait until the last minute or the day of to book museum tickets!
I went to buy Anne Frank Museum tickets a month before my visit and they were completely sold out into the next month.
Jordaan District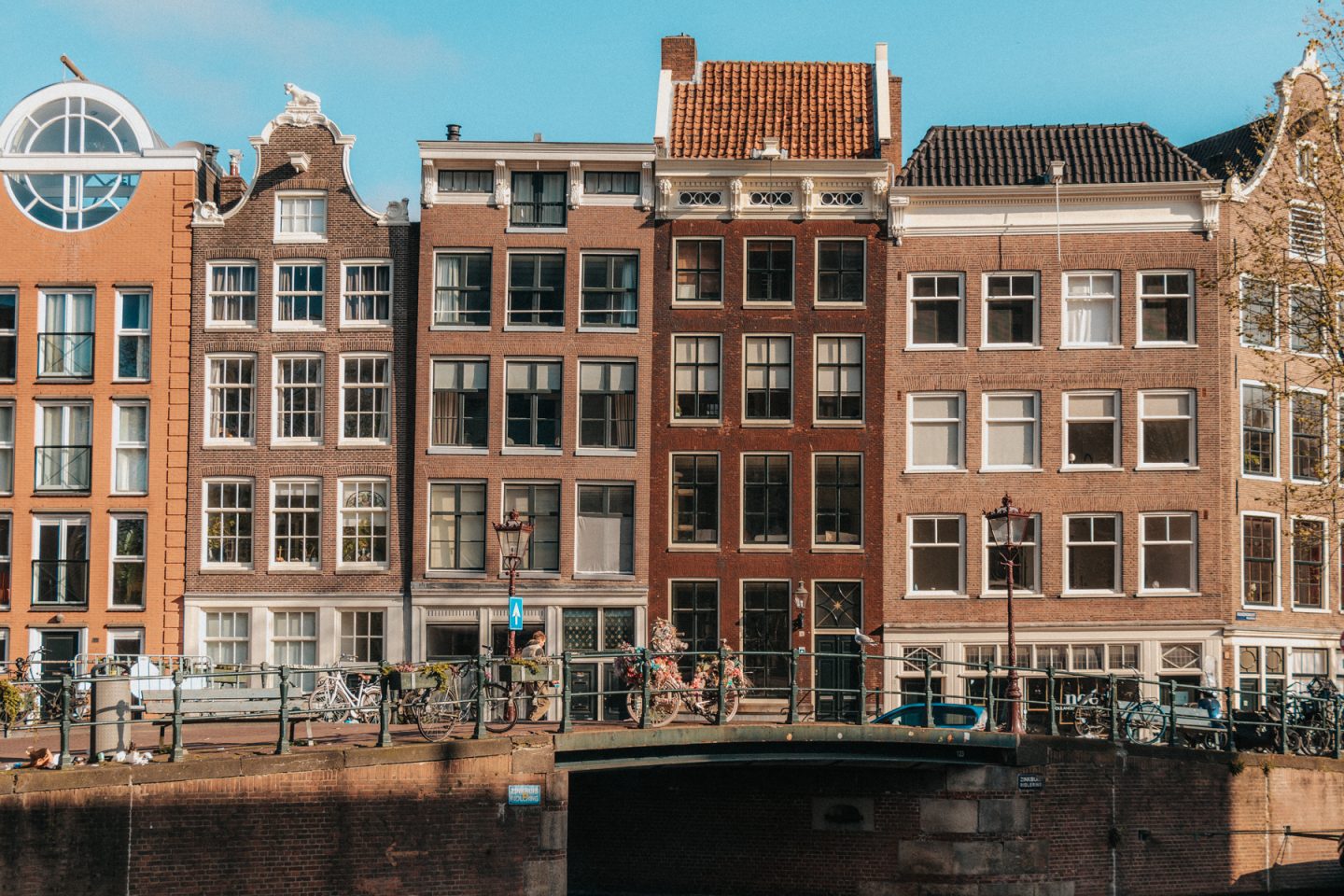 If you are already in the area of The Pancake Bakery and the Anne Frank House, then you are on the edge of the Jordaan district.
Jordaan is one of the most beautiful canal neighborhoods in Amsterdam with lots of boutiques and indie cafés restaurants.
Good to know: Maybe I am the only one who didn't know this but coffee shops in Amsterdam are not actually coffee shops, they are where you can buy and enjoy cannabis.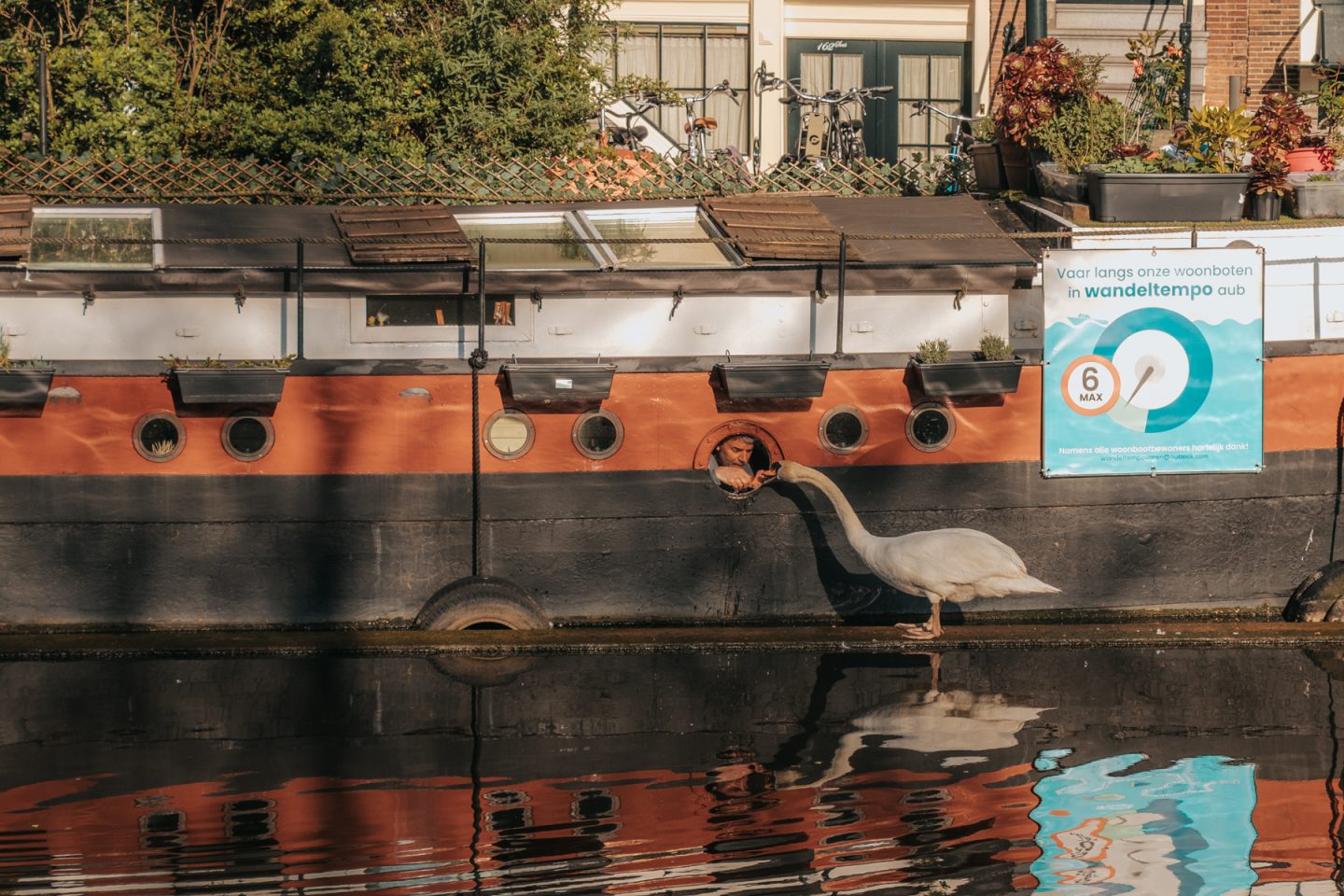 This is one of my favorite shots taken along the canals around the Jordaan district. Did you know there are over 2,500 houseboats in Amsterdam?
Canal Cruise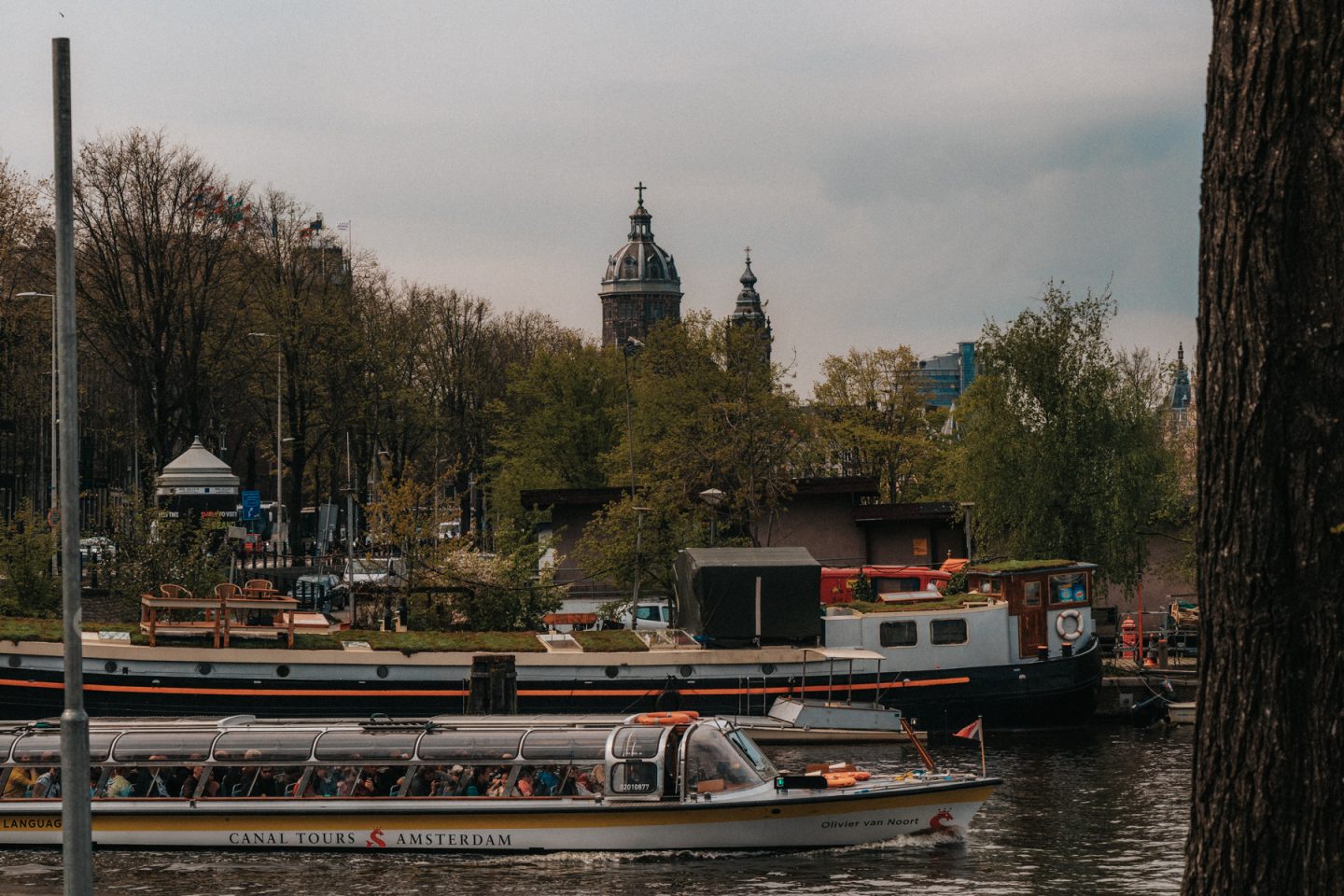 If you could only pick one thing to do with 2 days in Amsterdam from this list, then pick a canal boat tour!
The ride is just an hour, a perfect way to optimize time and see a ton of Amsterdam from one of its best perspectives.
What I really loved about the canal boat ride was that it was the perfect opportunity to chat to a local guide and learn about Amsterdam's amazing history. It makes you appreciate the city so much more as you walk around and explore.
Most canal boat tours will take off and return to the Amsterdam Centraal Station, in the heart of the city center. This is the exact boat tour I did with Flagship Amsterdam and it couldn't have been more fun and lovely!
Royal Palace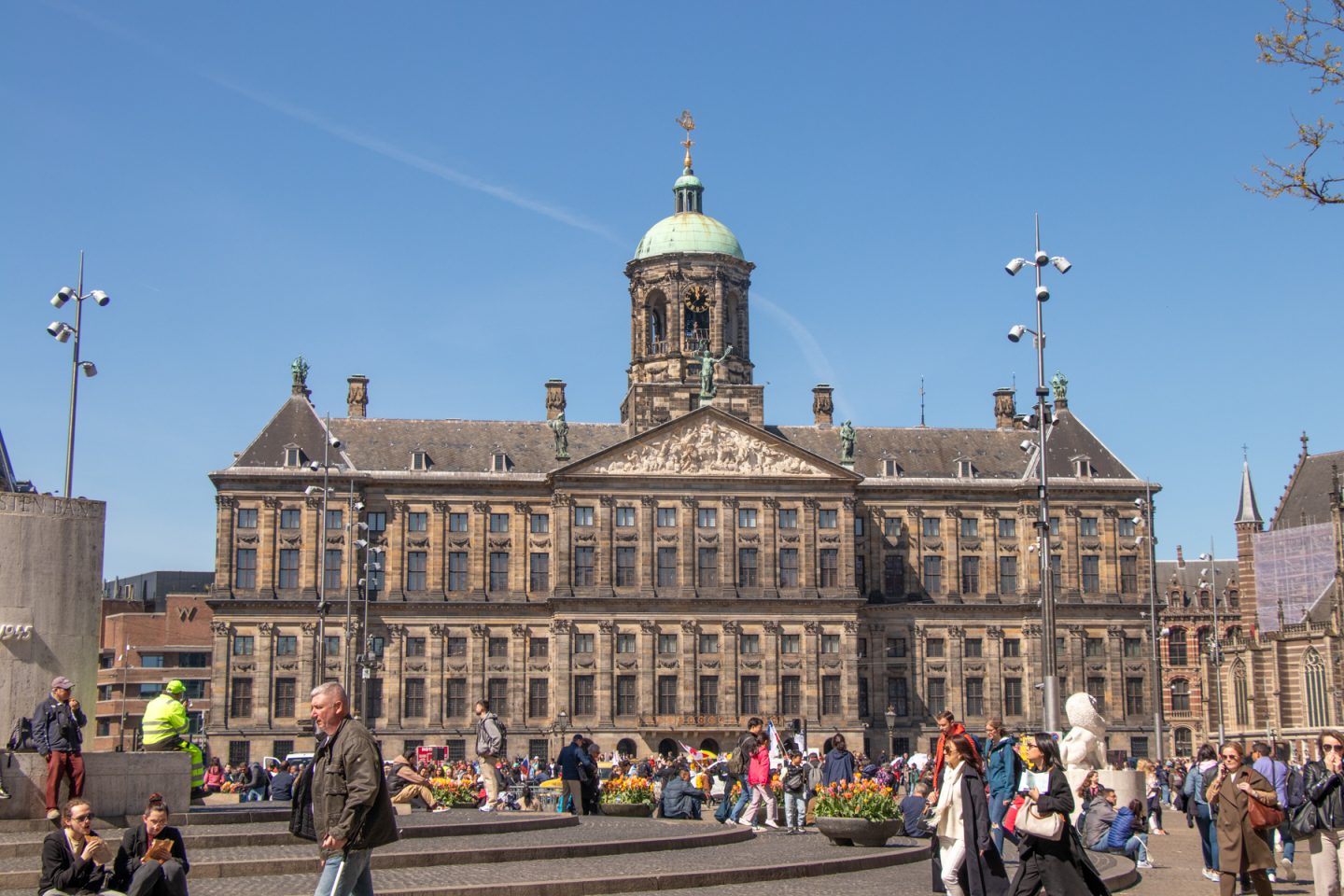 While you are in Amsterdam center, walk down the main street of Damrak to the Dam Square.
Here you will find a hub of activity, from 5 star hotels to the main shopping streets of Amsterdam to the Royal Palace. One of the most interesting parts about the Royal Palace is that it is still in use today, so while you are visiting, you are getting the true perspective of a Royal Palace guest!
Visiting the Royal Palace is only €12.50 a person, so it is also a fairly cheap experience to enjoy if you are visiting Amsterdam on a budget. Buy tickets online to visit the Royal Palace.
Red Light District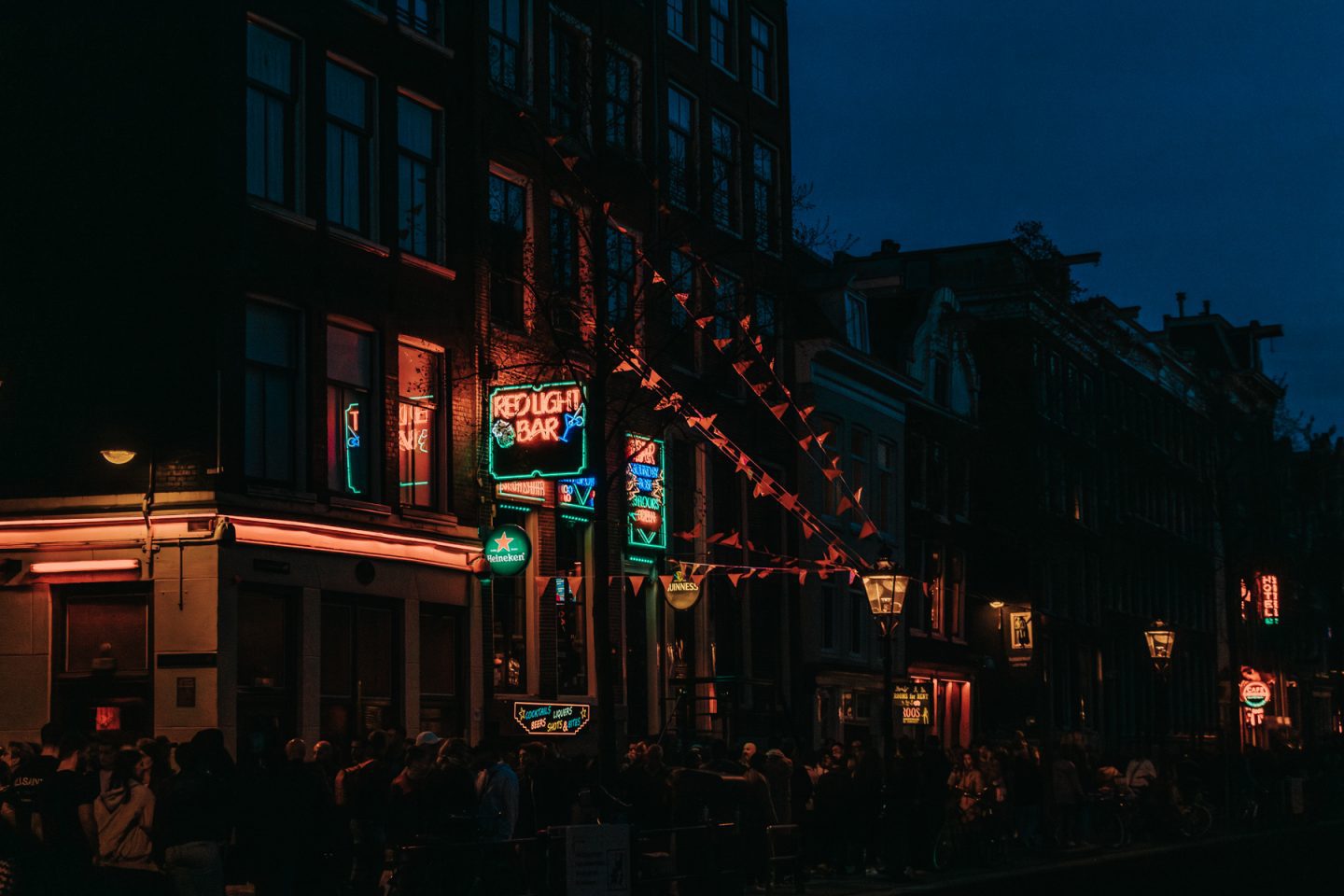 You can't go to Amsterdam without passing by the infamous Red Light District. The area is fairly calm by day but by night, the crowds can get insane. We had to filter through this little side street to get on the Red Light District canal, sandwiched inbetween fellow visitors!
This neighborhood is obviously not PG, so I wouldn't pass by with kids, but to each their own. It is definitely a very interesting and unique part of Amsterdam's cultural and societal fabric and unlike anything you will see anywhere else.
Dancing Houses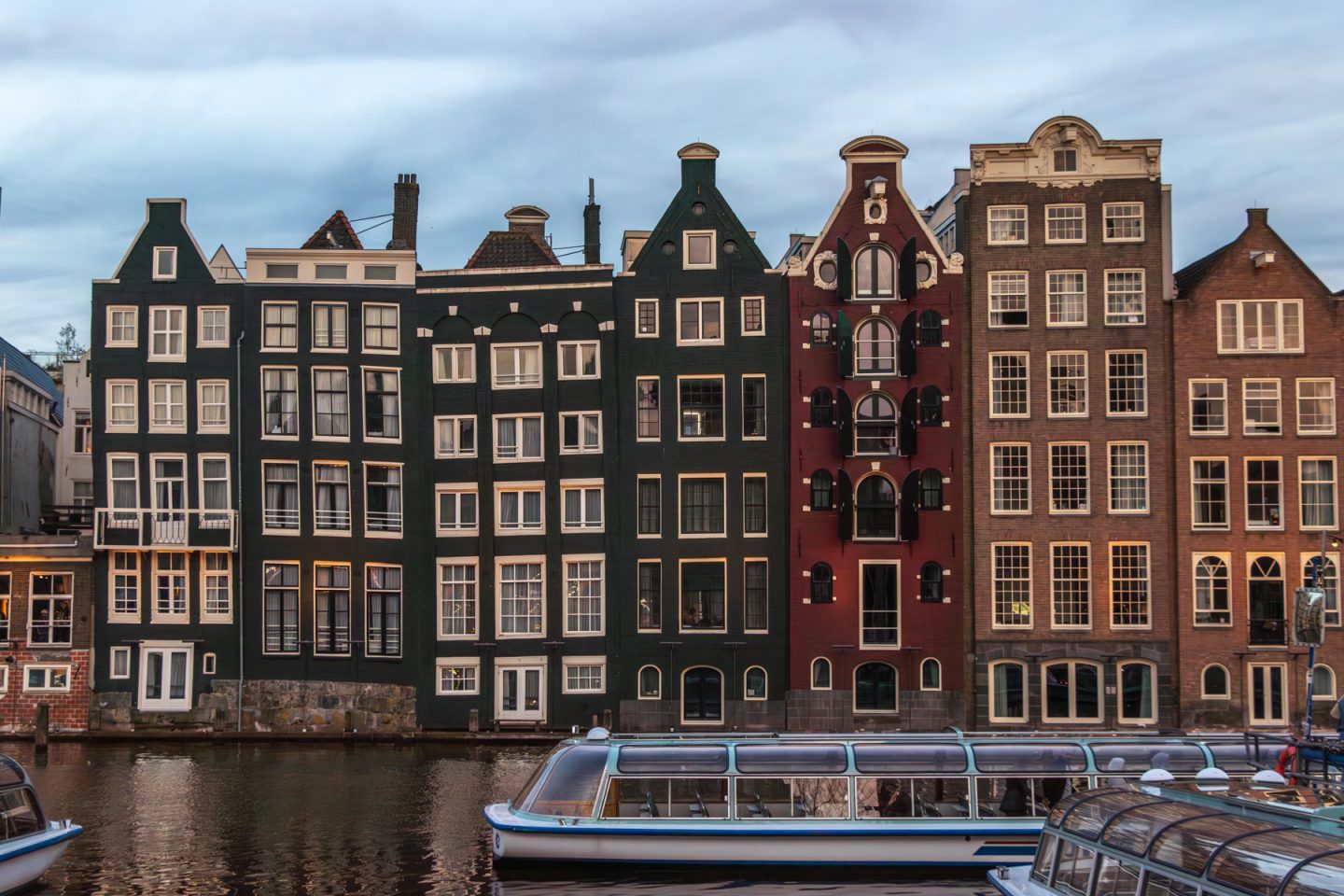 I love learning about Amsterdam while visiting. One of the most unique things our local guide shared was about the canal architecture.
You will see some houses tilting forward with a hook coming out of the top of the house's exterior. This was so that merchants could raise pepper, the city's most lucrative trading item, to the top floor of the house for dry storage without the package hitting the front of the house.
Other houses tilt sideways! Rather than this architectural characteristic having a purpose, it is actually just a sign of poor planning and foundation. But it does make for one of the cutest and more charming locations in Amsterdam.
Some of the most famous Dancing Houses are on the Damrak canal, just a few steps away from the train station.
However, my boat tour guide also indicated this location below as the Dancing Houses, which are a bit more tilted and whimsical!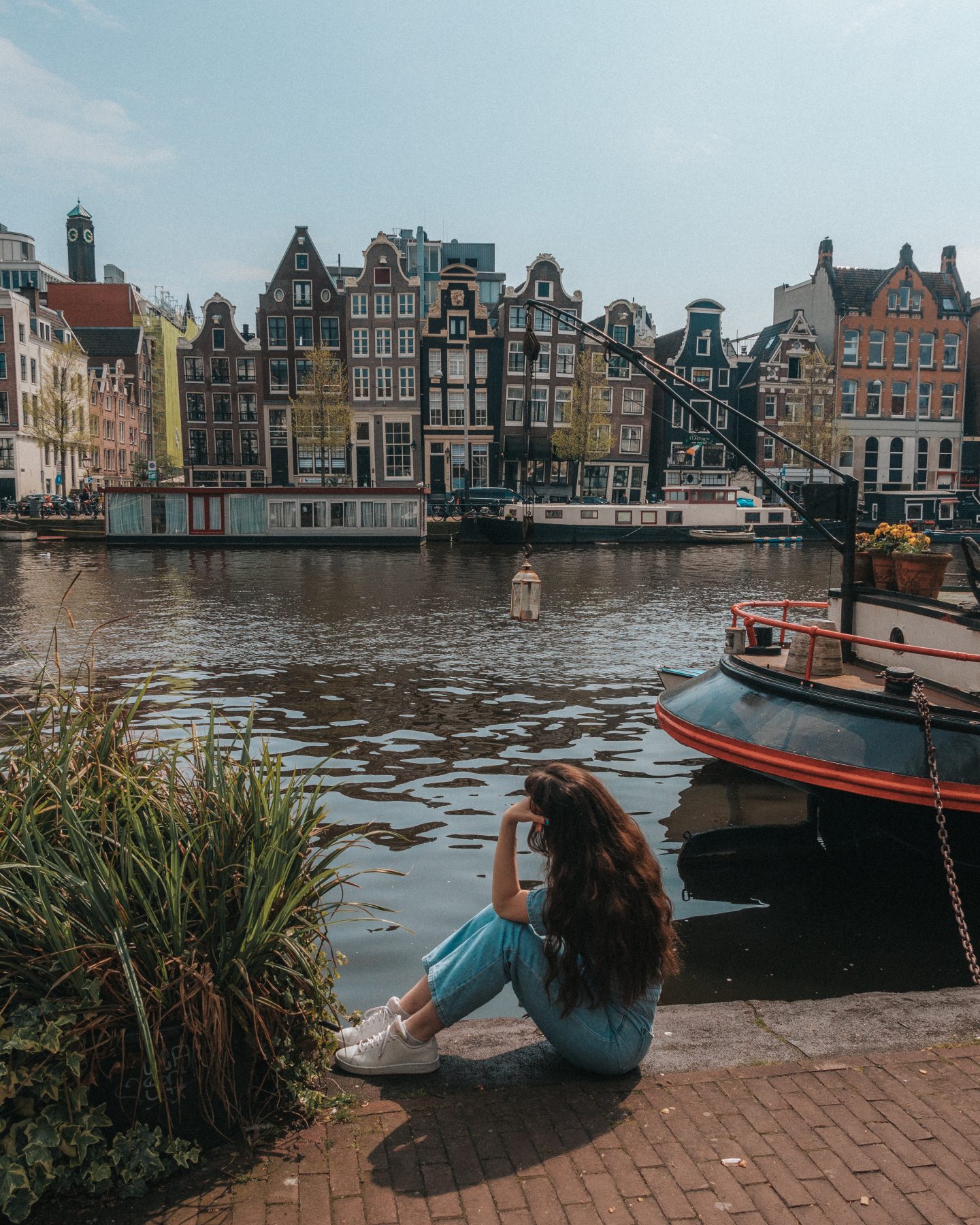 Dinner at Foodhalle
If you are looking for a cute and social spot for the fun vibes Amsterdam has to offer, then Foodhalle is for you.
This open space has a bunch of different booths that cover all different food genres, so it is also the perfect place to eat if you are not feeling something in particular.
The place can get absolutely packed, so if you want a calmer experience, try to get there earlier around 7 pm.
---
Two Days in Amsterdam Itinerary: Day 2
There is still lots of the city center to explore, from Amsterdam North to the Museum District.
Rijksmuseum
If you had to just visit one museum with 2 days in Amsterdam, I would recommend Rijksmuseum.
It is Amsterdam's main museum, a collection of all different kinds of artistry, artifacts and pieces from all different eras of Dutch history.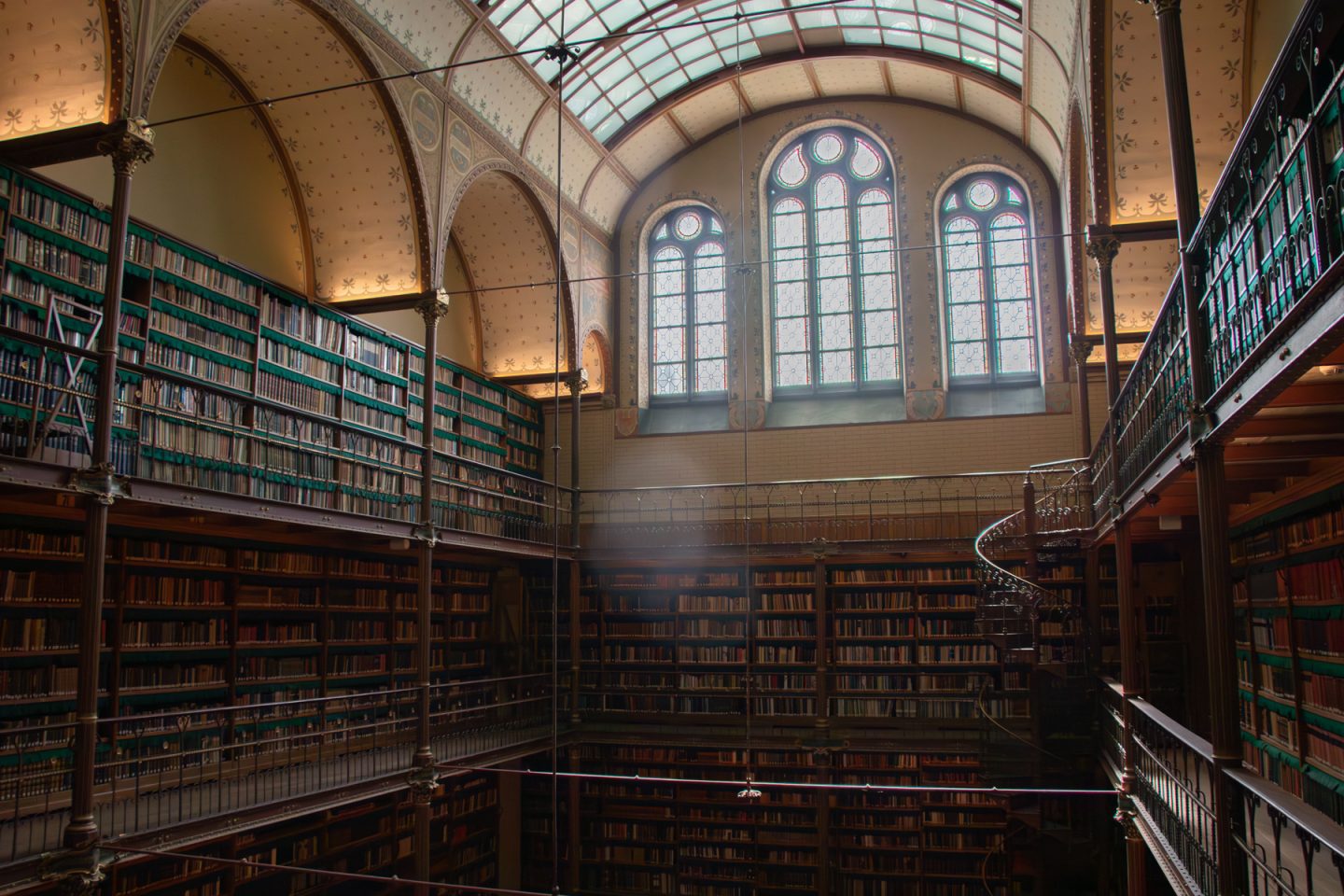 You could easily spend half a day visiting all of the exhibits, but the museum also flows nicely that you can spend a couple hours and see almost every collection.
Buy your tickets to Rijksmuseum.
Pro Tip: Keep in mind that your tickets are a timed entrance, so this is one of those activities you will have to plan your itinerary around with lesser flexibility.
Van Gogh Museum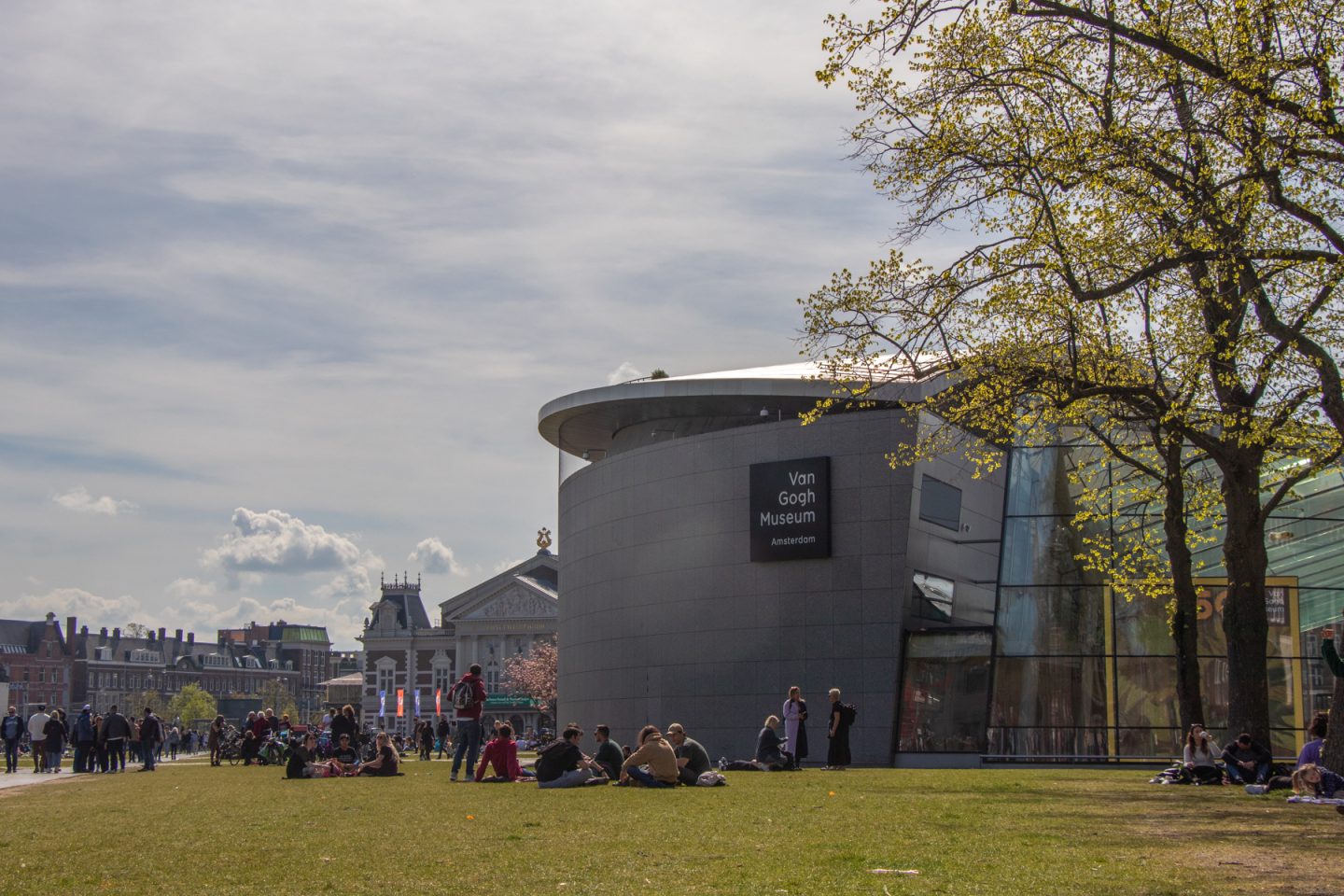 Another museum I missed out on because I was too late to buy tickets: consider this your warning!
The Van Gogh Museum is one of the top museums in Amsterdam. It is at the heart of the museum district.
Buy tickets to see the Van Gogh Museum.
Good to know: There are literally so many museums in Amsterdam, and specifically in this district, that you could spend a week there and not have seen half of them. So, it can be hard picking and choosing what to visit with just 2 days in Amsterdam! From the Moco Museum to Stedelijk Museum of Modern Art, discover the full list of Amsterdam museums.
Vondelpark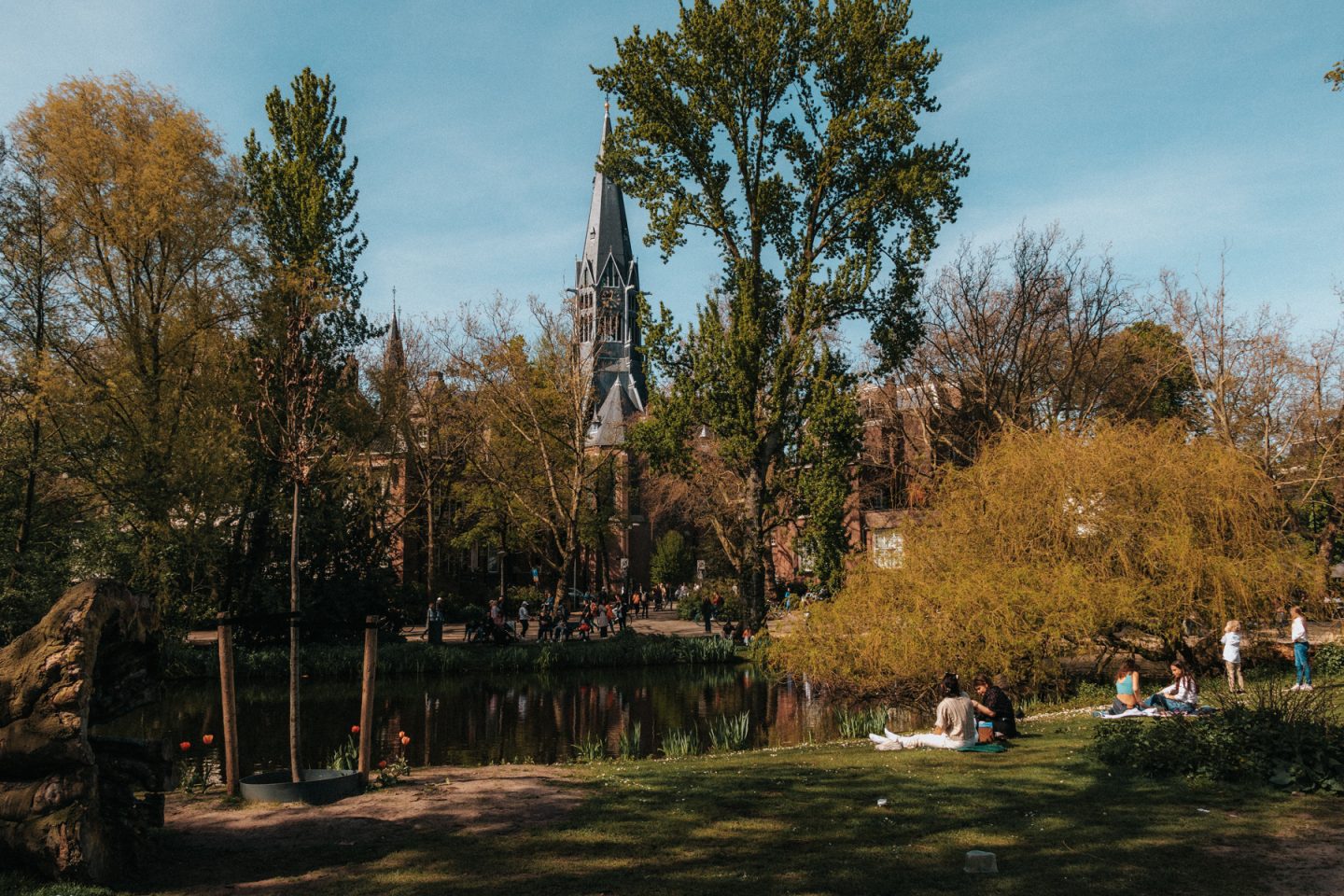 Take advantage while you are in the museum district to visit Vondelpark.
Vondelpark is one of the hippest, most relaxing areas of Amsterdam. This huge park is packed with people when the weather is nice.
While that may sound bothersome, it is actually so neat to see so many people gathering, chilling and relaxing together.
Good to know: While you are in the area, check out the Albert Cuyp Market, Amsterdam's largest outdoor market, active from Monday to Saturday.
Lunch at Ter Marsch & Co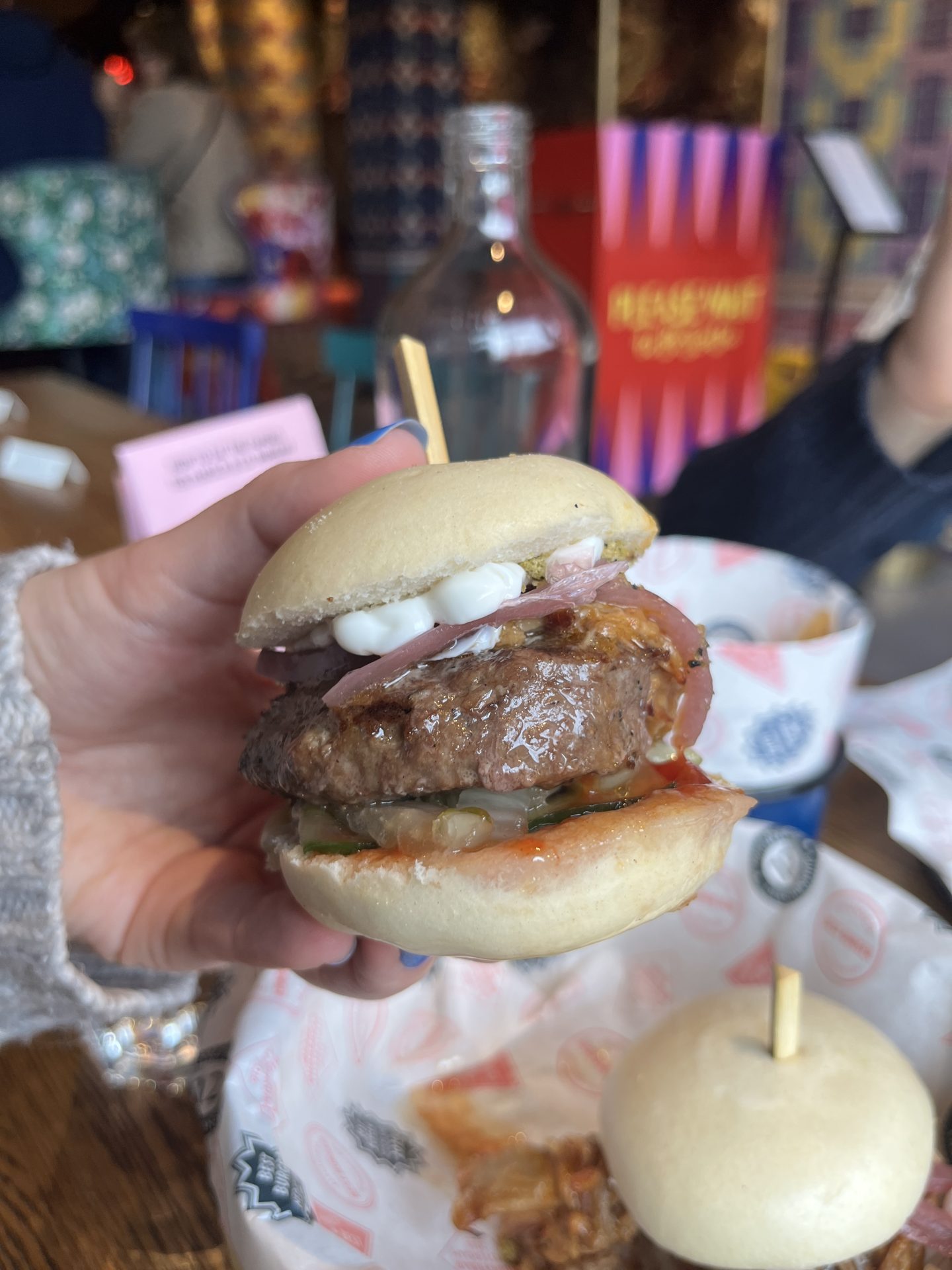 We got lucky and happened to stumble into one of Amsterdam's top lunch spots and somehow snag a spot without a reservation. Thank goodness because the famous burgers of Ter Marsch & Co are actually worth the hype!
Bloemenmarkt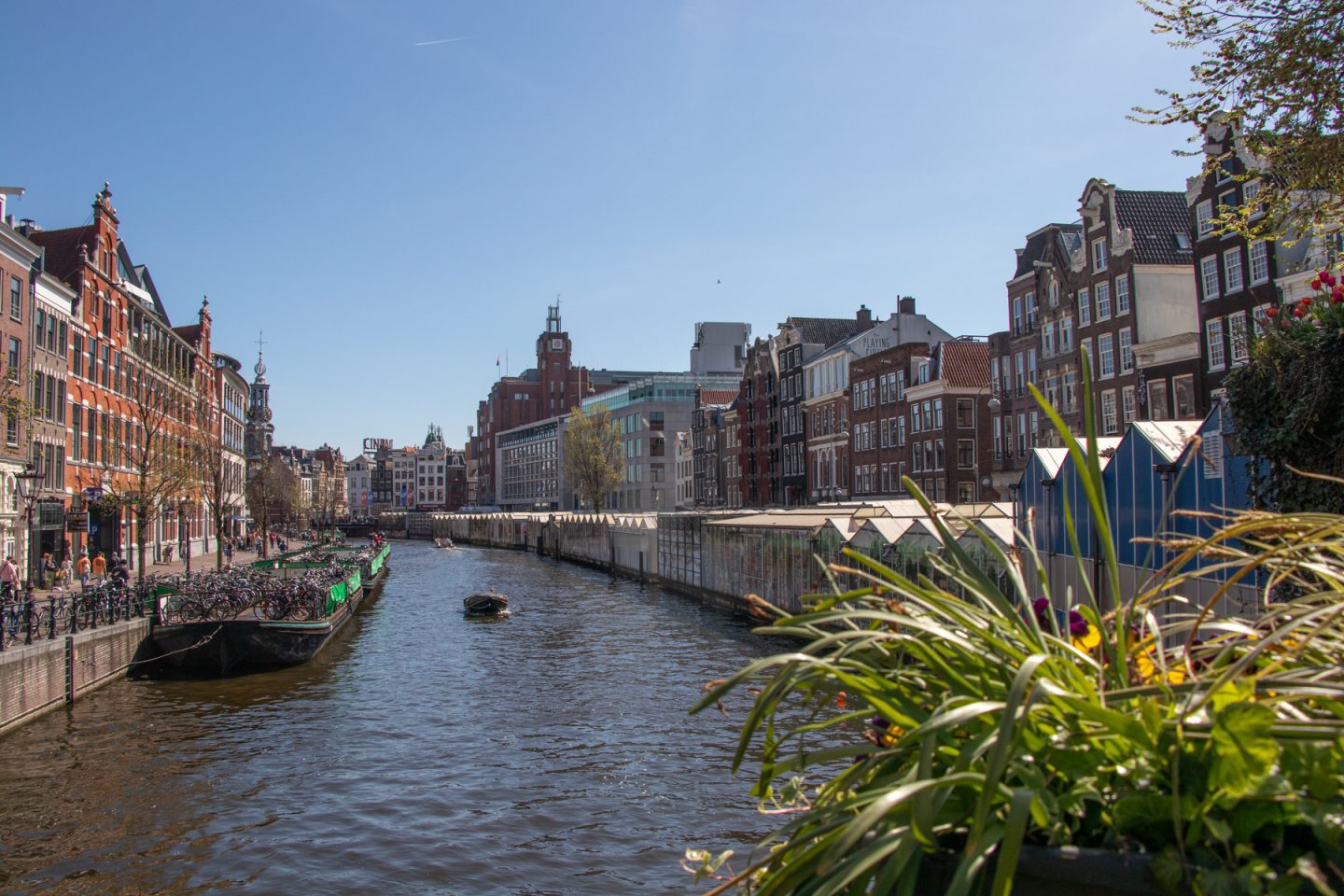 The Netherlands is known for its beautiful flowers and incredible spring tulip season. So, of course, visiting Amsterdam's flower market is a must!
It is actually the only floating flower market in the world, with the stalls lined up along the canal edge.
I have to be honest, I expected more from Amsterdam's main flower market but I may have skyrocketed my hopes too high. While the Bloemenmarkt is cute and I do recommend you stop by, to me it is definitely an accessory activity and not a full activity in itself.
You can expect to spend just a short amount of time looking at the different garden shops so you can dedicate your limited hours in Amsterdam in the best way possible!
NEMO Rooftop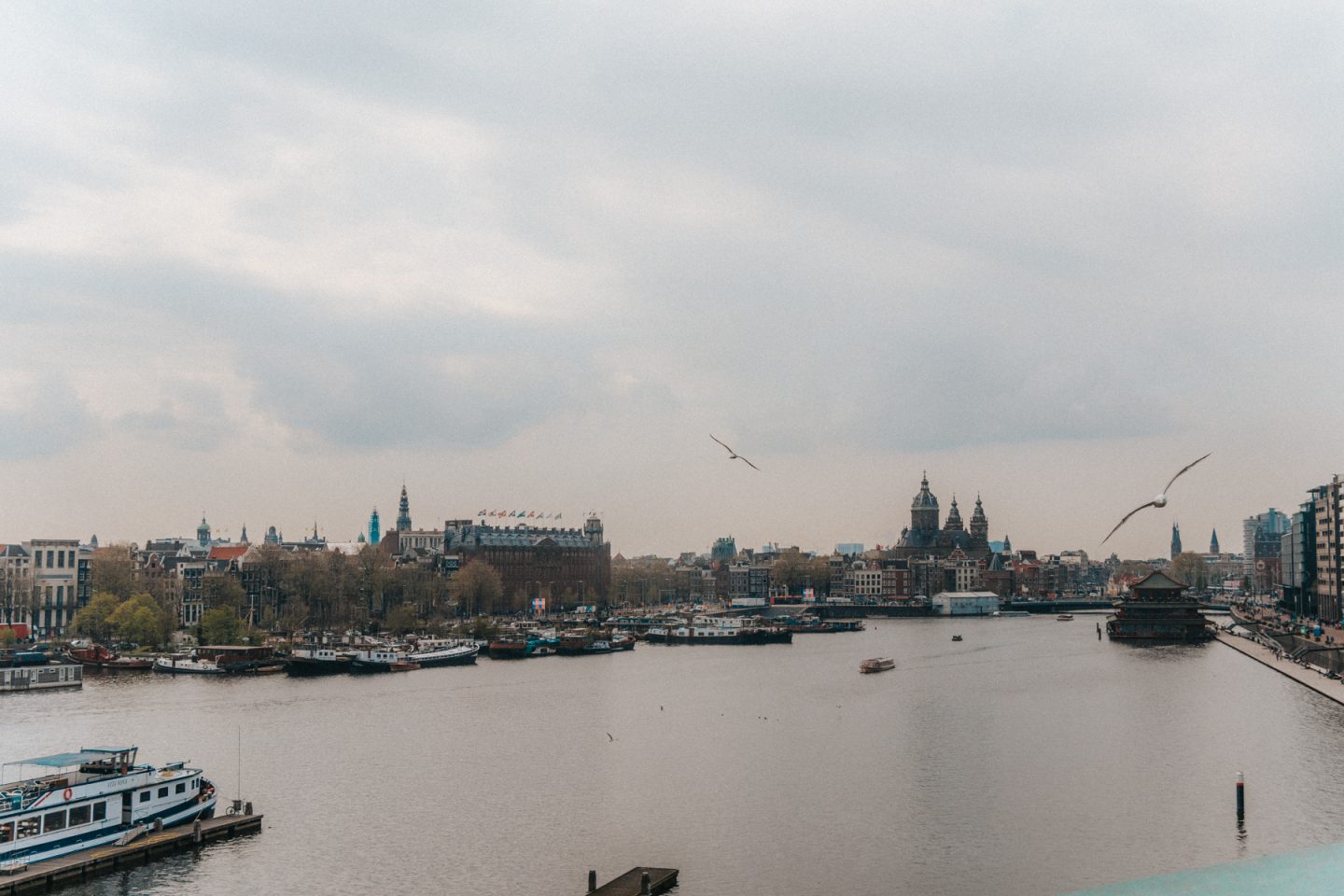 One of my favorite free things to do in Amsterdam was visit the NEMO Science Museum rooftop.
If you are traveling with kids, then visiting the museum itself could be a great immersive activity for them.
But if you are just a sucker for a good rooftop view and traveling on a budget, then know that it is worth the walk to reach NEMO museum's rooftop. It is an open-air, terraced rooftop that has incredible views of the Oosterdok and city skyline.
Plus it is totally free, so it feels like you are getting away with a special experience.
---
Getting Around Amsterdam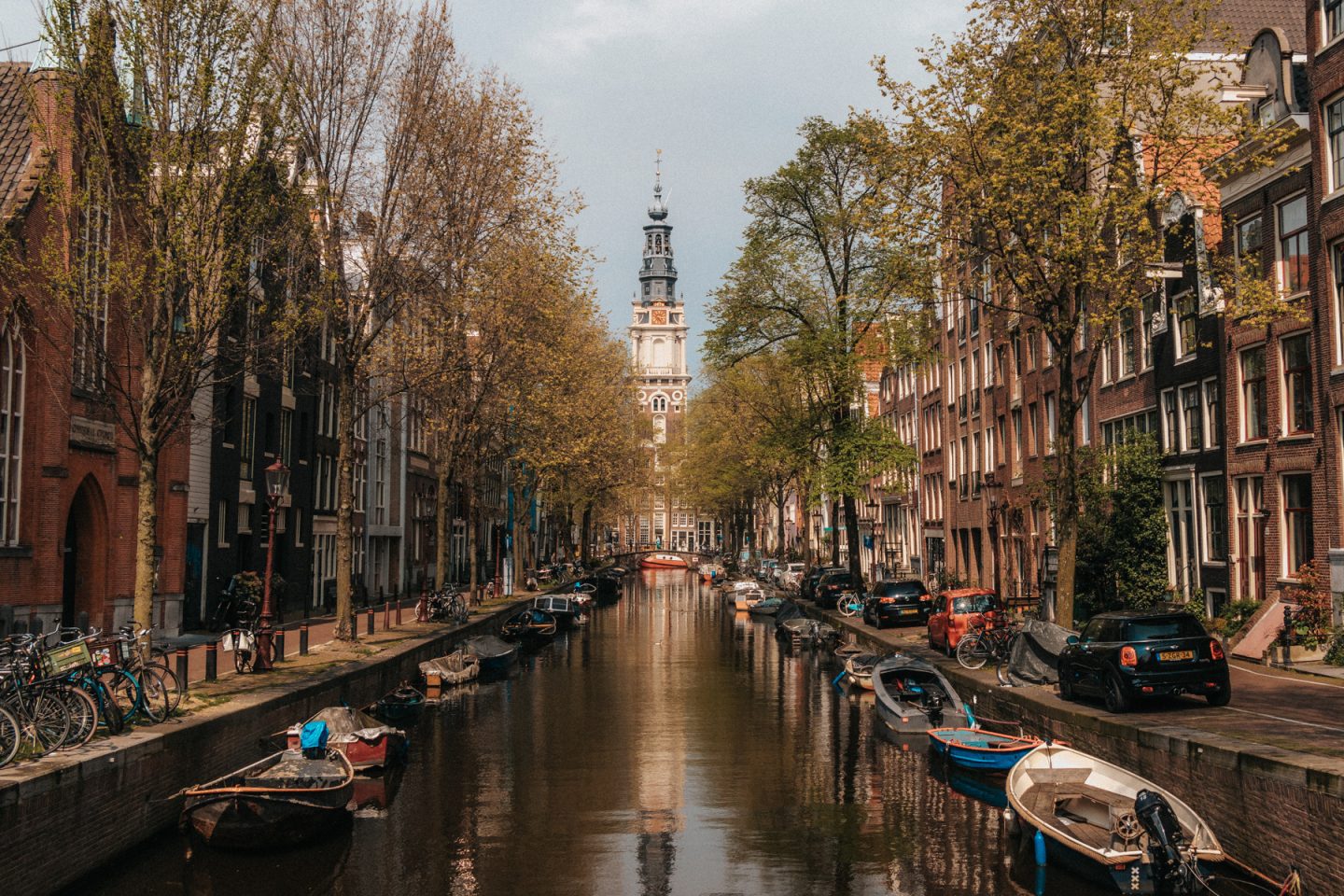 Amsterdam is a big city. Most of the city center is easy to reach by walking. Or you can travel like a local by renting a bike!
You'll find bike rental shops all over the city. On average I saw that it costs around $20 a day to rent a bike. You could also try a bike city tour if you want to explore in a group and learn about your surroundings at the same time.
Amsterdam does not have a metro, so your only city public transportation option is buses. Even then, the center is such a maze that the buses mainly circulate around the city center, but still in very close walking distance to all attractions.
Pro Tip: Consider getting the I Amsterdam city card. I didn't personally use this option because I was going between Amsterdam and tulip fields all weekend and had loose ideas of what our itinerary would look like. But if you know you are looking to take advantage of as many activities as possible with 2 days in Amsterdam, it could be a cost-effective option for you.
---
Best Time to Visit Amsterdam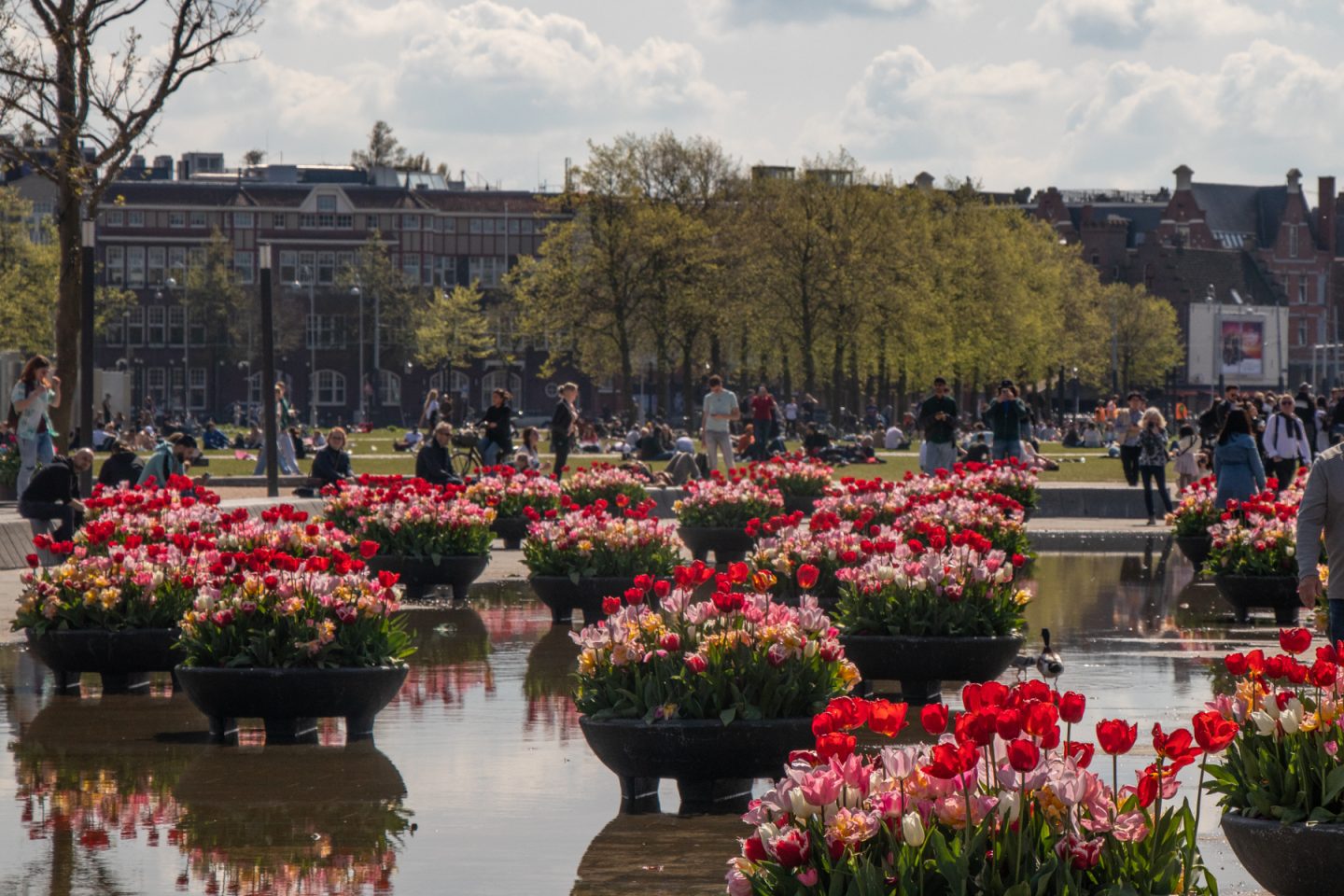 I think the best time to visit Amsterdam is late April/early May so that your trip can coincide with the beautiful Dutch tulip blooms that only happen in these couple weeks of the year.
The weather can be on and off during this time period – super sunny and fresh one day, windy and chilly the next.
Another reason to visit (or maybe not to visit) during this time period is King's Day on April 27th. It is one of the busiest days of the year as the biggest festival in the country is celebrated. If you can avoid going exactly on this day I would just because of the crazy crowds, but if festivals like these get you going, then this is just confirmation that your best opportunity to visit Amsterdam is late April.
Good to know: One of the things that surprised me the most about visiting Amsterdam was the amount of trash all over the streets and piled up at bins. I don't know if it was just because we visited a few days after the festival or if it is always like this. Let me know how you find Amsterdam!
---
Where to Stay in Amsterdam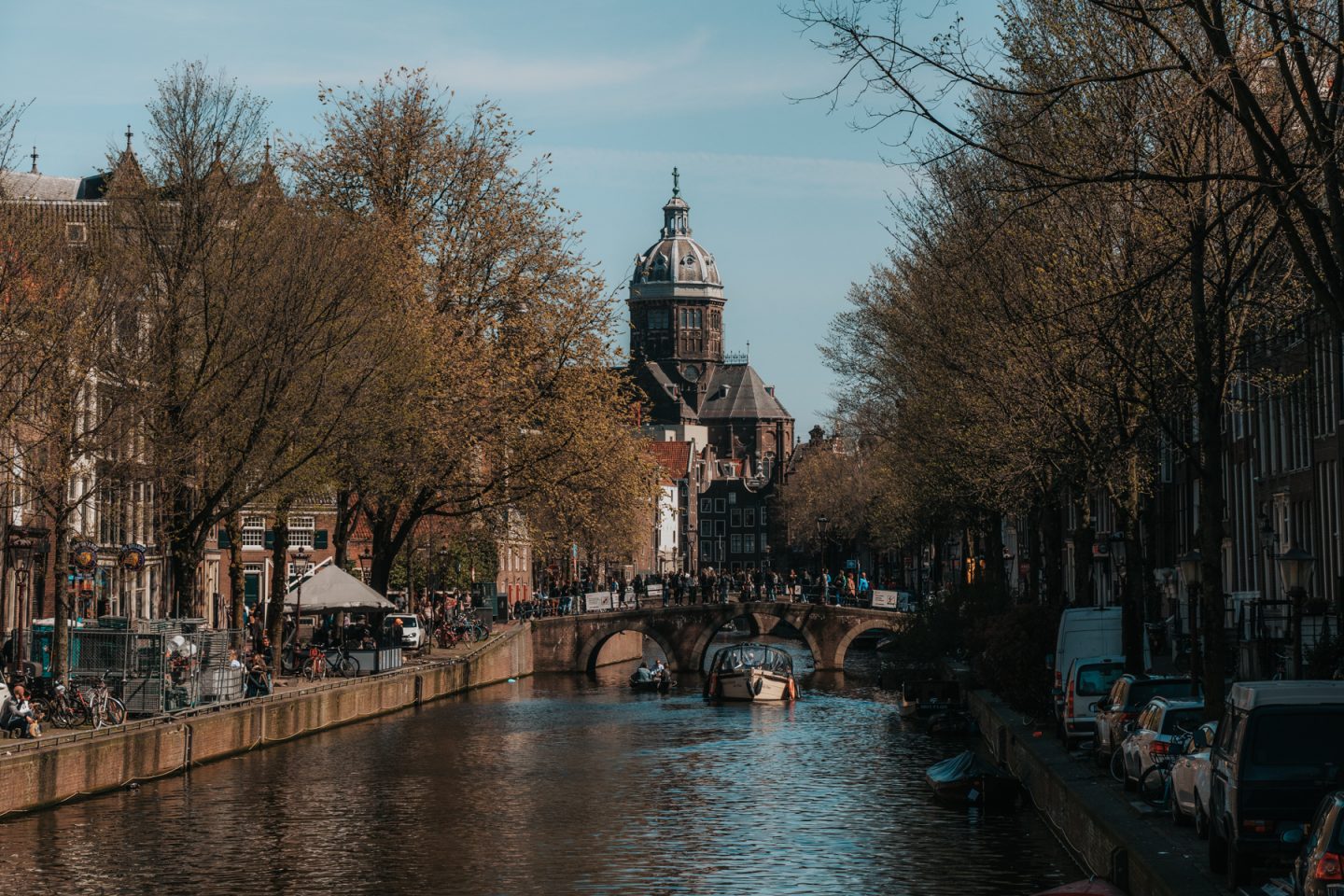 You may think that if you only have two days in Amsterdam, you need to stay in the expensive city center to be able to make the most of it. But Amsterdam is so well-connected by public transportation and, in general, the scale in the Netherlands is so much smaller than other European countries, that even if it looks far on a map, it usually isn't as far as you think.
I personally stayed in Halfweg, a short 20-minute bus ride from the center. Taking the bus was actually so convenient because we could leave our rental car at the hotel.
The non-convenient part was that one night we waited for the bus for an hour and a half because each half-hour a bus would pass and it would say completely full. Drivers wouldn't let anyone get on even if people got off. In the end, we ended up driving to Amsterdam that night, and while it wasn't impossible, it is definitely intense to drive in Amsterdam. Lots of one-way, single-lane streets, lots of bikers and people crossing constantly and not-to-mention the narrow, tight turns and cobblestone.
So, after that storytime, I can tell you that there are positives and negatives to staying outside the city center when you have little time to explore.
Hotel options are hard to comb through in Amsterdam but I tried to gather what I think are some good options for a quick, fairly budget-friendly stay when you just need a room since you will be out exploring all day:
---
What To See Near Amsterdam
In case you are in the Netherlands for a longer period of time, or if you would like to substitute one of your afternoons in Amsterdam to see some of the beautiful and very close surroundings, here are three of the best things to do near Amsterdam.
Zaanse-Schans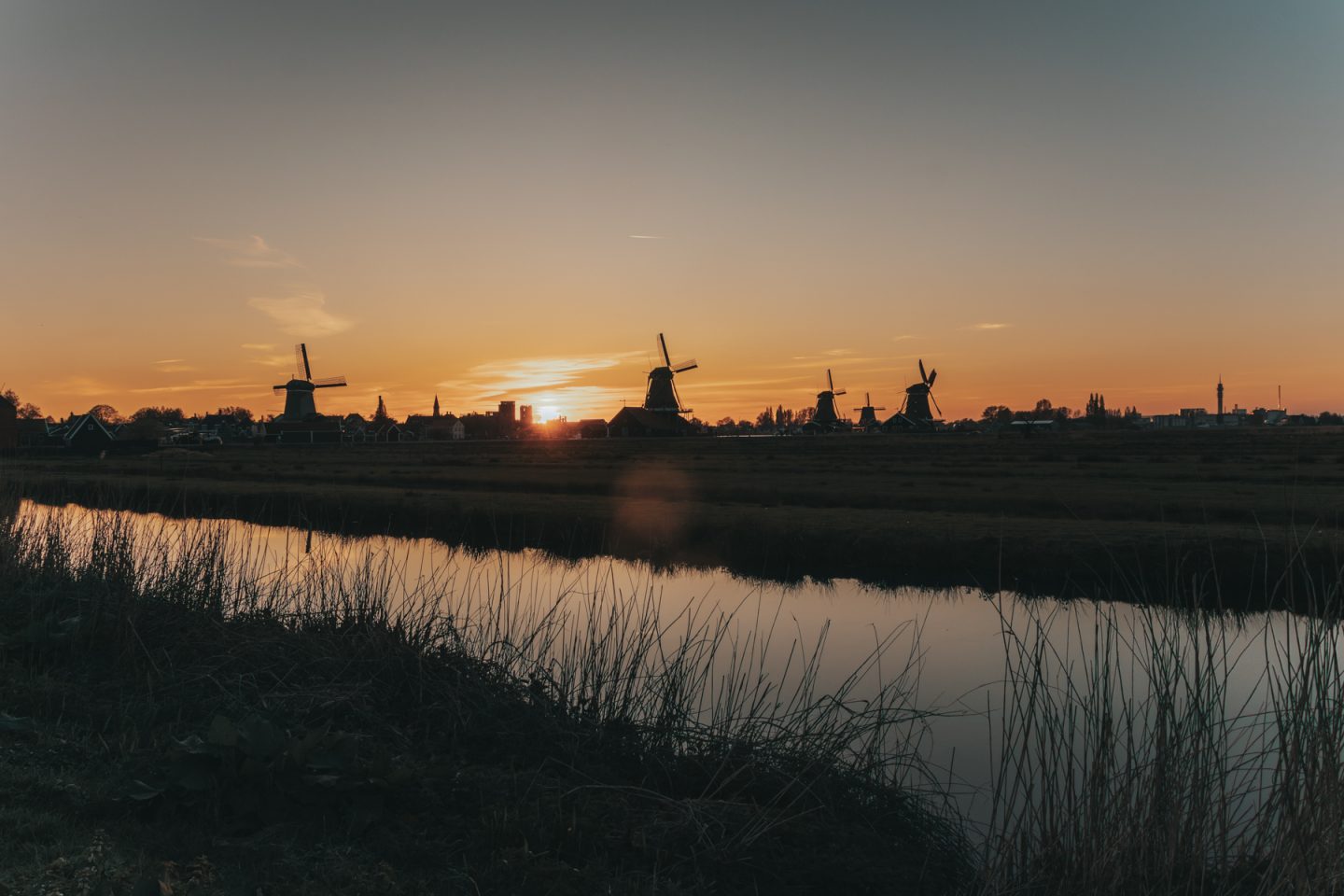 Just a 15-minute drive from Amsterdam is Zaanse-Schans, a neighborhood made up of historic 18th and 18th century Dutch houses. The most significant part of Zaanse-Schans are the majestic and impressive Dutch windmills along the river.
Zaanse-Schans is free to visit, although you do have to pay if you want to enter the windmills.
Pro Tip: Visit at sunset for the most beautiful setting in which to take in the softly swirling windmills.
Zaandam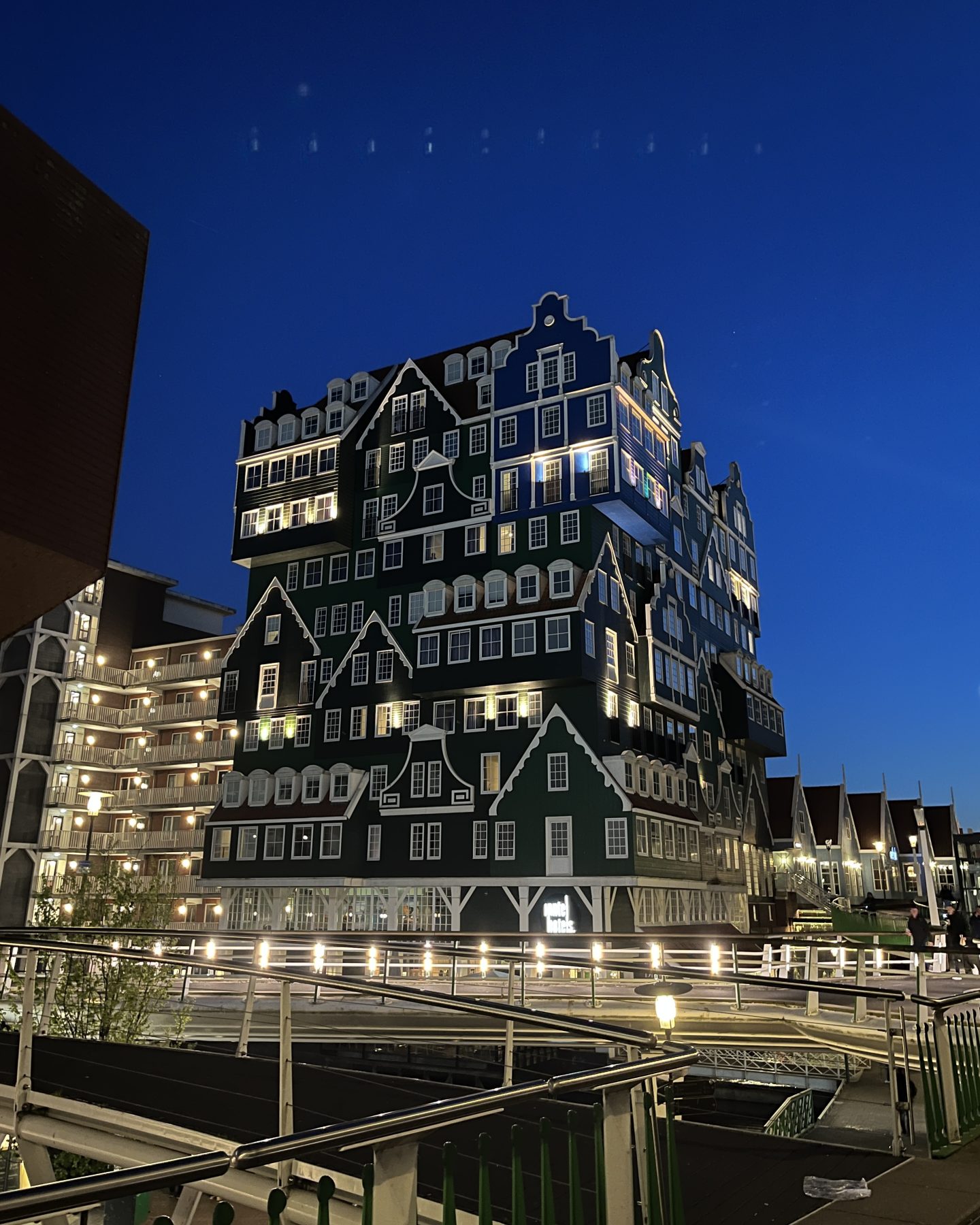 Also just 15 minutes from Amsterdam is the unique town of Zaandam. This town almost feels like walking into a Lego set! The architecture is super colorful and character-like that it feels like a play-world.
The most famous building is the Hotel Inntel, one building that looks like a bunch of houses stacked on top of each other.
Zaandam is so close to Amsterdam that I definitely recommend visiting if you can carve at an hour of your day in the city to stop by.
Keukenhof Gardens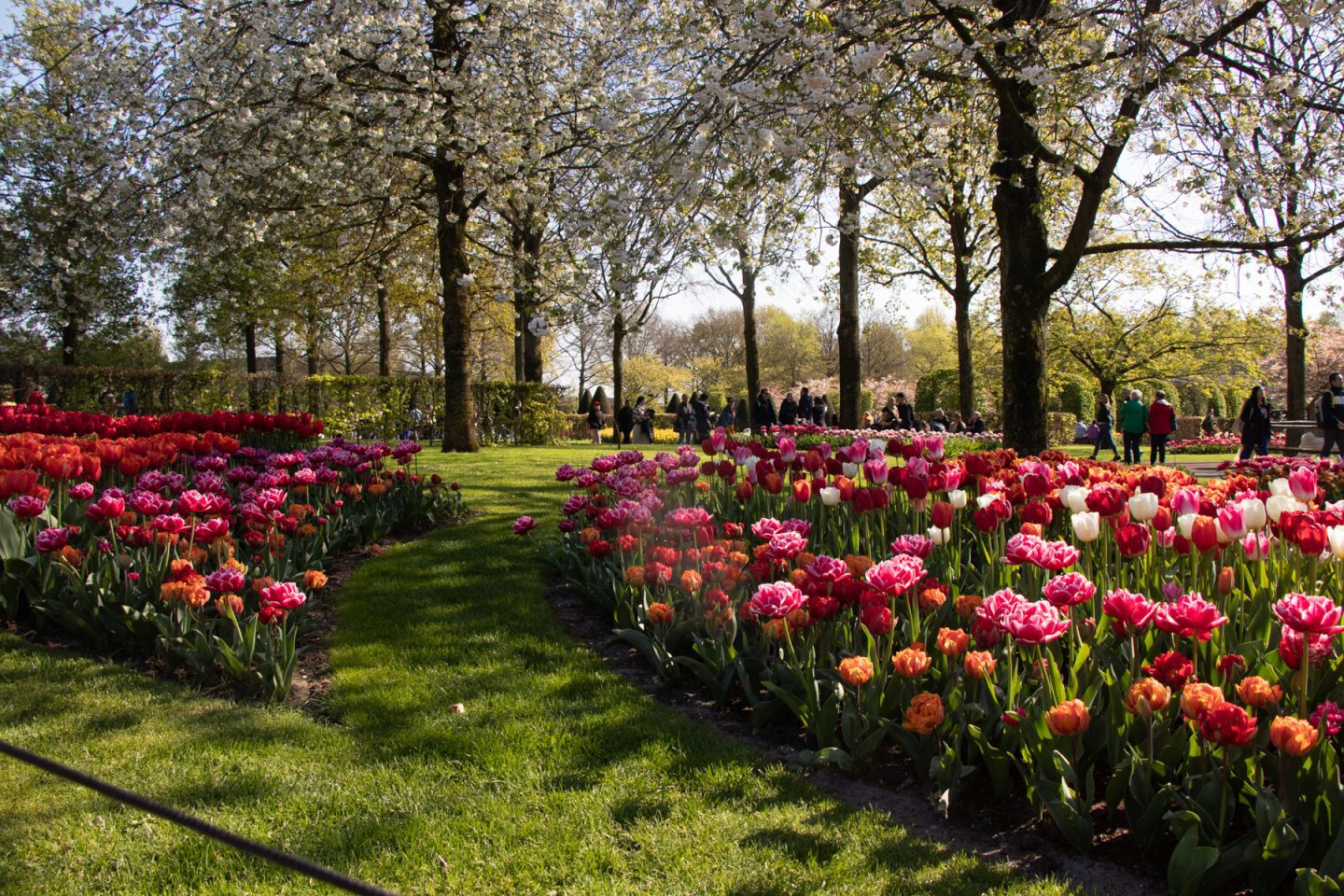 If you are visiting Amsterdam in spring, there is no doubt that Keukenhof Gardens needs to make it onto your itinerary.
These world famous gardens are only open a couple of weeks between March and May. They are the most spectacular place to see tulips in the Netherlands and lots of other flower varieties too!
Keukenhof Gardens is about 35 minutes away from Amsterdam by car.
---
The SGTD Take
Can Amsterdam been fully experienced in just 2 days? From what I saw, no. I think you would need at least 4 days in Amsterdam to experience all the different neighborhoods and attractions at least once.
However, can you experience a TON of cool things about Amsterdam in just 2 days? ABSOLUTELY! The trip was quick but fulfilling: it felt like longer than it actually was because of all the different things we got to see and do, and surely because of all the walking.
Even if you just have a couple of days on your itinerary to dedicate to Amsterdam, do it and make the most of them by checking out these things to do. I promise it is worth it!
What would make 2 days in Amsterdam special for you? Let me know in a comment!
Save this travel guide on Pinterest!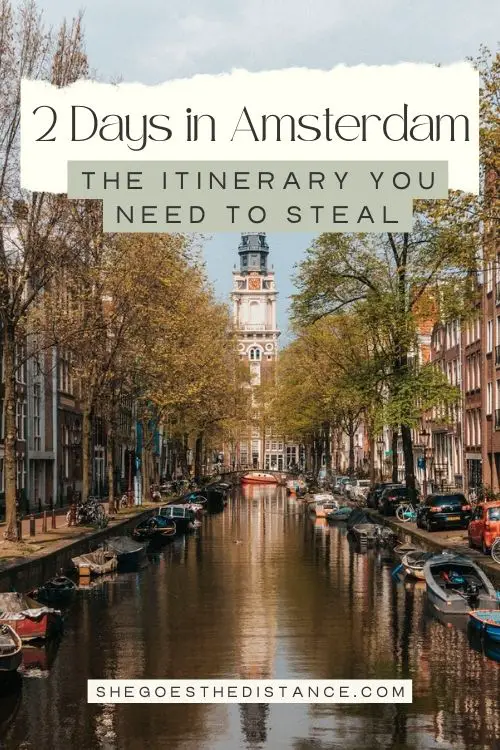 Now you are ready to have a fulfilling and enriching 2 days in Amsterdam – don't forget to tell me how it goes and if you liked these itinerary suggestions!
XOXO
Michela