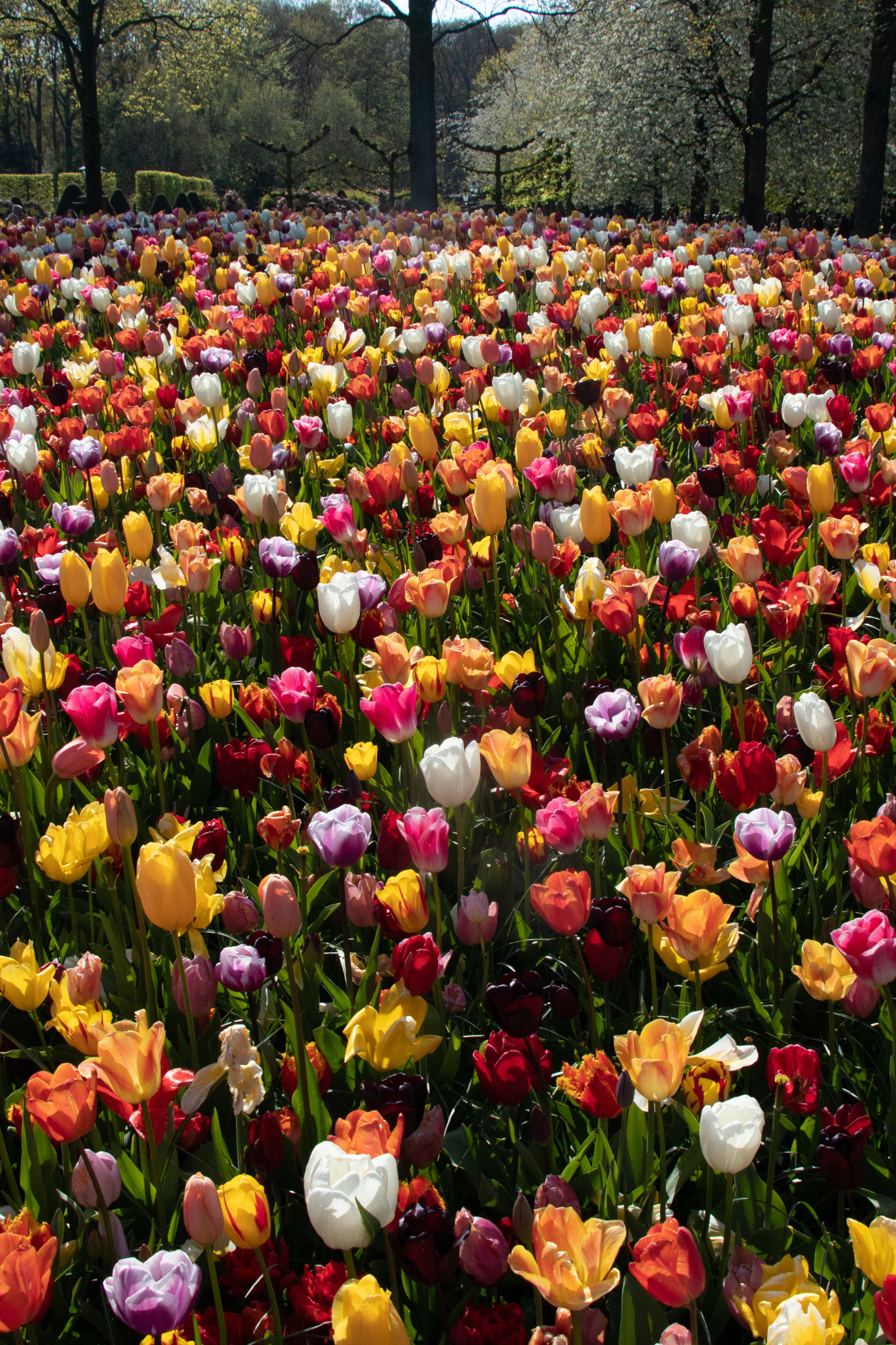 Last Updated on September 18, 2023
The Netherlands is home to one of the most famous gardens on the globe that is open just a couple weeks out of the year. If you are planning on visiting the Netherlands, know that the best time to visit is in spring, the moment in which Keukenhof Gardens comes to life and shows off its world famous blooms. Planning a trip to an experience that is open for just a short period of the year is not easy! You will want to make the most of the rare opportunity. Read on to discover how to plan a visit from Amsterdam to Keukenhof Gardens.
Some of these links are affiliate links. This means if you make a purchase through that link, I receive a small commission at no extra cost to you. Read my full disclosure!
---
Keukenhof Gardens Opening Times 2024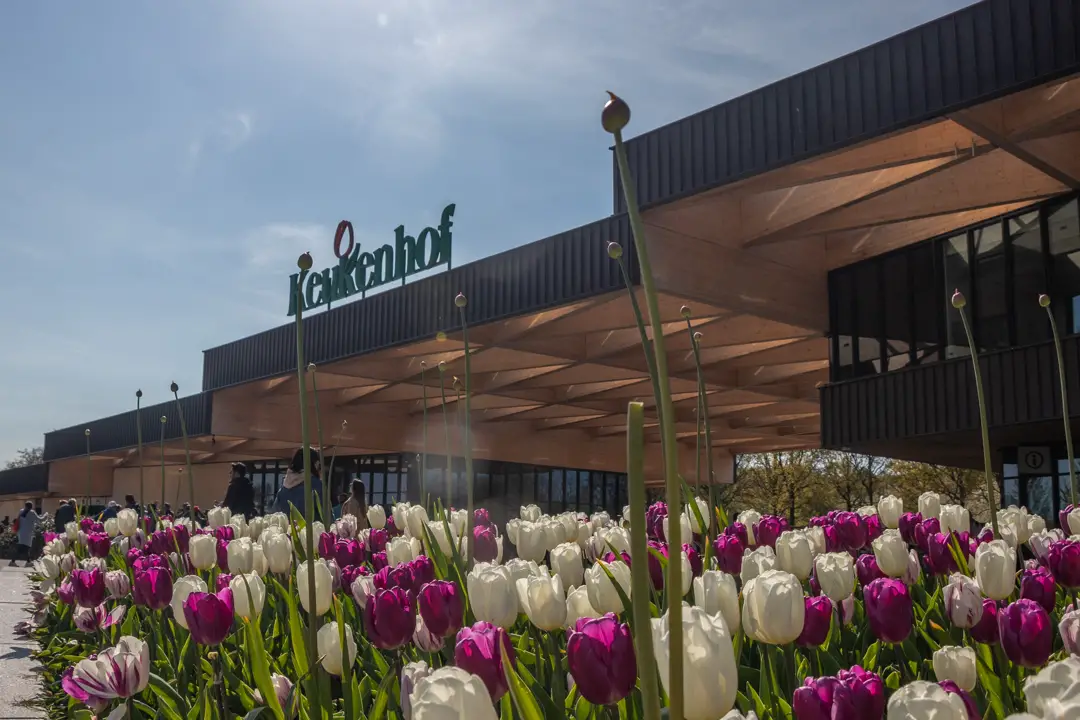 Visiting the world's top gardens is something that must be planned in advance. Keukenhof is located in Lisse, which falls within the Bollenstreek area, famous for tulip fields!
In 2024, Keukenhof Gardens will be open every day from March 21st to May 12th, from 8 am to 7:30 pm.
This information allows you to start looking at flights and planning your overall Amsterdam itinerary. Keukenhof Gardens are an ideal day trip from Amsterdam since they are easy to reach.
In 2024, it will be even more special to visit Keukenhof Gardens as it celebrates its 75th annniversary!
---
Buying Tickets to Visit Keukenhof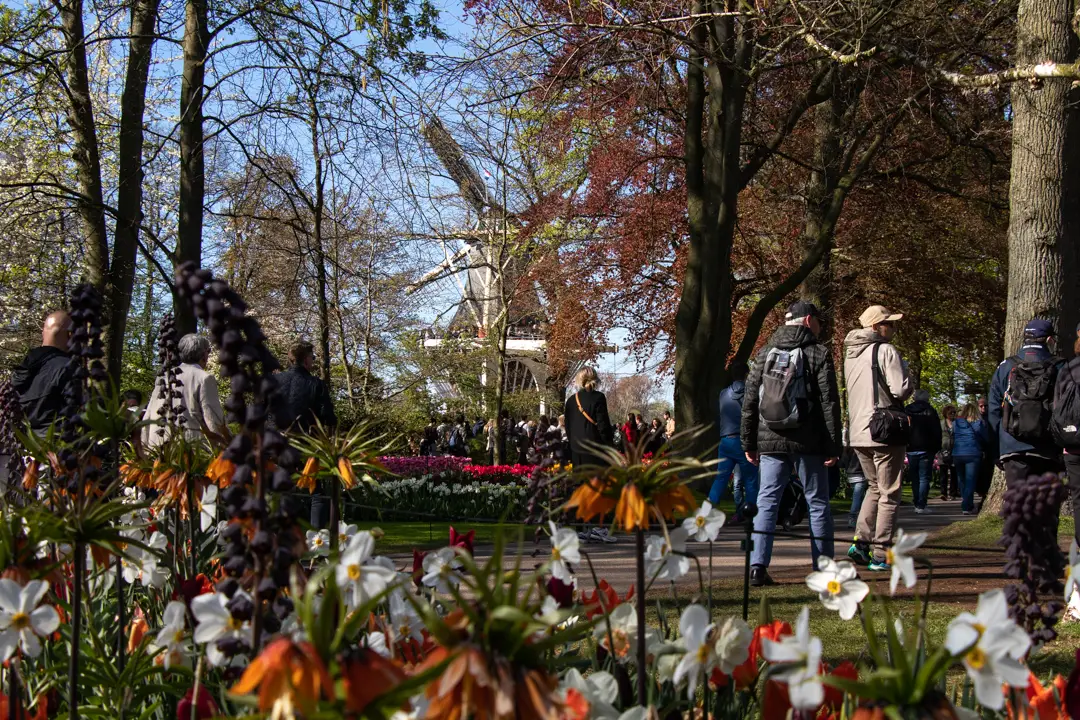 Tickets to visit Keukenhof Gardens will go on sale in October 2023.
You can buy tickets directly on the website or through GetYourGuide, which is what I did.
The plus about buying tickets through a service like GetYourGuide is that they make it easy and convenient to plan a trip from Amsterdam to Keukenhof Gardens. Many of the tickets include entry to the gardens and transport to and from Amsterdam. Here are a few package options that could sit different kinds of budgets:
There are also some tours that combine Keukenhof Gardens with attractions like the Zaanse Schans windmills, so you have many options for how to customize your itinerary based on what you want to see and how much time you have.
---
How to Get from Amsterdam to Keukenhof Gardens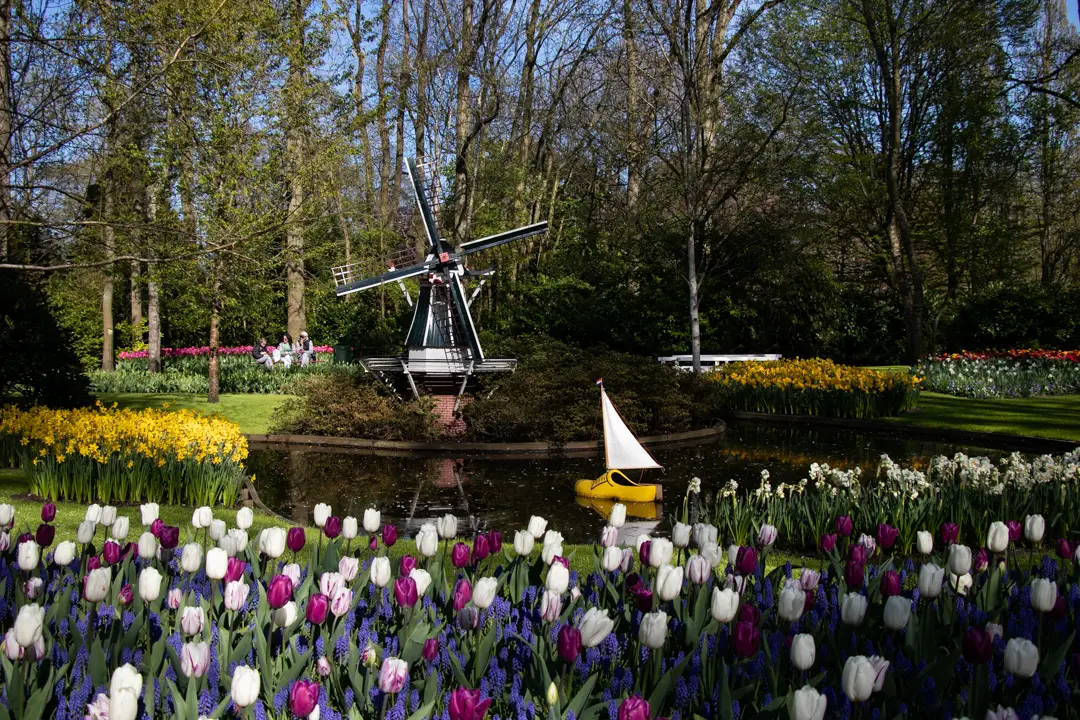 If you don't choose to get a package ticket and transfer from Amsterdam to Keukenhof Gardens, you can also make it the DIY way.
You can rent a car in Amsterdam, which allows you lots of flexibility to travel all around the Netherlands given that the distances between towns is short and manageable. Keukenhof Gardens is a 40-minute drive from Amsterdam. There is ample parking at Keukenhof, but you will have to pay €6 for a parking pass.
One thing to keep in mind is that your ticket will ask for your arrival time, meaning you have to arrive within that window to enter Keukenhof Gardens.
You can also get from Amsterdam to Keukenhof using public transportation. This option involves taking to buses. Take bus line 197 to Amsterdam Airport Schiphol, where you will transfer on to bus line 858 that goes directly to Keukenhof.
---
What to Do at Keukenhof Gardens
Once you arrive at Keukenhof Gardens from Amsterdam, you will either follow the signs to the parking or get dropped off by the bus. You will need to present your ticket at the turnstyles to enter.
From there, you have free reign to visit any and all sections of the park!
Admire all the flower varieties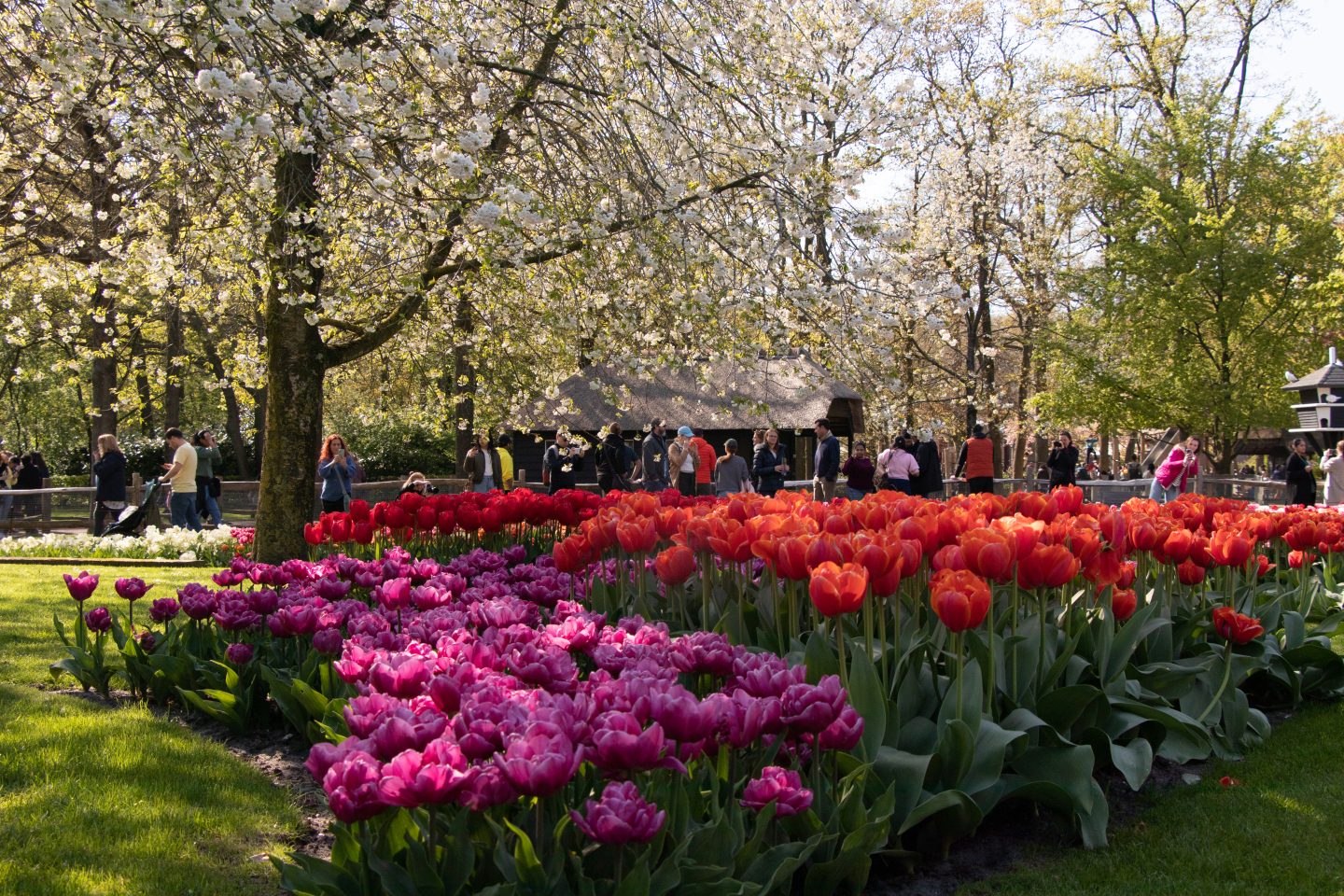 What you will be doing the entire time at Keukenhof Gardens is absorbing the beauty of all seven million flower bulbs!
The park boasts over 800 different varieties of tulips, as well as tons of other varieties of flowers.
One thing to keep in mind is that the blooming season can vary greatly every year, so there is never a guarantee of when the best blooms will come.
Snack on local sweets
There are multiple restaurants within Keukenhof selling local sweets and lunches while you visit the park. You can also bring your own picnic to eat on one of the designated benches.
Take a windmill cruise through the flower fields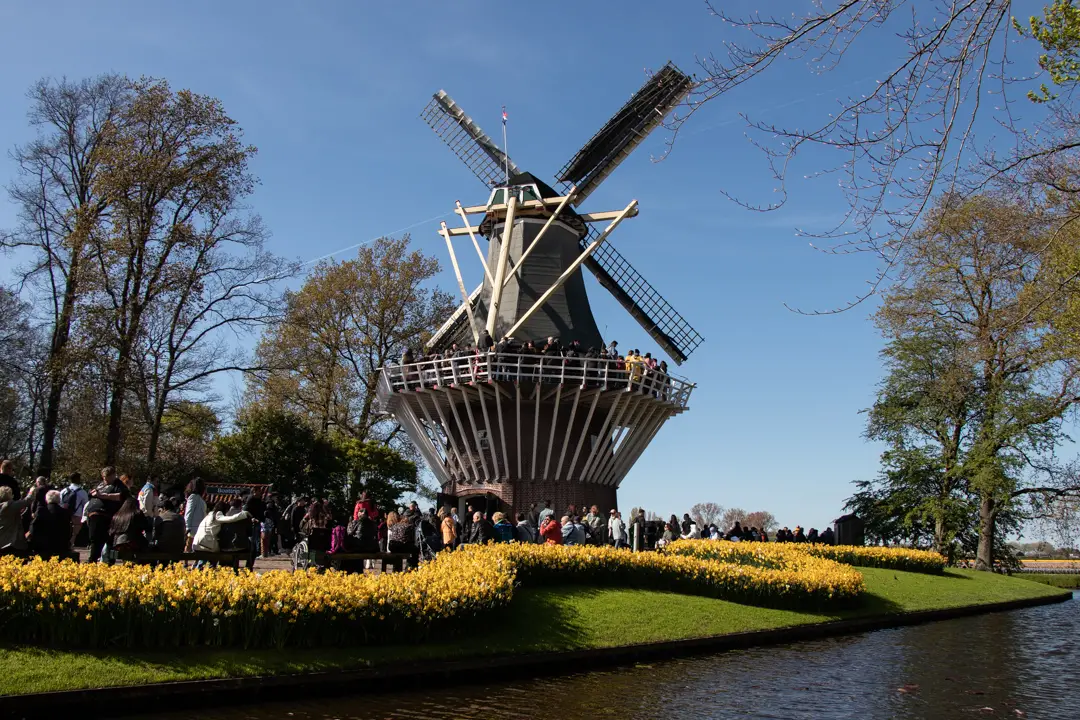 Keukenhof has its own big windmill that you can climb up to get a panoramic view of the surrounding tulip fields.
From this windmill, there is also a boat cruise that departs to take you through the flower fields so you can see them up-close!
The cruise costs extra, with adult tickets at €10 and children tickets at €5.
---
Keukenhof Gardens Travel Tips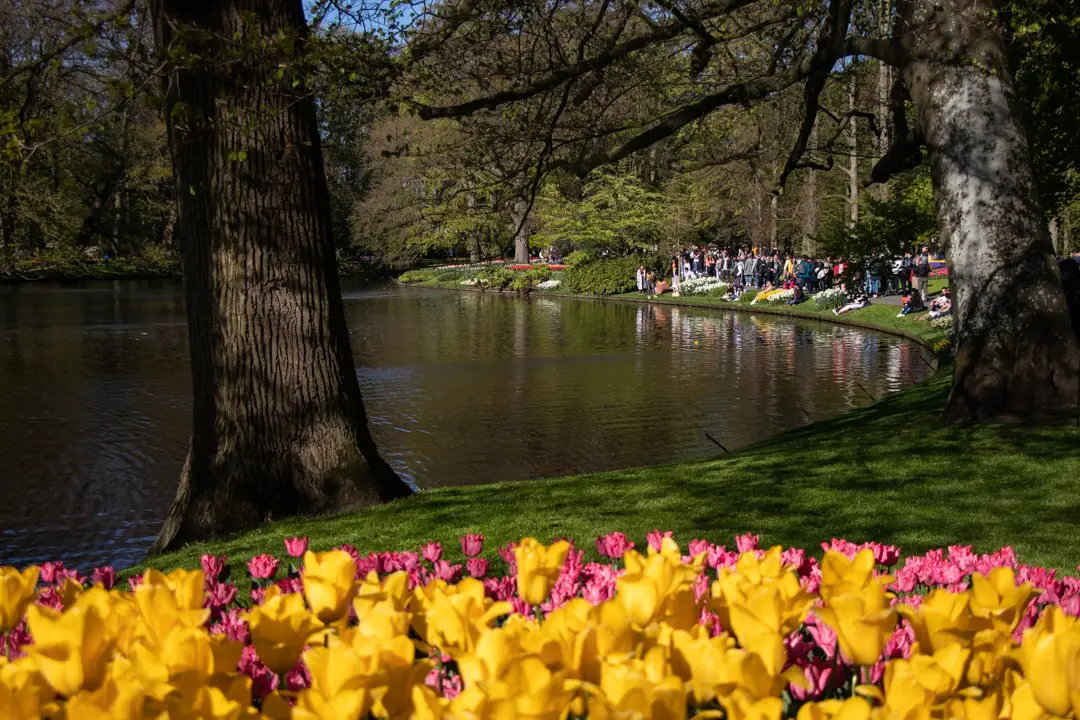 Don't wait too long to buy tickets. The more you wait, the more likely they could sell out for the times that fit best in your itinerary.
Allocate at least a few hours to see the entire park. Keukenhof is not an in-and-out kind of attraction. The park is huge, so you should keep in mind while planning your itinerary that you will spend at least half of a day there.
Get the Tulip Festival Card to get the most of Keukenhof and the other tulip activities in the area.
---
The SGTD Take
In general, planning your trip to Amsterdam in the spring is the best time of year because of the unique opportunity to The Netherlands in full bloom.
I loved visiting Keukenhof Gardens because it feels like a truly special and exclusive experience to visit a world-renowned location in the small window of the year when it is open.
Visiting Keukenhof is not the same as visiting a traditional tulip farm where you see the fields lined with tulips, so keep that in mind. It is much more of a park and botanic garden experience.
Keukenhof Gardens makes for an amazing day trip from Amsterdam and I highly recommend you carve out time for it and try to plan your trip to Amsterdam in 2024 around the Keukenhof opening days!
Have questions about visiting Keukenhof? Ask me in the comments!
Save this Keukenhof travel guide to Pinterest!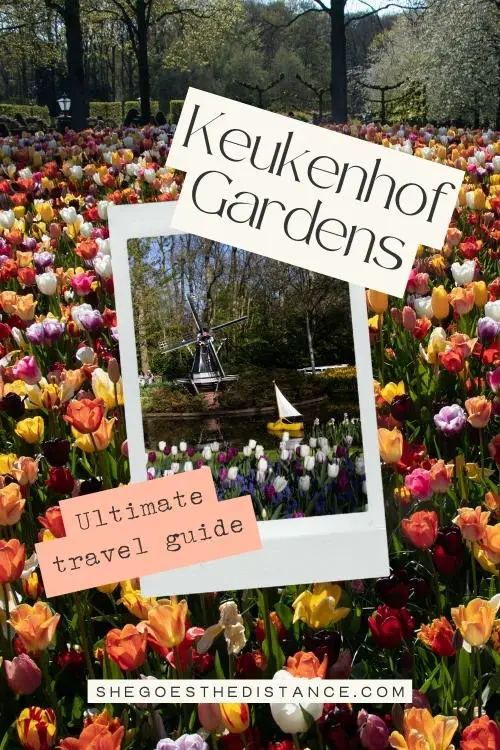 Now that you know how to plan a visit from Amsterdam to Keukenhof Gardens, all there is to do is enjoy this unique experience!
XOXO
Michela