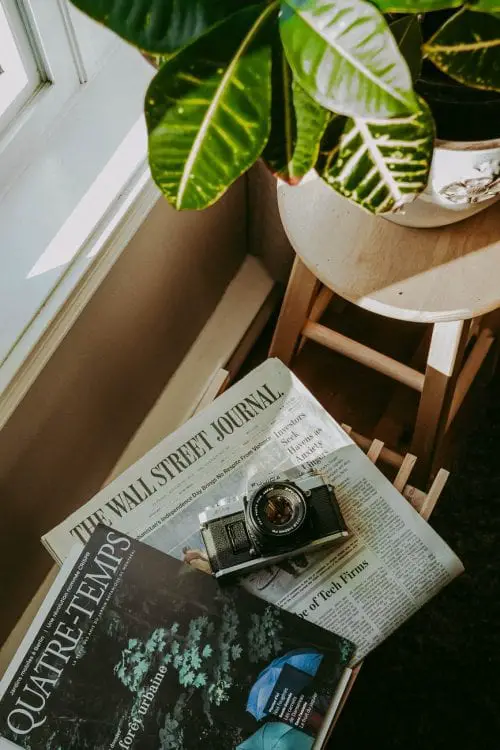 Last Updated on February 23, 2022
Photography is a creative outlet that most people fall in love with because it becomes their passion. What's amazing about the hobby is that it's a passion that you can make money off of – maybe even your entire living if you want to turn it into a business! For those of us that are passionate about our pictures and are looking for a side hustle, there are 6 ways to make money with photography that you can start doing right now.
With these ideas, I hope to give you a jump start into using your photography skills to make money. These are not the only ways to make money with photography!
Some can be quite profitable, while others not so much. However, they are designed to inspire you and teach you of ways you can make money with photography that you may not have thought about.
Some of these links are affiliate links. This means if you make a purchase through that link, I receive a small commission at no extra cost to you. Read my full disclosure!
---
What kind of photographer are you? Choose the Right Niche To Make Money with Photography.
Different styles of photography are going to attract different types of people or services.
Portrait photography is almost always a need. As someone who started in this area to make money with photography, I think it's one of the easier and more profitable avenues to begin with!
If you prefer nature or street photography, your area of expertise may allow you to sell photos to a unique audience.
If you want to make money with photography, chances are you will have to know many or adapt to different styles of photography!
---
What do you need in order to make money with photography?
There are a few things that you should brush up on when it comes to your photography skills if you're now being paid by someone for it.
Post-processing could likely be very important for some of these categories of making money with your photography. In that case, it's essential to brush up on your Adobe Lightroom and Adobe Photoshop editing skills.
I highly suggest those programs, as almost any photographer would, because they're truly the best-editing platforms on the market.
For a more in-depth look at Lightroom, take a glance on Why You Need Adobe Lightroom as a Photographer.
You may also want to assemble a portfolio of your work.
Tailor this portfolio to the kind of photography service you're offering or applying for. If your favorite shot is a landscape of the Appalachian mountains, it doesn't really convince someone you can take great photos of a family portrait.
Now here are the 6 ways to make money with photography that you can start right now!
---
Portrait Sessions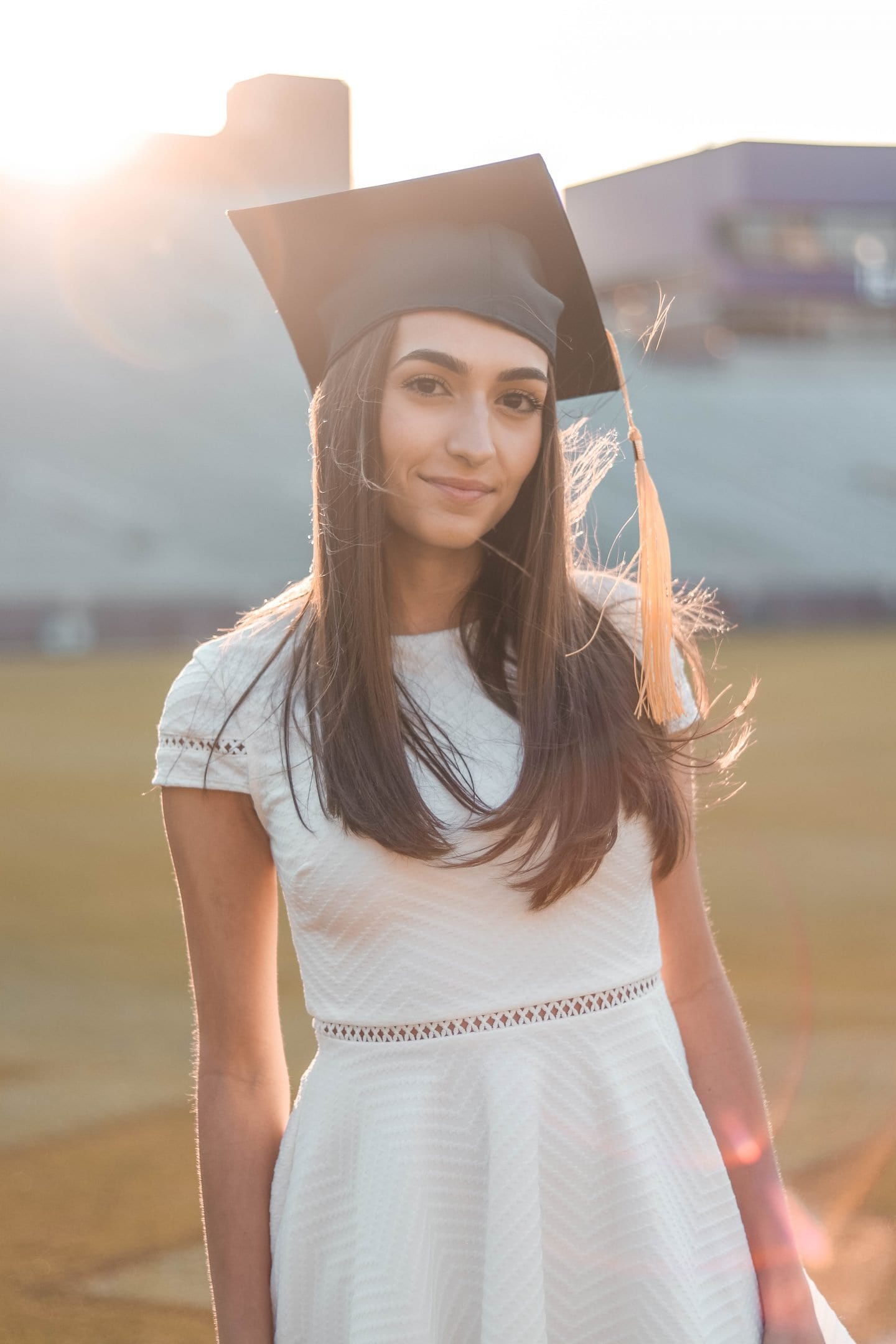 When I was in college, after about a year of learning photography, I started to offer graduate portrait sessions. This was the perfect side hustle to make extra cash for only a few hour's work, while I was still a full-time student and working part-time!
Portrait sessions can apply to all circumstances because people need photos all the time. Some examples are special events, family portrait sessions, engagement photos, etc. People are looking to have their memories captured and at a good deal.
If you're starting out, you may offer a lower price at first. However, you can quickly up your pricing as you attract more clients and prove your work is worthy of it.
To start out, I suggest creating a website where you can direct people to a portfolio of your photos. I recommend WordPress since it will give you the most flexibility and room to grow, but a free website platform like Wix is perfect for starting out.
And for your sample photos, you don't have to have a ton to get started! I staged a fake graduate photoshoot with my friend to get some example pictures for my portfolio!
Then I would use a booking calendar that can either be embedded or linked to on your website. I used and loved Setmore to help me keep track of clients and customize what times I could offer sessions.
The last thing I would recommend for getting started is to invest in a prime lens. These are the lenses with a lower aperture and create a dreamy, blurry background. It drastically improves the quality and looks of your portrait pictures by making your subject stand out.
---
Pro Tip: Pricing can be difficult to figure out at first, but know clients are not just paying for your skill, but for your time. The longer your sessions are, the more locations you provide, the more editing you do – factor that into your price.
---
Become a Photo Editor
Many people don't realize that the final product of a photo almost always takes editing to enhance the image. Photo editors are in high demand in a variety of roles.
Photography studios often hire editors, as well as even larger companies like The Walt Disney Company.
But if you want to start now and work from home, there are actually opportunities to either freelance as an editor or work for other photographers as their editor.
I actually came across this job idea on Pinterest and was interested in it for myself!
Some photographers with larger businesses, such as wedding photographers, outsource their editing.
Editing takes a lot of time often, so they look for people who can recreate their style of editing while they work on other parts of their job.
This is a post from experienced photo editor Donya Luana, who goes over the basics of becoming a professional photo editor!
I'd also like to mention some resources for learning these programs. Adobe Lightroom and Photoshop have helpful tutorials within their programs. There is also Lynda.Com (now LinkedIn Learning) that has programs to learn these platforms.
You can also check out a few of my Lightroom posts to learn some new tricks or sharpen up your editing skills.
---
Stock Photography
Stock photos are those that are either free or paid that you can find and use anywhere on the internet. A photographer sells their stock photos to a site in order for them to be used freely without being subject to copyright.
Stock photography is quite a particular genre of photography. It usually involves photographing very general subjects or scenes, as well as objects. This is because the photos need to be versatile and applicable to an array of diverse situations. People use stock photos for things such as presentations or blog posts.
You don't make a ton of money from stock photography for each individual photo. However, if you really dedicate to it you can make a decent amount over time.
You can either sell your stock photos from your own website directly to clients or on stock photo websites such as Shutterstock!
---
Sell Your Prints
Obviously, you can always try selling your own photos! You can set up your own website and advertise your prints on Pinterest! Or you can open up an Etsy shop with your professionally printed photos.
When it comes to selling your own photos, it helps if you have a niche of photography you specialize in. If you are a street photographer in New York, you're going to attract people who have that interest and it will make your work stand out more.
It also helps to find your own editing style. You can really establish that when you start creating presets in Lightroom.
You can try 3 of my favorite presets for free from The Travel Library, as well as receive other exclusive freebies.
Working with others presets lets you see how photographers you admire edit exactly and you can make your adjustments from there!
---
Content Creation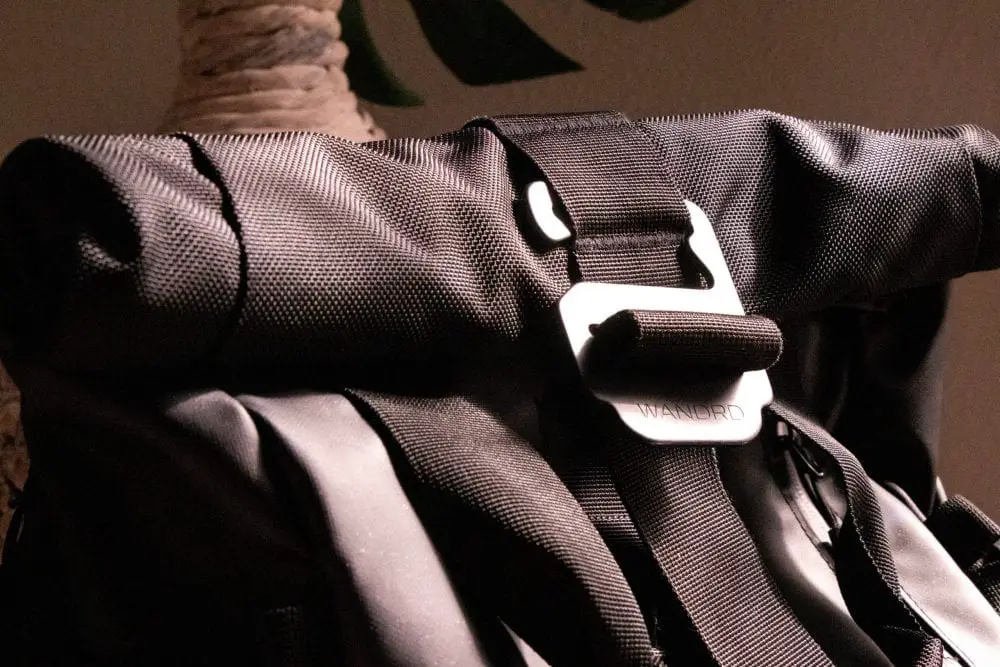 Bloggers and brands need help in creating the content they publish to their social media channels. This content is usually Instagram photos, blog post photos (similar to stock photography), and brand photos for business' websites.
These opportunities are a bit rare and aren't posted as obviously. This could be because some people don't know they need it!
In this case, it could be an opportunity for you to start approaching others with your photography!
You can make it an extension of your photography website. Create a portfolio and specify that you offer content creation services!
---
Freelance
Freelancing includes almost all the categories from above, but just through a specific outlet.
Freelance websites like UpWork and Fiverr allow you to specify your skills in order to match you to potential jobs that people or companies need. Photoshop and Content Creation are actually quite commonly freelanced jobs!
The upsides to freelancing are that you choose what jobs you want to apply for, on your own time. Usually, these jobs are not too long, unless you find one you're interested in that is for a specific amount of time.
The downsides are that there are times when tons of opportunities are available. However, there are times when they aren't.
It's not the most reliable way to make money with photography, but it is a way to start giving it a shot right now.
Which one of these ways to make money with photography will you try first?
Don't forget to save these ideas to Pinterest!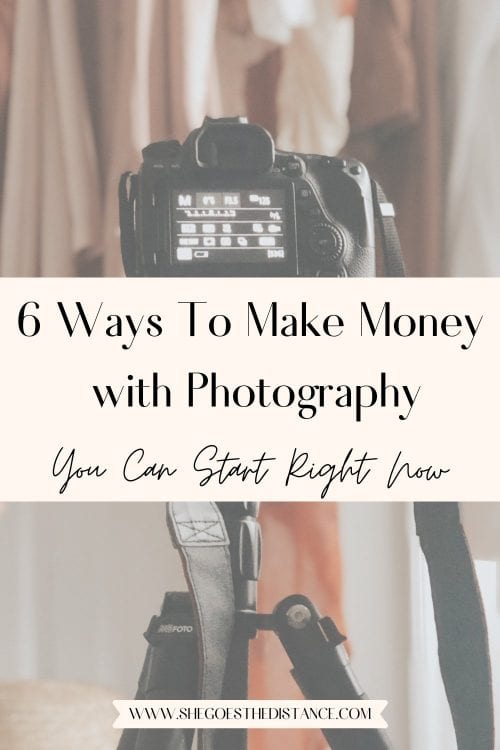 I hope these ideas give you somewhere to start when it comes to making money with photography. The key is to keep practicing your craft and creating beautiful work!
XOXO
Michela