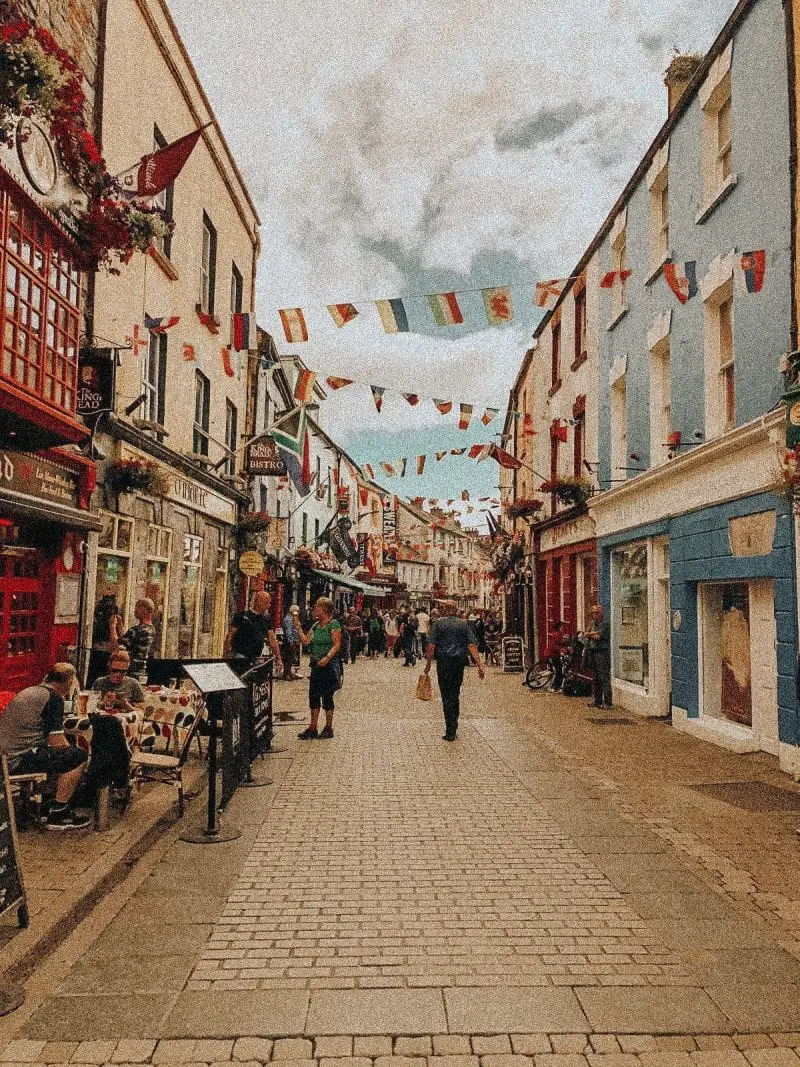 Last Updated on February 23, 2022
One of the most fascinating and unique places I've been in is the stunning country of Ireland. A distinct beautiful landscape with a culture to match makes the island of Ireland a can't miss experience in itself. To guide you with planning your itinerary, I'm sharing my travel tips and must-do road trip stops in Ireland.
What's great about Ireland is that it's not a huge country, make it the perfect size for a road trip. And I believe that's the best way to see it!
Road tripping is ideal for those who want a flexible, customizable trip. Alternatively, it's also perfect for those trying to fit in as much as they can with a limited amount of time.
It can make seeing the best of Ireland happen even in just a weekend!
Whether you have your trip booked or you're looking for inspiration these road trip stops in Ireland should go straight to your bucket list!
Some of the links in this post are affiliate links, meaning if you make a purchase through that link, I will receive a small commission at no extra cost to you! Read my full disclosure!
Ireland Travel Tips
This Ireland travel guide is perfect for those that want a weekend getaway or just have a few days to see as much as they can in Ireland. I visited Ireland for only 3 days and I was able to see its 3 major cities and more!
Keep these travel tips in mind when traveling to Ireland!
Where to Stay
You can do all the best road trip stops in Ireland in just a few days! But, packing a ton in makes organizing your accommodation a bit more difficult.
My personal suggestion would be to book individual nights all separately if you are going to go for this road trip itinerary.
I stayed in mostly budget hotels, like the Dublin Citi Hotel and the Maldron Hotel in Belfast, during my few days in Ireland. They were the perfect balance of comfort and low cost (along the spectrum of hostel to 5-star hotel.)
I urge you to book these lower cost hotels so that you can splurge one night of your trip – which happens to be one of the seven must do experiences in Ireland on this list! Keep scrolling to find out what it is!
Driving & Renting a Car in Ireland
One of the choices I made that really made this diverse Ireland itinerary possible was to rent a car and drive.
Honestly, I could probably count driving as one of the must-do experiences in Ireland! Driving on the left side of the road was definitely an adventure for me.
However, most importantly, driving gave me so much flexibility to shape my plans for how I wanted. And with only a couple days in Ireland, that was absolutely necessary.
Driving on the left is not as bad as it sounds, but it takes some getting used to. Also, know that there are tons of roundabouts in Ireland, which the car rental company should explain to you.
I recommend going through AutoEurope for budget rentals and flexibility.
Must-Do Experiences in Ireland
To preface my list of the top road trip stops in Ireland, I just want to say that if I had more days, I totally would have seen more!
I really wanted to make this a road trip itinerary post because I did all of these amazing things in just 3 days in Ireland! I'll list all the cities and experiences in the order of the days I traveled.
Obviously, however, you wouldn't have to follow the actual itinerary I have laid out. Instead, you can use it to give you an idea of how much you can see for just a few days.
---
Day 1
Dublin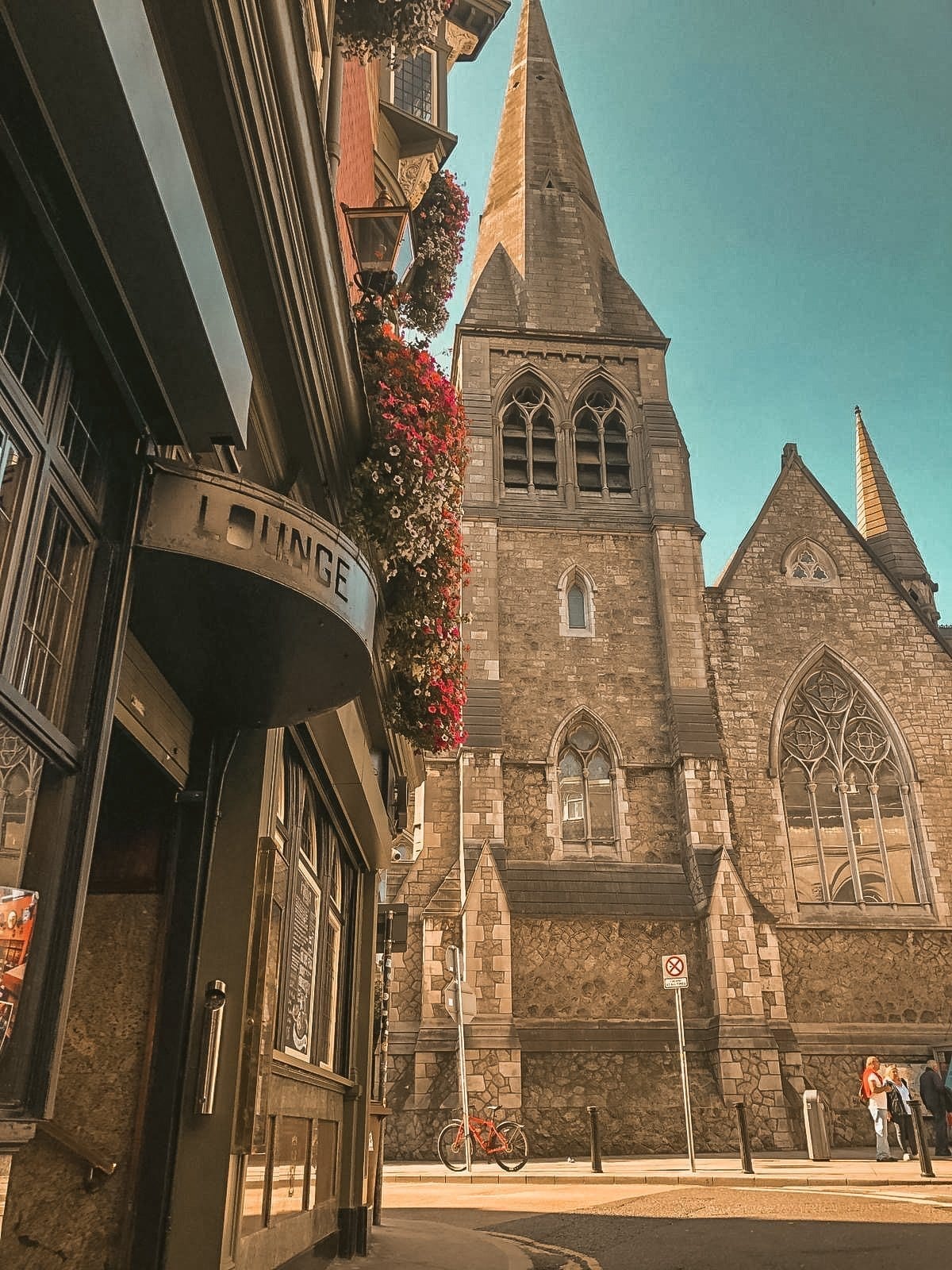 You can't go to Ireland without going to its lively capitol!
Dublin is a city that feels so alive.
You're always passing pubs with friends and strangers alike bantering up a storm, listening to street performances and live music, all while surrounded by historical buildings that are beautiful but don't feel aged – they fit right in with how lively the city is.
The people are so friendly and welcoming – not even joking, made friends with strangers at dinner even with only one night in Dublin.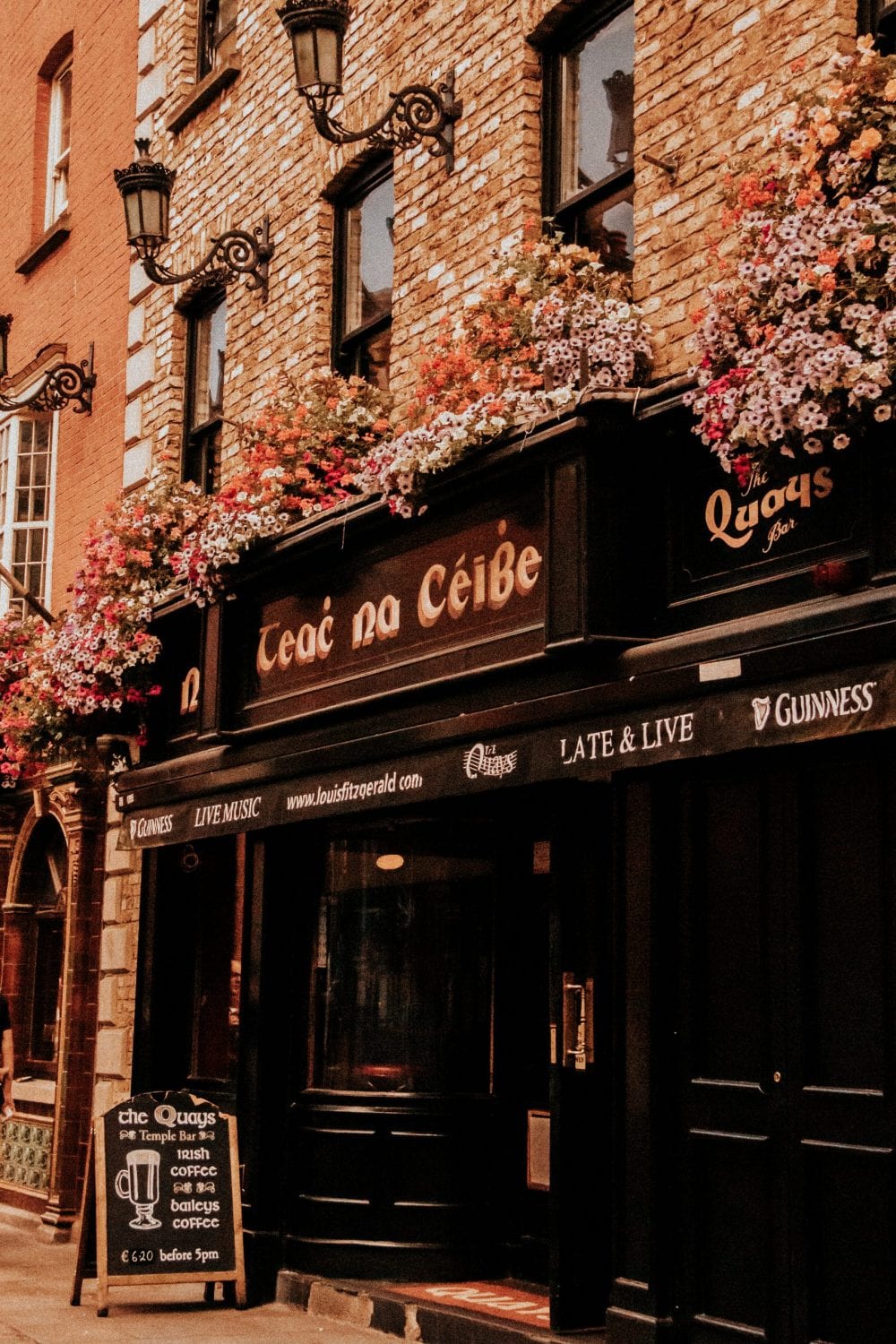 A pint of Guinness is a rite of passage to be enjoyed with amazing company – so I fully encourage you to put yourself out there in this young and booming city.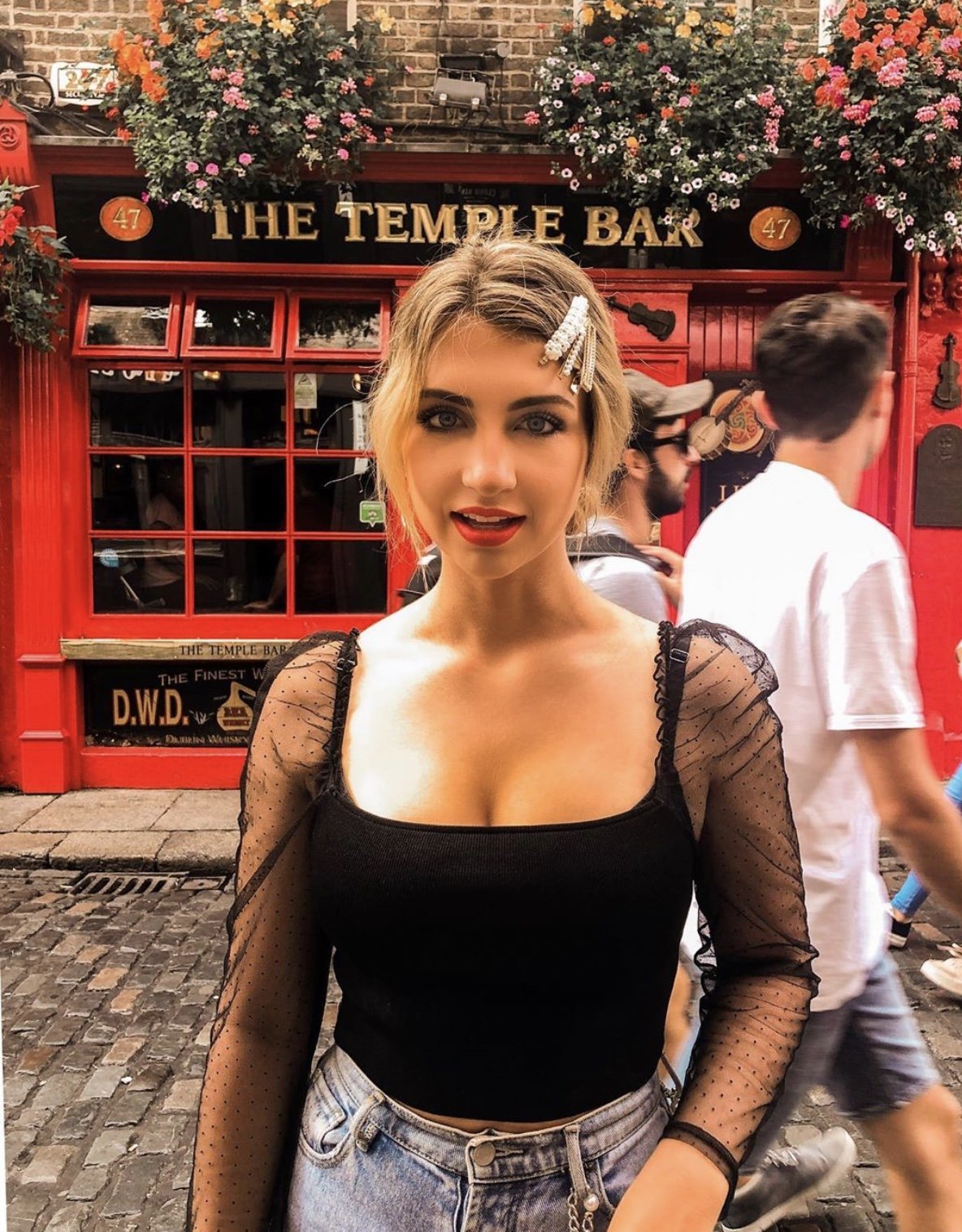 Temple Bar is a must-see attraction in Dublin and head over to Avoca's for some amazing scones for breakfast before you hit the Irish road!
---
Day 2
Galway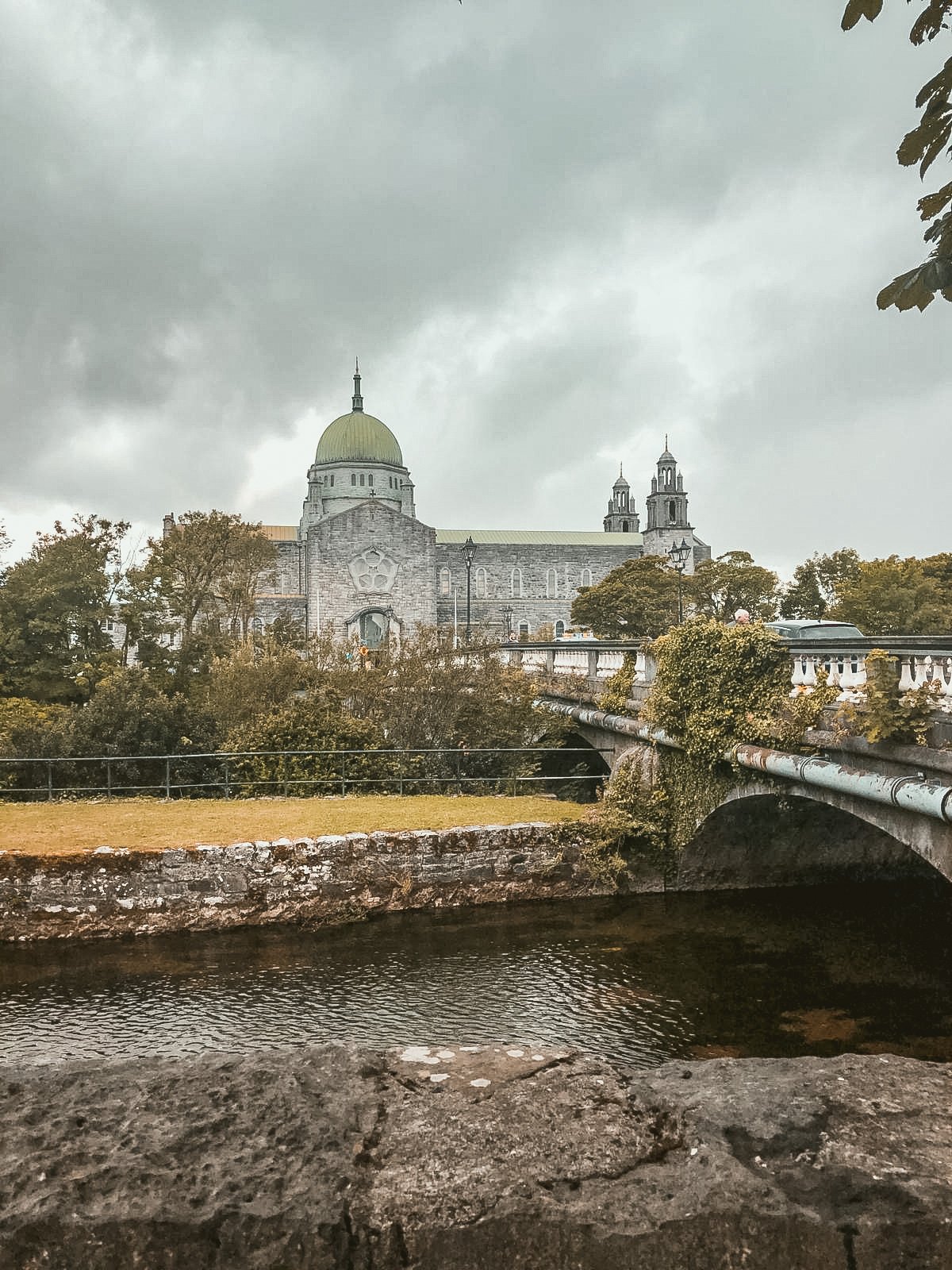 After one night in Dublin, I suggest you head over to Ireland's culture capital, Galway. It's the city by the sea and, yes, the city of Ed Sheeran's Galway Girl that always makes me want to be in Ireland!
Galway is a must-do because it's so different!
It doesn't even really give off city vibes – it actually feels quite the opposite!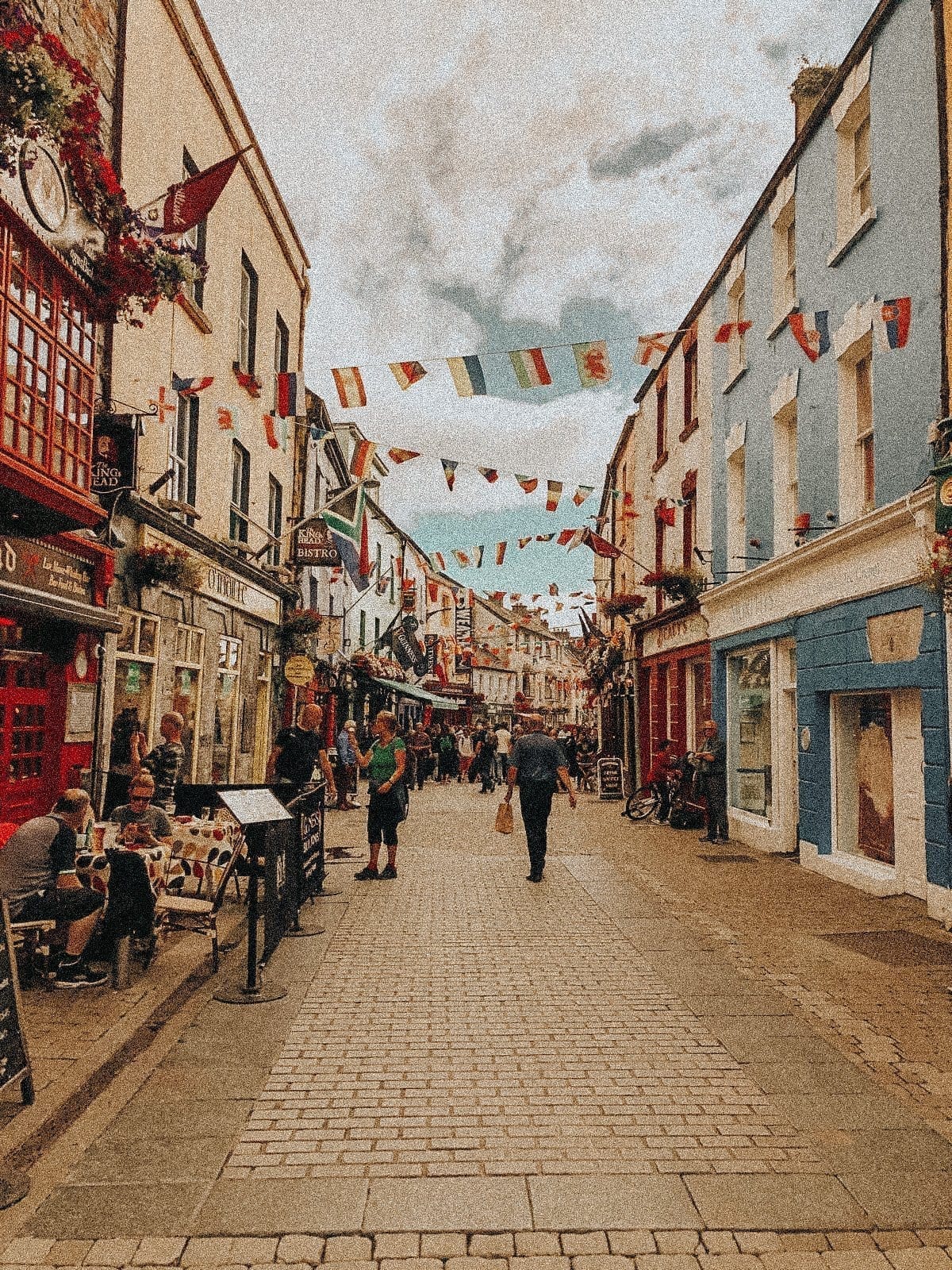 Instead of intimidatingly large buildings, they're super colorful and quaint in this city, where you can feel how diverse and, again, lively everything is.
Claregalway Castle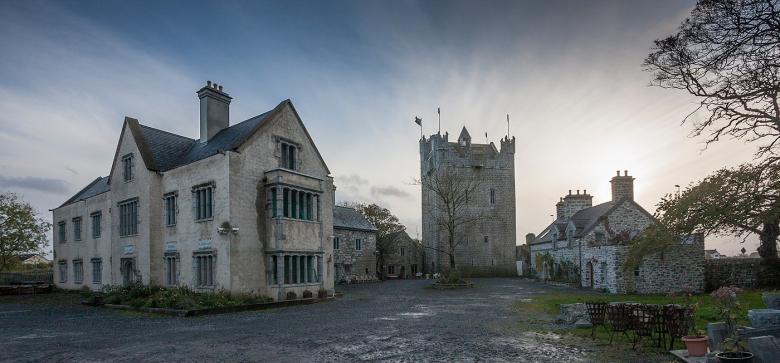 And, here's the must-do experience in Ireland that I kind of hinted to under my "Where to Stay" tips. And that is – to stay in a real CASTLE!
Yes, you read that right. On Airbnb, you can literally search for actual historic Irish castles to spend the night in.
I stayed in Claregalway Castle and I can't even describe how much of a fairytale it was.
Drive up to a private, gated castle, with cozy, romantic rooms. A beautiful assortment of tea and snacks to greet you and breakfast in bed as you wake up and pinch yourself you're not dreaming!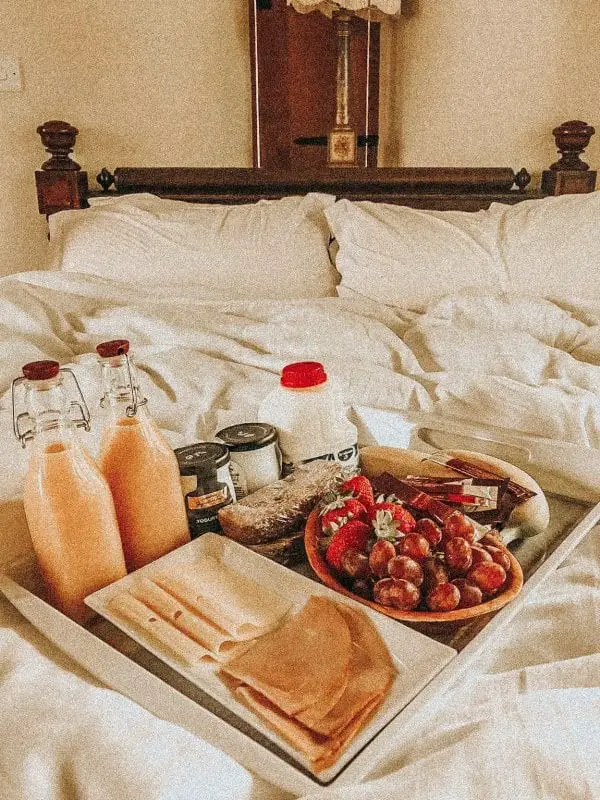 ---
Day 3
Cliffs of Moher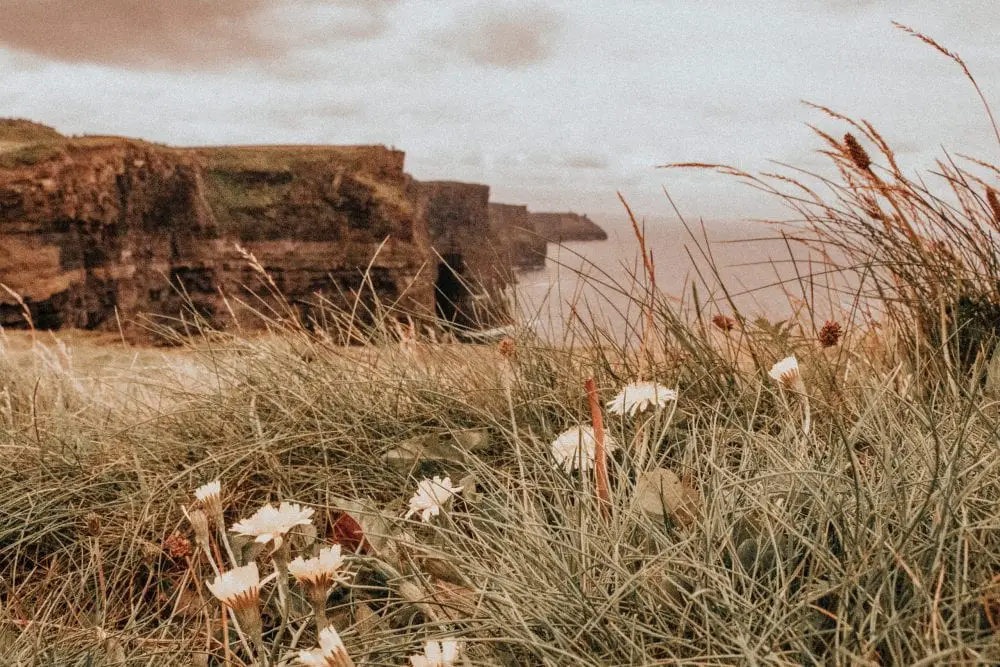 The Cliffs of Moher are one of Ireland's most beautiful natural wonders. These cliffs soar above Ireland's west coast and are surrounded by the bright green countryside one pictures when they think of Ireland.
A few tips for the Cliffs of Moher:
They are quite popular, so I recommend arriving as early as you can to have the best chance of experiencing them without crowds.
The wind is super strong, so I recommend traveling with at least a light rain jacket, if not a thicker jacket. The best light jacket that has weathered many travels for me is my Columbia Arcadia Jacket, which's foldable with a packable hood.
It's perfect for travel because it can fold super small but is also durable for wind and rain.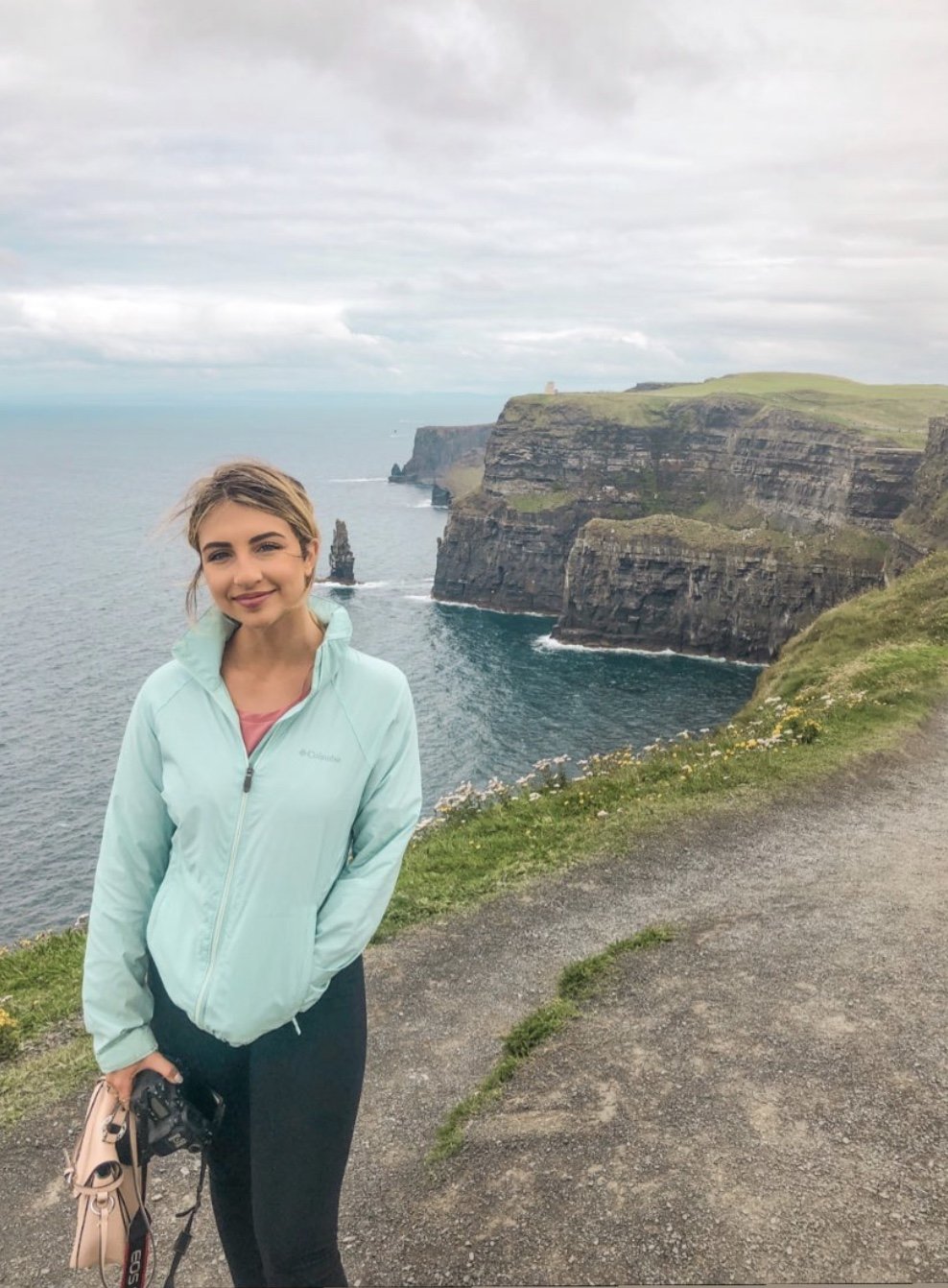 ---
Day 4
Belfast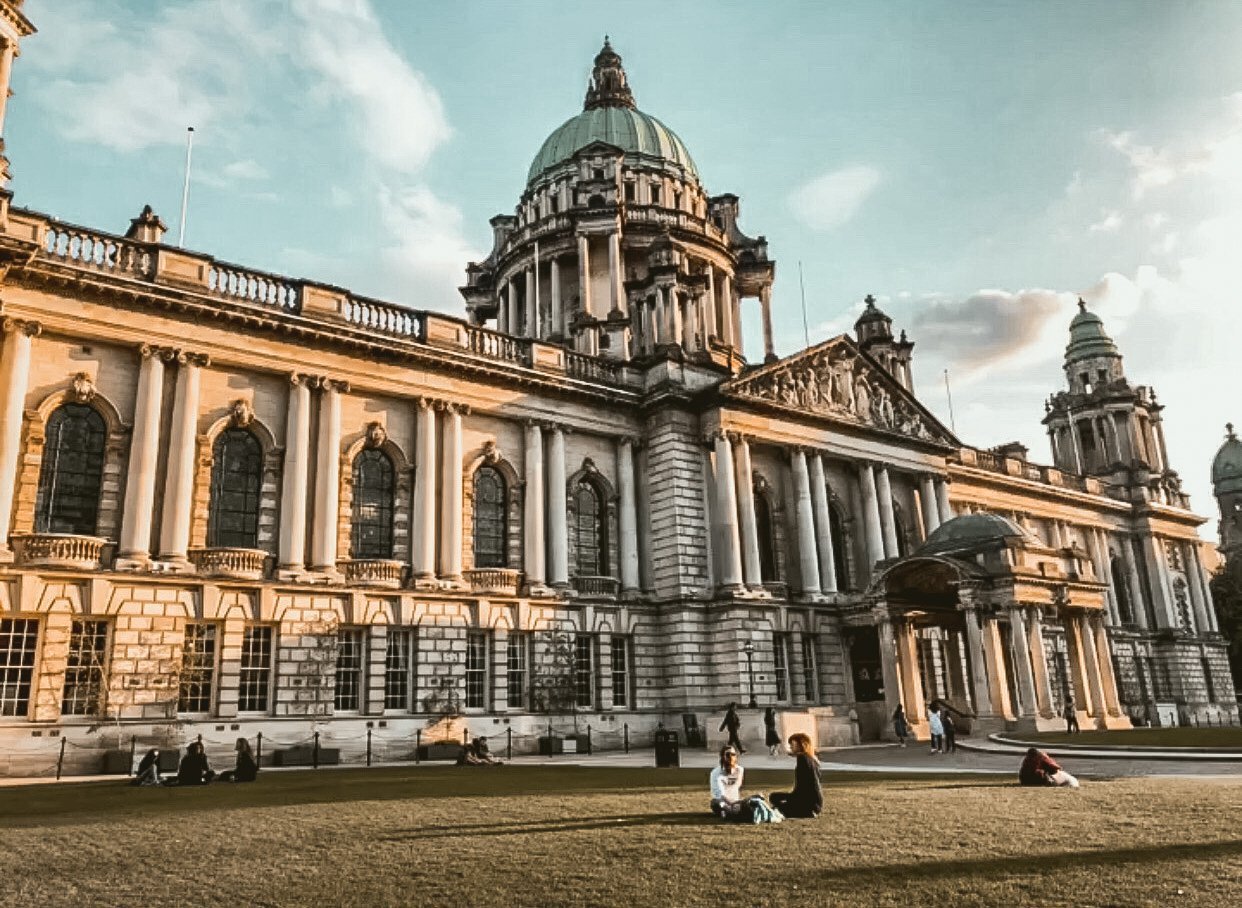 Now, Belfast is very North in Ireland. If you don't have time to squeeze it in, then I just recommend returning to Dublin and spending another amazing day there. (I wish I'd had the time!)
But, for me, I personally drove from Galway back to Dublin, dropped off the rental car, and then took a bus to Belfast!
I didn't even have much time in Belfast as I arrived in the evening and left Ireland the next morning.
But a nice evening walk allowed me to some of its historic sites, including Belfast City Hall above.
And that's how you see Ireland's best in just 3-4 days!
Do you have a favorite place in Ireland I didn't get to see? Leave it in the comments below to add to the inspiration!
Pin this post to save these Ireland ideas!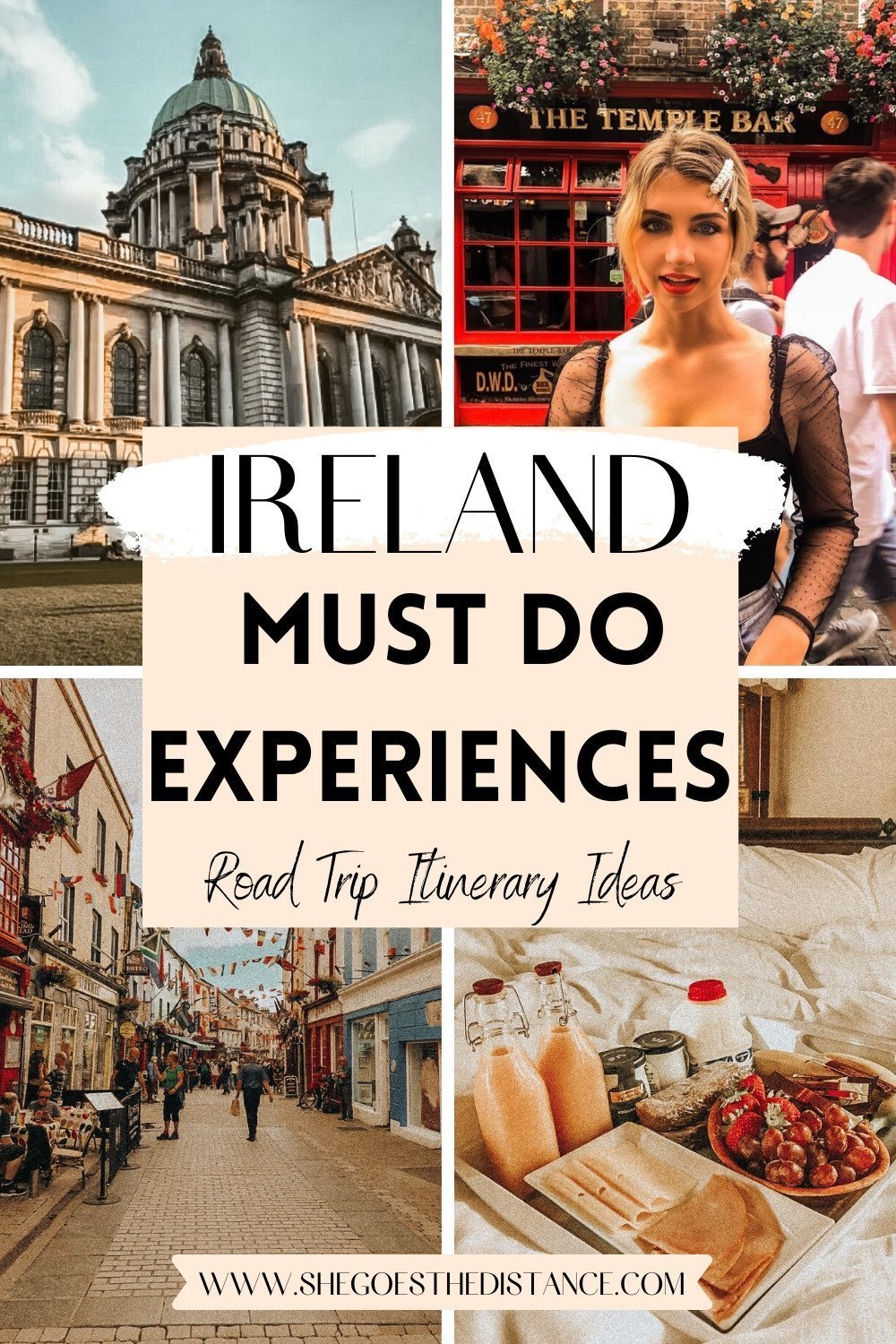 If I had more time, I could spend another week just driving around Ireland to see all the quaint villages and grandeur natural wonders it has to offer!
Hopefully I'll be able to go back in the future and add to this list!
XOXO
Michela