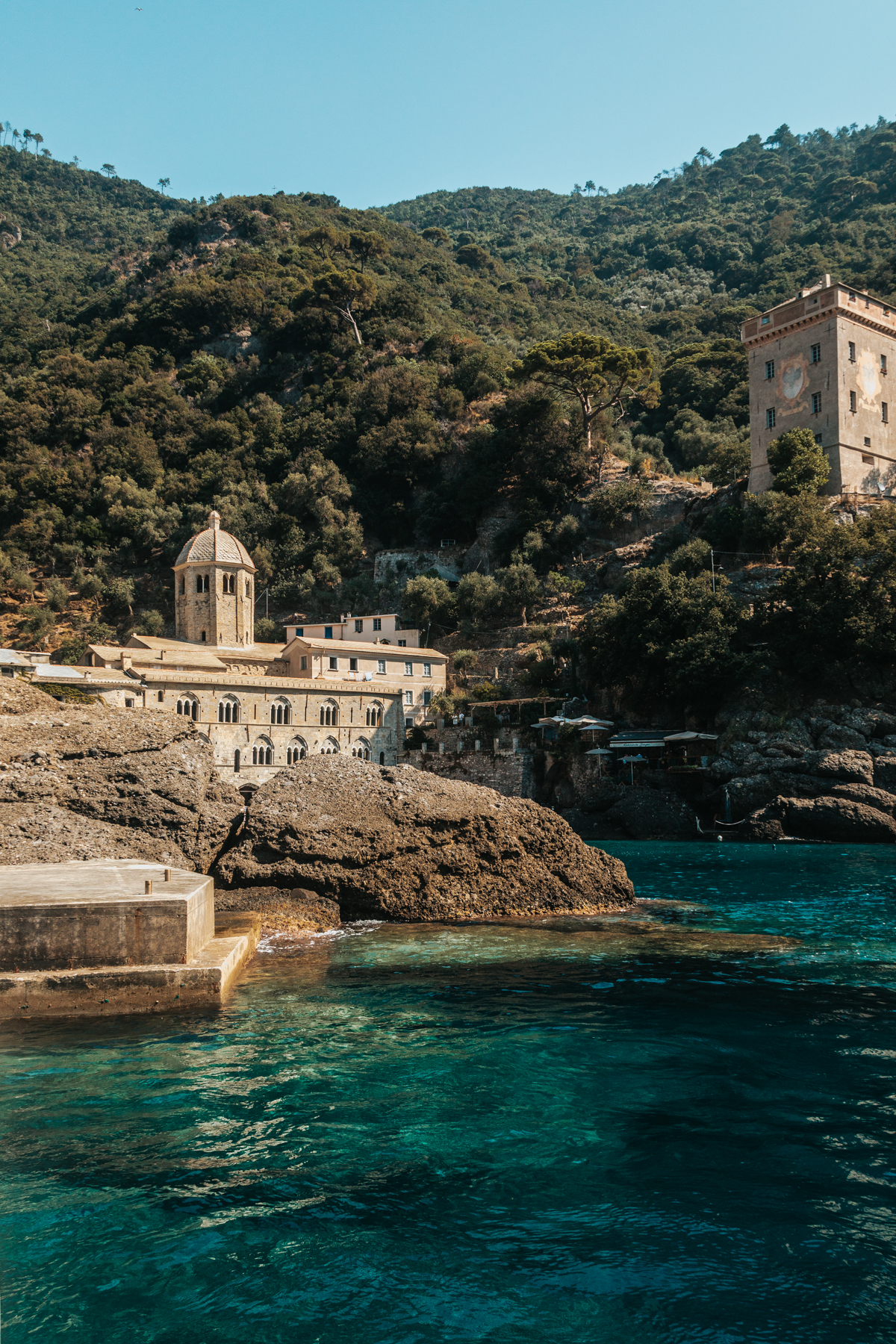 Last Updated on September 29, 2023
If you've heard of San Fruttuoso, you know that it is one of the most beautiful, mysterious and exotic locations on Italy's Mediterranean coast. This hidden cove reachable only by boat boasts crystalline waters and a historic abbey among the jungle of the Ligurian cliffs. Reaching such a remote destination requires insider info and tips on how to best enjoy it. Learn everything you need to know before your visit in this guide to San Fruttuoso, Italy.
Some of these links are affiliate links. This means if you make a purchase through that link, I receive a small commission at no extra cost to you. Read my full disclosure!
Where is San Fruttuoso, Italy?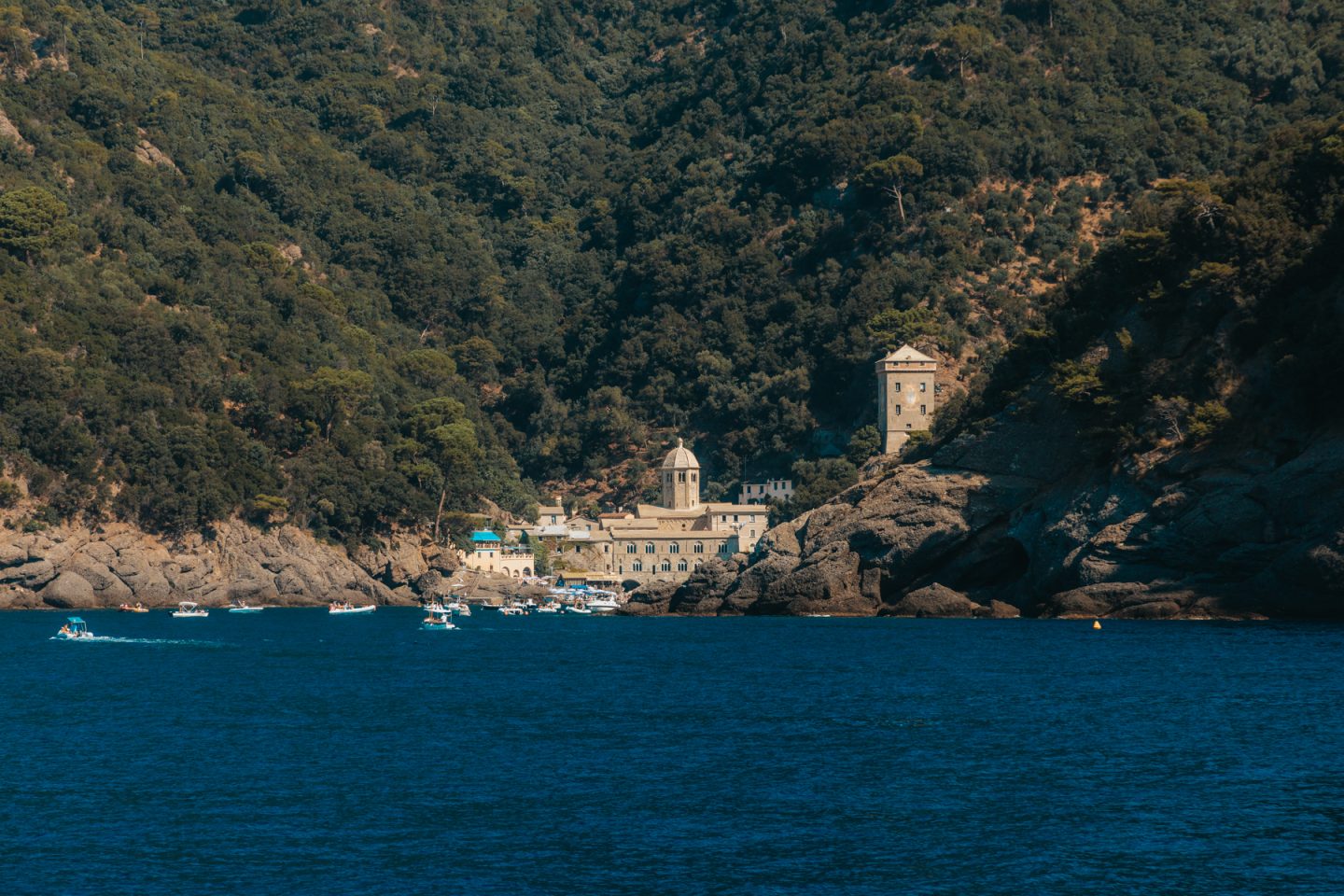 San Fruttuoso is a hidden cove wrapped between the cliffs of the Italian riviera between Genoa and Portofino. What attracts visitors to this remote location is the stunning natural beauty of crystalline Mediterranean water and a jungle-hugged monastery dating back to the 10th century.
This incredible context makes it one of the most romantic places in Italy.
---
10 Tips for Visiting San Fruttuoso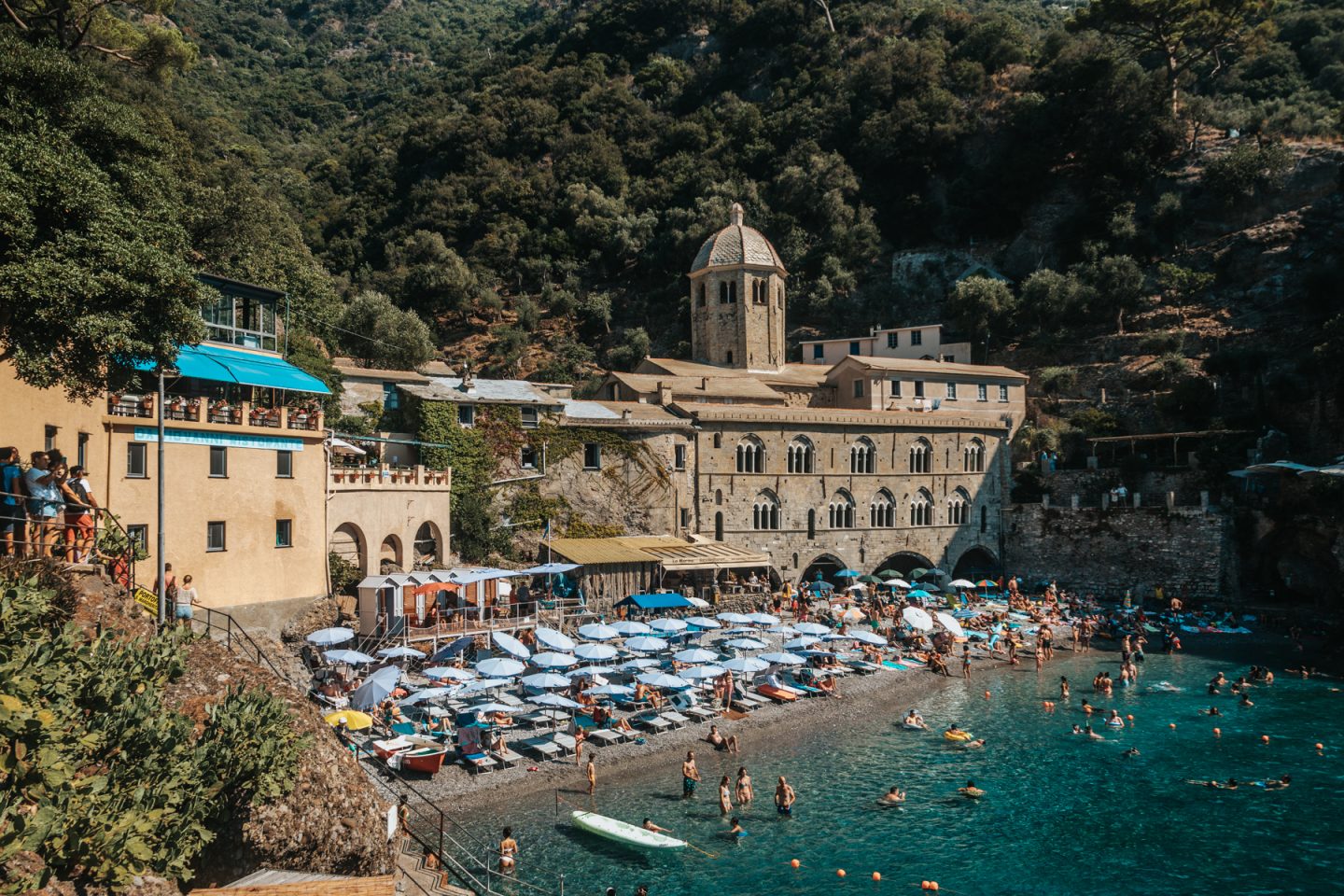 1. Plan ahead to reach San Fruttuoso
San Fruttuoso is not the easiest or fastest place to reach. There is no road access, so the only way you can visit is by embarking on a two hour hiking trail or by boat.
Reaching San Fruttuoso by sea is the most convenient option. You can organize a boat tour from Genoa or from Portofino if you are looking to hit multiple destinations in one day and prefer a third-party to handle the transportation.
The most affordable way to visit is via ferry, which is what I recommend. Get to the ferry around 30 minutes early to get your ticket, as people already start lining up to board.
The ferry to San Fruttuoso begins in Rapallo, stops in Santa Margherita Ligure and Portofino, and then arrives at San Fruttuoso.
I recommend purchasing a round trip ticket which allows you to also make one stop between your initial and final destination either on the way there or on the way back.
Find out more information about the ferry including the timetable here.
2. Know the ferry schedule
Visiting San Fruttuoso, Italy is not one of those places where you should just wing your plans. Because it is a remote location, it requires extra planning to understand how it is going to fit in your day.
I recommend waking up early and taking one of the first ferries directly to San Fruttuoso. Reaching San Fruttuoso by ferry takes 1 hour.
Then, based on how long you want to stay at the beach, how tired you get, when you would like to eat, etc., I recommend stopping at any of the other towns along the ferry route after. This way you at least get the main attraction done and can base the rest of your plans off how you are feeling.
3. All items and food are pricey
San Fruttuoso is not super touristic in the sense that there are not any stores and there are very few restaurants. However, everything you do find for sale there is very expensive.
There are a few vendors of beach items like towels, goggles and games. We tried to get a pair of goggles and they were asking €38 for a pair!
As for food, there is a small beach bar and two small restaurants around the abbey. Personally, I would recommend going to San Fruttuoso in the morning and leaving around lunchtime to go eat in the next town to have more options.
4. Arrive early
San Fruttuoso is tiny. It is not a big long beach where you can spread out and have your own space.
It is also extremely popular! Because this location that feels like a hidden gem is connected to other major towns like Sante Margherita Ligure, Rapallo and Portofino, it isn't as hidden gem as it seems.
Arriving early, meaning getting one of the first ferries of the day, allows you to have at least a little bit of choice on where to position yourself for your beach day.
5. Invest in beach chairs
If you want to have the most comfortable experience and especially if you are visiting in some of the hottest months of the year, then investing in a pair of beach chairs and umbrella on the small private beach is worth it.
We paid €25 to have two beach chairs and an umbrella from 10 am to 4 pm and I found that it was essential to manage the heat and also make sure all of our belongings were kept in our little area.
The tiny beach gets flooded with people, so in my opinion, it is better to have peace of mind for a little extra money than just leave your stuff laying around and suffering under the beating sun.
6. Be careful of rocky shores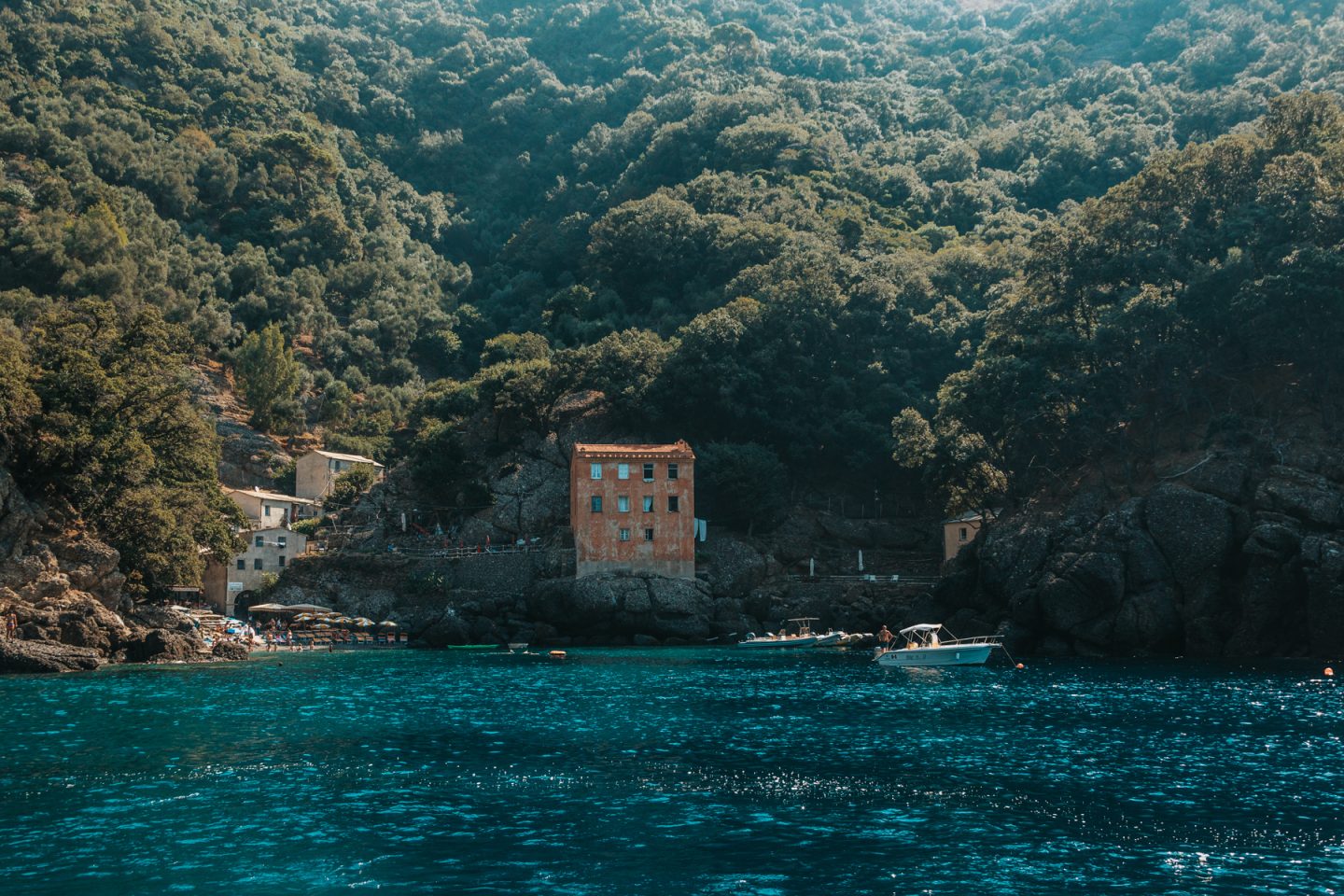 Swimming in the Mediterranean sounds like a dream and, for most of the time, it is. But that dream can turn into a harsh reality very quickly if you are not careful of the rocky shores!
The pebble beaches of Liguria are what allow the water to come off as so blue, but as you can imagine, they are not the most comfortable to walk on. Bring swim shoes to avoid scraping your feet on hot rocks.
The other thing to be careful of is boulders and rocks beneath the sea even in the shallow areas of the cove. If you aren't paying attention, you could hurt yourself.
7. Visit during shoulder season
Summer is the most popular time to visit San Fruttuoso, August especially.
Because the main thing to do is enjoy the beach and swimming cove, I wouldn't recommend visiting from October to April, as the weather is not pleasant.
I also would avoid visiting in August because of how busy the beach gets as all Italians go on vacation.
So, the best time to visit San Fruttuoso would be in May, June or September. You still get warm weather with slightly fewer tourists crowding up the small area.
8. Visit the underwater statue Christ of the Abyss
One of the most unique things about San Fruttuoso lies beneath the water's surface.
About a 45 minute swim from the shore and 17 meters deep below the surface is a bronze statue called Christ of the Abyss, sculpted by Guido Galletti. This original sculpture was installed in 1954 in this underwater location.
There are now other versions of the statue in underwater locations around the world.
If you visit by private boat and are able to stop near it or if you are adventurous enough to make the 45-minute swim from shore to see it, remember this one thing: wear goggles! Without goggles, you will only be able to see an outline of the statue below.
9. Visit the San Fruttuoso Abbey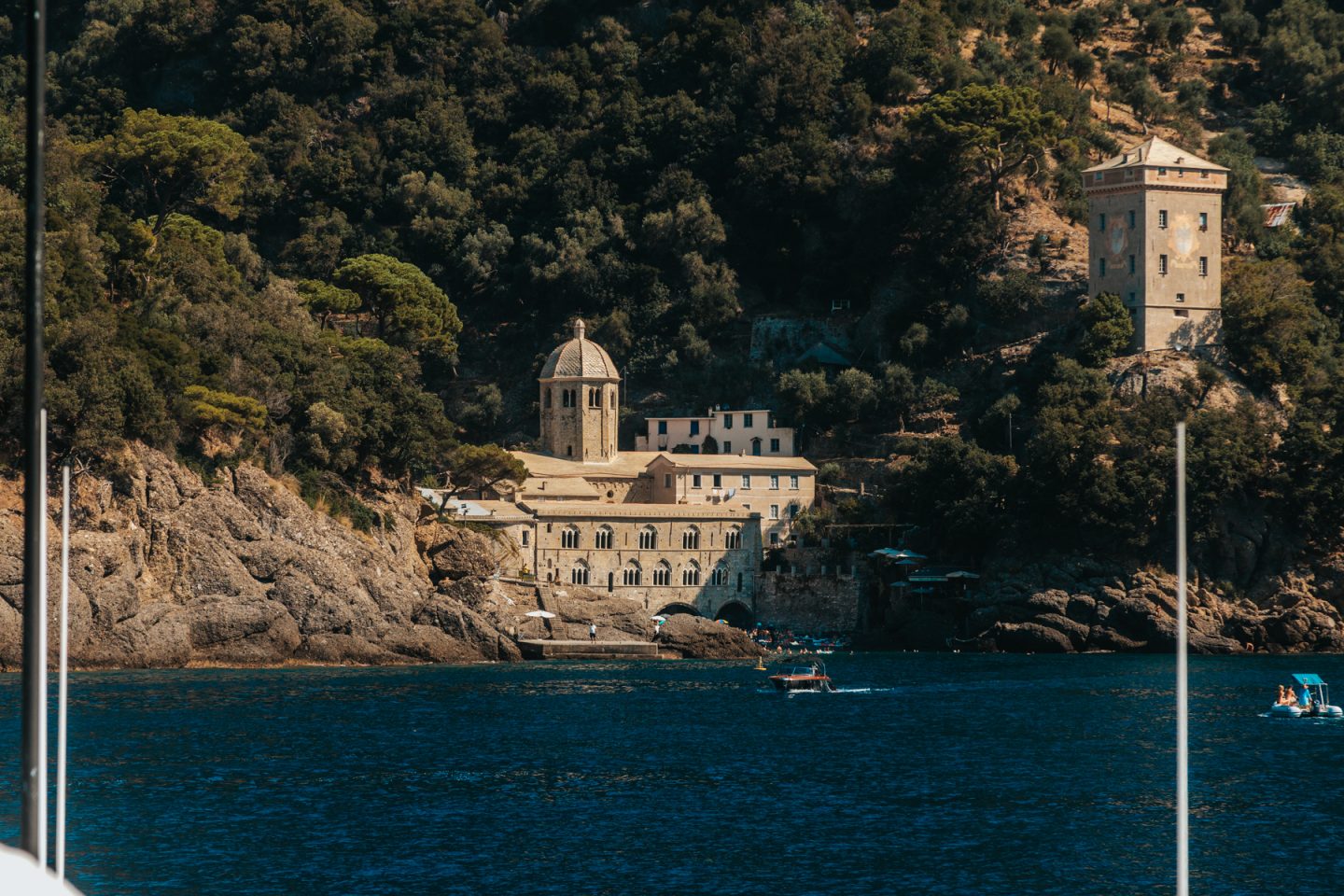 The San Fruttuoso abbey is the crown jewel of this destination. It is what makes San Fruttuoso so unique and so appealing to travelers.
You may want to visit just to have a beach day, but if you have extra time, you should tour the 10th century monastery. The abbey contains the tombs of members of the Doria family, a powerful ruling clan on the coast of Liguria.
Beside the abbey is the Torre Doria, a tower that was used as a lookout to protect the abbey from invaders.
Buy entry tickets to the abbey.
10. Facilities limited
While there is a public bathroom right after the ferry drop-off area, just know that facilities are limited and not incredibly comfortable in this area.
It's important to think ahead as to what you might need for a beach day outing, because besides that and visiting the monastery, there is not much else to do in the area.
---
San Fruttuoso FAQ
Is the San Fruttuoso beach rocky or sandy?
The San Fruttuoso beach is full of rocky pebbles.
Is visiting San Fruttuoso free?
Visiting San Fruttuoso is free, meaning you don't have to pay to access the area. You will however have to pay for arriving to San Fruttuoso (by ferry or by private boat) and there is an entrance fee if you want to visit the Abbey.
Is the Abbazia di San Fruttuoso open to visitors?
The Abbazia di San Fruttuoso is open to visit. It costs €8.50 to enter for adults. Get ticket information.
---
The SGTD Take
Is San Fruttuoso worth the journey to get there? I believe it is as a once-in-a-lifetime experience.
Now that I have seen it, swam in its crystalline waters and enjoyed the unique feeling of being in a place hidden from the rest of the world, I feel like I have gotten the most out of the experience that I could have.
I hope this guide has helped shed some light on how to visit such a remote place and make the best of such a unique experience!
Have questions about visiting? Ask me in the comments!
Save this travel guide on Pinterest!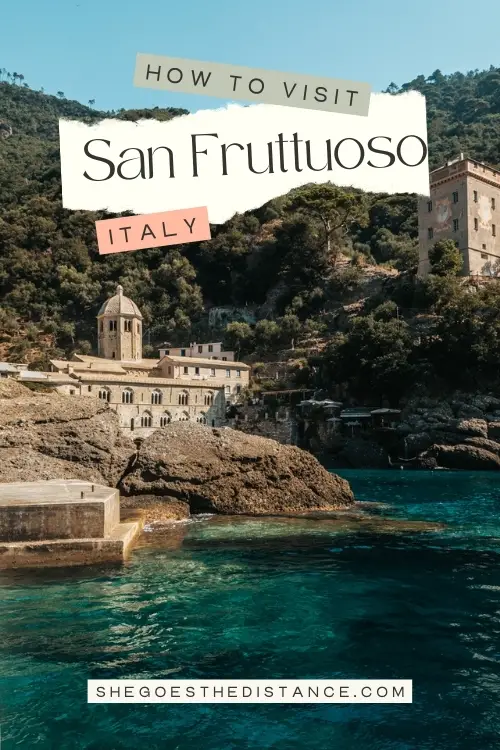 I hope this guide has made it clearer what visiting remote San Fruttuoso, Italy is really like!
XOXO
Michela