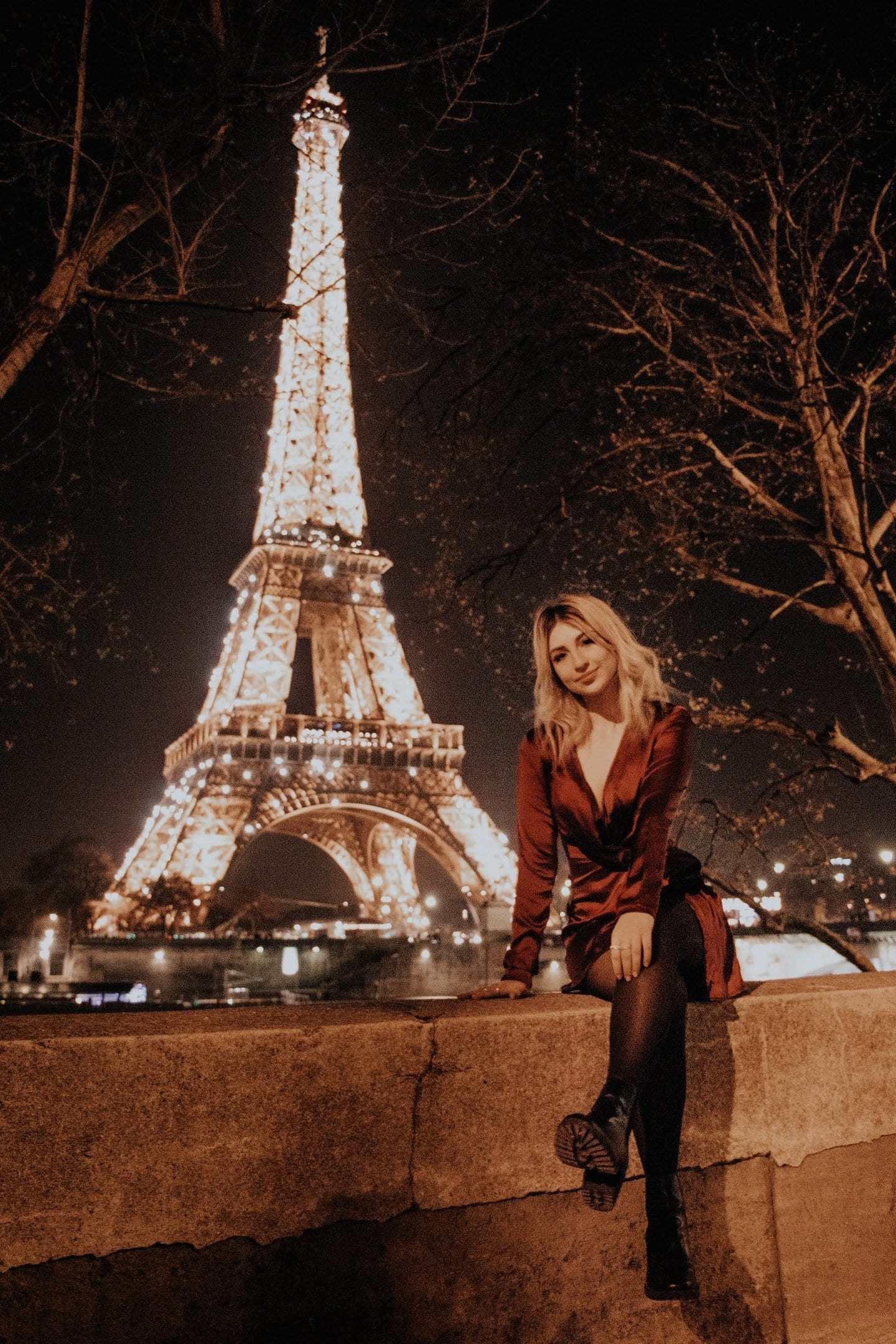 Last Updated on February 24, 2022
I'm obsessed with Paris, no doubt. Any photo shot in Paris is like magic; you're instantly transported there as soon as you see the Eiffel Tower or the city's romantic architecture. Taking pictures in Paris also makes for the perfect opportunity to make jaws drop on your Instagram – if done right with these picture-taking tips and instagrammable Paris locations! Don't miss the best places to get iconic and chic pictures in Paris that everyone will be jealous of!
And if you're on your way to Paris, be sure to use some of these resources on my blog to make sure you have a perfect trip:
This post does contain affiliate links, where if you make a purchase through that link, at no extra cost to you, I may receive a small commission to help support this blog! If you would like to read my full disclosure, it is here.
Things to Keep in Mind For Taking the Best Pictures in Paris
None of these photos would look nearly as good if I didn't edit them with professional software.
Early bird typically gets the worm.

It can be incredibly frustrating having tons of tourists in your photos! Almost always, waking up early to get to those famous sites is the way to go.

Do your research before!

Get on Pinterest and look up venues and poses before you start taking your shots! This way you feel less lost once the lens is on you at the moment.
---
Eiffel Tower at the Trocadero at Sunrise
Most people know what the Trocadero is, the famous raised plaza right across from the Eiffel Tower with some seriously stunning views. However, most people also know that this place is PACKED with tourists almost all day long.
EXCEPT if you arrive super early in the morning!
This is the perfect time to come to the Trocadero. It's nearly empty, besides the very few like you who have come early to take photos.
You will have the freedom to take so many different shots without being intimidated by a ton of onlookers or rushed by other tourists!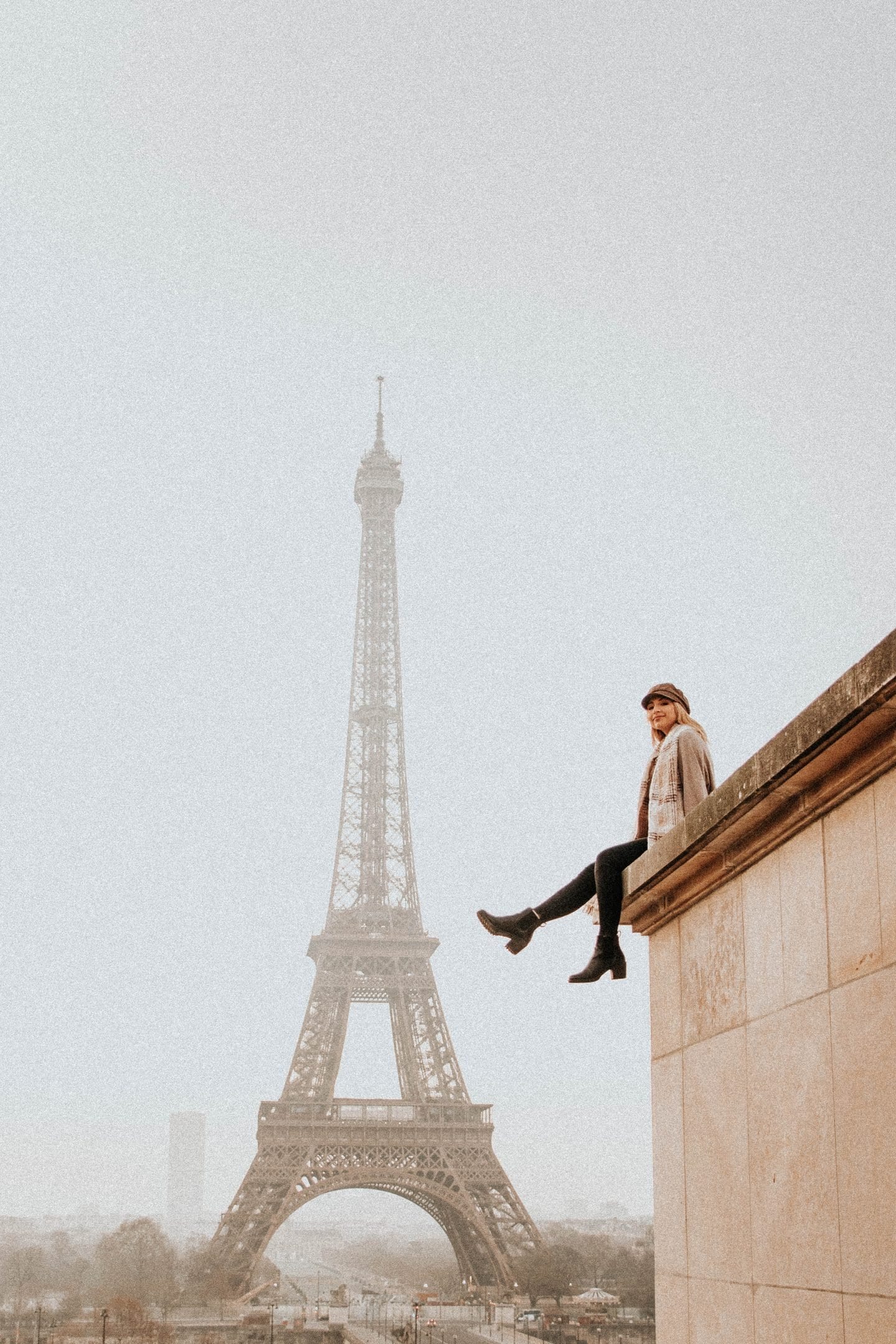 It's also simply breathtaking to watch the sunrise sweep over Paris.
---
Eiffel Tower across the Seine at Night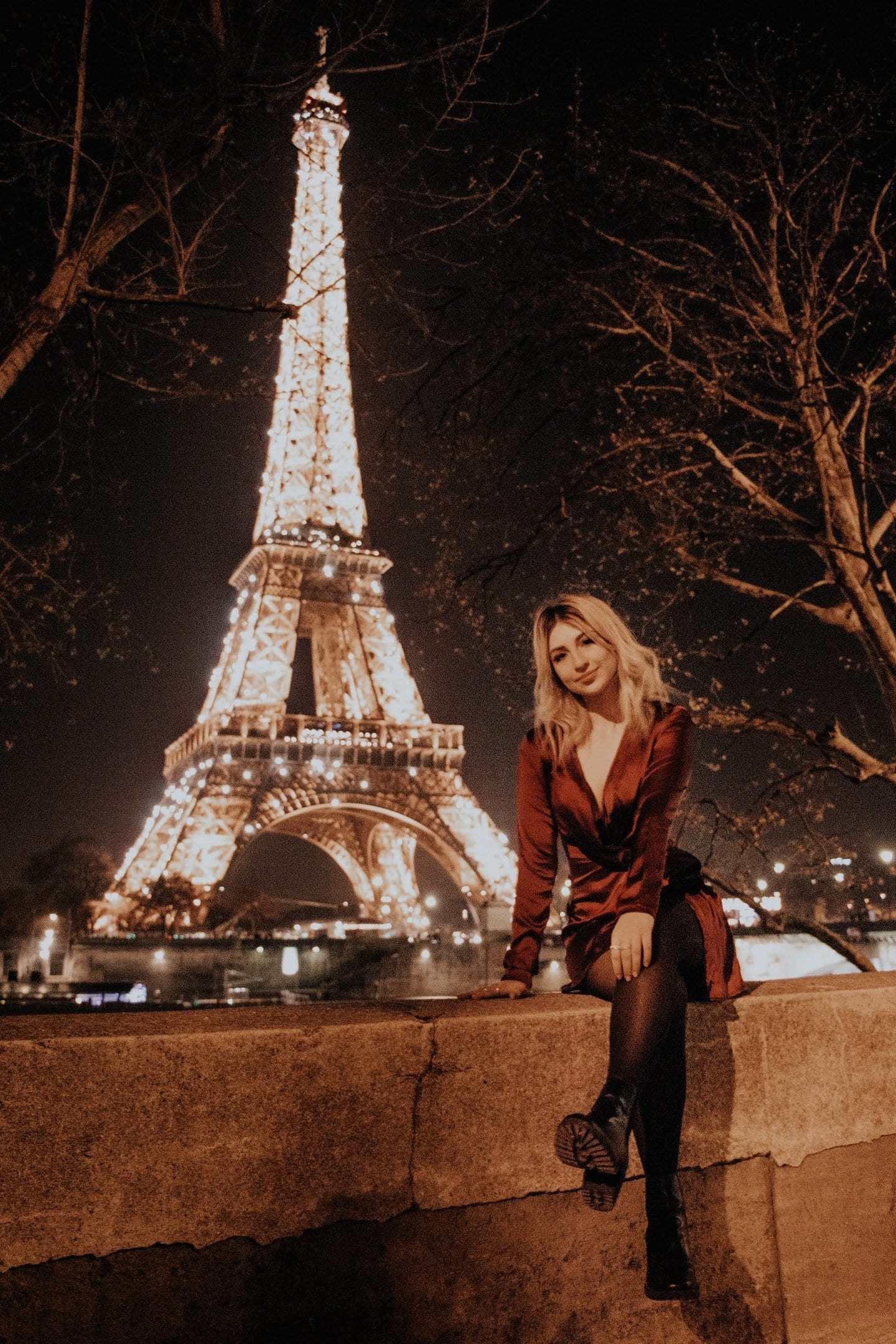 Let me explain how you get one of the most perfect pictures in Paris with a glittering Eiffel Tower. You'll be going towards the tourist hub right in front of the tower where there's the carousel and the bridge over the Seine.
Stay on the side of the bridge across from the Eiffel Tower and walk a little away down the side walk. You'll only be like 50 feet from the bridge and there will be people passing by occasionally, but besides that the spot is empty! Try to go later, like at 10pm instead of as soon as it gets dark.
Pose on the wall of the sidewalk, between the trees and wait for the hour to strike to get the perfect glittery Eiffel Tower Insta. `
---
Luxembourg Gardens
Paris has stunning parks and gardens. Walking through them takes you back in history. The Tuileries Gardens are right in the center of Paris, but I prefer the larger Luxembourg Gardens with more architecture and levels for creating a picture-perfect moment.
Stay on the upper level above the garden across from the Luxembourg Palace to get a shot like this.
---
St. Germain Neighborhood
There is something about St. Germain that I love, an air that feels extra romantic and special. The streets are beautiful here, as well as the tiny parks and gorgeous churches you'll discover walking around.
On the less busy side streets, you'll find the classic architecture as the perfect frame for a photo – without having to dodge moving vehicles the whole time. I think everyone needs a classic street picture in Paris when they visit!
---
The Louvre Pyramid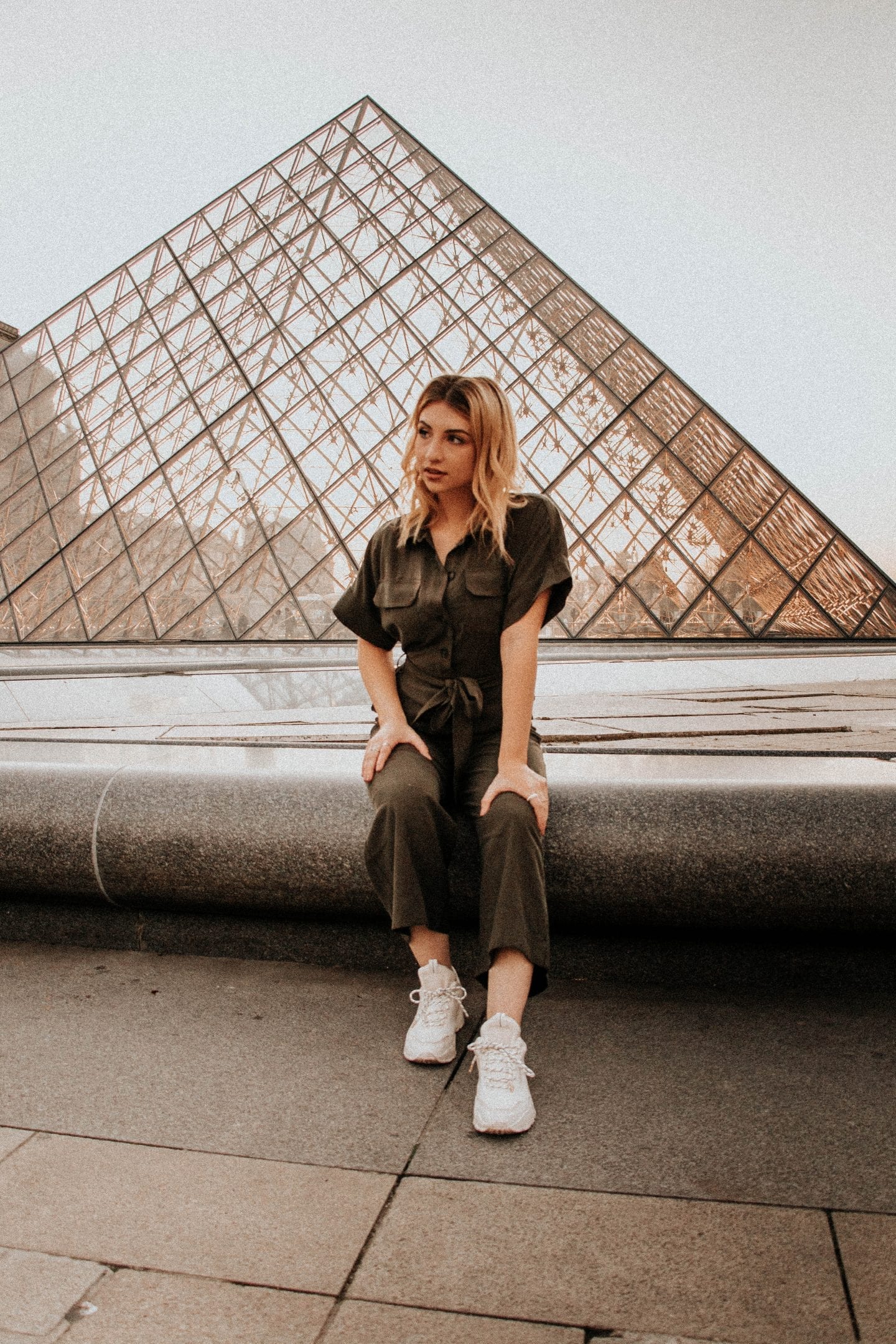 During the day, this area is packed with people, a pretty usual occurrence when trying to get pictures in Paris with the iconic sites.
But take these tips from me:
I would suggest wholeheartedly if you're trying to get a chic picture with the Louvre Pyramid to do it in the evening!
Use the raised ledges to sit and pose because standing in front of this structure will mostly cover it since it's not very tall.
There were previously some people in the back of this photo but I was able to edit them out.
It's all about working with what you've got and how you can best manipulate the photo to suit your needs. Especially in high traffic areas, just take a lot of photos and be patient!
---
Arc de Triomphe
I've got two options for a great picture at the Arc de Triomphe.
The first is more a classic set up with the monument at an angle behind you and shooting up so your body is lengthened. Basically any corner beside the Champs-Elysees intersection will have fewer people, you may just have to wait a minute so you get the perfect spot!
Second, and by far one of my favorite pictures I have ever taken, is my long exposure nighttime photo of the Arc de Triomphe.
Looking back, I'm sad I didn't have time to be in the photo, but as simple as it looks this was not an easy shot! It would look so cool to have a subject in the photo with the long streams of car lights giving this photo movement.
The technique here is a bit harder and you'll need a DSLR and tripod. If you want to know more about how I set up the photo you can read my technical advice here:
Firstly, place the subject in the middle of the street for symmetry. Set up your tripod and use manual settings to set a longer shutter speed. The subject needs to stay completely still! Do it over and over again because blurring can easily occur here where we don't want it. This picture can feel pretty rushed because you're in the middle of a chaotic street so just do your best!
---
Notre Dame
My favorite picture of Notre Dame actually came from a side street instead of the little plaza in front of the church.
It's right by the Odette patisserie (which is also the cutest spot you need to visit.)
Add a nice little walking pose down the street or leave it empty like mine and you get this beautiful framing of the iconic cathedral.
These are how I've created some of my favorite Instagrammable pictures in Paris at the city's most iconic sites.
Tell me about your experiences getting creative with photography in Paris!
Don't forget to take an extra second to share this post!
I'll be back in a bit with my next post, in the meantime planning my next trip to Paris…
XOXO
Michela