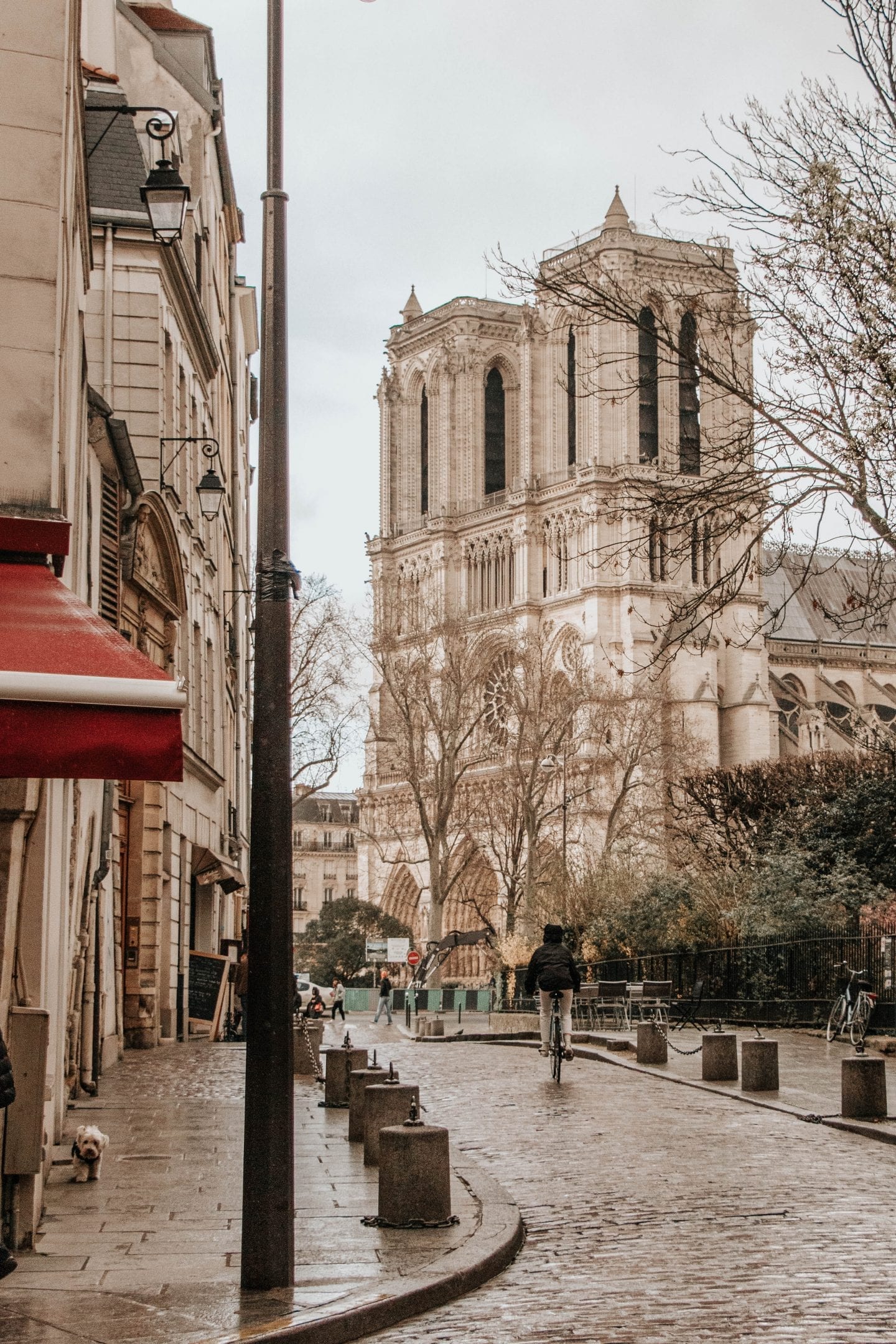 Last Updated on March 15, 2023
We all know that Paris is always a good idea. Getting lost in its pretty streets, photographing every beautiful sight that comes into frame, or being enveloped in its historical significance distinguished by countless monuments are all part of a good Paris trip. No matter what sounds dreamiest to you, it's all included in this ultimate one week in Paris itinerary (even though by the end of it, you'll be wishing you could stay longer!)
Putting together a one week in Paris itinerary is near impossible; there's just so much to do in Paris.
But of course, there are certain things you must see, as well as some hidden gems and pro tips sprinkled in between for those seeking the most special experiences in the city.
Some of these links are affiliate links. This means if you make a purchase through that link, I receive a small commission at no extra cost to you. Read my full disclosure!
Check current travel regulations in France related to COVID-19 at this website.
---
Why One Week in Paris?
Paris can be done as a day trip when traveling through Europe or as a city break on a free weekend but to truly enjoy the sights and culture without feeling extremely rushed, one week in Paris is the ideal length for a trip.
Being a city so large, so developed, and so well-known, of course even with 7 days in Paris, you're not going to be able to see everything. But you'll find out that's not the point.
The real success of a Paris trip isn't marked by how much you see and experience, but by what you make of those experiences, how you observe the culture and try new things, how the atmosphere of Paris becomes the most exciting part to live – not the idea that you've stood in every line and saw each famous attraction for 5 minutes before moving to the next.
Yes, my itinerary includes landmarks and the places that make Paris so famous, but it's more so about where I think you can find your own special moments in the city, that feel truly your own and like no one else has had them, so that you connect with Paris instead of just visiting it.
Sound like the kind of experience you're after? Then keep on reading.
---
The Perfect One Week in Paris Itinerary
Use this itinerary as a baseline for what kind of activities and how many areas of Paris you can accomplish seeing in one day. Obviously what is number one on your Paris bucket list will be different to mine and many other travelers!
Keep in mind as well that if you're arriving in Paris from the US or any other country outside of European time zones, you may be feeling jet-lagged your first day and will need to switch around your itinerary. If that's the case, stay close to your accommodation and explore the neighborhood and then get some rest so you enjoy the week!
---
Day 1: Eiffel Tower, Champs Elysee, Arc de Triomphe, Pont Alexandre III, Tuileries Garden
Your first day in Paris will be a busy one because we are getting the big tourist attractions out of the way. The truth is, you'll probably meander back to these iconic locations throughout the week, so I find a Paris itinerary doesn't have to dedicate an entire day, let's say, to the Eiffel Tower, since it's such a centerpiece of the city and you'll enjoy it several times as you're traveling around the city.
Eiffel Tower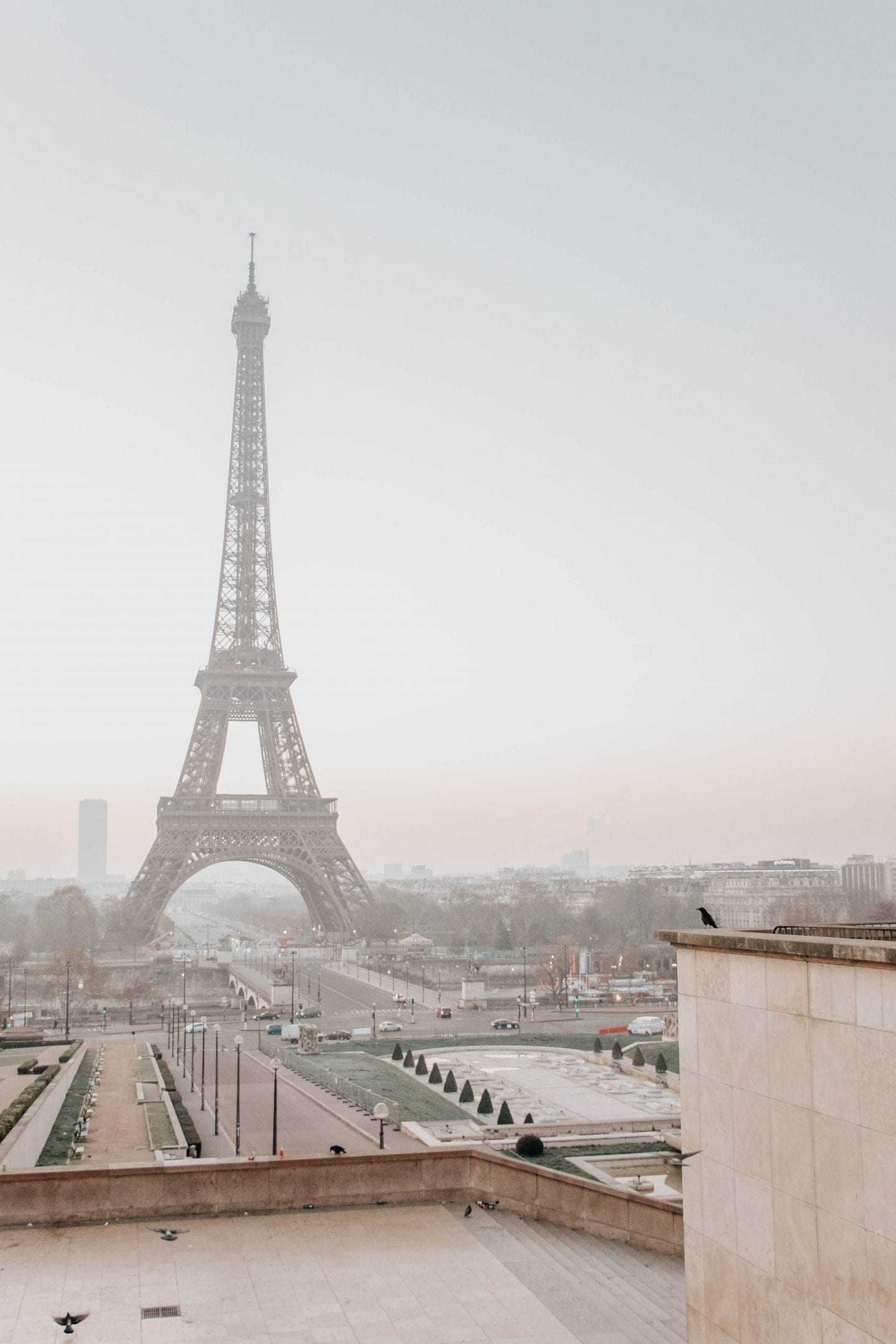 When it comes to visiting the Eiffel Tower, there are a few great places to see it. Obviously you can walk right up underneath and across to the Champs de Mar park and maybe have yourself a small first-day picnic.
Or you can head to the iconic Trocadero to get some amazing Eiffel Tower photos.
I would actually recommend, if you're willing, to go to the Trocadero on a separate day, at sunrise. That means an early wake-up call, but you'll get to experience the magic of Paris without people. The only ones at the Trocadero will be photographers because they know the secret to getting an amazing photo without tourists!
If you're looking for a great view over Paris, I would actually skip going to the top of the Eiffel Tower (although for some it's on their bucket list.) Instead, go to the top of the Arc de Triomphe or a secret location I'll tell you about for Day 3!
A fantastic place to eat with views of the Eiffel Tower is Le New York. It's not too expensive and you can see the Eiffel Tower glitter larger-than-life from your quintessential French sidewalk dining table.
Arc de Triomphe and Champs Elysees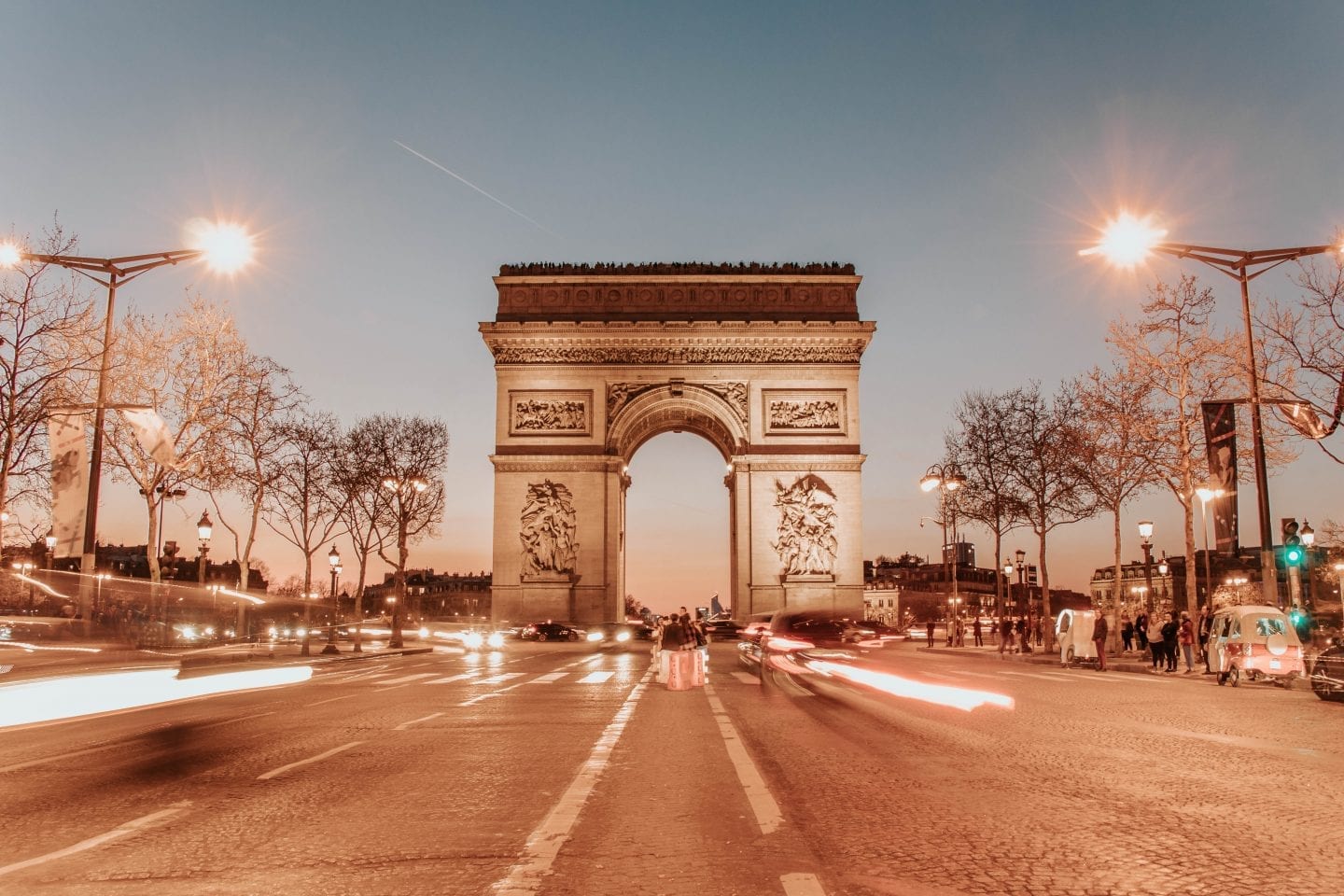 You'll have to cross the Seine River if you are coming from the Eiffel Tower to get to the most famous shopping street in the world and one of Paris' most characteristic landmarks.
The Champs Elysees is glamourous, but it's a lot more regular than you might expect. What really makes the street desirable is beautifully lined trees leading you to the again larger-than-life Arc de Triomphe.
Don't try to cross the crazy traffic of the roundabout that surrounds it – instead, there is an underground walkway to reach the Arc de Triomphe and then an entrance fee of 13 euros to go to the top. I personally think it's a better view of Paris from here than the Eiffel Tower because you actually get to see the Eiffel Tower!
Pont Alexandre III, Les Invalides, & Tuileries Garden
Walking down the Champs Elysees and away from the Arc de Triomphe, you will start to see some of the bridges that Paris is famous for.
Be sure to stop at Pont Alexandre III to take in another beautiful view of the Eiffel Tower! There are also amazing museum buildings nearby to this bridge that are incredible structures to take photos of.
Walking across the bridge, you will see the flashy gold dome of Les Invalides. This striking building is home to several army museums and the tomb of Napoleon. Even if you don't want to enter the museum, you can walk in the massive courtyard to get a better look at this building.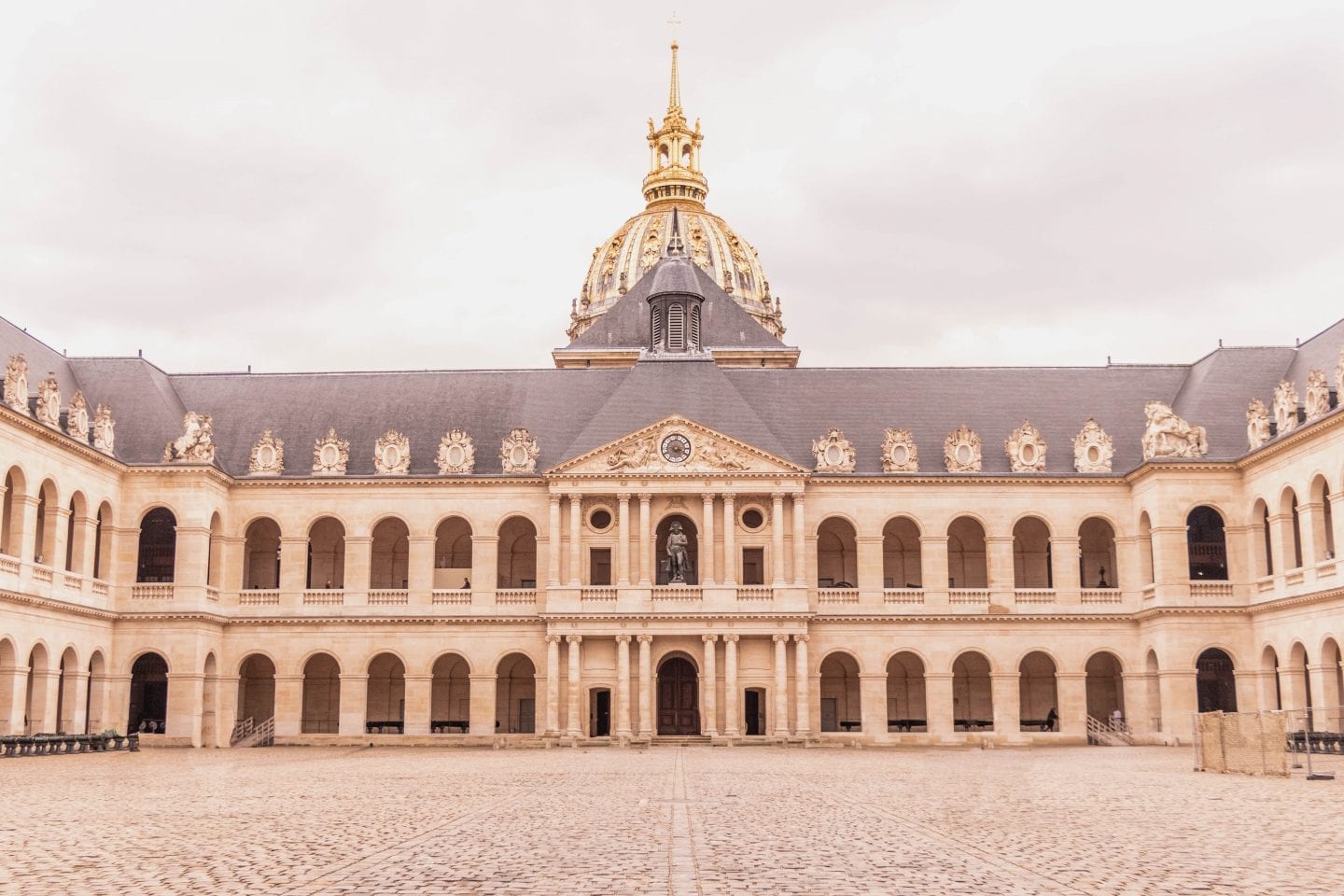 Back over the bridge, keep walking and eventually, you'll run into one of Paris' beautiful parks, Tuileries Garden. This is the perfect place to take an afternoon stroll or sit, to devour some macarons, and to pretend like you live in Paris!
---
Day 2: The Louvre, Rue de Rivoli, Pont Des Artes
The Louvre & Rue de Rivoli
On day 2, I recommend spending your entire morning exploring the Louvre museum. This museum is so big it would take hundreds of days for you to be able to see each piece of art.
Of course, the most famous painting in the Louvre is the Mona Lisa. She's kept behind a glass wall and is ogled over by huge crowds every day. Wait patiently to make your way up to the front (or just try to get there as early as you can!)
After spending your morning at the Louvre, you will be right next to one of my favorite streets in Paris, Rue de Rivoli. It's a great street for shopping but also for some of Paris' treasures like Librairie Galignani and Angelina's.
I highly recommend sitting for an afternoon snack at Angelina – macaroons and white hot chocolate, to be exact. It's rumored to be the best hot chocolate in the world and I completely agree!
Also near to this area of Paris is the iconic lock bridge or Pont des Artes. Every so often, locks have to be removed from the bridge to avoid the danger of it collapsing due to the weight added by the locks. It's definitely a sweet sight with the Eiffel Tower in view and reminds you again why Paris is the City of Love.
Galeries Lafayette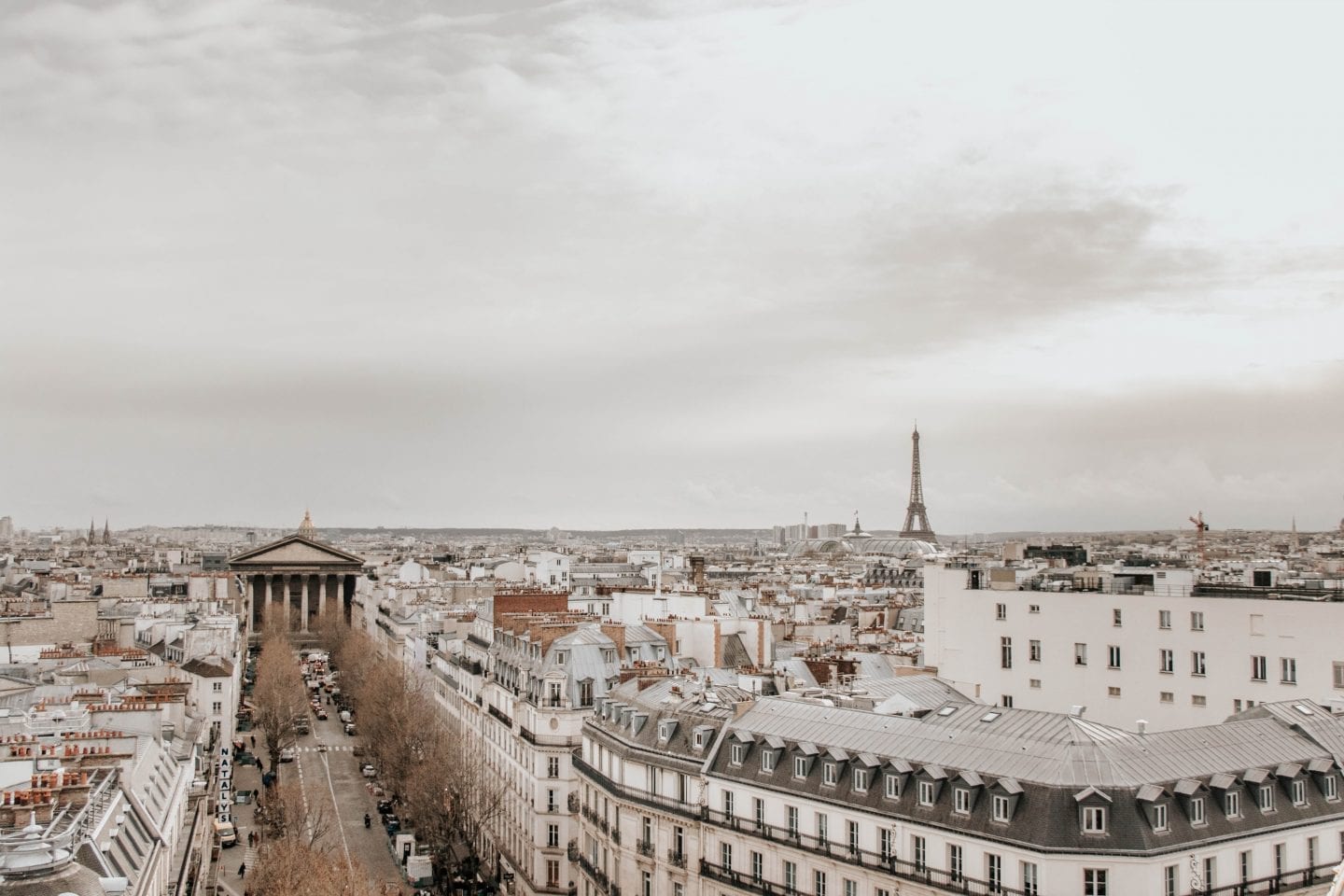 Later, make your way to the Galeries Lafayette for a special experience! You may think it's just a shopping mall, but it's the most luxurious shopping mall in the most luxurious city in the world – so it's a tourist attraction all on its own.
Be sure to walk onto the glass platform that stretches out into the rotunda to see the glistening glass ceiling from directly below. You could also head to the rooftop for a panoramic view of Paris, but I have a hidden gem spot for that!
Down the street is Printemps, another high-end shopping mall. On the rooftop is a restaurant called Perruche. It will cost you an arm and a leg to eat there, but anybody can visit the rooftop and take in this stunning (hidden gem) view of Paris!
Slip to the right after exiting the staircase or elevator and catch a glimpse of the Place de Madeleine, Paris rooftops, and Eiffel Tower!
---
Day 3: Saint Germaine des Pres, Luxembourg Gardens, Paris Cafe Culture
The neighborhood of Saint Germaine des Pres is everything you imagine when you think of Paris – wrought-iron balconies, cream-colored buildings with ornate facades, and a cute cafe on every corner.
On this side of the Seine, the best thing you can do is have a day of exploring little streets and enjoying the little moments.
While you are in the area, stroll into Luxembourg Gardens to enjoy a baguette (or two) for a snack.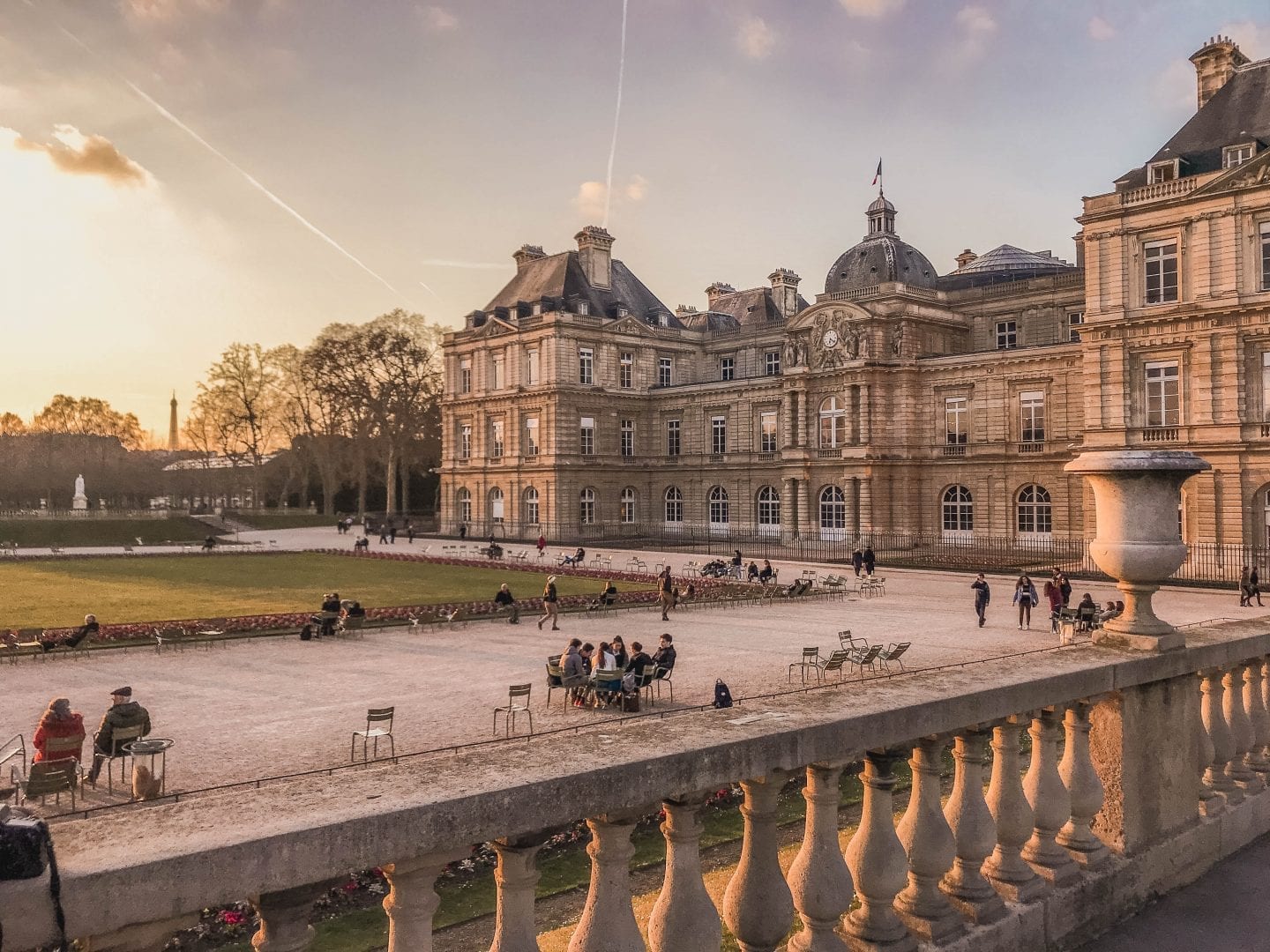 As I mentioned, there's a cute cafe on every corner, but there are two of Paris' oldest and most famous cafes on a special corner right across from each other.
You must visit Café de Flore and try their profiteroles. You'll have the incredible, almost spiritual, experience of dining in the same room as Pablo Picasso once did, as well as many other famous thinkers, artists, and writers.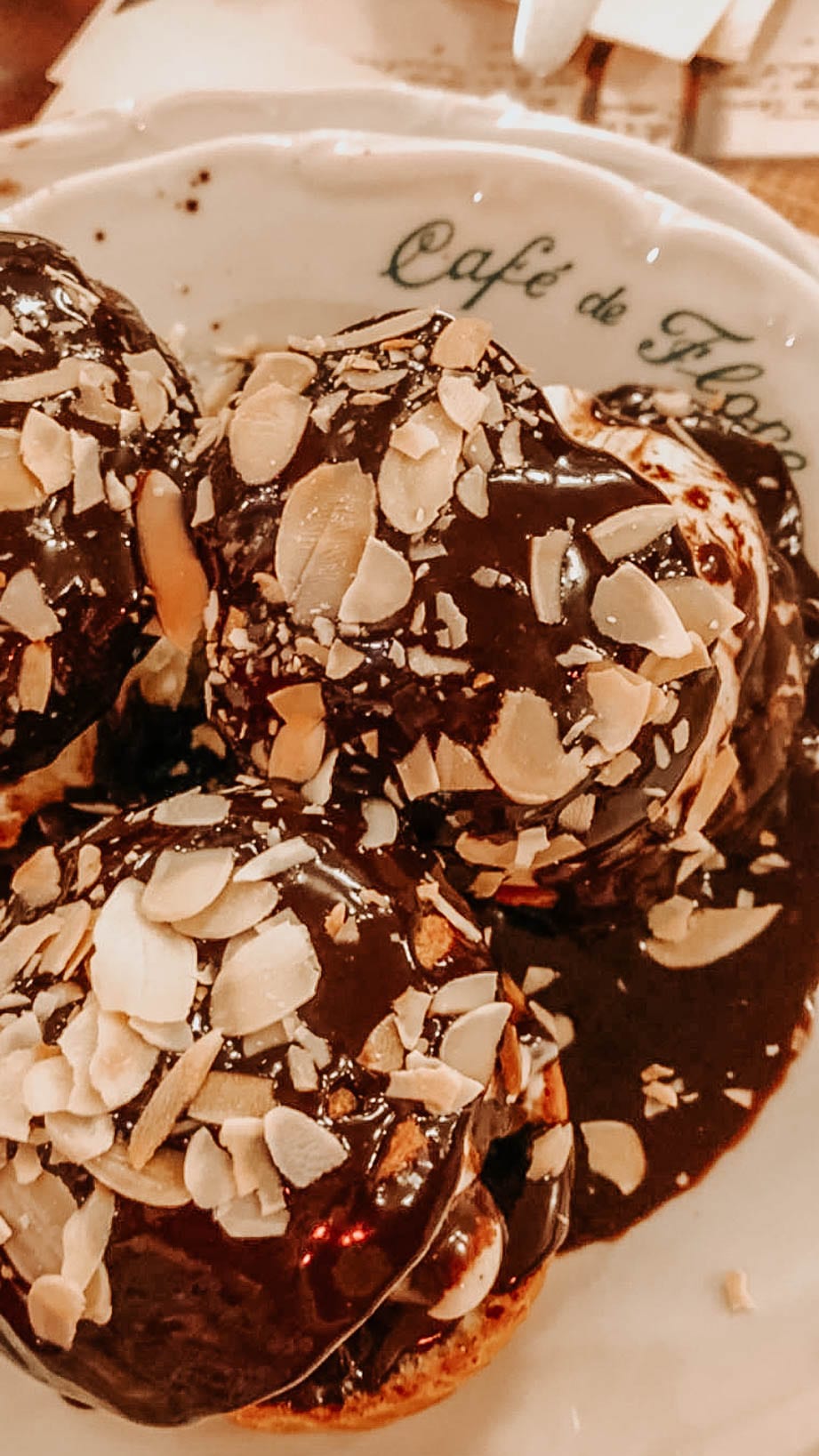 If you're up for a second-afternoon Parisian treat, step into Café Les Deux Magots – right across the street! This is the other famed cafe in Saint Germain des Pres, frequented again by many famous intellectuals like Jean-Paul Sartre and Simone de Beauvoir.
---
Day 4: Versailles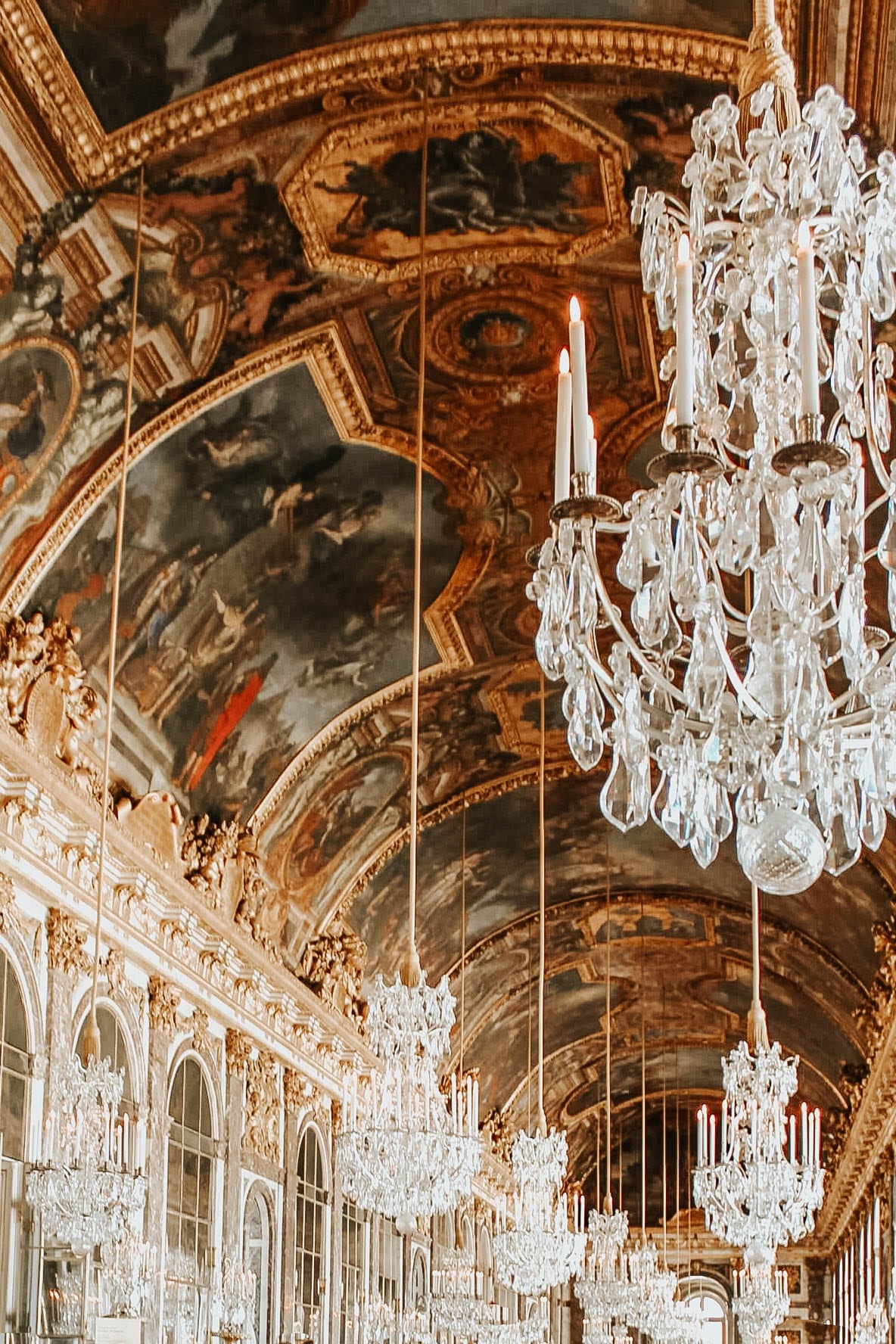 A one week in Paris itinerary would be incomplete without a day trip and Versailles is easily the top choice. Other ideas for a day trip are Strasbourg, Disneyland Paris, and Normandy.
But Versailles is truly a can't-miss site just outside of Paris. Everyone knows of the Palace of Versailles – the glittere- in-gold home of King Louis XVIII.
I highly recommend visiting the Palace of Versailles website, as there are many factors that could determine what time is the best for you to visit. For example, on Mondays, the Palace is closed but the gardens are open every day of the week. Or, on Fountain Show days, tickets cost more.
There are several ways to reach Versailles. You can book a tour from Paris or DIY your trip by taking the train or a car to the town of Versailles and exploring the palace and grounds on your own.
A ticket to visit all of Versailles costs between 20 and 27 euros depending on the day, while to visit only the palace costs 18 euros. Some tickets come with an audio guide, while a ticket for a tour guide is an extra 10 euros.
Also consider a skip-the-line ticket if you're heading there in the summer.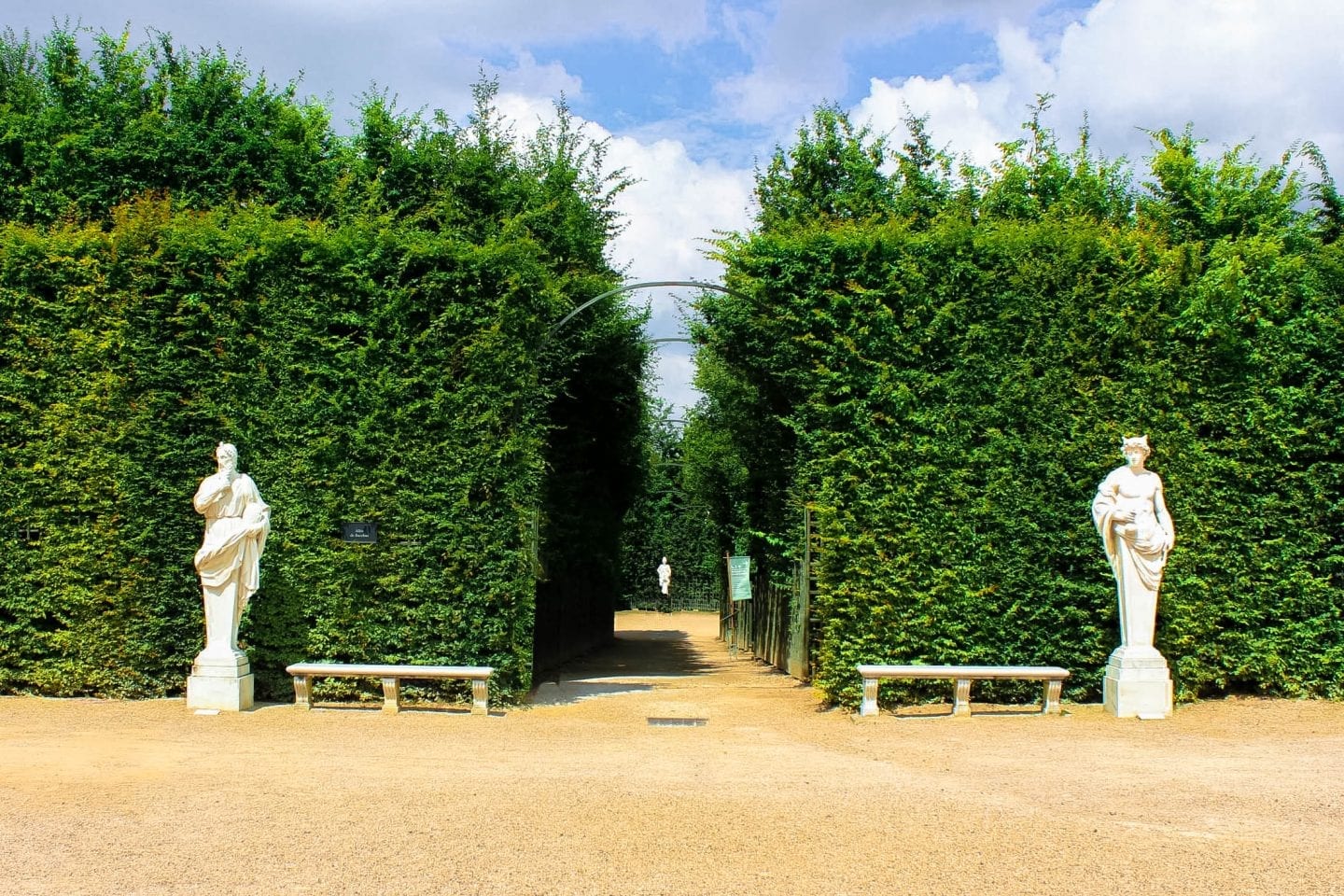 If there is one thing I can recommend, it is to explore beyond the palace! The grounds of the Palace of Versailles are extremely beautiful and huge. You will spend lots of time roaming and exploring, so I recommend setting aside an entire day for a Versailles day trip.
---
Day 5: Montmartre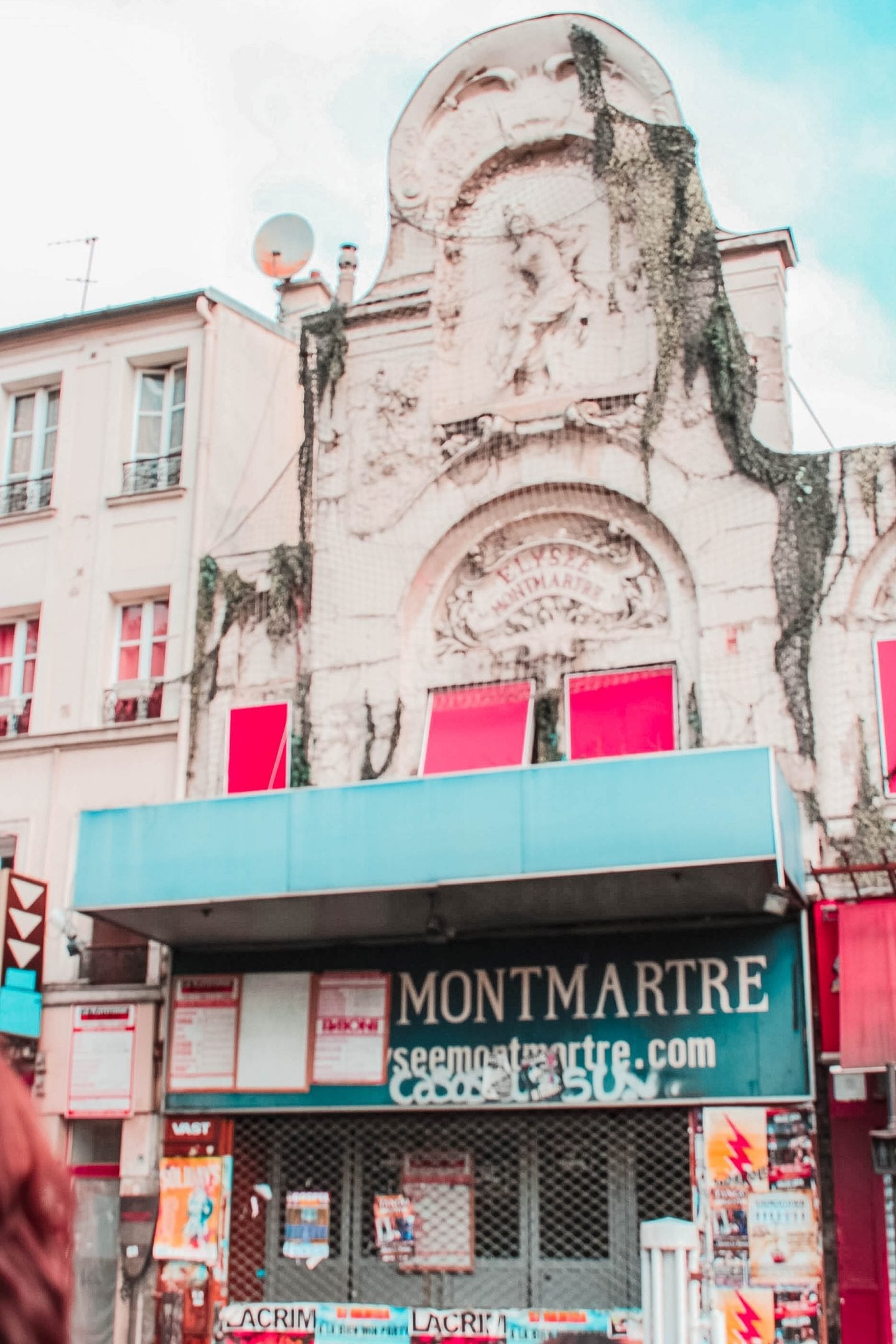 One of Paris' most charming neighborhoods is the 18th arrondissement, Montmartre.
This charming fairytale neighborhood is situated on a hill overlooking Paris, so if you don't want to walk, opt for taking the metro or paying for a taxi. Paying for a taxi is expensive, so I would avoid it when you can, but I understand those who are trying to avoid the ascent to Montmartre!
In Montmartre, there is much to explore, but the obvious to-do is visiting the Sacre-Couer. This church sits atop the highest point of the hill, like a beacon overlooking the city of Paris. Its picturesque viewing point is one of the best in Paris.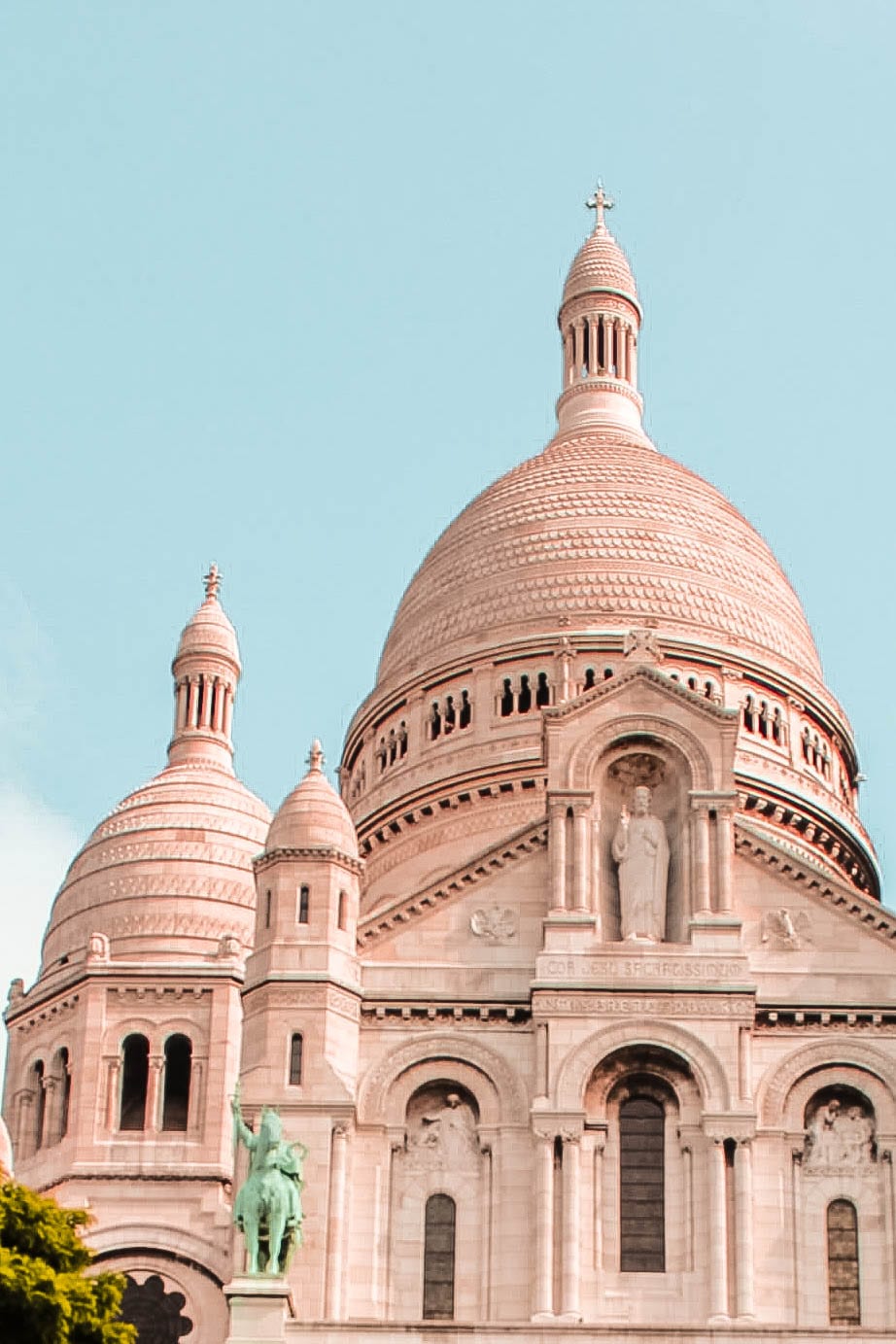 You can take a cable car or walk up to the Sacre-Couer.
If you can, I recommend waking up early to see the sunrise at Sacre-Coeur. I know that's a lot of exercise for an early morning, but the experience is worth it!
Spend the rest of the day exploring Montmartre, from its little boutique shops to Moulin Rouge to the famous Le Maison Rose Cafe.
This charming neighborhood would also be one ideal for discovering on a local tour. Here are some of the ones I handpicked!
---
Day 6: Île de La Cité and Le Marais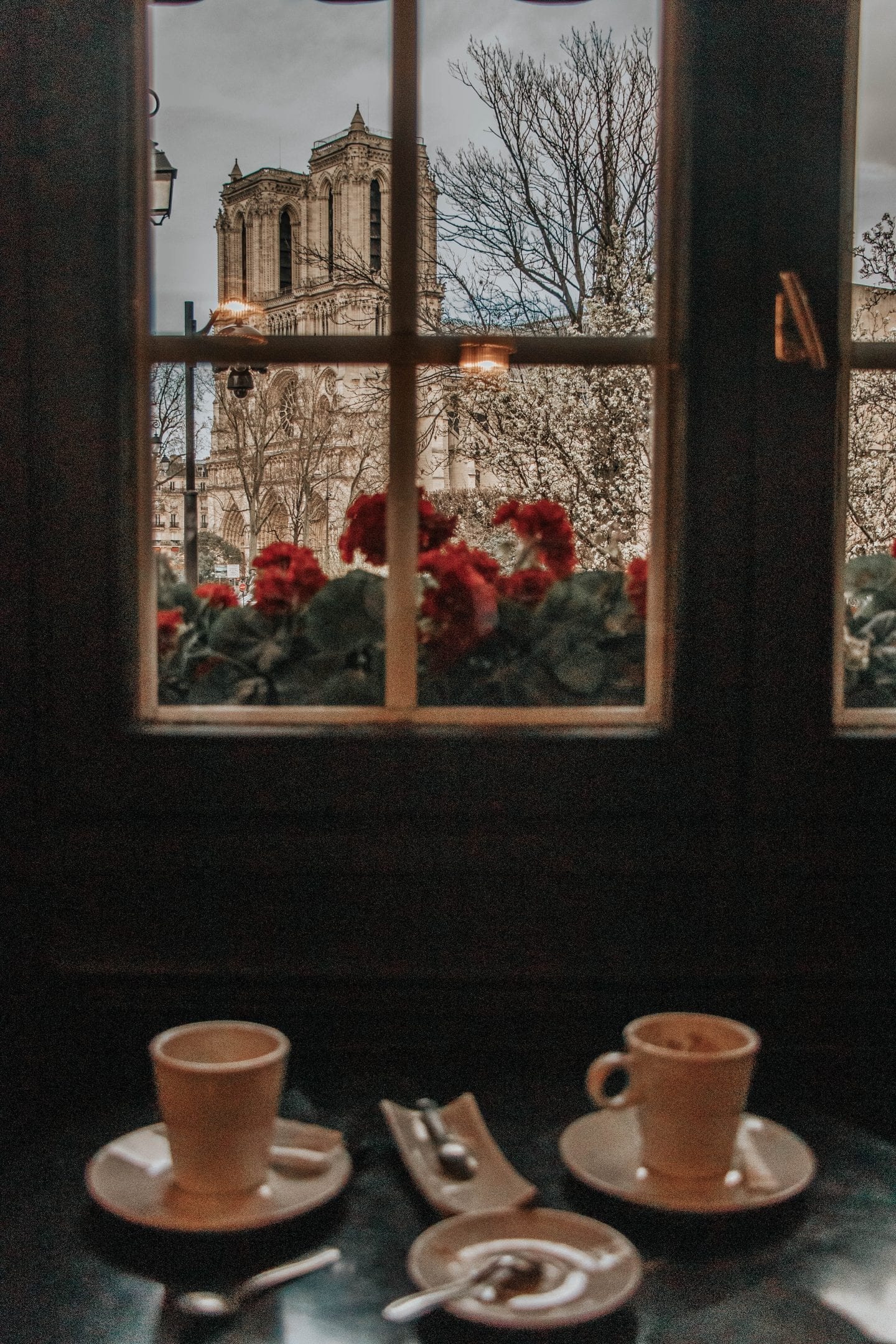 Notre Dame Cathedral is one of the most stunning locations in Paris, from its intricately-detailed facade to the shimmering stained-glass windows. Entry to the 1,000-year-old church is free and it's a must-do for your one week in Paris itinerary.
Nearby, I recommend visiting some pretty unique locations in Paris, including the Shakespeare & Company Bookstore, as well as Odette Cafe.
Peruse through old novels in the heart of Paris and then grab a coffee and profiterole snack at Odette. Make sure you head to the tiny second floor and grab a seat near the window, looking out to Notre Dame.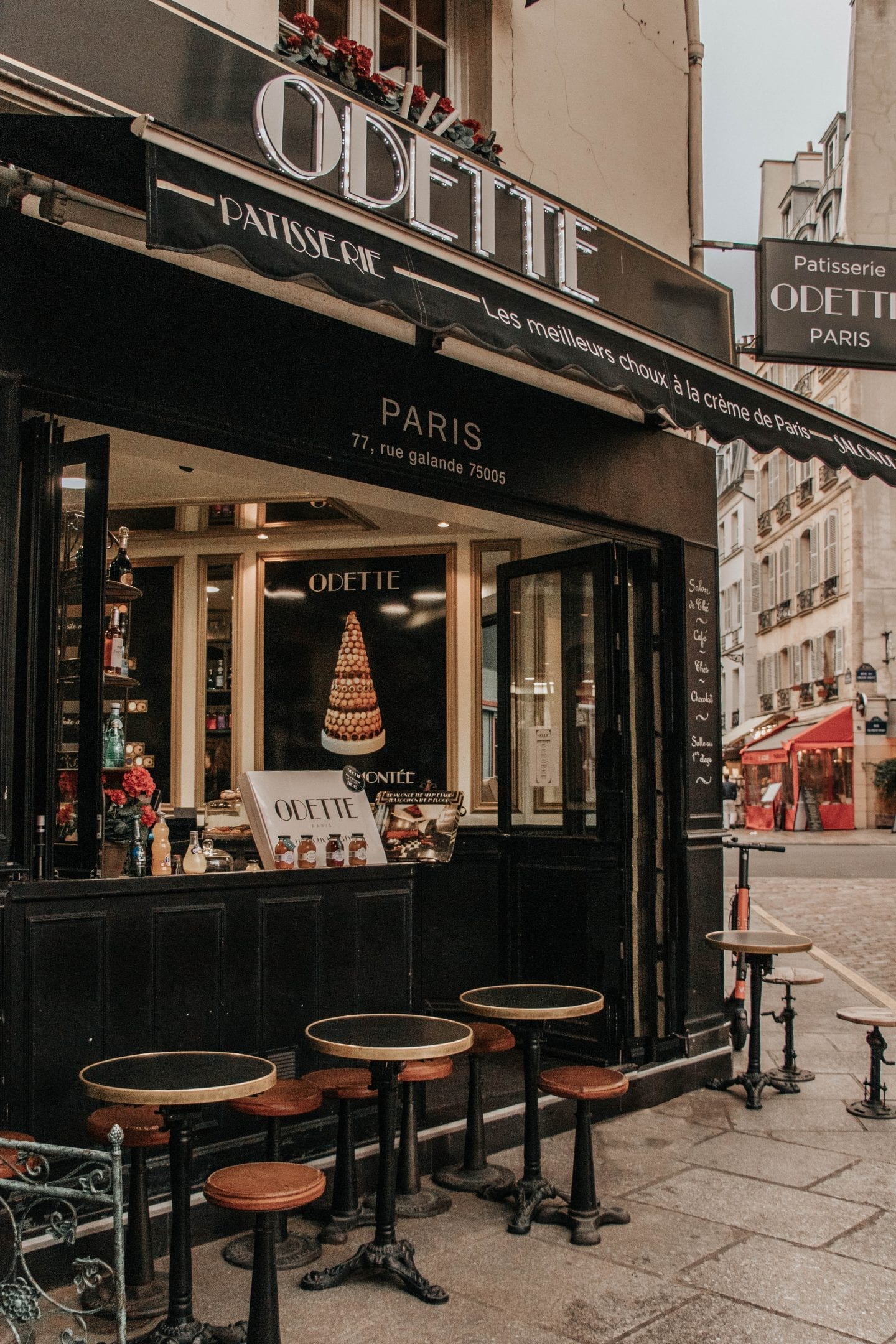 Cross back over the Seine to explore a vibrant neighborhood of Paris, Le Marais. It was once the Jewish quarter of Paris and now boasts eclectic boutiques, restaurants, and is home to stunning architectural buildings around every corner.
---
Day 7: La Bastille & Paris' Most Colorful Street
There are a few ways you can wrap up the perfect one week in Paris itinerary.
You could revisit some of the places you've already seen, let's face it, there's no amount of time spent in Paris that is long enough!
You could also take a Seine River Cruise, a special farewell experience to the city.
Or, you can explore another neighborhood! If that's calling to you, then this is my suggestion.
Place de la Bastille is on the edge of Paris' city center, and the monument in its center is the exact spot the Bastille prison used to be. Bastille Day is celebrated on July 14th in Paris, the day on which in 1789 the Bastille was stormed and became a turning point in the French Revolution.
The square is now a bustling center where you can people watch and get an idea for local life in Paris. However, nearby to Place de la Bastille is somewhere you will probably only find tourists – in a good way!
Rue de Cremieux is now known as Paris' most colorful street. It's a small road of boldly painted houses begging to be the background for your next Instagram photo!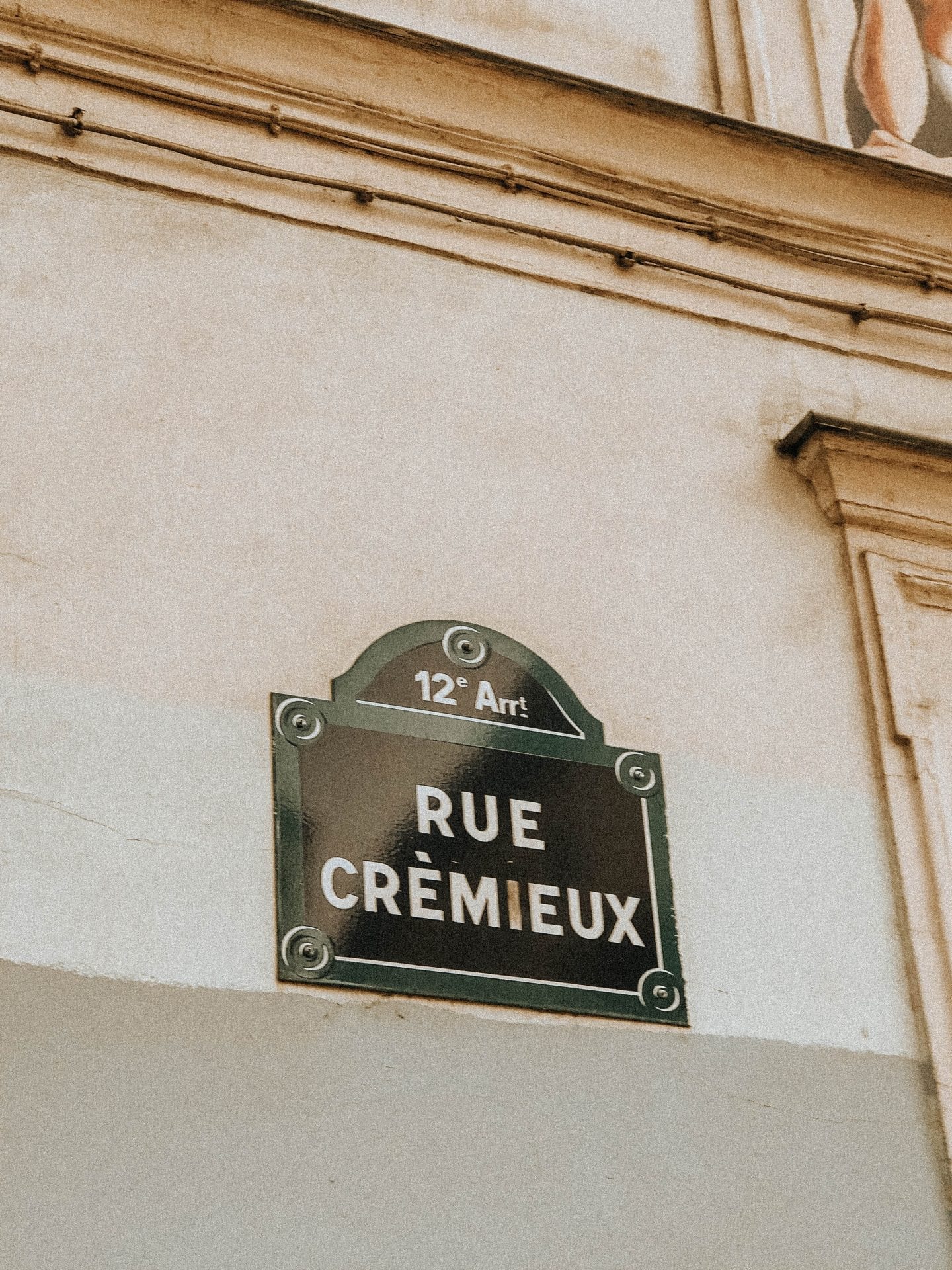 It's inconveniently located quite far from the city center, so that's why it is worth making half a day for visiting Le Bastille and this cute colorful street!
Paris Itinerary Map
I've color-coded each day of the itinerary on this map so you can get an idea of why certain locations are grouped together!
Some FAQs About a One Week Paris Itinerary
When Is The Best Time To Visit Paris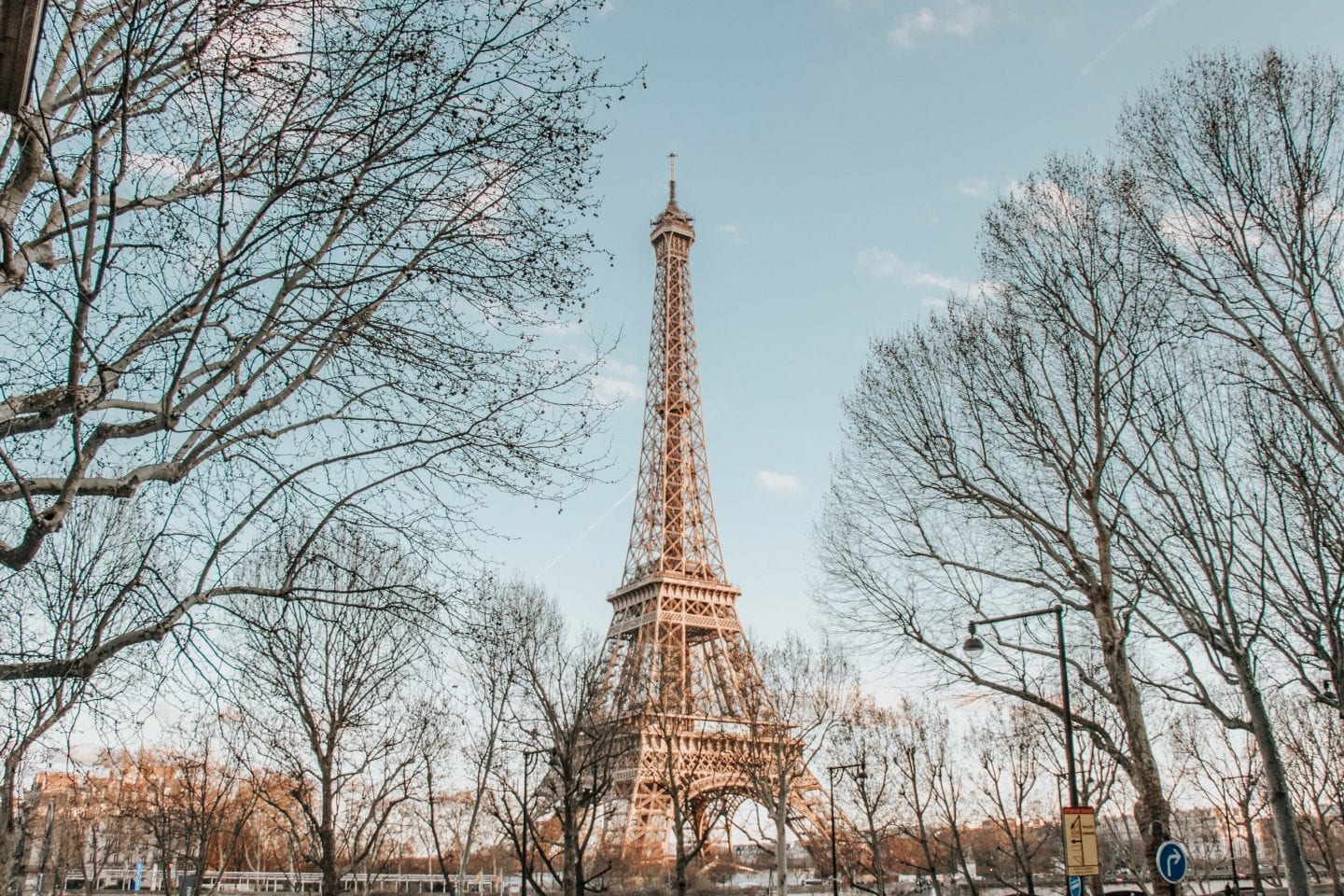 The best time to visit Paris is the shoulder season. That would be April-May or September-October.
The winter is quite cold, although it is lovely to see Paris decorated for Christmas. Even spring months as late as March require you to pack coats and sweaters!
Use apps like PackPoint to get details on the weather and other useful things to pack depending on your destination.
The summer is the busy tourist season, so main attractions like the Louvre, the Eiffel Tower, and Versailles can be very packed, as well as more expensive for entry.
I've been to Paris in June and in March and I wrote a full guide on Paris in March since it was my most recent trip!
How Much to Budget for One Week in Paris
According to the tool BudgetYourTrip, the average costs of 7 days in Paris for one traveler is $1,472 and for two travelers is $2,943.
Obviously many different factors will influence how much a trip to Paris will cost. Head to my Paris budget guide to see money-saving tips and the best strategies for planning your trip budget.
You can use the BudgetYourTrip calculator to also assist you in estimating the total trip cost.
Where To Stay In Paris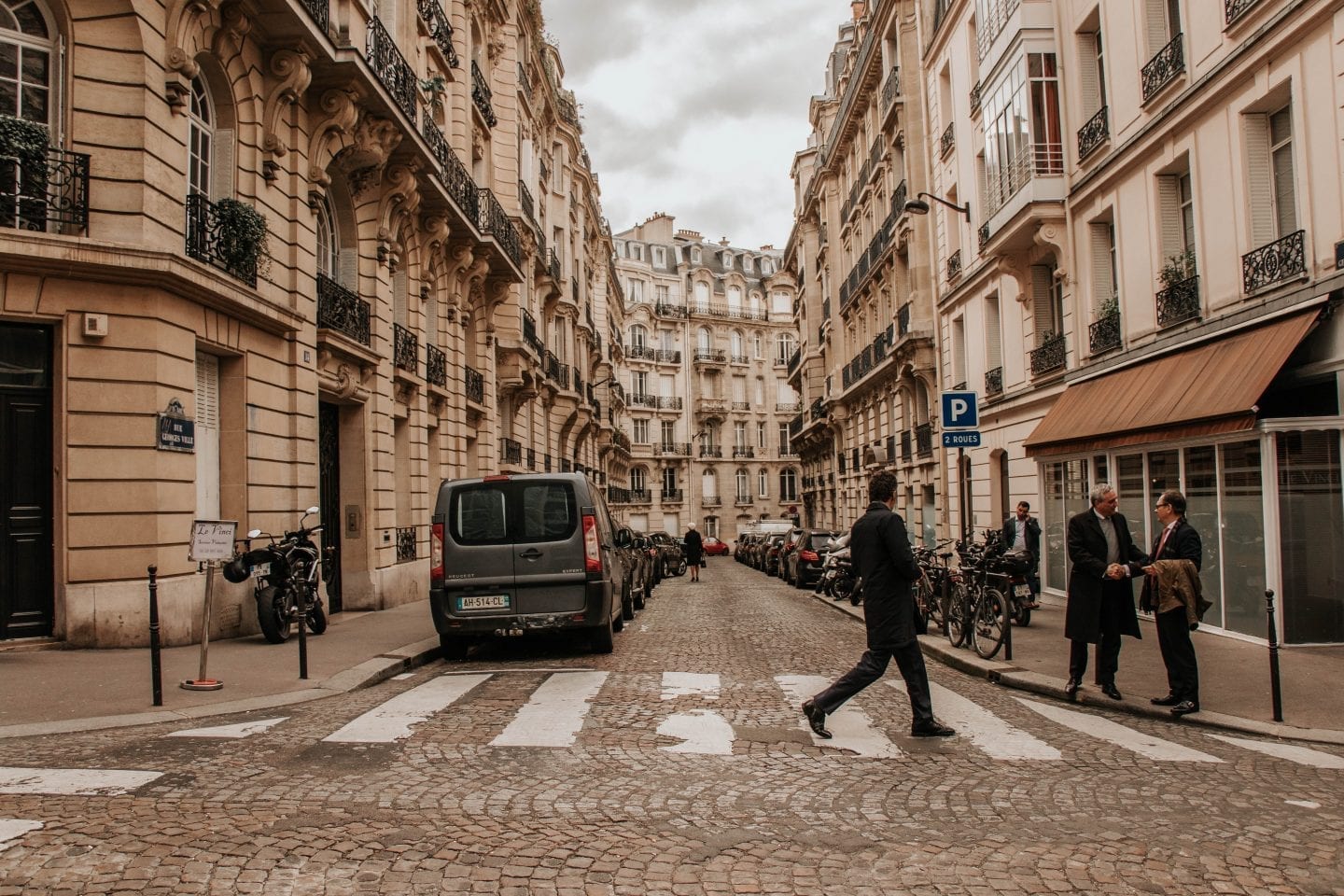 Finding accommodation in Paris isn't hard to do, but finding one for a week-long stay and being a budget-conscious traveler gets tricky. At the same time, a trip to Paris is often once-in-a-lifetime, so I don't blame you if you want to go all out and upgrade your accommodation.
For me, certain neighborhoods like Saint Germain des Pres are so cozy and cute that I wouldn't mind spending a little bit more to get my French glamour fix!
Budget-Friendly Accommodations (Around $500-600 for one week)
Most budget accommodations are either going to be apartment rentals through Booking.com, Airbnbs, or hotels on the outer neighborhoods of Paris (like Canal St. Martin.)
Champs Elysees Apartment – I stayed in this exact apartment and it was very inexpensive for being in the city center!
Hotel Aston – Another great centrally located budget-friendly option.
Hotel Eiffel Turenne – Close to the Eiffel Tower!
Generator Hostel – Perfect for solo travelers, located near Canal St. Martin!
Mid-Range Accommodations (Around $700-$800 for one week)
Best Western Plus Latin Quarter Pantheon – Centrally-located in the Latin Quarter neighborhood, which is known for its bookshops, cafes, and student culture.
The ReMIX Hotel – Upscale modern rooms, but located on the outskirts of the city in La Villette, an off-the-beaten-path neighborhood with it's own canal!
Hotel Residence Des Artes – In the heart of Paris & chic classical French rooms.
Luxury Accommodations (+$1,000 for one week)
There is no shortage of luxury accommodations in Paris, but these are my picks for the neighborhoods and views.
Holiday Inn Saint Germain des Pres – Rooftop views in one of the cutest Paris neighborhoods!
Citadines Saint Germain des Pres – Views of the River Seine, and again, one of the cutest Paris neighborhoods!
Residence Charles Floquet – Steps away from the Eiffel tower that you can see it from your window!
---
Getting Around Paris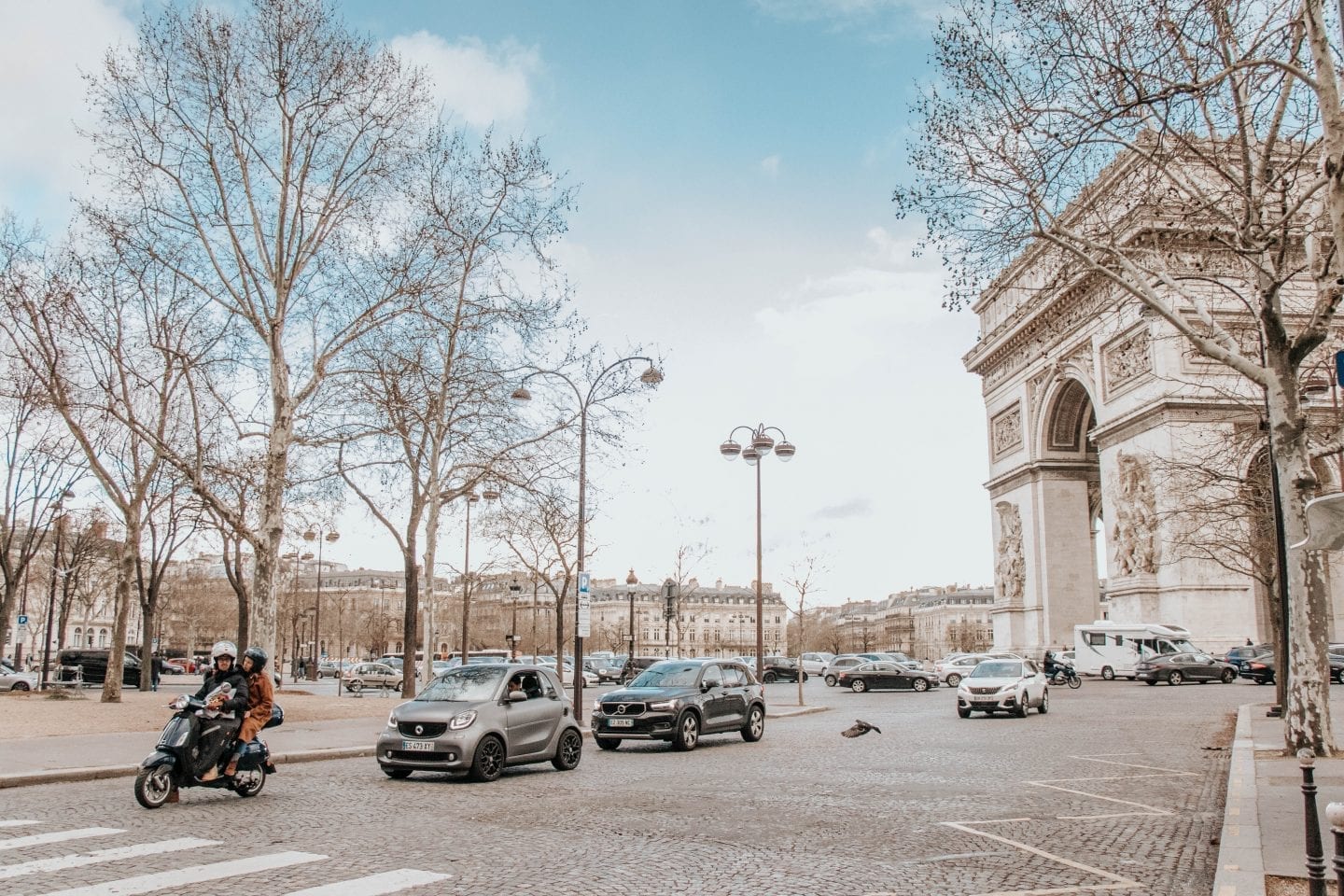 To keep a one-week in Paris itinerary budget-friendly, avoid taking taxis in the center of the city. It's much cheaper to use the metro instead!
Paris is a huge city, so things that look walkable on the map just aren't. That's why it is best to organize your itinerary based on the neighborhoods or arrondissements, that you want to see.
You will still be doing a lot of walking though. So, pack comfy shoes (take it from me who was pretending she was at Paris fashion week when really her feet were blistering.)
---
Extra Tips for Visiting Paris
Always use the bathroom when in a restaurant or at your accommodation. You have to pay for public restrooms in Paris!
The French are a proud people, so make an effort to speak at least a few words in french like "Hello" and "Thank You."
Paris is generally a safe city but beware of pickpockets around every corner! Keep your belongings in an anti-theft backpack or at least your money and passport in a money belt. When walking in crowded areas, hold your bag in front of you so you always have an eye on it.
---
Final Thoughts
Honestly, the best one week in Paris itinerary is whatever is your own. You can be the person who goes to every museum, the traveler who sits at cafes and people watches, or the Instagrammer creating beautiful photos on every street.
There is so much to do that Paris will ultimately tell you how to spend your week once you arrive.
Make a list of bucket list things to see, places to eat, and neighborhoods to explore. Beyond that, my best advice is to let Paris show you around!
Don't plan every single day to the minute, but also don't wing it. There's so much fun in exploring Paris on your own. But also make sure to get those bucket list experiences checked off!
What is your favorite thing to do or see in Paris? What are you most looking forward to?
Don't forget to Pin this itinerary for reference!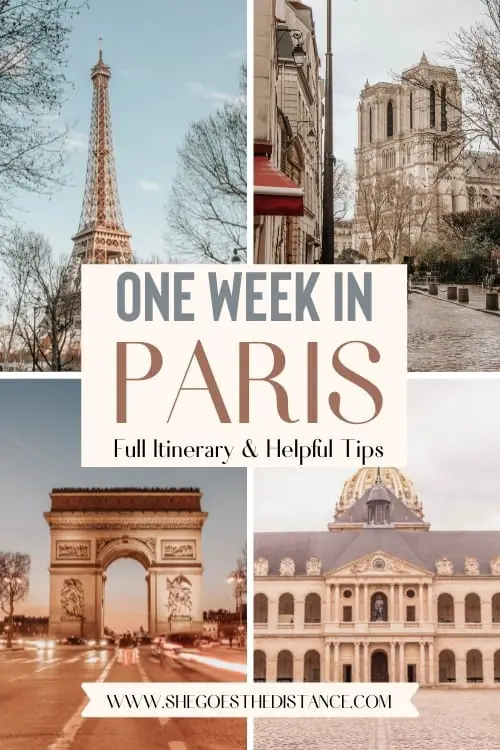 Paris is one of the best cities in the world and I can't wait for you to explore it!
XOXO
Michela