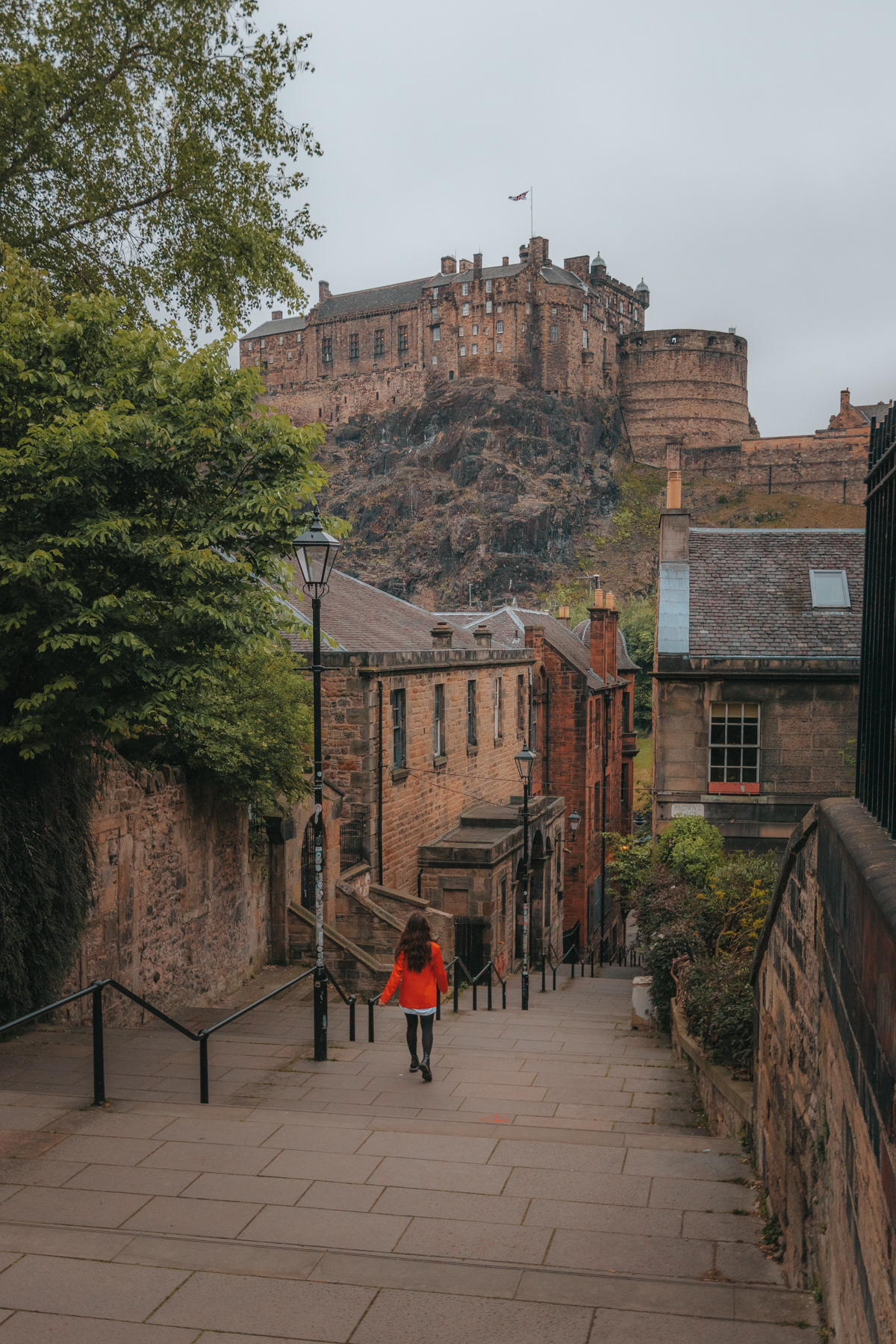 Last Updated on February 18, 2023
Edinburgh, Scotland is one of the most instagrammable cities in Europe. Whether you're posing yourself at a cute cafe or sharing a photo diary of your epic city break, these spots are sure to make all your followers leave a like. Pack your camera and add these most instagrammable places in Edinburgh to your bucket list!
For help planning the details of your trip and how to hit all these instagrammable spots, check out the perfect weekend in Edinburgh itinerary.
Some of these links are affiliate links. This means if you make a purchase through that link, I receive a small commission at no extra cost to you. Read my full disclosure!
1. Circus Lane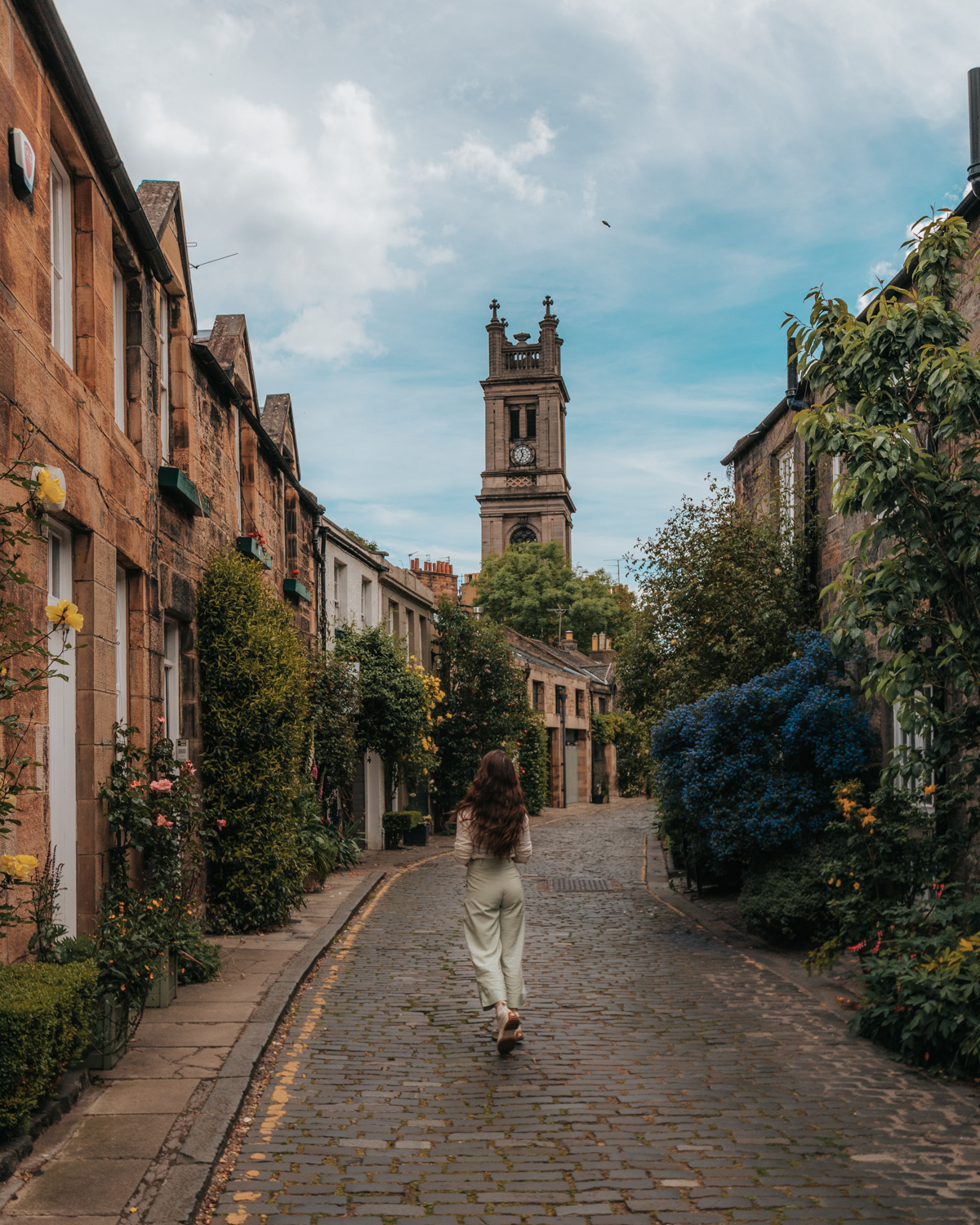 One thing you'll discover in Edinburgh is that the city is full of charming side streets and alleyways that all make for instagrammable locations. But the most romantic goes to Circus Lane!
Circus Lane is a quiet, residential street in the Stockbridge neighborhood. Since people really do live in these flower-adorned houses, the best time to visit and get your photo is during the day on a weekday, when people are out at work! This way, you won't get any cars in your photo.
Circus Lane isn't a hidden gem, but it isn't crowded either. You may have to be a little patient as people do frequently walk down the road.
It also goes to say that the street is at its prettiest in late Spring and early Summer when the flowers are fully bloomed!
2. Arthur's Seat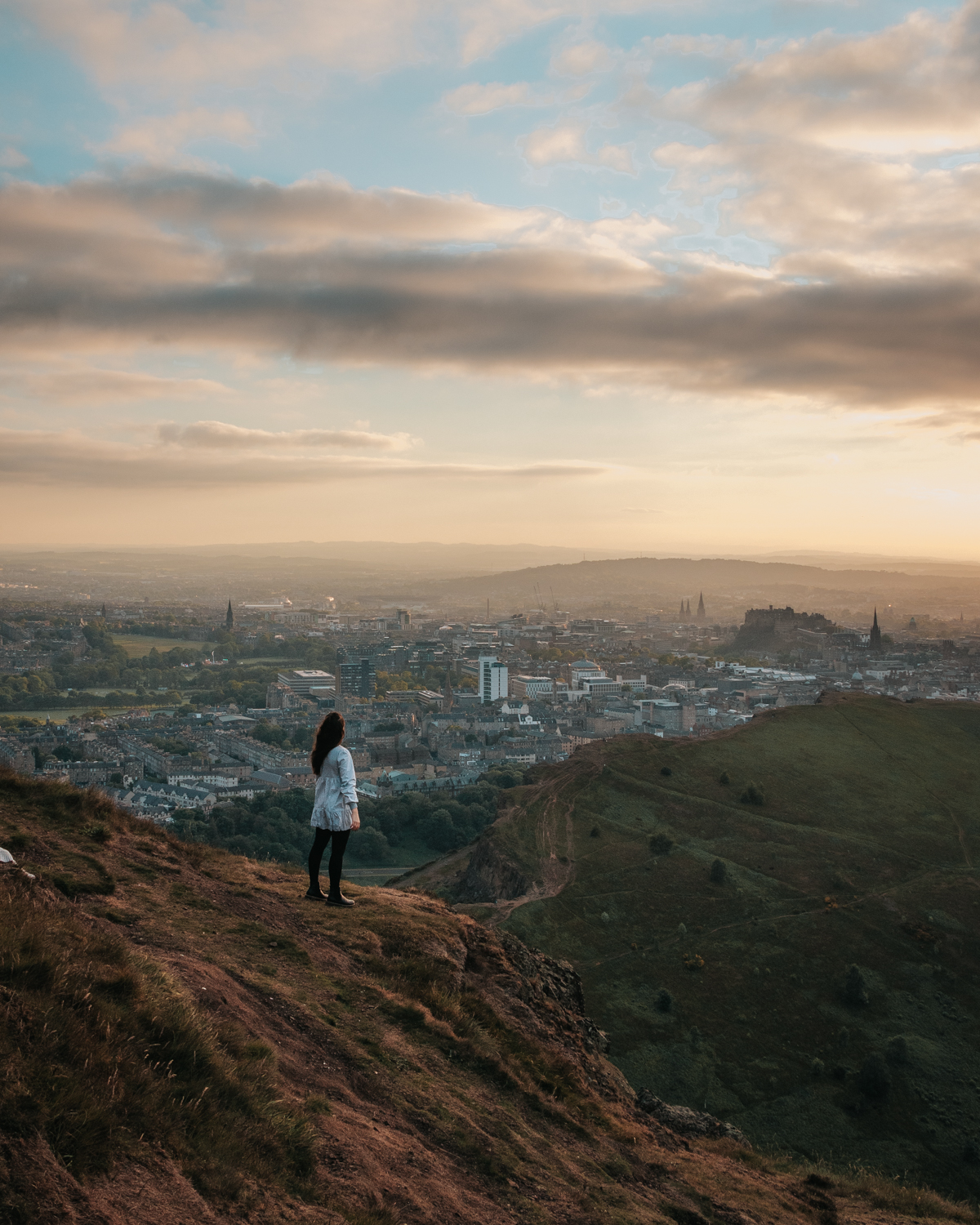 Arthur's Seat, an ancient volcano on the city's outskirts, offers the most dramatic view of the city, making it one of the most instagrammable places in Edinburgh.
The giant hill is located in Holyrood Park, right next to the Palace of Holyroodhouse, the Queen of England's residence in Edinburgh. This area is further from the city center (about a 20 minute walk) but worth the detour.
The hike itself to the top of Arthur's Seat offers 360° views of the city and sea, so I suggest you do as I do and leave time to make frequent stops along the way to take photos!
However, there are parts of the hike that are quite steep. Be sure you are comfortable carrying your photo gear and I highly recommend where walking shoes that have a good grip.
The best time to take photos at Arthur's Seat is at sunset when the lighting and the view are at their most beautiful. Arthur's Seat faces the west, so the sun will be pointing directly at you during sunset. For this reason, you may want to shoot at a lower exposure or bring along an ND filter to ensure the sun doesn't wash out the detail in the foreground of your photos.
3. The Vennel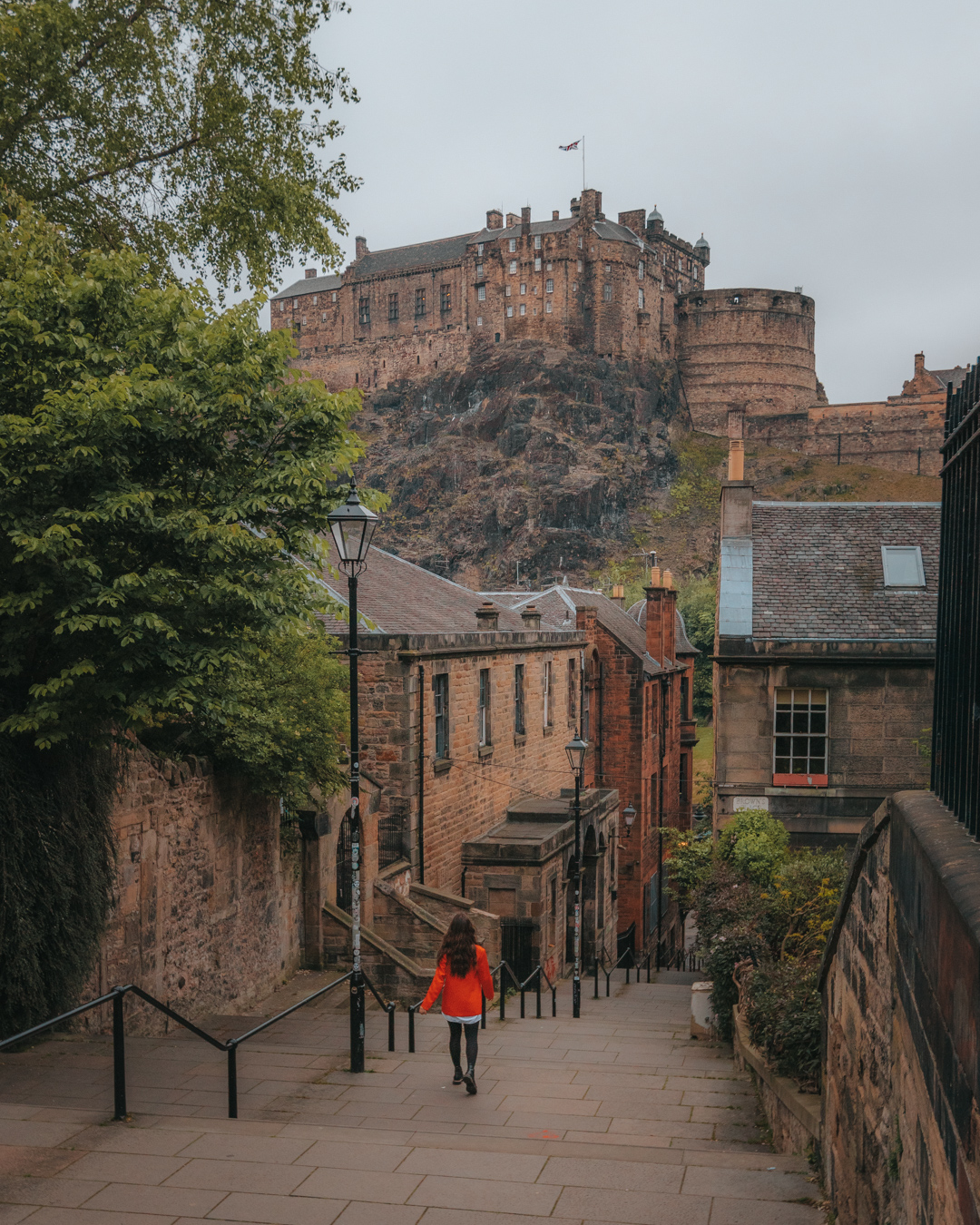 Edinburgh Castle is the city's most famous attraction. And while a visit to Edinburgh Castle is a must-do, it's not the best place to get a photo of it.
Luckily, the perfect photo spot exists! Along a side street of the Grassmarket square, you'll find The Vennel steps.
I always recommend waking up early to arrive at the best photo spots before any crowds do. I did note, however, later in the day that the spot wasn't crowded. So you should be able to fit it into your itinerary whenever is most convenient for you.
For the best shot, I recommend you have the camera near the top of the steps and use a zoom lens to compress the photo, making the castle and subject appear closer together than they actually are.
Pro Tip: Not far from many of the other Old Town attractions like Victoria Street and the Royal Mile, The Vennel can still be a sneaky place to try and find. To make reaching this spot as easy as possible, use Google Maps, as the location is already marked. iPhone maps do not have this location marked and will lead you to a completely different spot!
4. Calton Hill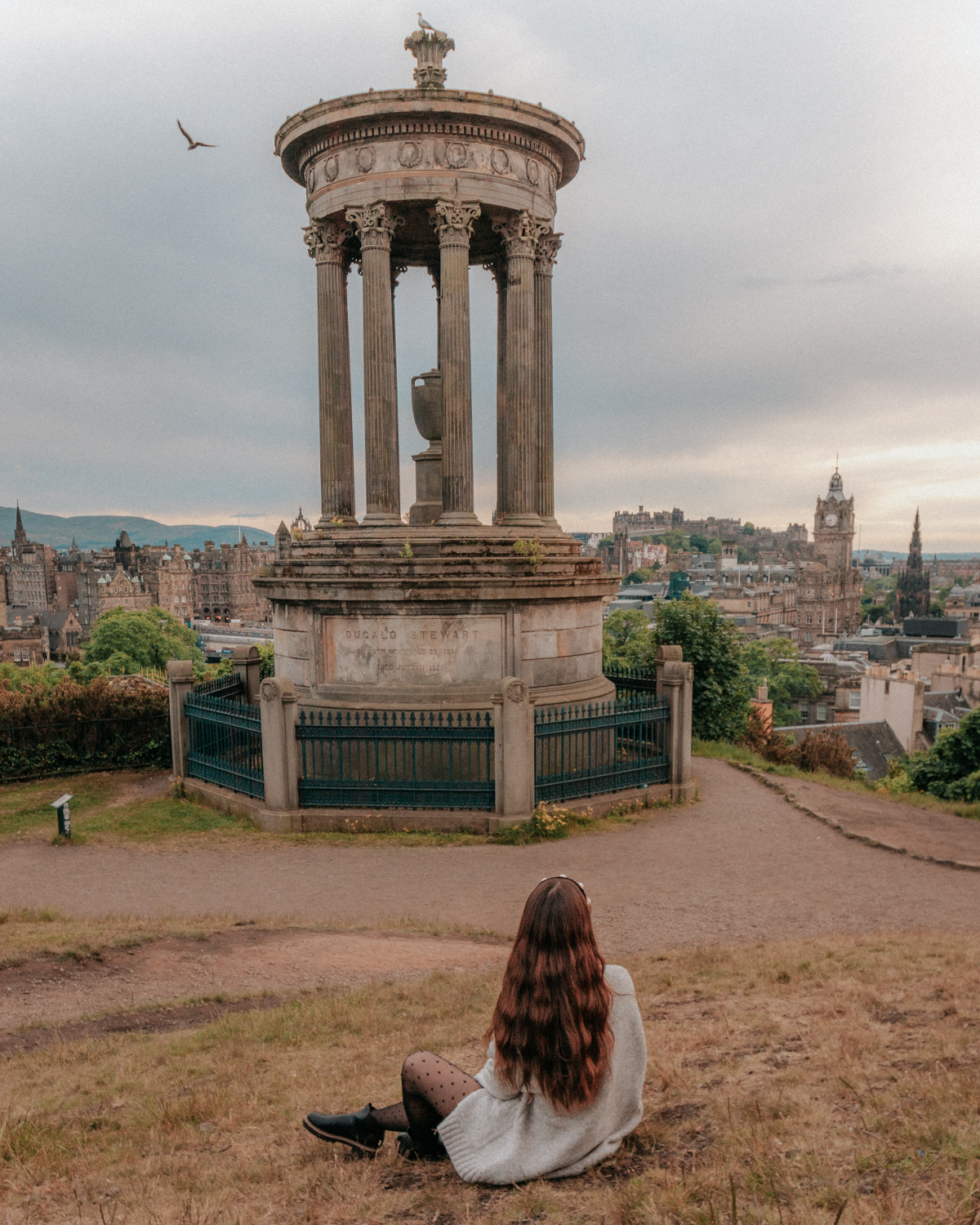 Calton Hill is one of the most idyllic spots in the city and boasts multiple of the best Instagram spots in Edinburgh.
The classic picture spot is from above the Dugald Stewart Monument, looking out over the city skyline.
But there are lots of unique angles and views in this park, like from the National Monument of Scotland facing the sea, down to the Palace of Holyroodhouse, and at the foot of the Nelson Monument.
The best time to take photos at Calton Hill is early morning for sunrise. Sunset also makes for beautiful lighting, but the park becomes incredibly crowded, so it is nearly impossible to take a photo without people in it.
5. Dean Village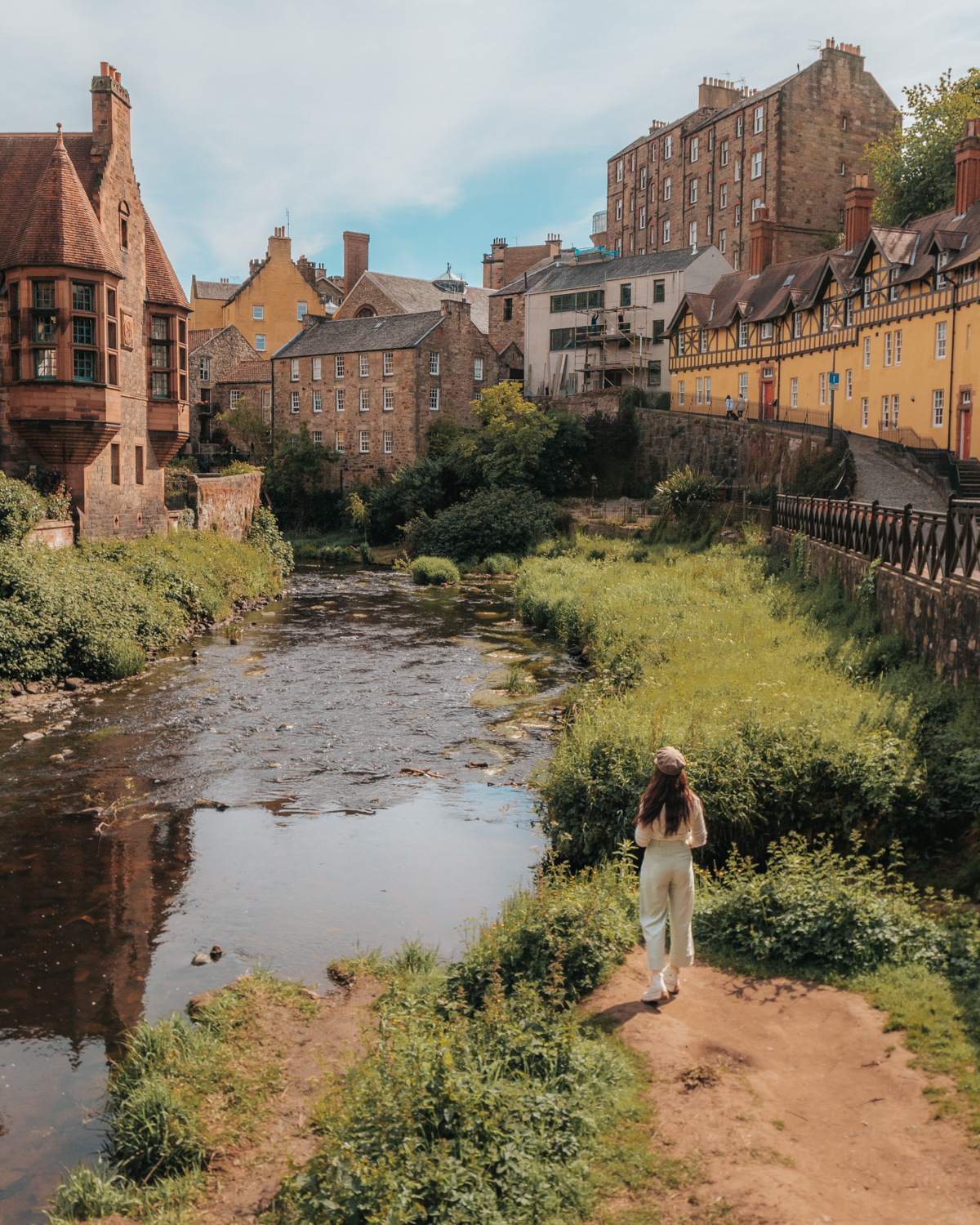 Dean Village is a quaint, quiet neighborhood along Edinburgh's river, the Water of Leith.
To get the best shot, head down to the Water of Leith walkway, where you'll find a small bridge. You'll see some wide steps leading down to the river's edge. Position your camera on the bridge as you head down the steps on the side of the riverbank to recreate this fully immersive, fairytale shot!
I highly recommend then continuing down the Water of Leith along Miller Row, as you'll find there are multiple places where you can take beautiful photos, like St. Bernard's Well.
6. Ross Fountain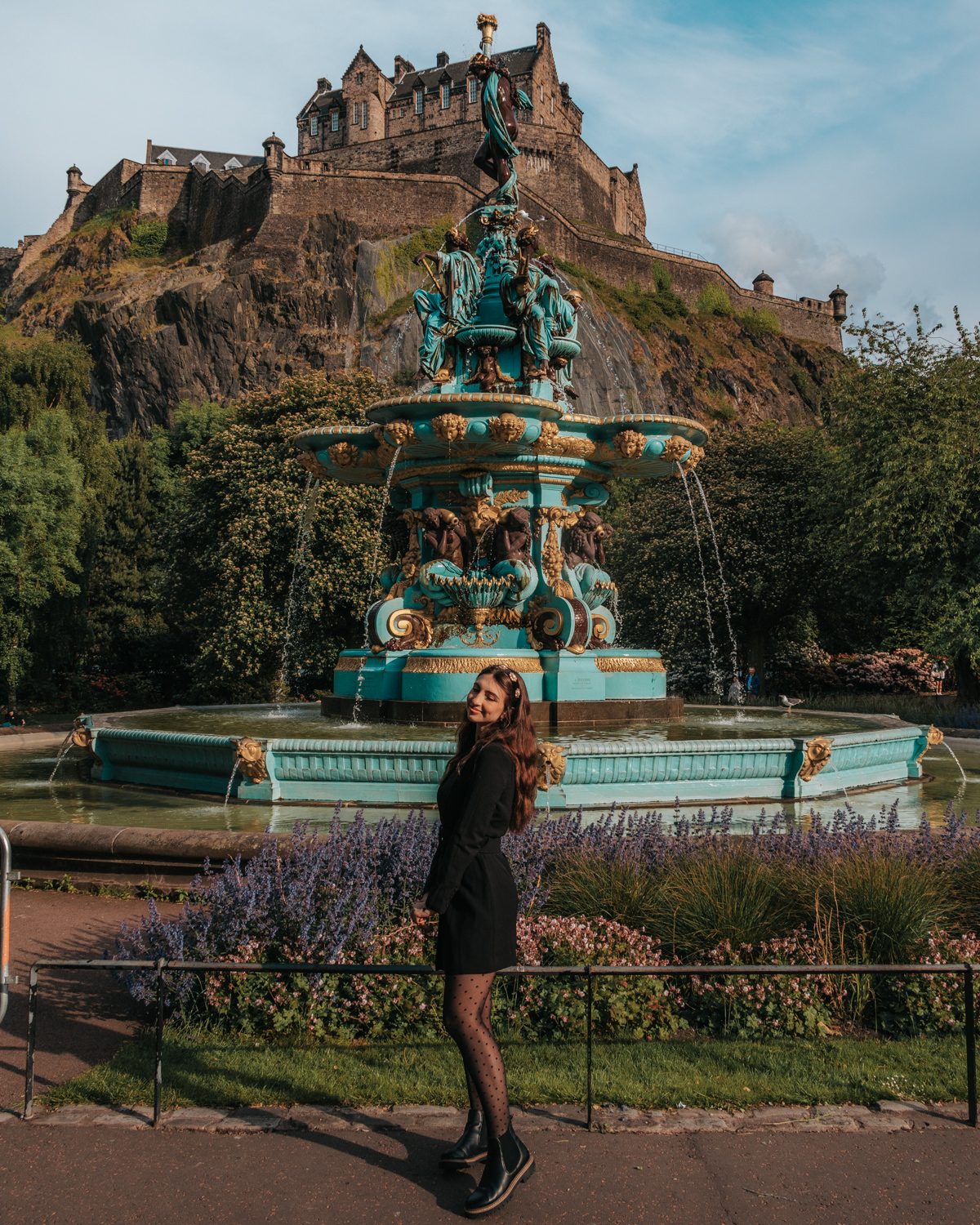 While researching my trip to Edinburgh, I noted every location I wanted to visit. But the Ross Fountain took me completely by surprise!
This beautiful blue and gilded gold fountain sits at the base of Edinburgh Castle. The dramatic background and the detail on the fountain make for an intriguing composition and simply interesting photo to look at.
Pro Tip: Remember that Instagram uses a 4:5 ratio. In this photo, the camera wasn't far enough to leave space for the Instagram crop! Always keep this in mind while you're shooting, making sure you have enough space at the bottom and top of your image in order to accommodate Instagram's cropping. If you are shooting your travel photos with an iPhone, automatically set the camera to a 4:5 ratio so you know what you're shooting will be what appears when you go to post!
7. Victoria Street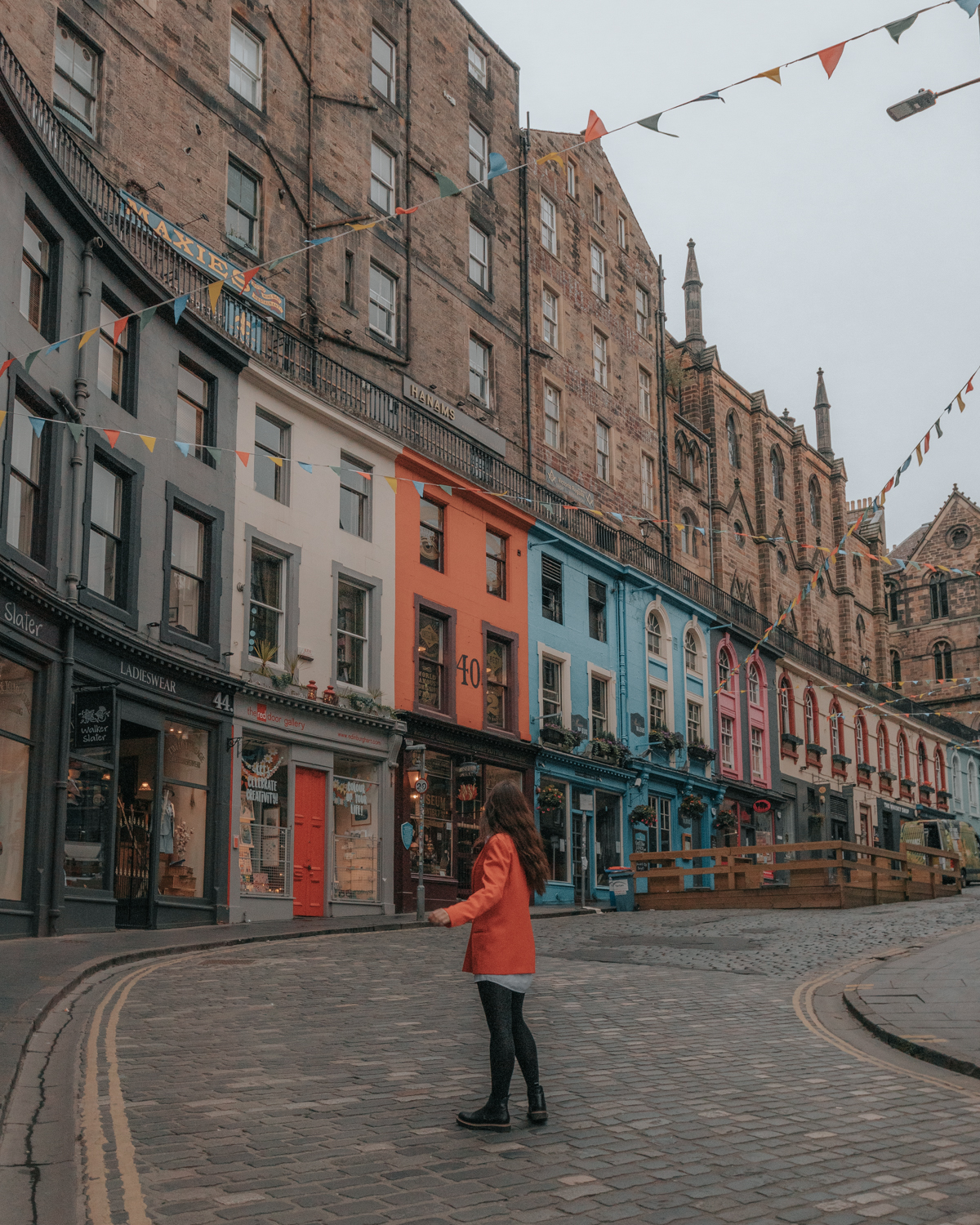 Calling all Harry Potter fans: your favorite Edinburgh photo spot is going to be Victoria Street, the place that inspired Diagon Alley.
Like so many other locations on this list, there are multiple angles and creative photo spots just along this street. Whether it's at the end of the street seeing all the colorful buildings lined up, a detail shot in front of one of the many unique and charming stores, or from above along Victoria Terrace.
Pro Tip: This is one of those locations where, if you want to avoid people in your photo, you must arrive early in the morning!
8. Cask Smugglers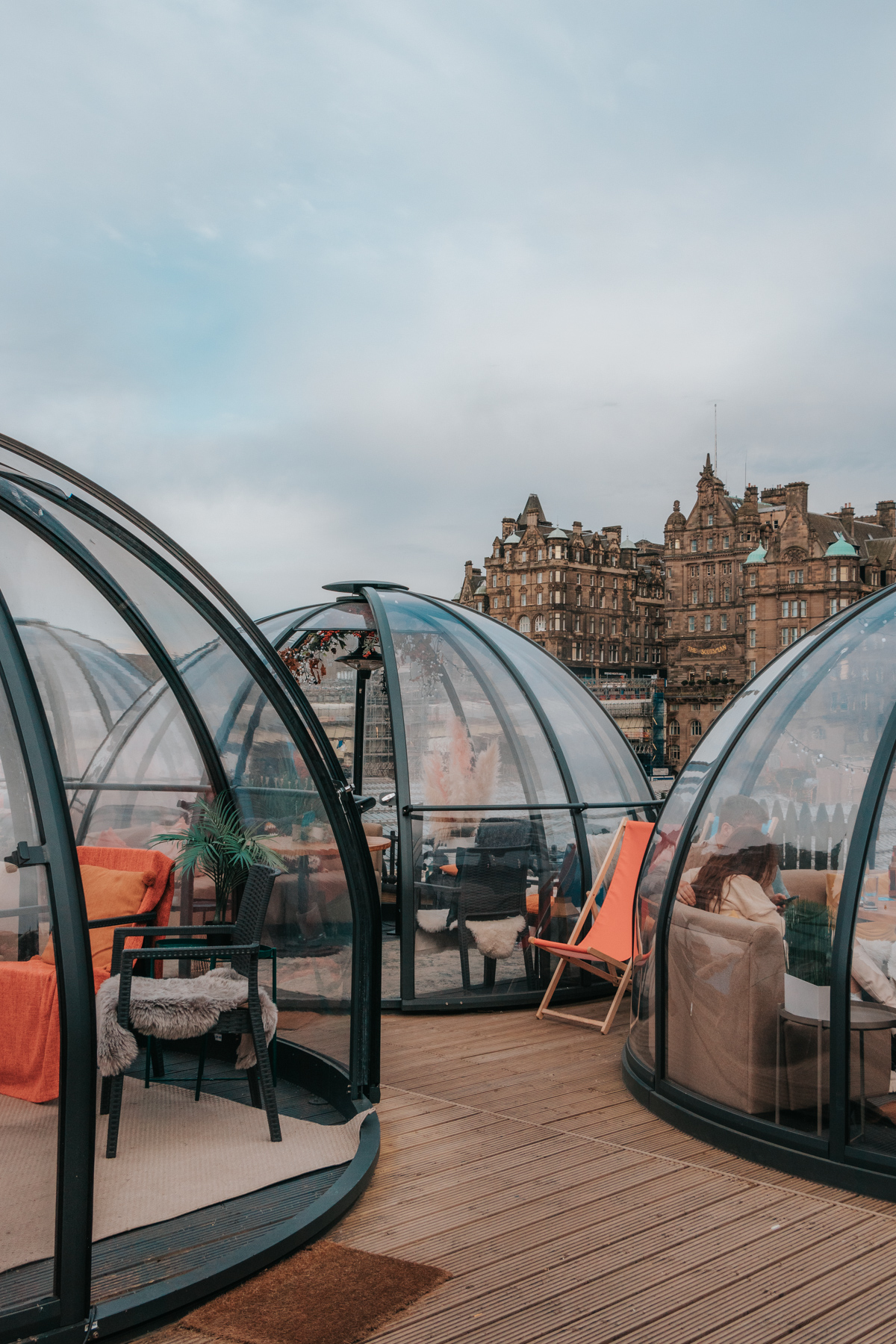 This may be the most instagrammable restaurant in Edinburgh! Cask Smugglers is a part of the Waverley Village, which is an outdoor eating area with a variety of food stands and live music.
Set apart in the back is Cask Smugglers, easily identified by the very instagrammable entrance – an archway adorned with flowers and pink feathers. This archway leads you to the cutest, most unique restaurant setting in Edinburgh – a collection of glass domes!
Not only is the dining experience made unique with your own music choice and cozy, private pod to enjoy, but the views of the Old Town and next-door Balmoral Hotel are the cherry on top.
You can reserve a dome for a two-hour period to enjoy dinner and/or drinks with spectacular views in the most unique way!
9. Salisbury Crags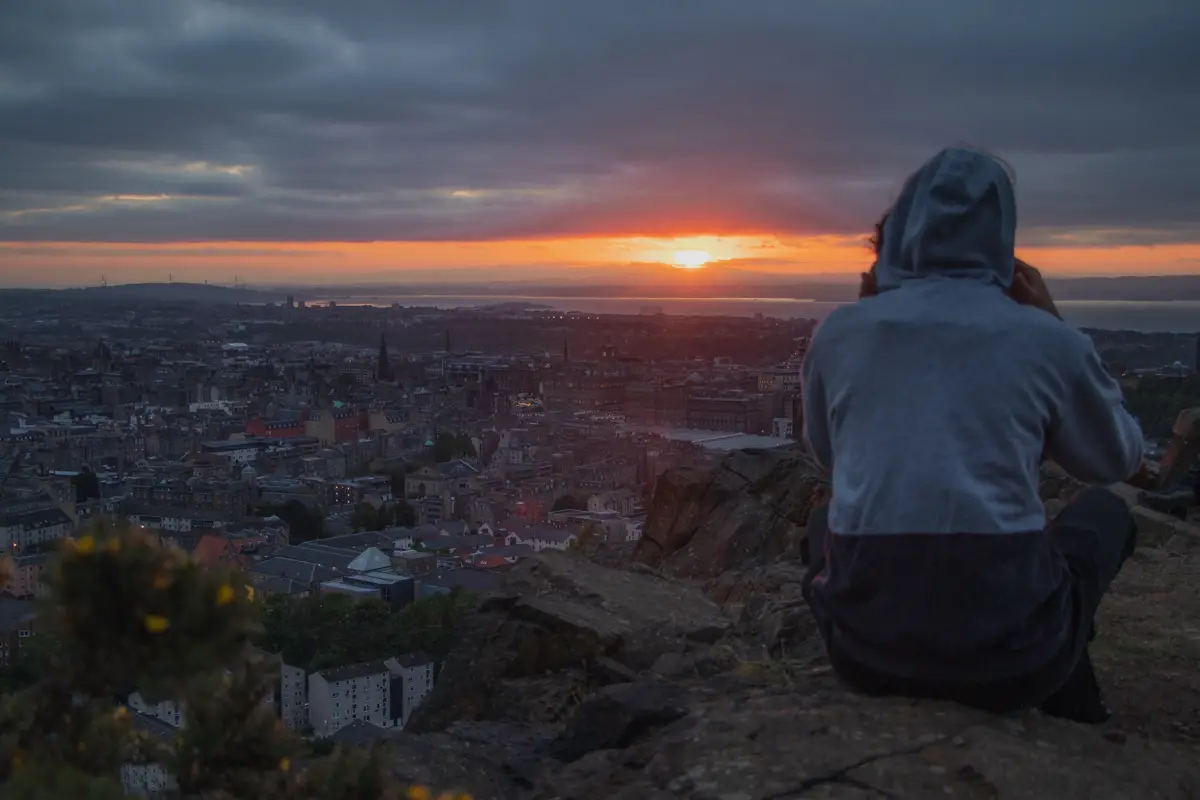 If you made the effort to go all the way to Arthur's Seat, then finish off your visit with a walk along the Salisbury Crags! Even though the view is the same, the photos are completely different.
Arthur's Seat creates dramatic photos because of the vastness of the landscape, whereas photos taken at Salisbury Crags create more of a story, given that you can capture more detail of the city skyline in front of you.
10. National Museum of Scotland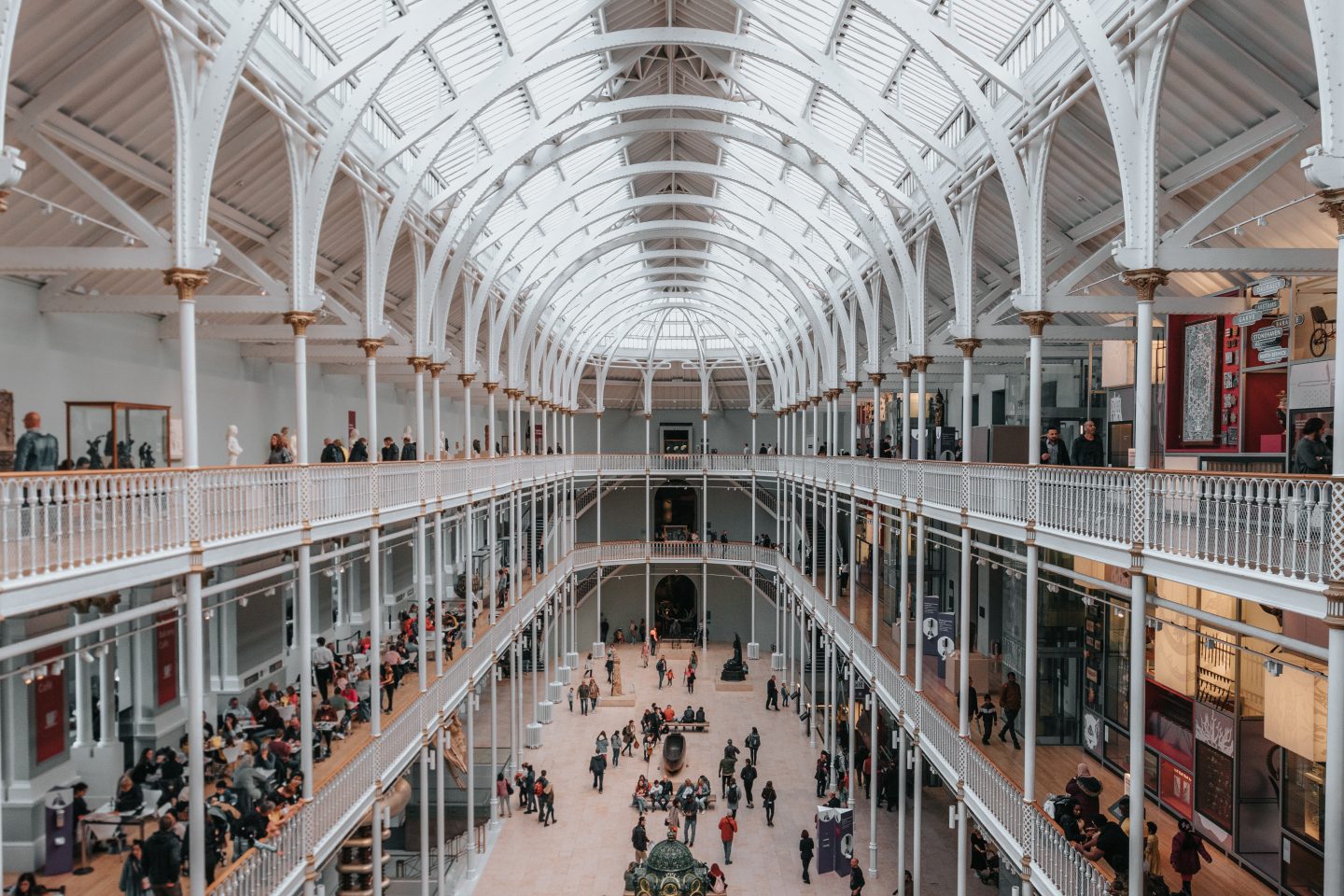 One of the most spectacular indoor Edinburgh Instagram spots is the National Museum of Scotland. The main hall has incredible symmetry and lighting, plus the huge variety of exhibits gives you complete freedom to get creative.
Visiting is free, so you may as well snap some pics while you learn about the country's history!
11. Princes Street Gardens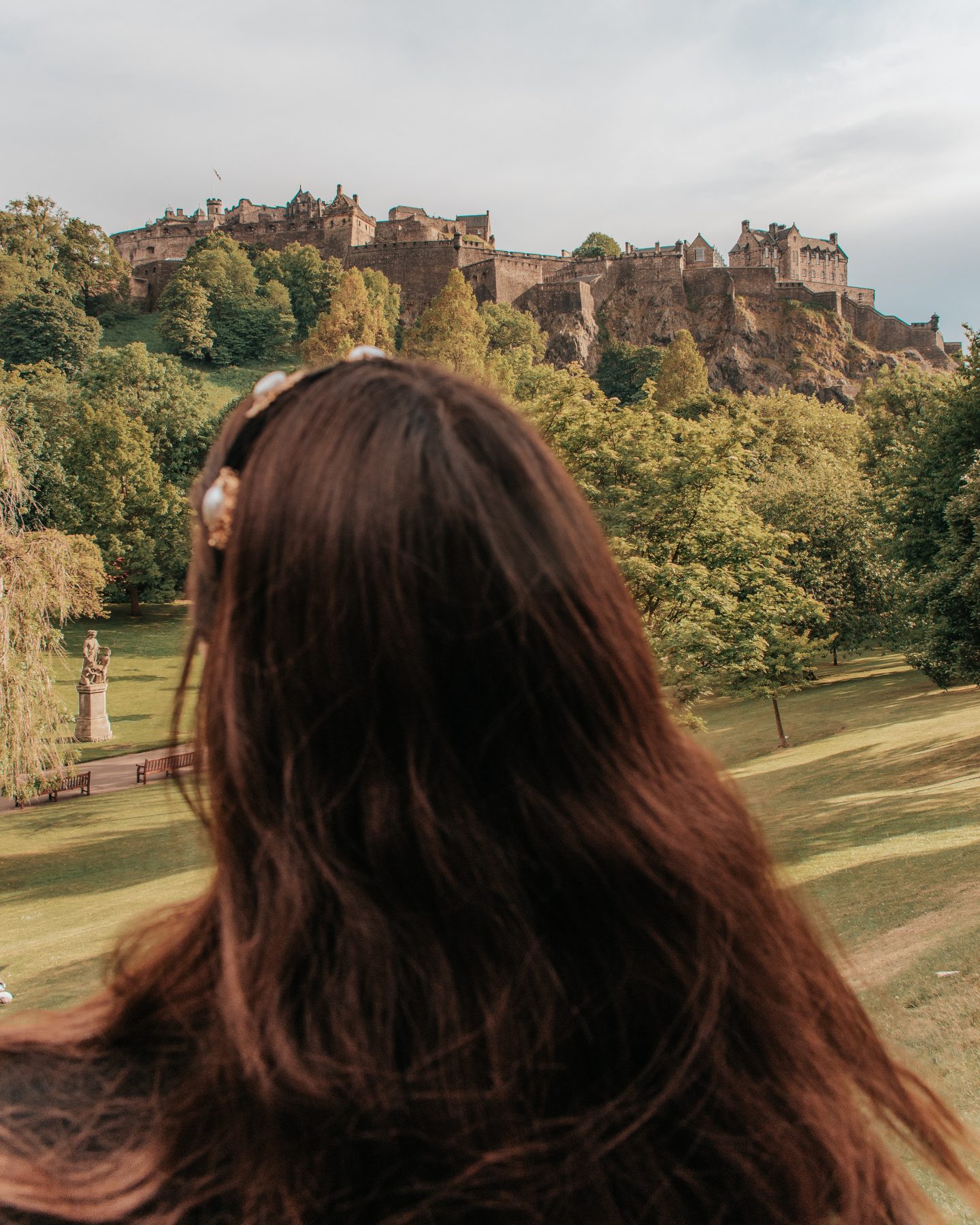 I may sound like I'm on repeat but it's because Edinburgh is truly full of beautiful places to photograph. Princes Street Gardens is another location where you could find ten photo spots all within the same park.
Because of the dramatic, up-close view of Edinburgh Castle, your photos will come out best if you use a wide-angle lens to capture as much of the scene as possible.
This photo was taken along the main walkway of the gardens, which allows you to get some height and capture the castle from the best angle, as opposed to heading further down into the park where the castle is then positioned directly above you.
12. Scottish National Gallery of Modern Art 1 & 2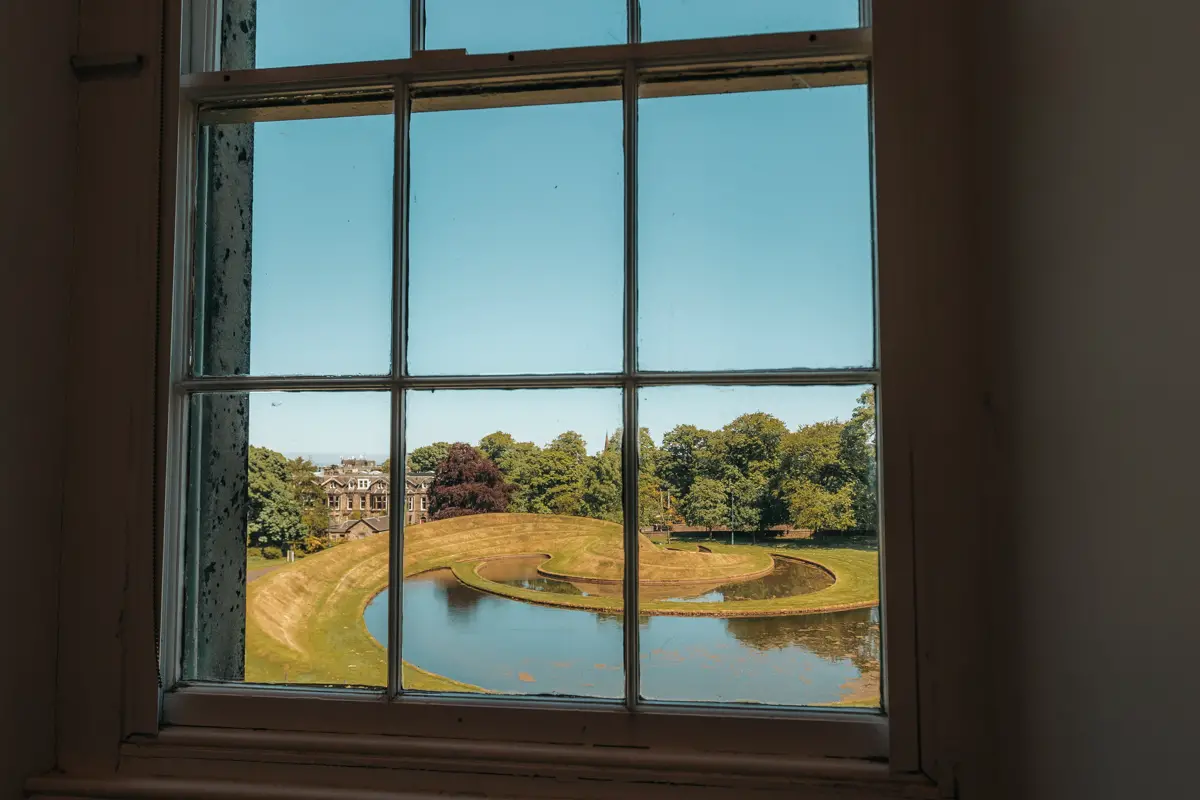 One of the more unique instagrammable places in Edinburgh is the Scottish National Gallery of Modern Art 1 & 2. A visit to Modern Art 1 is free, while Modern Art 2 hosts paid exhibitions.
But the most photogenic locations of these museums are less inside than they are outside. The Modern Art 1 has a dramatic wavy lawn that surrounds a curved lagoon, the perfect backdrop for a creative photo.
And the Modern Art 2 is not only a stunning building, but has a large lawn in front of it with a very instagrammable neon sign that says "There will be no miracles here." If you're looking for the most aesthetic vibes and off-the-beaten-path photo locations, these should make the top of your list.
13. Royal Botanic Garden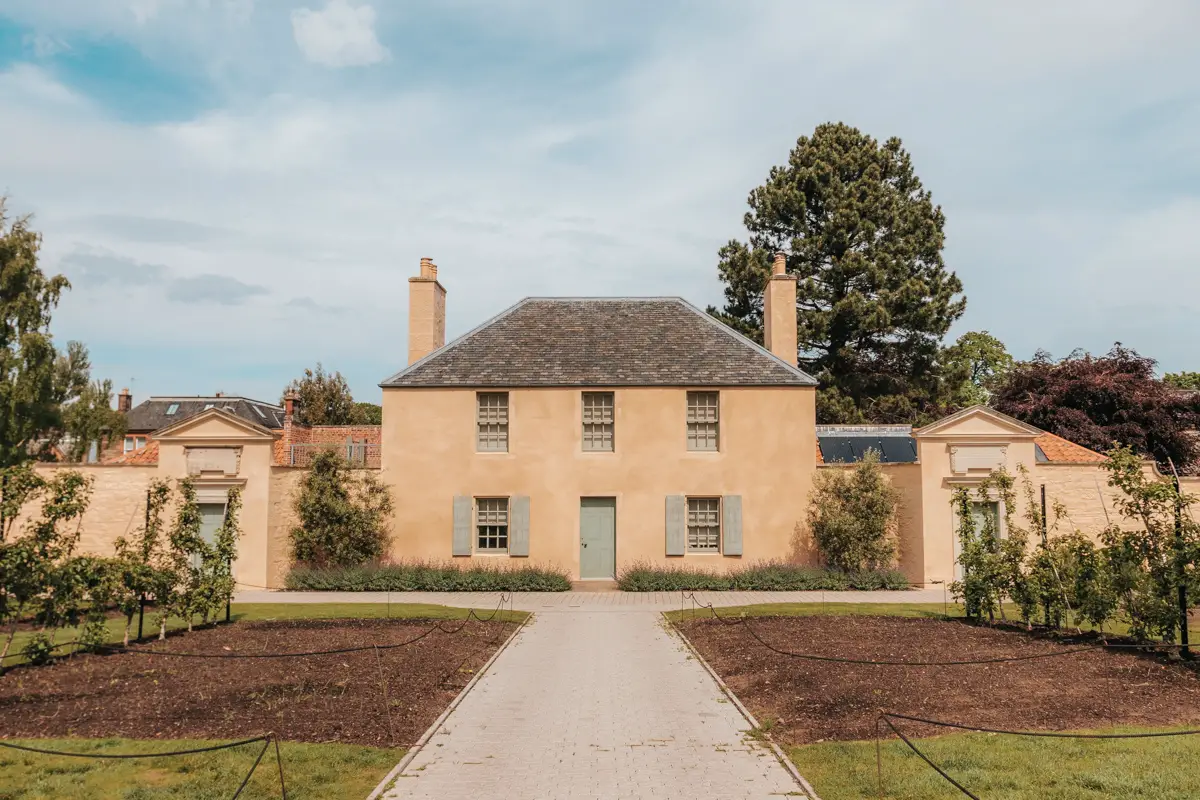 The last of the most instagrammable places in Edinburgh is the Royal Botanic Garden. And again, this park hosts beautiful spots where you can get creative in capturing your trip to Edinburgh.
You could simply immerse yourself in the garden landscape or take advantage of the unique structures within the park. There are tons of photo opportunities to take, from the Inverleith House and the Botanic Cottage to the Glasshouses (temporarily closed as of July 2022).
---
Tips for Taking Photos in Edinburgh
Wear colorful clothing: Besides Victoria's Street, Edinburgh's architecture is mostly made of brown stone buildings. In some of my photos, I was wearing black or grey and it didn't make me stand out as the subject against the darker backgrounds. To make yourself stand out and your photos pop against the moody background, pack bright-colored clothing!
Lighting: Edinburgh is known for being a gloomy city. You may not get soft sunrise light or a golden hour sunset, so you may have to shoot with a higher exposure, which you can do by learning how to shoot in manual mode.
Be rain-ready: Edinburgh is also known for being rainy. This can create some photography difficulties! In order to still get the best photos possible in the rain, you should first ensure your camera is protected. Travel with a waterproof backpack – the one I've used for the last 4 years is the WANDRD PRVKE Backpack. Then, use the rain to your advantage! Get creative. As I said, colorful clothing will help you stand out. Same goes for a colorful umbrella or rain jacket. And the rain really adds to Edinburgh's moodiness, so you have an epic chance to do some storytelling with your photography.
---
Map of Edinburgh Instagram Spots
Which of these instagrammable places in Edinburgh is on your must-do list?
Save this travel guide to Pinterest for later reference!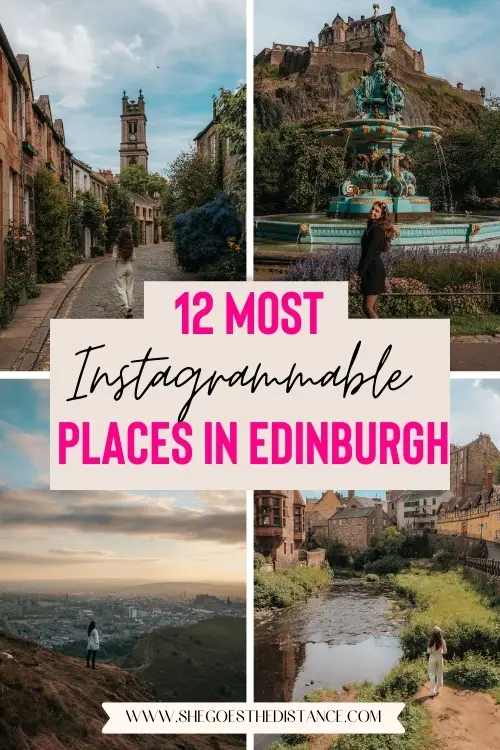 I want to know what you think of these instagrammable places in Edinburgh – share your photos with me on IG!
XOXO
Michela