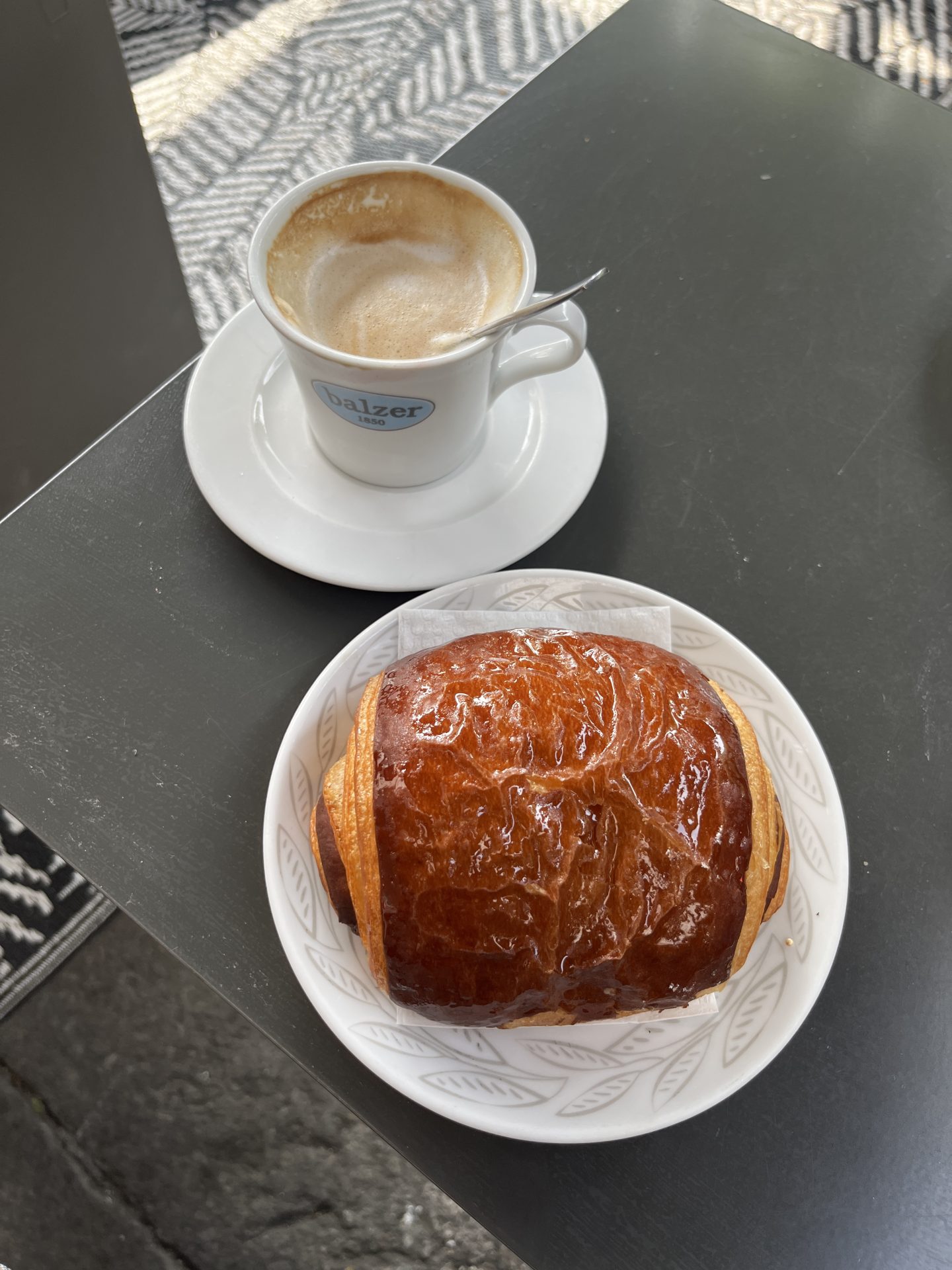 Last Updated on September 29, 2023
Why not live la dolce vita every day? Whether you're curious about Italian culture, adapting as a new expat in Italy, or looking for authentic experiences while on your bucket list trip to the Bel Paese, this guide has all the answers and insights on how to order, eat, and enjoy a true Italian breakfast.
Living in Italy and becoming a dual Italian citizen has meant my (almost) complete assimilation with the culture – especially the food! While it's hard for me to leave my American breakfast totally behind (I still love my scrambled eggs and pancakes), experiencing the puffed pastries and rich coffees of Italian breakfast is a rite of passage.
Buon appetito!
Traditional Italian Breakfast
A typical Italian breakfast is a variation of something small and sweet. Unlike in the US, for example, there isn't the idea that breakfast is the most important meal of the day here in Italy. It also varies by circumstance – breakfast at home differs from breakfast at a local café or bar, in Italian.
These are the most common Italian breakfasts combos to try:
Croissant/Brioche & Cappuccino
A croissant, or brioche, and cappuccino is the most popular Italian breakfast. Italian coffee is truly incredible so don't deprive yourself of the caffeine – you'll need it anyway to energize your visit! Italians also drink espresso in the morning, but it's more common to drink throughout the day, for example, after lunch as an afternoon pick-me-up.
Let's talk about the cappuccino myth. There is a myth that you can't order a cappuccino after 11 am, as that's so not Italian. Here's what I have to say as a local: it is true that it's not custom to drink something like a cappuccino throughout the day. This is because it is quite a heavy drink thanks to the frothy milk. At the same time, no one will laugh at you if you order a cappuccino after 11 am! If you still want to fit in as best as possible while also satisfy your craving for a cappuccino, try a macchiato – it's nearly the same but just smaller.
Croissants are either plain or most commonly filled with cream, of which the most common types are pastry cream, chocolate, hazelnut, marmalade, and – my favorite – pistachio.
It's also common for bars to offer a "menu" which is a special that usually includes a coffee, croissant, and freshly squeezed juice or water.
Bread, Butter, & Jam
This combo is a classic breakfast in Italian homes. At grocery stores, you'll find lots of different small loaves of bread and equally as many spreads for a simple, cheap breakfast at home.
Yogurt
Yogurt, fresh fruit, and granola aren't the most popular Italian breakfast but are still common. Granola is fairly expensive, so plain yogurt is the usual go-to.
Side note: there is also a limited selection of oatmeal as an alternative to granola.
Milk & Cookies
Who wouldn't love waking up to milk and cookies for breakfast? Well, the Italians do. As an American, it makes my stomach hurt just thinking about it, but milk and cookies is the kind of breakfast that lots of kids have here in Italy.
Good to know: Most milk in Italy is not refrigerated. I don't know how they do it, but the milk only goes in the fridge once it is opened! This took me a while to get used to!
Donuts, Muffins, & Pastries
Fun fact: anytime I go to a party where there is cake, someone always suggests bringing a piece of cake home to eat for breakfast. That's how much Italians love a sweet breakfast!
So it's no surprise that beyond croissants, Italians love all kinds of pastries at breakfast time. Croissants are the most popular because they are fairly light (calories don't count in Italy, okay?) but muffins and bomboloni, which are filled donuts, are also options you'll usually have to choose from at any Italian bar or bakery.
And the pastries don't stop at the bar. In grocery stores, you'll find aisles upon aisles of baked goods meant for breakfast time like plum cakes, muffins, and brioches!
Milk & Cereal
Cereal is not the most popular Italian breakfast food but it is actually quite common in hotel buffets in Italy. Italian grocery stores also have a decent-sized cereal aisle, which speak to its diffusion in Italian culture.
Like all the other types of breakfasts, most Italian cereals are sweet. You can also find, however, plain cereals like regular flakes or even Honey Nut Cheerios.
---
Untraditional Breakfasts in Italy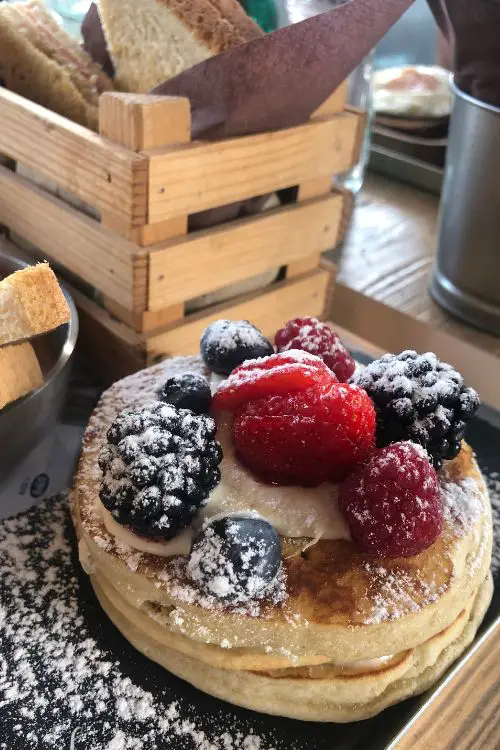 The beauty of Italy is that its surroundings can often feel stuck in time – the culture has very well-resisted adapting to aspects of globalization and the way of life is still much slower and calmer in most areas. For example, almost every McDonald's in Italy also has a McCafé – a full-service bar with pastries and coffees. So the Italians know how to make even globalized places their own.
But, while the vast majority of breakfast options will be the ones mentioned above, Italians have hopped on the bandwagon of incorporating breakfasts traditional to other places into their restaurant scene.
In bigger cities, you'll find boutique cafés and restaurants that serve brunch, something that is untraditional for Italy.
The most common type of unusual breakfast (a bit of a paradox) is American-style breakfast. More modern cafés have started to offer pancakes, waffles, and eggs for example. But don't expect American-sized portions – plates are still much smaller than what you'd find at an American diner.
Pro Tip: Where NOT to eat breakfast in Italy! You will almost never see an Italian eating or drinking coffee while they are on the go. Seeing a to-go coffee cup is extremely rare! The concept of dining in Italy is heavily tied to their slow culture and eating or drinking your espresso is a moment of the day for a proper pause. The concept of to-go is growing but it is still far from being a habit!
Cost of Breakfast in Italy
Lots of locales in popular areas hike up prices to rip off tourists. You can also consult Budget Your Trip to get a better idea of what your daily food spend might be in Italy. Here are some average prices for Italian breakfast foods and drinks so you know if the bar is charging too much:
Cappuccino: €1.50-2.50
Croissant: €1.30
Juice: €2
Other baked goods (donut, muffin, etc.): €1.50-2
---
Italian Breakfast Vocabulary: How to Order Your Breakfast in Italy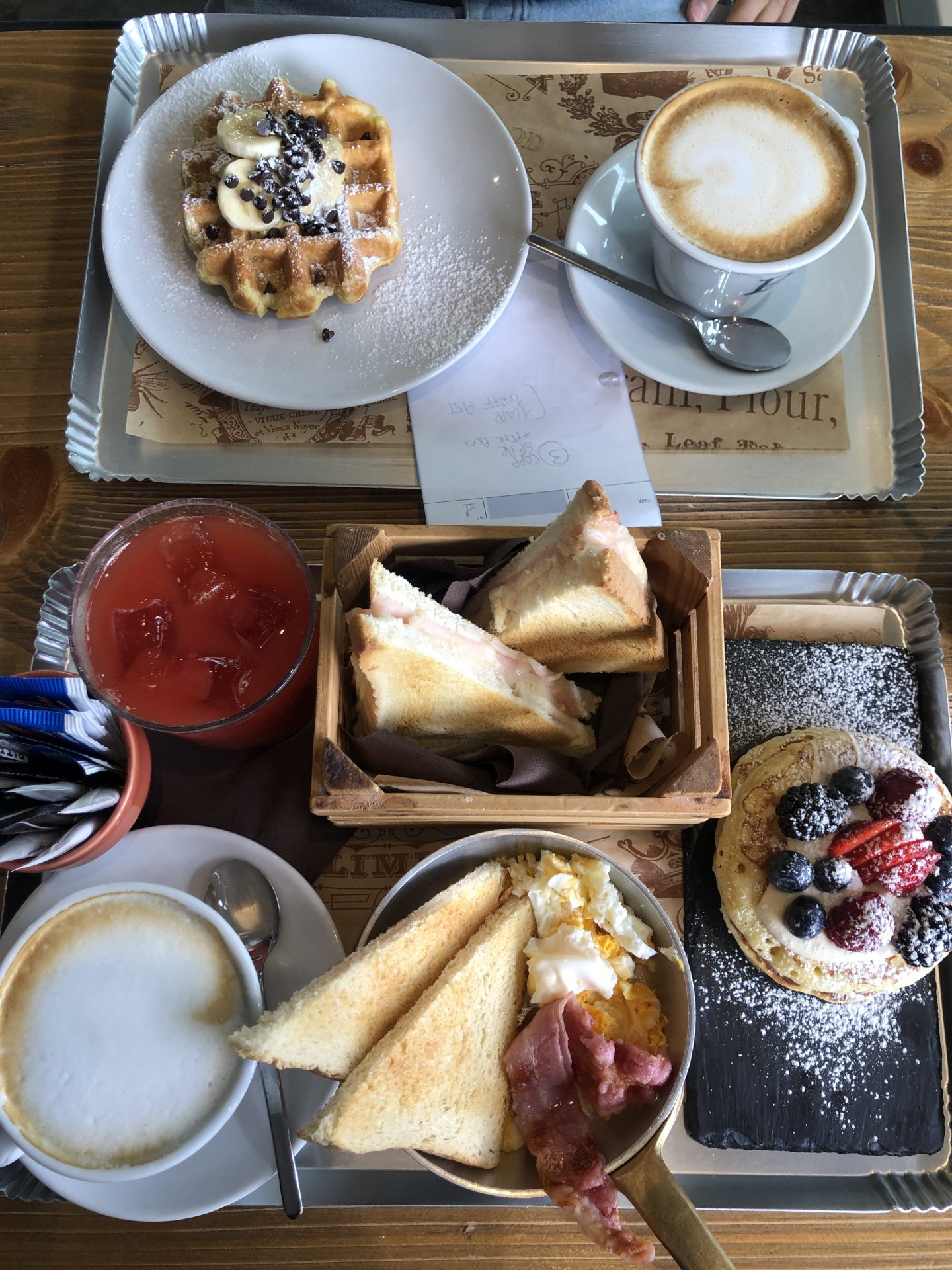 If you're going out for a typical Italian breakfast at a café, you should master the simple phrases for ordering and thanking the waiter!
To order, you can say "Vorrei…", which means "I would like…" and list whatever it is you want to eat/drink.
Here are other common breakfast/ordering words you may want to know:
Posso vedere il menù, per piacere? – Can I see the menu, please?
Brioche – Can be a croissant or other type of baked pastry
Cornetto – Croissant
Bombolone/Krapfen – A fluffy, filled donut
Ciambella – Regular donut with hole
Caffè – Coffee
Zucchero – Sugar
Latte – Milk
Succo – Juice
Succo d'arancia – Orange Juice
Succo di mela – Apple Juice
---
Breakfast Foods in Italian Grocery Stores
While you may not find pancakes at every bar, you will be able to find them and more breakfast novelties at grocery stores in Italy.
In fact, as an American expat in Italy, when I first saw the layout of Italian grocery stores, I gasped at how many aisles were dedicated to cookies, sweets, and cakes that are all primarily eaten at breakfast time.
You can usually also find microwavable pancakes and waffles, as well as mix to make your own, at grocery stores. Microwavable pancakes and waffles are found in the dry foods aisles with all the cookies and sweets, not in the refrigerated aisle. And the mixes are found by the cake mixes – not in the breakfast aisle!
The options are slim, but larger grocery stores may also have items like bacon.
Most grocery stores also have bakeries that prepare fresh brioches and croissants.
Good to know: Like milk, eggs are not refrigerated in grocery stores!
---
Final Thoughts
Are you hungry now?! Hopefully, breakfast in Italy is in your near future!
Save this guide to Pinterest!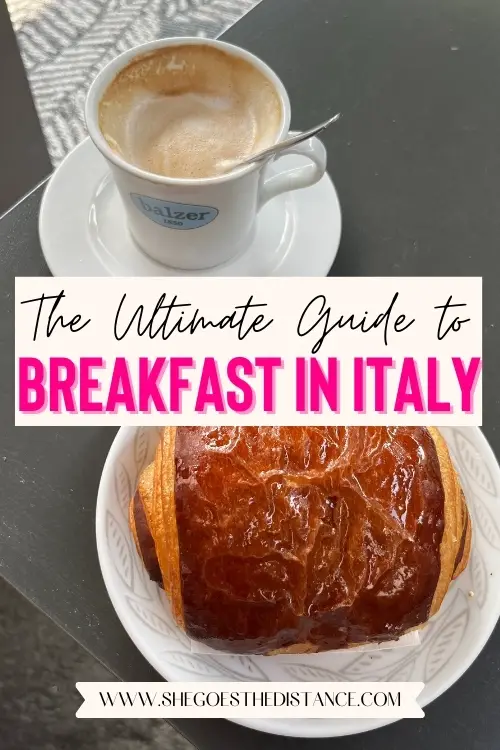 XOXO
Michela