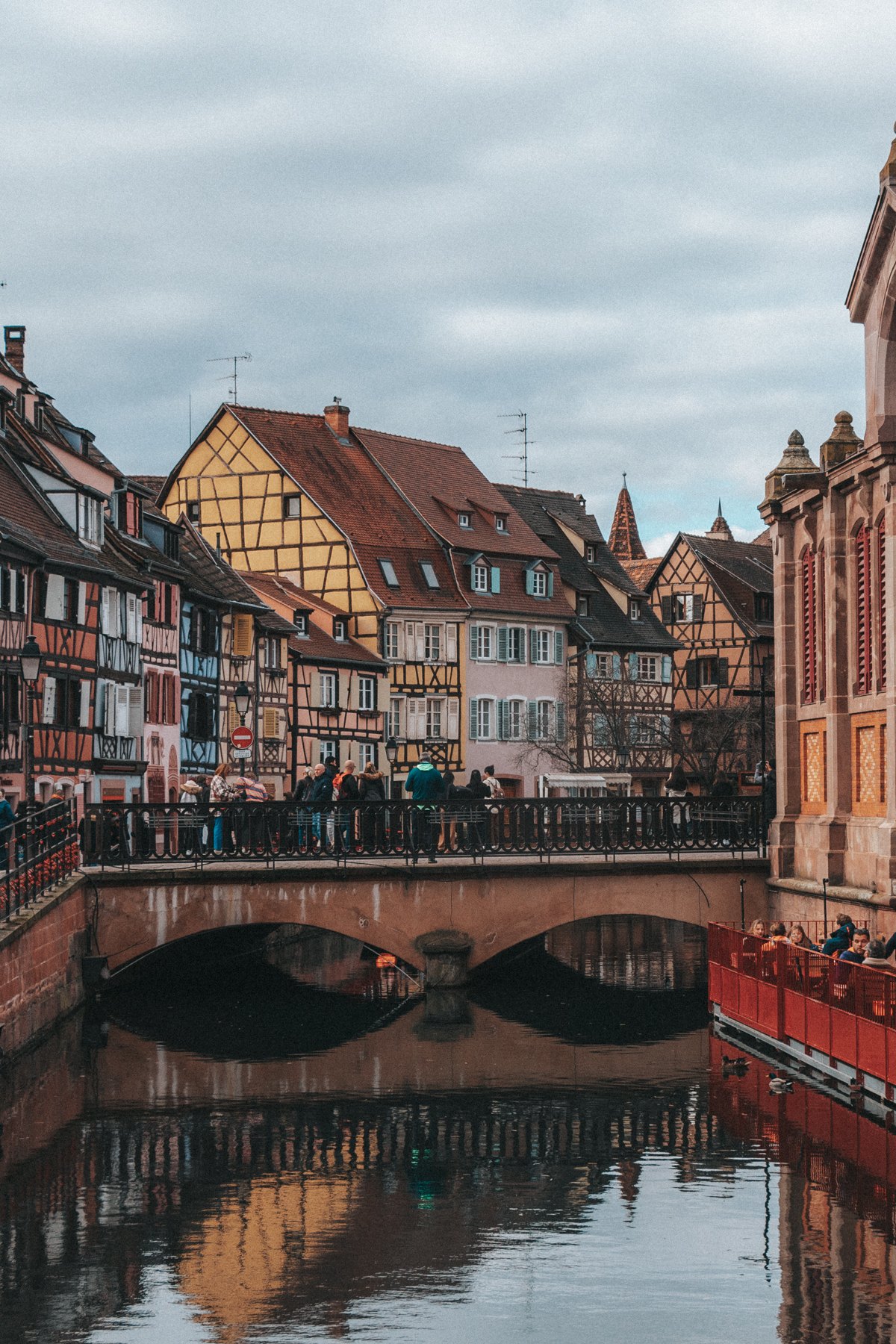 Last Updated on September 29, 2023
Colmar, France is one of those places that while you are there, life doesn't feel real. The character-filled houses, cozy tea rooms and pastry shops, and centerpiece churches transport you to a time and place you've only read about in your favorite fairytales. Whether you are traveling the Alsace Wine Route, dying to get that envy-inducing Instagram picture or have a passion for French history and culture, don't let one day in Colmar go to waste: use this as your pocket guide to seeing and doing the best things in Colmar.
Some of these links are affiliate links. This means if you make a purchase through that link, I receive a small commission at no extra cost to you. Read my full disclosure!
How to Reach Colmar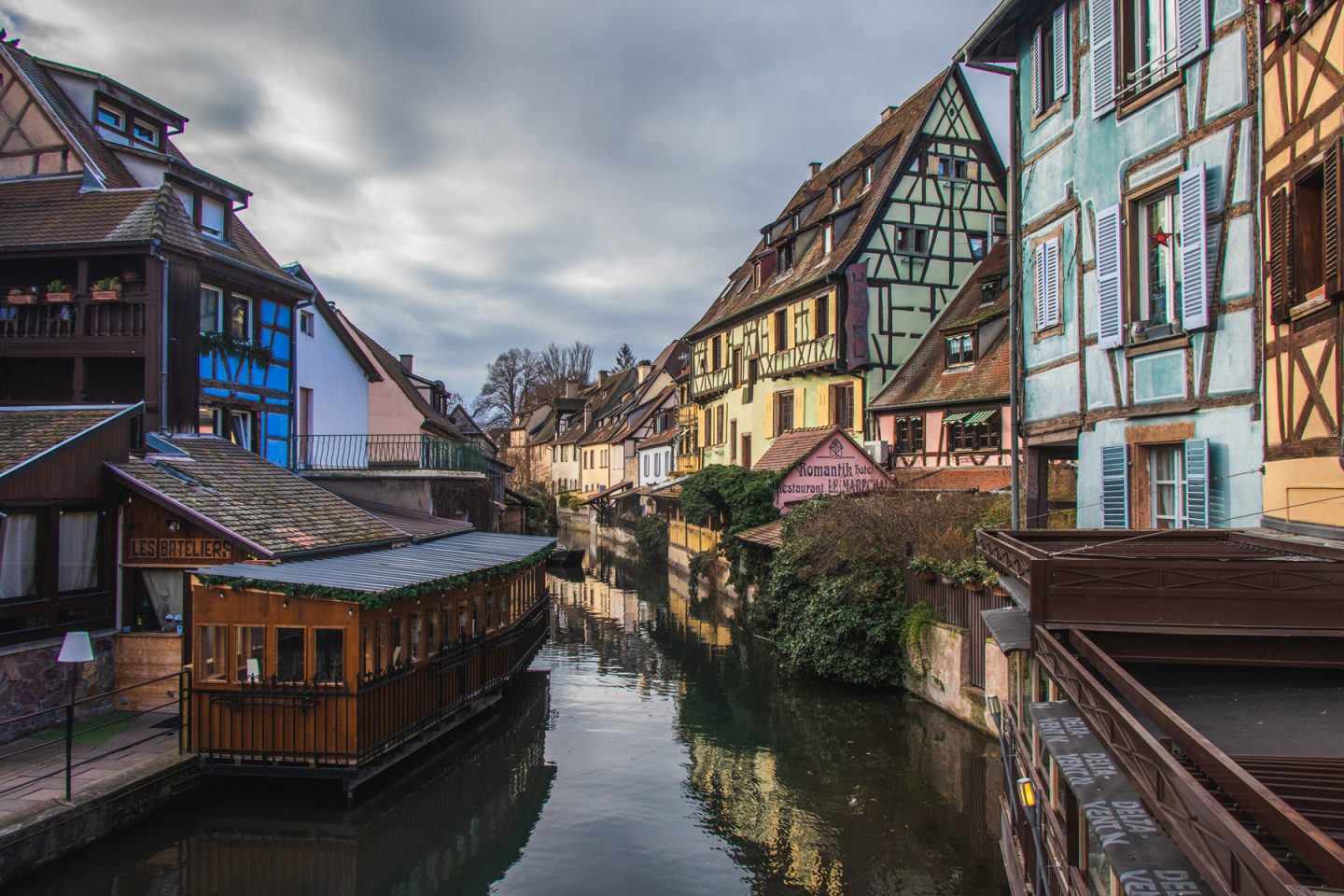 Colmar is located in the Grand Est region of France, specifically in the historical region of Alsace. It's a perfect day trip if you have one week in Paris or are visiting nearby Strasbourg.
I recommend only spending one day in Colmar so that you can leave room for more places in your itinerary! However during more specific periods, like Christmas or wine harvesting season, where there are special things to do in Colmar, you may want to extend your visit a couple of days.
Colmar's main attraction, the Old Town, is small and walkable, able to be explored in as little as half a day. Here's how to reach and get around Colmar:
By car
The Visit Alsace website gives a good overview of the roads system and also has a route calculator to help you plan your road trip itinerary. Find a rental car in Colmar. There is free parking at the train station. If you want to be close to Old Town, there is also a paid parking lot on Rue Turenne.
By organized tour
Because of its vicinity to nearby Grand Est capital, Strasbourg, and other characteristic French villages, many different tour options exist that include a stop in Colmar. The organized tour option is best for travelers who don't want the hassle of looking for their own transportation and don't mind having less flexibility.
By bus
The Alsace region is well-connected by public transportation, however, the timetables and bus routes can get confusing if you are a first-timer in the region. We were able to navigate using buses although it did not come without frustrations. Here are some of the pain points we experienced so you can know what to expect:
Finding the right bus stop was not easy. Use a mix of Google Maps and straightforwardness to ask directions at stations or read all the bus stop signs to find the correct one.
Have cash to cover the ticket. On city buses, you will likely be able to pay with card. On intercity buses that get you between the different towns of the Alsace region, you have to buy your ticket in person at the bus and with cash.
You won't be able to buy tickets online. We got on a bus for which we couldn't pay for the ticket in cash or card and the driver told us to pay online. However, on the bus website, there was no ticket purchase option. Luckily the driver was nice and let it pass, but it did create a lot of confusion as to how one would be able to buy a ticket if not in person or online (the bus stop was not near a station to purchase from either.) It seemed like a particular situation that she could not let us purchase tickets on the bus (which is the norm) so I wouldn't worry about this but it is just a question mark about how the public transportation works.
By taxi or Uber
You won't find many taxis waiting around or lots of Uber drivers available, but these transportation options do exist. I personally used Uber while I was in the region to get between small towns since the bus was not operating at a full schedule. It was expensive but comfortable.
Pro Tip: The nearest airports to Colmar is Basel (BSL) in Switzerland, Strasbourg (SXB) and Karlsruhe/Baden Baden (FKB) in Germany. You can usually score a deal flying into Baden Baden from another European city because it's such a low-traffic airport.
---
The Top Things to Do & See in Colmar
St. Martin's Church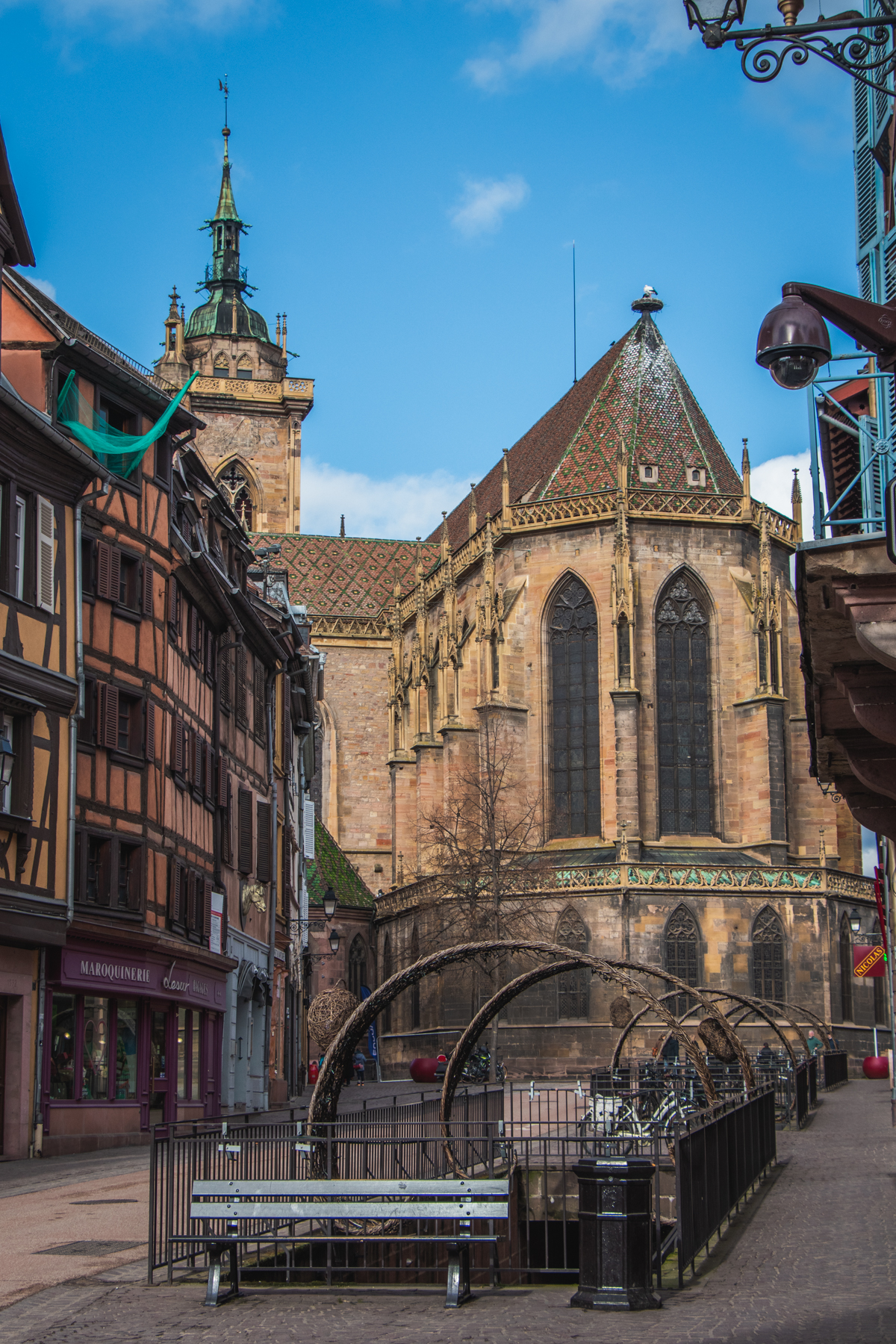 You can't spend one day in Colmar and not visit the heart of the city, the St. Martin's Church.
It is a Roman Catholic church that dates back to the early 1200s. The inside is quite bare but expansive. The tall arched ceilings create this endless echoing. We happened to enter while someone was playing the organ so it was an omnipresent sensation of music that felt extremely special.
The cathedral is free to enter.
As of early 2023, there was lots of construction going on around the church in the main square, so keep this in mind if you are planning to travel to Colmar in 2023 and are counting on a lively town square. For now, it is a construction zone!
Take photos along the canal at Petit Venise and the Fishmonger's District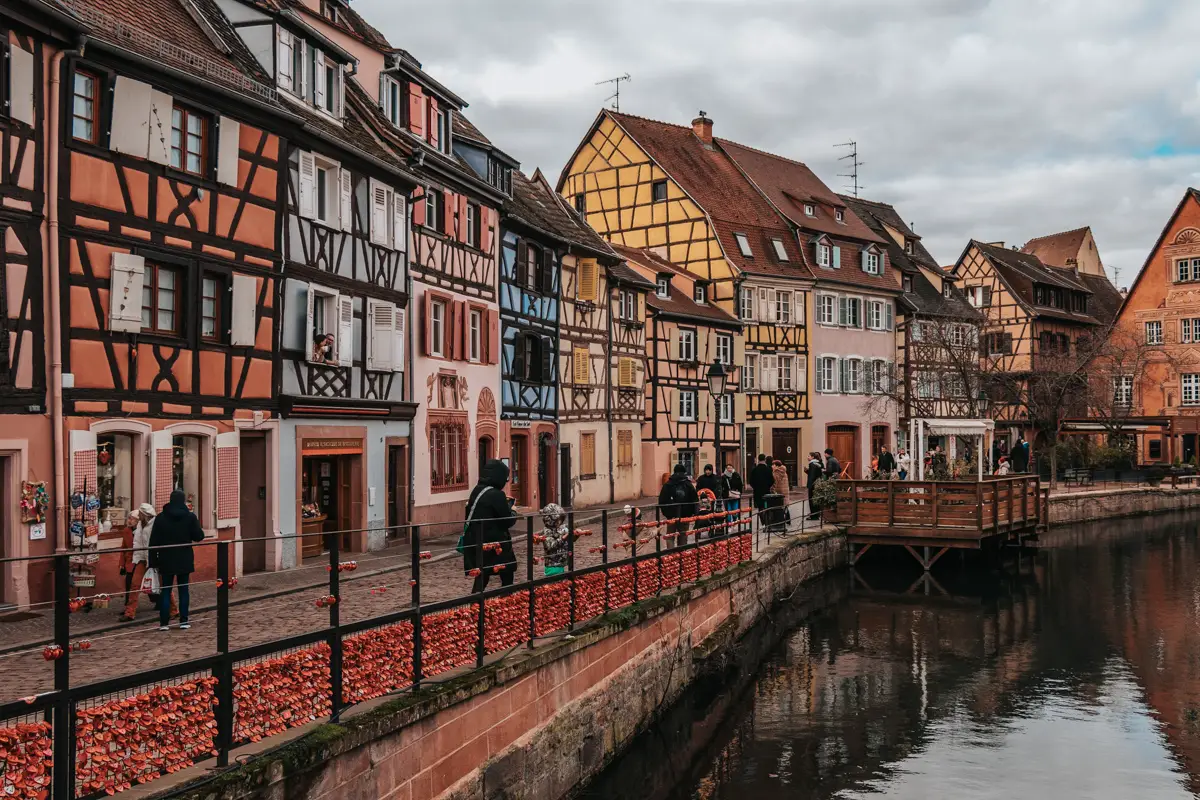 One of the things that Colmar is most famous for is La Petit Venise. Meaning "The Little Venice", La Petit Venise is a district of the Old Town that has a canal running through it, along which are timbered houses stuck one next to another.
There are two areas to La Petit Venise, or more correctly, to the canal that runs through Colmar. One is by the square with Fontaine Roesselmann, which on the map is the official La Petit Venise.
Then there is also the Fishmonger's District (the picture on the left), the Quai de la Poissonnerie, where historically lived the best of Colmar's fishermen who were powerful economically in the town.
In the early 1700s, a fire broke out here and destroyed many of the timbered houses. It wasn't until the late 20th century that renovation projects began to restore them.
Get a taste of local culture at Marché Couvert Colmar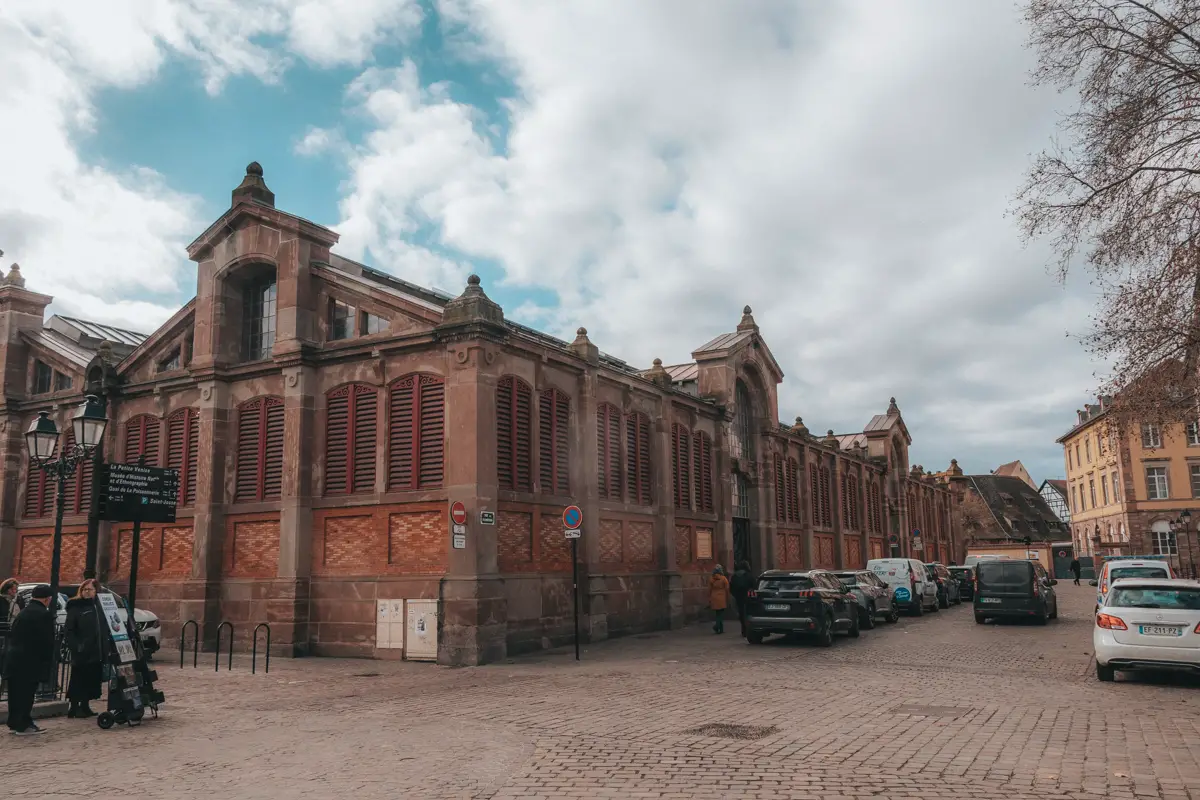 One of my favorite ways to explore a new place is by visiting its market. A market gives you a candid picture of what local life is like, what the locals eat, how they interact.
The Colmar market is not huge but it has a good amount of stands selling fresh local products as well as eateries where you can hav eat a budget-friendly and authentic lunch of Alsatian food and local Alsatian wine.
One of the eateries has a porch area along the canal, which is a great picture spot.
Admire Colmar's Prettiest Buildings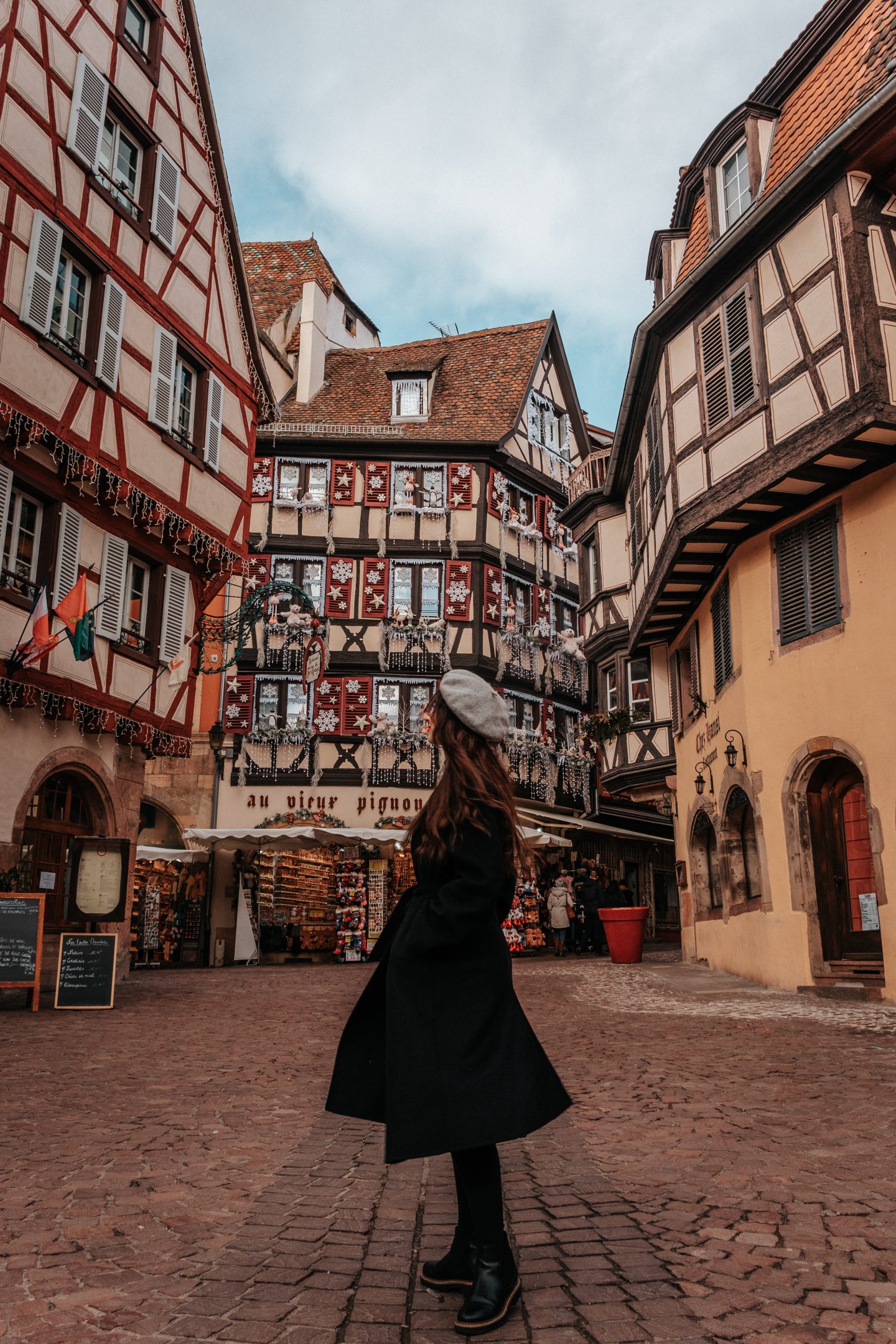 It's hard to say "admire Colmar's prettiest buildings" because they are all captivating. From shutters with little heart cut-outs to misshapen timber or paintings of storks on the exterior, each house and building in Colmar is completely unique to another. In fact, just walking around the town and observing the architecture is probably the best thing to do in Colmar.
There are some buildings that are true showstoppers and stand out from any crowd. One of these is at the start of the Grand Rue, Colmar's main street, the Vieille ville, which is the building decked out from ground floor to attic in all things Christmas. I visited in late February and the building was still completely decorated, so I think it is like this all year-round.
The Pfister House, instead, is just up the road from the Vielle ville. Built in 1537, it is the first Renaissance architecture building in Colmar. In the photo on the right above, it is the central cream building with a turret. The exterior is covered in hand-painted frescoes.
Below you can also see the The Koïfhus, or Ancienne Douane, the old customs house. This building served as the economic entrance point of Colmar, where goods entering and exiting were taxed.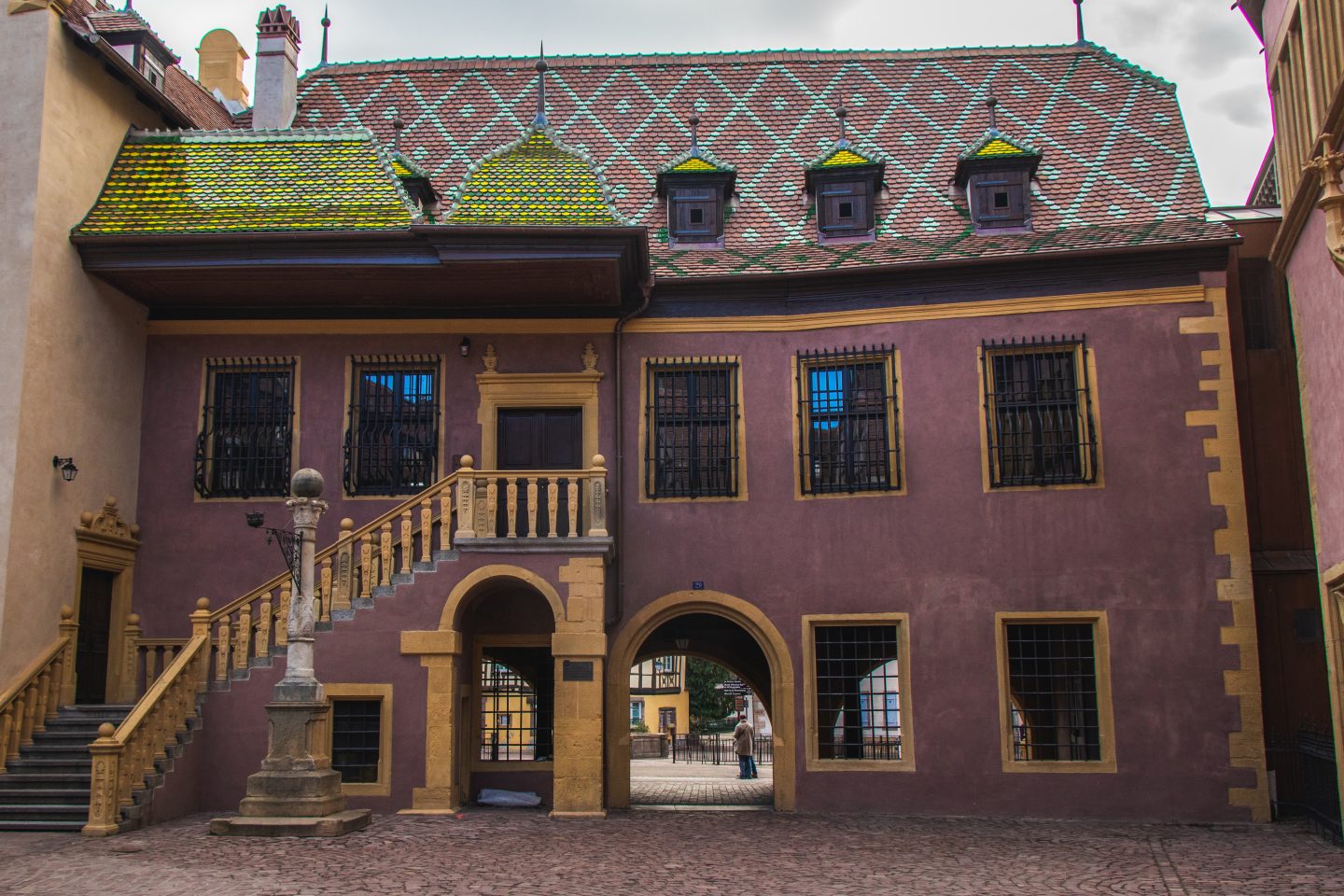 Stroll through the Parc du Champ de Mars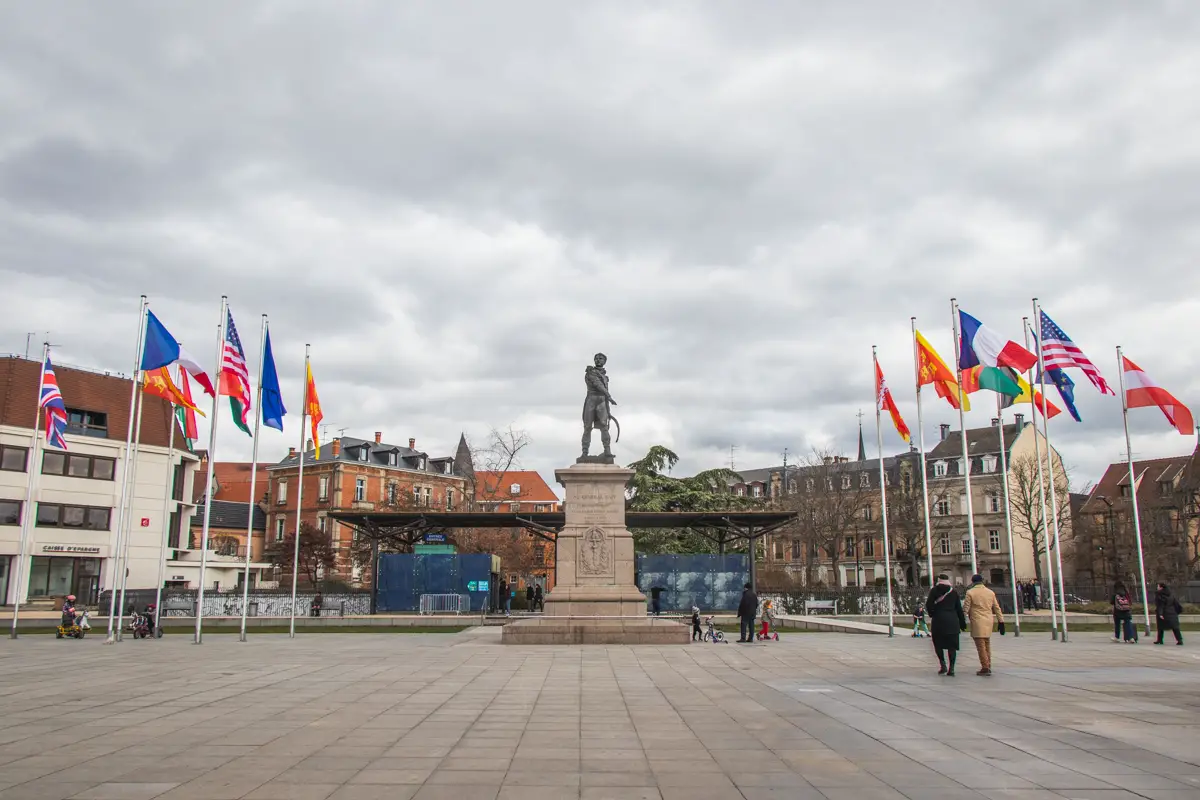 In between the Colmar train station and the Old Town is the large park, Parc du Champ de Mars.
There is a large fountain and several monuments to historical figures in the park. I recommend just passing by to see it as you walk to or from the train station to see a more modern side of life in Colmar.
Saint Matthieu Church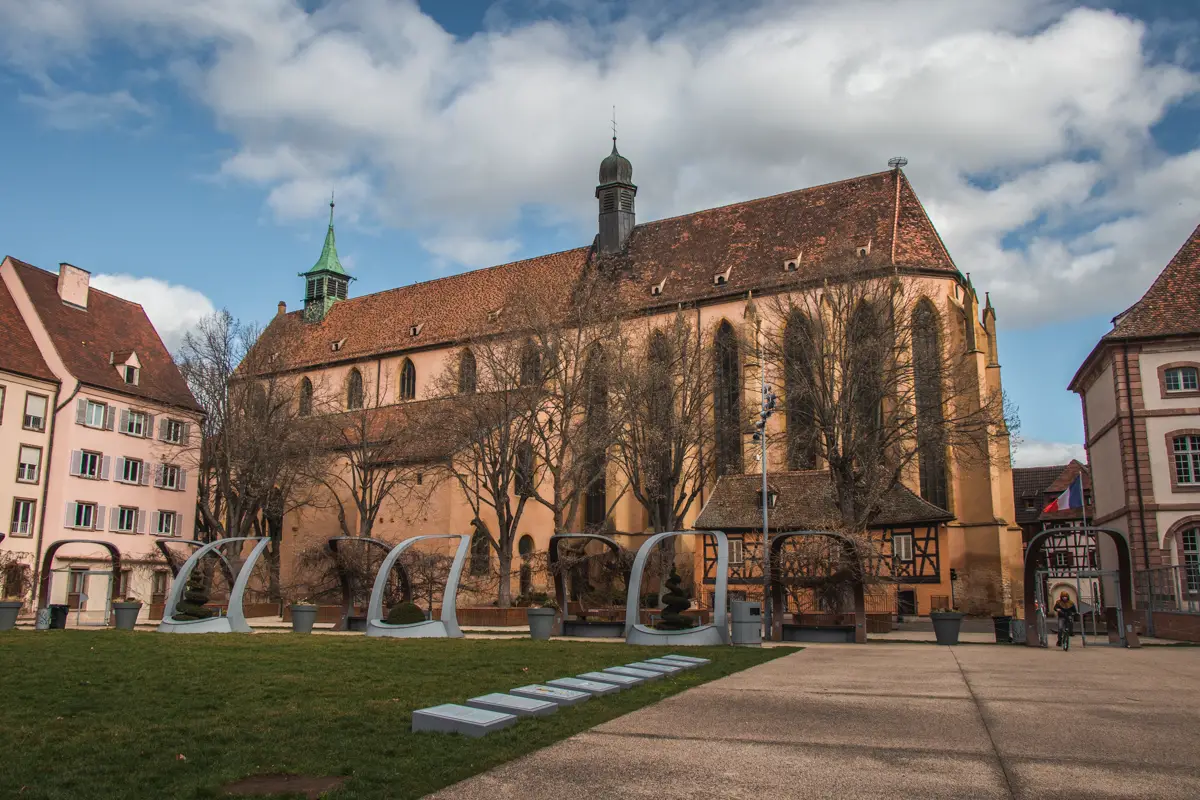 One of the most peaceful and prettiest areas of Colmar was the square next to the protestant church of Saint Matthieu.
The church was built around a century later than the Roman Catholic cathedral, in the late 1200s. It is less grand than the St. Martin's Cathedral but still beautiful.
Just beside it is a modern green park and the Old Hospital building of Colmar, which today is a library.
Enjoy medieval art at the Unterlinden Museum
Colmar is not that large of a city but it has many museums! You can see the full list here.
One of the most renowned museums is the Unterlinden, uniquely situated in a 13th century convent and historic public baths facility. It is the most visited museum in Alsace.
The most famous piece is the Isenheim Altarpiece. There are all kinds of artifacts, art and objects relating to the history of the Upper Rhine. Besides the exhibits, there is a museum orchard and garden.
Admission is €13 for adults.
Visit the Musée Bartholdi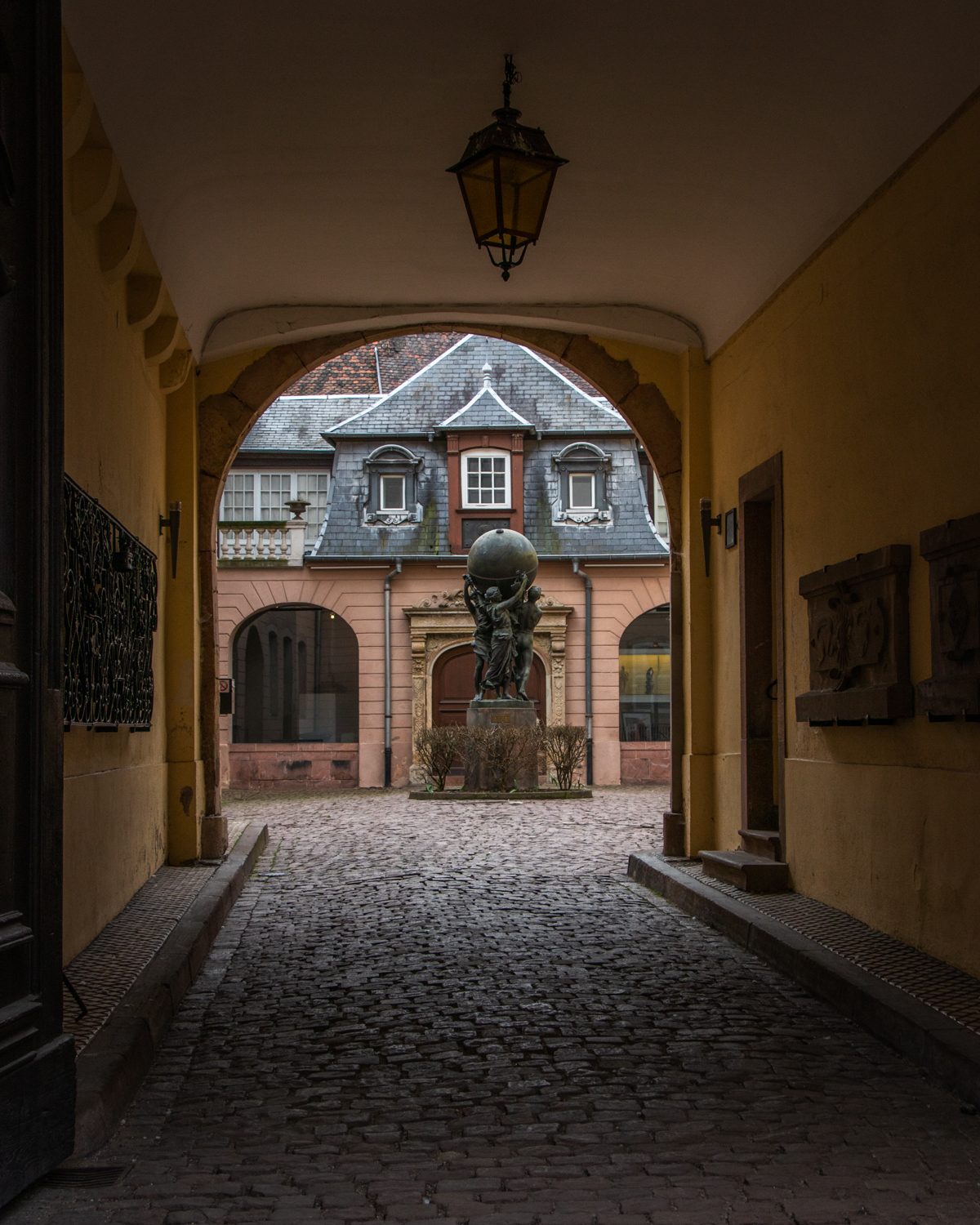 One of the more local museums is the Musée Bartholdi, dedicated to Auguste Bartholdi, the sculptor of the Statue of Liberty. Bartholdi was from Colmar!
The museum is dedicated to his life and displaying his other works. You can have a quick visit here for just €5 if you are looking for an extra local experience to add to your itinerary.
Visit the Statue of Liberty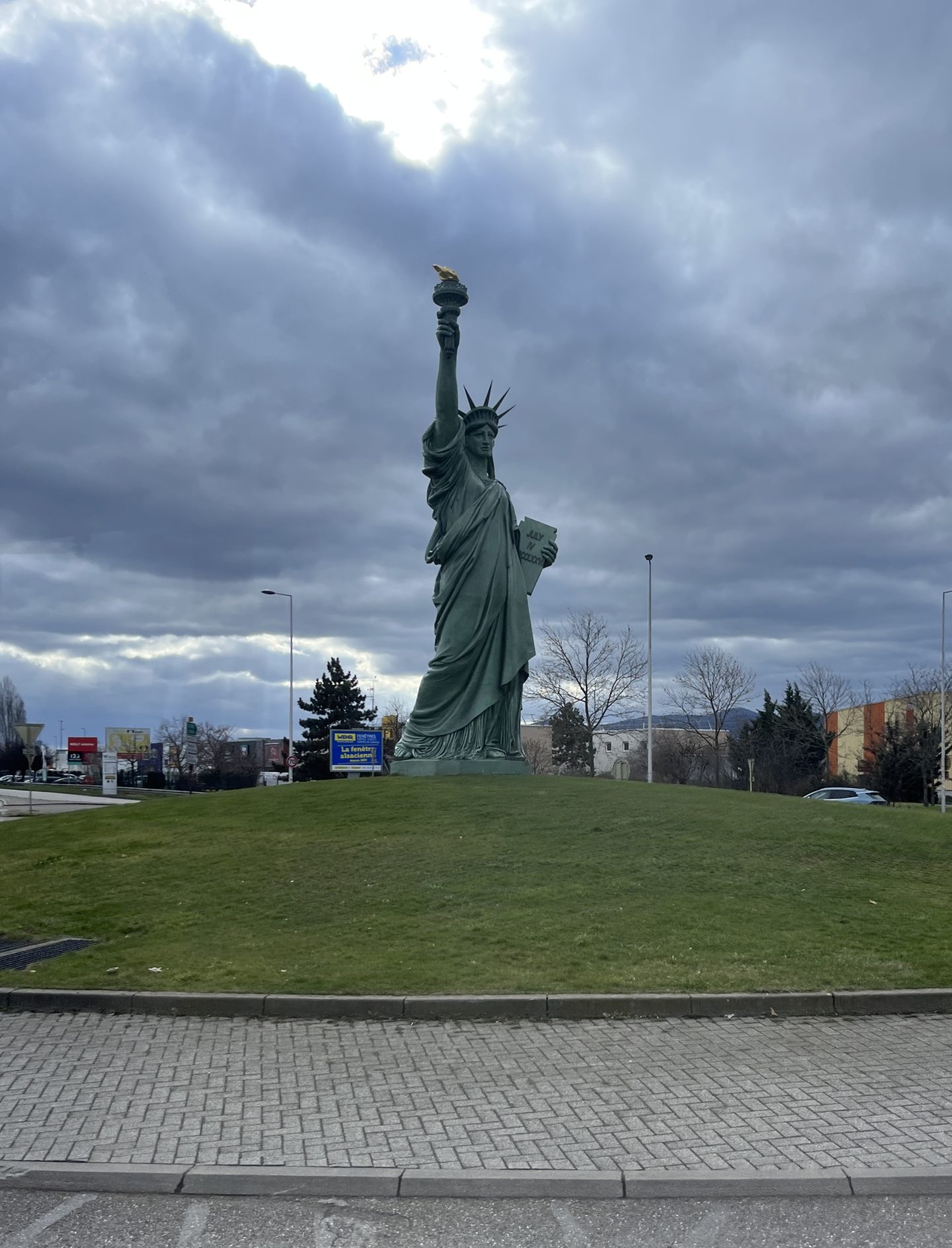 Did you think a museum dedicated to the Statue of Liberty's sculptor was enough? Not for Colmar!
You can visit a replica of the Statue of Liberty. It sits in the middle of a roundabout just a bit outside of the city. You will likely need a car to get there, or you can take the free shuttle bus.
There is not much to do visiting this Statue of Liberty other than admire her from your car window but it is one of the most peculiar things to see in Colmar!
Satisfy your sweet tooth at Choco Story Colmar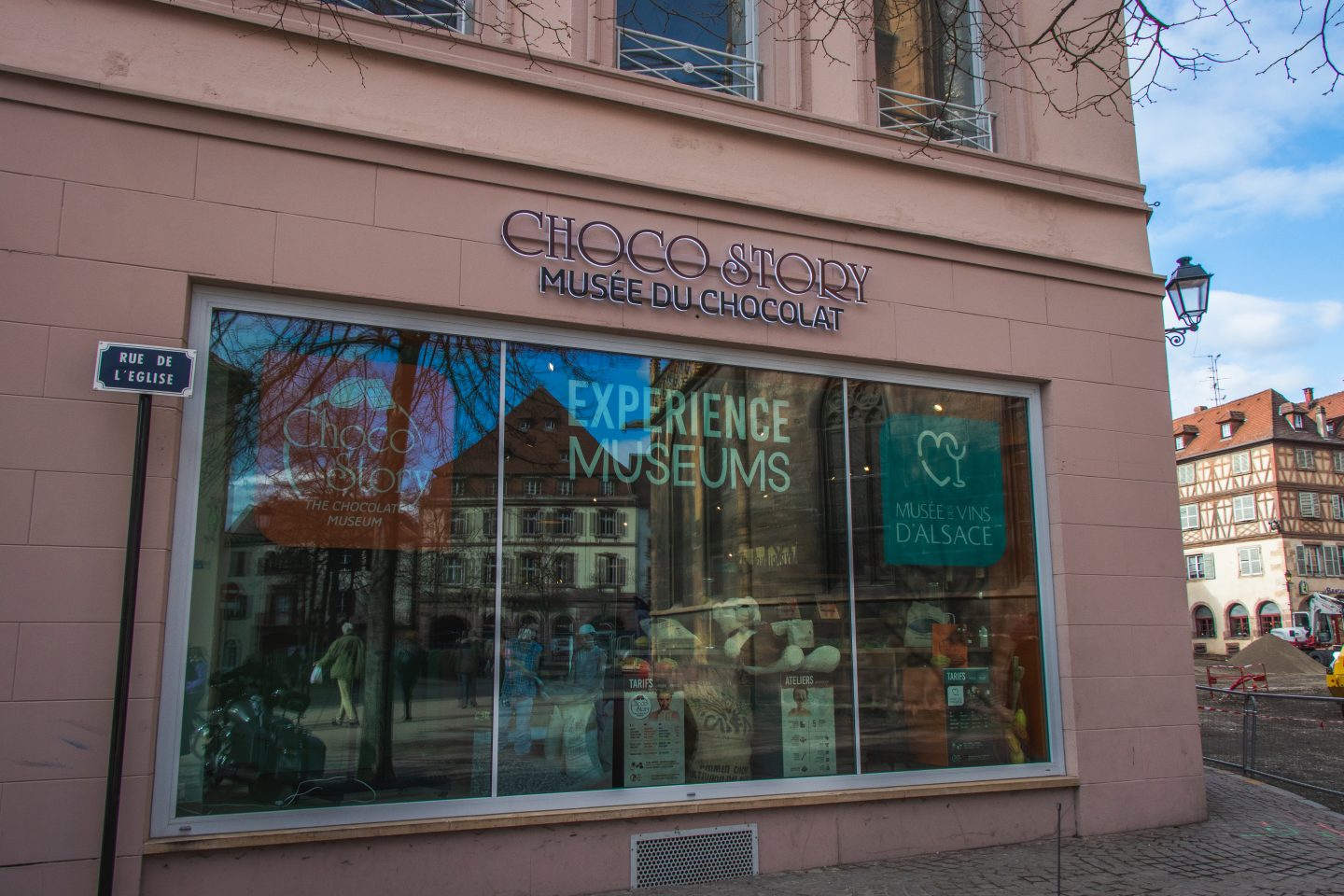 The most modern museum experience in Colmar is Choco Story, the museum of chocolate. It is an interactive experience that includes chocolate tastings! I suggest this activity if you have more than one day in Colmar or if you are traveling with kids. Reserve your tickets to Choco Story.
Sip and relax at one of Colmar's many tea rooms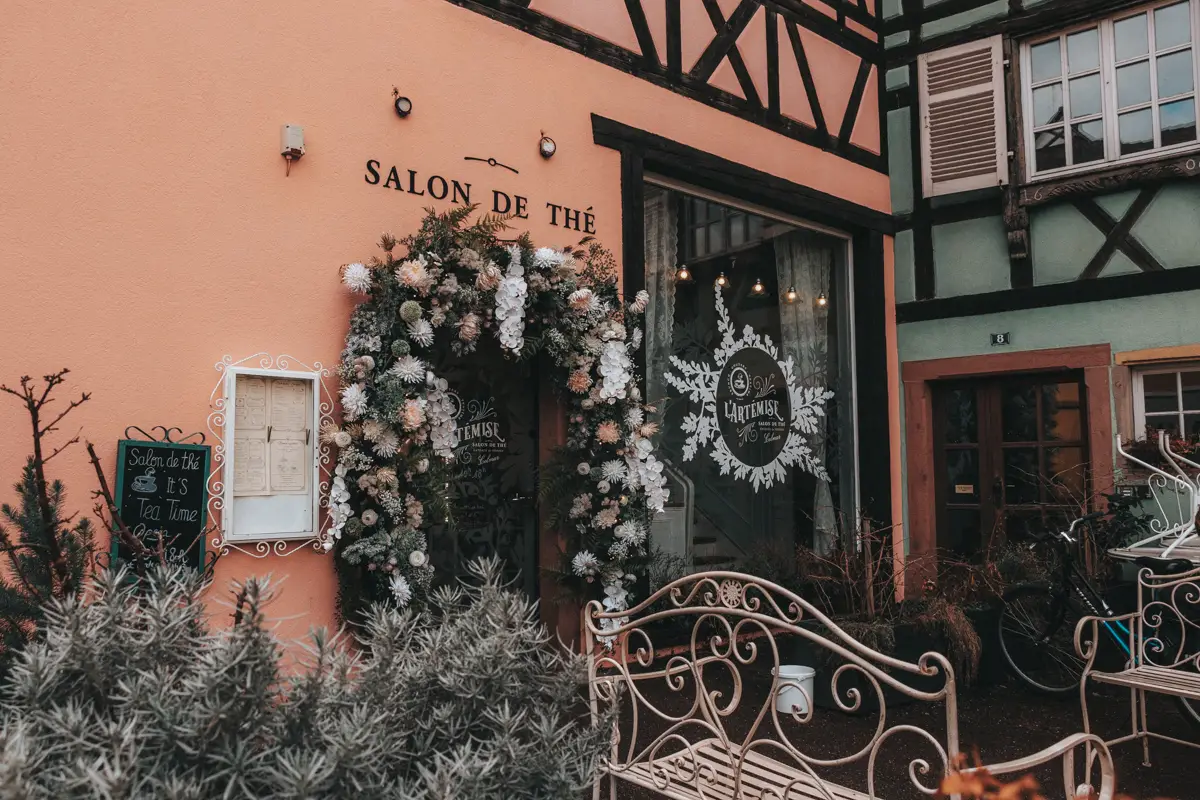 Speaking of food, I couldn't help but notice an abundant number of tea rooms in Colmar. These Salon de Thé are the cozy, French version of afternoon tea, brunch and café all in one. The drinks were a little pricey so I didn't do this experience myself, but it was something unique to Colmar that seems like a local guilty pleasure, so I thought I would share it.
You also wouldn't be surprised that there are many pastry shops with deliciously inviting window-fronts! Besides macarons and eclairs, an Alsatian bakery specialty is the Kugelhopf.
Explore the Other Noted French Villages Nearby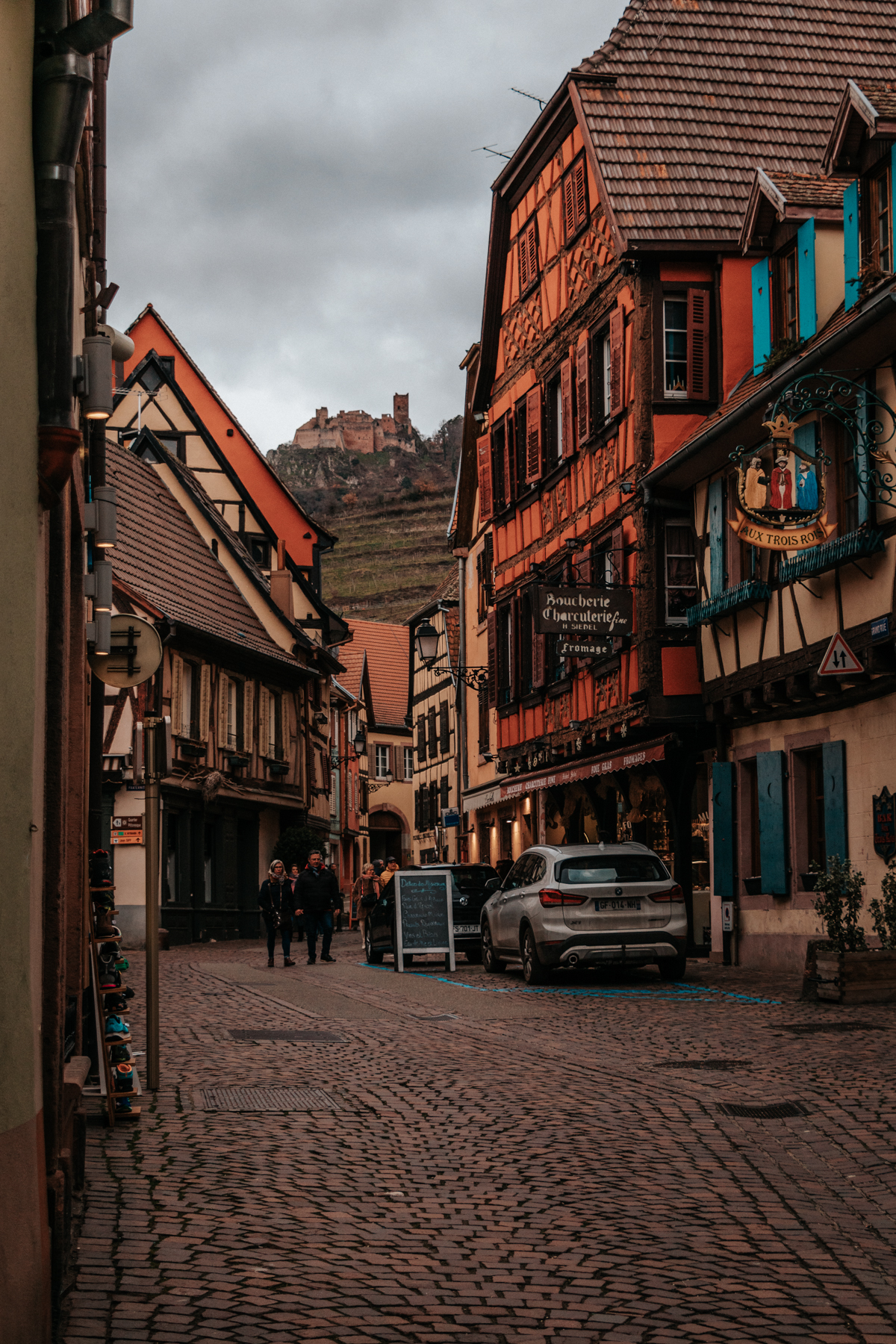 If you can't get enough of the medieval French-village style, you are only scratching the surface in Colmar. Think about reducing your time in Colmar to half a day or extending your trip to explore some of the other characteristic towns of the Alsace region.
Two can't miss towns are Riquewihr and Ribeauville, which are said to be the inspiration for Beauty and the Beast.
Colmar Christmas Markets
I did not visit during Christmastime but it is no secret that Colmar and the entire region of Alsace is a haven for Christmas lovers in December! The fairytale towns come alive and glow with Christmas vibes from the decor to the lively Christmas markets in the various villages.
Discover the different Colmar Christmas markets.
---
Visiting Colmar Travel Tips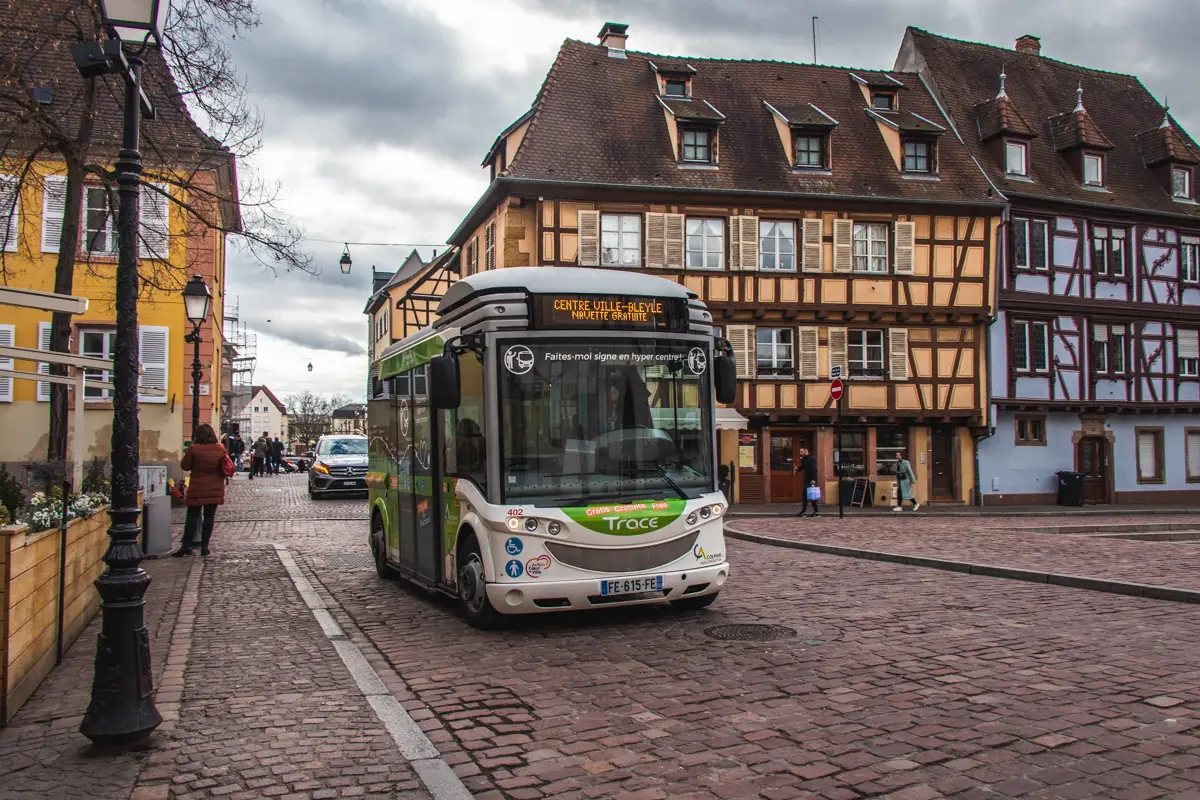 Visiting on a Sunday: Whatever you do, avoid visiting Colmar on Sunday! It is a national rule-of-thumb in France that commercial activities stay closed on Sundays. This includes almost all shops, grocery stores and some restaurants.
Free shuttle: Walking to Colmar town center from the train station takes 10 to 15 minutes. But the town also offers a free electric shuttle!
Christmas shuttle: If you visit during Christmastime, there is an extra shuttle service that specifically takes passengers to and from Christmas markets in the area.
Is there something you're wondering about Colmar before your trip? Ask me in the comments!
Save this travel guide on Pinterest!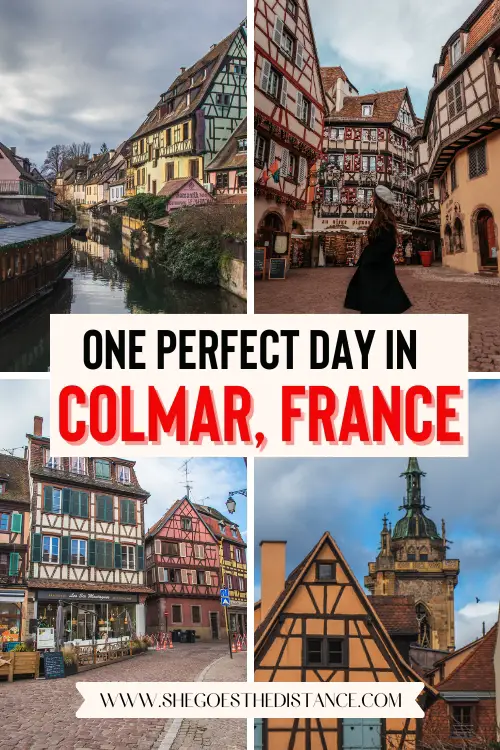 I hope this one day in Colmar pocket guide has helped you narrow down you top must-dos and given you the insider information you needed to plan your visit. Bon voyage!
XOXO
Michela