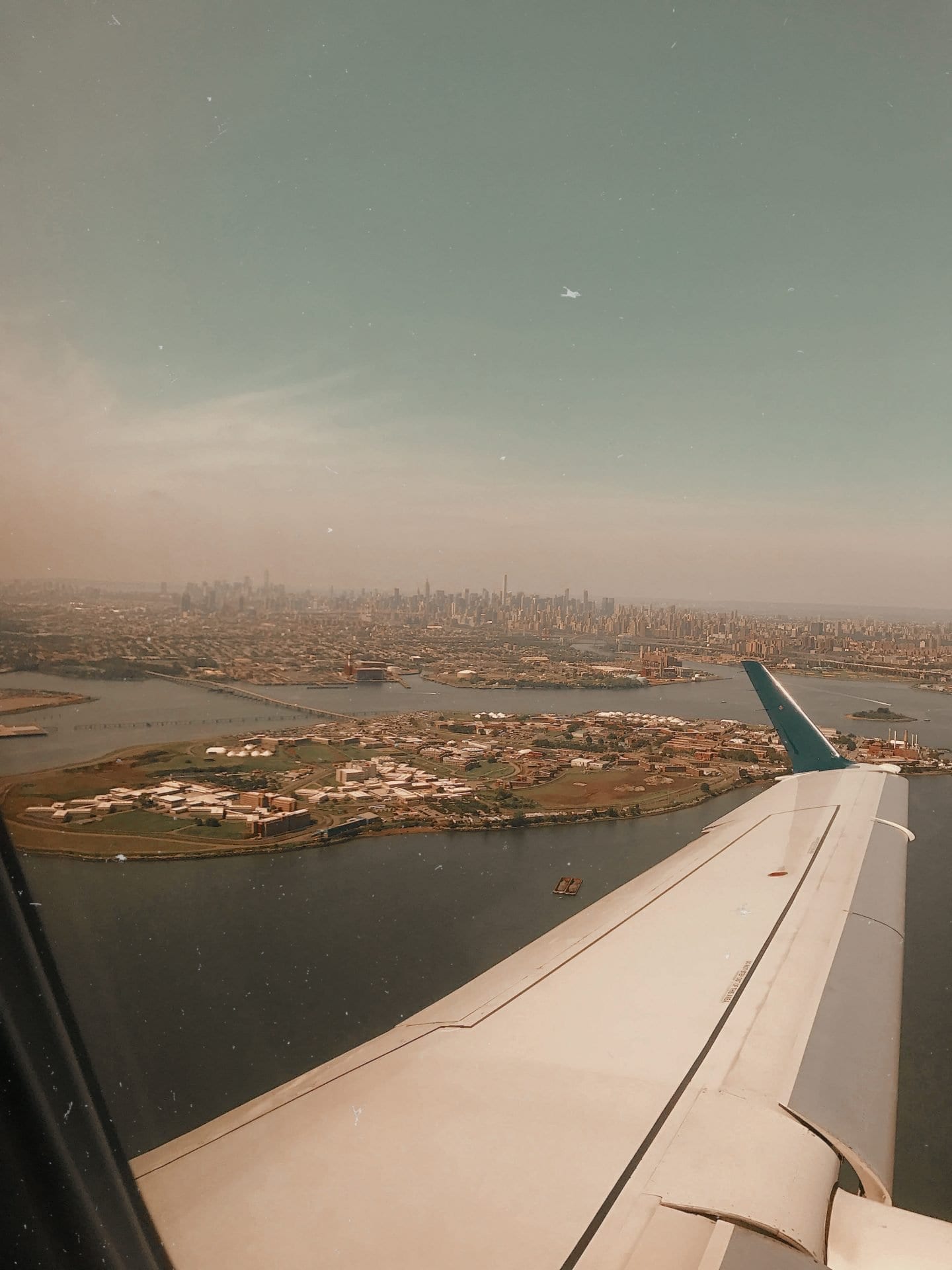 Last Updated on February 24, 2022
The future of travel is still up in the air in many ways. Airlines, hotels, restaurants, and more tourism-based companies are quickly pushing hygiene and health efforts to stimulate the industry again as soon as possible. While we don't exactly know when or how, we do know travel will eventually boom again. And now, we will have to be extra diligent about our safety. I've rounded up 25 essentials you need to stay safe while traveling in a post-COVID-19 world and beyond.
There's always an air of concern when it comes to traveling safely. There's the fear of getting sick (like most of us worry now), getting items stolen, or running into trouble in a place you're unfamiliar with.
But don't worry! There are so many helpful tools for us to look out for ourselves and our belongings!
In this post I'm going to outline physical items you need that are travel safety essentials, including post-COVID-19 related items.
This post does contain affiliate links. If you choose to make a purchase from these links, I will be given a small commission at no extra cost to you! I recommend products I use and love myself. If you'd like to read my full disclosure, you can do so here.
Protecting Your Health to Stay Safe Traveling after COVID-19
Face Mask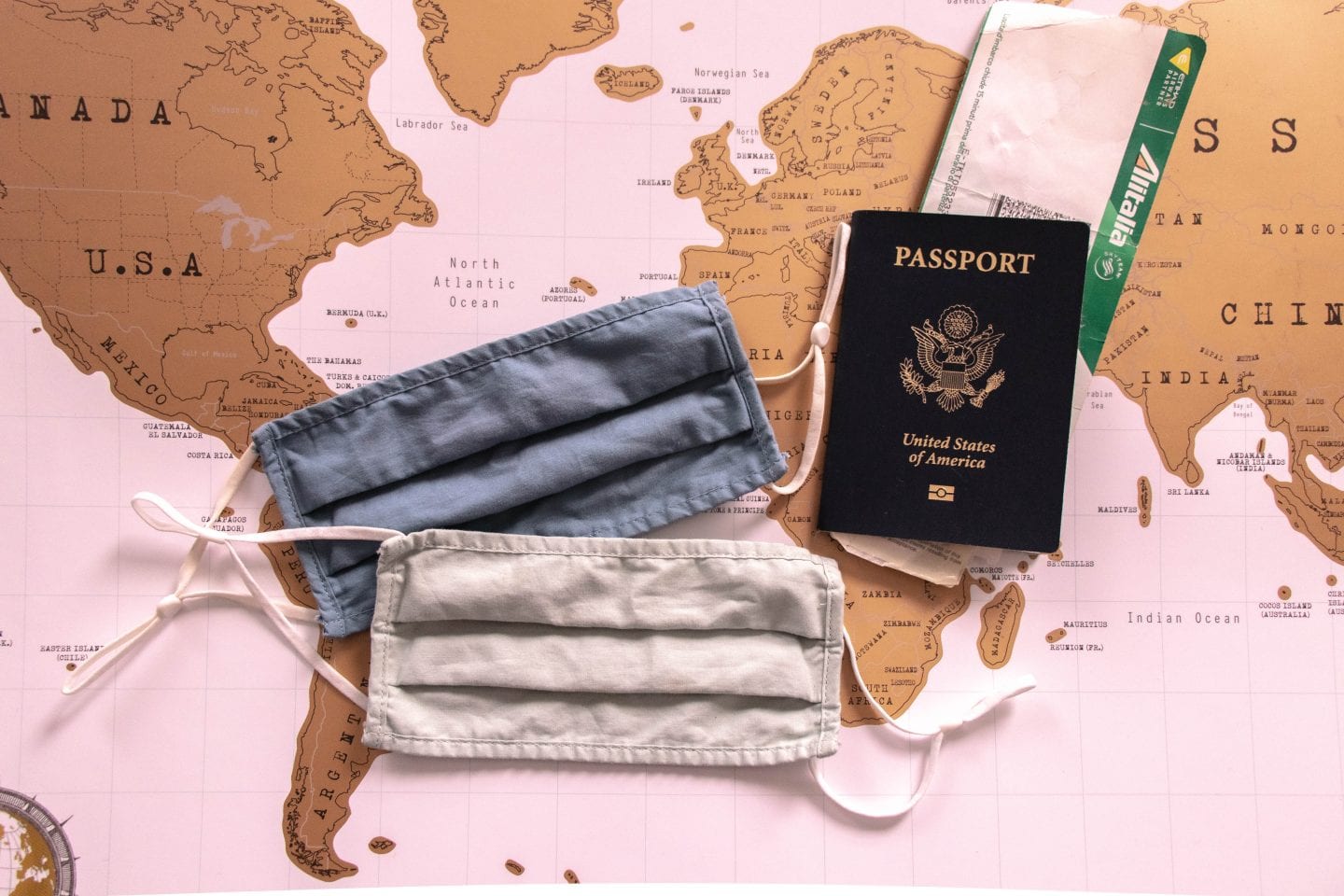 We all know it nowadays, but face masks are truly going to be an essential part of travel going forward. You'll need it in airports and on hand depending on what the rules of your travel destination are.
I've written an entire guide on the best practices when traveling with a face mask, especially on long flights.
Sanitizer
As we will now all be conscious of, our health while traveling is going to be super important. Germs exist everywhere, so be sure to have hand sanitizers with you at all times.
TSA now allows every person a 12 ounce bottle of hand sanitizer in their carry on bag.
Wipes
It goes without saying, our health is now the most important part of traveling! Stock up on disinfecting hand wipes (these are the perfect travel size).
Also, opt for surface wipes to disinfect your airplane seat as well as public areas you go to at your destination.
Protecting Yourself
Portable Phone Charger
One situation you don't want while you're in an unfamiliar, new place – to have a dead phone. It's happened to me so many times and it is not a fun situation to be in!
A portable phone charger is one of those travel safety essentials that is an absolute must for me.
It's important you always have a source of communication between you and fellow travelers. And if you're traveling solo, it's even more important between you and family or friends that know where you are.
Pepper Spray
While you hopefully never hope to use it, it is of course better to be safe than sorry. Pepper spray can also look unassuming these days, so it's one of those perfect travel safety essentials that won't bring much attention to you or be bothersome to carry around.
Attach it to your keys, stick it in your hiking bag, even slip it in your going-out purse so you have it with you if you're out late at night.
Mini Flashlight
It may not be the first thing that comes to mind, but you never know if the power will go out – which happened to me at an AirBnB!
A mini flashlight is so small and inexpensive that there's no reason to not chuck it in your suitcase or purse just in case you're in an uncomfortable or scary situation.
Portable Door Lock
I recently heard about a portable door lock and I am ordering one straight away! A portable door lock is something you can put on any door, whether it has a lock on already or not, and add an extra layer of protection and peace of mind.
This is especially a great idea if you're staying at an AirBnB or apartment and want to make sure no one enters your room.
Mini First Aid Kit
I can't tell you how many times I've needed basic things like a band-aid while traveling. In our daily life, we have these things on hand at home. But while traveling, these safety essentials can skip our minds while we are packing!
A mini first aid kit won't take up much space in your carry-on or luggage at all. There's no reason not to have it just in case!
Collapsible/Reusable Water Bottle
Especially if you are heading out on a nature-oriented trip where you know you'll be outside and doing physical activity, bring your own reusable water bottle! The most efficient kind to pack is a collapsible water bottle because it rolls down to almost nothing!
Even if you're not going to nature-oriented trip and you're hitting, let's say, big cities, you'll still be doing a ton of walking and don't want to end up dehydrated. Even flying makes you dehydrated!
Always be drinking water to keep your immune system healthy while traveling.
Protecting Your Belongings
Money Pouch
A money pouch is one of my most used and favorite travel safety essentials to keep your cash and credit cards safe from pickpockets. Certain destinations are more notorious for pickpocketing, namely large tourist cities, but either way it's a good item to have on hand just in case you're feeling nervous.
Your money pouch can go around your waist and under your clothes seamlessly and I've always brought it on my travels. Here's my exact one!
Passport Cover/Holder
I love to use a passport cover because it helps me not only find my passport because of the color, but it always gives me a place to set my passport. It also has pockets for boarding passes, train tickets, and luggage tag stubs.
Plus, you can find super cute ones to add a bit of your personality to your travels! I use the Eccolo brand, which I find on Amazon or sometimes at TJ Maxx!
Important Document Holder
Sometimes, especially for long trips, you'll want to bring some important documentation with you. For example, when I studied abroad, I brought my birth certificate and other important school papers along on my semester-long travels.
If that's the case, check out a document folder like this one to simply slide into your luggage. I usually use the pocket in my backpack (scroll to the next item!)
Anti-Theft Backpack
I actually use one of these every single time I travel. It's actually my camera backpack, and it has rugged zippers, a bunch of hidden pockets, and the highest quality of materials to protect my photography equipment.
My backpack is from WANDRD, but there are other anti-theft backpacks that don't have to do with camera gear if you don't have that to worry about! Those options will also be less expensive.
Luggage Lock
Nowadays, I always buy suitcases with luggage locks. It's a small feature but an important one, where you can set your own password for your luggage to allow it to be unzipped.
I'll always lock my luggage during my traveling as well as in my hotel room, hostel room, AirBnB, or wherever I may be staying. If you don't have a safe in your room, this could be a great substitute for keeping your valuables protected.
As I said, I buy suitcases with locks already on them, but you can also purchase separate luggage locks.
Luggage Tag
Luggage tags are pretty basic travel gear but they can be super important if your luggage is misplaced or lost. While mine has survived these several years of traveling, I've heard and vicariously lived through the horrible experiences of my friends and family's luggage being lost!
When it comes to your luggage tag, of course, it can be nerve-wracking to be adding personal information to them. I would at least write your full name and phone number. Write your email as another contact method (you don't have to make it your personal email if you want to keep that to yourself.)
I always choose cute luggage tags just for that added bit of personality, like the ones below!
Jewelry Holder
All the girls out there can probably relate that it's always nervewracking to bring along any expensive jewelry with you while you are traveling! Always take extra precautions when staying at hotels and hostels to keep jewelry in a safe (and preferably locked) place.
I adore this travel jewelry holder from Amazon. There's so much space, it looks unassuming from the outside, and is easily tuckable and hidden within my suitcase.
Front Purse
As well as backpacks, anti-theft purses are now designed to keep you at peace of mind while you are out and about traveling. In general, I would always recommend traveling with a bag that you can put in front of you (especially if it's not designed to be anti-theft.)
Other Travel Safety Essentials, Considerations, & Tips:
Travel Insurance
I personally have never used travel insurance, but it can be a way to protect your trip bookings and belongings if you feel it's worth investing in based on your trip.
This US Department of State Program allows you to enter your trip information and be enrolled for updates on any security information occurring in the country you are traveling to.
US citizens will be notified of events like protests, health advisories, embassy locations, and important information regarding steps to take in an emergency situation.
How are you feeling about travel after COVID-19? Will you be making travel plans as soon as you can? Let's continue the conversation in the comments!
Have any travel safety essentials I missed? Add it to the comments!
Don't forget to share on Pinterest!
Eventually, we will all be able to travel safely again and continue crossing off our bucket list!
Stay safe and stay healthy everyone!
XOXO
Michela