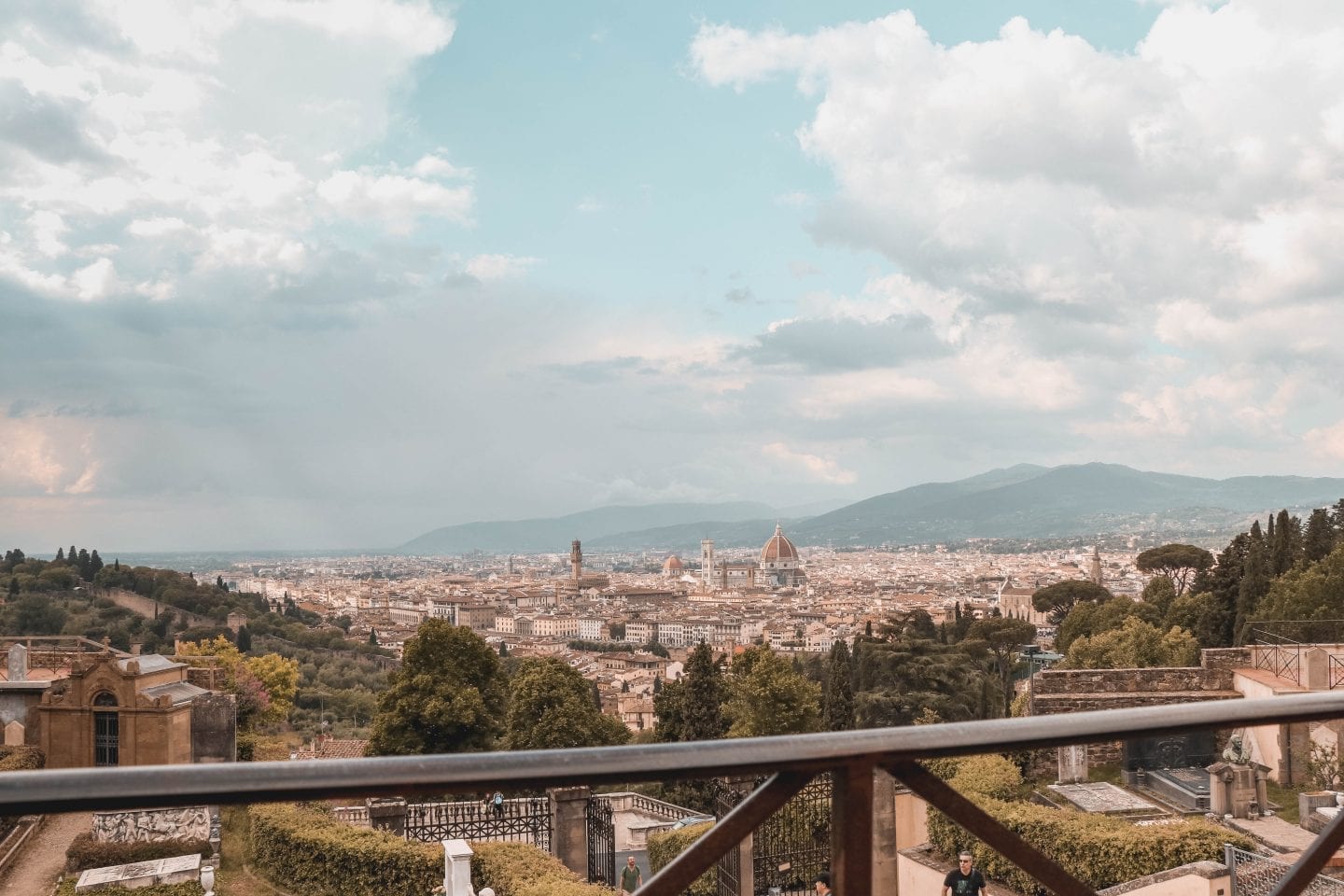 Florence, Italy may just be my favorite city in the world. I may be biased since I lived there for a summer – okay, I'm definitely biased – but besides my love for Florence, there are so many people who dream of seeing this city. If there's one thing you can't miss on that trip, it's going to one of these places to see the best views of Florence.
There's a reason why everyone wants to see Florence.
Actually, there's a million reasons.
It is, historically, the cultural capital of Italy and the birthplace of the Renaissance.
Every corner you turn of its winding streets, every bridge you cross over the Arno, has been walked by the most famous figures of all time – Michelangelo, Dante Alighieri, Lorenzo de Medici.
What's so lovely is that the history and culture have remained so intact!
Brunelleschi's Duomo di Santa Maria del Fiore still blows your mind every time you walk past it. It soars over the city, nestled in the Arno River Valley and of course, there are so many viewing spots to take it all in.
Oh, and if you're thinking of or already planning a trip to Italy, then check out my thorough Italy travel guide where you'll find everything you need to know.
Now, let's go get the best views of Florence.
Some of these links are affiliate links. Read my full disclosure!
The Best Views of Florence
What's great about this list that I'm about to show you is that almost all of them are budget-friendly!
Plus, there's definitely going to be a couple of the best views of Florence that you haven't heard of!
---
Piazzale Michelangelo
Piazzale Michelangelo is the classic, go-to viewing spot over Florence. I've been here in the middle of a hot summer day, for sunset, and even at 4 in the morning (oops). Just trust me, the view takes your breath away no matter what time of day.
That being said, it is probably the most popular spot to view the city.
During the day, the crowds aren't awful, but if you want to watch the sunset you better get there early! The entire edge of the piazza will be full of people, at least during the busy summer tourist season.
The best way to get to Piazzale Michelangelo is to hike up through Florence's San Niccolò neighborhood. It's all uphill but it's a stunning neighborhood and atmosphere, it's worth the burn!
---
Giardino delle Rose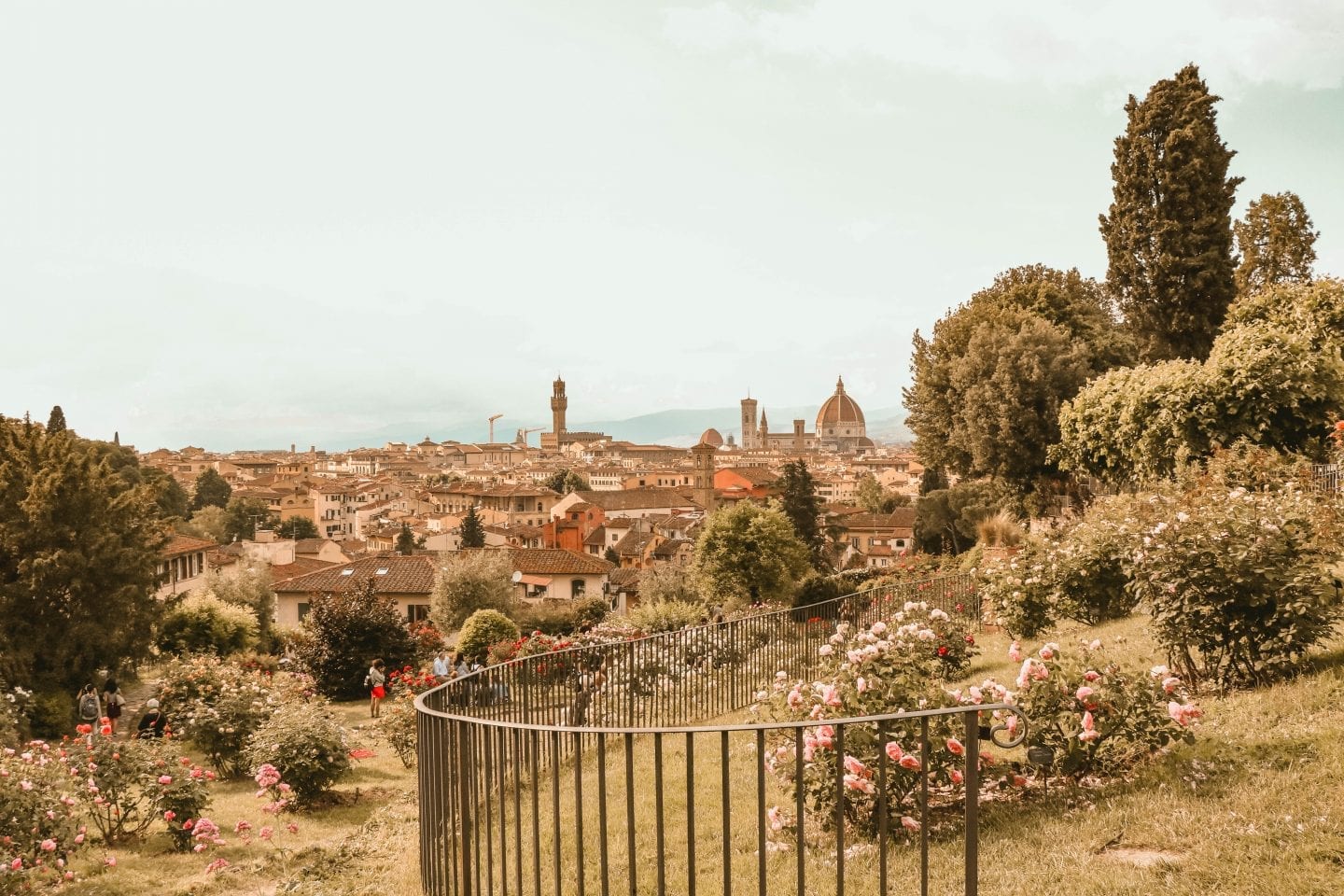 Florence's Giardino delle Rose is next on the list because it is actually right below the beautiful Piazzale Michelangelo. As you're hiking up to the viewing spot, it will be on the left-hand side coming from the foot of the San Niccolo neighborhood.
I absolutely loved this garden because it's actually quite less crowded and it was a lovely spot to sit and relax.
You could have a picnic, meet up with friends, or simply spend a quiet afternoon surrounded by roses looking out over the city. Does it get more perfect than that?
---
San Miniato
San Miniato al Monte is also near Piazzale Michelangelo, but you'll have to continue your mini-hike to get up here! "Al Monte" literally means at the mount or at the mountain, which is very fitting for this basilica overseeing the entire city.
Its history dates back to a thousand years ago when its building began.
The gold patch on the front of the church is made of real gold mosaics. So, when the sun sets over Florence, you can see the gold reflecting off of the basilica.
It is said that St. Minas watches over the city for the well-being of Florence.
---
Fiesole
Fiesole is one of the best Tuscan day trips from Florence! Atop this beautiful little hill town, about 20 minutes from Florence, is one of the most breathtaking overlooks!
You can see the entire valley on which Florence sits along the Arno. There's also a fabulous restaurant, Ristorante La Reggia, on your way up to the overlook that too has stunning views of the city.
---
View on Art Rooftop Bar & Restaurant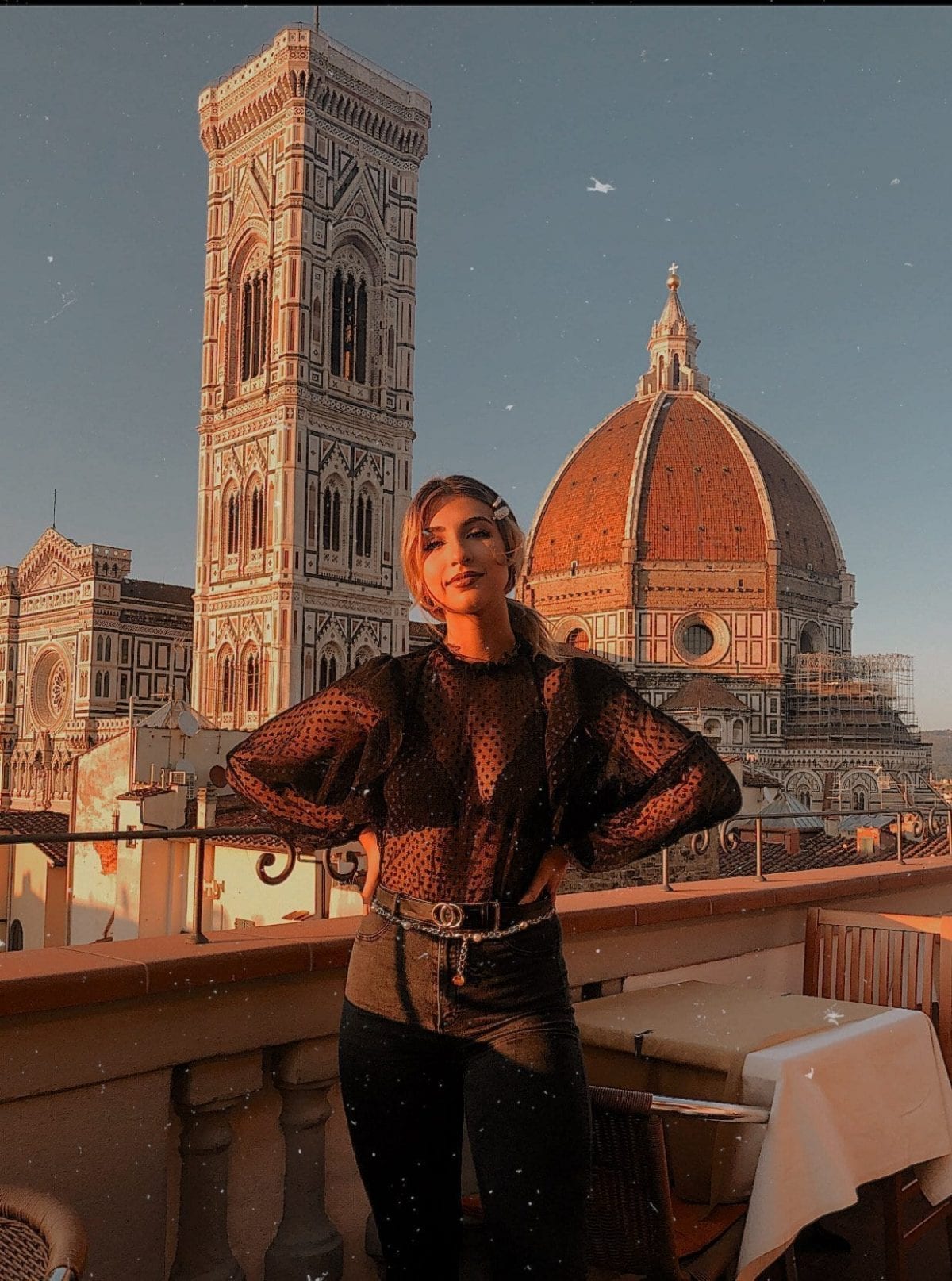 Guys, this right here is the hidden gem of the best views of Florence!
I was dying to go to a rooftop bar during my time in Florence and there are truly so many to choose from. A lot of them are quite fancy, but I really wanted to discover one that had an unreal view of the duomo and wasn't too expensive.
And behold, the View on Art Rooftop Bar & Restaurant. While I didn't have an unpleasant experience here by any means, it's not as luxurious as most of the rooftop bars you'll encounter in your search for the best views of Florence.
But I will say, this place totally blew my mind with just how close it was to the Duomo. You have to come to View on Art for aperitivo at sunset. It truly feels like you are in a fantasy tale with this insane view!
Golden View Restaurant
While I've mainly covered the best views of the Duomo and the full city, there's another textbook landmark that defines Florence – the Ponte Vecchio. And one of the best restaurants I ate at, with one of the best views, is Golden View.
Golden View has great food (for honestly not too bad of a price), but truly a priceless view perched right over the Arno and literally next door to the Ponte Vecchio!
I would spend money on the view and experience alone and it's one of my favorite places that I've taken friends too. (P.S. They loved it too!)
Grand Hotel Cavour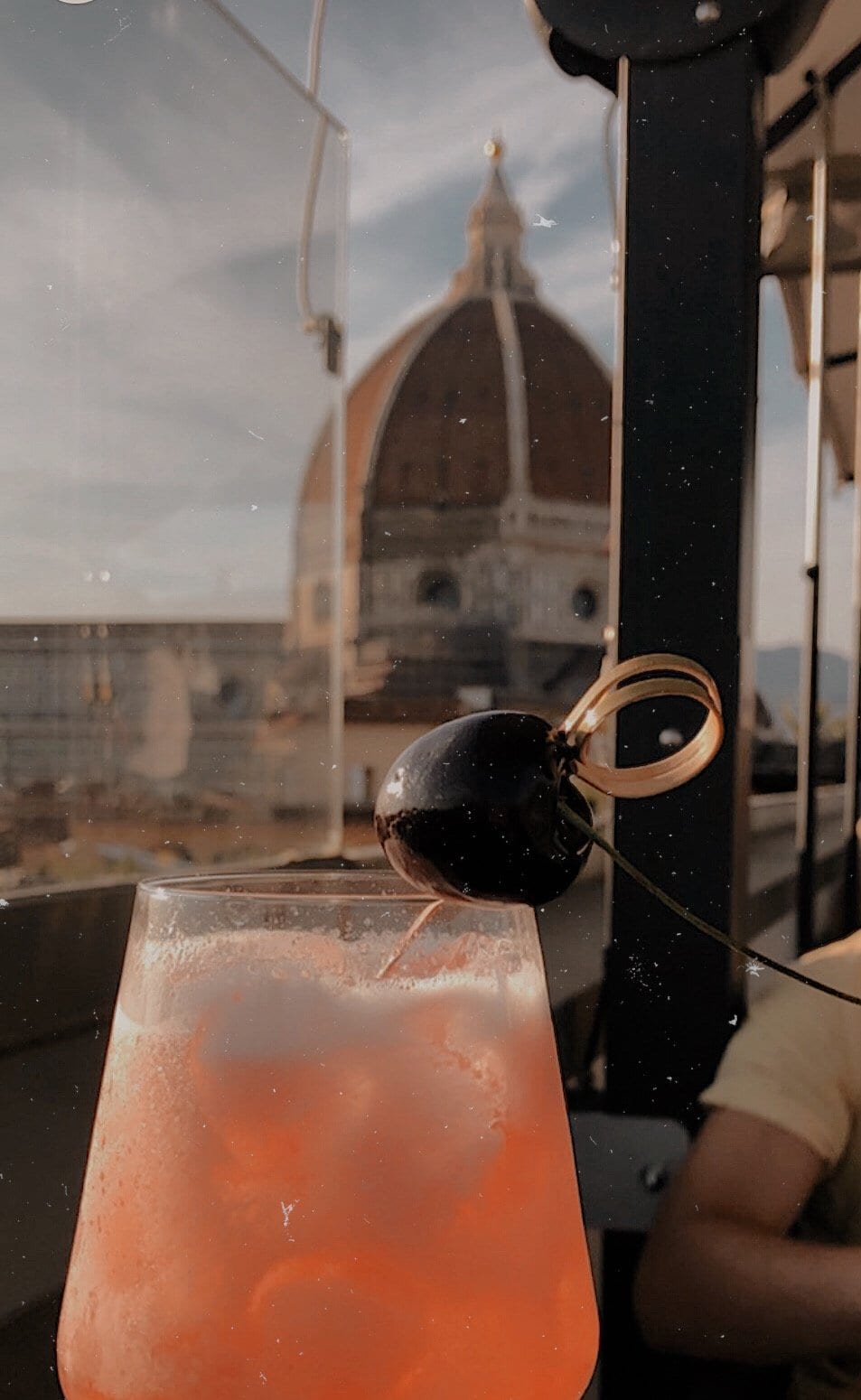 And to wrap up my personal favorites of the best views of Florence, I'm talking about another rooftop bar.
This rooftop bar makes the cut for me because the location is everything. You get the Duomo on one side and the stunning Palazzo Vecchio on the other!
It's definitely a bit posher and you may need a reservation, but if you don't mind, you'll definitely be feeling bougie and classy!
---
Where's your favorite spot to see Florence? Let me know in the comments if you've been or are adding these spots to your list!
Share on Pinterest to help inspire others' itineraries!
I know I'm ecstatic to return to Florence again in the future and revisit all these scenic spots!
Until then, I'll keep looking back at the photos, living through the memories!
XOXO
Michela