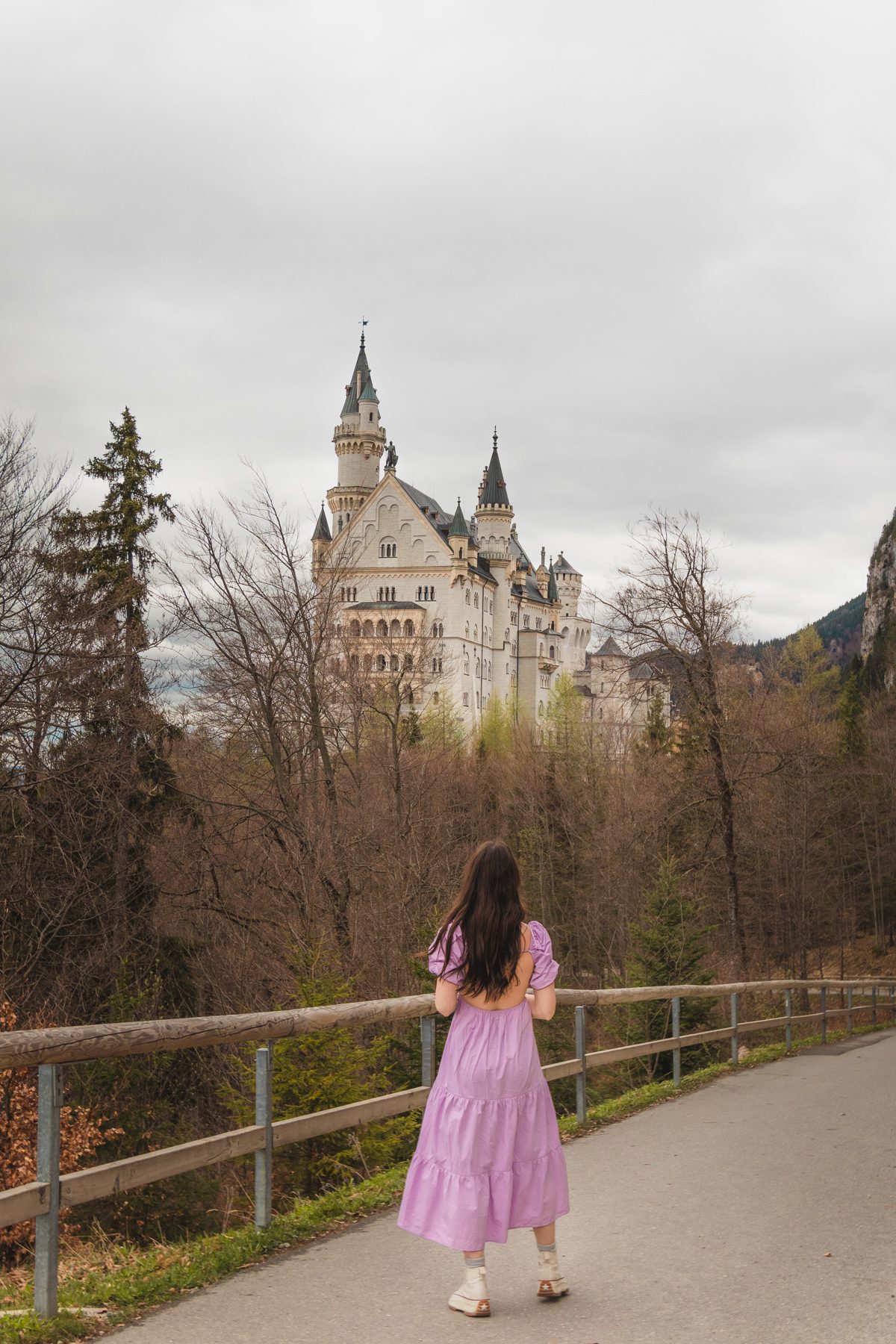 Last Updated on February 18, 2023
There are many places in Europe that can transport you into a fairytale but few can do it so literally like Neuschwanstein Castle! This famous landmark in Germany is worthy of your bucket list – but to visit Neuschwanstein Castle and ensure you make the most of the once-in-a-lifetime experience can be overwhelming. It surely looks like a fairytale, but there are several ways that the experience can end up anything but storybook!
This complete guide from my firsthand experience will enable you to plan the perfect visit to Neuschwanstein Castle, avoiding common pitfalls, discovering secret tips, and knowing just enough of what to expect without spoiling the wonderful surprises of experiencing the magical location for yourself.
And if you're looking to get more ideas for you itinerary, check out the ten best things to do near Neuschwanstein Castle.
Some of these links are affiliate links. This means if you make a purchase through that link, I receive a small commission at no extra cost to you. Read my full disclosure!
Intro to Neuschwanstein Castle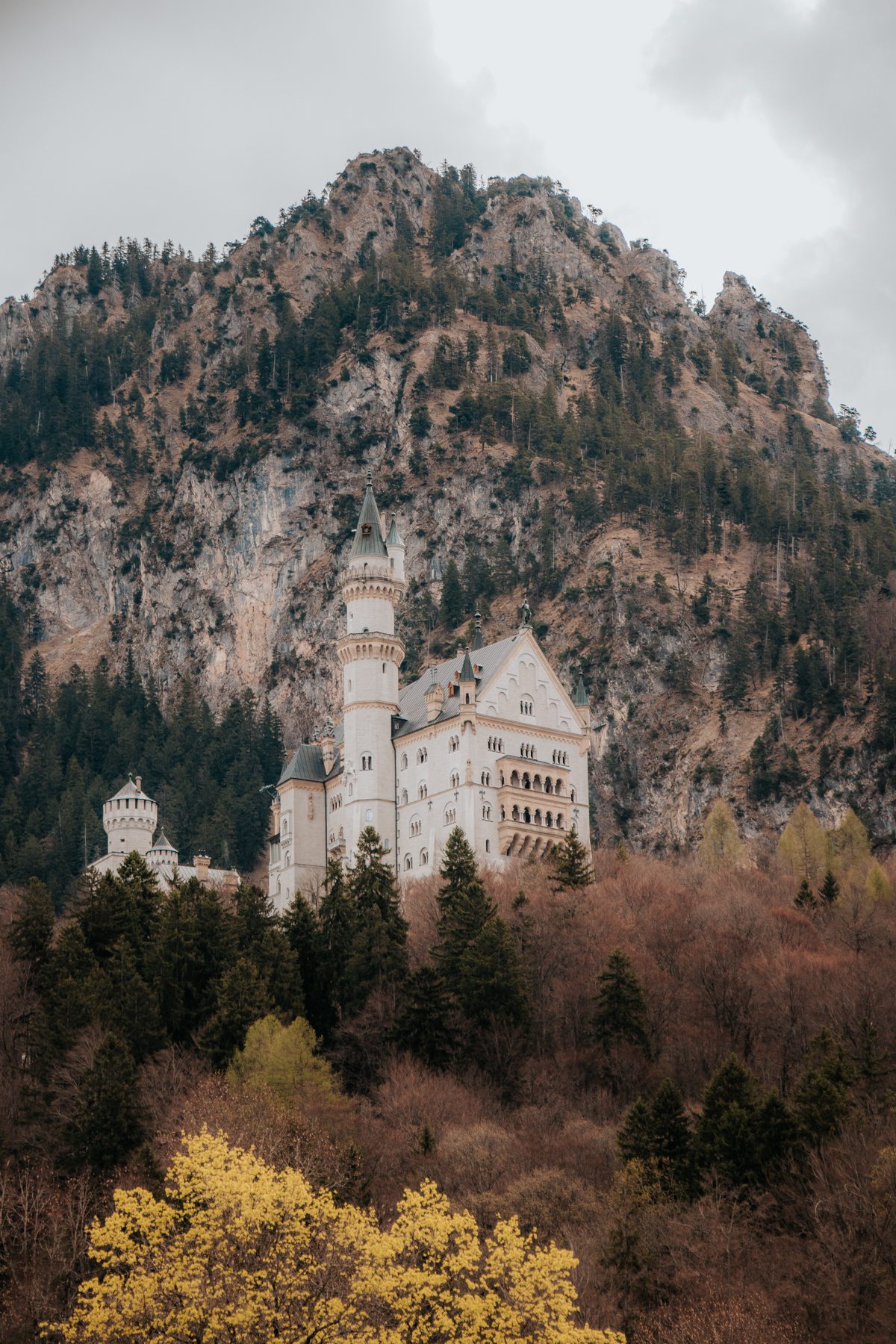 Neuschwanstein Castle is located in Schwangau, in the province of Bavaria in southern Germany. At around 1.5 million visitors per year, Neuschwanstein Castle is one of the top three most popular attractions in Germany.
The castle was built in the 19th century by King Ludwig II of Bavaria, but he died before its construction was completely finished and actually only lived in the castle for a total of a few months. I won't dive into too much of the history because you must experience the interesting stories and secrets of the castle on your own tour!
The castle is famous today not only for its beauty but because it inspired Walt Disney for the design of Sleeping Beauty Castle in Disneyland, as well as Cinderella's Castle. Many refer to it as the Disney castle in Germany!
---
Best Time to Visit Neuschwanstein Castle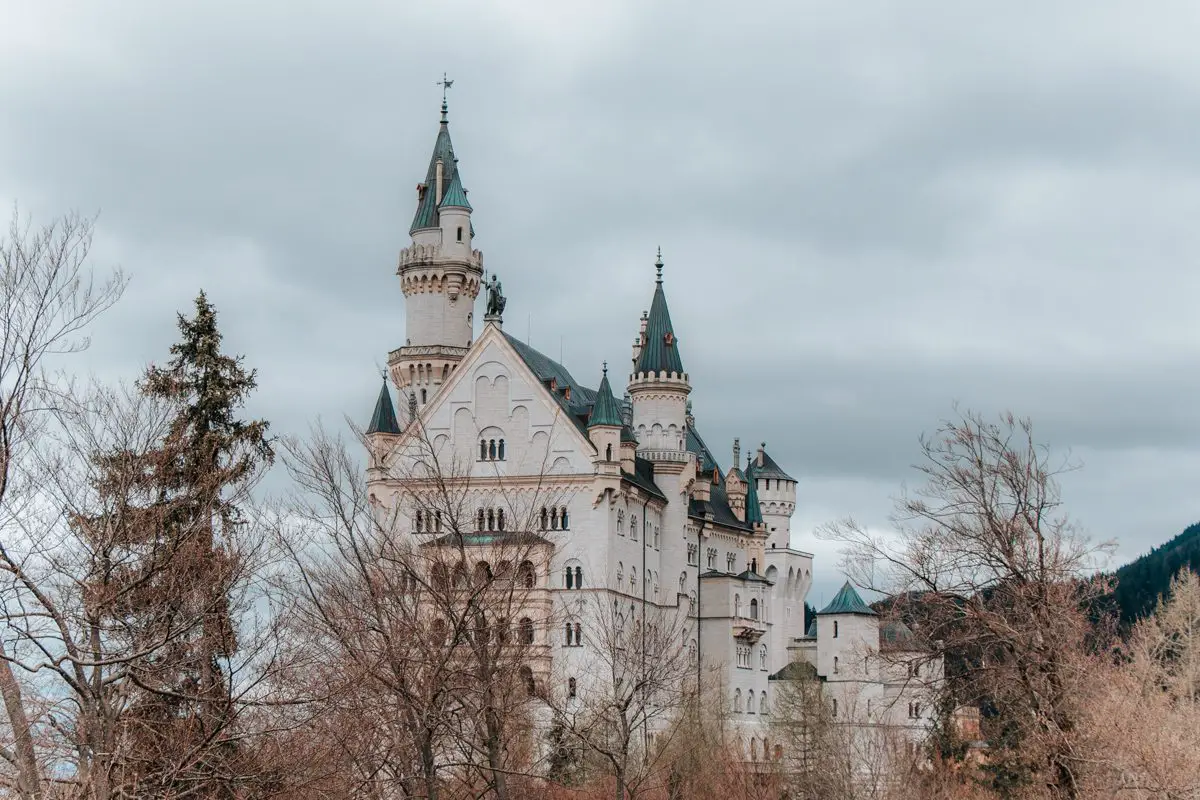 It may sound cliché but there is not necessarily a bad time to visit Neuschwanstein Castle! If there was, it would be the weekend I ended up visiting in late April – we got caught in cold weather in rain and the viewing bridge was closed. Nonetheless, I couldn't be happier about my experience at Neuschwanstein – plus I can only laugh at the imperfect circumstances we had at such a perfect place!
So that leads me to my first tip – research before you go to figure out what is the best time to visit Neuschwanstein for you!
Dying to get the view from Mary's Bridge like I was? Then you better check the official website to know if it will be open! (P.S. Not being able to visit the bridge surely didn't sour the trip – just would have been an extra cherry on top!)
What month should you visit Neuschwanstein Castle?
The summer months of July and August are the peak tourist season for Neuschwanstein Castle. This equates to long lines for tickets, transportation, and entering the castle, as well as limited parking and that overwhelming feeling of being surrounded by thousands of people!
To avoid the crowds best but still catch nice weather, late May and early June are the best months to visit Neuschwanstein Castle.
Seeing Neuschwanstein covered in snow is also a pretty sight and you'll have the highest chance of snow in the month of December. Mid-October to early-November is also a pretty time to visit Neuschwanstein to see the castle among the colored foliage.
Good to know: Honesty time here – the castle is so famous now, it will be hard to plan a visit where you have it all to yourself. That being said, the trail up to the castle is always open. To beat swarms of people even in the off-season, wake up and arrive early!
What day and time should you visit Neuschwanstein Castle?
If you have the opportunity to visit any time throughout your trip, visit Neuschwanstein Castle on a weekday! Castle tours are much less likely to sell out and crowds will always be less intense than on weekends.
Arriving early is also one of the key tips for having the best experience at Neuschwanstein. You can have moments to yourself (or at least share them with just a few avid photographers) and enjoy the grounds around the castle in peace.
If you can't arrive early to the castle, then I actually recommend arriving later in the day. Arriving midday is the worst time to get to Neuschwanstein Castle because those are peak visiting hours and when all the day trippers from nearby Munich arrive and do their visit.
Booking Tickets to Neuschwanstein Castle for Your Visit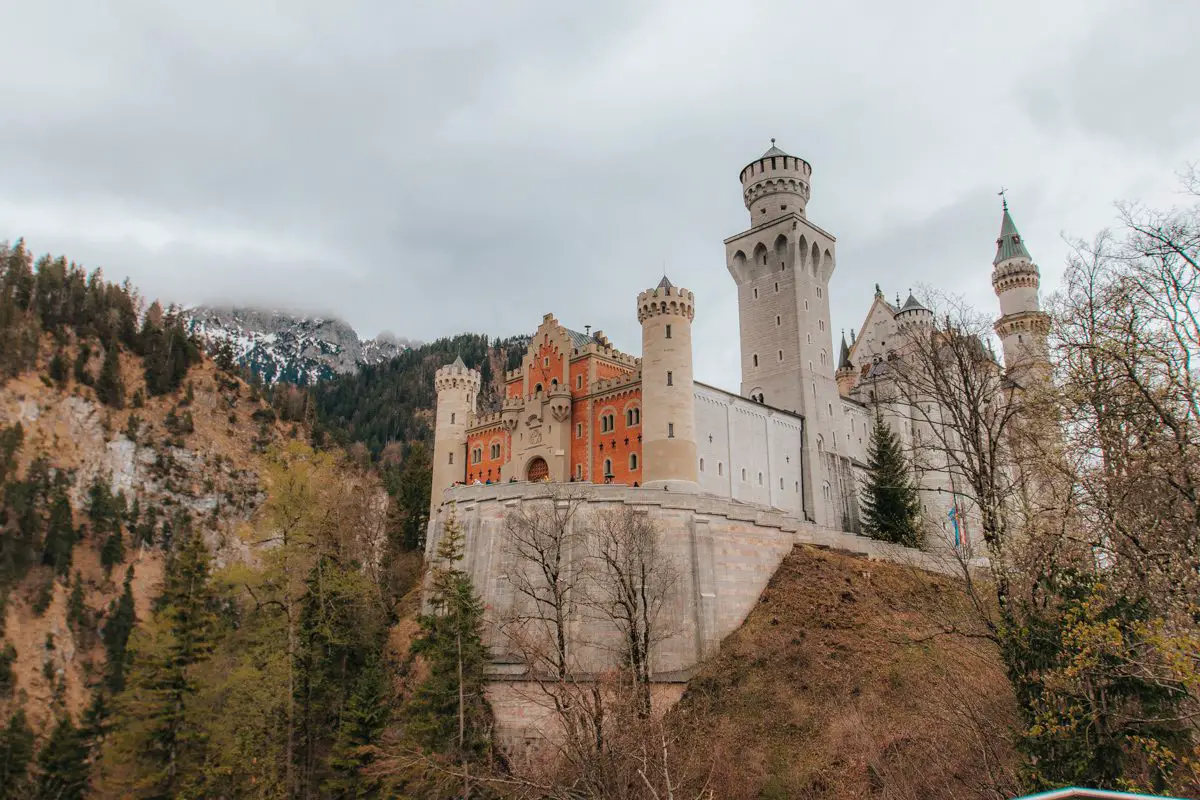 You can only enter the castle if you have a ticket reservation for a guided tour. Guided tours can be either audio guides, which accommodate a multitude of languages, or they are offered with a traditional tour guide, both in English and German.
No reservation is necessary if you intend not to enter the castle. However, if you have traveled all this way, I think it is well worth doing a tour and seeing the interior of this beautiful structure!
Must Know: Due to current Covid-19 restrictions, an FFP2 mask is required to enter the castle. You can buy one at nearby gift shops but for a hefty price tag – we paid 3.50 euros per mask.
How and when should you book tickets to visit Neuschwanstein Castle?
Online
I highly recommend booking your tickets to visit Neuschwanstein Castle online before your trip. This enables you to avoid waiting in long lines at the on-site ticket center. Plus, in the peak summer season especially, tickets can sell out weeks in advance for your chosen date.
Something to keep in mind while planning the rest of your trip to Europe or Germany is that the ticket is valid only on the day of your chosen date/the day you buy it. If your itinerary changes, you won't get a refund. Therefore, it is best to plan other excursions around your Neuschwanstein Castle visit!
You can purchase tickets online here. Note they charge a service fee of 2.50 euros for purchasing your tickets online.
Pro Tip: You will receive an email with your tickets and the receipt. I've heard you can use a mobile phone and scan the QR code from your ticket to enter the castles, but the ticket explicitly states that you need to print it. I would print it regardless to avoid any trouble and potentially not being allowed into your tour!
When you buy your tickets online, you will choose the date and time of your reservation to enter the castle. There is a list of tour times available represented by a green dot and the language the tour will be in. There are also audio guide tours labeled "Audio Guide." Tours are currently offered in English and German, so the Audio Guide tours are perfect for those who speak other languages.
At the Ticket Center
There is a ticket center in Hohenschwangau is located at this address: Alpseestraße 12, 87645 Schwangau, which is right across from the main path to reach Neuschwanstein Castle.
If you want to buy your tickets the day of and are traveling during peak season, you must arrive early!
The ticket center is open from 8 am – 4 pm from April to mid-October. From mid-October to March, it is open from 9 am – 3 pm.
You'll see from the picture of the rates is that it is slightly cheaper to buy your tickets onsite because they don't account for the 2.50 euros surcharge. For example, if you purchase on site, children are free, whereas on the website they are 2.50 euros a piece.
How much does it cost?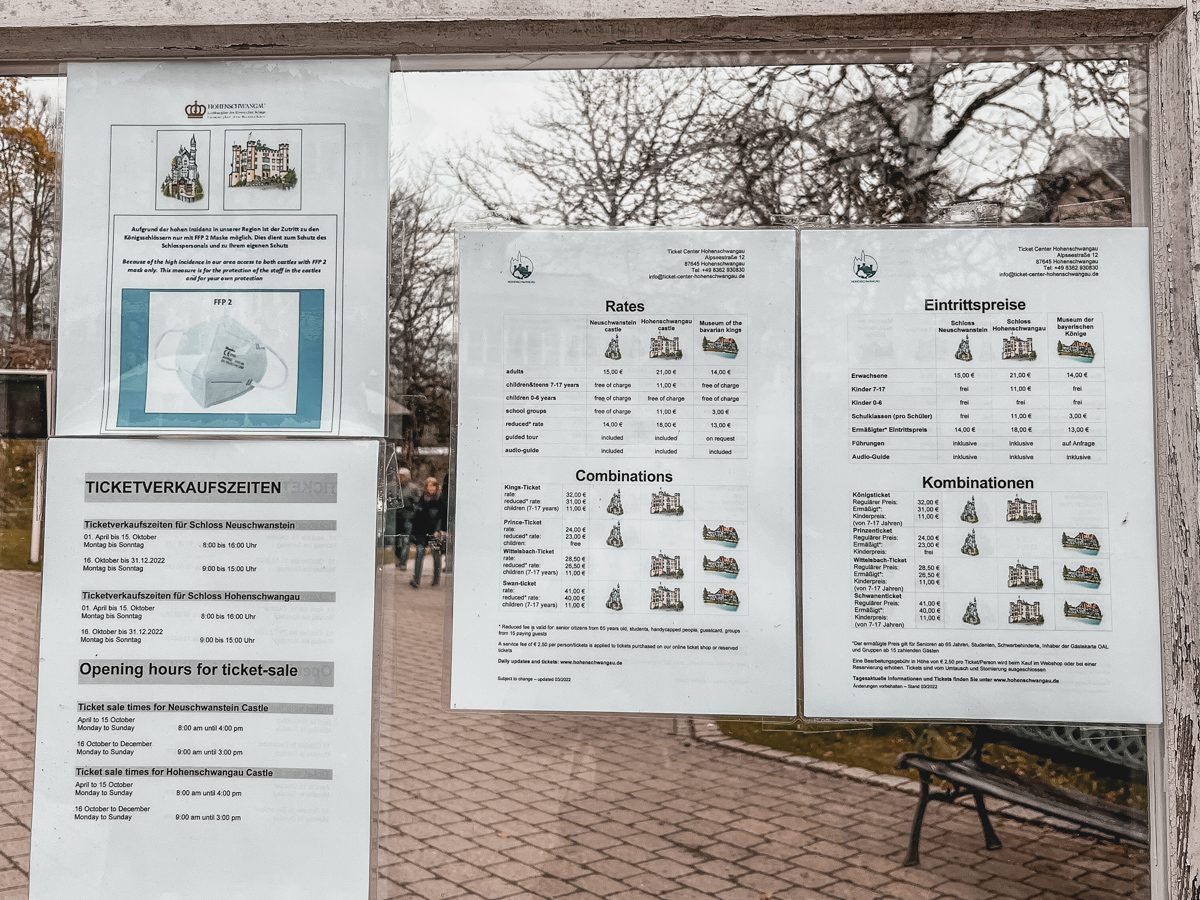 A single ticket to Neuschwanstein Castle costs 15 euros. A reduced rate of 14 euros is also available to students, seniors, those with disabilities, and more categories that you can find here.
Pro Tip: I recommend visiting both Neuschwanstein and Hohenschwangau Castle. The price for entry to both is 37 euros. You could also visit both castles and the Museum of the Bavarian Kings for 48.50 euros total, per person.
---
How to Get to Hohenschwangau
Neuschwanstein Castle is located in the village of Hohenschwangau. The town is tiny and really just made up of hotels and restaurants to cater to tourists. That's not to say some of the buildings are quite charming and cute!
If you'd like a slightly more authentic experience, you can stay and visit nearby Füssen, which is just a two minute drive from Hohenschwangau. Stay tuned though – I will recommend in depth where to stay near Neuschwanstein further down in this post!
The best way to arrive at Hohenschwangau and Neuschwanstein Castle will depend on the rest of your trip itinerary and where you are traveling from. Here are all your options to identify which is best for you!
Pro Tip: Because there are so many options and you have your own unique itinerary, you can leave your specific plans in a comment so I can recommend the best way for you to get to Neuschwanstein Castle!
By car
The easiest and most flexible way to arrive at Neuschwanstein is by car. Some things to keep in mind is that in this area you will be traveling through several small towns, countryside roads, as well as mountain passes, so the speed limits and car activity can vary greatly!
Parking at Neuschwanstein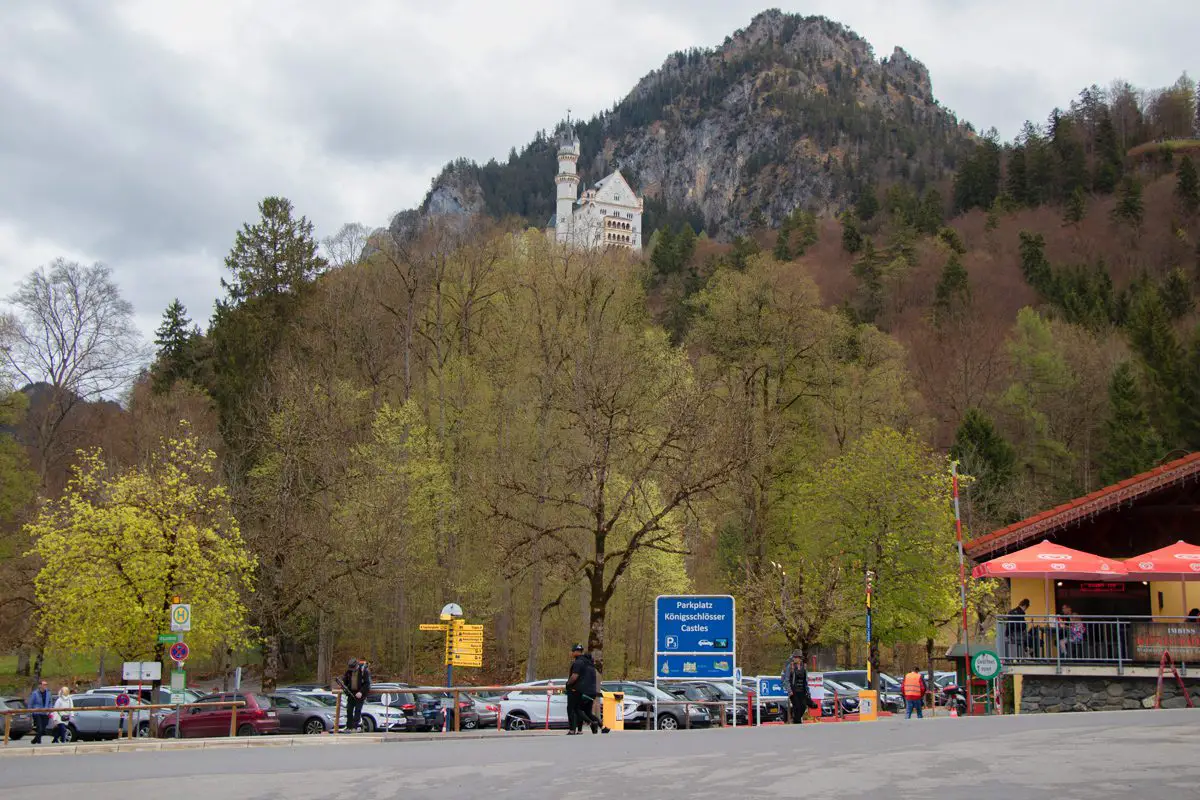 Your options for parking at Neuschwanstein are either at your accommodation if you're spending the night or several public gravel parking lots, all located at easy walking distance from the ticket center and entrance to the walkway up to the castle.
Parking typically costs 10 euros per day at Neuschwanstein.
Renting a car in Germany
To rent a car in Germany, you need to:
have a valid driver's license from your home country
be at least 21 years old (if you're not 25, you may pay extra)
have an International Driving Permit (depends on rental company)
Also keep in mind most cars will be manual transmission – you'll have to request and probably pay extra for an automatic car.
It's best to book your car rental before your trip for a good deal. I personally use Auto Europe and Rentalcars.com to find car rentals because they compare a bunch of companies and rates at once!
By tour
Booking a tour is ideal for travelers who only have one day to visit Neuschwanstein Castle, those who don't have their own transportation like a rental car, and for anyone who wants the ticket buying and transportation coordinated for them.
The most common and widely available is the Munich to Neuschwanstein day trip, but you can also find options from Innsbruck to Neuschwanstein. Munich is the capital of Bavaria and just over 90 minutes from Neuschwanstein Castle.
By bus
Third-party buses like Flixbus offer routes to Neuschwanstein Castle. Their bus stop is clearly marked in the center of Hohenschwangau!
By train & bus
You can also reach Neuschwanstein by train depending on your location and vicinity to a station. The closest train station to Neuschwanstein Castle is in Füssen, and from there you take bus 78 (they are all clearly marked for Neuschwanstein and Hohenschwangau castle), which is about a 10 minute ride.
You will likely be traveling on a regional train in order to get to the small town of Füssen, so for the easiest journey possible, I would recommend using this transportation option if you are already in southern Germany. A common route is again from Munich to Füssen, so this is a good DIY option if you're not interested in booking an organized day tour.
Pro Tip: If you are traveling through southern Germany, look into the Bayern ticket, or Bavaria ticket, which gives you unlimited train rides throughout the day in the region of Bavaria and allows you to add extra passengers for just 8 euros a piece. It would also cover your bus ride from the station to Neuschwanstein Castle!
---
Visiting Neuschwanstein Castle
Yay you've made it! If you bought tickets online, you can go up to the castle. The recommendation is to start your walk up to the castle at least one hour before your castle tour because the path can take 30-40 minutes – or longer – to reach the castle entrance. I recommend leaving even before that to explore around the castle, visit the bridge, and take all those Instagram pictures before heading in.
If you didn't buy your tickets yet, your first stop will be at the ticket center. The ticket center is clearly marked and located across from and just before the beginning of the paved path up to the castle.
How to Get to Neuschwanstein Castle
By Walking
Reaching Neuschwanstein Castle is no easy feat! The classic and calorie-burning way to make your way up is following the main paved path that snakes its way up the mountainside.
Pro Tip: Cars and bikes are not allowed on this path. Also, you're sharing this paved road with the horse carriages, so be mindful of some smelly poop dotting the path along the way. Stepping in that is surely no fairytale!
You'll also find there are other paths, some paved and some natural trails, that connect to the main paved path and also get you up to the castle. These are a bit steeper but can provide a more peaceful atmosphere compared to the floods of people, horse carriages and horse poop on the main paved path.
The total walk takes about 30-40 minutes along the main paved path. Some of the steeper wooded paths take 20 minutes.
You can find these off-the-beaten-path trails also by putting Neuschwanstein into the maps on your phone – it will give you the quickest paths. One of these starts across from the Restaurant Alpenstuben (unpaved.) If you're coming from the parking, there is another steep path (paved) at these coordinates 47°33'23.6″N 10°44'31.7″E.
By Shuttle Bus
If you have difficulties walking, want to bypass the crowds and exertion, and don't mind spending a few extra bucks, you can take the shuttle bus up to Neuschwanstein. The bus departs from below nearby Hohenschwangau Castle. It costs 2.50 euros to go up and 1.50 euros to come down, per person. You can buy tickets on board (have cash!)
The bus does not arrive in front of Neuschwanstein Castle but rather near Marienbrücke (Mary's Bridge). From there you have to walk 15 minutes down to the castle entrance.
Pro Tip: If you stay in accommodation in the area, you may be able to use the shuttle bus for free as part of a guest pass. I received this at Hotel Garni Schlossblick where we stayed (unfortunately we checked in after we had seen the castle, so we wish we had known this tip before!)
The shuttle run year round, but if you're traveling to Neuschwanstein in winter, keep in mind they do not run if there is snow or ice.
By Horse Carriage
I'll come out and say it – I hate this transportation option being offered. Not only do the two horses have to travel up and down a steep path up to the castle, but the carriages they pull are filled with 12-15 people. I was exhausted and sad for them.
The horse carriages offer you a "fairytale" experience, but seeing the weight they have to pull (and smelling them), I'd say it's not as much of a fairytale as you think.
If you would like to take the horse carriage up to Neuschwanstein, it costs 7 euros per person to go up and 3.50 euros per person to go down. You can buy tickets from the driver (have cash!) The horse-drawn carriage doesn't take you straight up to the castle entrance – you still have to walk uphill about 5-10 minutes from the drop-off point.
Pro Tip: Keep in mind that even in off-season, there are always lines for the shuttle bus and horse carriages. If you choose to use one of those transportation options, factor the extra time waiting in line into when you should arrive.
Rules About Your Belongings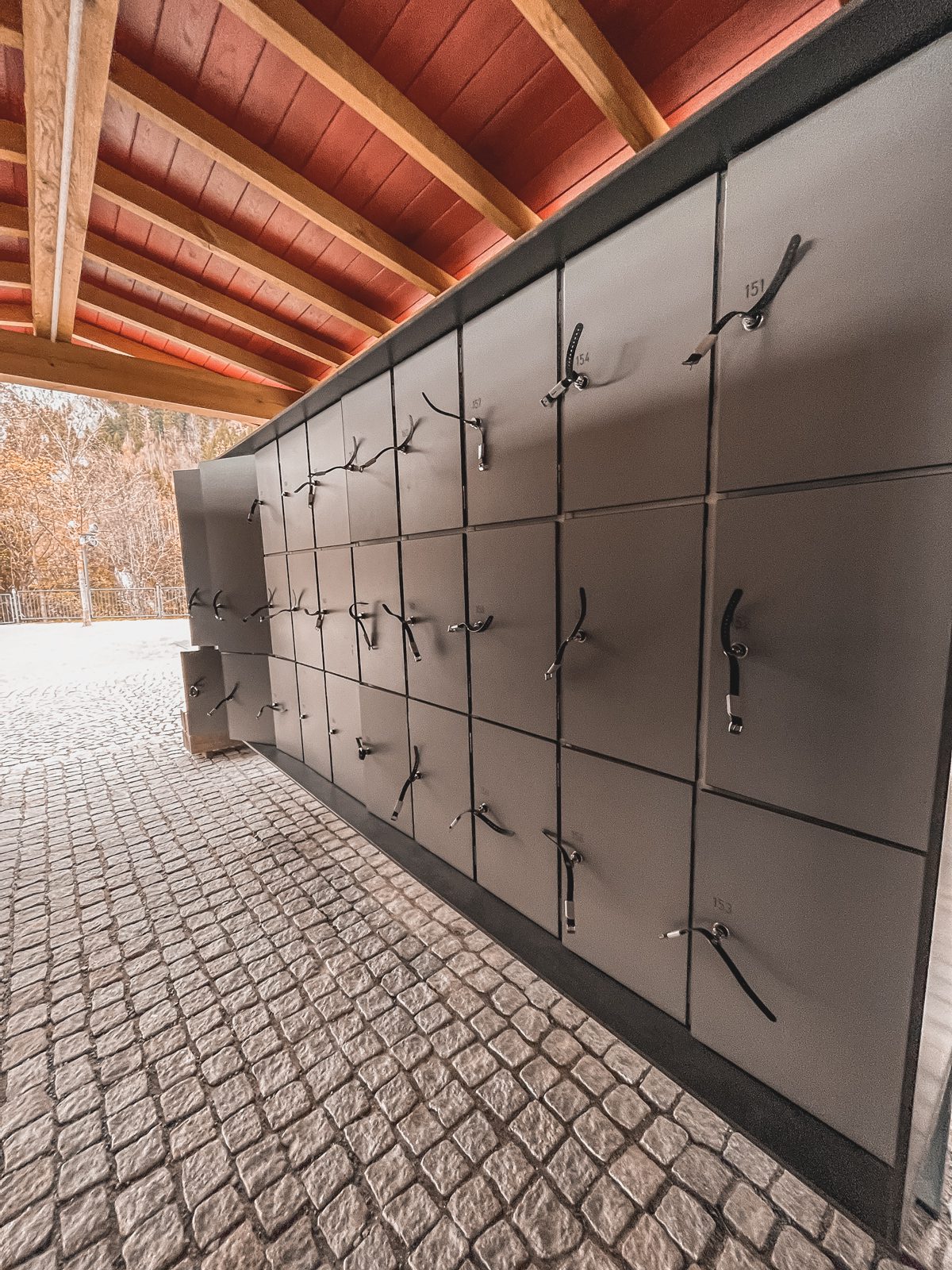 You cannot take large items into Neuschwanstein – this includes large backpacks, strollers, baby carriers, etc. This is another reason why it is important to leave early, so you have time to put your things in one of the free lockers!
You will come across a large rest area just below the entrance of the castle, also where a large screen is located showing upcoming tours (more about this in the next section.)
There are extra large lockers for strollers and a range of medium and small lockers for backpacks. The lockers are free, but you must have a 1 or 2 euro coin to deposit into the lock in order to use the locker. You will get this coin back when you return to retrieve your things.
Lock the locker with the key, which you can then wear similarly to a watch.
Entering Your Tour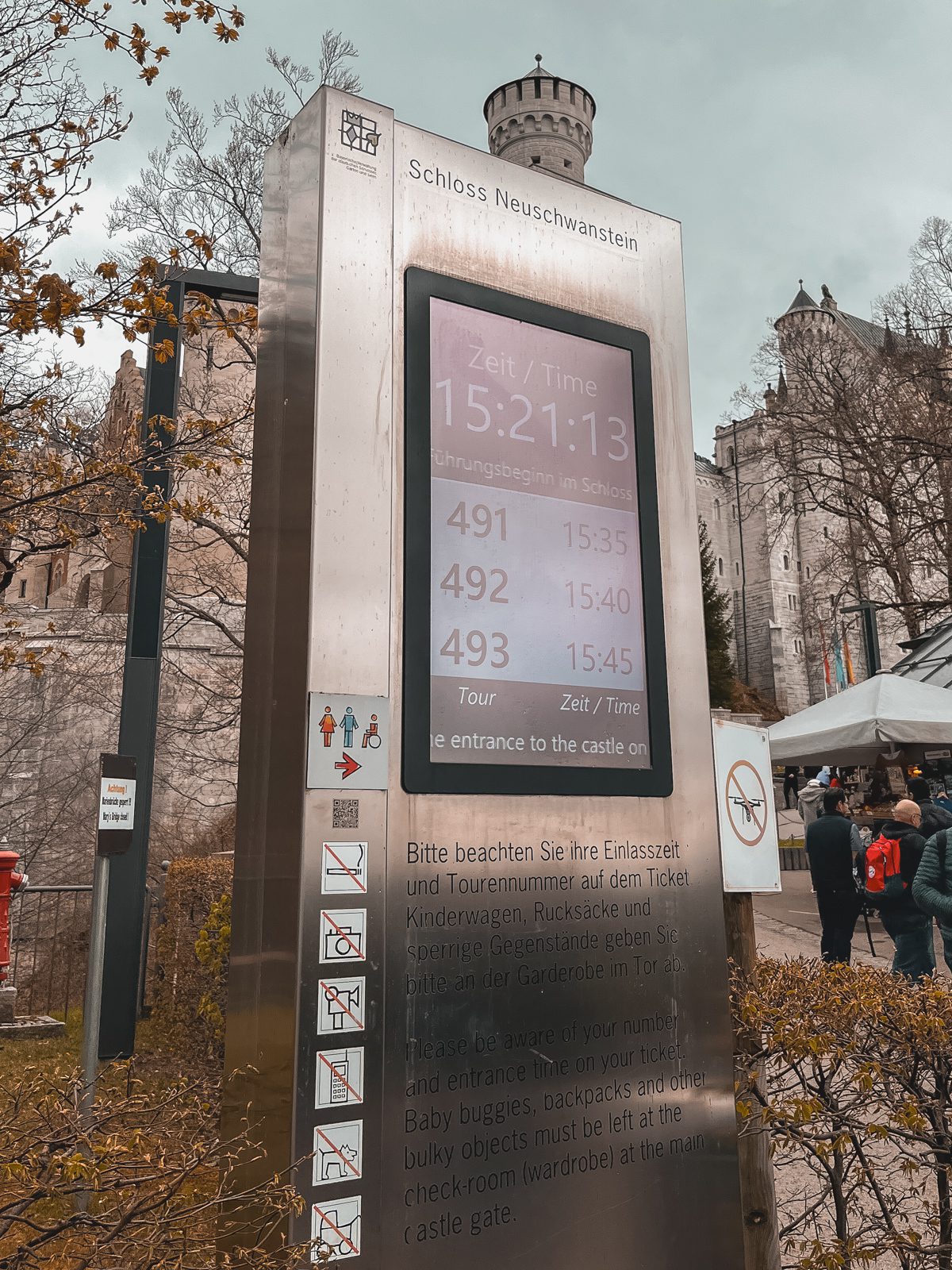 The entire process of the guided tour is very strict. Even if you are just minutes late, you may not be able to join!
I recommend starting your walk/bus/horse carriage ride to get up to the castle at least an hour before your tour time. If you are traveling in peak season, you may want to give yourself even more time since there will be long lines and crowds.
To enter your tour, first you need to locate a large stand-alone screen. It's on your way to the castle entrance, at a large rest area across from a souvenir shop and restrooms. The screen shows what tour times and numbers are up next, including which is currently going in. Your tour number is located on your ticket and the time is what you selected when you bought it.
But don't make this mistake! Don't wait in front of this large screen until your group is currently going in. Instead, make your way up to the front entrance of the castle about 10 minutes before. There is a security guard standing in front of the castle entrance door that you will show your tickets to and will let you into the castle courtyard, where there is another small screen that shows which group is allowed to enter.
We were almost late to our group time because this second screen and entrance are not visible from outside the castle!
How the Tour Works – Is it worth it?
Once your number comes up on the screen, you will get in line, scan your ticket barcode, and enter the castle, where you'll be given an audio device if you're on a regular tour. Your tour guide speaks into the device while you hold it to your ear so that everyone can hear what they're saying.
Pro Tip: If you don't want to constantly hold up the audio device to your ear, bring your own wired headphones!
Instead, if you do an Audio Guide tour, you also get an audio device and hold it to your ear, but there is a recording that tells you about your surroundings. You will also still be accompanied by a guide who is there to answer questions.
I know some people say that the tour of Neuschwanstein is not that great, it's short, etc. but I really loved it. The tour guide shares some interesting stories so you can learn about the castle's history and the rooms are beautiful!
Everyone says Neuschwanstein is less decorated, with no furnitures, etc. so I thought we would just be walking through empty hallways and construction zones. The tour only allows you to see a few rooms but all are ornate, regal, and breathtaking! I 100% think the tour is worth it, despite what some critics say.
You cannot take pictures inside Neuschwanstein Castle, but on your way out, past the first gift shop, there is a terrace from which you can take photos of the view over Hohenschwangau. There is also a 3D film about Neuschwanstein's construction, King Ludwig II's plans for it, and his plans for other castles.
The whole tour lasts about 45 minutes.
Good to know: You will be walking up a lot of steps on this tour. Wear comfortable walking shoes!
Where to Get the Best Views of Neuschwanstein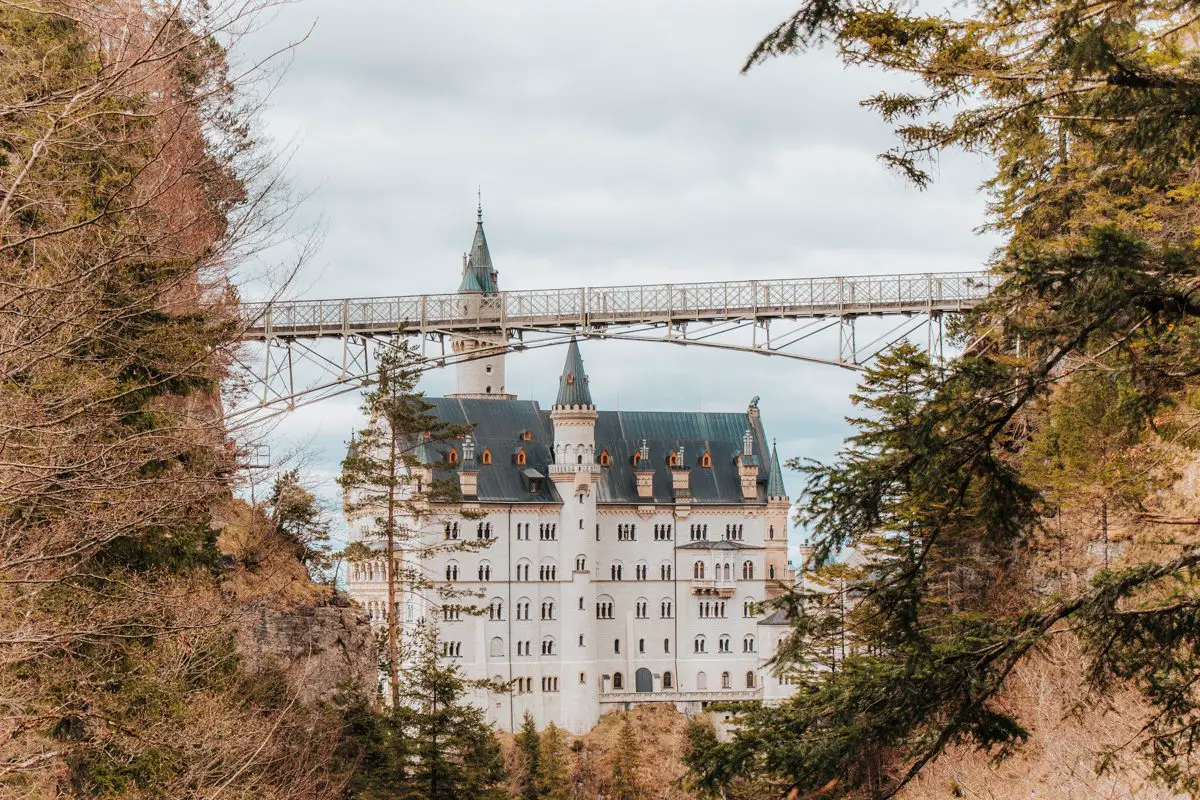 Marienbrücke
Marienbrücke, or Mary's Bridge, is the landmark view you see in the majority of photos of Neuschwanstein. The bridge suspends over a narrow, running river through the mountain canyon that is the backdrop to Neuschwanstein.
You'll find clearly posted signs to Marienbrücke on the path to Neuschwanstein Castle. Once you reach the castle, you'll have to continue walking to the right up about ten minutes to reach the bridge.
Mary's Bridge, as of April 2022, is temporarily closed for maintenance, so be sure to check out closures before you plan your visit.
Beyond Marienbrücke
If you continue down the trail past the entrance to Mary's Bridge, you can catch some interesting views of the bridge itself with the castle in the background. You can also walk down to the foot of the valley and take photos of the falls, which have these unique wooden pillars.
That Famous View on Instagram
I visited while Mary's Bridge was closed, so I was unable to reach the famous spot circling Instagram, where you're able to get a full-body picture with an unobstructed view of the castle in the background. However, I read the warnings that this spot hangs over a cliff and after seeing the cliff from the other side in person, I wouldn't risk trying to get the photo.
If you want to discover this spot at your own risk, you'll find it just before walking onto Mary's Bridge. There's a barbed wire fence along the trail to specifically keep people from going up to the cliff and there is a part right before the bridge entrance that is missing barbed wire, where presumably people go through and walk up to take the photo. Again, I do NOT recommend this.
Viewpoints Around the Castle
There are several manmade viewing points, like a terrace near the rest area before the castle entrance and a viewing area just five minutes up the path from the castle to Mary's Bridge.
Pro Tip: Drones are prohibited in this area.
Amenities at Neuschwanstein Castle
There are public bathrooms and free lockers at the rest area before the castle entrance. There are also ATMs near the Ticket Center and the Schwangau Information Point.
---
Where to Stay near Neuschwanstein Castle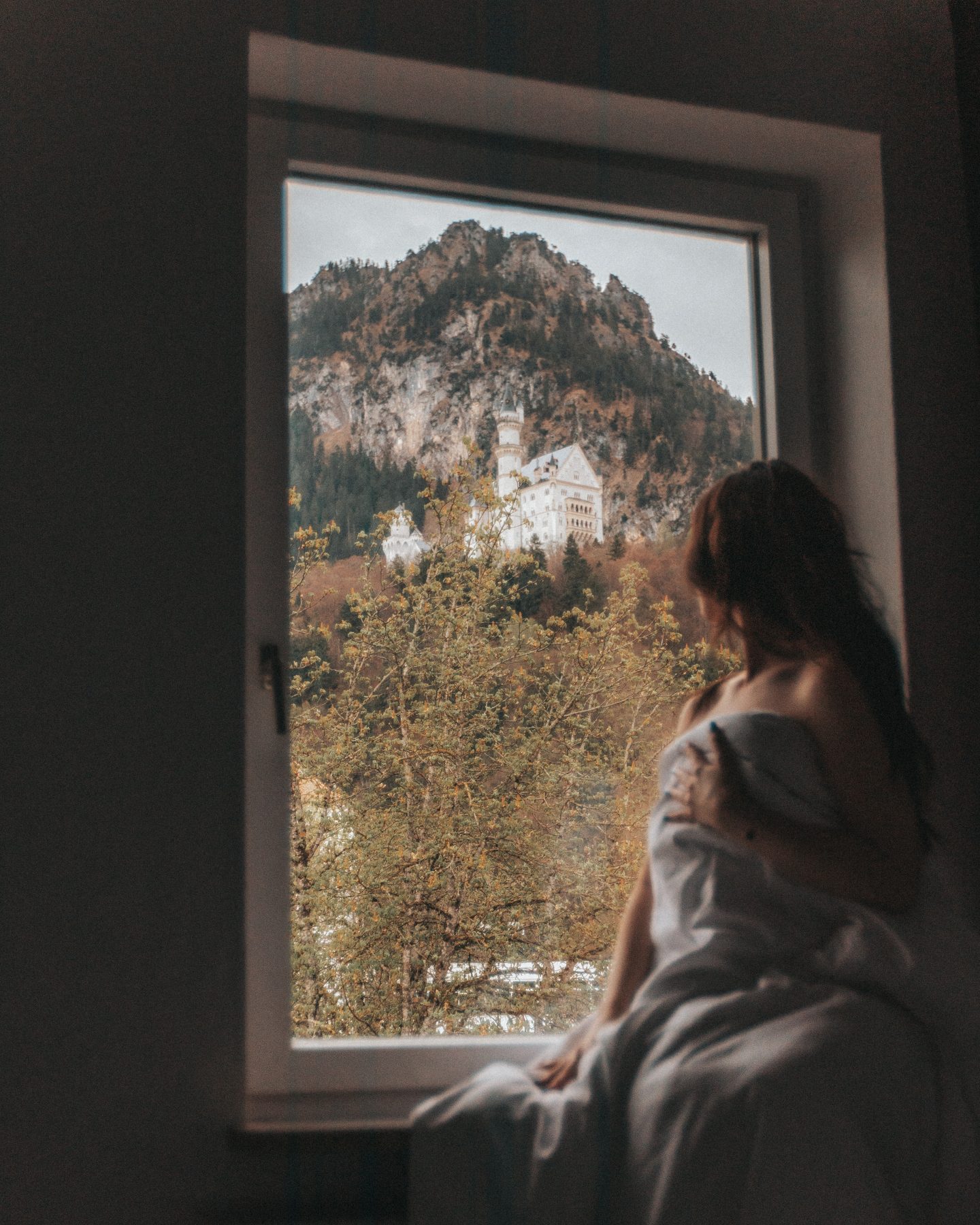 You can see Neuschwanstein Castle in one day, but I personally recommend you spend the night there! Not only will you get to the castle in the evening, night, and early morning when the bustle calms down, but you'll also see how incredible it looks lit up when the mountains and sky go dark.
I stayed at Hotel Garni Schlossblick. It costs 77 euros per night, has free breakfast and parking, and they were able to accommodate my request for a castle view room at no extra charge! (I'll be honest the breakfast wasn't amazing, but the view and overall experience certainly was!)
I highly recommend that hotel as a budget-friendly option in Hohenschwangau. Here are my other recommendations in Hohenschwangau and nearby Füssen that accommodate every budget:
Keep in mind that prices can vary greatly depending on the travel season. If you're visiting in summer, budget accommodations will be much harder to find!
---
Where to Eat near Neuschwanstein Castle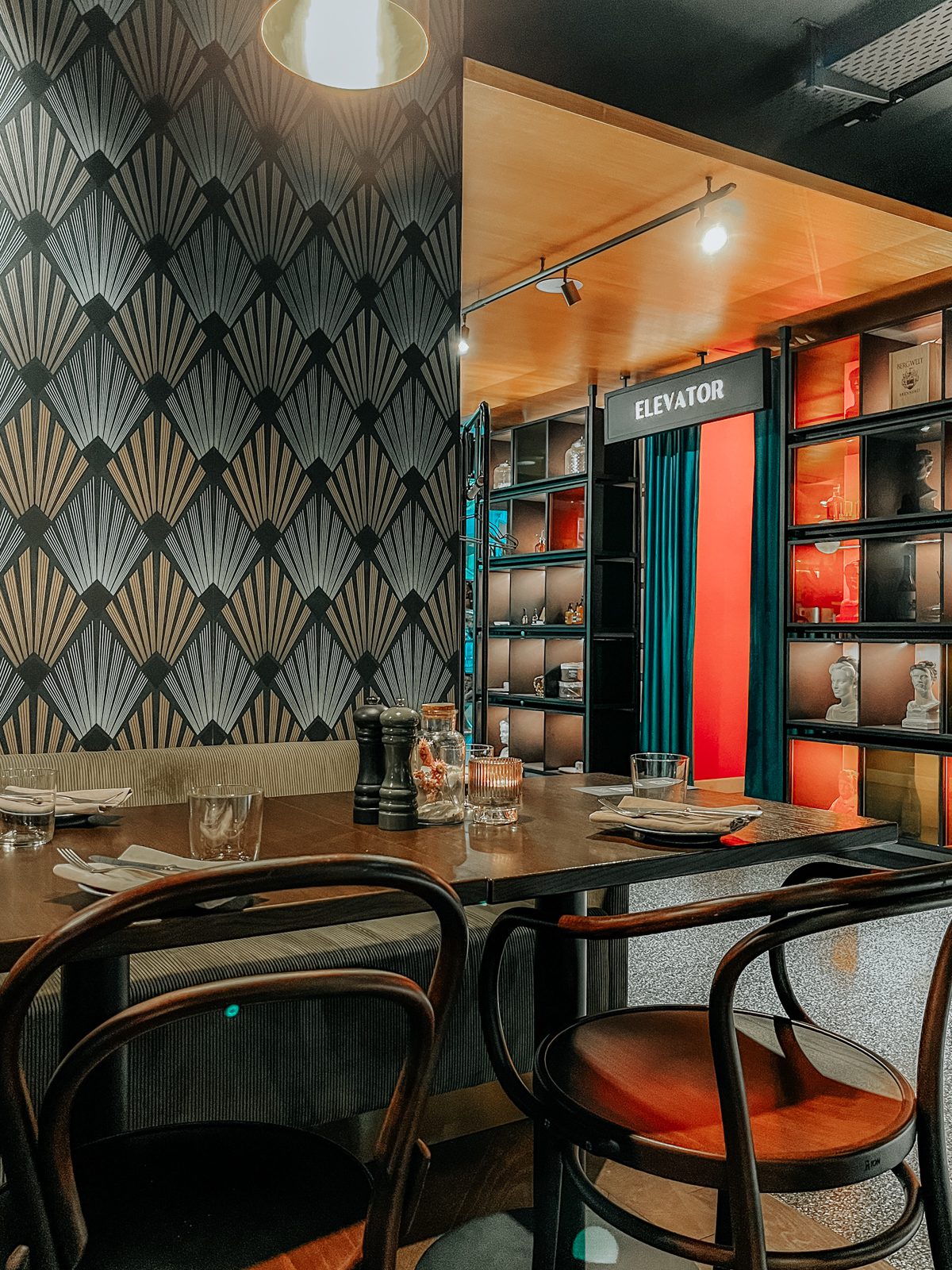 The first thing I need to say about eating near Neuschwanstein Castle is that almost all restaurants in Hohenschwangau close super early! Like, 6 pm early. If you're planning on having dinner in the area, acquire ahead of time if the restaurant you want will be open.
The one place you must go is RIWA in the center of Füssen (which thankfully doesn't close at 6 pm!) The food is amazing and good value for what you get but the atmosphere blew me away! It's aesthetic, cozy, and fun – all playing around the theme of famous composer Richard Wagner (who was also a close friend and admired by King Ludwig II.)
If you're looking to eat closer to the castle, I recommend Restaurant Alpenstuben – it has a room with a huge all glass bay window/wall that looks out to Neuschwanstein.
And if you are into something with a bit more luxurious, the collection of restaurants at Ameron hotel have amazing settings and gastronomy.
---
Takeaways for Visiting Neuschwanstein Castle
Whew! We've almost made it through this ultimate guide but I want to sum up the most important tips for having the best experience at your Neuschwanstein Castle visit.
Bring cash – surprisingly, so many places did not accept credit card!
Inquire at your accommodation if you receive a guest pass for free transportation!
Restaurants close early
No drones allowed at Neuschwanstein Castle
Buy tickets online before your visit
Arrive early to beat crowds
Wear comfortable walking shoes
Travel light or store your backpack in a free locker
Print your ticket
And with that, I hope these tips and my in-depth guide have helped you get a better understanding of how to visit Neuschwanstein Castle!
Got any extra questions about your visit to Neuschwanstein Castle? Ask me in the comments!
Save this guide for later reference on Pinterest!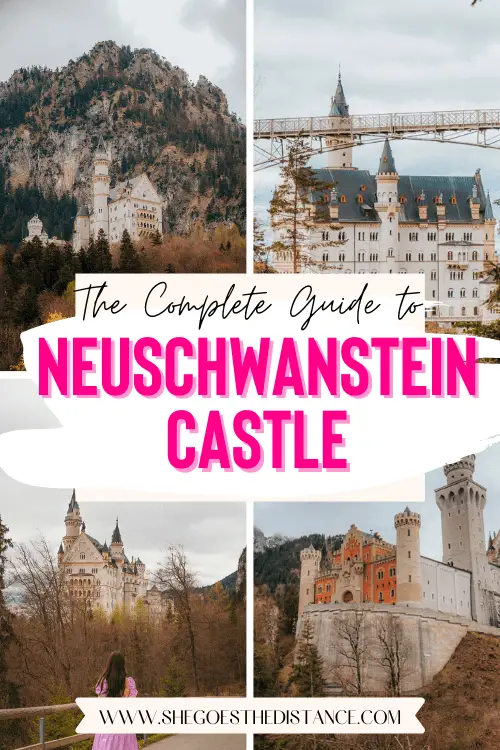 No matter the size of the crowds, the weather, or any other surprises on your trip, your visit to Neuschwanstein castle will be worth it – and I hope these tips help you have the best experience!
XOXO
Michela