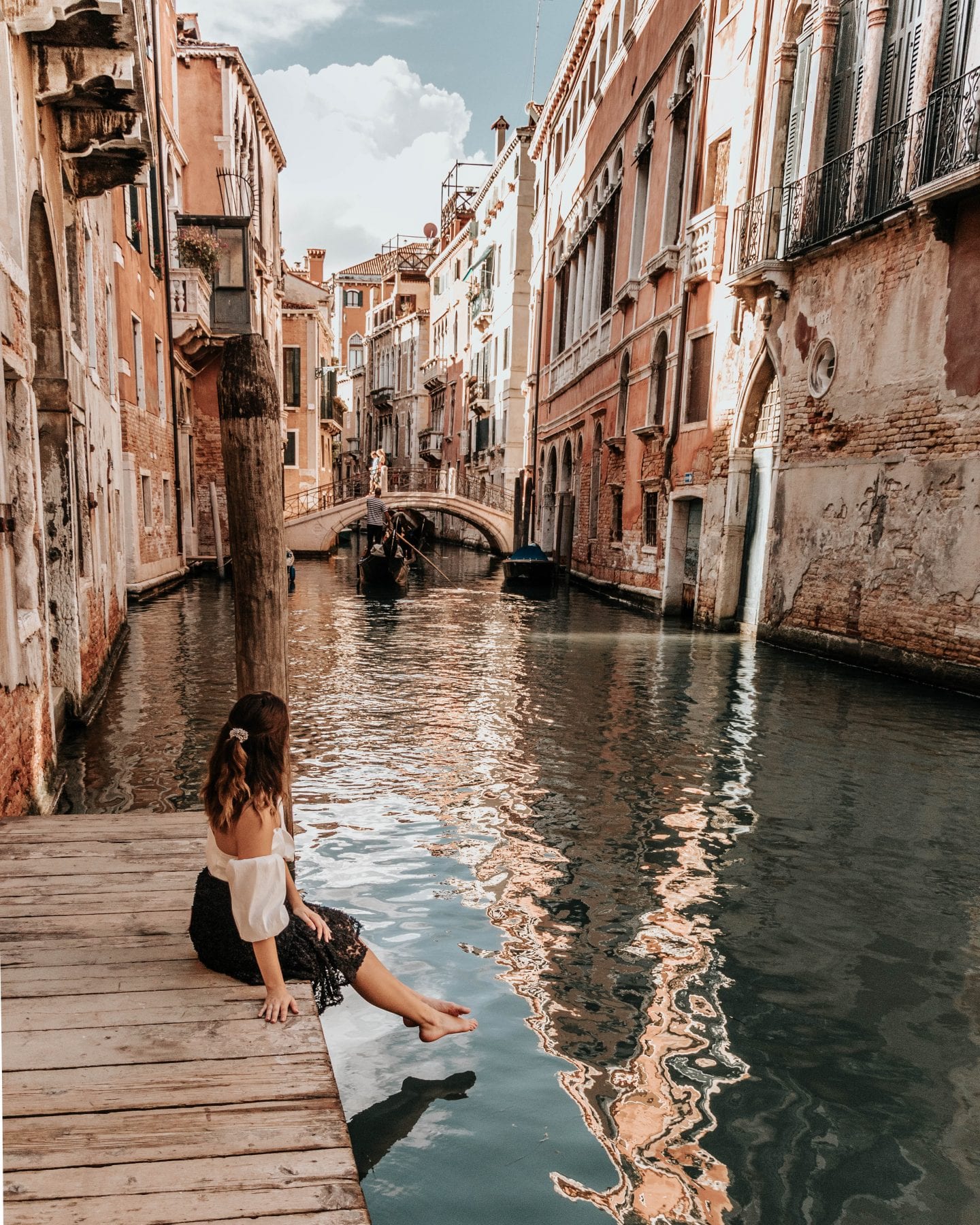 Last Updated on February 23, 2022
You've made it to Venice, Italy, and can't even wrap your head around what a dream it is – sound like you? Venice is seriously something out of a movie and taking photos there is so easy – because every corner of it is beautiful! That being said, there are some iconic (and hidden gem!) photo spots waiting for you in Venice. Prep for your photography-filled trip by visiting these 10 most Instagrammable places in Venice!
To be of extra help, I've included addresses to specific locations that needed them. Venice can be a little tricky place to navigate, with all of its islands being connected by canals and bridges. You'll find a map at the end of this post to make these spots even easier to find.
However, it's a very walkable destination. You can cover a lot of ground just in a day or two. And Google Maps works fine to help you get around!
If you're planning a trip to Italy, I have tons more Italy advice available on my blog for you to check out!
Searching for more Instagrammable spots around the world? Check out my favorites in Paris!
One more note – all of these photos have been edited with my SheGoes Presets! Try them for FREE or shop my preset packs if you're desiring the same look to your photos!
Okay, now let's get into the most Instagrammable places in Venice!
Before you leave for your dream trip to Italy, make sure you have all the essentials!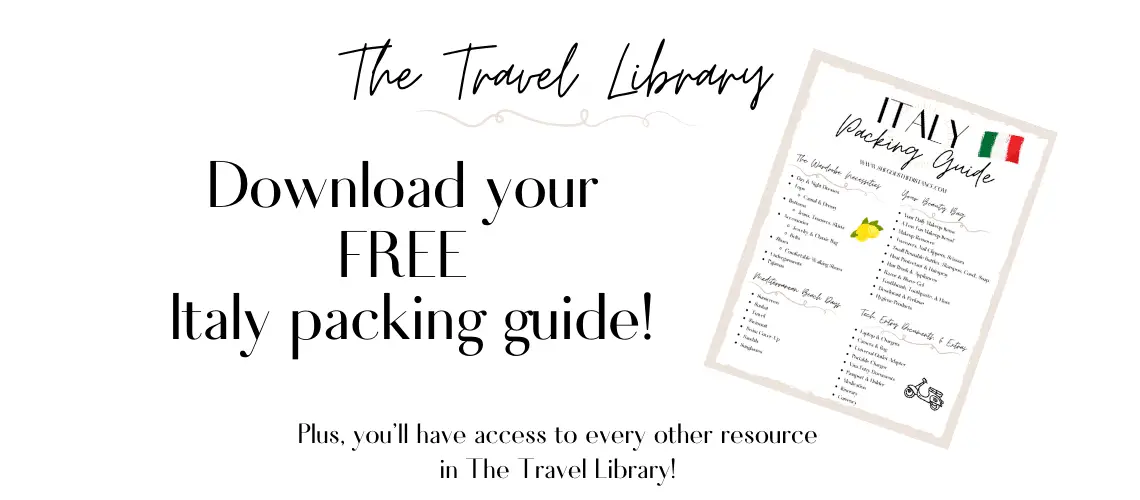 Most Instagrammable Places in Venice
This guide includes exact addresses to specific spots (Venice directions can be tricky!), as well as suggestions on where to take the photo, mainly to avoid crowds.
Trust me, Venice has a lot of them!
Let's kick it off with some of the famous Venice spots and then move into the hidden gems!
---
Rialto Bridge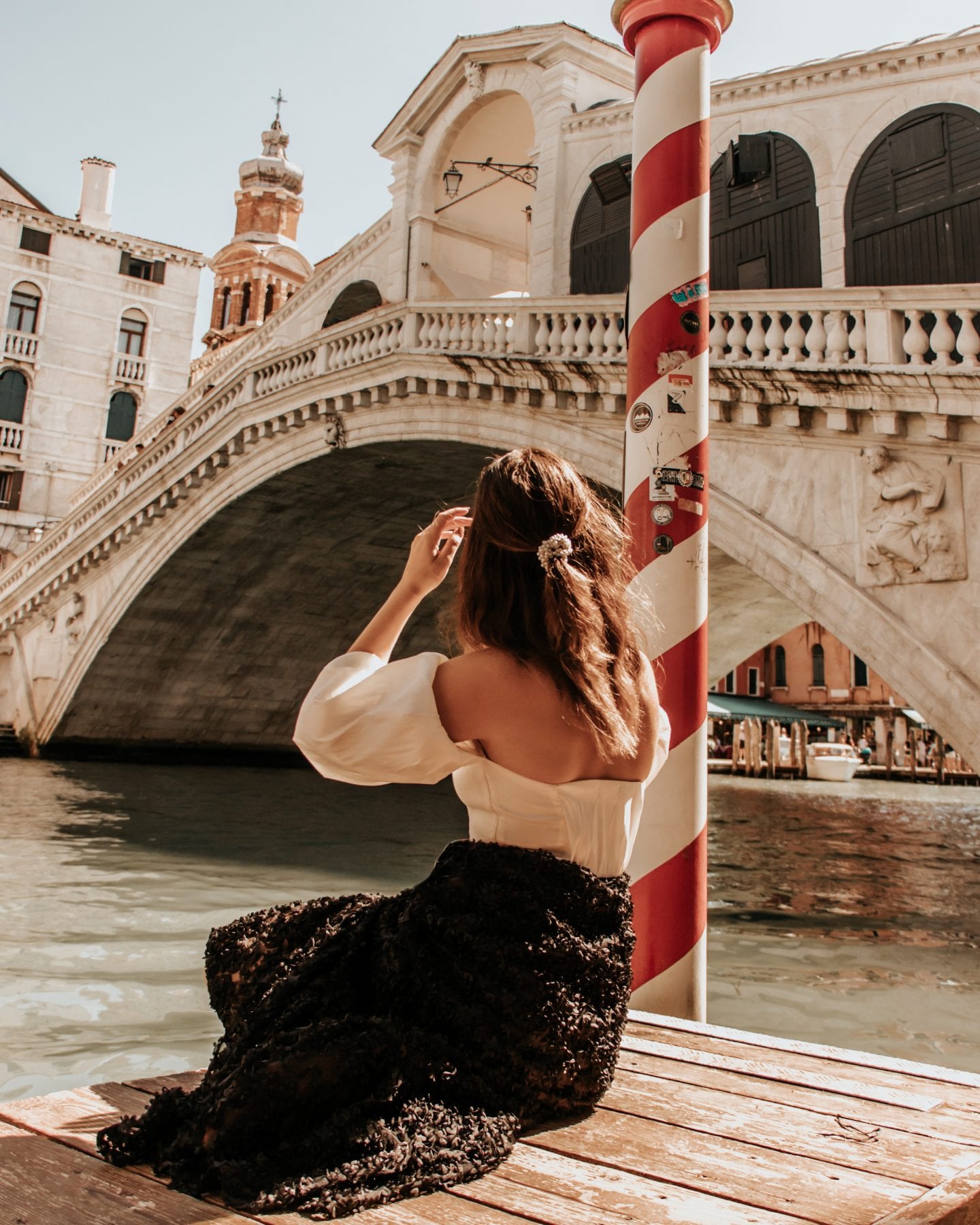 The Rialto Bridge is hands down one of the most famous landmarks of Venice. It may be over-photographed and extremely touristy, but there's a reason why! It's a stunning backdrop to any photo and still worth getting that perfect Venice shot.
While there are so many people crowding over the bridge at all times of the day, the best photo spots are beneath it.
If you start out on the San Marco side of the marble stone bridge (which you probably will,) cross over towards the Rialto Market and take an immediate right. There may be some people taking their photos but just wait a moment and you'll get the spot to yourself! (This is where the above photo was shot!)
Alternative photo spot: on the same side, instead of taking an immediate right, walk around the big building on your righthand side. Go all the way around to find an even better photo spot (the angle is wider and not so hard to shoot.)
You can see both of these exact locations marked on the map at the end of this post!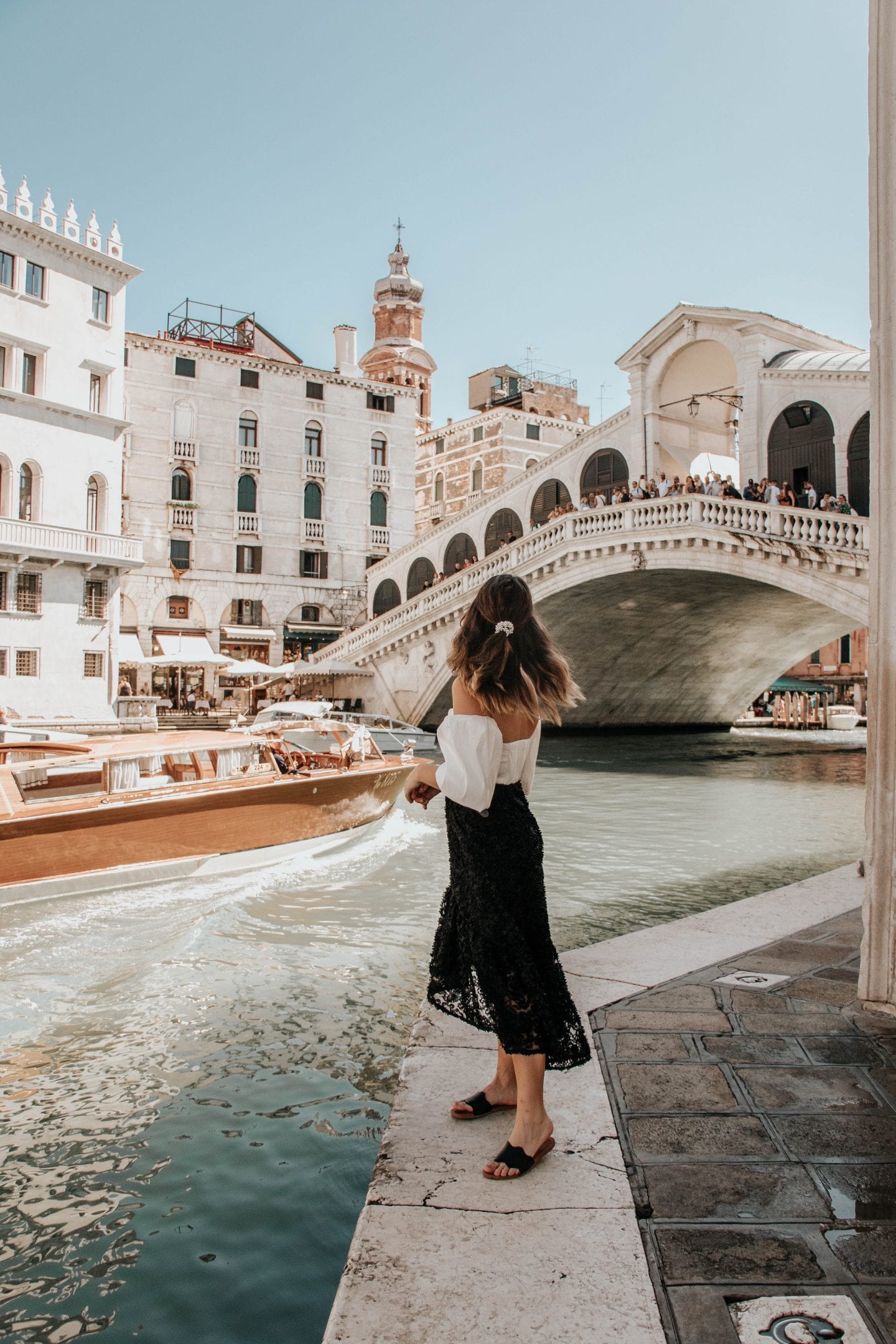 Unfortunately, when I was there, there were some photo-spot hoggers! So I got the picture with the building cutting off the rest of the bridge, but the sidewalk extends beyond that for an unobstructed view!
---
Bridge of Sighs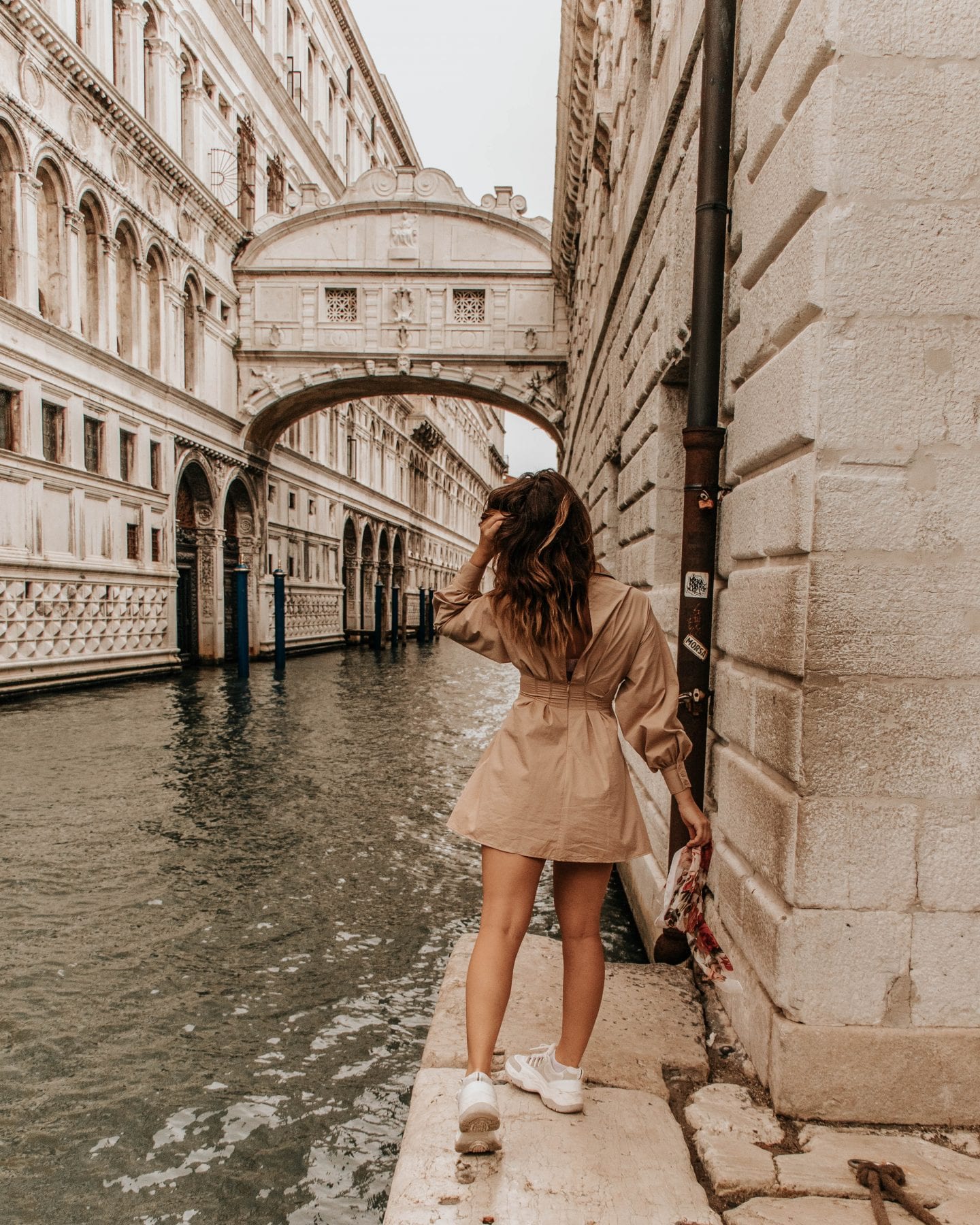 Everyone loves the Bridge of Sighs. Tourists flock to the bridge along the Venetian Riviera to take a photo of it.
The story goes that this bridge connected the interrogation rooms of the Doge's Palace to the prison. Fugitives would walk from the rooms across this bridge and get their last view of Venice, at which they would "sigh" because of its beauty.
Now the best photo spot is not where all the tourists are gathering on the bridge!
Cross it and turn immediately to the left, where you'll find an alcove and the walkway extending into the canal.
Here's where you can get an up-close spot on the water and an unobstructed photo with the Bridge of Sighs!
---
That Famous Instagram Dock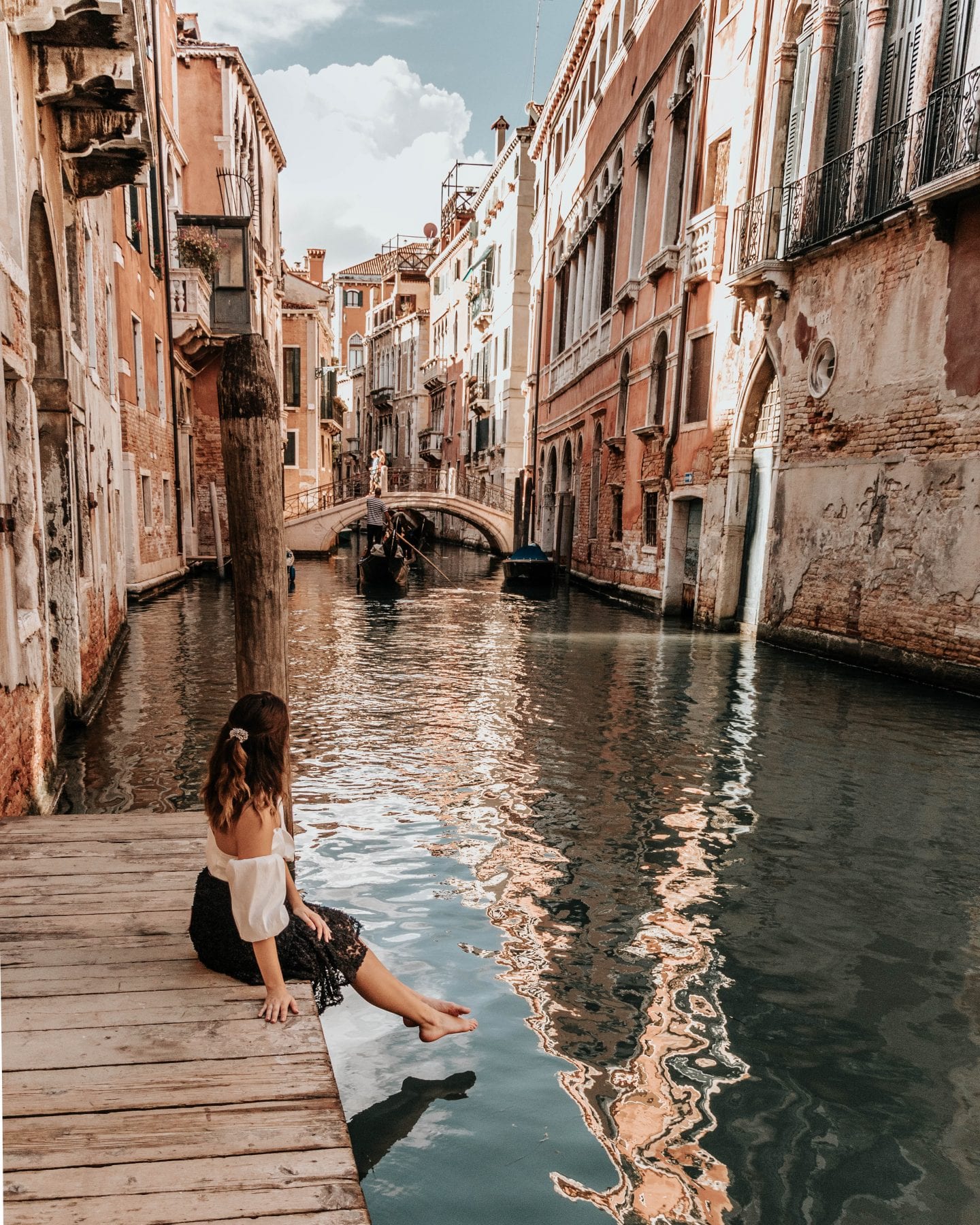 Now, you may know what I'm talking about when I say that famous Instagram dock.
It's simply an open dock, on a canal where you can get epic photos that will make everyone jealous of you.
It's actually not too hard to find, but to make it easier, save this address!
The exact location is Piscina S. Moise 1459-1461, 30124 Venezia.
There are a few landmarks nearby including Hotel San Moise and Guesthouse Ca' dell'Angelo if those addresses are easier to find!
Gondolas constantly pass through this waterway, providing the ultimate Venice picture!
---
That Less Famous Instagram Dock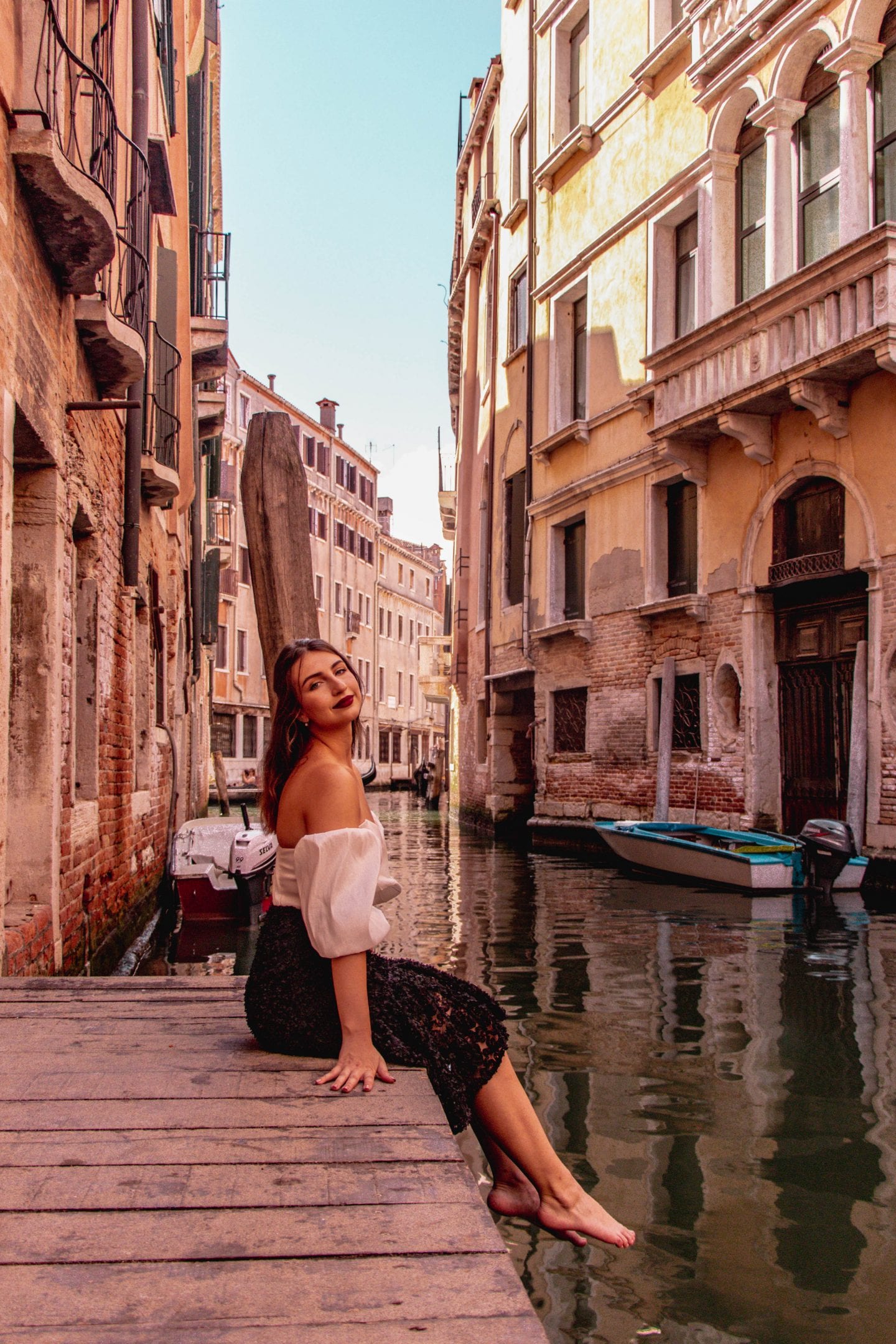 I actually came across this dock because I thought at first that it was the famous one! After I realized it wasn't the same, it was still a stunning spot to snap a photo.
Plus, it's more of a hidden gem this way! It's a more unique place to take your photo if you don't want to take it at the same dock as everyone else.
The address is: Calle de la Malvasia, 5492, 30122 Venezia VE, Italy
It's a dock that's right across from Aqua Palace Hotel and a beautiful quiet spot on a canal.
---
St. Marks Square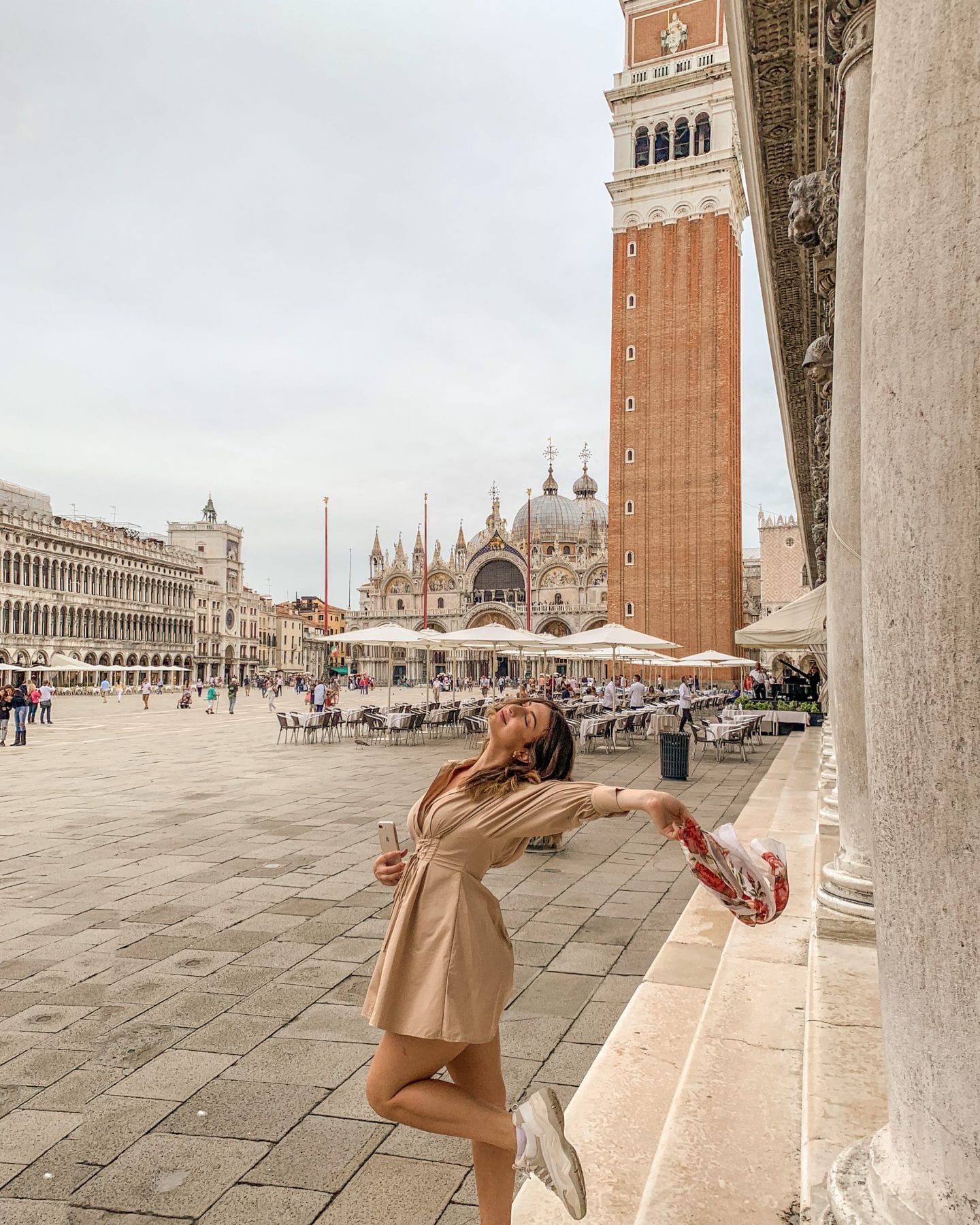 Of all the most Instagrammable places in Venice, San Marco square is probably the most obvious. It also isn't my most favorite, if I'm going to be honest.
Venice has so many cute and unpopulated corners that the busy piazza of St. Marks just doesn't do it for me as much! (You can kinda tell based on the lack of effort of this photo! Oops!)
Nonetheless, it's one of the most iconic squares in Italy. I'd recommend more than anything getting here as early as you can (sunrise).
That way you can hopefully avoid as many tourists as possible in your photo!
---
Libreria Acqua Alta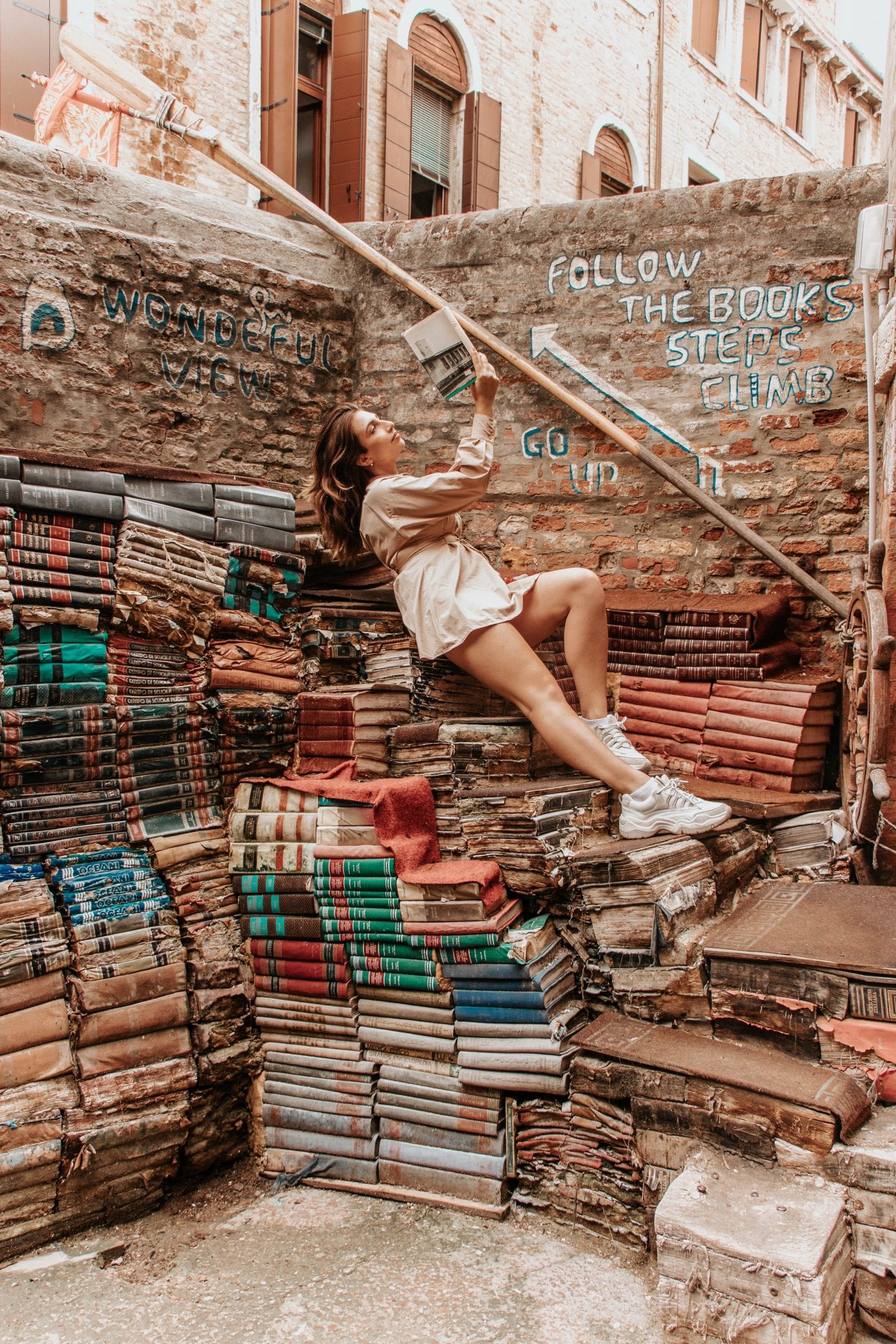 At last, I'm revealing what are more of the hidden gem/unique spots of the most Instagrammable places in Venice. And the first is one of my favorites!
I love to visit Libreria Acqua Alta because it's one of the most unique and exciting shooting spots I've ever been to.
Not only are there multiple spots within this location to shoot a completely unique photo, but it's also the perfect space to experiment and get creative – a photographer's dream!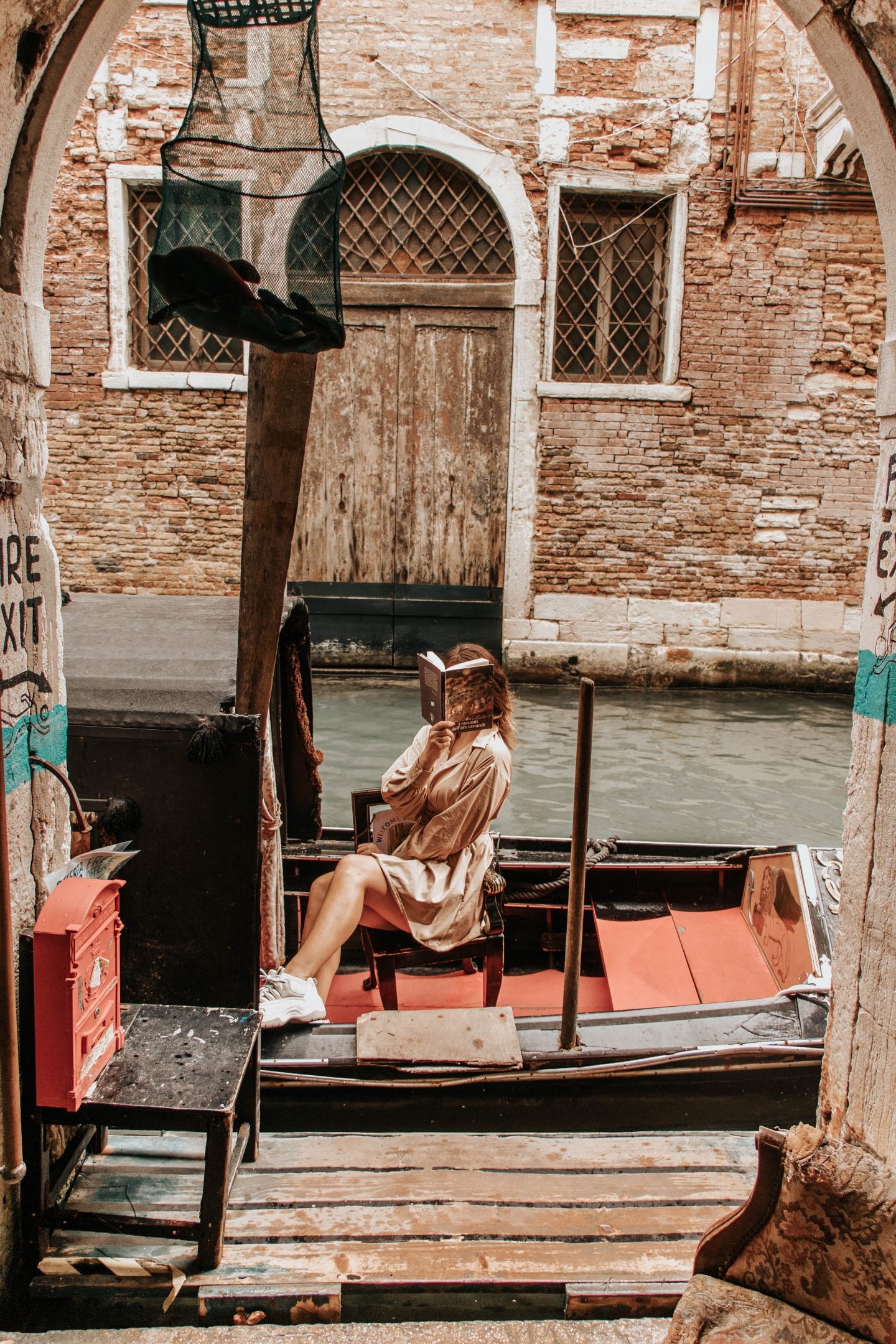 Use props, use different angles, and spend time crafting beautiful photos because this place tells a story – the ultimate element of photography that everyone should strive for!
---
Basilica di Santa Maria della Salute (At a secret photo spot!)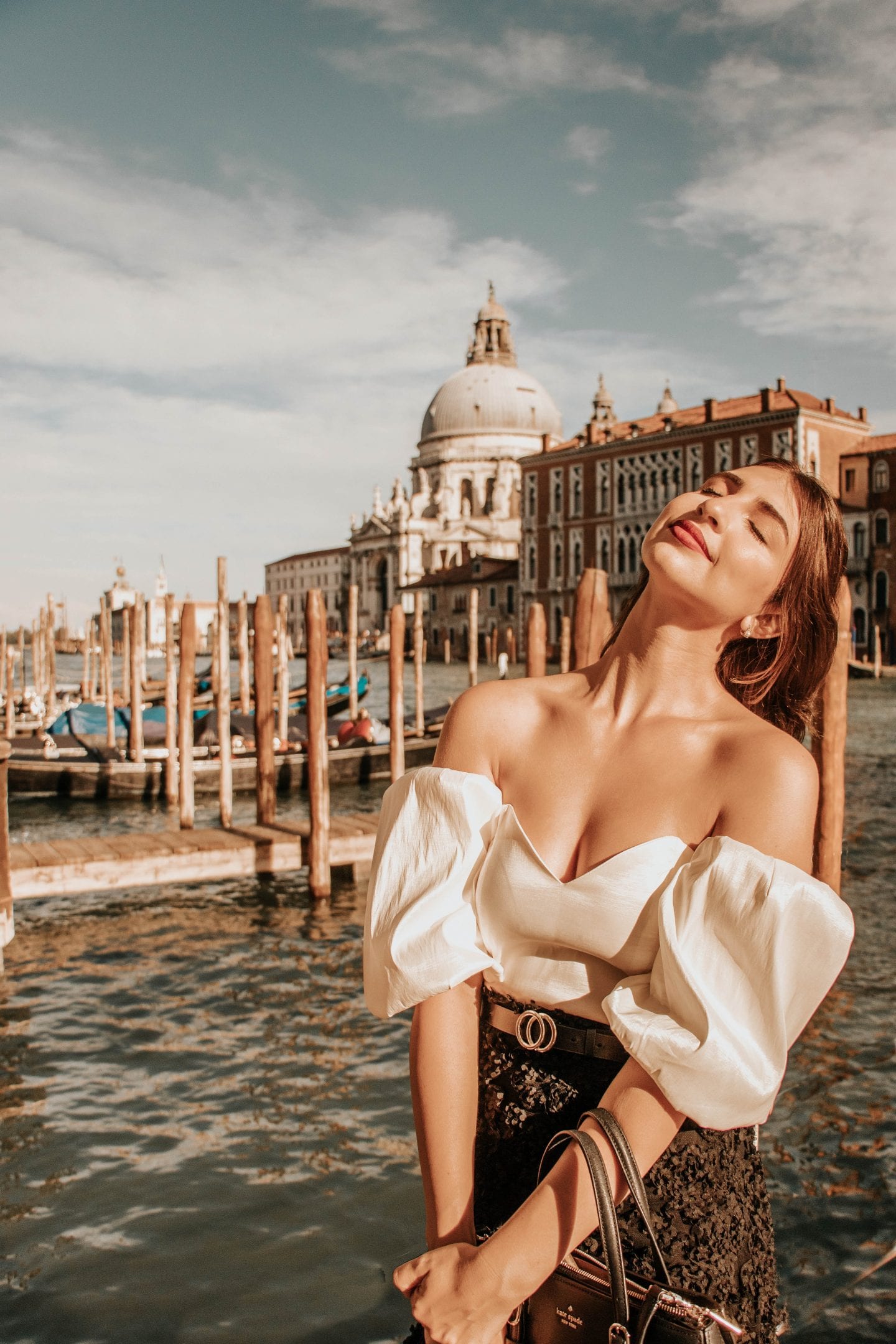 The Basilica di Santa Maria Della Salute is the beautiful domed Cathedral that sits at the edge of the Grand Canal and the Adriatic Sea.
Of course, you can cross the Ponte dell'Accademia for that vast view over the Grand Canal and the Basilica.
But why not get a unique photo from a completely underrated and unknown photo location?
Save this address: Calle Gritti, 30124 Venezia
It's actually a vaporetto stop – the one called Giglio!
Vaporettos are one of the main public transportation boats in Venice. Who knew the backdrop would be so beautiful?
---
Burano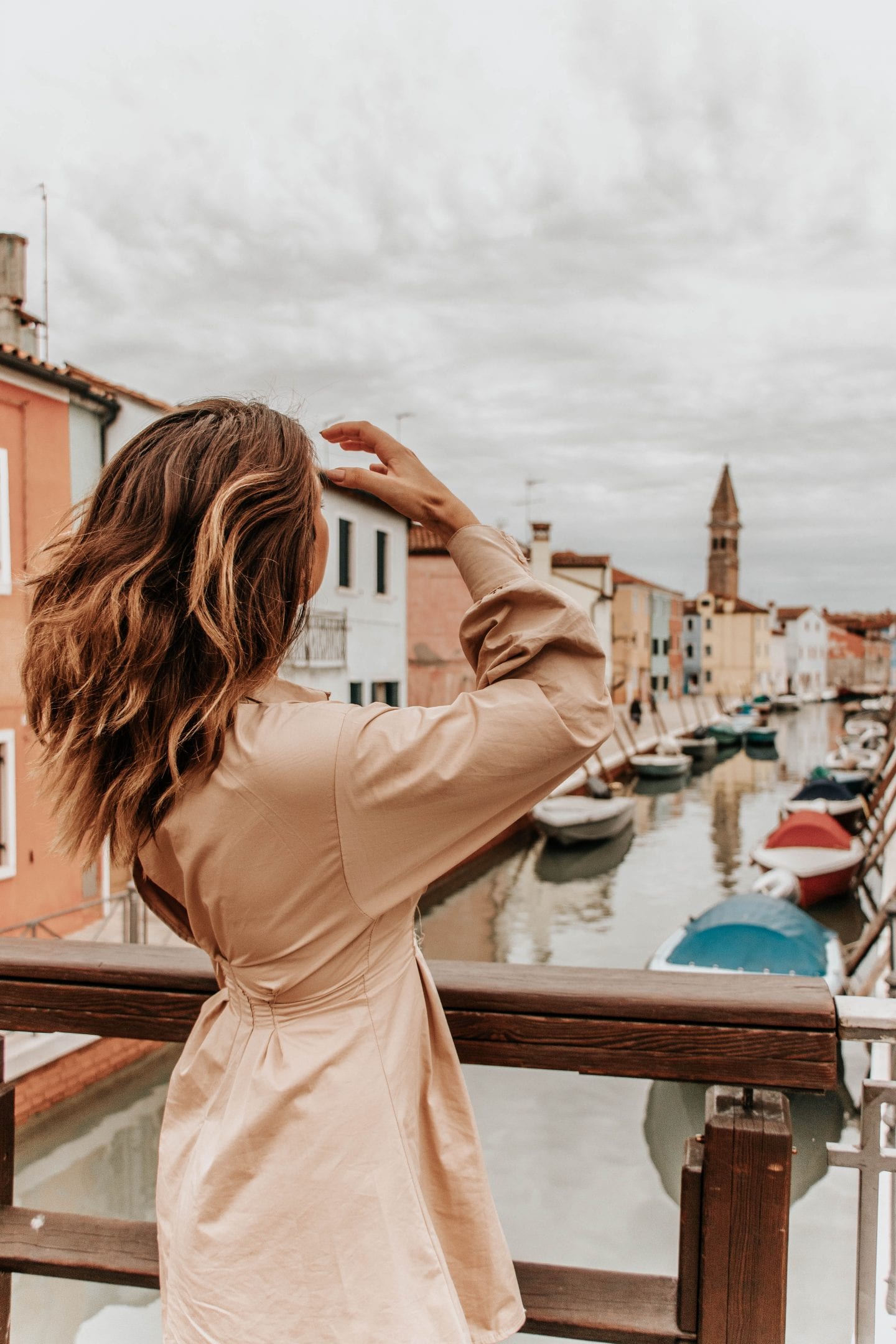 To get to the next most Instagrammable place in Venice, you have to take a little trip away from the city.
With only a 40-minute vaporetto ride, you'll reach Burano, one of Venice's islands and maybe the most colorful island you've ever seen!
Burano is a fisherman's village, but it's gained popularity for its brightly colored houses. It's a photographers playground!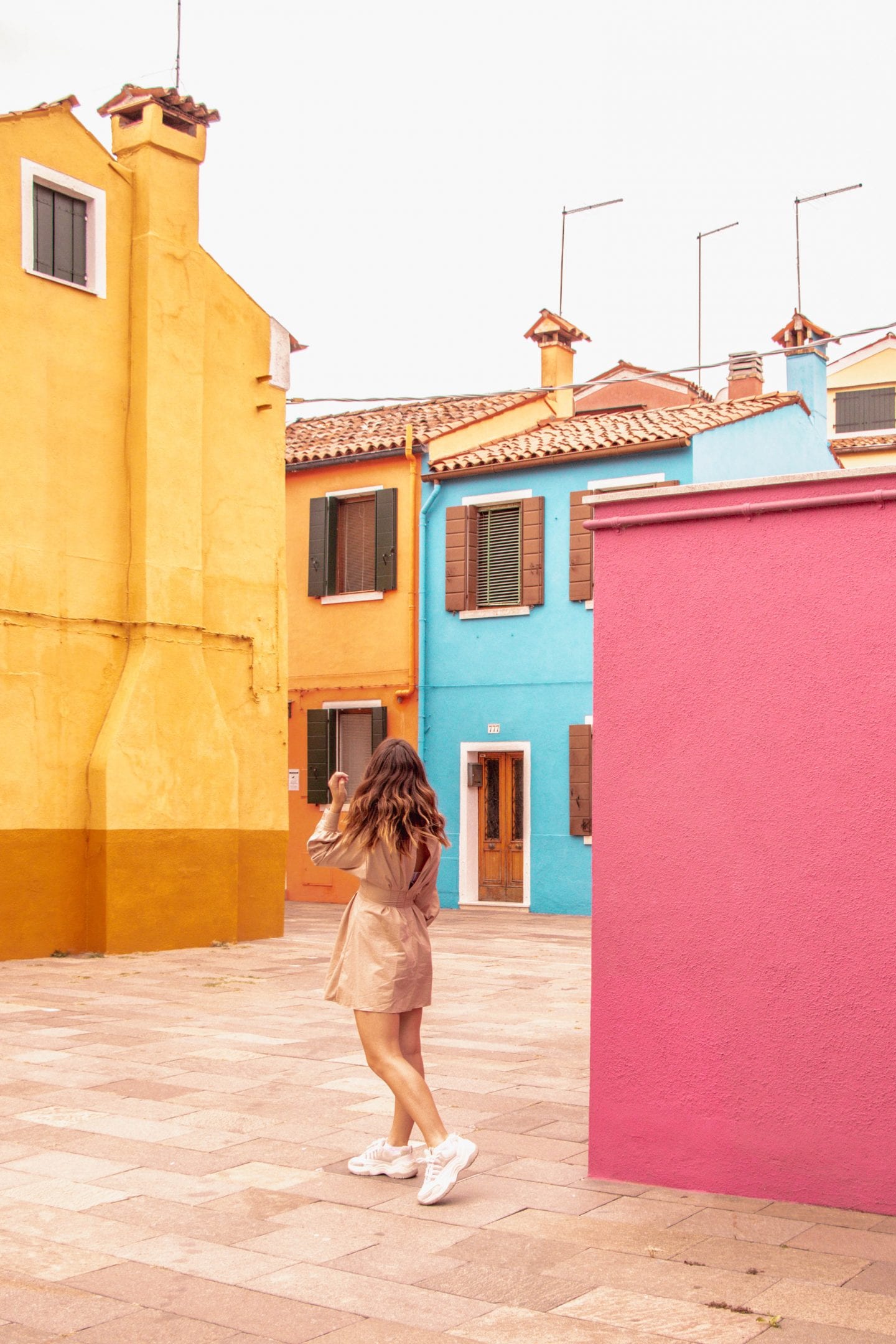 This is the perfect photo spot to experiment with. There are far fewer tourists in Burano than in the mainland of Venice, so it's almost void of people.
Being in such a quiet town with such unique houses and quaint canals makes the possibilities of diverse photos nearly endless.
---
Scala Contarini del Bovolo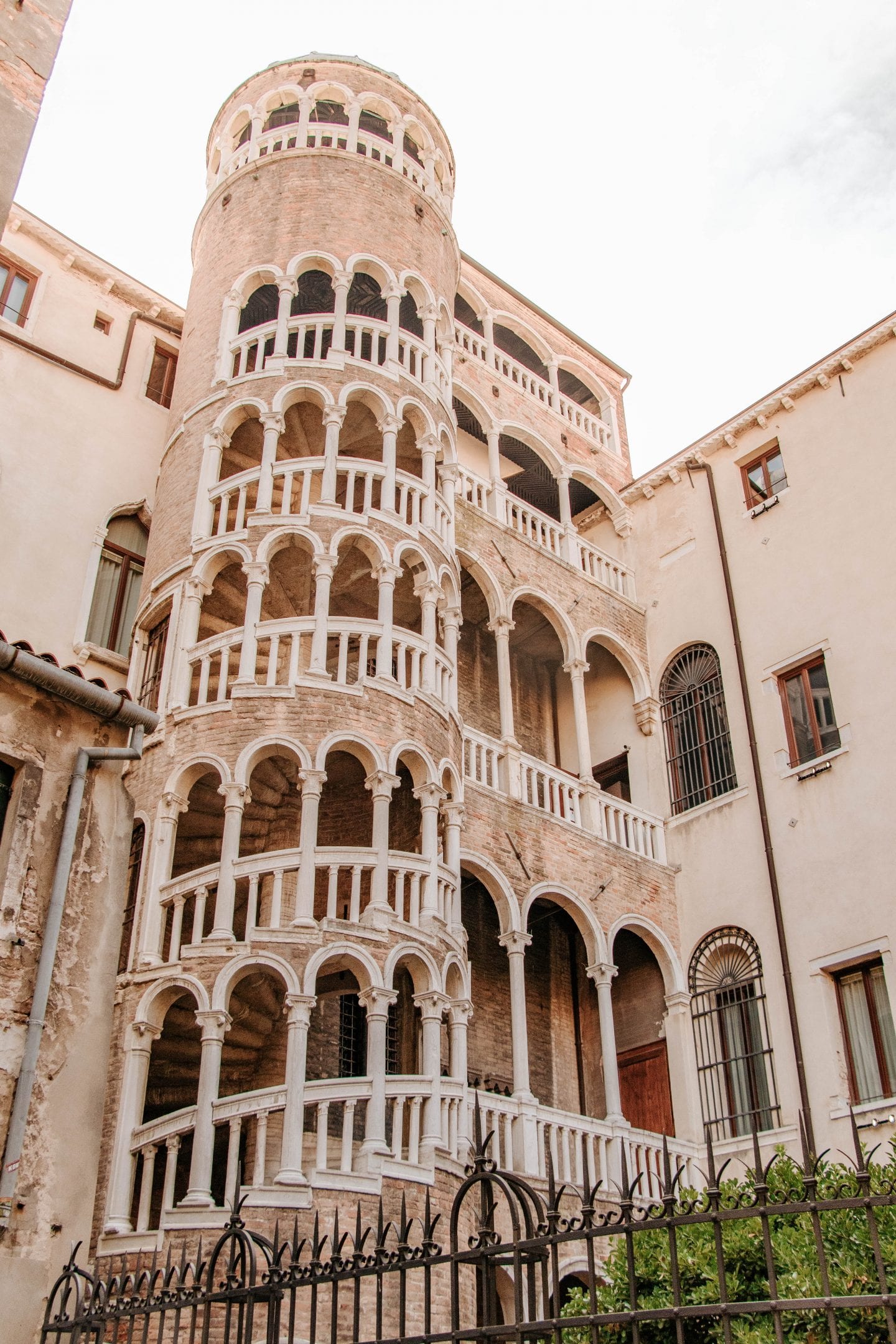 Unlike the other most Instagrammable places in Venice, this one requires a reservation to visit.
The Scala Contarini del Bovolo is an immaculate Venetian staircase on the exterior of a palazzo.
It's beautiful to photograph from the outside, however, there is a large fence that could obstruct your photo.
You can make a reservation to go up the stairs and take stunning shots of the flowing steps as well as the view over Venice.
---
Secret Canals and Passageways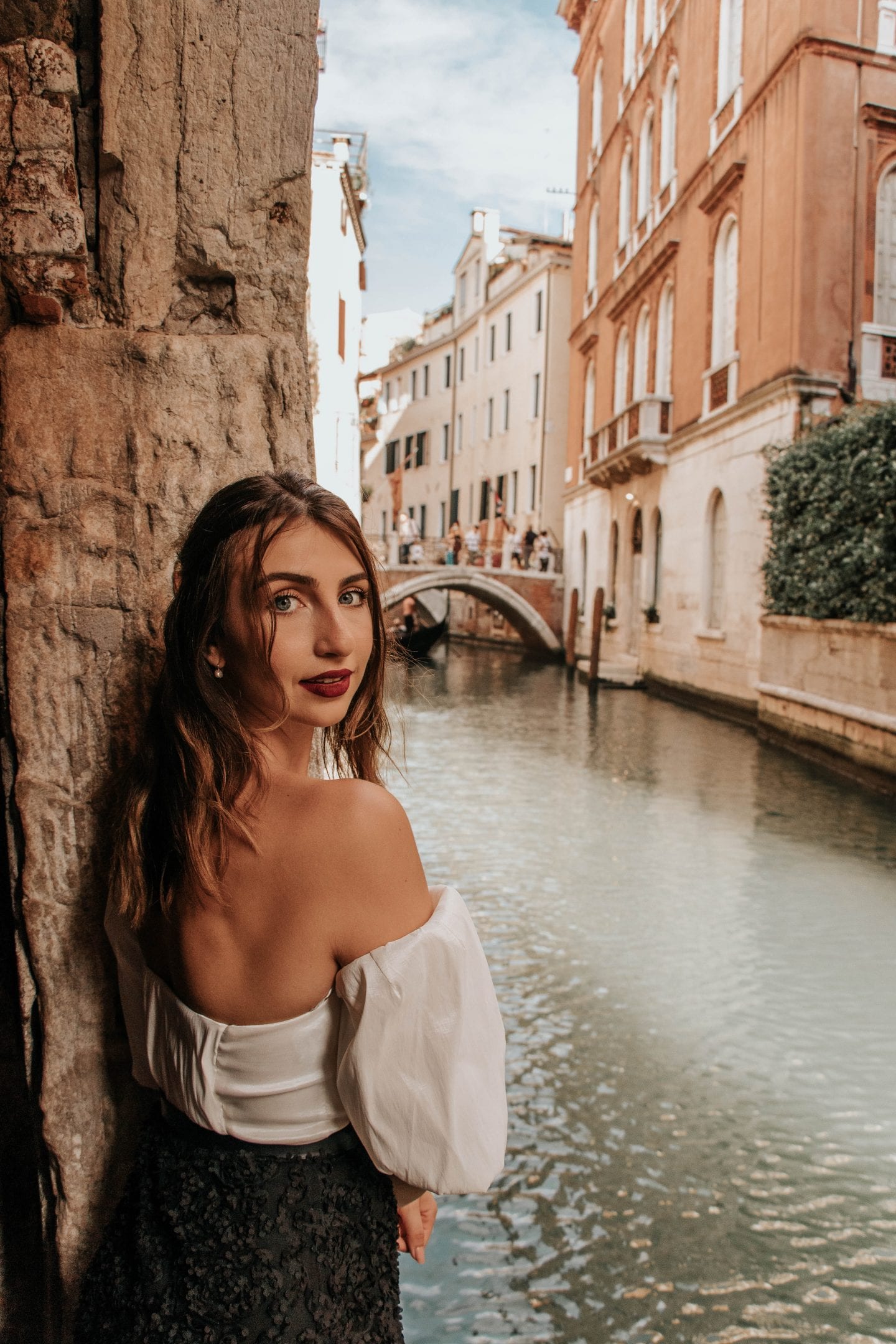 Okay, so that's not the most specific of directions! But I just wanted to mention that there are so many hidden nooks in Venice to discover.
Once outside of Piazza San Marco (and especially in the other islands of Venice like Dorsoduro or Giudecca,) there's rarely clogs of tourists.
You'll find yourself in alleyways totally secluded and feeling like you have a secret Venice at your fingertips.
That being said, you can find photo spots like the one above and have it all to yourself! I stumbled across that alcove on a dead-end street which led straight up to a canal.
It's unassuming spots like these that are the hidden gem photo spots of Venice!
Keep your eyes peeled and mind open to the possibilities of creative photos in Venice!
Honorable Mentions: Most Instagrammable Places in Venice
Lastly, I wanted to add some other Instagram photo spots in Venice to the list that are still super beautiful, but maybe just not as notable!
---
Fondaco dei Tedeschi
Fondaco dei Tedeschi is a rooftop terrace at a luxury shopping mall in the heart of Venice.
Unfortunately, I planned my visit to the terrace on a day that it ended up raining, so the terrace closed!
I still wanted to mention it because I think it's still a cool opportunity, as I didn't find many other options for rooftops in Venice.
You have to reserve your spot at the terrace, but it is free! It's one of the best underrated things to do in Venice.
At the very least, the inside of the shopping center is also beautiful if you don't get the opportunity to visit the terrace – you could even experiment and turn the beautiful interior into an instagrammable spot!
---
The Riviera: Riva degli Schiavoni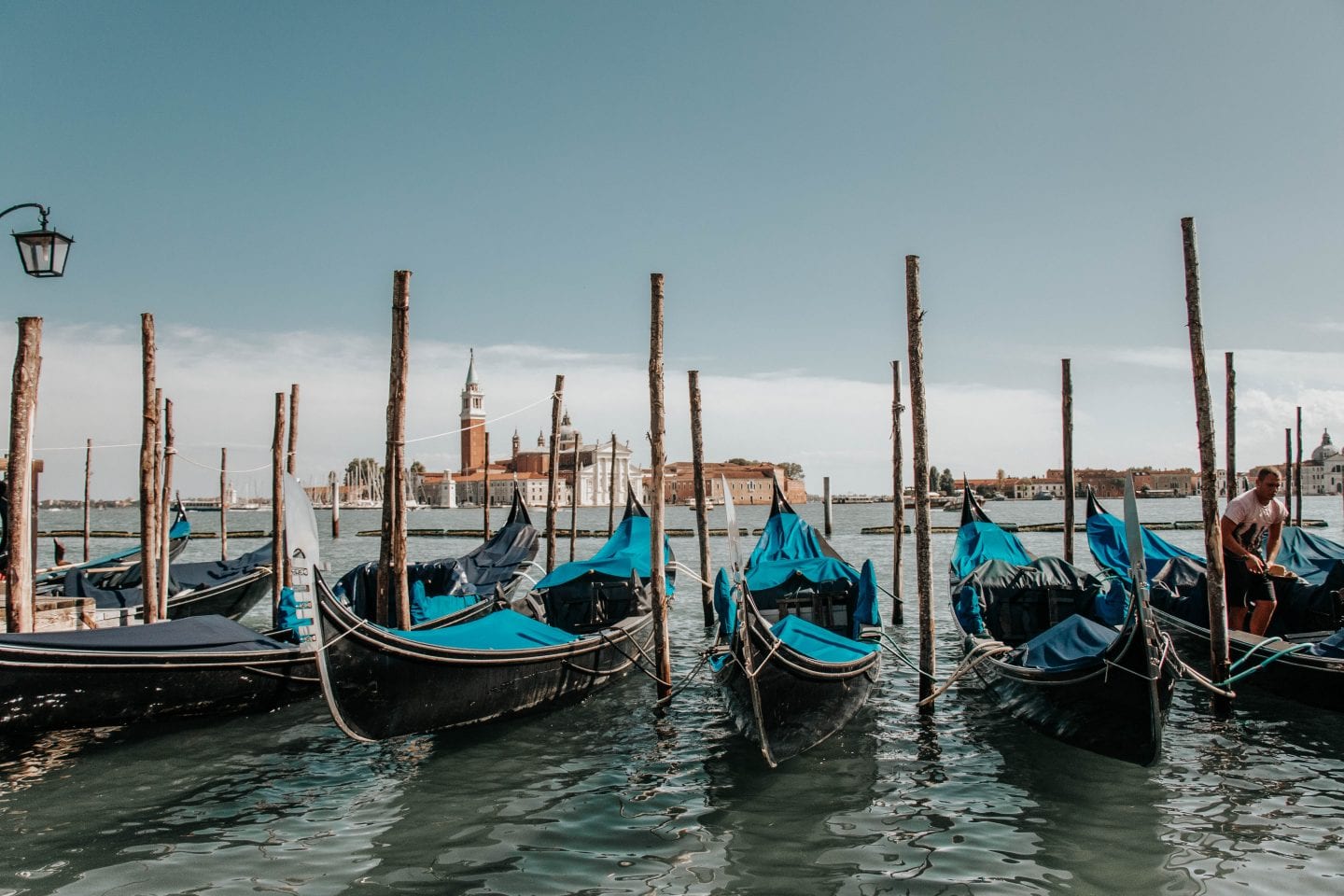 Venice's riviera is basically the San Marco waterfront, where the main square meets the sea. You'll find a picturesque long stretch of parked gondolas along a wide pedestrian walkway that continues down the whole of the island.
You can take a beautiful photo with the gondolas and San Giorgio Maggiore island in the background.
However, if it's midday, the gondoliers will most likely not allow you on the dock to take pictures with the gondolas.
I simply took this photo from standing on the walkway. But if you get lucky you can get an even more stunning shot of yourself on the dock between the gondolas!
---
Royal Gardens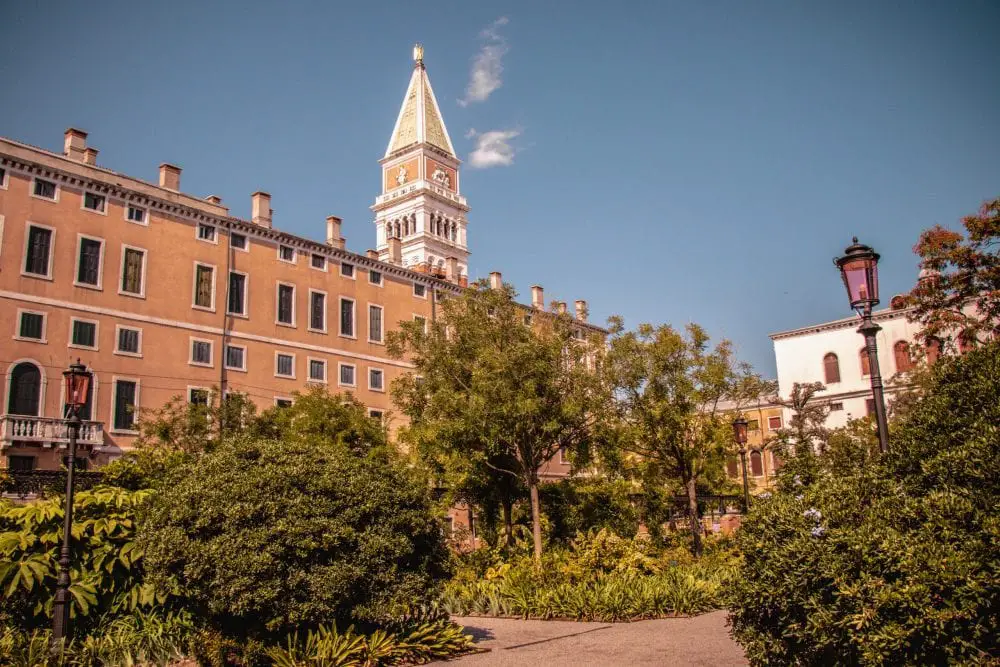 Finally, did you know Venice has its own royal gardens? They're very accessible, near Piazza San Marco. You can even see the bell tower from the gardens!
If you are looking for a very unique spot to take a photo, that isn't a typical Venice photo, this is your spot!
---
Map of Venice's Most Instagrammable Spots
This map (made with Google Maps Trip Planner) shows the individual Venice photo spots I talked about in this post!
Tag me in your photos on Instagram if you visit any of these spots!
Save this list to your Pinterest so you never forget!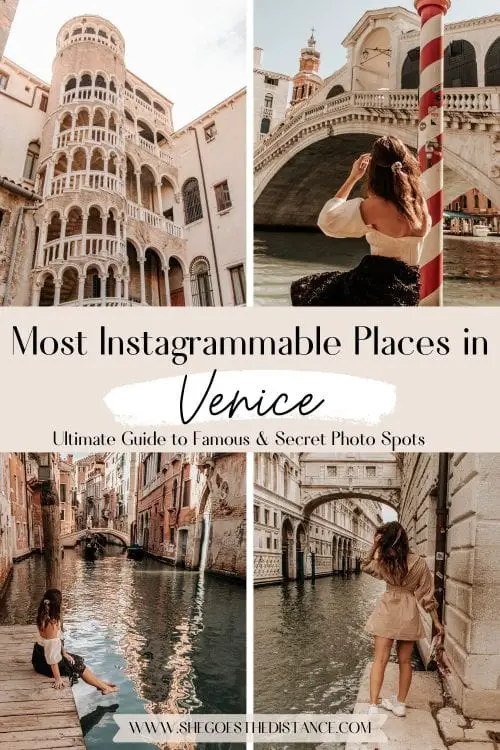 I hope you enjoyed discovering the most Instagrammable places in Venice with me! I'll be leading you to more Instagram spots around the world, so be sure to stick around!
XOXO
Michela