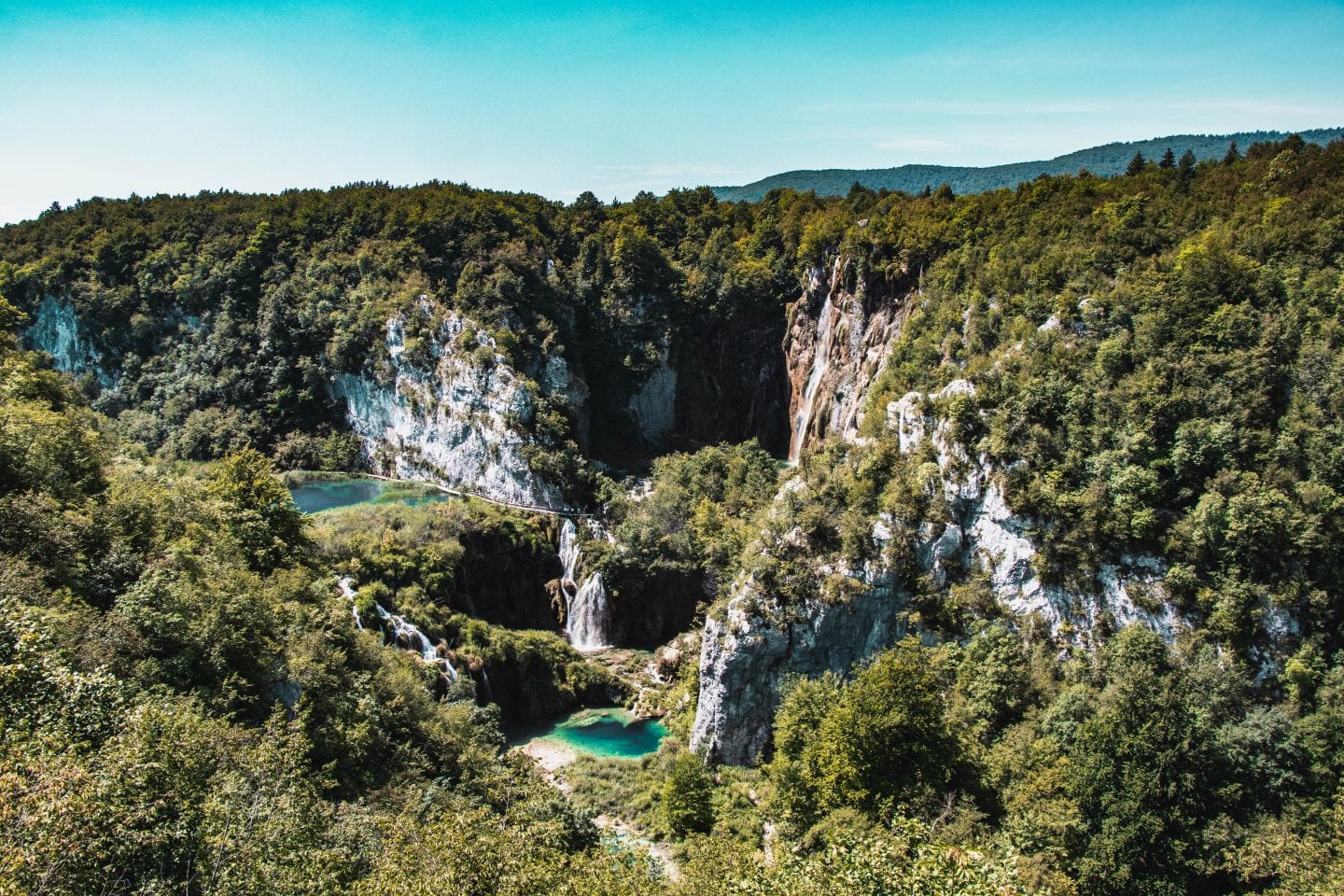 Last Updated on February 23, 2022
Croatia is abundant with hidden gems and majestical places – Plitvice Lakes is one of them. Plitvice Lakes is a canyon of green forest hugging the brightest blue lagoons you've ever seen. It feels like you're walking through Jurassic Park! Even if you didn't know Plitvice Lakes existed, you'll be wanting to add it to your bucket list. And when you plan your trip, you'll want to use essential tips for visiting Plitvice Lakes National Park.
Oh, and did I mention it's a UNESCO World Heritage Site? Yep, Plitvice Lakes is a big deal!
Even from the Plitvice Lakes entrance, you're hooked on the beauty of this place with the insane view of Veliki Slap waterfalls.
If you're planning a trip to Croatia, I encourage you to check out my other helpful posts like things to do in Zagreb or the best day trips from Split. Plitvice Lakes makes a perfect day trip from both Zagreb and Split!
---
Tips for Visiting Plitvice Lakes
These are the ultimate tips for visiting Plitvice Lakes that will have you prepared and worry-free on the day of your visit!
Travel in Low Season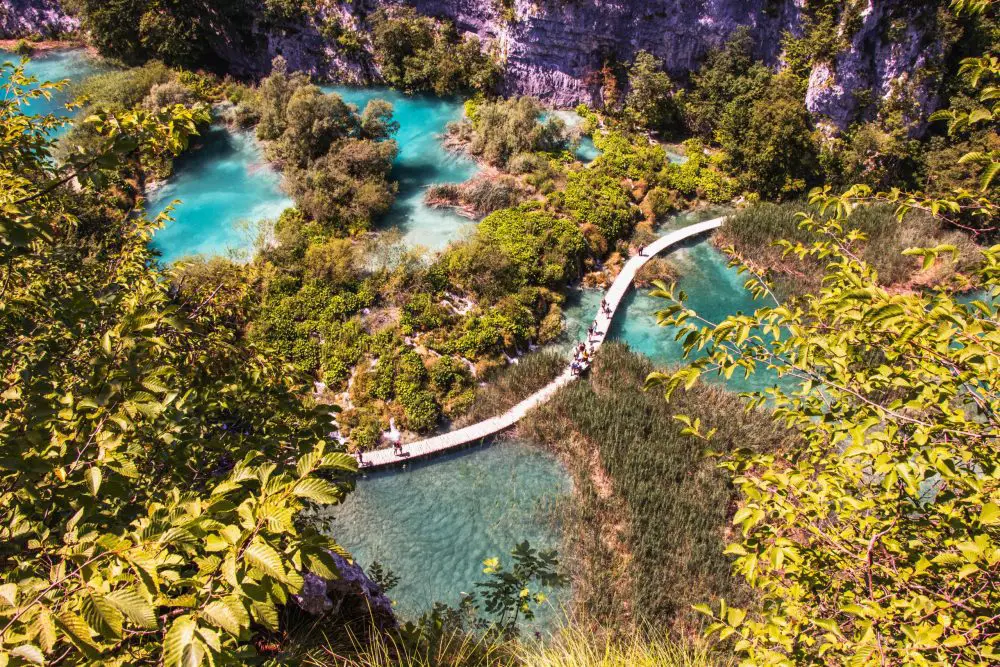 There are many advantages to visiting Plitvice Lakes in the months other than July and August. One obvious reason is fewer people! The park is really big, so there's actually a lot of room for visitors to spread out.
But there are areas where tourists get clogged up and it's not the nicest experience. Plus the parking situation gets a bit crazy.
The other plus in visiting in the low season is the cost! Prices go down by over 50 percent!
Adults will pay 200 Croatian Kuna (31 USD) in the high season and 80 Kuna (12 USD) in the low season!
You can see the full price guide at Plitvice National Park's website. (They're sorted by date for the high and low season – remember in Europe dates are MM/DD/Year!)
Arrive Early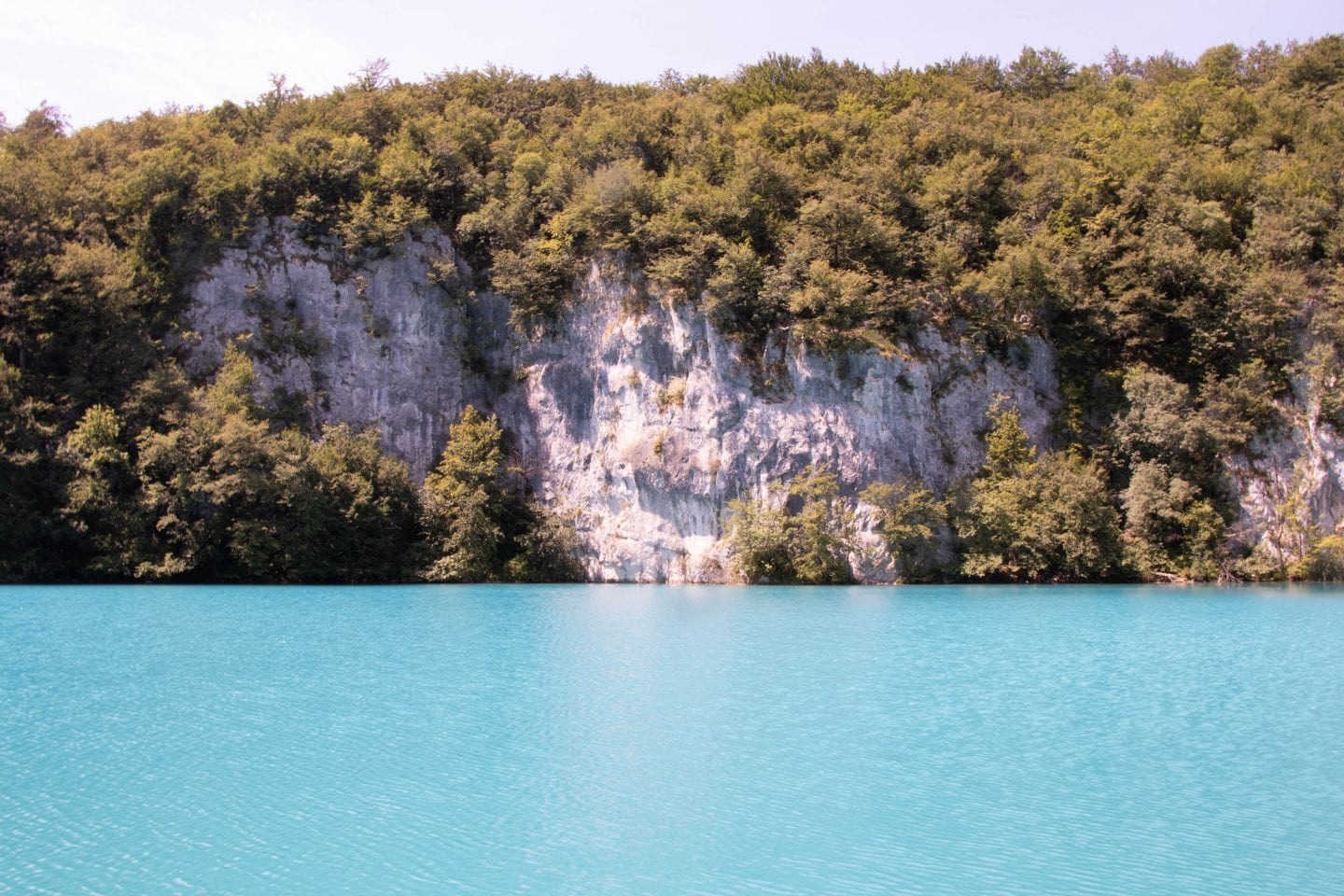 One of the best tips for visiting Plitvice Lakes is to visit early. This, like for the travel season, is for multiple reasons.
Firstly, I kind of already mentioned that parking can get a bit crazy. It's true! There are multiple parking lots very near to the entrance of the national park, however, they are not the most organized.
Picking a spot is already difficult since it's a gravel lot and certain areas are uneven surfaces. Add that after morning has arrived, it's full of people and their vehicles!
The earlier you can arrive to park calmly and find a spot easily, the better.
Keep in mind you also have to pay for parking! It's 5 to 10 Kuna per hour depending on the season (only about 1 USD.)
Secondly, the hikes at Plitvice Lakes can be full day affairs. There are paths that can take up to 8 hours to complete!
Arriving early means you have all the time in the world in your one day visit to explore the park!
Information to know: Park open is at 7 am.
Choose a Hiking Path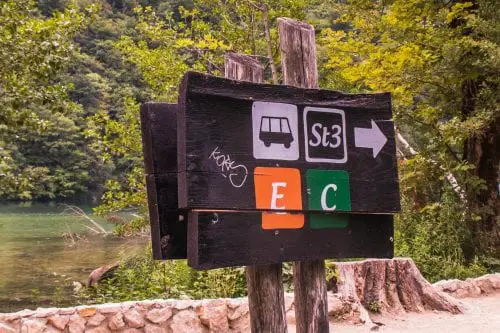 As I mentioned, the national park has trails mapped out for visitors. Following these trails keeps you safe and also allows you to customize how long you want to stay at the park.
I hiked trail C, the 4-6 hour walking trail! It's a great medium hike that allows you to see almost all of the park. There are signs along the main walking paths that direct you to the path you should be following.
My advice is to stop at the wooden sign at the front entrance of the park, which has a big map and all the trails marked out. You'll get a visual representation of the park (since it's too big to see in one gaze).
Choose one path and stick to it so you don't become confused, miss something, or end up hiking more than you expected!
Pack Snacks or a Picnic
There are quite a few restaurants in the vicinity and within the national park. Check out the full list here if you prefer to eat at a restaurant!
I personally can't pass up the opportunity for a picturesque picnic! I suggest shopping at the grocery store and picking up small bites and snacks to eat along your hike.
In the middle of the park (2-3 hours into hiking) is a relaxation area with pavilions, bathrooms, and picnic benches. You could set up for lunch there or pick a spot along the hike to eat and enjoy the view.
Make the Most of Your Ticket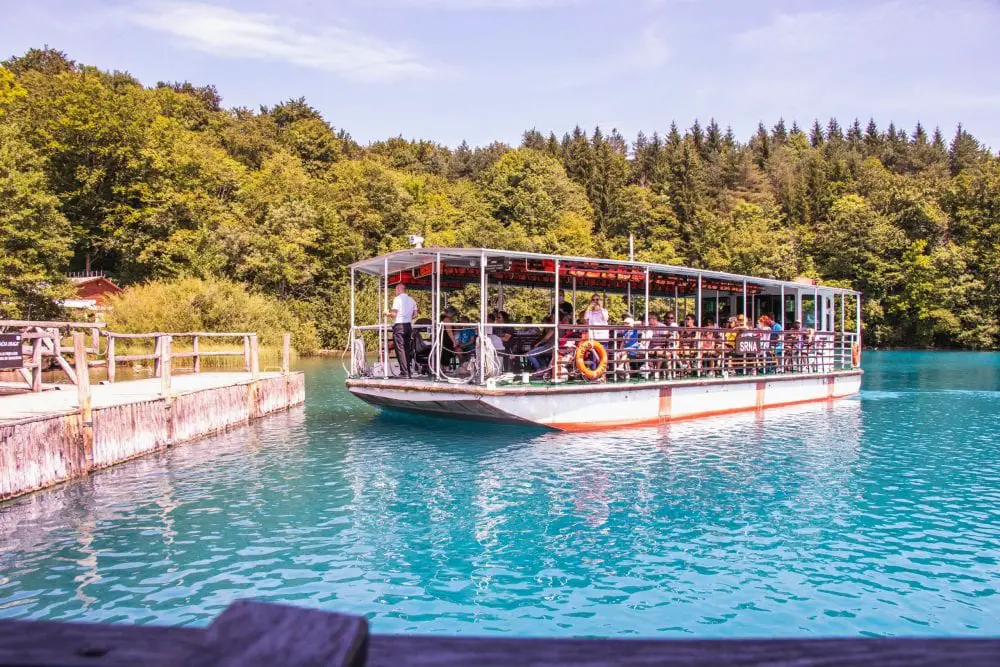 Your entrance ticket includes a boat ride across the lake as well as a seat on the panoramic bus (that also helps take you back to the front entrance!) Trust me, your legs will thank you for the panoramic bus ride!
A visit to Plitvice Lakes is most likely going to be a once in a lifetime opportunity, so this is why I'm suggesting to choose one of the longer trail paths that allows you to use these features included in your ticket.
You can explore both the upper lakes and lower lakes with the boat ride.
Choose the Right Photography Equipment – (Psst! Neutral Density Filters)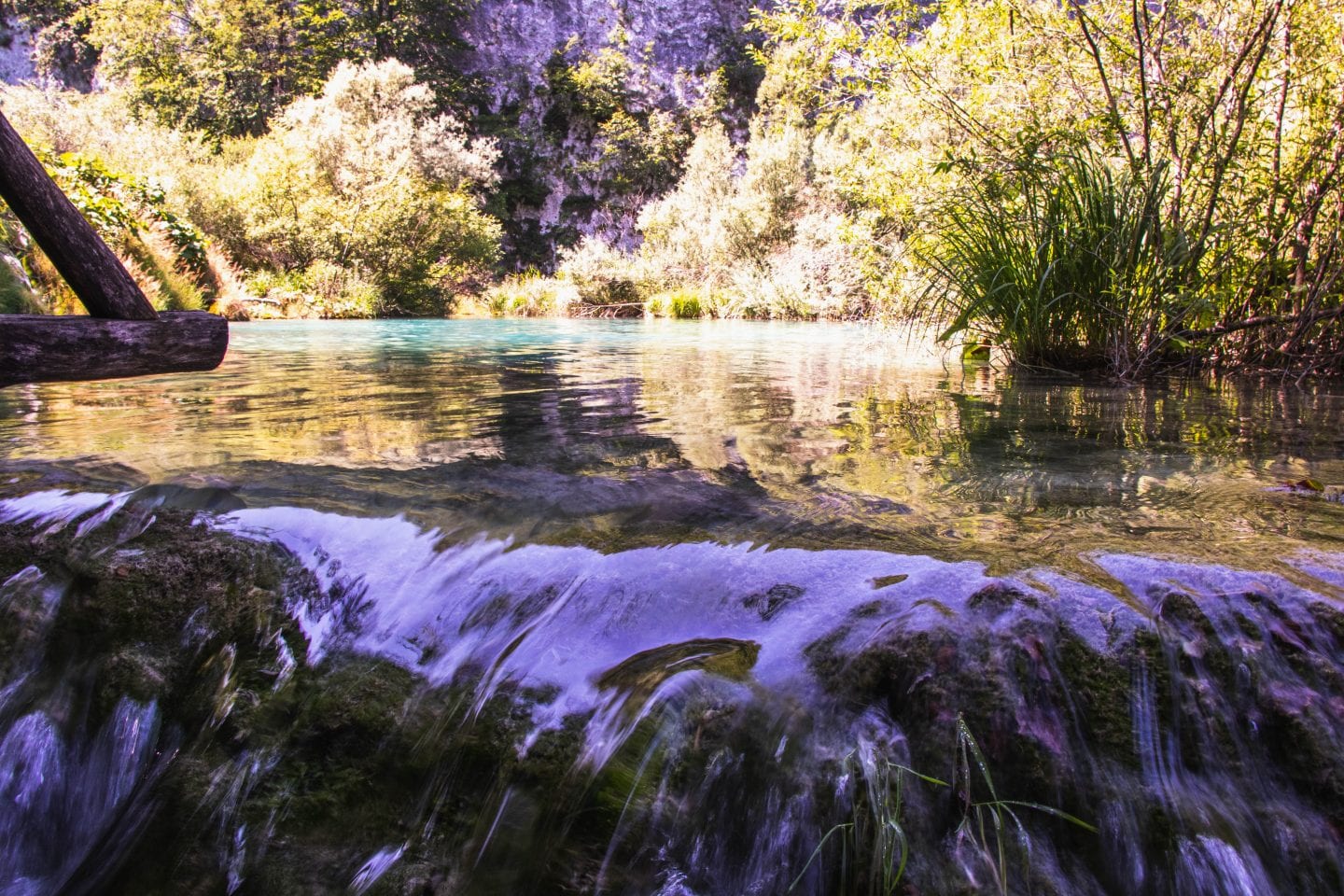 While it's nice to simply get outdoors at Plitvice Lakes, it's one of those places you're going to want to photograph – trust me! This is not the day to leave your camera at home.
I absolutely suggest bringing your camera and a regular zoom lens (skip your prime or telephoto.) This will be a great opportunity to shoot waterfalls, so here are the two main things you will need for that: a neutral density filter and a tripod.
You can capture these waterfalls with a beautiful long exposure and really catch the water moving by keeping your camera still on a tripod. My favorite is the MeFoto Globetrotter S Carbon Fiber, which will be lightweight while you hike and provide amazing stability.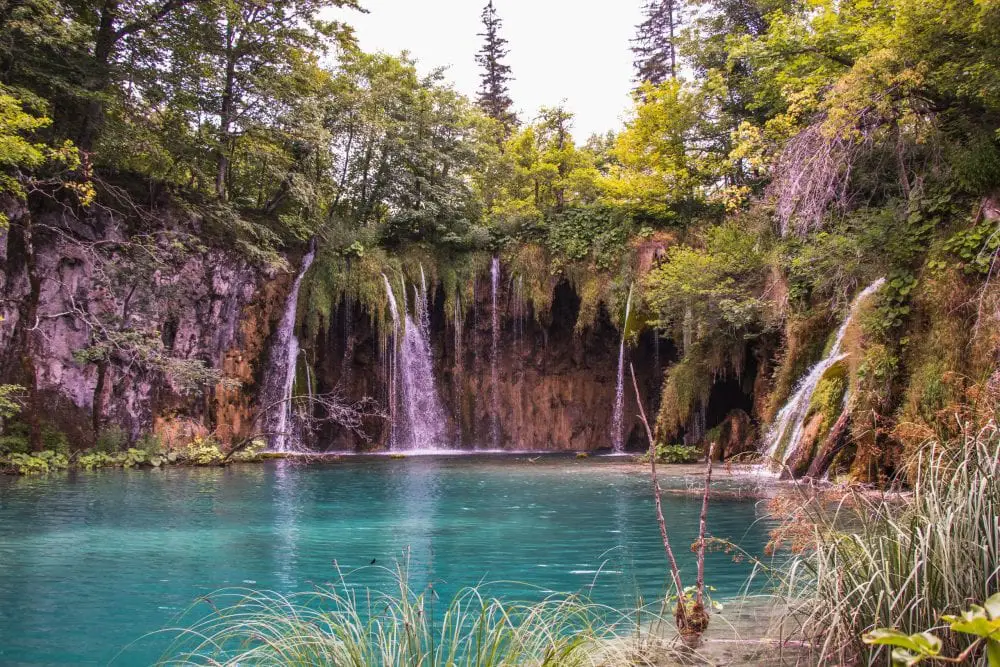 Neutral density filters will aid in blocking light and allow you to use longer shutter speed to capture the blur of the waterfall.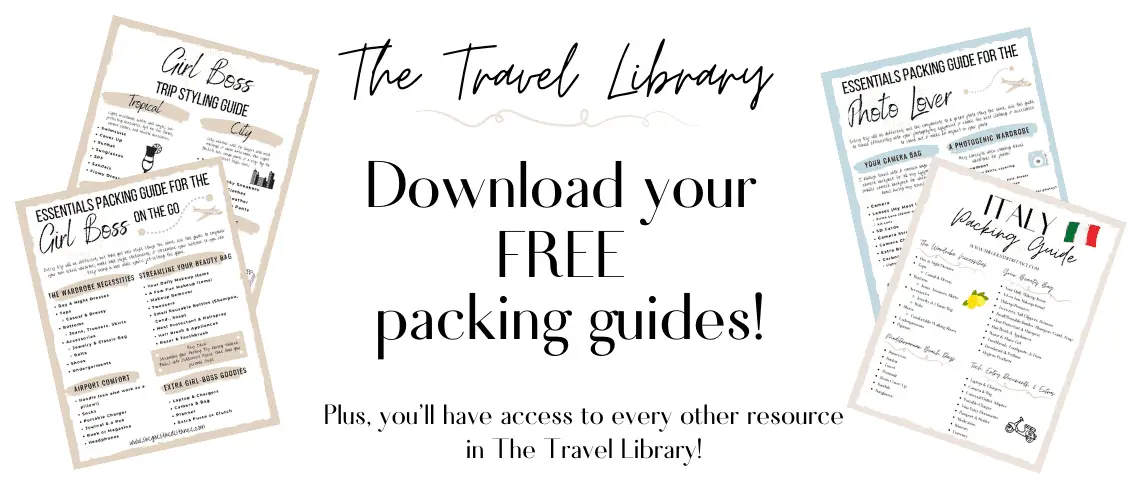 Rent a Rowboat
If I could take on of my own tips for visiting Plitvice Lakes, it would be to rent a rowboat! I missed the chance because we decided to skip it in order to keep following our trail path.
But if I could go back, this is what I'd do! For 50 kuna or 8 USD (per half hour), you can rent one of these rustic wooden rowboats to explore the largest of all the lakes.
Wear Appropriate Shoes
I wore my usual Adidas trainers and even my fairly high quality athletic shoes almost didn't weather a hike at Plitvices Lakes. This national park is no joke. The beginning of the trails has wooden sidewalks, but it transitions into Earth's terrain and stays that way for the majority of the paths.
Not to mention there are also rocky and uneven caves to explore! Proper hiking shoes are definitely the move if you have them and they fit in your suitcase!
Dress Comfortably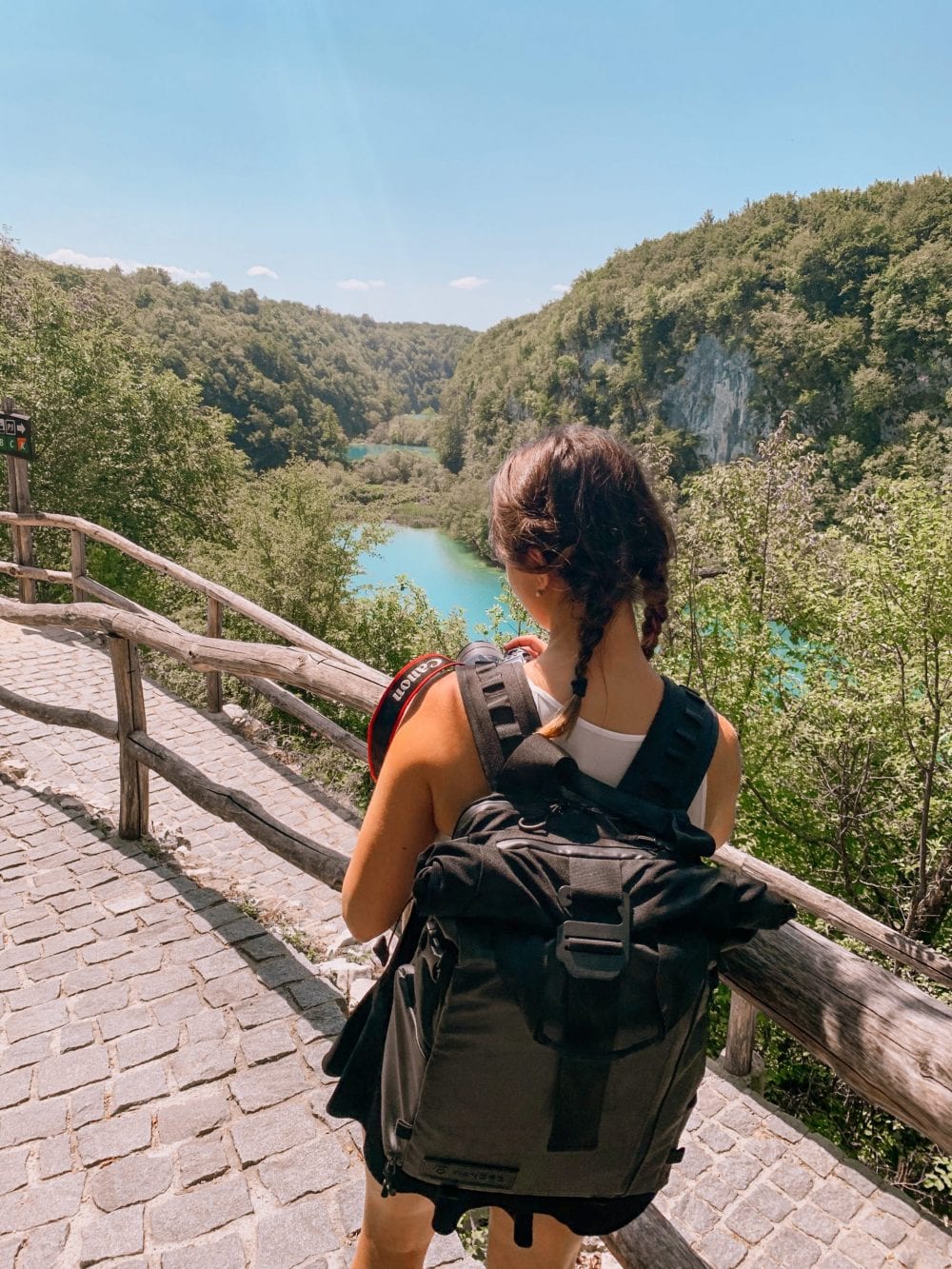 Besides just the shoes, make sure you're wearing comfortable clothing – whatever that means for you.
For me, I wore a fitted tank top and a skirt with shorts built in (okay fine, a skort – although that sounds way less fashionable!)
It was a compromise for the heat, the physical activity, and still wanting to look cute for pictures!
Just make sure you wear clothes that are lightweight and you're able to move in. Bring an extra layer depending on the weather. I always use the app PackPoint to plan what I'm packing for a certain destination – it takes into account the weather forecast!
Stay Hydrated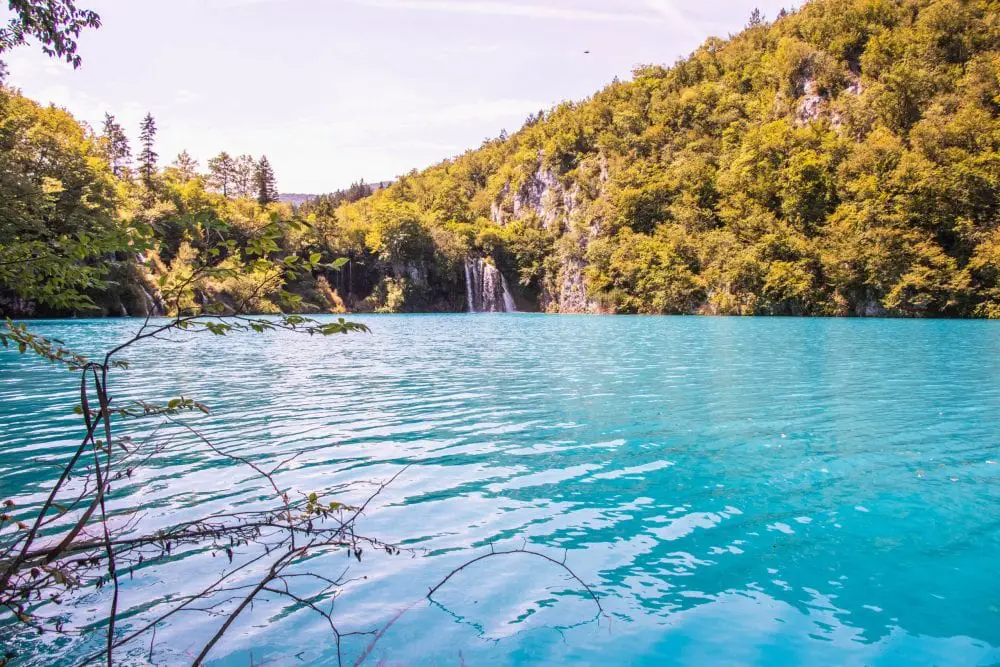 There's not much in between in this massive national park. There are pavilions at the front, middle, and end, meaning the ability to refill or buy water is limited.
Hikes are long and especially during the summer, the heat can really impact your physical movement. Keep recharged using a reusable water bottle!
My travel-friendly favorite is a collapsible water bottle to keep packing light, which is perfect for a hike.
Otherwise, I love Brita water bottles for traveling if I have more space to carry since they have a built-in water filtration system!
Bring Rain Gear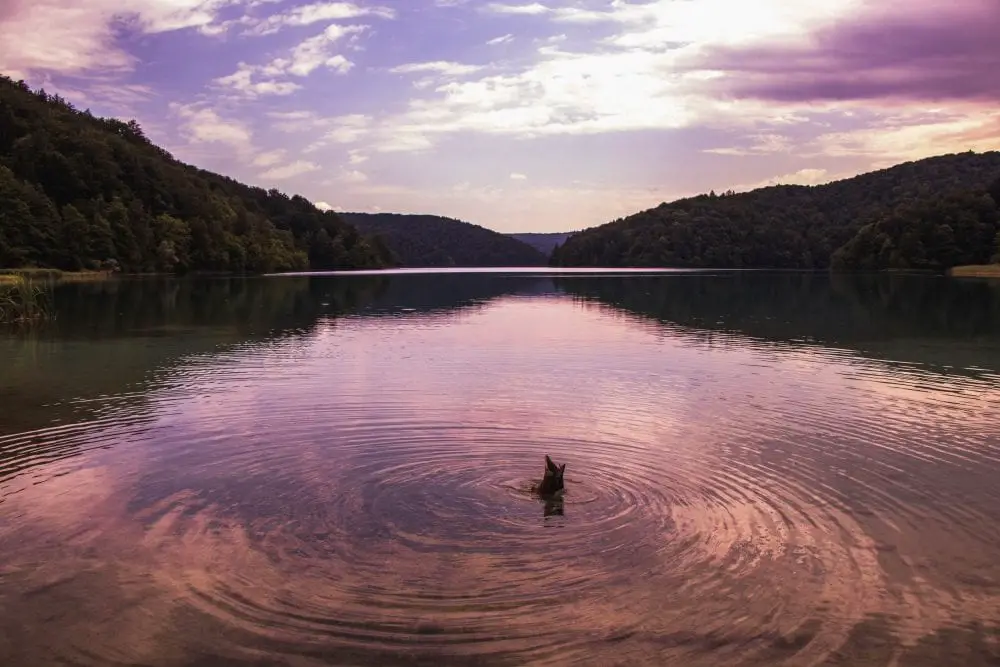 Pack a light rain jacket to be prepared for what could happen. I went to Plitvice Lakes at the end of July and there was a downpour in the afternoon!
Rain jackets will be easier to hike in rather than carrying an umbrella because of the brush and potentially tight walking areas of the trail.
Enjoy Moments Along the Hike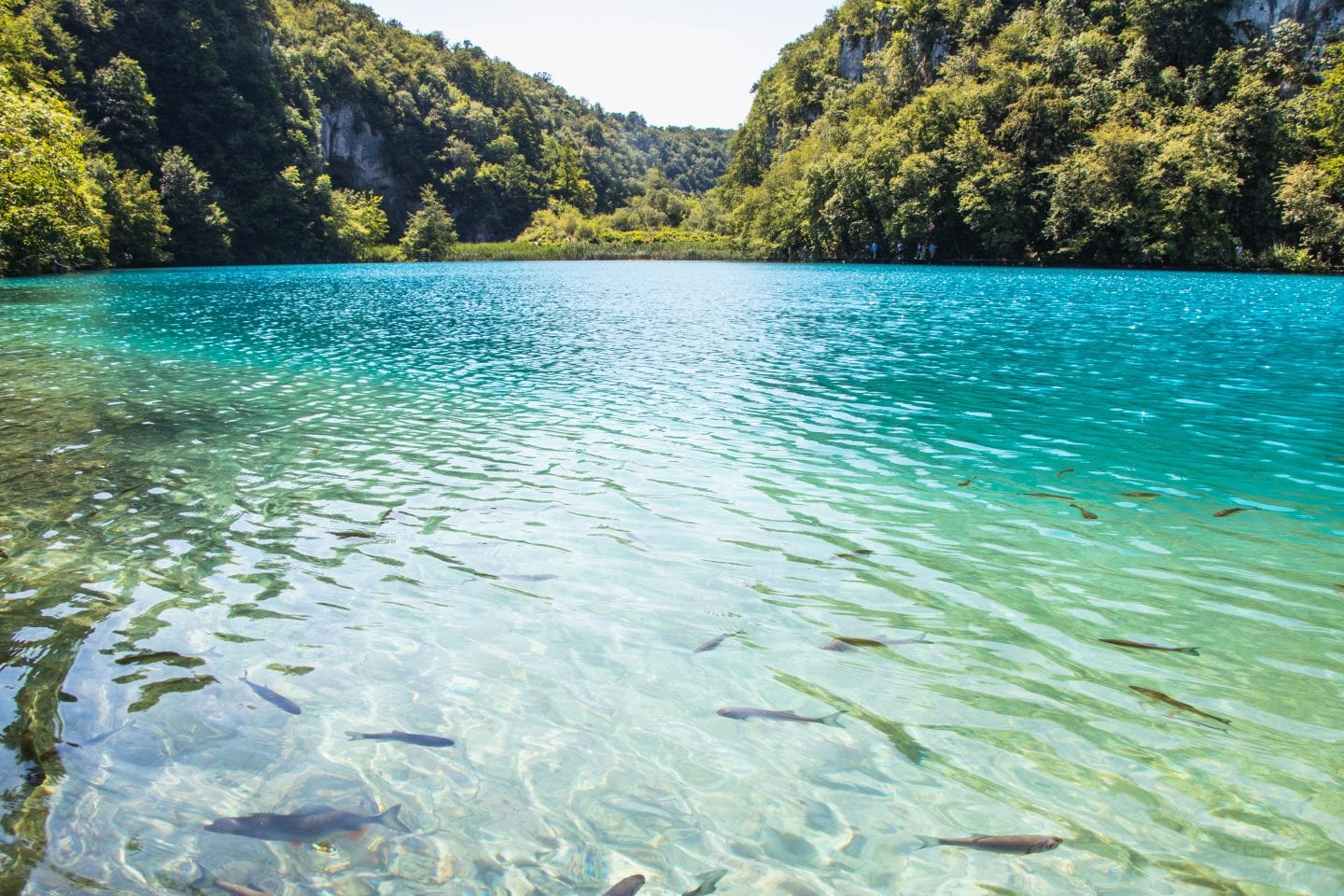 One thing that I really loved about visiting Plitvice Lakes is because it was so big, you were able to spread out from people in most areas and simply take a moment to enjoy.
Take advantage of the numerous benches placed throughout the park or find your own little corner to sit and take in the magical views.
---
Resources for Planning Your Visit to Plitvice Lakes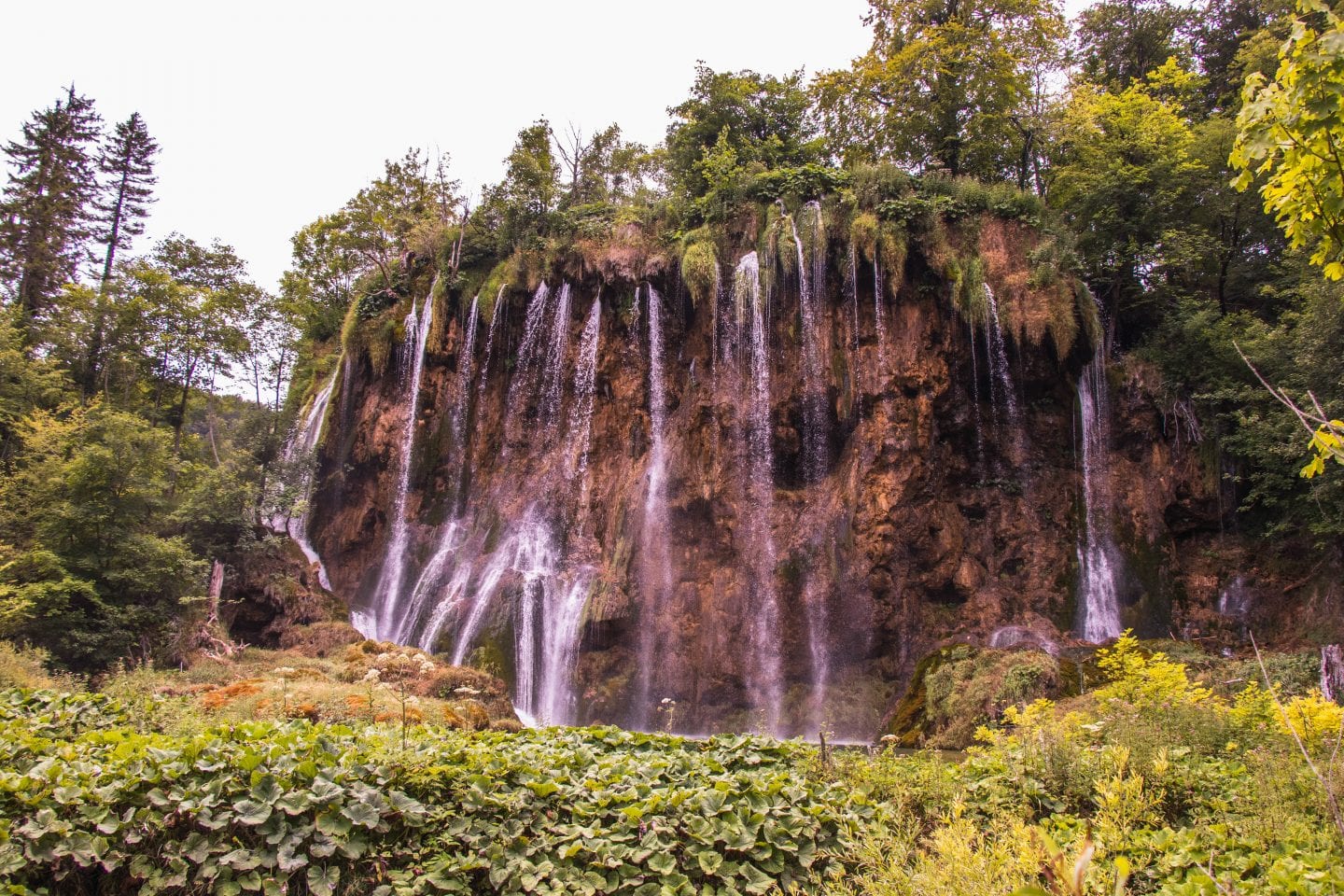 Along with all these tips to visit Plitvice Lakes, plan your trip by utilizing the Plitvice National Park website! It has tons of information about activities and in-depth knowledge of the park.
Remember that Croatia uses Kuna as currency and to either have cash converted into Kuna or add a travel notification to your credit card.
If you'd rather book an excursion to Plitvice Lakes (which can be helpful if you're making it a day trip from further spots like Split,) there are lots of options so that your transportation and entrance is taken care of. I recommend this day tour from Split to Plitvice Lakes. Or you could opt for a guided Plitvice Lakes tour if you didn't want to DIY your visit.
I personally loved exploring Plitvice Lakes without a guide, but I want to make sure you know all your options! If you want to learn about the history and special notes about Plitvice Lakes, then a tour is a must. If you just want to explore and take in the beautiful scenery, then skip a guided tour!
Save this Croatia Travel Inspiration on Pinterest!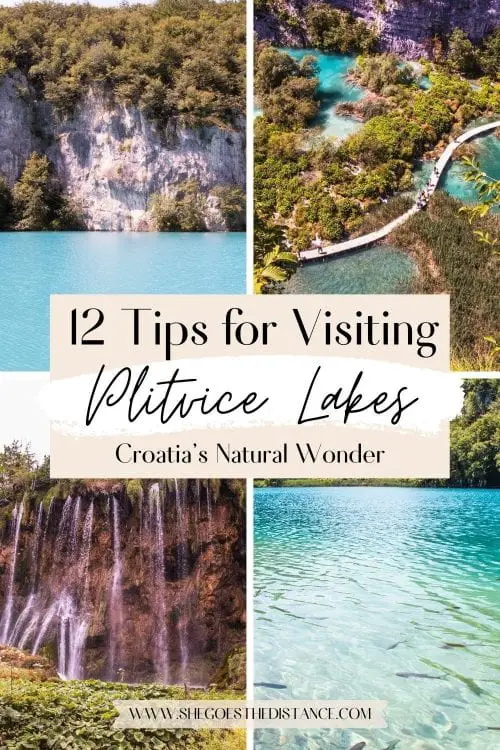 I hope these tips for visiting Plitvice Lakes will be of great help to you when planning your trip! Savor the magical nature and ethereal ambiance of this wonder of the world.
XOXO
Michela