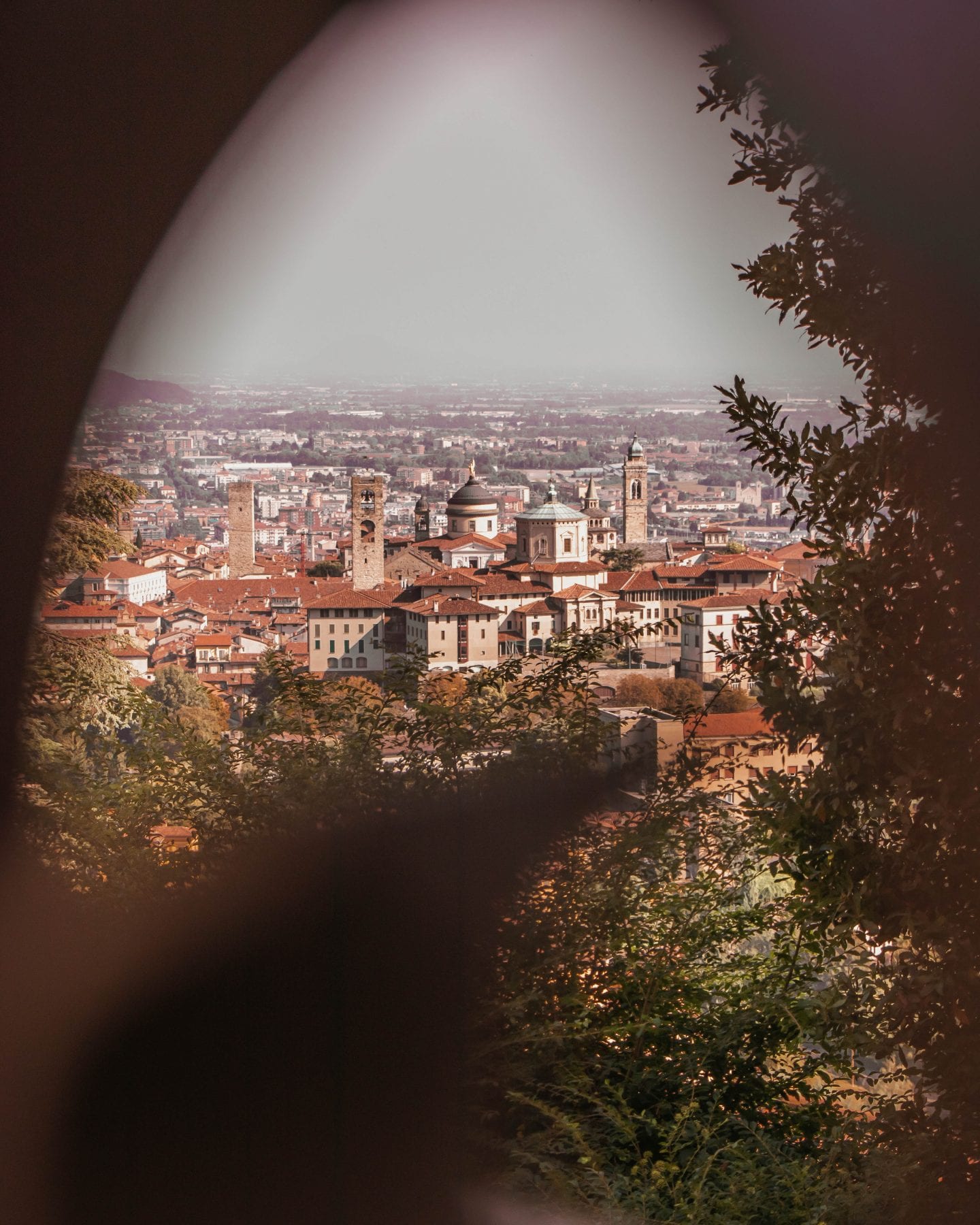 Last Updated on May 11, 2023
Bergamo may just be Italy's undiscovered gem of the north. It's a thriving city not far from Milan oozing with historical charm. Its ancient upper town, Città Alta, is delicately perched above the lower town, Città Bassa, fortified with 16th-century Venetian walls to protect from invaders in history's past. The wonderful thing about it is it's far less touristy than other Italian cities, but still with so much untouched beauty to see. Discover the best things to do in Bergamo and why you should visit this gem in northern Italy.
Bergamo also happens to be my home as an ex-pat living in Italy. So I have grown to know the city like the back of my hand!
While Bergamo has been a best-kept secret of Italy for a while now, you may actually recognize the name in light of recent world events. Bergamo was the first and hardest-hit city in Italy at the beginning of the pandemic.
If you need any other help planning your trip to Italy, visit my ultimate guide to planning a trip to Italy. I've combined what I've learned over my last few years of traveling all around Italy to help make planning a trip as easy as possible.
And if you need inspiration for your trip beyond Bergamo, I've written on some of my other favorite cities in Italy to inspire you.
Some of these links are affiliate links. This means if you make a purchase through that link, I receive a small commission at no extra cost to you. Read my full disclosure!
Before you head to Italy, make sure you bring along all of the essentials!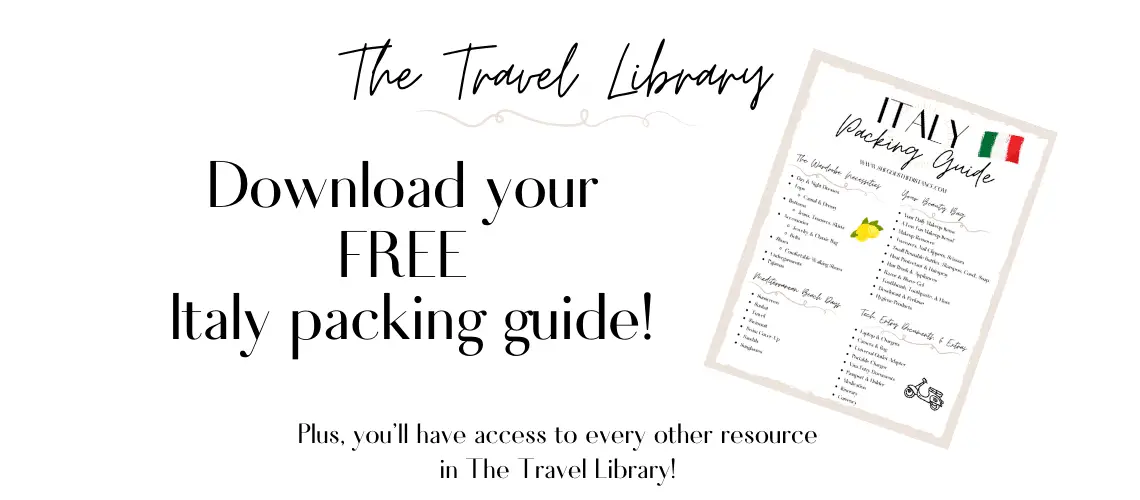 ---
How to Reach Bergamo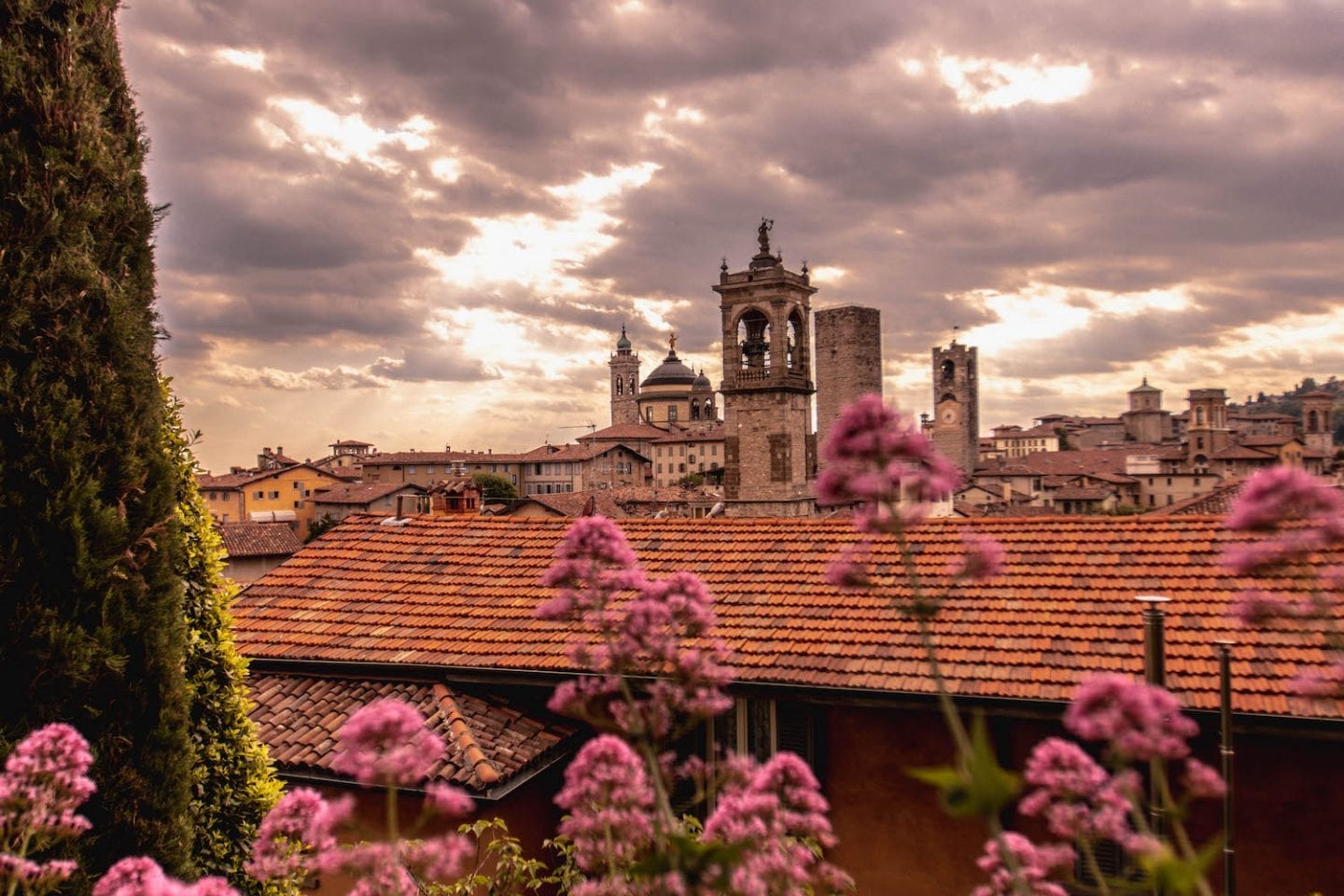 There are four convenient options you can use to reach Bergamo. You can travel by renting a car, by train, by bus, or arrive directly in the city at its international airport.
Being only 40 minutes away, Bergamo is a perfect day trip from Milan. Trains run back and forth daily, which you can learn more about in my essential Italy train travel tips to easily navigate the transportation.
Companies like FlixBus also offer buses from Bergamo to Milan, as well as other destinations, for as little as 5 euros.
If you choose to go by car, you may need to take the highway, so make sure to factor in the cost of tolls on your trip budget. It will vary based on the distance you are traveling, but for example, the toll from Milan to Bergamo costs around 4 euros one way.
Bergamo also has its own airport, Orio al Serio (BGY). It's the third-largest hub of RyanAir, so it could be a perfect budget travel trip if you are coming from Europe!
---
Where to Stay in Bergamo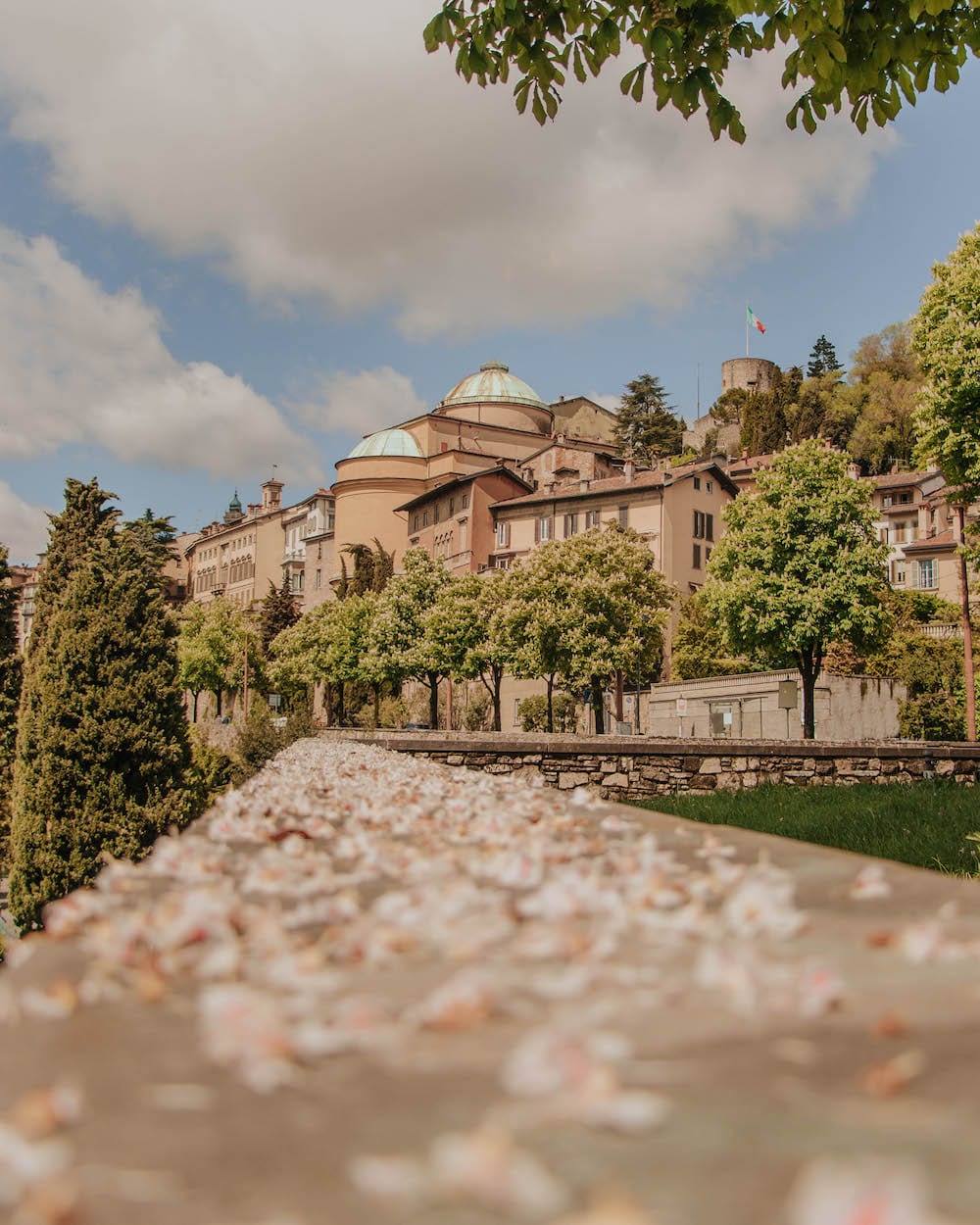 Bergamo is the perfect place to visit for one day on your Italy itinerary, but as you'll find out, there's so much to do in and around the old city. You may want to spend a few extra days exploring! I recommend staying in Città Alta, the old town, so you're in the city center. Both B&B Entro Le Mura and Relais San Vigilio al Castello are in Bergamo Alta.
If you're renting a car and driving in Italy, you may want to stay in Città Bassa. You'll find parking is easier to find and you won't have to deal with the ZTL or limited traffic zones of Città Alta.
Hotel Excelsior San Marco is in Città Bassa but only a few minutes walk to the funicular up to Città Alta or the walking path.
Budget: B&B Entro Le Mura
Mid-Range: Hotel Excelsior San Marco
Luxury: Relais San Vigilio al Castello
Near airport: Winter Garden Hotel
---
Things to Do in Bergamo Upper Town: Città Alta
Basilica di Santa Maria Maggiore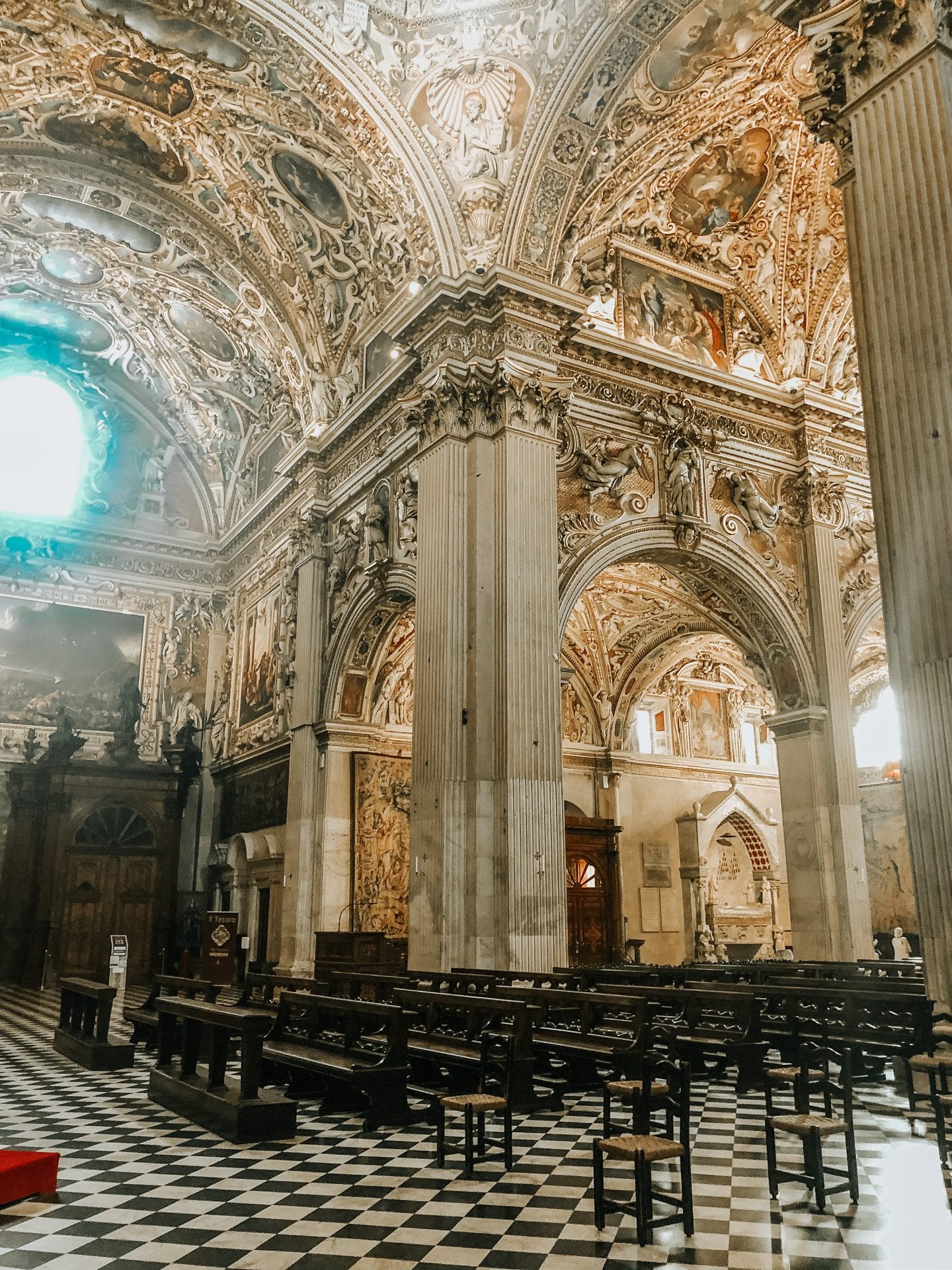 One of the first things to do in Bergamo that you should add to your list is head over to Piazza Duomo and visit the 3 big monuments to religion in the city.
What I love about the Basilica Santa Maria Maggiore, Cappella Colleoni, and Duomo di Sant'Alessandro is that they are in the center of the city, but are tucked behind Palazzo della Ragione. It makes the reveal to these huge and decorated churches so special. You stroll through the big open piazza and go around the palazzo to be met with stunning, sacred architecture.
The Basilica di Santa Maria Maggiore is unique because its entrance and facade are not grand or even very clear. You'll first notice Cappella Colleoni and then to the left is an unassuming door to where you enter the Basilica.
Cappella Colleoni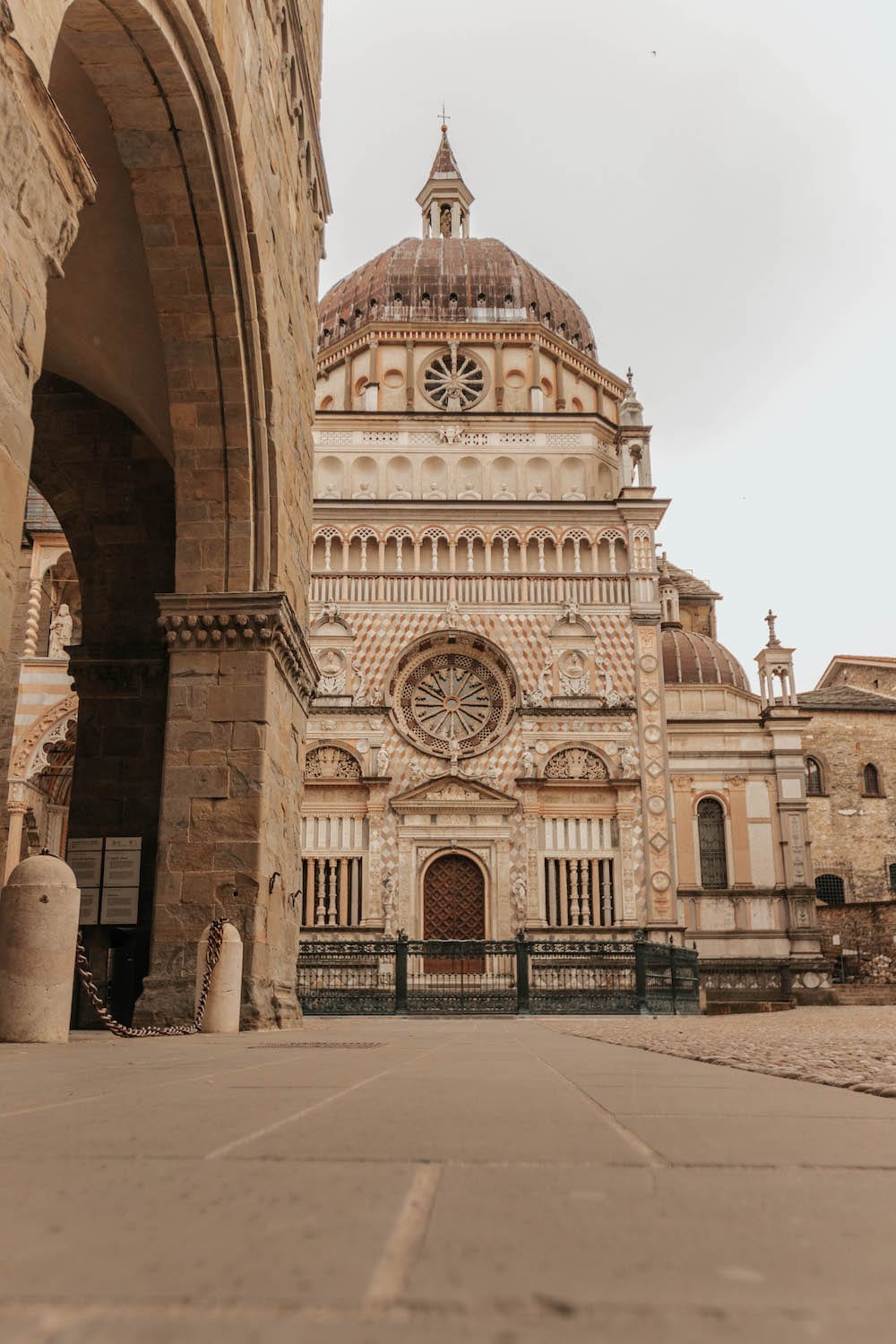 Based on its outer appearance, you may expect Cappella Colleoni to be the main church of Bergamo. The facade is ornately decorated, grandiose, and frankly, humongous!
Inside, you'll find it just as decorated as the outside, flooded with art and opulent detail.
Duomo di Bergamo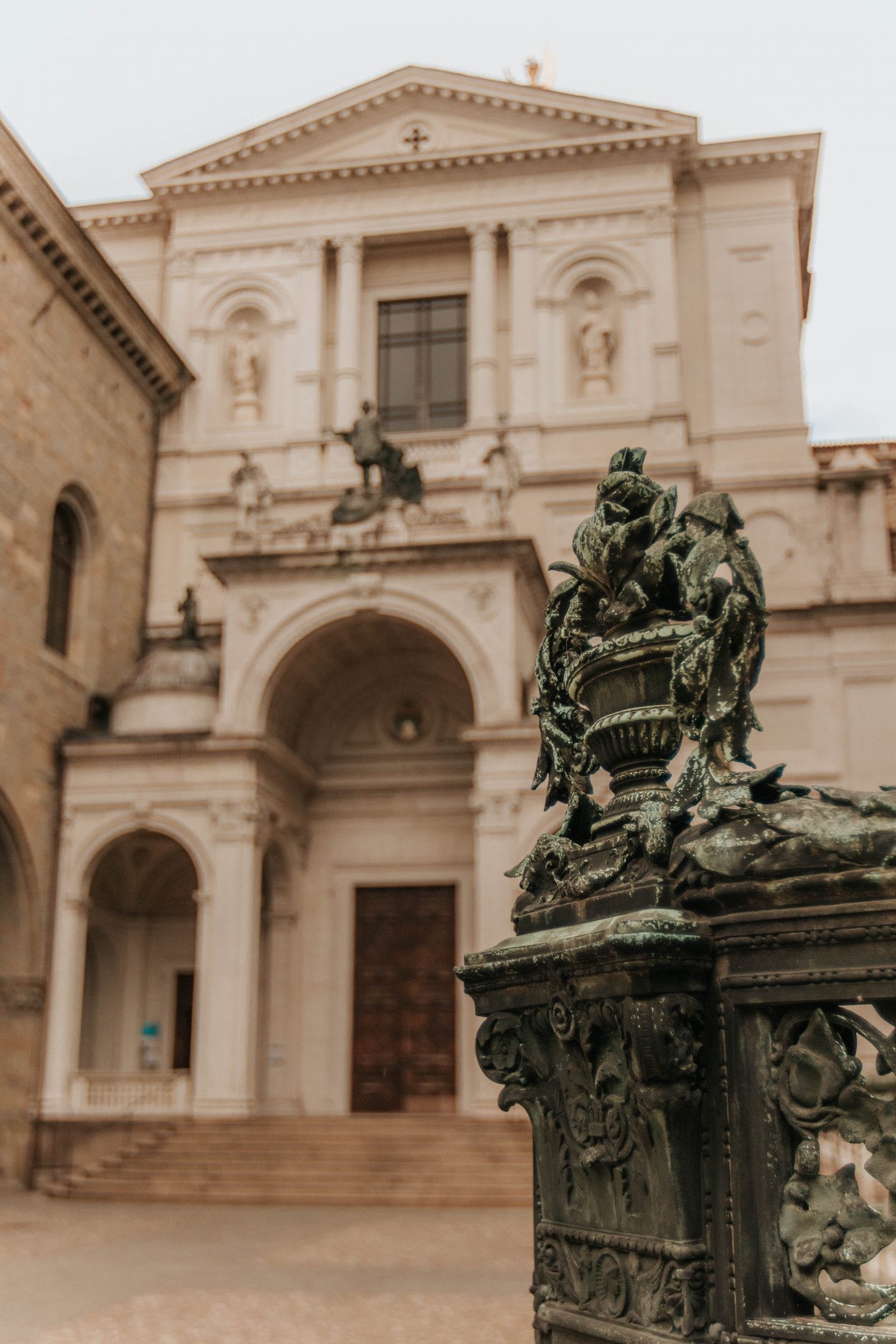 The Duomo of Bergamo, or Cattedrale di Sant'Alessandro is to the left of the Basilica di Santa Maria Maggiore and the Cappella Colleoni. The church takes the name of Bergamo's patron saint, and while it's smaller than the basilica, it is no less impressive.
Inside are various artworks, statues, and even the tiara of a pope – Pope John XXIII to be exact, who was from Bergamo and is now a saint.
Campanone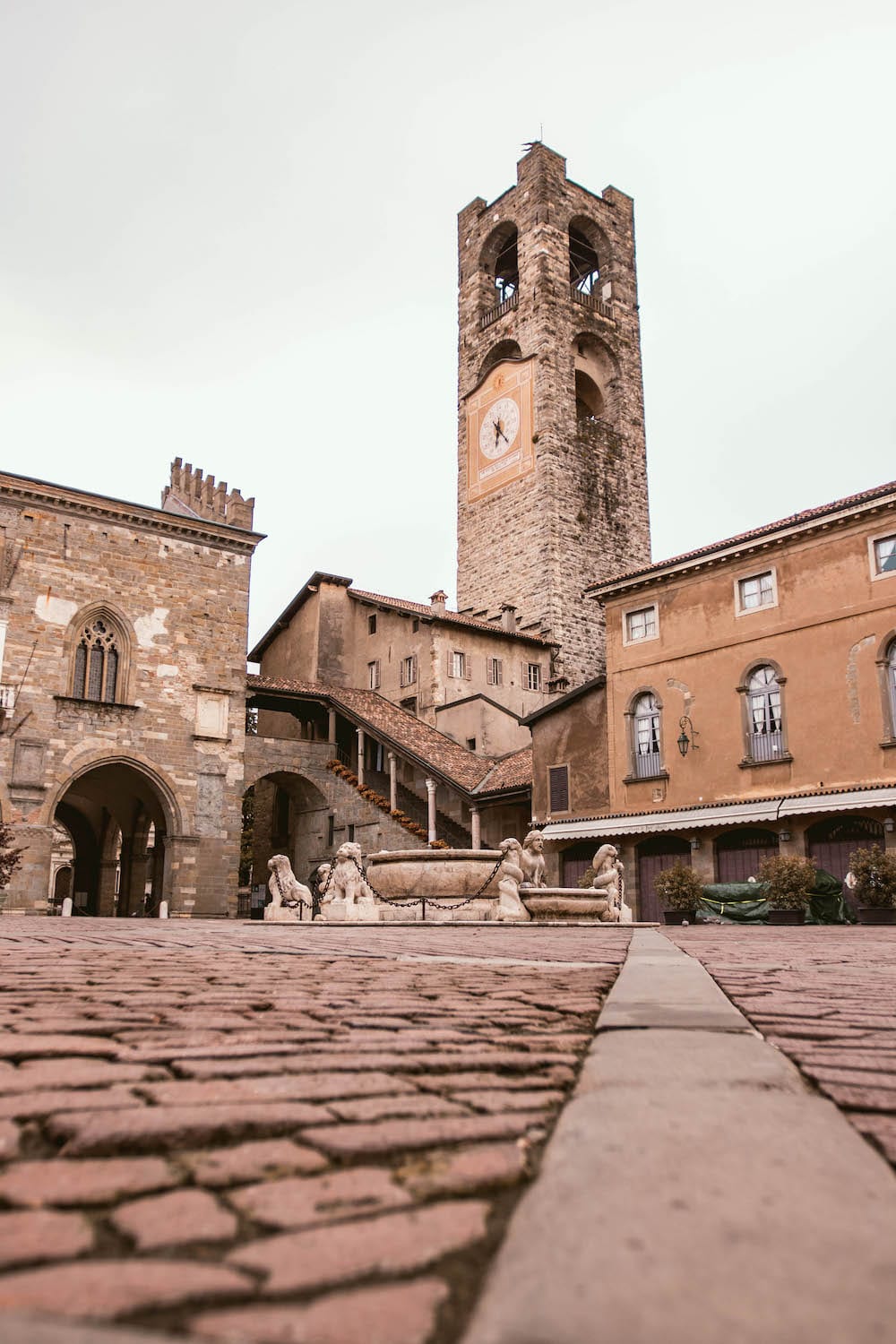 After visiting Piazza Duomo, the next things to do in Bergamo are close by – the Campanone and the Piazza Vecchia. This 12th-century tower constructed across from the Basilica di Santa Maria Maggiore and in the piazza offers panoramic views of Bergamo from the top.
The Campanone is a bell tower, with the largest bell in Lombardy. Centuries ago, the bell would be rung 100 times at 10 pm. This was to let residents know the gates to Bergamo were closing. It still rings as such today to preserve that tradition!
You can enter for 5 euros and read more about it for planning your visit at Visit Bergamo.
Piazza Vecchia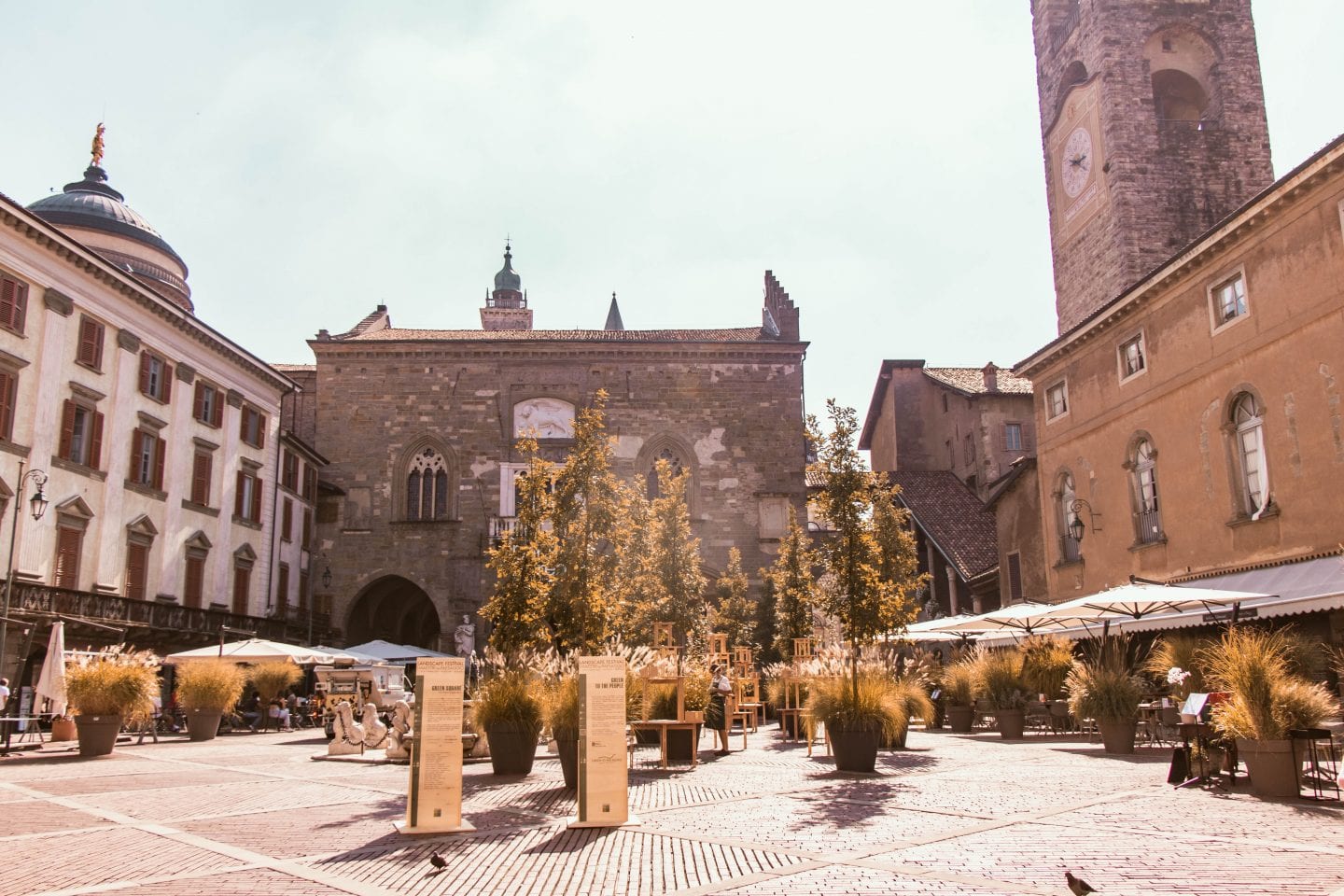 It's everything you love in an Italian plaza. There are restaurants, cafes, lots of people, and beautiful architecture. Piazza Veccia is not too small and not too big, creating a center to the city that makes it feel like a home.
If you come during certain times of the year, there may even be festivals occurring, such as this garden show in September.
Take the Path Up To The Porta San Giacomo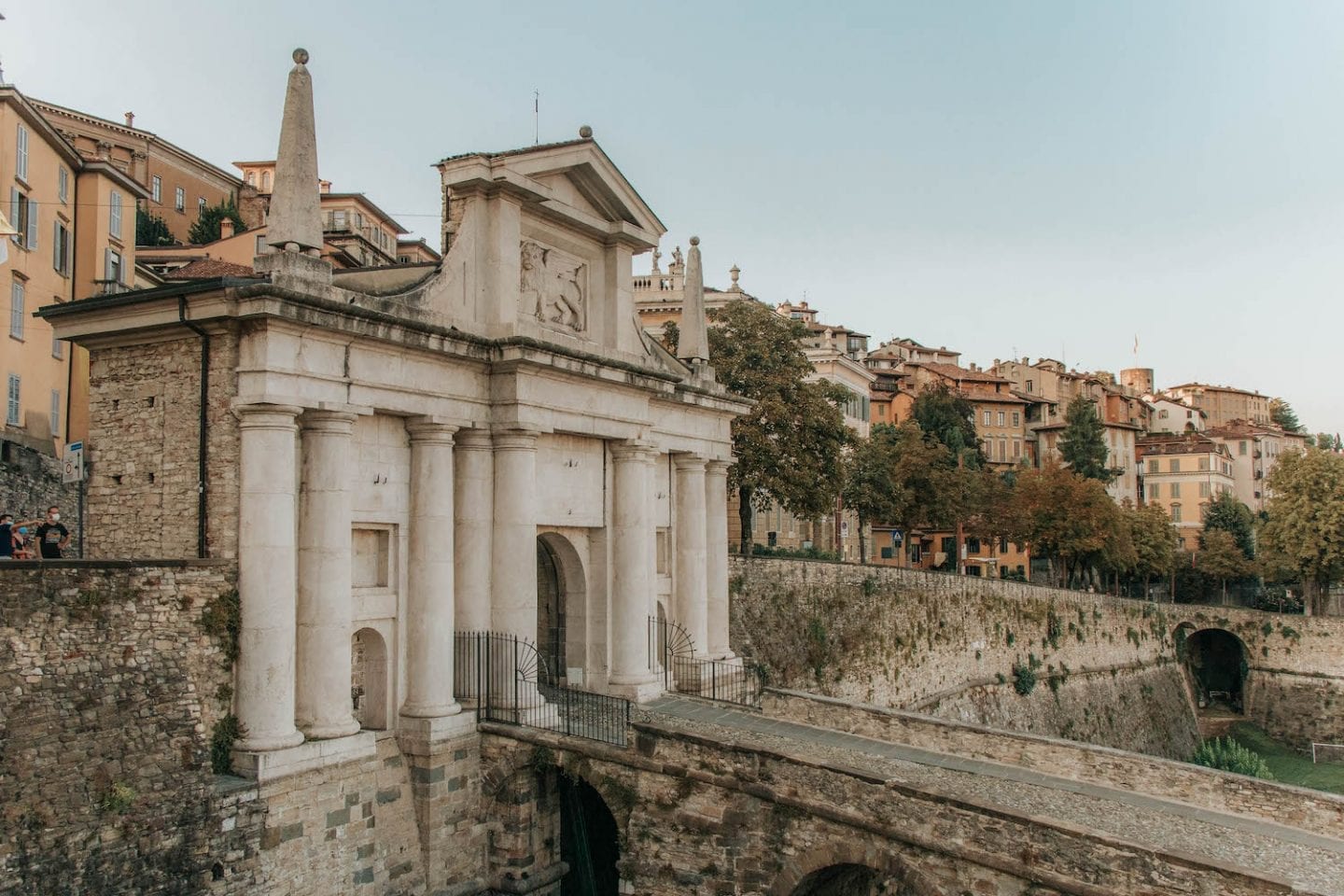 The Porta San Giacomo is a white facade along the Venetian fortified walls of the upper city of Bergamo. In history, it was the door to the city of Bergamo of which travelers from Milan would enter.
The path leading up to the Bergamo city gate is winding cobblestone from which you can take a beautiful photo of the opening to Città Alta or the sprawling Città Bassa below.
Walk Along the Walls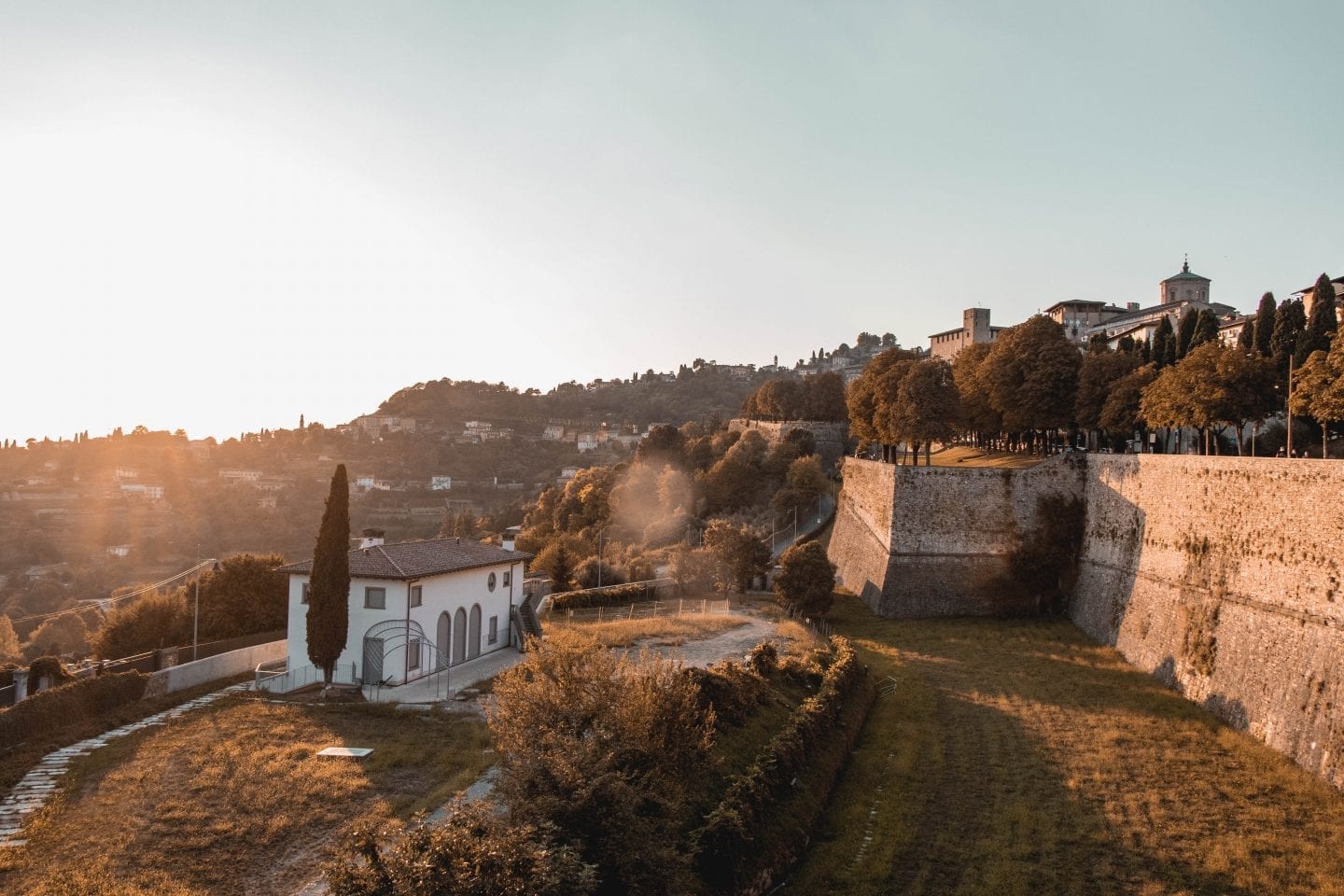 Along the 500-year-old walls of Città Alta, there are wide grassy parks to literally sit on top of history and take in the breathtaking views. Just over the walls, you'll peek at the cascading villas down to Città Bassa.
Enjoy some moments at sunset on a park bench, take a jog on the paths against the walls, or simply stroll along this UNESCO World Heritage Site as you make your way to the historic center of the city.
Get Stracciatella at La Marianna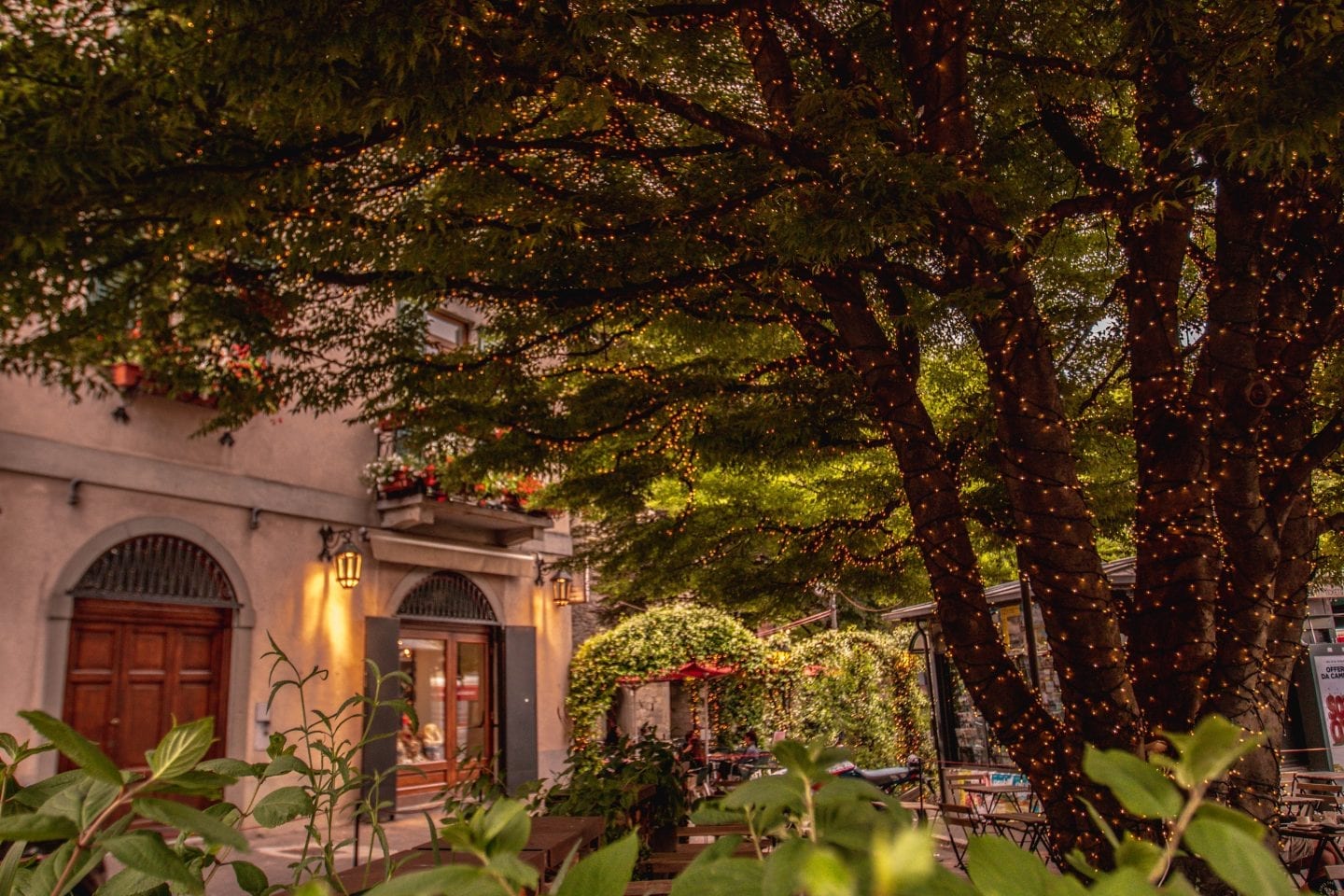 La Marianna is a famous gelateria in the heart of Città Alta. They invented the flavor of Stracciatella, a silky vanilla cream filled with chocolate shavings.
While the best time to get a gelato might be the sweltering afternoons of Bergamo summers, stopping by La Marianna in the evening is even more special. The outside of the cafe and its seating area are decorated with beautiful twinkling lights, making you want to pinch yourself that you're really in Italy eating that tasty gelato.
Campanella Tower & Piazza della Citadella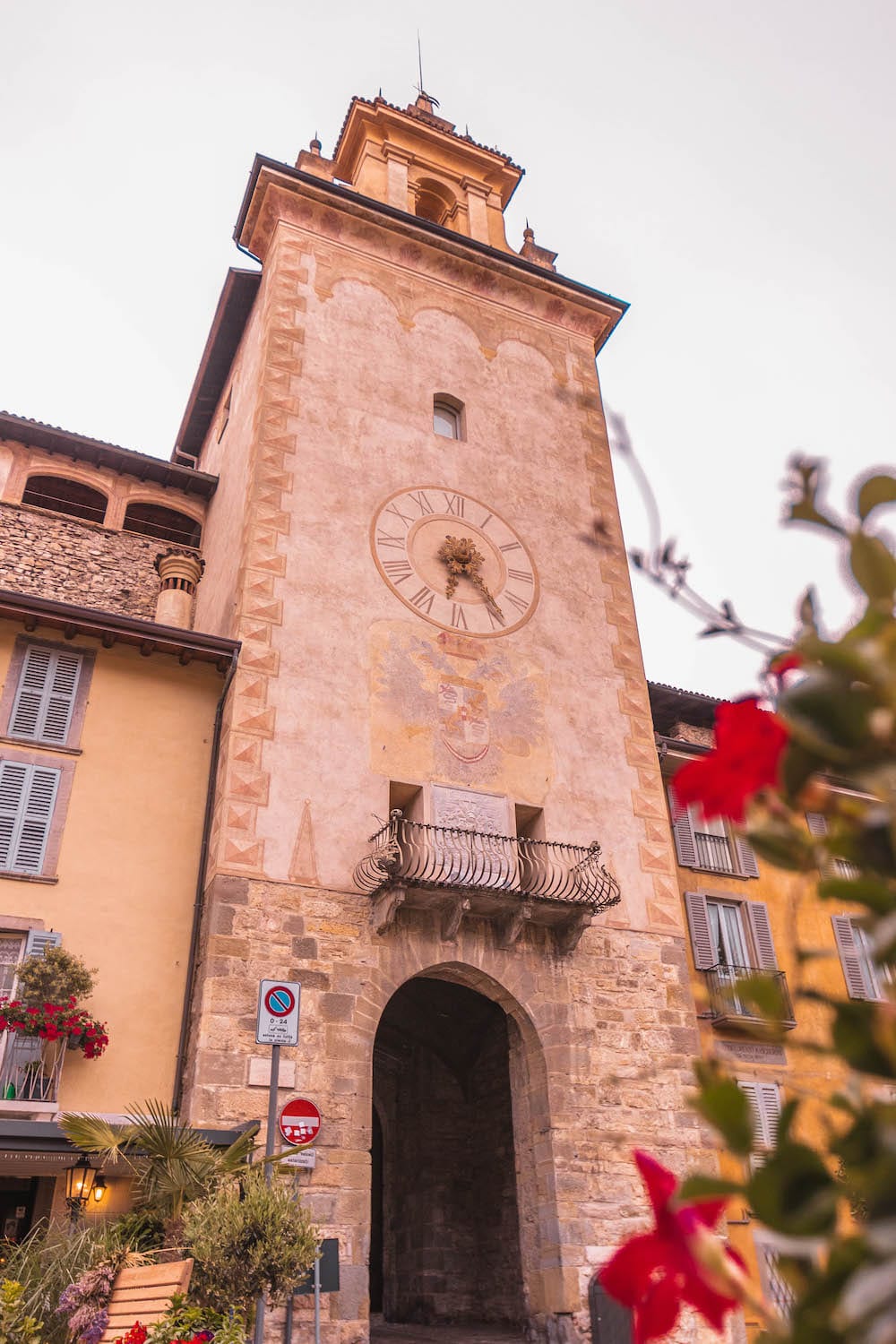 When exploring Città Alta, always look up and around you to spot one of its many ancient towers! This stunning clocktower, the Campanella, is incredibly unique for its fresco-painted exterior.
The clocktower is an entrance to Piazza della Cittadella, built in the 1300s, which was used as the military center of Bergamo. Nowadays, you'll find resident parking as well as several important museums in this piazza, like the Civic Archaeological Museum.
Shop the Local Main Street of Città Alta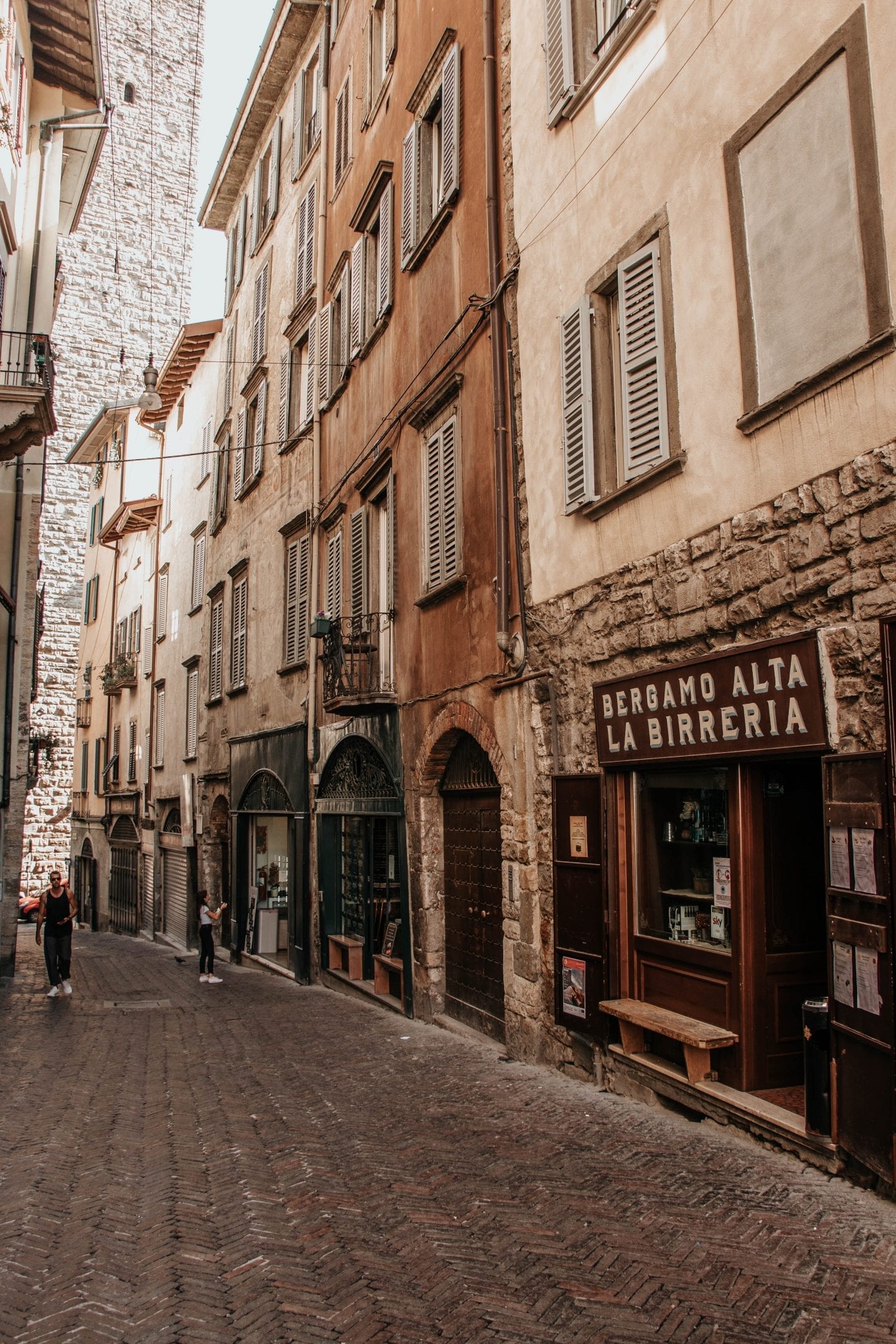 When in the center of Città Alta, you will likely find yourself on Via Bartolomeo Colleoni/Via Gombito. This is the main street that connects the Piazza Della Cittadella to the Piazza Vecchio and then to Piazza Mercato delle Scarpe, where the Funicolare is located form Città Bassa to Città Alta.
It is the bustling street of the historic center, lined with shops, restaurants, and bakeries to satisfy your sweet tooth. Take a moment to stroll this street and observe the interactions between locals.
What's wonderful about Bergamo is that it has not been overrun by tourism as opposed to other major cities in Italy.
You will see far fewer tourists in Bergamo and much more character, which makes it a wonderful destination to visit!
Gombito Tower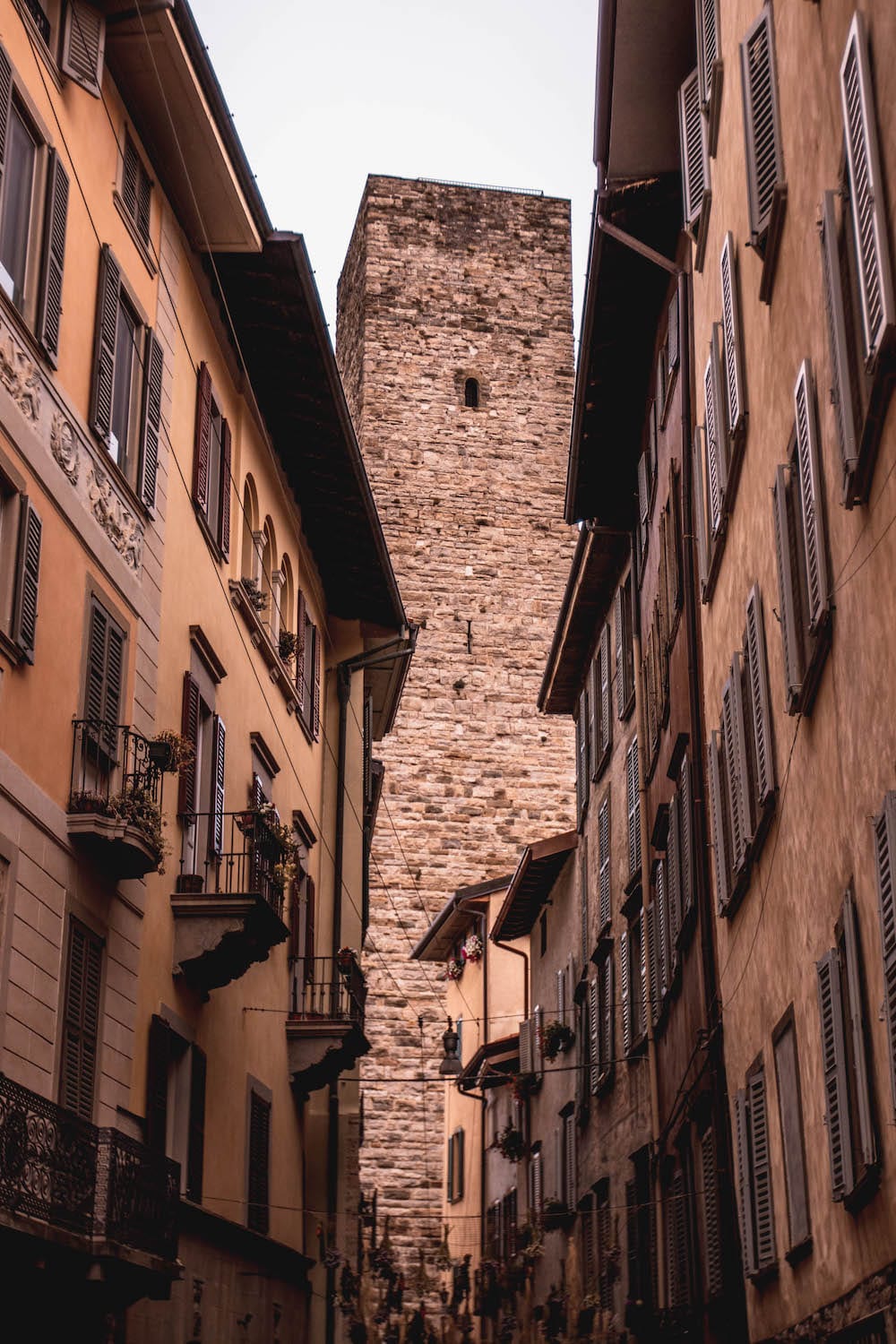 Gombito Tower dates back to at least the 12th century in Bergamo and was an important stronghold to the noble Suardi family. The tower is a unique, plain rectangular shape and it towers through the crowded buildings of Bergamo's main street, Via Gombito.
Now with reinforcements to its staircase, you can climb to the top for views over Città Alta (that is, if you're willing to climb 263 steps.)
Il Lavatoio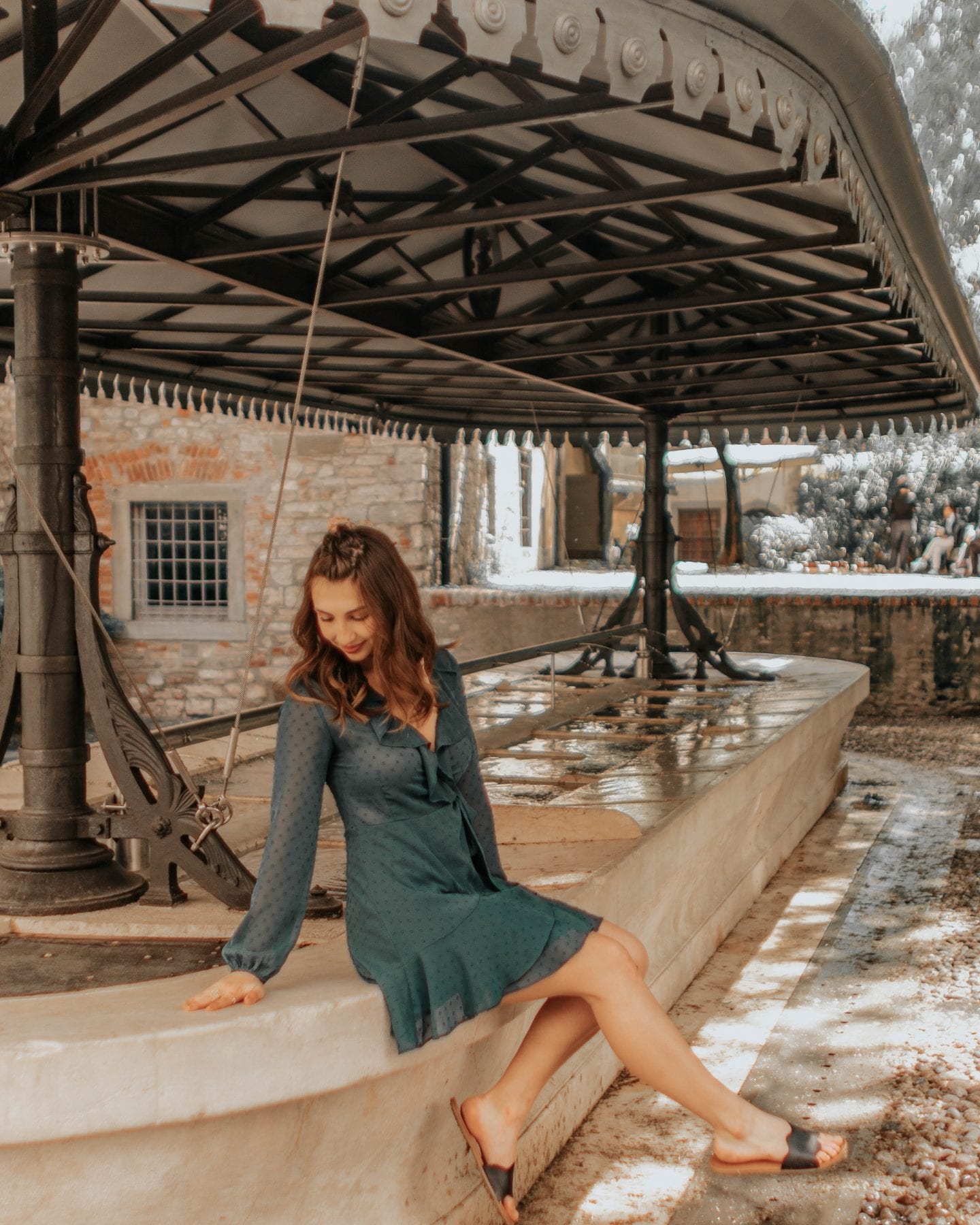 One of the most endearing spots in Città Alta is the Lavatoio. This romantic-looking washhouse seems it came straight from a fairytale with its marble construction and cast-iron roof.
In truth, this was where locals would do their laundry or grab a drink of water dating from the late 1800s. Nowadays, this little spot off of Via Gombito is a place for locals to sit and chat under the shade of the large trees and transport themselves back in time for just a moment.
Funicolare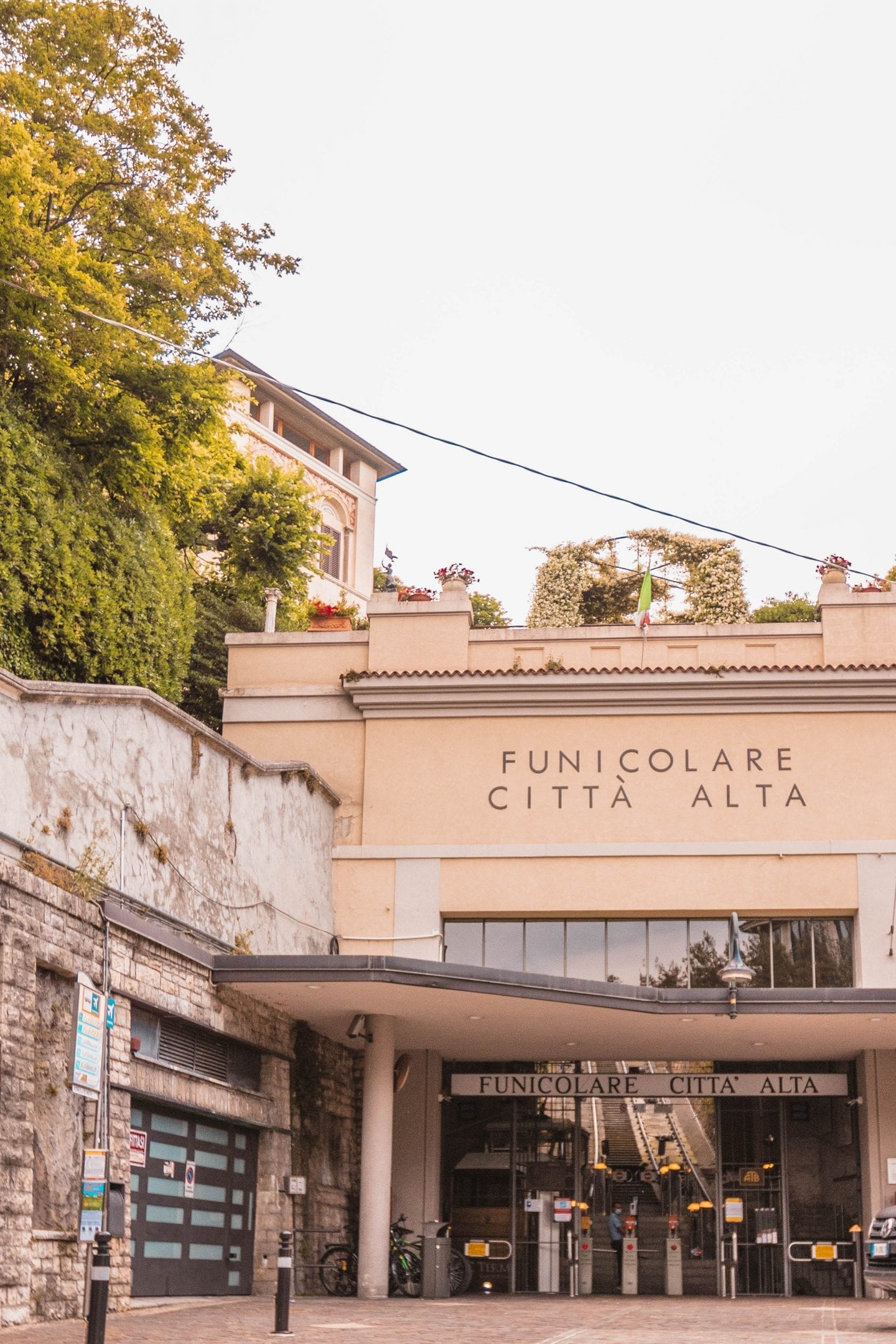 One of the most characteristic parts of the city of Bergamo is the Funicolare. This cable car, built in the late 1800s, finally connected the lower and upper parts of town. While it just may be a way to get around, it speaks to the old charm and interesting geography that's shaped the significance of the city.
You can take the funicular from Città Bassa to Città Alta, as well as another funicular from Città Alta to the highest point of San Vigilio.
The cable car costs 1-2 euros per person and the ticket is valid for 75 minutes. Beware that lines for the funicular get super long in the midday of summer, so to avoid the crowds, arrive early or in the sweet spot of late afternoon.
Pro Tip: Wait to validate your ticket until the cable car arrives to pick you up and the attendant checks you in!
Castello di San Vigilio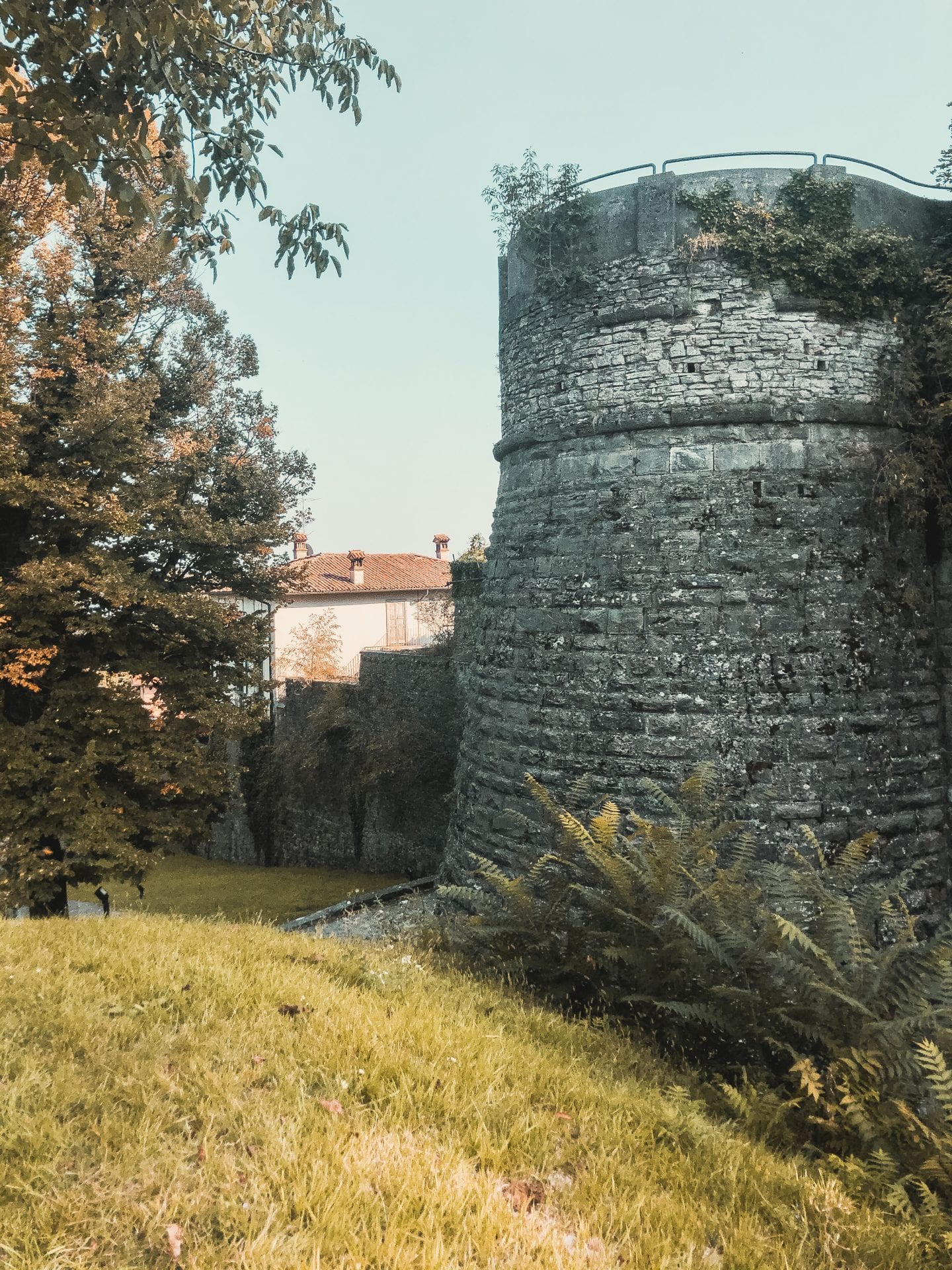 Il Castello di San Vigilio is a castle at the highest point of Città Alta. Taking the funicular up to this part of town is extra exciting because so you'll have sweeping views from the cable car.
The funicular will drop you off at a little terrace where you can take beautiful pictures of the main part of Città Alta below.
Hike a little further up the path to the right where you're dropped off and you'll make your way to Castello di San Vigilio in only a few minutes.
You can enter the castle and climb the tower to reach a park at the top, with beautiful views and idyllic spots to have a picnic or midday break.
Enjoy Bergamo's Famous Dishes, Casoncelli alla Bergamasca or Polenta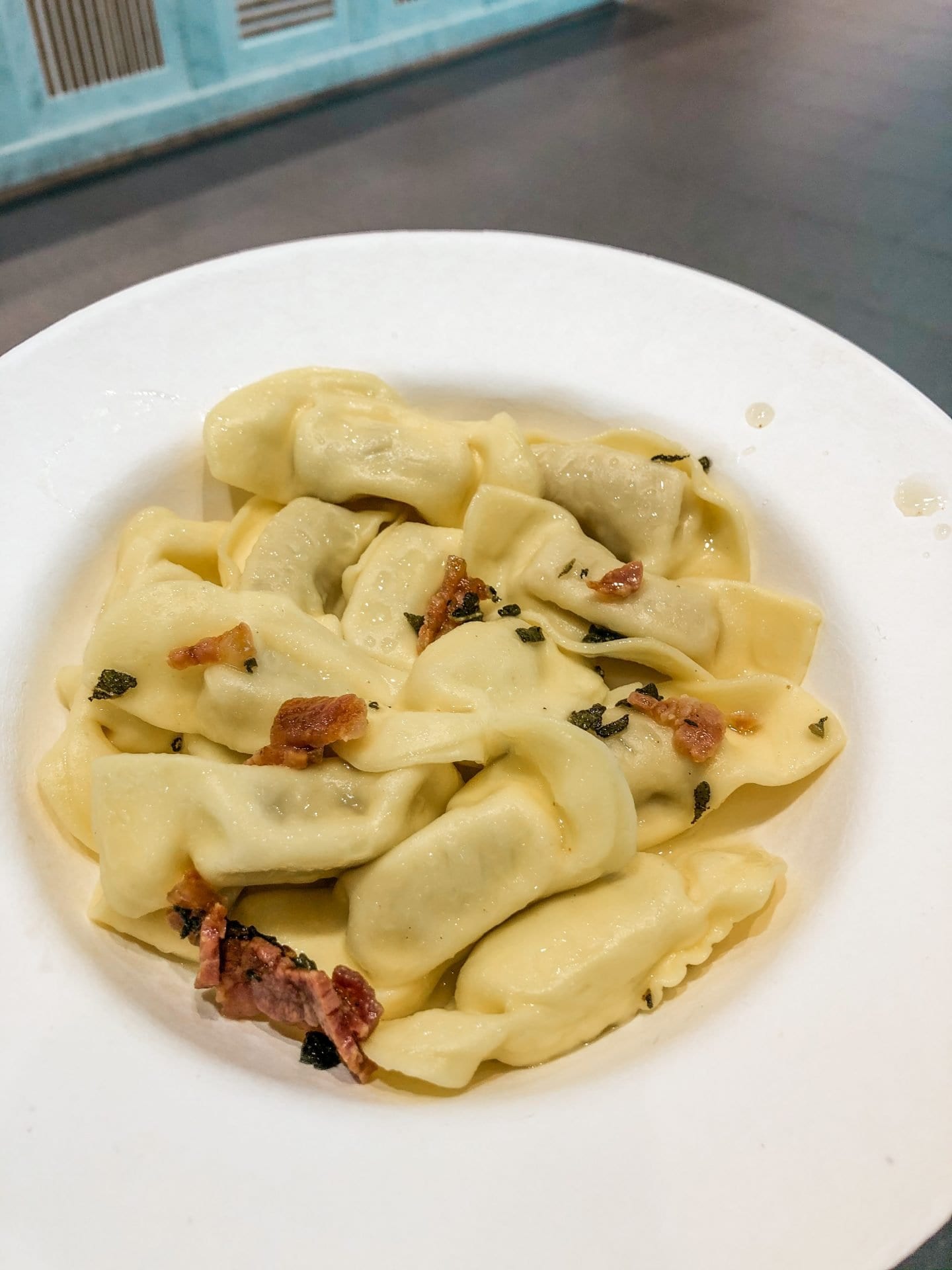 It's no secret Italy's cuisine is a main draw to the country. I absolutely love how every region, down to every city, has its own special dishes characteristic of the area.
Bergamo's two most famous dishes are Casoncelli alla Bergamasca and Polenta. Casoncelli is similar to ravioli, filled with beef and coated with a light dressing of melted butter and sage.
Polenta takes on many forms in a dish! It can be a simple side, the first course with other ingredients, or even a cake! Polenta is a must try and you'll find it in almost any restaurant in Bergamo.
The Lorenzo Rota Botanical Gardens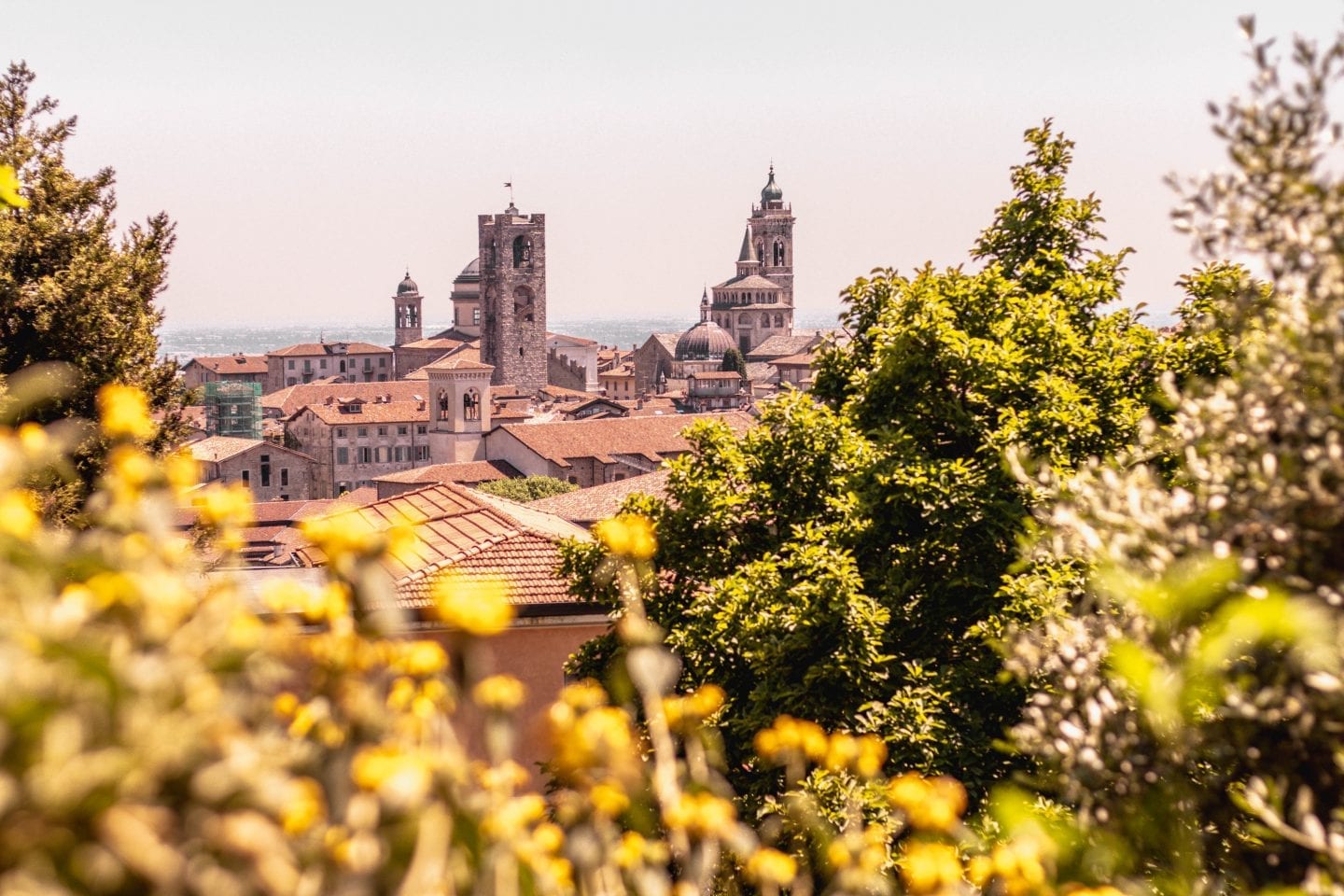 The botanical gardens of Città Alta are truly a hidden gem place to explore! Less than three-minute walk from La Marianna, the Lorenza Rota Botanical Gardens are a cascading collection of all types of plants and garden setups to sneak away from the crowds and go off-the-beaten-path.
To reach these gardens, you'll have to climb quite a few steps and take some narrow, uneven walking paths throughout, but the peek-a-boo views of Città Alta's skyline are unbeatable.
P.S. The gardens are free to enter!
La Rocca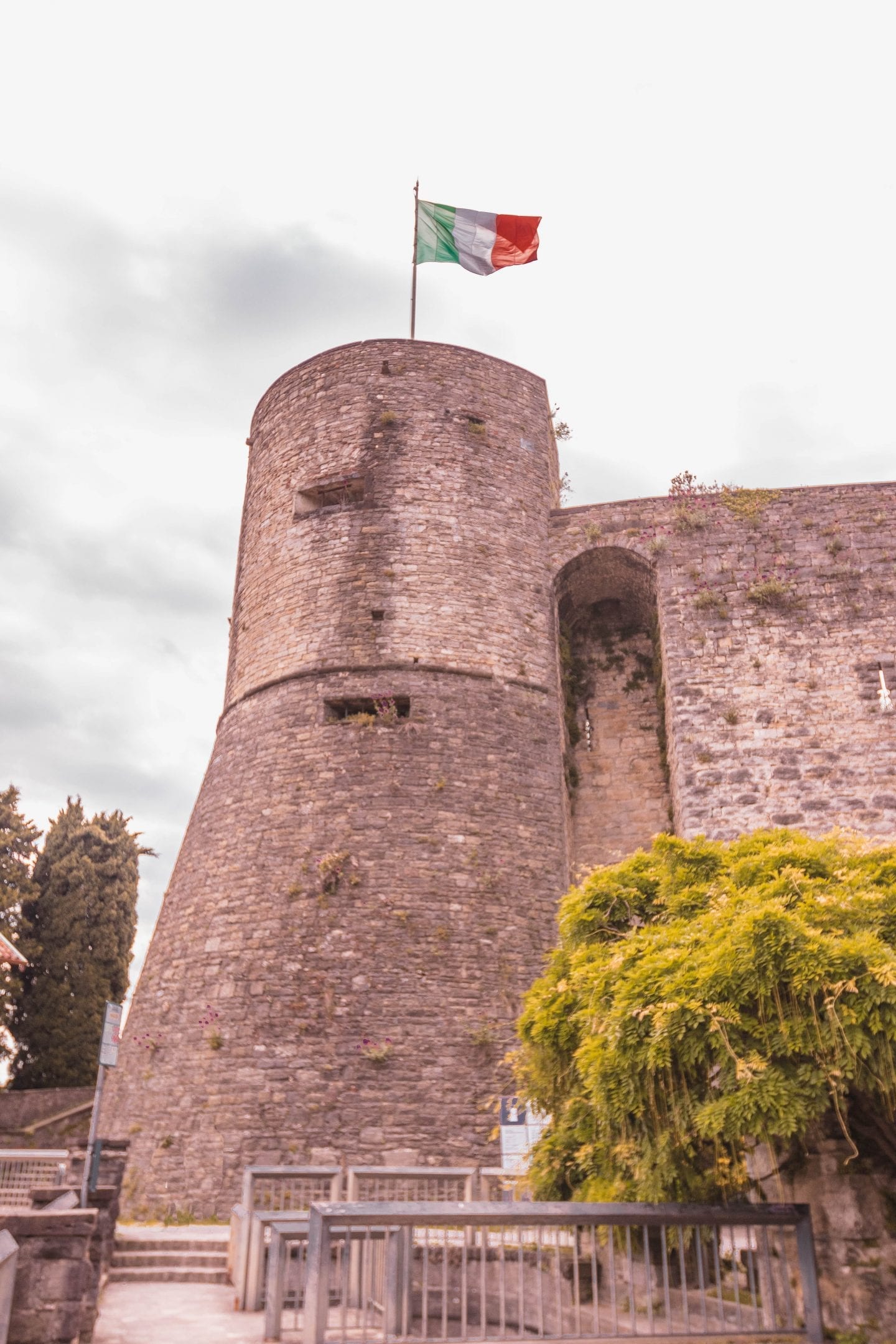 Locally known as "La Rocca" but historically, and kind of mundanely, known as "the Castle," this military fort sits on another steep climb, yet across town near the Città Alta funicular.
This castle dates back to Roman times and is a local favorite for hanging out along the walls and taking in the view. Or, if you love history, walk around the castle to see the several monuments erected in the honor of military personnel from Bergamo and get an up-close look at ancient canons at the castle's entrance.
Hike Up To The Walls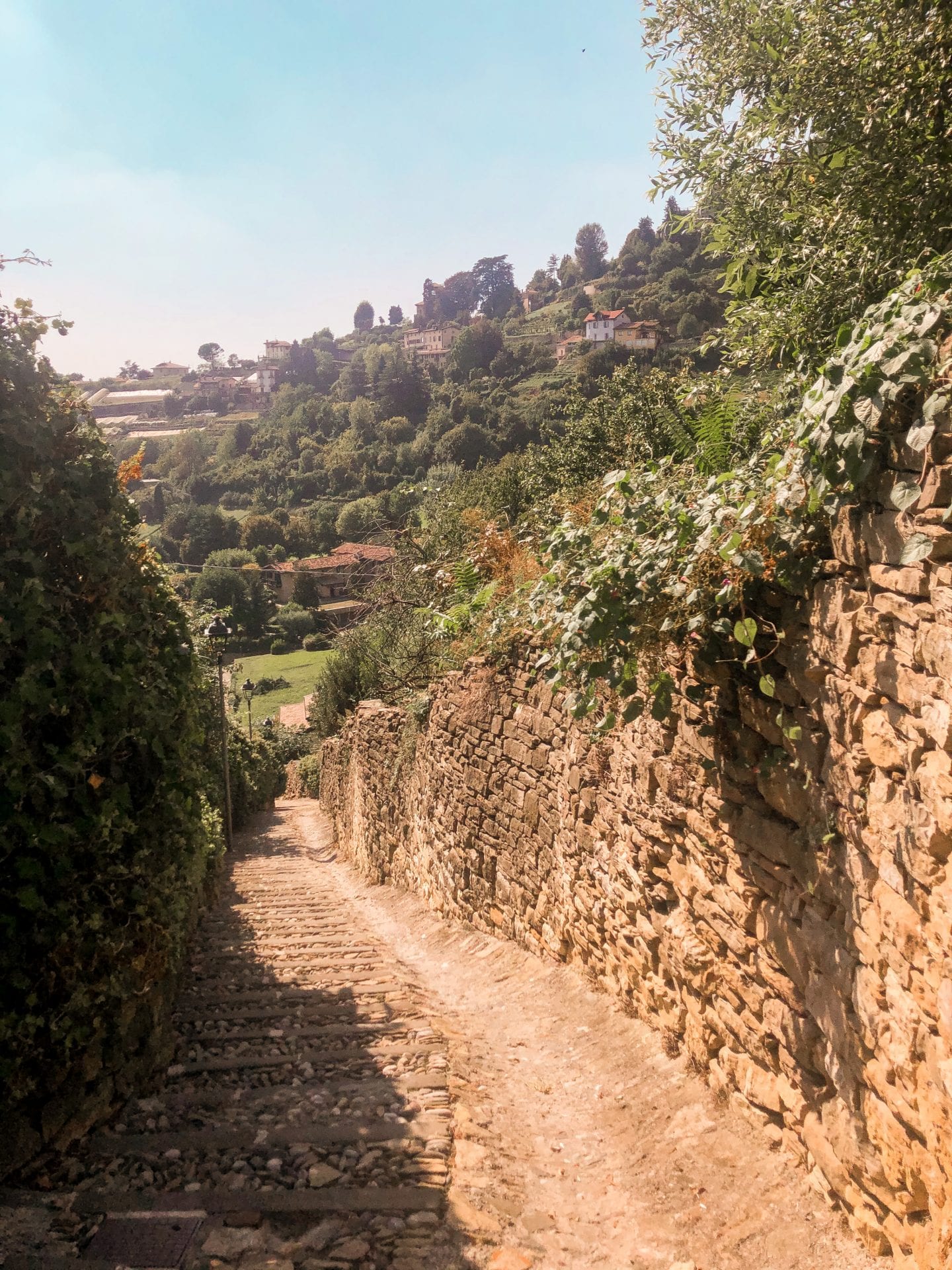 Now, I like to stay pretty active so I thought a 15-minute hike up to the walled Città Alta would be completely fine. Low and behold, I barely reached the top, with my heart beating out of my chest!
But if you are a fan of hiking and love to stay fit while traveling (you should read all my tips about that here,) then you'd love this steep climb to Città Alta.
Park near where Via Dello Statuto meets Via Fontanabrolo, then follow the brown sign pointing to Mura di Bergamo.
You'll walk up a very steep and scenic stone path. The walk and the views took my breathe away!
There are other paths that are easier to walk, leading you up to Città Alta. One is from Borgo Palazzo to Porta Sant'Agostino. Another is the path up to Porta San Giacomo from Via Sant'Alessandro in Città Bassa.
---
Things to do in Bergamo Lower Town: Citta Bassa & Around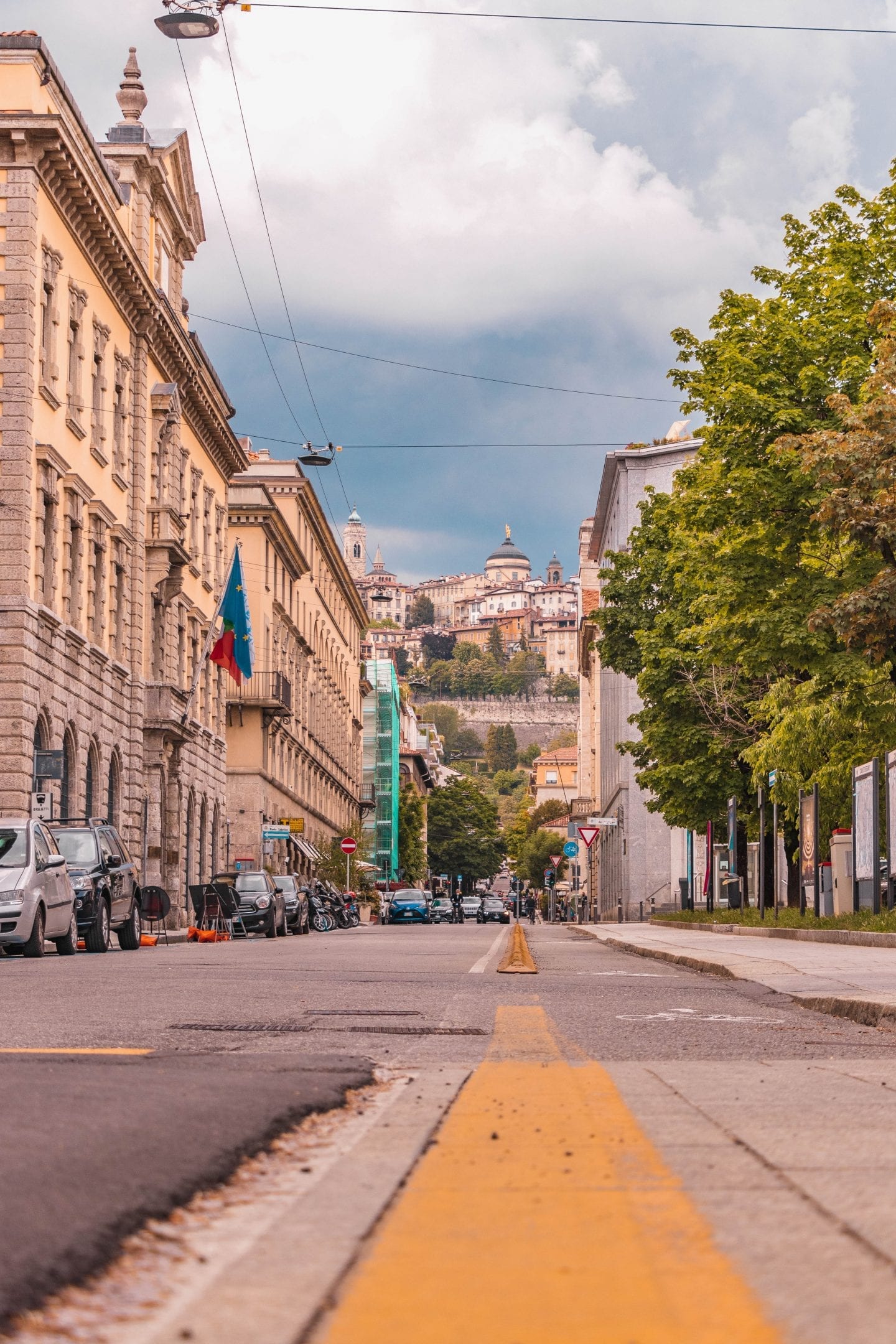 Via XX Settembre
Make your way to Città Bassa and you experience modern Italy.
It's the financial and working district of the city, with its bits of historic charm. I suggest the first of things to do in Bergamo's Città Bassa is to make your way to Via XX Settembre. This street is pedestrian-only and lined with shops and restaurants!
Piazza Matteotti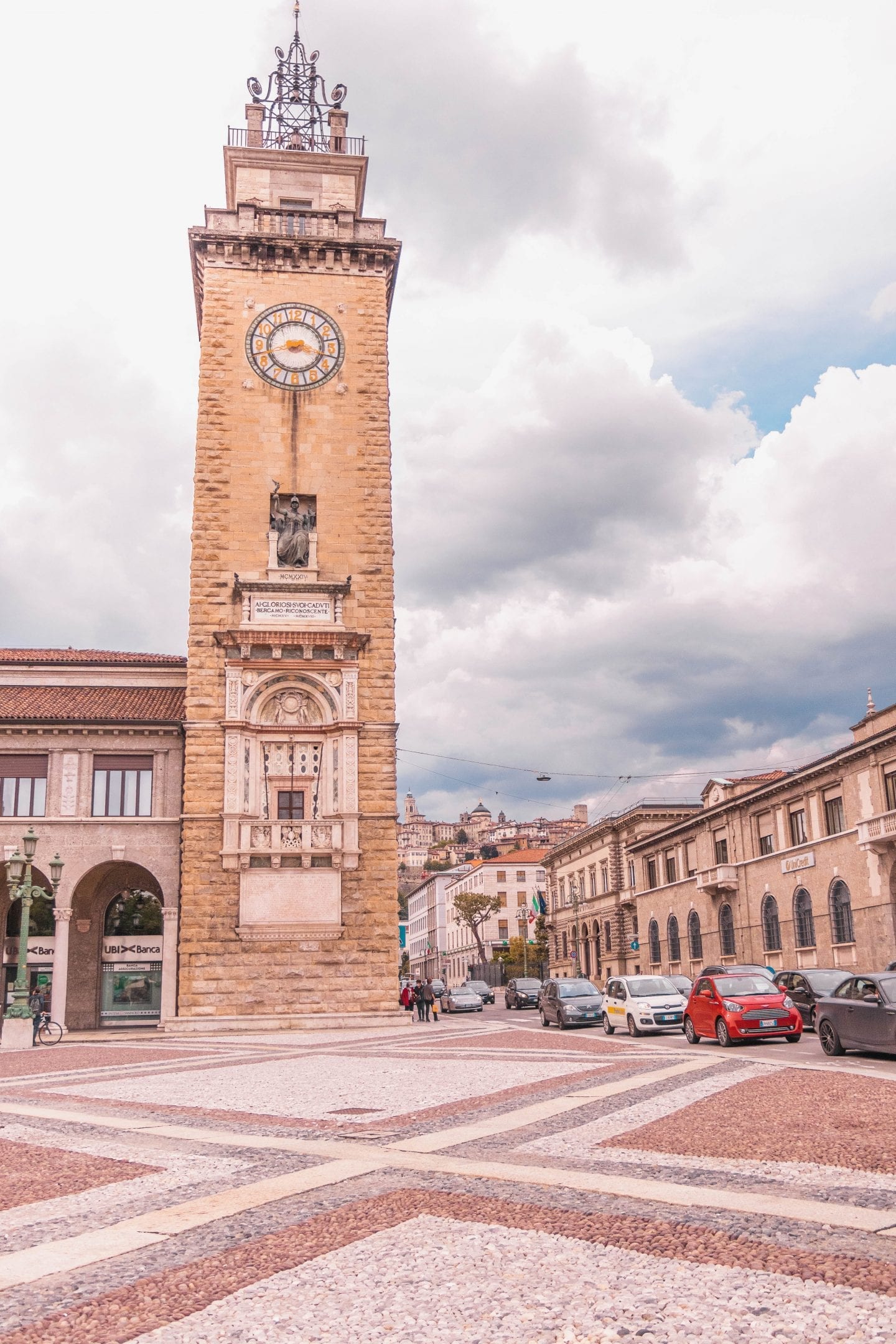 Piazza Matteotti is in the central part of bustling Città Bassa. Located on Via Roma that takes you towards the entrance to Città Alta, Piazza Matteotti has great bars for aperitivo like Balzer, space for a nice stroll, and is also right behind the Largo Porta Nuova – the "doors" to Bergamo.
Gelateria La Romana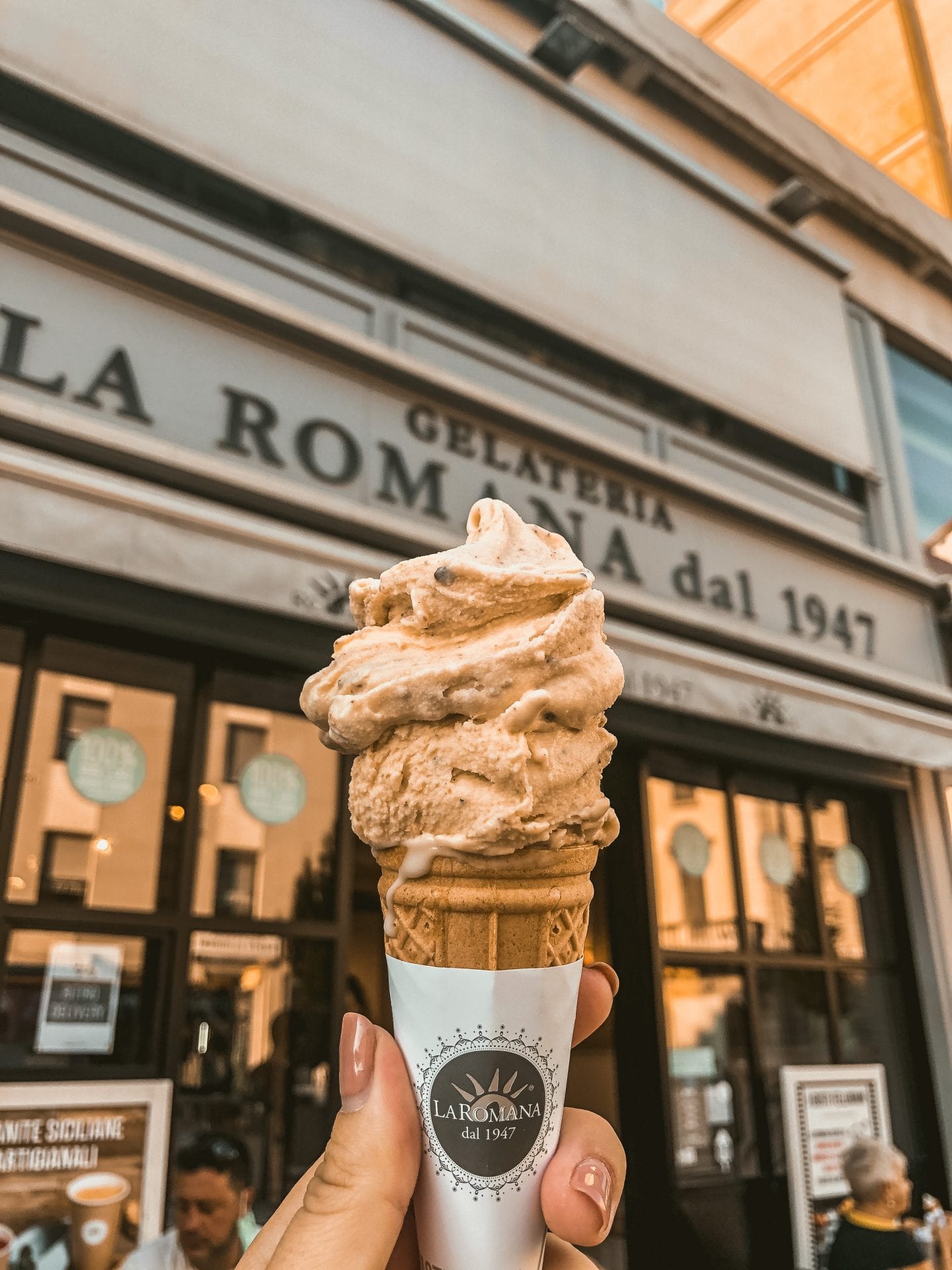 If you are in Città Bassa craving a refreshing, creamy cone of gelato, head to Gelateria La Romana!
Grab a cone and ask for a pump of either white chocolate, caramel, or milk chocolate at the bottom. Then choose your flavors and take a seat at a bench outside.
You'll love the chocolate surprise on your last bite – a unique twist I haven't seen anywhere else in Italy!
OrioCenter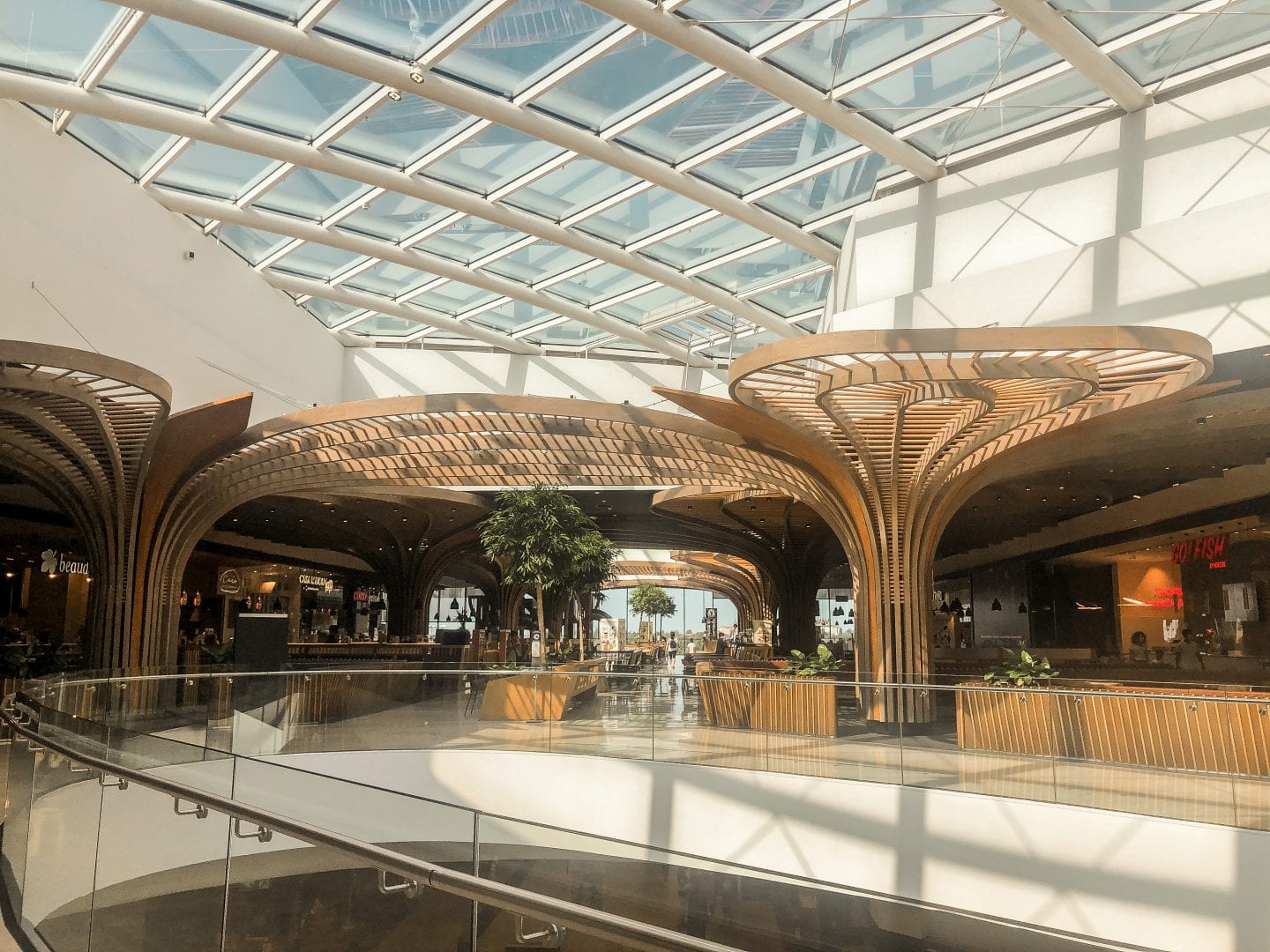 It may be a bit odd to suggest to go to a mall of all places when visiting a new city. However, if you have the time, Bergamo's mall, OrioCenter is actually worth it.
It's not only beautifully designed, but it has the most stores in a mall in ALL of Europe. It is shopping heaven!
I also find it interesting when I travel not only to visit the historical sites and natural wonders but the commonplace locations that locals go to on a daily basis.
I believe it opens your eyes up more to what a place is like to see not only tourist attractions!
Val Brembana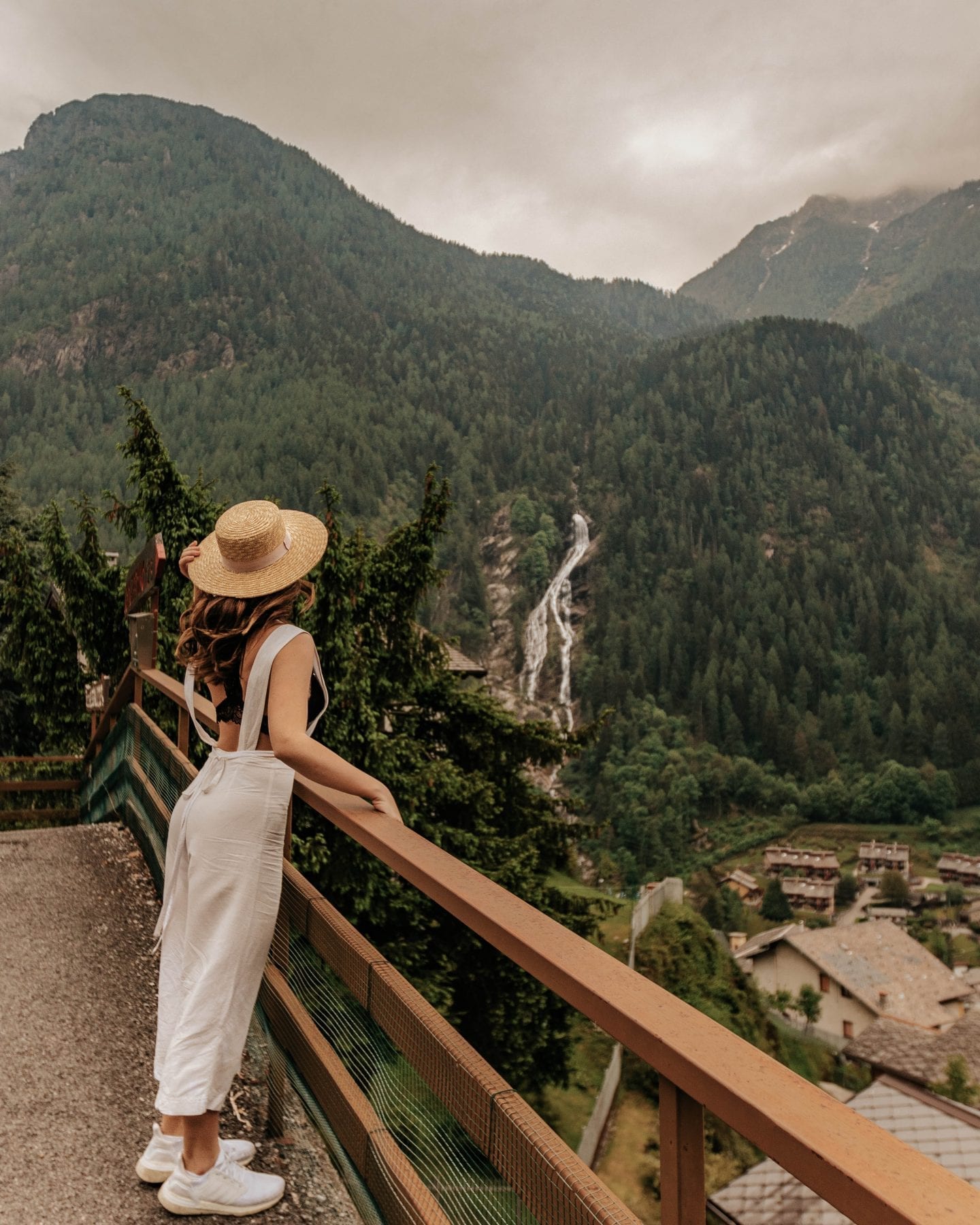 Bergamo is situated at the foot of the Italian Alps. Just 20 minutes drive outside of the city begins several different valleys, including Val Brembana. The Brembo River flows through this mountainous valley, while the snowy peaks from winter create stunning waterfalls in the spring and summer.
The town of Branzi is famous for its local cheese, while San Pellegrino Terme has a beautiful town center and luxury thermal baths at QC Terme perfect for a couple's getaway. You'll need a car to explore this vastly diverse geographic area just outside of Bergamo, but it's well worth it if you are a nature-lover and outdoors enthusiast.
Lago D'Iseo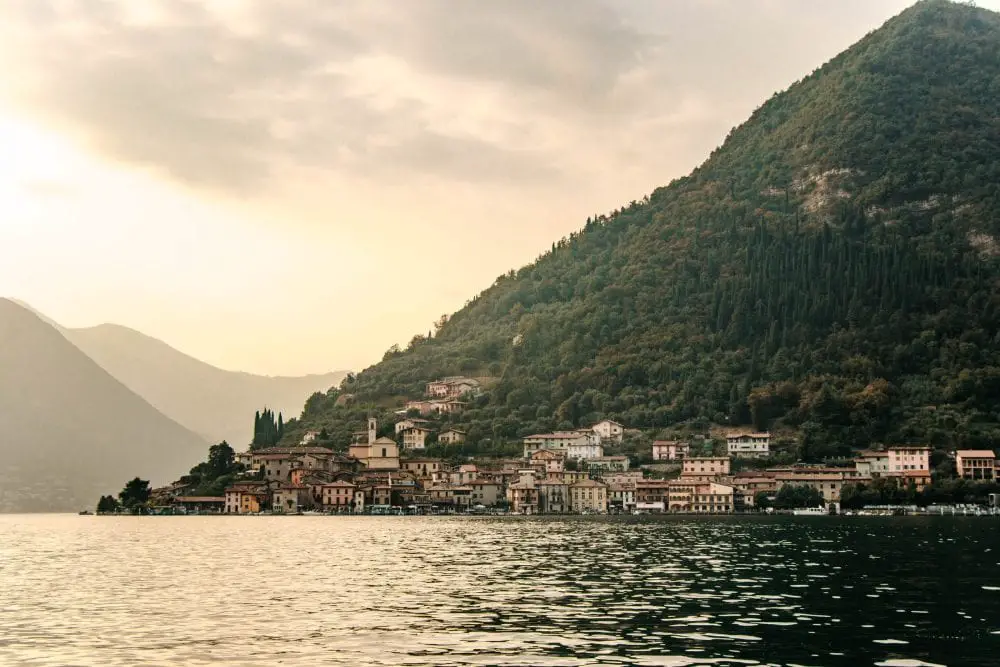 If you've run out of things to do in Bergamo (which you shouldn't with this list,) then head to nearby Lago D'Iseo. The north of Italy is rich with lakes and Lago D'Iseo is only a 25-30 minute drive from Bergamo center.
Lago D'Iseo is smaller than other lakes but no less gorgeous. There is actually an island in the middle of this lake, Monte Isola. Discover a stunning fisherman's town and beautiful castle, Rocca Martinengo, on the island.
I also recommend checking out Darsena 21 for aperitivo (the traditional Italian outing before dinner.) It's a refurbished lakeside-home-turned-restaurant that has converted their dock and its gorgeous views into a bar.
Crespi d'Adda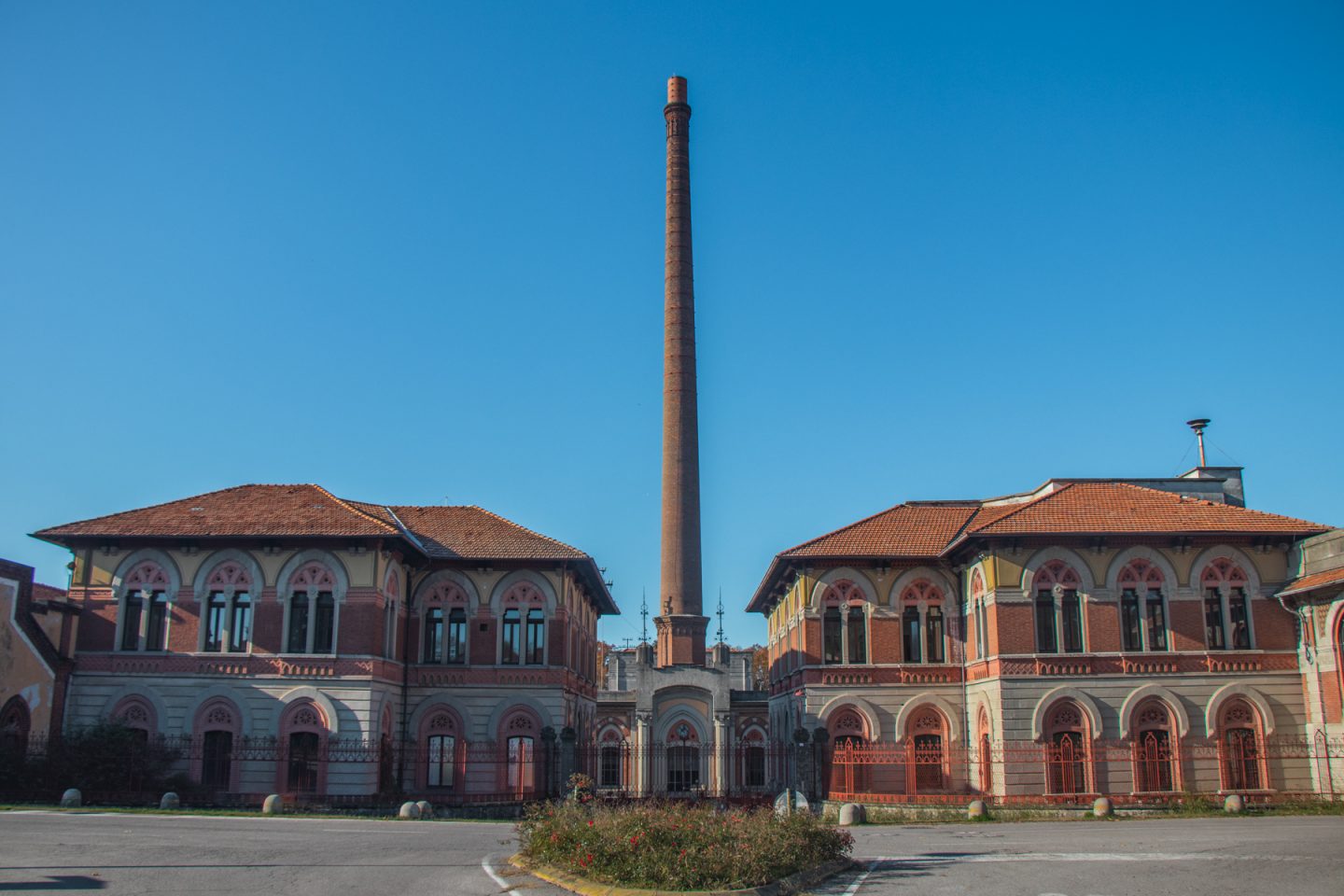 Bergamo's walls aren't the only UNESCO site in this area. Take a quick trip to Crespi d'Adda, in the municipality of Capriate San Gervasio, just a half-hour drive away from the city center.
Crespi d'Adda is an UNESCO World Heritage Site for being an outstanding example of an Industrial Age workers' village. The town was built by cotton manufacturer Cristoforo Benigno Crespi to support the factory workers, providing them with housing and community buildings.
Today you can tour the various structures and walk around the uniquely uniform streets.
Lago di Garda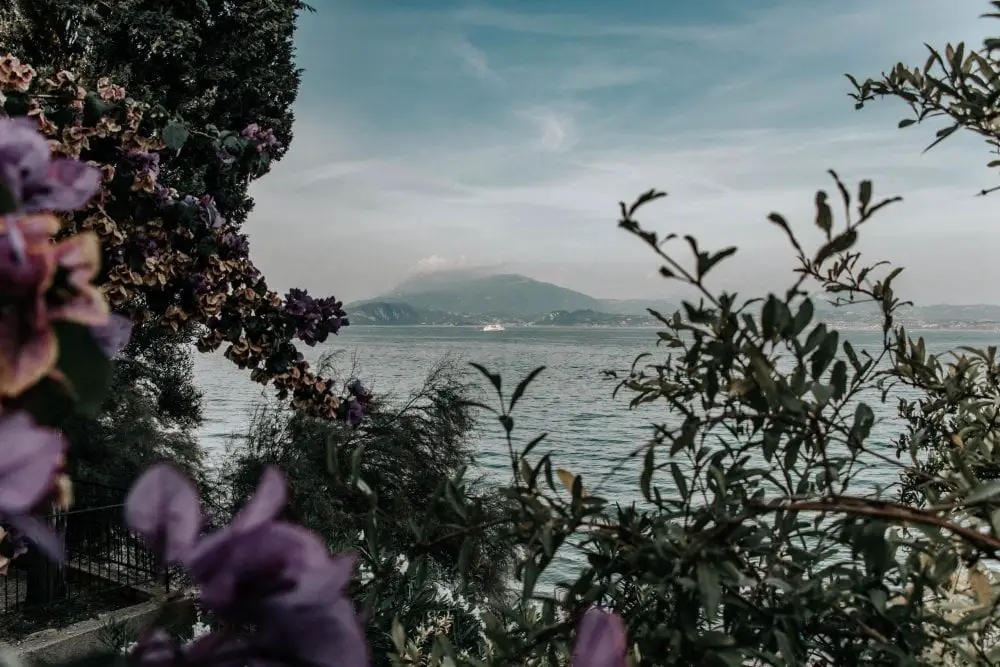 Of all the things to do in Bergamo, this is the furthest, but well worth it. Lago di Garda is famous for its picturesque villa towns and soaring mountain peaks. It's also well-known for being the largest lake in Italy
Lago di Garda is about an hour from Bergamo, so if you are planning to stay in northern Italy for a while, I highly suggest making it out here. Small but beautiful Lake Garda towns include Sirmione and hidden gem Lazise.
These towns are on the southern ends of the lake in the region of Veneto. If you have more time to spend, you can venture north through Lombardy and visit Limone sul Garda. You could even go to the very northern tip of the lake and enter the region of Trentino Alto-Adige, with beautiful towns like Riva del Garda at the foot of the Alps.
---
Tours & Excursions in Bergamo
If you're only visiting Bergamo for a day, I recommend taking a guided tour of the city! There are so many historical monuments to learn about – the entire upper city has centuries of history to know.
You can opt for a private guided tour or small group tours.
If you're spending more than a day in Bergamo, you may want to consider excursions to Verona and Sirmione or even to Venice in order to see more on your Italy itinerary!
---
Final Thoughts
I highly encourage you to go off the beaten path and visit this hidden gem city! Bergamo is a special corner of Italy with so much well-preserved history and tons of things to do in and around the center.
It's a perfect place for all kinds of travelers – particularly families, solo travelers, and couples. Make time on your trip to Italy to add a day in Bergamo!
Don't forget to save these ideas for your trip on Pinterest!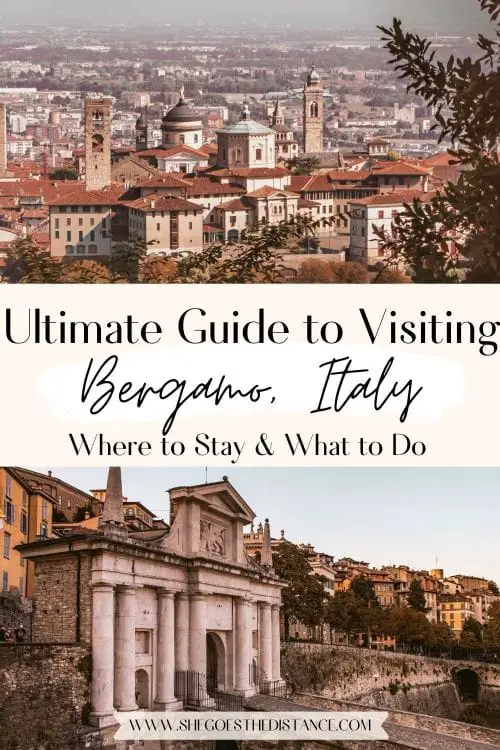 I hope you enjoyed all these things to do in Bergamo and make your way over to this Italian gem soon! Buon Viaggio!
XOXO
Michela