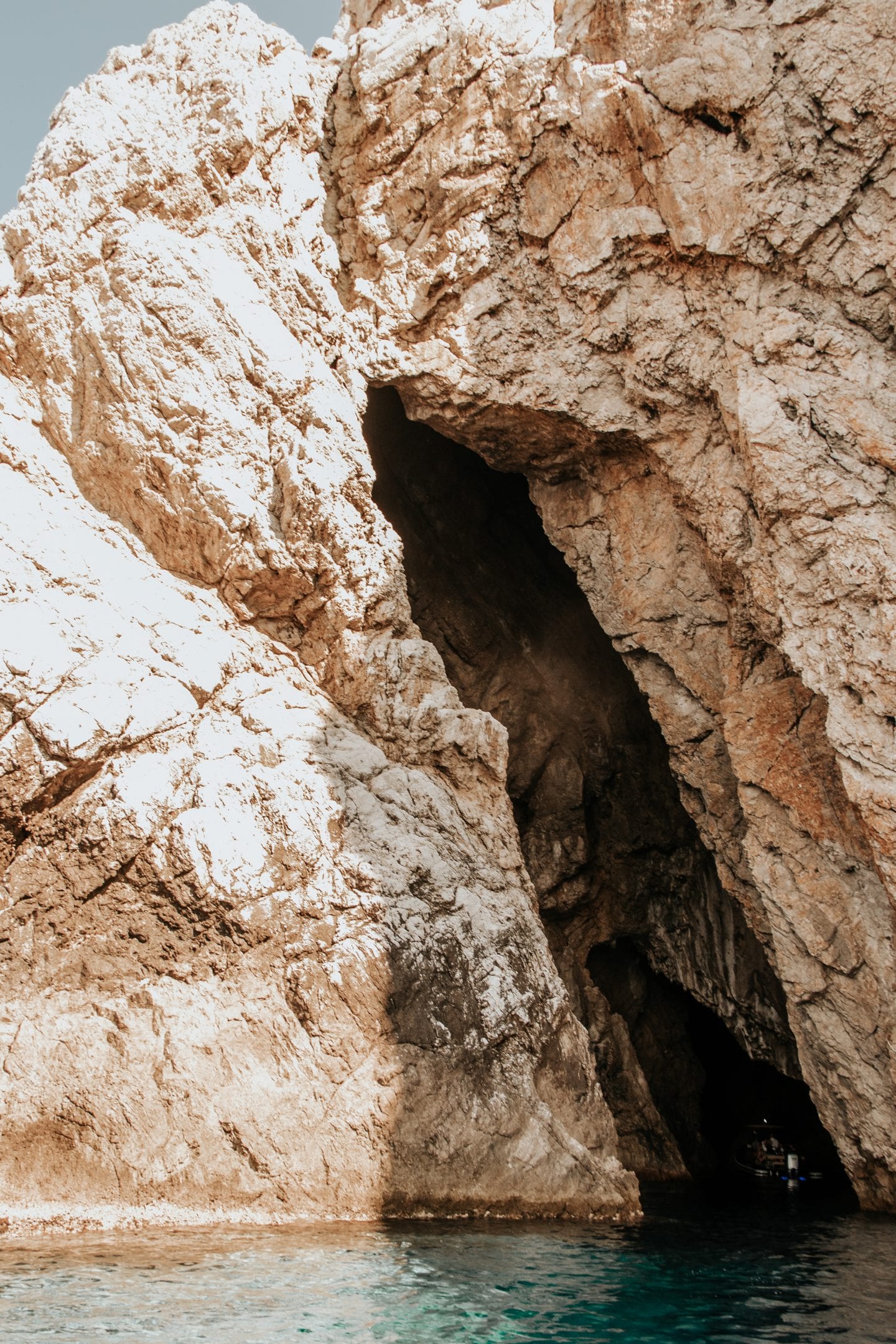 Last Updated on February 23, 2022
Split is the second-largest city in Croatia, situated on the Adriatic Sea and a stone's throw away from beautiful hidden gem places. That's why it's the perfect city to make your home base in Croatia, in order to explore as much as you can of the Dalmatian Coast! Round out your Croatia travel itinerary with these ideas for day trips from Split.
One of the main advantages to incorporating day trips into your itineraries is that it allows you to stay in one central accommodation, while seeing more – meaning you can make the most of your travels!
Not having to move hotels every night is one perk, but taking day trips can also save you money! If you're staying in the same accommodation for a week or more, most apartment stays and hotels offer long-stay discounts.
Split is a major city in itself with so much to see but the best part about it is its central location to some of the most beautiful spots in Croatia.
Get inspired to travel to Croatia and start planning your day trips from Split!
Some of these links are affiliate links. This means if you make a purchase through that link, I receive a small commission at no extra cost to you. Read my full disclosure!
Getting Around Split
If you're taking any of these day trips from Split, you need to figure out how you're going to get around!
Car Rental
I had a car while in Split, which I think is the easiest way to get around. Parking in Split is a bit of a nightmare, so make sure to have accommodation with private parking included if you are taking a car.
You can rent cars from the nearby Split Airport with companies like AutoEurope.
Tours
Another way to get to areas around Split is to go on excursions. There are so many tour companies in Split that offer a slew of different tour packages.
I went with a company called Providenca Charter to do the 5 Islands and the Blue Cave tour above and loved the experience! We took a small group tour to go island hopping around Hvar, Vis, and more remote locations.
Like I said there are excursions to almost everywhere around Split. You just need to see if the price is right and if it's the best option for getting around for your needs!
Jadrolinija
Jadrolinija is the main ferry company that goes around Split and the islands.
Through their website, you can look up the timetables and various routes of the ferries.
I looked into Jadrolinija a lot to see the cost and times of getting around to places like Brac Island. I will go more in detail when I cover Brac Island, but overall the timing wasn't flexible for my itinerary. You may run into this same problem.
It may take extra time and effort to coordinate a day trip using the ferry compared to opting to pay for an excursion. However, you can save money by putting in that extra time and effort if you have it!
Bus
Split does have a public bus system that goes to surrounding areas. I personally never used it so I don't want to say it's good or bad, but it is an option if you are looking to visit towns around Split.
Rome2Rio also offers buses from places like Split to Krka National Park.
Split Day Trips
---
Trogir
Parking: 5 kunas/hour (which is less than 1 USD)
Distance from Split: 18 miles/30 minute drive
Highlights: Historic Trogir Old Town, Plaža Trogir Beach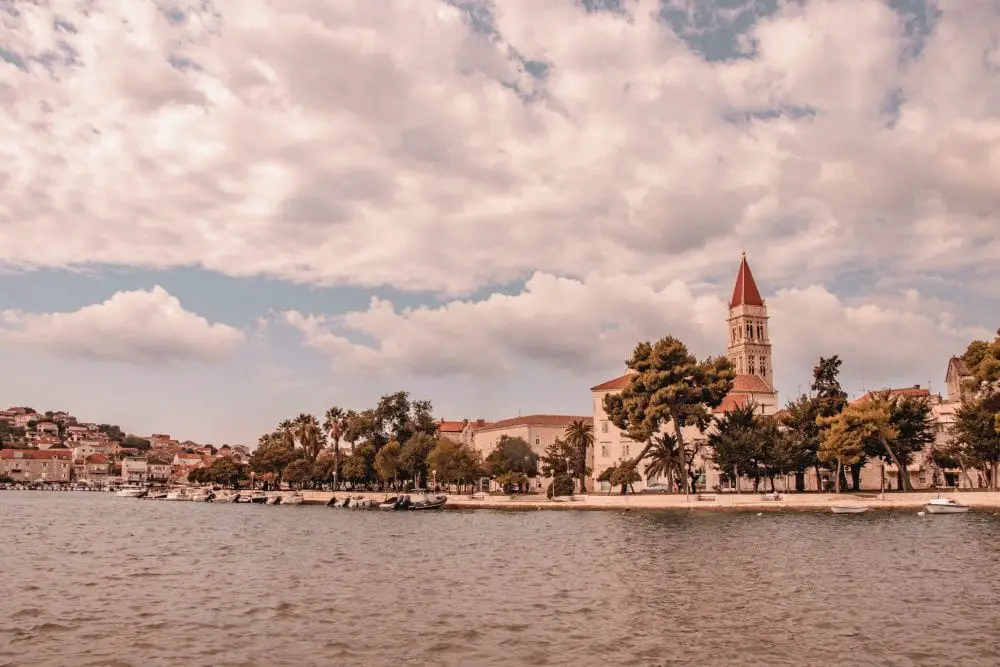 Trogir is a short 30-minute drive from bustling Split. It is one of my favorite towns I visited in Croatia!
It's stone streets and buildings engulf you in this medieval fairytale, while the bright blue water in its bay makes it feel like a sunny paradise.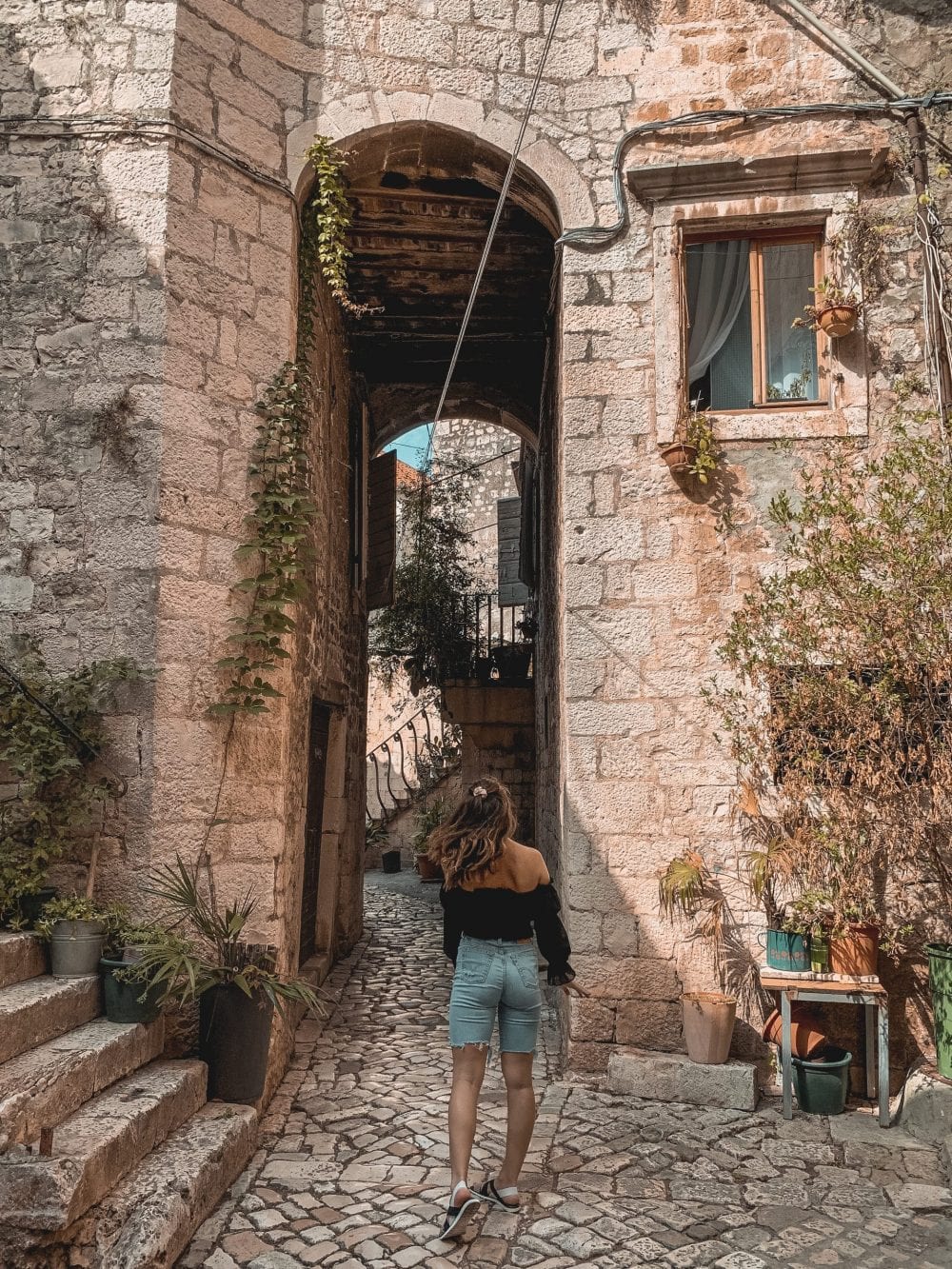 There are so many cute nooks walking around this town, I suggest you to simply explore. The Old Town – an UNESCO World Heritage Site – is small and effortlessly walkable, so you will see everything in a day!
After you explore the town and its riviera, head over the main bridge, turn left, and continue to walk about 10 minutes to Plaža Trogir beach.
This beach was a breath of fresh air compared to the beaches in the Split center.
Split's beaches are so crowded, especially in the summer.
Luckily, you won't find the crowds in Trogir, making for a much better beach experience. Plus from this beach, you can enjoy the view of Trogir Center as well as a beach bar and changing rooms.
This is one of the easiest day trips from Split to make since it's so close. Even the bus transportation of Split has buses that go to Trogir every 40 minutes.
---
Omis
Parking: 5 kunas/hour
Distance from Split: 45 minute drive
Highlights: Fortress Starigrad, Fortress Mirabella, Velika Plaža Beach, Adventure Activities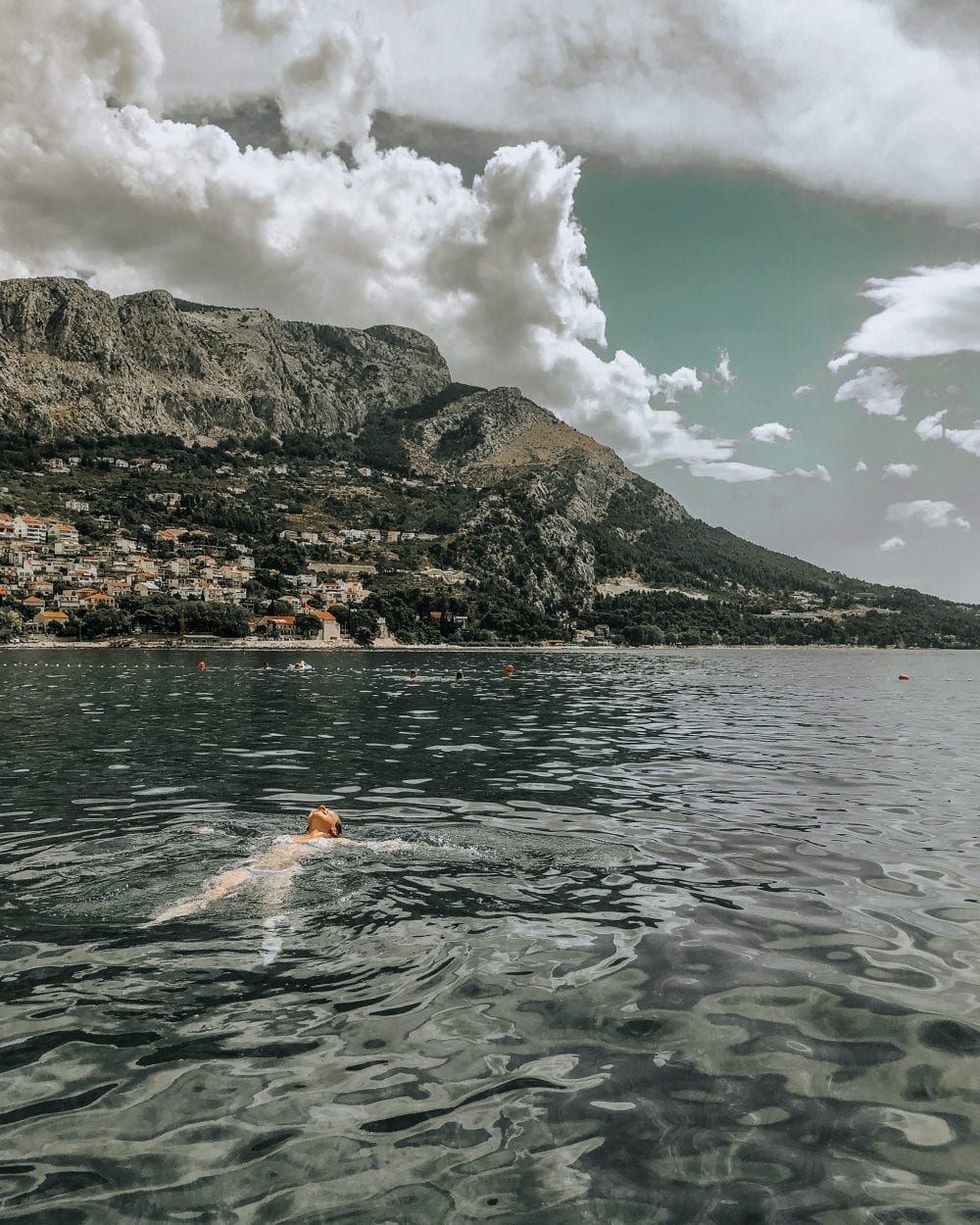 Omis is one of my absolute must-do day trips from Split.
The town of Omis is situated on the mouth of the Cetina River, meeting the sea, between towering mountains and on the ocean.
One of the best things about Omis is that it had one of the only sandy beaches near Split! It's called Velika Plaža.
The beach is very big, so despite there being a decent amount of people, it's possible to spread out. Not so much the case with Split beaches.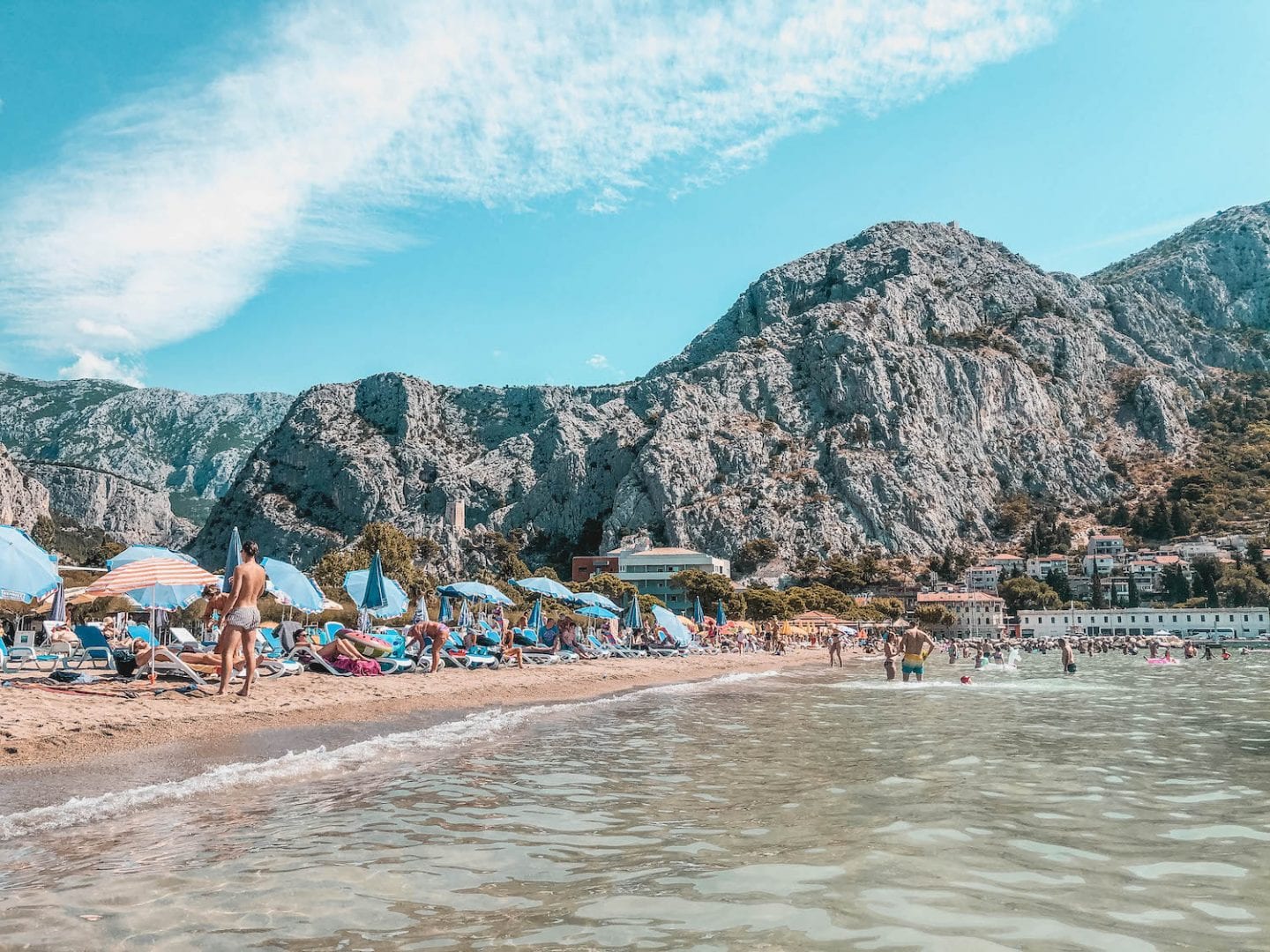 And sandy wasn't the only perk about this beach. The water was insanely clear and crisp. Plus, you're surrounded by towering mountains, on which stands a Fortress Mirabella and Fortress Starigrad.
It was so picturesque!
Omis is also a great place to go if you are interested in adventure travel. It is well-known for its rafting on the Cetina River, as well as ziplining in the mountains.
Fortress Mirabella is near the town center and about only a fifteen-minute hike. The towering Fortress Starigrad is at the top of the mountain, so I would plan for a much more intense hike if you are interested in visiting that!
---
Krka
Parking: Free
Entrance Fee: 200 kuna/per person (40 USD) during high season
Distance from Split: 1 hour and 20 minute drive
Highlights: Waterfalls, Hiking, Swimming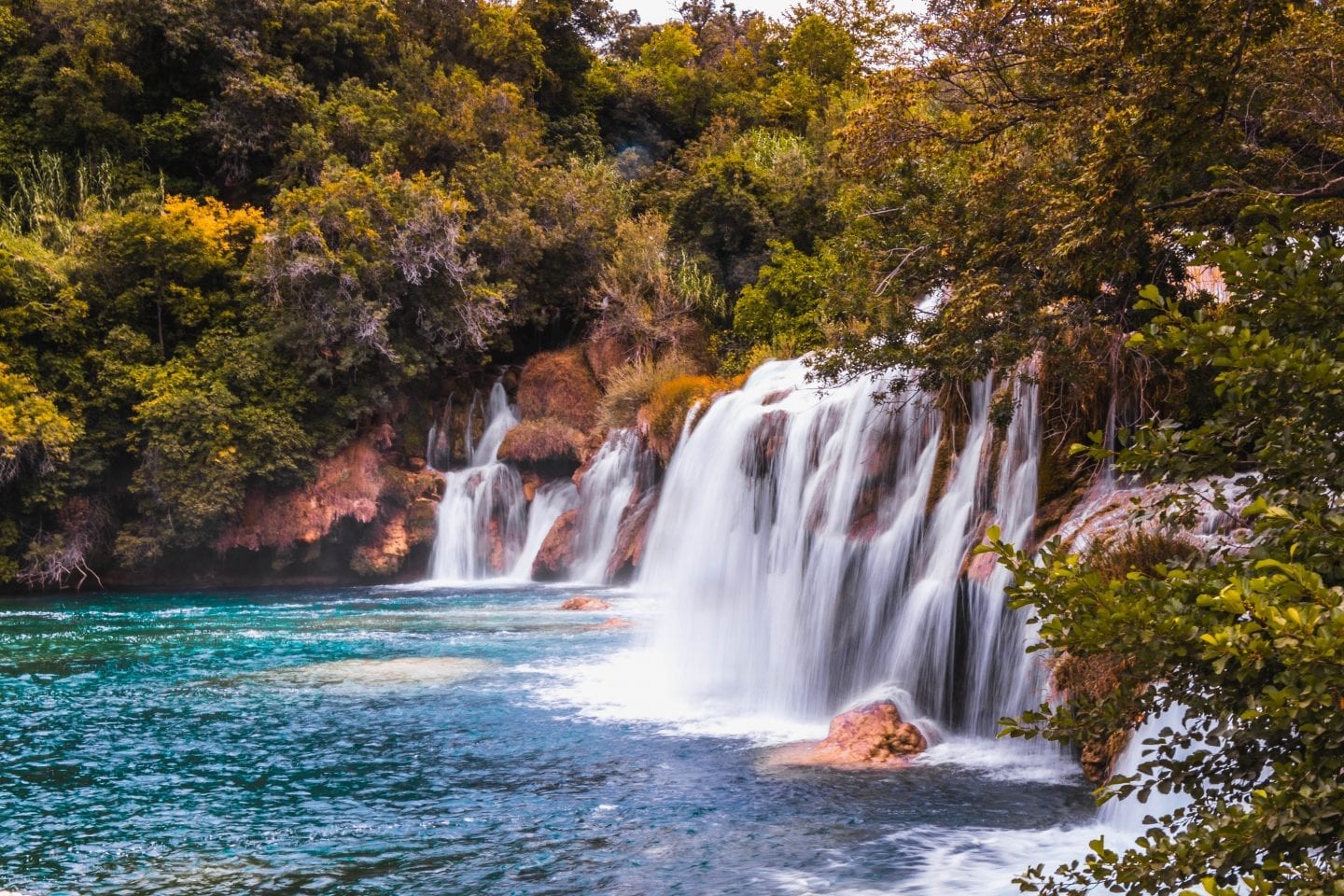 Krka National Park is quite famous, so I'm sure you've heard of it. It's known for its charming waterfalls and nature.
When I was in Croatia, I was unsure if it was doable as a day trip from Split. Turns out, it is! (Although it is a bit longer drive.)
It's actually more manageable as a day trip from Split because of its popularity. So even if you don't have a car, many tours are offered from Split to Krka.
I have an entire post on getting from Split to Krka and my best tips for visiting Krka National Park, so I'll just summarize here my experience (read the post for an in-depth guide!)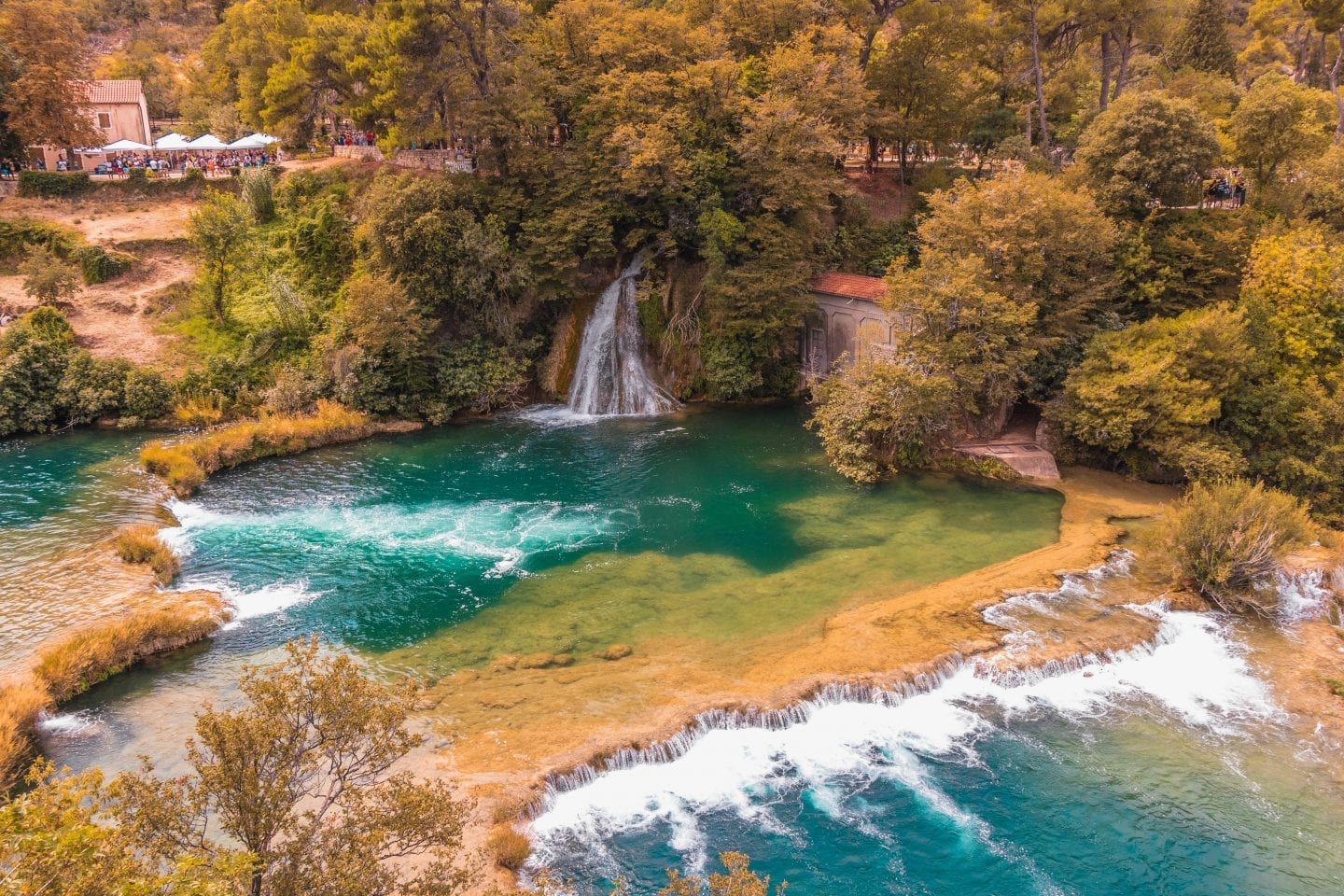 It's a very doable hike. The national park is small compared to Plitvice National Park – keep scrolling for more on that! But in just a couple of hours, you'll have completed the park!
Swimming at Krka – Is it what it's hyped up to be?
One of the main draws to the Krka waterfalls is being able to swim by them. I was so excited to do this!
Unfortunately, I didn't realize how the crowds would affect this experience.
You're allowed to swim at the very last waterfall at the end of the hike. You'll see the trail open up to a campground-esque area with food options and a ton of people laying out and set up with their beach attire.
Since I was traveling in two, we wanted to be able to keep an eye on our stuff if we were going to swim. That turned out to not be an option because there were so many people. You couldn't see the shore from where you could swim, so we had to skip out on that experience.
In my opinion, the only main downside to Krka is, as I've mentioned already, its popularity. In the summer, it's super crowded.
I believe Krka is worth seeing because it's beautiful, but I definitely felt it was overrated and overrun by tourism. I much prefer Plitvice if you can make it out there.
---
Hvar Island
Reachable by Ferry, Private Boat, Excursion
Distance from Split: 1-2 hours on boat
Highlights: Hvar Town, Fort Fortica Viewing Point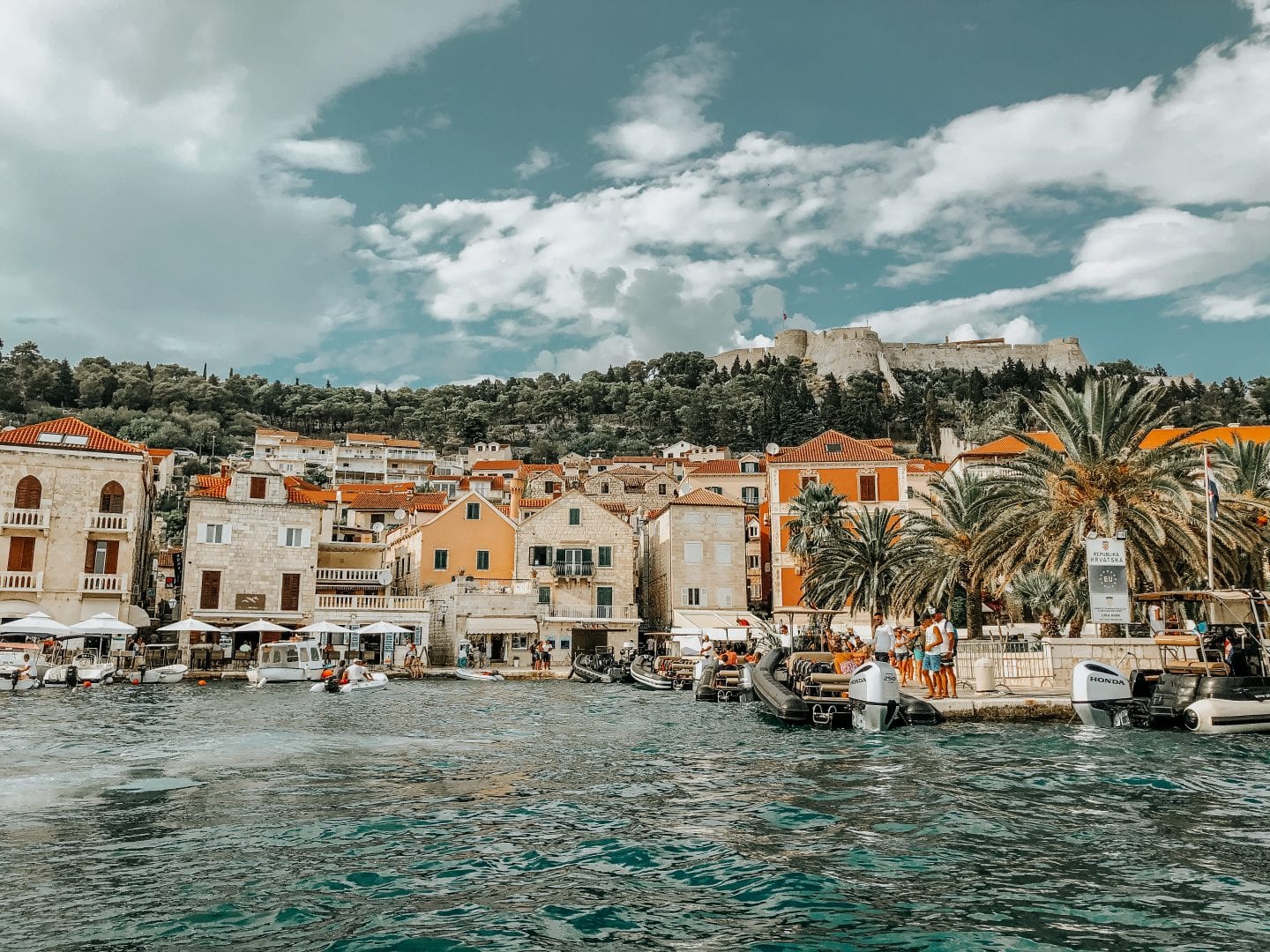 Hvar definitely gives off the vibes of a luxury destination. But don't fret, you can come here as a budget babe too!
I only spent a few hours on the island, so I wish I had gotten to explore more!
You can reach Hvar with the Jadrolinija ferry or by a boat excursion.
Hvar is one of those places that again I suggest you to simply explore! Walk around the plaza and marina, down the smaller stone side streets, and up. to Fort Fortica.
Fort Fortica is where you can enjoy a sweeping view over the island. You can pay to enter the fort, or simply plant yourself on a bench next to it and still enjoy the view.
If a memorable experience is what you're after, I recommend going all out for a day catamaran cruise to the Pakleni Islands!
This luxury experience is actually cheaper than you think (less than 100 euros per person) and, again, tours are the best way to see many spots in one day.
---
Blue Lagooon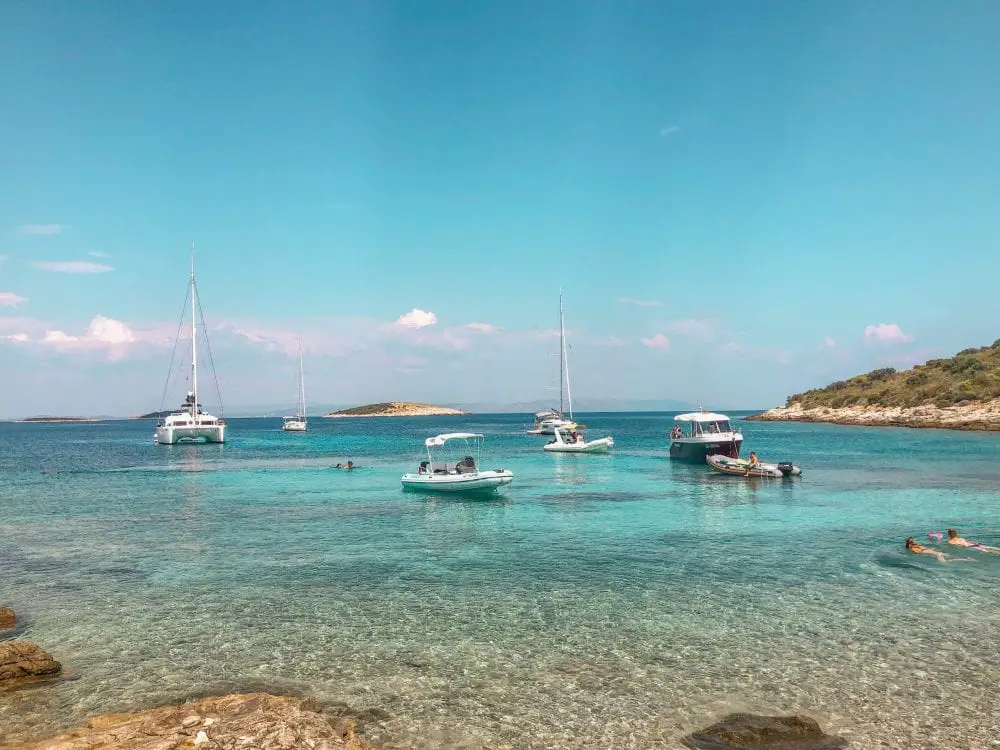 This is one of Croatia's hidden gems – the Blue Lagoon on Budikovac Island.
The Blue Lagoon may just be my favorite place in Croatia. It was seriously a paradise!
You have to come here for the crystal clear water. Bring along some snorkel gear to really enjoy the swimming.
I suggest instead of staying on the main beach of the lagoon to take the short five-minute walk to the other side. It's so much more private and the water is a lot deeper to explore.
There is a beach bar and little else on this island! In fact, only one man inhabits this island – along with his domestic animals, his donkeys who have become famous for interacting with visitors.
Beware of one thing – there are sea urchins at the bottom of this lagoon!
The spot is most easily reachable by excursion or private boat for a perfect day trip from Split.
---
Pro Tip: I recommend Providenca Charter, with whom I took an excursion to see Blue Lagoon, Hvar and a few extra stops. It was about 110 euros per person for a whole day at sea!
I felt it was very much worth doing the excursion to be able to see so much. Plus, they offer many different packages & places to see, so you can choose the perfect one for you.
---
Blue Cave
Entrance Fee: 100 kuna July-August/70 Kuna Low Season (15 USD/10 USD)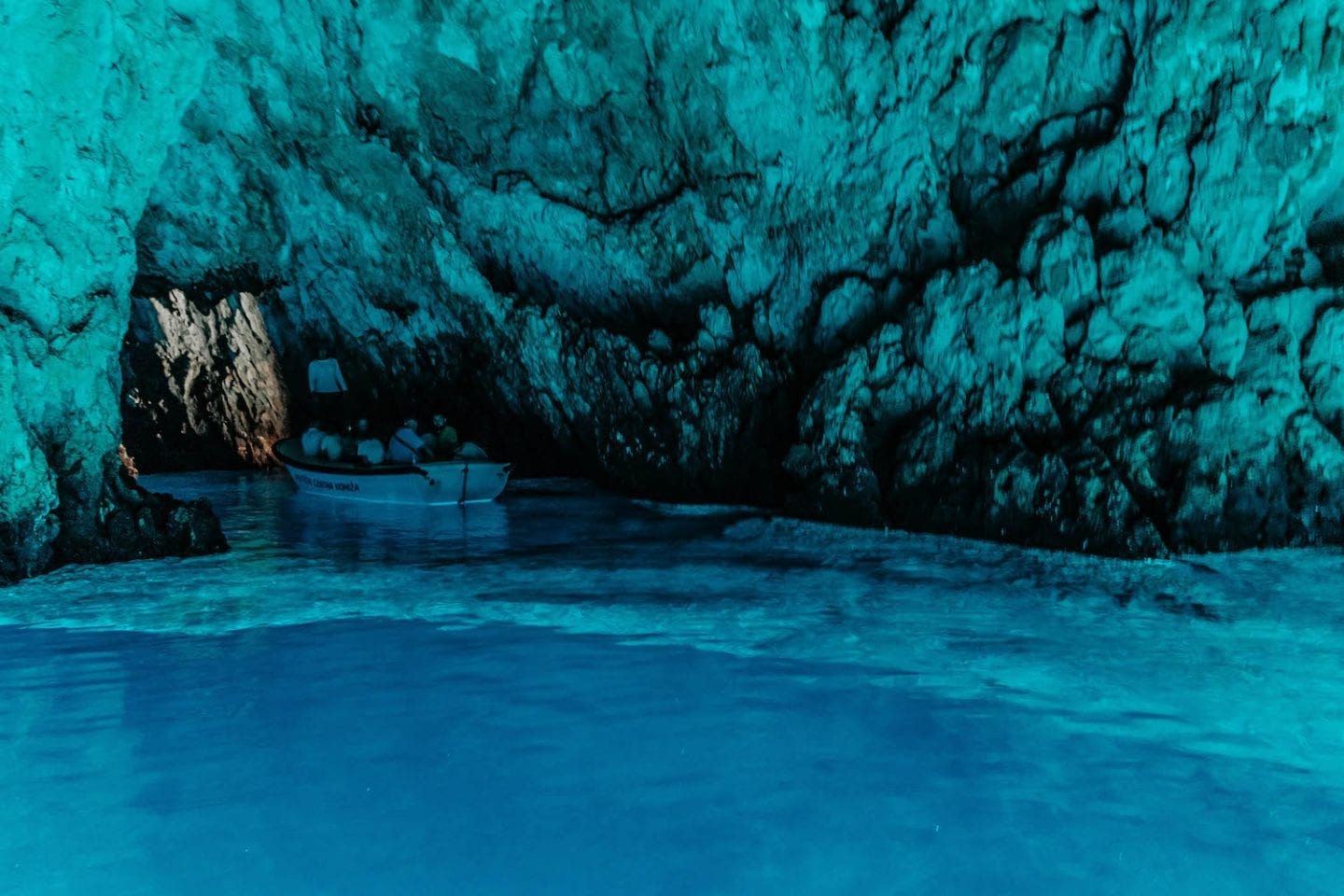 The Blue Cave on Biševo Island has become much more popular as more have heard about this hidden gem.
It is a protected area that requires an entrance fee and to board one of the official Blue Cave Boats. The boats are small and fit about 12 people snugly.
They are so small because the entrance to the blue cave is only 1.5 meters tall! You have to bend over to fit through the hole!
Once in the cave, you'll realize what all the fuss is about. The sunlight reflects off the bottom of the sea into the cave to create a stunning blue reflection.
You may take pictures and video as long as you don't use flash.
Wait times are very long for the Blue Cave during high season so get there as early as you can! For more information and tips on visiting the Blue Cave, check out my in-depth guide to the Blue Cave.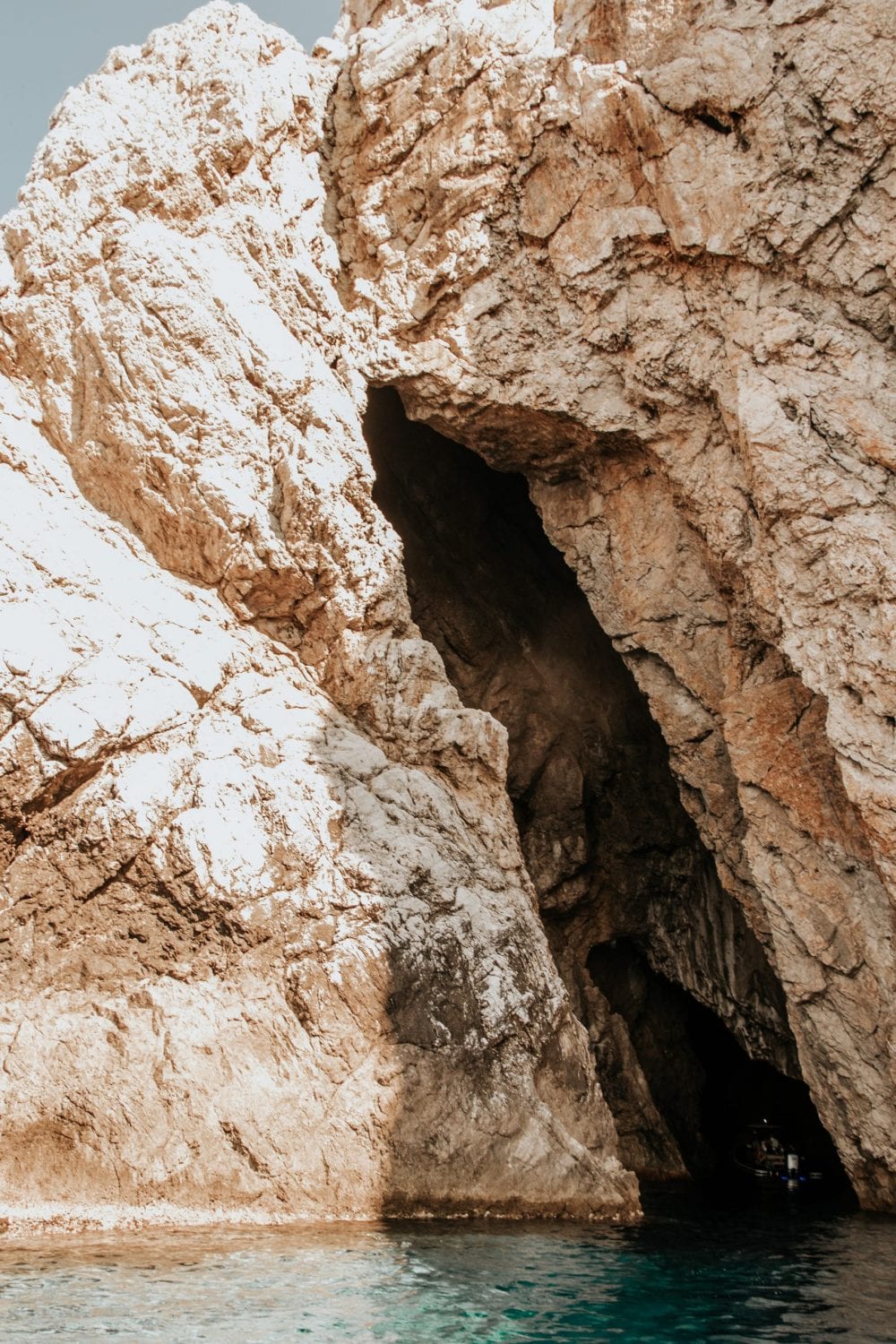 If you have time, you can also explore Monk Seal Cave on Biševo Island (where you can swim) or some of the island's private beaches.
Again, Biševo Island is only reachable by private boat or excursion.
---
Vis Island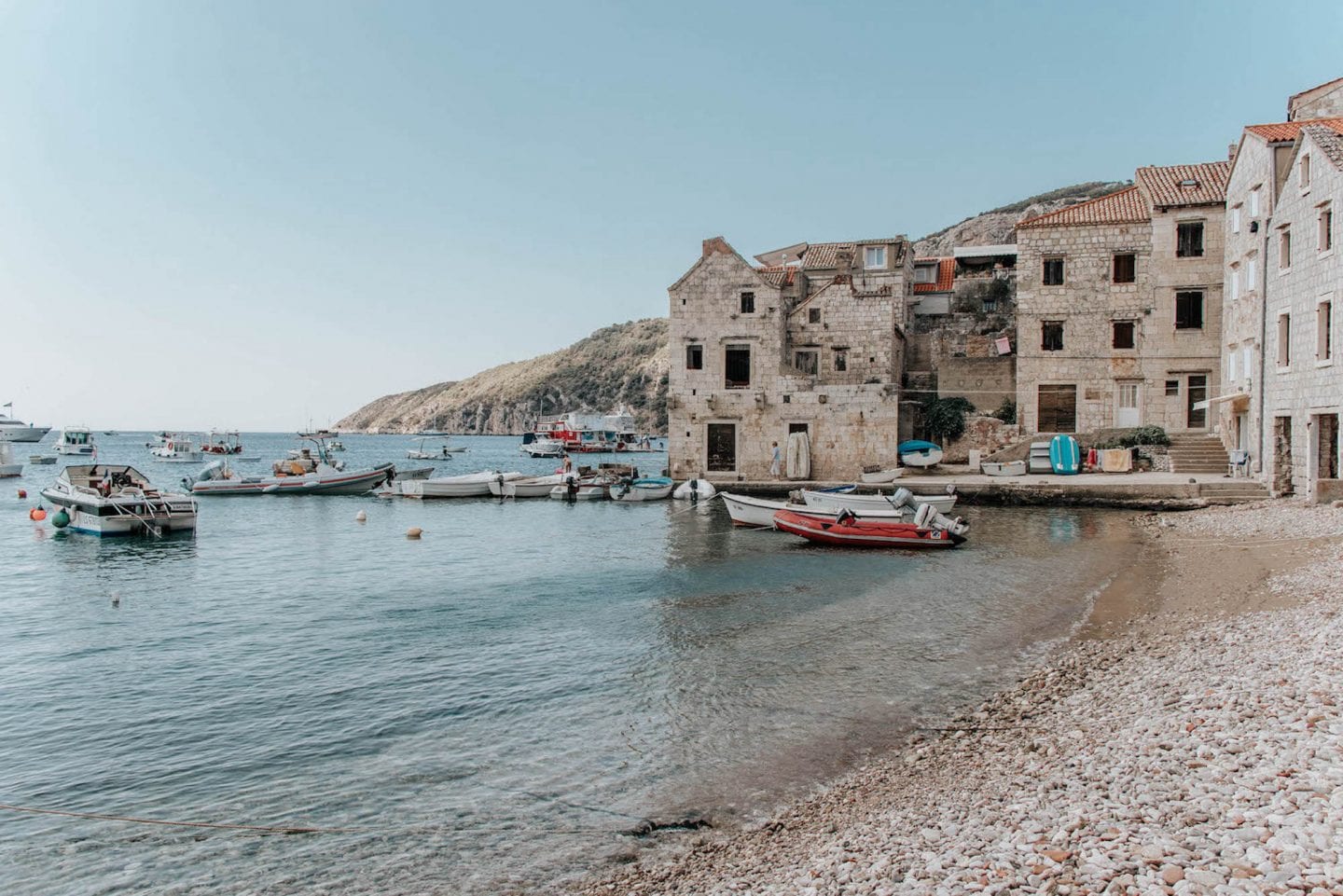 Vis Island is not far from the Blue Cave and is significantly more populated than Biševo Island!
There is the main town of Vis and the charming fisherman's town of Komiza.
Komiza is a cute spot to spend a bit of time as you're venturing out to Croatia's islands. Grab a bite to eat or a gelato as you stroll along the harbor!
Oh and the most fun fact – parts of Mamma Mia 2 were actually filmed in Komiza and Vis!
Stiniva Cove
If you have the time, you can also venture to this secret spot on Vis Island. It's not as secret as it used to be, since people have gotten wind of how beautiful it is.
Stiniva Cove is a small bay of lush deep water cradled by cliffs. It's shaped like a U if you're looking from above and literally embodies the idea of a hidden gem!
As I mentioned, it can be crowded during the busy summertime, but it's worth a stop if you have the time.
---
Plitvice Lakes National Park
Parking: 10 kunas/hr
Entrance Fee: 200 kunas/person (40 USD) during high season
Distance from Split: 2.5 hours by car
Highlights: Waterfalls, Blue Lakes, Boat Rental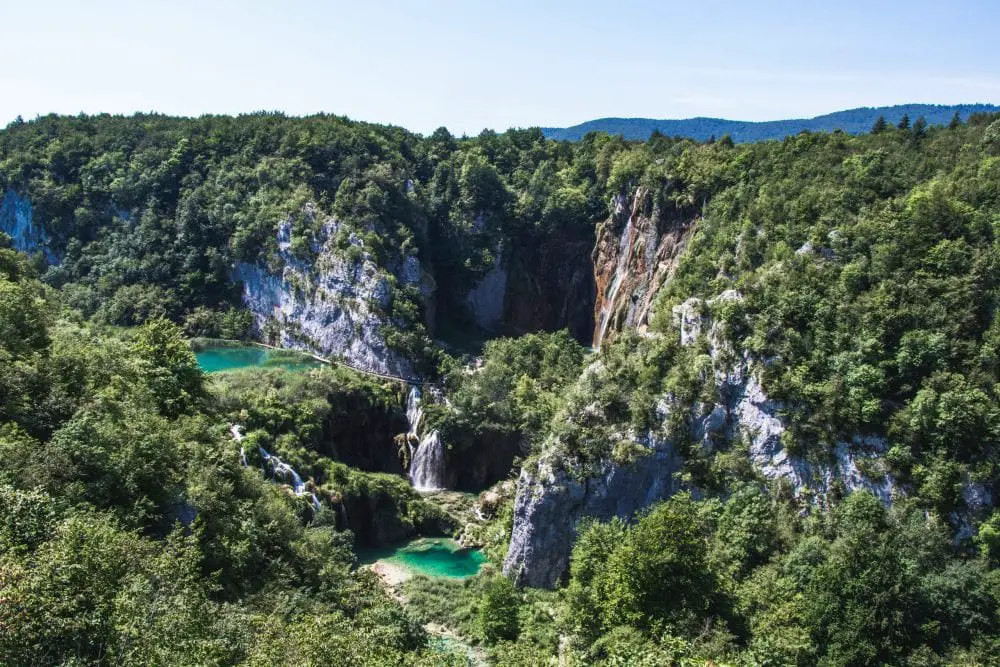 I may have just put Plitvice Lakes National Park first on this list if it wasn't the furthest of all the day trips from Split! It is an absolute must-do in Croatia that you cannot not skip.
Since Croatia is mostly visited because of its coast, most tourists make accommodation there. Meaning to reach Plitvice, you're most likely going to have quite a long car or bus ride.
But let me tell you, it's absolutely worth it. It's one of those places on Earth where you don't feel like you're on Earth. The lakes are a magical shade of blue and the waterfalls give off an otherworldly essence.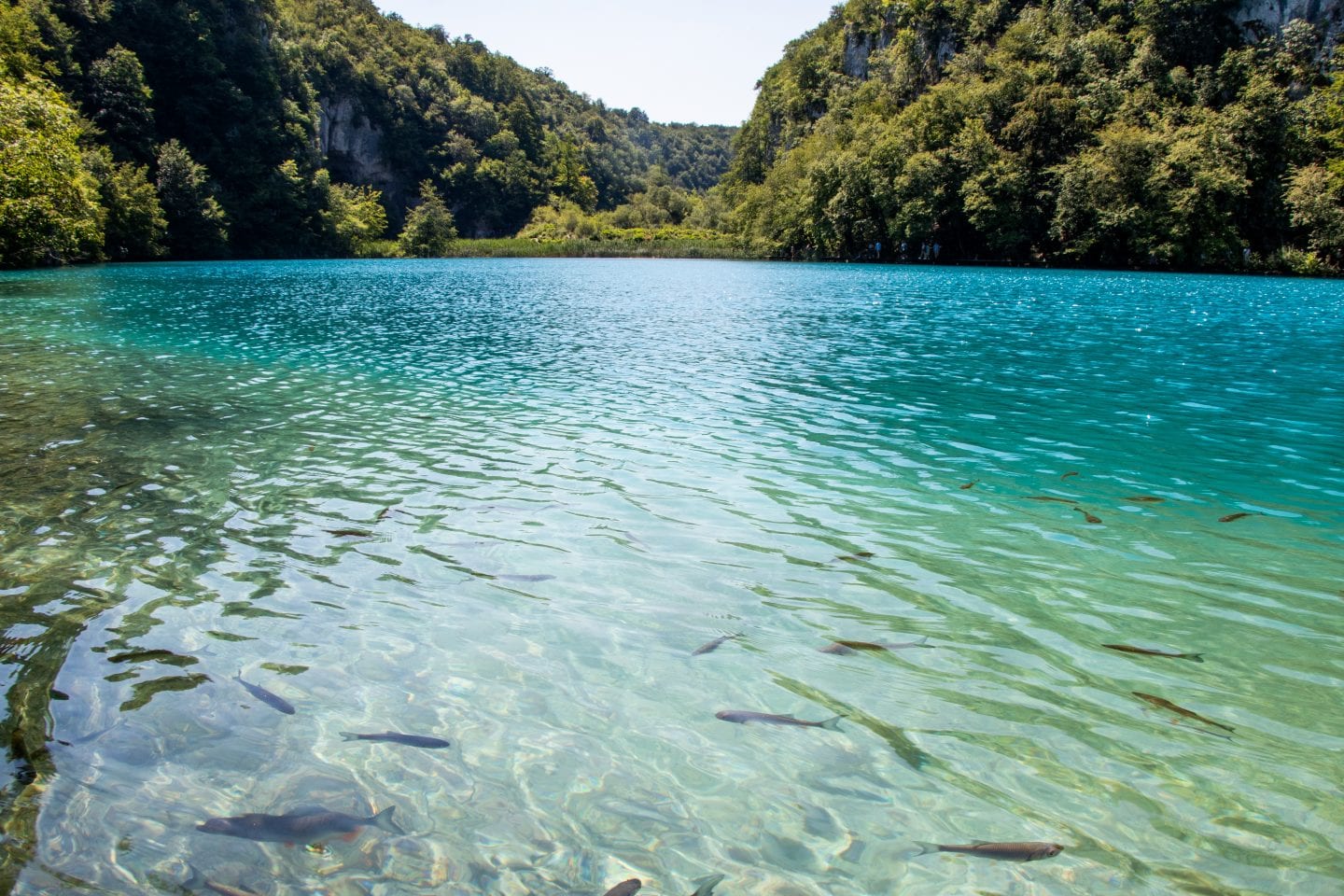 The park is huge and you will be getting in a workout while hiking. Make sure you see all my tips to plan the perfect visit to Plitvice Lakes!
---
Brac Island
The last two day trips from Split I'm going to mention, I didn't actually have the time to take! But I did do the research on them while on my week-long trip, so I wanted to share why they still make for great days trips from Split.
Brac Island is closer than that of any of the other islands I've mentioned thus far.
I would suggest you travel to the town of Bol for the famous Zlatni Rat (Golden Horn) sandy beach, as well as some interesting historical monuments.
The beach was my main draw to travel to Bol, however, the ferry times made it difficult to reach Bol.
The ferry arrived in another town on the island so we would have needed to pay extra to take our car and drive to Bol, which is ultimately why we opted to travel somewhere on the mainland like Omis.
You could always book a tour to Brac if you don't want to mess with confusing ferries! It may actually be cheaper than having to pay for your car & ferry ticket round trip.
If you have the time, desire, and budget for Bol and Brac Island, you'll be rewarded with that big and beautiful sandy beach, a rarity for Split!
---
Makarska
Parking: 5-7 kunas/hr
Distance from Split: 1 hr 10 min by car
Highlights: Beaches, Riviera, Biokovo Nature Park
Makaraska, about halfway between Split and Dubrovnik, is famous for its riviera nightlife and its beaches surrounded by cliffs.
It's tucked between mountains and sea, making it a perfect spot for adventure and relaxation. You can hike at Biokovo National Park or spend a day at Nugal Beach, looking at the rocky cliffs perched on the seaside from your swimming spot.
There are ferries to Makarska from Split that transit through Brac Island if you were looking to package those destinations.
I didn't make it out to Makarska only because I didn't have the time and the drive is a bit longer from Split center! However, if you're in Split for an extended period of time and want to do more exploring, Makarska is the perfect spot – bigger town, beautiful beaches, and stunning nature.
Which day trips from Split are you adding to your itinerary? Leave a comment!
Save these ideas to your Pinterest for later!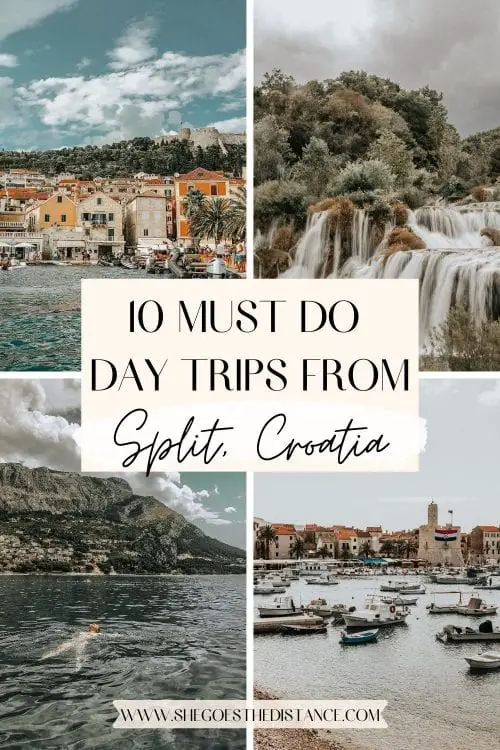 I hope you get the chance to visit Croatia or are getting excited about your upcoming trip! Hopefully these day trips from Split will have inspired a new stop on your itinerary!
XOXO
Michela