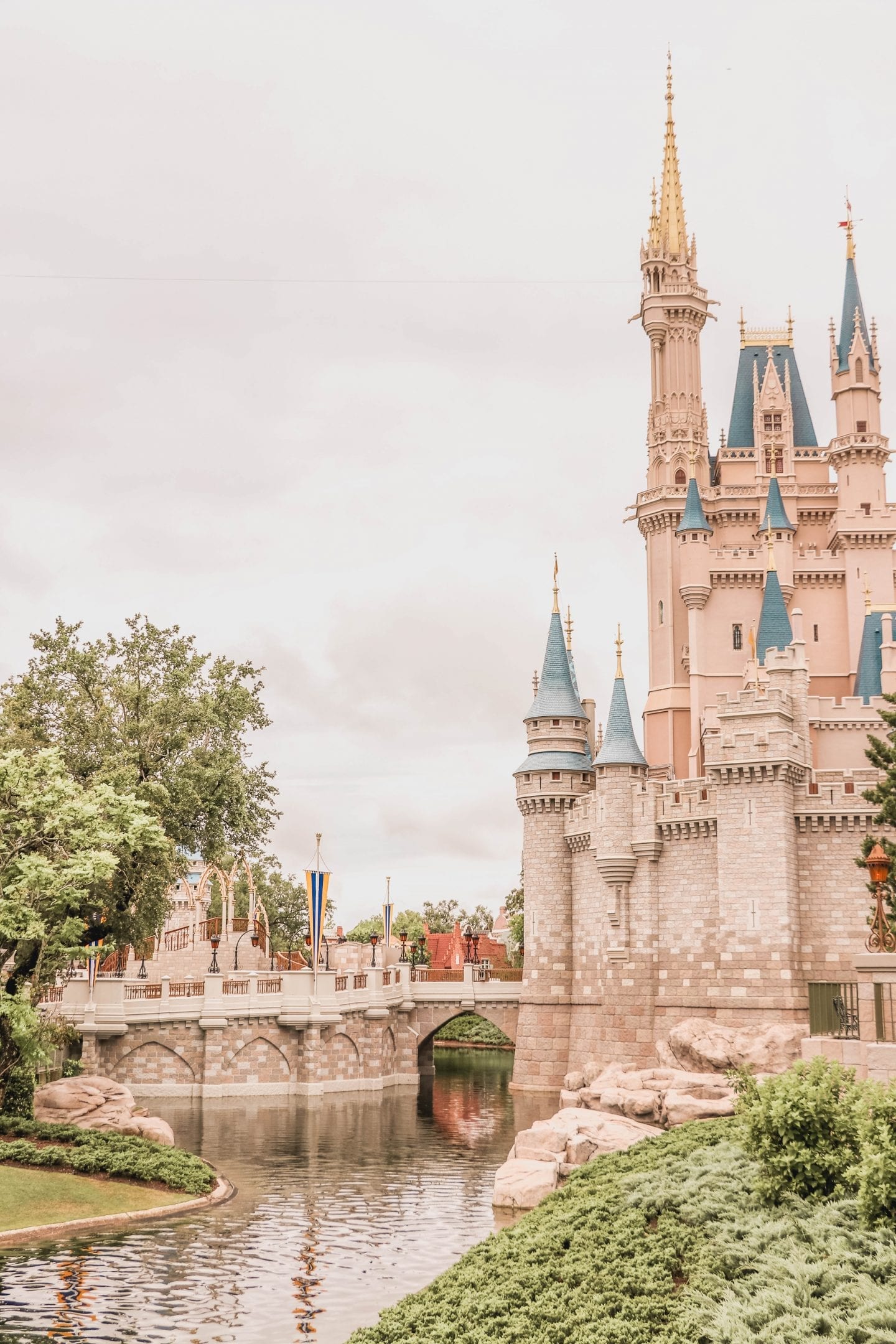 Last Updated on February 22, 2022
Planning a Disney World Vacation in 2021 is an exciting challenge – you are taking a trip to Disney World, but there are still restrictions and rules after its reopening that are constantly being updated. That being said, the new normal should not keep you from taking a Disney World vacation in 2021. There are new things to adapt to, but also silver linings for experiencing the park like never before. To prepare for your trip, these are the best tips for planning a Disney World Vacation in 2021.
Some of these links are affiliate links. This means if you make a purchase through that link, I receive a small commission at no extra cost to you. Read my full disclosure!
What Does Walt Disney World Look Like in 2021?
With everything that happened in the past year, the entire Walt Disney Company has implemented massive changes, while still trying to forge forward and create new entertaining experiences.
It seems as we edge out into the new "new normal" the only constant thing at Walt Disney World is change.
So, that makes planning a trip to Disney World in 2021 a bit more difficult than any other time. Things are constantly changing.
It's hard to know when to visit or if you should visit at all, but you can use my guides on what to expect at the parks and staying at a Disney World resort during the pandemic to get a better picture of what vacationing is like at Walt Disney World right now.
In short, it's still magical. It's just a little – different! But that's why I want to share a ton of tips to help you know what to expect and have a better idea of how to plan your days in and out of the parks.
Tips for Planning a Trip to Disney World
---
1. Plan Well In Advance for Park Reservations & Get To Know the Reservation System
Picking up everything and heading to a Disney World park for the day is a thing of the past. To have a seamless vacation, it's more important than ever to plan in advance.
You'll have to research what days have park reservations available and compare that to the dates you are able to take a vacation.
Luckily, the reservation system makes it simple to see what dates work for what parks.
Once you know what days you are traveling, make sure you make the park reservations in advance. To make park reservations, you will already need to have your tickets bought!
---
2. Follow Walt Disney World News Outlets For New Updates
Because so much is changing all of the time, from park capacity increases to entertainment and food options returning, it can be incredibly helpful to follow Walt Disney World accounts on social media, as well as Walt Disney World bloggers and news accounts.
Some helpful ones to follow are:
The last two sites that aren't managed by Disney, so you can't trust everything they say, but they do publish news updates as soon as they come out, so they can be really helpful tools.
---
3. Download The My Disney Experience App
Without the My Disney Experience app, planning a Disney World vacation in 2021 is futile! Almost every bit of the vacation planning experience is integrated with this phone app.
With the app, you will mobile order food at the parks, make dining reservations, check into your resort, view wait times for attractions and more.
You absolutely need the app on your phone – even just to get into your room!
---
4. Checking In At Your Resort Is Easier Than Ever
Technology is transforming the Disney World vacation planning experience, including how you check into your resort.
If you are staying on property, which I highly recommend especially in 2021 (more on that in tip #15!), you will check in through the My Disney Experience app. The app will send you a notification when your room is ready, usually in the afternoon around 4pm, and then you will be able to go straight to your door without having to wait at a front desk.
Front desk cast members are still at the hotel and available to assist you, but this is one of the ways that Disney World is creating a more convenient guest experience and reducing close contact for the prevention of COVID-19 spread.
---
5. Prepare To Wait In Line – For Everything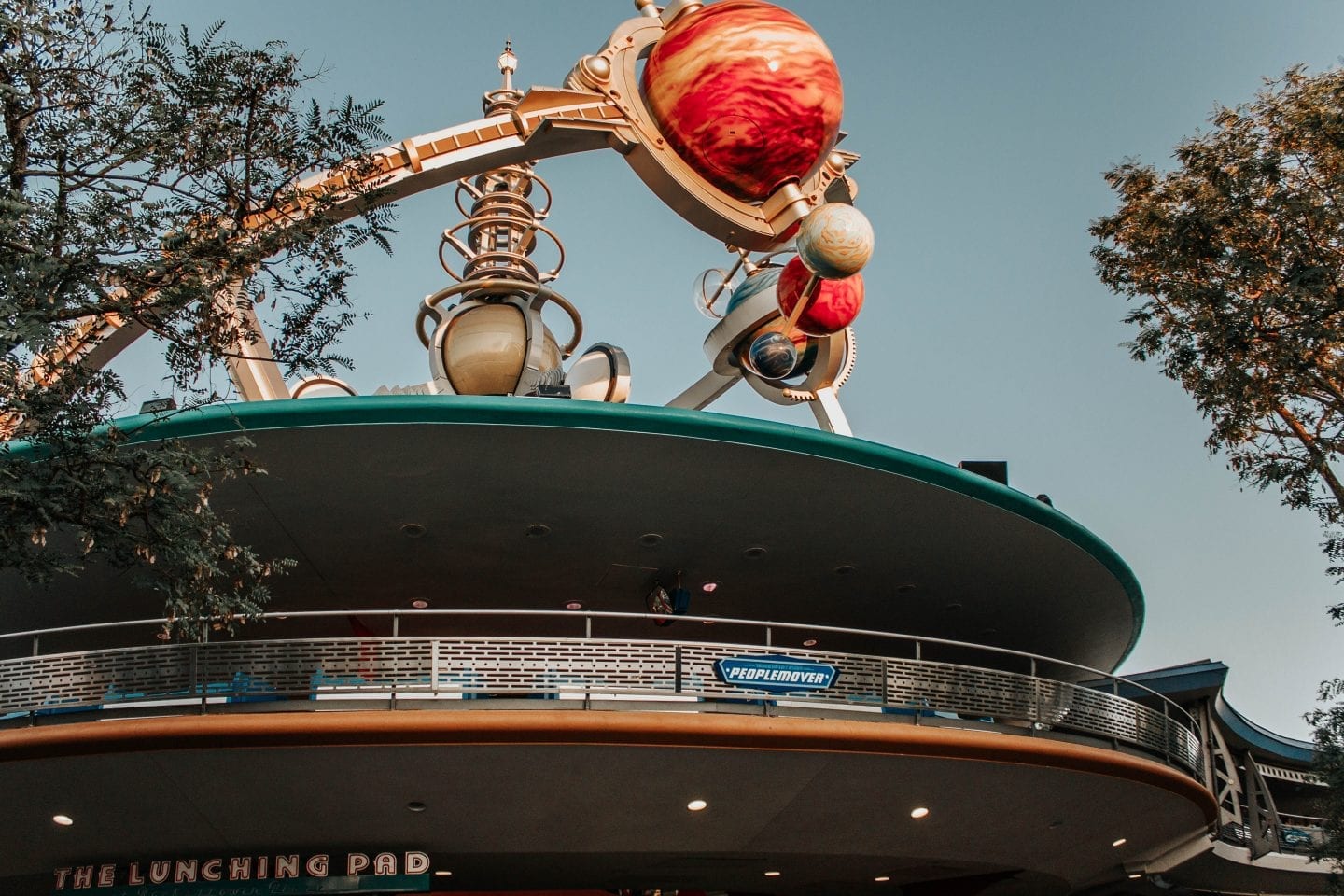 I have to warn you about this if you are planning to trip to Disney World in 2021 – there are lines for everything.
You will wait in long lines for rides, outside of restaurants to pick up your mobile order, and even to get into the pool at your resort.
This is definitely a frustrating side effect of having both new health and safety measures in place and increasing the amount of people who can come visit Disney World. Increasing capacity while still maintaining the safety measures means more waiting for just about everything.
Don't get me wrong, the measures are necessary and Disney World does them well, so it's not something I believe should go away, but it is something to be aware of if you are planning a trip this year. You have to know you most likely won't be able to ride every ride in the park because of the on-average longer wait times.
---
6. Make Dining Reservations Well In Advance
Just like packing up and going to a Disney park for the day used to be an exciting thing to do, so was spontaneously making a dinner reservation on Walt Disney World property.
Unfortunately, reservations are getting picked up faster and faster. Normally, you can make dining reservations months ahead of your trip, and that's when I recommend you do it.
Waiting to the week you visit means you likely won't get any reservations and, if you do, it will be from slim pickings or at a weird time (like a 4:30 or 9:30 dinner.)
Just like planning your park days in advance is necessary now, so is planning your dining reservations.
---
7. Mobile Order Food Before You Get Hungry
You'll find nearly every quick-service restaurant (those that don't require reservations) now operates solely through mobile ordering.
Break out your My Disney Experience app and by pressing the 'plus' icon at the bottom of the screen, you'll see the option to 'Order Food.' You'll also see this option when you search a specific quick-service restaurant in the app.
You'll then be asked to choose your items for the order and pick a window of time where you'd like to pick up the order. I suggest you don't wait until you are hungry to place the order! Try to think about placing the order 30 minutes to an hour before. Sometimes it won't even give you an option of a pick up time for at least 30 minutes.
Then when it's your pickup window, head to the restaurant and be sure to click 'Prepare My Order' otherwise your food won't be made!
Then you will get the notification that it is ready and you will be able to enter the restaurant to pick it up.
---
8. Eat At Off-Peak Times
If you can make eating on the shoulder of peak meal times work for your Disney World trip, I suggest you do so.
Park capacity is increasing, but the number of seats available are not! In the effort to social distance, certain tables are unavailable and creates more limited seating.
However, there's increasingly more people visiting the park, so if finding somewhere to sit and eat was a nightmare before, it can be even worse now at peak lunch times.
9. Be Aware of Limited Menu Options
You should also expect that certain menu options that were available before are not available now. If all you've been craving is that plant-based burger from Peco's Bill in Magic Kingdom, you're not going to be happy to find it's not being offered right now.
Take a look at quick-service menus before you head to Disney World or at least the parks, so that you have a stress-free experience and avoid having to make a last-minute decision with a hungry stomach!
---
10. Bring Several Different Face Masks To Switch Between On Hot Days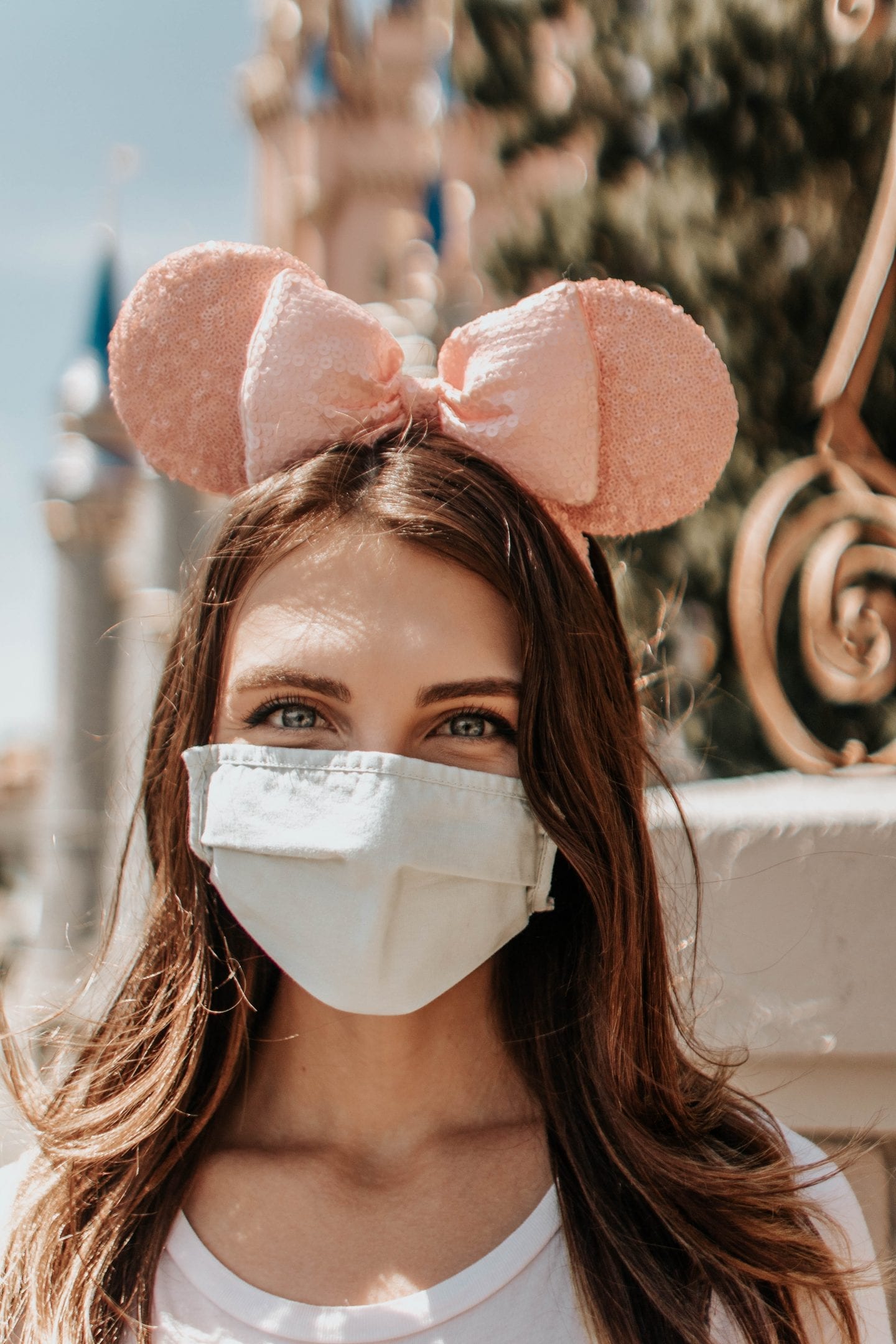 Wearing a face mask at Disney World is like wearing one on a long flight – uncomfortable. It may be even worse than a face mask on a long flight since we all know Florida boasts some hot and humid temperatures.
Plus, with more people visiting and crowds becoming more common, it's not fun to be sweating under a mask next to thousands of your closest friends.
Pack several face masks in your park bag to switch between throughout the day when it starts to get uncomfortable. I do the same thing when wearing masks on long flights because it provides you a bit of a refresh to change from a used mask to a fresh clean one.
The best face masks are adjustable and made of a cloth material – but nothing too heavy, otherwise the heat will get to you! These are the exact ones I use to get through 18 hours of flights – or one day at a Disney park!
---
11. Make Sure Your Face Masks Comply With Specific Disney Rules
Disney World has very specific and defined parameters for what face masks can be worn in the parks and at the resorts.
Make sure to read up on these details so you pack the right masks! They are very strict about it, so you won't be let in the park if you don't have a face mask that follows these guidelines.
If you need to get a face mask quickly before you enter the park, there are face mask vending machines!
---
12. Know When And Where You Have To Wear A Face Mask
There are some places where you can take a break from your face mask, both inside and outside the parks.
In the parks, there are several indoor relaxation stations where you can stay with your party, seated, without a mask – plus, there's air conditioning!
Walt Disney World also recently announced that you can walk around the outside areas of the park without wearing a face mask, but it is still required in any indoor areas. This includes attractions and shops, except for those relaxation stations!
At the resorts, you don't have to wear your face mask in the pool or on your beach chair, but you do have to wear it if you are going to walk to the pool bar, for example.
---
13. Bring A Portable Charger To Parks
Because the My Disney Experience app is so integral to navigating the Disney parks in 2021, I recommend packing a portable charger in your Disney bag.
You probably won't need it, but just in case your phone dies, you'll wish you had it! This charger gets me through all my travels and is super small to take along with you to the park. You can even charge two phones at once!
---
14. Take Advantage Of Relaxation Stations
As I mentioned, you can stay at these relaxation stations and remove your mask for awhile. I recommend you take advantage of this perk!
Not only are they breaks from the hot Florida sun, but it gives you a moment to reset and plan what you want the rest of your day to look like.
---
15. Look Out For Surprise Character Appearances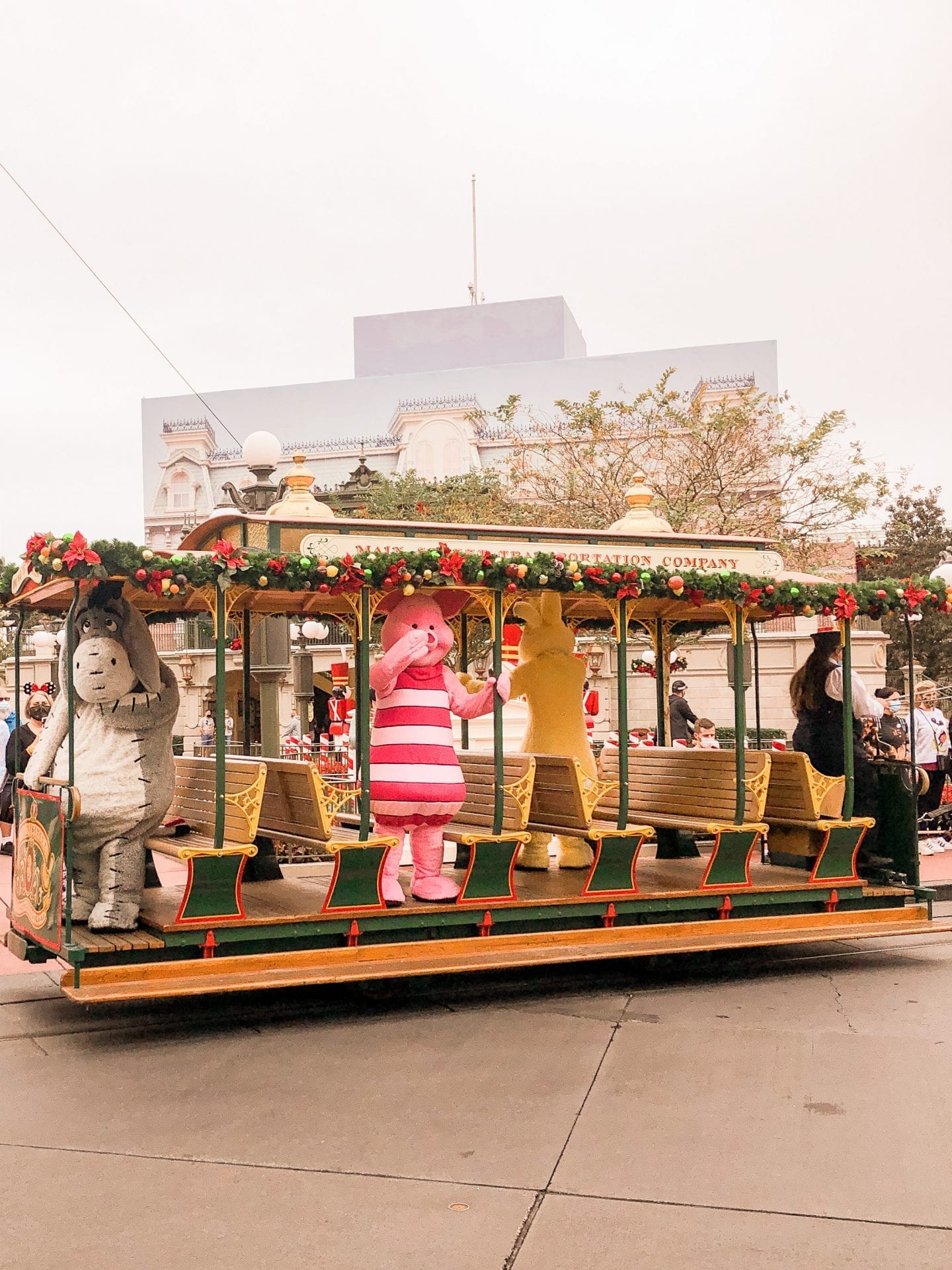 Character meet & greets aren't what they once were. But the new way to see your favorite characters can also be exciting!
Joy from Inside Out may just pop up on the Epcot grounds. Or the Country Jamboree Bears could wave to you from the Frontierland balconies!
Look up and around and all over for unique places to spot the characters.
There are also promenades that happen daily within each park. This short parade will pass by throughout the day either down Main Street in Magic Kingdom, along the river in Animal Kingdom, around the countries in Epcot, or down Hollywood Boulevard in Hollywood Studios.
These character encounters may not be as personal, but they are so fun when you catch them!
---
16. Spend More Time At Your Resort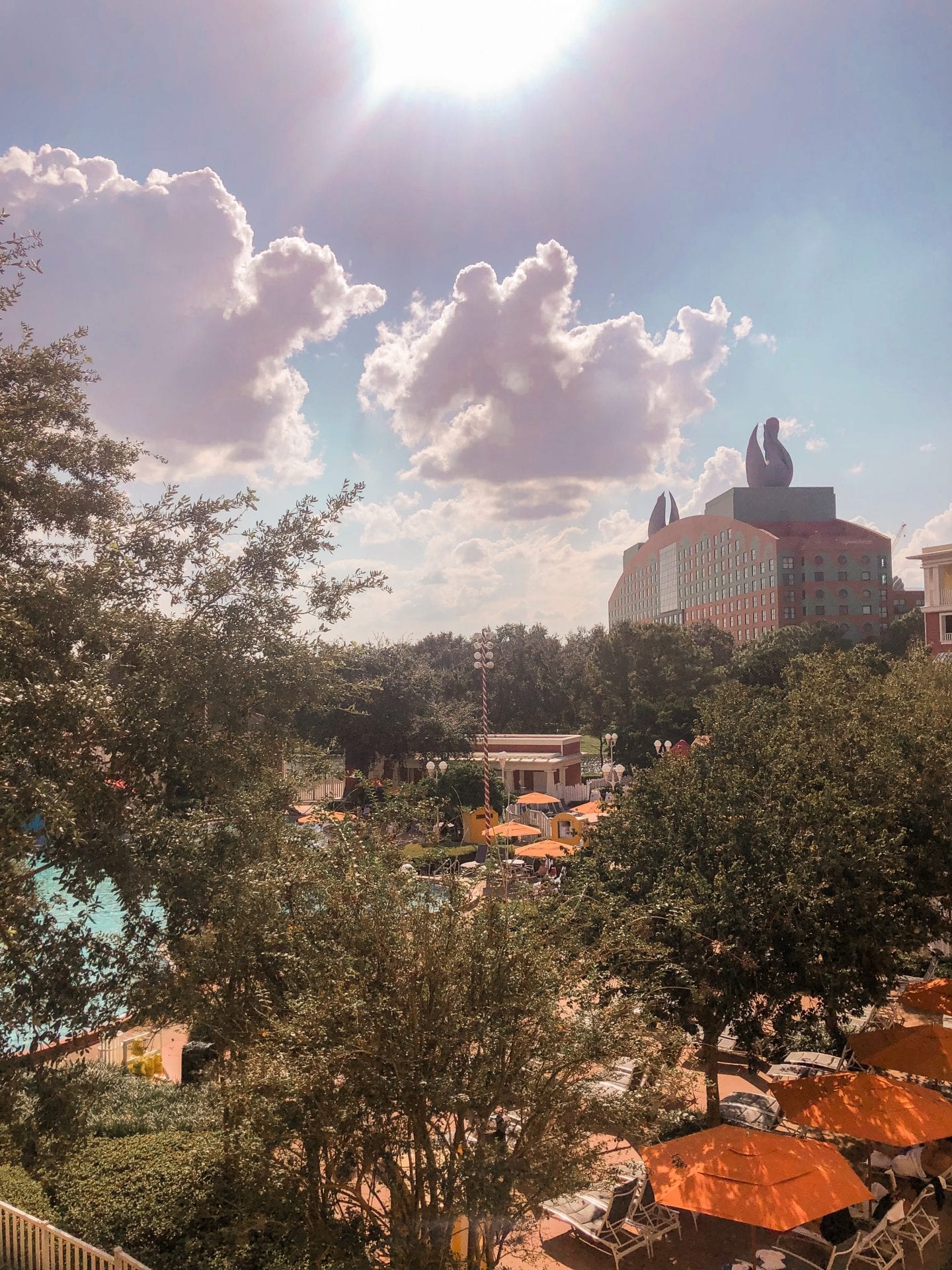 If you are worried about being in the parks during peak crowds and with capacity increasing, then taking a trip to Disney World in 2021 is the perfect opportunity to spend more time at the resorts.
I'm always a big advocate of staying at a Disney World resort. You can often find discounted vacation packages or special offers that make it worth it to stay on Disney property.
Resort hopping is kind of an iffy subject right now. Technically, you can only visit a resort if you have a dining reservation or you are staying there.
But if you happen to be at Magic Kingdom, you can take the resort monorail to visit the Grand Floridian or the Contemporary. Or, if you're at Epcot and Hollywood Studios, you have access to the resorts connected by the Skyliner!
So there are ways. toexplore the resorts that won't get you in trouble!
---
17. Don't Rely on FastPasses
I mentioned earlier that there are substantial lines for just about everything on Disney property right now. Well, part of that problem is due to the fact that FastPasses are not being used at all.
It's unknown when Disney World is going to bring back the adored-FastPasses that make going on attractions and planning your day much easier!
So, that being said, pack a little bit of patience with you before your trip to Disney World until they bring FastPasses back.
---
18. Be Patient With Cast Members
It can be frustrating when there's a line to enter the pool or something is wrong with your mobile order, especially because a trip to Disney World is expensive.
Cast members are in the same position as you, having to respond to the constant changes while still trying to provide you a memorable and magical experience.
As a former cast member, I can assure you we are always trying our best! If you run into an issue on your vacation, at least try to understand that the people working at Walt Disney World want to help you – so go easy on them!
---
19. Be Aware of Shortened Theme Park Hours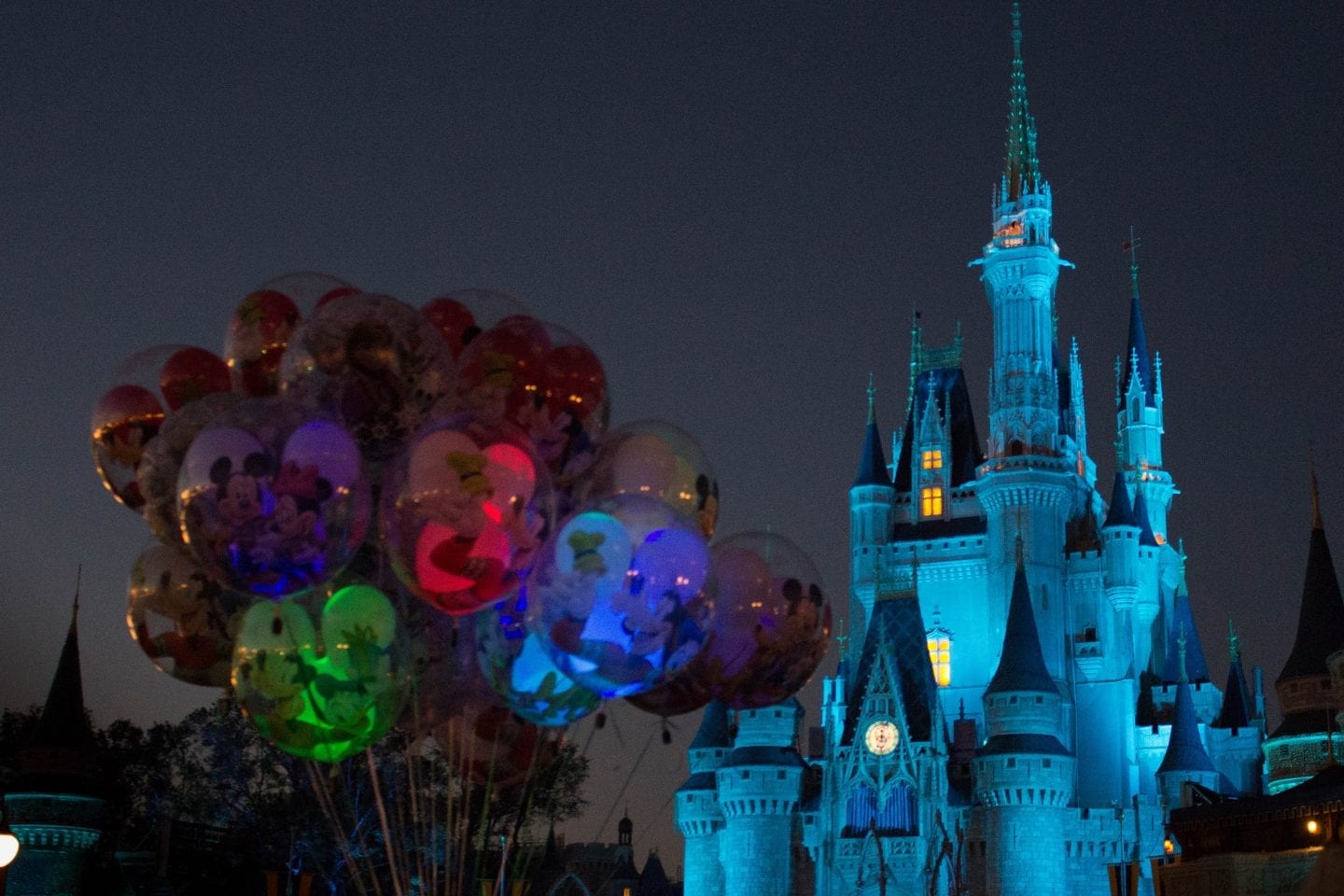 Staying at Magic Kingdom til midnight will have to wait awhile, as Disney World has been running on limited operating hours since its reopening.
There are no Extra Magic Hours anymore and it seems like Disney World will be replacing this perk that allowed resort guest to enter the parks early or stay later, but there are no concrete details yet.
You can use this helpful calendar from the Walt Disney World website to help plan your days based on the theme park hours.
---
20. You Can Park Hop
One of the best perks of having an annual pass or park hopper ticket is having the option to visit multiple parks in one day!
The safety measures put in place at the beginning of Walt Disney World's reopening didn't allow this, but now after 2 pm, you can head to a different park if your ticket allows.
You don't need a separate park reservation to enter a second park for the day!
When planning a trip to Disney World, you might want to plan your day down to the tee. But the park hopping option gives you more flexibility, whether you want that from the start of trip planning or you discover you want to go with the flow after you arrive to your first park!
---
21. Discover New Ways To Make Memories
The last tip for planning a trip to Disney World in 2021 is, in essence, to go with the flow. I've brought the idea up multiple times because it's important to understand before you head to the parks.
More than ever, it seems like nothing is going to go perfectly for your Walt Disney World trip. And that's okay! That's often the time where you make the best memories because you weren't expecting it.
I would say your best strategy for enjoying Walt Disney World to its fullest is, honestly, not to plan too much.
Make a list of what you'd like to do ahead of time and a schedule of reservations you've made and then use the My Disney Experience app the day of to get an idea of wait times and how much you'll be able to fit in.
Seek opportunities to make new memories, like finding those surprise character encounters or visiting a resort using the Skyliner.
---
Is it worth it to plan a trip to Disney World in 2021?
As someone who has visited Walt Disney World many times since its reopening, I would absolutely say it is still worth planning a trip to Disney World in 2021.
Now, I'm fortunate enough to visit so often as a Florida local, so, for example, I'm used to skipping rides because I assume I can do it the next time I'm at the park.
Obviously, other people only take a trip to Walt Disney World a handful of times or maybe just once in their life, so they want to get the most out of the experience.
If that's the case, I suggest waiting awhile to plan your trip to Disney World. There has been positive news on the horizon and once essential safety measures are being eradicated because they aren't as essential anymore.
So, being a little extra patient might mean you'll be able to visit Disney World without restrictions, closed attractions, or long waits – well, maybe the long waits will stay!
Hopefully, these tips and this insight provides you a better idea if planning a trip to Disney World in 2021 is right for you!
Extra Resources for Planning a Trip to Disney World in 2021
Let me know in the comments:
Are you planning a trip to Disney World in 2021?
Have you been to Disney World in 2021 and do you recommend it?
What are you most looking forward to about your Disney World trip?!
And if you have any questions, you can contact me directly or leave it in the comments!
Save these tips on Pinterest for future reference!
If you are planning a trip to Disney World this year, then say hi to the Mouse for me!
XOXO
Michela