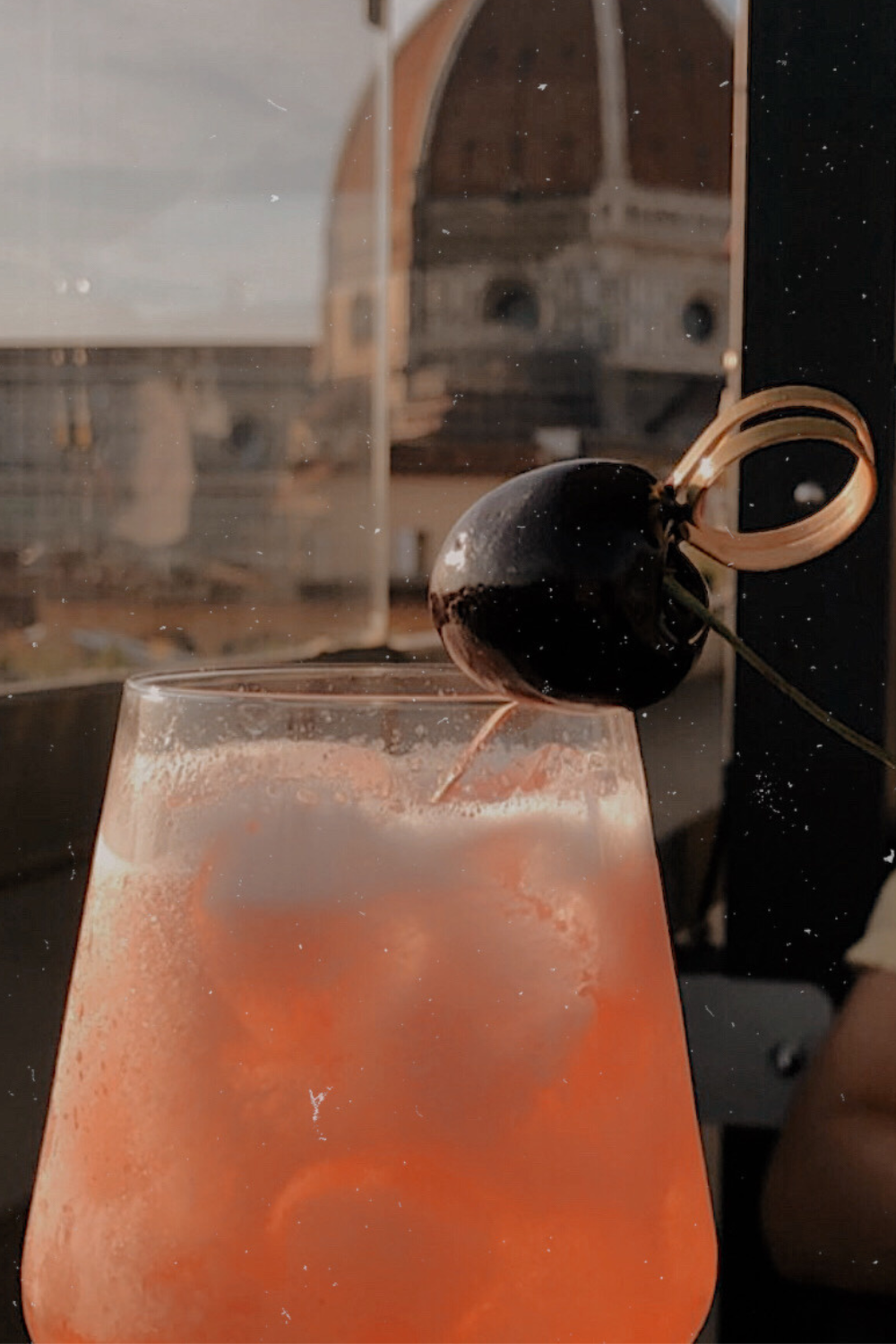 Last Updated on September 30, 2023
Ever since I moved to Italy, there is one moment of the day that still holds such curiosity and mystery to my American eyes. It is a cultural rite of Italians, whether it's a moment after work or a weekend outing, that your before-dinner ritual includes a table at a local bar and a vibrant orange spritz in hand. I am talking about Italian aperitif or, as the locals say, aperitivo.
This is not your sloppy happy hour or going-out pre-game. Aperitivo is an elegant outing with friends, a a moment to pause and slow down life for an hour. This Italian event is romanticized (and rightfully so) by international visitors. So how can you experience an authentic aperitivo in Italy? Read on to learn from a local.
Some of these links are affiliate links. This means if you make a purchase through that link, I receive a small commission at no extra cost to you. Read my full disclosure!
What is aperitivo?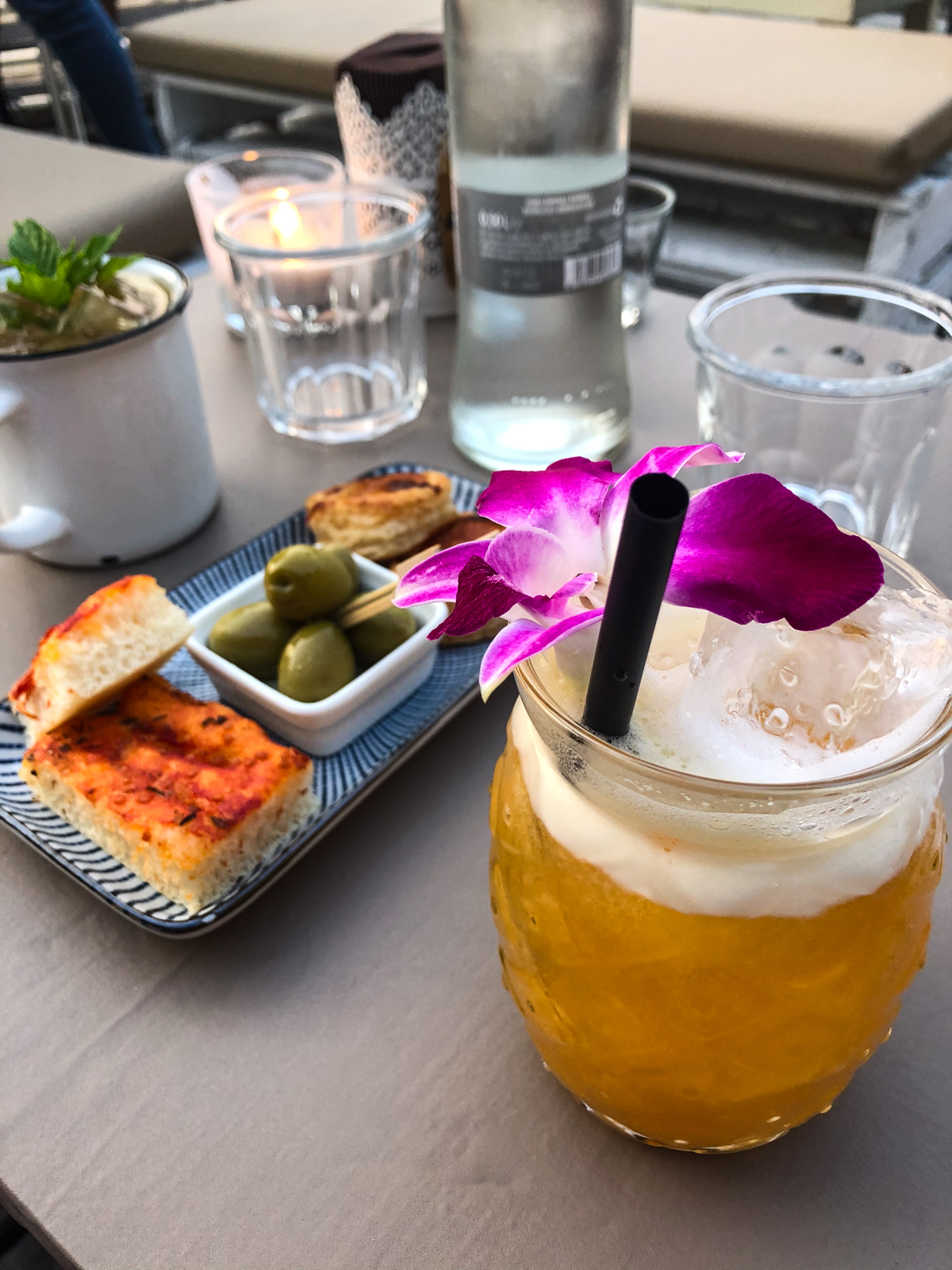 By definition, aperitivo is the occasion of having a drink/light meal before dinner. What makes aperitivo so unique in Italian culture is that you can find this custom up and down the peninsula, despite Italy's overal cultural fabric being very regional and territorial.
It originated in Milan, as well as many of the classic drinks Italy is known for.
In Italy, dinner is usually eaten around 8 or 9 pm (it can be even later the more south you travel), so aperitif works in a way to hold your hunger over until meal team.
Traditionally, you would go have aperitivo at a bar or café, but some restaurants offer it as well.
Aperitivo does not usually replace your meal, however, there are some places that do "apericena" meaning they serve more food than a usual aperitivo.
---
Why is an Italian aperitivo important?
The Italian aperitif is often compared to America's "happy hour" but it is really much more than that.
It is a tradition that ties into to at least two other important aspects of Italian culture: community and slow living. Italians are tied to their local culture and their relationships. There is a sense of togetherness and community that you don't get in America due to a lot of reasons: people don't move as often, towns are smaller and therefore people know each other better. Aperitivo is a product of this community-oriented way of living.
The idea of taking a pause just to enjoy company and a particular moment is a product of Italians' way of living, which prioritizes slowing down, enjoying the present and avoiding stress.
---
Tips for a Memorable Italian Aperitif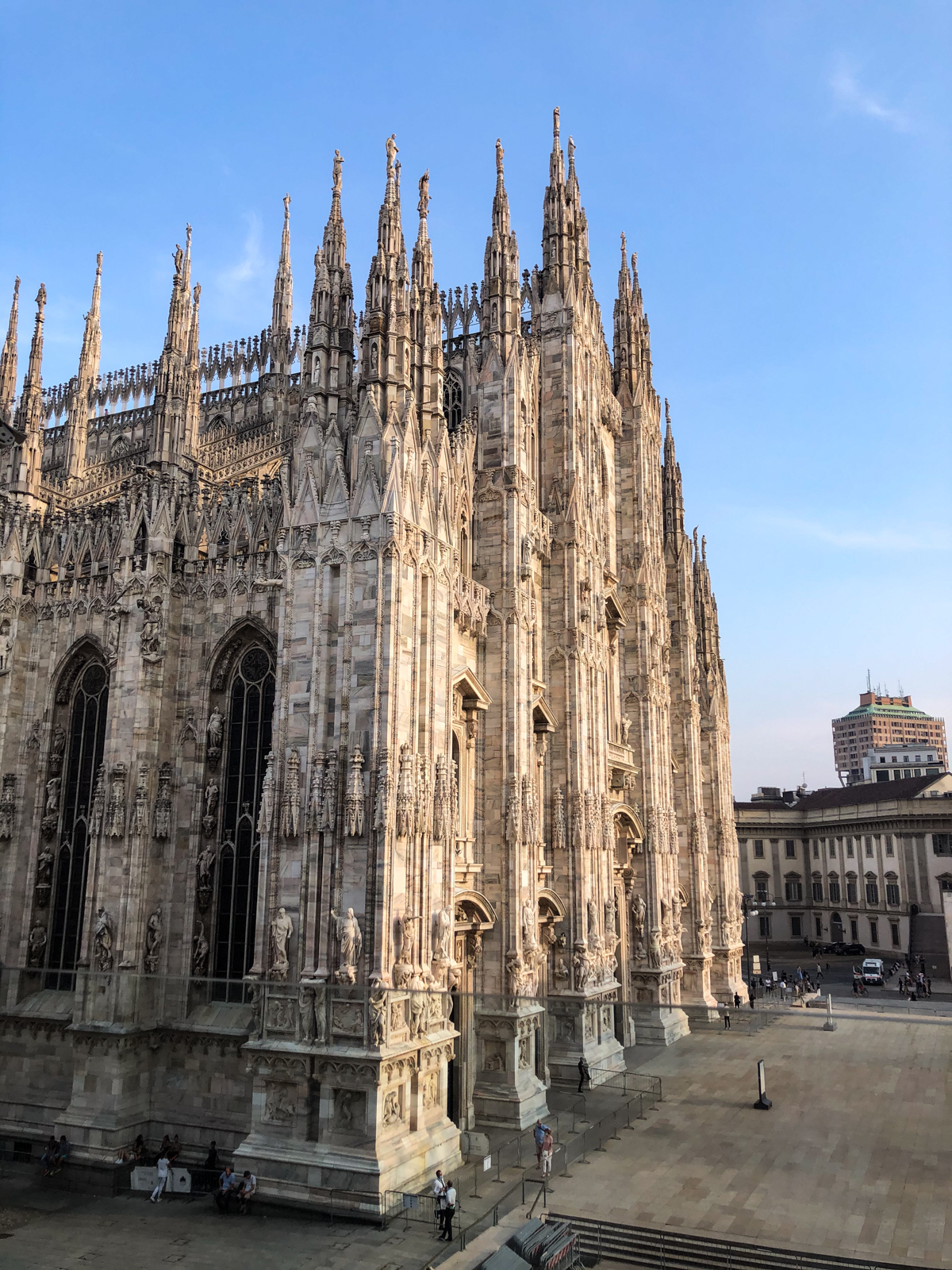 Know your Italian drinks
Bitter, sparkling or sweet? What you drink at aperitivo says a lot about you!
The most popular Italian drink at aperitivo by far is a spritz, a light, bubbly cocktail. It's most classic forms?
Aperol Spritz
Campari Spritz
Hugo Spritz (my favorite!)
You can never go wrong ordering a spritz at aperitivo. Other common cocktails are Negroni, Negroni sbagliato, Americano, Moscow Mule, Mojito and Gin Tonic.
Can you drink wine or beer at Italian aperitif? The answer is yes. Although cocktails are the go-to, a smooth glass of wine or prosecco or an artisan beer is still popular.
Pay for your drink, receive the food
Italian aperitivo usually works like this: there is a set list of drinks to choose from and along with the price of that drink, you get "aperitivo", meaning you get the food or access to the food with that price.
Some bars may allow you to participate in the aperitivo is you get a non-alcoholic drink. However, if you just order a water or a Coca Cola, you usually won't be able to get the aperitivo.
Good to know: How much is too much for a drink at aperitivo? It depends where you are in Italy. On average, a good deal for aperitivo is a drink anywhere from €8-€10. However, if you desire a fancy bar, like the Rooftop Bar Divina at Hotel Cavour in Florence, or Terrazza Aperol across from the Milan Duomo, you are looking at at least €15 per drink.
Snack sparingly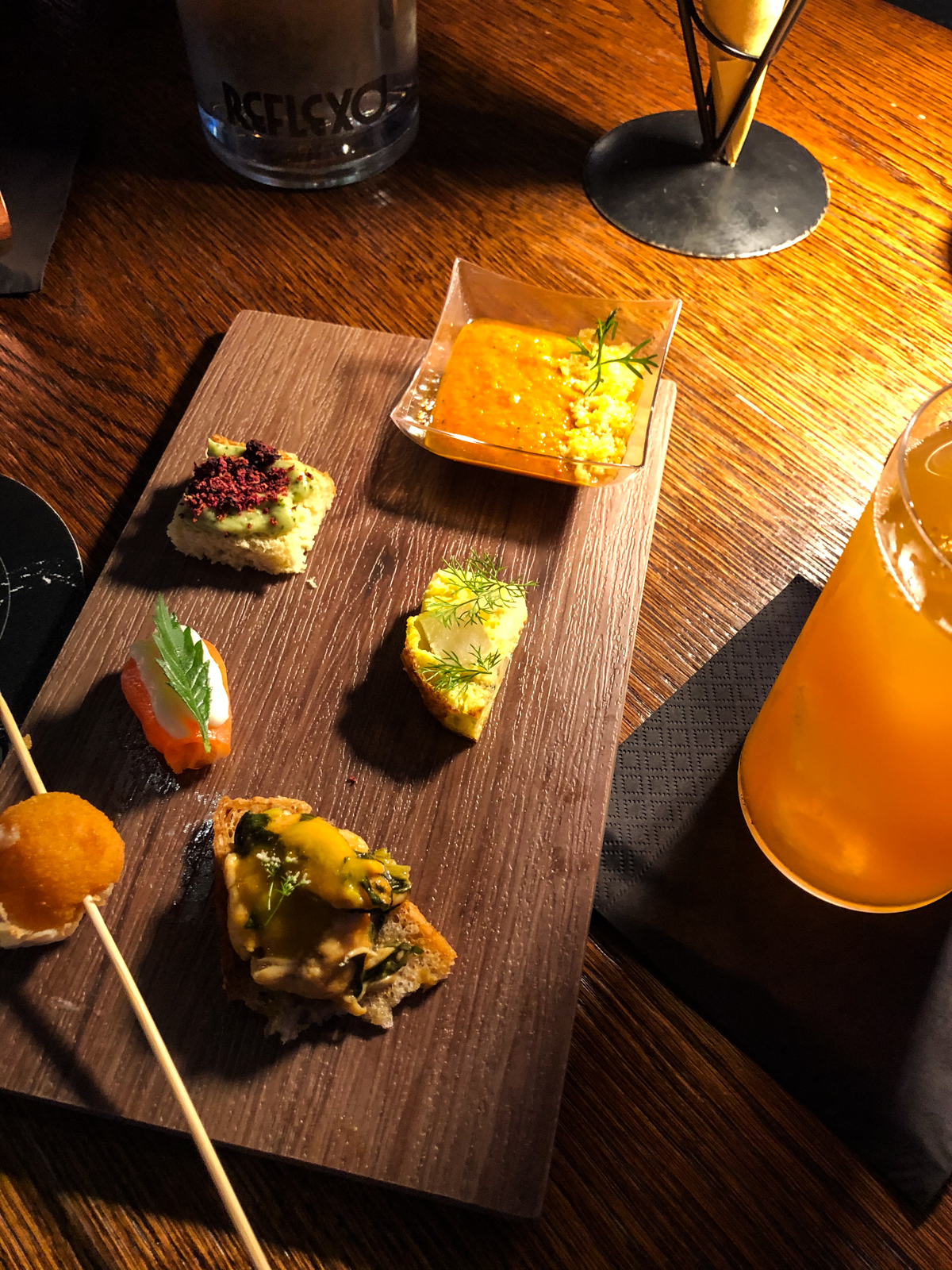 Aperitivo tends to be an elegant occasion, so you will rarely see locals stuffing their mouths with food.
You should also know that the tray of food is shared and, unless you buy more than one drink, bars usually won't bring you any more food.
Go out at the right time
Not too early, not too late.
Aperitivo can begin as early as 6 pm as people get off of work, or can start as late as 8 pm.
Italian aperitif usually lasts at least an hour: this is not some grab and go drink. Just like Italians take a pause to drink their coffee at the bar rather than take it to go, aperitivo is a moment that is savored and enjoyed to the fullest.
Study your ape-lingo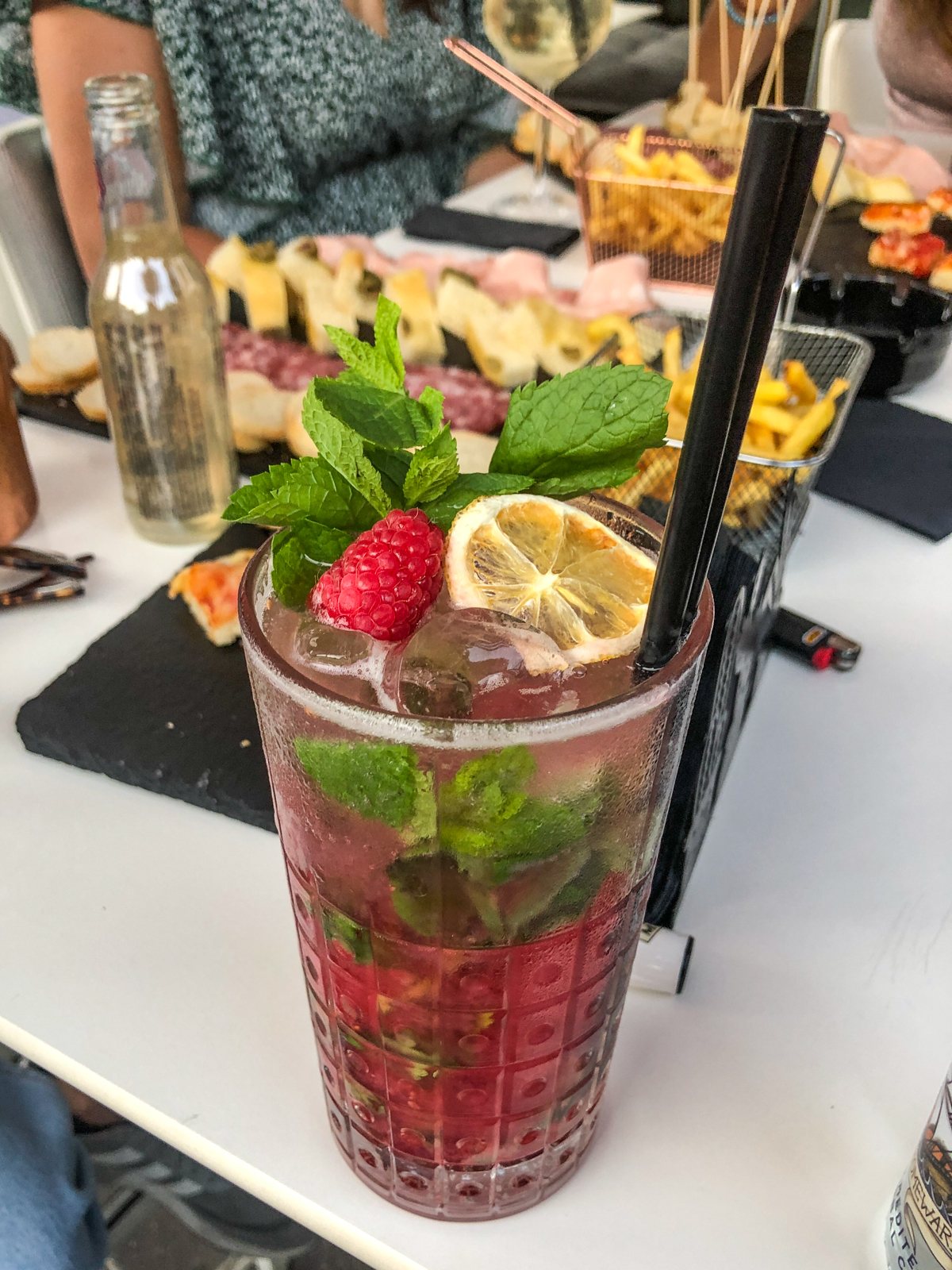 That's right, if you want to impress the locals, then say you are going to "Ape" (ah-peh).
Overall, if you are not in a touristy area of Italy, you are likely to end up in places where Italian is the only way to communicate. Besides repeating the drink you want on the menu, here a few dining phrases to memorize:
I would like a spritz./I will take a spritz. – Io vorrei uno spritz./Prendo uno spritz.
Can you bring me another drink? – Posso averne un altro?
Can you bring us the bill please? – Ci porta il conto, per favore?
Thanks, have a nice night! – Grazie, buona serata!
Seek out hidden gem aperitivo buffets
There are mainly two types of aperitivo: one where a tray of a set amount of food arrives to the table and one where you have access to a buffet to pick and peruse as you please.
The traditional aperitivo is usually with a tray of food that arrives at the table. But my favorites are aperitivo buffets where with just the purchase of the drink you have full liberty on how many finger foods you would like!
Finding these buffet aperitifs is not easy. You will likely need a local's suggestion. The best thing you can do to research them yourself is trust in Google reviews to guide you to the nearest "aperitivo buffet".
---
Italian Aperitivo Experiences
---
The SGTD Take
Aperitivo is not just going out for drinks: it is a sacred moment, a tradition of getting together with friends and sharing uninterrupted moments of life.
No wonder such an experience is romanticized and idolized by other cultures around the world! The Italian aperitif is the perfect reminder to all to take a moment to pause and enjoy the present.
What are you looking forward to aperitivo? Let me know in a comment!
Save this complete guide on Pinterest!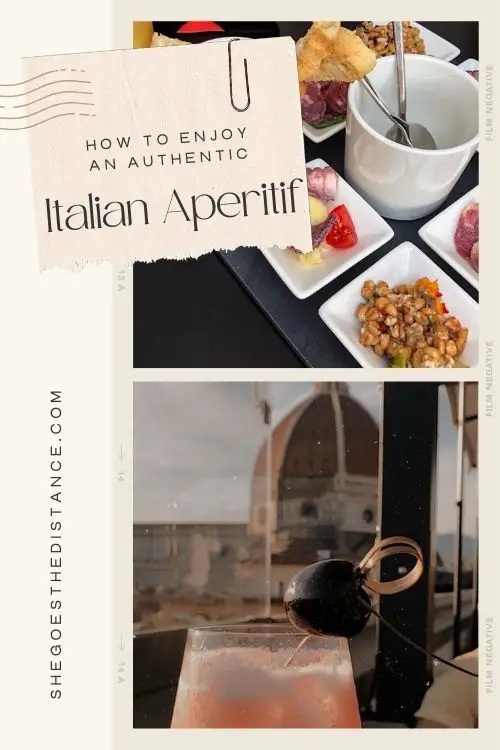 Now you can enjoy an authentic Italian aperitif on your dream trip to Italy!
XOXO
Michela