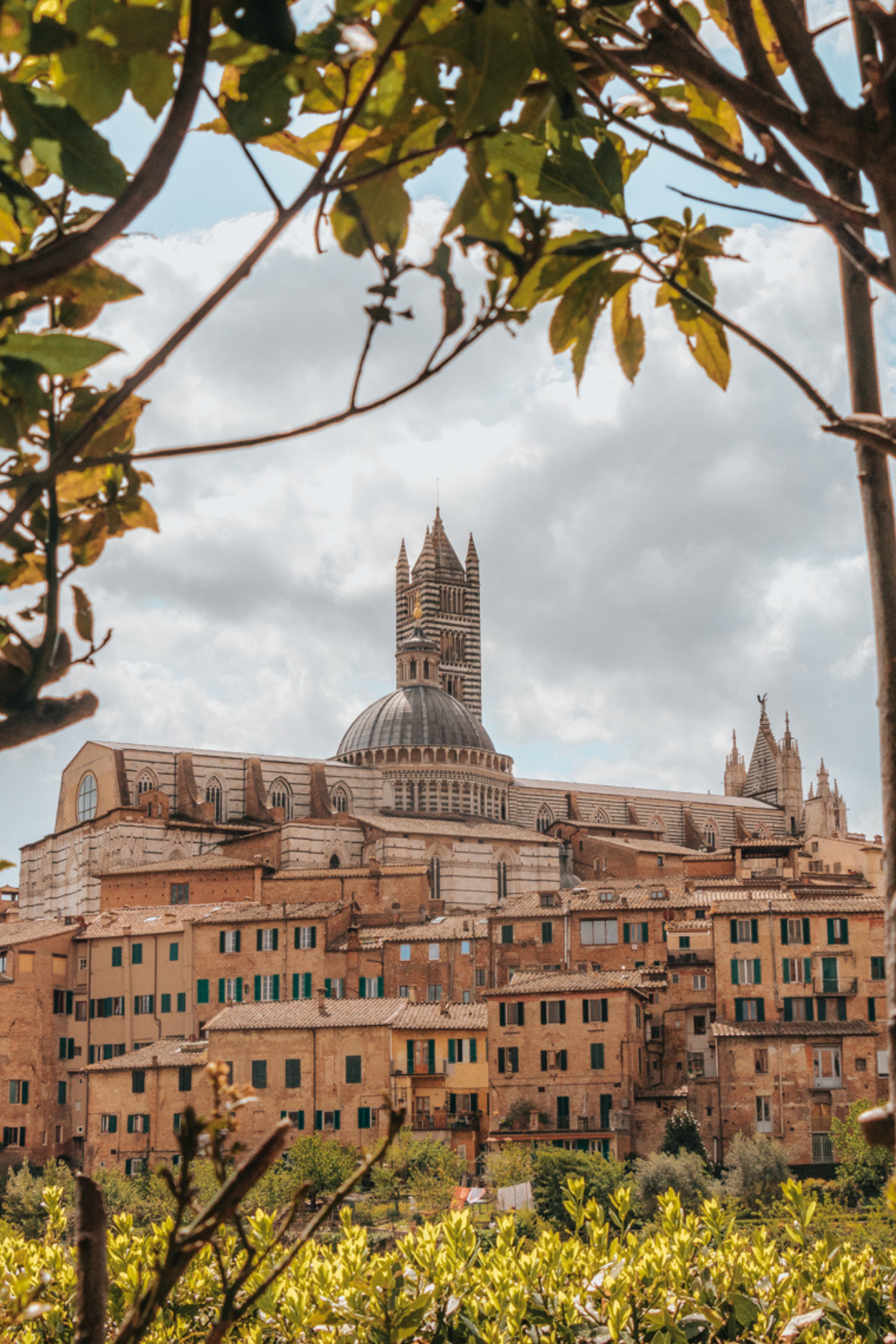 Last Updated on October 1, 2023
Rising from the calm hills of the Tuscan is the Medieval mecca of Siena, Italy. This burnt-orange, green-shuttered city carries character in every stone of its streets. Luckily for travelers, Siena is the perfect example of not too big, not too small and has so much interesting history and eye-catching architecture to discover. The question becomes: how much can you discover with just one day in Siena, Italy? I'm happy to report a lot. Discover exactly what and how in this quick itinerary travel guide.
Some of these links are affiliate links. This means if you make a purchase through that link, I receive a small commission at no extra cost to you. Read my full disclosure!
Why Visit Siena, Italy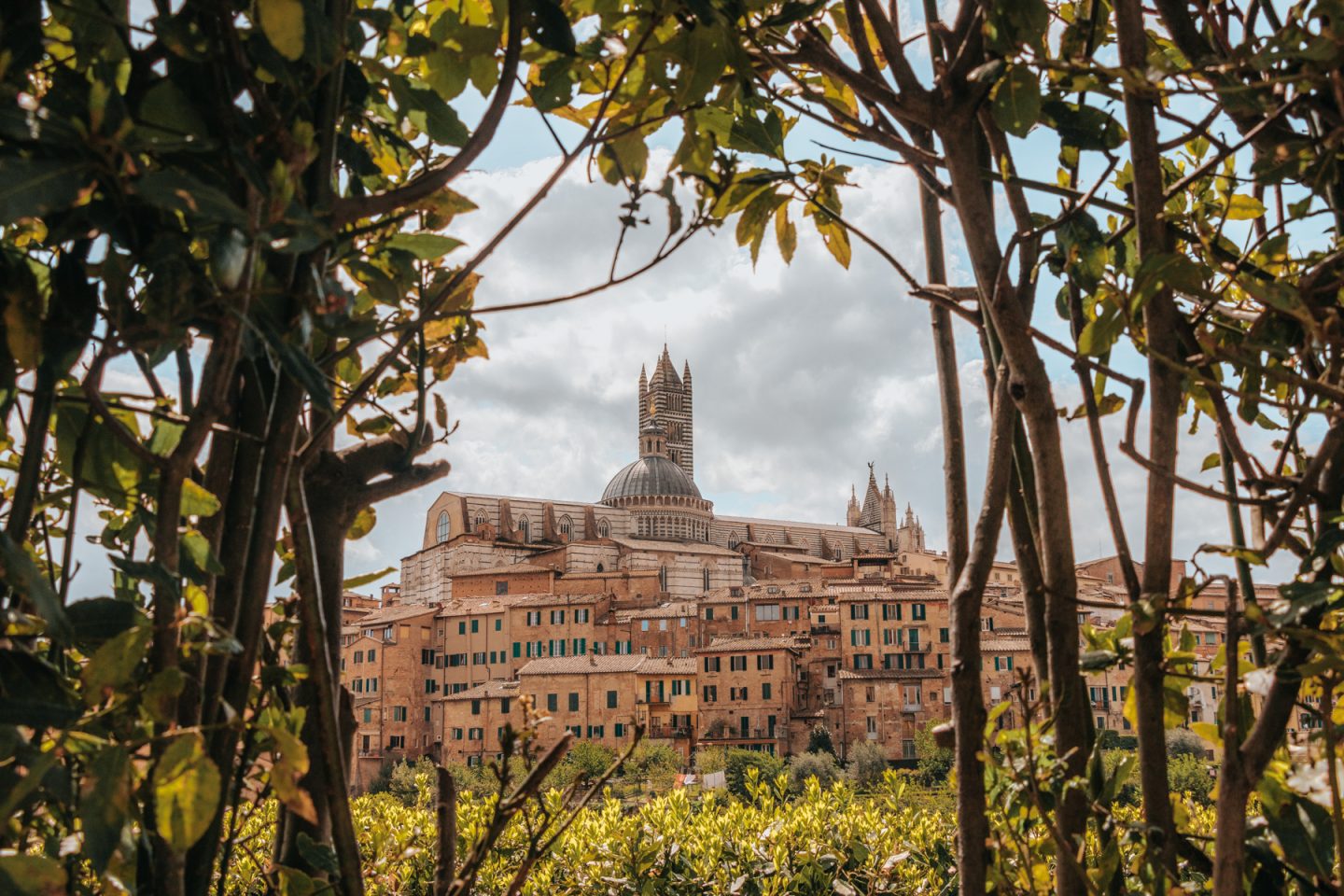 If you are getting ready to visit Siena, Italy, then you should find out more about why it is such a special place. And if you are just browsing around still trying to figure out where you are planning your trip to Italy, then let me be the one to convince you that Siena deserves a stop on your bucket list.
Siena is fairly famous in Italy, as it is one of the most beautiful towns in Tuscany, one of Italy's most popular regions. It is also well located, an easy day trip from Florence or Rome, making it a feasible stop on tourists' itineraries or a perfect base from which to take day trips in Tuscany.
Originally an Etruscan settlement, Siena became one of the most important cities of Medieval Europe. One of the things that makes it so unique is that it has been able to preserve a lot of the buildings dating as far back as the 13th and 14th centuries.
Siena has been a hub for banking and commercial activities for centuries. It is even home to the oldest bank in the world, Monte dei Paschi. Moreover, the University of Siena is one of the oldest active universities in the world.
Today, Siena's city center is a UNESCO World Heritage Site, recognizing the historical significance of such a beautiful place.
See why Siena is a must visit?!
---
How to Reach Siena, Italy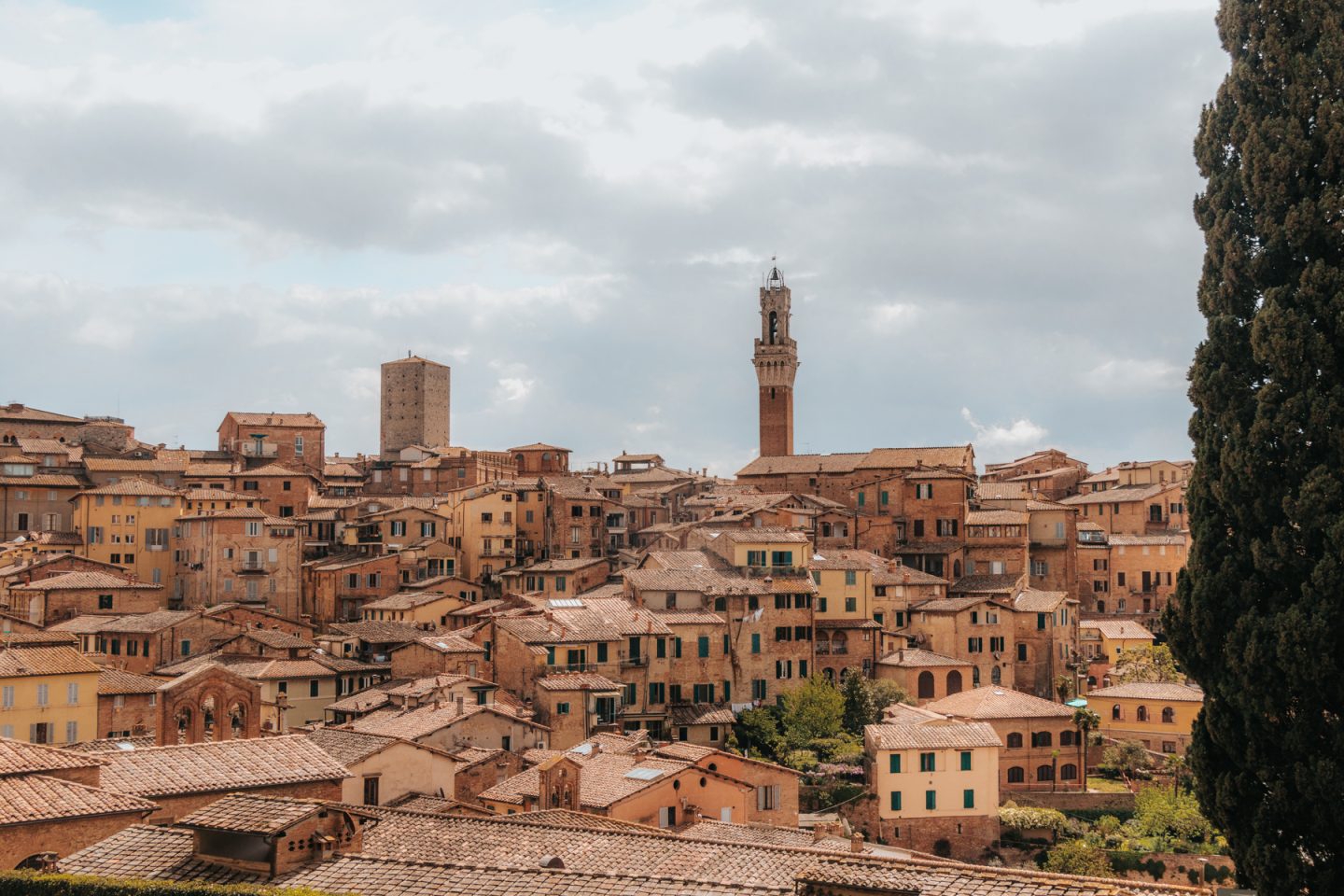 Siena is located in the province of Siena in central Tuscany. Since it is a city, it is well-connected by public transport and highway.
Arrive to Siena by car
Renting a car in Italy is the most flexible way to explore but it is also tends to be the most expensive.
Nonetheless, the good thing about arriving in Siena by car is that there are lots of parking options around the city center. My favorite place to park is Parcheggio Via Roma because it is close enough to the city center to walk but not so expensive as parking in a garage or in the city center itself.
Pro tip: brush up on what you should know about driving in Italy before your trip!
Reach Siena by train
Siena Central Train Station is steps away from the historic center. Train is likely going to the best mix of economics and ease to reach in a transportation method for arriving to Siena.
Arriving to Siena by train will depend on where you are traveling from. From Florence's Santa Maria Novella train station, the ride is an hour and a half. From Rome Termini, the ride becomes three to three and a half hours.
Check train tickets on Trainline or book directly through a train company like Trenitalia.
Arrive to Siena with the bus
Buses in Italy are not always the easiest to navigate, but thankfully Siena is well-connected (and you have my post for reference!)
There is no national bus line in Italy, so what buses you will take will depend on where you are traveling from. If you have a specific question about how to get to Siena from your destination, ask me in the comments and I can respond personally to you!
If you are coming from outside of Tuscany, your best bus option would be something like FlixBus.
Traveling by bus from Florence? Take line 131R to Siena. A bus ride from Florence is about an hour to an hour and a half long.
Take an organized tour to Siena
If you are looking for someone else to handle your transportation to Siena, you can opt for an organized day trip tour.
It is not the cheapest of travel options, but it does mean you don't have to rely on public transport schedules or on renting your own car.
Here are some day trip options to Siena from Florence:
---
Best Things to Do in Siena, Italy in 24 Hours
What I love about Siena is that it is a large, historic city, but it is so much more compact and easy to get around than somewhere like Florence or Bologna. You can see a lot in just one day in Siena, Italy.
That being said, these are the top experiences that can't be missing on your Siena itinerary.
Duomo di Siena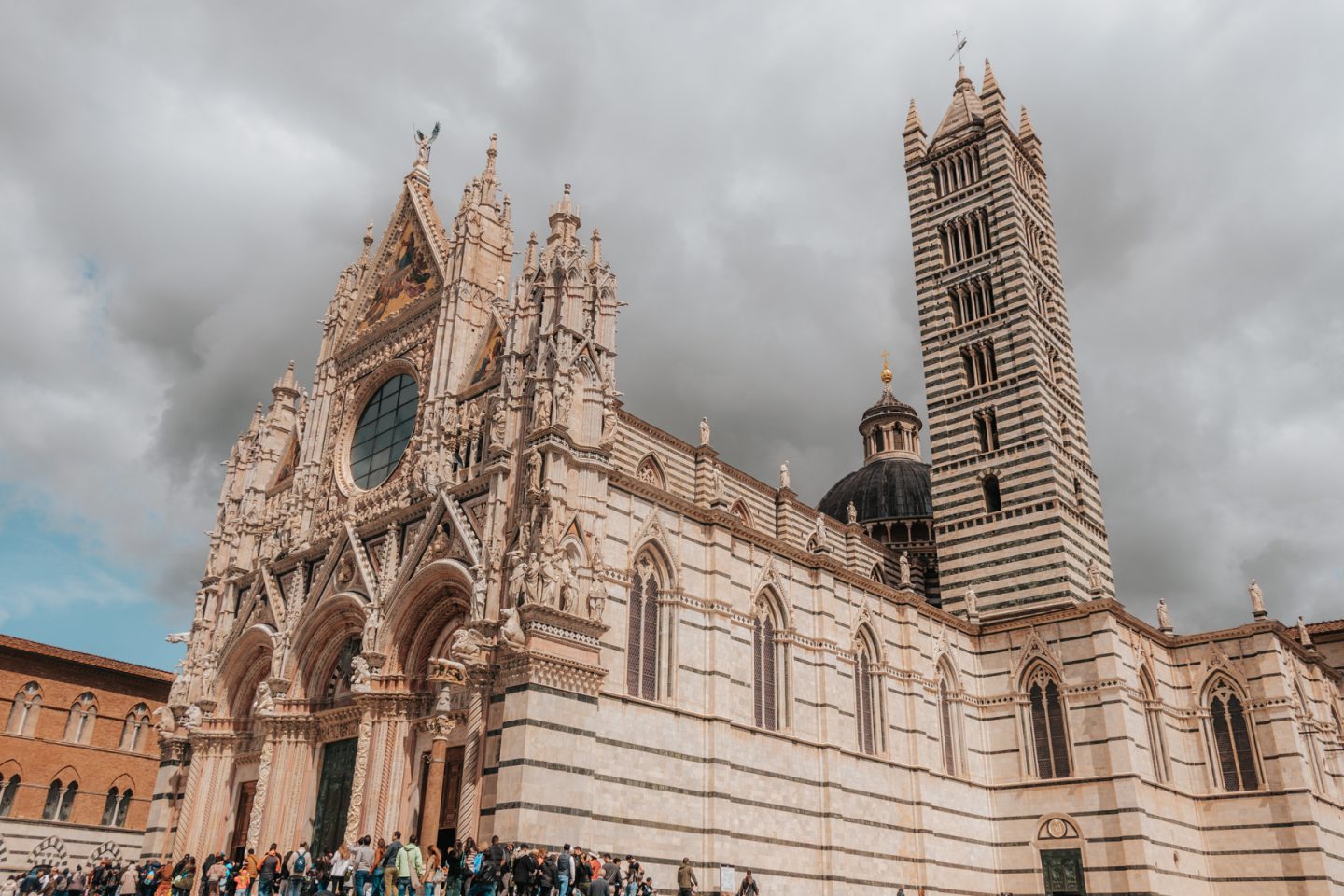 The crown jewel of Siena is its shimmering cathedral. The Siena Duomo, Santa Maria Assunta, is one of the most beautifully facaded churches in the world.
The exterior is covered in such incredible marble detail that only seeing it up close in person can do the beauty of this building justice.
What I also love and find so unique about the Siena cathedral is how it is positioned in the city. Siena is a hilltop city, and you will find the Duomo at its peak.
You must book tickets to visit the inside of the cathedral. But it is so worth it, especially to see one of the most unique treasures of Siena, the Piccolomini Library. This small room within the church has huge impact, covered in frescoes that depict moments of the life of Pope Pius II.
Pro Tip: The Piccolomini Library has specific opening hours that differ from the cathedral. I highly recommend you look at these before you go, as the library is a part of the church you absolutely shouldn't miss! Discover the Piccolomini Library hours at the bottom of the OPI website.
Santa Maria della Scala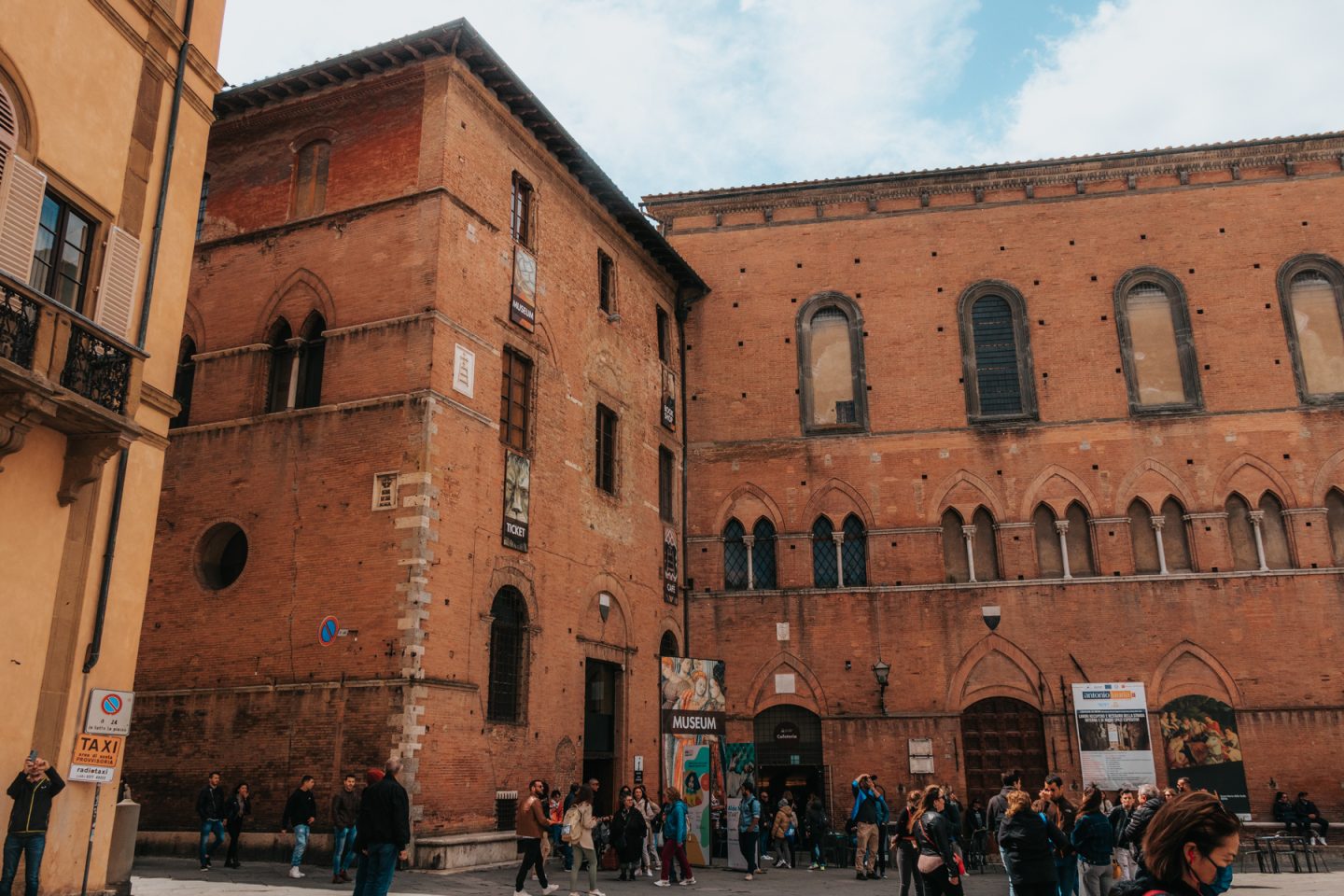 Located across from the duomo in Piazza Jacopo della Quercia is the complex of Santa Maria della Scala.
This set of buildings in Medieval times was a hospital. Today it is a museum that holds exhibitions of art and a storytelling of the Medieval hospital.
You must buy tickets to visit the Santa Maria della Scala.
Battistero di San Giovanni Battista (Siena Baptistry)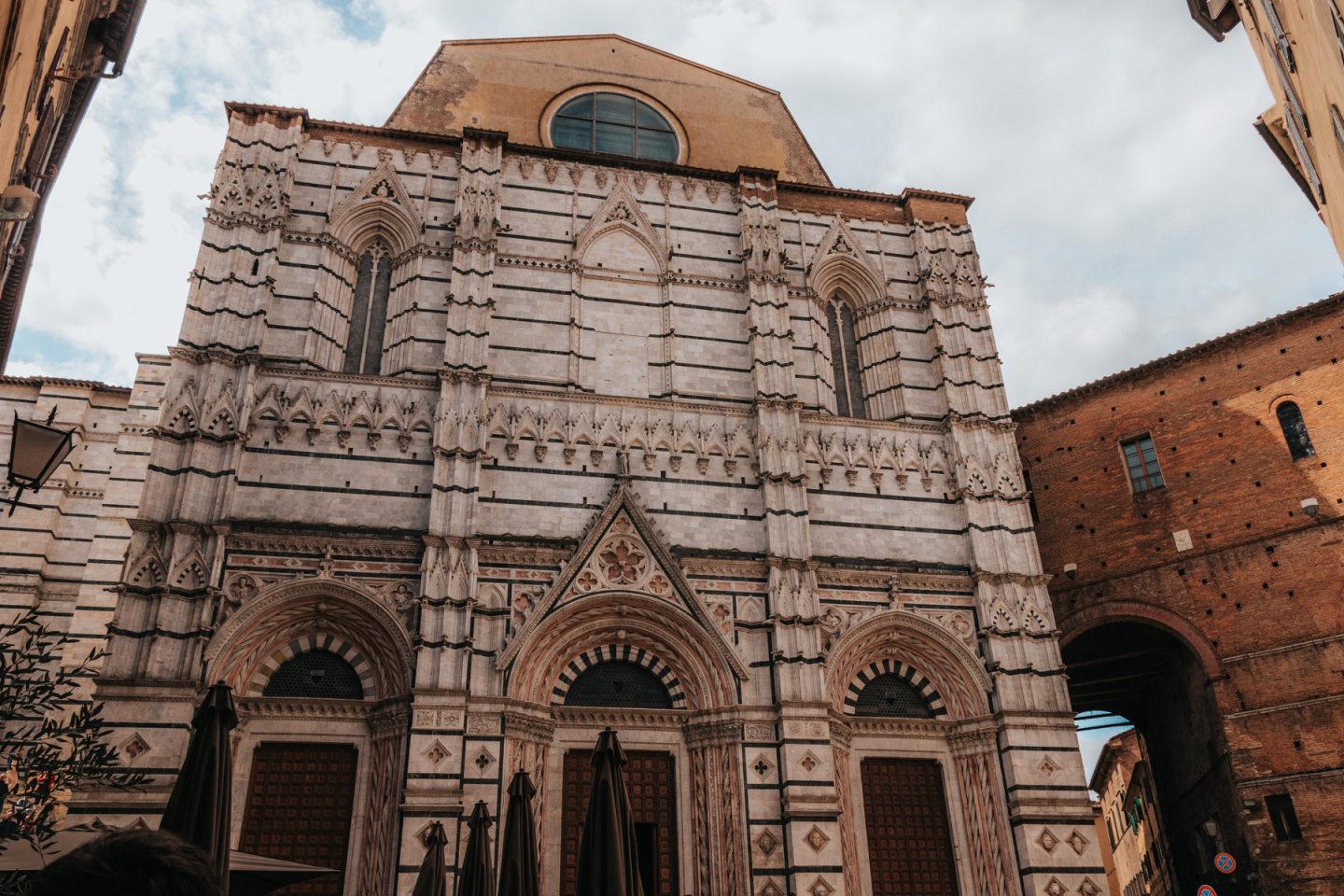 Connected to the Duomo complex in the most unique way, the baptistry is located down the hill, connected by a grand, external marble staircase to the piazza above in which the cathedral is set.
Standing before this impressive building takes your breath away. Like the cathedral, the facade is so detailed that you can't help but wonder how man made this hundreds of years ago.
Visiting inside the baptistry requires a separate ticket.
If you want to see both the baptistry and the duomo, your best bet is to get the OPI pass which includes entry to the entire cathedral complex.
Piazza del Campo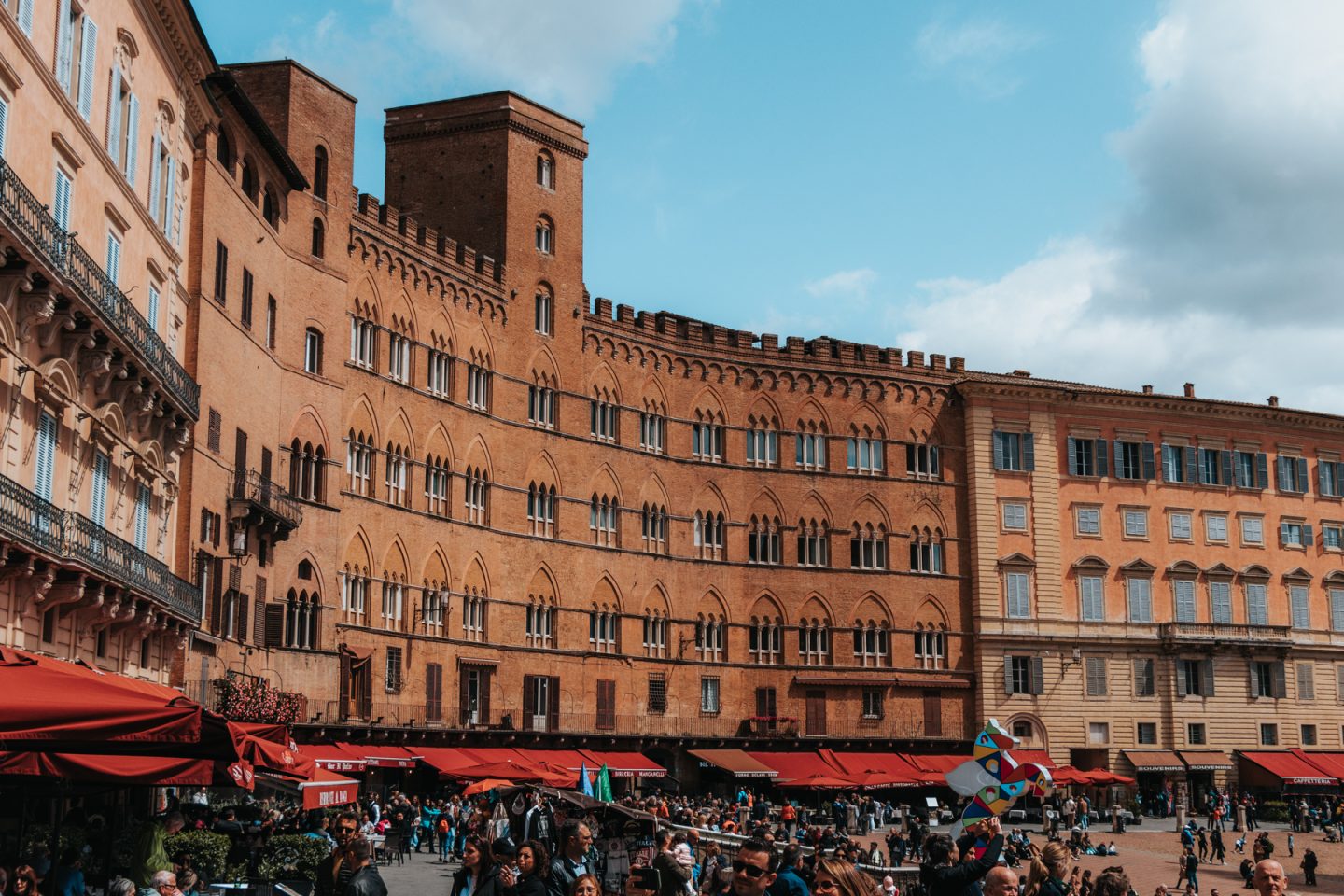 One of the things that makes Siena so famous is its unique main square.
The Piazza del Campo is in a unique half dome shape, completely open in the middle for you to walk through and take in the 360° panorama of the historic buildings that surround you.
The organized chaos of the piazza is so energetic and exciting, making it a perfect place to sit for a moment in the middle of the square, people watch and enjoy the view.
Pro Tip: If you want to dive even deeper into Siena's history and culture, sign up for a Siena walking tour.
Palazzo Pubblico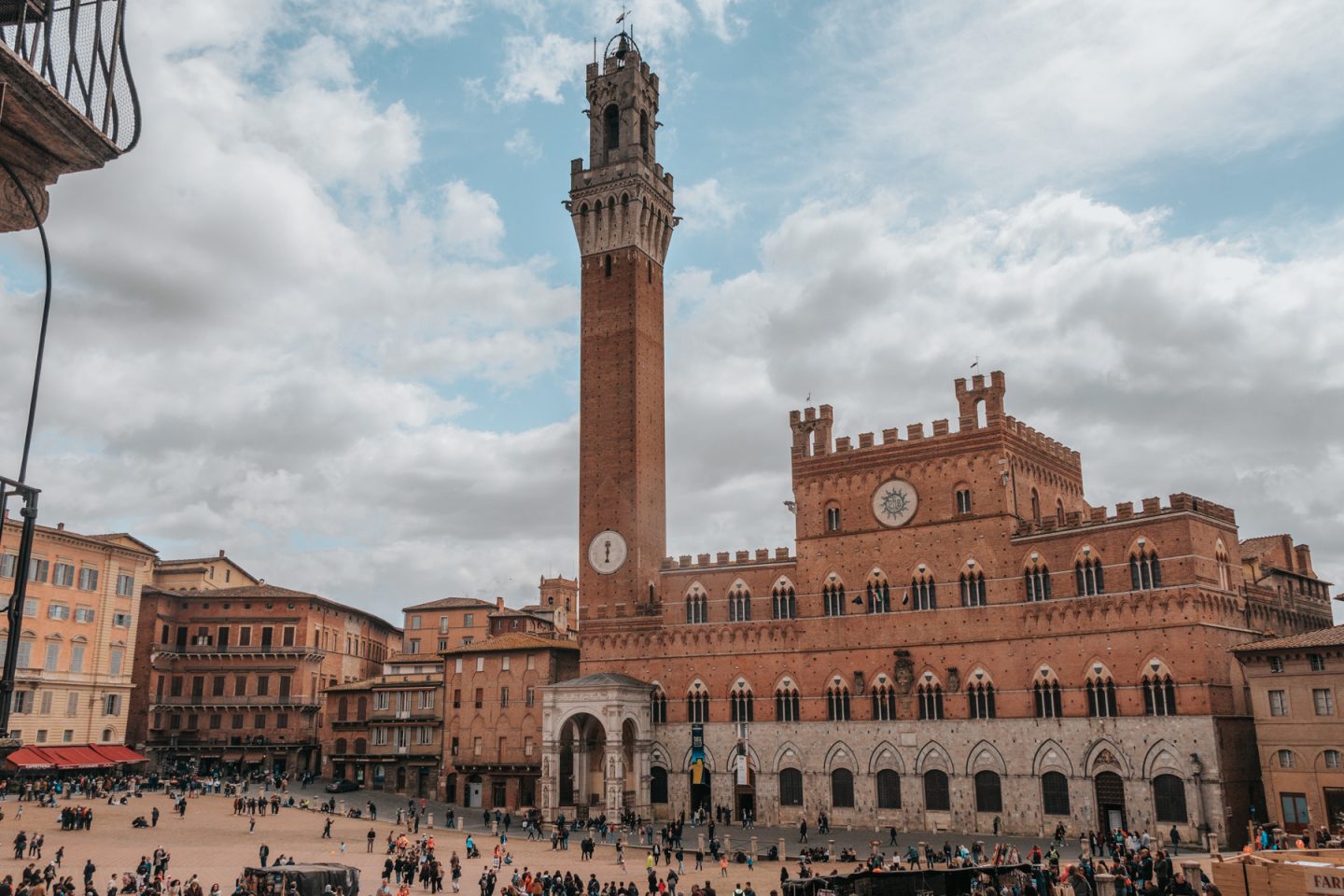 The focal point of Piazza del Campo is Palazzo Pubblico and the Torre del Mangia that sprouts from the building.
The Palazzo Pubblico, dating back to the 13th century, is today home to the Civic Museum (Museo Civico). It was once the seat of the Republic of Siena government, and is unique for the overwhelming number of frescoes within the building.
It was rare that government would commission frescoes, as they were usually commissioned by the church.
You can buy tickets to the Palazzo Pubblico and Civic Museum.
If you are into captivating city views and don't mind heights, you can also climb the Torre del Mangia. Info for hours and tickets can be found on the official Siena website (it is in Italian, but you can use a Google Translate plug-in to read in English.)
Budget tip: You can go inside the Palazzo courtyard without paying for an entrance ticket. Of course, you don't get to see any of the interior, but it does give you a unique view of the tower and there are several artifacts on display.
Medici Fortress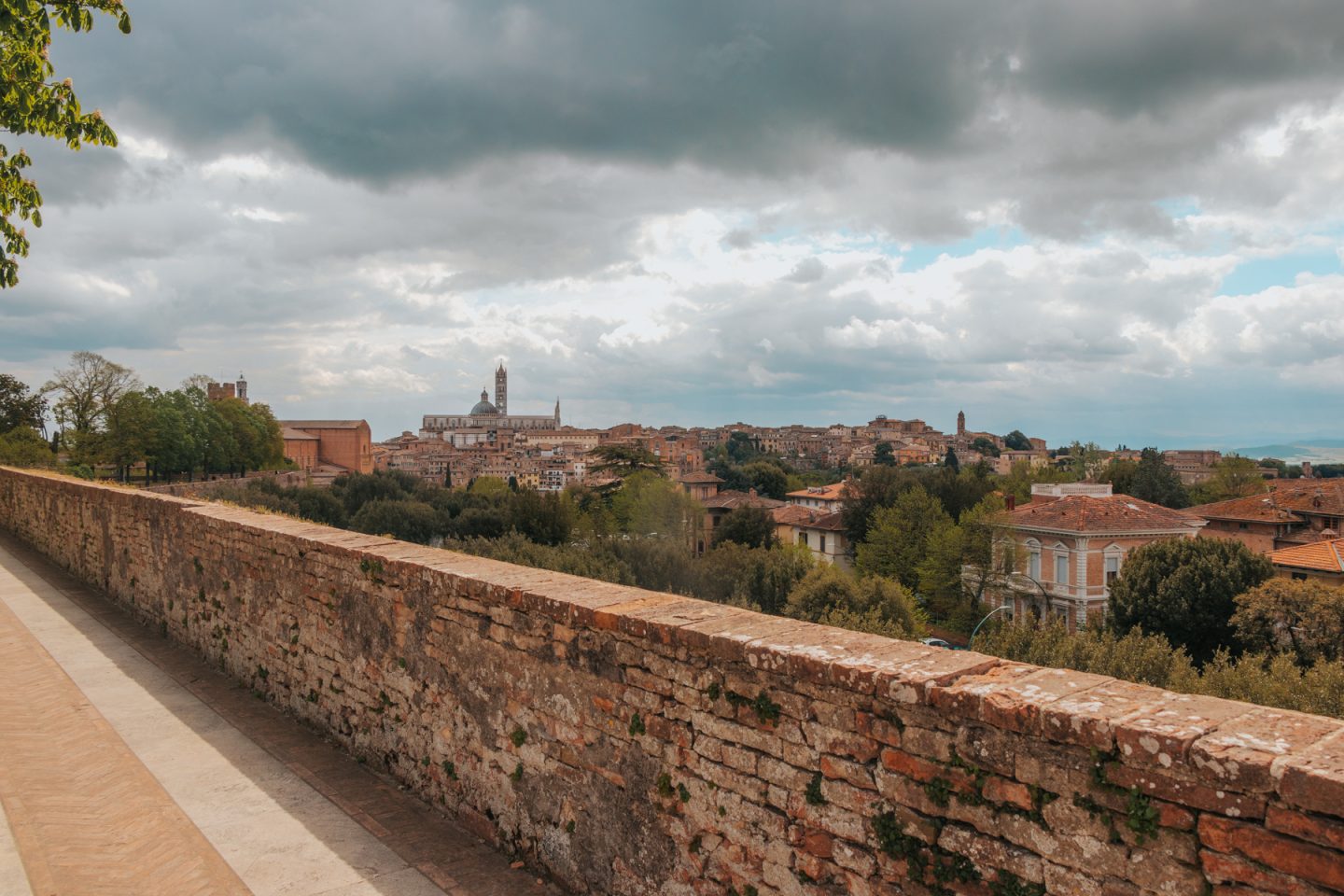 On the outskirts of the historic center is the Fortezza Medicea, the Medici Fortress.
Walk among the ruins of the large military fortress, whose walls provide the perfect overlook to take in the wide panorama of the city and the Tuscan countryside.
Basilica Cateriniana San Domenico
There are so many beautiful churches and cathedrals stepping through Siena's city center.
What is so captivating is that just walking down the street, it seems that one beautiful church after another pops up around every corner!
The Basilica Caterniana San Domenico is one of the larger cathedrals worth a visit and is free to enter.
Plus, from the exterior of the church, you get amazing views of Siena's center and can see how the Duomo sits at the peak of the entire city.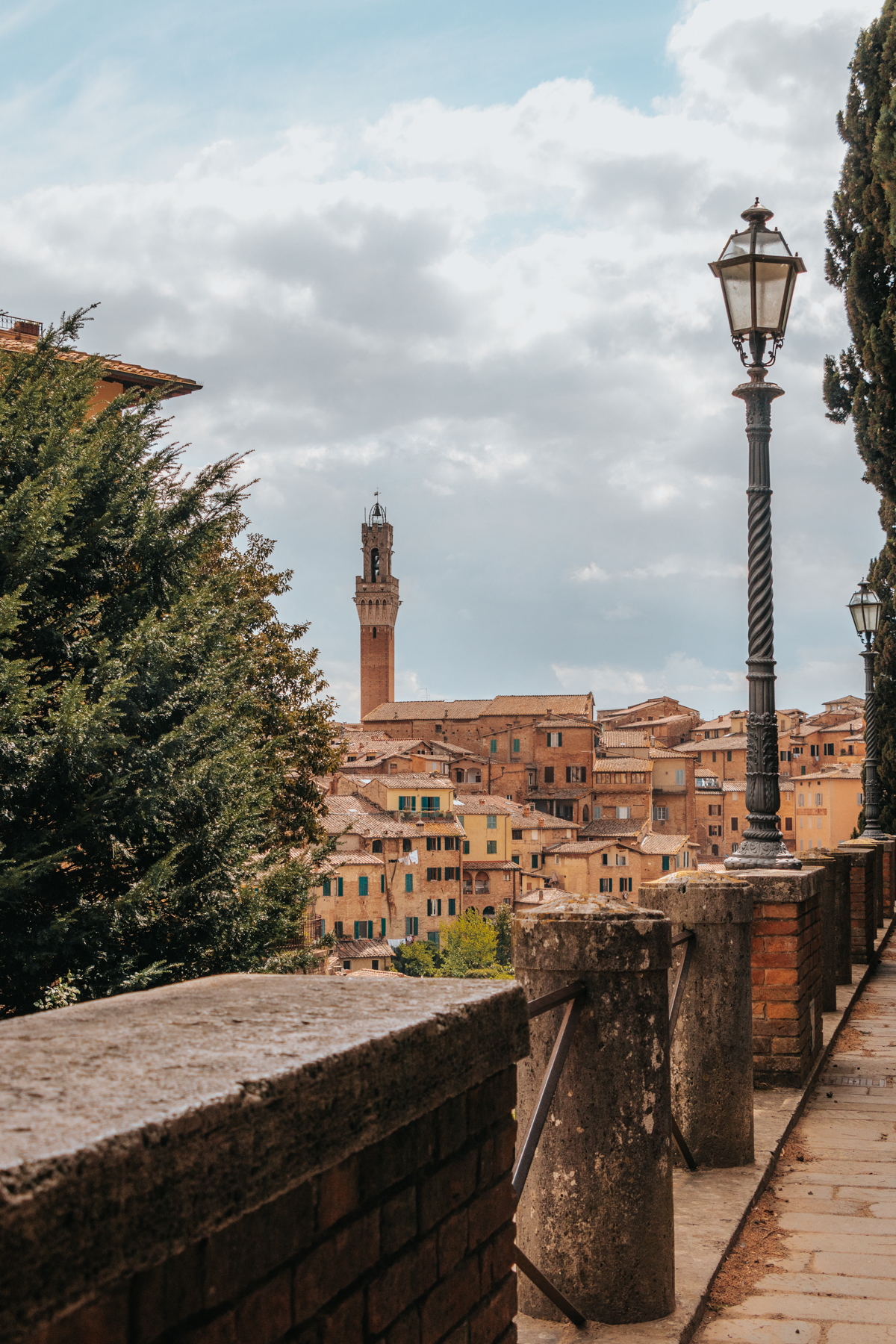 Palazzo Salimbeni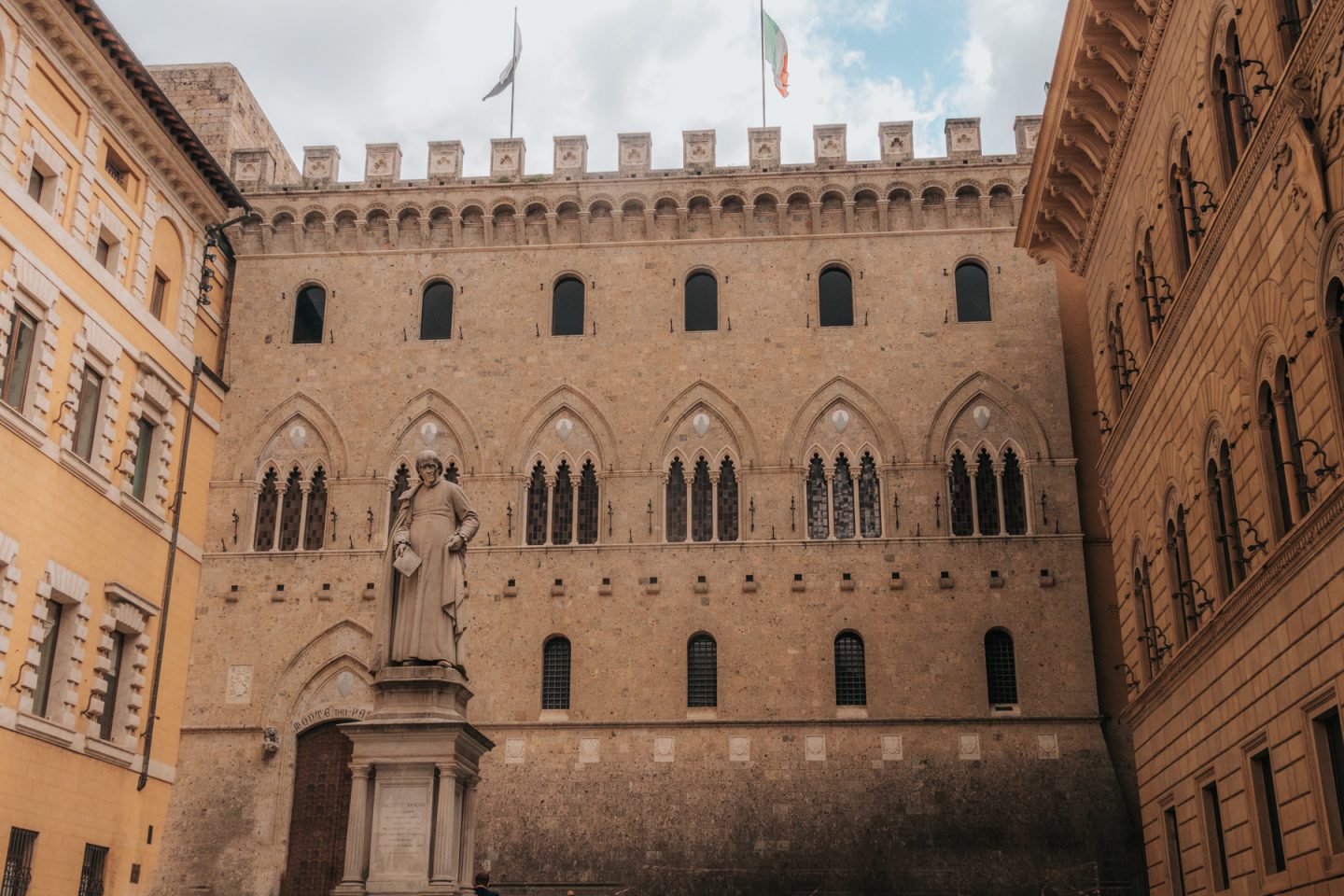 The Palazzo Salimbeni is a noted historic building in Siena, the headquarters of the oldest bank in the world, Banca Monte dei Paschi di Siena.
It is worth seeing, as the intimate piazza is so unique and photogenic.
Explore Siena's Contrada Neighborhoods & Traditions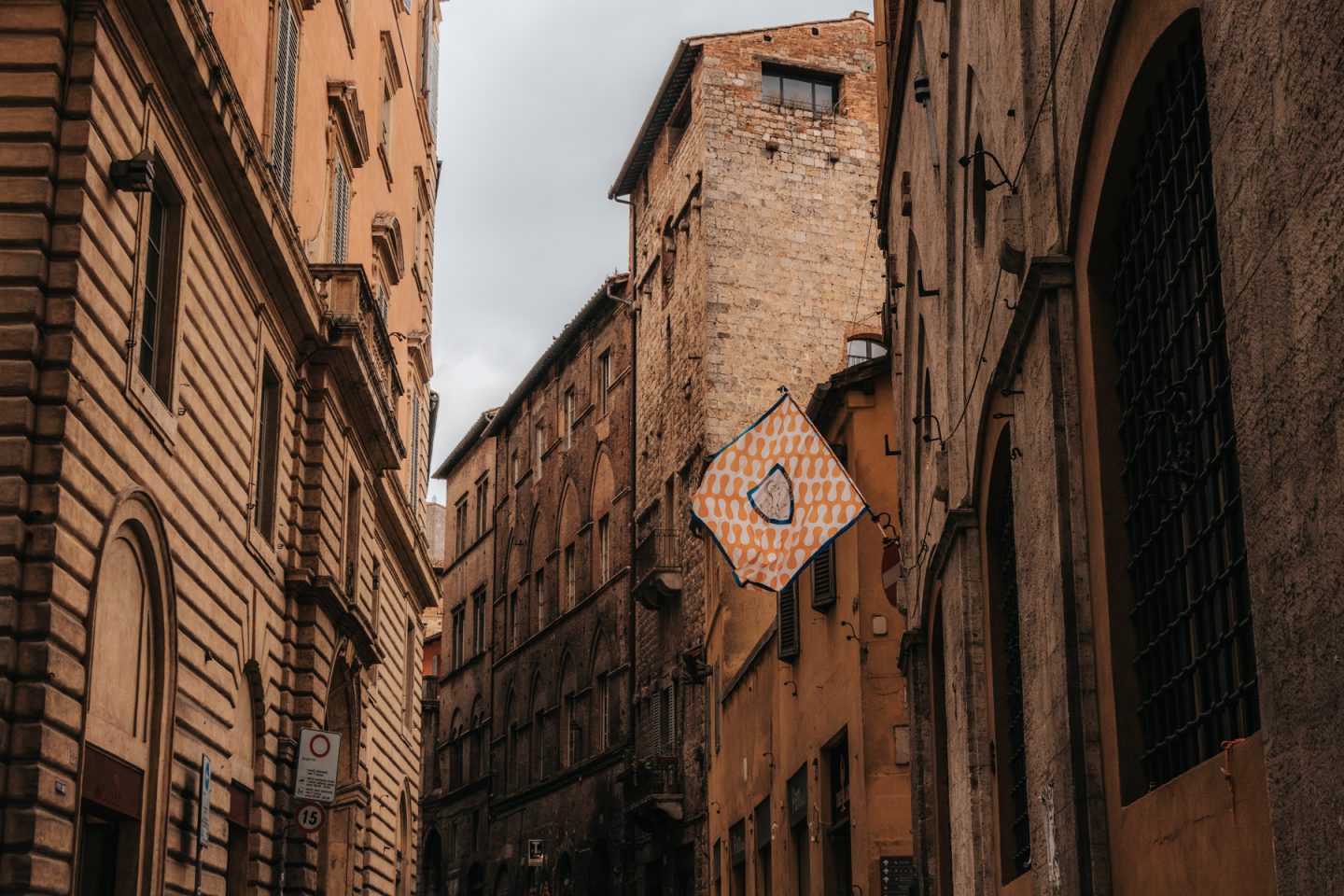 Siena is divided into 17 neighborhoods or "Contrada" and each have their own unique stories that make up the fabric of the city.
The contrade were established in the Middle Ages and used as a system to supply troops for defending the city. Today, they are a source of each local's pride.
This pride is on full display during one of the most famous events that happens in Siena: the Palio.
The Palio di Siena is a horse race takes place twice a year in the Piazza del Campo. The first Palio dates back to 1633, in which one member of each contrada rides bareback to win the competition for their neighborhood.
There is so much to learn about the city's social history: check out this list of contrada museums to visit in Siena.
---
Travel Tips for One Day in Siena, Italy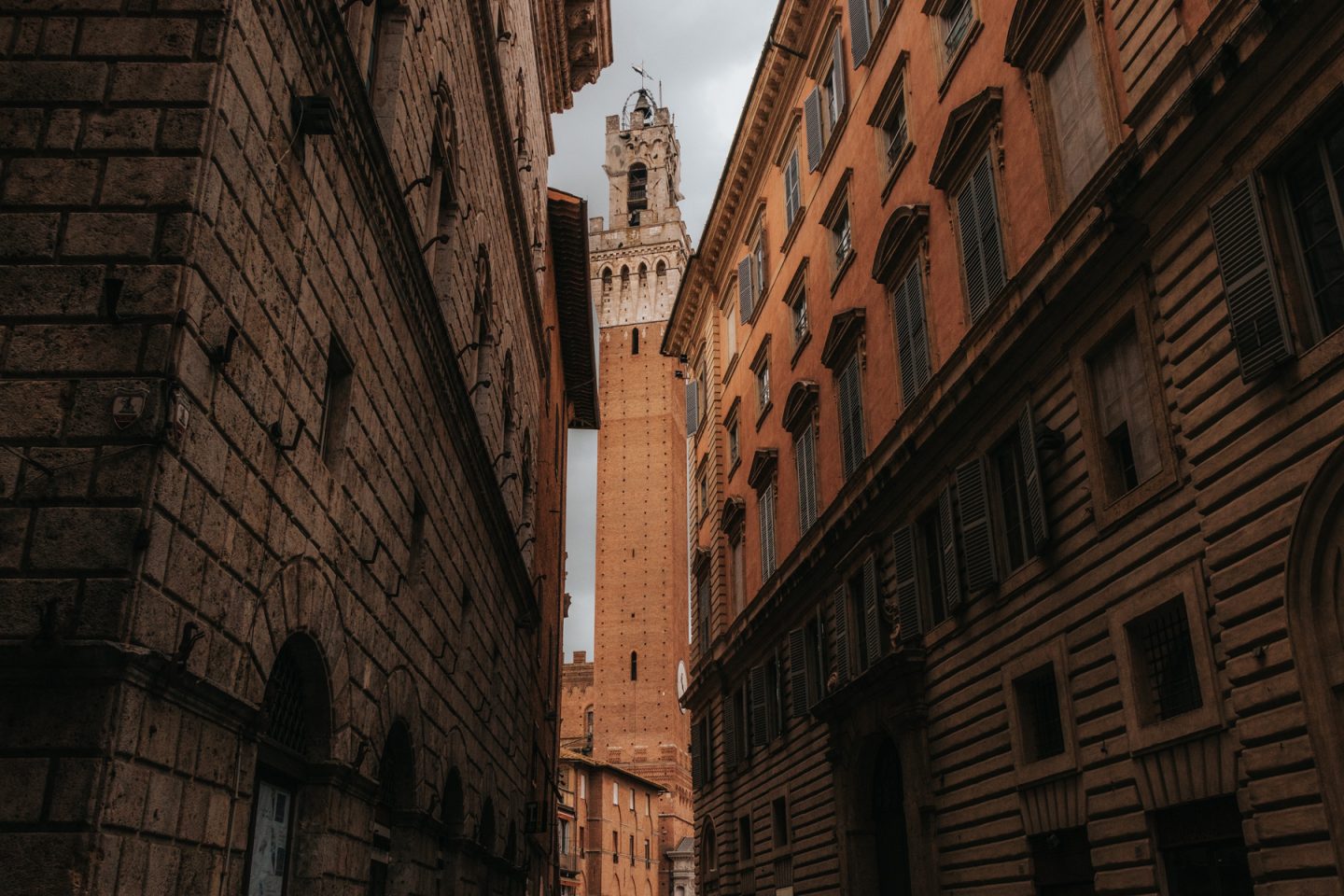 Wear comfortable shoes
Walking is going to be your only form of transportation within the historic city center. And walking on centuries-old cobblestones is no joke!
The day you are visiting Siena is the day that you should definitely choose comfort over style and wear athletic shoes to give you good support.
Take advantage of Easypark
If you are driving to Siena, or in general around Italy, you must take advantage of Easypark. Easypark is a fantastic app that lots of areas in Italy are using to allow you to pay for parking through your phone.
Besides not having to have cash on you, the benefit of Easypark is that you can adjust the length of your stay at any time and only pay for that.
Just know you will have to leave a note on the dashboard of the car with "Easypark" written on it.
Explore beyond the main streets
It can be tempting to follow the crowd, but I encourage you to go off the main streets in Siena. There are so many impressive churches and buildings that get little recognition just because they aren't on the regular tourist path.
A helpful way to explore Siena authentically is to pay attention to the brown signs on street corners that indicate if there are any monuments and in what direction. You'll see well-known monuments on the sign, but also smaller and more particular buildings.
---
The SGTD Take
Is Siena worth visiting if you only have one day? Is one day enough time to see Siena?
The answer is yes and no. One day is enough to see the main sites of Siena and you will surely get to enjoy and soak up the beautiful slow culture of the city. Of course, who wouldn't want just one day more to explore at a more leisurely pace!
I believe two days in Siena could be the perfect amount, especially if you are looking to visit many of the museums.
But if you are on a tight itinerary and looking to enrich it, then one day in Siena is a perfect option. And now, you know exactly how to make the most of it!
What are you most looking forward to in Siena? Let me know in a comment!
Save this itinerary on Pinterest for future reference!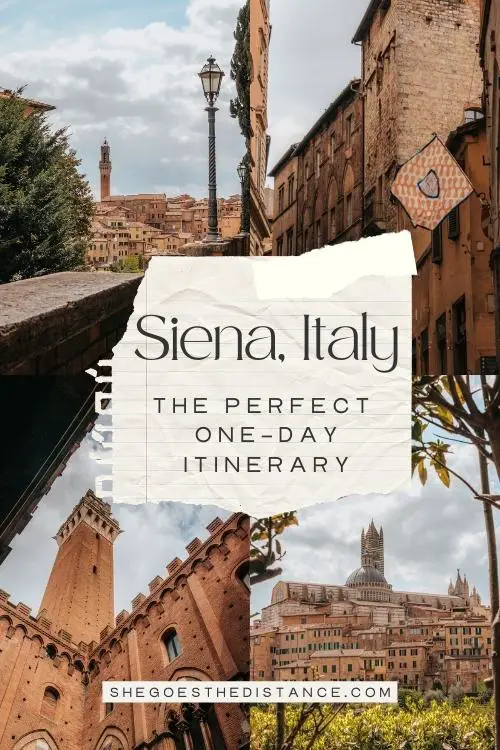 I hope you are even more excited to make the most of your one day in Siena, Italy!
XOXO
Michela