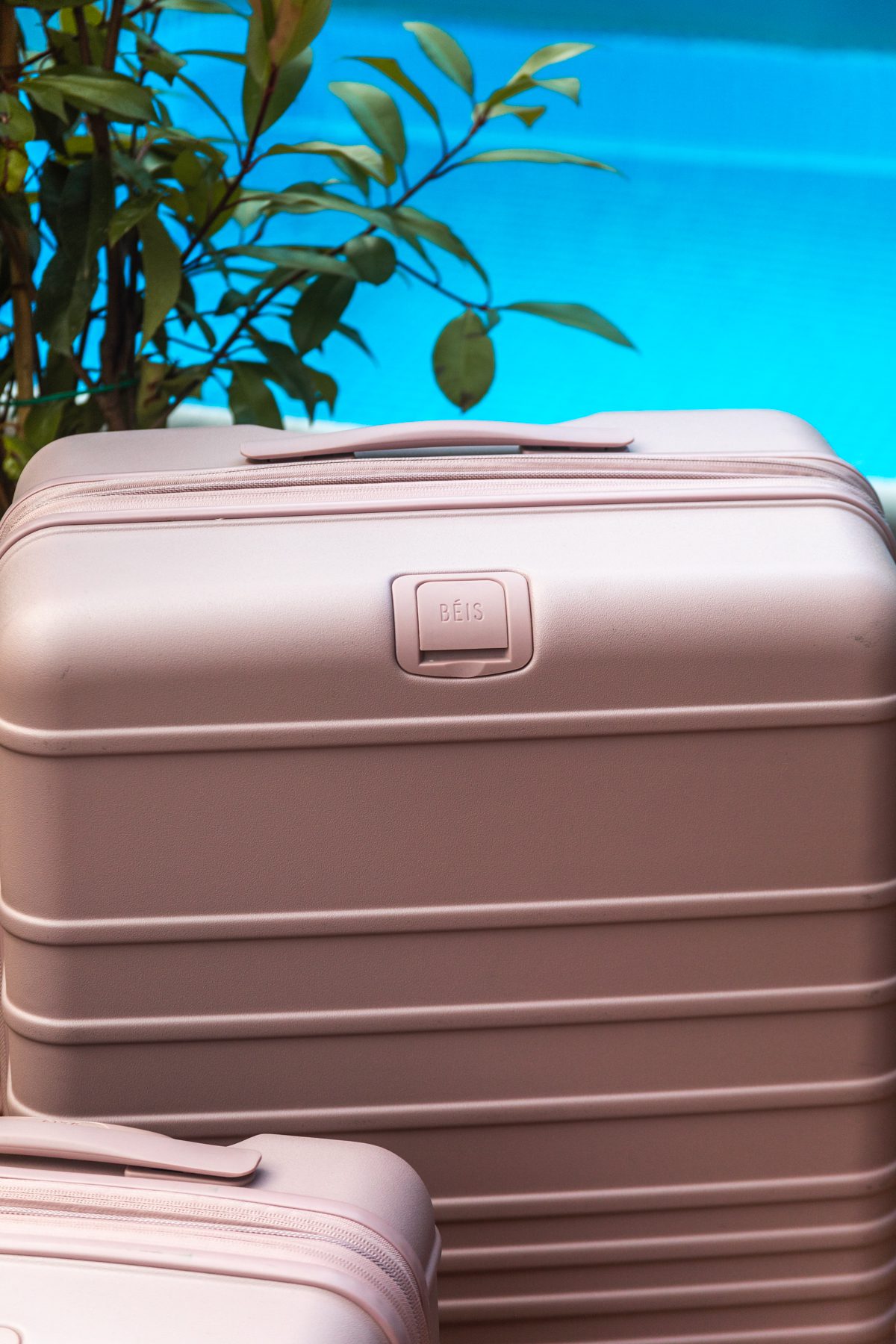 Last Updated on July 3, 2023
When I first started seeing Beis Travel ads in my Instagram feed, I immediately got the itch – that bag had to be my bag! The monochrome, silky colors combined with a suite of features explained so clearly and quickly in the brand's social media videos grabbed and kept my attention. I am a traveler that weighs aesthetic as much as durability and comfort, so I loved seeing a new brand trying to rise up to this challenge at a price point that was not astronomical in the luxury category. Now that I have used my suitcases for several long-haul flights and train rides, I wanted to provide insight in a full Beis luggage review on how good (or bad) they really are and, ultimately, if they are worth the money.
Some of these links are affiliate links. This means if you make a purchase through that link, I receive a small commission at no extra cost to you. Read my full disclosure!
My Beis Luggage Experience/Intro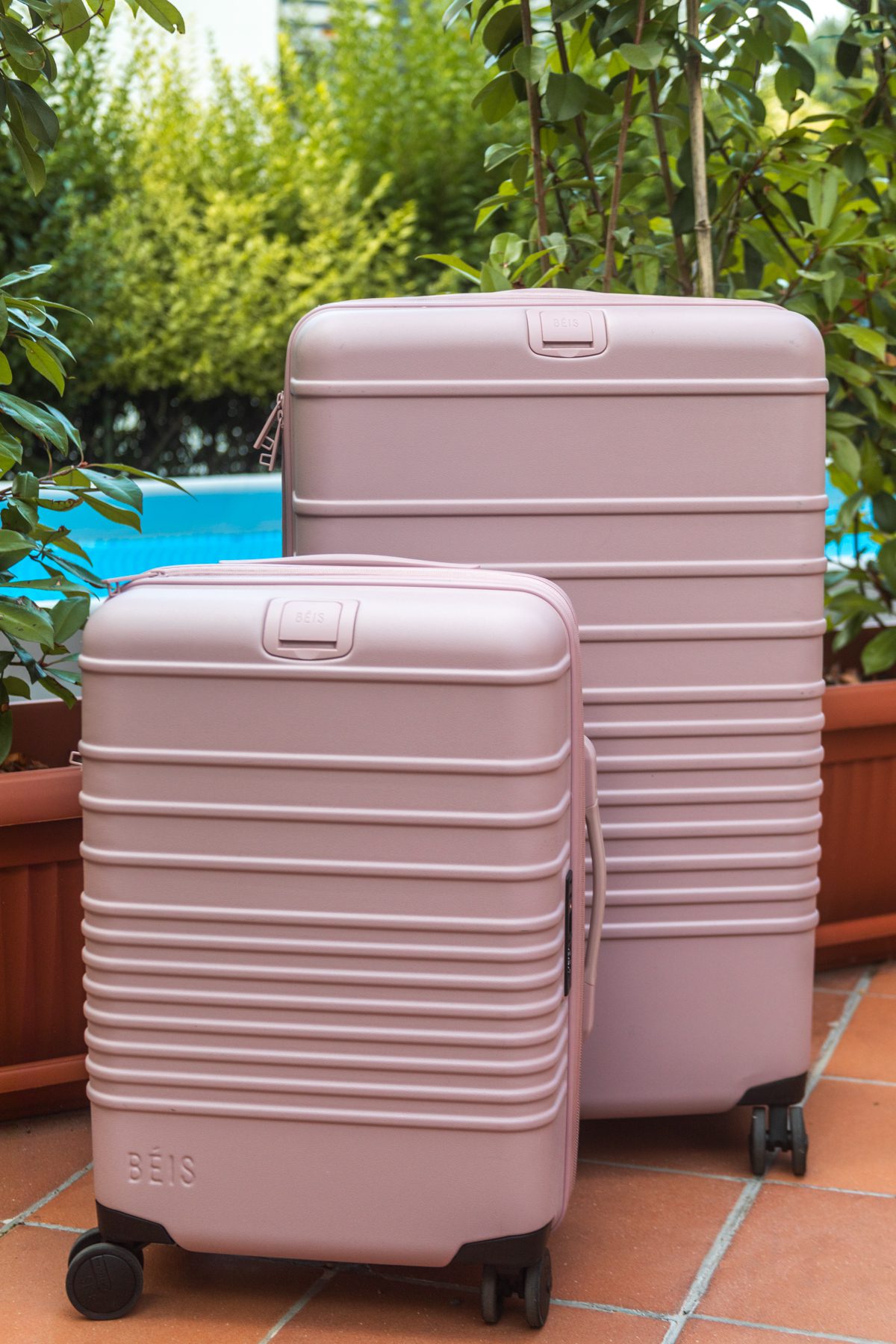 I received my Beis Travel luggage as a Christmas present – thanks Dad! – and have not been compensated in any way to write this review. I thought it was important to share my thoughts on such a hyped-up product for several reasons!
For one, the purpose of my blog is to help travelers, so it just makes sense to share my personal experience and insights on a product other travelers are considering to buy.
Secondly, I have always gone back and forth between suitcases mattering at an aesthetic and/or functional level. At the end of the day, suitcases get thrown around and beat up while traveling. I am one of those people that thinks – why would I invest so much in a suitcase? – but also one that loves having a cute suitcase to travel with. So I thought it was important to not only measure the Beis luggage durability but also share if its relative style met or exceeded the features it comes with to justify the investment.
On that note, traveling on a budget will always be part of who I am, since I started traveling while I was a student. So, when investing in travel products, I really take time and consideration to make the purchase. I hope that this Beis luggage review will help you have all your questions answered so you know if it is the right investment for you.
Fun fact: If you didn't know already, although I am sure you do, Beis Travel is a brand created by actress Shay Mitchell, famous for Pretty Little Liars. I originally thought – here we go, another celebrity using their following to try and make more money with a brand that doesn't live up to any of its hype. But you'll see by the end what I really think!
---
Beis Luggage Review: Carry-On Roller and Check-In Roller
Does Beis make quality luggage? Time to get to the nitty-gritty. I currently own two pieces of Beis Luggage: the carry-on roller and the 29″ check-in roller, both in Atlas Pink. These are both hard shell suitcases with wheels.
Size & Weight
I have found the Beis carry-on roller the perfect size for a carry-on if you are a heavy packer like me. I love to squeeze in as much as possible even in my carry-on bag and personal items! It is a larger and wider carry-on, so keep in mind it isn't slim.
I have never had problems with the size of the carry-on with airlines. There was only one plane that the carry-on didn't fit in the overhead bin vertically so I had to lay it horizontally.
The carry-on roller's dimensions are W 15.7in x H 22.8in x D 9.8in and it weights 8.36 lbs. This is on the heavier side for a carry-on, but since the handles and finishes hold up so nicely, I never feel like it is weighty.
The check-in roller bag is huge and I love it. Again, it is a big bag, so if you prefer smaller suitcases, it probably isn't the right option for you. But if you love a big bag with lots of space, it is perfect.
The 29″ check-in roller's dimensions are W 16.5 in x H 29in x D 11in and it weighs 11.42lbs, which isn't that bad for how spacious it is.
Check out my guide to carry-on vs checked bag to get all the info you need related to sizing, weight, and more.
Durability & Resistance
I am incredibly surprised by the durability and resistance of the bags. I have traveled multiple long-haul flights with fragile items inside (perfume bottles to be specific) and surely thought even with my best packing there was high risk of a mess on my hands when I landed.
However, I always find that the bags are super sturdy. I have not had any hardware issues (zippers breaking, handles coming loose, wheels coming loose) and I also have not had any damage to items inside.
One of the things I don't love about the durability of the bags comes down to the exterior finish. I knew I would be risking it with a light-colored suitcase, but I didn't think the scuffs would be so bad after every flight.
I always have to wash my suitcases if I don't want scuffs to remain and, even after doing that, there are still some scuffs that are just too thick that I've got them there for the rest of my suitcase's life.
Pro Tip: My secret to cleaning off scuffs is a Mr. Clean Magic Eraser pad. It literally works wonders and has saved me from walking around with my gorgeous pink suitcases covered in black scratches!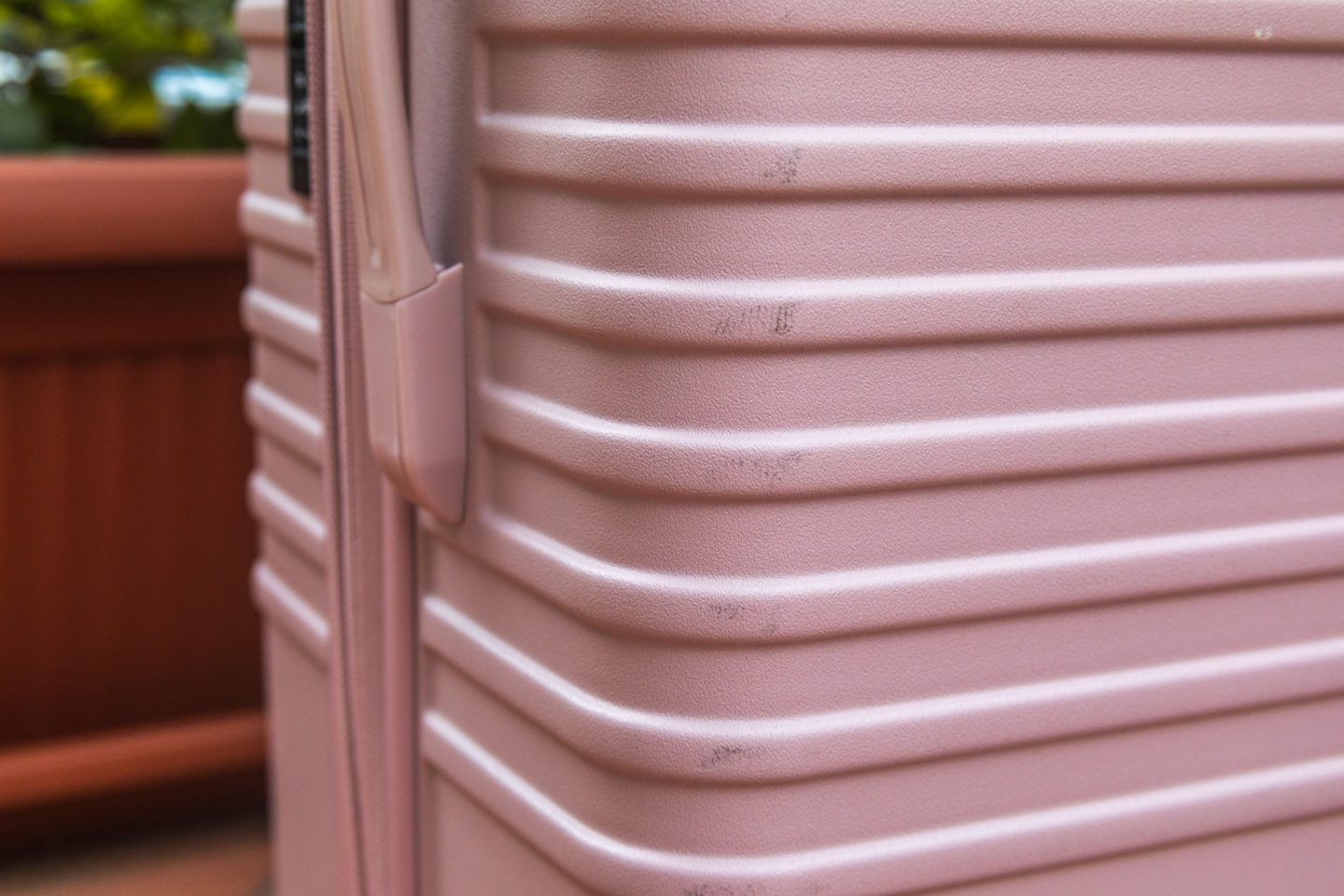 Features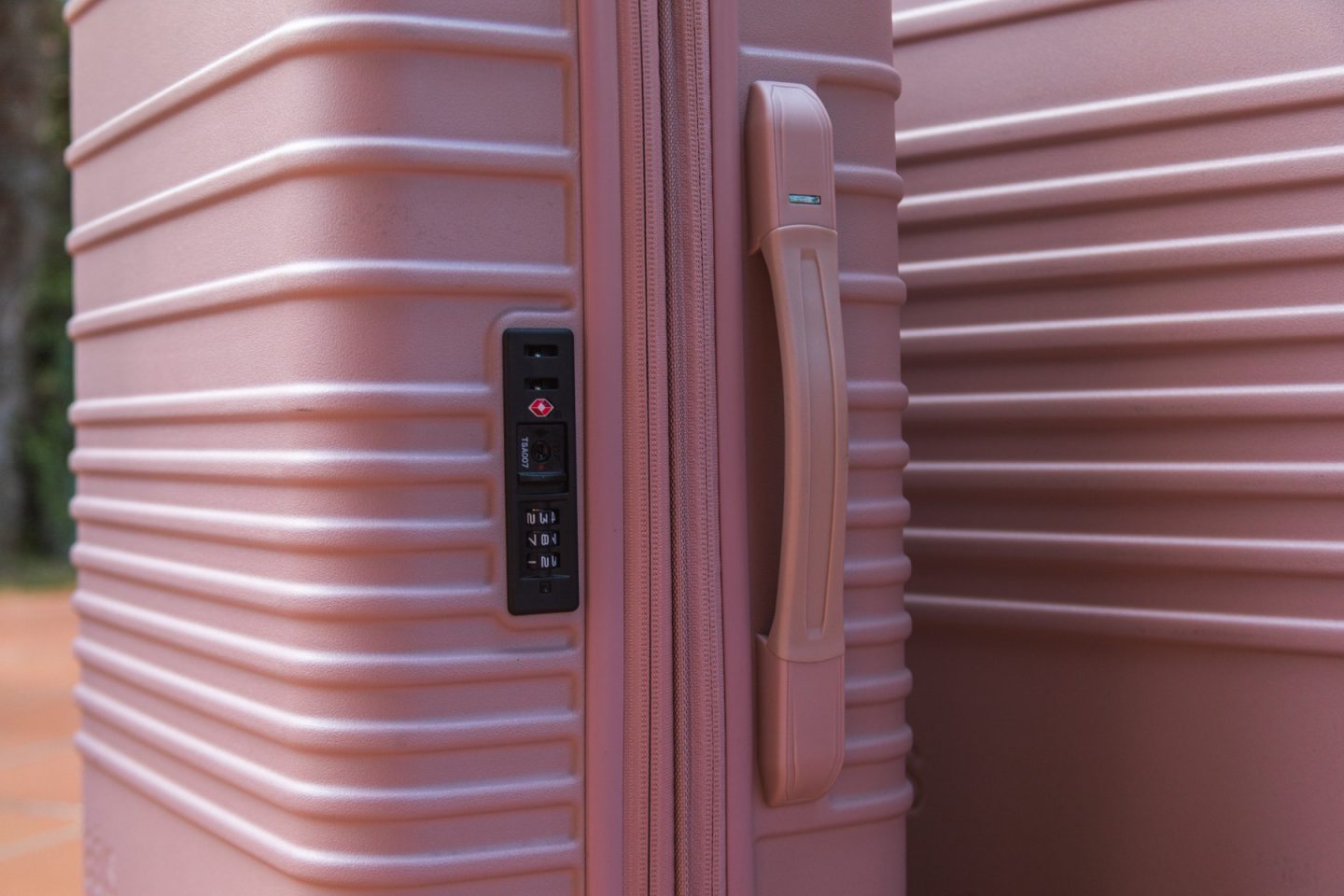 The quality of the Beis luggage that I love really comes from its construction, but the brand has thrown in some nice extras thought for travelers, which I also appreciate.
Both suitcases are expandable up to 2″ and come with TSA locks for extra protection. The handle is padded, which I am obsessed with: it is such a small yet luxurious ouch! The 360° wheels also make them super easy to navigate an airport with.
One of the cool things about the suitcases is the weight indicator on the side handle. The clear strip becomes red if the suitcase is overweight.
Now, it is a cool idea, but I have yet to see it work and I know I have overpacked my suitcase before! So this I would say is a bit of a disappointment.
On the front exterior of the suitcase there is also a retractable bag attach strap, which allows you to hang a bag up to 15 lbs on the suitcase without having to hold it. I don't use this feature much, but it is a nice touch for travelers who want to go as hands-free as possible.
Packing/Accessories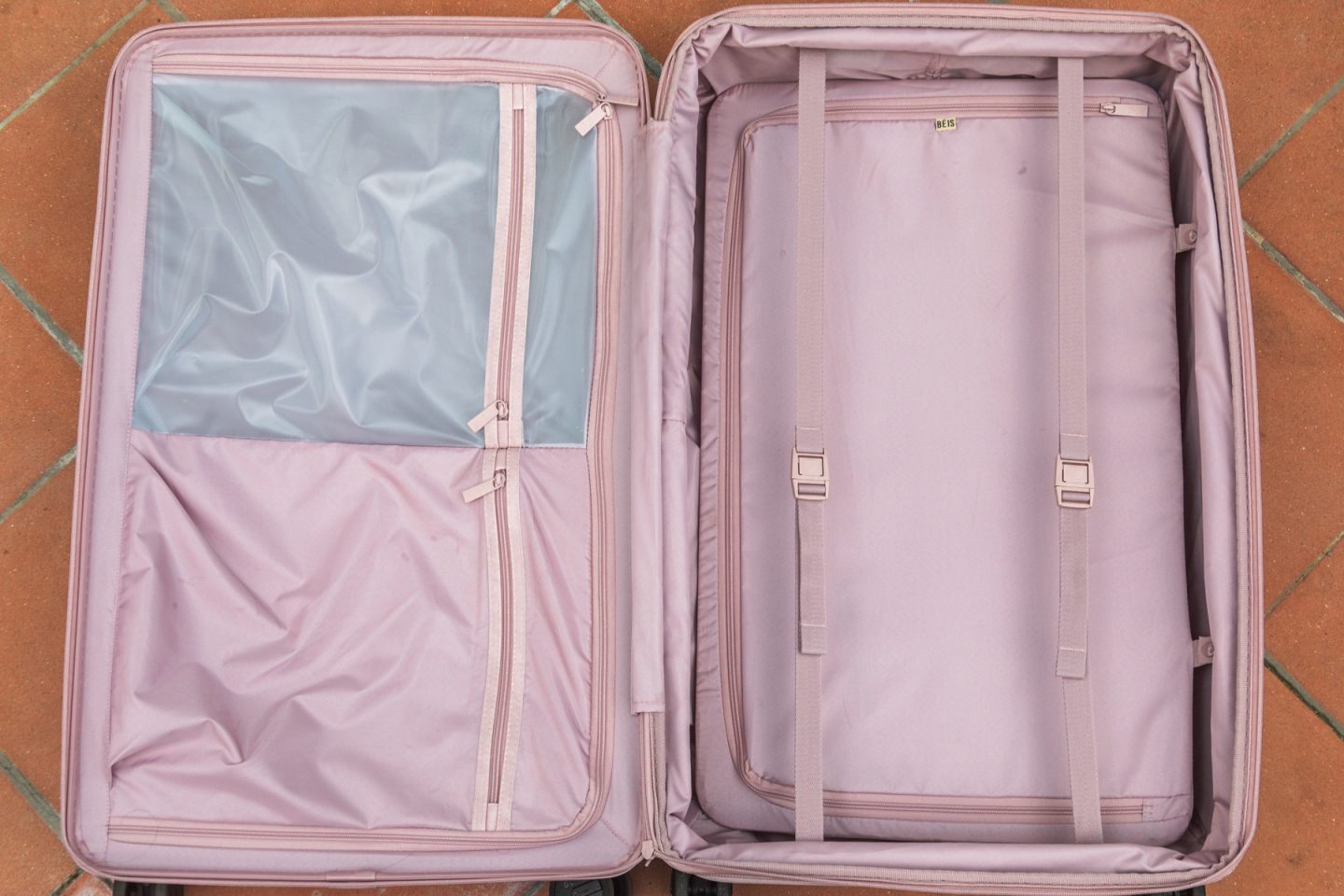 I am a packing lover, which is why I gasped opening my Beis suitcases for the first time. The organization is real!
Both the carry-on roller and check-in roller have a zip-close panel on one side that has two external pockets, one with a more silky fabric and the other with a more plastic fabric for liquids. This zips shut to completely close off one side of the suitcase.
The other side of the suitcase has a detachable panel with buttons that is lined with a thin, huge mesh pocket on one side and a thin, huge regular pocket on the other. Over this panel, there are two thick straps you can buckle and tighten to secure extra stabilization of your belongings and prevent them from moving around.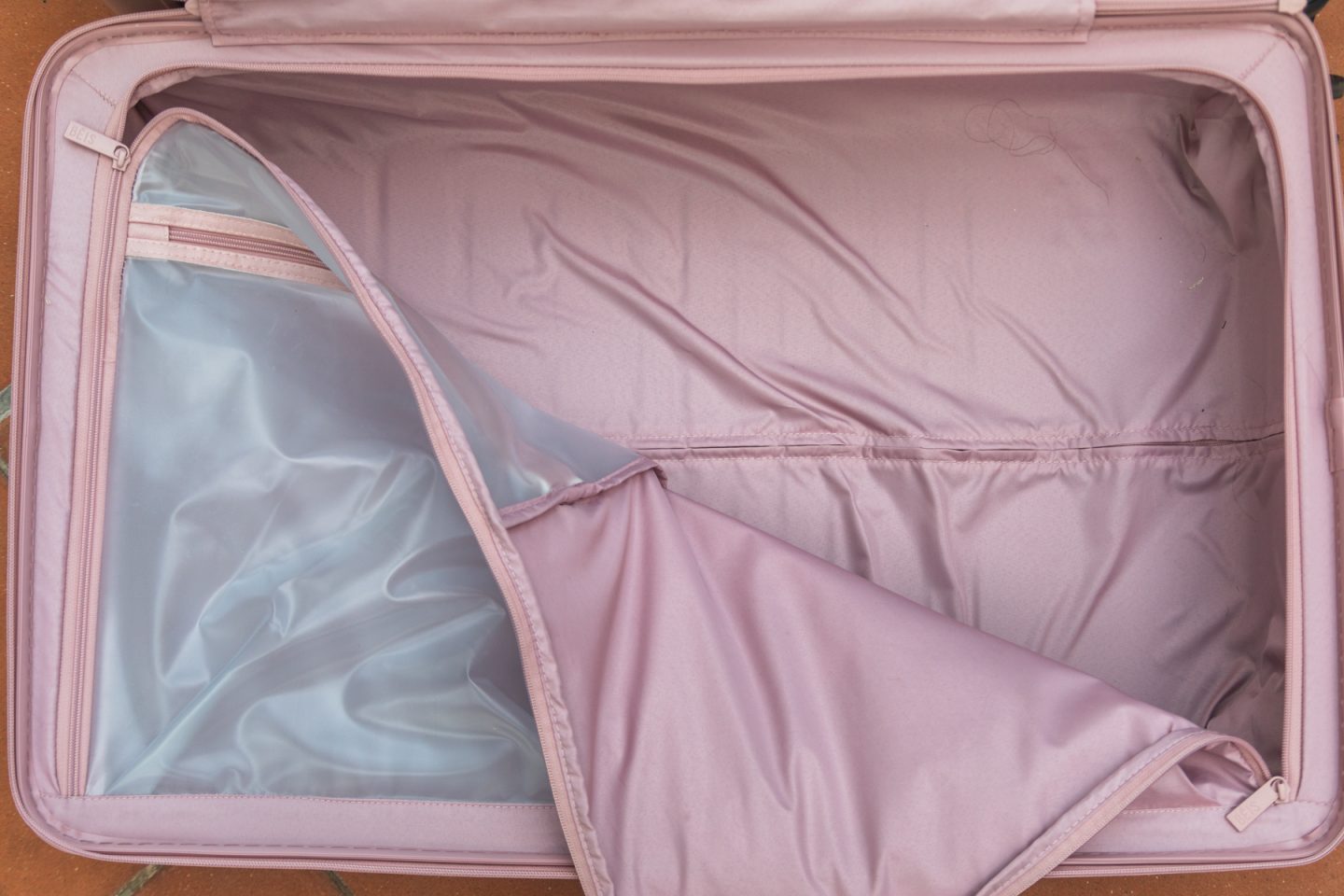 The interior is also lined with a long side pocket below the bind of the suitcase.
These features, plus my trusted packing cubes and space-saving packing tips I live by, are a huge plus for me.
Something I did not expect but loved about my Beis suitcases was that they came with multiple travel organizers, including a dirty clothes bag, shoe bag, and general storage bag! I thought that was a great touch to sweeten the deal and feeling of value to the customer.
And, like the rest of the features, the accessories are real quality with thick drawstrings and made of a soft, almost silk-like fabric to be delicate on your items.
Style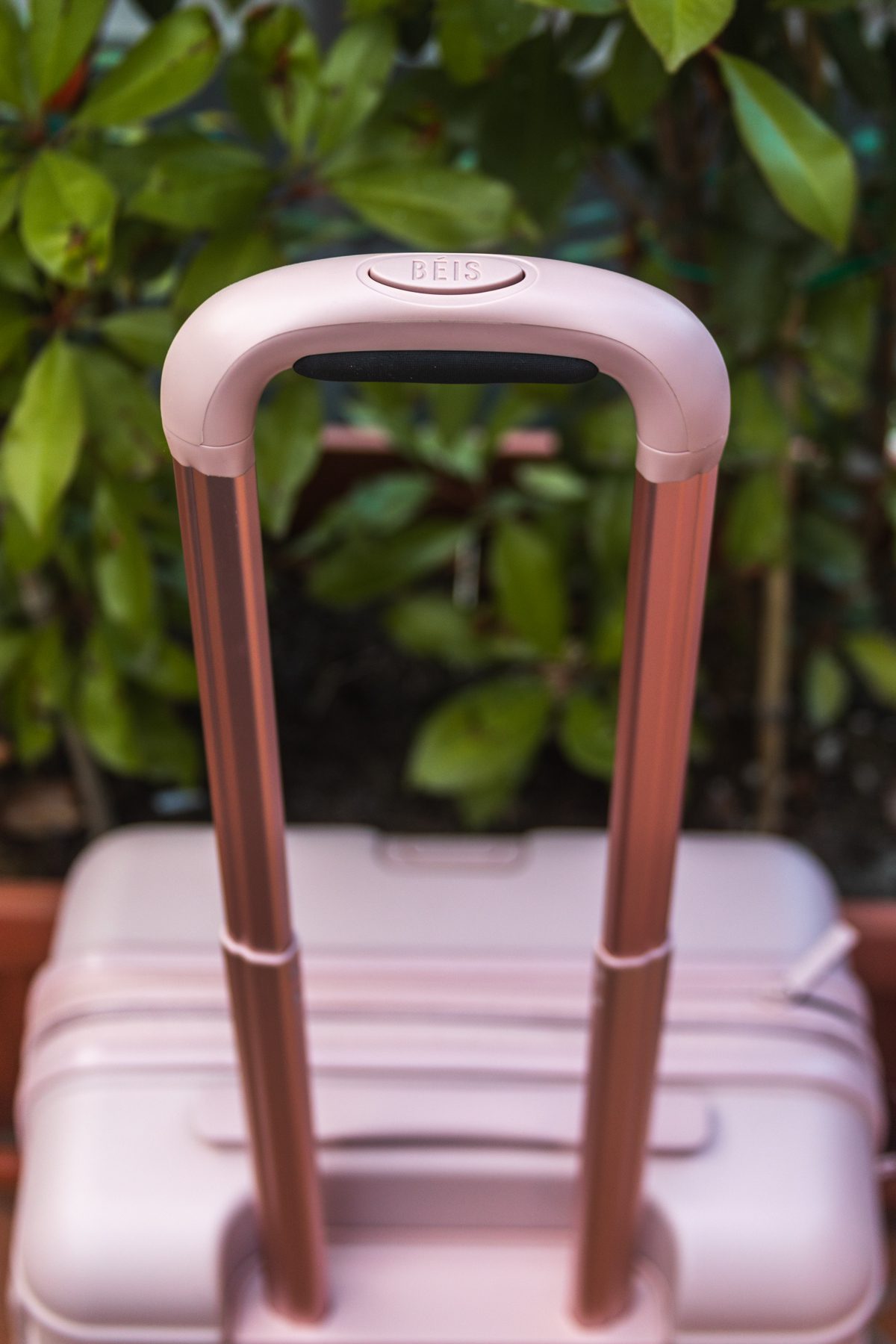 There is little for me to say here because I think it is obvious: I love the style of my Beis luggage.
The monochrome coloration makes them look so chic and high-end.
They are not too bulky but not too slim that you can't fit anything.
The handle is super sturdy and well made. And the best part is that not only the exterior is aesthetically-pleasing – it carries on to the interior with the soft fabric lining, the delicate mesh, the sturdy button attachments and zippers.
This Beis luggage review gives style a 10 out of 10.
Price
Beis luggage is, unfortunately, not a budget-friendly product. It is not as expensive as lots of other luxury suitcase brands, but that does not mean it is a product that fits in every traveler's budget.
Here are the current prices of my two suitcases (2023):
Carry-On Roller: $218
Check-In Roller: $308
Something I cannot argue with about Beis luggage is that the quality really is there. If it wasn't, I would absolutely tell you it is not worth the price tag. But, I think for what you get, it is.
This ins't just some brand name, but rather, a well-thought out product that the market needed: a suitcase that was nicer-looking than ones in the classic shiny neon plastic or dust-friendly soft fabrics but not as luxury as the Rimowas or Louis Vuittons.
The good thing is, not being positioned in that exclusive, luxury market, the brand often offers sales during periods like Black Friday and coupon codes like when you sign up for emails!
---
Other Beis Travel Products
One of the things I really like about the Beis Travel brand is that they have really intelligently expanded their product line to cater to so many different travel needs and keeping alive the color families they have created.
I would love to own some of their other bags and accessories in Atlas Pink to complete a whole collection! Some of these include:
The Weekender Bag – the item I have my eye on next. It is so hard to find duffle bags or weekender bags that are not only cute, but actually functional. Packing a duffle bag is not easy because of its bucket shape and style. I love how the Beis Weekender Bag has a lot of structure to it.
Work Tote
Padded Laptop Sleeve
The Hanging Cosmetic Case
---
The SGTD Take
To wrap up this Beis luggage review, I have to be honest. I actually DO think that these suitcases are worth the money and I really do love them.
The only thing I don't like about them is that they tend to scuff easily, but the quality from the handle to the wheel, the confidence the style gives me walking around the airport, the color that represents my personality, the packing features, the extra accessories – all these things make the Beis luggage worth it to me.
What are your thoughts now on Beis luggage? What product are you eyeing?
Save this on Pinterest for later reference!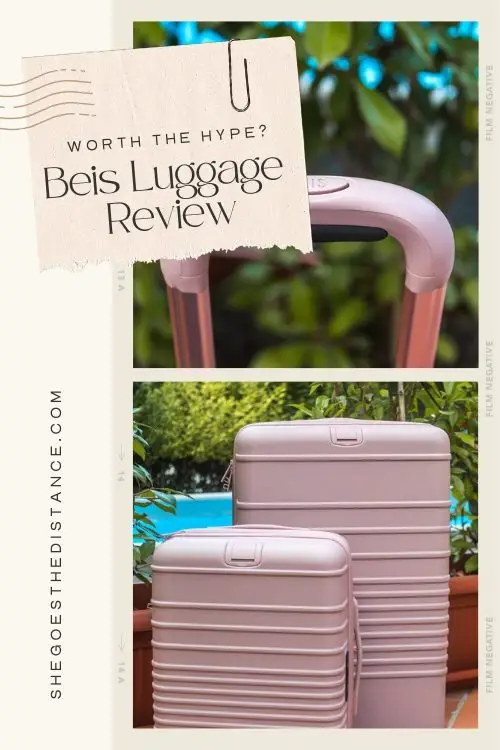 I hope this honest Beis luggage review will help you in making your purchase decision!
XOXO
Michela