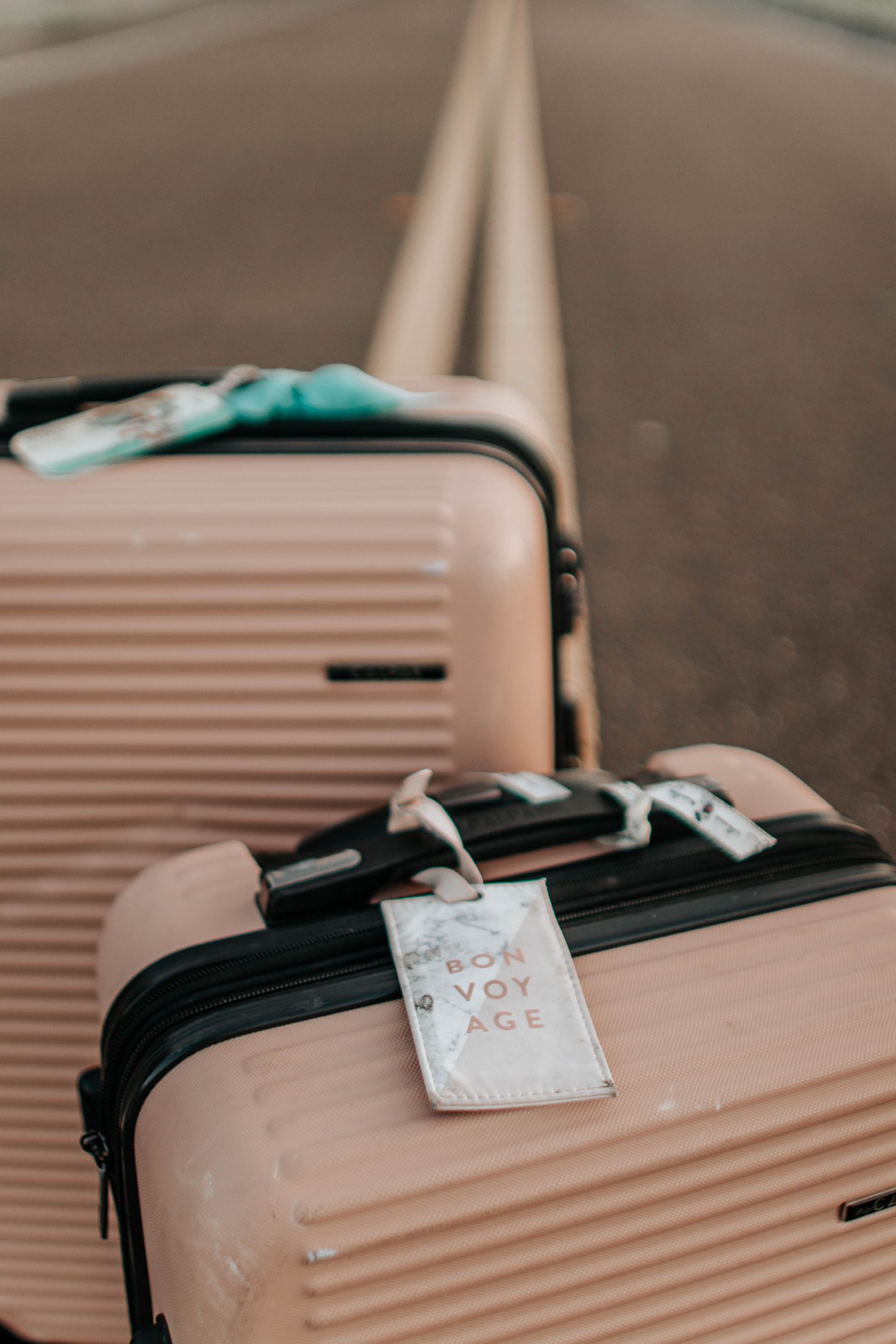 Last Updated on September 29, 2023
Carry-ons and checked bags are the two main types of luggage categories designated by airlines for travel. So what do you choose for what trip and what are the differences between a carry-on vs checked bag?
This guide covers everything you need to know about the two airline baggage categories, as well as extra tips like what to pack in which and essential accessories that keep your suitcases safe.
Some of these links are affiliate links. This means if you make a purchase through that link, I receive a small commission at no extra cost to you. Read my full disclosure!
Carry-On vs. Checked Bag Overview
Carry-on baggage is baggage that you take with you in the passenger area of the flight. It can be stored above the seating in the overhead bins, or if small enough, underneath the seat in front of you.
Airlines usually allow one carry-on per passenger.
Checked baggage is baggage that goes underneath the airplane in the cargo area. You check bags at the airline counter while checking in for your flight, leaving it with the airline before you head over to security.
Depending on the airline, you may be able to take multiple checked bags. This could be helpful if you are moving abroad or going on a long trip.
What are the main differences between these types of baggage? Some of the restrictions can vary by airline, so always double check with the company you're flying.
Thinking about what suitcase to buy next? Read my BEIS luggage review!
Airline Guidelines On Carry-on vs. Checked Baggage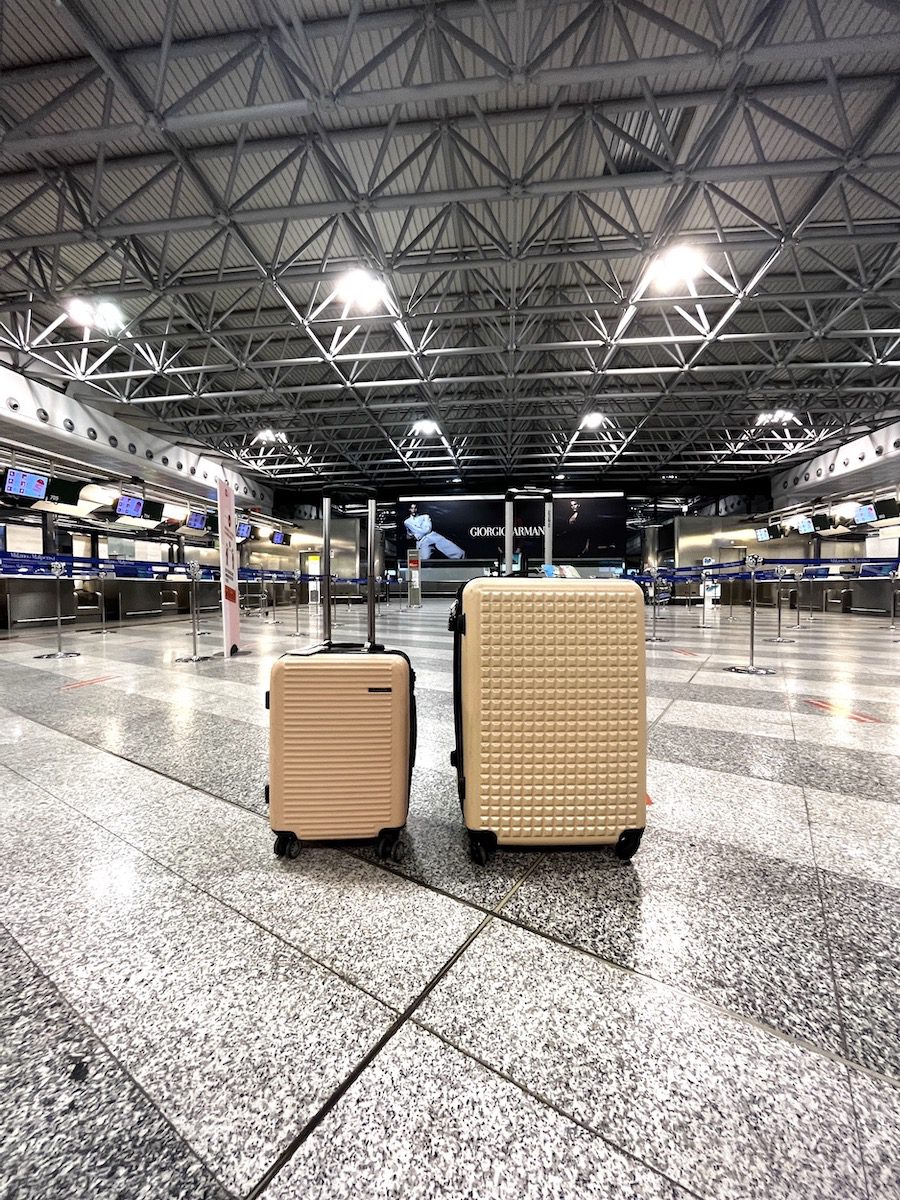 Size
The biggest carry-on vs. checked bag difference is size. Airlines may have slight differences in their suitcase size restrictions, but the standard maximum dimensions are:
Carry-on: 22 inches x 14 inches x 9 inches

These measurements are height x width x depth of the suitcase and include the wheels (and account for the handle being tucked away.)

Checked: 62 linear inches

Checked baggage can be any size up to 62 linear inches, which is equal to the height + width + depth measurements added together.
The maximum dimensions may vary slightly by airline.
Good to know: At the airport, near the airline check-in desks, many airlines now have a stand where you can put your carry-on suitcase in a slot to see if it fits the airline's regulations.
Weight
Typically, there are no restrictions for carry-on weight and airlines won't make you weigh your bag. But there are some, like budget airlines, that do put a weight limit on carry-on baggage, so you'll just have to check the specific requirements of the company you're flying with.
The standard maximum suitcase weight for checked luggage is 50 lbs/23 kg.
Packing Restrictions
There are certain things you are only allowed to pack in checked luggage and certain things you are only allowed to pack in carry-on luggage. One of the most common examples is lithium batteries, which cannot go into checked baggage.
You can see the full list here.
Fees
Whether or not you are charged for baggage is dependent on the airline and your fare. Fare is usually divided into tiers like Basic Economy, Economy, Business, etc. Most airlines will not charge for carry-on baggage, but may charge for checked baggage depending on the fare and type of flight (domestic or international.)
Budget airlines, like Spirit or Ryanair, for example, charge for all baggage on their basic fare.
You may also incur charges if your bag is overweight. Check out travel tips on how to save money on baggage fees while flying.
What about a personal item? Many airlines allow a passenger to take with them a carry-on bag and a personal item, which is a smaller bag that must fit underneath the seat in front of you. You can still put it in the overhead bin if there is space, but the idea is that this item is much smaller than your carry-on, like a purse or backpack.
---
Top Factors When Deciding Carry-On vs. Checked Bag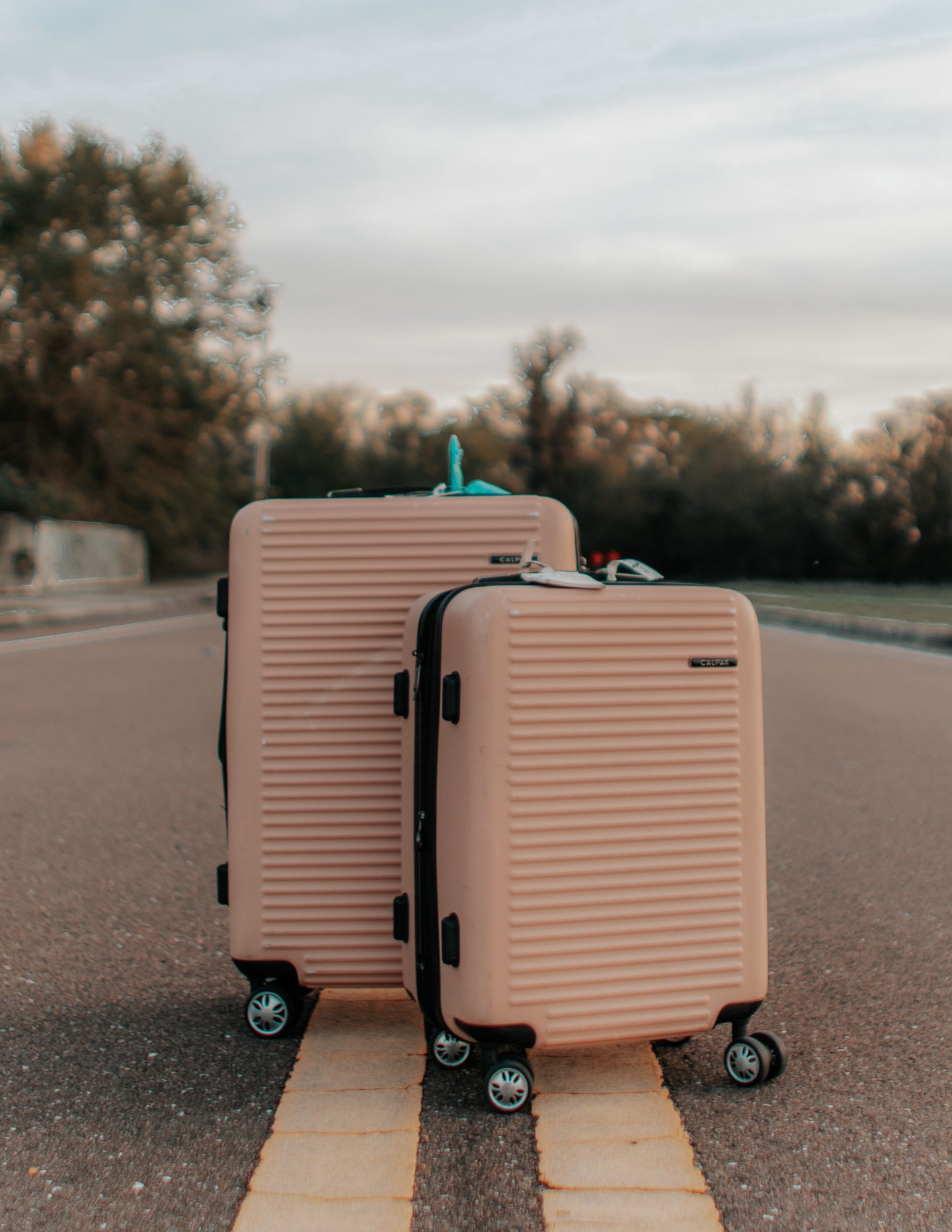 Storage Capacity
Between a carry-on vs. checked bag, there is an obvious difference in storage capacity.
Carry-on bags are perfect when you want to pack light. They are ideal for weekend trips or short getaways, since they weigh less and make for a smoother, more convenient airport experience.
For longer trips, checked luggage may be a must just to fit enough of your items.
Portability
Carry-on baggage is lighter and easier to maneuver, which can be a factor in deciding whether you want to take along a checked bag.
For example, I studied abroad in Florence, where the streets are covered in uneven cobblestones, and brought 3 huge checked suitcases with me. I was alone and, you can guess, I struggled with my bags!
Risk Of Lost Baggage
One of the worries about traveling with checked baggage when you are on connecting flights is your baggage getting lost when changing planes. How to make sure this doesn't happen, or reduce the risk of it being lost forever?
Ask at the check-in if your bag is flying to your final destination. If not, you will need to get off the plane at your connecting airport, head to the baggage claim to pick up your bags, and go to the airline counter to check the bags in again. This usually happens if you book separate flights/tickets.
Hang on to the tag that prints with your checked bag tag. There is a small square with your name and info that will help airlines locate your bag if you hang on to it. It is printed at the end of the long luggage tag sticker.
Always add a luggage tag with your personal information. I recommend buying a sturdy one, but they also have paper ones at the airport for free. You can usually find them at the check-in desk or the departure gate.
When it comes to worrying about lost baggage, traveling carry-on only has its benefit!
Price
Carry-ons are often cheaper to buy than checked bags solely based on size. And carry-ons usually don't come with a fee on airlines, whereas checked baggage fees can be hefty. The fee will depend on the airline, with most starting at $50 per bag.
---
Carry-On & Checked Suitcase Essentials
Whether you go with one or both, these tools are essential to both carry-ons and checked bags.
Luggage Tags

You should tag your luggage even if you are flying carry-on only in the event that you arrive at the gate and the airline makes you check your carry-on bag. This can happen when flights are full and they are expecting little space available by the time boarding ends.
On your luggage tag, write your full name, phone number, email, and address.

Packing Cubes
Portable Luggage Scale

Weighing your suitcase is easiest with a portable luggage scale. The benefit of this is that you can pack along this lightweight scale in your suitcase and be able to weigh your suitcase for your return journey.

Luggage Locks

Some suitcases already come with locks, or you can attach a TSA approved lock. This ensures no one tampers with your bag.
Good to know: It's important to also always put a luggage tag on your carry-on bag. It may happen that, while boarding your flight, cabin crew sees that overhead space is limited and make you check your bag at the gate to your final destination. You don't want to risk it being lost and not having a tag!
---
What To Always Pack In Your Carry-On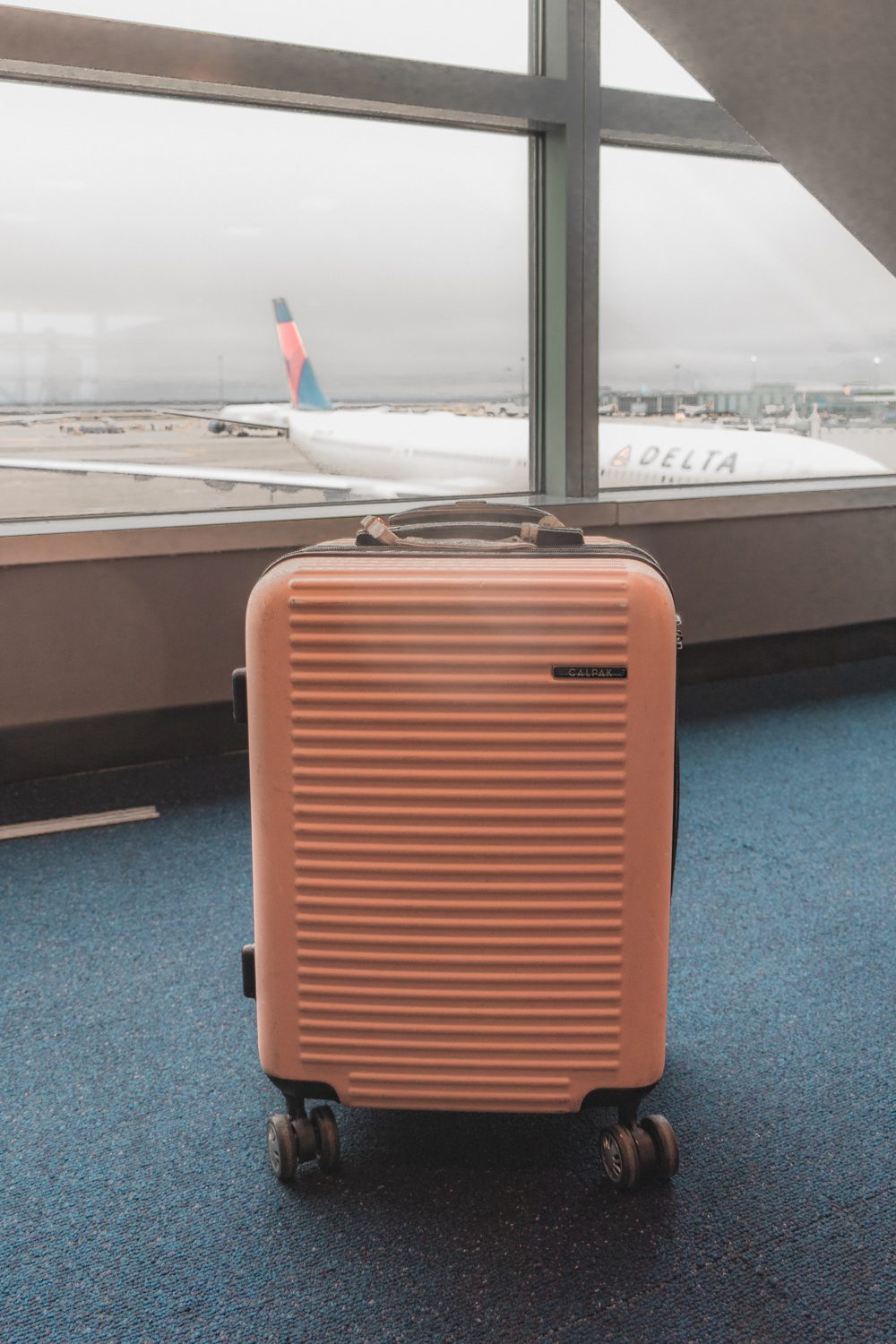 There are a few items you should always pack in a carry-on bag no matter how you're traveling. These include:
Important travel documents (I recommend buying an enclosed document folder that you keep in the same place at all times with itineraries, passports, boarding passes, vaccine records, etc.)
Jewelry and any other valuables
Prescriptions/Medications
Extra travel outfit
Electronics (including chargers)
Whether you bring a checked bag or not, I always recommend bringing a carry-on bag. It serves as an extra place to put valuables, fun things to do while on the flight, or even store things you may have bought in the airport.
---
Pros & Cons Overview
In summary, when it comes to a carry-on vs checked bag, here are the main pros and cons:
Carry-On Pros
Skip the wait at the check-in counter and baggage claim
Travel light
Carry-On Cons
Limits how much you can bring
Checked Bag Pros
Fit more stuff for a more comfortable vacation
Checked Bag Cons
Heavier
Incur higher fees
Less convenient airport experience
Risk getting lost
---
Final Thoughts: How Do You Choose Carry-On vs Checked Bag For Your Trip?
Carry-ons and checked bags are quite different, so it is hard saying one way of travel is better than another. Certainly, traveling light and carry-on only means for a cheaper and more comfortable airport experience, but it requires diligent packing, as you're stuck with limited space.
Carry-on only travel is ideal for weekend and short-term trips, budget travelers, and even feasible for longer trips if you are able to do laundry. (Check out my guide for doing laundry while traveling in Europe for general travel laundry tips.)
Checked luggage gives you comfort in being able to take nearly as much as you want, but lacks comfort in other aspects, like navigating through the airport or around your destination once you arrive. It also comes with a higher price tag, so it's not the most convenient option for budget travelers.
Traveling with checked bags is ideal, and at times necessary, for long trips (one week or more), easy-to-navigate destinations (think paved U.S. city vs. European cobblestone), and travelers who have a little extra to spend. You may also want to consider what your accommodation is like – a hostel or small Airbnb apartment may not be as comfortable with large suitcases as a spacious hotel room.
Hopefully, this guide has cleared up doubts about carry-ons vs. checked bags and, if not, leave a comment with your specific question so I can answer!
What's your go-to for your next trip: carry-on, checked luggage, or both?
Save this guide on Pinterest!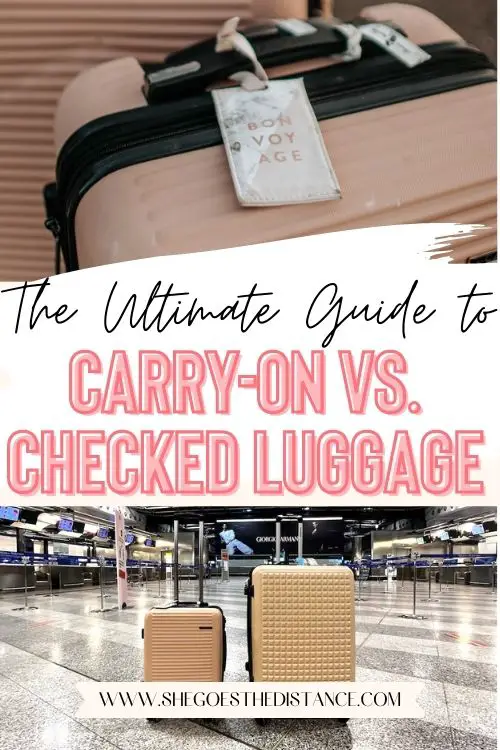 I hope this in-depth comparison of carry-ons vs. checked bags has helped make this airport packing decision easier!
XOXO
Michela