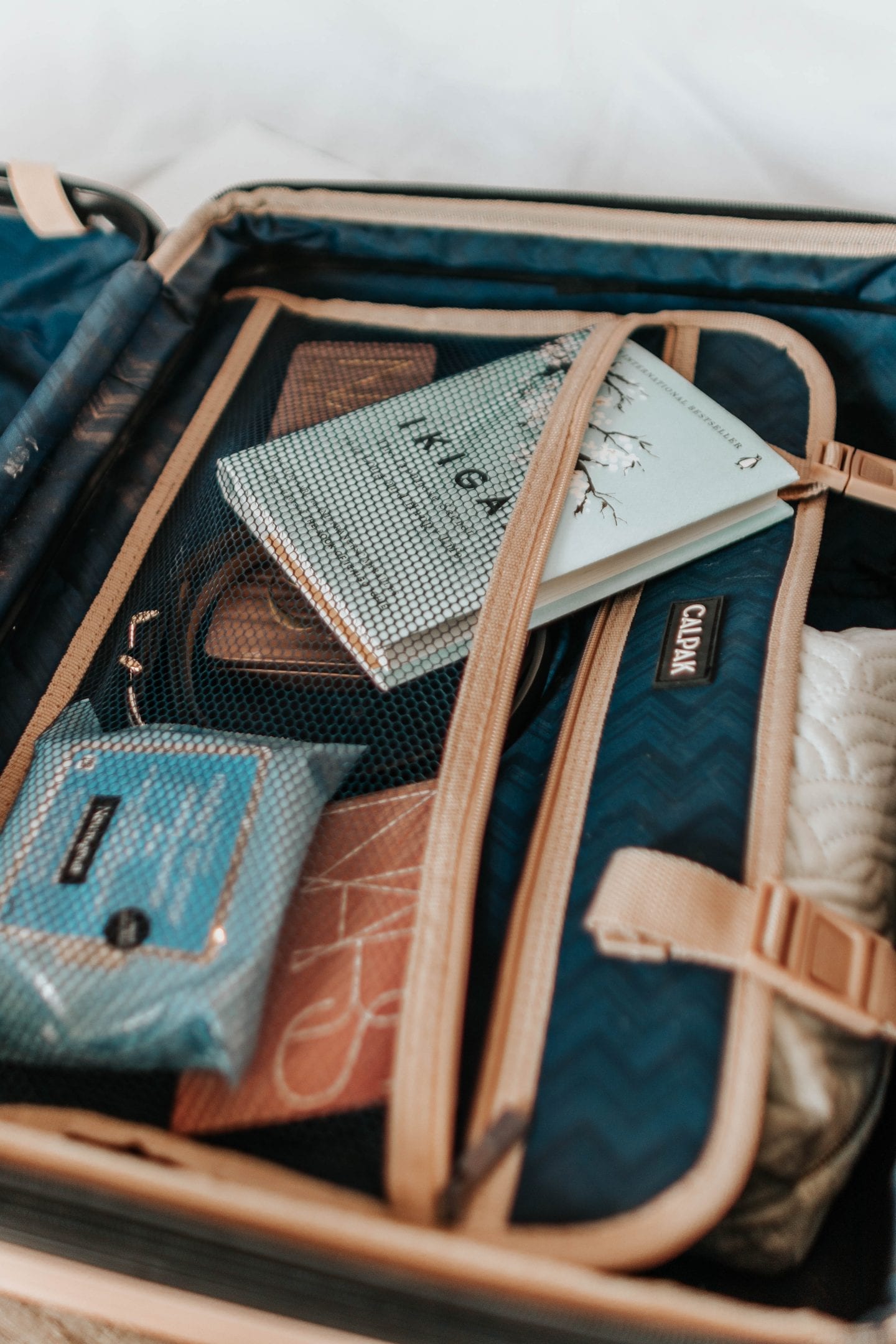 Last Updated on January 7, 2023
We are all after it – more space in our suitcases. As we pack and try to organize our lives into 62 linear inches of a hard case shell, stress and the overwhelming feeling of defeat can take over! Fear no more because you have space – you just need to maximize it to its greatest potential! There are many tricks on how to pack a suitcase to maximize space and I can guarantee you'll be itching to try them out after reading this ultimate guide.
Traveling can be stressful enough and the last thing you need is to worry about being able to fit everything in your suitcase.
The second-to-last thing you to worry about is being overweight on your suitcase, which is why I compiled some of my favorite budget travel tips to avoid airline baggage fees.
Or if you are going carry-on only, consider taking a duffel bag (& learn how to pack it with these tricks!)
Throughout this post, I'll make suggestions on the best way to pack a suitcase that work in both carry-on and checked bags – ranging from helpful organizational products to folding techniques. Let's get packing!
Check out my free, downloadable, and specially-curated packing lists to supplement the tips in this post! I have a packing list for some of the destinations I talk about on this blog, as well as cute & fun packing lists for girls on the go & photographers all accessible in The Travel Library with your email address!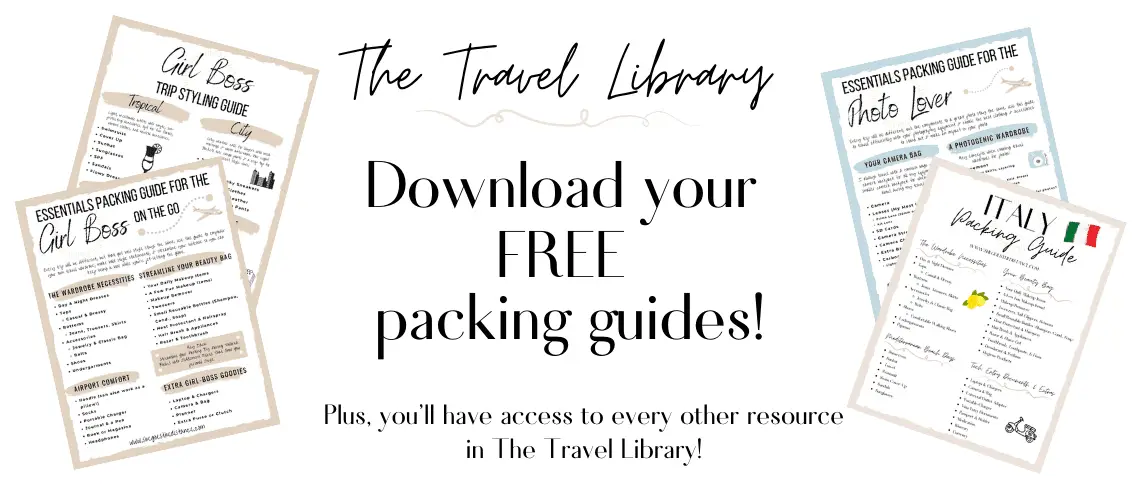 Organize with Packing Cubes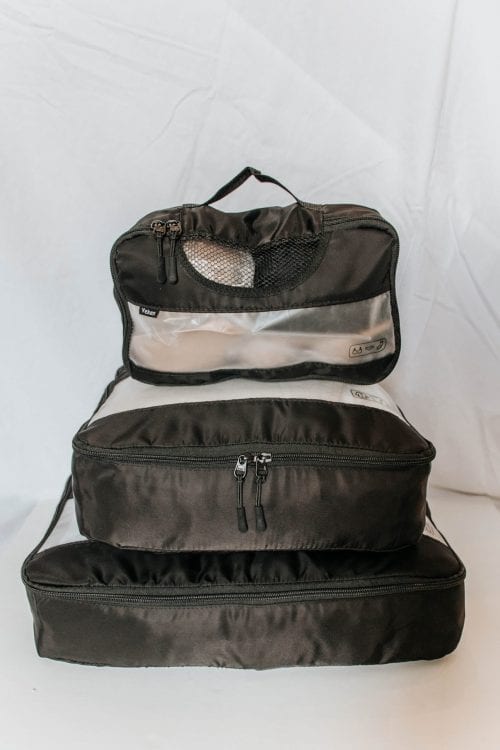 Packing cubes have changed the way I travel. They are the ultimate accessory for anyone looking to pack a suitcase to maximize space! You'll absolutely fall in love with a simple packing cubes kit that allows you to keep your suitcase organized and efficiently packed.
I am in love with my Veken packing cubes. They're inexpensive (around $20) and of great quality material. So far, they've lasted me over one year of traveling and are still going strong!
Moreover, the material is pliable and flexible enough to mold to your clothes, so it can fit a lot more than it seems!
This particular set comes with five different sized cubes, a shoe bag, and a laundry bag.
The laundry bag is also a huge asset to take along on your trip so you can keep clean and dirty clothes separated in your suitcase!
If there's any tip on this list that has helped me pack better, it's using packing cubes. Nothing beats the feeling of arriving to your hotel room or Airbnb and opening an organized suitcase!
The Perfect Fold – Or Should I Say, Roll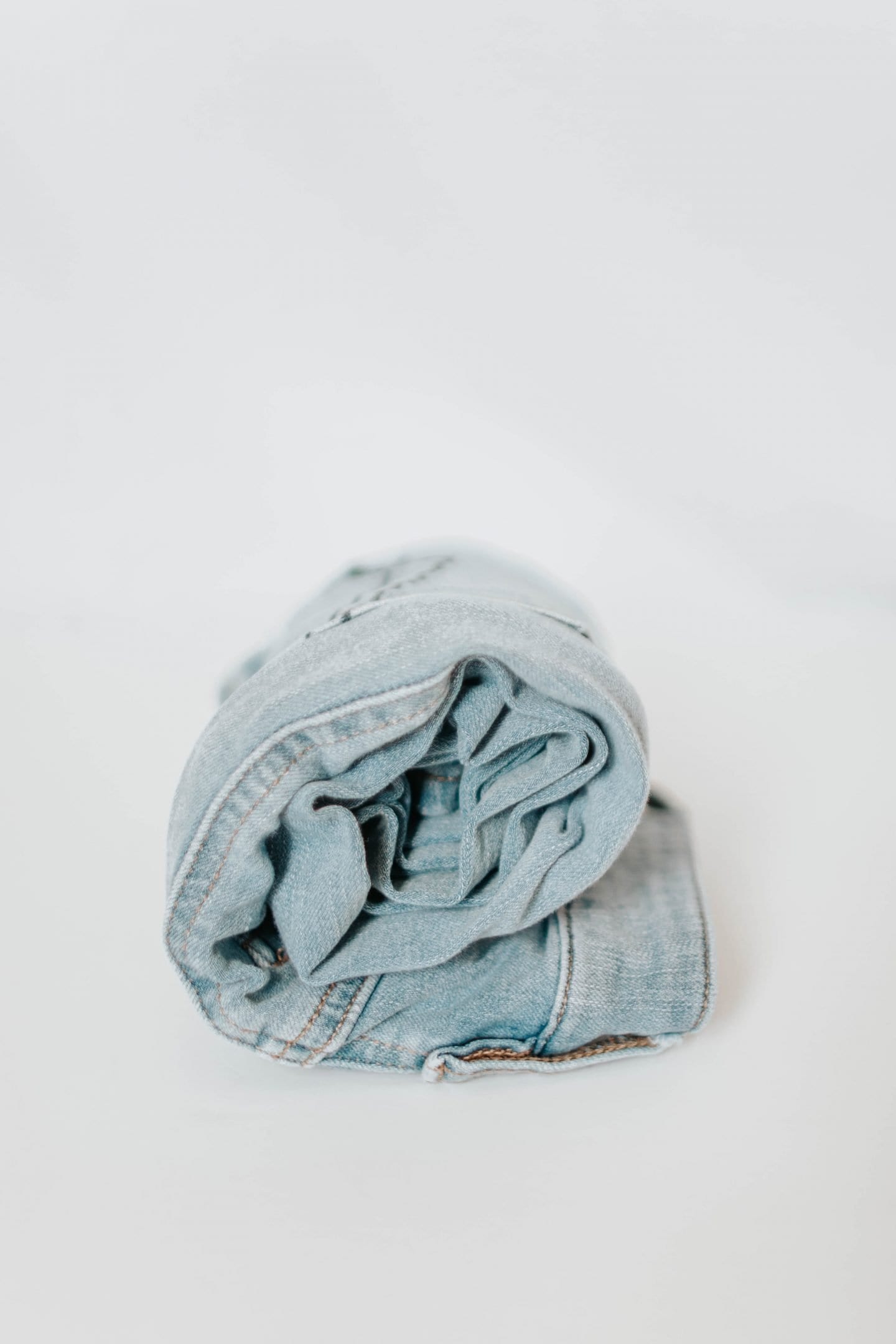 Become a suitcase architect and master the planning of your packing by perfecting the best ways to fold clothes!
Most of the time, you will save lots of space by rolling your clothing rather than folding it. Rolling your clothing keeps it uniform and able to be tightly packed.
It also keeps your suitcase (and your sanity) more organized while you're packing and when you arrive.
Rolling clothes almost always guarantees you'll be able to fit more, however, there are a few fabrics and clothing items that don't suit rolling. Steer away from rolling fabrics that are wrinkle-prone, as well as chunky sweaters or thick coats.
Pro Tip: Become an Expert Clothes-Roller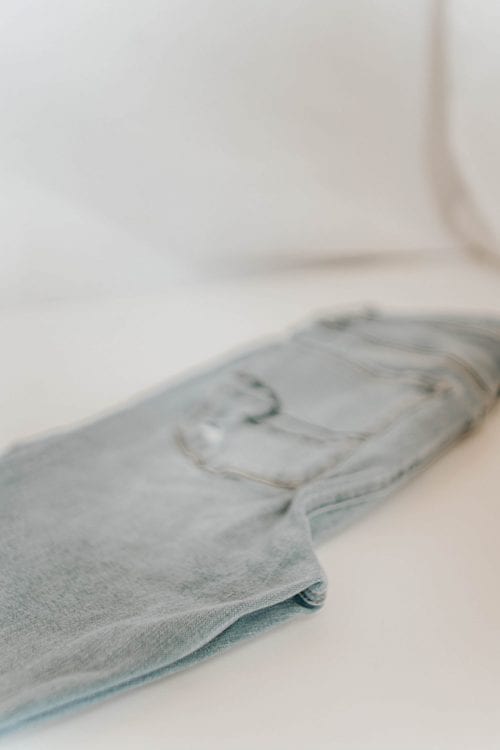 To make rolling pants easier and create a more uniform roll, use this trick. The inseam typically juts out to create an uneven shape, like in the first photo. Simply fold the inseam inwards to create a straight rectangular shape out of your pants. This will make an even roll for easier packing.
To get the slimmest roll that takes up the least space, begin at the end of your pants and fold to the waist. You can do the same with shorts, too!
---
Fold & Lay Flat Thicker Clothing
As I mentioned, rolling thicker clothing is not only difficult but will actually take up more space in your suitcase – which is not the goal.
I use two strategies: I fold or lay flat my coats, sweaters, etc. either at the very bottom of my suitcase or on the top after I've packed my other items. In between, I stack my packing cubes, shoes, and accessories for a clean, organized suitcase suitcase.
I try to lay anything that is a chunky fabric flat rather than folded so that it's as thin as possible of a layer. Once folded, they can be really bulky shapes and are not an easy fit.
---
Stuff Socks in Shoes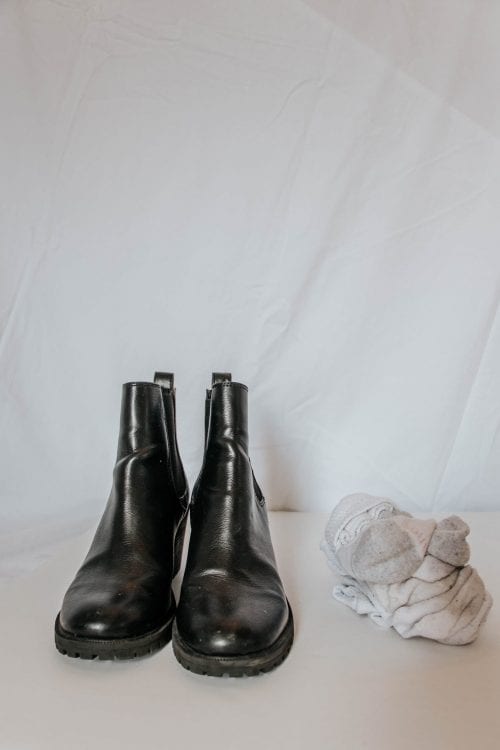 This post is all about making use of all the space your suitcase has to offer – even the space in the packed items themselves!
One of my space-saving packing hacks is to utilize the extra space in my shoes. Tennis shoes and boots offer extra room for you to store soft small items like socks, underwear, scarves, etc.
Keep your smaller items to the side while you're packing while you handle your larger items first. Then tackle fitting in the smaller items. They'll be easier to find space for once you have an overall idea of what your packing looks like.
Check out other top tips for packing shoes for travel to maximize space!
---
Choose Multi-Purpose Accessories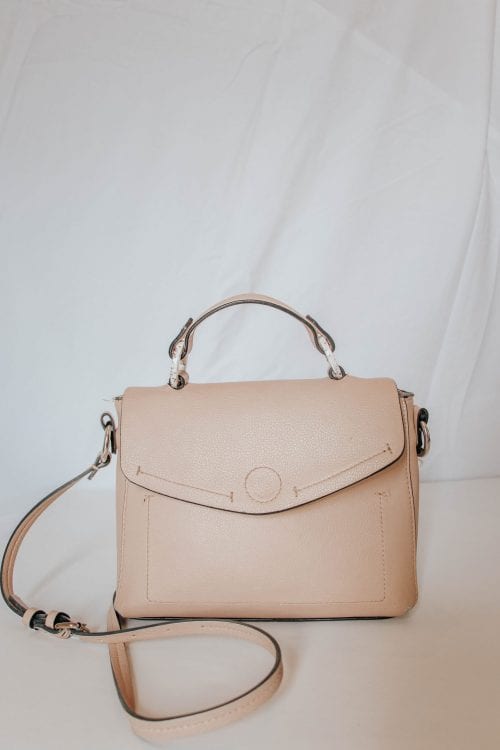 When it comes to how to pack a suitcase to maximize space, you have to think out of the box. One of my favorite ways to save space is pack items within other items (as I mentioned before!)
In this case, I try to think about what I can use when I arrive and how it can give me more storage space. One great example is hats. I always take my favorite sunhat with me on a summer trip. Since it is kind of awkward to pack, I utilize the space around it under the brim and within the hat to stuff items like scarves, socks, underwear, and anything else small and soft.
I do the same thing with purses. Instead of bringing an extra makeup bag or a plastic bag to hold hair clips, perfume, skincare items, etc., I will bring an extra purse that I can not only wear at my destination, but also acts as storage while I'm traveling to hold those smaller items in my suitcase.
It's a particular way to maximize space, but it pays off choosing multi-functional items that you can use on your trip and help you to use luggage space wisely.
---
Stock Up on Travel-Sized Goodies
When you're packing for a trip, it's easy to overestimate on a lot of things, especially toiletries and small extras like a first-aid kit (let's all keep travel safety first people!)
If you're in for an extended travel adventure, opt to buy your shampoos, body washes and anything in a large bottle once you get to your destination.
And if you're just going on a short vacation, travel-sized bottles of your favorite products or reusable bottles should do the trick! You can always buy more at your destination.
Big bottles can take up a lot of your suitcase. But more importantly they have a big impact on the weight limit you have to stay within.
Store everything in a dedicated toiletry bag. This way, you avoid loose bottles and goodies floating around your luggage while in transit.
---
Make Use of the Nooks & Crannies
Think about where you can save the most space packing small items, like outlet adapters, laptop chargers, hairbrushes, etc. Sometimes throwing them in a pouch or bag creates a bulkier shape than the item itself.
Really take advantage of the space in your suitcase by placing small items in the corners or in-between shoe heels. It may not seem like a lot, but it adds up when you're trying to pack as efficiently as possible.
---
Slide Flat Items in the Pockets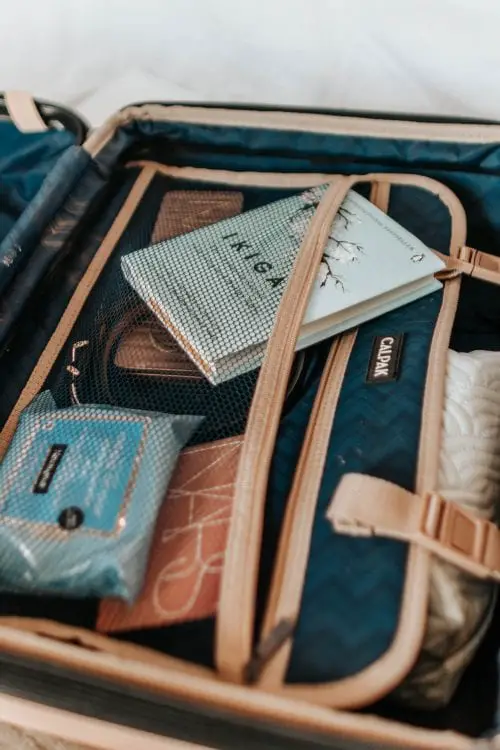 Suitcases of all kinds come with pockets. Whether on the front, in the middle, or on the sides, they are valuable spaces you may be neglecting!
My favorite items to store in pockets are ones that are flat to maximize the space I have. For middle pockets specifically, it can be hard to close the suitcase if you put bulky or irregularly shaped items in there.
Ideas for what you could slide in here any pocket are makeup palettes, books, belts, or charging cords.
---
Opt for Travel Vacuum Bags If You've Got Lots of Bulky Stuff
When I think of vacuum bags, I think of moving houses – transporting large amounts of clothes at one time. Well, they can also help you pack to maximize space in your suitcase!
Vacuum space bags are made in travel sizes, specifically designed to fit average suitcase dimensions. A pack of 6 Ziploc Vacuum Space Bags is about $15 – an inexpensive way to gain a whole lot more space!
Now, it can be a little excessive to pack for a trip using vacuum-seal space bags. However, it can be worth your while (and time) to use them if you're bringing a lot of bulky items. The season you're traveling in can determine your need for them – for example, coats and sweaters take up a lot more space than t-shirts and shorts.
They can also be useful if you're taking a lot of clothing, for example, if you're taking an extra-long trip.
---
Store Jewelry in a Flat-Lay Jewelry Holder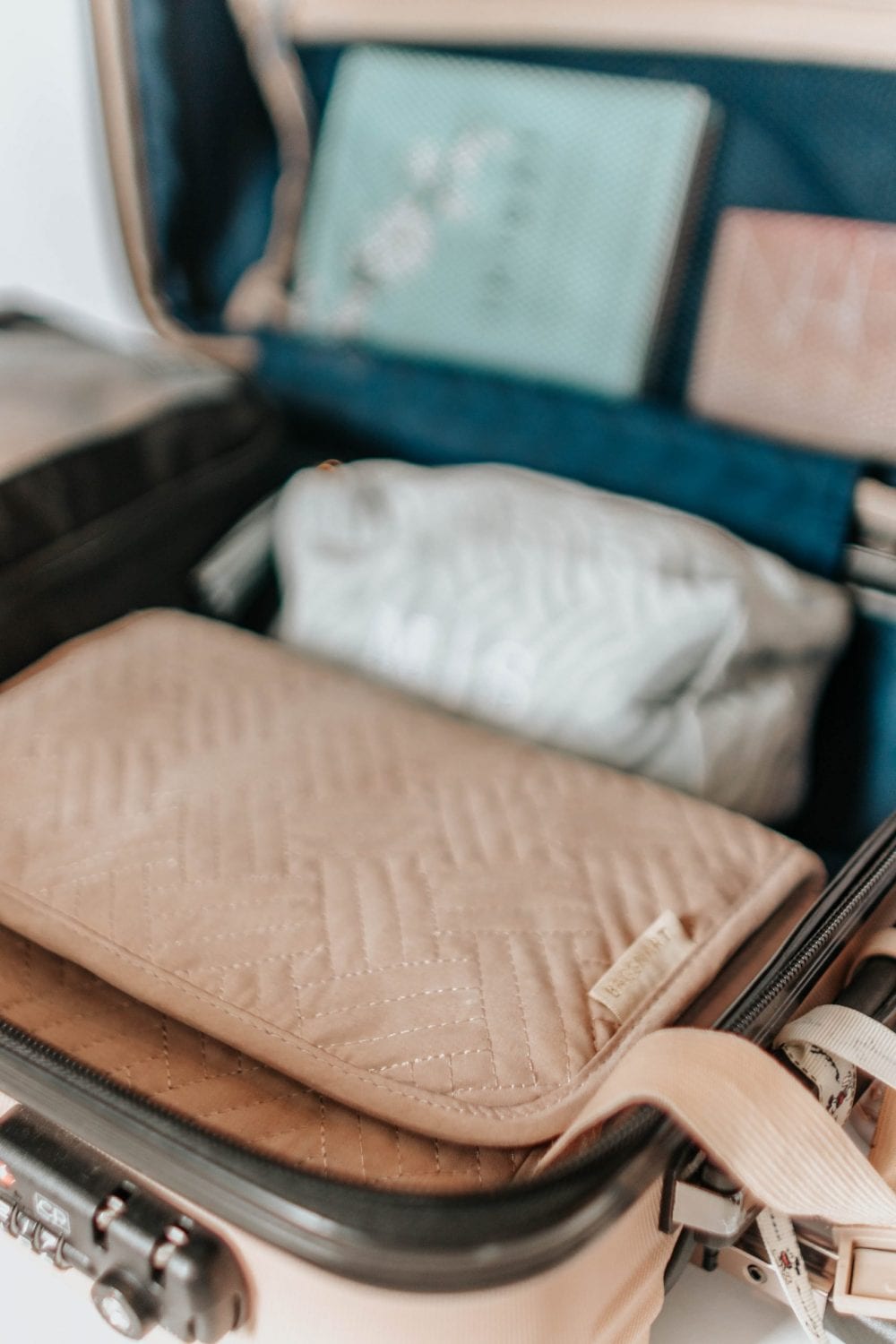 It can be tough to figure out where to store jewelry while you travel. My first tip is to always travel with any valuable jewelry in your carry-on or your personal item. You don't want to risk checked luggage getting lost and expensive or sentimental jewelry getting lost with it!
Secondly, storing jewelry for maximum space in your suitcase is best done with a foldable jewelry organizer. The organizer lays flat on a surface or can be hung up in your hotel room. Most importantly, it folds over twice for compact and flat-lay packing. There are also tons of pockets and organizational features inside and a large external pocket with built-in earring storage.
My favorite jewelry organizer is less than 20 dollars on Amazon and has joined me on many trips!
---
Evaluate How Much You Really Need
To pack a suitcase to maximize space, the strategy can be simple – cut back on what you're bringing.
No one likes to take things away. So a good packing strategy is to start by packing your non-negotiables, aka the items you are 100% certain you'll want or need. Evaluate how much space you have left and then start adding items based on weight and space.
If you start packing by grabbing everything you want and trying to pack it all, it's more disappointing to see it won't fit!
Some resources I love for helping me determine what I need are apps like PackPoint. It lets you input your destination, what you'll be doing there and travel dates. From this info, it creates a packing list for you based on all those factors and more, including the weather.
You can also check out my free packing guides. I know I love having a printed list to check-off as I get my packing done!
And that is the best way to pack a suitcase to maximize space!
Share these tips on Pinterest!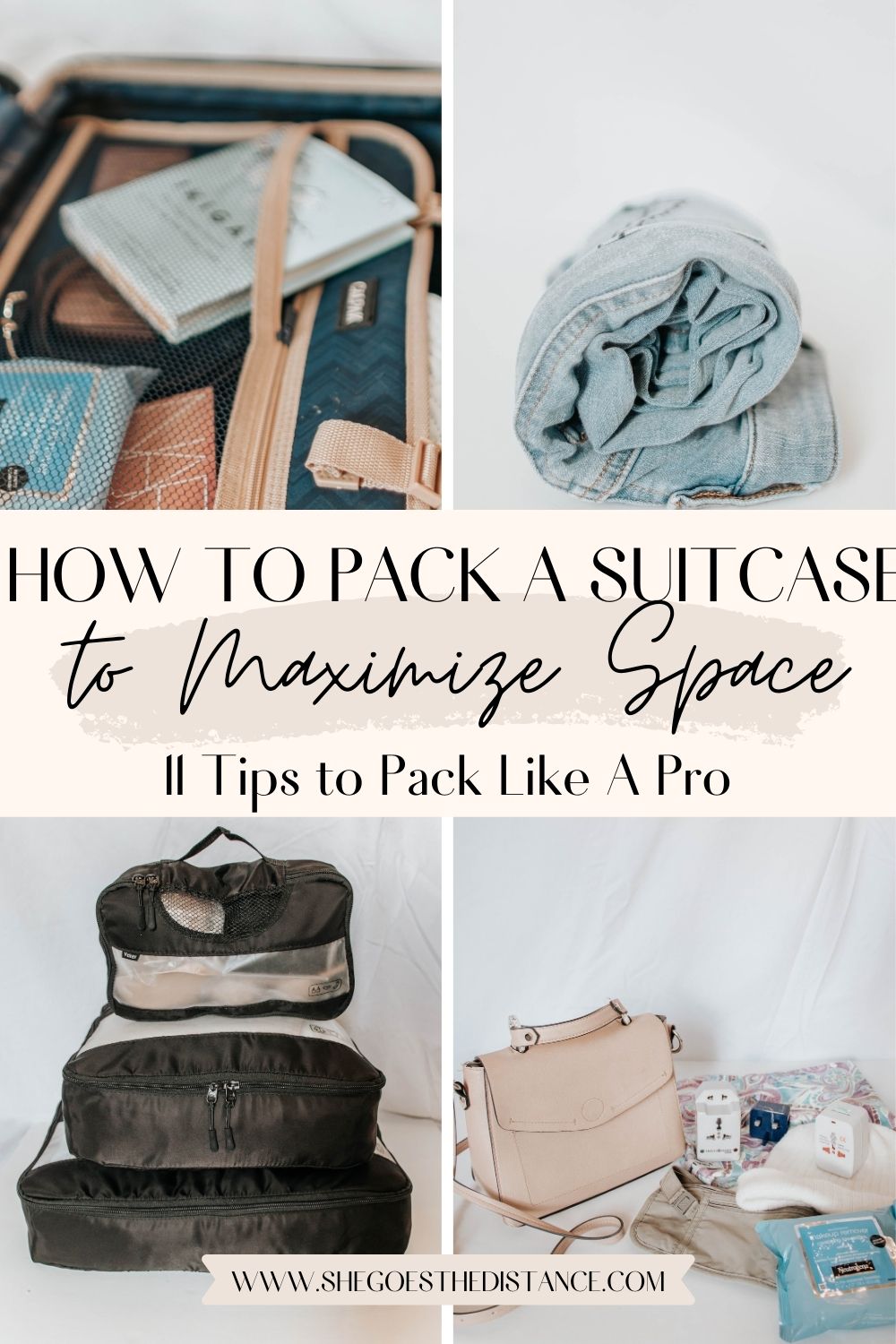 How to save space packing hopefully became a lot clearer after these tips. Now as your next trip approaches you'll have two things to be excited about – the destination and packing!
I'd love to hear how you liked these tips and if you have any tips to share yourself. Feel free to reach out personally or comment below if you enjoyed learning how to pack a suitcase to maximize space.
XOXO
Michela