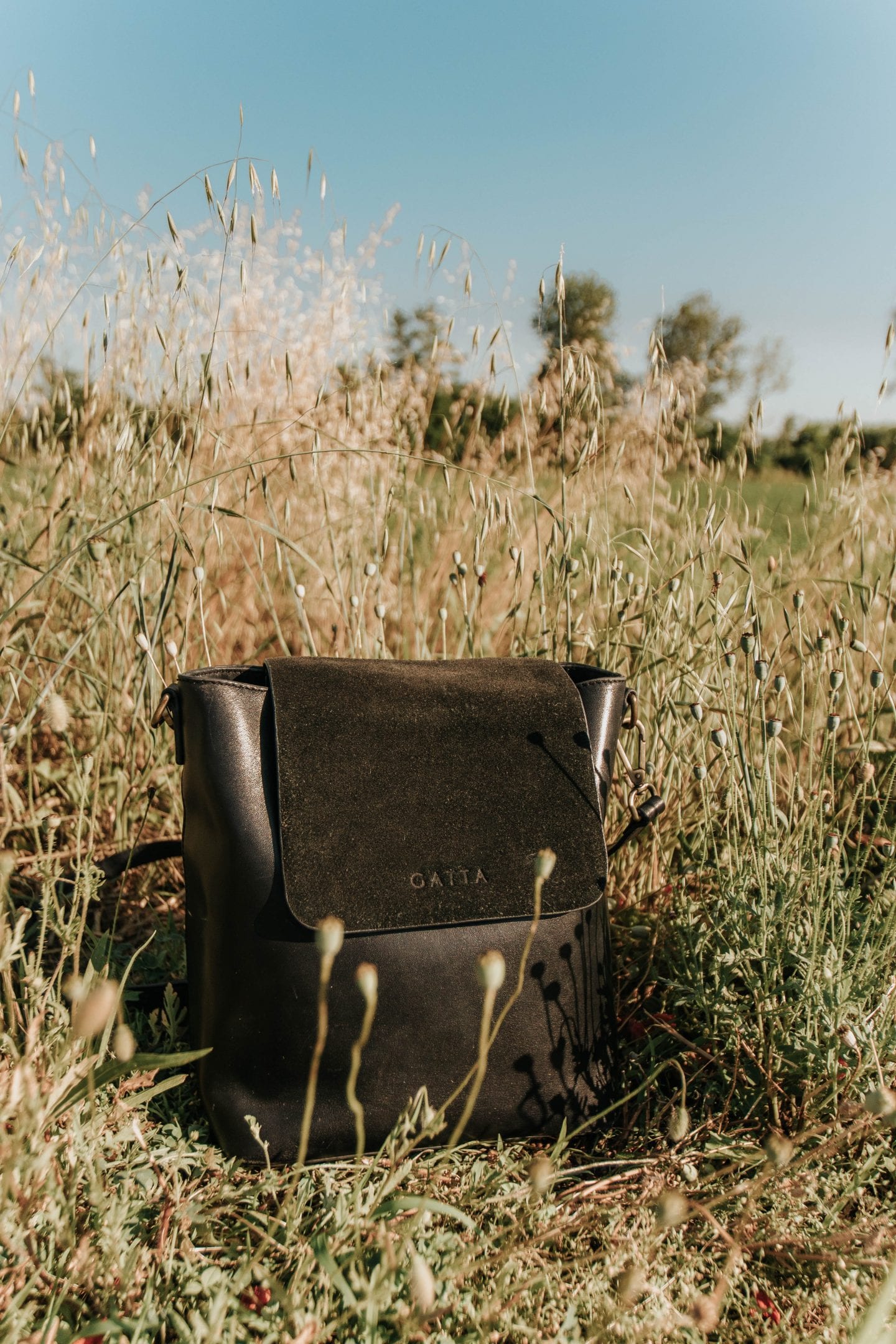 Last Updated on February 22, 2022
Choosing a camera bag is an important decision. It's an investment into protecting all the other expensive investments you've made into photography gear. To help you narrow down your focus on the right camera bag in the right price range, I'm sharing the cutest and most useful camera bags for women!
Camera bags not only protect our gear but are an outlet to express our personality and love of photography! Some of these stylish camera bags are specifically-designed to be more feminine, while many are unisex with a sleek design that appeals to any gender.
Whatever your needs in a camera bag, there is an option for everyone in this guide. Jump ahead to styles that catch your eye or go through the whole list to explore all of your options.
Some of these links are affiliate links. This means if you make a purchase through that link, I receive a small commission at no extra cost to you. Read my full disclosure!
---
What To Look For In A Camera Bag
Deciding on a camera bag is a tough decision to make. There are lots of options that cater to different purposes.
The camera bags that come with kit cameras or are generic brands are still good camera bags! They serve the number one purpose, which is protecting your gear.
But, many times the features and space are limited in these bags and they're not the cutest things to tow around.
That's why so many innovative companies have now come out with sleek, durable, and versatile bags that have everything a photographer could ever need.
The main considerations you should take into account when deciding on a camera bag are:
Comfort – At 5'5″, I know I can't buy a bag so huge that it's a workout just to carry around. Plus, camera gear is heavy in itself, so straps have to fit well and padding needs to be comfortable.
Durability – Bags with strong zippers, weatherproof materials, anti-theft features, padded dividers – all of these are aspects of a bag that make it long-lasting, worth the investment, and, most importantly, protective of your gear.
Style – Nowadays, camera bags can be both beautiful to look at and beautifully made of sturdy, quality materials. Whether you want something sleek and compact, rustic and classic-looking, or chic and feminine, there are options on this list for everyone.
Cost – Budget is a huge factor when buying a camera bag. Bags are expensive because of the quality of materials used. A good camera bag is an investment, so you want to make sure you are making the investment in the bag that's perfect for you and your needs as a photographer.
Now, complied into the list below, are camera bags for women that marry many of these qualities, so let's check them out!
---
The Best Camera Bags For Women
With an idea of what criteria matters most for you in a camera bag, you can now take a look at this list and identify clearly which bag is for you! The list of camera bags for women is divided into backpacks and crossbody bags, so if you already have an idea of which style suits your needs, waste no time heading to that category.
Camera Backpacks for Women
Gatta Bag Christie
The Gatta Bag Christie was the first camera backpack I upgraded to with just one lens and body to tow around. The backpack can fit two lenses and one camera body comfortably, but where this backpack takes the cake is in style.
The sleek leather finish with gold hardware is the dreamiest combination of any backpack on this list. The padded pink interior is not only cute but is super soft and protective of your gear.
The Christie bag has multiple pockets inside the bag and one outside for extra accessory storage, where I like to keep extra SD cards or my SD to iPhone adapter when I'm on the go.
The backpack has a zipper close and fold-over top to keep your gear safe.
If you're into style and just need a bag to bring a few things along, then the Christie backpack is for you.
Gatta Bag Christie Noir, $198.00
---
Side Note: If the Christie is not enough space for you, but you like the look of the backpack, check out the Gatta Bag Audrey. It can fit a couple more lenses and a laptop.
WANDRD PRVKE 21L Backpack or PRVKE Lite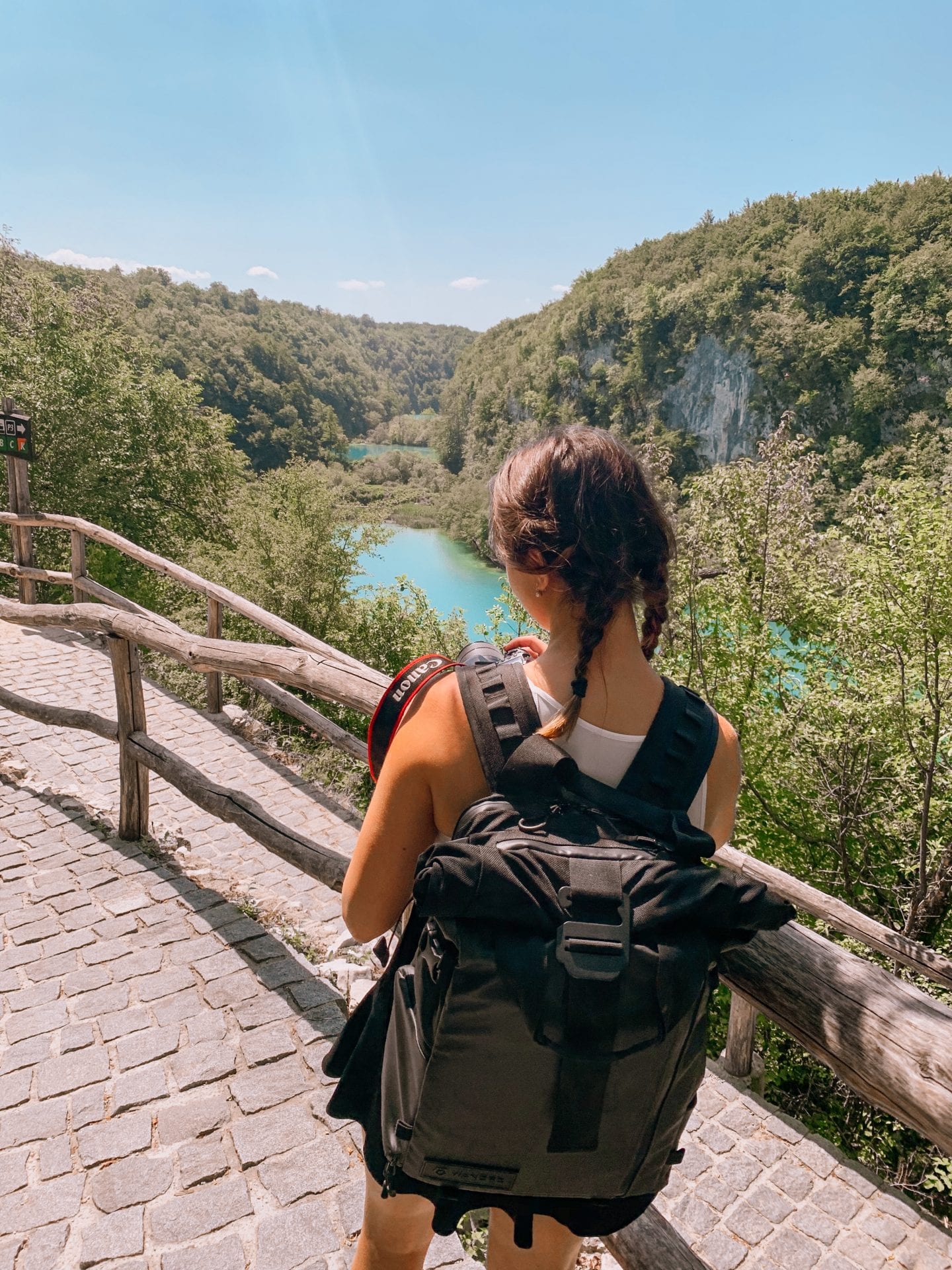 The holy grail of camera backpacks is the WANDRD PRVKE. I couldn't be more obsessed with this bag specially-made for traveling, as it's lasted me three years now without even a scratch.
My backpack is the smallest PRVKE series, the 21L, but WANDRD recently released a Lite version that I would probably prefer for my size if it had been available when I was purchasing. Nonetheless, this bag has it all – intuitive features, protective padding, water resistant, removable and portable camera cube with adjustable velcro dividers, and extra storage for personal items or clothes if you're using it as a carry-on.
They've since updated the bag with improvements, which means you can get the original (my bag) on sale! All prices will be left below for each version.
I'll stop my rambling about it and just let you check out my full review for all the specs to decide if it's the right camera bag for you.
Original Style WANDRD PRVKE 21L Photography Pack (My Bag), On Sale $284.00
New Style WANDRD PRVKE 21L Photography Pack, $345.00
New WANDRD PRVKE Lite, $266.00 (Available for Pre-Order)
ONA Monterey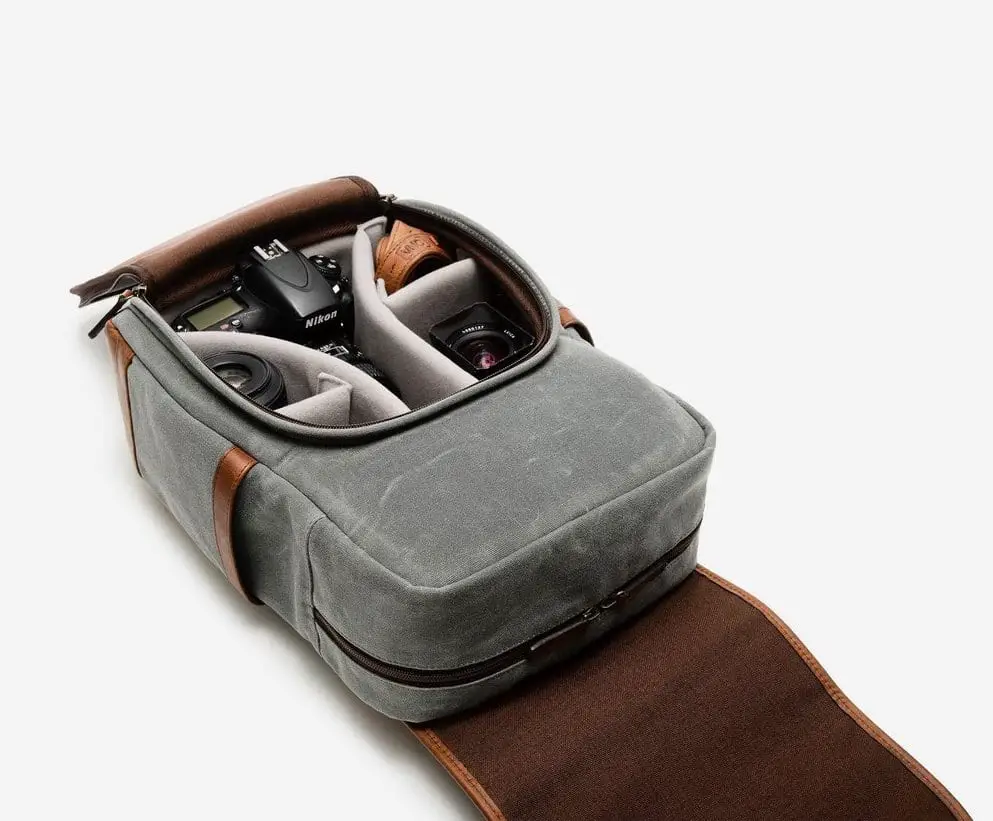 After hearing about ONA bags from one of my favorite bloggers, The Blonde Abroad, it immediately went on my bucket list as a must-have bag.
In the end, I went with WANDRD since it fit my travel photography needs better. But ONA is still a brand I hope to own one day.
Their bags are rugged and earthy, yet incredibly sophisticated and beautifully designed for carrying gear. The new Monterey can fit up to six lenses and two camera bodies, plus a laptop. So, if you're someone serious about gear, this bag is for you.
Despite the storage capacity, it's still extremely compact. However, the only downside is that this bag can only hold that gear in it and not many extras. There is a pocket and you can remove the dividers if you want to use it as a normal backpack.
Ona Monterey Backpack, $365.00
Brevite The Jumper Photo
Lightweight, affordable, intuitively functional – The Jumper Photo backpack from Brevite might be the most versatile of all camera bags for women at its low price point.
Recommended by a close photographer friend, the Brevite The Jumper is a minimalist-design backpack that can do it all at half the price of the other bags on this list.
It can hold up to four lenses and one body at once, but like the other bags mentioned, the dividers are able to be rearranged to fit your specific gear. You can also attach your tripod to the bottom of the bag and easily slide the bag onto your luggage while traveling.
The bag is made mostly of a soft, plush material, so it may not hold up as well over time to weather and wear and tear.
However, this bag is perfect for someone who wants the features of a $300 camera bag at a budget friendly $129. If you're not ready to make a huge investment yet, it's the perfect steppingstone bag.
The Jumper Photo Backpack by Brevite, $129.00
Bagsmart
Beating out every bag on this list in terms of price are two backpacks from Bagsmart. I am obsessed with Bagsmart products (like my foldable jewelry holder) for their great quality material at affordable prices.
I'm now on the hunt for a backup camera bag and the Bagsmart Anti-Theft Large Capacity Backpack is it. There are actually two similar versions of this backpack, one bigger and one smaller, so you can see which one fits your needs based on size and amount of gear you have to carry.
At just $60 on the high end and $36 for the smaller bag, the price is unbeatable for someone who just needs a cute camera bag to get around. The bags come with padded dividers so your lenses and bodies don't flop around while you're walking, plus there are pockets for a tripod, accessories, a laptop, and a water bottle.
Bagsmart Anti-Theft Large Capacity Backpack, $59.99
Bagsmart Anti-Theft Backpack, $36.99
Kelly Moore The Tourist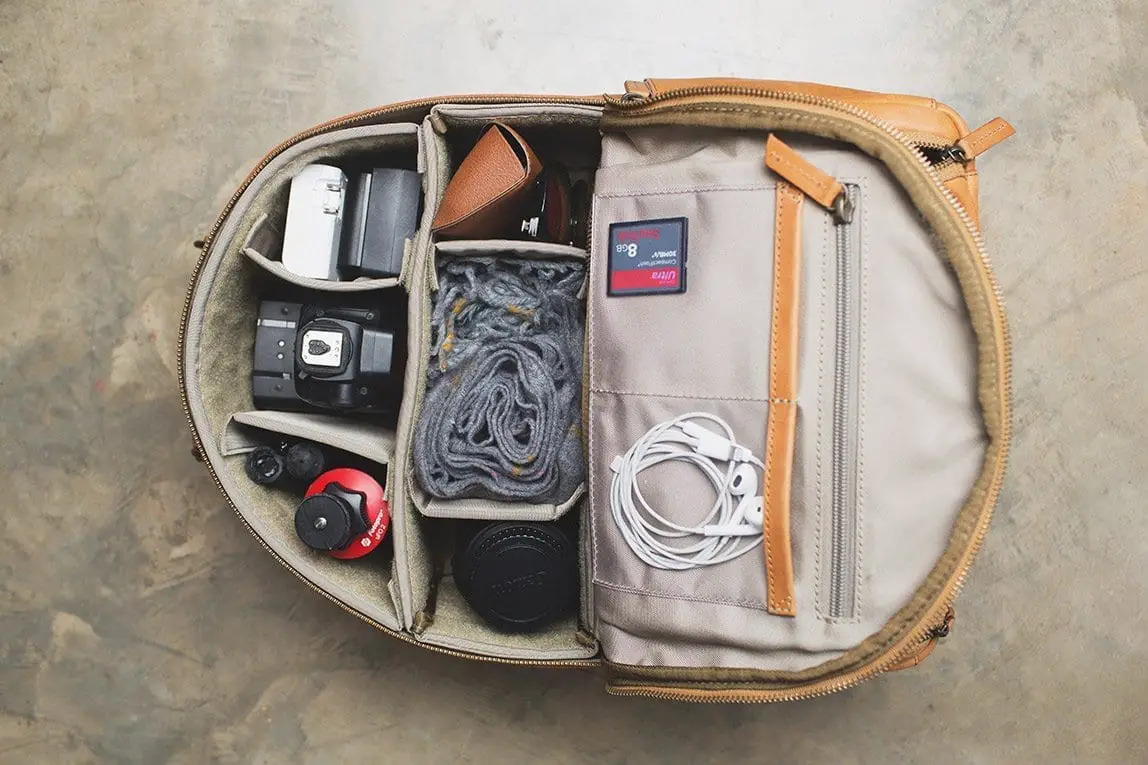 To finish off the backpacks category of camera bags for women is The Tourist by Kelly Moore. This is one of the most luxurious backpacks on this list, made with full-grain leather.
With two zipper access compartments and what seems like endless dividers, this is the ultimate lens storage backpack. You can also remove everything inside to use it as a normal backpack.
The camera bag is incredibly classic and stylish, but in achieving the chic exterior, it lacks extra features like a water bottle pocket, tripod storage, etc.
My only other complaint is that it lacks anti-theft features with the zipper pockets being so accessible. However, it's a powerhouse when it comes to storage, style, and versatility.
Kelly Moore The Tourist Backpack, $339.00
Peak Design Everyday Backpack 20L
Sleek, expandable, and waterproof, the Peak Design Everyday Backpack 20L is perfect for women who don't want a camera bag that is super feminine.
The backpack's interior is completely customizable and comes with extra straps to hold a tripod or for extra support. The main access points to your gear are through the sides of the backpack.
Personally, I prefer a lay-flat camera backpack so I can see all my gear and organize it. But if you are a photographer frequently changing lenses or need to do so quickly, the easy access could be your favorite thing about this bag.
Peak Design Everyday Backpack 20L, $229.99
Nomatic McKinnon Camera Pack
Any other photographers here a fan of Peter McKinnon on Youtube? Well, even if this is the first time you are hearing about him, all you need to know is he is a photography beast and has partnered with Nomatic to come out with his own line of intuitively designed travel camera bags and travel backpacks.
The Nomatic McKinnon Camera Pack may be the beast of all camera backpacks, which is why it costs the most.
If you aren't a travel photographer, this probably isn't the bag for you. That's because it comes with extra features such as an expandable clothing compartment so that you can use this bag and this bag only as a carry-on bag and hold all of your gear at the same time.
There are so many special features on this bag that it's easiest to just watch the demo video at the link than listen to me ramble them off! The bag is definitely for professionals with a large kit of gear, so if you are that girl boss, this camera backpack was made for you.
Nomatic McKinnon Camera Pack, $399.99
Crossbody & Messenger Camera Bags for Women
Maybe you're more comfortable slinging your camera bag across your shoulder and having quicker access to your camera. Or, you prefer a bag that looks more like a purse and less bulky because you don't need all the storage.
In either case, a crossbody or messenger camera bag is perfect for you.
Gatta Bag Jackie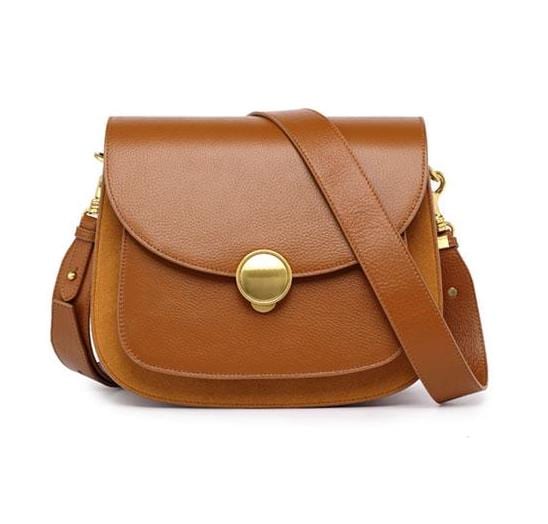 The obsession with stylish Gatta Bags continues. This time, the rave is all about the compact and sleek crossbody leather DSLR camera bag, Jackie.
The Jackie bag can fit a DSLR and one to two lenses. The more compact size and classic design make this small leather camera bag blend seamlessly into whatever you are wearing. It's like the no-makeup makeup look, but for camera bags.
This option is best for those who know they don't need to carry much, want to bring their camera along with them without drawing attention to it, and desire the "camera bag that doesn't look like a camera bag."
While I suggest the Jackie model because of its ability to hold a bigger DSLR, there are other crossbody options from Gatta Bag that are smaller in size. If you have a mirrorless or film camera, you can get away with spending less on smaller crossbody bags.
Ona Bowery
With an antique, retro design in a messenger bag, the Ona Bowery is ideal for those who just need a go-to bag to hold their camera body and lens or two if they are out and about.
The high-quality leather makes this bag both durable and chic, standing up to harsh environments and actually adding to the distressed look of the leather bag over time without affecting the gear's protection.
For $100 less, Ona also makes a canvas camera bag or a bag with a combination of canvas and leather. It's a good compromise to have the durability of this bag with a cheaper price tag.
Ona Bowery Messenger Camera Bag Canvas & Leather, $189.00
Ona Bowery Messenger Camera Bag Leather, $299.00
Kelly Moore The Kate 2.0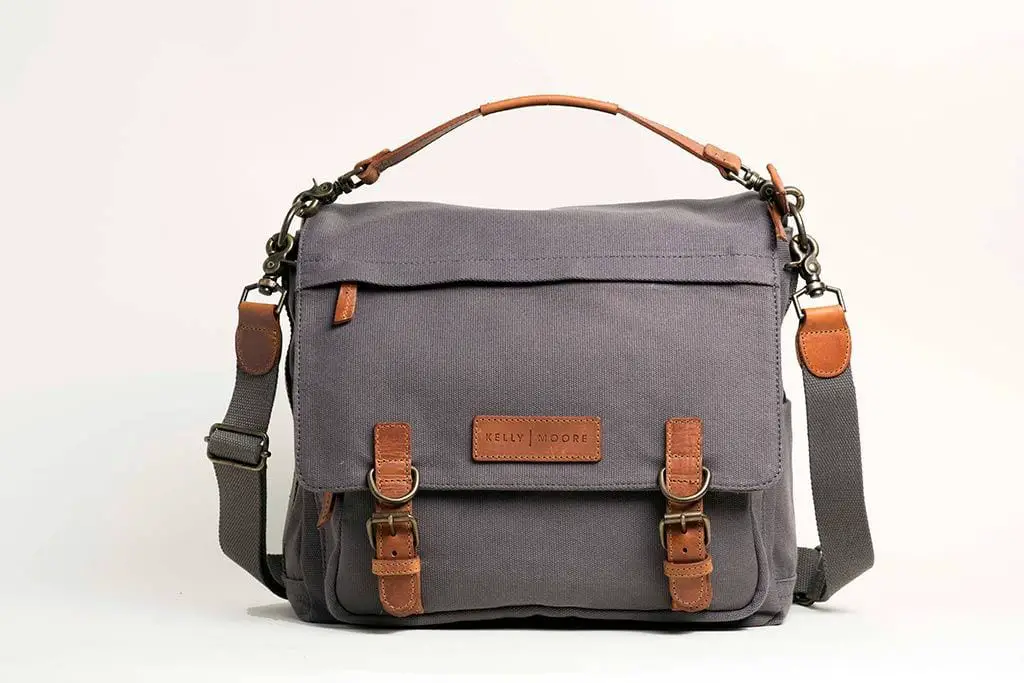 The Kate 2.0 bag by Kelly Moore is a classic messenger bag style. The canvas material makes it super soft and comfortable to carry.
In addition, the seemingly endless amount of dividers and pockets keeps everything organized so every piece of expensive gear has a spot.
It's slimmer and taller than the Ona Bowery bag, which is shorter and more stout. The dividers can be removed to make it functional as a normal messenger bag. At a lower price point, this is the perfect starter messenger camera bag for photographers.
Kelly Moore Kate 2.0 Messenger Camera Bag, $129.00
Peak Design Everyday Messenger
The Peak Design Everyday Messenger 15″ is a beast of a messenger bag. If you want an over-the-shoulder carry option that can hold a full kit of gear, than this one is for you.
The bag comes in a 13″ size for smaller frames or you can opt for the Everyday Sling that is a lot cheaper, but only holds a camera body and lens.
With tons of pocket storage and flexible dividers, you can customize the interior to fit what you need. The only downside of a messenger bag this big is the amount of weight you can potentially add to it because of its large capacity. However, the extra support straps included help to combat this problem.
Peak Design Everyday Messenger $249.95
Peak Design Everyday Sling, $99.95
---
Final Thoughts
As you can see, there are so many options for DSLR camera bags for women that don't sacrifice style for durability. Hopefully, a breakdown of each one of these bags helps you decide which one is right for you and your photography!
Which camera bag do you love most?
Save these camera bag ideas to Pinterest!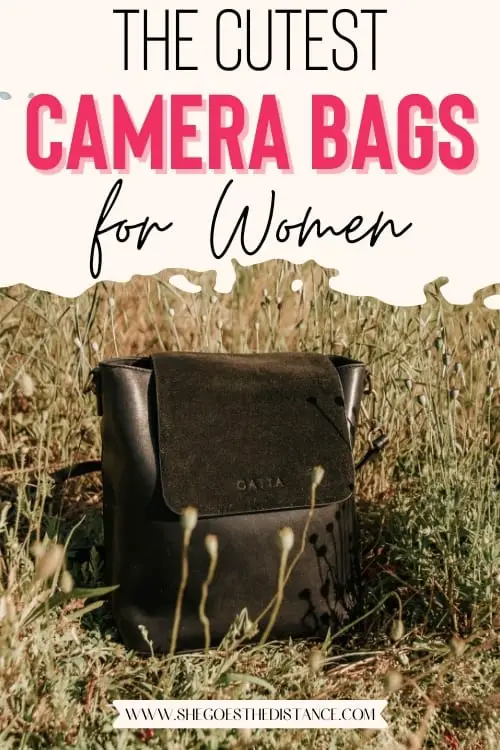 I hope you're on your way to finding the best camera bag for you. I'd love to know which one was your favorite or if you have tried one of these bags before, so leave a comment below to start a conversation!
XOXO
Michela