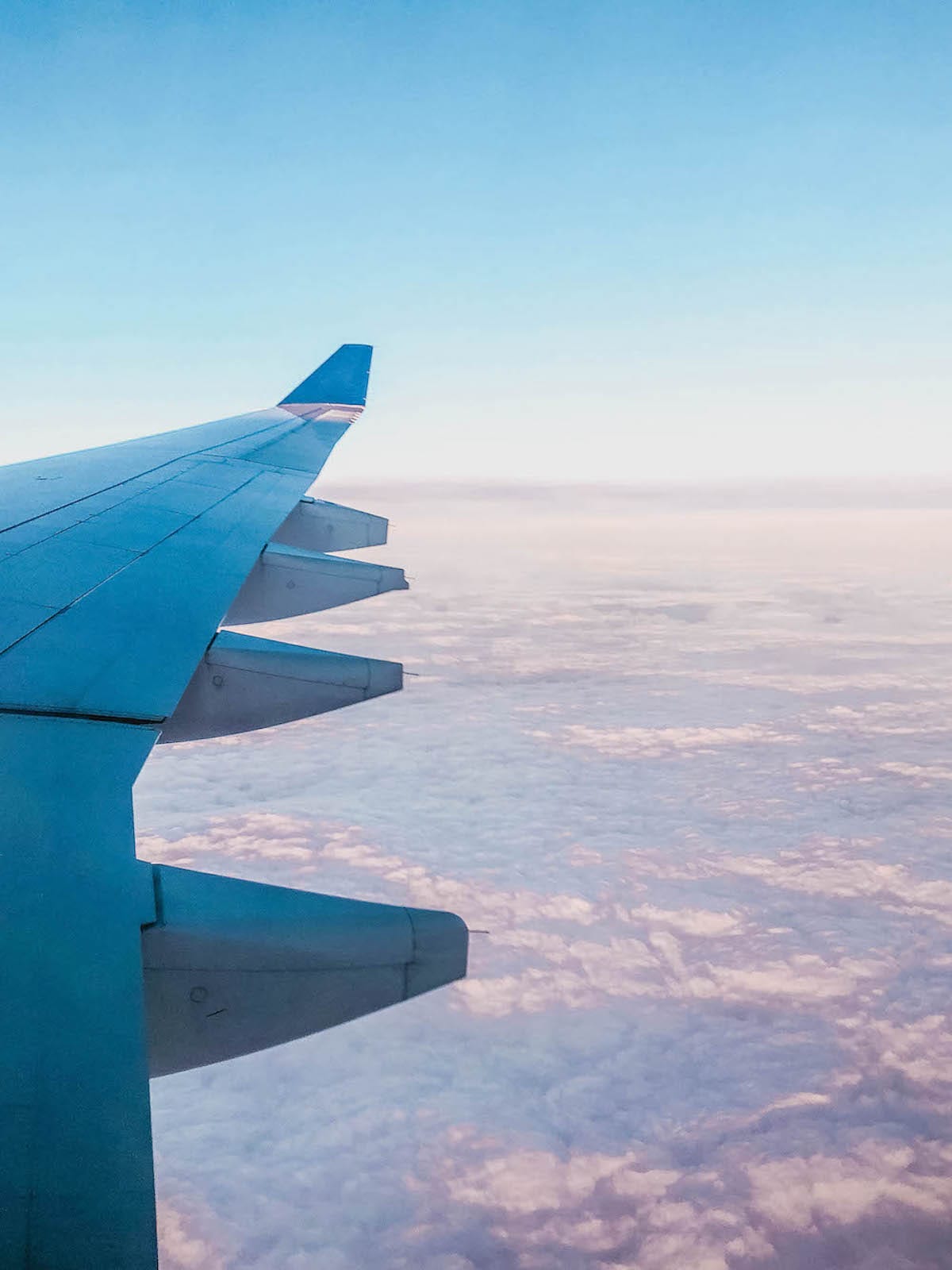 Last Updated on March 16, 2023
Flights are one of, if not the largest, travel expenses you'll run into when planning your trip. They can also be one of the most difficult areas to save money in – or maybe you just need a few tricks up your sleeve. Tickets may not go on clearance, but there are still ways to save on getting to your destination. Save these cheap flight hacks for a rainy day to get the best fares possible when you're ready to hit book.
Luckily for budget travelers, there are tons of services and resources available to ensure you're booking a flight at the right price. I'm bringing you a mix of good common practices when hunting for flights, but also unique tips and resources you probably didn't know about – now that's exciting stuff!
And if you're a budget traveler looking for more tips, I have a whole category of posts dedicated to budget travel for you to check out. Why not maximize your savings and combine them all?
Some of these links are affiliate links meaning if you make a purchase through that link, I receive a small commission at no extra cost to you. Read my full disclosure!
---
Best Flight Search Practices For Finding The Cheapest Fares
When it comes to booking tickets, there are both theoretical and practical hacks to finding cheap flights.
By that I mean some of these tips are going to be covering more general knowledge to have about the flight-booking process and others are tangible sales, websites, or actionable ways to find a lower flight price.
When it comes to cheap flight hacks – the more, the merrier! Utilize every resource you can. Finding cheap flights will likely mean you have to put in a lot of research. But the big savings are worth it!
1. Know the Travel Season & Be Flexible
Everyone knows that if you can have a flexible schedule, you can use that to your advantage and travel on the days the cheapest flights are available.
However, most people don't have the luxury of vacationing whenever they want. Summer breaks and holidays are when people have time off, so that's when prices will rise – the industry knows they can make tons of money during these periods.
So, if you can be flexible with your travel dates, then great! Most flight search engines allow you to check a tiny box that says "my dates are flexible" and give you a calendar with the prices associated with each day.
However, there's another way to be flexible to find the best deals – and that's to be flexible with your destination. While it's the busy tourist seasons in one area, it's the off-season in another. So, if you can't be flexible with your dates, research destinations that are in the off-season for peak tourist times.
Another way to figure this out is to plug your dates into Skyscanner and use the "Search anywhere" tool to have a better understanding of what destinations can be in your budget.
2. Go Incognito
While you're searching for flights, your browser is collecting cookies of data. These search engines and airline companies can use these cookies to see if you come back to search for the same flight. In many cases when you return to book, you'll see the fare has gone up in price!
They know what you're searching for, so they're going to try to make some extra money off of you. This is why you should always search for flights in an incognito window. For Chrome on Mac, it's as easy as right clicking the Chrome icon and selecting Open Incognito Window.
When surfing the Internet in private browsing mode, cookies aren't storing your data to be used in following sessions – only in the session you're currently searching on. Now, you won't run the risk of a price increase if you return to book a flight.
---
3. Search for Flights in the Departing Airport Currency
If you're abroad, let's say in Japan, but you're American, your browser may default to show prices in US Dollars and set your location to the United States.
It doesn't always hold true, but if you change your currency and location on the flight search engine to the departing flight's country, you could see a price decrease!
Just be sure your card doesn't hit you with high foreign transaction fees – otherwise you may not save much compared to the ticket offered in your currency!
4. Use a VPN
If simply changing the currency and location within the search engine does not offer up a better price, you can consider using a VPN.
What used to be a secret tip has now become quite common knowledge. Flight search engines factor in the location you're searching from, which can affect the fares showed to you.
A VPN allows you to essentially "fake" your location while on the Internet. So, if flights to Jamaica are more cheaply priced from other Caribbean countries than in the US, your VPN will allow you to book the price offered in Jamaica.
5. Use Price Predictors to Understand Price Fluctuations & Set Fare Alerts
Lucky for budget travelers, there are lots of new resources that have been created to predict price fluctuations in airfare. Some of these include:
They basically all do the same thing, using historical data to let you know when's the best time to buy.
Hopper is one of my favorite flight apps to use in my research. While I rarely book a flight through the app, I use it as a resource to understand price fluctuations over time of the exact flights I'm looking for.
I love that you can set notifications to watch certain trips. The app then notifies you if prices are going up or down for your exact trip and when's the best time to buy!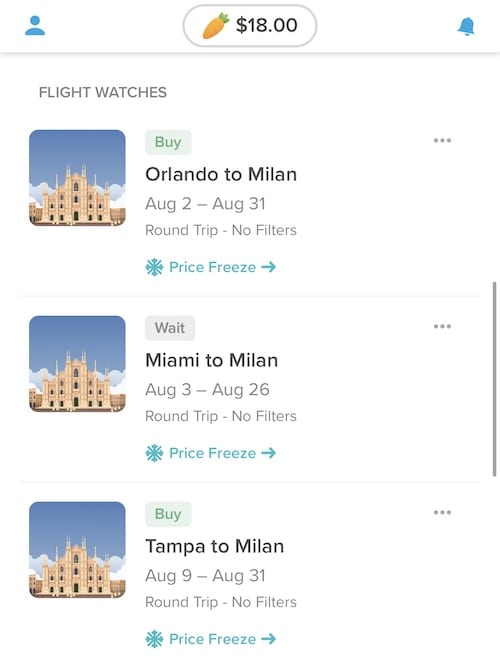 They also have a new feature called Carrot Cash, which is basically a credit of a certain amount of money you can put towards flight or hotel bookings! They can surprise you with credits as a new or loyal customer.
You can also Price Freeze through the app. This freezes the fare price where it is currently for 14 days – if it increases in that time period, you'll pay your frozen price and if it decreases, you'll pay the lower fare!
6. Find The Cheapest Departure Date
One of the best places to start in your cheap flight search is identifying the cheapest day to fly.
This can be done with several flight search engines, but my favorite to use is Skyscanner.
Enter your departing airport and your destination and then in the dates box click to open the popup. Instead of entering a specific date, select "Whole Month."
You can search by the "Cheapest Month" if you are really flexible or you can select the month you're traveling.
Then you can click calendar view or chart view and see what day has the lowest price to fly out.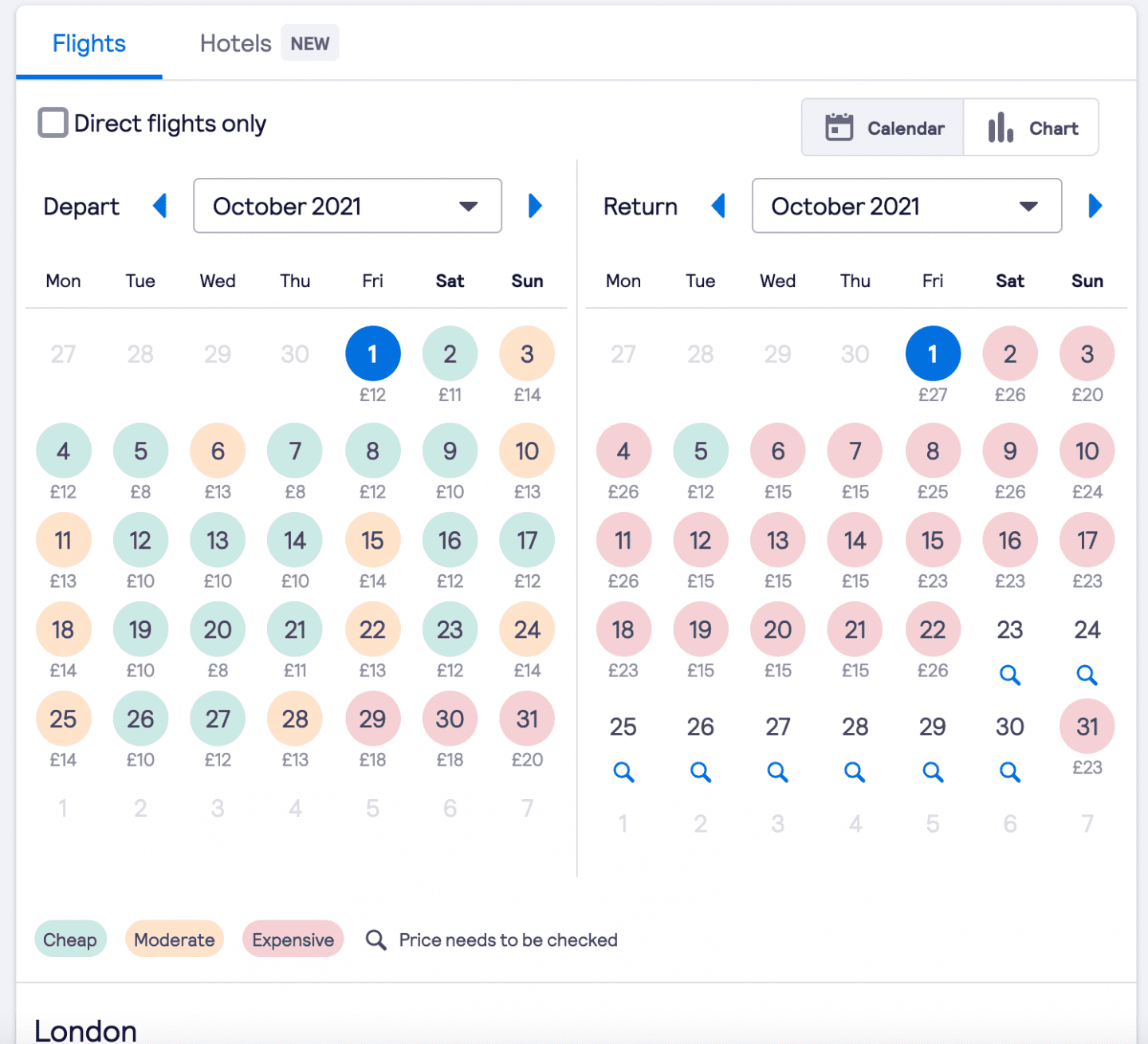 You can then take this information and continue to search on Skyscanner or input it in another flight search engine of your preference or even on the airline's direct website.
---
Harness the Power of Flight Search Engines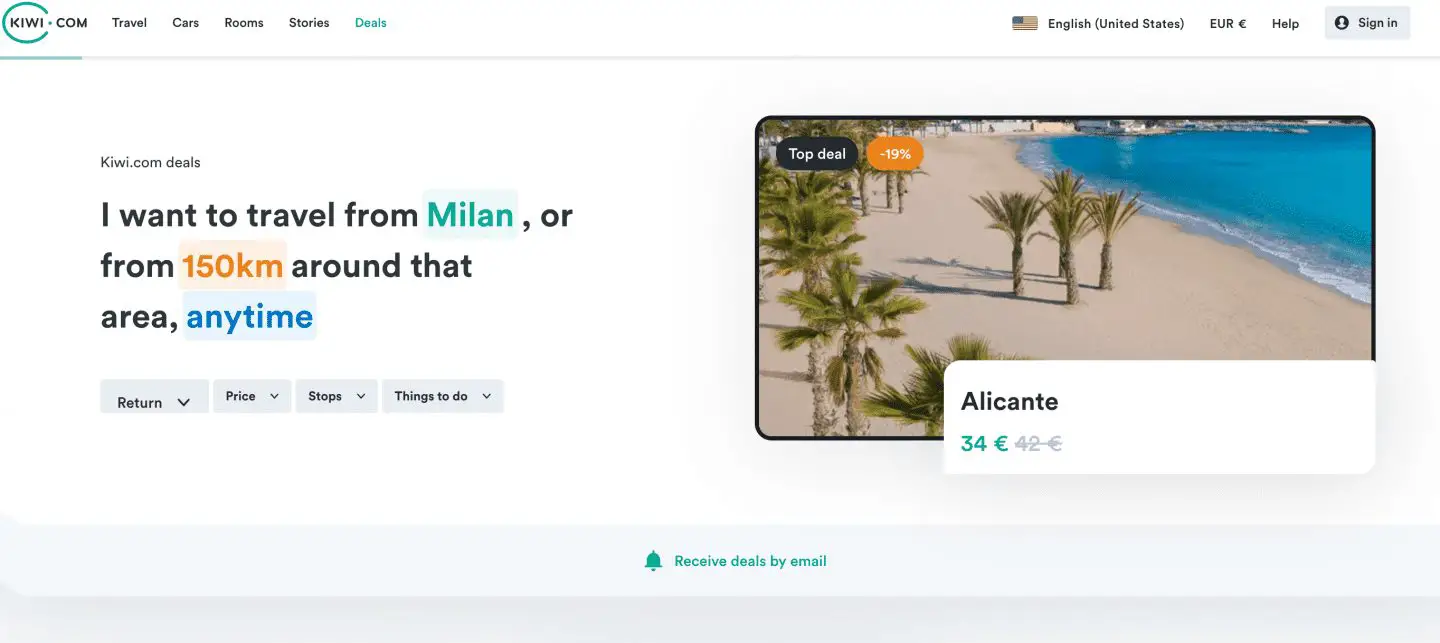 Nowadays, there are so many budget flight search engines providing tools that make awesome cheap flight hacks.
Like I said, I always use Skyscanner, so I'll dive in more deeply about its features, but many of these search engines have similar ones.
Other cheap flight search engines to make use of are:
Some of my best tips for harnessing the power of budget flight search engines are these:
Always check "Add Nearby Airports."
Search the whole month first to see how much you can save depending on the day you fly out. Sometimes just a one day difference can save you tons!
Use "search anywhere" features to pick your getaway based on the cheapest fare from your departing airport.
Use these search engines as reference points. I actually almost always book directly through the airline for a seamless experience and to earn frequent flyer points. I use these budget search engines to help me identify which airline is offering the best fares and almost always find the same fare when booking directly through their site.
7. Take Advantage of Long Layovers
Flights that have long layovers tend to be the cheapest price. While long layovers don't sound appealing from a traditional mindset, they're actually an amazing opportunity not only to save money on airfare, but discover a new place!
Airwander is a site that specializes in finding flights with worthy stopover lengths at the cheapest prices. If you don't mind extending your vacay or adding a mini trip to another destination before your final one, then this is a great option to save money on flights!
8. Use Secret Flying to Book Cheap Error Fares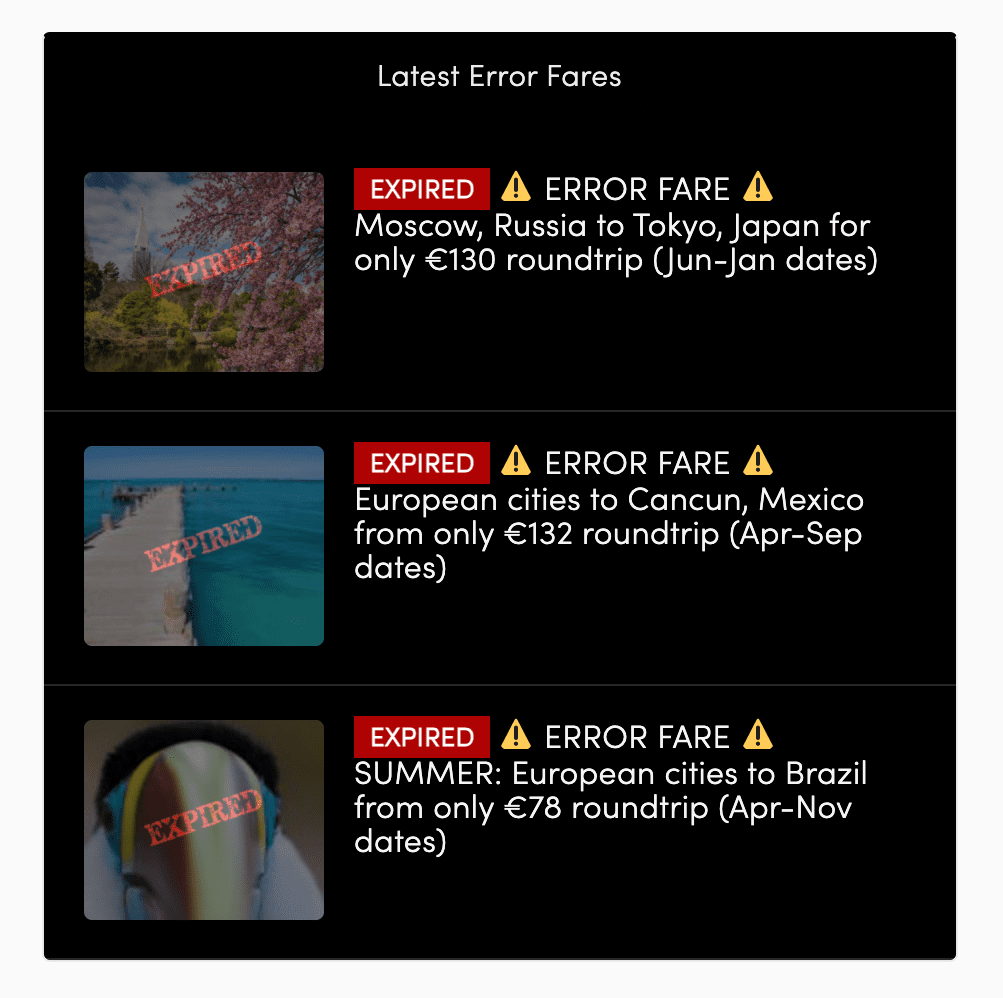 One of my newest favorite websites for finding cheap flights is Secret Flying.
This site is a search engine, but its specialty is in identifying error fares! This is when fares for flights are accidentally priced super cheap by the airline. They're usually fixed quickly, but Secret Flying identifies them and shares them on their site!
I love that the website is not just in search engine, but also blog format. They post unbelievable deals everyday that aren't just from low cost airlines, popular in Europe, but also transcontinental flights!
9. Use Hacker Fares on Kayak.com
When you are searching for a roundtrip flight, search engines by default show you return options from the same airline, even though a cheaper flight may be offered by a different airline.
Kayak created "hacker fares" which allow you combine the cheapest one-way flight tickets from different airlines for an overall cheaper roundtrip fare!
---
Pro Tip: Momondo has a similar feature they call Mix & Match. When you search for a flight, it will automatically notify you if an option to Mix & Match airlines is available!
10. Use StudentUniverse for Discounted Flights If You're Under 26
StudentUniverse has been one of my favorite resources since I was a student traveler! Don't let the name deceive you – this site is designed to offer discounts and deals to anyone under 26!
Something unique about this platform is that they offer promo codes on flights! That's pretty much unheard of in the world of flight shopping.
You can also save on hotels, rentals cars, and other aspects of your trip as a young traveler.
11. Join Cheap Flight Membership Programs
If you're flying from the US, I highly suggest you check out Scott's Cheap Flights. You can join as a member for free or purchase a membership to have access to tons of cheap flight deals that the service finds for you.
Implementing all these cheap flight hacks can be a long and tedious process, so services like this make finding cheap flights easy with little effort on your part.
12. Consider Booking Open-Jaw Flights To Save Money Visiting Multiple Destinations
If you are planning a trip with multiple destinations, consider researching if an open-jaw flight saves you money on travel.
Open-jaw flights arrive and depart from different airports. For example, if you were traveling to Italy arriving in Milan but ending your trip in Rome, it could cost you more to get back to Milan for your outbound flight. It's also just inconvenient!
Open-jaw flights may save you money by flying into one airport and out of another. Fly4free is a site where you can sign up for open-jaw alerts and find these types of flights easily.
Ever heard of hidden city ticketing? It's the riskiest of the cheap flight hacks and I've never done it myself, but it can be a way to save big if you're willing to take the risk.
Sometimes it's cheaper to book a flight where your final destination is a stopover on the way to the final destination of the flight's itinerary.
Skiplagged is a search engine that specializes in finding these hidden city ticket fares.
This loophole can be risky – you have to keep in mind not to check bags, as they will often go to the final destination. Plus, if the plane you're on is the same one continuing to the final destination, you may not be let off the plane on the stopover, the place that you actually want to get to.
Travel at your own risk with this one!
14. Follow Search Engines on Social Media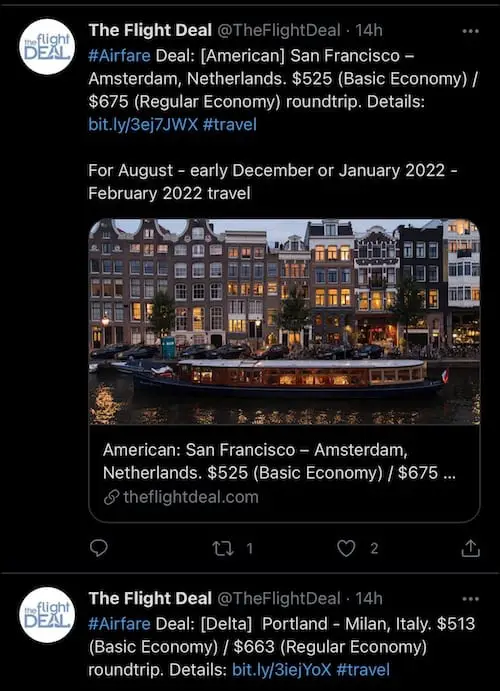 A lot of deals like error fares are first published through search engine's social medias and these opportunities are jumped on quickly! It can be annoying to sign up for email alerts and follow tons of accounts, but if you're really on the hunt for deals, you'll want to be the first to know about them.
Some good Twitter and Instagram accounts to follow for cheap flights are Secret Flying, Fare Compare, and The Flight Deal.
---
How to Save Booking Directly Through the Airline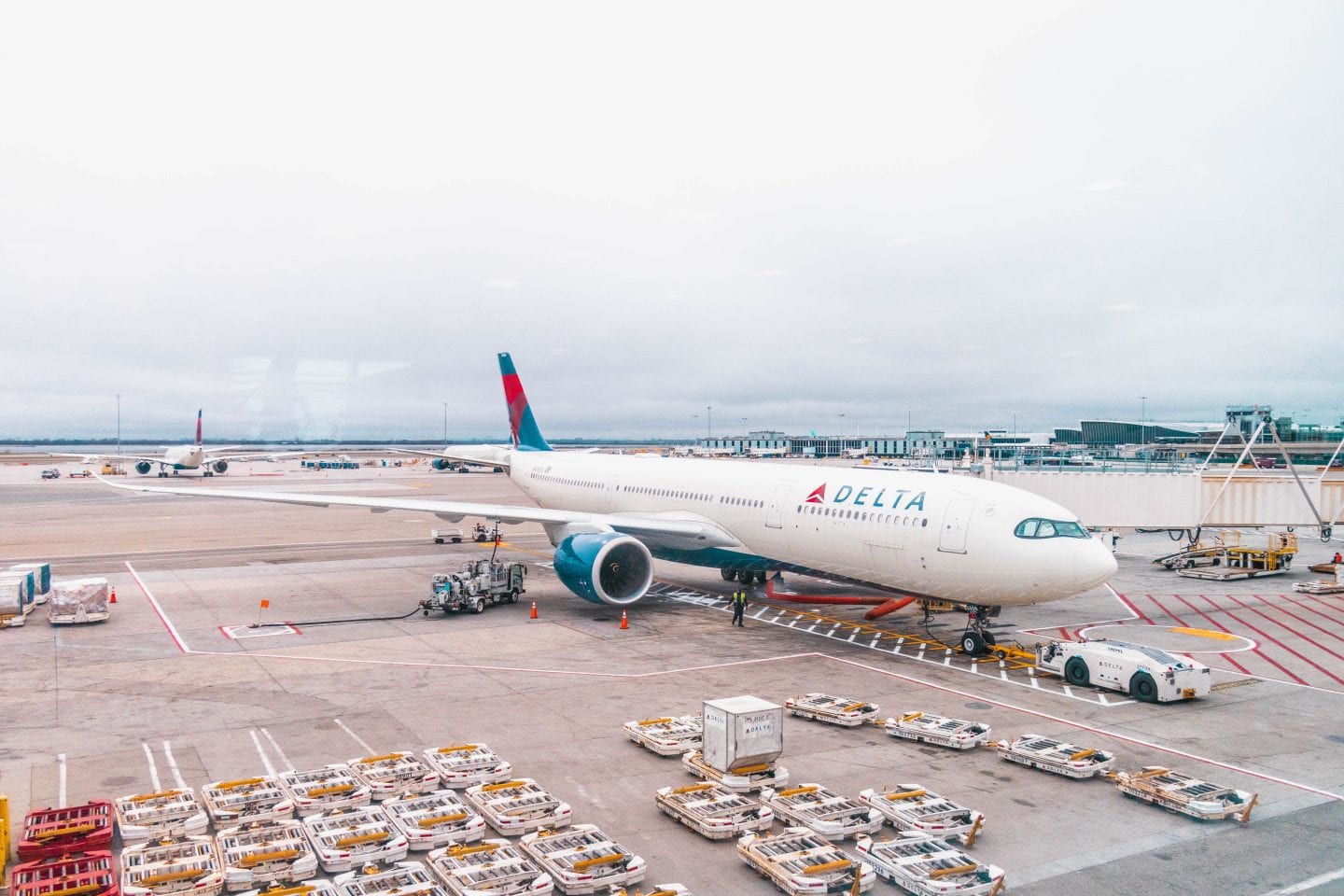 Of all the cheap flight hacks, this might seem like the strangest one. Won't flights be the most expensive directly through airlines?
Well, that's not always the case. There's a few reasons why I prefer to book directly through airlines:
Third party booking often means you don't get points towards your frequent flyer programs (more on that in the next section.)
More seamless experience when booking direct. If something changes with your flight or you need assistance, the airlines may not be able to help you as much if you booked third-party as they can a customer who booked direct.
All the information is transparently presented to you regarding your fare, while third party booking sites may come with fine print and restrictions that you didn't know when purchasing the ticket.
This is why I use budget flight search engines most often as a reference point for cheap flight tickets. I see which carrier is coming up the cheapest in my search and go directly to the airline's website and often ended up finding the same exact fare.
15. Sign Up for Frequent Flyer Programs
Every airline nowadays has their elevator pitch when you get on board to sign up for a credit card and earn miles. That kind of commitment is not what I'm talking about here!
When I first started traveling, I didn't understand the difference between airline credit cards and airline rewards programs. I'm not an expert in the former, so I don't want to share with you what I don't know firsthand.
But I am a sucker for signing up to airline frequent flyer programs! Nearly every airline offers you the chance to create an account and earn miles every time you take a flight with them. These miles can eventually translate into money towards fares or perks like free checked baggage or upgrade.
It does no harm or serious commitment to sign up for these – in fact it only benefits you as a loyal customer! I have a Frequent Flyer account with any of the airlines I've flown with, so you don't even have to be committed to just one. This allows you to still earn towards an airline while finding the cheapest fares.
16. Weigh the Costs of Basic Economy vs. Economy
In most cases, budget flight search engines will automatically (and annoyingly) show the basic economy fare. This ticket is the cheapest, but it also includes basically nothing but a seat.
So, what looks like a great deal is actually disguising many hidden fees you'll likely have to pay to travel comfortably.
For example, if you know you are traveling with bags, it's likely that buying the higher fare is a better deal for you than paying extra for your checked luggage.
Other examples of fees with the cheapest fares are seat selection or non-online check-in.
17. Utilize the 24-Hour Free Cancellation Policy
Most airlines, especially in the US, are required to offer a 24-hour cancellation policy after booking a flight. If you see a fare you want to book, you can buy your tickets and still be free to cancel within 24 hours with no penalties.
If the fare changes within those 24 hours, use the free cancellation policy to get out of the old fare and purchase the new.
---
Advantages and Disadvantages of Budget Airlines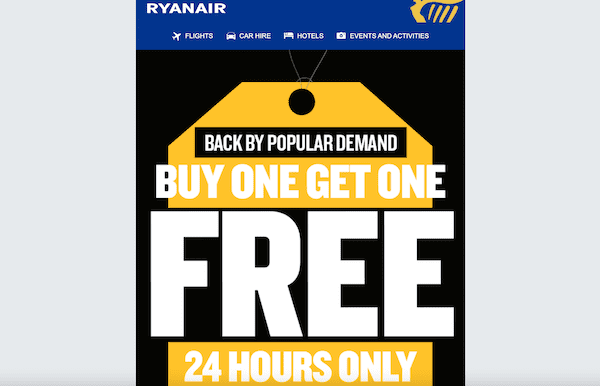 Low-cost airlines are awesome for flying for cheap. However, there are some disadvantages to flying low-cost that you have to weigh before hitting book.
Low cost airlines like RyanAir, EasyJet, or Wizz Air, to name a few, have extremely attractive flight fares.
However, those $10 flights are just for your seat on the plane.
Sometimes, it's totally worth it to buy the basic fare and pay extra for a bag.
But most of the super cheap fares don't even include a carry-on. If you can squeeze your life into a backpack for vacation, then go for it!
But bags cost a hefty amount extra on these airlines. In fact, all the extras – the ability to change flights, choice of seat, boarding priority – is where the airline makes their money.
Some will even hit you with hidden fees if you don't check in online! Be careful with the fine print.
The fares may be appealing, but research beyond the surface. If you have to spend money on all the extras, identify if its worth it in comparison to a normal airline's fare.
19. Check Which Airport the Low-Cost Airline Flies Into
Another factor to determine if low-cost airlines are a budget-friendly decision for your destination is what airport they fly into.
Many will fly into the smaller, less-frequented, and usually further airports from your destination. For example, RyanAir flies into Paris Beauvais. The catch is, this airport is nearly an hour outside of Paris!
So once you factor in how you're going to get transportation to the city center, you may be spending more than if you had booked with an airline with a higher fare, but flying into a central airport.
20. Take Advantage of Low Cost Flight Sales
All that being said about being weary of low-cost flights – they do have some incredible deals! They make travel a possibility for a huge amount of people. One thing you should take advantage of are fare sales!
Large airlines like United, Delta, or Lufthansa will never have a true "sale" on their fares. But low cost airlines do!
For example, RyanAir has sales like 5 euro seats or fly for 10 euros if you book in the month of July!
The last of these cheap flight hacks is to sign up for a budget airline's email list to be notified of sales. I typically hate a full inbox, but the deals are actually so good that it's worth the extra emails!
Bonus Hack!
I have recently discovered a new hack that has been allowing me to jet-set around Europe every free weekend I get without breaking the bank! This hack works best for Europe since the continent is more compact.
Start on Skyscanner and by searching "Everywhere" for your travel dates. Now, don't get discouraged when you see all the major cities have skyrocketing prices. Instead, open up Google Maps and start researching those unknown cities you've never heard of and couldn't imagine even have an airport. The idea is to find one that is within driving/public transportation distance to a desired destination!
I'll explain with a concrete example: my boyfriend found a super cheap flight form Bergamo to Baden-Baden, Germany. Sorry to Baden-Baden, but I didn't even know it existed! Turns out it is only 1 hour away from Strasbourg, France and the entire Alsace region. So, we booked the cheapest flight to Baden-Baden on a weekend (the return trip was only €14) and used trains and busses to get around Alsace.
We are going to be doing the same to visit Amsterdam by flying into Düsseldorf instead!
---
Other Ways to Save While Flying
All of the previous cheap flight hacks have everything to do with finding cheap flights, but how about saving money while we are actually flying?
Here are a few final tips & resources to really stretch your hard-earned dollar.
---
Final Thoughts
I hope you'll be able to put these budget-friendly tips to use and find amazing deals.
When it comes to finding cheap flights, it's going to take a lot of research. But if you employ these tips and use all of your resources, you'll eventually find what works for you to get the best deal!
Fully prepare for your upcoming trip with my favorite flying tips!
Which one of these cheap flight hacks are you trying first? Any that surprised you? Let me know in a comment!
Save these cheap flight hacks & tips on Pinterest!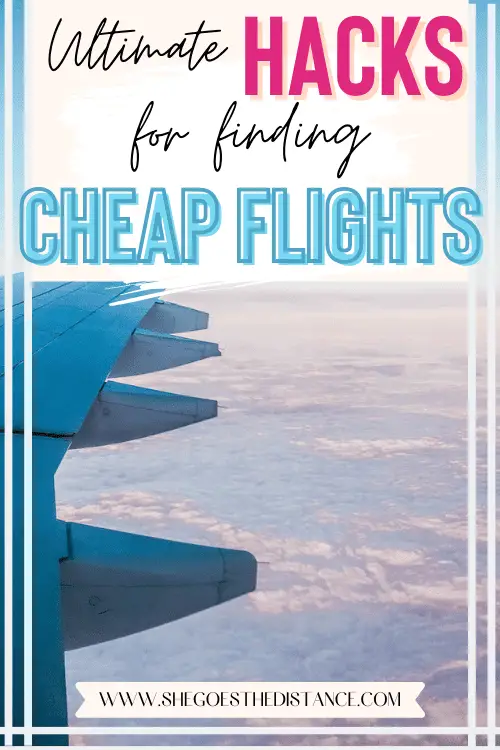 Travel should be a possibility for everyone – I hope these cheap flight hacks help you plan your next adventure!
XOXO
Michela