Last Updated on February 22, 2022
Driving in a new country can be intimidating. However, road trips are one of the best ways to explore new places. You aren't restricted by public transportation schedules and you can travel to the most remote corners of a country if you wanted to. Switzerland is one of those countries that you must explore by car! While the public transport system is very well-connected, especially in the flatter northern regions, the flexibility of having a car and being able to venture to the top of mountain roads or to the foot of remote valleys is priceless. So, don't be scared of driving in Switzerland because this is absolutely everything you will need to know for your trip.
Some of these links are affiliate links. This means if you make a purchase through that link, I receive a small commission at no extra cost to you. Read my full disclosure!
Basic Things to Know About Driving in Switzerland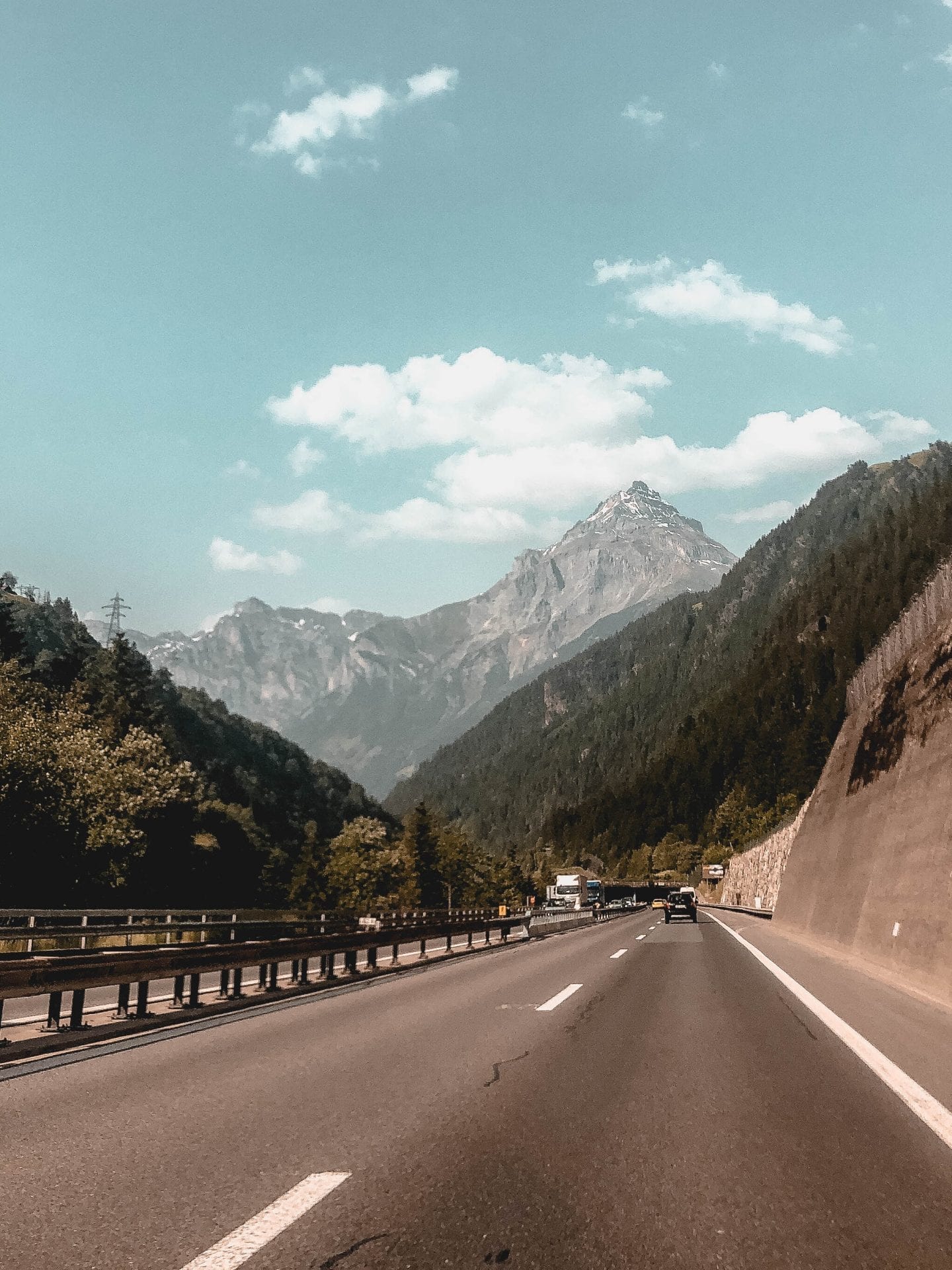 Some of this information may seem obvious, but it's good to go over the basics! Here are some basic questions you may have about driving in Switzerland.
What side of the road do you drive on in Switzerland?
You drive on the righthand side of the road.
Can foreigners drive in Switzerland? What kind of license do you need?
As long as you are 18 years old, you can drive with your valid driver's license for up to a year in Switzerland, before needing to obtain a Swiss driver's license. The license must be in English, German, French, or Italian, otherwise, you'll have to obtain an International driver's license as you will have to do to drive in most European countries.
Is Switzerland part of the Schengen Area? What is the border control like?
Yes, Switzerland is part of the Schengen agreement. This means, specifically in regards to driving in Switzerland, there are no border patrols between it and its neighboring countries of Italy, France, Germany, Austria, and Liechtenstein. You will still see officers at the border, but they do not perform routine immigration checks.
What are some basic driving rules/traffic regulations in Switzerland?
You can only overpass cars from the left, not the right. Pedestrians and public transportation have the right of way. When entering roundabouts, the vehicles coming from the left have the right of way. Seatbelts are mandatory!
What is the blood alcohol limit in Switzerland?
The blood alcohol limit is 0.5%.
Planning a road trip? Create an effective budget and save money with this 8 step process.
---
Renting a Car in Switzerland
Before jumping into more driving rules, it may be helpful to know a few things about renting a car in Switzerland if you are originally flying into Switzerland for your trip.
I always rent with AutoEurope, as I find the best rates on their website which compares car rental companies!
Like most countries and car rental companies, if you are under 25 or 26 years old, there will be an extra fee per day.
Most rental cars will be manual, so make sure to specify if you want an automatic car. They will likely cost a bit more to rent than manual. No matter what car you want, try to book as early as possible for the best deals!
Also keep in mind the size of the vehicle you want to rent. Larger vehicles may be more comfortable to drive on long trips, but they could be difficult to park and take through narrow countryside roads.
---
Vignette in Switzerland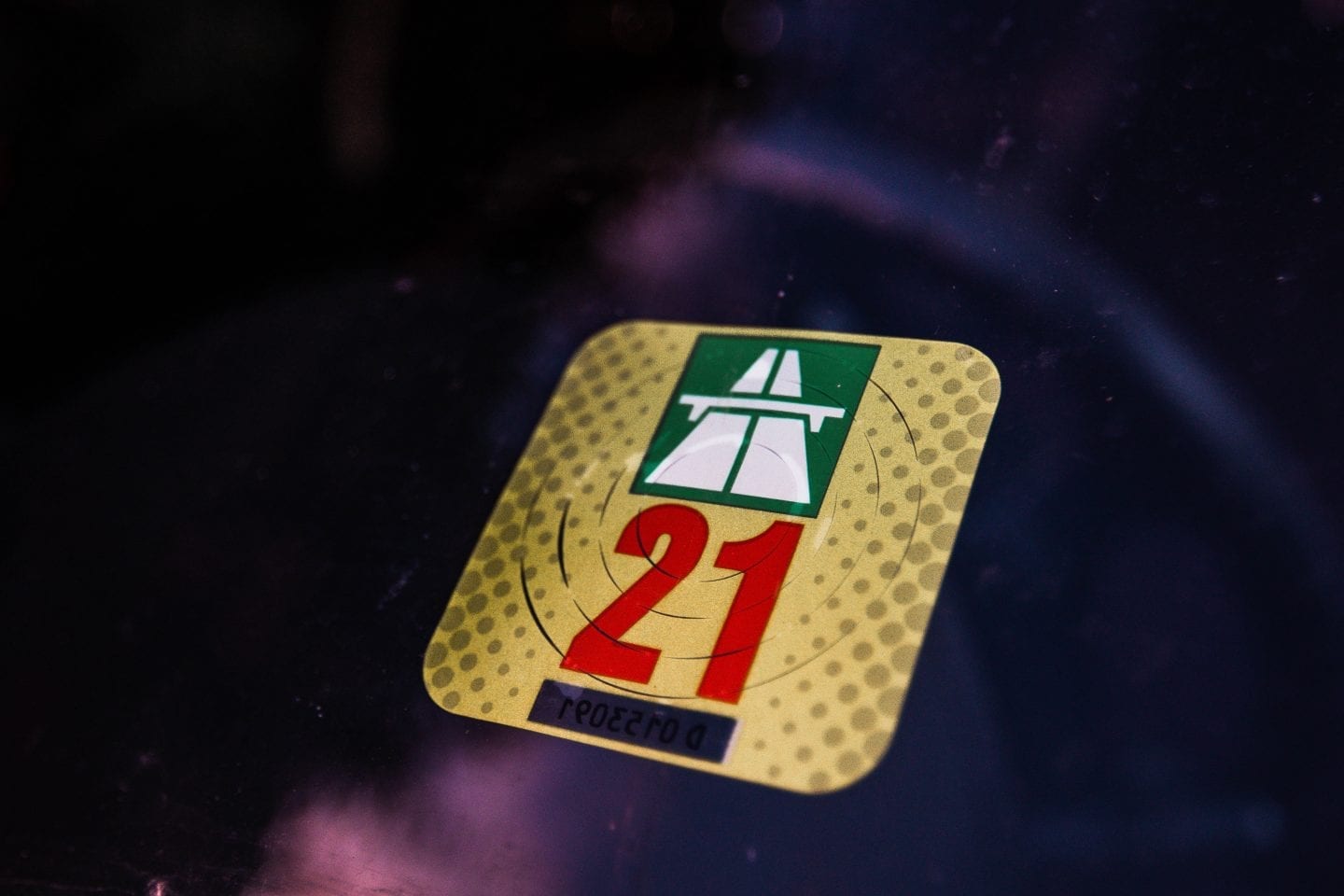 It's extremely likely your road trip through Switzerland will call for some drive time on the highway. The Alps are not an easy place to navigate, so getting anywhere without the highway will take a significantly longer time as you travel up and over the peaks.
The good thing about Swiss highways: there are no tolls. Yay!
But, you do have to purchase what is called a Vignette, required when driving on all Swiss motorways. This sticker goes on the inside corner of your windshield and permits you to use Swiss highways. It costs 40 Swiss Francs (CHF) and is valid until the 31st of January the following year.
So, technically if you travel through Switzerland for a long time or multiple times, it's a cost-effective way to drive. However, it's a necessary evil for those visiting just once who still have to shell out the same 40 CHF even if they don't know how much they will be using the highway.
You can purchase the Vignette at any gas station in Switzerland or, for example, the gas stations at the Italian border if you're coming from that way. It's also available at customs offices on the borders, post offices, and online.
---
Road Conditions in Switzerland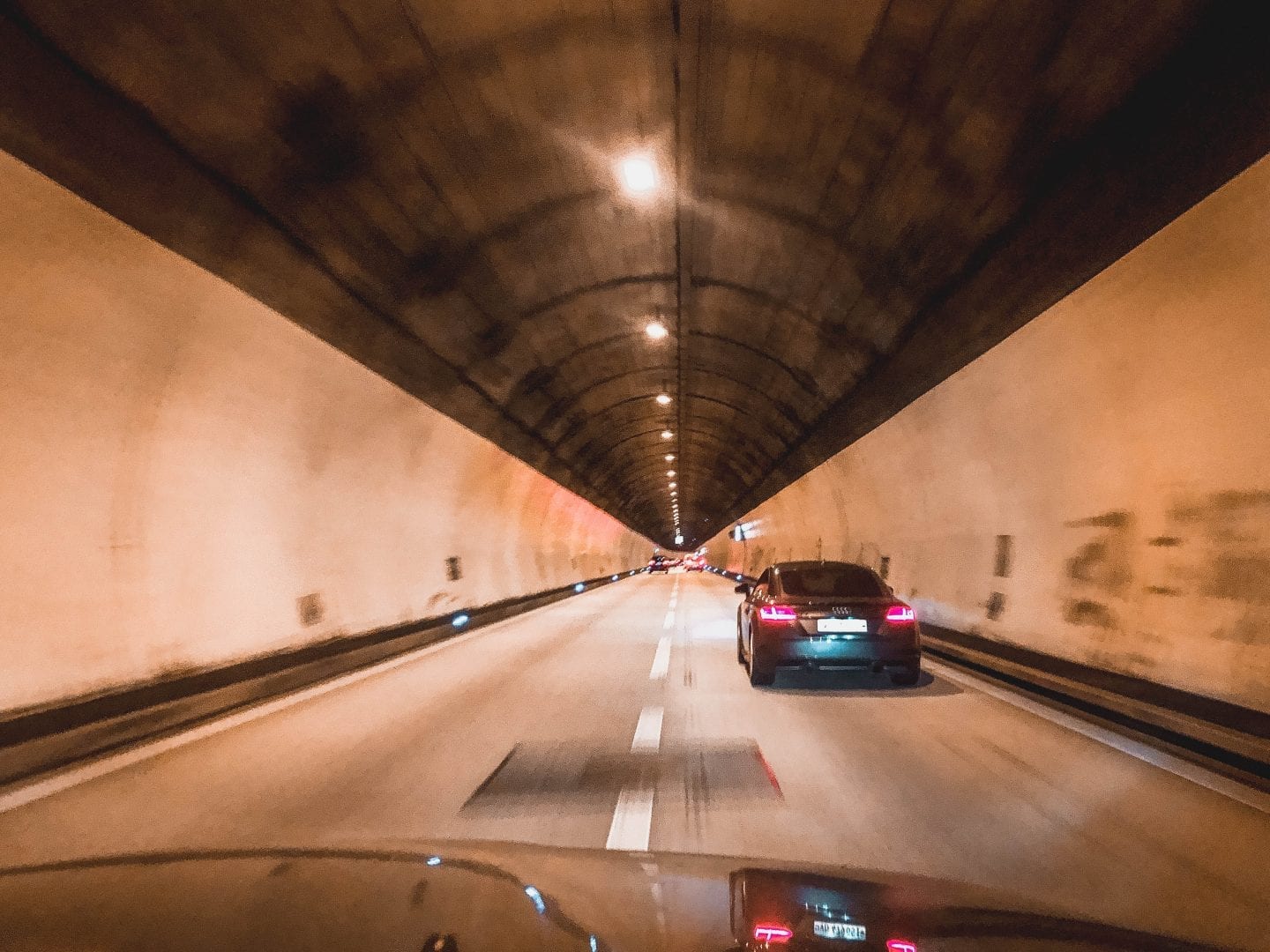 There are a few things to note about the actual roads in Switzerland to help you better prepare for your drives.
Firstly, the streets can be very narrow – even on the highway! The highways are mostly only two lanes, maybe three in places like the bustling surrounding areas of Zurich.
Several times on the highway, the lanes would also split due to construction works. This could get a bit confusing, due to the fact you couldn't tell if you were being directed to a completely different way, for example, an exit. It's not the toughest thing to navigate, but it's something to look out for.
Common throughout the Alps are tunnels – and not just any kind of car tunnels. For example, the Gotthard Pass Tunnel is 17 km long… that's 10 and a half miles!
Be completely sure you have enough gas to get through long tunnels like that one.
When driving through mountain passes (like the famous Furka Pass) it's important to just go slower than usual and avoid passing other cars. You may see locals doing this, but in my opinion, it's not worth the risk!
Mountain roads will typically be narrow, curvy, and steep, so it also helps to have a vehicle (and a driver) equipped to handle the harsh declines and tight turns.
When it snows, winter tires are not legally necessary, but you do have to put snow chains on your vehicle in zones marked "Mandatory Snow Chains."
While driving in cities, especially the large city of Zurich, go slow and pay attention to the lines on turns. The ground is full of tram tracks and bus lanes, so you can easily misconstrue where you should be driving.
Cities also have tons of traffic lights, so be attentive and ready to stop and go as you make your way to your preferred parking area. The traffic lights don't switch straight from red to green – instead, when it's your turn to go they will go from red to yellow to green.
And to wrap up things you should know about Swiss roads, I hope you love roundabouts – because there are a ton of them! When entering a roundabout, the oncoming traffic already in the roundabout has the right of way. Use your signal when you're about to exit the roundabout, not when entering.
---
Speed Limits & Signage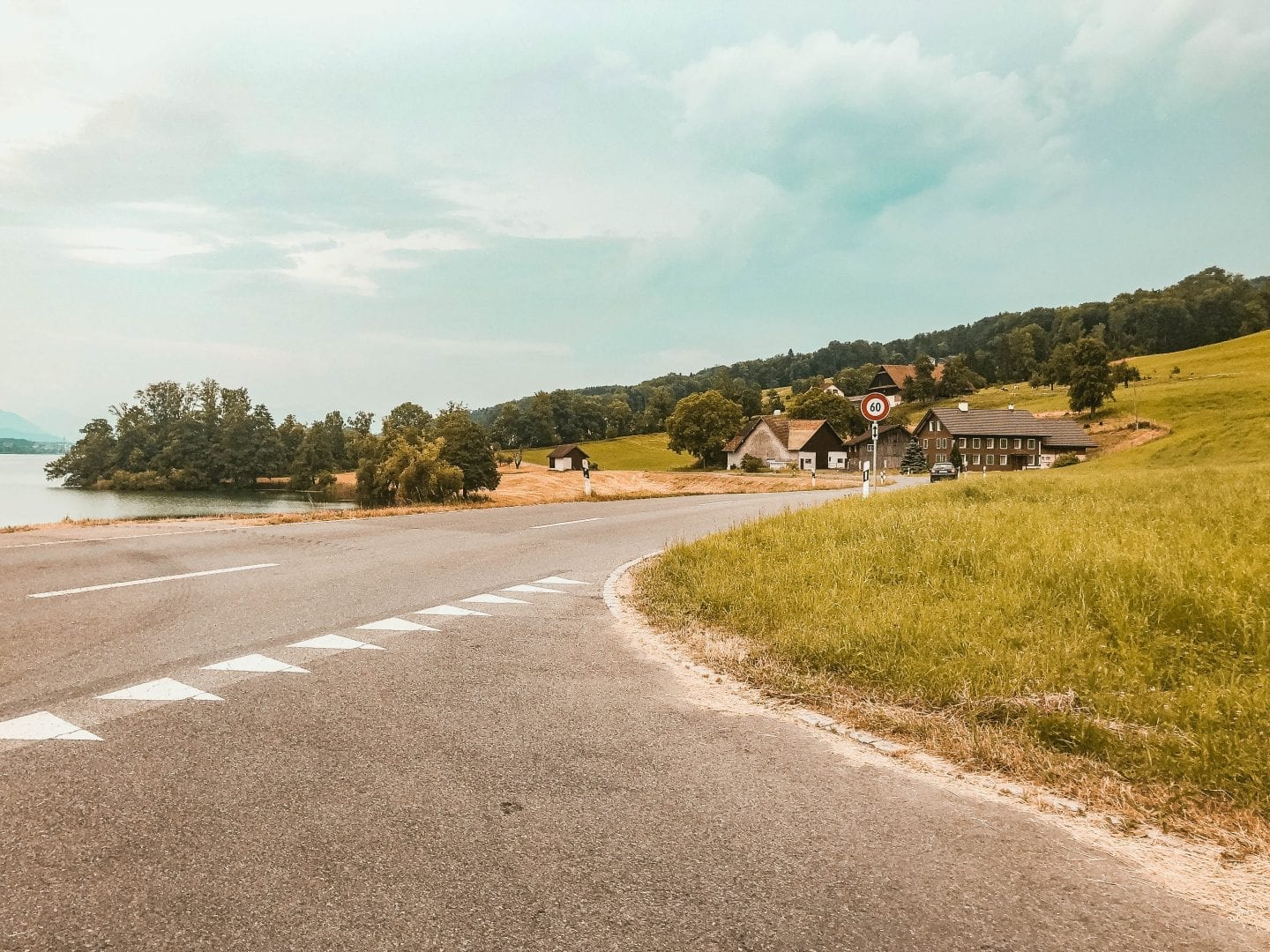 Switzerland is very strict about sticking to the speed limit. However, I personally found there wasn't a lot of signage between areas, especially in the countryside, to let you know what the speed limit was.
Traffic fines are expensive in Switzerland so, especially in residential areas and towns, drive slower than you think you should!
Switzerland uses the metric system. This means speed limits are in kilometers per hour and distances on road signs are also in kilometers.
In cities, you may find busy intersections confusing in indicating which lanes you were supposed to be in. With bus lanes, tram tracks, and bicycle lanes to avoid, pay extra attention to where you're heading on your turns.
If you want a complete look at Swiss road signs before you embark, Wikipedia has the ultimate breakdown.
---
Gas Stations & Prices in Switzerland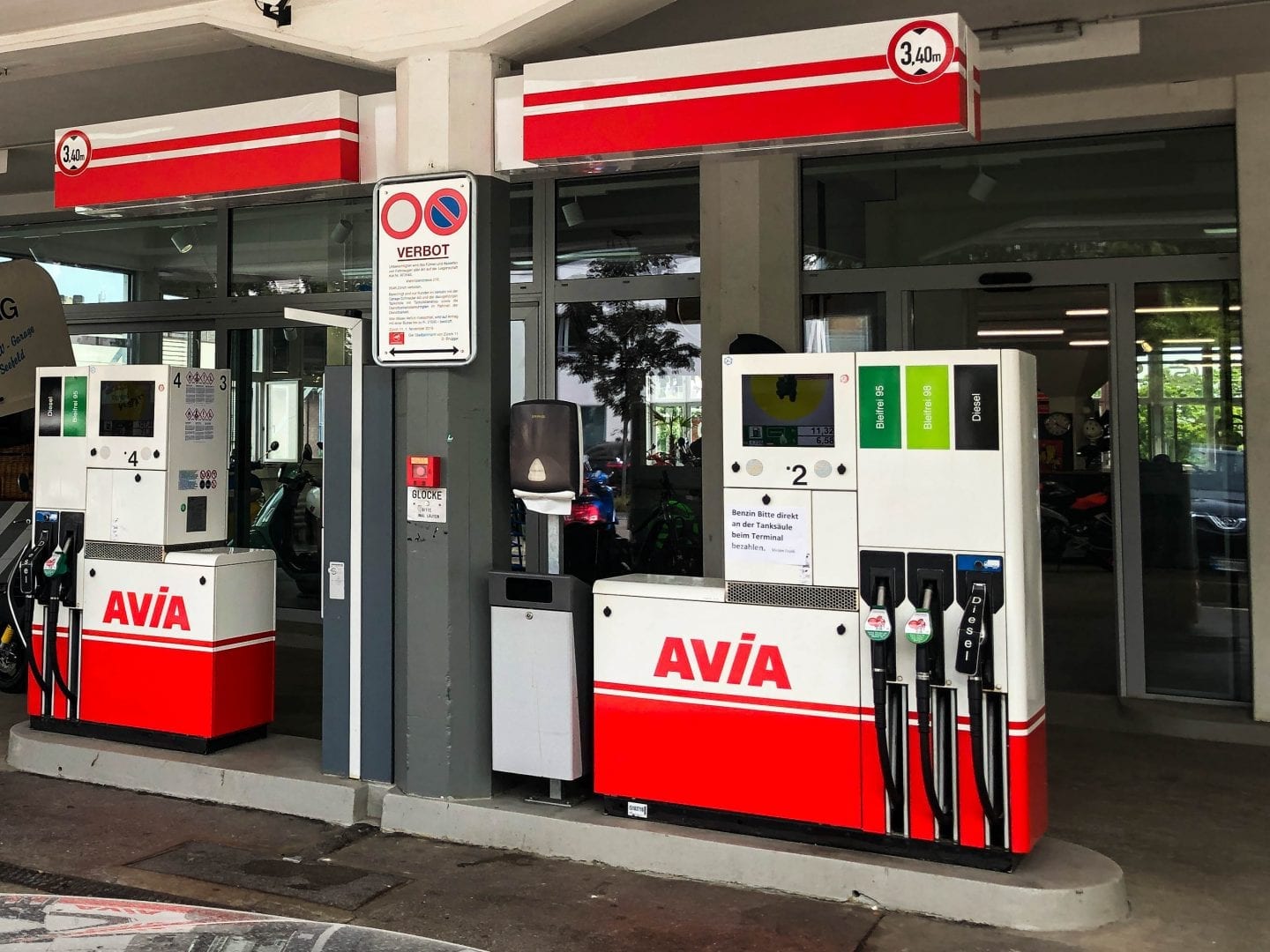 In Europe, the price for gas is calculated per liter. If you're traveling from the US, a liter is about a quarter of a gallon. So, when you see the prices for gas, don't get too excited – 1.50 per liter is technically 6 dollars per gallon.
Pro Tip: Utilize Via Michelin, a route planner tool, to calculate how much fuel you'll use and estimate the total cost for you based on your route and the make and model of your car.
Gas stations on the highway in Switzerland are accommodating. Large parking lots and lots of food options make them great for pitstops. I was often unable to connect to WiFi at gas stations, so have a plan in place for communicating and navigating without it. Plus, you had to pay to use the restroom – so if you don't have a coin on you, you're going to have to hold it!
Gas stations in the cities and countryside areas may not always offer food or bathroom amenities. There may just be pumps!
Another Pro Tip: Our vehicle used partially natural gas or LPG. If your vehicle takes this natural gas, know that LPG stations are few and far between in Switzerland. Plus you need to ensure you have a German standard adapter for it to work.
---
Parking Practices in Switzerland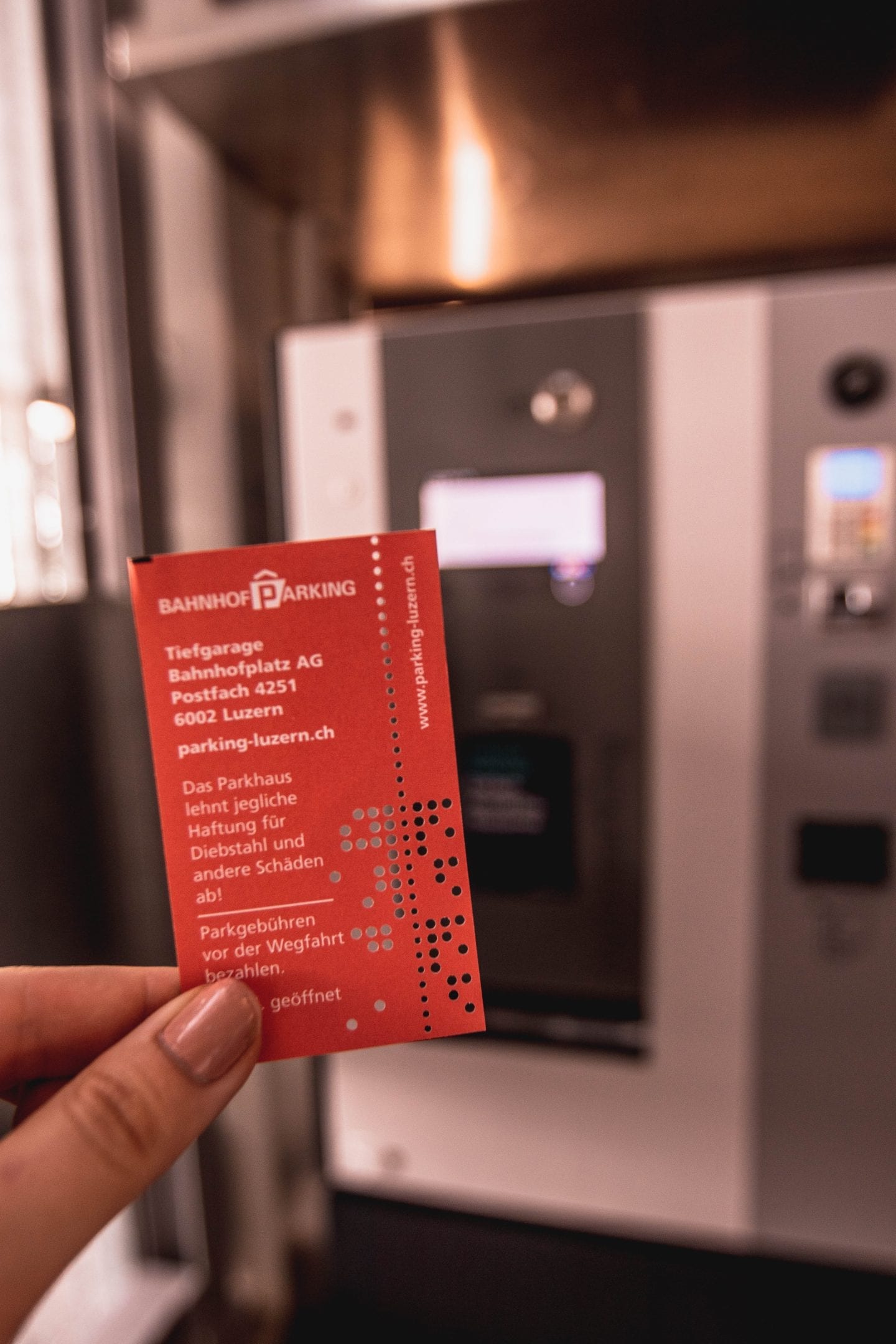 Where Can You Park as a Visitor
Switzerland has a system of colored parking spaces that denote who can park where.
Blue parking spaces are free to park in for up to 90 minutes. However, you must have an EU parking disc (most rental cars will come with one.) With this, you'll set the time you arrived and place it in the dashboard.
Yellow parking spaces are only for residents.
White parking spaces are metered spaces you can pay to park in.
The easiest places to park in cities, but not always the cheapest, are parking garages. The facilities are typically clean, although sometimes the parking spaces can be narrow. Typically you'll take a ticket at the entrance, keep that ticket with you, and then insert it into a standalone pay machine in the garage before you arrive back at your car. Then, insert the paid ticket as you are leaving.
Parking Prices
In cities, parking can be very expensive. Most parking garages in Zurich, for example, start at 5 CHF per hour.
In smaller cities like Lucerne, parking is a bit cheaper, around 3 CHF per hour.
---
Final Thoughts & Extra Tips for Driving in Switzerland
I hope this practical guide was packed with helpful information so you can be a little less stressed and a lot more excited for your upcoming trip!
To wrap it up, here's some extra tips and thoughts to keep in mind to best prepare you for your driving:
Download offline maps before you start on your route. The free WiFi options never worked with my phone, so don't rely on them completely for navigation. You could also purchase a SIM card so that you have data while roaming Switzerland through their provider Swisscom, or pay extra on your phone plan to use data internationally.
Have coins on you to be able to use the restroom at rest stops. Yes, you have to pay to use them!
Pack snacks from the grocery store because rest stops and gas stations are very expensive places to buy food.
Take photos of your rental car before you leave the facility so you have your own evidence of what damage/scratches were there before you used the vehicle.
Do lots of research on parking and car-free zones. A lot of mountains towns actually don't allow cars at all, so you'll want to have a plan in place for where to park and how you will get around in these areas.
Last but not least, enjoy the ride! Be spontaneous and make stops at pretty places you see while on the road. The flexibility to adventure however you'd like is the best part about traveling by car!
Have any more questions about driving in Switzerland? Leave a comment and I'll share more of my personal experiences!
Save these helpful tips to Pinterest!
Switzerland is one of the most scenic countries to explore by car in Europe. Take moments on your drive to enjoy your beautiful natural surroundings!
XOXO
Michela