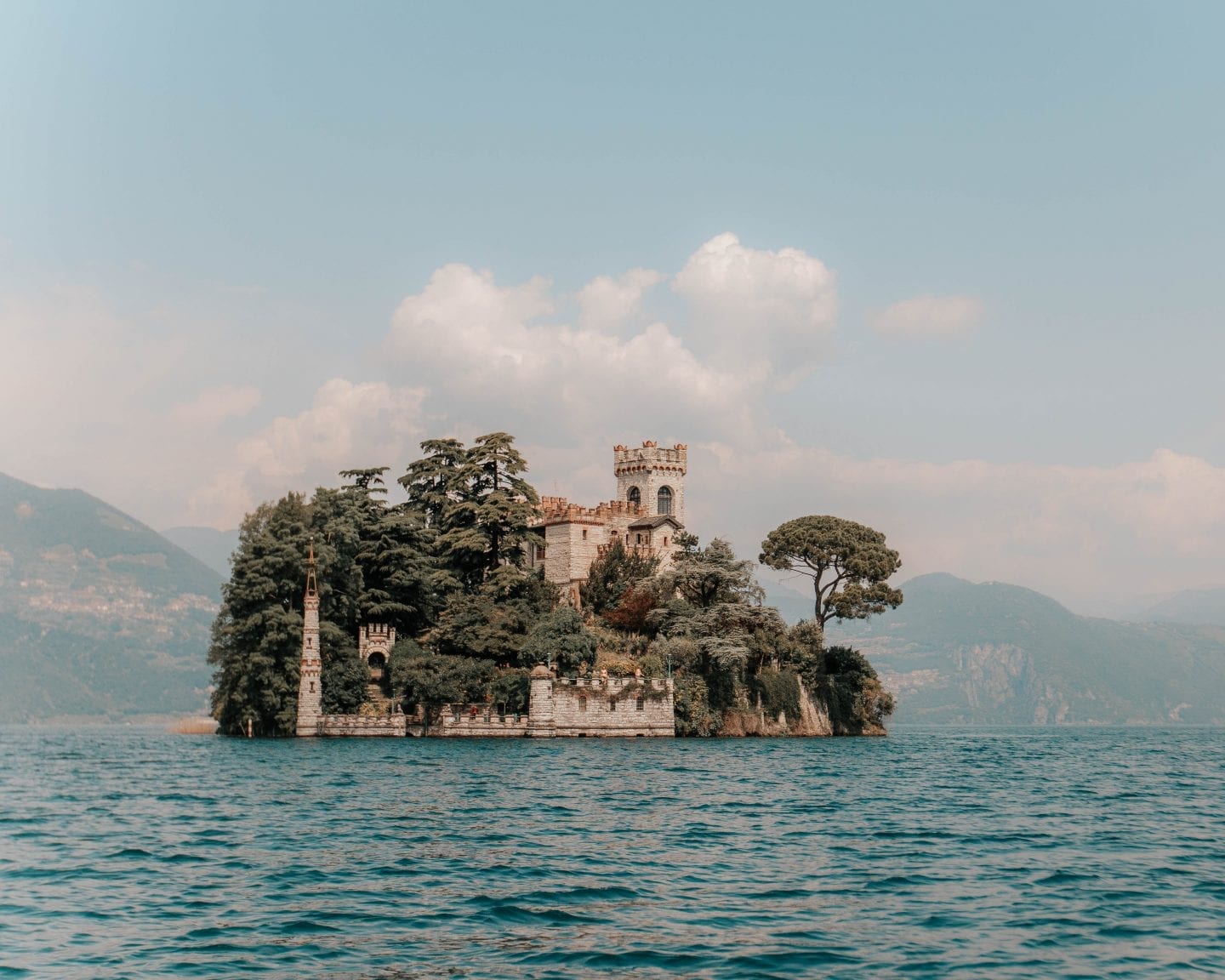 Last Updated on May 7, 2023
Milan is the perfect Italian city to make your home base, due to its wide array of transportation options and proximity to some of the most beautiful spots in the northern corners of the country. Plus, planning day trips is one of the best ways to make the most out of your trip to Italy itinerary. Make good use of those extra couple days in your trip plans to explore beyond the city and venture into famous and hidden gem spots alike in northern Italy with these day trips from Milan.
Milan is the financial capital of Italy, situated in the wealthiest region of Lombardy. The region features all types of geography – from shimmering lakes to the fields of the Po River Valley to the beginning of the Italian Alps.
There are so many beautiful places in Lombardy, but Milan is also easily connected to other regions like Veneto or Liguria. If you don't mind a longer drive or train ride, you can still make places in these regions doable day trips. Reference my complete guide to using trains in Italy so you're prepared before embarking on your day trip.
Some of these links are affiliate links. This means if you make a purchase through that link, I receive a small commission at no extra cost to you. Read my full disclosure!
The Best Day Trips from Milan
In this travel guide, you'll find not only a description of each place, but also a breakdown of your best options for transportation from Milan according to each destination.
Some are more easily reached by car, while others are more cost-effective trips using trains. The furthest ones (at the bottom of the list) are more easily accomplished by booking a tour!
Whatever your mode of transportation, they're all covered in this guide. I hope you are inspired by these ideas for day trips from Milan and are able to incorporate some into your northern Italy itinerary!
---
Bergamo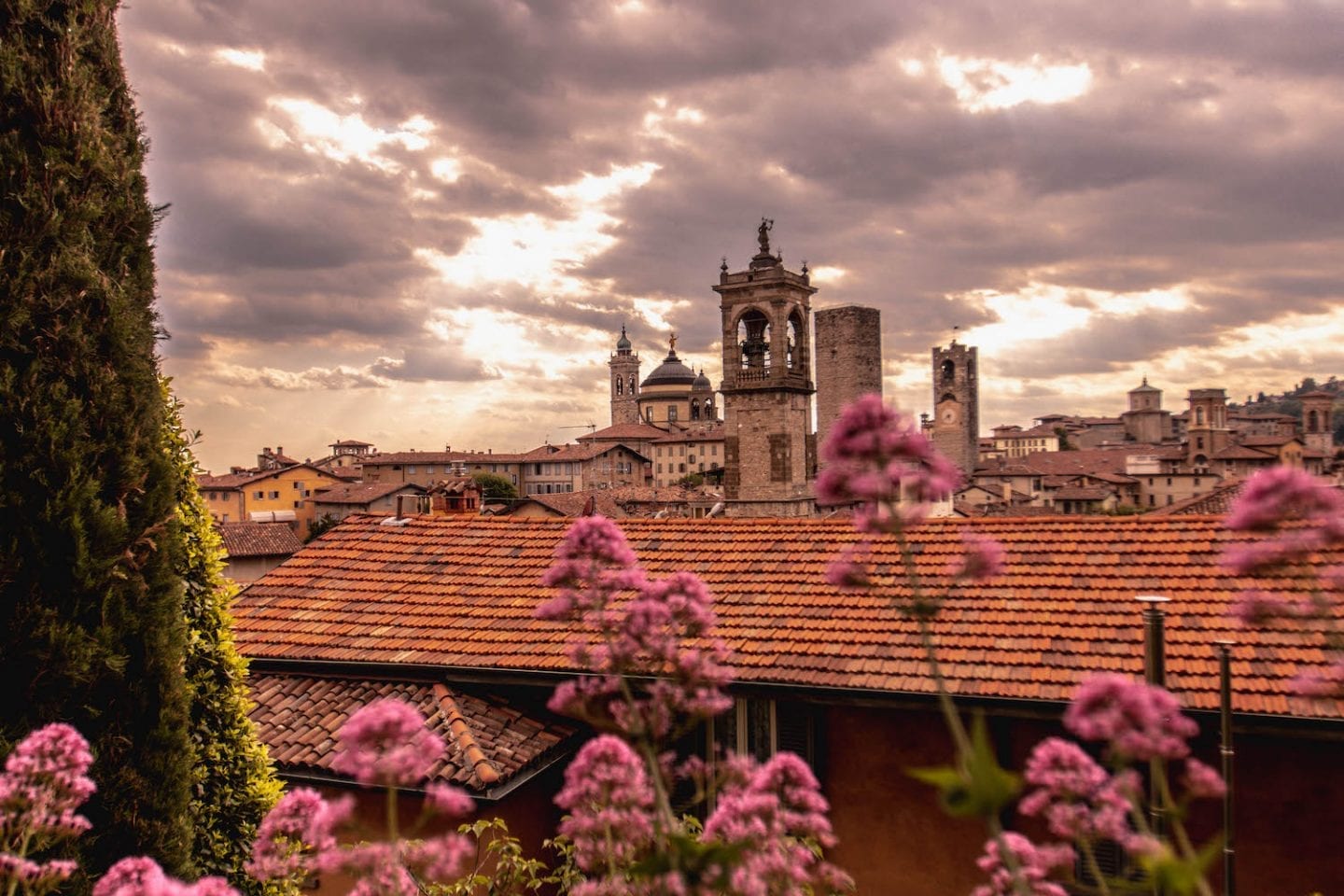 The second-largest city in the Lombardy region is nothing like Milan – which is why it's an incredible day trip.
While Milan's historical structures weave themselves between the modern office buildings and designer shops, Bergamo showcases its place in history more boldly. Entering Città Alta, or the Upper Town, transports you into the past. This hub of historical piazzas, palazzos, and castles are all confined within the 16th century Venetian Walls, once built to protect the city from intruders.
The contrast between past and present is so stark, from the dramatic Medieval hilltop of the old town, with the bustling financial district of Città Bassa below.
I'm lucky to call this beautiful city home, so I compiled the ultimate list of things to do in and around Bergamo if you're thinking about doing this easy day trip.
How to Reach Bergamo from Milan
Bergamo is one of the easiest day trips from Milan to make, which is why it tops the list.
You can take a regional train from Milan to Bergamo for around 10 euros roundtrip, with the journey lasting 45 minutes to an hour, based on what kind of train you take. I recommend the route from Milano Centrale to Bergamo Stazione, as these stations are the main stations in their respective cities, therefore centrally located so you can waste no time exploring!
Flixbus also connects Milan and Bergamo for as little as 5 euros roundtrip. Plus, you can always travel by car using the A22 Highway. Just remember you'll have to pay tolls and parking fees if you choose that option.
---
Lake Como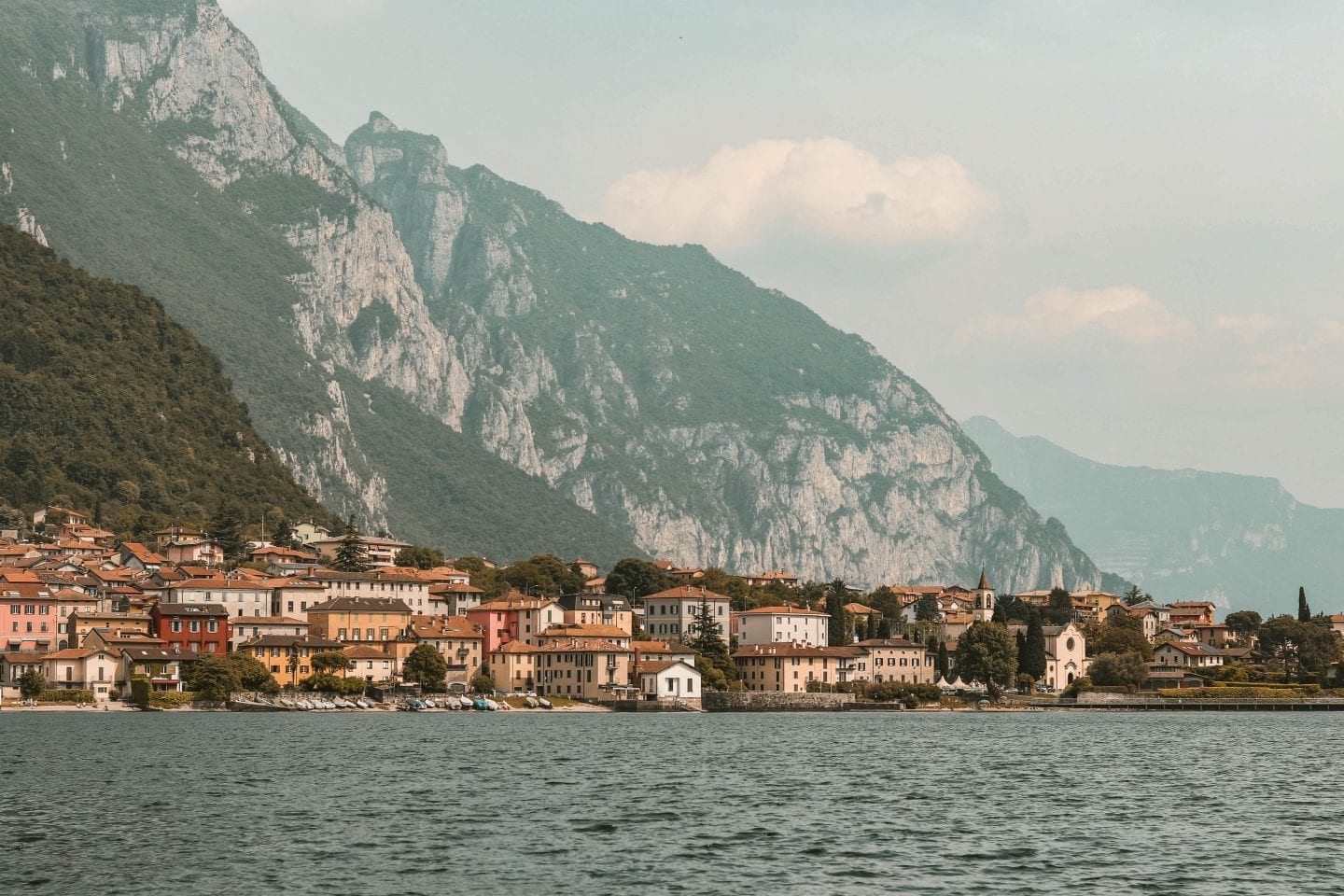 Everyone has Lake Como on their bucket list – and it's easy to understand why. Between the luxury villas, the brightly colored towns, the mountains framing each curve of the lake, every detail of this part of northern Italy is magical.
It's exactly what you picture Italy to feel like, and while it can be a luxurious destination, there are ways to do Lake Como on a budget. You can do everything from renting a boat if you're a water baby or stick to exploring the small, yet popular, towns nestled on the shoreline.
The towns of Varenna and Bellagio have to be high on your list – both boast stunning views and aren't too far from each other, so you can fit them into one day.
How to Reach Lake Como from Milan
Lake Como is north of Milan. The journey is about 50 minutes to the southernmost part of the lake and one of the main cities, Lecco.
If the train is your transportation of choice, I recommend the Milan to Lecco route as the easiest starting point for traveling around the lake. In my opinion, Lecco is also a prettier city that's less trafficked by tourists than Como.
From Lecco, you can take a ferry to reach towns like Bellagio, Varenna, and Menaggio. Tickets will be from 5-8 euros one way, depending on which season you are traveling in.
If you navigate Lake Como by car, keep in mind that parking can be limited in small towns. Plus, you will be restricted to just one side of the lake – unless you pay to take your car on the ferry transport.
I would suggest also starting your journey in Lecco with a car, as there will be more parking options available. Then you can take the ferry around the lake from there. However, overall, this day trip is probably more suitable to a combination of train and ferry for budget-friendly and easy transport.
And if all that transportation information gives you a headache, you can leave it up to the professionals and book a day trip tour from Milan to Lake Como!
---
Parco di Monza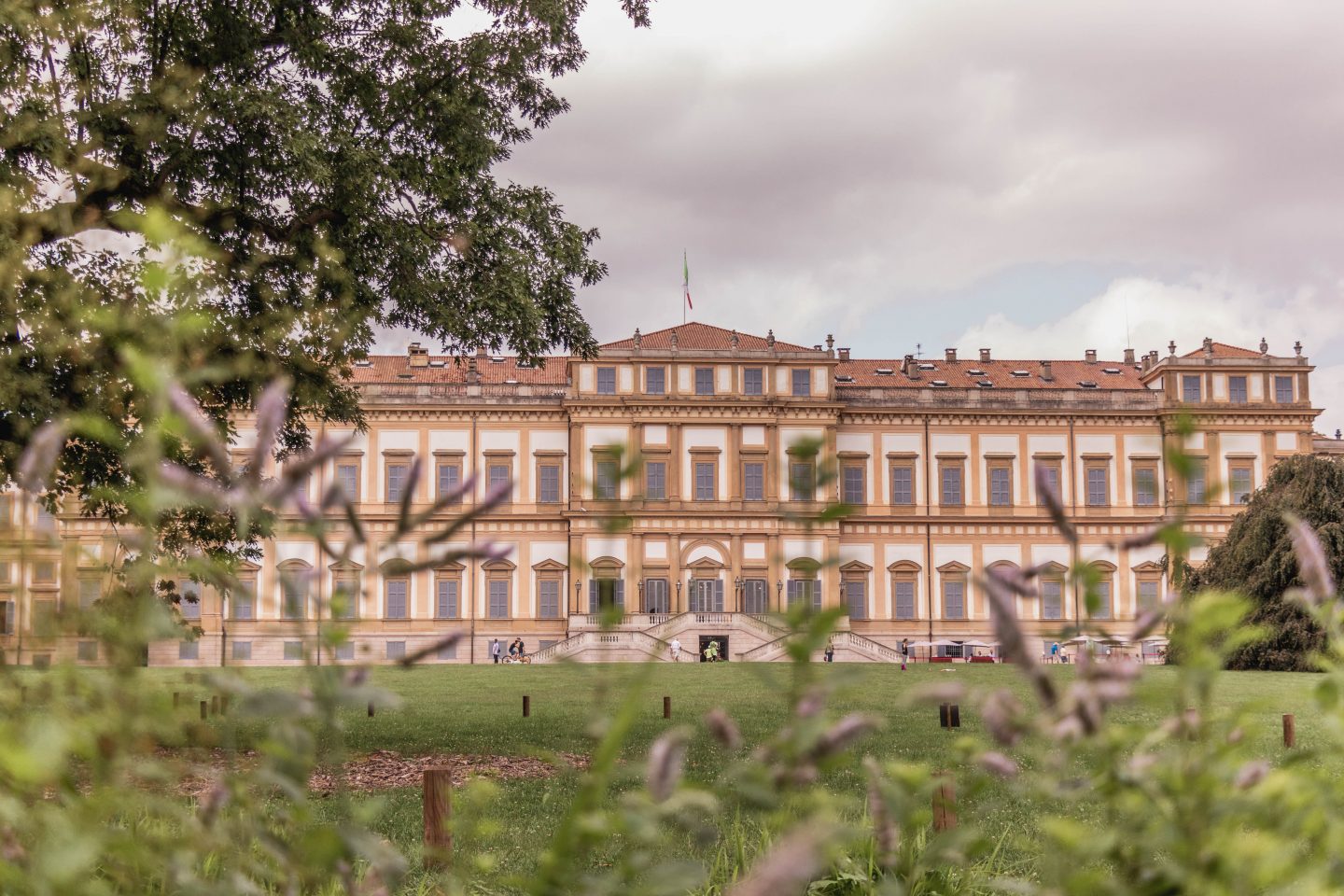 If you want to get outdoors but aren't much of a sportsman, then a relaxing day at Parco di Monza, or Monza Park, could be a perfect day trip or afternoon break from the bustling city of Milan.
Parco di Monza is twice the size of central park – it's HUGE!
With beautiful little lakes, wide tree-lined promenades, and the grand Villa Reale, Parco di Monza has a lot to offer. It's particularly ideal for families to let their kids explore or couples looking to take romantic strolls throughout all of the greenery.
I recommend this day trip for those looking for something light and carefree to do – the park if beautiful, but it's not a bucket list destination to visit. It's also ideal if you're spending an elongated time in Milan, for example, studying abroad or working.
How to Reach Monza from Milan
Monza is actually the closest out of all the day trips from Milan. The city is the next major city outside of Milan. In the next years to come, it will conveniently be connected to Milan's metro, but for now the easiest way to reach Monza from Milan is by car or train.
---
Lugano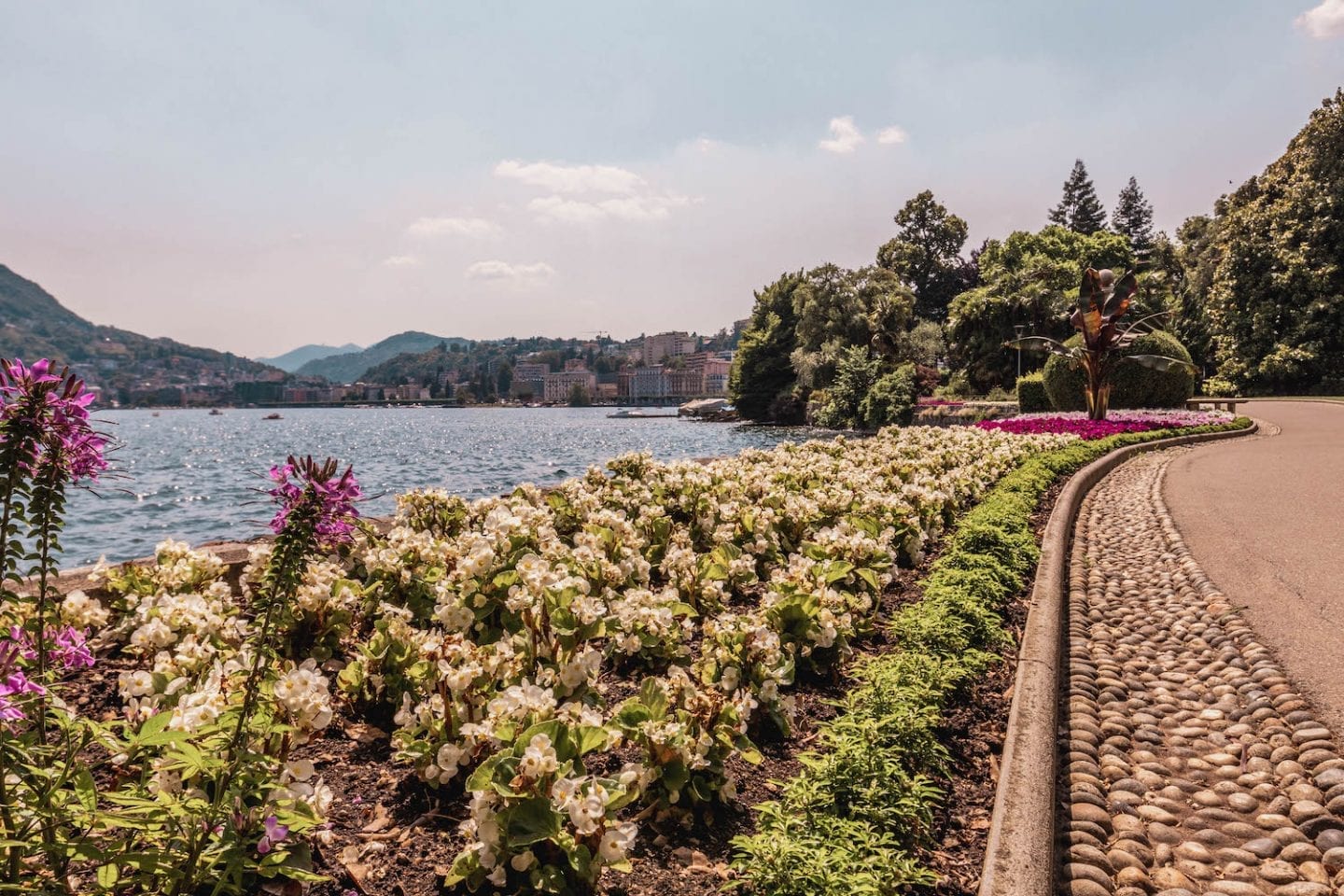 Why not go to a different country for a day if you have the chance? One of the coolest things about being in northern Italy is realizing how close you are to the countries of France, Switzerland, and Austria. Switzerland is especially close to Milan – only one hour away.
The southernmost part of Switzerland is the Ticino canton, or region. It's actually Italian-speaking, so even if it says you're in Switzerland, you may still feel that Italian energy from the scenery and people around you!
Lugano is one of the main cities of this region, on the banks of Lake Lugano (which also stretches into the Italian border.)
You will fall in love with the glitz and glamour of Lugano, from its beautiful lakeside promenade to the high-end stores and casinos. Make sure to make the short (but steep) walk to the Cathedral of Saint Lawrence for a beautiful view over the city.
Also consider day tripping to the Swiss Alps using the Bernina Express. This iconic red panorama train has routes that start in Italy that go through the Swiss Alps and then return within the day! Find out everything you need to know in my guide to riding the Bernina Express train.
Also check out Locarno, Switzerland, another beautiful city in the Ticino region and easily reachable from Milan!
How to Reach Lugano from Milan
To reach Lugano from Milan, you will obviously have to cross the border. Check ahead of time that you have the right documentation to enter Switzerland.
Switzerland is part of the Schengen Area, so they are in agreement with other European countries to not have border controls. There still is border control, but they likely won't stop you when crossing over because of this agreement.
Things get much more expensive when traveling in Switzerland, so it's more cost-effective to take a train. You can travel from Milano Centrale Station to Lugano starting at 15 euros.
You would definitely spend more on gas money and parking fees!
But driving in Switzerland has its ups too, as you can personalize your itinerary more.
If you are really strapped for time, you can actually visit Lugano and multiple towns on Lake Como in one day with a tour! It's a more expensive option, but it's a stress-free way to travel that guarantees you'll see a lot in one day.
---
Val Brembana/The Italian Alps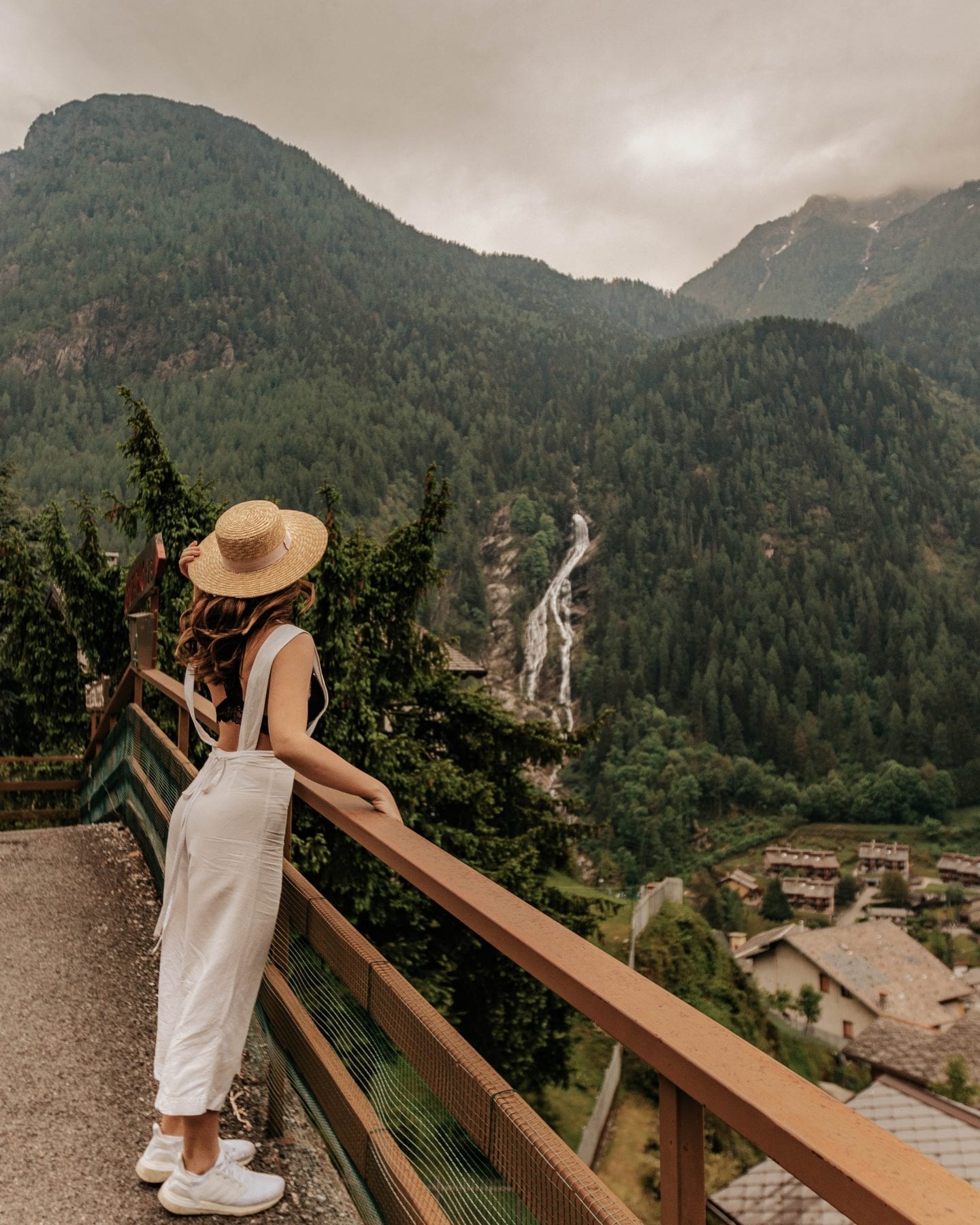 One of the wonders of the northern regions of Italy is being set at the foot of the Alps.
The truth is, there are many areas to explore the Italian Alps that are reachable from Milan. Even Lake Como is technically part of them!
But if you really want the feeling of exploring the mountains, then my favorite spot is Val Brembana.
This valley is north of Bergamo and features towns like San Pellegrino Terme, famous for the San Pellegrino water, and Branzi, famous for its local cheese.
But there are also tiny hidden gem mountain towns like Cornello dei Tasso and the Laghi Gemelli, two lakes that you can hike to high up in the peaks. You'll even see tons of waterfalls!
How to Reach Val Brembana from Milan
Val Brembana is about a two-hour journey from Milan by car, which would be how I recommend you get around.
The valley is obviously mountainous and as you venture further into the Alps, the towns are small and hard to reach.
Therefore, traveling by train is not a viable option!
It may be one of the more difficult day trips from Milan to make, but the scenery is well worth it.
---
Verona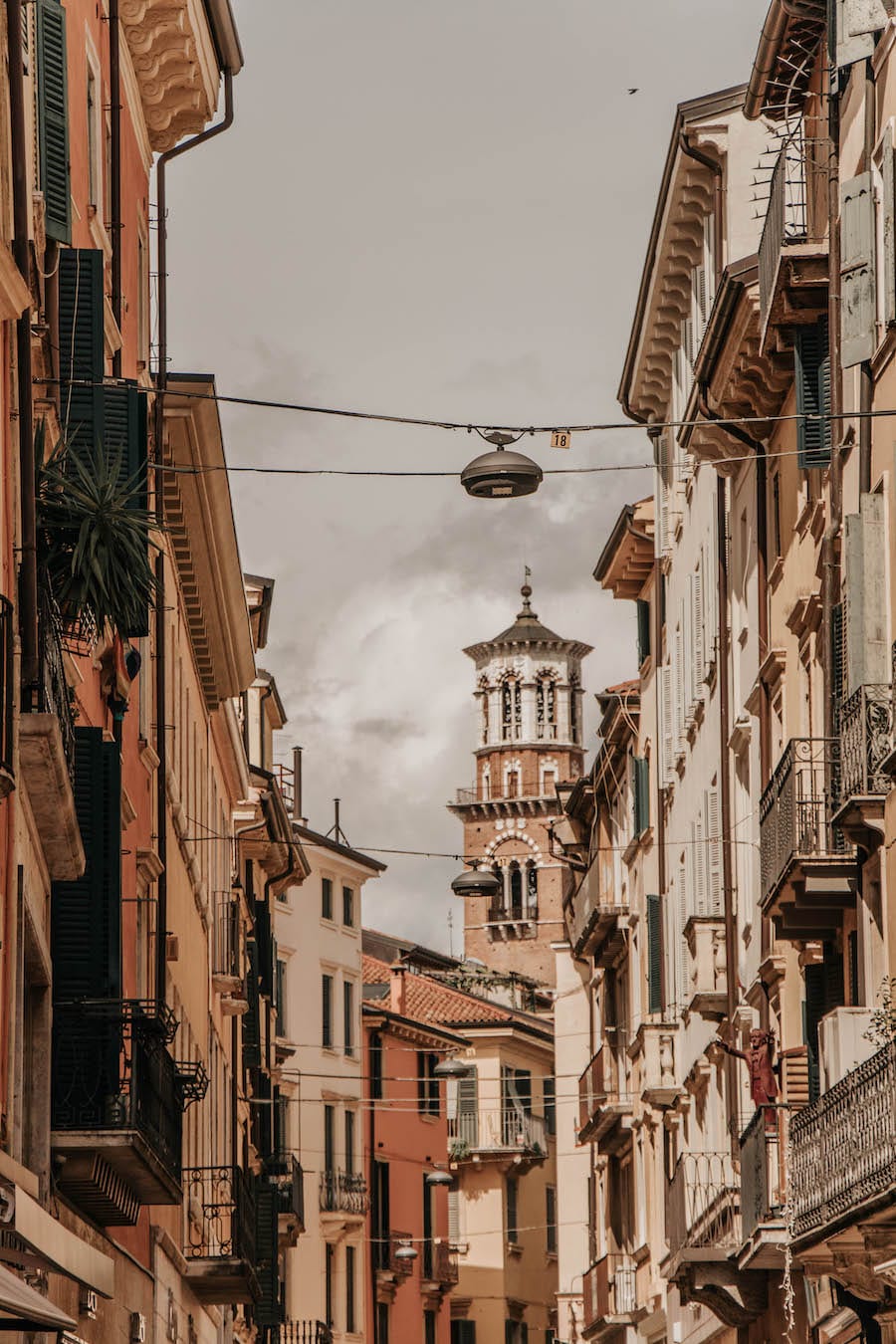 Venture into a new region on one of your day trips from Milan, Veneto. One of the most beautiful cities in this region of romance is Verona.
Coined Italy's City of Love, Verona is the home of opera and the setting of Shakespeare's Romeo & Juliet. There are so many amazing things to do in Verona – from visiting the Casa di Giulietta and seeing Juliet's balcony to exploring the vibrant squares of Piazza Bra and Piazza delle Erbe.
My personal favorite is making the climb up to Castel San Pietro on the other side of the Adige River and taking in the panoramic view over the rose-colored city. It is a must-do!
How to Reach Verona from Milan
Verona is a two-hour drive from Milan. This drive is all highway, so it's a nice and easy day trip to navigate. Park at Parcheggio Porta Palio, which is free – unlike most parking in Italy's cities!
The two major cities are also connected by train and bus if you don't have a car at your disposal.
A unique way to visit Verona and the next destination I'm about to mention all in one day is to book a tour! While booking tours can be more expensive than DIY-ing your day trips from Milan, they can be way more time-effective. You won't have to worry about navigating the roads yourself or dealing with multiple public transportation changes.
This tour takes you to Verona and Lake Garda in one day from Milan, maximizing your itinerary.
Pro Tip: Verona is a walkable city, but still wear comfy shoes. You'll be walking on lots of uneven cobblestones in the historic center!
---
Lake Garda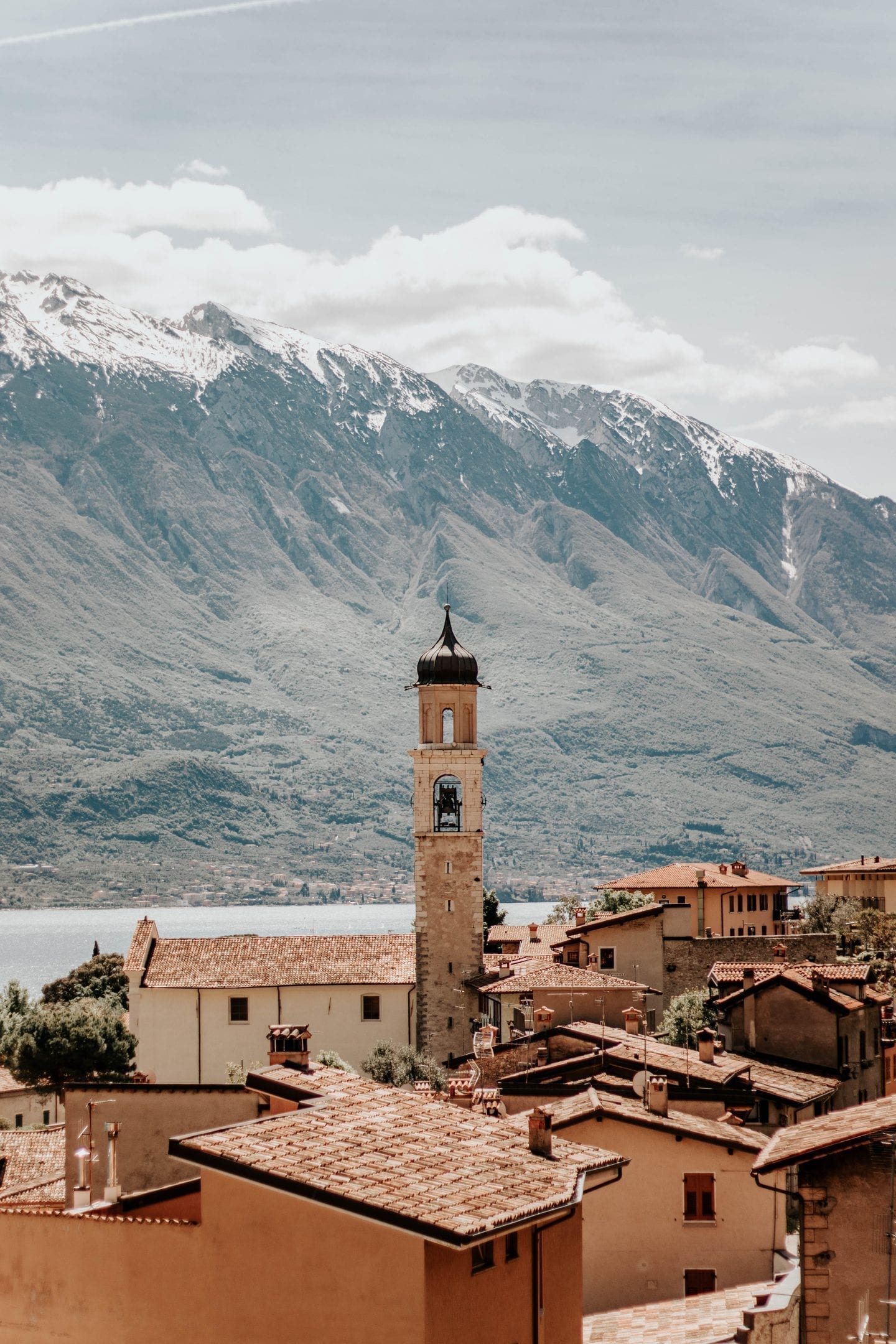 Because Lake Como boasts the Insta-fame for its gorgeous villas and the celebrities who flock there on vacation, Lake Garda happens to be underrated. It's the largest lake in Italy and while there's no shortage of visitors or tourists in the high season, the extra space still makes it comfortable to explore and enjoy.
The lake is so large that it is in three regions of Italy – Lombardy, Veneto, and Trentino Alto-Adige. The closest towns to Milan are those in the Lombardy region – Limone sul Garda or Salò, for example.
I've already covered the best towns to visit on Lake Garda, so reference that post if this spot is on your bucket list. However, the ones I would recommend as must-visit spots are Sirmione and Limone sul Garda.
How to Reach Lake Garda from Milan
Due to the mountainous terrain, there are only a few spots that you can reach Lake Garda by train. On the southern end of the lake, you can arrive at the stations Desenzano del Garda Sirmione or Peschiera del Garda.
On the northern end is Rovereto, but arriving here is still quite a distance from the lake itself. As a day trip from Milan, you can maximize your time better by exploring the southern end of the lake. In either case, you will probably still need to take public buses or the ferry (timetables here) to reach nearby towns.
If you have a car, you can be much more flexible with your itinerary. You can drive up the western coast of the lake to visit towns like Limone sul Garda, Riva del Garda, or Gardone, where there is Mussolini's villa (for the history buffs!)
---
Lake Iseo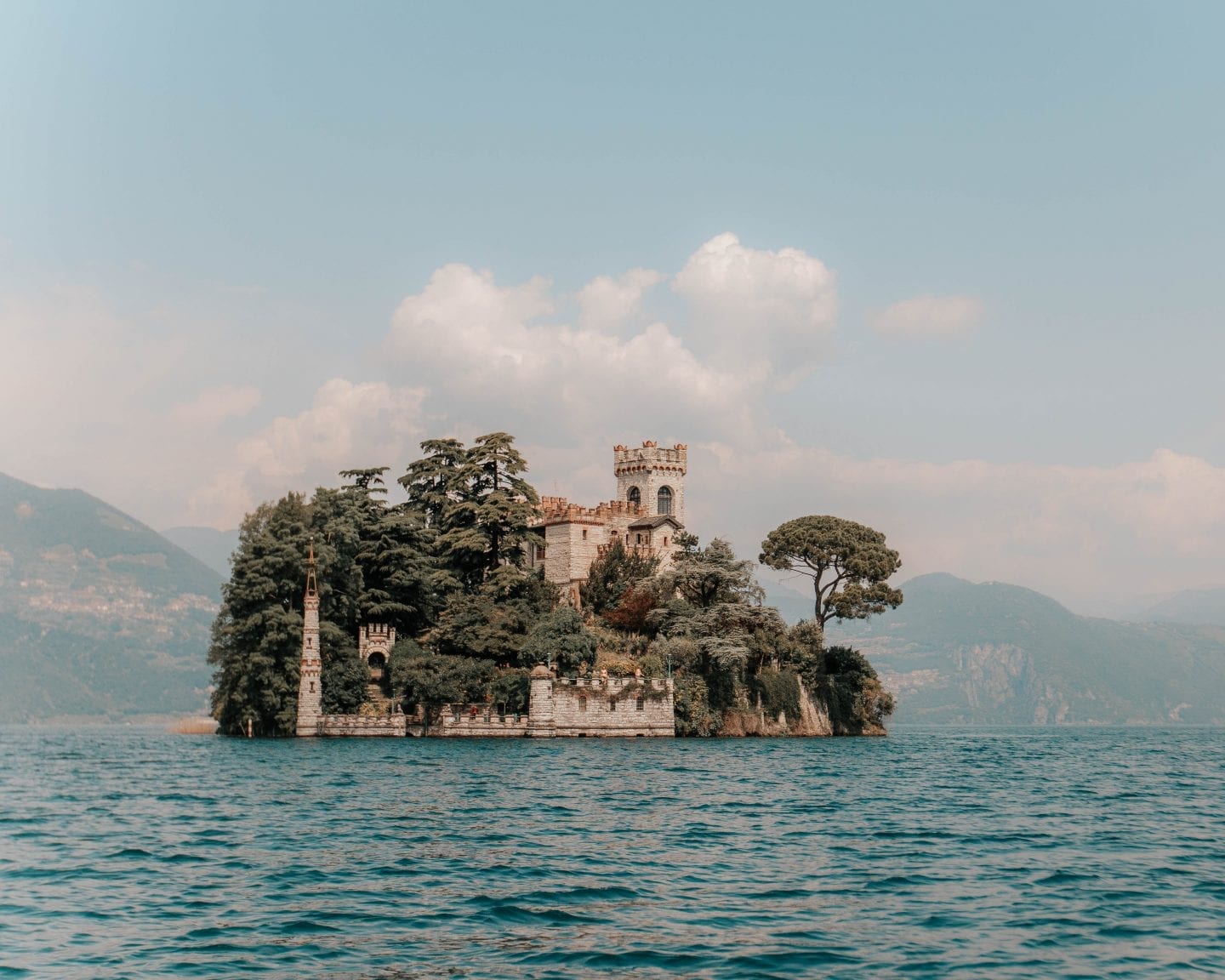 There are quite a few lakes on this list, but that's because this is Italy's lake region! They are all uniquely beautiful and if you're one to go off-the-beaten-path, then you'll adore Lake Iseo.
See my full travel guide on Lake Iseo for planning your visit!
Being that it's a smaller lake than the others, you can maximize your time and explore a lot in one day. What makes Lake Iseo extra special is that it has a massive island in the middle of the lake – the largest island in a lake in all of Europe, called Monte Isola.
The best way to explore Lake Iseo is by boat, so if you can rent one for a day, go for it! It's a magical moment to drift right up to the tiny communities on Monte Isola and take in the size of this natural mountain formed in the middle of the lake. Plus, there is the Isola di Loreto nearby, an island with a castle.
Towns like Sarnico and Lovere are wonderful starting points at each end of the lake, south and north respectively.
If you can fit it in, I also recommend ending your day with an aperitivo at a unique bar that's on a dock, Darsena21. The hanging lanterns glow against the sunset as you sit beside the water enjoying a Spritz – it can't get more Italian than that!
How to Reach Lake Iseo from Milan
Lake Iseo is most easily accessible by car. The drive takes up to two hours, depending on which town you want to stop in.
Sarnico, the southernmost point, is the closest to Milan, but not connected by ferry. If you plan to ferry around the lake rather than drive, then consider Predore as a starting point.
Without a car, you can take a combination of train and bus to reach Lake Iseo. The journey could take up to 3 hours, so I would suggest skipping a Lake Iseo day trip if you don't have a car this time and fit it in on the next trip!
---
Crespi d'Adda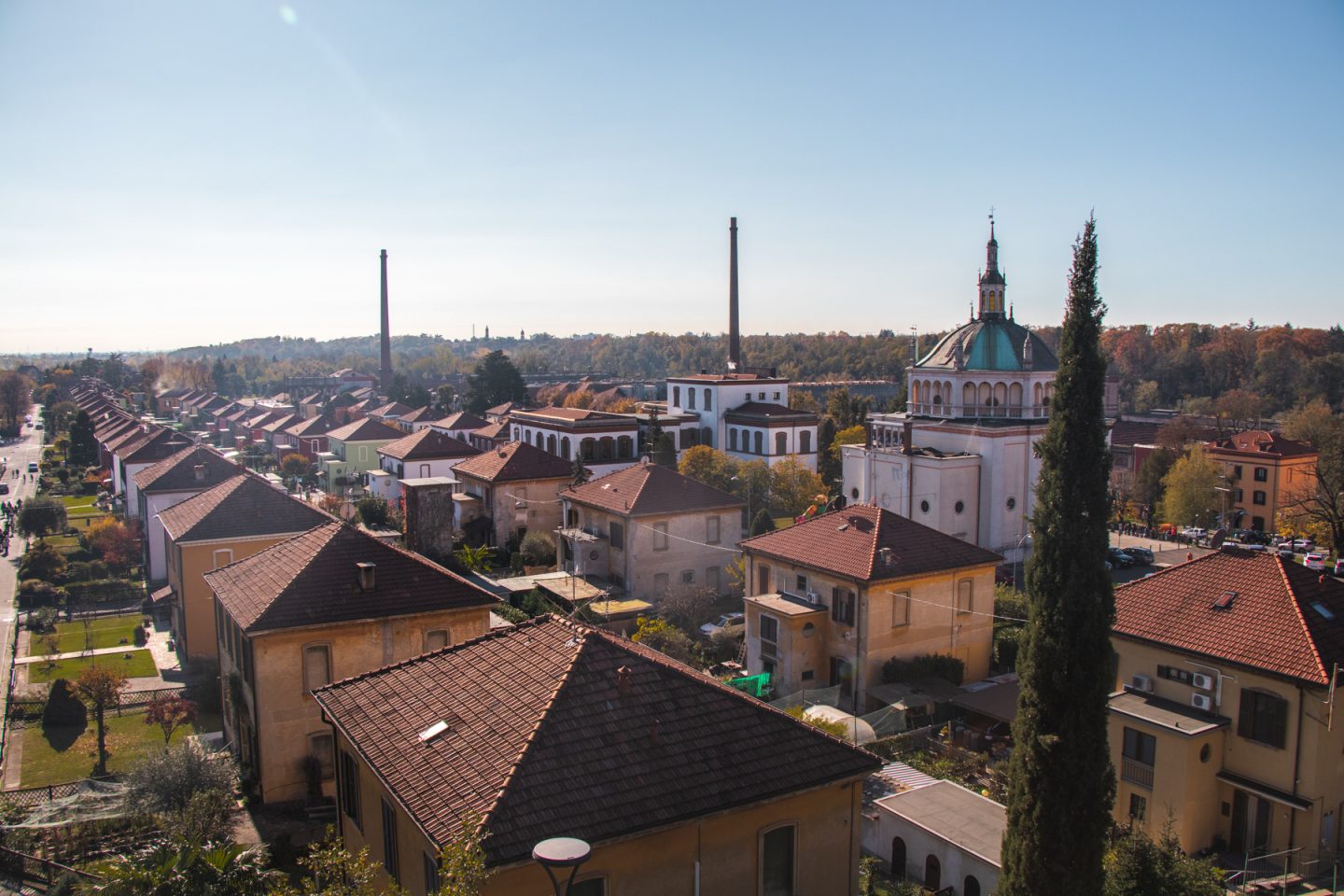 Forty-five minutes from Milan, in the province of Bergamo, is an UNESCO World Heritage Site and hidden gem of northern Italy. Add the town of Crespi d'Adda, a municipality of Capriate San Gervasio, to your list of day trips from Milan.
Crespi d'Adda is an Industrial Age town built in the early 1900s by Cristoforo Benigno Crespi, a cotton manufacturer. The town was designed to host the workers at his factory, providing them housing, community buildings and more.
Today you can visit the old buildings of the Industrial Age-style designed by architect Gaetano Moretti and the surrounding areas of the Adda River valley, like the Taccani Hydroelectric Plant and Castello Visconteo in Trezzo sull'Adda.
How to Reach Crespi d'Adda from Milan
The only way to reach Crespi d'Adda from Milan is by car. The nearest train stop is in the town of Treviglio, but you still have a ways to go before reaching Crespi d'Adda.
Crespi d'Adda is conveniently close to the A4 highway, so you just take that road east and exit at Capriate.
---
Bologna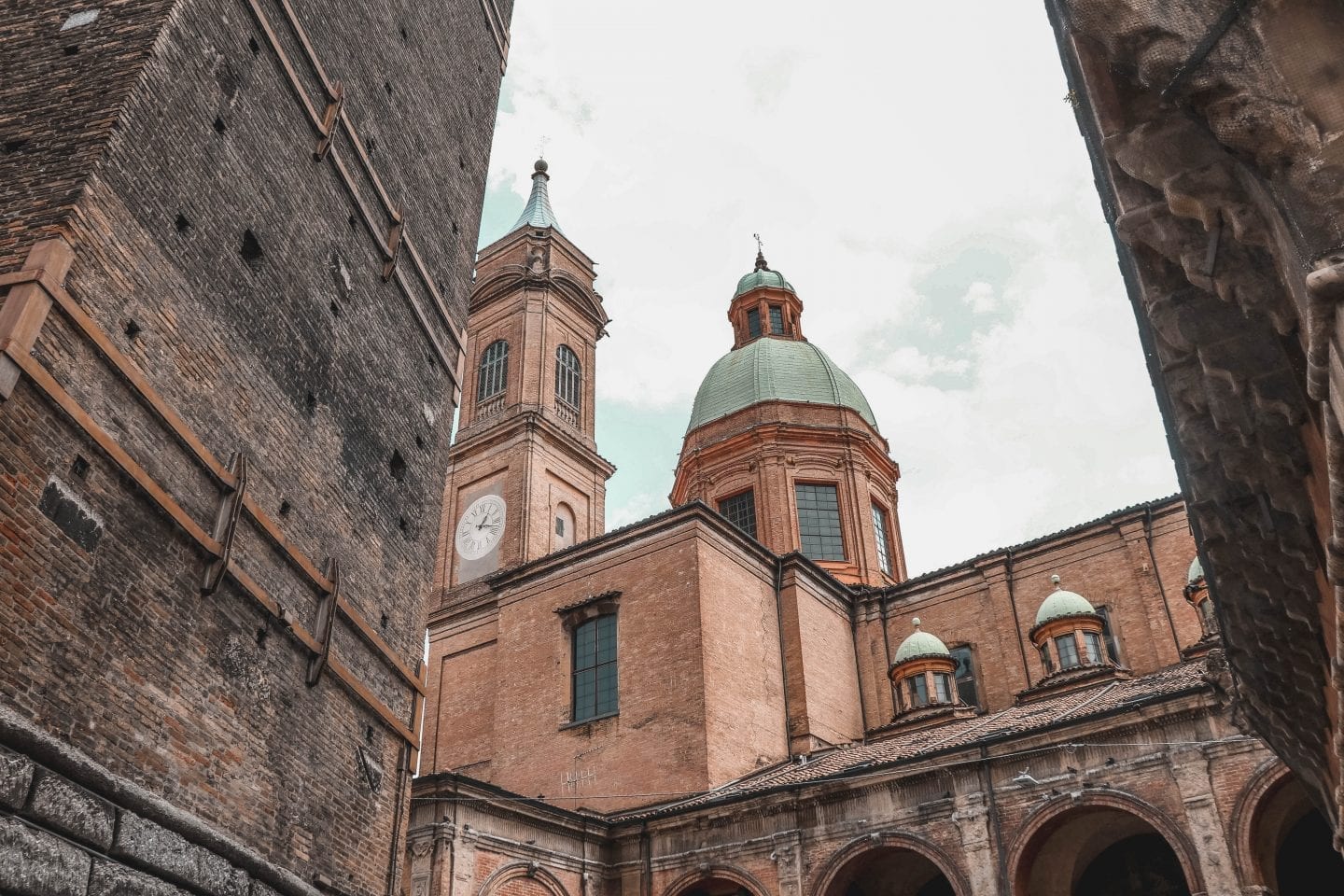 As the list of day trips from Milan nears the end, these last few destinations are a bit further from the city but so worth seeing they must be on the list!
Bologna is the food capital of Italy. All the pasta, cured meat, and delicious cheeses come from the fertile region. of Emilia-Romagna.
Bologna also boasts so much beautiful architecture and interesting history, appealing to anyone who visits. The Basilica di San Petronio is a gorgeous cathedral in the main square, complementing many other beautiful churches like the Basilico di Santo Stefano.
You must also admire the famous "Le Due Torri" in the city center and stroll to the University of Bologna, the oldest university in Europe.
Consider taking a walking tour to make sure you visit all the can't-miss sites. Plus, the city is so full of history that having a guide explain the many historical structures to you allows you to fully experience and understand the city!
How to Reach Bologna From Milan
Bologna to Milan is nearly a three hour drive. While six hours driving in a day is pretty tough, it can still be feasible.
However, I suggest taking the train from Milan to Bologna. The tickets are cheap and you can take a high-speed train and arrive in Bologna in just over an hour!
I researched tours from Milan to Bologna, but I didn't find any that I felt confident in suggesting. In this case, the best transportation option for this day trip is clear – go by train!
---
Cinque Terre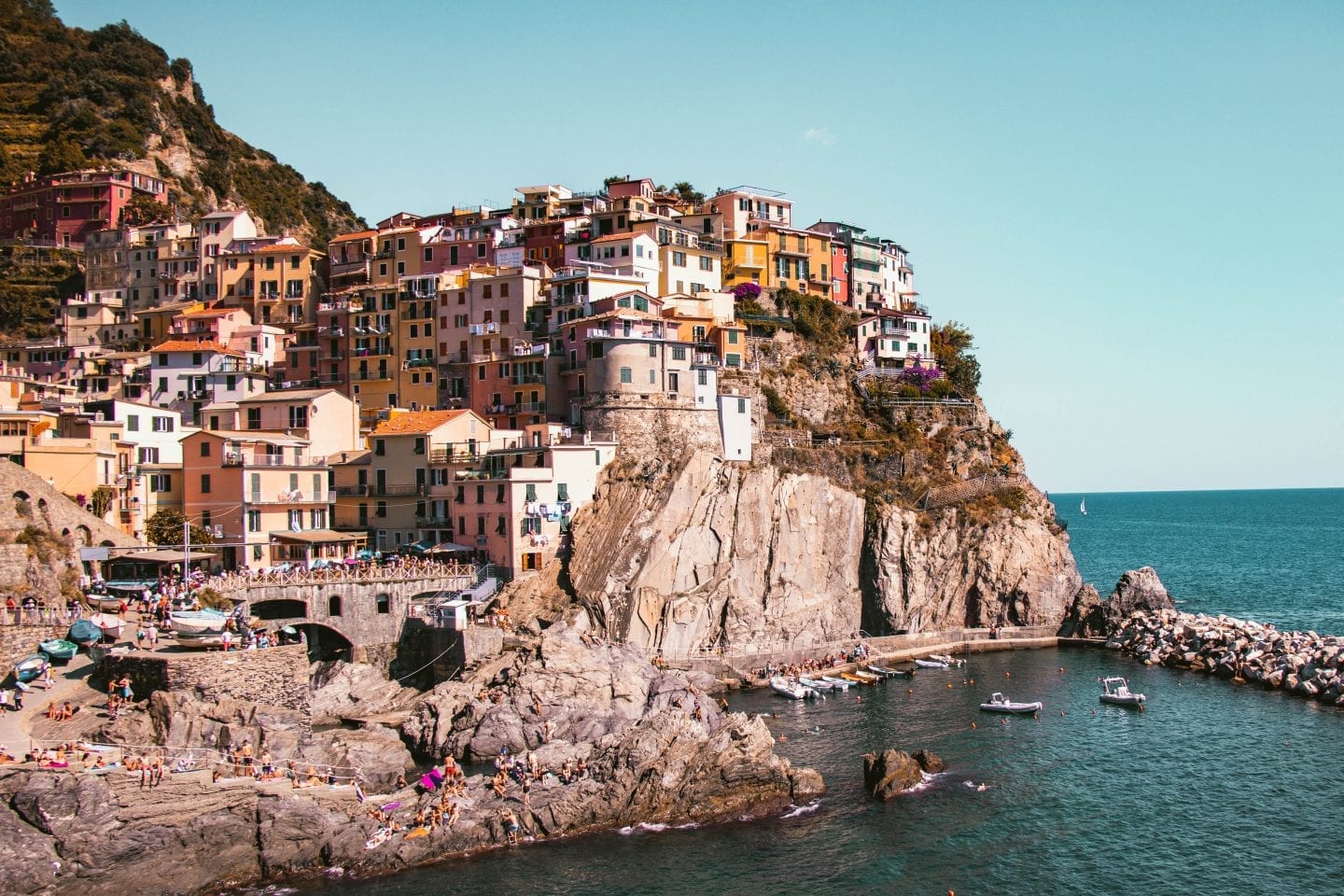 The Cinque Terre, or Five Towns, are world-famous as the most picturesque colorful cliffside villages of the Italian Riviera.
Riomaggiore, Vernazza, Manarola, Corniglia, and Monterosso al Mare, all have something special to offer. You can swim at the beach in Monterosso, enjoy the easy-to-reach viewing point at Manarola, or take in the sunset on the rocks in front of the Riomaggiore harbor.
Read my Cinque Terre One-Day Itinerary to know exactly how to make the most of your time!
Being that Cinque Terre is one of the top tourist attractions in Italy, you may want to consider places less popular but still on the sea. Visit lesser-known towns in Liguria for a day trip – Portofino, Santa Margherita Ligure, and my personal suggestion, Portovenere, a UNESCO World Heritage Site along with the Cinque Terre, and one of the most romantic places in Italy.
How to Reach Cinque Terre from Milan
One of the easiest ways to make Cinque Terre a feasible day trip from Milan is to book a tour. With transportation and guides sorted out, you will avoid all the stress of driving or navigating the multiple stops of public transportation to reach Cinque Terre. Therefore, spending more time enjoying it!
That being said, you can also DIY your trip by driving the three hour journey. However, you have to keep in mind that most of the towns are car-free zones. You will have to either hike or take the local train between them.
Journeying by train means arriving at Monterosso station and then choosing to hike or take the local train from there. The first leg of your journey can cost upwards of 60 euros per person and you'll have to buy a ticket of 16 euros per person for the local train.
So, the costs can add up on the train journey or car journey when considering the cost of gas (double what it is in the USA, for example. This is why I believe a tour is the way to go if you only have one day to visit the Cinque Terre from Milan.
It may be one of the further day trips from Milan, but everyone knows the Cinque Terre are worth it.
---
Venice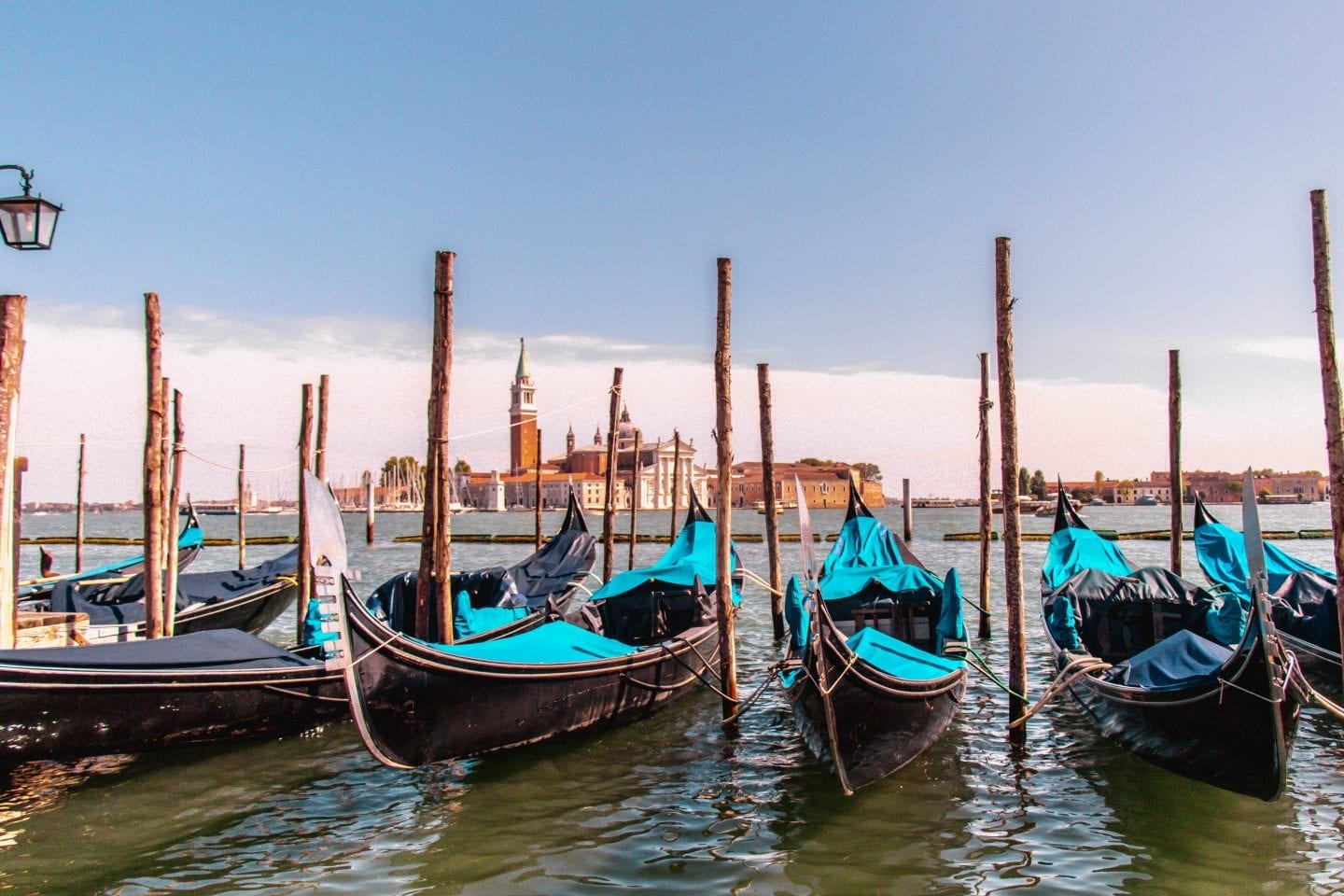 To wrap up this epic list of day trips from Milan is one of the most iconic spots in all of Italy, Venice.
Venice is a must-do on any Italy trip. From St. Mark's Basilica to the Rialto Bridge to the islands of Burano and Murano, there is so much to see and do in Venice.
The best thing about Venice is that outside the touristy neighborhood of San Marco, you feel like you have the whole city to yourself. You can find many of the narrow streets empty between the maze of canals.
And if you want to go off-the-beaten-path, there are unique things to do in Venice too, from rooftop views to an incredible piece of architecture, the Scala Contarini del Bovolo.
It's also one of my favorite cities in Italy to take photos, as the landscape feels so magical in every picture. Check out my Instagram guide to Venice if you love taking beautiful travel photos too!
How to Reach Venice from Milan
The last one is the longest one – the trip to Venice from Milan is just over three hours. Being major cities, they are easily connected by both bus and train. The fastest train takes about 2 and a half hours, so it saves a little bit of travel time.
Although it's a long drive, it's a very easy one. You will virtually just use the A4 Highway. The only thing to keep in mind is that the actual center of Venice has no cars. You will have to park either at the edge of the historic center in one of the parking garages or on the mainland and take a ferry, bus, or train to the center.
I found this thorough and helpful article about parking in Venice if you plan to travel by car.
However, to get the most bang for your buck and explore as much as possible with only one day, I suggest going with a tour. For 129 euros, you can get a guided tour through the city, a boat ride, and stress-free transportation to Venice.
You can also check out my guide to Venice on a budget so you save as much as possible.
---
Final Thoughts and Tips for Taking Day Trips from Milan
Taking day trips is one of the best ways to make the most of your itinerary. It eliminates the stress of changing accommodation frequently and increases the potential of taking advantage of long-stay discounts!
Here are some extra tips to consider when embarking on your day trips from Milan:
Always factor in extra little costs – or at least expect them!
Often when planning a trip, especially on a budget, we underestimate how much we actually will spend. Consider the money you may spend on gas, tolls, parking fees when traveling by car. If traveling by public transportation, think about snacks or magazines you might buy for the journey. Little costs add up!
Always validates your ticket on public transportation!
Italy's trains, buses, trams, cable cars – basically any kind of public transportation have a little machine where you insert your ticket and it's stamped with the date and time. If you don't do this and an officer comes around to check, you'll be charged with a fine!
Leave as early as possible when taking a day trip with a long travel time!
Especially if you are taking public transportation, utilize the opportunity to catch up on sleep during the journey and leave early in the morning so you have tons of time to explore further destinations!
Consider buying a one-way ticket if you are unsure of what time you want to leave!
Again referring to public transportation, whatever time you choose to depart back home is the only time that ticket is valid. So, if you decide at the moment that you want to leave earlier or later, you have to buy a whole new ticket! I made this tourist mistake and it cost me an extra 50 euros to switch tickets.
Use Via Michelin to Estimate Fuel and Toll Costs
I just found out about this tool while planning my last road trip and I can't believe I didn't know about it before!
Via Michelin helps you not only plan your route but will also tell you based on the make and model of your car how much fuel you can expect to use and how much it will cost. This is a perfect way to create an accurate budget if you decide to use your own car or rental car to reach these destinations!
Those are my extra tips to take into consideration when planning your day trips from Milan!
Which one of these day trips from Milan are on your bucket list?
Save these ideas on Pinterest!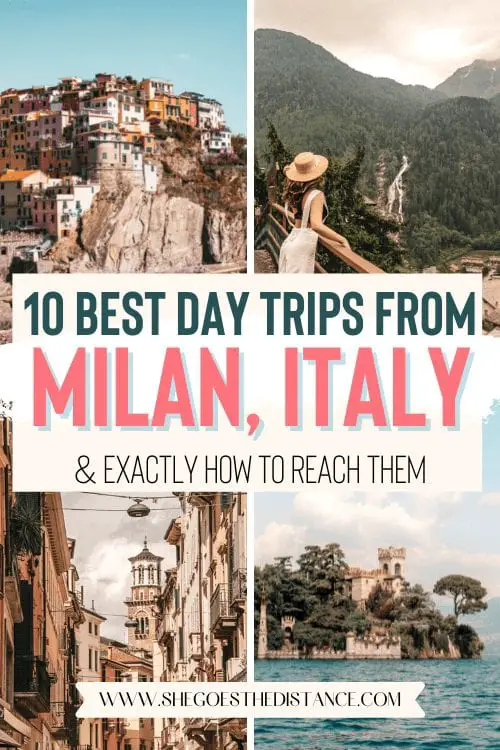 I hope your Italy itinerary is coming together and that these ideas for day trips from Milan are just what you needed to decide what's on the top of your bucket list!
XOXO
Michela