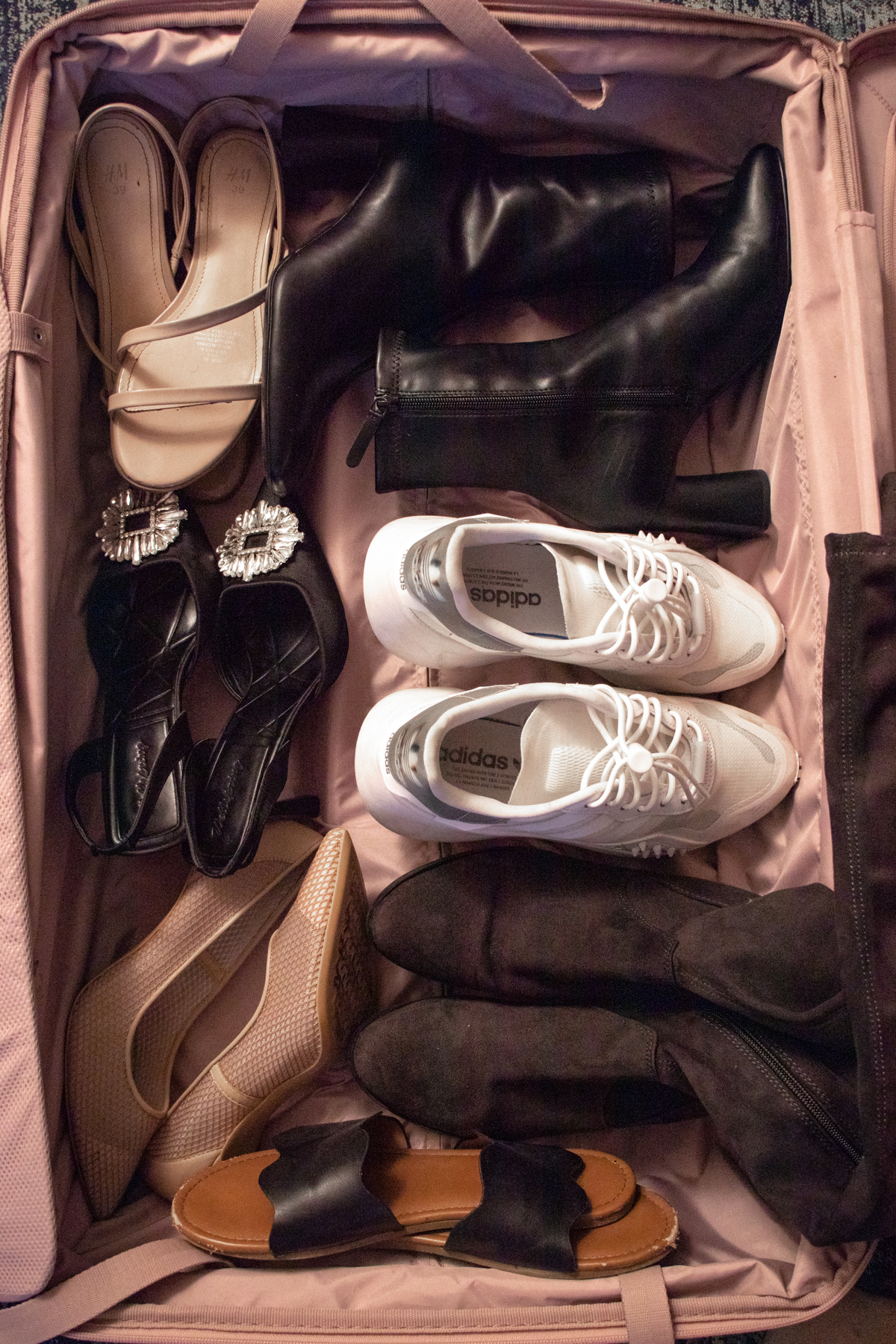 Last Updated on September 29, 2023
Packing can either be a frustrating hassle or a quick, efficient breeze if you can master it. While there are many factors that determine what you pack, there are tried and true fundamentals to how you pack that can make all the difference in saving space, staying organized and not wasting time. In this post, we'll tackle one of the more difficult packing challenges: how to pack shoes for travel.
Shoes obviously come in so many different shapes, sizes, and weights, which makes them an item that has a great effect on the rest of the items on your suitcase. Packing shoes is difficult and frustrating because you don't want to ruin them but you also want to pack them in a way that conserves your suitcase space.
Pair these actionable tips on how to pack shoes for travel with those in my readers' favorite post how to pack a suitcase to maximize space!
Some of these links are affiliate links. This means if you make a purchase through that link, I receive a small commission at no extra cost to you. Read my full disclosure!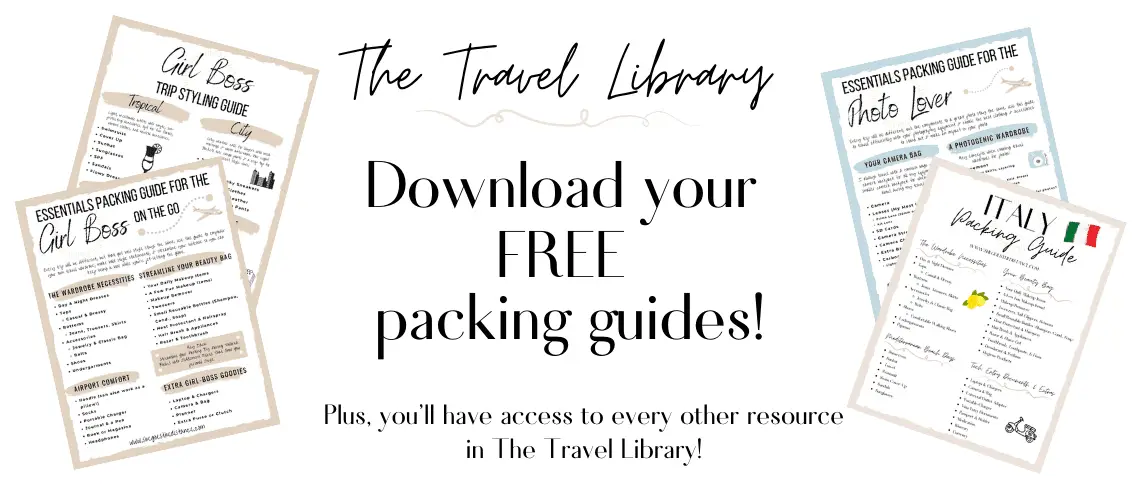 Knowing how to best pack shoes for travel is one feat you'll accomplish after reading this post. But shoes play just one part in the packing process!
You also know that there's a lot more travel gear to remember and a variety of factors to consider when deciding what and how to pack. Sign up to my newsletter to receive access to the travel library, including a variety of free, downloadable packing lists to help you prepare for any trip!
Shoe Packing Tips
Wear your bulkiest, heaviest shoes on travel days
When you're trying to save space and avoid overweight baggage fees, you've got to think strategically.
On your travel days, plan your outfit around wearing the bulkiest and/or heaviest pair of shoes you want to bring along with you on your trip. These are typically boots or sneakers.
Of course you will have to consider your transit conditions. What transportation are you taking – airplane, bus, boat, train? What is the weather like in your departing and destination location?
As you travel more, comfort becomes the name of the game when in transit. Obviously if your bulkiest pair of shoes are some snow boots, you may not be 100% comfortable sitting on a flight with them.
You must evaluate how to pack shoes for travel in a way that is both strategic and works for you.
Pro Tip: Dress for the destination. When I'm going from sunny Florida to windy Chicago in December, you will catch me in knee-high boots at the airport. Those are the most comfortable shoes for my destination and they are also the bulkiest item I would have to pack if I didn't wear them. You may feel a little uncomfy while departing but you'll be thankful at your destination that you didn't show up in flip flops.
Use shoe bags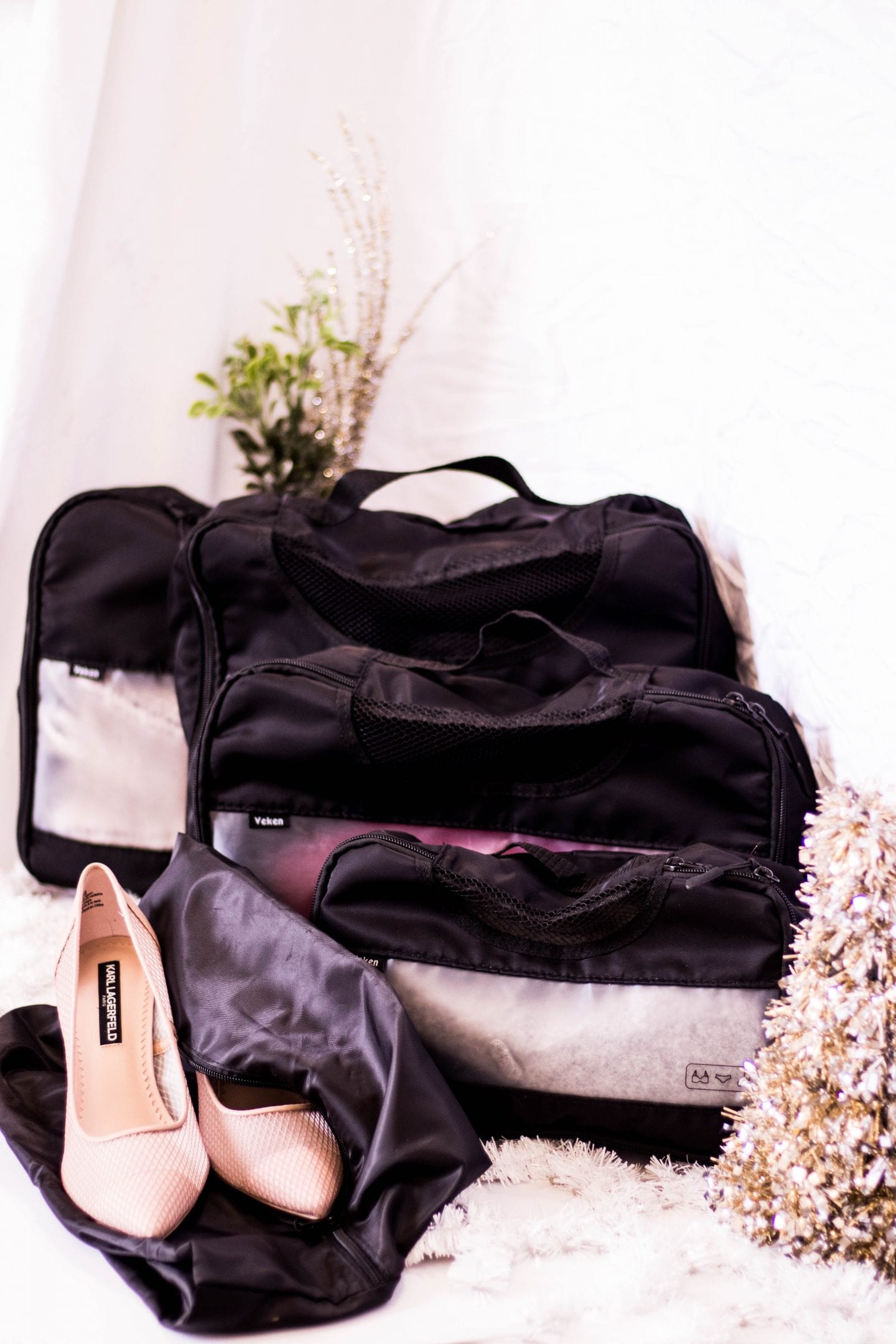 The golden rule of packing shoes for travel: never throw your shoes in your suitcase naked!
For so many reasons, like protecting your shoes, protecting your clothes and suitcase, keeping things organized, you should pack your shoes inside a shoe bag.
You can use something as simple as a plastic bag, but I recommend getting a set of dedicated travel bags that are of better quality for your stuff and that add organization to your travels. For me, this is a set of packing cubes and shoe bags.
Packing cubes are a must-have product for any traveler. I've used these Veken packing cubes for 3 years and the price is just $25. And this set even comes with a shoe bag!
This type of shoe bag – flexible, wide opening, water-resistant – allows you to really maximize what you pack inside of it. I manage to fit two pairs of heels and up to three pairs of sandals.
Containing all of these in one flexible bag not only allows for keeping the suitcase more organized, but for using the space better. Instead of spreading out 4-5 pairs of shoes in different places in of the suitcase, I start to limit the surface area I have to work with for placing other items. With one bag, you occupy one section of the suitcase, and have the rest of it to work with.
Pro Tip: Clean your shoes before packing. It may seem obvious but taking the opportunity while packing to clean up the soles of your shoes is not just better for your shoe longevity but also maintaining a clean and organized suitcase.
Stuff shoes to keep their shape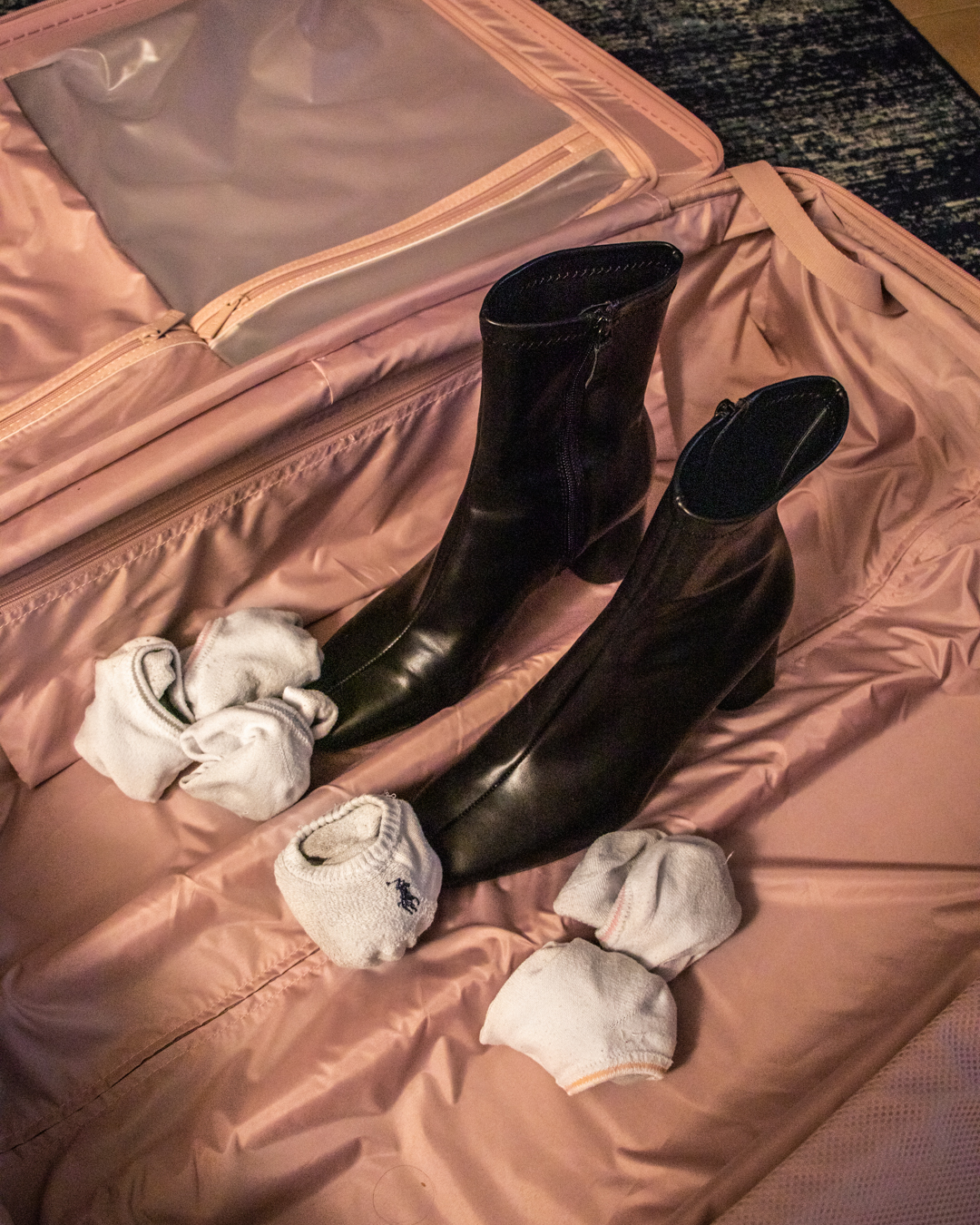 When packing shoes for travel, you always run the risk of them getting damaged or bent out of shape.
You have several different options for stuffing your shoes.
The first option is to have some extra tissue paper around or hold on to the stuffing that was in your shoes when you bought them to maintain the shoe's shape. Since you are using a kind of tissue paper with this option, you don't run any risk of damaging something that matters to you.
The second option is to use other items you are bringing on your trip with you to stuff in the shoes. This is the option that I prefer, as I am always trying to make the most of limited suitcase space.
These small items can be socks, scarves, winter hats, gloves, underwear. The only issue here is that you could damage or bend out of shape these items if they are folded up and scrunched into your shoe for an extended period of time. Plus, the inside of shoes isn't the freshest smelling place to be leaving your clean clothing!
Pro Tip: Always remove your shoes from your suitcase as soon as you arrive from your destination, even if you will be bouncing from place to place quickly. The longer you leave your shoes packed in a position that could alter its shape, the less likely you'll be able to reverse the damage you have done.
Know which shoes to pack first & which to pack last
You're here because you're trying to pack shoes the right way to retain their quality and to save a bunch of space in your suitcase! And the order in which you pack different kinds of shoes has a lot to do with space optimization.
If you have any bulky shoes, you're going to put these in the suitcase first. This will allow you to see clearly how much space they take up/what remaining space you have to work with.
You'll also likely want to separate these shoes in order to leave a decent amount of space in each section of your suitcase. For example, if you put two knee-high boots right next to each other, you may be left with just a sliver above and to the side of that suitcase area. Instead if you put one on the right side of the suitcase and one on the left, you leave bigger sections in which you can fill the rest of your principal items, clothing.
Heels and sneakers should go in while you're packing clothes and accessories. You can either face the soles of these shoes flat against the suitcase border or against each other to maximize space. However, you can also face the shoes towards each other, heel to toe and fill in the gaps with smaller items.
The final footwear item to get in the suitcase is anything flat and slim. Use up the extra nooks and crannies for flip flops, flats, sandals and slippers.
Choose the right shoe positioning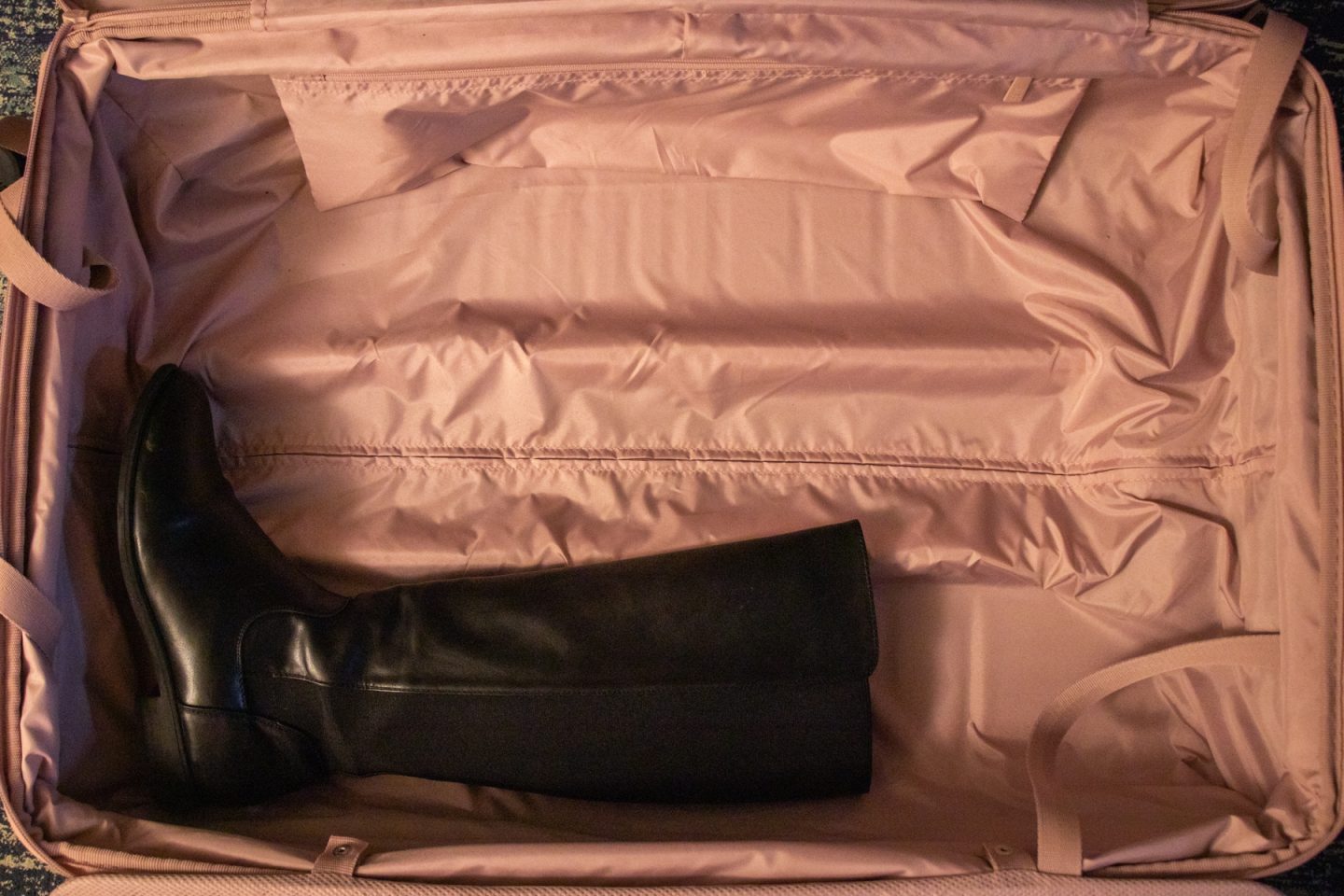 I kind of mentioned it in the last tip, but positioning is a part of how to pack shoes for travel. There are different ways you can position your shoes that, depending on the rest of your packing, could be the best way for you to maximize space.
Here are positions for the most common types of shoes:
Heels: Soles touching each other or shoes facing each other head to toe.
Sneakers: Soles touching each other or shoes facing each other head to toe.
Boots: Separated from one another, soles against the rim of the suitcase.
Flip flops, sandals, flats: Shoes one on top of the other, facing head to toe.
Carry-on or checked bag?
There are many factors to weigh when you are deciding whether to use a carry-on vs. checked bag, but if you are bringing one of each, then in which one should you pack your shoes?
The answer depends.
If your checked bag is close to going over that weight limit, consider distributing your shoes in your carry-on suitcase. Removing a pair of shoes here and there will typically make the biggest impact on suitcase weight with the least amount of effort.
If weight is less of an issue, I recommend keep most of your shoes in your checked bag since they can be so bulky. Utilize that carry-on space for in-flight essentials and valuables.
Utilize small spaces
When your suitcase is laying flat on the ground and you fill the entire space, you've probably still got a little room left.
Try closing your suitcase and standing it up for a minute. Reopen it and you'll likely discover that at the top area of the suitcase, there is an extra sliver of unused space. And every square inch counts!
Use this area to store slim shoes like flip flops, slippers, slide-on shoes, etc.
Pack shoes in other items
One of my favorite tips for packing in general is to start thinking about how you can utilize the space within other items that you are bringing along with you.
For me, these are hats and purses. I will stuff socks, belts, and undergarments in the head of a hat and just about anything in an extra purse I'm packing.
If you're already bringing along a large tote bag, for example, that doesn't lay flat, don't just wrap it in a travel bag and put it in your suitcase. Fill up the space within the tote bag with soft materials and slim shoes like flip flops and sandals.
---
Duffel bag vs. suitcase: what changes for shoe packing?
If you are packing a duffel bag instead of a suitcase, your shoe packing strategy will change.
It also depends on the duffel bag you use. I am itching to try the Beis Weekender Bag because it has a dedicated zip-close section on the bottom dedicated to shoe storage. Or you may have a bag similar to mine from LeSportsac that is unstructured.
In a duffel bag that is unstructured you have two best options for how to pack shoes.
Option one is to lay your shoes on the bottom. This helps you give the bag some structure. You can put the soles facing each other, or face them apart and fill in the gaps between the shoes with small clothing items like socks, underwear, tights, etc.
Option two is to put your shoes in last at the top. This especially works well for thinner shoes like sandals, flip flops and flats.
---
Final Thoughts
Knowing how to pack shoes for travel can make the difference between fitting everything you want to bring and having to sacrifice items on your packing list.
Some travel tips are simple and you may have fallen into the trap of ignoring them because of the last-minute packing rush. Others are more actionable and thoughtful that will count on some trial and error for figuring out how they work best for you.
The best way to pack shoes for travel is by evaluating the number of shoes you really need to bring, take your time in preparing your shoes to be packed so that they won't be ruined and using hacks, big and small like these, to pack them without sacrificing too much space.
Which tip will you try when packing for your next trip?
Save these tips on Pinterest to help other travelers!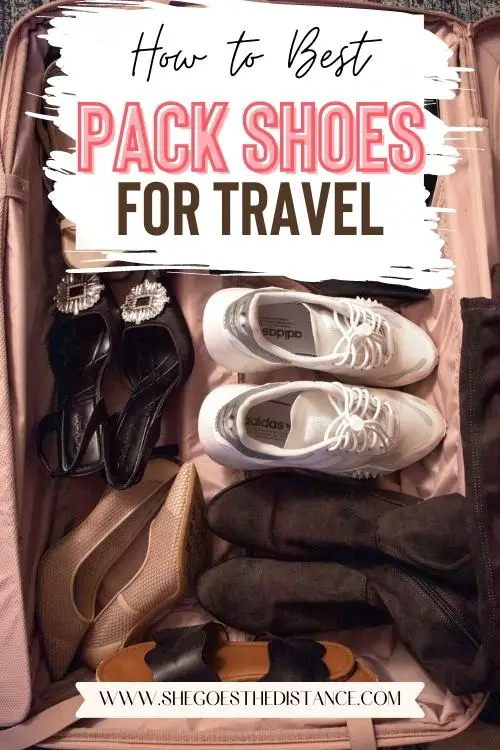 Now you're an expert on how to pack shoes and will be able to truly maximize your suitcase!
XOXO
Michela