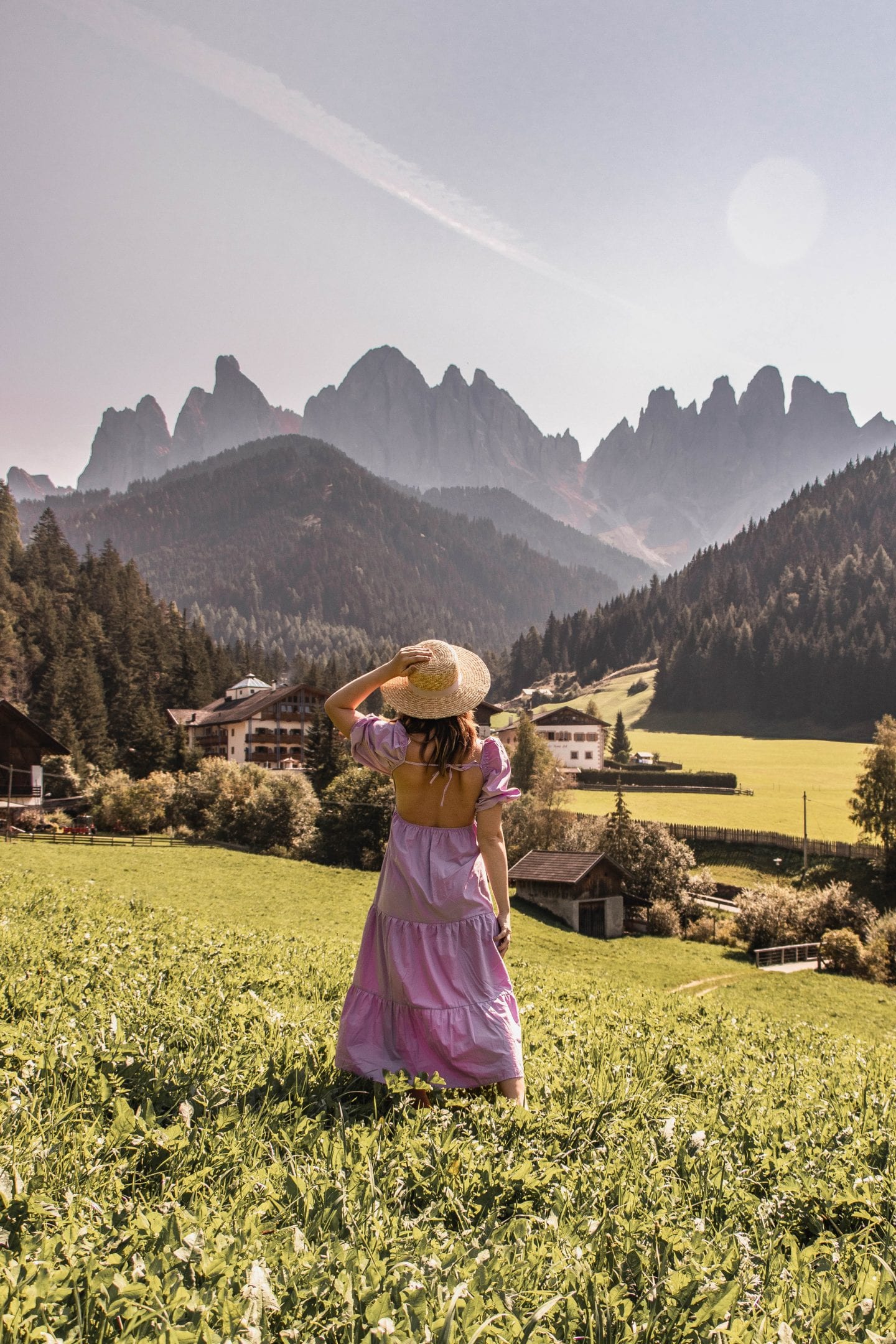 Last Updated on February 23, 2022
Do a google search on "the Dolomites" and more than half of the photos that appear will be of a small little valley with a backdrop of towering peaks. This is Val di Funes, one of the most picturesque, and also quietest, spots in the Italian UNESCO World Heritage Site of the Dolomites. I'm going to tell you exactly how to visit Val di Funes, from reaching the quiet valley to enjoying its serene atmosphere.
Val di Funes is one of the most beautiful valleys of the Dolomites. Being there is like living in a painting. Varying textures of thick pine forests against sweeping green meadows are all overshadowed by the rocky, jagged peaks of Le Dolomiti.
Instagram has made this peaceful valley famous and people are flocking to get a taste of the alpine air and the magic of the tiny villages nestled in this valley.
Have the perfect visit using this Val di Funes travel guide.
Why You Should Visit Val di Funes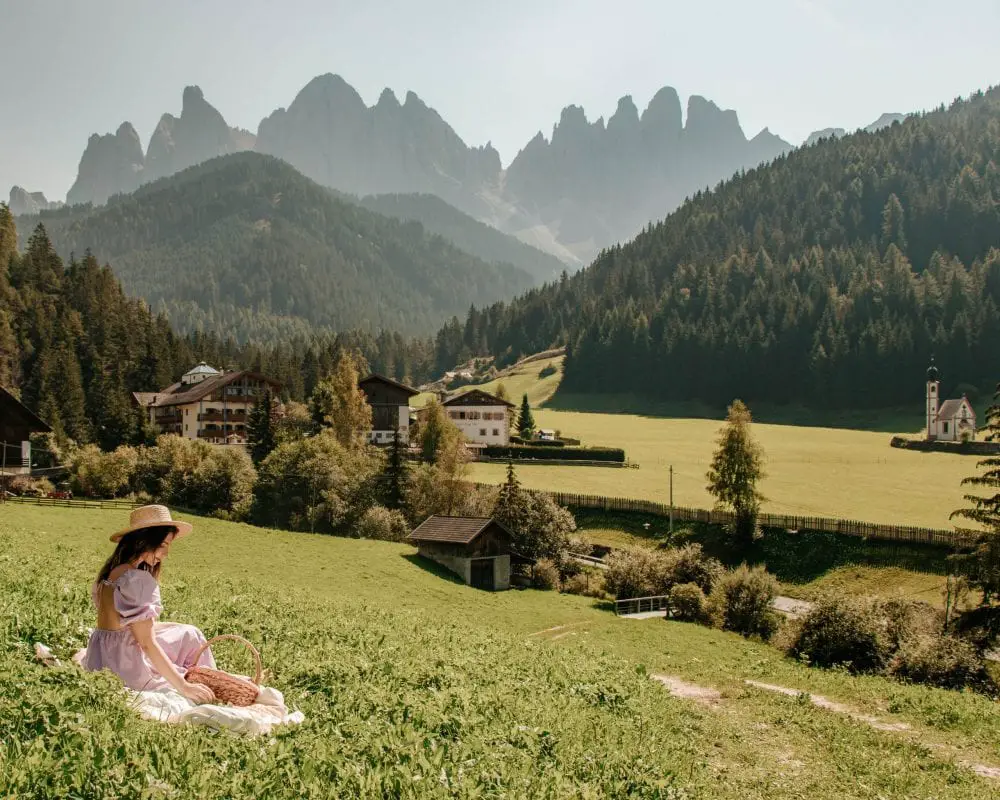 Besides it's natural beauty, Val di Funes has so much to offer that is unlike any other place in Italy.
It's a quiet getaway for an afternoon escape as you road trip through the Dolomites or a peaceful long-stay destination to refresh and reset.
The cultural blend of Austria and Italy is evident everywhere you look – from the spired churches to the alpine wood homes to the food! Val di Funes is another perfect example of experiencing a different side of Italy.
If you're looking for the perfect Dolomites itinerary, look no further! I love the Dolomites so I've created several guides to getting around and seeing the best it has to offer, including where to stay in the Dolomites. If you're visiting Val di Funes, also check out nearby Lago di Braies!
---
How to Reach Val di Funes
It can be tricky following directions or GPS once you are on the road in this area of Northern Italy. It's due to the fact this region, being so close to Austria, is bilingual!
Many towns have two names, their German name and their Italian name. Signs on the highway will show both names, so it can be confusing.
By Car
The easiest way to reach Val di Funes is by car, as is the rest of the Dolomites.
From Bolzano
Val di Funes is north of Bolzano by about 40 minutes. Take the highway (A22) and the exit of Chiusa-Val Gardena-Klausen-Gröden. (The last two names are German!)
From there, there's only one main road that goes east into Val di Funes and then an even smaller one that will take you to the famous and beautiful views of Santa Maddalena and Chiesetta di San Giovanni.
From Cortina D'Ampezzo
Cortina D'Ampezzo is one of the other major cities in the Dolomites but in the Veneto region to the east. You will be coming from the east instead of the west from Bolzano.
The tough pill to swallow when coming from this side of the Dolomites is the lack of roads in between the mountains. So to get to Val di Funes, you have to go all the way around to the north and come back down the western side to take that same small road. It will take nearly two hours to get there from Cortina D'Ampezzo.
By Bus
The only other main option is to travel to Val di Funes by bus. There is a bus that goes to Val di Funes from Bressanone/Brixen, a nearby larger town. You can take the train to Bressanone and then go by bus to Val di Funes.
---
How to Prepare for Your Trip
Have Coins on Hand
Even in this small quiet valley, you have to pay for parking. But because it's small and quiet, the machine only takes coins! Make sure you have some euro coins on you before you arrive.
The coins will also come in handy if you want to go up to the Chiesetta di San Giovanni (more on that later!)
Eat Before or Bring Lunch
As you've probably guessed from my descriptions, there's not much more than natural beauty happening in Val di Funes. There is one hotel/restaurant in the area but it may not be open and running when you visit (like when I did.)
That being said, don't plan on visiting Val di Funes at lunch time. If you do, be sure to pack snacks or meals with you!
---
Special Rules about Val di Funes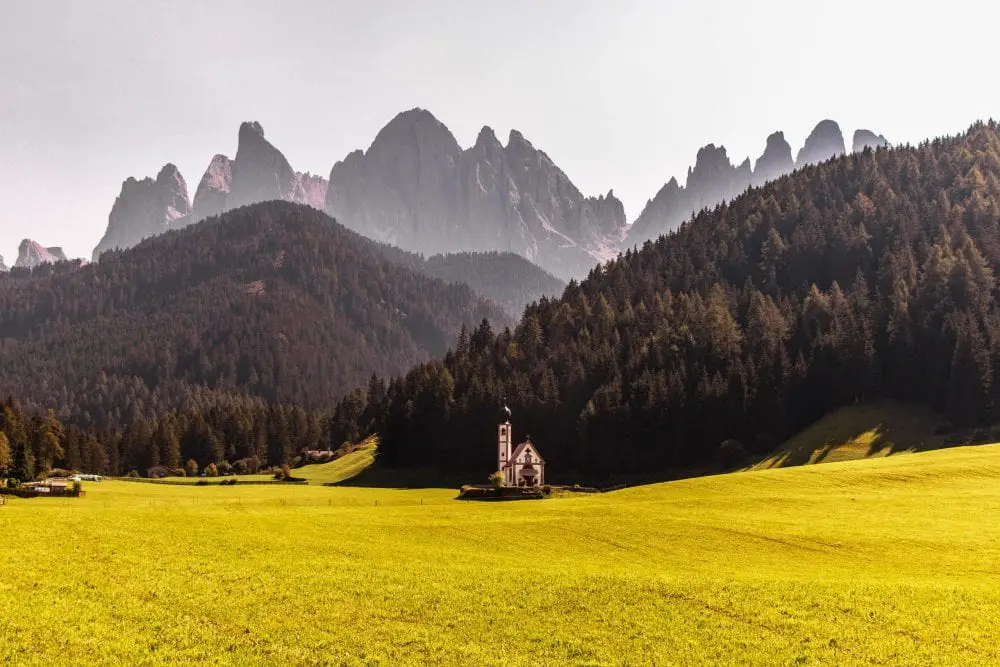 No Walking on Grass
The grassy area around Chiesetta di San Giovanni is protected land. It's not meant to be walked on and it's actually prohibited, which is clearly evident with signs posted in the area. Even if you're tempted by the photo opportunity – don't do it! There are plenty of other ways to take beautiful photos here.
Private Property
Val di Funes is not a national park, but rather a beautiful valley some people call home. You are visiting an area that is almost completely residential.
While most of the houses are quite spread out, the land is still often private property in most areas.
I was able to picnic on the hill across from Chiesetta di San Giovanni, but honestly, it was unclear whether or not it was private property. It was open so it seemed safe, but always respect someone else's property and the rules of this residential area where it's clearly designated.
No Drones
To end on the rules note before jumping into the fun stuff, drone photography is also not allowed in this area.
As previously mentioned, it's residential and lots of the area is private property. It's important as a photographer to look into rules such as this because it's becoming more common in places gaining fame like Val di Funes.
---
Tips for Having the Best Visit to Val di Funes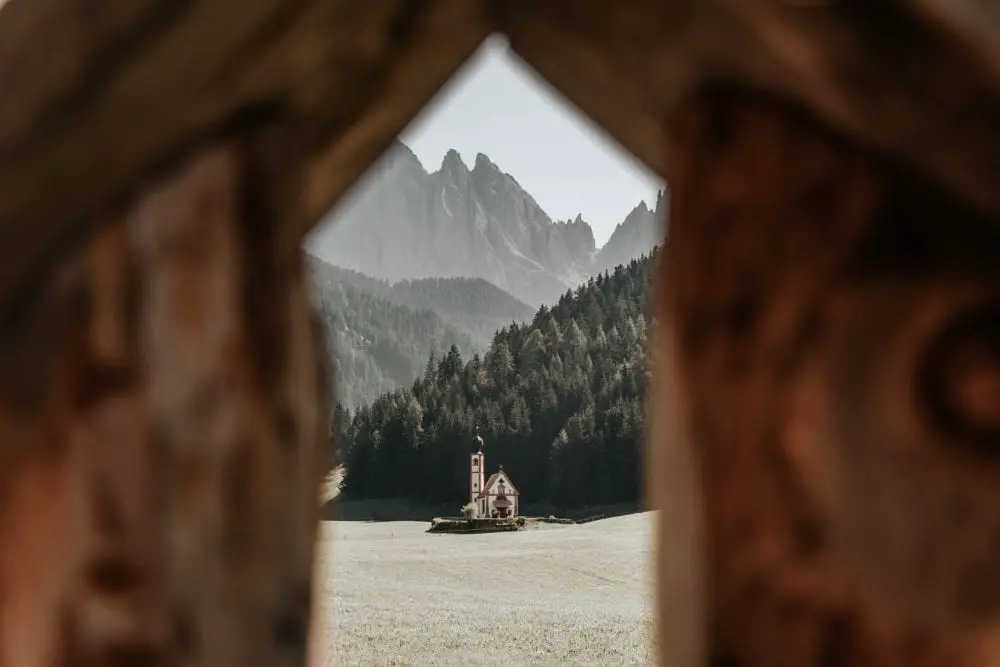 Take Your Time
Val di Funes is a place that can flexibly fit into a lot of different travel itineraries. If you are simply wanting to have the experience of being there, then you'll feel happy with just an afternoon spent. However, it's also a great destination for a few-day getaway.
I recommend in whichever scenario you are in to take as much time as you can on your visit. Simply surrounding yourself with its serene beauty gives you a sense of peace. The alpine air seems to touch your soul!
Visit the Chiesetta di San Giovanni & Chiesa di Santa Maddalena
For only a couple of euros, you can actually walk up to and inside the tiny, Instagram-famous church, Chiesetta di San Giovanni. This small relic is beautifully ornate and is the centerpiece of the valley.
Chiesa di Santa Maddalena is just a bit down the road, which also has a stunning backdrop of the Dolomite peaks.
Have a Picnic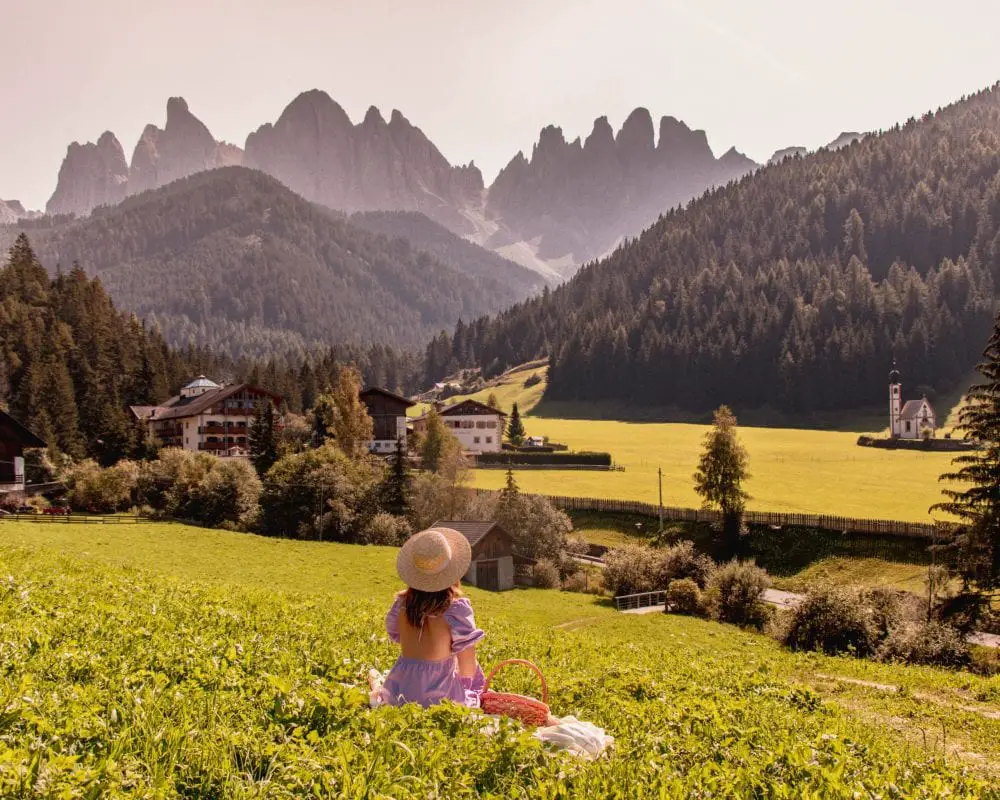 My favorite thing I did in Val di Funes was set up my own sweet picnic above the view of Chiesetta di San Giovanni.
There are many moments where I want to pinch myself when I travel, but this one was particularly significant to me! I really thought I was in a fairytale, having dreamed of coming to Val di Funes for so long.
Stop by a local market on your way to the area and grab a few essentials – focaccia, mortadella, fruits – and enjoy a pretty picnic with an unbelievable view.
Take Many Photos
Don't leave your hotel room or start your road trip without packing your best photography gear! Discover my favorite gear I love to take with me while I travel.
Val di Funes is one of the most picturesque places I've ever been to, which I'm sure you can guess by now! While you're enjoying the atmosphere, be sure to set aside time to capture the moment with your camera.
Hike
At the end of the single road that takes you to Chiesetta di San Giovanni and the beautiful view, there starts a hiking trail into the mountains.
There are actually several more hiking paths in the area, including Panoramaweg and Sunnseitenweg trails near Santa Maddalena.
If you have several days to stay in Val di Funes, these are perfect options for how to make the most of your itinerary and the environment.
Final Thoughts
I don't know there is much more I could say to convince you to visit Val di Funes. I'm sure you've already come to that conclusion yourself from seeing photos, whether it was here the first time or all over social media!
All in all, this valley is a magical place to soak in and experience. I hope you get to experience it soon!
Don't forget to save this travel guide to Pinterest for later!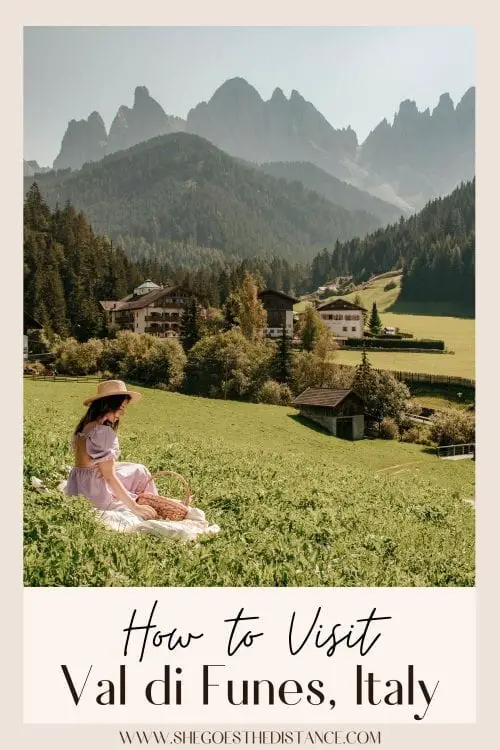 I want to know how excited you are to put Val di Funes on your bucket list or finally cross it off! I hope you'll keep a few of these tips in mind when you're on your way. Enjoy the adventure!
XOXO
Michela