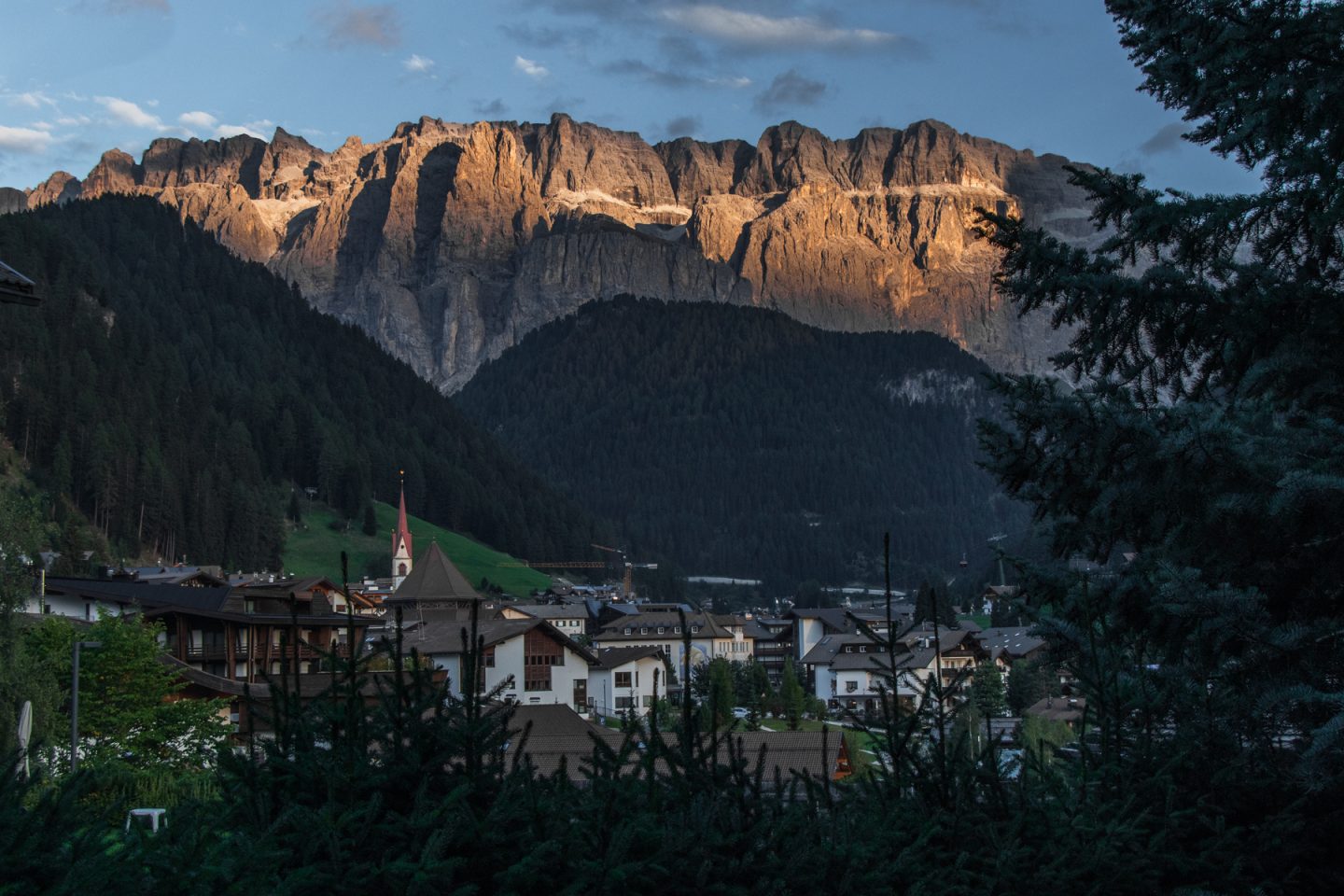 Last Updated on May 22, 2023
Whether you are someone seeking a luxurious chalet or in need of a wellness retreat – or you're a budget backpacker, a solo traveler, a hiker, a couple, a family – the Dolomites truly have something to offer for everyone. But with all the options comes the difficulty in determining what place to stay is right for you and your priorities. Don't waste any more time researching because you have arrived at the most in-depth guide on where to stay in the Dolomites that will help you decide which towns and accommodations fit your personal dream Dolomites itinerary.
To understand the best places to stay in the Dolomites for you, you have to get clear about what you want to do there.
Luckily, it's not hard to come up with a list of things to do in the Dolomites. It is hard narrowing down where to stay in the Dolomites – but not anymore!
Some of these links are affiliate links. Read my full disclosure!
---
Getting Around The Dolomites
For an in-depth look at how to get around the Dolomites, I highly recommend looking at my 3-Day Dolomites road trip itinerary where I go into detail about ways to travel in the area.
How you get around the Dolomites is extremely relevant to deciding where you should stay.
Over any other suggestion, I recommend renting a car when visiting the Dolomites. Some places are just too hard to reach without a car, so if you want ultimate flexibility in choosing where to stay and what to see, renting a car is your best (and practically only) option.
Read up on driving in Italy before traveling to the Dolomites.
However, you can travel to cities and towns in the Dolomites by train. If you plan on using public transport, I recommend staying in larger towns than rural areas.
The more mountains, the more unlikely a train will pass through there. Train stations are few and far between in the Dolomites, but not non-existent.
Even driving from place to place through a mountain range has its challenges. For example, Bolzano and Cortina D'Ampezzo don't look far from each other on a map. It's a straight line east to west to reach each city – that is, if there wasn't a giant UNESCO World Heritage Site mountain range in the middle of them!
So, your 45 minute drive just turned into 2 hours!
This is why it's important to know beforehand how you are going to get around the Dolomites and choose your accommodation to best suit your access to transportation.
Nearest International Airports to the Dolomites
Main Train Stations in the Dolomites
Bolzano – 3 Stations: Bolzano Bozen, Bolzano Noverese, Bolzano Sud
Trento
Calalzo di Cadore – Last station to reach Cortina D'Ampezzo and Veneto side of the Dolomites
Travel to the Dolomites by Bus Information
---
When To Visit The Dolomites
The season you are traveling in may also affect where you want to stay in the Dolomites.
Winter is very cold in the Dolomites, but it has its benefits too. You may want to stay in towns like Bressanone with Christmas Markets and nearby Mount Plose for skiing. Cortina D'Ampezzo is also a well-known destination for its slopes.
It can be cold and snowy in the Dolomites all through the spring, but this also might be where you get your best deals as a budget traveler.
The Dolomites high tourist season is, like most of Italy, in the summer – specifically July and August. Your best bet for visiting the Dolomites with nice weather, cheaper accommodation, and open activities is the months of June and September.
Good to know: Off-season in the months of May and October may mean that lots of activities and cable cares are closed!
Hotels can highly fluctuate in price based on the tourist season. For example, Forestis Dolomites is a luxury hotel that is expensive no matter what time of year, but the level of expensive varies drastically! In June, a room is 400 euros per night while in August, the same room is 800 euros per night!
Now that the main factors to take into account when choosing where to stay in the Dolomites are covered, let's dive into the guide.
---
Types of Accommodation in the Dolomites
Despite the remoteness of some areas in the Dolomites, there is no shortage of amazing places to stay. From cabins on top of mountain peaks for hikers to five-star luxury spa hotels with brilliant views, the types of accommodations in the Dolomites often capitalize on what it is your itinerary will consist mostly of.
There are special things to note about types of accommodation in the Dolomites. For those who plan to hike, there are special cabins and hotels called Rifugio. These are in remote areas up in the peeks, perfect for outdoorsy and adventure travelers and also for those on a budget.
Another note on cheap accommodation in the Dolomites is to check out the tons of apartment stay options on Booking.com or Airbnb. These are perfect for those who want to spend most of their time exploring and just need a bed to sleep in. You can spend as little as $60 per night on an apartment stay, whereas hotels typically cost more.
There are virtually no hostels in the Dolomites, besides a couple in Merano, but that area is a bit far from the Dolomites' best sites.
Mid-range, boutique hotels are by far the most popular kind of accommodation in the Dolomites. They are moderately priced starting around $120 per night and often include breakfast and potentially even dinner, saving money on dining out (and time trying to find a restaurant!).
Luxury hotels in the Dolomites are geared towards wellness and relaxation. They often boast incredible spa amenities and are perfect for travelers who want to soak up some views, mountain air, and relaxation, but don't care as much about exploring.
---
The Best Towns & Hotels to Stay in the Dolomites
The Dolomites cover a large area of the Italian Alps and are part of two different regions in Italy – Trentino-Alto Adige and Veneto.
Where you stay in the Dolomites will likely be affected by what you want to do most – whether that's visiting popular Lake Braies or the quieter Val di Funes.
Have an itinerary in mind when you start looking for accommodation, or at least a list of things you would like to do. This will help you start getting an idea of how much you can see in one day and the travel time between locations.
Once you have some spots in mind you can then look at these towns in relation to where you want to visit most and decide which works best for your itinerary and goals for visiting the Dolomites. From road tripping and multiple day trip visits, I discovered these are the best towns overall to stay in the Dolomites.
Val Gardena, Trentino Alto-Adige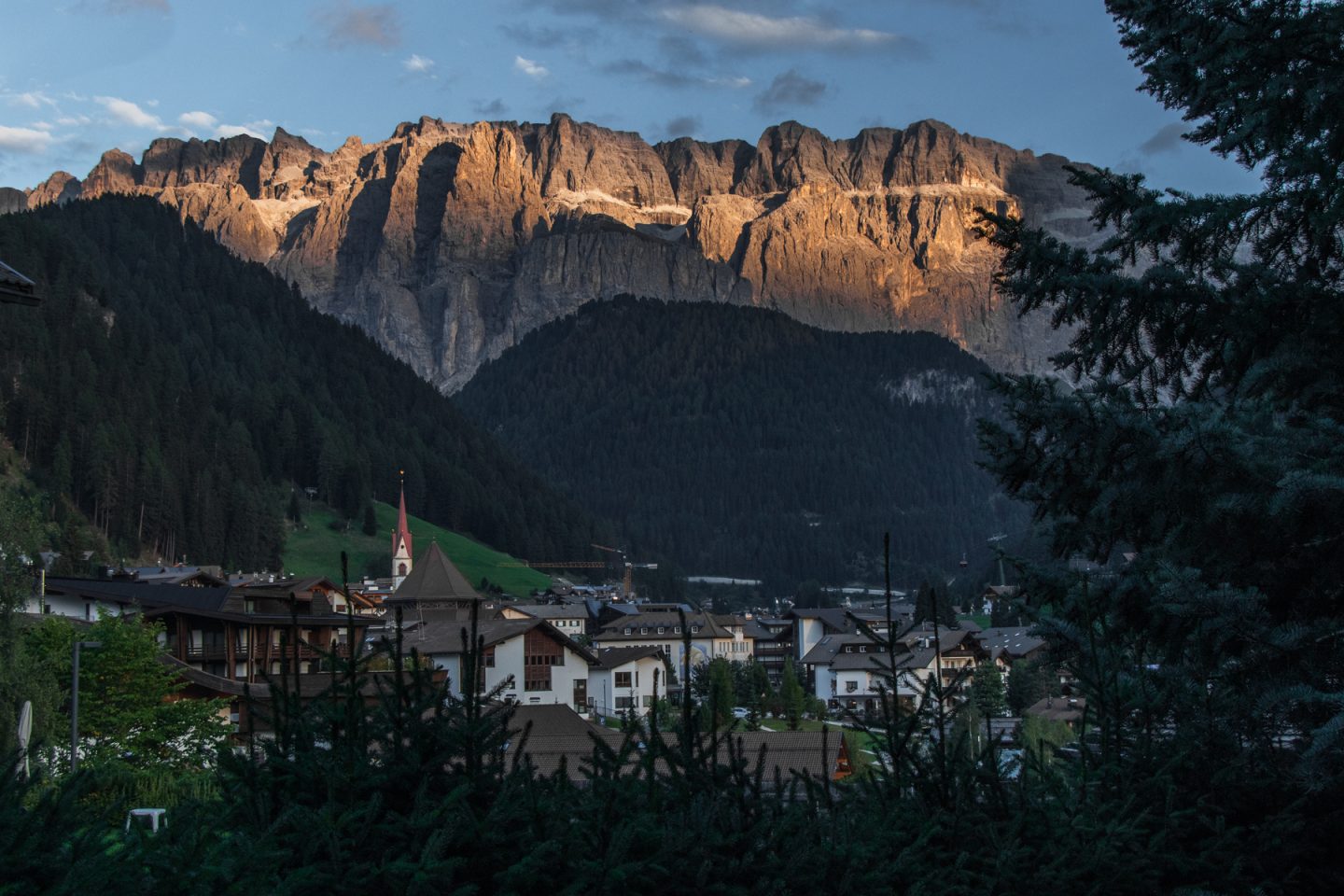 Highlights: Located in one of the most beautiful areas of the Dolomites, wide variety of accommodation at budget to luxury price ranges, scenic area with 360° views
Cons: Less accessible to highway, no train access
Perfect for: Outdoors Lovers, Budget Travelers, Boutique Travelers, Mountain/Spa Retreats
Reachability: Easy to Medium Difficulty, By Car or By Bus
I stayed in Val Gardena on my most recent trip to the Dolomites and I now think it is one of the best locations to stay in the Dolomites. The valley itself is pristine, beautiful and private, tucked away from main roads but still close enough to the highway that it isn't completely cumbersome to get to other areas of the Dolomites.
The main towns in Val Garden are Ortisei, Santa Cristina and Selva di Val Gardena.
I personally stayed in Selva di Val Gardena (which I consider the best!), but spent time in all three towns.
Ortisei is the most lively and busy of all three towns. It is slightly bigger and is home to two cable cars that go to main attractions, the unmissable Alpe di Siusi and the Seceda hike. It is best if you want convenience.
Santa Cristina and Selva di Val Gardena are calmer than Ortisei, which I prefer when visiting the Dolomites since the atmosphere is so tranquil. Selva truly offers the best feel of all three towns because it has a nice town center yet is nestled in the valley, surrounded by nature and unbelievable views!
Good to know: If you stay in Val Gardena accommodation, you will receive the Val Gardena Mobil Card, which allows you to use public transportation in the area for free!
Budget Accommodation in Val Gardena
Apartments Lores
Hotel Cir
Boutique & Mid-Range Accommodation in Val Gardena
Linder Cycling Hotel
Boutique Hotel Nives
Luxury Accommodation in Val Gardena
Granbaita Dolomites
Valdaora, Trentino Alto-Adige
Highlights: Close to Lake Braies, centrally located in the Dolomites, wide variety of accommodation at budget to luxury price ranges, scenic rural area with views
Cons: No city center
Perfect for: Budget Travelers, Mountain/Spa Retreats, Couples
Reachability: Easy to Medium Difficulty, By Train, Car, or Bus
Budget Accommodation in Valdaora
Boutique & Mid-Range Accommodation in Valdaora
Hotel Scherer
Almhotel Lenz
Luxury Accommodation in Valdaora
Hotel Hubertus
Kronplatz-Resort Berghotel Zirm
Honorable Mention Town Near Valdaora: San Candido
San Candido is a small alpine town in the Alta Pusteria zone, more centrally located in the Dolomites near Lake Braies and Lake Dobbiaco.
Beautiful hotels in San Candido include:
Cortina D'Ampezzo, Veneto
Highlights: Big town, Great for skiing and adventure enthusiasts, Close to Tre Cime di Lavaredo and Misurina
Cons: Further from sites like Lake Braies, Alpe dei Siusi/Seiser Alm, and Lake Carezza
Perfect for: Outdoor Enthusiasts, Families, Boutique Travelers
Reachability: Easy to Medium Difficulty, Reach by Car, or Bus, Nearest Train Station is Calalzo di Cadore and buses service daily to Cortina D'Ampezzo
Budget Accommodation in Cortina
Hotel Olimpia
Hotel Cappanina
Boutique & Mid-Range Accommodation in Cortina
Hotel Aquila
Hotel Mirage
Luxury Accommodation in Cortina
Grand Hotel Savoia
Cristallo Luxury Resort & Spa
Bressanone, Trentino Alto-Adige
Highlights: Cute rural town, Skiing at Mount Plose, Between popular areas of Lake Carezza and Lake Braies, Christmas Market, Reachable by Train
Cons: Not a large variety of accommodation options dominated mostly by mid-range hotels
Perfect for: Off-The-Beaten-Path Travel, Families, Solo Travelers
Budget Accommodation in Bressanone
Boutique & Mid-Range Accommodation in Bressanone
Hotel Elephant
Hotel Grüner Baum
Luxury Accommodation in Bressanone
Hotel Gasserhof
My Arbor Wellness Hotel
Forestis Dolomites
Bolzano, Trentino Alto-Adige
Highlights: Big city in Trentino Alto-Adige, Many accommodation options, Easiest to reach
Cons: Not central in the Dolomites
Perfect for: City break, Easy day trip, Travelers without a car
Reachability: Easy, Reach by Car, Train or Bus
From Bolzano, there are also many more day trip offerings to go into the heart of the Dolomites, which is perfect for those traveling without their own vehicle! Transportation is handled for you and you still get to go to those bucket list places that are nearly impossible to reach without a car.
Budget Accommodation in Bolzano
Mary's Rooms & Apartments
B&B Hotel Bolzano
Boutique & Mid-Range Accommodation in Bolzano
Laubenhaus
Parkhotel Luna Mondschein
Luxury Accommodation in Bolzano
Parkhotel Laurin
Castel Hörtenberg
Misurina, Veneto
Highlights: Scenic lake, Close to popular hiking trail of Tre Cime di Lavaredo, Ample parking
Cons: Not much to do in the town, Not the easiest to reach, Accommodation options are more limited
Who It's Perfect For: Hikers, Couples, Scenic Travelers
Reachability: Medium Difficulty, Can Reach by Car or Bus (nearest train station is Calalzo di Cadore 15 km away near Cortina)
Budget Accommodation in Misurina
Rifugio Col de Varda
Boutique & Mid-Range Accommodation in Misurina
Spectacular View Misurina Lake Apartment Stay
Luxury Accommodation in Misurina
Grand Hotel Misurina
Unique Stays in the Dolomites
If you're looking for a truly unique place to stay in the Dolomites, then you have found it! Located in the area of Bolzano, the Mirror House is wrapped in exterior mirrors, creating a crazy beautiful illusion of the mountain views and stunning swimming pool. There are actually two Mirror Houses, making this accommodation perfect to split for big groups, or just reserve one for a secluded couple's getaway.
Ideal for a one-night stay, Lucem Nomad Cabin is basically just a bed in a small wooden structure with glass windows to the front and on the ceiling making up its walls. This makes for incredible views morning and night!
The concept behind this accommodation is truly unique, as it is a "pop-up" place to stay! It is designed to be moved to different places in the Dolomites.
As a more affordable unique stay, this tiny, secluded barn is way up high in the Dolomites. The remoteness of the area means untouched areas of nature and uninhibited panoramic views to soak in. At $120 per night, this private retreat is perfect for those chasing an authentic travel experience on a budget.
---
The SGTD Take
That was a lot to cover! But I hope this extra-thorough guide to accommodation in the Dolomites is exactly what you need to help you figure out which areas are the best for you to stay as well as which hotels are the best value for the experience you are craving.
I've done so much research on stays in the Dolomites for my own personal trips, that I saw it only fitting to help guide others so they can spend less time stressing about trip planning and more time getting excited for their adventure!
Discover more ideas for your northern Italy itinerary.
Which is your favorite area or hotel to stay in the Dolomites? Leave a comment so we can talk about it!
Don't forget to save this guide on Pinterest for reference!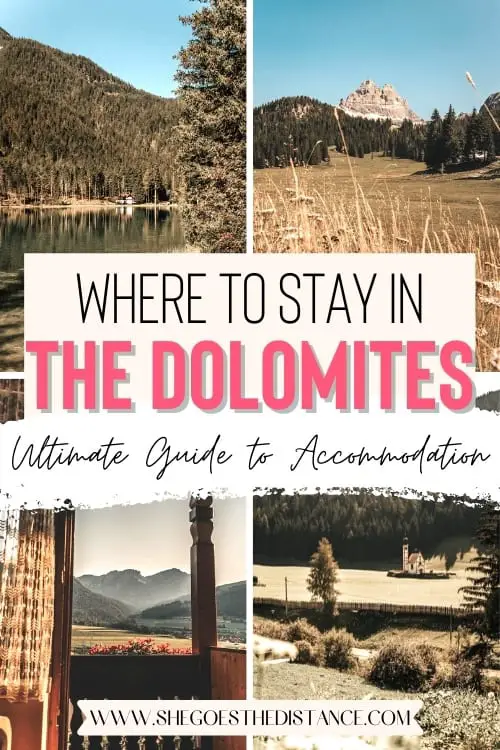 Hopefully this guide all about where to stay in the Dolomites has given you just the insight you needed to pick the perfect accommodation for your dream trip!
XOXO
Michela