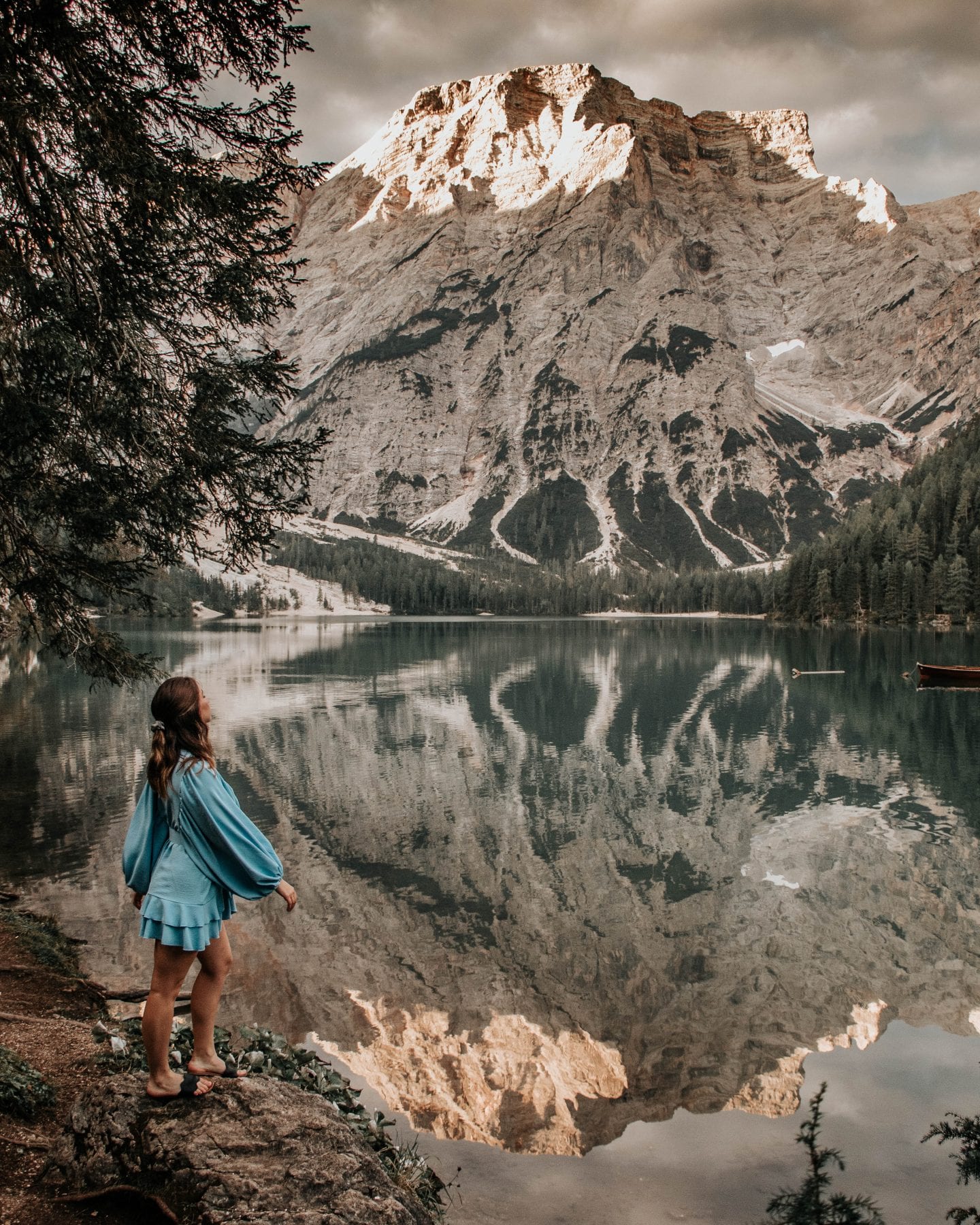 If you're planning a trip to the Dolomites and you've ended up here, then you already know that Lago di Braies is a must-see location on your itinerary. Prepare before you go so you can make the most of your visit with these best tips for visiting Lago di Braies.
Lago di Braies is seriously one of the most beautiful spots in Italy, if not on Earth, for it's gorgeous mountain reflection, aesthetic wooden boathouse and boats and a stark turquoise water against an evergreen and slate grey mountain landscape.
These tips will help you be completely prepared for your visit to Lago di Braies so you don't have to worry about where to park, how to get from one place to another and all of the other unknowns that come with traveling to new places.
Still looking for ideas for your Dolomites itinerary? Discover the famous & hidden gem spots alike in my 3-Day Dolomites itinerary.
Let's get into the best tips for visiting Lago di Braies so you can make the most of your visit to Italy's most beautiful lake.
Some of these links may be affiliate links. You can read my full affiliate disclosure here.
---
How to Get to Lago di Braies
Your only easy option to reach Lago di Braies is by car. Due to the terrain and spread of locations in the Dolomites, trains aren't as easy to use to get around (unlike the rest of Italy!)
You can still take trains to the Dolomites, but in order to reach smaller locations like Lago di Braies, you will need a car. Your other option is to take a Flixbus.
I usually rent through AutoEurope for car rentals in Europe.
There is one road through a valley engulfed by hilly countryside and bright green fields that will take you right to Lago di Braies. No long hikes or rough terrain to actually make it to the lake – only a 5 minute walk from the parking lot!
Also – in case you don't know – Lago di Braies has a second name, Pragser Wildsee. It's the German name for the lake!
That could be a helpful note if you or your navigation gets confused!
---
Parking at Lago di Braies
One thing I always wonder about and am never prepared for when traveling are parking situations. Maybe it doesn't make you anxious, or you're like me and it's nice to know what to expect!
You have to pay for parking at Lago di Braies. If you arrive very early (6-6:30 am range) and stay about two hours, it's only 2 euros.
Otherwise, it can 6 euros per hour or even more (depends on the tourist season.)
There are several parking lots as well. If you're arriving early, you should be able to park in the closest one to the lake!
You'll take a ticket at the parking lot entrance and pay it before you leave at the pay stations nearby.
---
Where to Stay Around Lago di Braies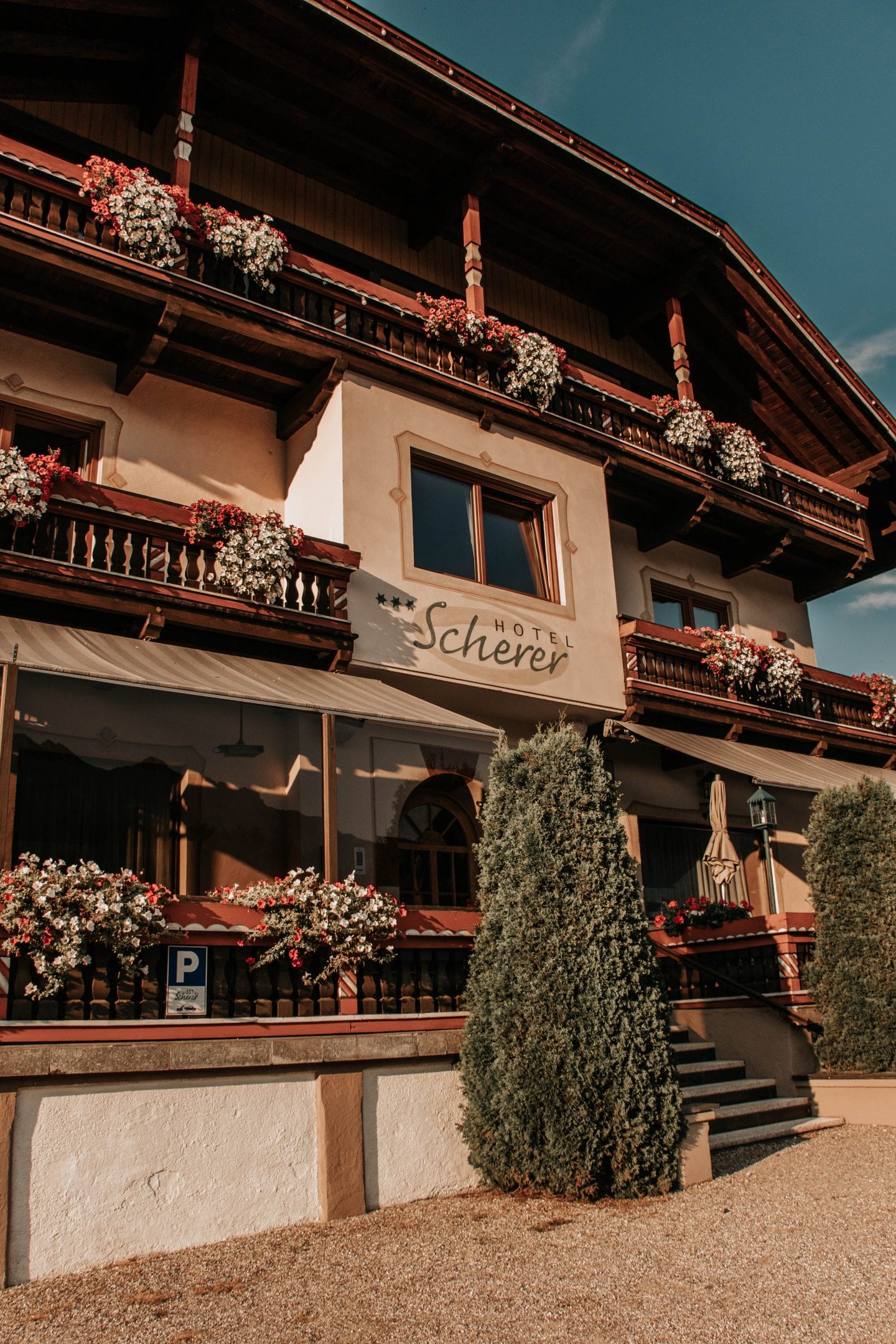 The closest town to Lago di Braies that also has a multitude of accommodation options is Valdaora.
As I mentioned in my 3-day Dolomites itinerary, I stayed at Hotel Scherer and it was the perfect mix of comfort, affordability, amenities and location. If you'd like to read more about the details of the hotel, check out my Dolomites itinerary!
Other towns nearby to Lago di Braies are Ortisei or Dobbiacco. Dobbiacco is nearer, but with less accommodation options. Ortisei is a bit further, but with more accommodation options!
The reason I am recommending accommodations nearest to Lago di Braies is because of another tip coming up, which is to arrive early at the lake. Having accommodation near the lake will aid you in arriving early!
Psst!: There is also a hotel that is actually directly on Lago di Braies. If Lago di Braies is number one on your hit list, you can look into staying at Hotel Lago di Braies/Hotel Pragser Wildsee.
---
Tips for Visiting Lago di Braies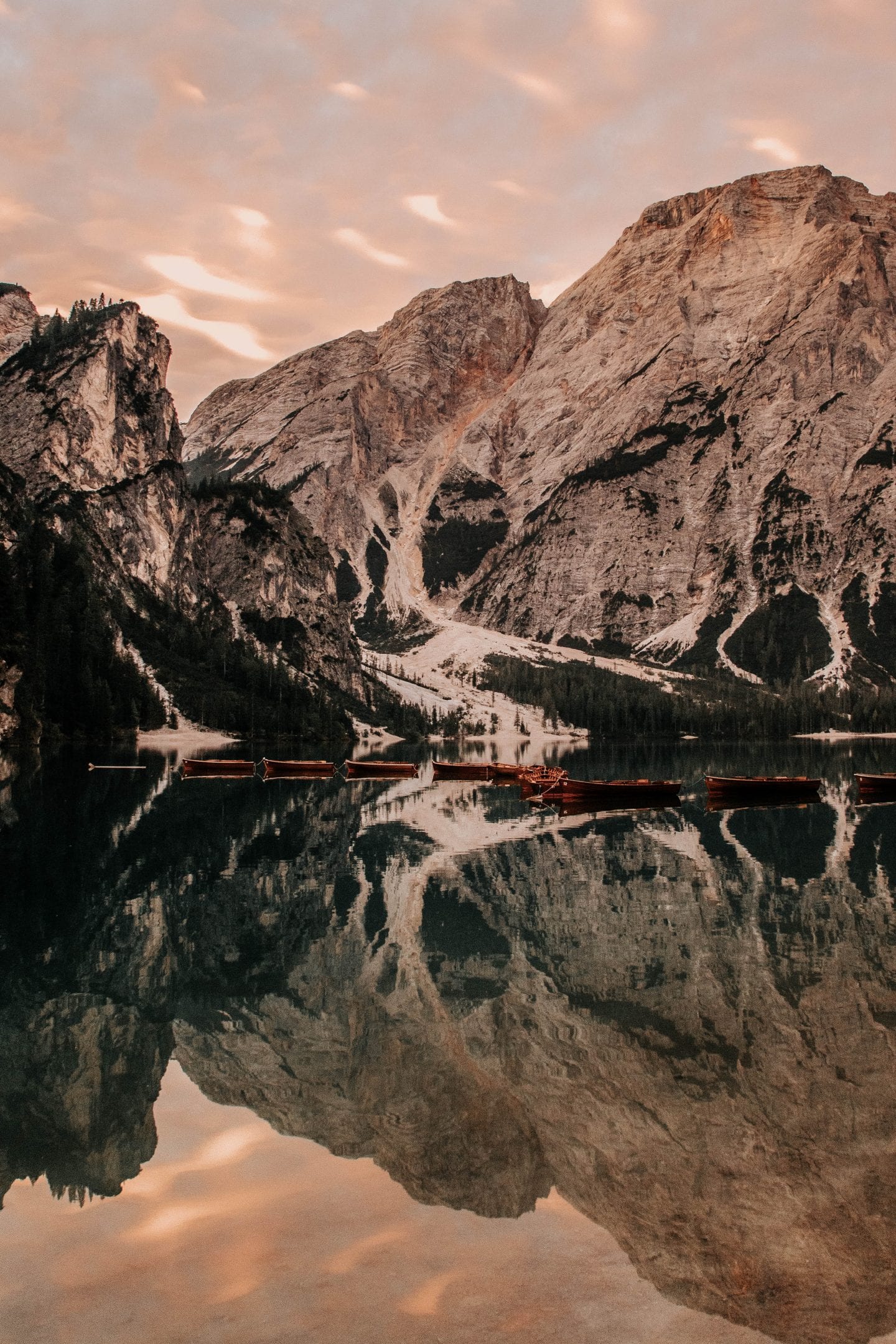 Since you've found yourself at this post, I am sure you are either planning or dreaming up your trip to Lago di Braies. And I want to make sure you can make the most of your visit!
From my own visit to Lago di Braies, and furthermore my own dreaming for years of visiting it, I knew I didn't want to miss any moment of this special spot. Lago di Braies is truly an unreal place and you never know when you're traveling if you're going to come back to certain places.
So, especially at Lago di Braies, I want to share all my tips for you to experience all that Lago di Braies has to offer in the best way possible.
Arrive Early
Of all the tips for visiting Lago di Braies, the most essential one is to arrive early.
I mean, like, before-the-sun-rises early so that you can actually see the sun rise over the lake.
That is when the magic happens at Lago di Braies. The soft even, light combined with the position of the mountains turns the water into a liquid mirror.
The reflection is breathtaking and the ultimate reason to visit Lago di Braies.
Likely, arriving early means less people. However, this spot is now an incredibly famous tourist area, and there will still be more people than you think at 6 in the morning!
It will at least mean you should be able to park in the closest parking lot!
Hike All Around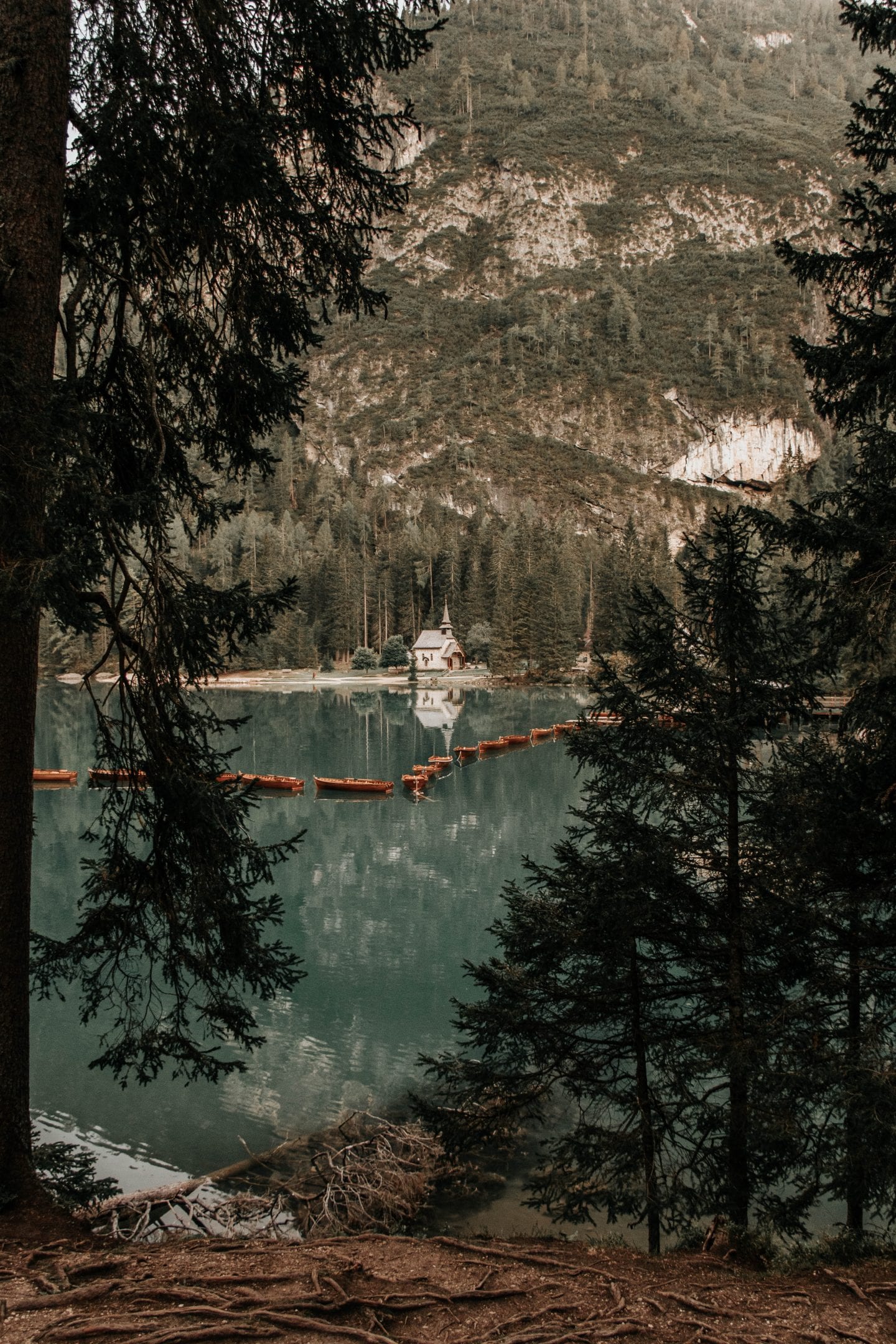 I absolutely encourage hiking around Lago di Braies. So many people hang out near the entrance to the lake by the boathouse, which is that characteristic photo spot and wide front-on view.
However, actually following the path all around the lake allows you to find incredible and unique perspectives for photos as well as simply enjoying the breathtaking view at every new turn.
The hike all in all takes about an hour to an hour and a half, if you're not stopping frequently along the way.
Don't rush it if you don't need to!
Pro Tip: There is a portion of the hike that is a lot of stairs, so I do encourage wearing athletic shoes or at least bringing some along to change into. Also, these areas can get slippery with either ice or rain, so stay safe!
Bring Your Best Camera Gear
No doubt, one of the best tips for visiting Lago di Braies is to tug along your camera gear.
You should absolutely haul your tripod, your DSLR, your lenses, your drone, etc. to capture every angle of this lake.
Lago di Braies is very much a photographer's dream location, with so many perspectives to capture and reflections to play with.
I've compiled a full list of all of my favorite travel photography gear, but here's some in short that I would definitely recommend:
Dress Warmly
The temperature in the Dolomites will not be reflective of whatever season Italy is in.
If it's summer, it will be cold early in the morning in the Dolomites. If it's winter, it will be extra cold early in the morning.
The altitude of the mountains has a strong effect on the temperature – the higher you go, the colder it is!
Since you'll probably want to take photos at this location (and not in big bulky winter clothes), I'm going to recommend you do what I do. I wore my dress underneath a big zipped sweatshirt and warm sweatpants!
Bring an extra bag to hold the clothes when you make your quick change so you don't have to lay them on the dirt!
There's no privacy so if you can change outfits easily for pictures, that is your best bet!
Return to Rent a Wooden Boat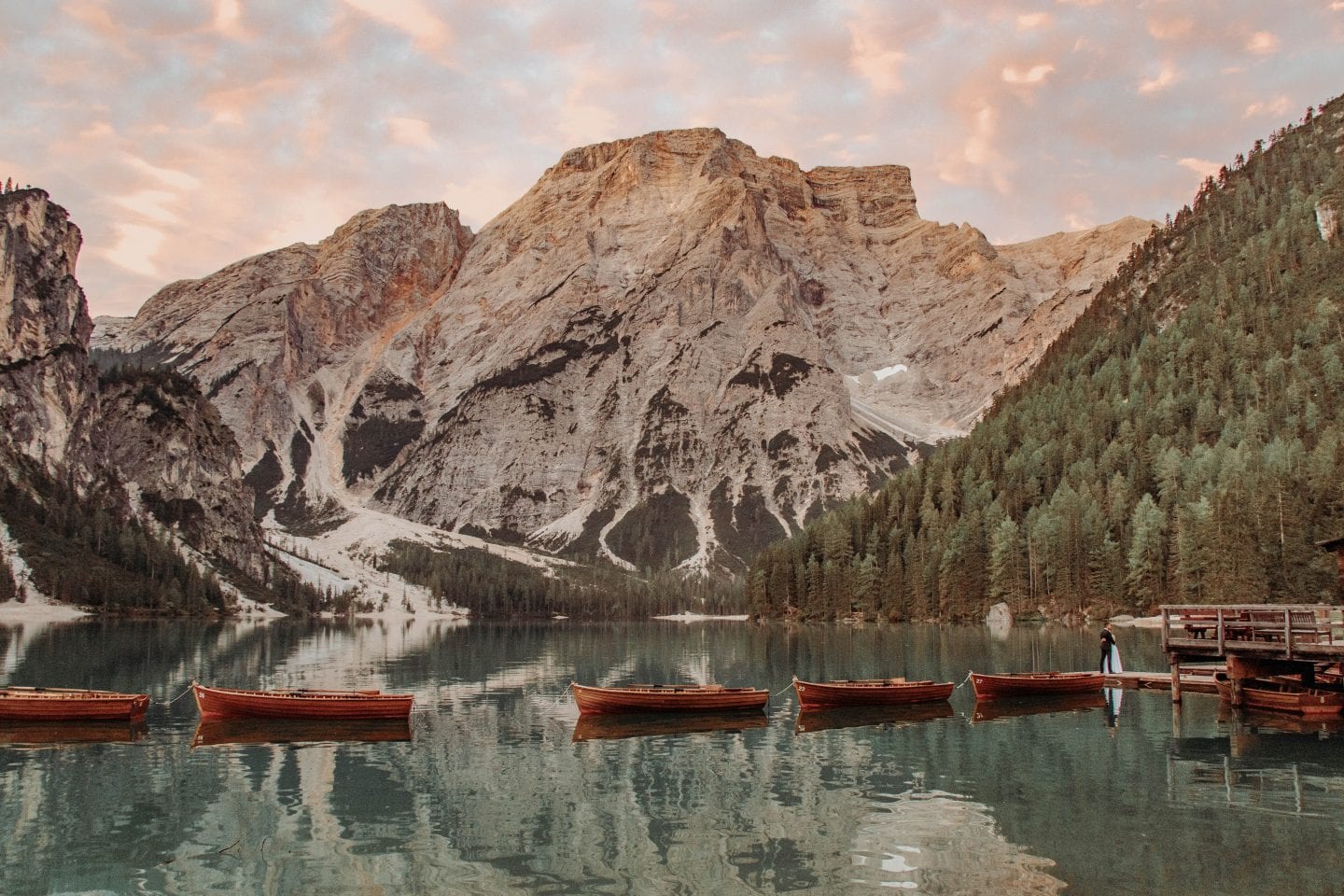 The only downside to arriving early to Lago di Braies is that the famous wooden boats are not available to rent until the boathouse opens, which is around 9 am.
The upside is that the boats are aesthetically tied up for you to capture that unreal photo that has become Instagram-famous!
Anyways, back to the tip, if you have the time in the day, I would either stay until the boathouse opens or leave and come back.
One plus about leaving and coming back is that many hotels in the Dolomites include breakfast with your room reservation.
You could arrive to experience the iconic sunrise over the lake, go eat your breakfast, and then return to take a boat on the lake.
Have a Picnic or Simply Sit for a Rest
Unbeknownst to me before I arrived at Lago di Braies was that there are several picnic benches and regular benches along the hiking path.
I strongly suggest taking a moment to sit and take in your surroundings. Lago di Braies is a once in a lifetime destination (you'll understand that when you get there!)
You could easily pack a lunch bag and have a meal at the lake's edge or sit and take in the views on a lakeside bench.
Get Creative With Your Photography
As I mentioned previously, Lago di Braies is a photographer's dream location. Everyone wants that iconic shot of the boats tied up on this mirrored lake.
But what I wholeheartedly suggest, which ties into my tips on hiking all around the lake, is seeking new perspectives of Lago di Braies.
I was so surprised at how many beautiful, unique shots there are to be taken at Lago di Braies by exploring beyond the entrance.
Take the time to explore and discover creative photo compositions!
---
More Tips for Visiting Lago di Braies
You can swim in the lake. However, the water is incredibly cold! You won't see many brave people doing it, if any!
Have coins on hand to pay for parking (remember Italy uses the euro!)
Go for accommodation that includes breakfast and possibly even dinner. There are more options than you think! You will likely save time and money looking for restaurants in the Dolomites.
Don't forget to save these tips to Pinterest so you have them ready for your trip!
I hope you are on your way to visiting Lago di Braies soon and can take these tips with you to make the most of your visit!
XOXO
Michela