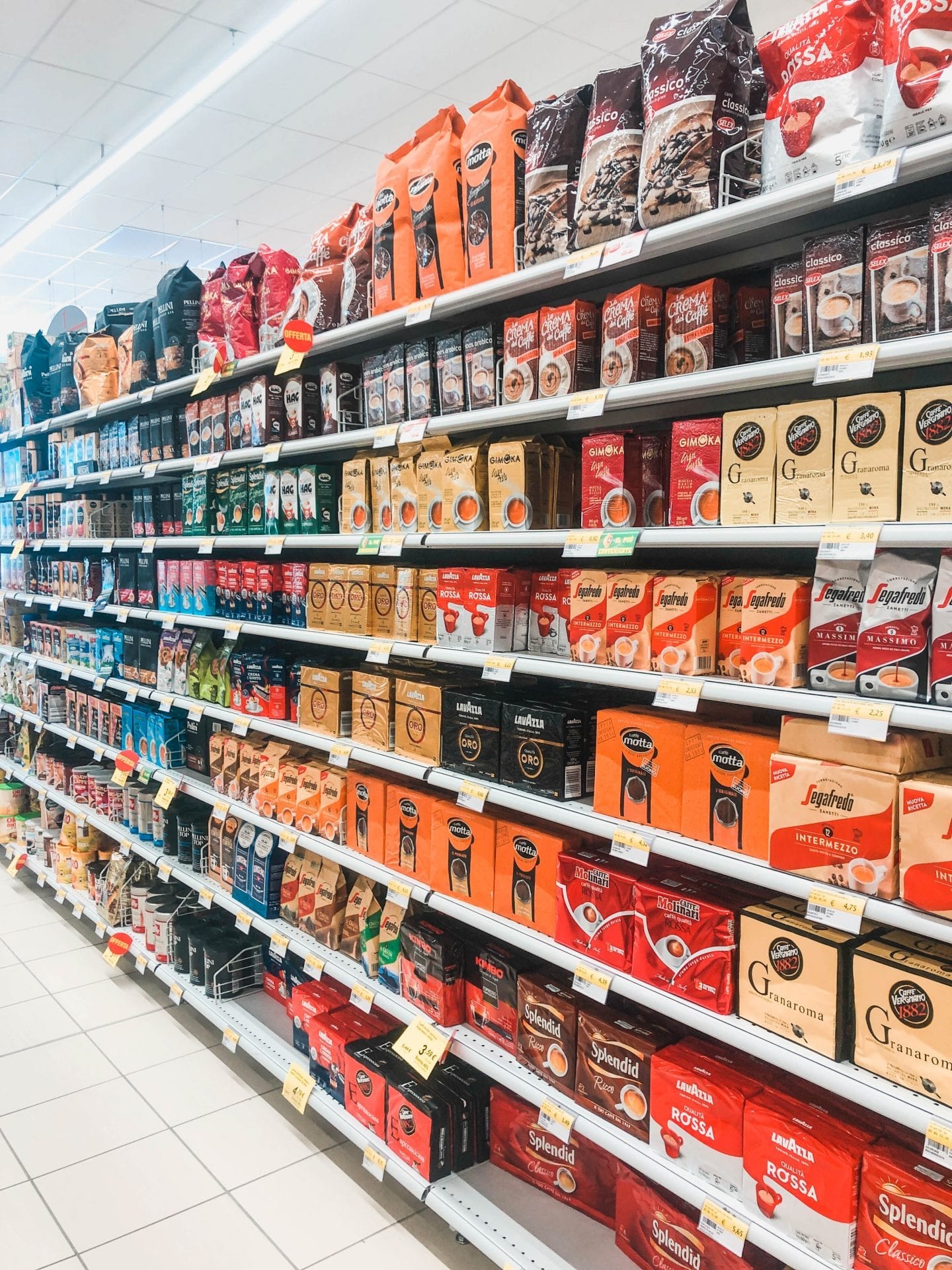 Last Updated on June 26, 2022
Grocery shopping in Italy can be a bit confusing – from the language to the products to the etiquette. There are several differences to buying groceries in Italy in comparison to the US, so whether you are a traveler looking to do some cooking on your trip or a new expat in Italy, these are my top tips to navigating the unusual differences at grocery stores in Italy.
I'm from the US, have traveled to Italy a lot, and have lived in Bergamo in northern Italy for over a year now. While I only dabbled in Italian supermarkets in previous years, I would say I'm now a sommelier of Italian grocery stores given how many times I visit in a week (oddly it's one of my favorite parts of local life – and adult life!)
With that being said, I promise by the end of this post you will be a pro at navigating Italian supermarkets, knowing the proper etiquette, and having a few key Italian phrases in your back pocket for grocery shopping.
---
Types of Supermarkets in Italy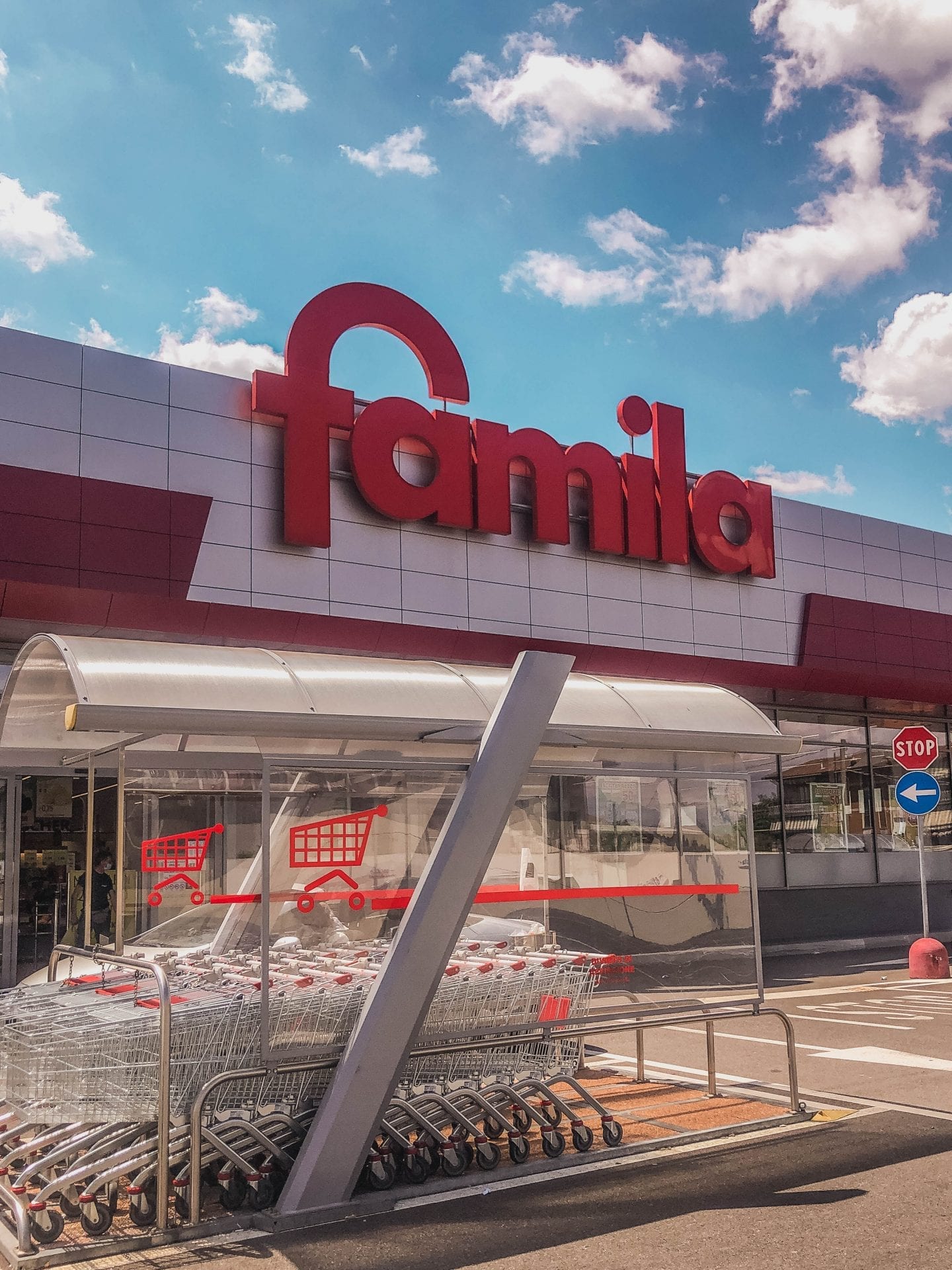 First off: How do you say grocery store in Italian? Depending on the size of the grocery store in question, the term can vary. Most grocery stores are a "supermercato." Really big grocery stores (think SuperTarget) are called "ipermercato."
Italy's supermarket culture is similar and different in a variety of ways to the US. Bigger supermarkets with a wide variety of food and home products are a bit fewer and far between. Local and smaller grocery stores are more common than in the US.
Both have their conveniences and also their frustrations. Big supermarkets are quite big, but not as big as some of America's superstores. You can find pretty much anything you are looking for – they usually carry homewares, clothes, maybe electronics or a pharmacy in addition to food.
Local stores are small but typically carry basic conveniences (similar to a drugstore, but with more food.)
There are also open air markets, or mercatini all'aria aperta, but those will typically occur once a week in a comune (town.)
Some big supermarkets are even in shopping malls! As an American, it's a strange sight to see people pushing shopping carts around a mall!
Major supermarket chains in Italy include:
Smaller supermarket chains in Italy are:
You likely won't be visiting those smaller, local supermarkets, but it's extra information to have in your back pocket in case you're in an emergency and see one of those stores around.
---
Supermarket Etiquette
There is nothing drastically different with Italian supermarket etiquette, but there are a couple strange things that aren't as common in places like the US as they are in Italy.
Pick Up Produce With A Glove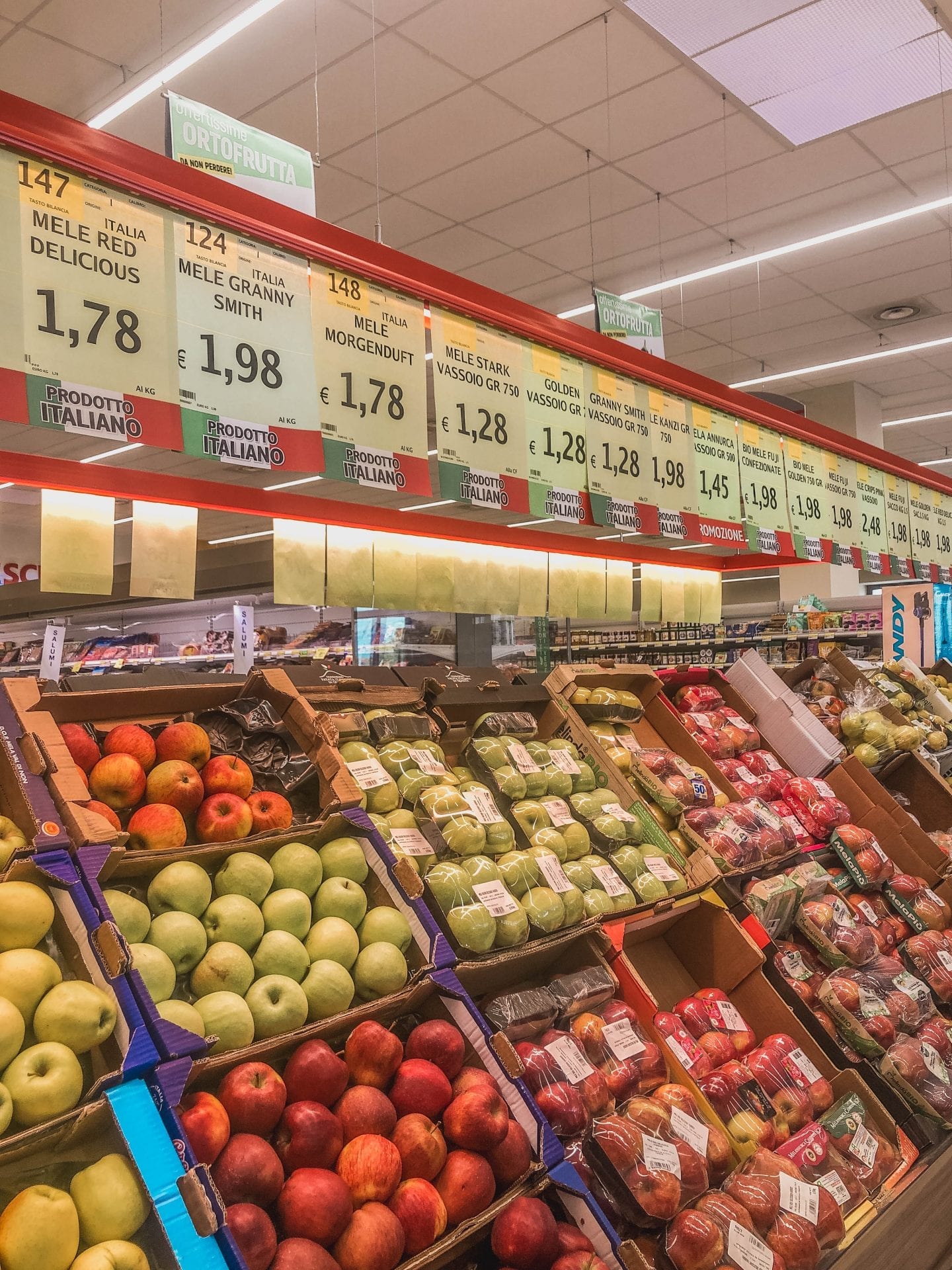 This might just be a practice of buying groceries in Italy that the US should steal.
Not only are bags provided for produce, but so are thin single-use gloves so that you're not directly touching fruits and vegetables. It seems like common sense, so I think the Italians have us beat here.
Bag Your Own Groceries
I have never been in an Italian grocery store where the clerk bags your items. Ever.
The clerk will rapidly scan your items through and down the slope of the checkout lane, barely giving you time to pay, before they start with the next customer.
Have your bag out and ready to start grabbing your stuff and packing it away!
Fun fact: The clerks at the registers are also almost always sitting down in a chair.
Bring Your Own Bags
It's very common in Italy to bring your own bags while grocery shopping, whether they are plastic or reusable fabric bags.
I'll explain more why in the next section, covering tips for navigating supermarkets and what the major differences really are.
---
Tips for Navigating Grocery Stores in Italy & What's Different From Other Countries
You Can Pay With Cash Or Card
It's no surprise that you can buy your groceries with cash or a card in Italy. However, I wanted to add it as a tip because it can be confusing for first-time visitors to know these kinds of things!
There can always be an exception, of course. Corner grocery stores in remote areas of Italy with very small towns -very specific, I know – may mean you can only pay with cash, but any major supermarket will be able to take a credit card.
The card reader will say "Attendere Prego," which is when you will insert, swipe, or tap your card.
Most large grocery stores also have Apple Pay.
If you are paying with cash, remember Italy uses the euro. One and two euros are actually coins, not bills!
Grocery Bags Cost Money
I mentioned that bringing your own bag is popular in Italy and it's because if you need a grocery bag every time you go to the store, it's going to cost you! This is common in many European supermarkets, as you'll also see in my guide to grocery shopping in Croatia.
Bags are usually only 10 cents, but if you are someone who has moved to Italy, this can really add up over time. Plus, it's annoying to think you are wasting money on a plastic bag every time you shop!
Weigh Your Produce Yourself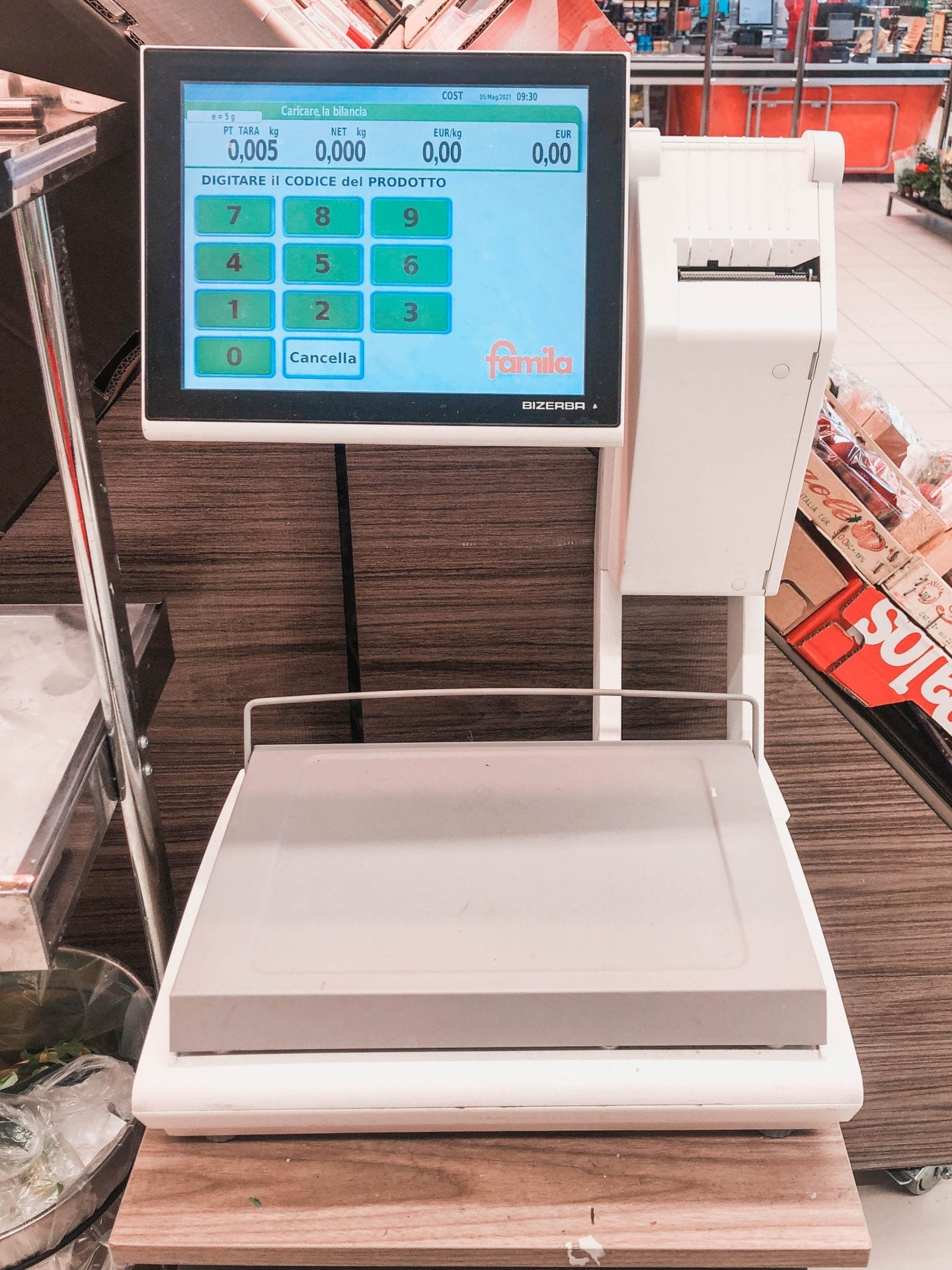 It seems to be a trend that in grocery stores in Italy, that even though you're the guest, they put you to work!
In any produce section of a major supermarket, you will see scales with a tablet screen on them. Once you choose your produce, you must take a look at the product sign to get its number.
Then you head over to the scale, weigh your produce, and type in the food's number. The tablet will print a sticker that has the barcode and price of your produce on it!
Don't forget to do this, as it's quite embarrassing to go up to the checkout and have to leave because the produce wasn't weighed!
You Have to Rent a Shopping Cart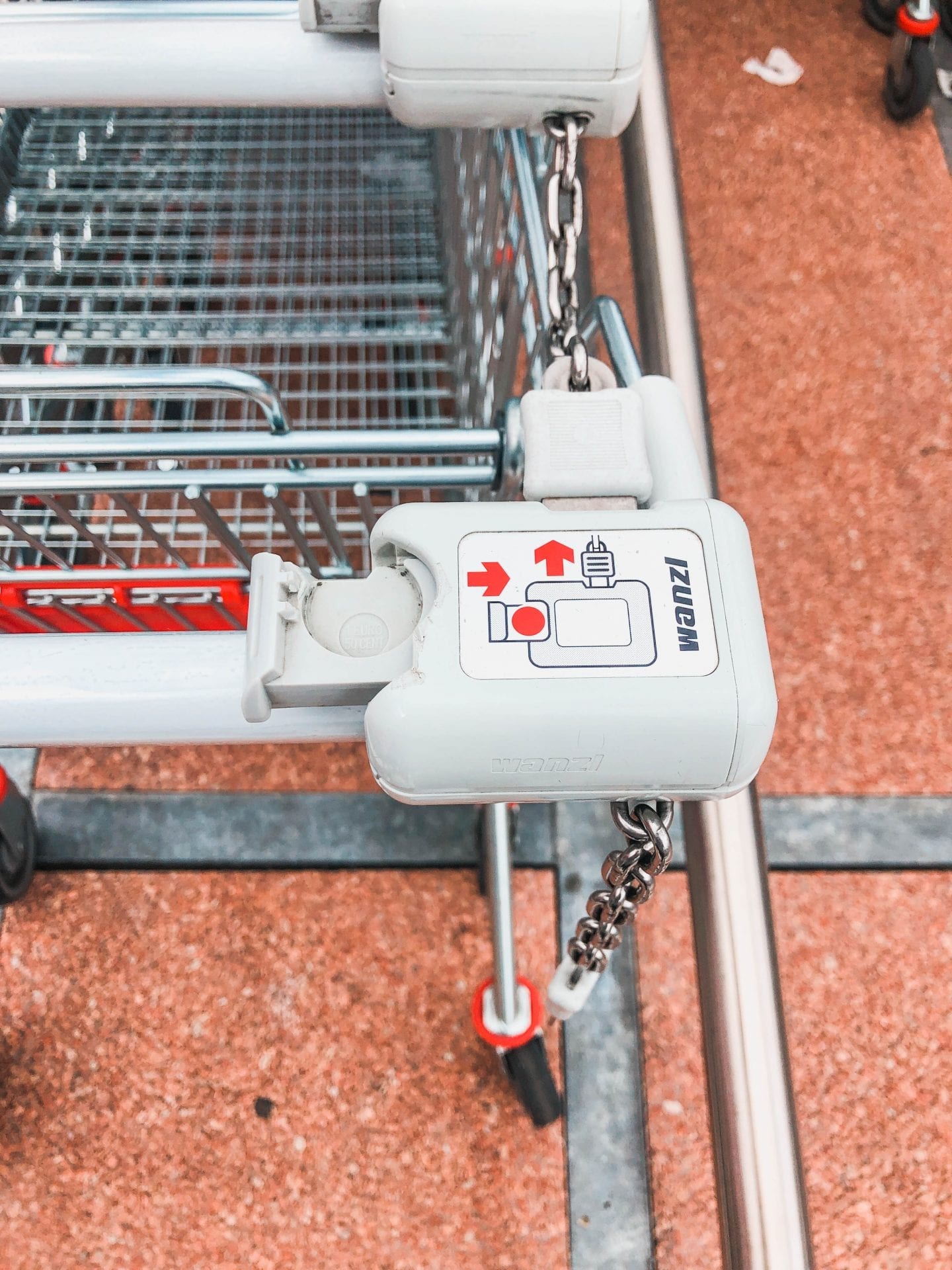 If you want to use a shopping cart, you have to rent one. You'll insert a 1 euro or 50 cent coin into a small slot on the cart to unlock it from the other carts.
Then, when you return it and lock it again to the other carts, you will get your coin back!
Grocery stores in Italy also have baskets, either handheld or with wheels, that you can use while shopping in-store without having to deal with renting a cart.
But if you are planning on buying a lot of groceries, a shopping cart is probably necessary, so have some coins on hand in this case.
(Most) Eggs and Milk Are Not In The Refrigerated Section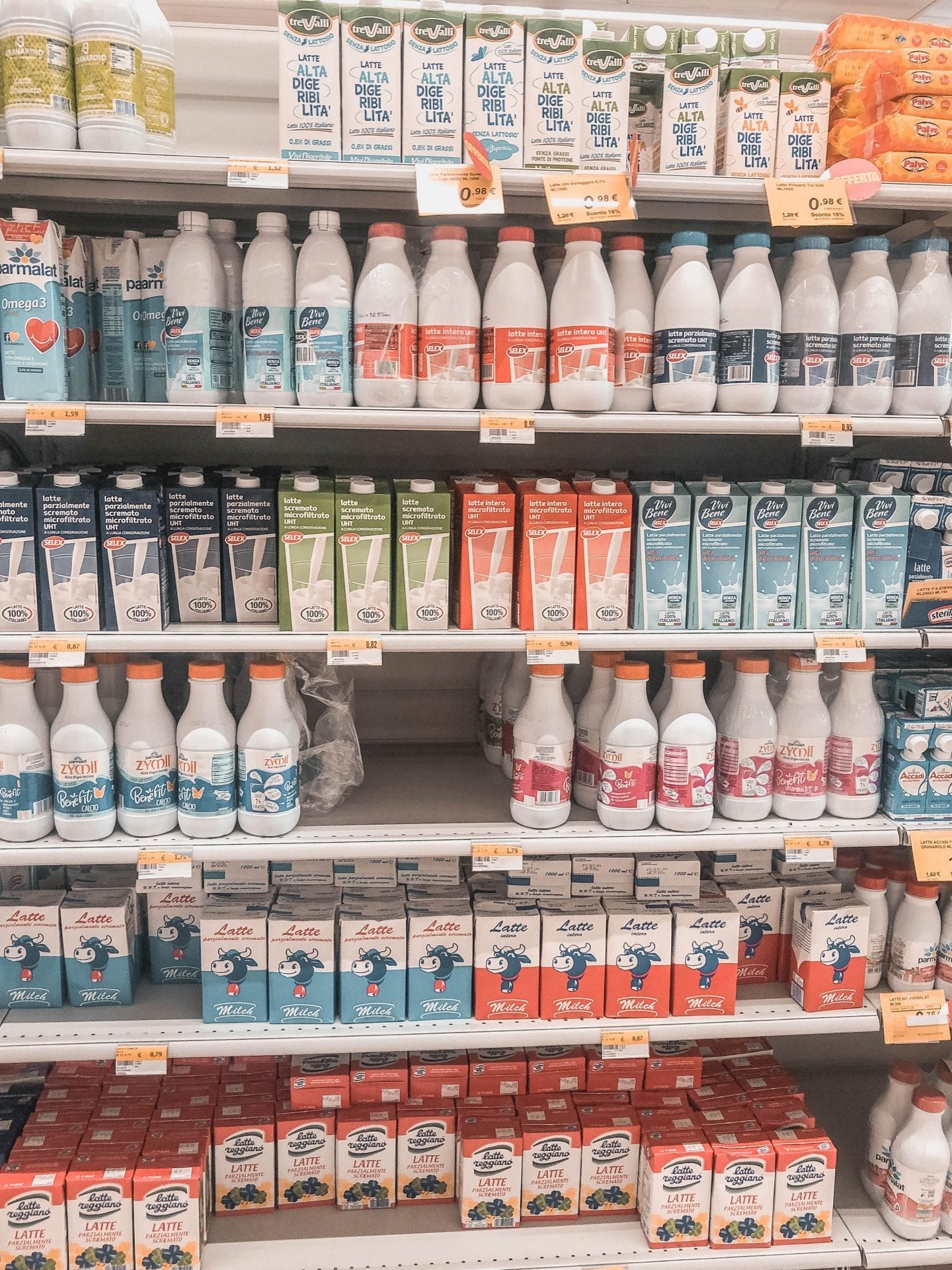 I know, I'm just as confused as you. This one really threw me for a loop when I moved to Italy! Eggs and milk are basic commodities and in the US these items are usually in the refrigerated aisle.
But not in Italy! There is no specific aisle that they are in, but they are usually near the refrigerated items, like yogurt.
Milk and eggs are also quite expensive compared to the US in large supermarkets, so if you can visit a smaller or local supermarket, you'd save some extra cash in doing so.
Scan Your Receipt to Leave a Self-Checkout
At larger grocery stores in Italy, there may be a self-checkout area (at least you can bag your items at your own pace here!)
Self-checkout is straightforward and you can usually select your language on the machine, which is great if you are not comfortable with speaking Italian.
Just remember to always grab your receipt at self-checkout. There is usually an automated gate to leave the area, so you scan the barcode that is at the bottom of your receipt to exit. Above the barcode, it will say "Apri il cancello."
Grocery Stores Have Rewards Cards
If you're living abroad in Italy, you may want to consider joining one of the rewards programs offered by the larger grocer retailers like Iper and Esselunga. These programs usually offer sales and discounts on certain products that regular shoppers don't get to take advantage of.
---
Phrases to Know When Buying Groceries in Italy
I probably can't get you to memorize every food item in Italian before you leave for your trip or make your big move, but I do want to provide some basic phrases and words that can help you navigate buying groceries in Italy!
Food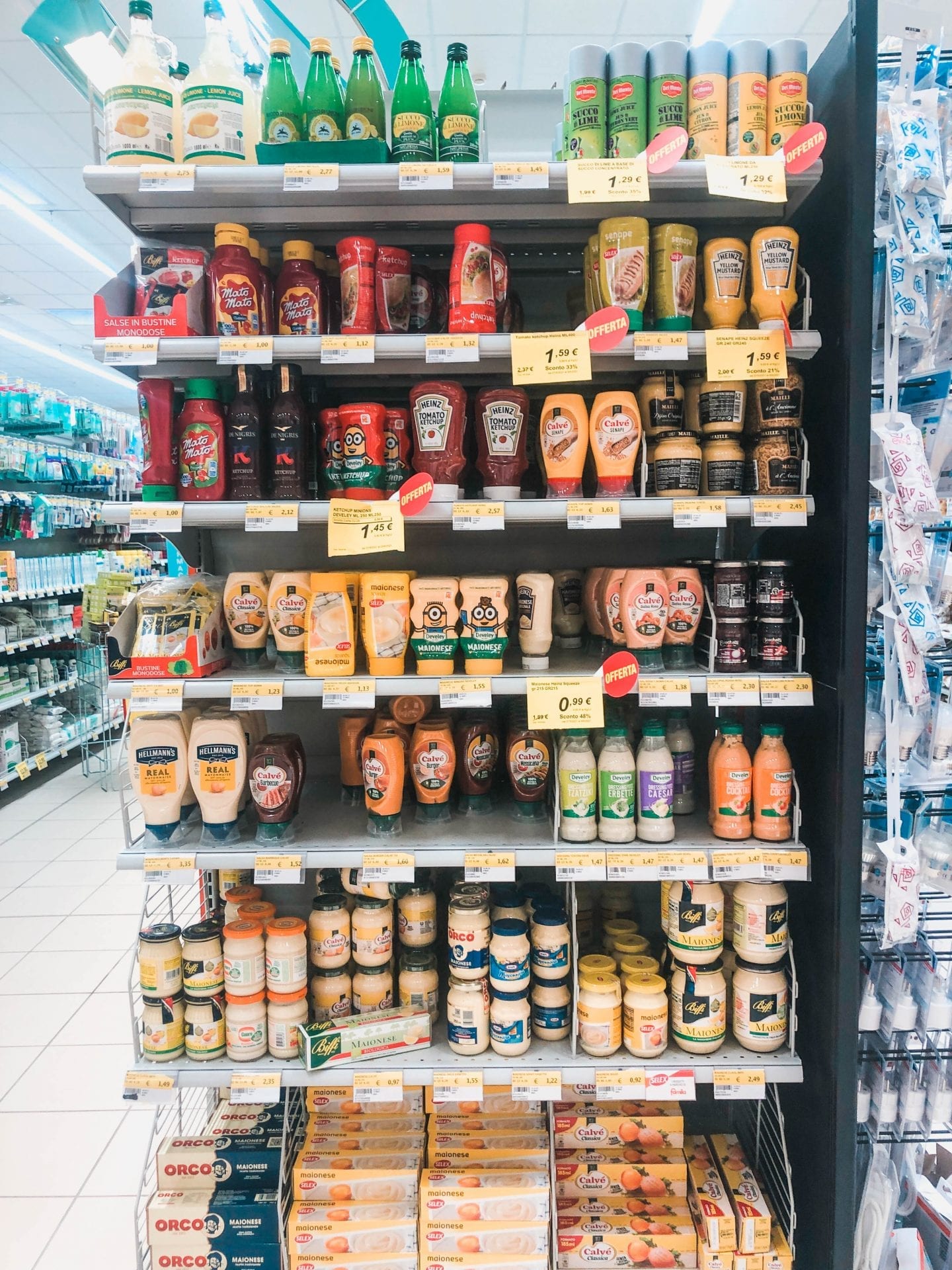 Frutta – Fruit
Verdura – Vegetable
Carne – Meat
Pollo – Chicken
Pane – Bread
Uova – Egg
Latte – Milk
Caffè – Coffee
Bottiglie d'Acqua – Water Bottles
Checkout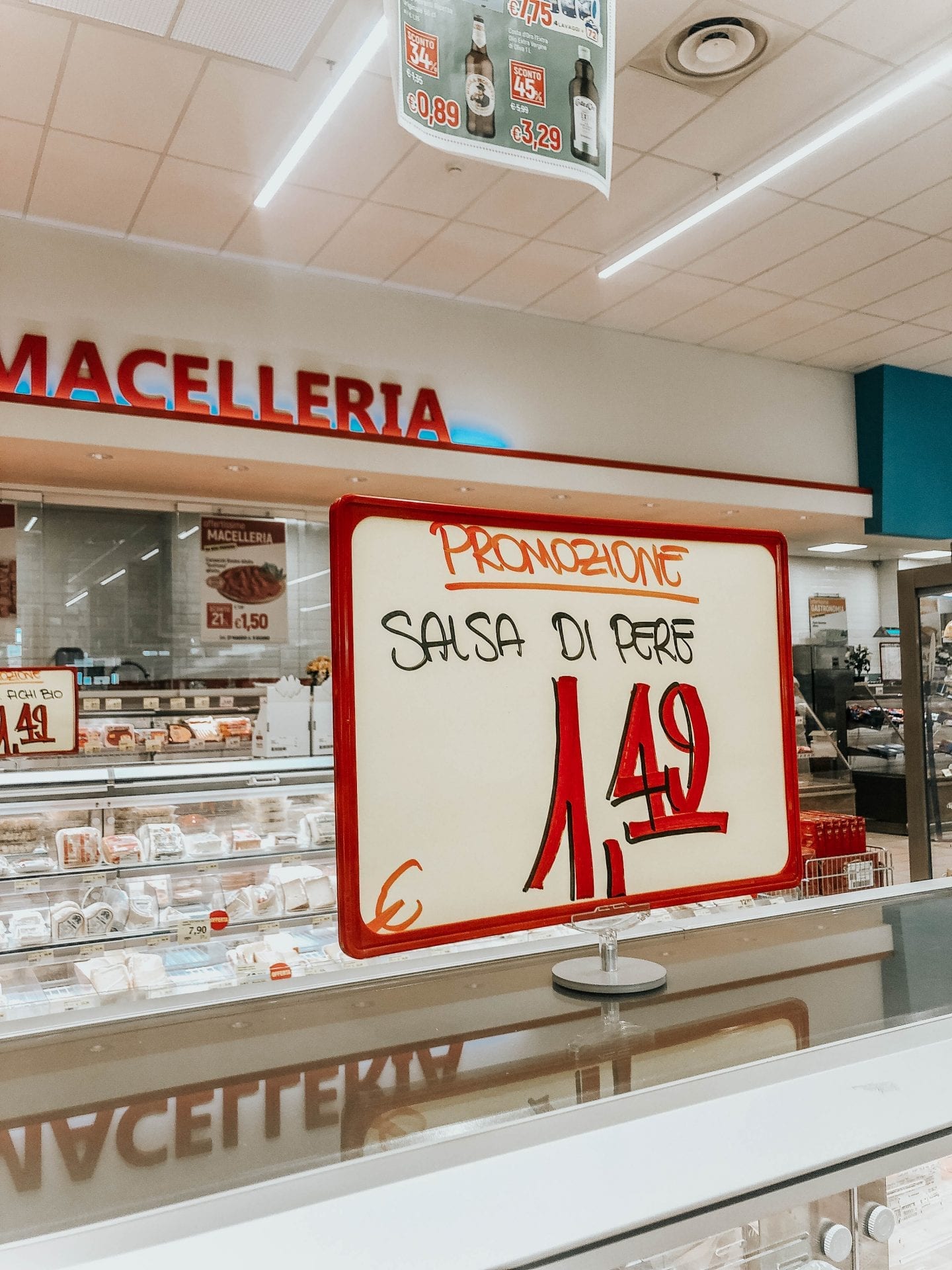 Cassa – Register
Scontrino – Receipt
Sacchetto – Grocery Bag
Sconto – Discount
Promozione – On Sale/Promotion
Contanti – Cash
Carta di credito – Credit Card
Pagare – To Pay
---
American Favorites You Can Find in Italian Supermarkets
Compared to Italy, the US offers a much wider and more easily available selection of ethnic cuisines. So the selection is very limited in Italy, but you still can find some American favorites and other world foods in big supermarkets.
The bulk of these is in the ethnic foods aisle, with foods Mexican, Asian, and Indian cuisines.
Here are some of my American staples and where to find them in the store:
Peanut Butter – Breakfast aisle, near Nutella & jams
Maple syrup – Breakfast aisle,
Waffles & pancakes – Batter can be found in the baking aisle, microwave-ready can be found either in the breakfast/cereals aisle or in the baked goods aisle
Bacon – Refrigerated aisle near cured meats
Ketchup/Mayonnaise – Usually ethnic foods aisle
These foods are all of a very limited selection – there are usually only one or two brands of these items, so you have to take a very close look!
---
Final Thoughts
While grocery shopping probably isn't at the top of your bucket list when visiting a new destination, the activity can truly surprise you. It may not be the most fun, but it is a glimpse into local life and culture of the country you are visiting. And that's pretty sweet!
Grocery stores in Italy are not all that different from the US, but it's surprising how basic things can feel so different and out of our comfort zone in a new place! That's why I hope these tips and insight as to what to expect grocery shopping in Italy help make your vacation, study abroad, or moving transition just a bit easier!
What surprises you most about grocery stores in Italy compared to the US?
Save this guide for future reference on that Italy Pinterest board of yours!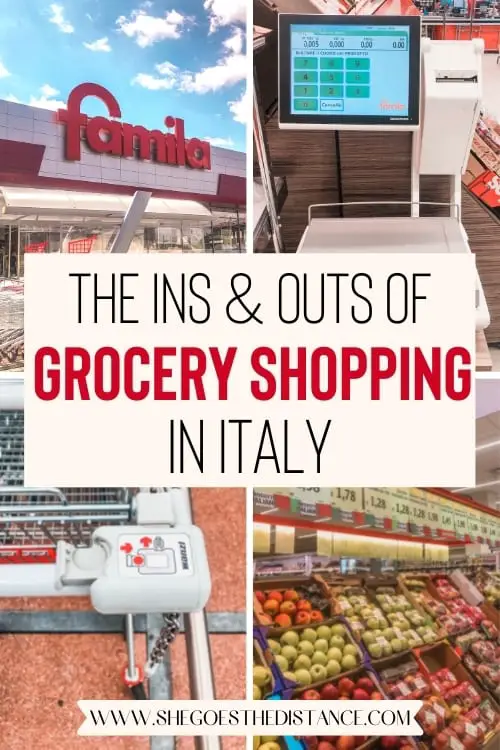 Arrivederci!
XOXO
Michela