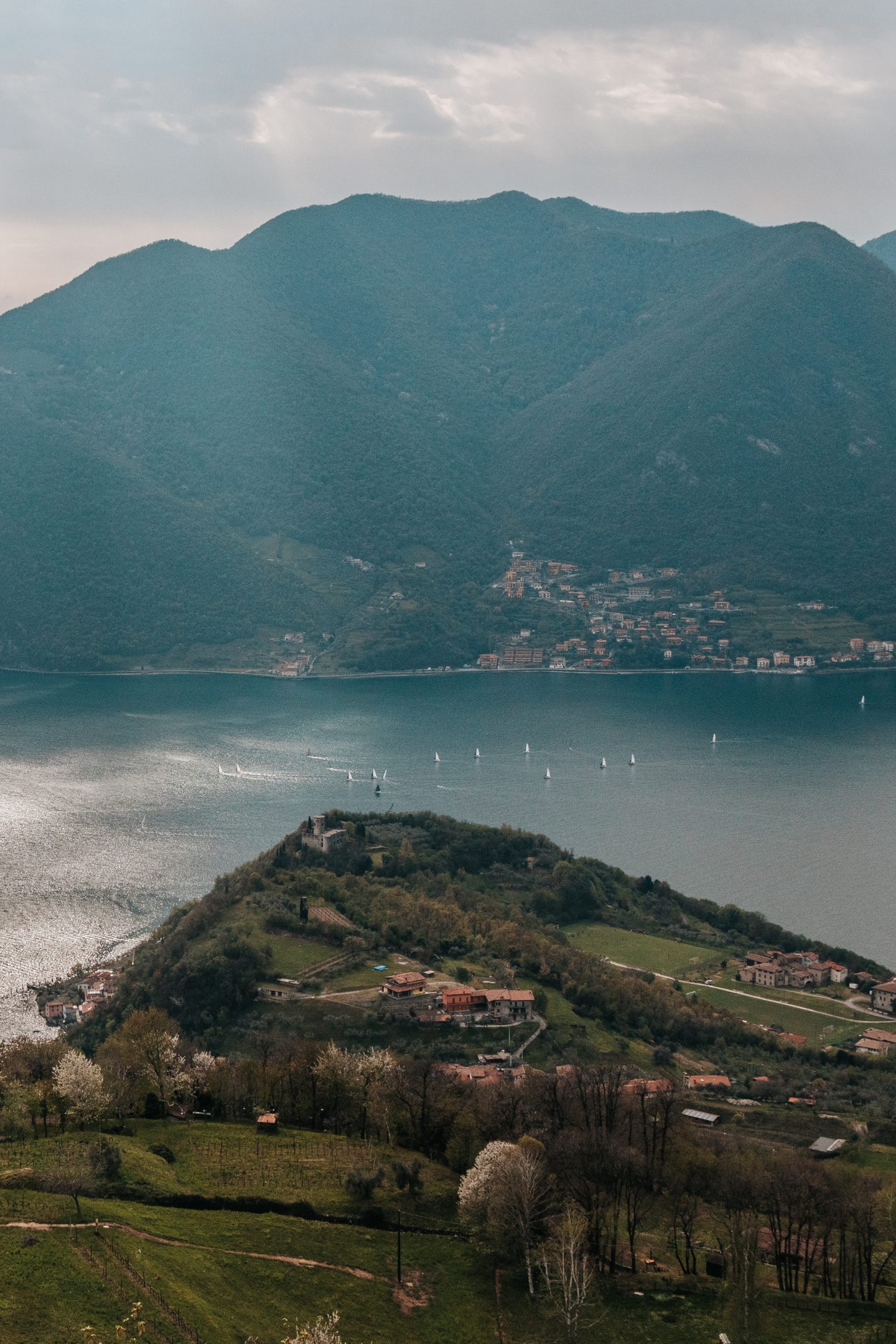 Last Updated on May 11, 2023
Lake Como, Lake Garda, Lake Maggiore – the traveler is spoiled with choice on where to spend a relaxing vacation in the northern Italy lake region. But the curious traveler, who wants to go beneath the surface of travel advertisements and the famous Instagram posts, should venture at the foot of the Alps on Lake Iseo: a true hidden gem, where there is space to breathe and discover an authentic side of Italy. And it doesn't get more authentic than Monte Isola, Italy, Europe's largest lake island and Lake Iseo's crown jewel of beauty, peace and slow living.
Discover everything you need to know about visiting this unique Italian landscape in this complete guide.
And if you are planning your trip to Lake Iseo, check out my full Lake Iseo travel guide.
This post is sponsored by the Airbnb Casa Vista Lago, where I had the pleasure of staying and fully immersing myself in the nature and tranquillity of Monte Isola. Read on to learn more about the stay!
Some of these links are affiliate links. This means if you make a purchase through that link, I receive a small commission at no extra cost to you. Read my full disclosure!
Where is Monte Isola, Italy?
Monte Isola is a destination that belongs on your northern Italy itinerary, especially if you are into slow tourism.
It is located at the center of Lake Iseo, a lesser-known, lesser-trafficked lake than its more famous neighbors. Lake Iseo is in the region of Lombardy and, fun fact, it is split in half by two provinces: the province of Bergamo is the west coast, while the province of Brescia is the east coast, plus Monte Isola in the middle.
To give you an idea of distances, Lake Iseo makes a perfect day trip from Milan because it takes just about an hour to get there by car.
---
A bit of Monte Isola's History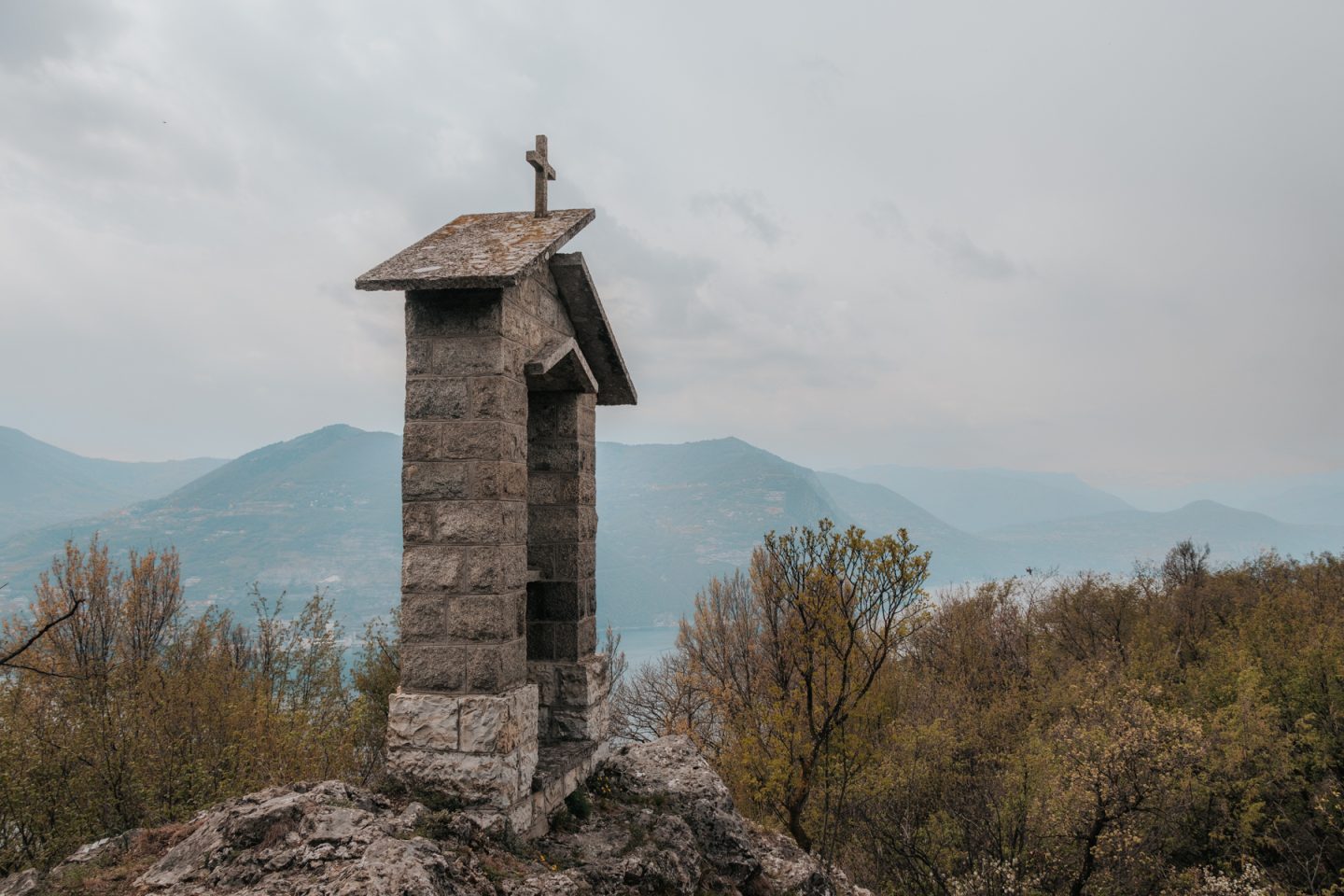 Monte Isola was and very much still is a hidden gem in northern Italy. It is a mountain in the middle of Lake Iseo at 600 meters above sea level, and 4.5 square kilometers.
Life on the island dates back to Roman times when it was listed as property of the S. Giulia monastery in Brescia. During the medieval era, peasants lived and worked on the island for feudal families and the monasteries.
During the 19th and 20th century, the economy was largely based on fishing, fishing net manufacturing and boat construction.
Monte Isola gained real attraction in 2016. It is the year of "The Floating Piers", in which temporary walkways were installed on the lake connecting Monte Isola to the mainland by foot.
It was more than anything an art installation. The project was ideated by Christo and Jeanne-Claude, and carried out by Christo in memory of Jeanne-Claude after her passing. Read more about the installation.
Monte Isola is also one of the "Borghi più belli d'Italia.
Today there are around 1,800 residents on the island and spread over eleven villages (12 fractions or areas).
---
How to Reach Monte Isola
You can reach Lake Iseo in multiple ways: bus, car, and train. But the only way to get to Monte Isola is via the water!
Ferry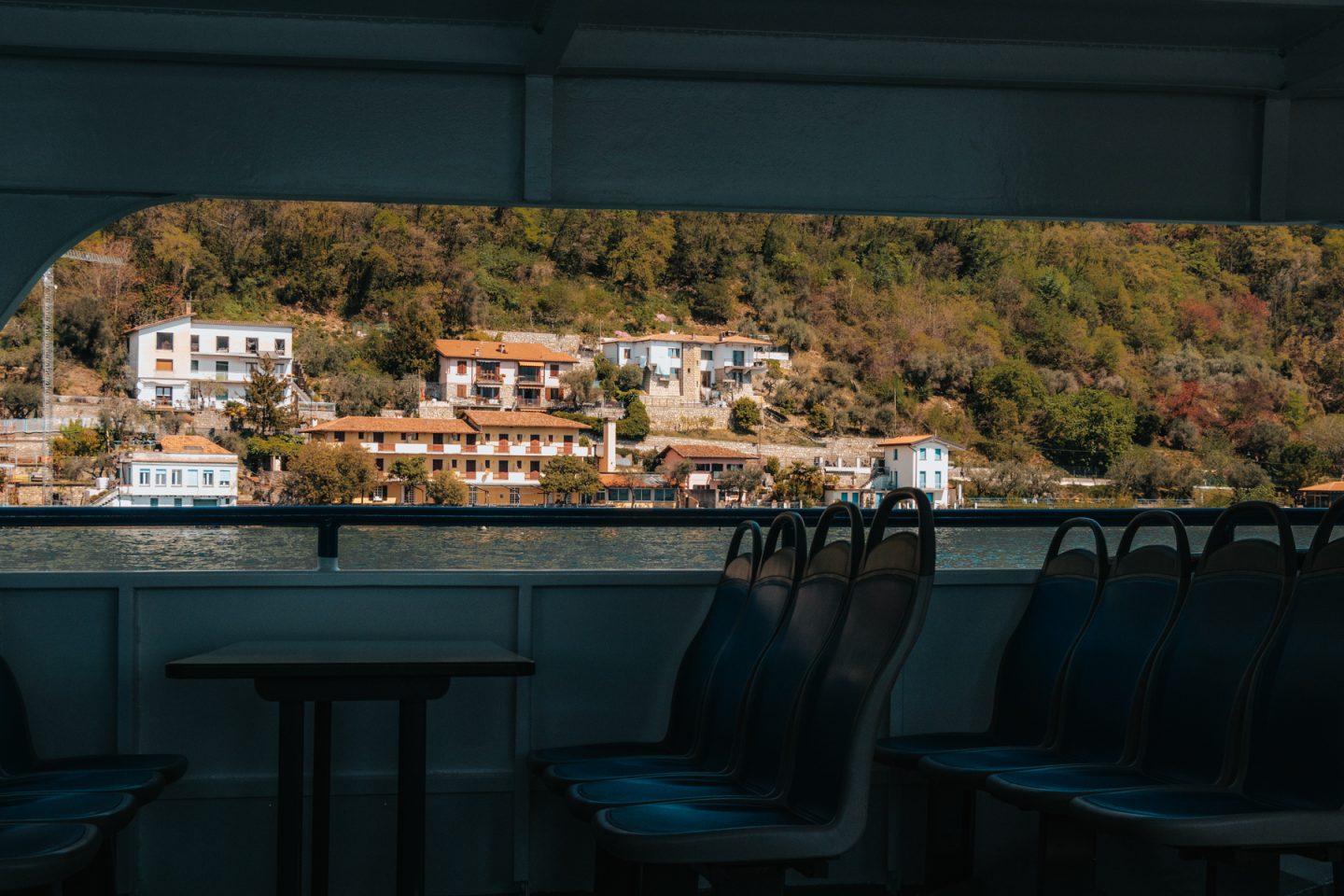 There are various routes from the mainland to Monte Isola, so whether you are coming from the east, west or south of the lake, you will be able to find a town with a ferry shuttle service. You can find the ferry timetables here.
Note that these timetables run until June 18th, 2023 then they will be updated on the Navigazione Lago di Iseo website.
The timetable document attached above explains everything in detail about how the costs work, the different routes and extra things like what you need to pay if you are transporting bikes, pets or luggage.
You can buy a ferry ticket online or in person.
Two things to note here: some ferry routes do not allow you to reserve online unless you are a large group (Sulzano-Peschiera M. and Sale Marasino-Carzano). The other thing to note is that you cannot buy your ticket online if you are buying for a same-day journey.
You can buy your ticket in person at the dock ticket station (not every dock has one of these) or directly on the boat. You can pay with card or cash.
With every ticket going to Monte Isola, there is an additional €1.50 service fee during the high season (€1 in the low season.)
Tickets vary in cost depending on the route but, for example, I did the route from Iseo to Sensole (Monte Isola) and for two roundtrip tickets it cost €17 – €3.50 per person each way plus €1.50 island fee per person.
Private Boat
The ferries are super comfortable, scenic and cheap, so I don't recommend renting a private boat. However, it is an option if you are looking for something exclusive and all your own.
For more information, you can visit the boat rental page on the Visit Lake Iseo website.
---
Getting Around Monte Isola
The only forms of mobile transportation you will find on the island are tiny commercial vehicles, the public bus and scooters! There are absolutely no cars on Monte Isola.
Walking
You will be doing a lot of walking on Monte Isola. You can actually walk around the entire island in around 2 hours!
That's why Monte Isola makes a great northern Italy day trip or slow travel destination.
There are rarely sidewalks on Monte Isola, so you must pay attention to the scooters and "ape" cars zooming by.
Bus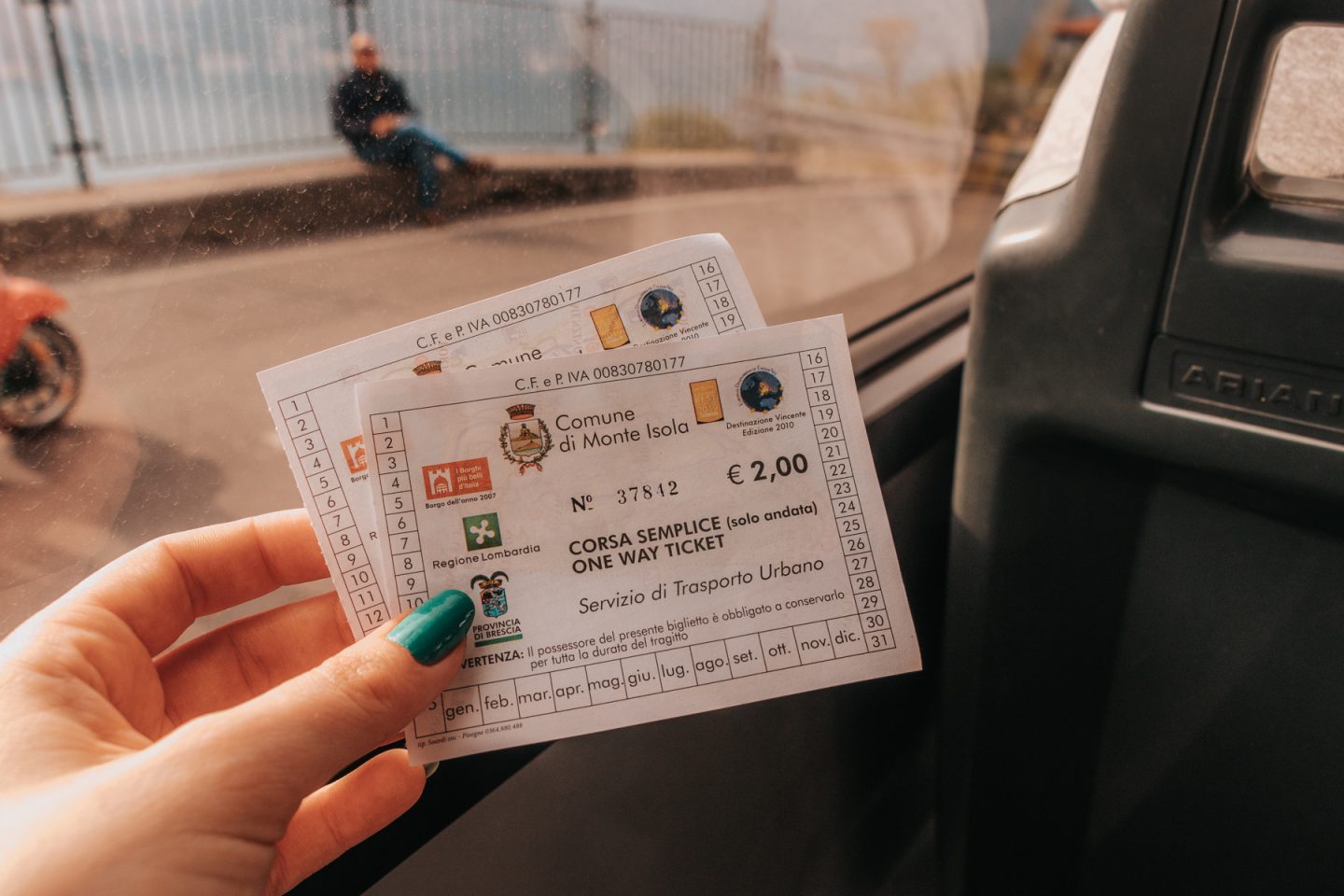 When it comes to public transportation, your best option for getting around the island is the shuttle bus.
There are 2 bus lines: one that goes from Peschiera Maraglio to Cure, which is the highest town, closest to the sanctuary at the peak of the island, and one that travels around the whole island.
Fun fact: It only takes 10 minutes for the shuttle bus to do its entire route around the island.
To buy a bus ticket, you must pay the driver directly with cash. Tickets cost €2 per person for a single journey and are valid for 90 minutes (so you could use the same ticket to return if you are within the 90 minute time frame).
The main bus route that passes through (almost) all the towns runs all day long. You can find the timetable here.
Pro Tip: I encourage you to check the timetables at a bus stop when you arrive because some of these online resources can be outdated.
The bus from Peschiera Maraglio to Cure operates only part of the day (up until 6:30 pm) and only in Spring/Summer. You can find the timetable here. (Note: This timetable is outdated.)
Online information is outdated and difficult to find, so I also have this photo below on the details of the sanctuary shuttle service, Peschiera Maraglio to Cure. To translate, everyone has to buy a ticket for this bus (subscription or multi-ride tickets do not work) and the schedule is as follows:
From March 1st to November 1st, 2023:
Saturdays and Sundays from 10 am to 6:30 pm
In August, every day from 10 am to 6:30 pm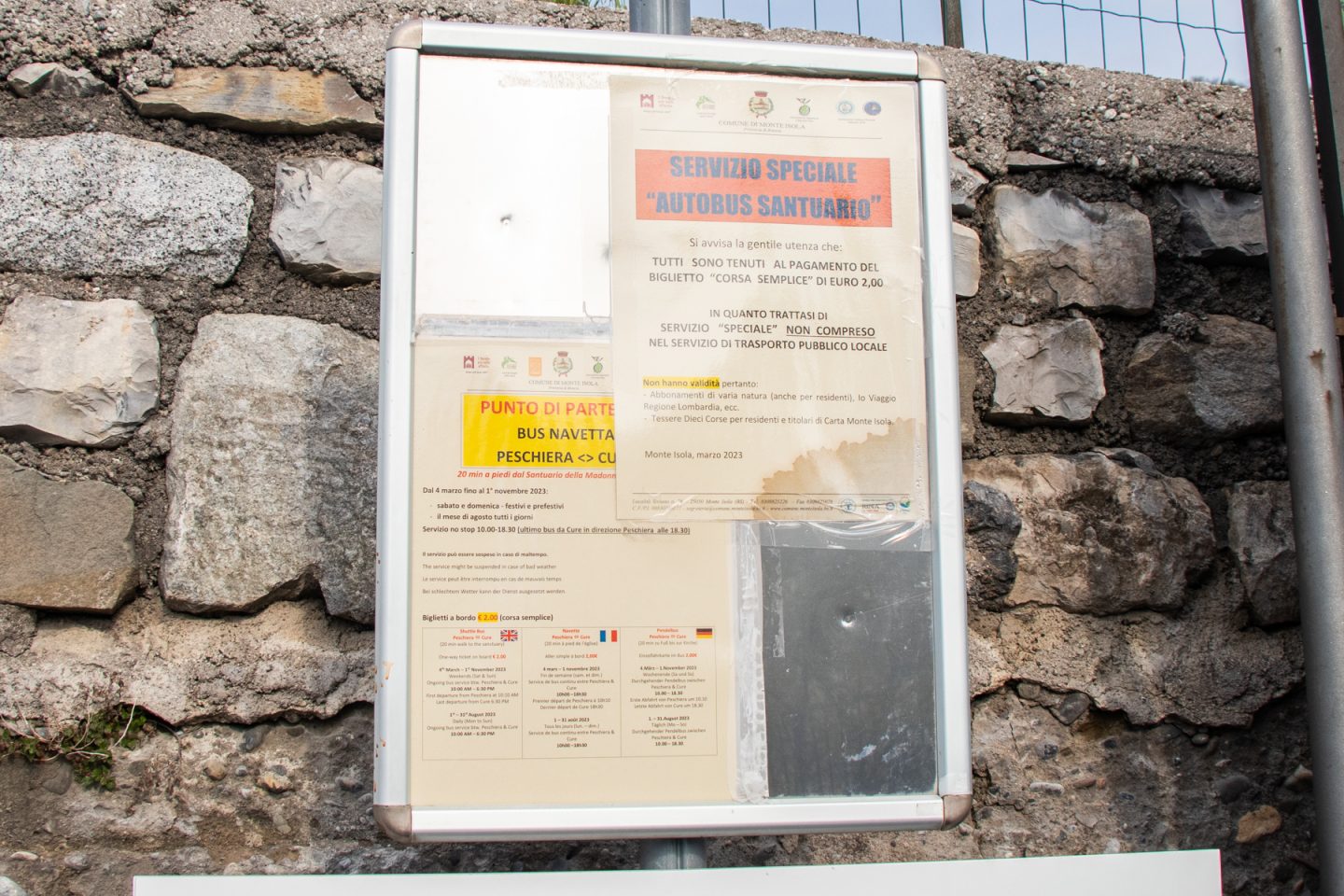 Ferry
You can opt to take advantage of the mainland ferries coming to Monte Isola to hop from town to town, like the ferry from Sale Marasino that passes through Carzano and Siviano on Monte Isola.
But personally, I don't think it is worth it. It takes more time than the bus and it does not get you that far.
Good to know: If by chance you need a ferry late at night, you can call to request it. You will find that information in the timetables linked above under How to Reach Monte Isola.
Bike rental
Visitors to the island can also rent bikes to get around. There are several bike rental shops on the island which you can check out here.
Like the sidewalk situation, there are not really dedicated bike lanes on the island. You will either ride on the street or on more rugged trails.
Good to know: Visitors to the island are actually prohibited from going around in moto (on a Vespa or a motorcycle).
---
The Best Things to Do on Monte Isola
Monte Isola is the perfect example of a relaxed day trip on a busy Italy trip itinerary or an authentic slow tourism experience. You will spend most of your time exploring and enjoying nature, absorbing the breathtaking views and walking around the beautiful small towns and peaceful villages on the residential side of the island. But you should also sprinkle in these top things to do.
Santuario della Madonna della Ceriola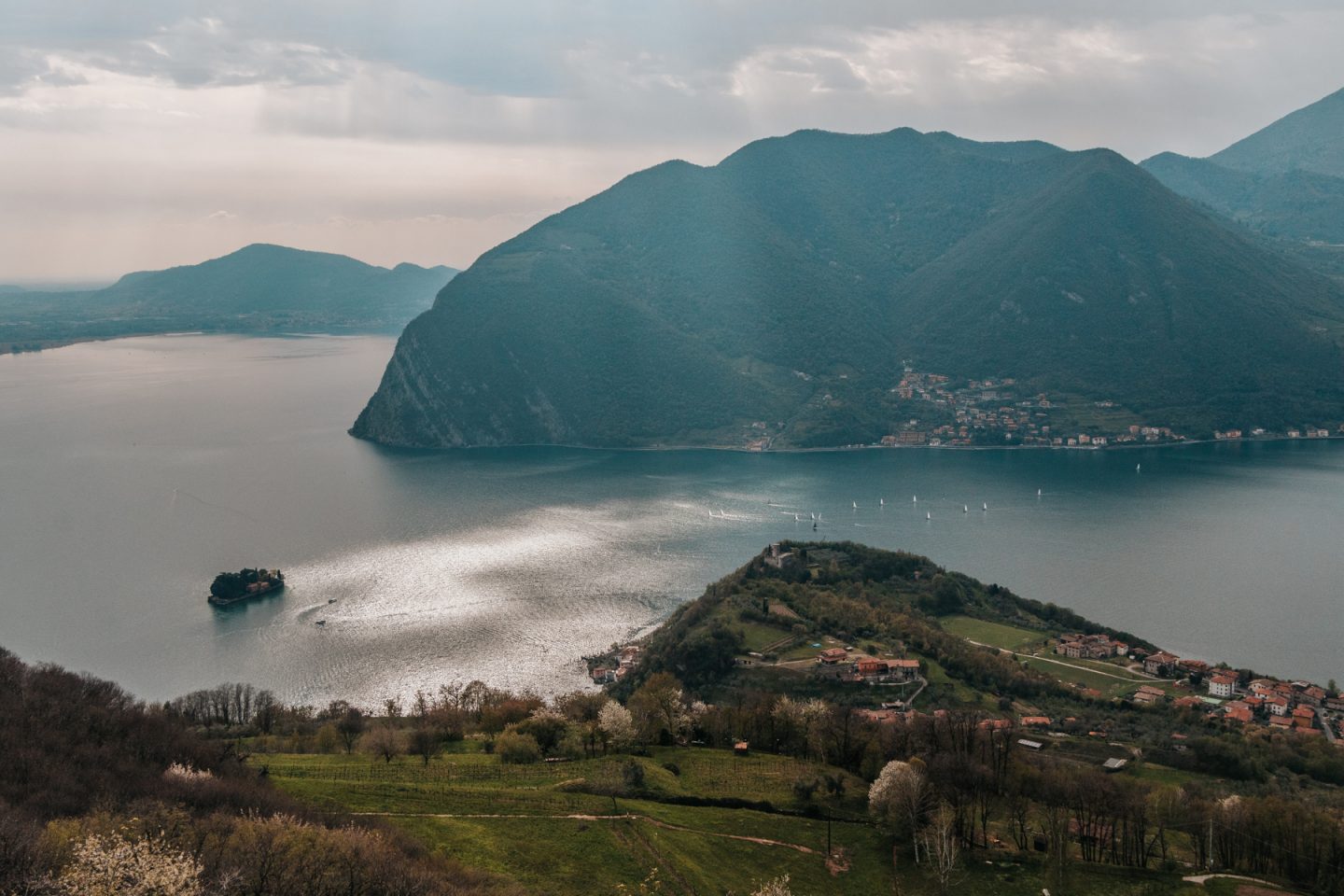 Monte Isola's most beautiful spot is no doubt the Santuario della Madonna della Ceriola, a church at the very top of the mountain.
The only way to reach it is by walking. The trail is nicely laid out but can be steep at times and is mainly made of individual stones, so it is not the easiest on your feet if you are not wearing comfortable sneakers.
There is a shuttle bus that runs in the spring and summer that brings you to the town of Cure. From there it is 20 minutes of walking. See more about that above in "Getting Around Monte Isola".
As you approach the sanctuary, there are beautiful religious symbols and statues. The church is surrounded by a panoramic path where you can sit and enjoy the 360° views.
Just below the sanctuary, you will find a little sign to visit the grotto, which is the shrine carved out of the rock in the photo above on the right.
The inside of the church is small but ornate with a magnificent altar and everything is painted in unique pink tones.
The church is free to visit.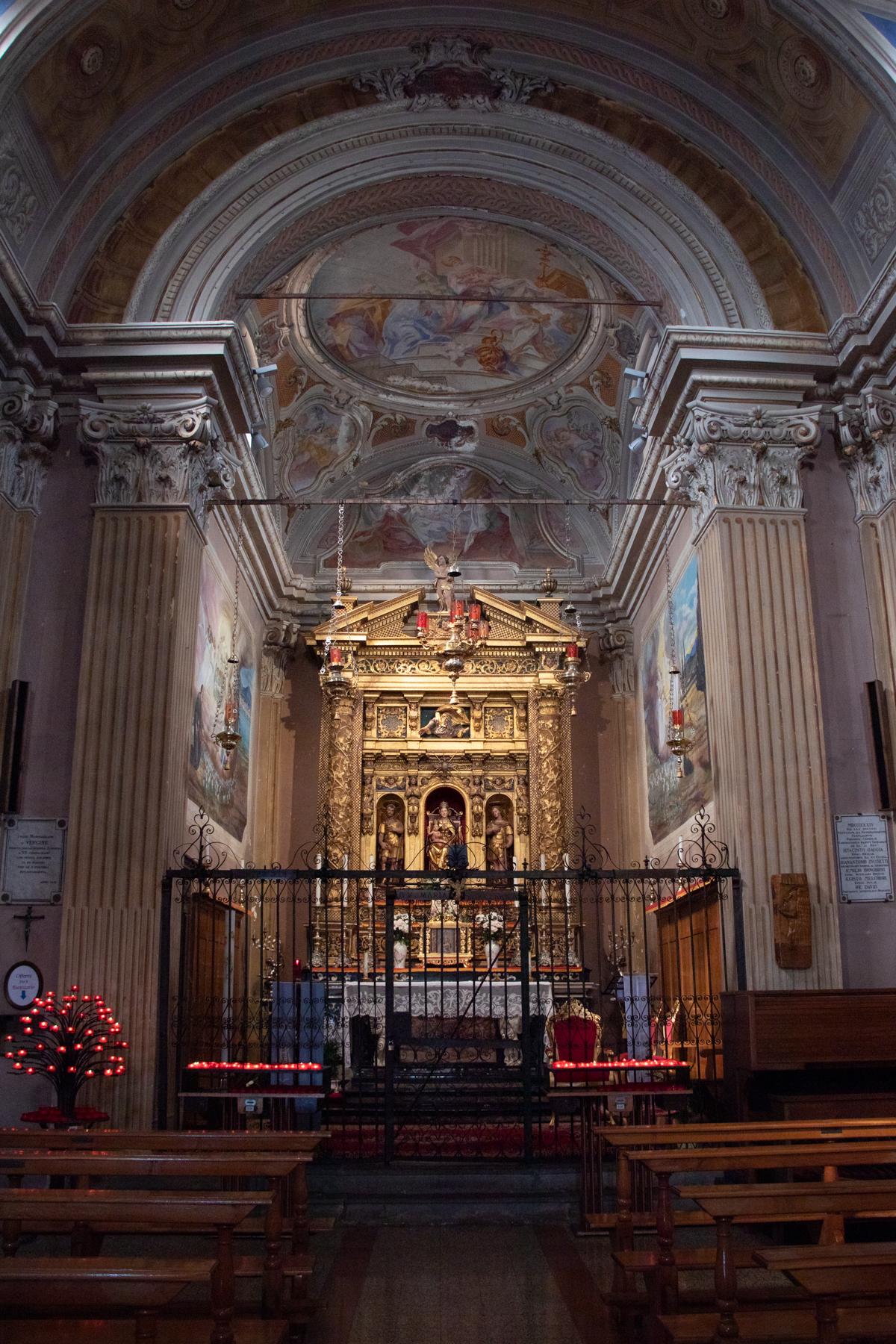 Good to know: There is a small bar next to the church for snacks and drinks.
Hiking and biking trails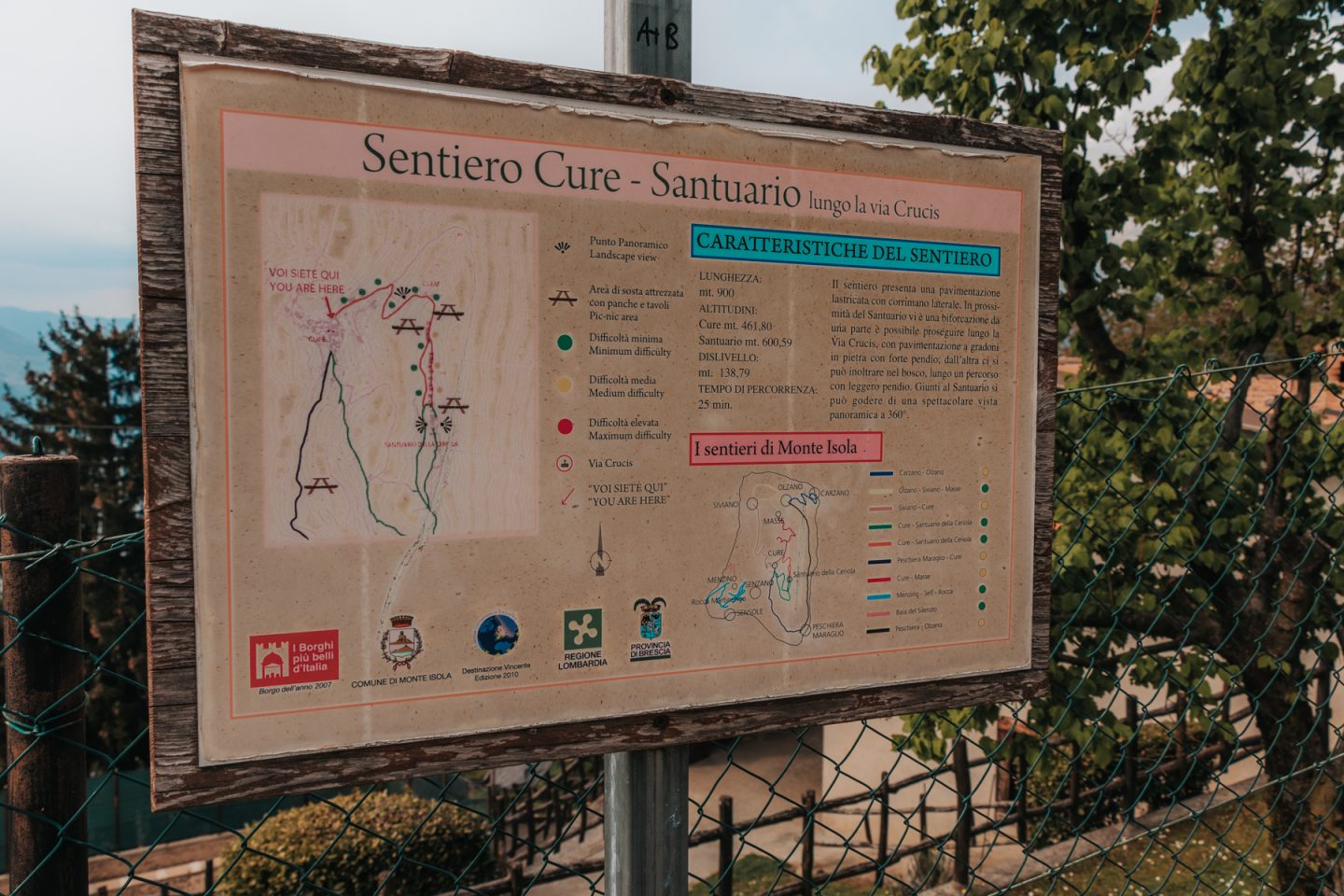 Two of the main activities on Lake Iseo are hiking and biking on the numerous trails on the island.
The photo above highlights the characteristics of the "sentiero" or path for the sanctuary, but also outlines the 10 other designated paths and their difficulty. There are even more paths than the ones on this map, which you can find here.
My favorite path was going down from Siviano town center to the harbor, where we stumbled upon a park, as well as a long, open-air boardwalk along the water. The path has several parts where it is hugged by olive trees and covered by sweeping tall oaks, so it really feels like you are fully immersed and have the whole island to yourself.
Museo della rete
Monte Isola's economy has long been based on fishing and fish net manufacturing. Dedicated to exploring the history of this activity is the Museo della rete or "net museum."
It is located in the oldest fish net making factory on the island.
The museum isn't the easiest to find and was closed while I visited! But it is a unique way to dive into a large aspect of what has formed the culture on Monte Isola.
You must reserve your visit. Visit the official Lake Iseo tourism website for reservation information.
Explore the towns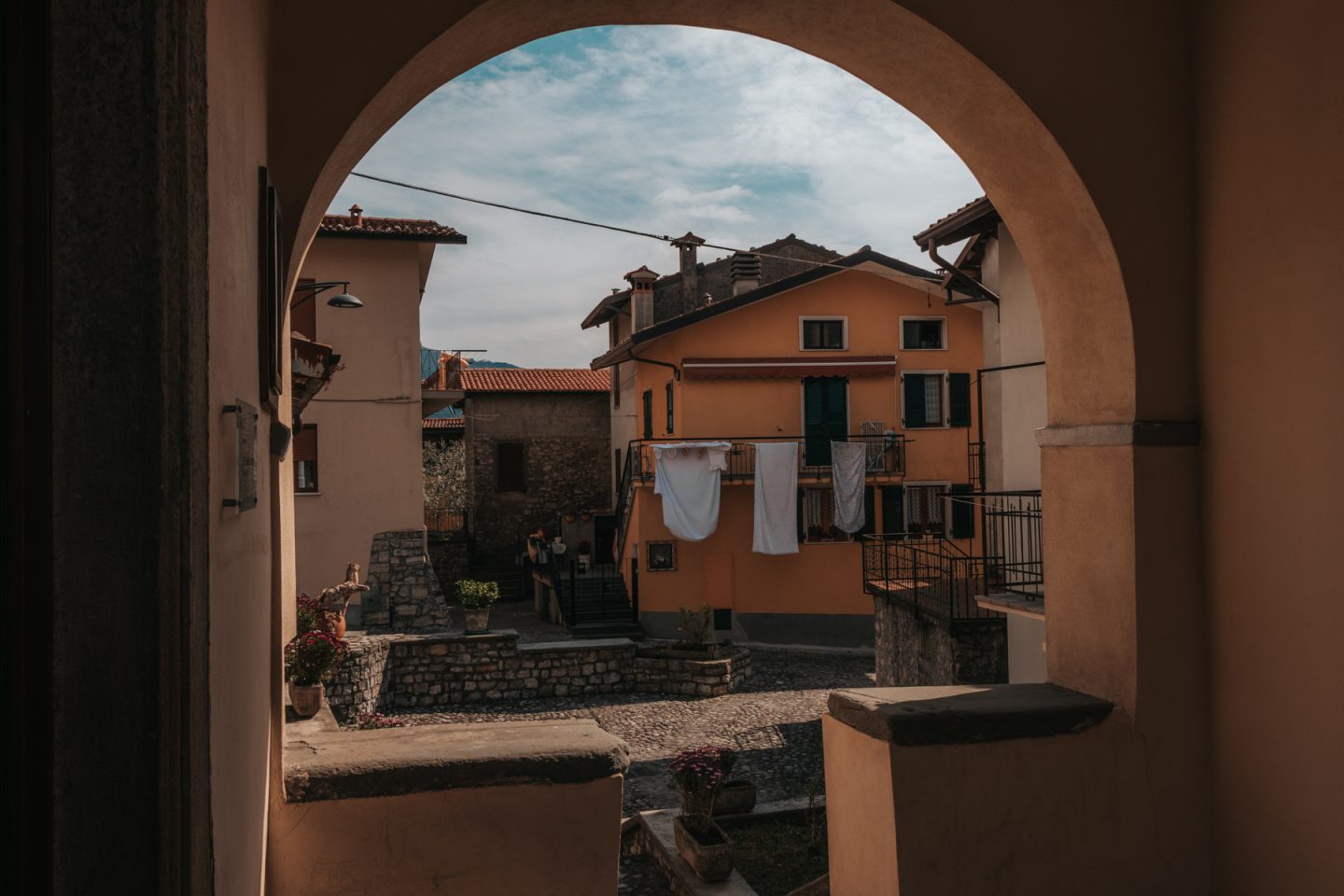 Monte Isola is made up of 11 villages, most located on the western side of the island because the incline is less steep than on the east side.
Some of the towns are true hamlets, with certain streets and houses all made of cobblestone, others characterized by classic, charming Italian villas you imagine when you picture "la dolce vita".
Peschiera Maraglio is one of the most popular towns because of the ease of access to the main town. Other towns I enjoyed were Cure, which had a very medieval tone, and Siviano.
Lungolago Peschiera Maraglio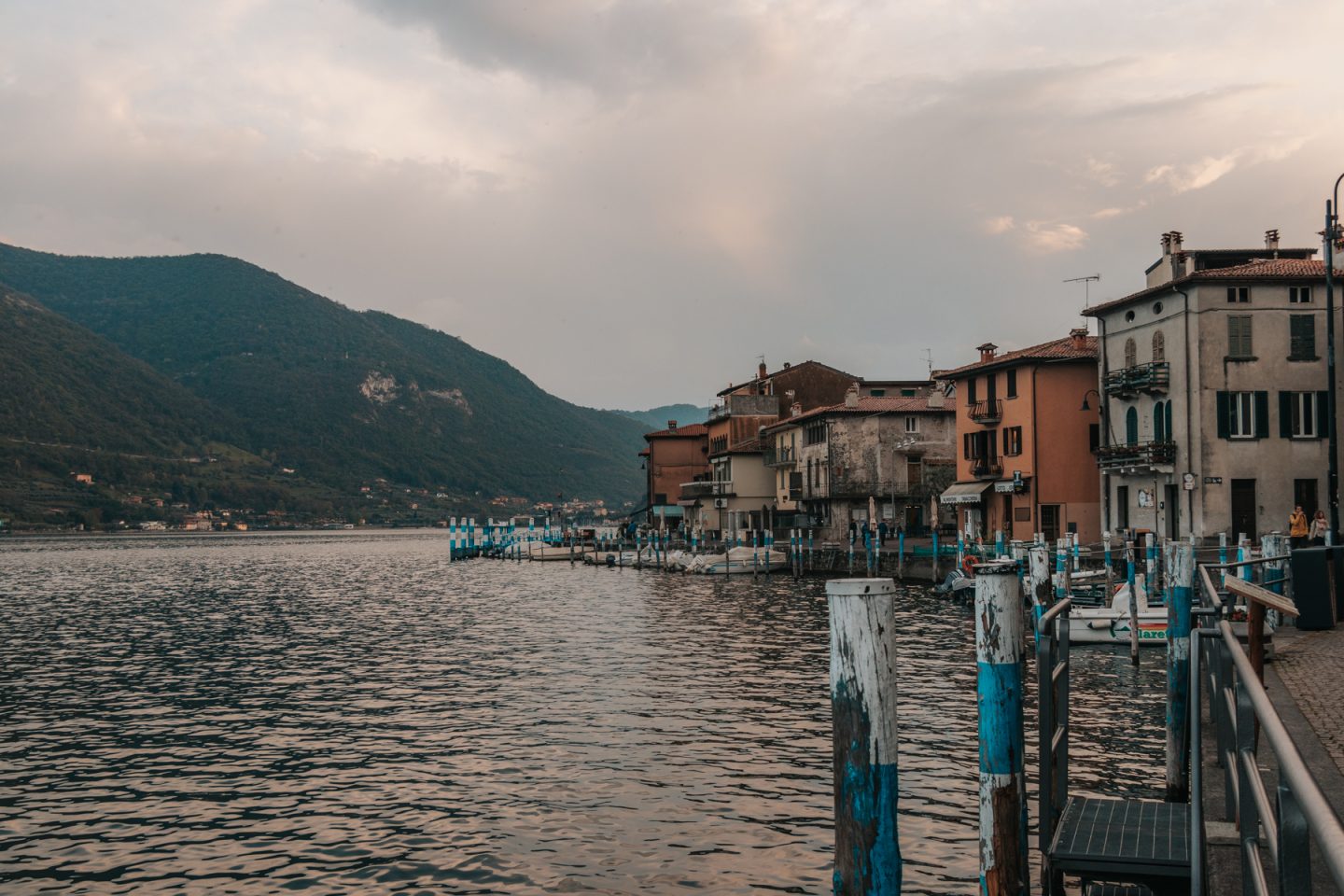 One of the most popular spots on Monte Isola thanks to direct ferry connections to several mainland towns, Peschiera Maraglio, is a hub for visitors and locals alike.
Its harbor and boardwalk is one of the longest and most characteristic of all the towns. You can see the fish hanging on display on wires which is actually a historic technique for how the fishermen prepared the fish, drying them out under the sun.
There are also the most commercial activities in this town, from shopping to restaurants to pharmacies.
Peschiera Maraglio also hsa one of the prettiest churches on the island, Chiesa di San Michele Arcangelo.
La Rocca Martinengo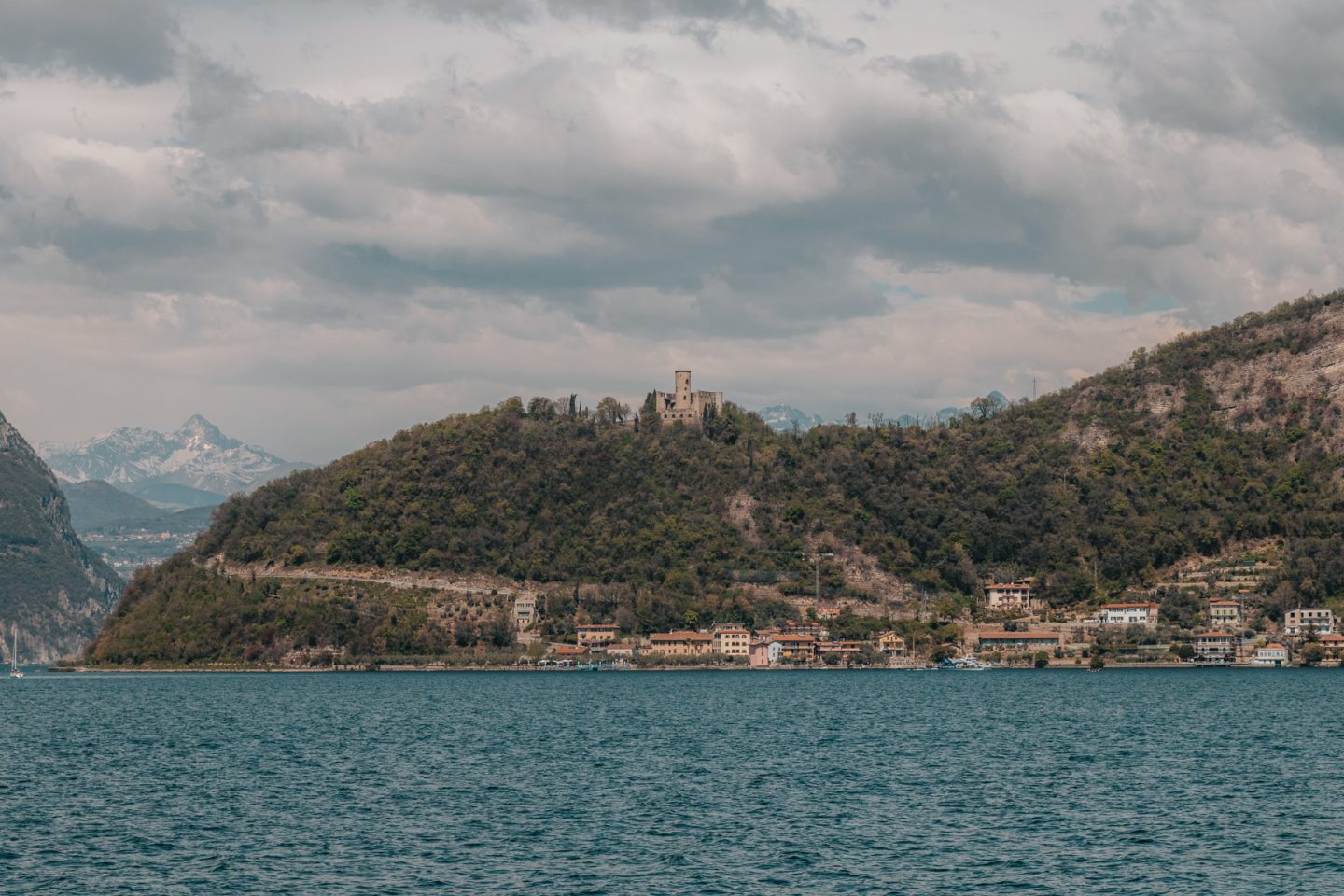 La Rocca is one of the most iconic spots on Lake Iseo. Sitting prominently above the village of Sensole, it is the most visible and recognizable landmark on the island.
The fortress could date back to as late as the 12th century but was really consolidated in the 14th century with the arrival of the Oldofredi family, which built the current structure. It then passed to the Martinengo family in the 15th century who converted it from strategic fortress to residential castle.
The castle today is privately-owned, so you can't visit inside, but you can walk close to it.
Isola di Loreto e Isola di San Paolo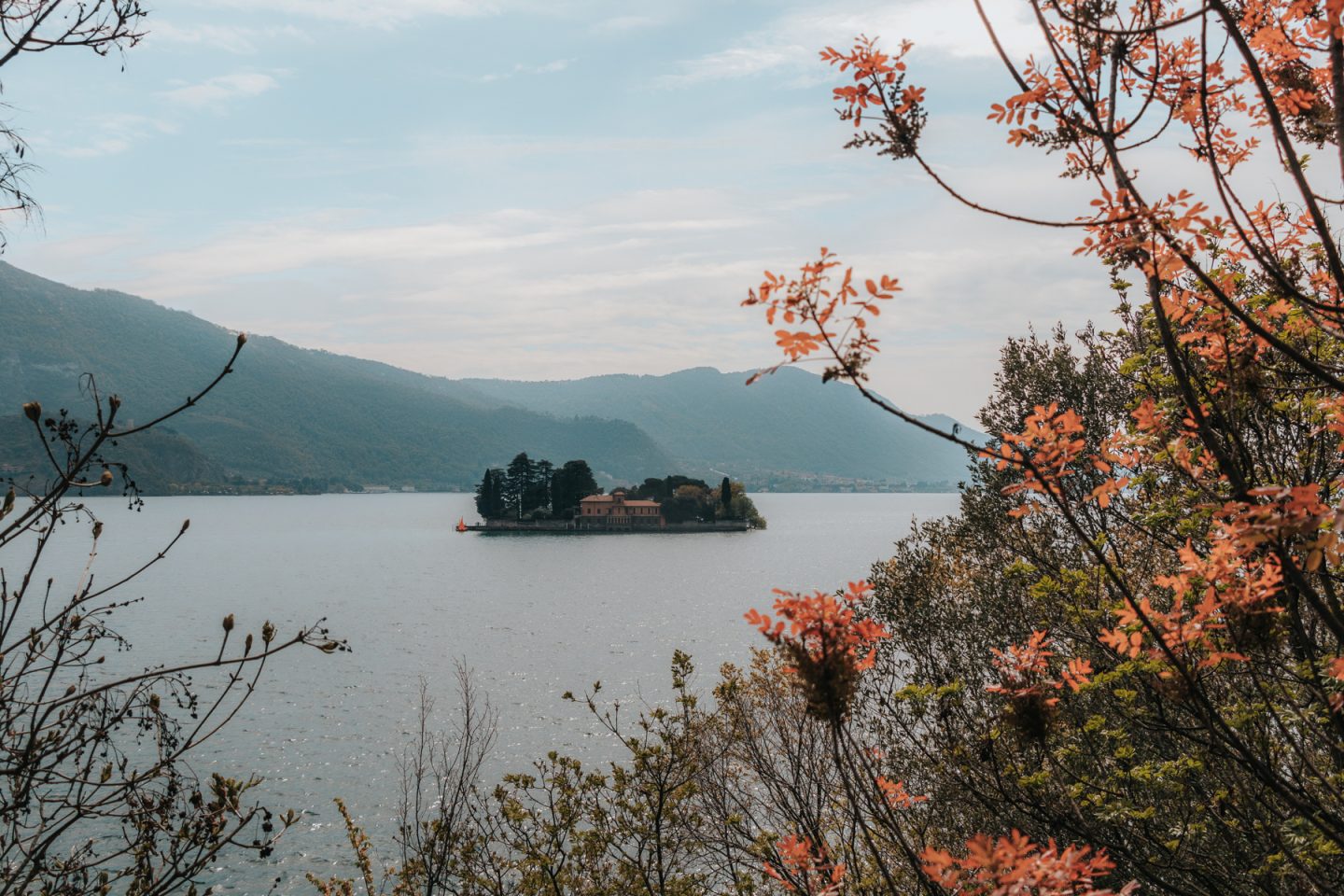 Other private properties but nonetheless beautiful locations to note around Lake Iseo are the tiny islands of San Paolo and Loreto.
The Isola San Paolo is a private residence, but if you have a private boat, you can still get close to it to admire the villa. Same for the Isola di Loreto, but instead of just your average Italian lake villa, this one is practically a castle emerging from the water: it is a rare beauty.
Water sports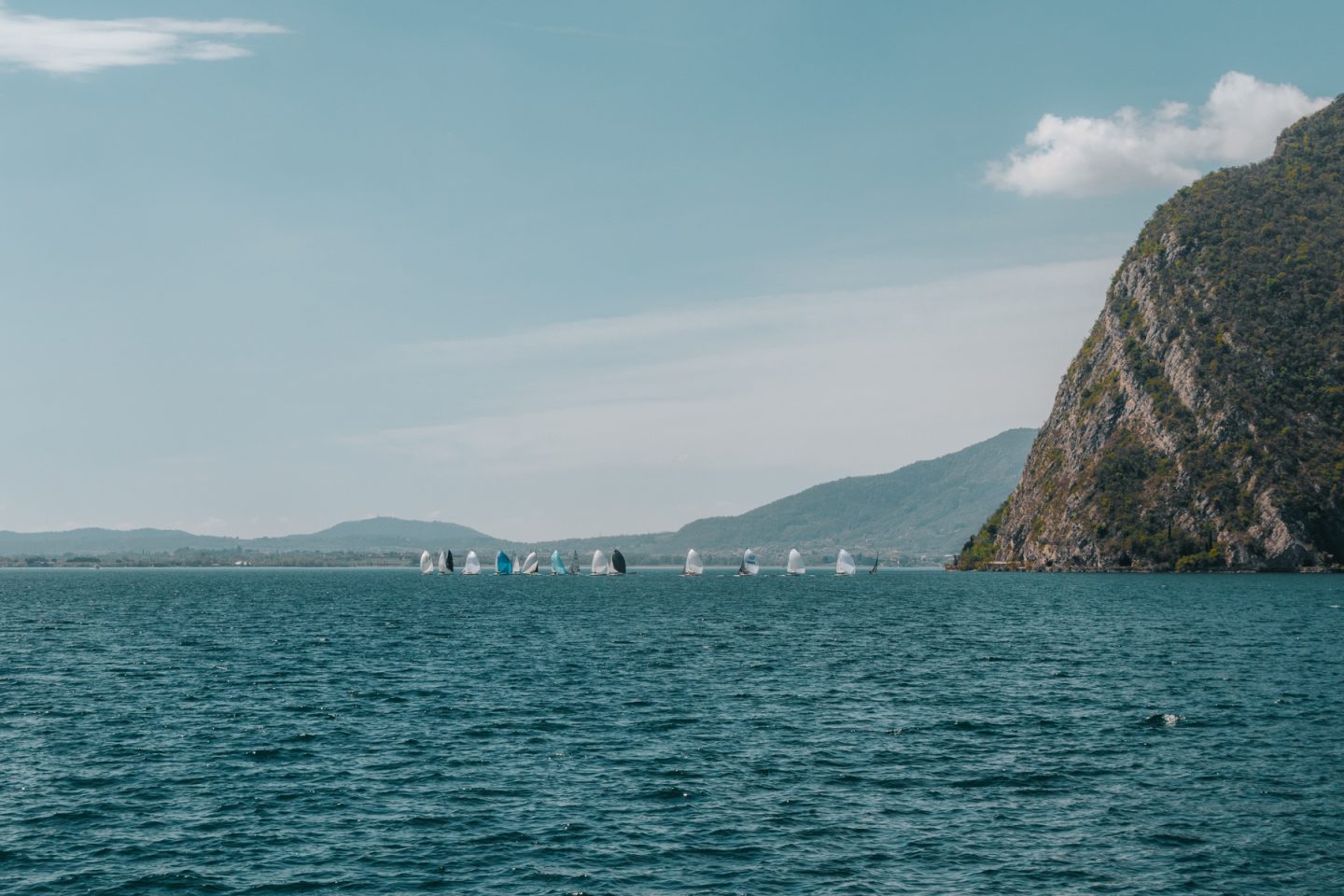 You will quickly note when you arrive on Lake Iseo that it is a haven for all kinds of water sports: from the action of windsurfing to the peacefulness of paddle boarding.
It is more likely that you will find rental options for sports equipment on the main land than on Monte Isola. I would suggest making water sports a part of your itinerary dedicating an entire day to it, same as if you were interested in renting a boat to visit the rest of the lake.
Good to know: Can you swim in Lake Iseo? It is not usually advised to swim in the lake because there is lot of brush underneath the surface and rocks which make it dangerous. You should swim only in designated areas where it is allowed and monitored.
---
Where to Stay on Monte Isola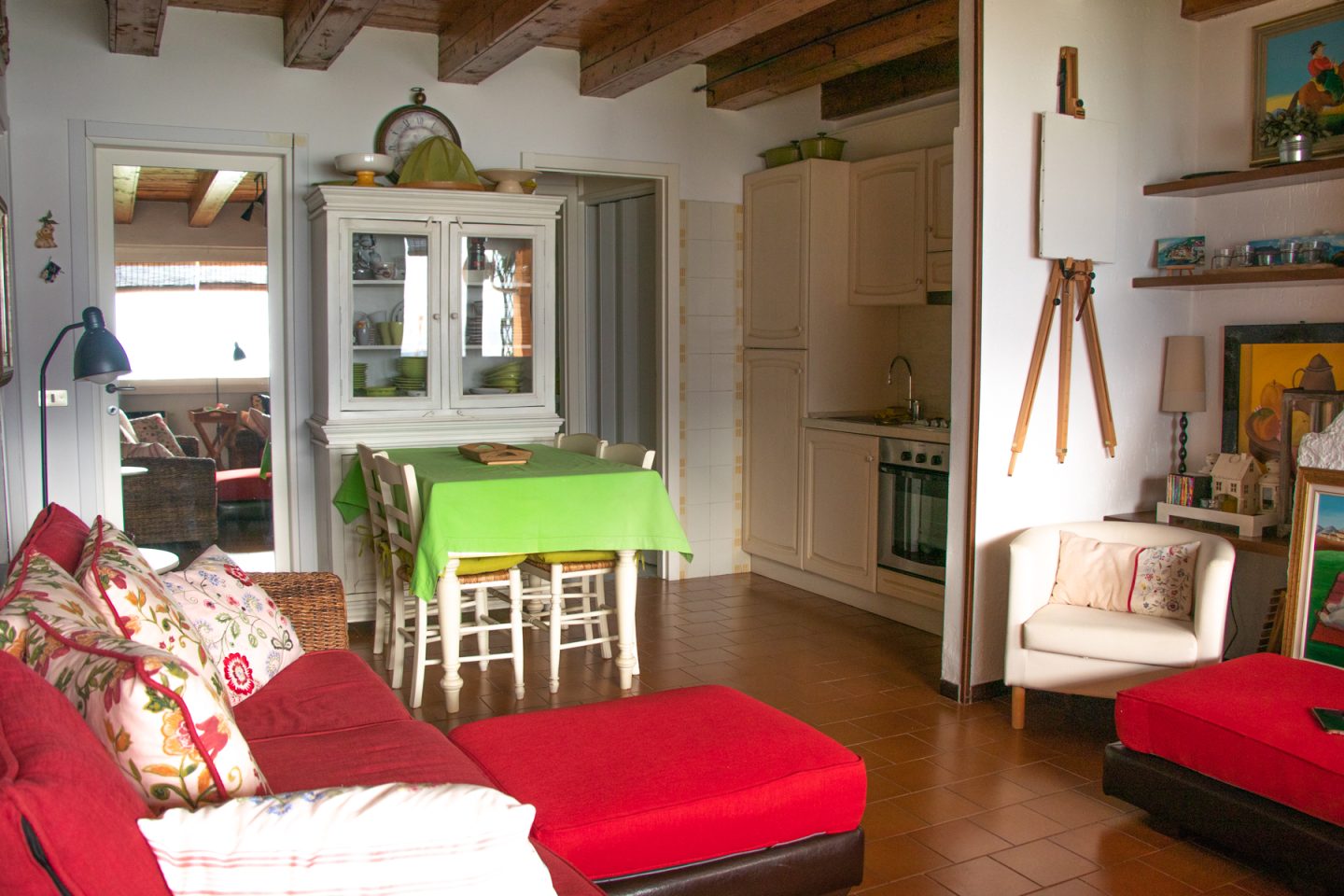 Casa Vista Lago
This post is sponsored by the Airbnb Casa Vista Lago, a charming vacation home with a spectacular view and patio area for a quiet and relaxing stay on Monte Isola.
I enjoyed a weekend here as my home away from home while exploring the island. The patio was my favorite part: the stay provides lawn chairs so you can lay out and bathe in the sun, enjoy the view and soak up the fresh breeze that whispers through the island constantly thanks to its setting at the center of the lake.
The host, Mauro, was incredibly available and the features he included in the house made the stay seamless: a self-entry locking system, guides to his top suggestions for food, shopping and more through QR codes, and practical curiosities about the island scattered around the house, from the classic brochure to unique paintings.
The amount of space was also perfect for a breathable, calm vacation, in perfect harmony with the tranquil atmosphere of Monte Isola.
---
Where to Eat on Monte Isola
From salame to sardines, these are the best places to try Monte Isola cuisine (and options for pickier eaters like me!)
Hostaria Milago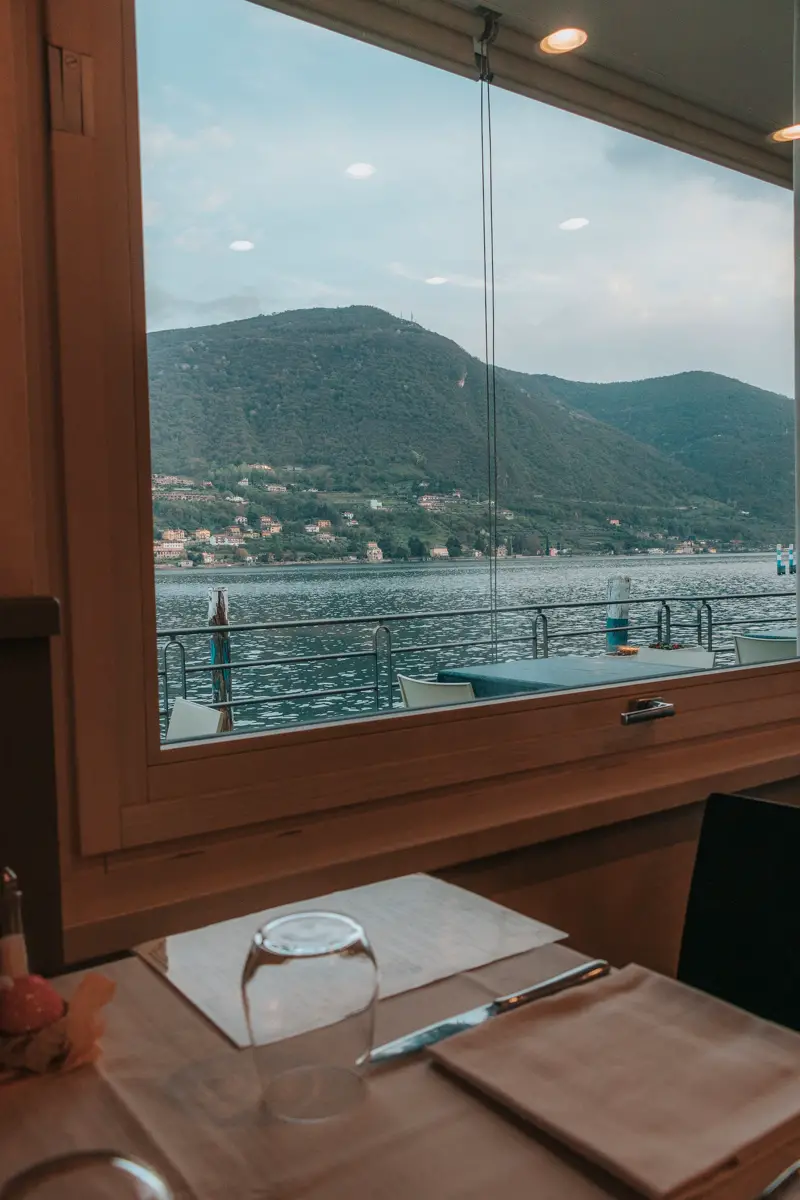 Hostaria Milago is in the town of Peschiera Maraglio, one of the towns with a ferry port, so it is very easy to reach.
It is a classic trattoria with traditional regional dishes and, of course, lake specialties. Lake fish is the main event, however, they do offer non-fish options like Casoncelli Bresciani, a filled ravioli.
The must try? The Antipasto Milago, a plate of 6 mini appetizers that show off Monte Isola cuisine.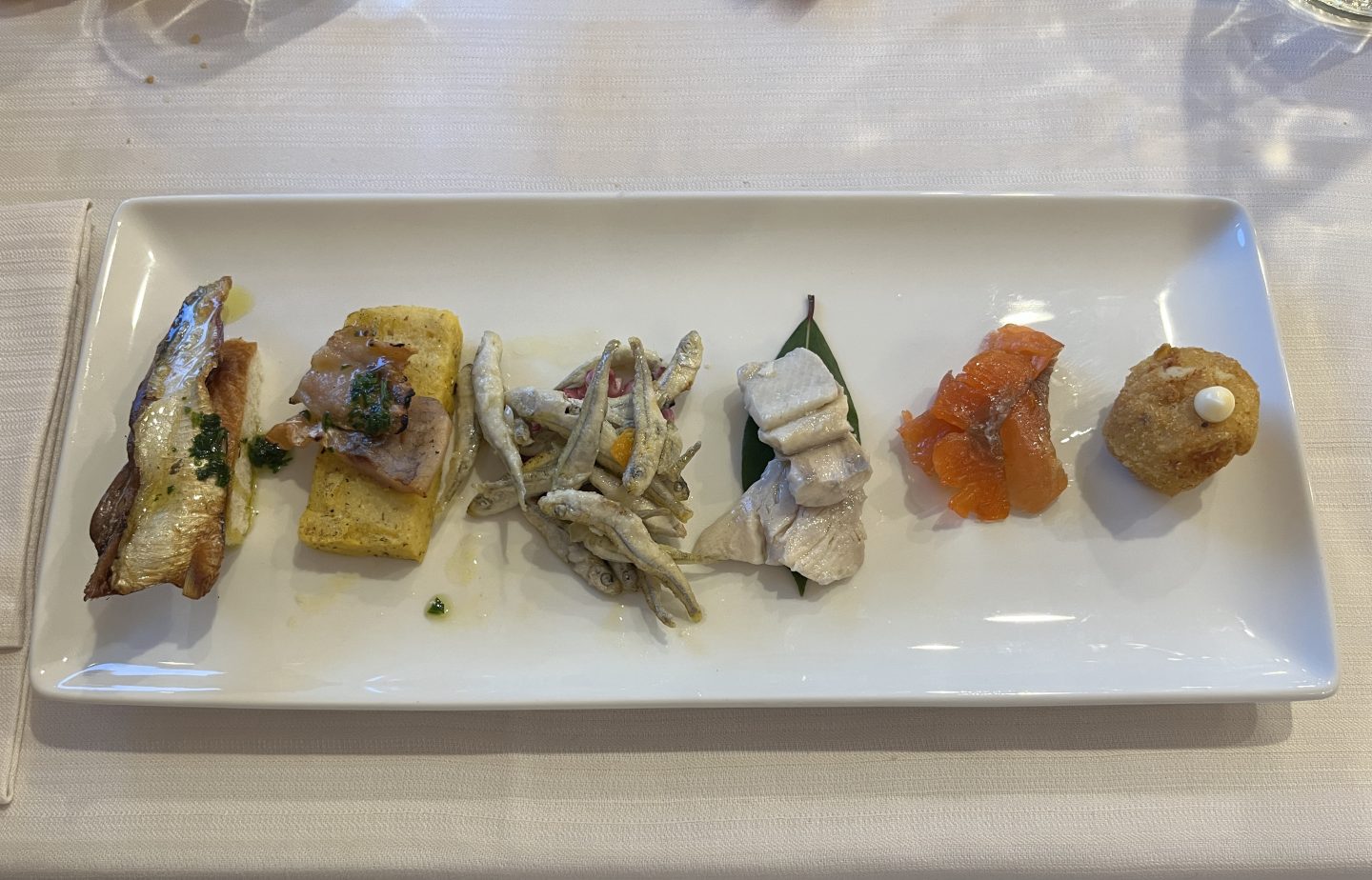 Senza Senso
Located in Sensole, Senza Senso Bistrot & Bar is a modern locale that has a mix of Monte Isola cuisine and good old-fashioned favorites like burgers and sandwiches.
It is at a mid-range price level, so not too cheap but definitely not too expensive. It's the perfect mix between good food, good views and good prices.
Bar Tina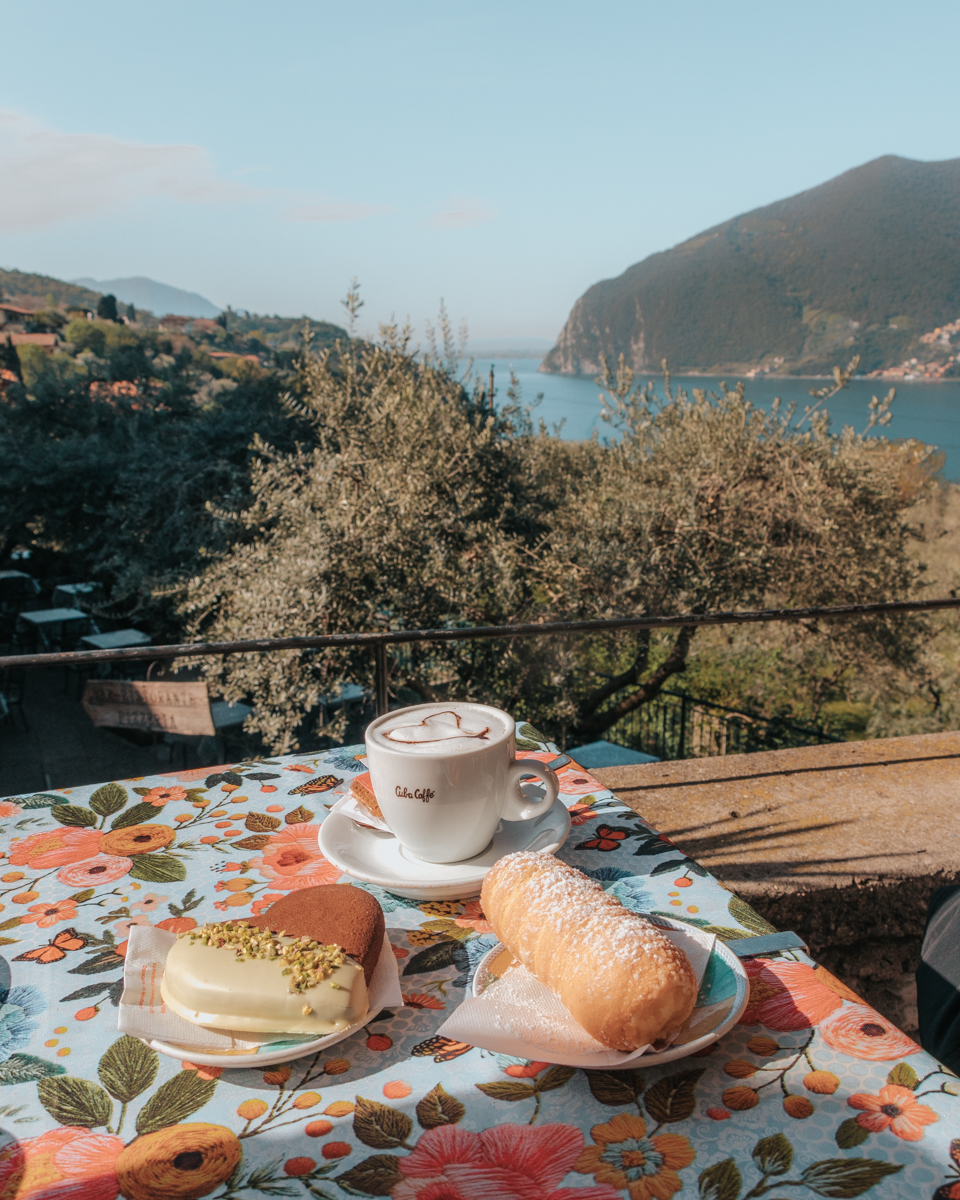 There aren't too many breakfast options on the island of Monte Isola. Luckily, there is Bar Tina in Siviano. It is a quaint bar with classic Italian breakfast items like croissants, cookies and pastries to go along with your espresso or cappuccino.
The best part? If you sit outside, you have a fantastic view that is so peaceful in the morning.
Ristorante al Castello
Ristorante al Castello is an upscale restaurant with a sun-soaked terrace for lunch or dinner with a view.
It is part of the Castello Oldofredi, a historic residence that today is also a hotel.
You guessed it: the specialty at this restaurant is the local cuisine, so if you love fish and fine dining, it is worth the splurge.
Trattoria del Sole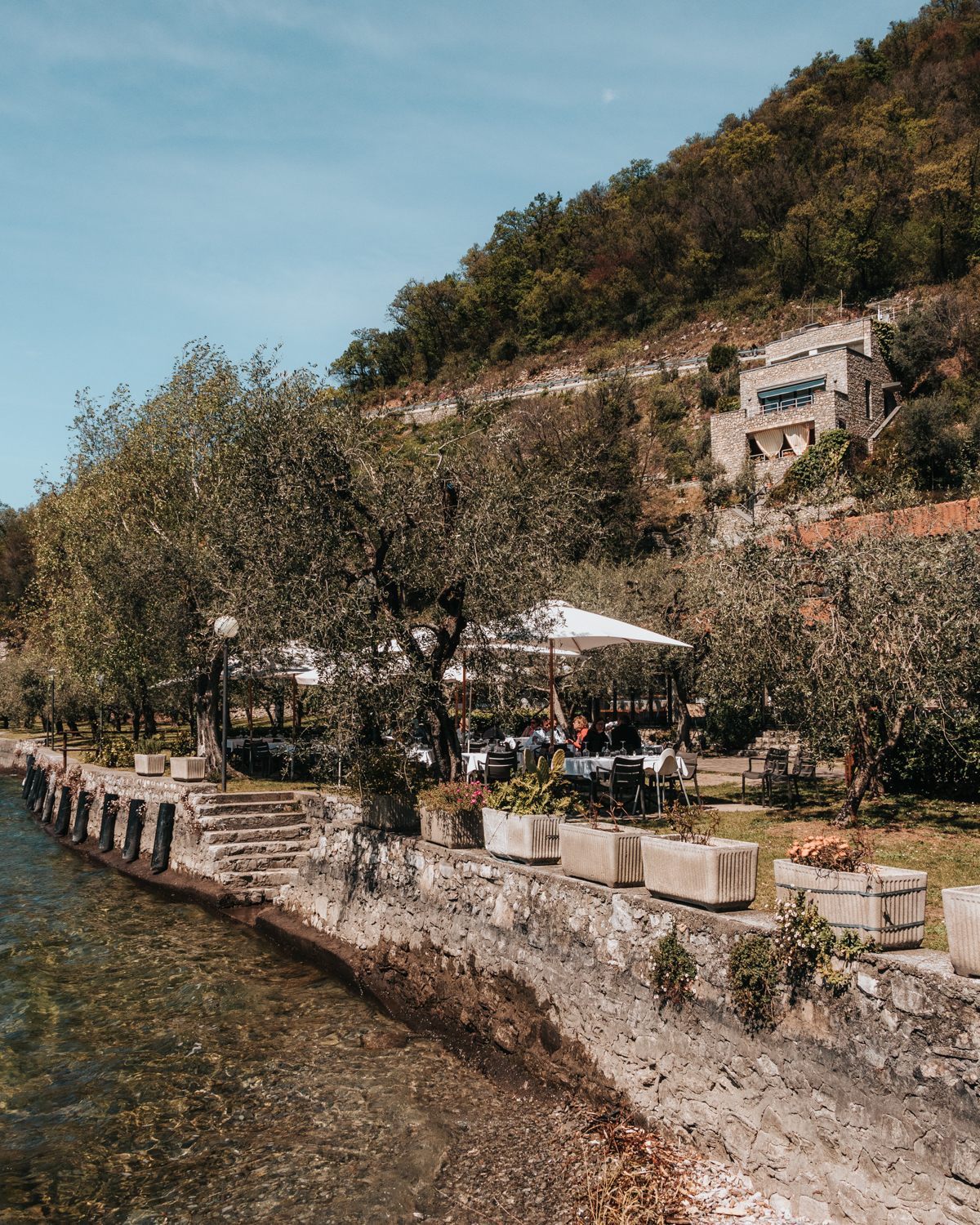 One of the prettiest settings for a lakeside lunch on Monte Isola, Italy is Trattoria del Sole. It is only open during lunch, so keep this in mind while planning your itinerary.
Trattoria del Sole is more of a variety restaurant, so there is something for everyone. The highlight is its ambience, just steps from the shore and immersed in greenery.
Decio
Decio is a modern upscale restaurant in Peschiera Maraglio. The menu is very selective and falls on the upper end of a mid-range price level.
One of the cutest offerings is the Decio picnic: you can reserve a picnic kit for €25, choosing from 3 curated packages. Take off, explore, and stop to picnic where you have found the perfect spot.
Pro Tip: All around the lake, there are various picnic areas, all with magical views over the lake. To save money and enjoy nature to the fullest, plan ahead by packing your own lunch and stopping at one of these free picnic tables.
---
Tips for Your Monte Isola Visit
Comfort over fashion. Given the somewhat-limited transportation options, you will be doing a lot of walking. Plus, Monte Isola is what is says it is in the name: a mountain. Not a huge one, but still a mountain. So, there are steep hills and lots of inclines. Opt for lightweight, breathable clothing and comfortable walking shoes.
Drinking water everywhere. Just one of the nice things about Monte Isola's untouched natural beauty is that there are drinking water faucets all over the island. Because you don't have a ton of options to just go to the grocery store, it is definitely suggested to bring your own water bottle and refill it from the fountains.
Have a plan. On one hand, you can definitely wing your stay on Monte Isola. It lends itself to spontaneity because it is small enough to be able to discover it all in as little as two days. However, for certain things, it is best to have a plan. For example, breakfast. You're not going to find a Starbucks or quick drive-thru on Monte Isola! So it is best you identify the day before where you want to go and how far it is or that you bring a couple of breakfast items from the grocery store to your stay.
---
Final Thoughts
Monte Isola is not your average Italian vacation spot.
It can either be everything you looked forward too or too slow for your taste. What is undoubtable is that you will leave Monte Isola craving more: more of that slow living, more of that freedom, more of that nature.
Have any questions about visiting Monte Isola, Italy? Let me know in the comments!
Save this travel guide on Pinterest for later reference!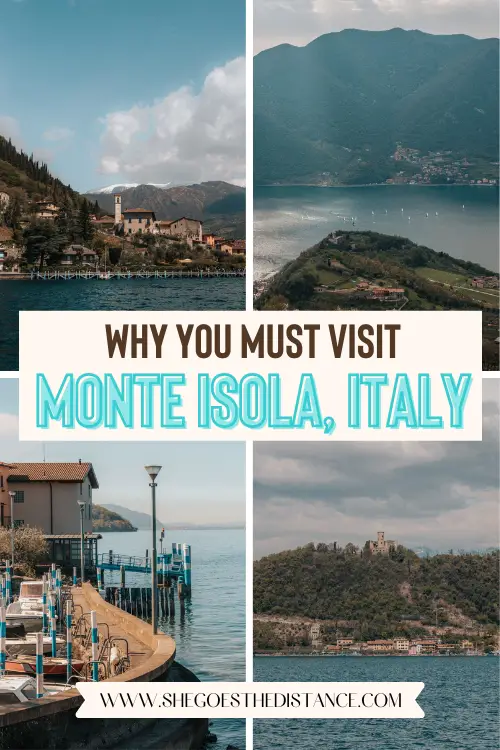 I hope this guide has convinced you to get off the beaten path and discover Monte Isola, Italy.
XOXO
Michela