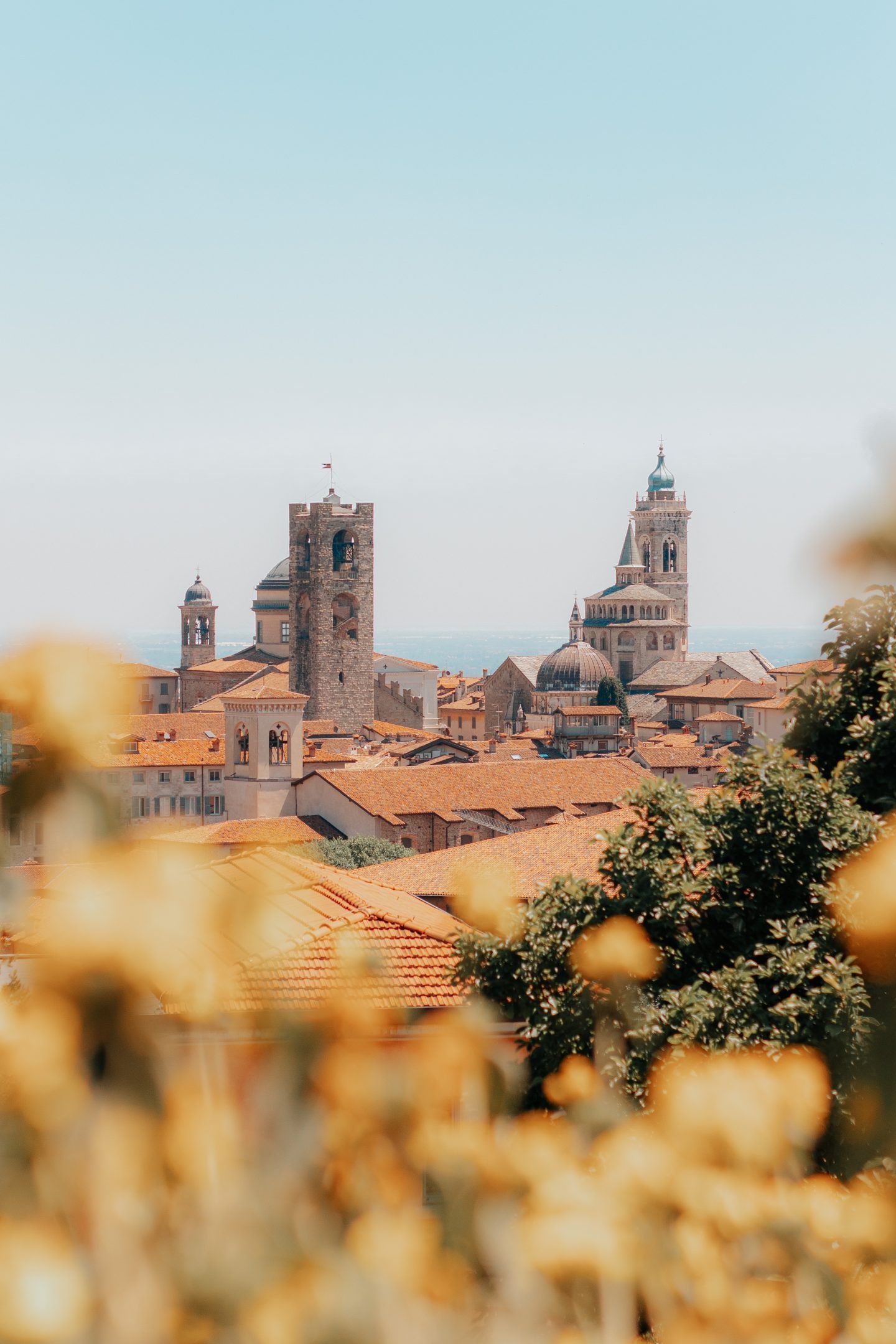 Last Updated on February 18, 2023
All of Italy's regions offer something unique and in this guide, the spotlight is on the north. If you are having trouble narrowing down which places are the top to visit for you or you're starting from scratch seeking inspiration, you'll find the perfect northern Italy itinerary for you in this post, along with tips for visiting this part of the country.
I live in northern Italy, so the area not only has a special place in my heart, but I've also happened to travel all around it!
There is truly so much to do and see that one trip may not be enough, which is why I have curated 5 northern Italy itineraries that play to certain strengths: one for those who want to see the most famous locations, one for outdoor adventurers, one for city-lovers, one for couples, and one for foodies, so you experience a little bit of everything.
Hopefully all these options make clearer what is at the top of your northern Italy bucket list!
Some of these links are affiliate links. This means if you make a purchase through that link, I receive a small commission at no extra cost to you. Read my full disclosure!
---
Creating The Perfect Northern Italy Itinerary
How Long Should A Northern Italy Itinerary Be?
The big question when planning a trip is always: how long you should spend in northern Italy?
Ideally, a robust northern Italy itinerary falls somewhere between 10 and 14 days.
If you have longer, great! You can go more off-the-beaten-path and deep dive into the culture, taking the slow travel route.
If you have less time and want to see a lot, plan out your transportation well and get ready for days jam-packed with things to do and breathtaking places to see!
I'll be recommending the stops on the itineraries in a certain order, but not necessarily saying you should be spending one day here and two days there. That is up to you and the flexibility of your travel dates!
I will sprinkle in extra tips and suggestions based on my own experience (so you don't have to make the same mistakes I have) and extra destinations as well so you can play with how much extra time you have and be informed about other places in the area well-worth seeing.
When is the best time to visit Northern Italy?
As a resident of northern Italy, I can share with certainty that the best time to visit is either June or September. In these two months you get the best weather, the very beginning or the tail end of the busy summer tourist season, and if you book ahead, you can get great deals on reservations for rental cars and accommodation.
For those adventure seeker and outdoor sportsmen, you may also enjoy traveling through the Italian Alps in winter during peak ski season.
Read my guides to Italy in Summer, Italy in Fall, and Italy in Winter to dive deeper into which season may be a better fit for you.
(Psst! Italy in Spring guide coming soon!)
How To Get Around Northern Italy
Another necessary and important element of visiting northern Italy is knowing how you'll get around. Northern Italy is the most developed part of the country, so transportation is easy-to-access and can take you just about anywhere.
Northern Italy is, however, partially composed of the Italian Alps which presents a challenge for train travel. While you'll easily be able to get from city to city and even towns using regional trains, going through the mountains will mean there are less stops and train options, or there may just be no option at all.
I recommend for anyone visiting the Italian Alps either rent a car or plan to book a tour that handles transportation throughout the day's activities. Bus travel is also an option, but comes with its own challenges: one, understanding regional bus routes in a short period of time, and two, using coach buses means you'll get dropped off in one spot and you don't have much freedom to travel around.
Here's a more in-depth look at how to get around northern Italy:
Train
There are both national train lines and regional train lines, meaning you are well-connected between the major cities and there are also options to reach smaller towns. Trains are generally easy to navigate, so tourists shouldn't be intimidated.
They aren't as cheap as buses, but they're less expensive than renting a car.
If you're planning on taking a train around northern Italy, read all my Italy train travel tips so you know exactly how to prepare.
Pros:
Mid-range price compared to bus and rental car travel
Well-connected between cities and towns (regional trains)
Cons:
I use Omio for purchasing train tickets or go straight to the Trenitalia website.
Bus
Italy does not have a national bus line, so most buses are only regional or city. However, coach bus companies like Flixbus operate throughout the country and Europe, so you could travel between regions using their service. Read about all of your options and how to navigate bus lines in my guide on buses in Italy.
Buses are usually the cheapest option for getting around, as Flixbus tickets are as low as $5. However, the travel time is the longest.
With regional buses you can typically reach small towns, while with Flixbus, you'll mostly be limited to cities.
If you're thinking of using regional or city buses, the real challenge is understanding the routes and planning your itinerary around the timetables.
I would only use the bus option if you are opting for a slow travel itinerary and have lots of time to spend in Italy, this way you save money but aren't wasting half your vacation trying to figure out the buses.
Bus can also be a flexible and inexpensive option for airport transfer.
Pros:
Can be super cheap & is overall less expensive
Cons:
Least flexible
Takes time to understand routes of regional or city buses
Longest travel time
Car
What's more exciting than an Italy road trip? It truly is the best way to visit the country and enjoy just how vastly different the landscapes are across the peninsula.
Renting a car in Italy is the most flexible yet most expensive option for traveling around northern Italy. If you're hoping to visit many places that aren't major cities or tourist spots, then I would absolutely recommend renting a car.
Any of these itineraries can be turned into a road trip itinerary – like I said, the country is best experienced by road trip!
Pros:
Most flexible
Most comfortable
Cons:
---
5 Northern Italy Itineraries You Should Steal
The Bucket List Northern Italy Itinerary
If you're someone who's embarking on their once-in-a-lifetime trip to Italy, this itinerary is for you. Hit the 5 major areas on everyone's northern Italy bucket list.
Milan
Lake Como
Cinque Terre
Venice
Dolomites
Highlights
There is an airport in both Venice and Milan so you could start your itinerary in either place. Both these cities will be your home base on this kind of itinerary.
Book your stay in Milan and spend time exploring the city, while using the next few days to visit Cinque Terre and Lake Como. Curious about more spots to hit? Discover more day trips from Milan to beef up your itinerary.
Then you'll head to Venice, from which you can do a day trip to the Dolomites.
If you're working with a 10 day northern Italy trip, you can make it simple by spending two days in each place, or do as I'm suggesting using Milan and Venice as your home bases to explore more with day trips.
Here are some in-depth guides to help you plan exactly what to do in each destination:
Check out this Google Maps Trip Planner with extra itinerary suggestions:
Explore the Italian Alps
Outdoor enthusiasts will fall in love with the Italian Alps. Whether you like hiking in the summer or skiing in the winter, the mountains are paradise.
The great thing is that even this itinerary is worthwhile for people who aren't nature lovers but love the mountain landscape. You could engage in sports or you could visit to admire the views and the alpine culture!
Here are the itinerary stops:
Western Alps: Courmayeur, Gran Paradiso National Park, Breuil-Cervinia
Central Alps: Lake Como, Bergamo, Val Brembana
Eastern Alps: Dolomites
Highlights
This epic northern Italy itinerary begins in Valle D'Aosta, the smallest and most underrated of the regions. The entire area is made up of the Western Alps. You'll find both French and Italian are spoken here because of how close the two countries are. But the true draw is the landscape.
Start as far west as possible in Courmayeur to visit Mont Blanc and the Val Ferret. Then explore Parco Nazionale Gran Paradiso, the oldest national park in Italy, before heading north to the tiny town, but skiing haven of Breuil-Cervinia to see Monte Cervino – otherwise known as the Matterhorn!
Making your way from the Western Alps, you'll cross Milan, Lake Como, and Bergamo in the Central Alps. Lake Como is a must stop also for mountain lovers: the peaks soaring above the lake are breathtaking. Dive deeper into the Val Brembana to the north of Bergamo to visit the villages of Branzi and Cornello dei Tasso.
Then head over to the Dolomites: the most unique of mountains with jagged grey peaks surrounded by the absolutely stunning valleys and green hills of Trentino Alto-Adige.
Check out the map to see this sample itinerary and extra suggestions on where to visit:
North Italy City-Breaks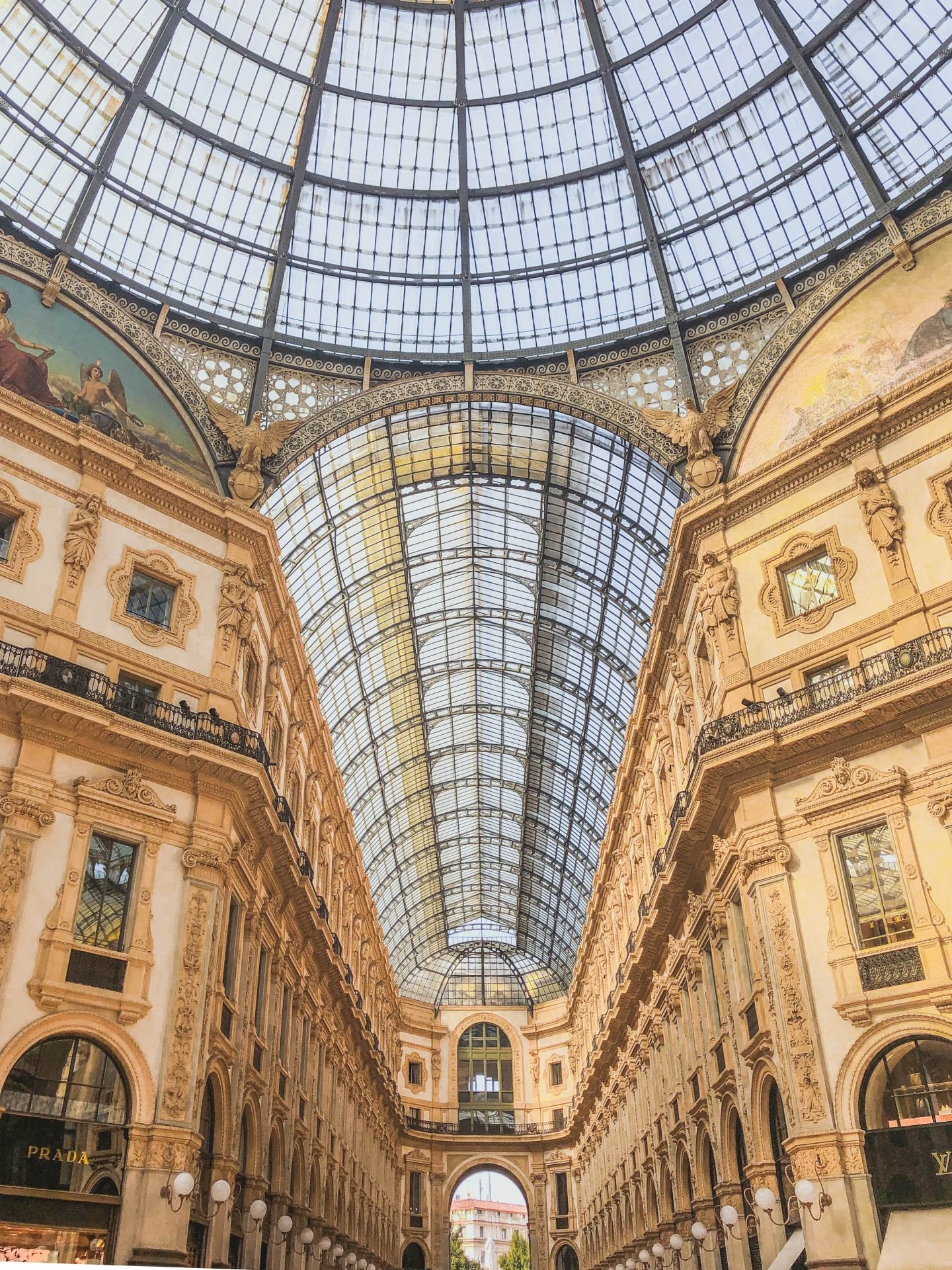 Some travelers can't get enough of a historic, bustling European city and Italy is rich with them.
From metropolitan Milan to the medieval hilltop city of Bergamo, the major cities in Italy all offer a different landscape to be explored.
The stops on this north Italy itinerary include:
Milan
Turin
Bergamo
Venice
Highlights
You'll probably start this itinerary in Milano, given that the most major airports are located just outside the city. However, if you're flying from within Europe, you may want to consider flying into Bergamo Orio al Serio Airport, which is a hub for Ryanair flights.
Regardless, these two sister cities are only 40 minutes apart by car, but exhibit completely different landscapes. Milan is bustling, crowded, the energy is always high. Bergamo is big in size, but quaint in spirit. Life moves just a little bit slower, especially up in Città Alta, an UNESCO World Heritage site and the medieval, historic old town that rests on a hilltop overlooking the more economic center, Città Bassa.
Head west to Turin, a financial and cultural hub like Milan, stylized by Baroque-style architecture and the famed Mole Antonelliana.
Head east and end your itinerary in Venice. There's not much I need to explain as to why Venice is a good city-break: the uniqueness of its landscape and how it affects every aspect of life from transportation to food. Yes, it's a tourist experience, but it's also still incredibly unique and wholesome to run away to the city and get lost in its alleys for a few days.
Check out more in-depth locations for the perfect city-break itinerary to northern Italy on the map:
Most Romantic Places for Couples
It's no secret Italy is one of the most romantic countries in the world to visit, so I've also curated a North Italy itinerary perfect for couples, whether on honeymoon, anniversary, or simply a romantic trip.
Between wine, fairytale villages, and intimate vistas, you'll be feeling the Italian romance.
Here are the most romantic places in northern Italy:
Portovenere
Lake Como
Franciacorta
Verona
Lake Garda
Venice
Highlights
Portovenere is an underrated, hidden gem on the coast of Liguria. From the views, to the quiet harbor, to the unreal swimming spots like Lord Byron's Grotto and the untouched beaches of Palmeria Island, it's a lover's paradise and exudes Italian charm. Nearby Portofino and Santa Margherita Ligure are a few extra stop ideas.
It's no secret Lake Como is one of the most luxurious destinations in Italy and its exclusivity, plus the incredible views of villas and alpine peaks, makes it an intimate retreat. Make it easier to visit using my Lake Como budget tips, but don't be afraid to indulge in visiting its most romantic places like Villa del Balbianello and the town of Bellagio.
The Tuscany of northern Italy? Franciacorta. Franciacorta is a territory between Bergamo and Brescia that produces sparkling wine or "spumante", mostly Prosecco, Italy's version of Champagne. If you love the idea of vineyard views on end and wine tasting with your partner, it must be added to your romantic itinerary.
Not far from Franciacorta is the region of Veneto, wherein the next half of the itinerary lies. Verona is the ultimate city of romance in Italy: the setting of Shakespeare's Romeo & Juliet, made up of rose-hued buildings and castles nestled over the Adige River.
Lake Garda is the largest lake in Italy, but its small, cascading hillside towns make the atmosphere intimate. Visit Sirmione for its enchanting castle and Limone sul Garda for its quiet charm. Curious for more ideas? Read about all the best towns on Lake Garda.
Last stop for lovers: Venice! You can't take a romantic trip to Italy without enjoying the swoon-worthy, picturesque atmosphere of Venice. Gondola ride for two?
Discover more specific destinations for loved-up travelers on the map:
A Foodie's Northern Italy Itinerary
Italian food is in a league of its own, but you'll soon find out when visiting northern Italy that the traditional dishes are not pasta and pizza.
Instead the meals are heartier, which reflect the lifestyle of people living here: industrial workers or those living in the Alps having to face long winters.
People. in northern Italy also love their local ingredients. Here are some foods to try in every region on this itinerary:
Truffles in Piemonte
Seafood, Focaccia, & Pesto in Liguria
Polenta in Bergamo
Spaghetti alla bolognese in Bologna
Highlights
Starting in Piemonte, the speciality is one of the most expensive and luxurious foods in the world: truffles! The best time to visit is in the fall, also when the White Truffle Festival takes place in Alba. I highly recommend booking a tour with a local guide for the unique experience of hunting for truffles and do a Barolo wine tasting. Here are some suggestions:
Next stop is Liguria for fresh seafood, focaccia, and pesto! You can pretty much walk into any bakery in Liguria and get an amazing piece of focaccia. I love simple focaccia, made with just oil, but the bread is so versatile that you'll find many different versions. The other dish I ordered at every restaurant in Liguria: Trofie al Pesto.
After heading to the sea, return to the mountains around the area of Bergamo. Here you'll find two specialties: polenta and pizzoccheri. Polenta is a versatile grain made plain, with cheese or as Polenta Contadina, made with cheese, spinach, and local sausage. Pizzoccheri are a mix of short buckwheat tagliatelle pasta, potatoes, cheese, and greens. It comes from Valtellina, a valley in Lombardy bordering Switzerland.
Your last stop on this itinerary is tapping into a bit of central Italy territory, but it is a must stop for foodies. Bologna is the origin of many Italian food favorites: Parmigiano Reggiano, Mortadella, Ragù Bolognese, Balsamic Vinegar and Lasagne. Arrive on an empty stomach!
Check out the map with extra suggestions:
---
Final Thoughts
I could go on and on about all of the beautiful places to visit in northern Italy, but this post would then be at least 10,000 words. I highly suggest taking a look at the embedded maps to discover places worth adding to your itinerary based on the amount of time you have available.
Also take advantage of the linked posts within this article to discover individual destinations in depth and ultimately allow you to plan your trip better.
Northern Italy is a diverse landscape: mountains, sea, lakes, floating cities, metropolitan centers, food-rich countrysides. It's hard to fit it all into one trip, but hopefully you've found the perfect itinerary for your trip to northern Italy or at least sparks of inspiration!
Which itinerary is on your bucket list? Leave a comment!
Save these itinerary ideas to Pinterest!
If you head out on your adventure using one of these itineraries or have questions for curating a totally customized itinerary, share with me – I'd love to hear how your trip has gone or help you further plan your dream northern Italy itinerary!
XOXO
Michela