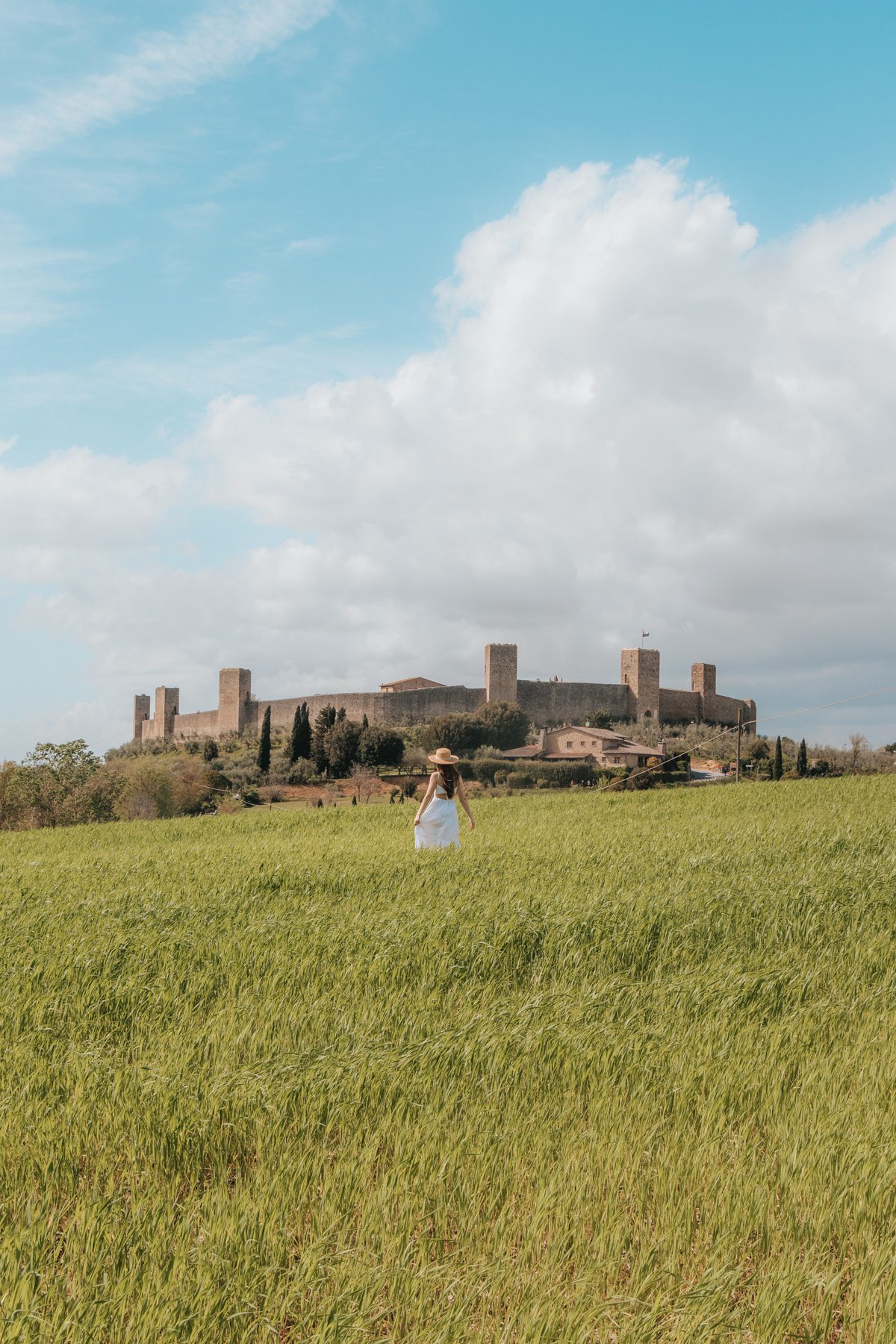 Last Updated on May 31, 2023
I know us travel writers say it a lot – "step back in time" when visiting x place. But I don't think it has ever been as true as when talking about Monteriggioni, Italy, and for that reason, I don't mind writing it again. Visiting Monteriggioni, one of the best-preserved Medieval walled towns in Italy, nestled in the charming yet haunting emptiness of Tuscan countryside, is like taking a step back in time.
That's why it absolutely belongs on your Tuscany itinerary. This teeny-tiny village is full of character and can easily be discovered in mere hours – a short yet completely enriching experience to add to your dream Italy trip.
Some of these links are affiliate links. This means if you make a purchase through that link, I receive a small commission at no extra cost to you. Read my full disclosure!
Monteriggioni, Italy: A bit of history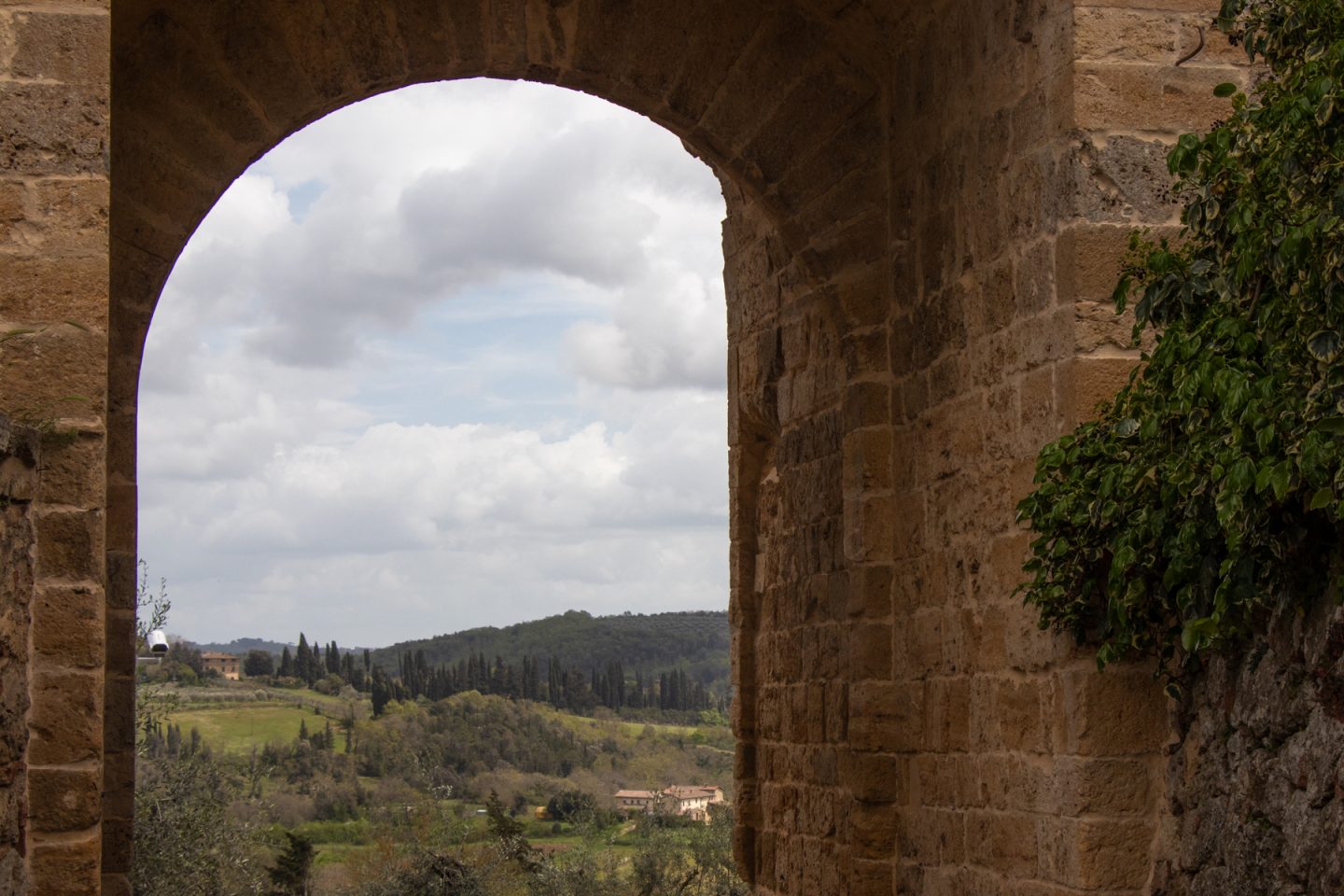 Monteriggioni, a Medieval walled town, is nestled in the province of Siena, the area of Tuscany everyone pictures in their head. Here, you will find many charming villages, shimmering sunsets, and, of course, endless rolling hills.
In fact, it is part of one of Tuscany's most famous areas for hills, the Montagnola Senese.
Although it feels very in the middle of nowhere as you approach it, Monteriggioni has gained notable attention for its unique town planning. The whole town was constructed in the Middle Ages, in the early 13th century, around the year 1213, within fortified Medieval walls that still stand today and completely envelope the village.
Monteriggioni is referenced in Divine Comedy by Dante Alighieri and – fun fact – was the inspiration for one of the world's most famous video games, Assassin's Creed.
There are 14 towers around Monteriggioni's walls and you can enter by walking through just two gates: the Porta Franca, which faces north towards Florence, and the Porta Romana, which faces south towards Rome.
It is also part of the Via Francigena, the ancient pilgrimage road from Canterbury, England all the way down to Rome and beyond to Puglia.
---
How to Reach Monteriggioni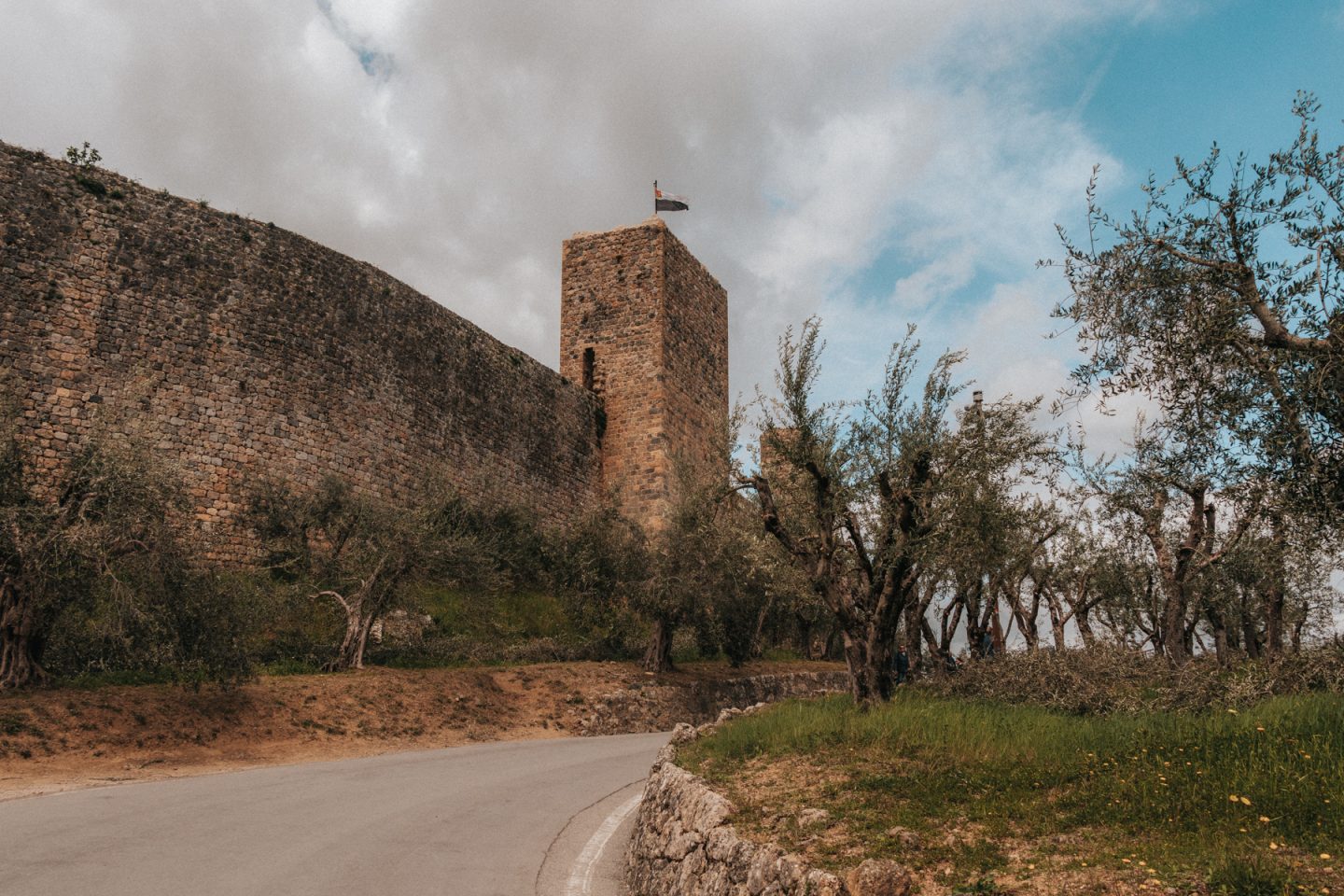 Monteriggioni, even though it is very well hidden and secluded, is actually very close to some of Tuscany's most famous cities and villages.
Reaching Monteriggioni, Italy By Car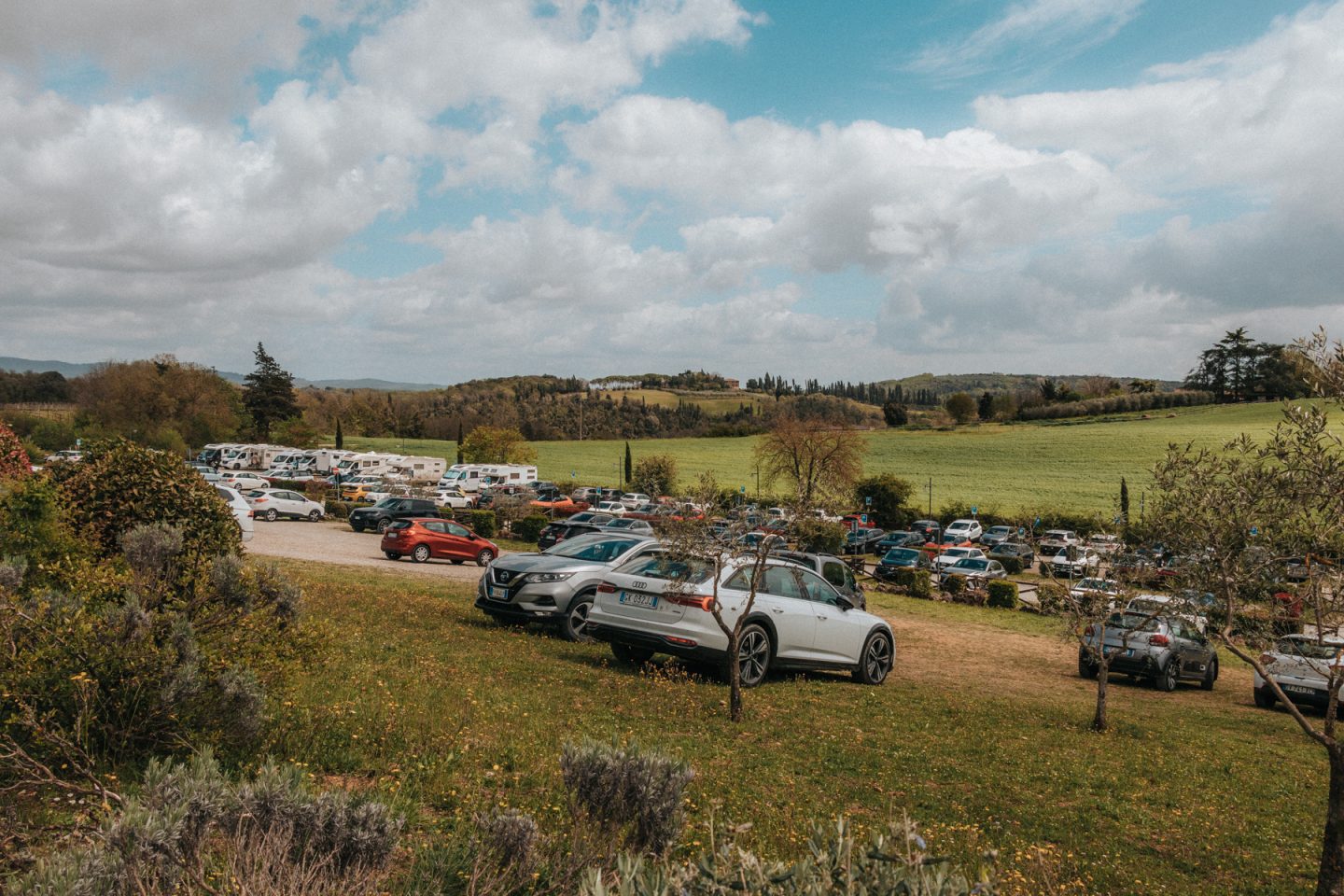 The easiest and most convenient way to reach Monteriggioni, Italy is by renting a car.
You can easily do Monteriggioni as a day trip from Florence or Siena. Florence is 55 minutes away by car, while Siena is only just over 20 minutes away.
There is ample parking just outside of the city wall. Parking rates vary between the summer and winter season but are very economical. In summer, it costs €2.50 for the first hour and max €3.50 for the entire day for a standard vehicle. In winter, it's €2 for the first hour and €3 max for the day.
Good to know: Check out all my tips for driving in Italy.
Reaching Monteriggioni, Italy By Public Transportation
Getting to Monteriggioni with public transport is not impossible, but it will take extra patience and attention.
If you are traveling from Siena, you will be best off using the public buses. Utilize the bus company's trip planner to find the best time for you because there are several routes that stop in Monteriggioni.
If you are traveling from Florence, a 55 minute drive becomes a minimum 2 hour bus journey. You can look at the regional bus timetable. Your stop would be Colonna di Monteriggioni.
If there is another destination from which you are traveling and you need help researching information on public transportation, let me know in the comments so I can have a chance to personally help you!
Good to know: Monteriggioni does not have a train station. The closest train station is Castellina In Chianti. From this station, it is a 35-minute walk to Monteriggioni.
Reaching Monteriggioni, Italy By Tour
The final option for reaching Monteriggioni is by booking an organized tour. This is the best option if you have a busy itinerary and are trying to make the most of one day to explore Tuscany because the tour covers San Gimignano, Siena and Monteriggioni.
It is also the right option for travelers who don't want to rent a car or worry about figuring out public transportation.
---
What to Do In Monteriggioni
Walk the Medieval Walls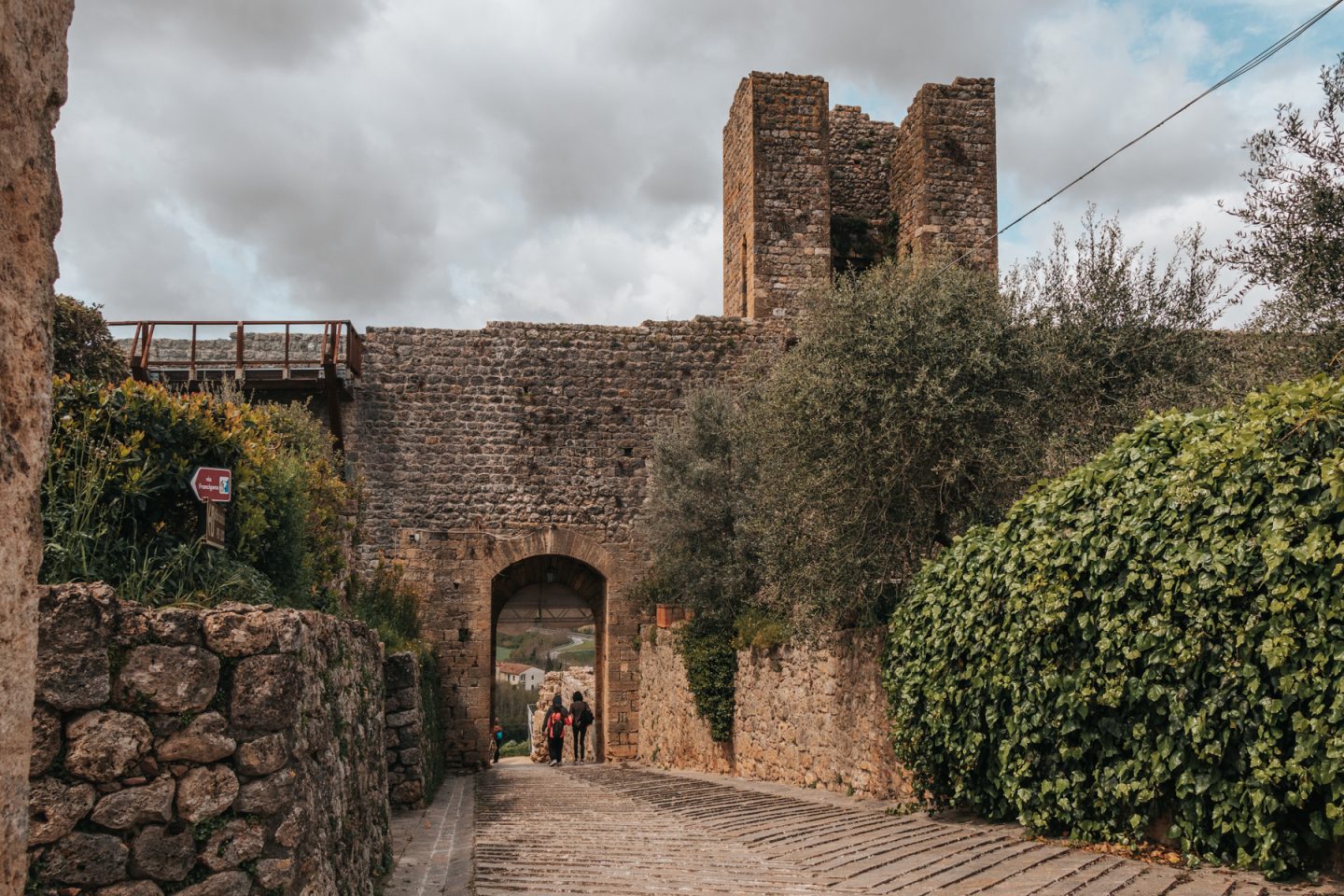 The most unique attraction in Monteriggioni is to walk along the walls built almost a thousand years ago.
You will find the entrance to the educational walk right after entering the town through Porta Romana, on your righthand side.
It costs €4 per adult. One thing to consider is that the walk closes for half an hour around lunch time. It is open from 9 am to 1:30 pm and 2 pm to 7:30 pm. These hours are likely to vary in the winter season!
Pro Tip: The best time to visit Monteriggioni is in April, when spring in Italy is in full bloom. The weather is not too hot and not too cold and the number of tourists is bearable.
Visit the Church of Santa Maria Assunta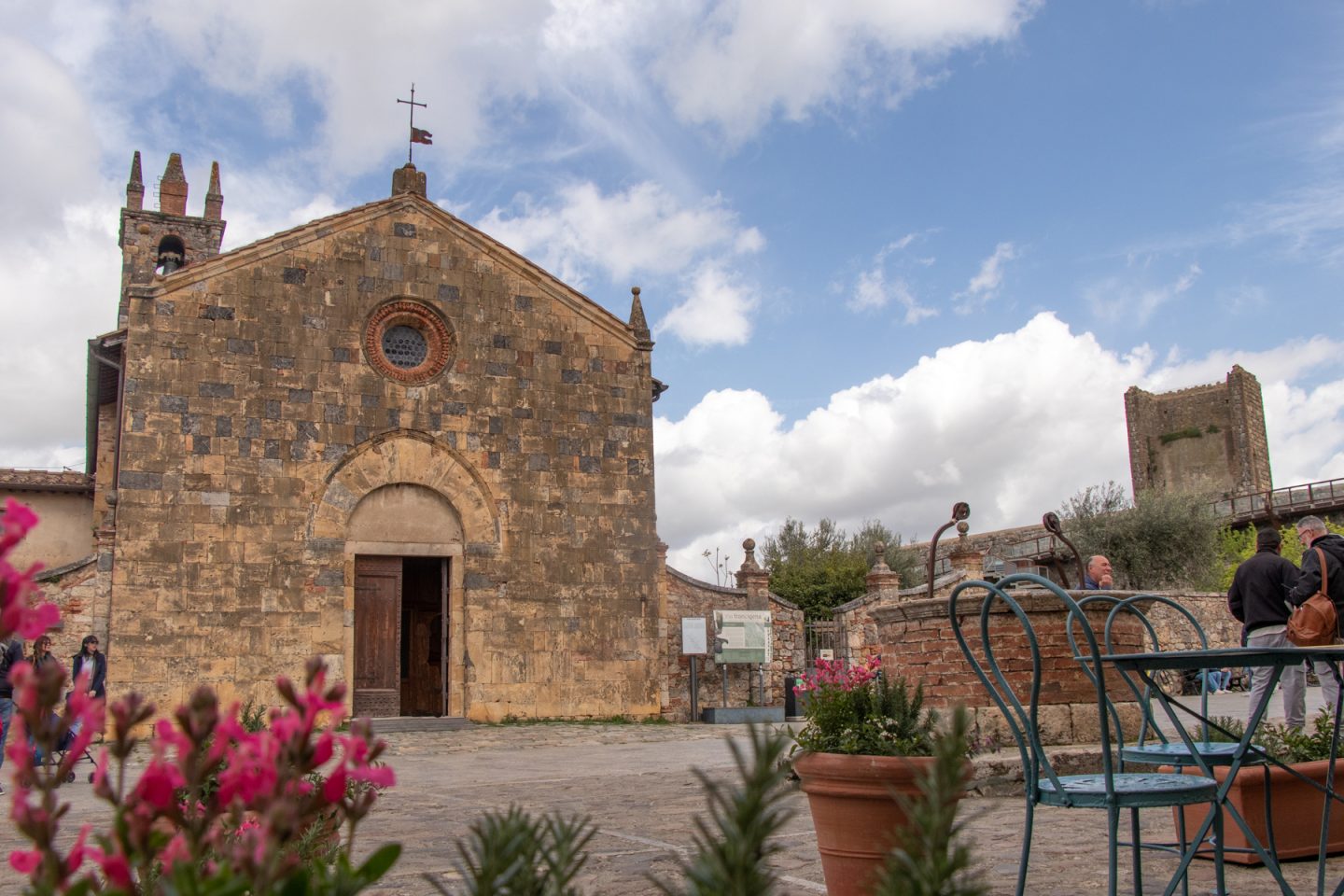 Visiting Monteriggioni's main church, the Chiesa di Santa Maria Assunta, truly reminds you of the history you are living. It is set in Monteriggioni's main square, Piazza Roma, surrounded by charming shops and outdoor eateries.
The church dates back to the same year the town was built, 1213. The inside has been slightly modernized to keep the church in use. The bell tower, instead, is from 1299.
The church is free to enter.
Eat Bistecca alla Fiorentina at Ristorante da Remo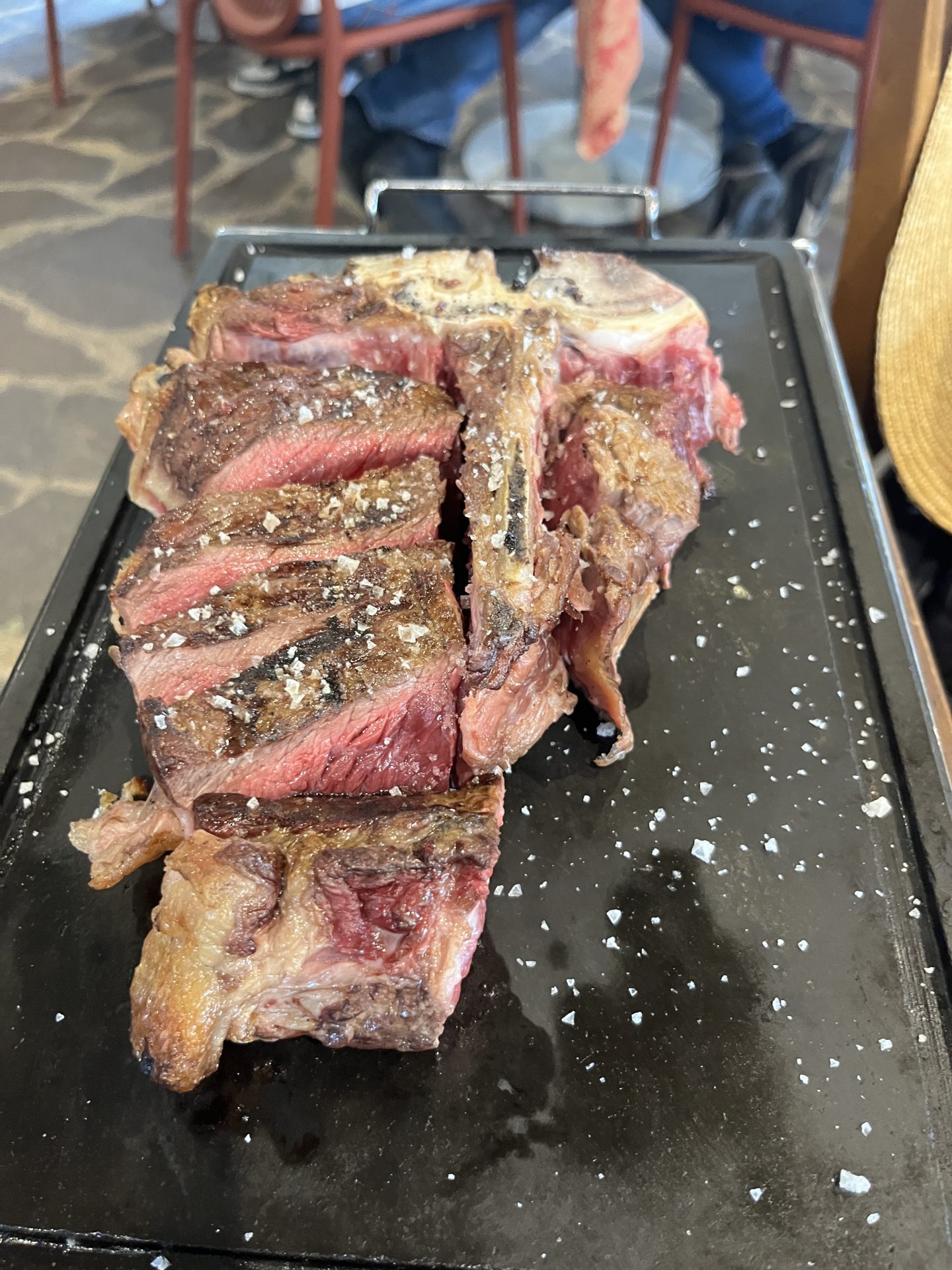 At Ristorante da Remo, you will get amazing, homely Tuscan dishes at a decent price point. The outdoor veranda is the perfect place to sit along the walls and enjoy a sunny lunch.
We ordered the Bistecca alla Fiorentina, the steak for which Tuscany is famous for. It is huge (starting at 1kg) and is usually split between 2 people. The best part was that they did a whole demonstration and mini photo session when the steak came out!
It is also a great time to try the local Chianti wine.
Picnic at the Giardino della Chiesa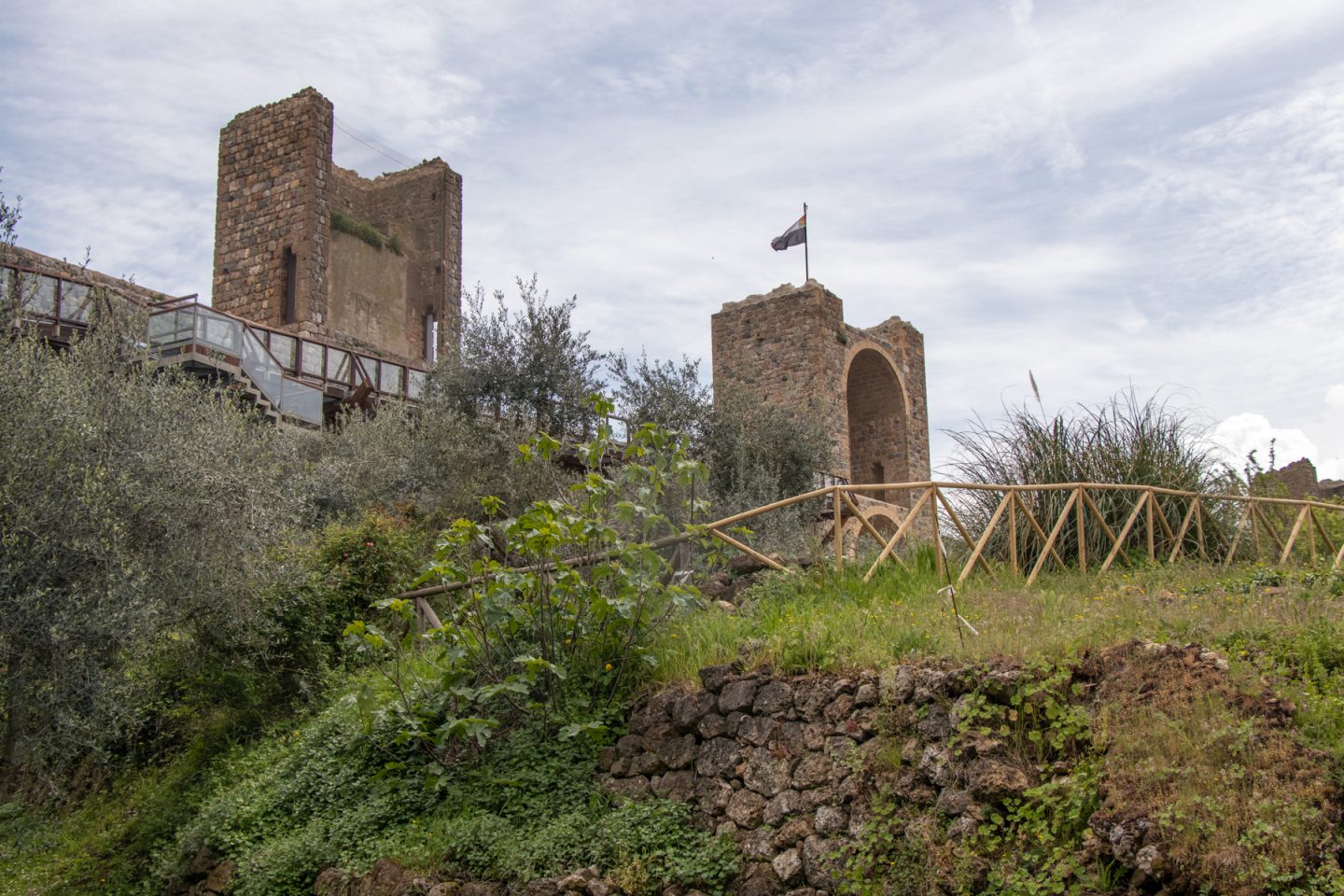 Right beside the Church of Santa Maria Assunta is a little alleyway that leads to quaint and intimate park. Immersed in the greenery, all you can really see are Monteriggioni's medieval walls and towers!
This is just one of the places in which you could have a picnic in Monteriggioni. It's a completely unique setting and is a convenient option if you are traveling on a budget.
Take epic photos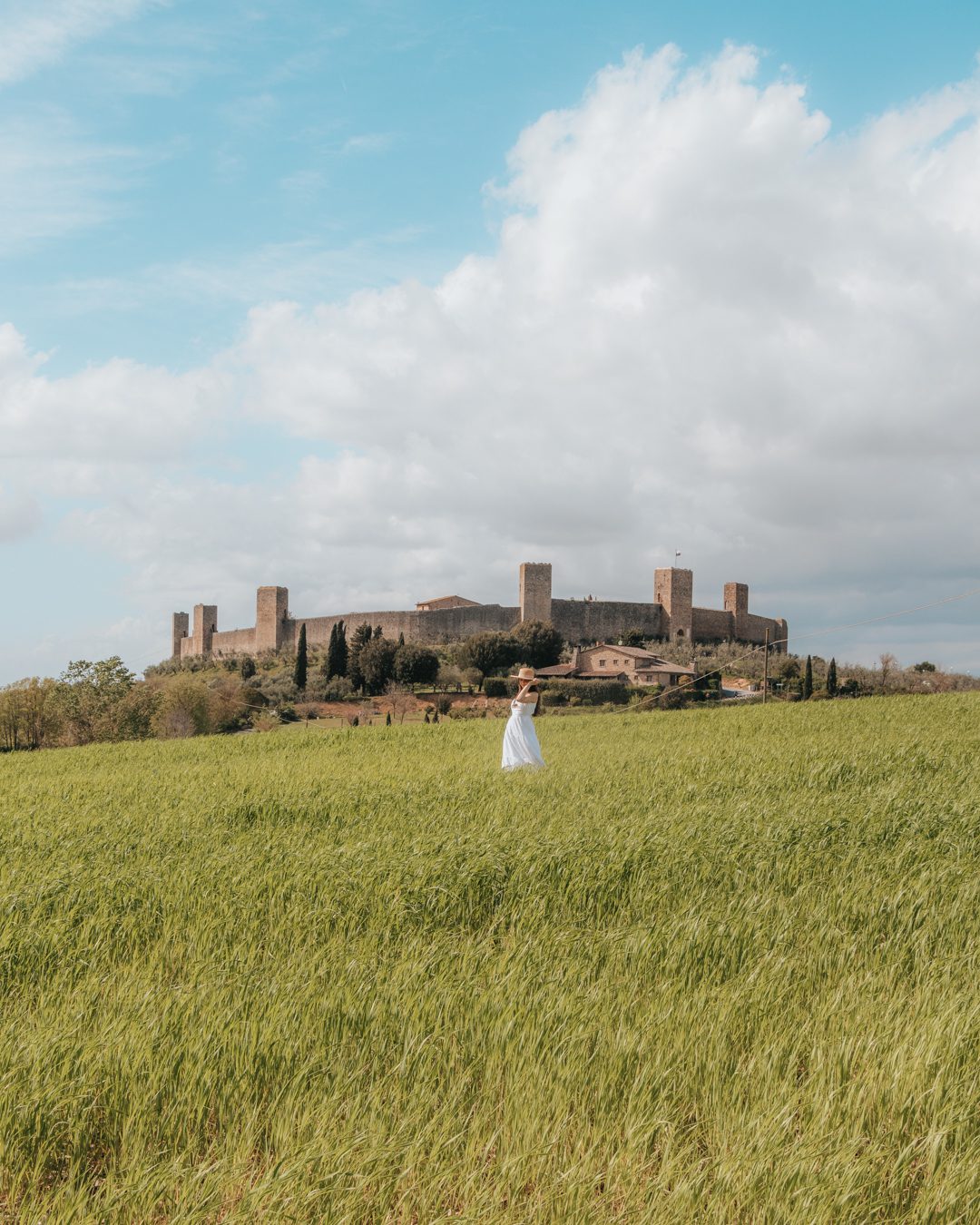 Monteriggioni is a must-do with a drone. You can get breathtaking landscape shots of the perfectly symmetrical walls with the small village growing inside on a picturesque, green Tuscan hilltop. It doesn't get more epic than that.
If you don't have a drone with you, like me, you can also check out a different photo spot to get the best side view of the walled town.
You have to go a camper parking just outside the town and walk up a gravel trail from the parking towards the gym building just beside the lot. Just a few steps along the trial, you will see an opening in the bushes to your right and a mini hill. Cross over that hill and you get an epic view of Monteriggioni with a beautiful meadow in the foreground.
See the location pinned on the map below.
Hike the Montagnola Senese Trails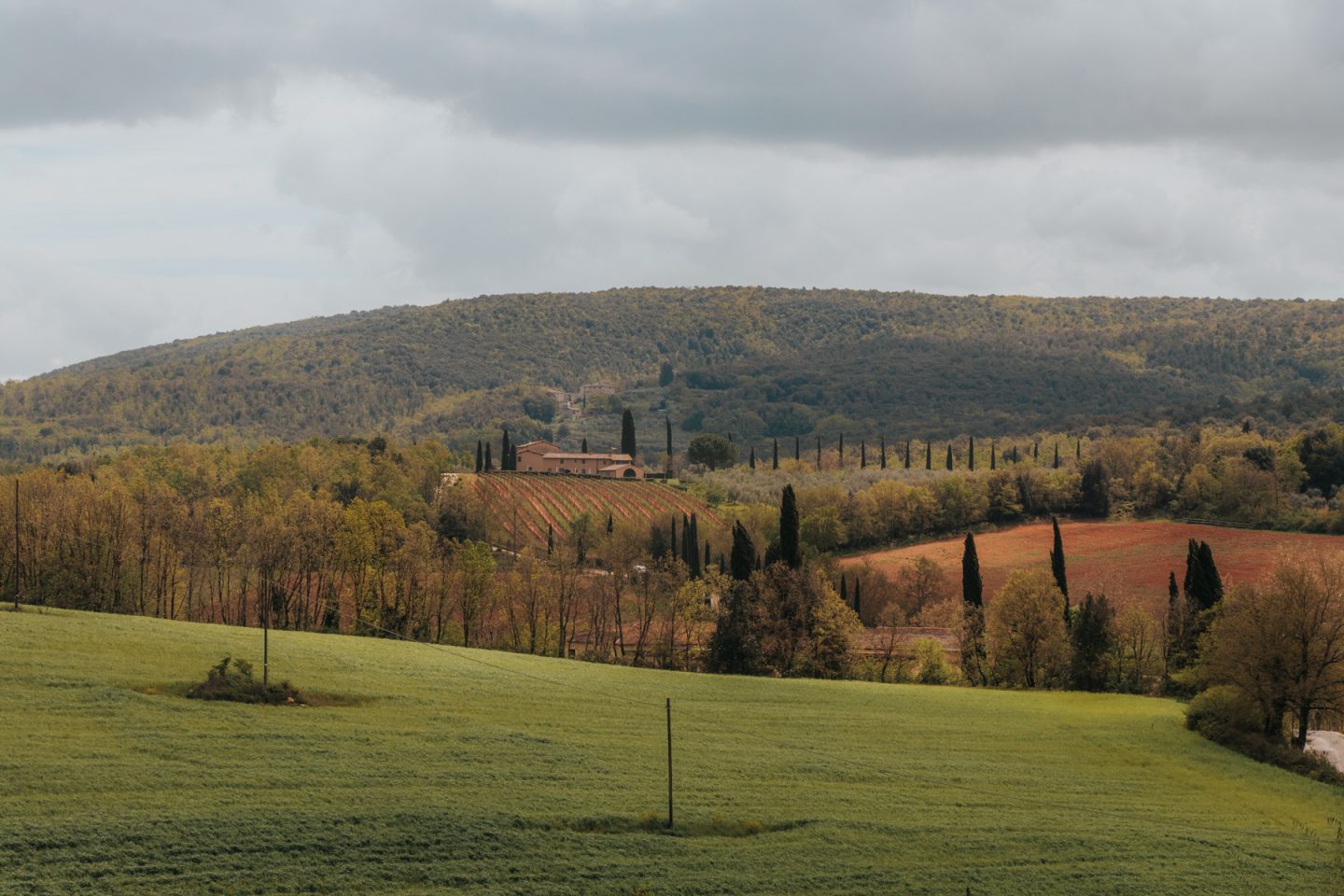 The area of Montagnola Senese, of which Monteriggioni is part of, is one of the best places to take in Tuscan nature. For this reason, it is also one of the best spots to see cypress trees in Tuscany!
I found this great, thorough guide to hiking trails in the area. If you are interested in hiking the trails, then just know you will need more than one day in Monteriggioni!
---
Travel Tips for Visiting Monteriggioni
When organizing your Tuscany itinerary, plan to spend just a couple of hours in Monteriggioni. Monteriggioni is beautiful but very small. You will be able to walk the whole town inside the walls in no joke, about 10 minutes. I suggest visiting around lunch time so that you can take advantage of spending a little extra time here with something to do.
Make dining reservations ahead of time if possible. I know I said the town is small but its surprisingly bustling! We were rejected from several restaurants for lunch because we didn't have a reservation.
If you are traveling to Monteriggioni in July, attend the Medieval Festival! Monteriggioni hosts one of Italy's best costume festivals. The festival will celebrate 30 years in 2023 from July 6th to the 9th.
Take advantage of the free bathrooms. These are a rarity in Italy. Check out the map below to see exactly where you can find the public bathrooms, which are right outside the Monteriggioni walls.
---
What to Do Around Monteriggioni
Since Monteriggioni is small and likely a short stop on your Tuscany itinerary, consider filling the day with these other beautiful places in Tuscany near Monteriggioni.
Siena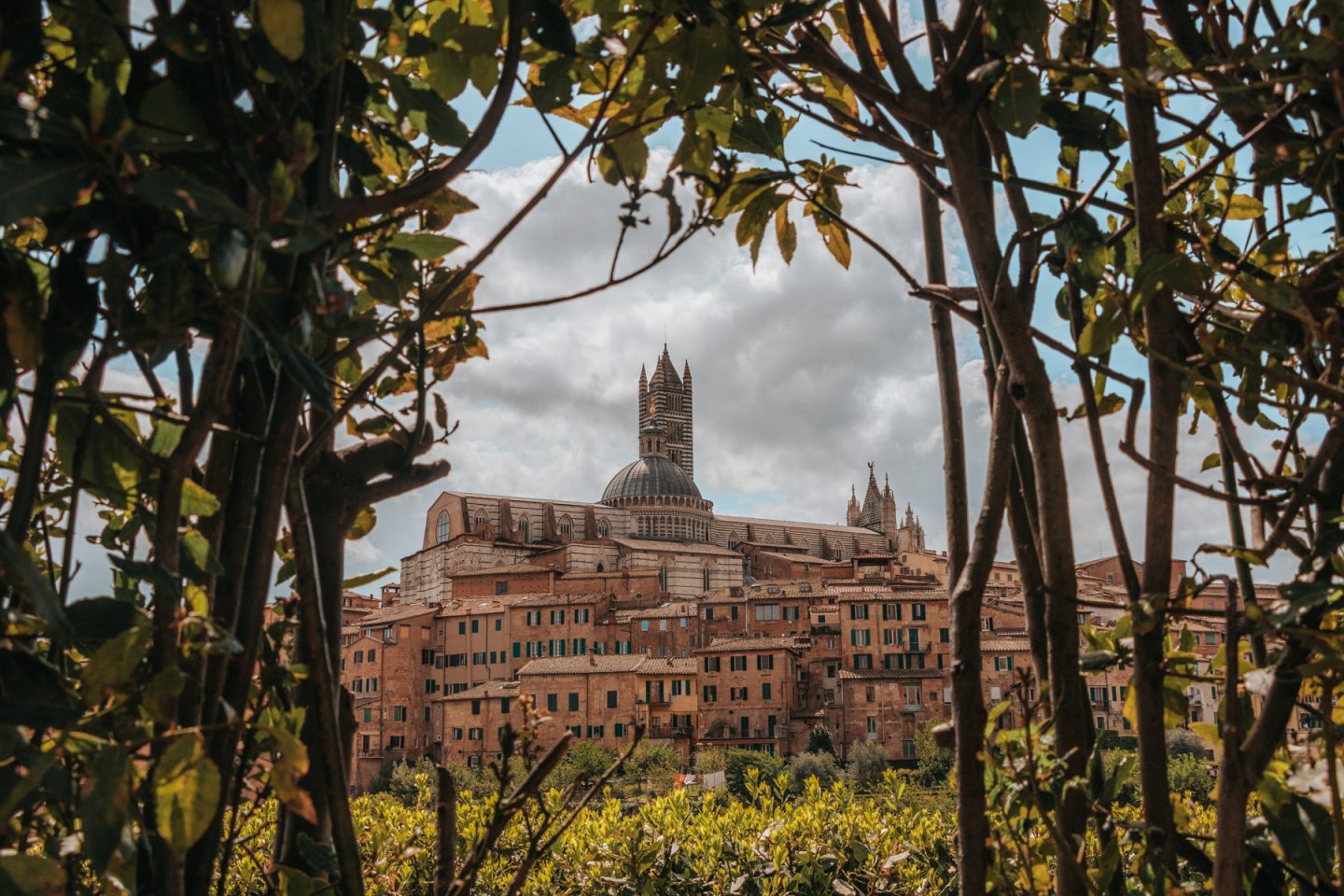 Siena is one of the most historically important cities of Tuscany. There is so much to see, from the Medici Fortress to the iconic Piazza del Palio to the majestic Duomo that sits at the highest point of the city.
Pienza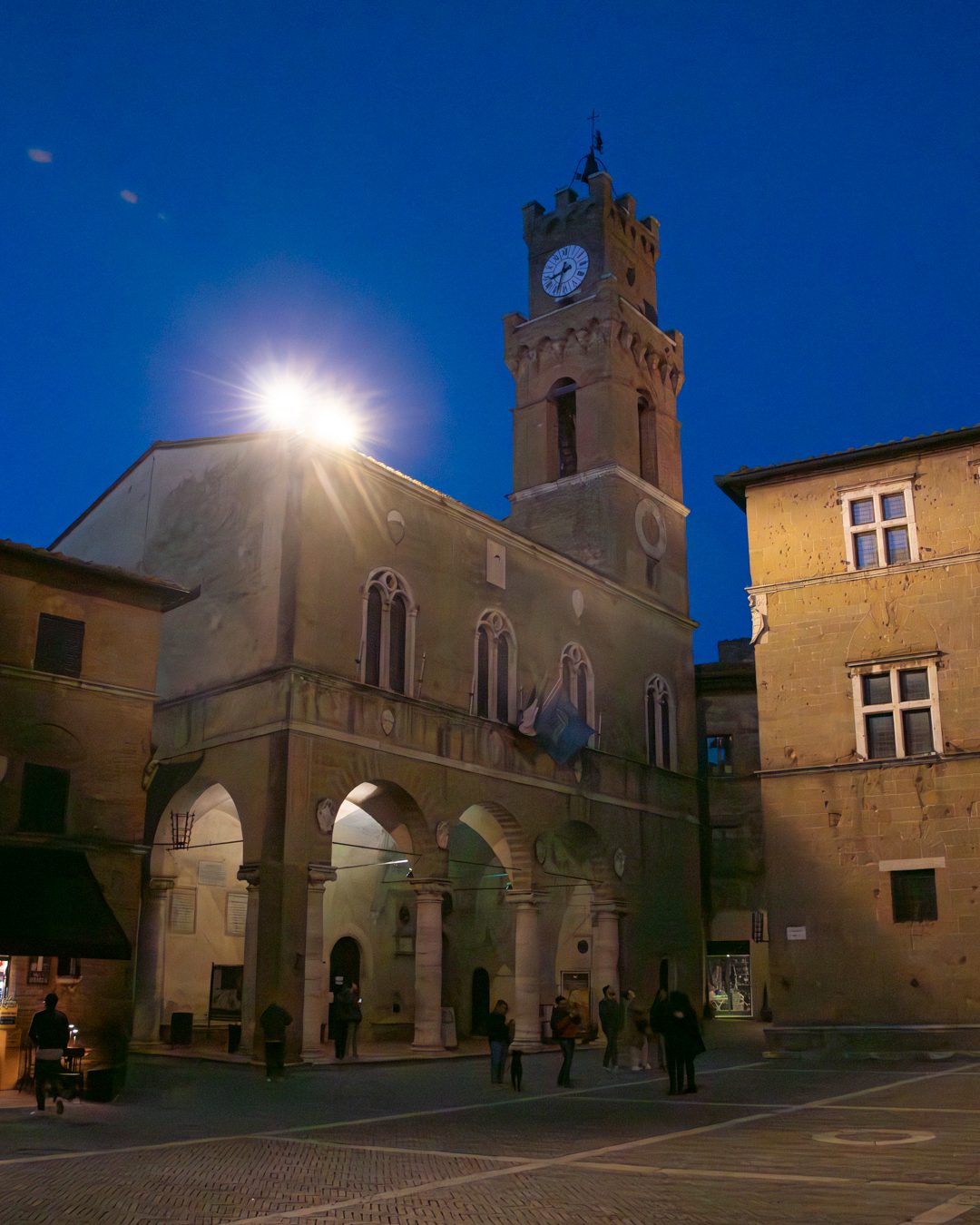 Pienza is one of Tuscany's most beautiful villages set on a hilltop looking over the aesthetic Val d'Orcia.
It is also an UNESCO World Heritage Site and the birthplace of Pope Pius II, so you are surrounded by historic landmarks like the Palazzo Piccolomini and the Duomo di Santa Maria Assunta.
Don't miss the Via dell'Amore, the panoramic boulevard that offers widespread views of the valley.
Abbazia di San Galgano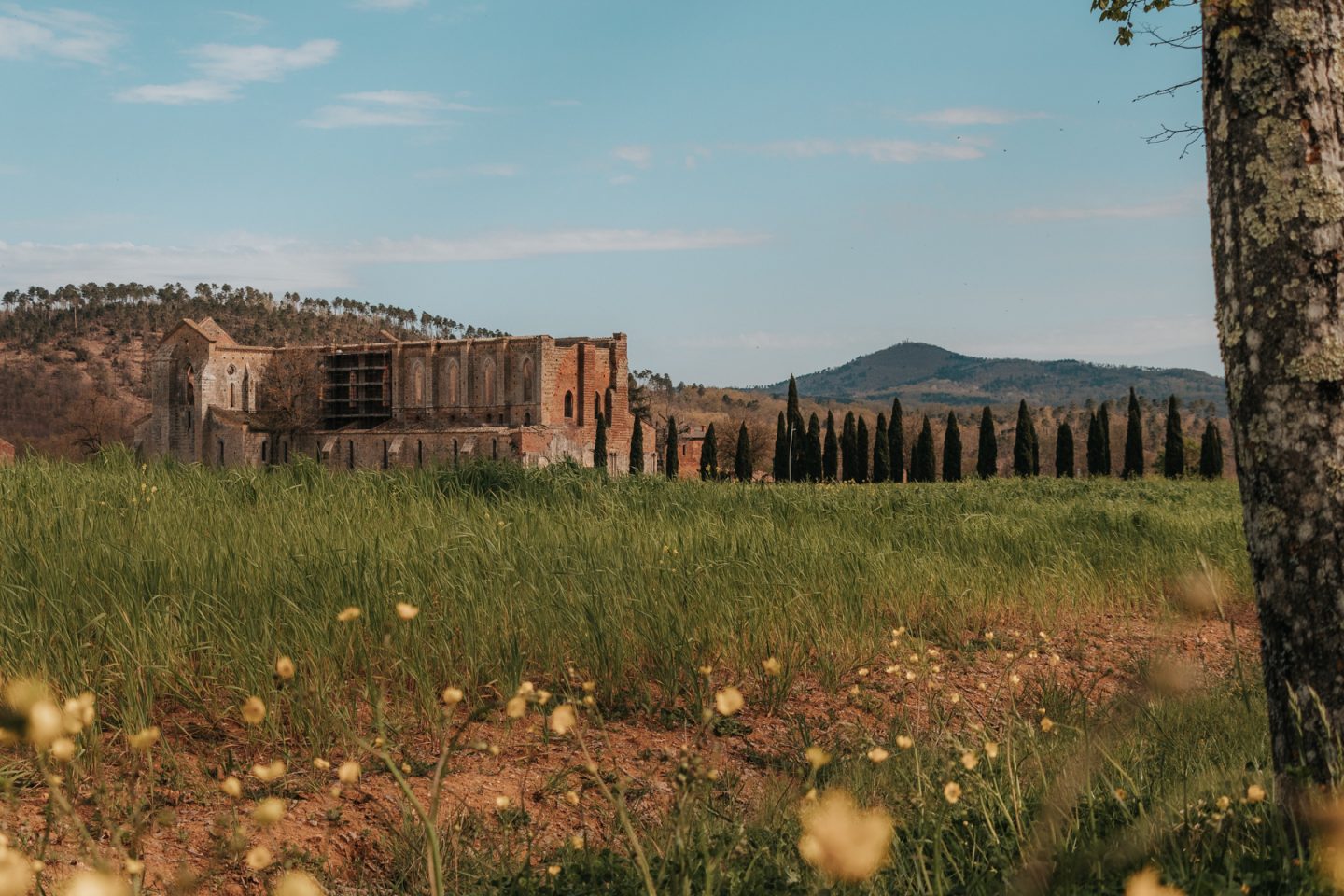 Just a 45-minute drive away, you can visit the ruins of the first gothic church built in Tuscany. The Abbazia di San Galgano is a magical, beautifully haunting structure set in the middle of Tuscan nature.
You can visit the ruins for just €5 per person.
---
The SGTD Take
Visiting Monteriggioni is not for every traveler. You won't find a lot of attractions or adventurous activities. You will probably wonder a bit what to do with your time there!
But that's what makes Monteriggioni so unique and beautiful to a specific kind of traveler, the traveler that focuses on the small moments, that wants to dive into local culture and that doesn't mind a slow couple of hours as long as they are engulfed in authentic history and discovering something new.
Does Monteriggioni, Italy seem like the place for you? Let me know in the comments!
Save this travel guide to Pinterest!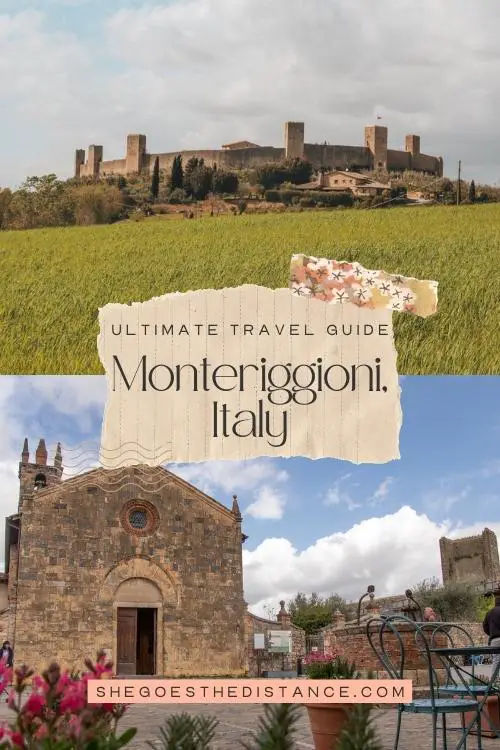 I hope this guide has helped you plan your short and sweet visit to Monteriggioni, Italy!
XOXO
Michela