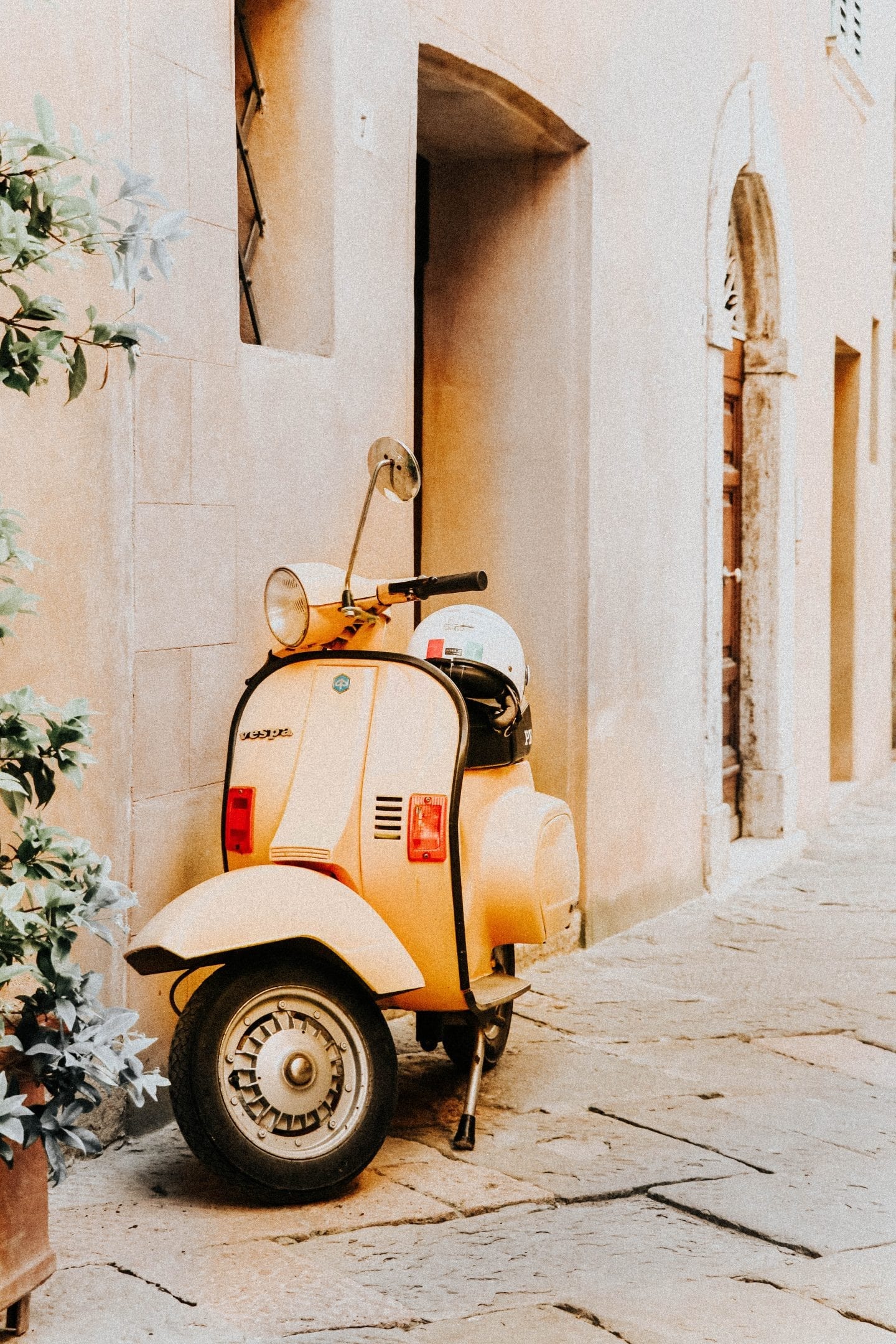 Last Updated on October 1, 2023
There are so many beautiful places within reach of Florence, Italy. Being in central Italy, Florence is an ideal location from which to see so much of the country (not to mention one of the most beautiful itself.) And if you're making Florence a base on your Italy trip, you must include these perfect Tuscan day trips from Florence on your itinerary.
Florence is a stone's throw away from some of the most stunning, picturesque Italian villages in the Tuscan countryside. Any of them are worth a visit if you're craving that charming village experience.
The best part? All these destinations are about an hour or less from Florence!
Some of these links are affiliate links. This means if you make a purchase through that link, I receive a small commission at no extra cost to you. Read my full disclosure!
---
1. Siena
Siena is one of the more major towns in Tuscany, smaller than Florence, but not as small as the following towns I'll mention. It has a rich history and a bustling plaza, Piazza del Campo.
The piazza bumps right up to the Palazzo Pubblico, an amazing Gothic palace. Twice a year, the famous Palio horse race is held in the piazza, a tradition known all throughout Italy.
Siena is part of the Val d'Orcia region of Tuscany – you know, the one you see all over Instagram that you can immediately recognize as Tuscany! That's right, it's not far from the sea of rolling hills, tree-lined rural roads, and stone countryside houses surrounded by vineyards.
Discover how to spend a perfect day in Siena, Italy.
Activities in Siena
How to Reach Siena from Florence
Siena is not a large city, but it is a major city in the region of Tuscany. It is well-connected to Florence through various transportation options.
By Car: Traveling to Siena by car is convenient, as you spend most of your time on the highway, Autostrada Firenze-Siena. The journey time is just over an hour.
By Train: It's probably more inexpensive to take a train to Siena than pay for gas in Italy! You can travel to Siena by train for as little as 10 euros. Prep for your trip with my Italy travel train tips.
By Bus: You can reach Siena by bus, either coach – for which I recommend Flixbus – or public. To catch a public bus to Siena, head to the Firenze Santa Maria Novella Train Station. To the left across the street, there is the Autostazione Busitalia where you can purchase a ticket to Siena using public bus transportation. But have no fear, the buses in Italy are very comfortable!
By Tour: The most convenient way to reach Siena and perfect for those with a jam-packed Italy itinerary is to book a day trip tour from Florence. With transportation taken care of, you can focus on enjoying the experience!
---
2. Pienza
A small town above the Tuscan hills, Pienza is the place to go for stunning views above the countryside and an authentic Italian village feel. This was one of my favorite Tuscan day trips from Florence because it felt so authentic to Italian culture!
During the summer, because the town is so small, it can feel a bit overrun by tourism, so try to visit in the off-season of May or September.
It has a powerful history for being so small and is a UNESCO World Heritage Site, which you can read about more here.
This is also a day trip you could potentially pair with visiting Siena, as both are located in the Val d'Orcia.
Activities in Pienza
How to Reach Pienza from Florence
Pienza is not the easiest to reach of these day trips of Florence. Because it's quite rural, the most convenient options to travel to Pienza are by car or booking a day tour.
By Car: Take the A1/E35 highway to the SP327, which leads you to Pienza. The journey is about 1 hour and 45 minutes.
By Bus: You can reach Pienza by bus, but it is not a convenient journey. You will have to make at least one change during the journey and unfortunately, the buses don't run frequently. Find more info here about potential routes.
By Tour: Florence to Val d'Orcia Day Trip
---
3. Panzano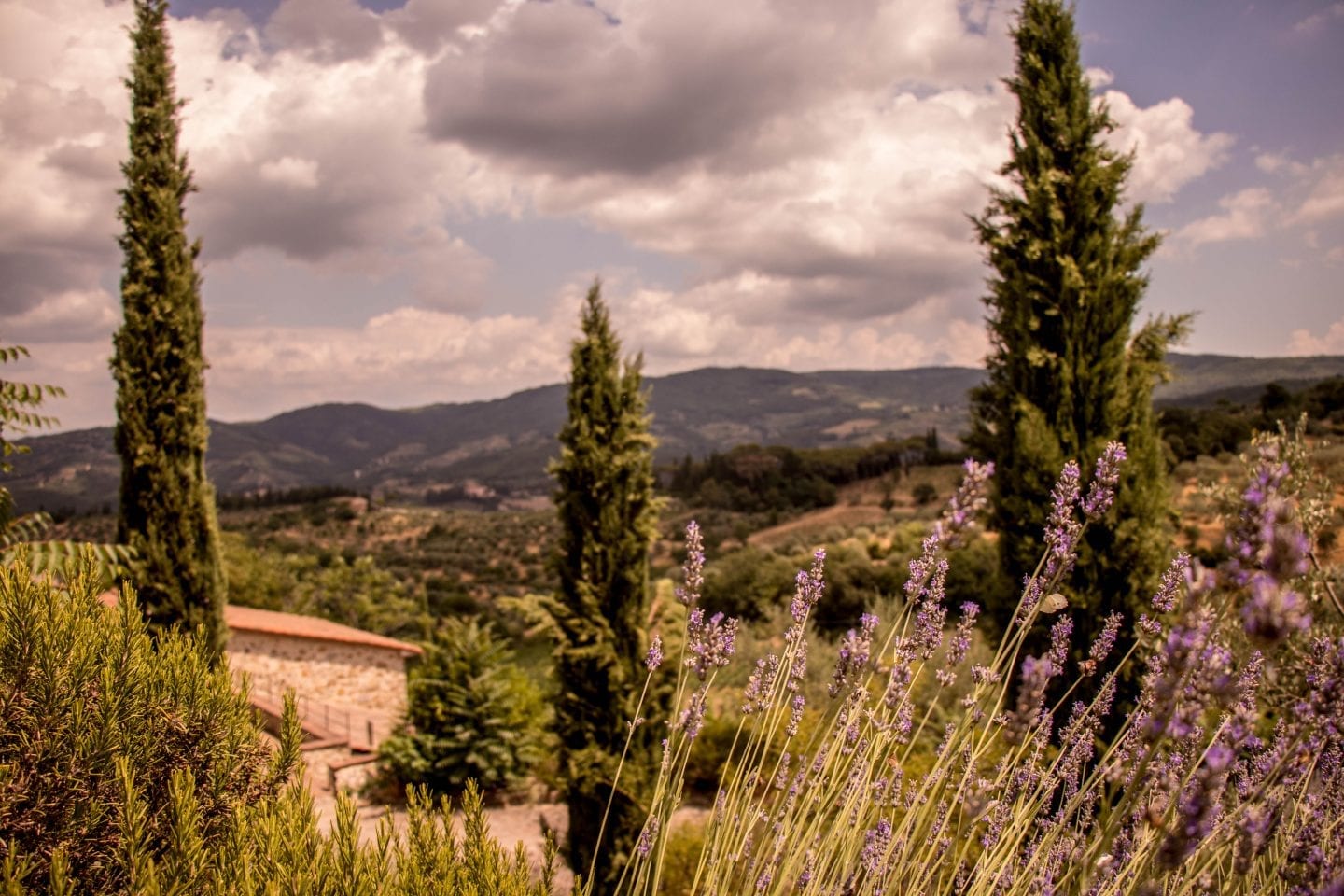 I discovered Panzano when I watched Chef's Table about a butcher named Dario Cecchini. It's incredibly quiet and peaceful in this small village, with grand views of the Chianti winemaking region.
When in Panzano, you can do a wine tasting at Fattoria Le Fonti but you absolutely have to have lunch at a restaurant called Ristorante Oltre Il Giardino.
This hidden gem spot has serene outdoor seating under a canopy of greenery overlooking the breathtaking Tuscan countryside and seemingly endless vineyards. It's one of the day trips from Florence that isn't touristy and a perfect window into life in Italy.
How to Reach Panzano from Florence
By Car: Reaching Panzano by car is easy and scenic down the SR222, a little less than an hour's journey.
By Bus: You can reach Panzano easily from Florence by bus. Head to the Santa Maria Novella train station and just past it is the Autostazione Busitalia. There you can buy a ticket for less than 10 euros to reach Panzano, less than an hour's journey away.
---
4. Fiesole
Fiesole is right outside Florence, simply a 15-20 minute bus ride, and offers some of the best views of Florence. Although, it was a bit foggy when I visited, as you can see!
But, if it were a little less bright and a lot less foggy, you can take in the entire vast Arno river valley on which Florence sits. It's a mini-getaway from the city if you are spending an extended amount of time in Florence.
It's also a famous site with ruins from ancient Etruscans, predecessors to ancient Rome! There is an old monastery at the top of the town which you can tour, as well as Ristorante La Reggia, a beautiful spot at the crest of the hill overlooking the huge city of Firenze.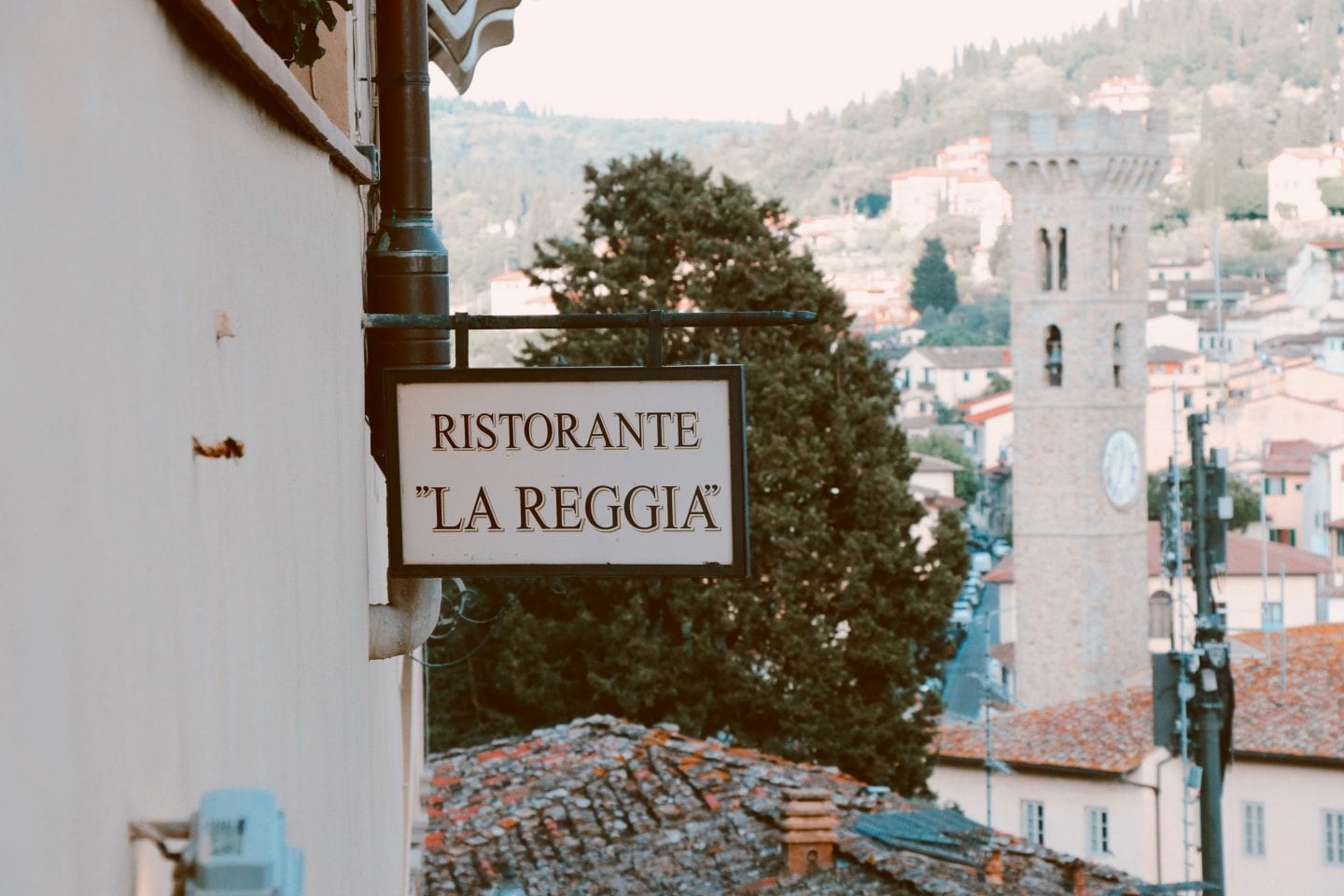 How to Reach Fiesole from Florence
By Car: Fiesole is only a 20-minute drive from Florence, and while it's beautiful and scenic, your parking options are limited in Fiesole. I recommend choosing to travel with the bus!
By Bus: Starting from Autostazione Busitalia,
By Bike: You can also bike to Fiesole, as the ride takes about 45 minutes, but, you've been warned – it is an uphill climb!
---
5. Pisa
Pisa is an obvious destination to visit from Florence! As cliché and touristy as it sounds, it is a worthy experience to get your photo with the famous Leaning Tower.
You won't feel bad about posing in front of this monument because there are hundreds of your closest strangers doing the same alongside you.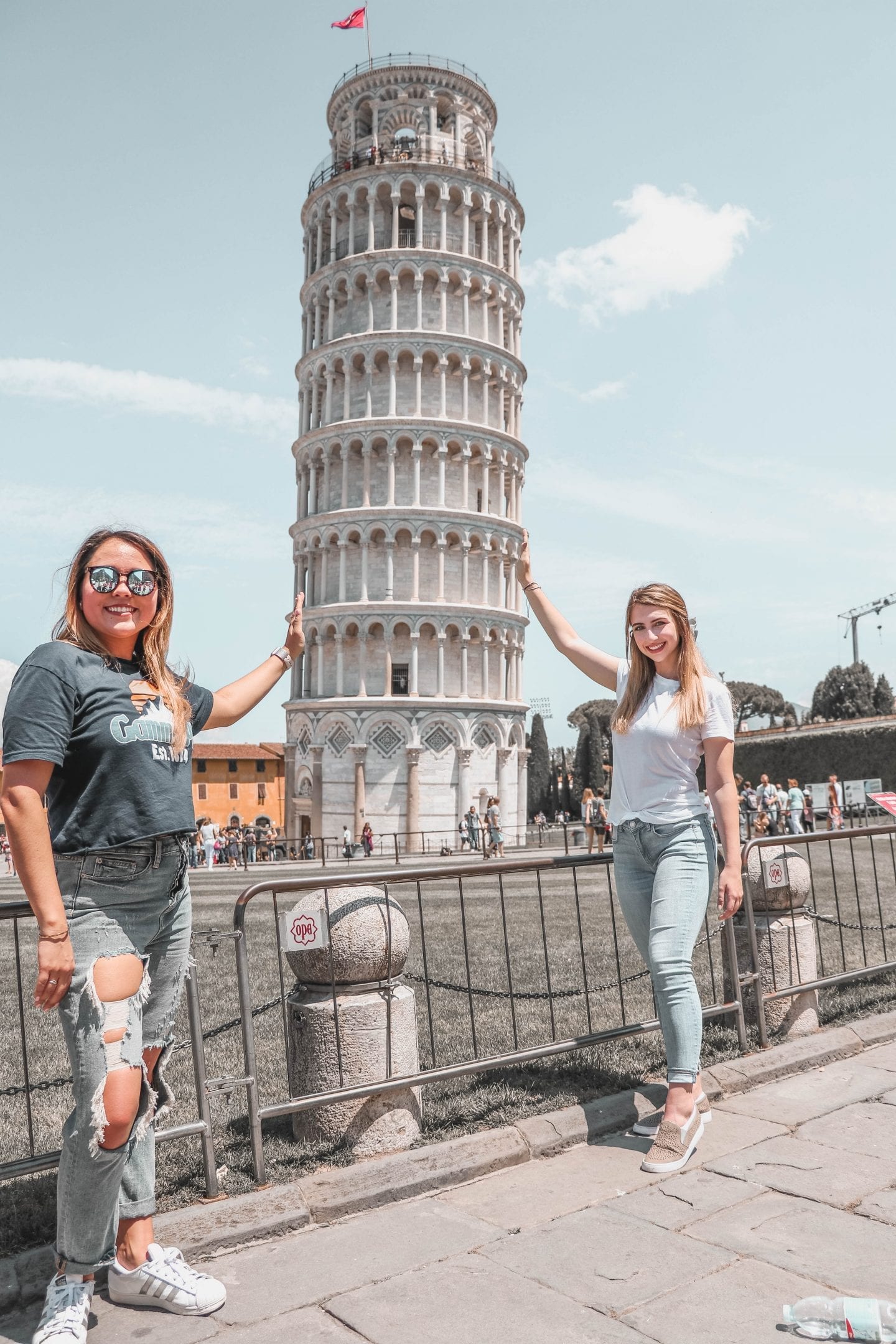 Pisa is an ideal half-day trip from Florence. I traveled on a Sunday and most of the town was empty, besides the main square where the Leaning Tower is located.
This is the perfect opportunity to explore and get away from Florence if you don't have a full day on your itinerary available.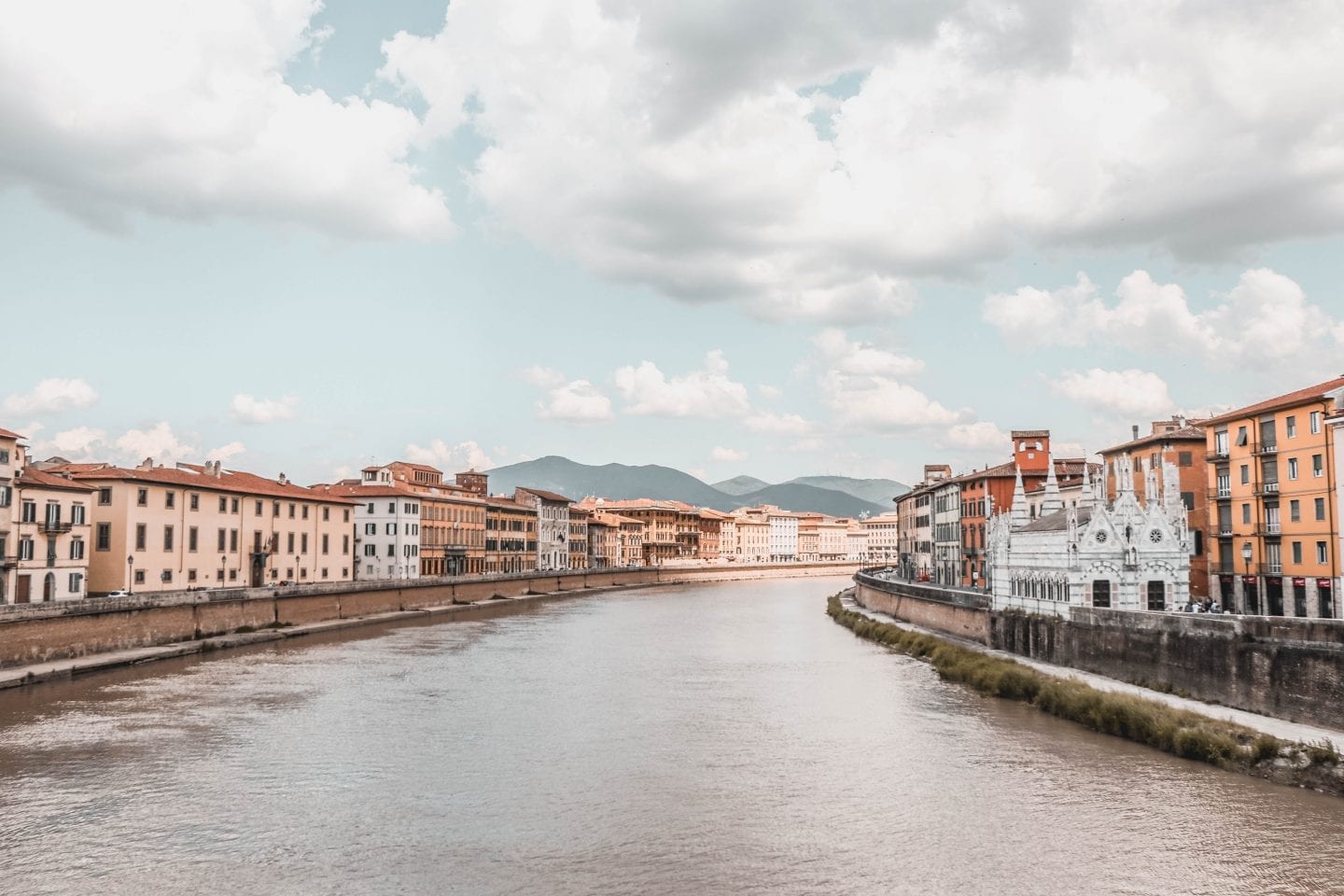 Activities in Pisa
How to Reach Pisa from Florence
By Car: It's faster, cheaper, and easier to travel to Pisa from Florence with the train, but if you want to travel by car, you'll be taking the A1/E35 highway for most of your journey.
By Train: Trains between Florence and Pisa cost as little as 4 euros. It's the best option for your wallet and your time!
By Bus: Catch a bus to Pisa from the Autostazione Busitalia next to Firenze Santa Maria Novella Train Station. Buses leave nearly every 20 minutes.
By Tour: Pisa is so popular, so you have the pick of the litter when it comes to booking a day trip from Florence to Pisa!
---
6. Lucca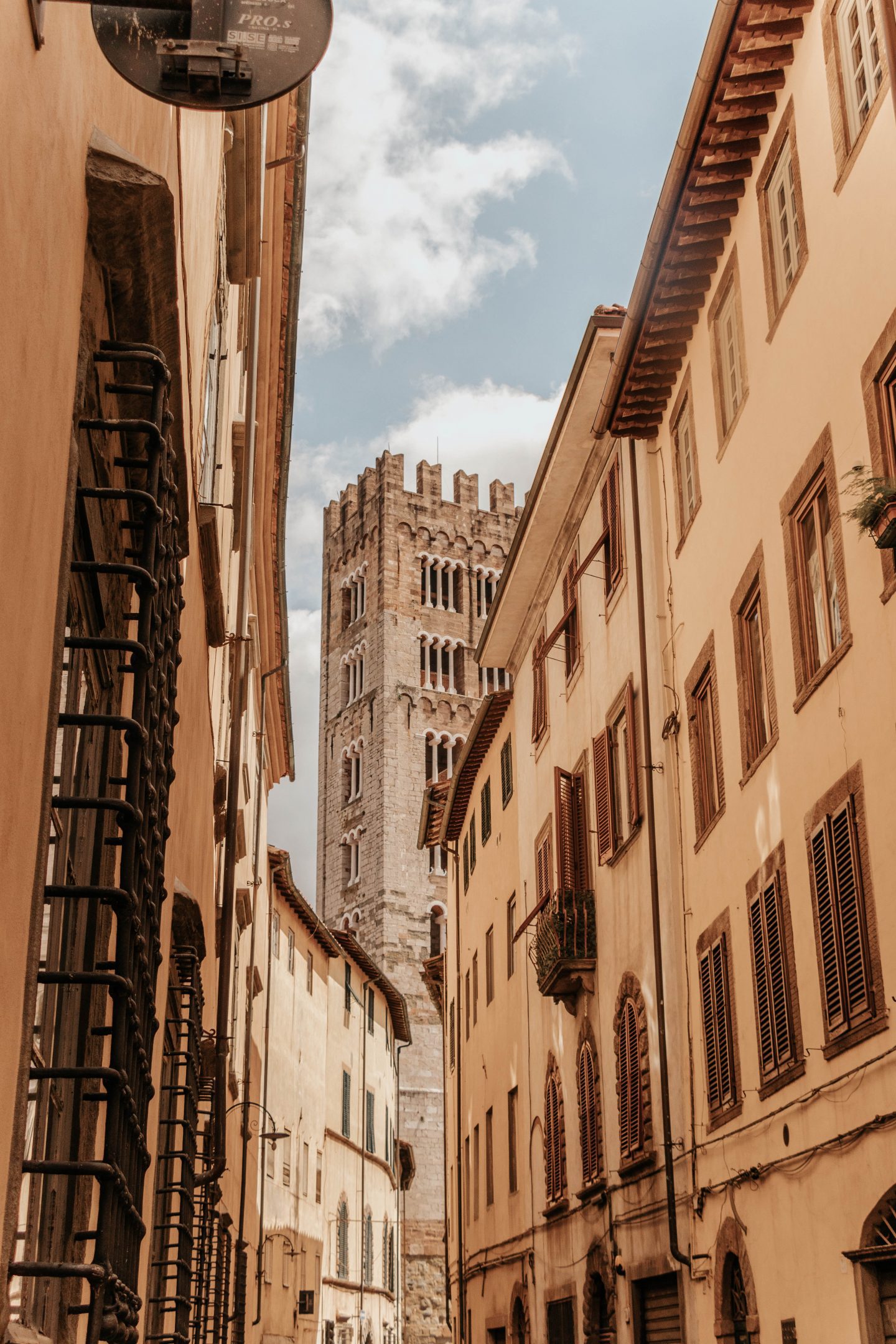 Lucca, Italy is a charming walled-city, one-hour away from Florence. Nestled in the northern part of Tuscany, here you will see the Appenine Mountains surrounding the forested valleys, contrasting to the rolling hills of Tuscany's southern wine-producing towns.
Lucca's historic center is rich with churches, medieval towers, and cute eateries. The best activity you can partake in is walking along the fortified walls. The boulevards along the walls are wide and elevated, so you'll have a semi-bird's eye view of the historic center.
Check out my Lucca travel guide for an in-depth look at exactly how to spend your day here!
Activities in Lucca
How to Reach Lucca from Florence
By Car: Most of the drive from Florence to Lucca will be on the A11/E76 highways, adding up to a 90-minute journey.
By Train: Trains travel daily and frequently between these two cities. Find your perfect departure time here.
By Bus: Travel to Lucca by either public bus or coach. For the public buses – follow the same drill and head to the Autostazione Busitalia. Like trains, these regional buses leave frequently throughout the day!
By Tour

: Combine Pisa and Lucca into one-day on your itinerary with a

day tour

!
---
Honorable Mentions for Tuscan Day Trips from Florence
Of course, just five towns may not tickle your fancy. Maybe you want to do an entire Tuscan road trip!
To add to the inspiration, I'm listing other beautiful places to visit in Tuscany. I have personally visited all of the day trips previously mentioned, but these are towns recommended to me by local friends and families to add to your bucket list!
Saturnia – Known for its bright blue thermal baths.
San Gimignano – Known for its wine-making.
Forte dei Marmi – Coastal Town.
Arezzo – Gorgeous hilltop cathedral.
Don't forget Florence is also only a couple of hours' train ride from areas like Bologna, Rome, Venice, Milan, and Cinque Terre! You could tire yourself out and make a day trip to these cities, or plan a weekend getaway from Florence!
Do you have any favorite towns in Tuscany or other Tuscan day trips from Florence? Let me know!
Don't forget to Pin this post & Share the Love!
Hopefully, you've been transported to dreamy Tuscany with these ideas of day trips from Florence. I know I can't wait to be back exploring this beautiful region!
XOXO
Michela