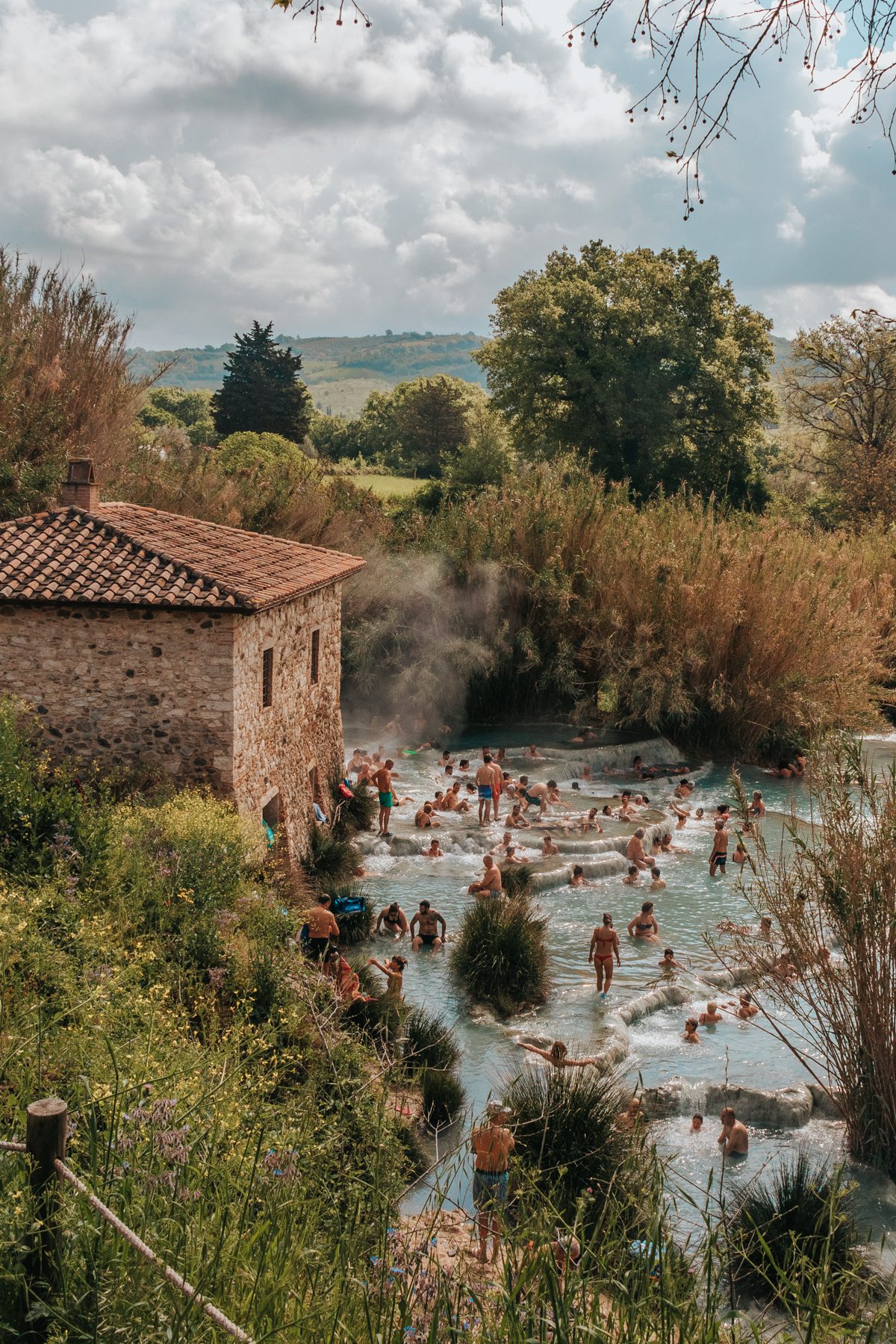 Last Updated on October 1, 2023
Tuscany is one of the most famous regions of Italy but even the most traveled places still hold undiscovered pockets of beauty for travelers willing to go off the beaten path. This is exactly the context in which you will find Saturnia hot springs, a small but stunning landscape in the very south of Tuscany's rolling hills.
These Tuscan hot springs are a locals' best-kept secret having a viral moment. You may have seen dreamy photos and epic drone videos showing off the unique structure and – honestly – it manages to live up to the hype.
But the beautiful photos don't tell you what it is actually like to visit and after my short yet sweet experience, I realized there are so many things I would have wanted to know before making it there. So, here's the ultimate guide to visiting the hot springs in Saturnia so that you can enjoy the Instagrammable moment to the fullest in real life.
Some of these links are affiliate links. This means if you make a purchase through that link, I receive a small commission at no extra cost to you. Read my full disclosure!
What are the Saturnia hot springs?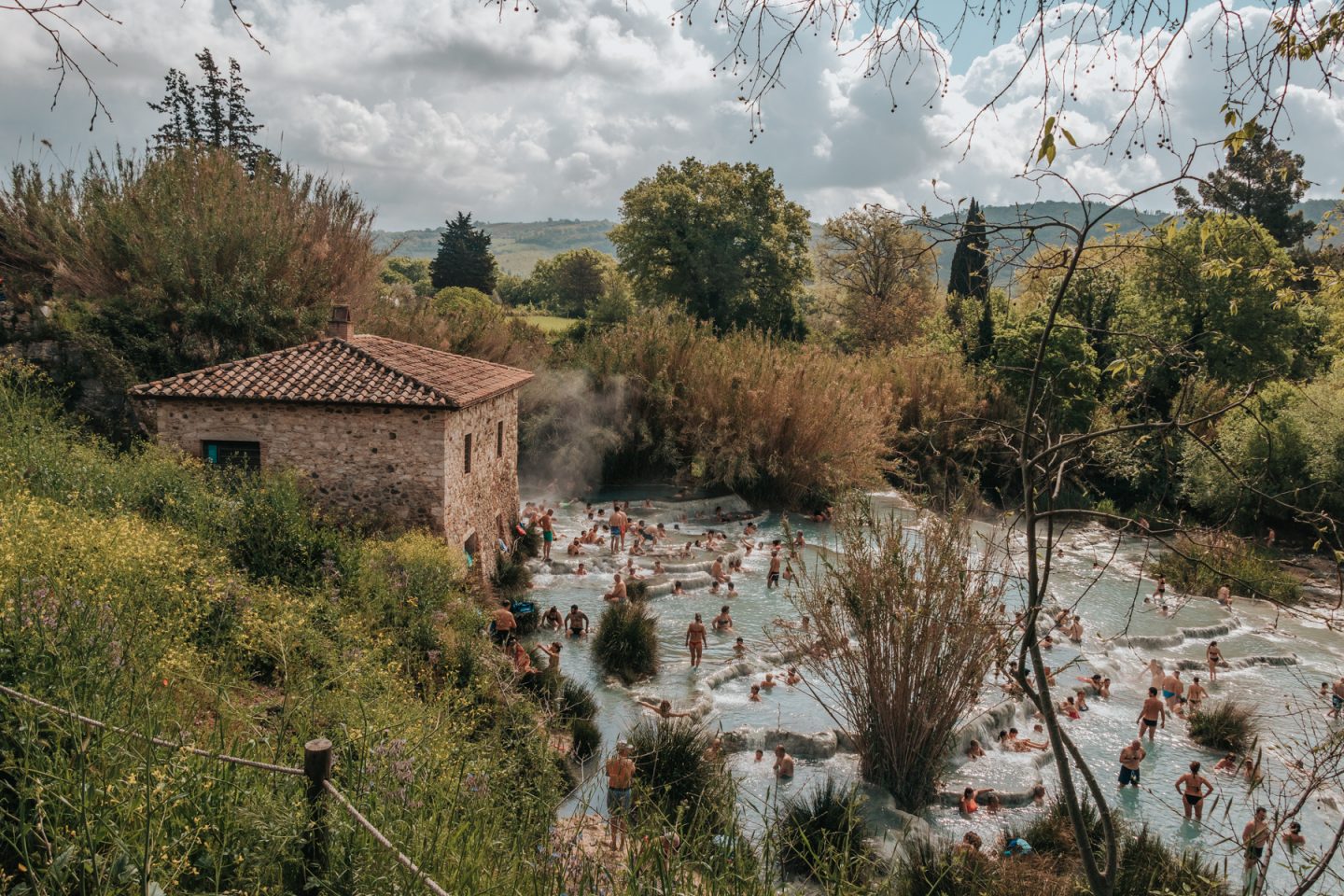 The Saturnia hot springs, formally known as the Cascate del Mulino, are located in southern Tuscany in the province of Grosseto.
Nestled among the rolling hills of the Maremma territory, the all natural springs with thermal waters stay at a constant temperature year round of 37.5 degrees Celcius (99.5° F).
Why has the destination suddenly shown up on people's radars? Not only is it an indulgent yet budget-friendly wellness activity, but its charm is in its landscape.
The light turquoise waterfalls cascading from pool to pool beside a rustic Tuscan farmhouse surrounded by nearly untouched beauty of countryside hills. It truly is a beautiful place in Italy.
---
When is the best time to visit the Saturnia hot springs?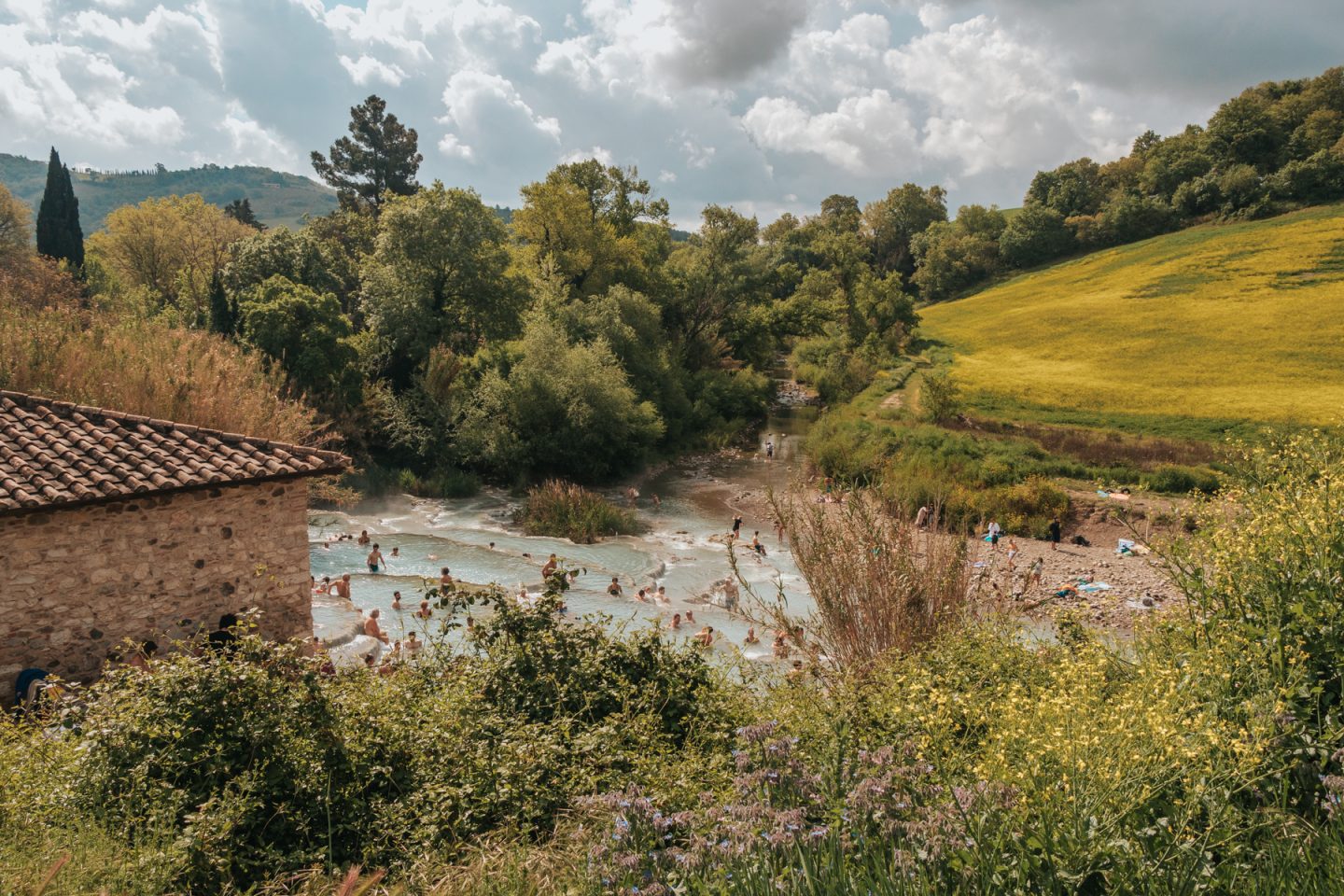 Saturnia springs can be visited any time of year. To determine what time is best to visit for you, take into account these factors:
Weather: You may want to visit the springs when it is cold outside to really enjoy the warm waters. Or you may be more comfortable just taking a relaxing dip in the sunshine and avoiding being too chilly getting out of the pools.
Price: The springs are free to visit all year long, but in general for services and accommodation around Saturnia, you can expect higher prices in the summer.
Crowds: Saturnia starts to get more traffic in the beginning of spring (end of March/early April). It gets the busiest during summer time just because of the dramatic increase in the number of tourists in Tuscany.
Considering all these elements, I suggest visiting between March and April. It is not too hot outside that you are sweating while bathing yet it is not too cold that getting in and out of the baths is uncomfortable.
In March, prices are also cheaper because it is considered winter season. And it is just before Italy starts to reach that peak spring winter and beauty when all the locals and tourists alike will make their way to Saturnia.
And as you can see in the photo above, taken in April, this month is extra special to visit in because all the fields around Saturnia are covered in yellow flowers.
---
How to reach Saturnia hot springs
The hot springs in Saturnia can be visited as a day trip from Rome, as part of a Tuscan countryside road trip, or, if you are willing to make a longer drive, as a day trip from Florence.
Visiting with public transportation is not impossible but it is taxing. The journey becomes so long that it is only worth it if you are staying multiple days in the area.
So, for the most flexible trip, you will want to consider renting a car and studying up on driving in Italy.
By car
The only way that Saturnia will make sense to go to on many Italy trip itineraries is if you have a car. It is in a very remote, tranquil area of southern Tuscany, so public transport is not as active.
Pro Tip: When looking for the hot springs in your maps, look for Cascate del Mulino. If you input the town Saturnia, you will be sent to the town center and, depending on what direction you arrive from, you may or may not see the springs as you are arriving to know where to go.
From Rome
Even though Saturnia is in Tuscany and you may think that makes it close to Florence, it is actually much closer to Rome.
From Rome to Saturnia is a two hour and 20 minute drive, mainly using the A12/E80 highway.
From Florence
The drive from Florence to Saturnia is two hours and 45 minutes.
By public transport
From Rome
To reach Saturnia from Rome, you will have to take a train and a bus.
The closest train station is Albinia or Orbotello, but not all trains will stop there. Just a few kilometers further is Grosseto, which is more of a main train station. Head from Roma Termini station to Grosseto station to then board the 8/G bus for Saturnia.
Seems simple enough, but the journey is over 5 hours long.
From Florence
You can take a combination of buses and trains or just buses to reach Saturnia from Florence.
The bus and train combination requires you to go from Firenze Santa Maria Novella train station to the train station of Grosseto (which can often include a stop because it is a regional train). Check out more Italy train tips.
Then you take the bus 8/G from Grosseto to Scansano and then to Saturnia. The journey takes about 5 hours and 30 minutes.
If you opt for all buses, you are still looking at a travel time of about 5 hours. You take the 50G bus towards Grosseto and get off at Oberdan to switch onto the 8/G bus for Saturnia.
Good to know: The closest airport to Saturnia is Rome Fiumicino (92 miles).
---
Travel Tips: What to know before visiting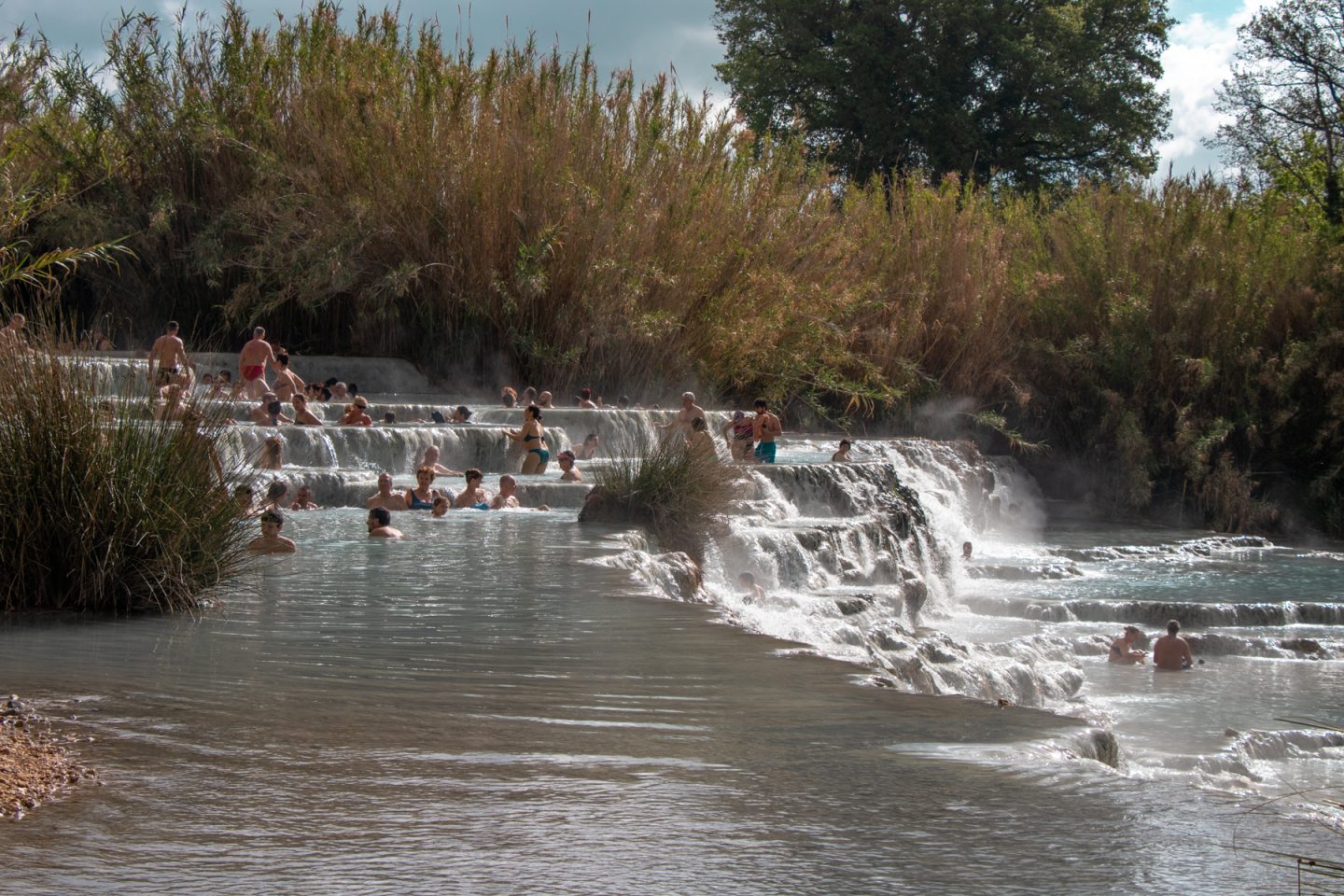 1. Get there early
Saturnia may be remote but the hot springs bring in many local visitors and adventurous tourists all year-round.
The thermal pools themselves allow for people to spread out on a moderately busy day. The sitting area around the springs is where space is harder to find, so that's why it is a good idea to arrive as early as possible to secure a spot to leave your stuff.
2. Parking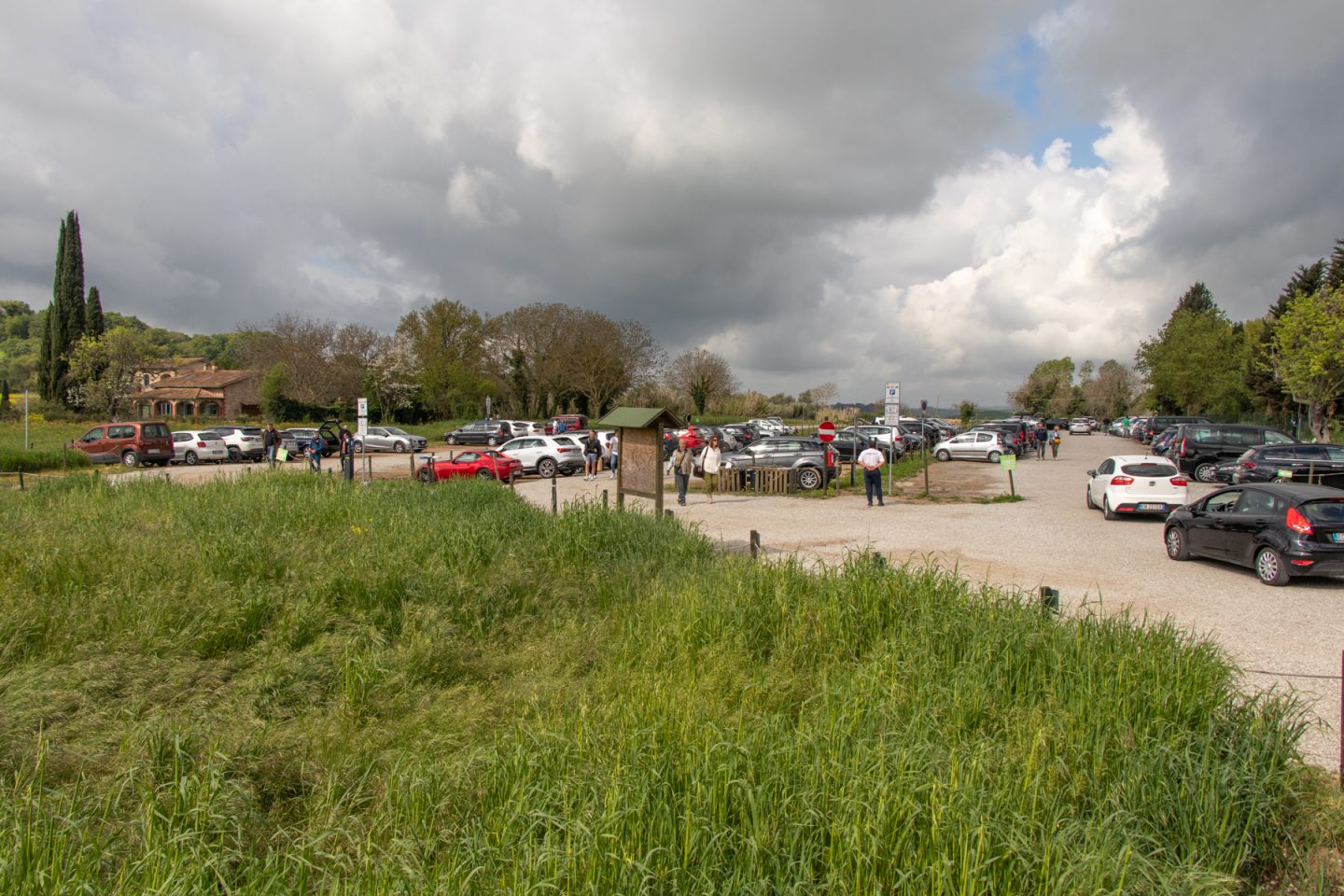 There is a large paid parking lot less than a five-minute walk from the Saturnia thermal baths. It is open 24 hours but requires payment from 8 am to 8 pm.
It costs €2 per hour to park. There is a daily max in the summer period (April to October) of €10 and in the winter period (November to March) of €6.
In this parking lot, you pay before leaving to go to the falls and leave the ticket in your dashboard.
3. Finding a spot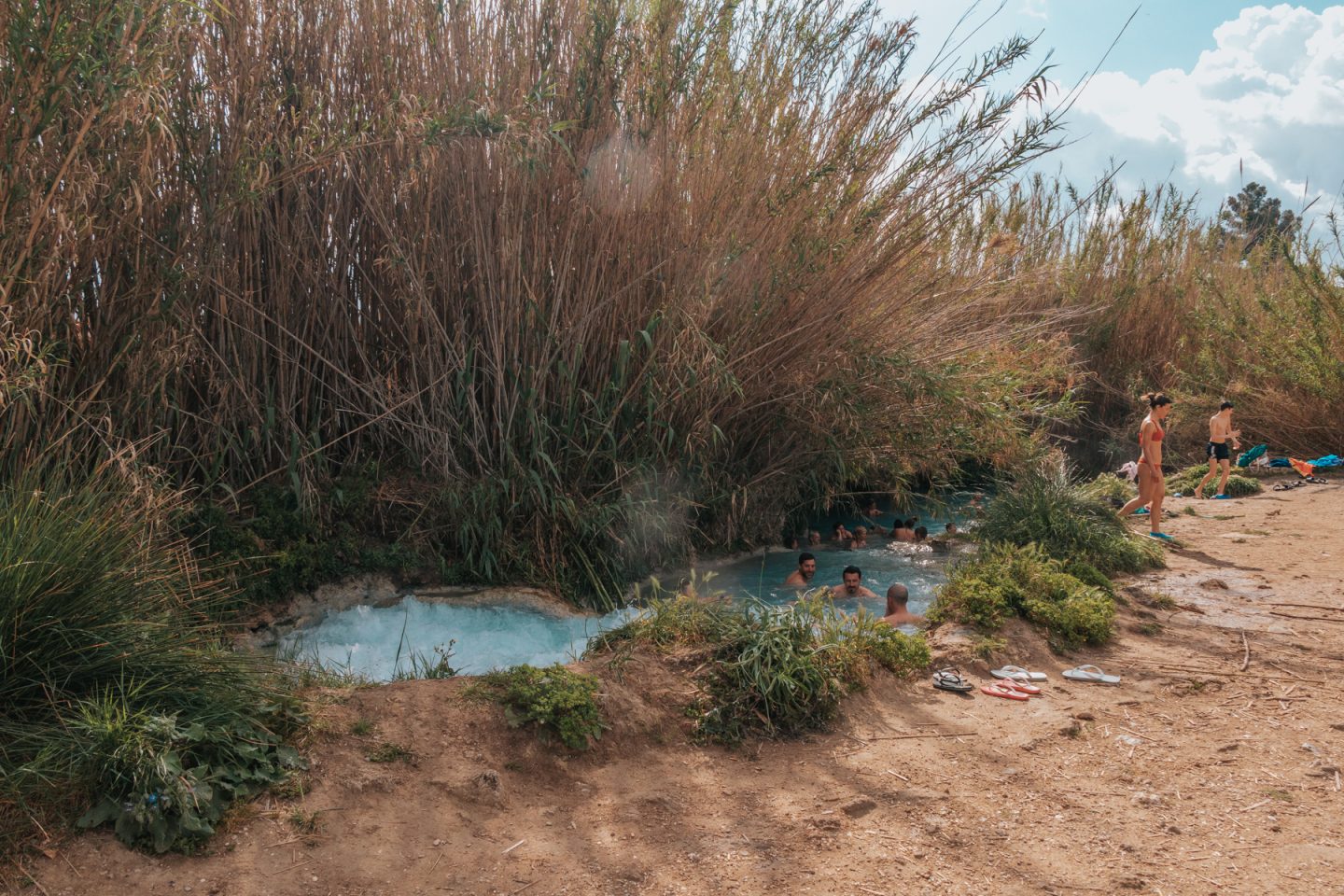 There are a couple of inventive ways to carve out your own angle of the thermal pools. The springs are free and a free-for-all, so nothing is guaranteed to anyone.
Your first option is to follow the paved path down to the main shore of the springs but this area fills up quickly so you're less likely to find a good spot the later you arrive and it will be crowded.
Your second option is to still arrive at the main shore but do a little bit more work to cross the pools and arrive at the other side, basically until you are facing the house structure and the falls.
The third choice is to go off the paved path and enter where you see the gate "Il molino del bagno". Here you will end up above the farmhouse of the springs where the water is flowing towards the cascading pools.
It doesn't have as much water space or views, but it is quieter and there is more space to spread out and leave your stuff.
4. Facilities at Saturnia hot springs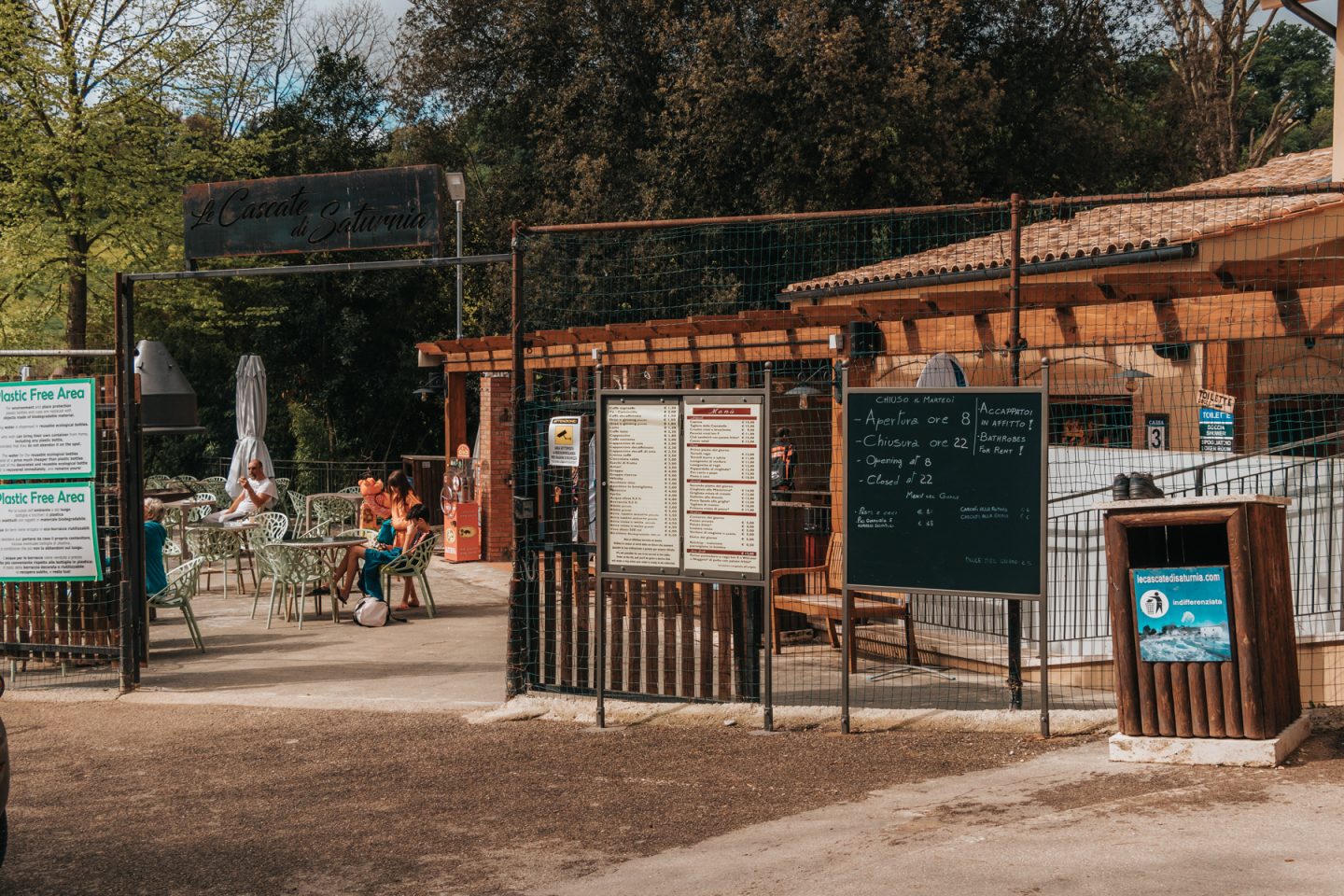 The natural springs have become an attraction and, while this has cons from the "overtourism" perspective, it has pros when it comes to what is available in the area.
There is a restaurant onsite that has full meals, breakfast items, drinks, and a large seating area.
At this same building you will find rental lockers, bathrooms and changing rooms.
There are also showers but you will have to pay in coins to use them.
Pro Tip: Arrive to the springs ready in your bathing suit. The changing rooms did not look that comfortable or big and there was quite a long line.
6. Keep an eye on your valuables
Especially if you are solo traveling, you will want to leave your belongings in an area where you can keep an eye on them.
I highly recommend renting a locker to ensure your valuables are safe. Because the springs can get so crowded and you won't be guaranteed a spot near the shore, you may not have the means to watch over your things.
7. What you should bring to Saturnia hot springs
Visiting the springs is a fairly easygoing activity. You show up, find a spot, and enjoy the pools!
There are still some things you will want to make sure you pack for a comfortable experience. The top of these things is water shoes. The pools are made of natural rocks and can be uncomfortable, slippery or even painful if you have to climb over them getting from pool to pool! The shores are also made up of rocks. So, the takeaway is: bring water shoes.
You will also want to bring sunscreen. The pools' white surface just makes the reflective effect of the water even stronger on a sunny day, so SPF is a must.
You should also bring your own towels or robes. I saw some people wearing what seemed to be rented robes but for maximum comfort, I suggest you bring your own.
8. Where to stay in Saturnia
Saturnia is a very small town in a remote area of southern Tuscany. However, there are some reasons for which you may want to extend your trip here, whether it be strategic to your itinerary or aligned with your vacation interests.
Saturnia is an area dedicated to wellness. If you are looking for a relaxing, renewing vacation in one of Italy's most beautiful landscapes and are leaning more into slow travel, book these:
Considering that Saturnia is at least 2-3 hours from major cities Rome and Florence, you may want to spend the night because you can't fit it in a day trip. I suggest unique in-and-out stays like:
9. Tips for taking photos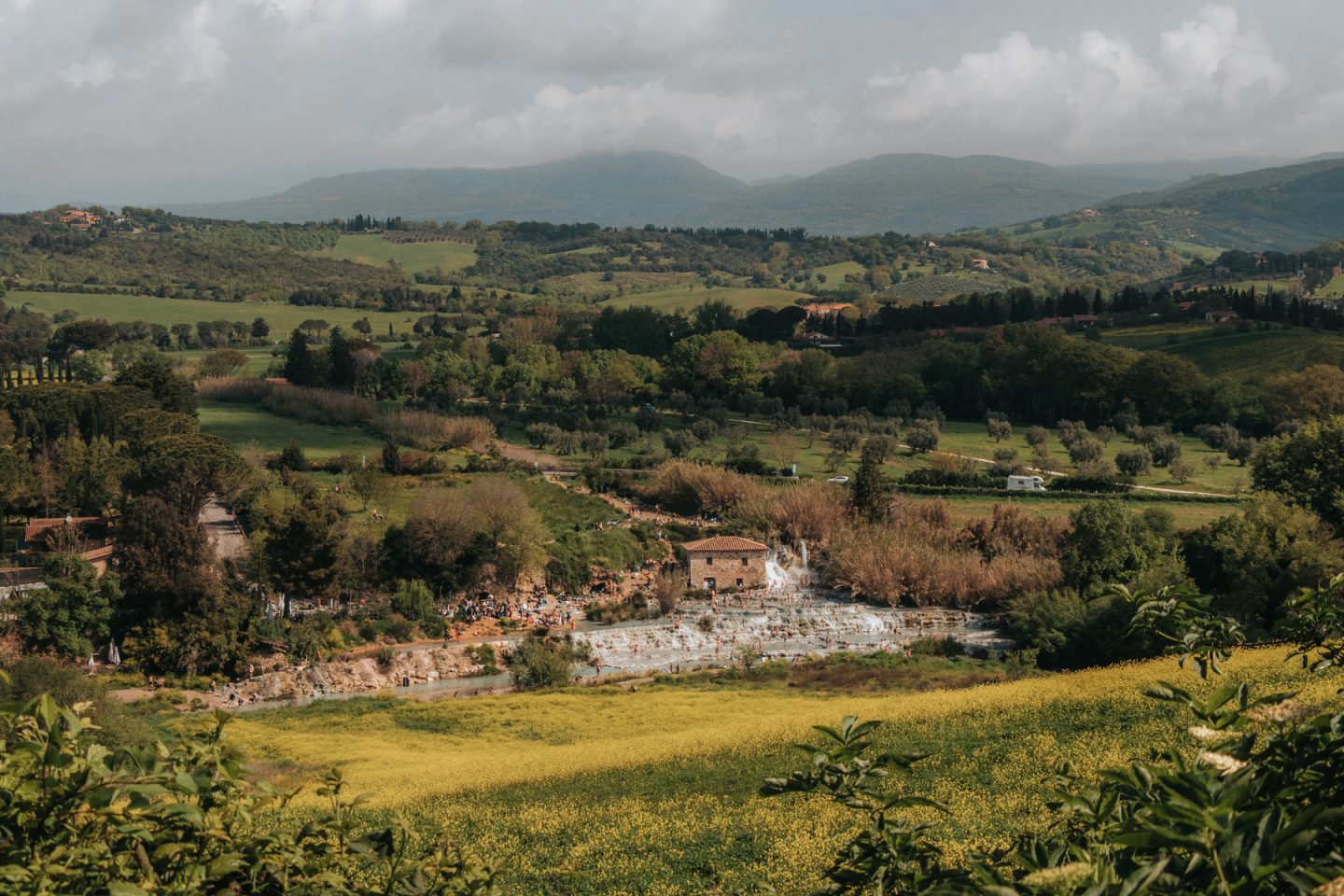 The hot springs have become a bucket list shot for a lot of photography-passionate travelers! Here are a few tips to keep in mind to get the best photos:
What camera to bring
For landscape shots, you should definitely depend on your DSLR/mirrorless camera. You may also want to bring a waterproof camera like a Go Pro. Or, waterproof your phone with a waterproof phone pouch.
Saturnia is also known for the bird's eye view image captured by a drone. You can fly drones here, but just be respectful of other visitors to not fly too close to them.
Top photo spots
The best thing I found about shooting at Saturnia was the opportunity to get creative and find new angles!
You may think that every photo has been taken, since it is now well-known and the location itself is just a few subjects (the farmhouse, the pools, the fields). However, I found that there were so many angles I was able to capture that I had never seen before on social media or blogs. So, there are lots of possibilities.
Get a wide landscape shot from the Belvedere, which you can find at these coordinates: 42.645648, 11.512413.
I also loved shooting from above the main pools, an area you can reach by going off the main path and through the gate marked "Il molino del bagno".
Balancing brightness
One of the main difficulties I encountered shooting at the Cascate del Mulino was trying to keep the brightness at bay.
The pools are extremely reflective and on a day full of direct sunlight, it can wash out your photos. You should shoot at a higher shutter speed and/or use a polarizer filter.
Long exposure
I know I just suggested a higher shutter speed. But, if you get the chance to shoot the hot springs without people (which is essential to creating this effect), try shooting at a low shutter speed, high aperture for a smooth effect on the pool waterfalls.
10. The springs have a particular smell
The last tip/thing to expect when visiting the springs that you don't get from any of the Instagrammable photos is the smell!
The springs are made of a ton of natural minerals, which are great for your skin and relaxation.
These minerals, however, include sulfur, which causes an egg smell. If you are sensitive to smell, you may find this unpleasant and potentially want to budget your time accordingly to how much you think you'd be able to take.
---
What's Around Saturnia hot springs
Terme di Saturnia Resort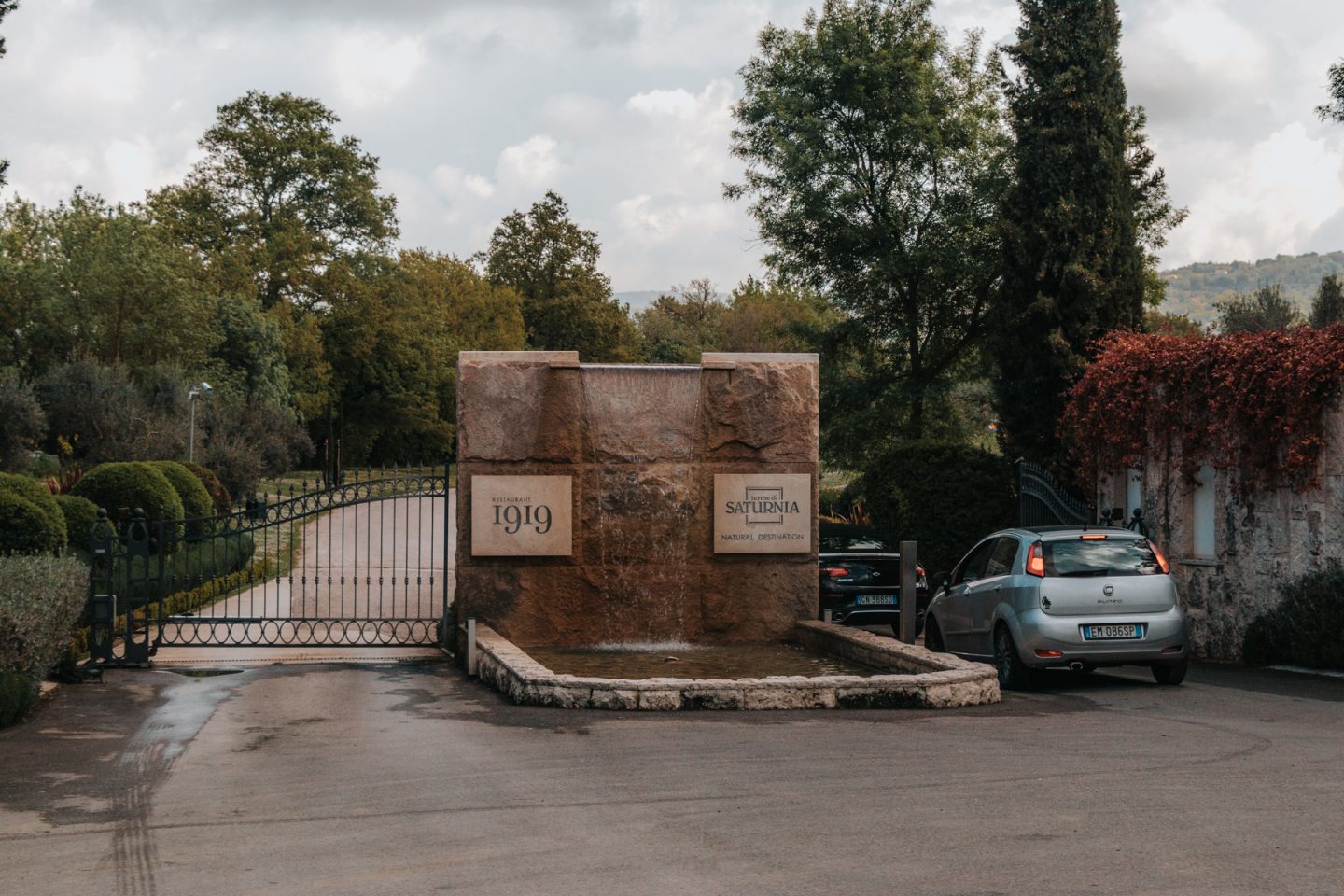 Saturnia is not a large town but has made a name for itself when it comes to all things wellness. Close to the free hot springs is the Terme di Saturnia resort, a luxury accommodation perfect for travelers looking for a rejuvenating, slow travel vacation.
The Terme di Saturnia offers not only spas and Roman baths but also an 18 hole golf course, something you don't see every day in Italy.
Pitigliano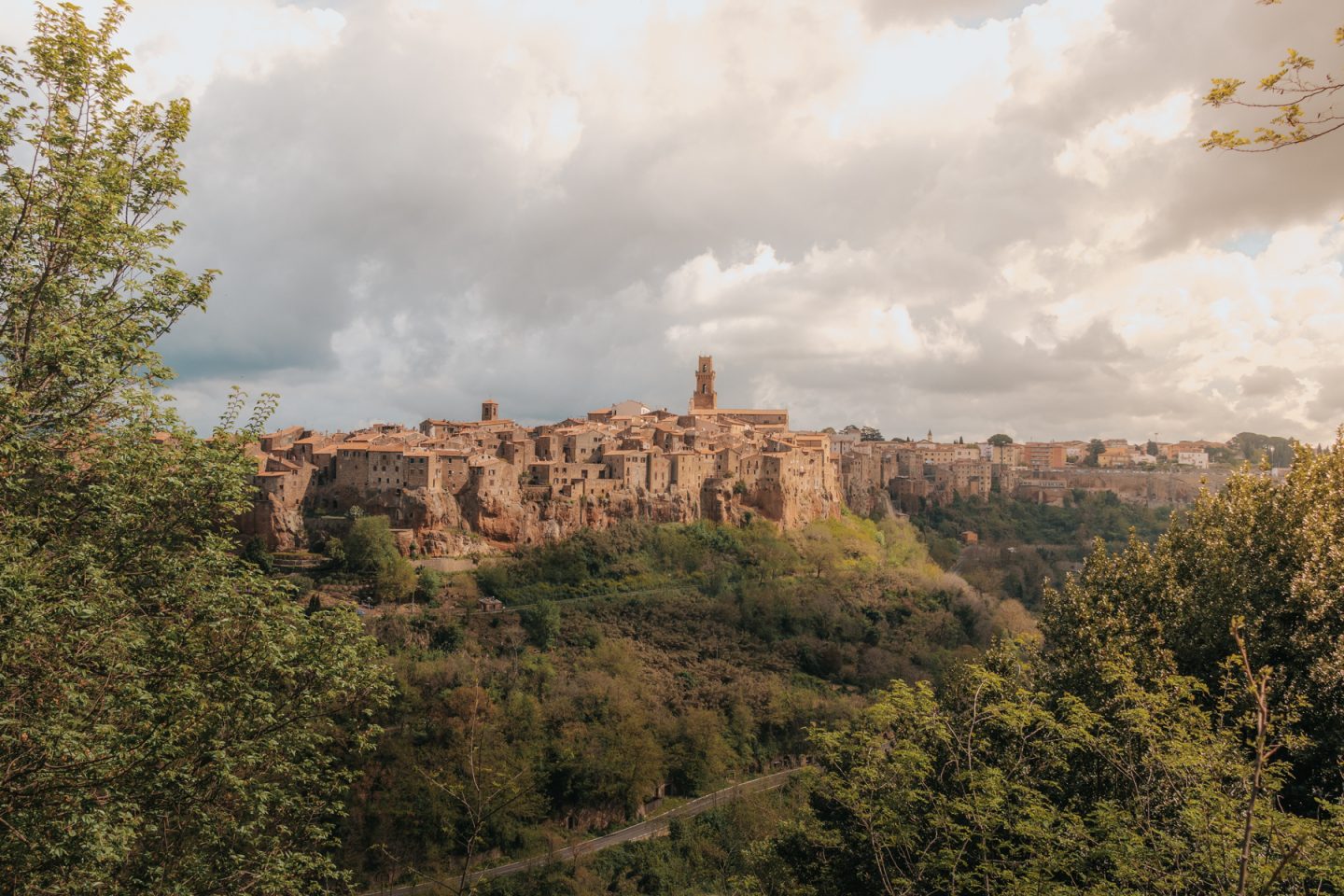 Just a 25-minute drive from Saturnia is the ancient town of Pitigliano. Known as the "Città del Tufo", City of Rock, Pitigliano is one of the prettiest towns in Tuscany. The whole town looks like it is carved from rock and, if you look in the photo above, you will see how the buildings seamlessly flow into the rocky hillside.
Pitigliano's inhabitance goes back to the ancient Etruscans, and it is well known for having a historically significant Jewish population. You see this pop up in the food and some architecture.
Some sights to see are the aqueduct and fountains, the Church of Santa Maria and the Orsini Fortress.
Bagni San Filippo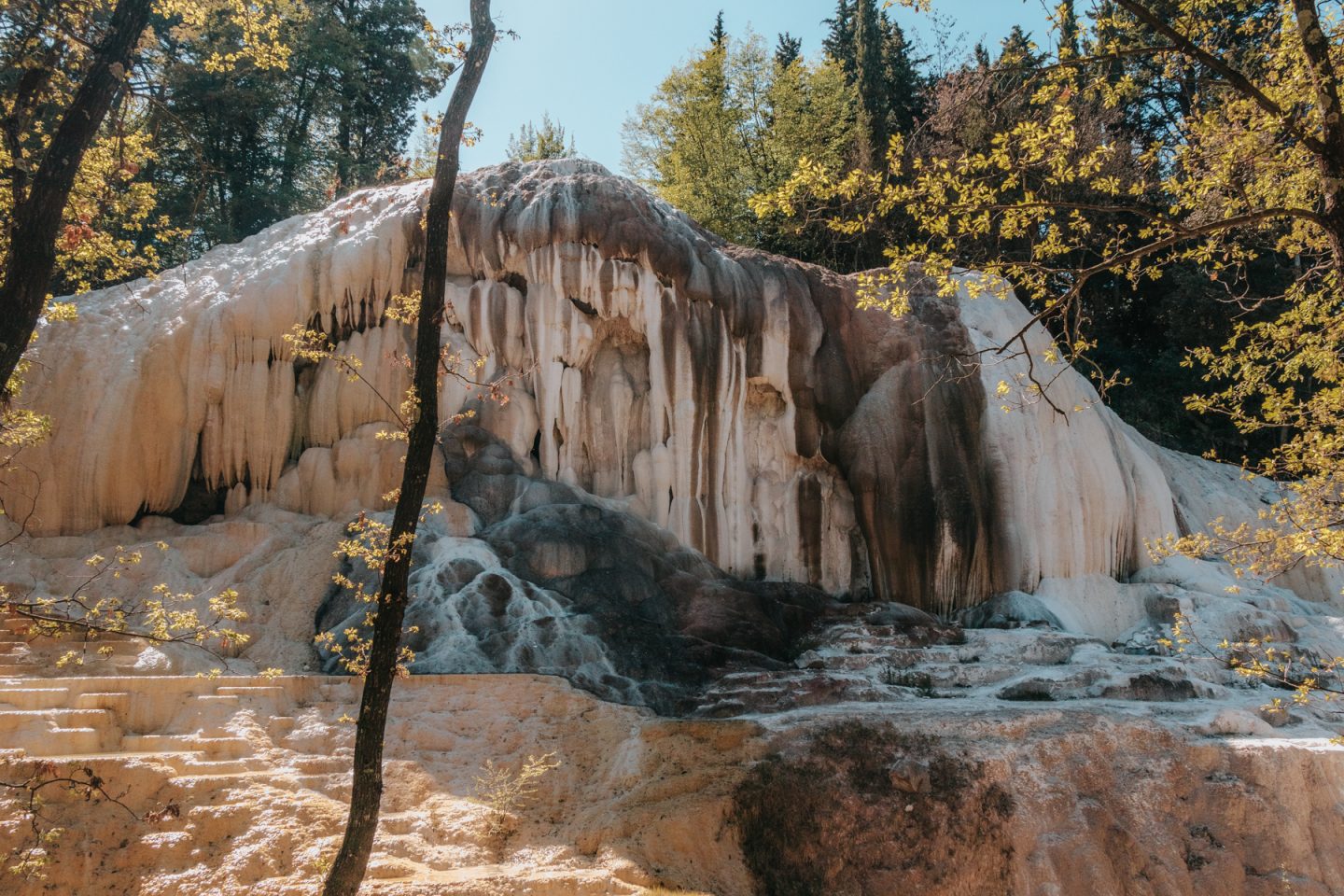 A little over an hour away is another Tuscan hot spring destination. Bagni San Filippo is an area of Castiglione d'Orcia, nestled in nature in the province of Siena, Italy.
The town is super small – just one main road. But it attracts a lot of visitors for the unique landscape that lies in the canyon below.
The Bagni San Filippo is very similar to Saturnia because you can bathe in the natural hot springs for free. The standout difference is the Fosso Bianco, the massive wall of white rock from which the water cascades.
---
Final Thoughts
Saturnia is one of those Instagram famous spots that actually lives up to its beauty in photos. Sure, there are aspects of "reality" that settle in like the fact that other people will be there (nope, you can't photoshop them out in real life)!
It is not the easiest place to reach unless you are autonomous getting around Italy so I highly recommend it to travelers who have a longer, more flexible itinerary in Tuscany. It is not as doable, nor as worth it, if you are on a once-in-a-lifetime trip to Italy in which you are trying to see as much as possible.
I hope that this detailed guide to visiting the Saturnia hot springs has helped shed light on questions you had about planning your trip or helped you decide if you should make it a stop on your itinerary!
Save this travel guide on Pinterest!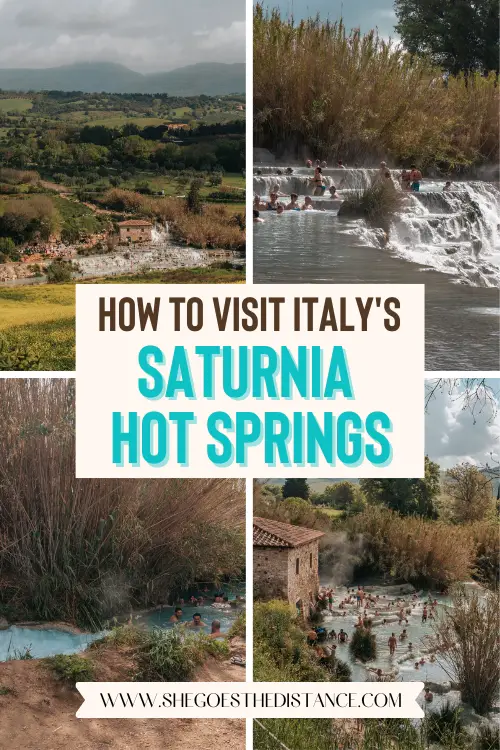 Now go relax and enjoy Saturnia hot springs!
XOXO
Michela