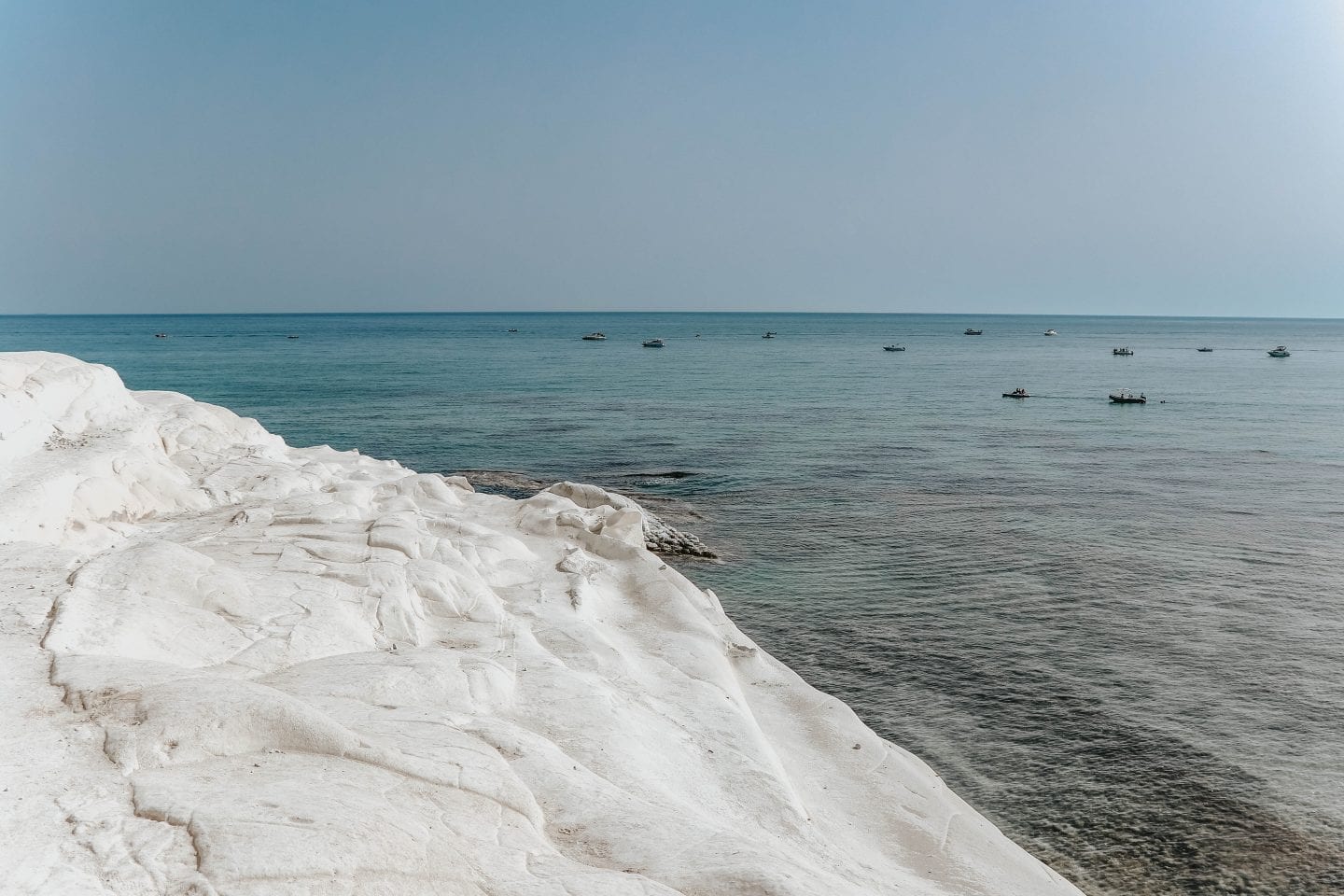 Last Updated on October 1, 2022
Italy is abundant with beautiful destinations, but one of its most incredible natural wonders is still a hidden gem to many. The pillow-like cliffs of La Scala dei Turchi on Sicily's southern coast are the newest place to add to your bucket list. This unique coastal feature is a marvel to see in person and is one of the most unique things you can do in Sicily. Plan the perfect visit with the tips in this pocket guide!
Sicily isn't always the first Italian destination that comes to mind when planning your trip to Italy, but it's one of the most underrated places in Italy.
It has the island life vibe perfect for a summer vacation and tons of history for those looking for deeper, more meaningful travel.
La Scala dei Turchi is a place you must fit into your Sicily itinerary. You've made it all the way there, why not visit one of the most special geographical wonders of Italy?
Some of these links are affiliate links. This means if you make a purchase through that link, I receive a small commission at no extra cost to you. Read my full disclosure!
---
History of La Scala dei Turchi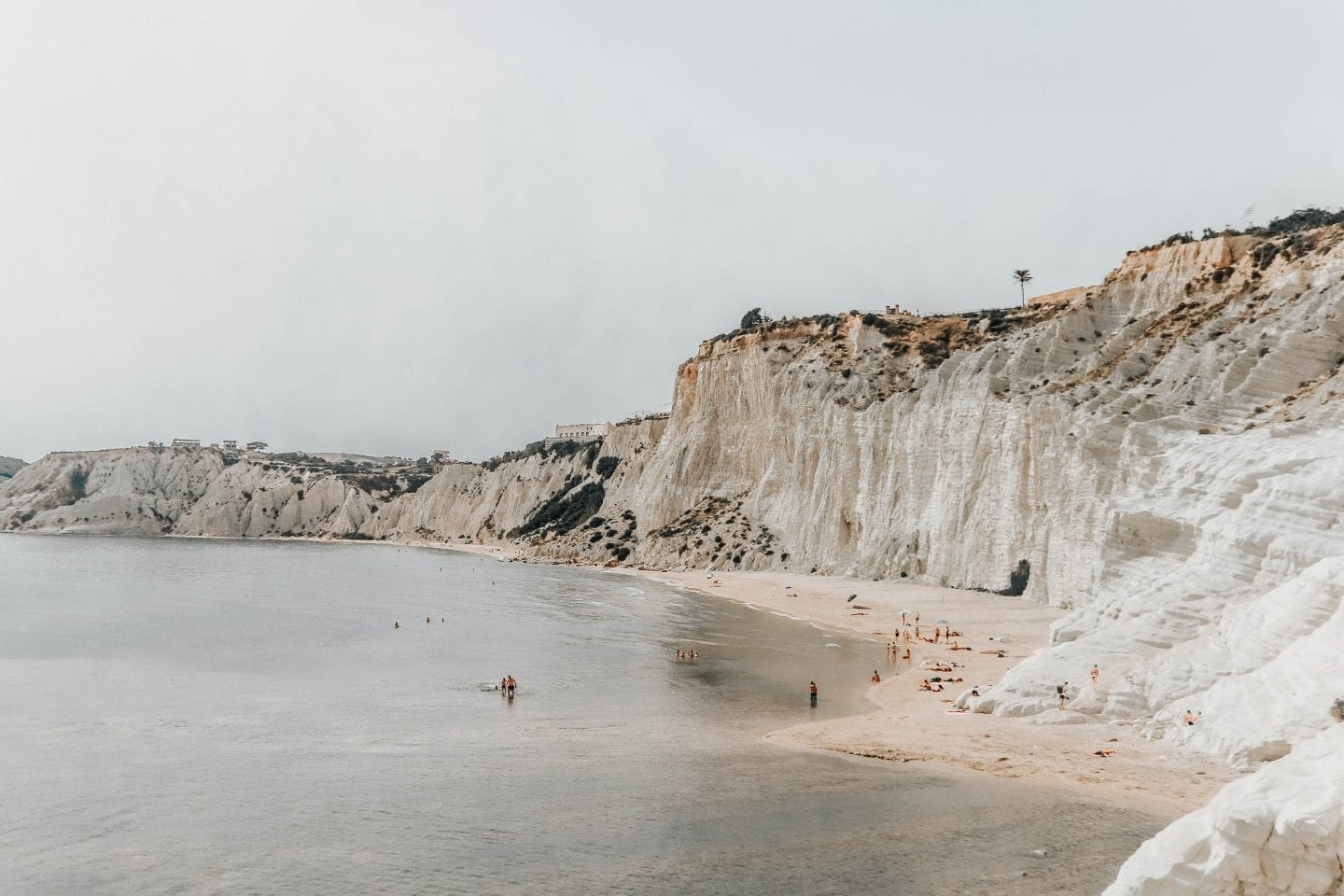 The name "Scala dei Turchi" in Italian means "Stairs of the Turks." One of the reasons I love Sicily and why it should be on everyone's bucket list is its role throughout history.
This mediterranean island is now a part of Italy, but has had a long battle for belonging after centuries of conquests by other territories. From the Normans to the Ottomans, to the Greeks and the North Africans, so many years of influence have culminated into a melting pot of cultures displayed through the cuisine, architecture, and almost every other part of Sicilian life.
Scala dei Turchi is no different. It was named the Turkish Steps because it faces the direction of North Africa. It may seem distant in our minds, but on a map, it's not that far.
The characteristic bright white cliffs cascade like soft clouds down to the sea. The cliffs are a combination of limestone and marl, so while it looks as soft as a pillow, it is solid rock.
However, that doesn't make it uncomfortable to walk or lay on. In fact, the stone is smooth to the touch, so you don't have to worry about hurting your feet or back.
---
How to Reach La Scala dei Turchi & When To Travel There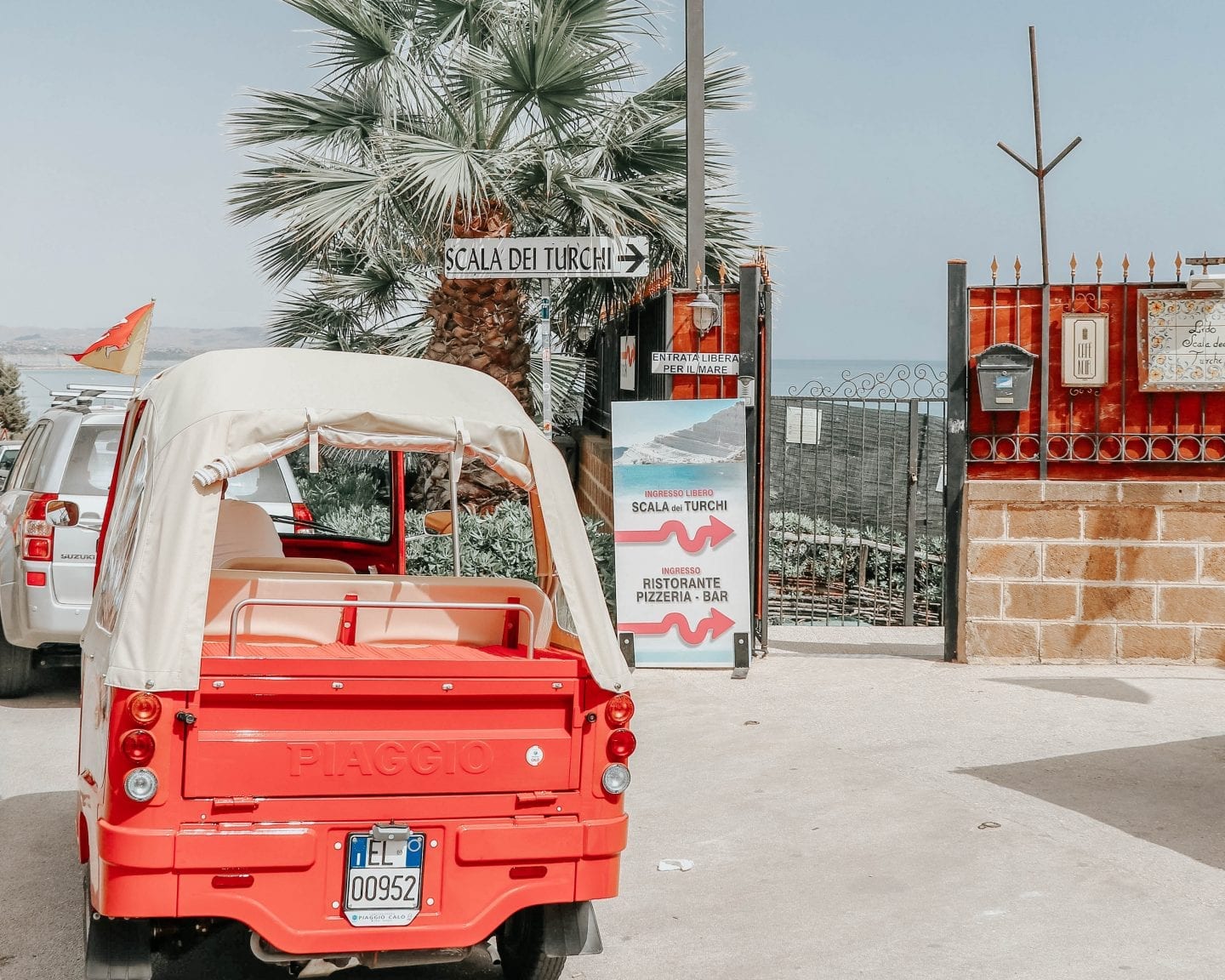 La Scala dei Turchi is located in the town of Realmonte in the south of Sicily. The easiest and most flexible way to reach it is by car. Parking is close by to the entrance where you descend down to the beach, costing around 5 euros.
There are also little taxis that can take you from parking to the entrance, but the walk is not far at all!
If you are not traveling in a car, you could also arrive in Realmonte by bus from Agrigento. You can take the train to Agrigento, which is a major city on Sicily's southern coast. From there, there are buses at the station that can take you to Realmonte.
Or, you can book a tour from major cities like Catania for stress-free travel. It's more expensive than the DIY way, but it takes the headache out of navigating public transportation, especially in rural Sicily.
The best time to visit La Scala dei Turchi is in the summer but before August when the majority of Italians take their holidays and the beach becomes really busy!
---
What To Do & Bring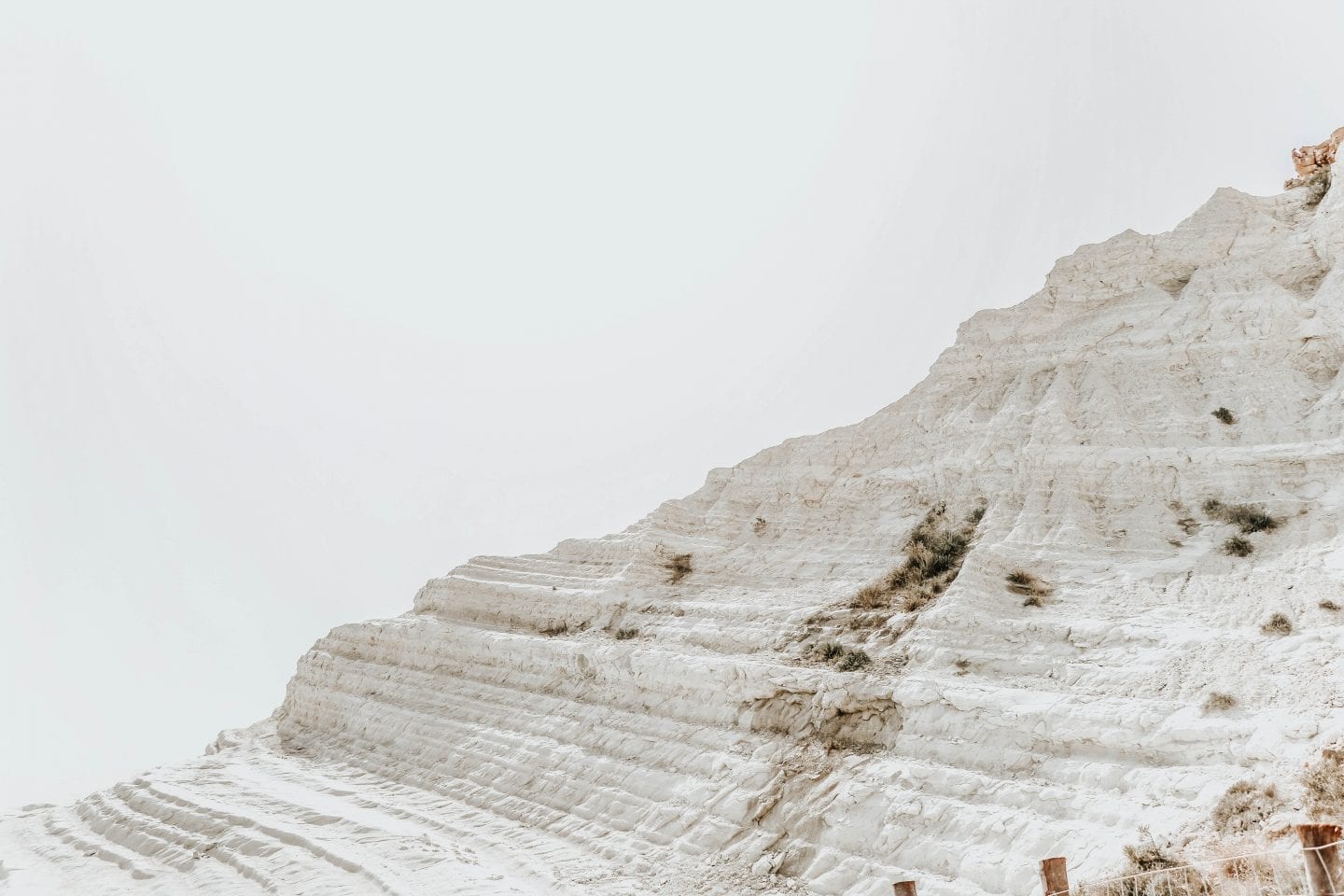 Visiting La Scala dei Turchi is a unique experience and you'll want a few comforts to make sure the day goes smoothly!
The first thing to keep in mind is that visiting La Scala dei Turchi means having a beach day. There's quite a bit of walking to do to find a spot on the beach below the cliffs, so I suggest wearing light, comfortable clothing over a bathing suit. Bring towels (consider a microfiber towel perfect for travel,) sunscreen, a sunhat, and whatever else you would normally pack for a beach day.
Note that the walk down to the beach features tons of stairs, so it may be worth it to skip flip-flops and wear some closed-toed shoes.
You used to be able to walk along the cliffs of La Scala dei Turchi, but now it is not allowed anymore in order to preserve the limestone and marl. The best place to view the Scala dei Turchi now is not down at the beach, but rather at the viewing points on the road above.
If you want to avoid crowds, especially in the summer time, visit early in the morning! It's also a beautiful place to watch the sunset.
There are bathrooms and a few cafes around the main entry point to walk down to Scala dei Turchi.
---
What To Do Near La Scala dei Turchi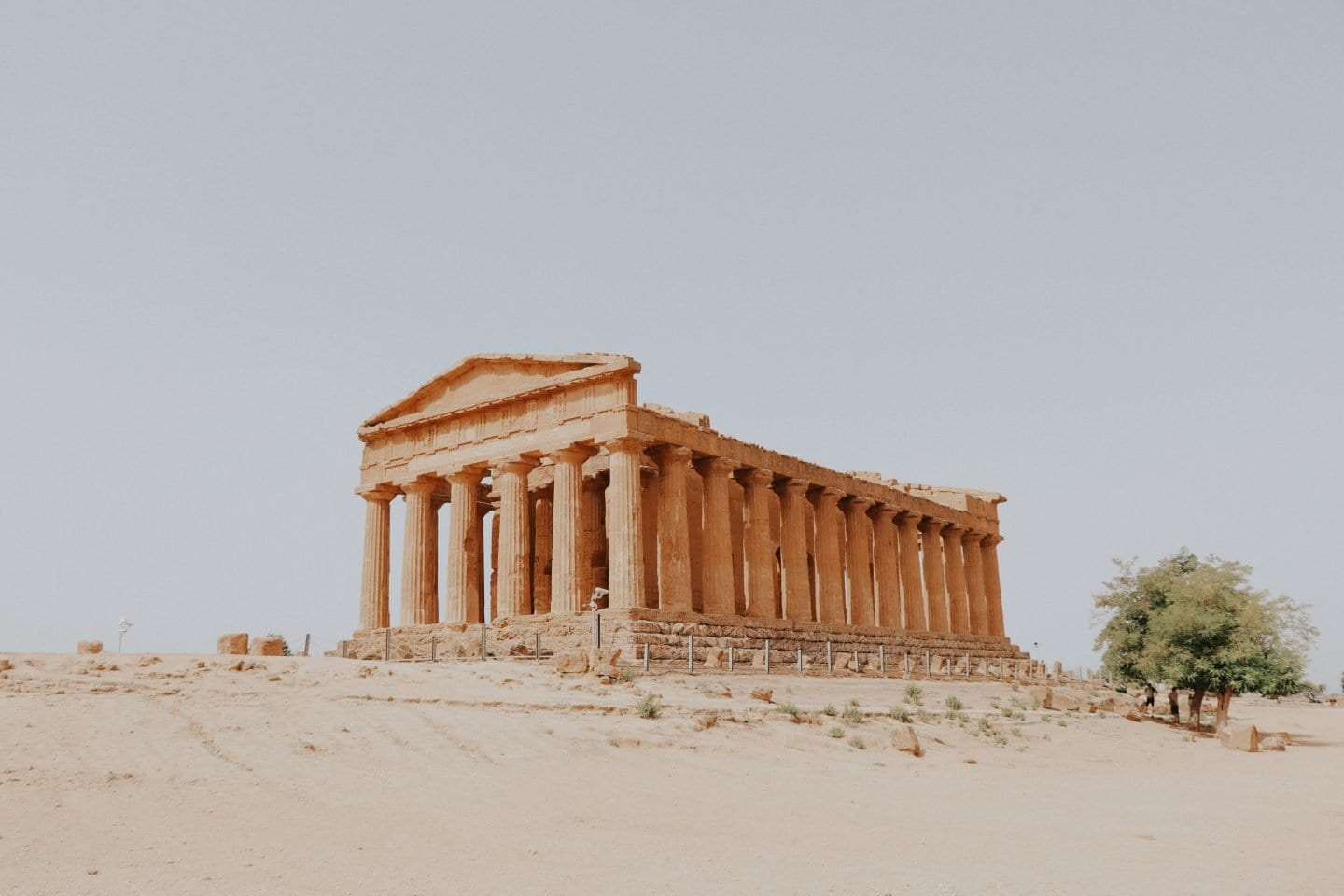 La Scala dei Turchi will take up at least half of your day's plans and could easily take up your whole day. So, you might just want to make an entire day trip out of it!
But if you want to split up your day, or you are spending a few days in the area, there are some other things to see and do in this part of Sicily.
My top recommendation is to see the Valle dei Templi, or Temple Valley, in Agrigento. These ancient Greek temples date back to the 5th century BC. You can book a tour or DIY your visit through the museum's website.
---
Final Thoughts
If you are planning a trip to Sicily, then visiting Scala dei Turchi is a must-do.
Because you can no longer walk on the cliffs, it does make the experience a little less special. If Sicily isn't already on your itinerary, I wouldn't travel there only to see Scala dei Turchi. Enjoy some of the other beautiful places and reasons to visit Sicily and make Scala dei Turchi one of your stops along your Sicily trip!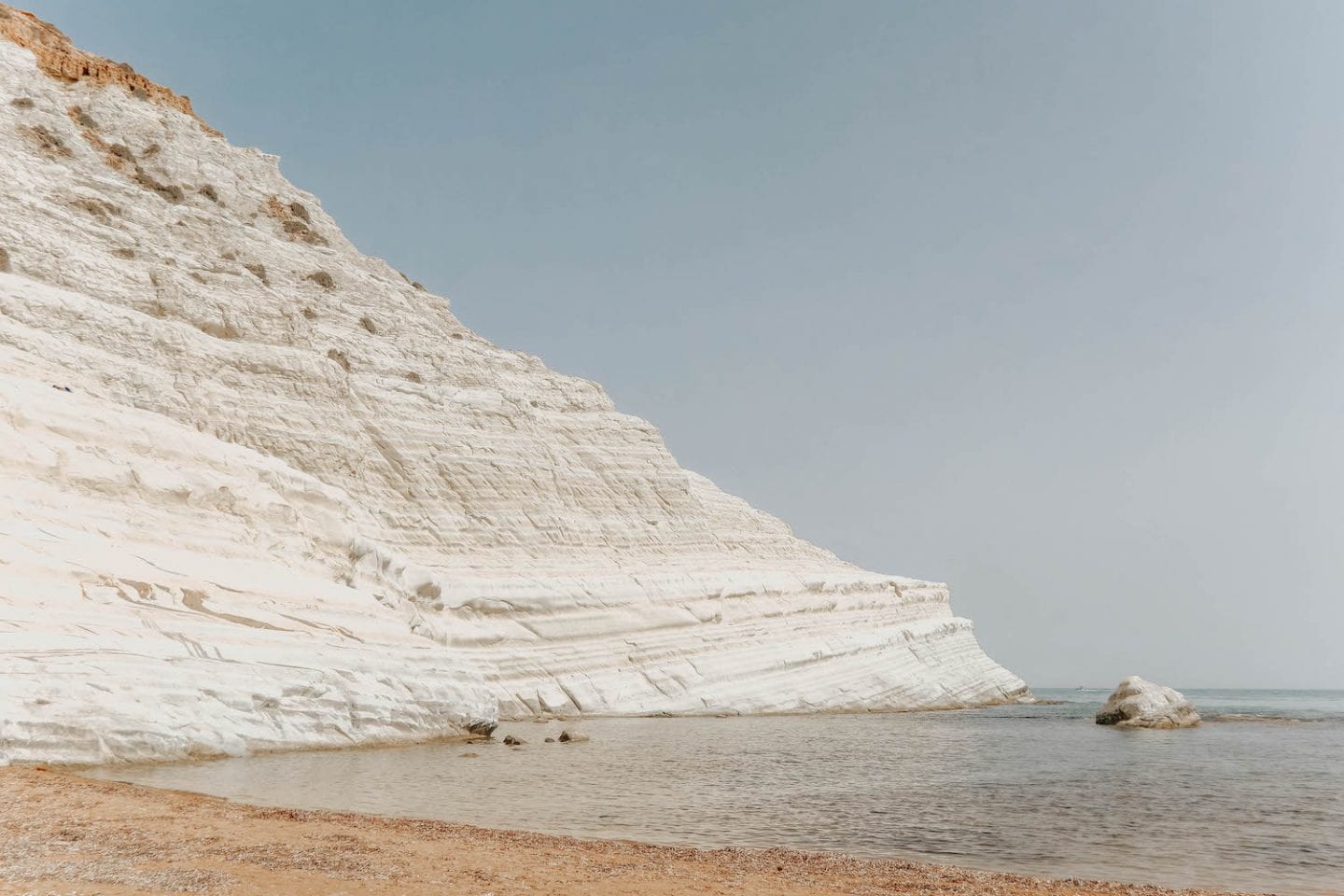 Italy Trip Planning Resources
Save this guide on Pinterest for later reference!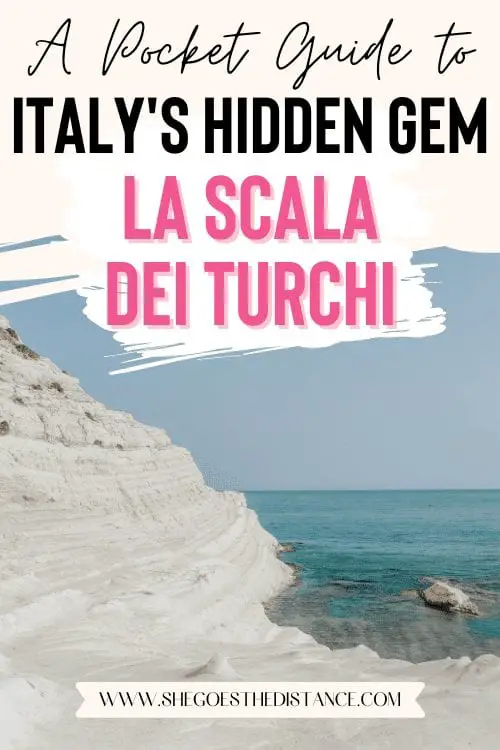 I hope this post has helped put Scala dei Turchi on your bucket list or guided you on exactly how to plan your visit! Let me know what you think about La Scala dei Turchi!
XOXO
Michela