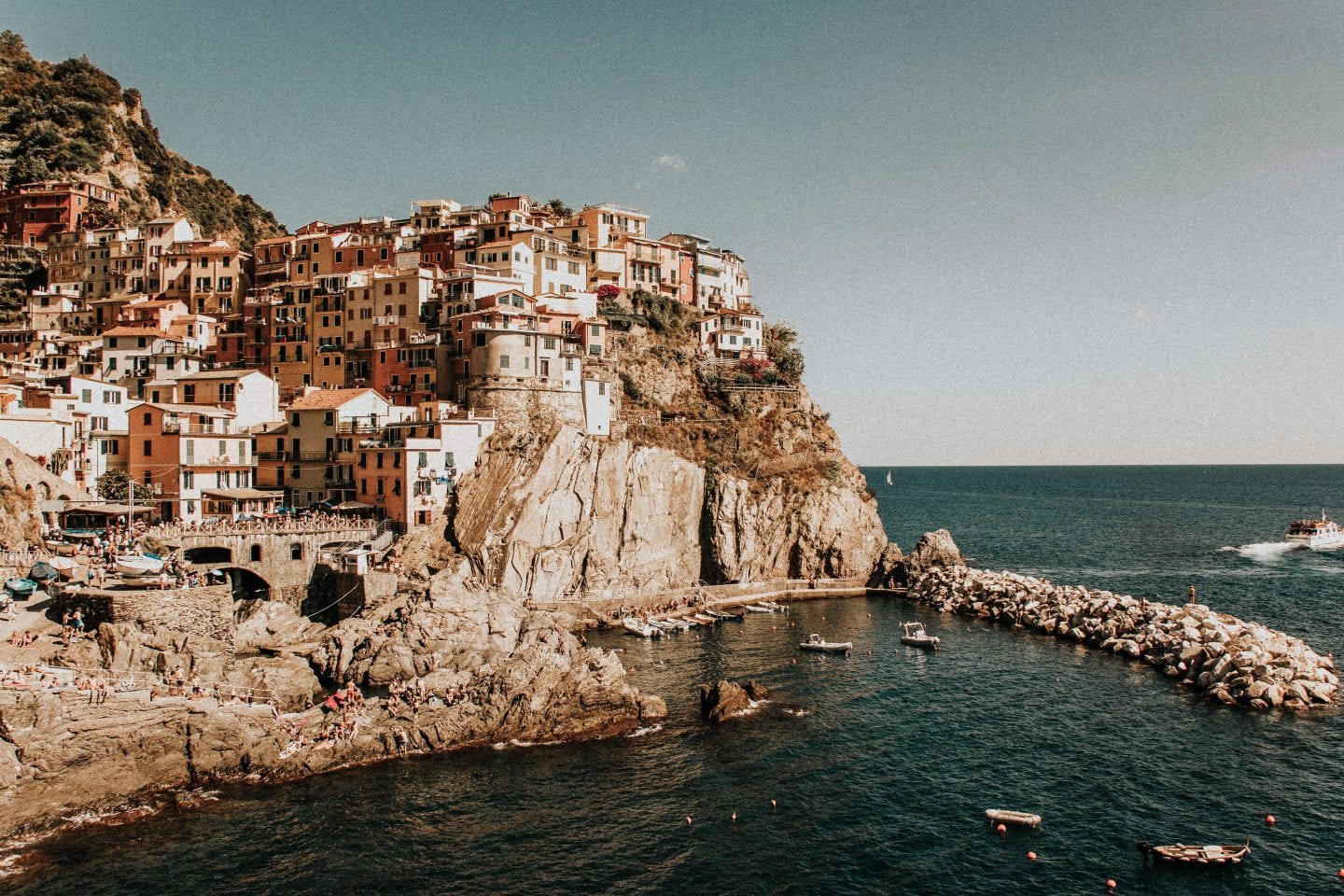 Last Updated on February 24, 2022
What country offers quaint villages, dreamy coastlines, mouthwatering cuisine, and breathtaking cities? Benvenuti in Italia! I wouldn't doubt that it's everyone's dream to plan a trip to the beautiful country of Italy in their lifetime. It's gorgeous all over, the food is to die for, and it's long and rich history makes its villages and cities ooze with charm.
Planning a trip to a country with so much to see can be a bit intimidating. But no worries, you're talking to an Italy travel expert! I speak the language, know tons of local places because of my relatives there, and have lived and worked there myself! I'm here to tell you how to plan your perfect trip to Italy so you don't miss a thing!
Some of the links in this post are affiliate links and if you make a purchase through them, I receive a small commission to help support this blog! Read my full disclosure.
How to Plan a Trip to Italy
In this guide, you'll find the major categories of travel planning broken down and explained in detail for stress-free Italy trip planning! Let's dive into everything from pre-arrival to budgeting to pro tips on how to plan a trip to Italy.
---
Time of Travel
First step: Decide what time of year you want to visit!
Italy in summer is the busy tourist season, which means crowds in the most popular cities. It also means pretty much everything from airfare to accommodation goes up in price!
However, there are many pros to visiting Italy in the summer. Ferragosto is Italy's holiday period where basically the whole month of August, there are different "sagre" or local festivals happening all around the country! The weather is also stunning in Italy during this time of year.
If you're wanting to stick to a tighter budget, then stick to late fall to early spring travel times.
There are still many wonderful things to do during this time of year as well, including visiting Christmas markets and seeing the cities dolled up for the holidays. And in February, Carnevale is a huge and colorful celebration in Venice that you can't miss!
---
Arrival
Next step, where would you like to fly into? Your most accessible airports are going to be Rome Fiumicino and Milan Malpensa in most cases.
When creating your itinerary, decide if you're sticking more towards Northern Italy (Milan, Venice, Florence, Bologna, Cinque Terre) or if you're more interested in seeing the south of Italy (Rome, Naples, Sicily). If you're thinking the former, then I would look into arriving at Milan Malpensa. If the latter, I would choose Rome Fiumicino!
Now, that is a general overview of what your itinerary could look like, but the beauty of planning a trip to Italy is that so much is accessible because of the ease of train travel. I'll talk more about train travel below, but basically, major cities are easily connected by trains so you can really customize your own itinerary.
Expect long lines at customs if you're not a citizen in an E.U. country, but beyond that, it's not too troublesome.
---
Pro Tip: If you're going for more than just a week or two, consider buying separate one-way flights. The cost may actually be cheaper and you'll have the flexibility to depart from a different airport if you are making your way up or down the country.
---
---
Getting Around
When you want to plan a trip to Italy, you're probably wanting to see as much of the country as possible.
In that case, there are different levels of travel to cover!
Italy is divided into regions, so transportation is often correlated to a local, regional, and national level.
So, you need to think about how you are getting around within the city you're in, within the region you are in, and from region to region! Here are the most common modes of transportation you will use and run into at all levels.
Train
While traveling in Italy, the most universally accessible transportation between regions is by train!
There are also buses for regional travel, as well as group tour agencies who organize day trips like Contiki.
If you are mainly going from major city to major city, trains will be just fine for you!
When you plan a trip to Italy, you can book trains, as well as buses, at omio.com or at trenitalia.it. The good thing is you can almost always book a train ticket to somewhere last minute! You might run into a higher price, but for me, it was actually rare that it was that much higher than if I had booked earlier.
You can print your ticket at the station or have it on your phone (the latter is easier!)
---
Pro Tip: Luggage on trains… I personally didn't know how this would go when I was traveling in Italy! So, with a normal second-class ticket, you should be able to bring as much luggage as you want. There are luggage shelves in-between the cars! But make sure you board your train earlier rather than later because these can fill up. If you have only carry-on luggage, there should be a rack above the seating and/or space on the floor between seats that are back to back where you can slide your small suitcase or backpack.
---
Car Rental
You can also rent a car but I would only recommend this if you're going really off the grid. Renting a car would be perfect for those who really want the freedom to dictate their own itinerary in Italy and are focused more on visiting more rural areas rather than cities. Places like AutoEurope have offers specifically for Italy travelers!
Taxi
Taxis in Italy aren't the cheapest option for travel, but sometimes they are necessary, like if you are going from the airport to your accommodation or vice versa.
Taxi Tips:
Remember, you don't have to tip taxis! It's different in Italy. You can leave a small tip if you're feeling nice!
Play it safe and have small bills with you just in case the driver doesn't have the change.
Be specific with addresses & have it in Italian! Most drivers I've had don't have the best English so make sure you have access to the address in Italian for them.
Walking
Most cities are very walkable in Italy, so I recommend walking wherever you go. It's free and allows you to see so much you wouldn't have if you simply taxi everywhere!
And why not switch up walking for biking around the city every once and a while? The city of Florence has Mobikes, bicycles that you can rent using an app for so cheap! I think it's maybe 1 euro for half an hour… I don't remember because it's that cheap!
Other city-specific modes of transportation:
Rome – Metro & Bus
Milan – Metro, Cable Cars, & Bus
Venice – Water Taxi
---
Pro Tip: There is this thing in Italy called timbrare il biglietto. It means to validate your ticket. Basically, there are little green stands where you stick your ticket in and have it validated otherwise you risk a fine.
At the train station, you have to validate a printed ticket. If you have it electronically, you won't have to validate it. However, on the bus, you absolutely had to stick your ticket into a small thing on the wall of the bus! To play it safe, always validate them!
---
---
Accommodation
When you plan a trip to Italy, you dream of the different places you can stay! I, personally, and I think a lot of others do too, like to stay in places that make me feel local or are extra unique! While trying to stay on a budget of course.
There are quite a few unique options for accommodations in Italy. Of course, you have hotels, all the way from budget to opulent. I haven't stayed in many hotels in Italy and the expectations of hotels are generally well known! I'm going to go over some of the other options for accommodation you may not initially consider!
Airbnb
Personally, I think Airbnb is the best choice for accommodation in Italy! I've used Airbnb several times in Italy and have loved my experiences in both. I think staying in an Airbnb just makes the whole experience of being in Italy more authentic and local.
If you have any questions about the Airbnbs I have actually used, don't be shy, contact me!
Agriturismo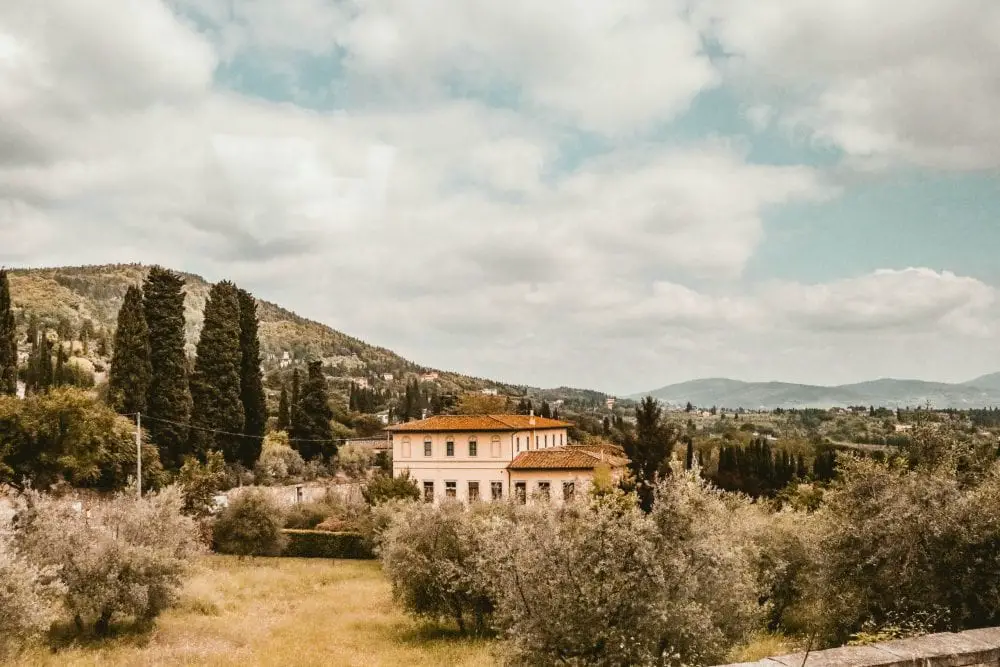 Italy also has various "agriturismo" or farm stays where you can stay at a rural farm/bed and breakfast. They are usually beautiful, cozy villas and the perfect options for those seeking an authentic cultural experience in Italy!
Hostels
Hostels are another great budget accommodation option. I've stayed at Generator Rome & had a great experience. You can use Hostelworld.com to check them out or other hostels.
---
Budgeting
Italy is one of those countries that aren't inexpensive, but not crazy expensive either (if you budget right.) Let me suggest you check out 20+ of the budget travel secrets I've learned over the years to help you as a budget traveler going to Italy.
Italy's currency is the euro. Make sure to travel to Italy with a bit of cash in euros in case you need to take a taxi once you land at an airport. ATMs are generally widely accessible, especially in the main cities.
Daily expenses you'll face in Italy will mostly be food and activities!
Typical prices when eating out in Italy:
5 euros for pastry & coffee for breakfast (if you are doing it the Italian way!)
10-15 euros for lunch (cheaper if you opt for a panino)
15-20 euros for dinner
1.50-3 euro coperto or cover charge for eating at restaurants (in place of tip
Eating out is one of the main categories of expenses when traveling, so this gives you a glimpse of what budgeting, in general, will be like. Tickets for activities and museums will vary but are usually no more than 20 euros.
Overall, you could spend as little as 60 euro a day per person or a lot more if you're not on a super tight budget! It honestly depends on how strict you want to be!
Ways to save money in Italy:
Shop & Eat Local

Take those off the beaten paths to find restaurants & local shops which will be far less pricey than ones located right next to main tourist attractions. (And probably better, too!)

Purchase a SIM card for Long Term Stays

If you're staying longer than two weeks in Italy, I recommend purchasing a SIM card through Vodafone or TIM (Italy's main phone carriers). It's usually much cheaper than international fees by your domestic phone carrier.

Take Advantage of Free Activities

Look into free walking tours, free museum days, & local events to enjoy the city at your own pace or from a new perspective!
---
Pro Tip: Don't forget to sort out with your bank that you will be using your credit or debit cards abroad! Most banks will flag that as suspicious activity and freeze the card if you have not arranged a travel alert with them! You don't want to be stuck with no money abroad!
---
Safety
Italy is quite a safe country. The biggest threat is usually pickpockets.
Look into anti-theft backpacks – my favorite is my WANDRD PRVKE series (which also holds my photography equipment.) It's literally equipped in every way to keep your stuff safe & untouchable! Read my full review of it here.
I recommend, if you are a US citizen, that any time you go abroad you sign up for the Smart Traveler Enrollment Program (STEP.) STEP is run by the US Department of State and by entering the dates of your travel, they will be able to send you emails if there are any alerts you should be aware of (for example, protests or health advisories.) It also has contact information in those emails of the US embassy in the country you're visiting.
Look at my article for safety items you need while traveling and that list should cover your Italy safety needs (including post-COVID-19!)
As long as you use common sense, you should be totally fine navigating Italy safely!
---
Experiences & Itineraries
I think it's widely known that there are a million things you could do in Italy! The country has so much to offer with its distinct culture and geographical beauty.
So, that being said, I'll definitely be writing more specific posts related to Italy experiences and city itineraries. But here's a summary of some of my favorites (most of them non-touristy!)
Walking Tours
Finding the Best Views of Cities (get inspired by the best in Florence!)
Cooking Classes & Local Experiences (wine tastings, gelato making, etc.)
Venture Out into the Countryside (like Tuscany!)
---
Extra Tips
Be sure to learn a few phrases in Italian before you board your plane and say Arrivederci to home for a while! In major cities, most everyone will speak English. As it gets more rural, English may not be as widely known.
It's also just nice to interact with the culture and show respect using simple phrases!
Also, remember when you're packing for Italy that Italians are quite stylish. I'm not saying you have to, but think about leaving your old t-shirts and leggings at home if you don't want to scream tourist!.
---
Pro Tip: If you're visiting churches, make sure to dress appropriately! You may not be allowed to enter if your shoulders are not covered or your shorts/skirts are too short.
---
---
Final Thoughts
Planning a trip to Italy can be stressful. Italy is one of those countries where there is so much to see, you can easily pack every single day running from one thing to the next.
But a lot of the beauty of Italy is the slower way of life. The peace in taking a passeggiata or stroll in the evening, the slow dining experience to enjoy the cuisine and good company.
So my best tip when planning a trip to Italy is to enjoy the moment and make room in your itinerary for simply experiencing what's around you!
Don't stress if you don't get to every tourist attraction. I promise you'll make so many memories simply enjoying the Italian stile di vita or way of life.
Save this post so you can reference it during your Italy trip planning!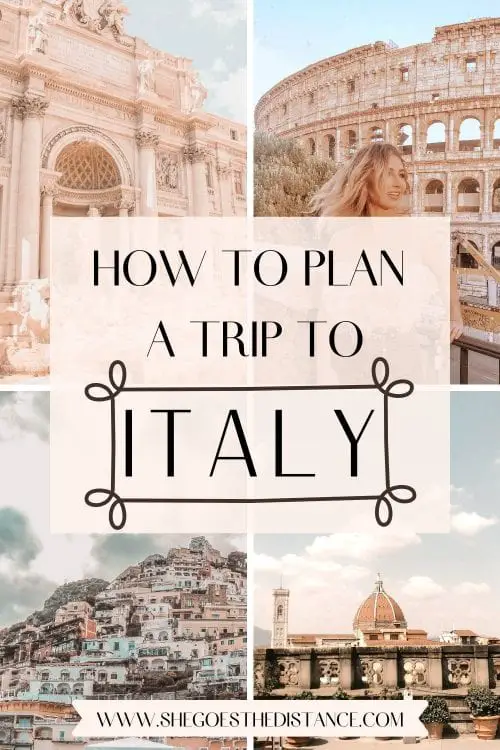 While I'll be sure to keep posting Italy travel tips, I hope this guide provided you with a ton of information to help you in the process of planning your trip to Italy!
Leave a comment below with any questions or any of your own tips!
XOXO
Michela