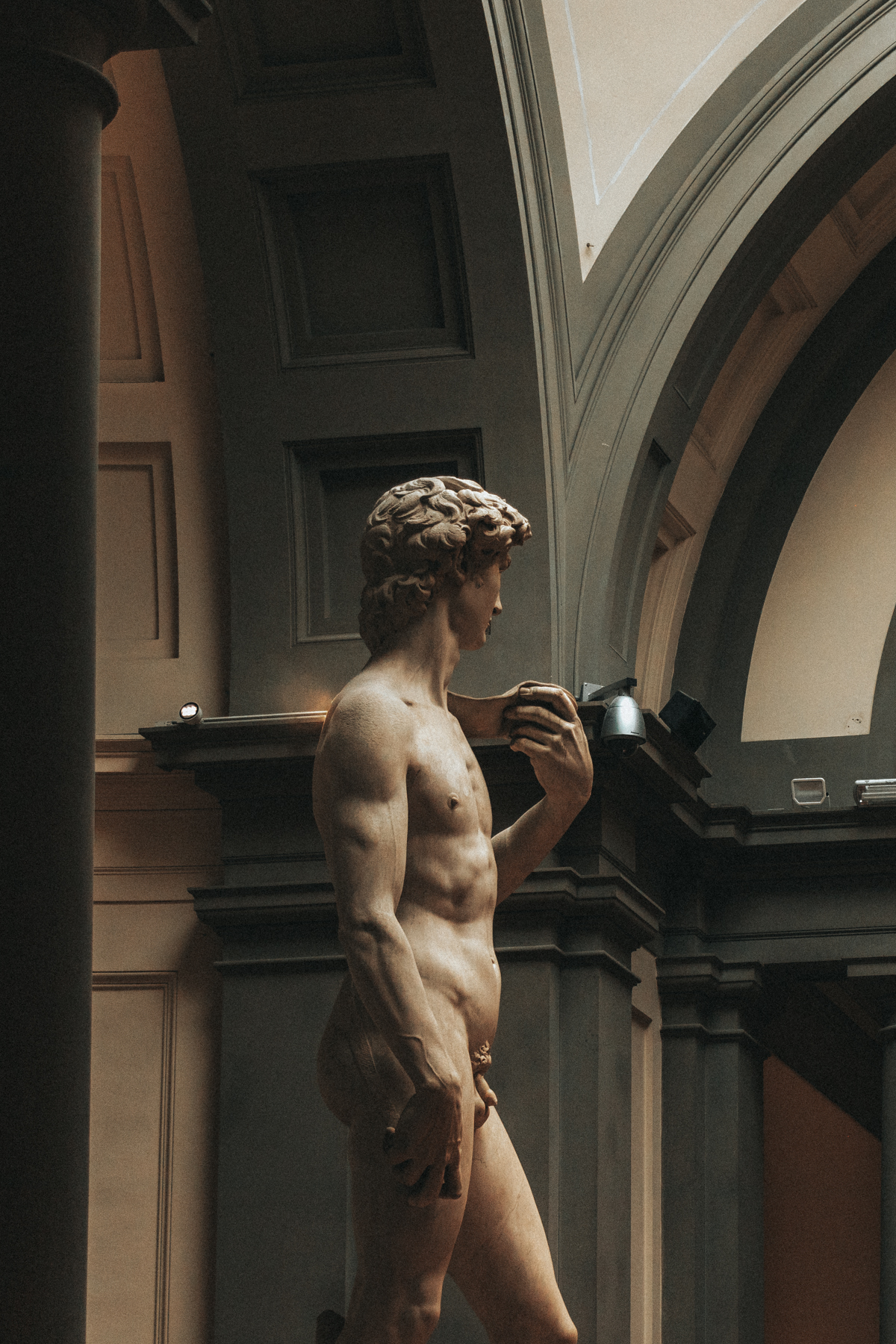 Last Updated on February 18, 2023
One of the most iconic pieces of art in the world is Michelangelo's David. Until you've seen it up close, it's hard to understand how significant this marble statue is. It's complex, massive, detailed, emotional and absolutely breathtaking. No wonder it has over 1 million visitors per year! Now add one – you! This guide to visiting the Statue of David in Florence will provide you with all the planning details you need to know so you can eliminate any worries or stress about your upcoming visit.
Some of these links are affiliate links. This means if you make a purchase through that link, I receive a small commission at no extra cost to you. Read my full disclosure!
Where is the Statue of David in Florence?
Did you know there is actually more than one Statue of David?
The Real Statue of David: Galleria dell'Accademia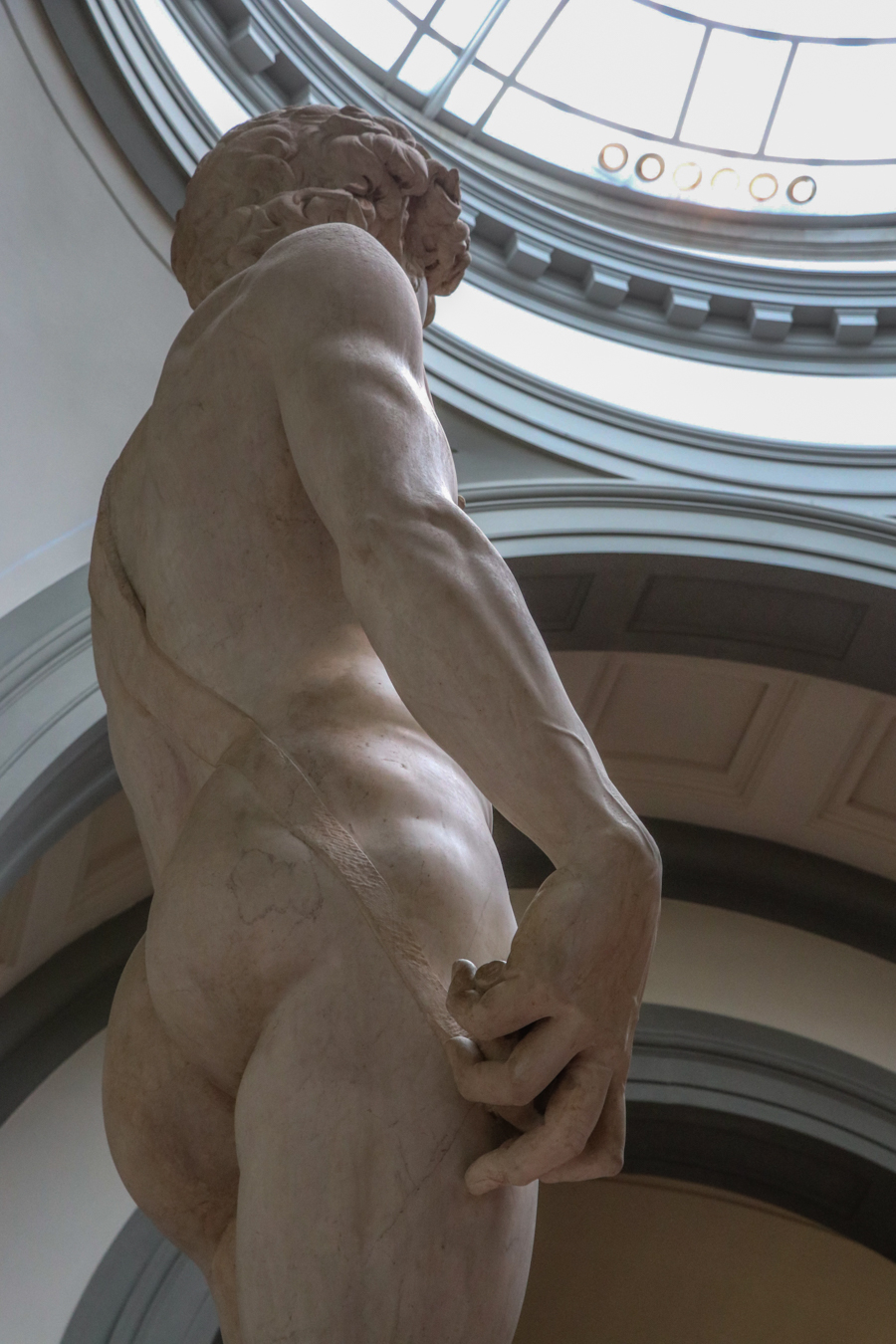 Michelangelo's masterpiece is so good that several copies exist – just in Florence! The real Statue of David is housed in the Galleria dell'Accademia in the heart of Florence's centro storico, or historic city center.
It is the museums's main claim to fame and attracts over a million visitors per year.
The Galleria dell'Accademia is located in Via Ricasoli, 58/60, Florence, just a five minute walk from the Santa Maria del Fiore Cathedral.
Statue of David in Piazza della Signoria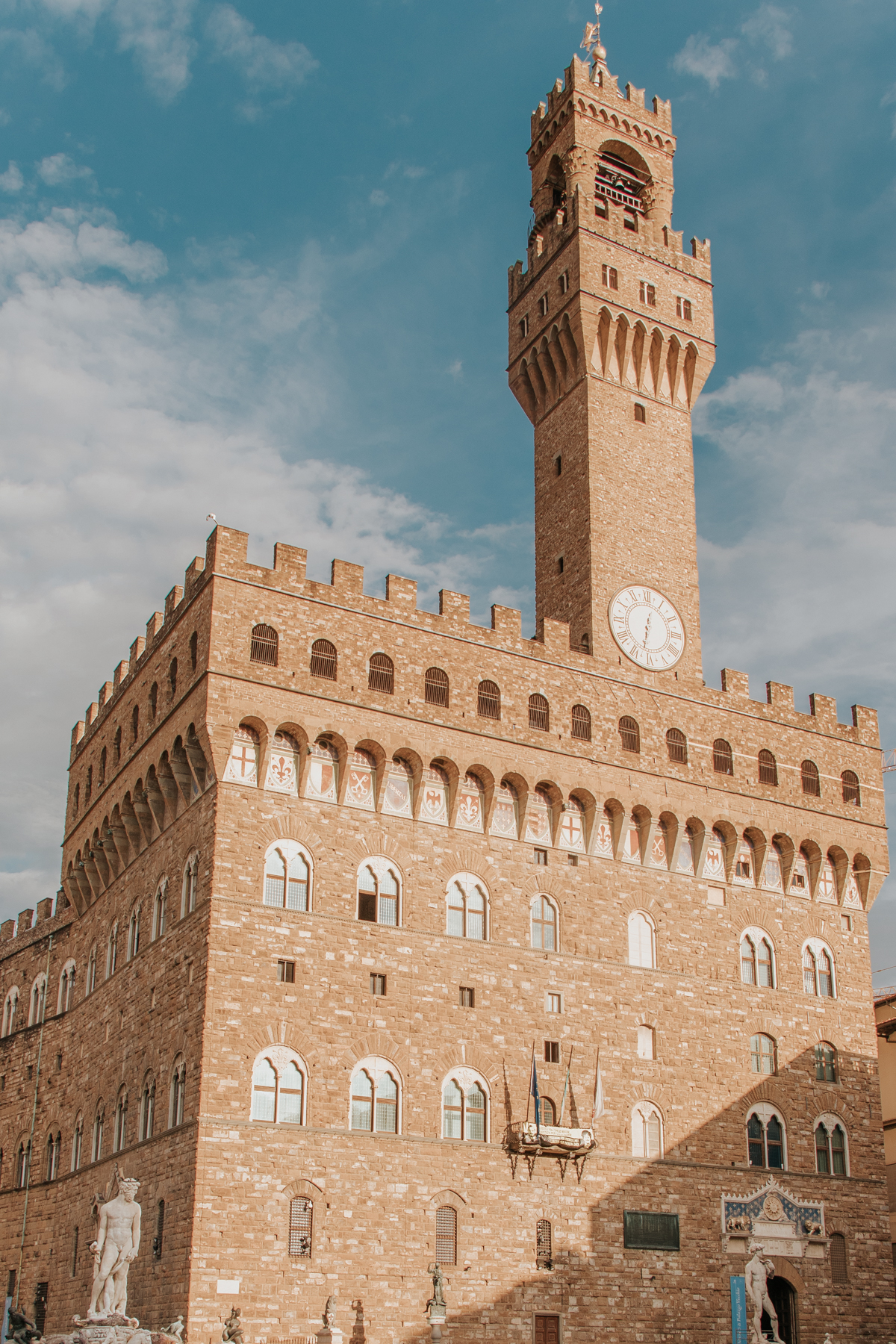 The historic city center of Florence has two Davids: the real one in the Accademia and a copy in Piazza della Signoria, in front of Palazzo Vecchio.
I don't have a photo directly of the statue, but if you look in the lower right corner of the photo above, you can spot the copy of Michelangelo's masterpiece!
The benefit of this David statue is that it is completely free to look at and visit, even though it isn't the true work of Michelangelo's hands.
Statue of David in Piazzale Michelangelo
One copy remains in Florence, in the San Niccolò neighborhood and in one of the most trafficked, beautiful spots in the city.
I'm talking about Piazzale Michelangelo, one of the best viewpoints in Florence. Right in the middle of this square stands another Statue of David replica.
---
Mini History of the David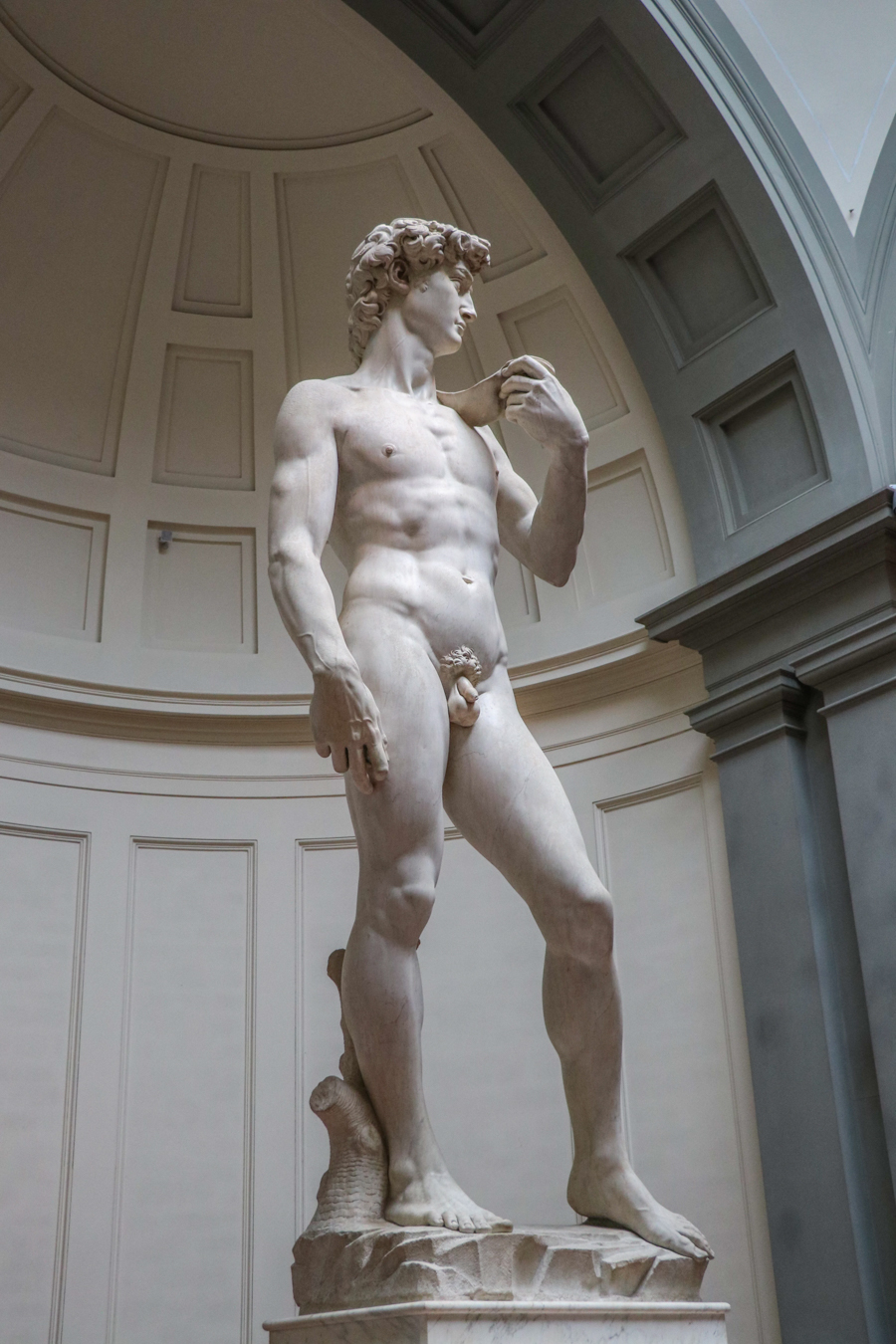 The Renaissance sculpture of David is from the biblical tale David and Goliath. Between 1501 and 1504, Michelangelo was asked to take over the project after two previous sculptors, Agostino di Duccio and Antonio Rossellino had given up, claiming the huge slab of marble had too many imperfections and that it would effect the statue's stability.
Michelangelo was only 26 years old at the time!
He completed the statue in just 2 years.
The statue was first displayed in Piazza della Signoria, where a copy now stands, and moved to the Galleria dell'Accademia in 1873.
What makes the David so unique is its extremely accurate, humanlike details, from the eyes to the visible veins on his arms to his hands, on his feet, etc. One unique part is David's right hand: it is extremely realistic. It is also slightly out of proportion with the rest of the David statue, which has made it a topic of discussion.
---
Statue of David Tickets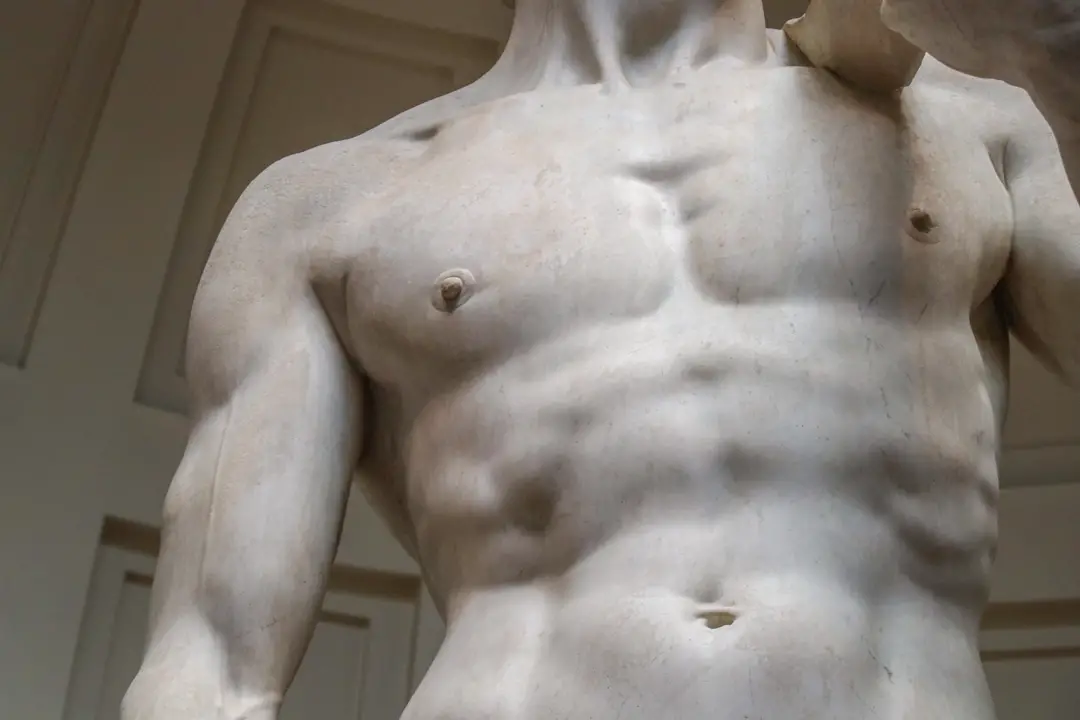 The Statue of David in Florence is free to visit on the first Sunday of the month as part of the city's free museum day initiative.
Good to know: The museum is always closed on Mondays. Every other day, it is open from 8:15 am to 6:50 pm, 6:20 being the last admission time.
Statue of David Ticket Prices
The entrance fees break down into Full, Reduced, and Free, like this:
Full: €12 for adults (Everyone above age 26)
Reduced: €2 for EU citizens aged 18-25 (must show proof of age) and teachers from EU public institutions (must show proof of employment)
Free: Minors under 18 years old (does not include 18 year olds), person with handicap or disability, ICOM (International Council of Museum) members, and journalists with valid professional identification
However, these prices do not include the €4 booking fee that gets applied to each ticket. So in reality, if you book online ahead of time you will pay €16 per adult, €6 for reduced ticket and €4 for the free ticket.
Where to Buy Tickets
Online
B-Ticket is the only official online retailer for tickets to the Galleria dell'Accademia. This doesn't mean it is the only avenue for buying tickets, but it is the most accurate and secure way.
Guided Tours & Other Booking Sites
You may want to have someone else handle the ticket buying process or go with a specific walking tour. Through GetYourGuide, you can buy a timed entrance ticket to the Accademia gallery or a skip-the-line tour priority ticket.
In Person
It is not recommended because of how busy the museum gets, but you can also purchase tickets in person at the ticketing office. You will avoid the €4 booking fee, but you may risk that the day is already sold out.
You bought your tickets, now what?
One of the more confusing parts of the process, which I didn't realize until the morning I was visiting the museum, is that I only received an email receipt. You never actually receive an email with tickets attached.
This is because you will communicate your reservation to the ticket booth attendant and they will print the tickets on the spot for you.
But, to be safe and have all your ducks in order, print this reservation email so that you have proof of purchase. You never know if your phone will die or if you won't have Internet access to see your emails.
Good to know: Keep your ticket on you for the entire visit. It may get checked upon exiting.
---
The Day of Your Visit: What To Do & Helpful Tips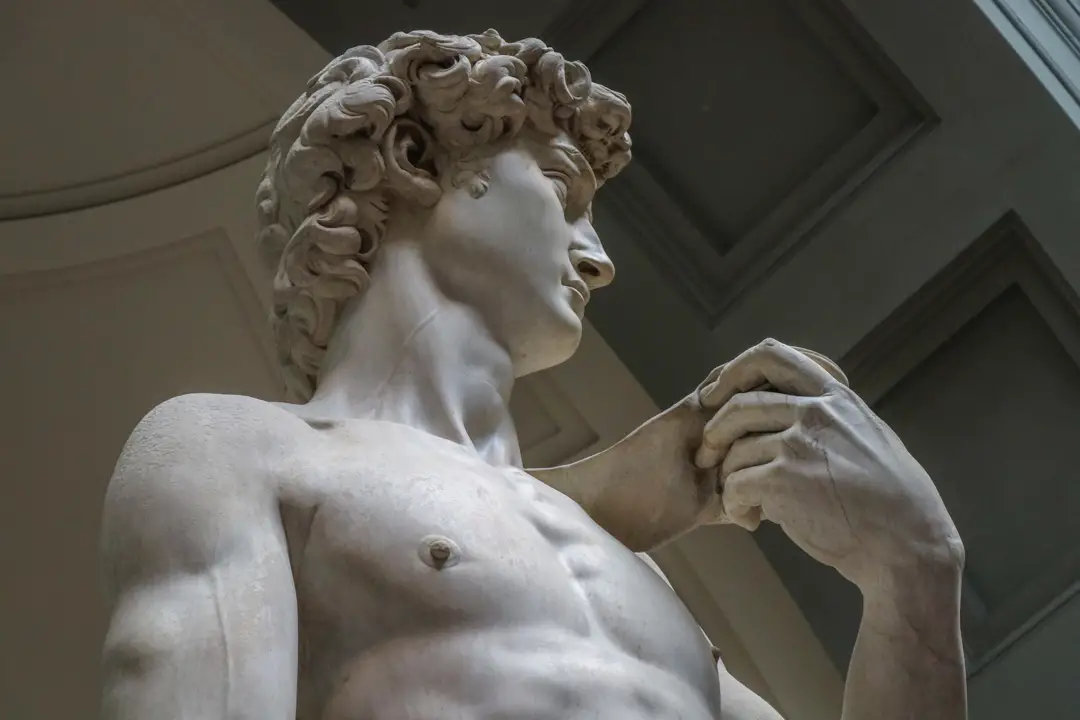 The following sections document the process of entering the museum, things you may not have expected or known about, and tips on how to have the smoothest visit possible.
Arrival Time
Once you buy your ticket for your reserved time, you will notice you have a 15-minute slot in which you can enter the museum.
You should try to be at least 15 minutes earlier than your start time because, outside of the museum, the staff will divide several different lines based on start time.
If you do not show up in your 15-minute slot, you risk not being allowed to enter!
So take this part of your itinerary seriously, because you could be out of a lot of money if you don't.
Security
All visitors must go through a security check, similar to a security check at an airport, prior to officially entering the museum.
You will walk through a metal detector and your items will be scanned.
The Accademia does not provide a cloak service like the Uffizi Gallery, so keep in mind that large bags or backpacks are not allowed. You cannot enter the museum if your bag is larger than 40x30x18 cm.
Take a look at the full list of rules when visiting the Accademia to fully prepare for your trip.
Ticket Counter
After going through security, you will go straight up to the ticket counter with your reservation. Here, they will print your tickets to use at the entrance.
If you purchase a Reduced ticket, this is the moment where you will have to show proof of your eligibility to the ticket counter.
After you get your printed tickets, you will walk just a few steps to the ticket control and then finally make your way into the first exhibition room!
See the Statue of David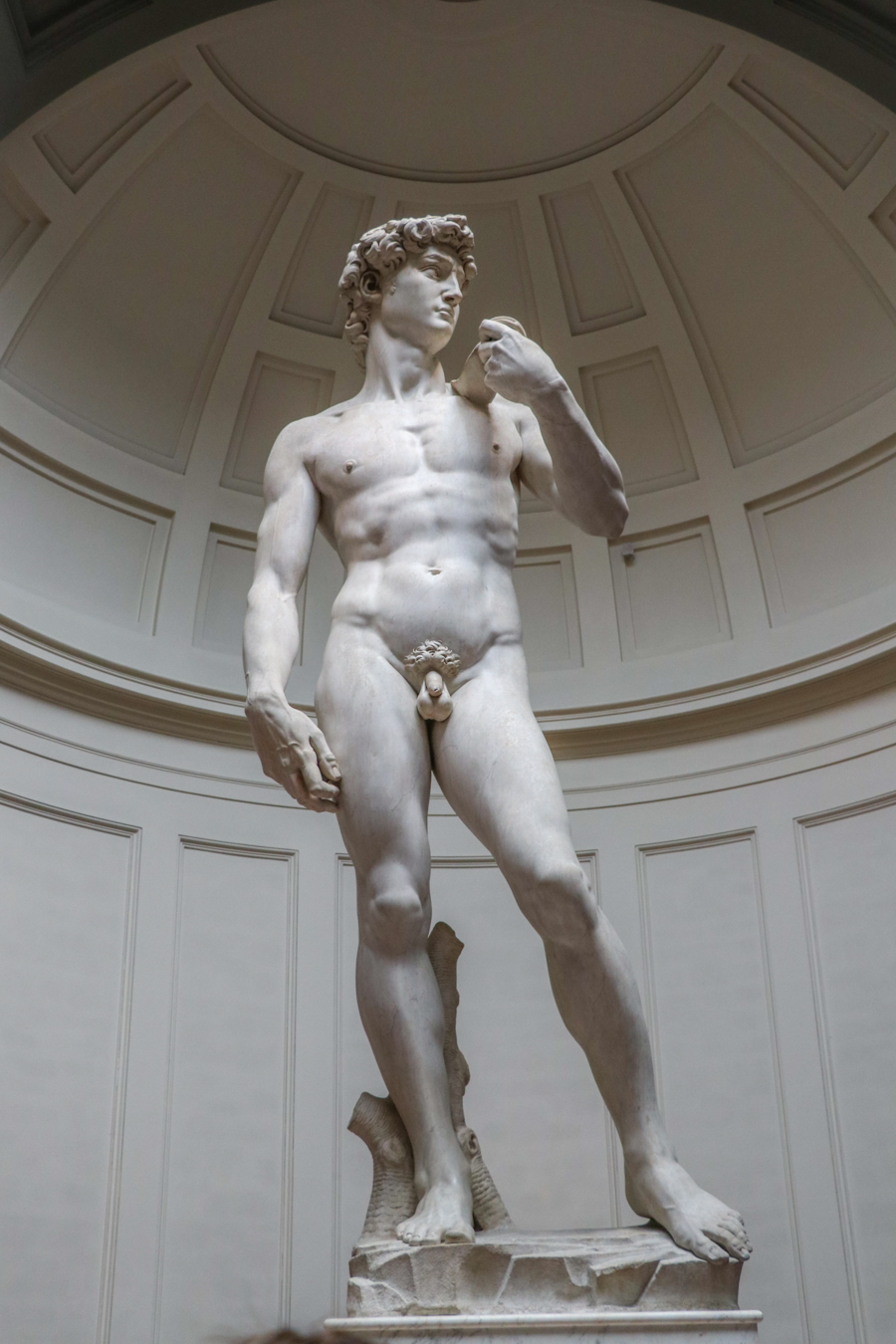 One thing that is a plus about the Galleria dell'Accademia is that it does not take long to get to the main event! If you enter the first room and go immediately to the left, you are met with the long, dramatic hallway and Michelangelo's Statue of David at the other end of it.
Good to know: Consider getting an audio guide for the price of €6 to help better structure your visit and learn more interesting information about Michelangelo's David and the rest of the exhibitions.
I definitely recommend taking your time to observe all the details of the statue and soak in this piece of history, so that the memory stays with you long after you leave Florence.
Read the descriptions of the work and really think about the fact that Michelangelo created this massive, extremely accurate carving of man between 1501 and 1504 from a huge slab of marble. It is truly incredible and breathtaking when you see it and wrap your head around what an artistic feat it is.
There is a great quote about the statue's significance on one of the descriptive markers beside the statue from Giorgio Vassari. I won't write it here so that I don't spoil it, but I encourage you to read it and let it sink in!
There are several benches surrounding the back of the statue where you can sit and admire David. It is incredible to look up at him and be below the stunning light that enters from the glass cupola above.
---
Exploring the Galleria dell'Accademia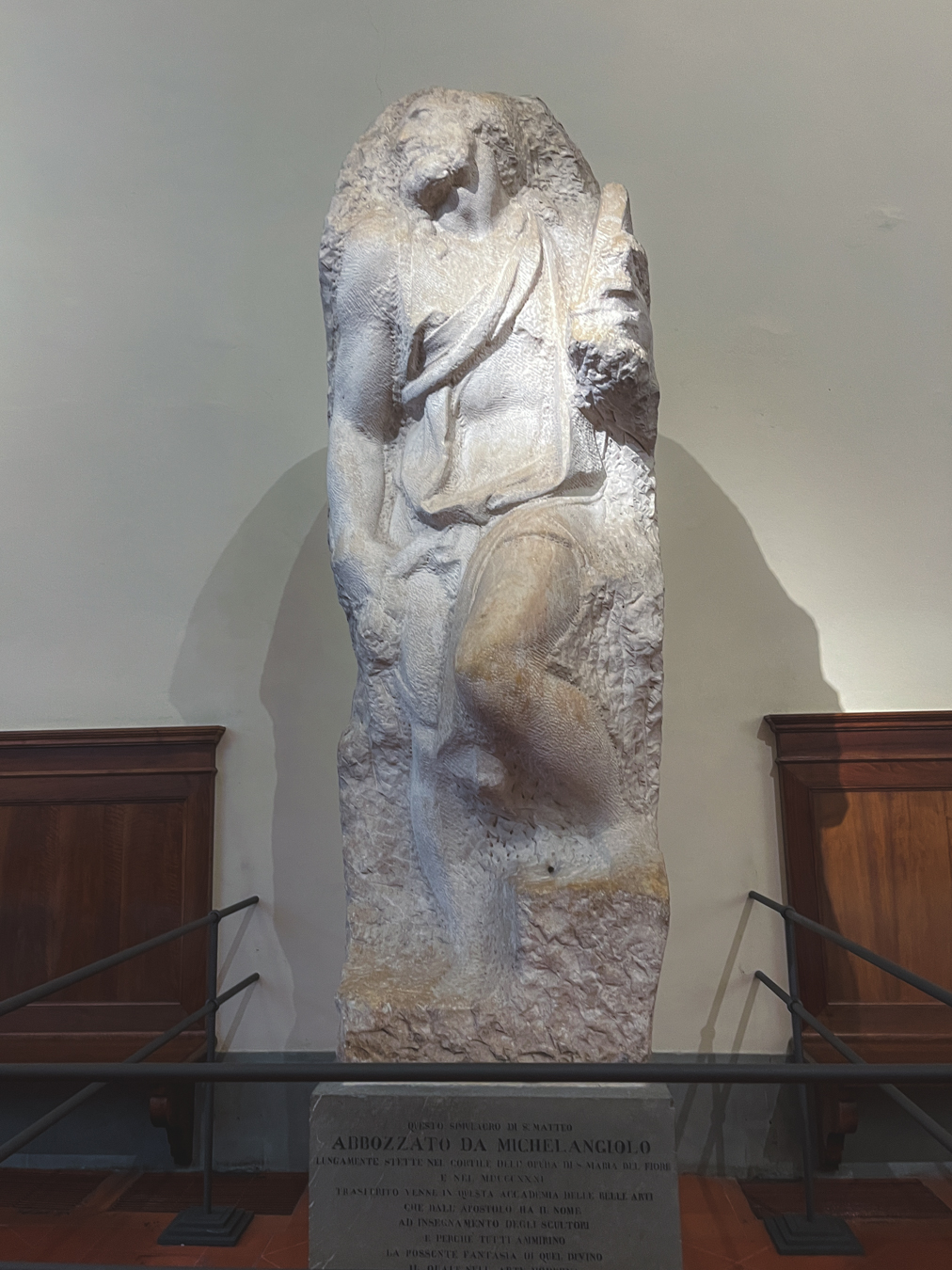 Reminder: the Galleria dell'Accademia is home to many other works of art than the statue of David! While he is the main event, the museums exhibit several fixed collections, from paintings to old church panels to other sculptures.
One of the interesting parts of the Galleria dell'Accademia is the Musical Instruments Department, which displays musical instruments from the private collections of historic Tuscan dukes including the famous Medici family. Some instruments date back to the 17th century.
If you really love your experience, consider getting a souvenir from one of the two museum bookshops.
The museum also has rotating exhibits and an events calendar.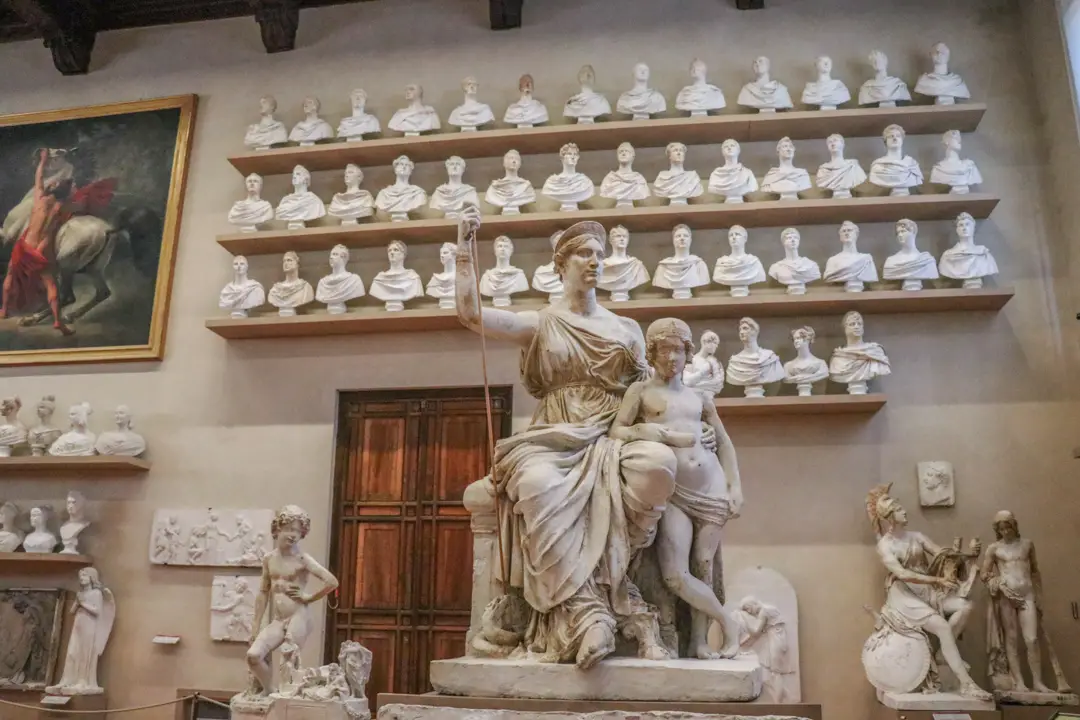 Good to know: The entire museum is wheelchair-friendly and has an accessile elevator to reach both floors of the museum.
---
Tips for Visiting the Statue of David
Visit in the morning and on weekdays to avoid crowds. The statue of David is one of the most popular attractions in Florence so there is rarely a time that will not see the museum sold out to capacity. For your best chance to avoid crowds, book on weekday mornings. And while you are at it, eat a delicious breakfast at the nearby Shake Café.
Budget about an hour or two visiting the museum. If you're planning how to spend your Florence itinerary, you can really make your visit to the Statue of David as long or as short as you would like. I think most people expect it to be a long activity, but it can actually be incredibly brief. Seeing the David in particular is magnificent and breathtaking, but after observing all its angles and reading all the information, it takes only about 15 minutes.
---
Final Thoughts
Many people's trip to Italy is a once-in-a-lifetime, bucket list adventure. That's why I hope to create detailed guides that give you as much useful information as possible to be able to plan your trip best according to your needs and travel style!
Visiting the Statue of David in Florence may be just one event on your Italy itinerary but it's one of those special places you may count on only seeing once. When I took my family to see the David, I was freaking out the morning of our visit – will they let us in if we are late, did we have to print the tickets, what do I do with all our backpacks, etc.
What other sites are on your Florence bucket list? Let me know in a comment!
Save this guide to Pinterest to reference closer to your visit!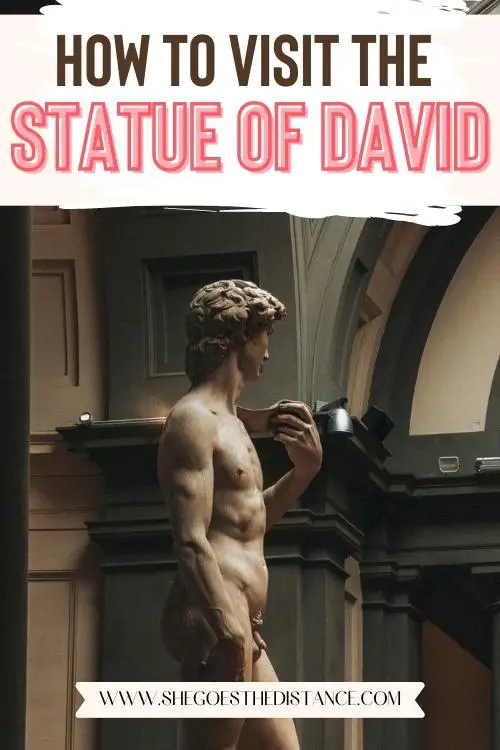 I hope this guide to visiting the Statue of David in Florence is useful in helping you plan your trip!
XOXO
Michela