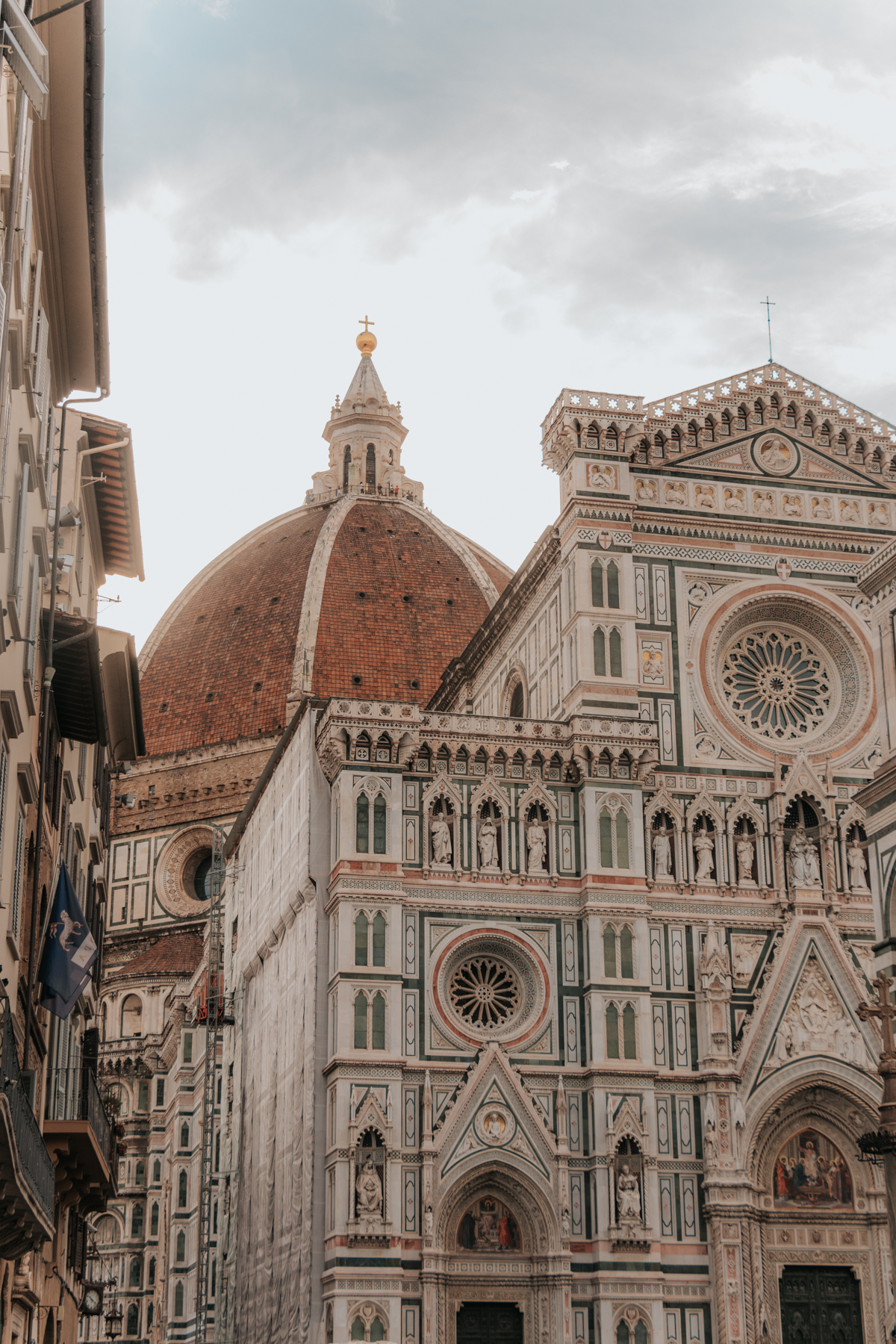 Last Updated on February 18, 2023
Florence is one of the top bucket list cities to visit in Italy. The heart of Renaissance art and culture, Florence is timeless. The narrow cobblestone streets feel like a labyrinth of the past, leading you to sprawling, energized piazzas, alive with both locals and visitors from all over the world. Florence is a true meeting place and a special corner of Italy. The best part? Just 2 days in Florence is enough to see the main sights, devour the best comfort food, and experience pinch-me city views.
Planning a trip to Italy is no easy task. There is so much to see and do and no matter how much time you have to vacation in the Bel Paese, you'll always be left wanting more!
That's why I recommend leaving 2 days in Florence on your northern Italy itinerary. It's enough to absorb and live the city culture while affording you more time in other incredible places to visit in Italy.
Florence is a must-add to your Italy bucket list but the city has become very touristic, which is why I also recommend you venture (at least a little) off the beaten path to discover some of the lesser-known gems of Italy!
What to See & Do with 2 Days in Florence
The bulk of things to see and do to get a taste of what the city has to offer can all be done on an active 2-day Florence itinerary.
Duomo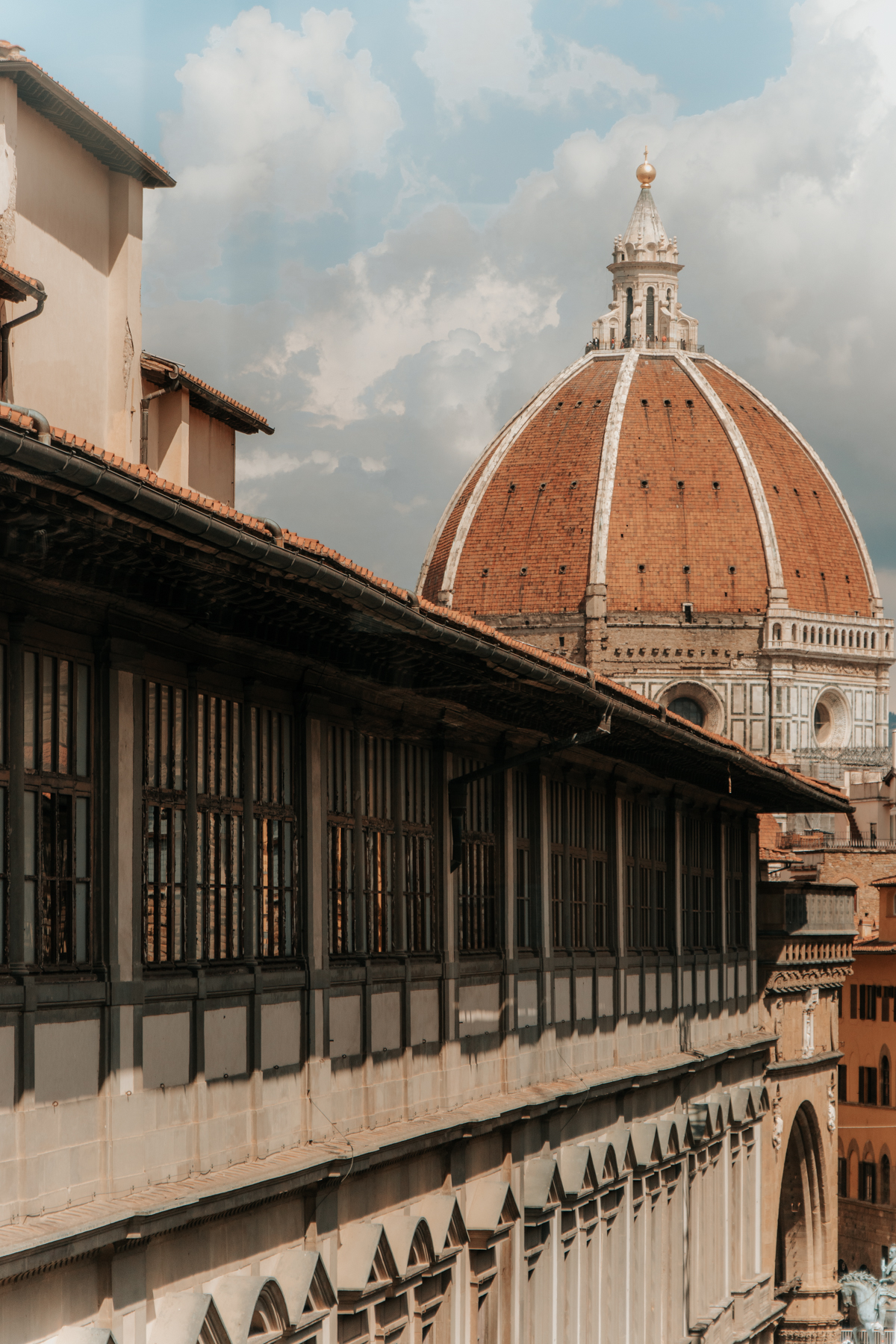 The main event when visiting Florence is to see the magnificent Santa Maria del Fiore. Ornately decorated with white, sage, and soft pink marble, topped off by Brunelleschi's impressive dome, it is one of the most famous churches in Italy.
The Duomo and surrounding piazza is the heart of activity in Florence, always bustling with people. This has its positives and its negatives. Being such a famous attraction, there are a few hacks to having a nice visit:
Visit the inside during a mass. One of the best experiences that gets you into the Duomo for FREE is attending mass on Sunday at the cathedral. Mass is open to everyone and I believe is the best way to see the inside of the cathedral, as you are taking part in the tradition for which it was created.
Book the earliest visit time. Vacation best practice? Wake up early. With a place as touristy as Florence, lines to see its top attractions can wrap all around the cathedral and piazza. If you don't want to spend extra, your best bet is to book online ahead of time the earliest visit available and arrive even earlier than your ticket time to avoid waiting in lines and wasting precious time when you only have 2 days in Florence.
Buy a skip-the-line ticket. Booking a Florence Duomo tour that includes all the bells and whistles – entrance to the church, baptistry, museum, and bell tower – is the ultimate experience. And it includes skip-the-line access to the cathedral, a priceless choice once you see just how long the lines are that wrap around this massive structure.
Ponte Vecchio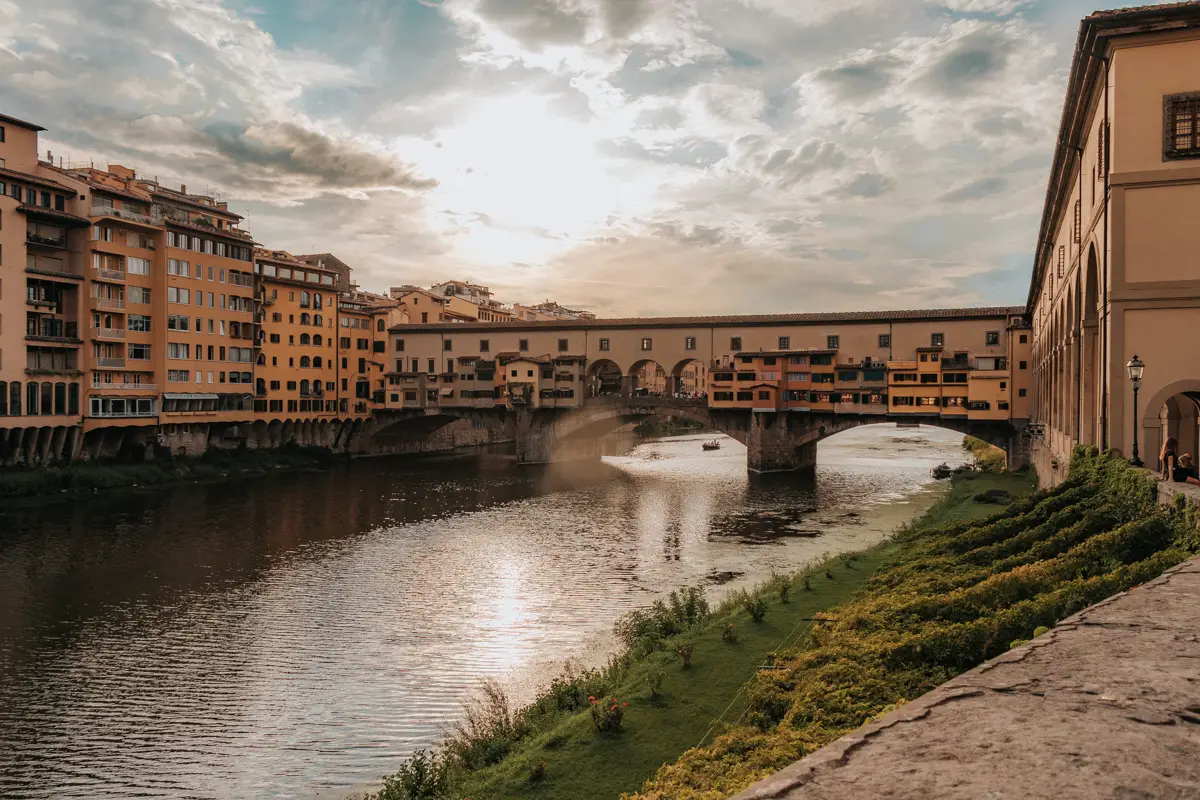 If the cathedral is Florence's number one attraction, the Ponte Vecchio takes spot number two. The "old bridge" is famous for its unique structure: a string of little buildings along its sides, jumbled together and looking like straight out of the Middle Ages.
That's because it is! The Ponte Vecchio bridge opened in 1345 and is the oldest in Florence. Nowadays, the buildings are mainly local (and probably overpriced) jewelry shops attracting the many tourists that cross the bridge. And while it is packed with people at all times, I will say that it doesn't hurt to take a few minutes at the bridge center and look over the Arno river glowing at sunset.
Piazzale Michelangelo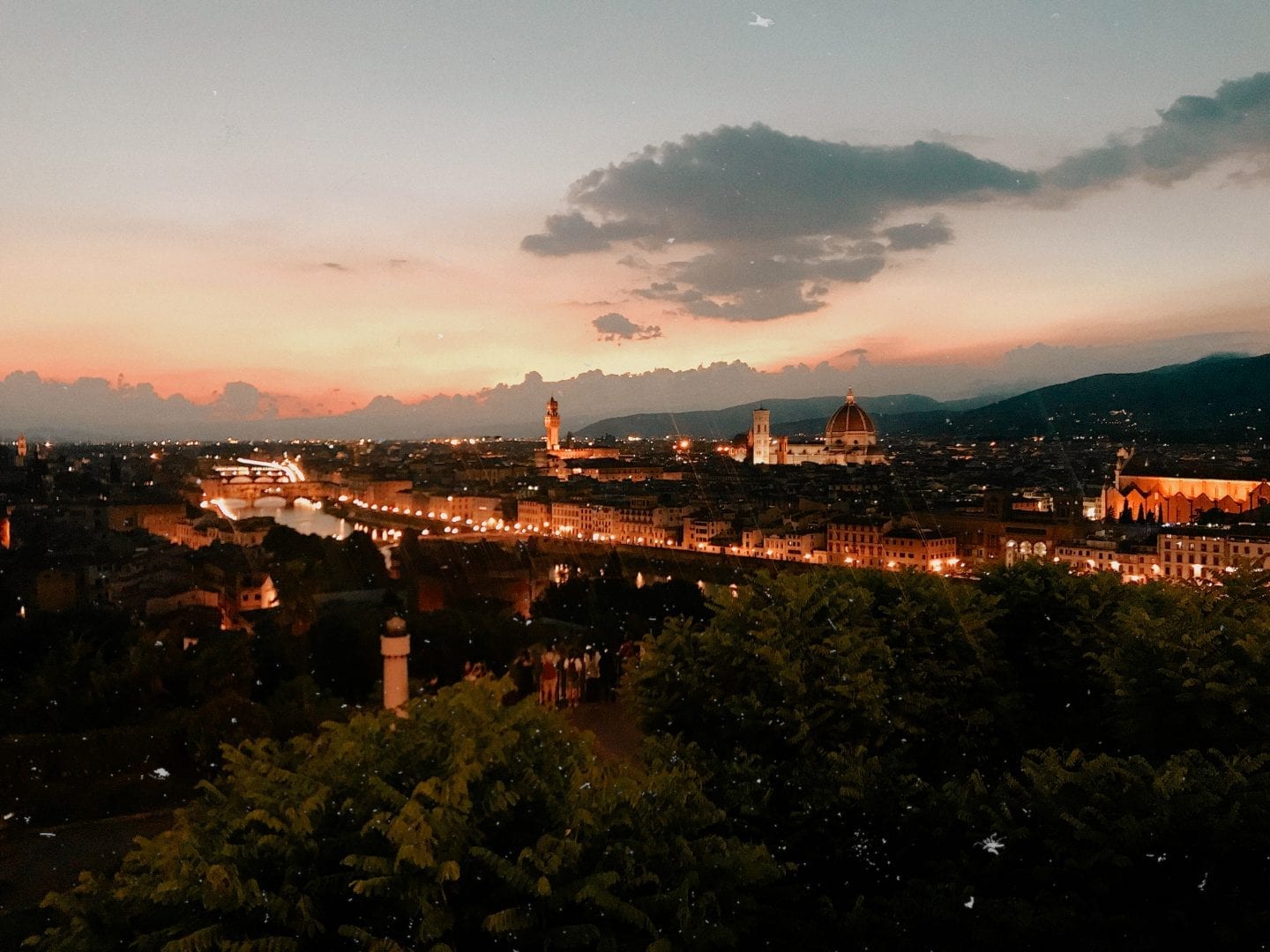 Let's get to a must on your itinerary – seeing one of the best views in Florence. I'm a sucker for a stunning viewpoint and Florence does not fail in that respect.
One stands out above them all and that is Piazzale Michelangelo.
About a 25-minute walk from the city center, this huge square soars above the San Niccolò neighborhood of Florence, offering the view of a lifetime of the medieval city's skyline.
This, like every other place in Florence, is popular. The best time to visit Piazzale Michelangelo is at sunrise if you are trying to avoid the crowds and get your perfect picture to remember Florence.
However, even though the crowds can be overwhelming, Piazzale Michelangelo is the place to go to watch a stunning sunset over Florence.
Pro Tip: One of my other favorite and lesser-known views of Florence is right below Piazzale Michelangelo. Walking down the wide steps to San Niccolò, you'll see an iron gate along the wall that leads to a public rose garden with a beautiful, closer view of the Duomo.
Uffizi Gallery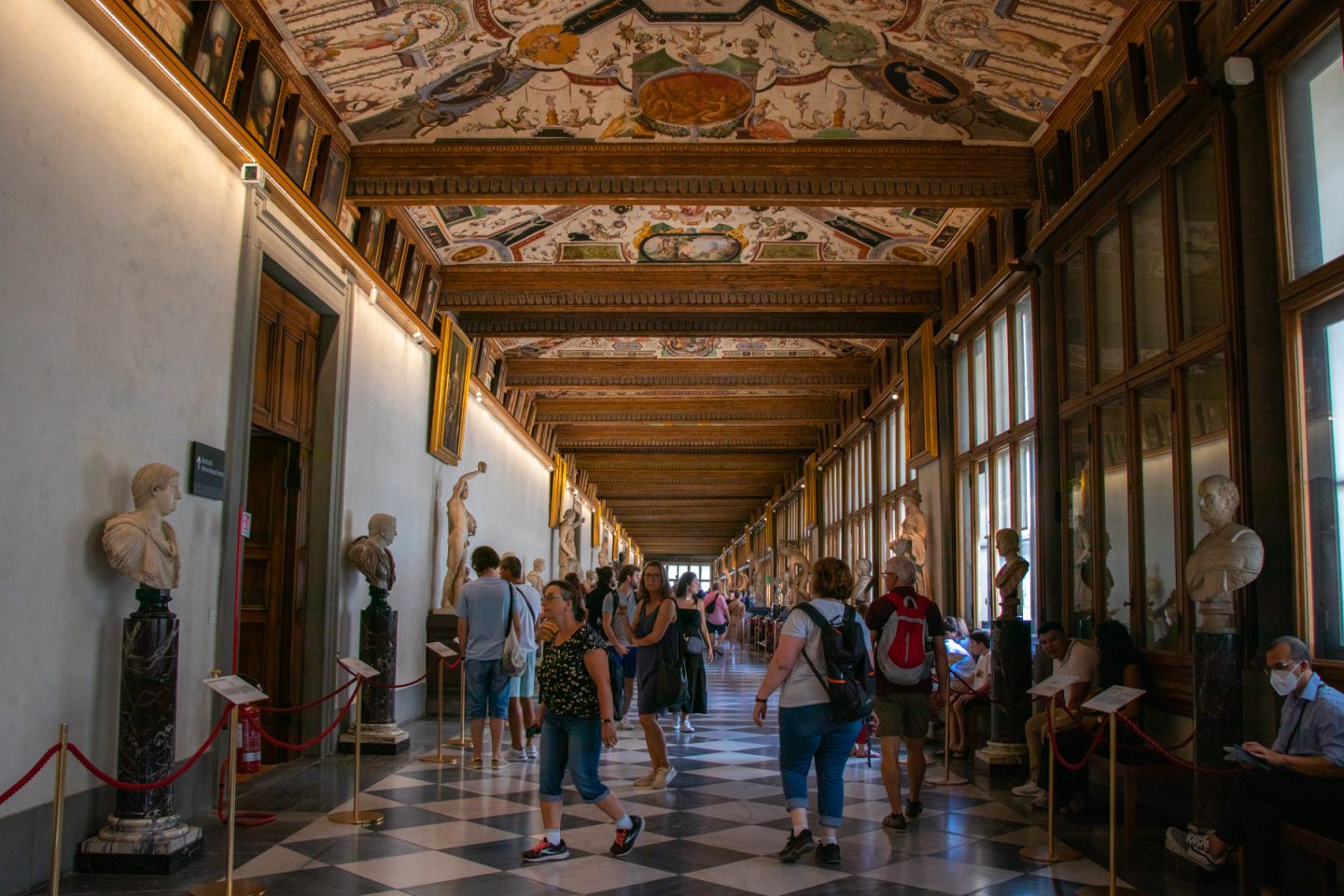 Florence is home to some of the world's most precious and renowned art pieces. The Uffizi Gallery houses most of them!
A trip to the Uffizi is a must because it is simply one of the best art galleries in the world. From floor to ceiling (literally, the ceilings are also art), the two main and seemingly never-ending hallways connect a maze of rooms holding paintings, statues, wooden art, and more. Botticelli's Primavera and Birth of Venus are some of the most precious gems in the Uffizi.
You can buy tickets either on-site or ahead of time online. I personally prefer walking around museums at my own pace, but in a museum so big and full of important pieces, at least an audio tour of the Uffizi would be worth doing to get the full experience.
To make the most of your two days in Florence, consider buying skip-the-line tickets to the Uffizi.
Galleria dell'Accademia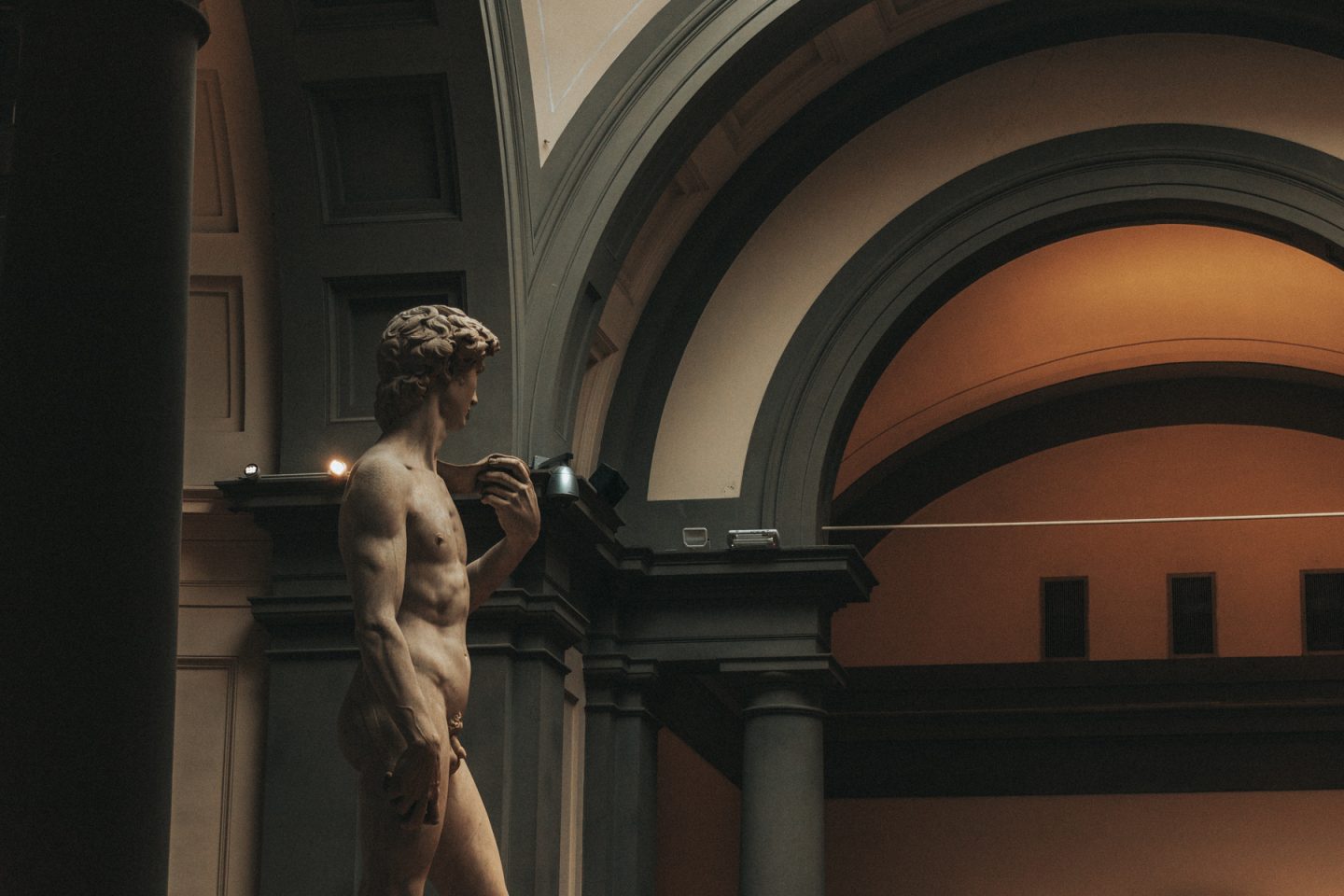 The Uffizi houses tons of art and is known also for its size. The Accademia has fewer exhibits but houses the most famous piece of Florentine art in history: Michelangelo's Statue of David.
The David is worth every penny of the admission cost. You can buy either a timed entrance ticket to the Accademia, which means you must get there during your 15-minute time slot (slightly earlier is better) or you can buy a skip-the-line ticket.
Palazzo Vecchio and Piazza della Signoria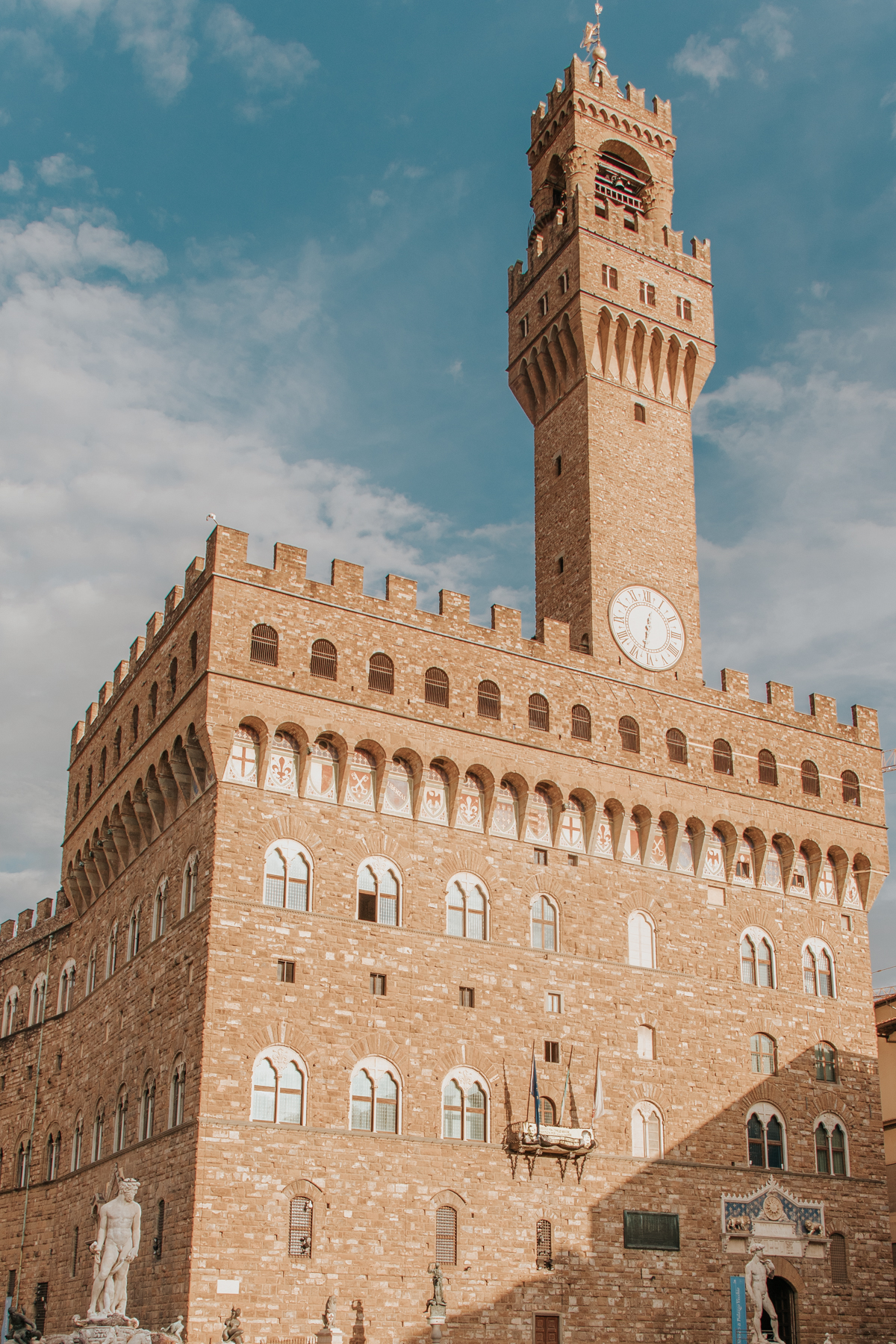 One of Florence's prettiest squares is the Piazza della Signoria. Open and airy, the square is dominated by the beautiful Palazzo Vecchio, bordered by the Uffizi Gallery, and holds a copy of the Statue of David. Another special area is the Loggia dei Lanzi, a covered gallery of statues, also near the Uffizi.
The Palazzo Vecchio is Florence's town hall. You can enter the Palazzo Vecchio on an audio guide tour and climb to the top of the clock tower, where you get an up-close view of the city below. You can also just enter in the bottom floor for free to get a taste of the building's architecture.
Piazza della Repubblica
This square is the center of shopping in Florence. Frequent high-end designer boutiques, the famous Rinascente department store, or shop your daily favorites in a one-of-a-kind city.
Beyond the stores, Piazza della Repubblica is beautiful architecturally. It is also where the bright red carousel is located, making it an adorable photo spot.
San Lorenzo Market
In between the cathedral and the Santa Maria Novella train station, the San Lorenzo Market is the central market in Florence. It's the perfect insight into local food and gastronomic culture!
Try some of the Florentine specialties like Trippa (personally, I'm not adventurous enough to try this so let me know how it goes!) Shop for food gifts to take home as a souvenir or have a meal made on the spot at one of the counters utilizing the fresh, local ingredients sold at the market.
Cappelle Medicee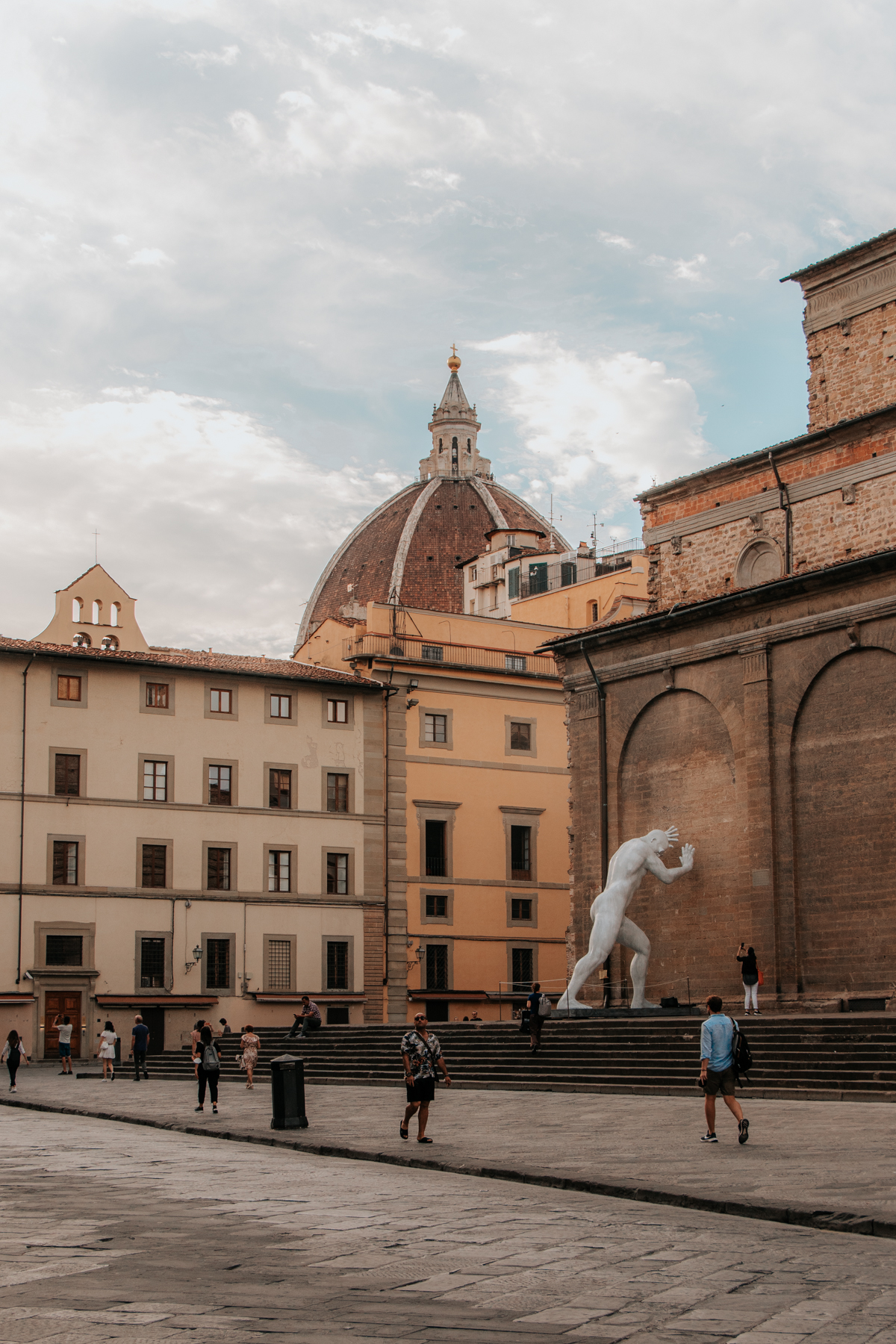 The Medici family ruled Florence for centuries, leading the city to financial greatness and marking it as one of the hubs of the Renaissance and today, the hub of Italian art and culture.
The Cappelle Medicee, or Medici Chapels, are one of the most important places to visit if you, too, love Medici Family history. The chapels are part of a complex including the Church of San Lorenzo, just a 5-minute walk from the Florence cathedral.
Basilica di Santa Croce
One of the last must-sees on your 2 day Florence itinerary is the Basilica di Santa Croce.
This church is home to Dante's tomb. However, Dante is not buried there. Despite this, it still makes the cathedral a huge destination.
You can buy tickets to enter Santa Croce online.
---
Where to eat in Florence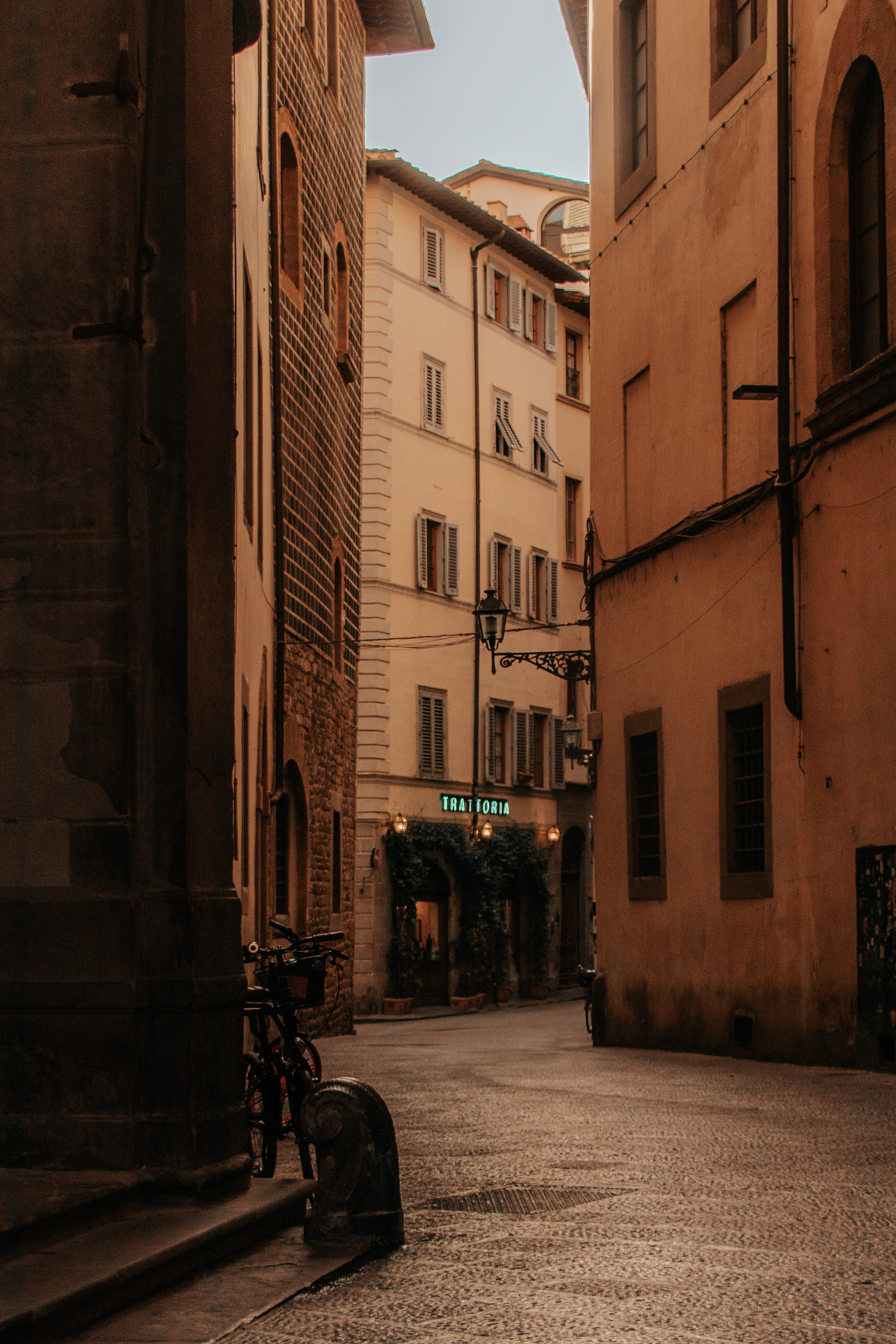 Just 2 days in Florence won't stop you from being able to eat delicious meals. While the bulk of the cuisine scene in Florence is characterized by small mom-and-pop trattorias that give the city its cozy feel, there are also unique places offering food that isn't strictly Italian. And don't forget to try some of the Tuscan specialties.
Breakfast in Florence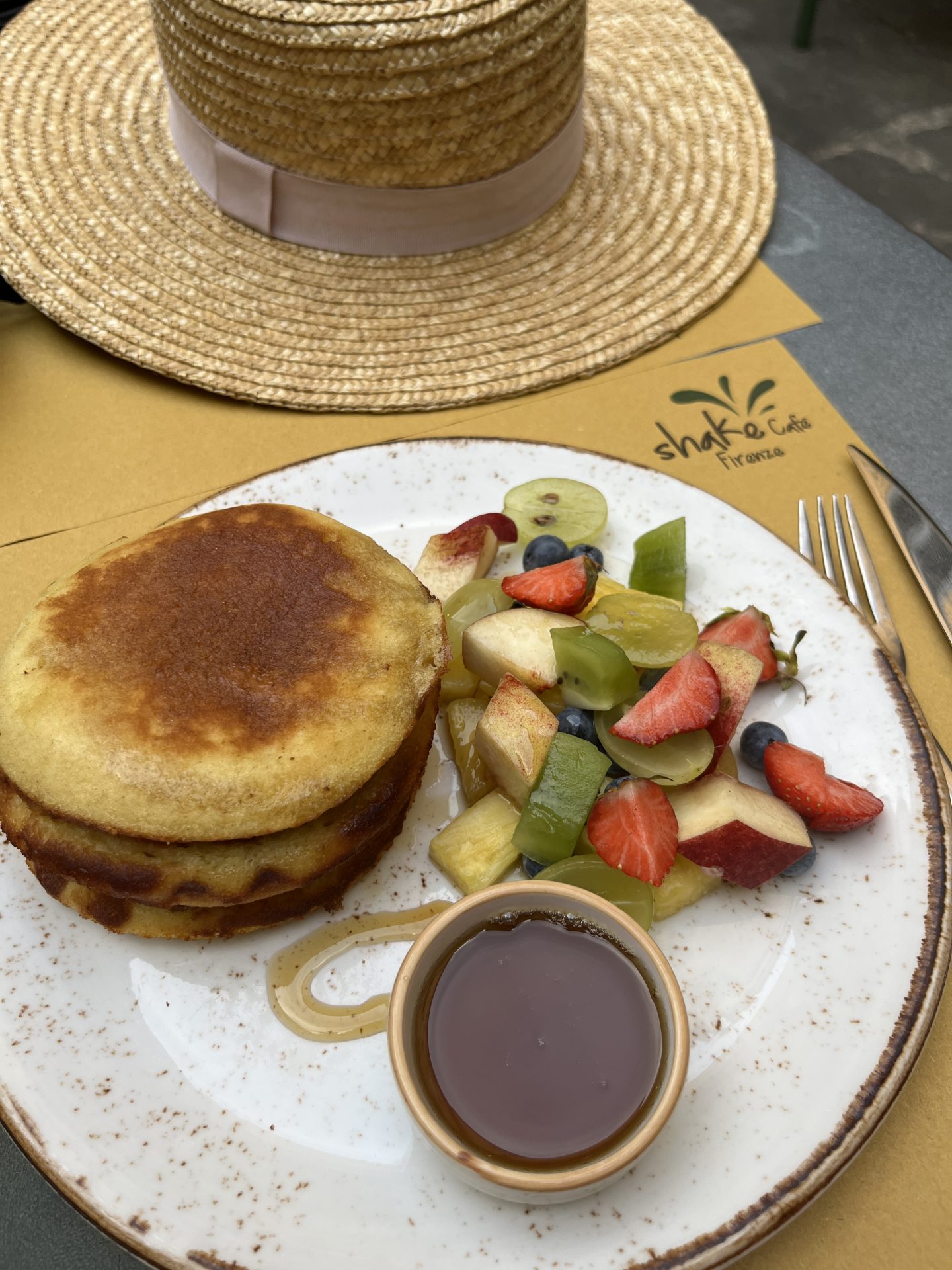 Italian breakfast is classically sweet and small. The most popular combo to start the day is a brioche and cappuccino. The good thing is you can find it literally anywhere in Florence (although I am biased towards the bomboloni at La Loggia degli Albizi).
That's why my favorite breakfast spots in Florence offer something a bit more close to home for me – American breakfast!
Shake Cafe – Fulfilling American breakfast. Super cute location and has good pastries for a classic Italian breakfast too.
Le Vespe Cafe – Best brunch in town! A small, cozy and bit eclectic cafe in the Santa Croce area that serves a traditional North American-style breakfast.
Lunch in Florence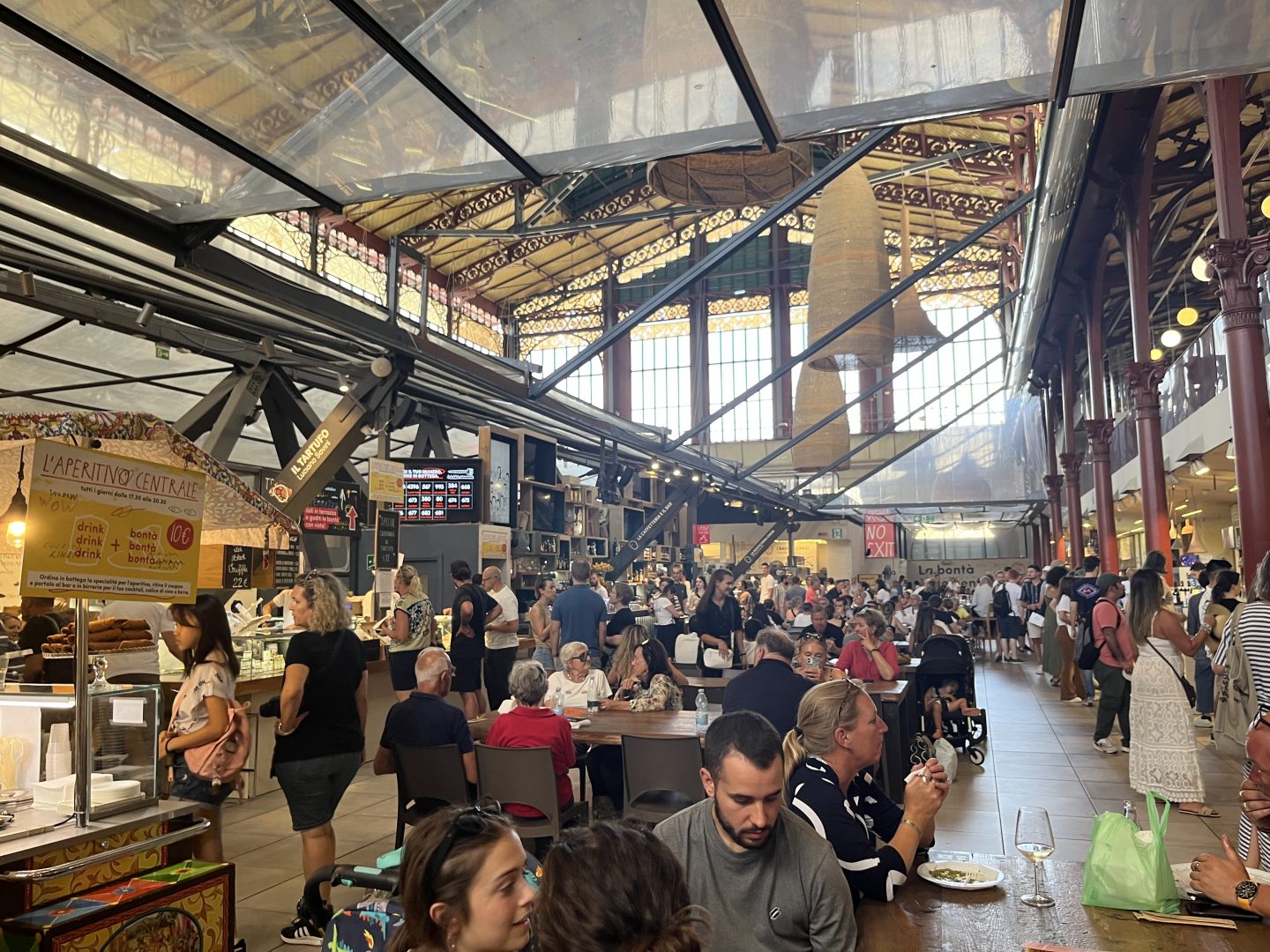 Mercato Centrale – The upper food court offers tons of different options at affordable prices, making it a good stop for when you are unsure what to eat. The food court also utilizes the local ingredients sold on the first floor!
All'Antico Vinaio – Super famous (and for good reason) sandwich shop behind the Palazzo Vecchio. Lines are crazy at lunch and dinner, so don't arrive super hungry – it will be awhile until you get your food!
Aperitivo in Florence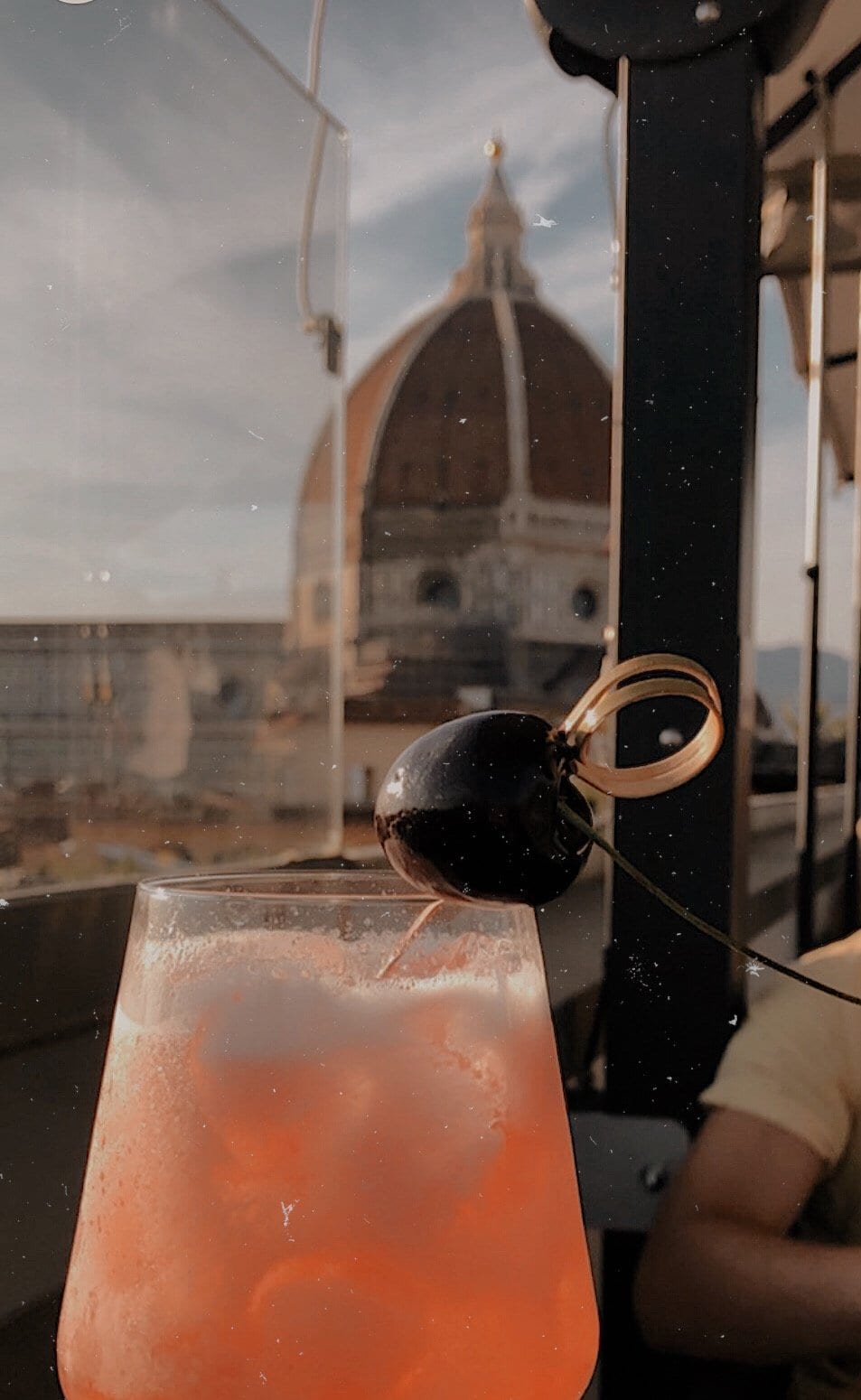 View on Art Rooftop Bar – Hidden gem with a crazy beautiful view right next to the Duomo. It's a bit expensive and they don't give a lot of food at aperitivo, but you are paying for the view!
Divina Terrazza – Located at the top of the Grand Hotel Cavour. It has a view of the Duomo on one side and the Palazzo Vecchio on the other.
Dinner in Florence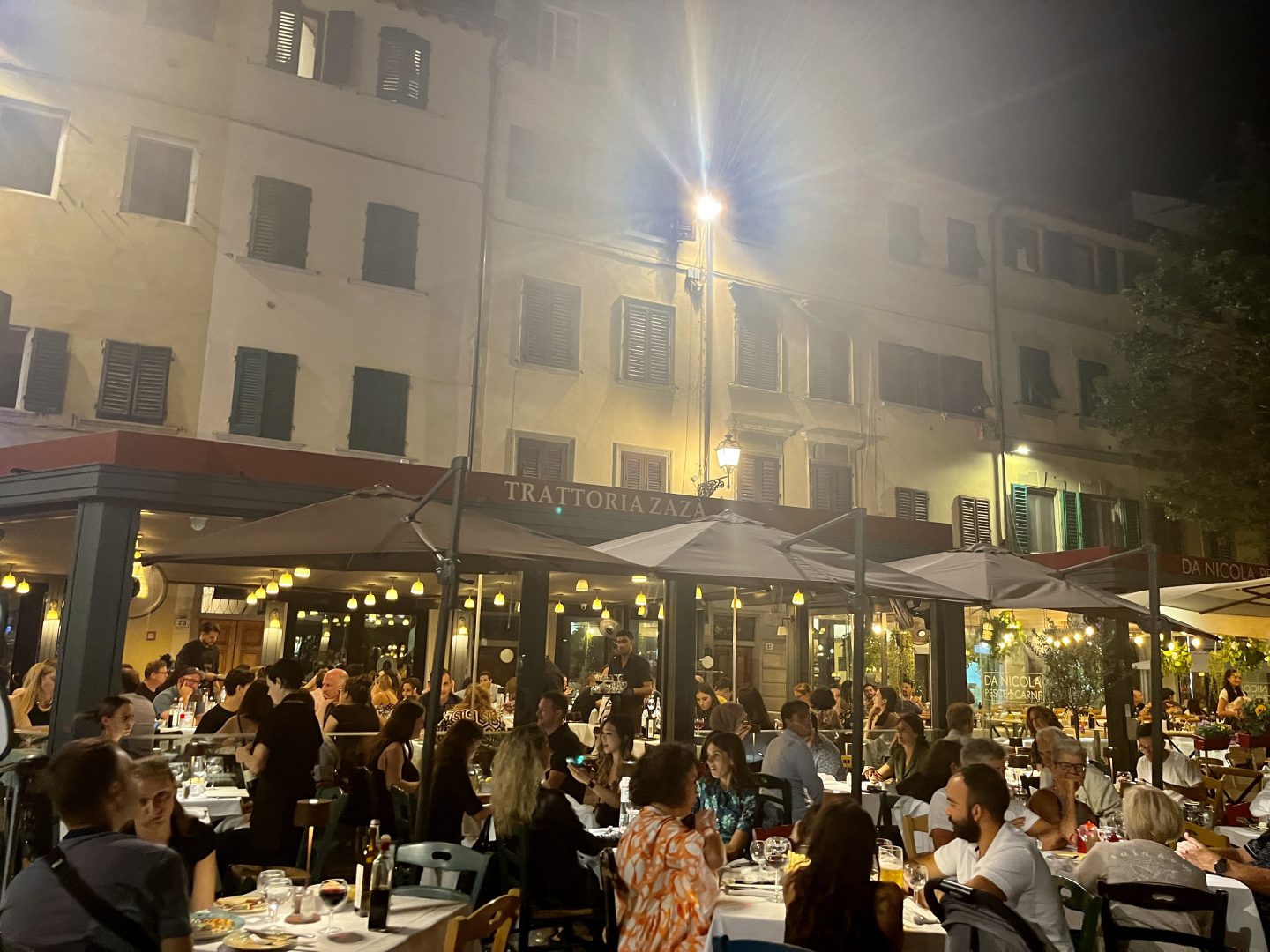 Trattoria Zà Zà – The perfect Italian trattoria. The food is incredible yet comforting, like a home-cooked meal. The restaurant is always bustling and has become famous for its affordable, simple and delicious dishes. Long lines can form here so try to make a reservation!
Golden View Firenze – A fancy restaurant along the Arno River with up-close views of the Arno River. Perfect for a special dinner night or for couples.
Gustapizza – Some of the best pizza in town, made to takeaway. If there are spots in the tiny restaurant, you can also sit. Always has a line because it is just that good! The best thing to do is order your pizza and walk two minutes to the Pitti Palace grounds where you can sit and enjoy your food in front of the castle.
Pro Tip: If you have more time or these interest you more than some of the other Florence activities mentioned, make room to visit Palazzo Pitti and the Boboli Gardens! The Pitti Palace hosts a number of museums, including the Palatine Gallery and Museum of Modern Art, and the Boboli Gardens are the manicured, green paradise on its grounds.
---
Top Tips for Visiting Florence in 2 Days
Accommodation: With just two days in Florence, it is worth staying in a central location, like the Centro Storico or the Santa Maria Novella area. Note that you will pay a city tax of 4 euros per person, per night in Florence.
To maximize time, opt for skip-the-line tickets to big attractions like the Duomo. In other locations, like the Galleria dell'Accademia, be sure to reserve tickets ahead of time online to avoid waiting in lines at the ticket office.
The best option for getting around Florence and seeing as much as possible is doing an active itinerary on foot. Unfortunately, Florence doesn't have a metro system. It is walkable in terms of city size but its archaic cobblestones streets will have no mercy on your feet! It is not the city in which to choose style over comfort, especially when trying to see a lot in two days. Always wear comfortable walking shoes!
Be careful of pickpocketing. Unfortunately, I've heard some bad stories of theft in Florence. Because of how touristic the city is, foreigners can be easy prey for pick-pocketers. Only travel with zipped bags (even better if you have an anti-theft backpack). And any time you are in a super crowded area, put your belongings in front of you – one time, my friend told me about how someone cut their backpack strings on the Ponte Vecchio and stole it.
---
Map of 2-Day Florence Itinerary Ideas
---
Final Thoughts
Whether your stop in Florence is a day trip, two days on your itinerary, or you're using the city as a home base to travel all around Italy, you can't help but fall in love with it. History, culture, and art brings this city to life.
And the most incredible thing is that when you visit, you get to live it, too – walking the halls of the Uffizi, marveling at Michelangelo's David, stumbling through the narrow streets past buildings untouched for centuries.
Round out your Italy itinerary with the best day trips from Florence.
Have a question about putting together your perfect 2 days in Florence itinerary? Ask it in the comments!
Save this guide to Pinterest for later reference!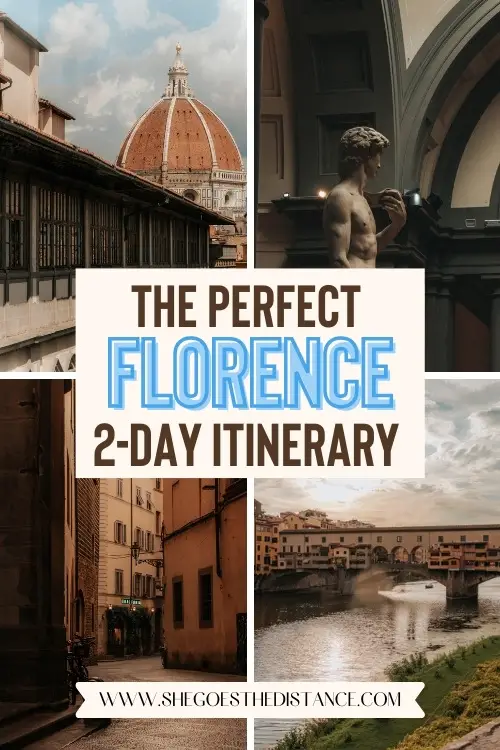 I hope this guide will help you make the most of your 2 days in Florence! Buon viaggio!
XOXO
Michela