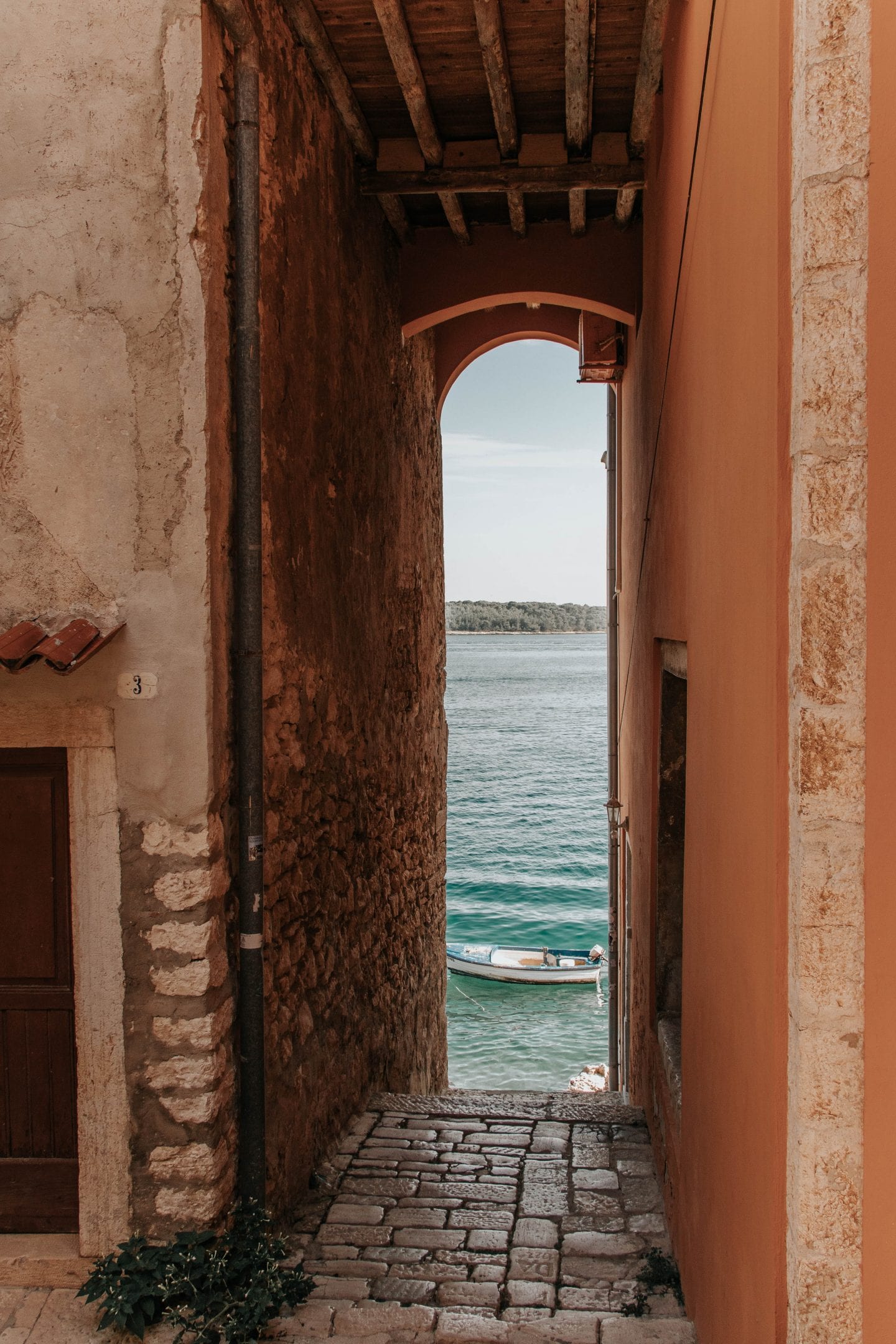 Last Updated on February 23, 2022
Rovinj is a hidden gem town in the northwestern corner of Croatia. With beautiful beaches to boast and a vibrant historic center, Rovinj is the laidback beach destination you've been dreaming of. It's the perfect spot for all kinds of travelers – families, couples, and even solo travelers. It's about time I put this town on your radar and share 15 of the best things to do in Rovinj!
Europeans have been keeping the region of Istria a secret vacation spot from the rest of the world. Not only is the water as blue as the sky, but the region is known for its seafood, wine, and olive oil making. It's a stone's throw away from Italy (you can even take a boat to Venice for a day trip) and its unique location on a peninsula makes it a secluded spot for a getaway.
Want to see more of Istria? Check out how to spend 3 days in Istria.
For now, let's focus on Istria's leisurely oasis, Rovinj.
Some of these links are affiliate links. This means if you make a purchase through that link, I receive a small commission at no extra cost to you. Read my full disclosure!
---
Explore the Streets of Old Town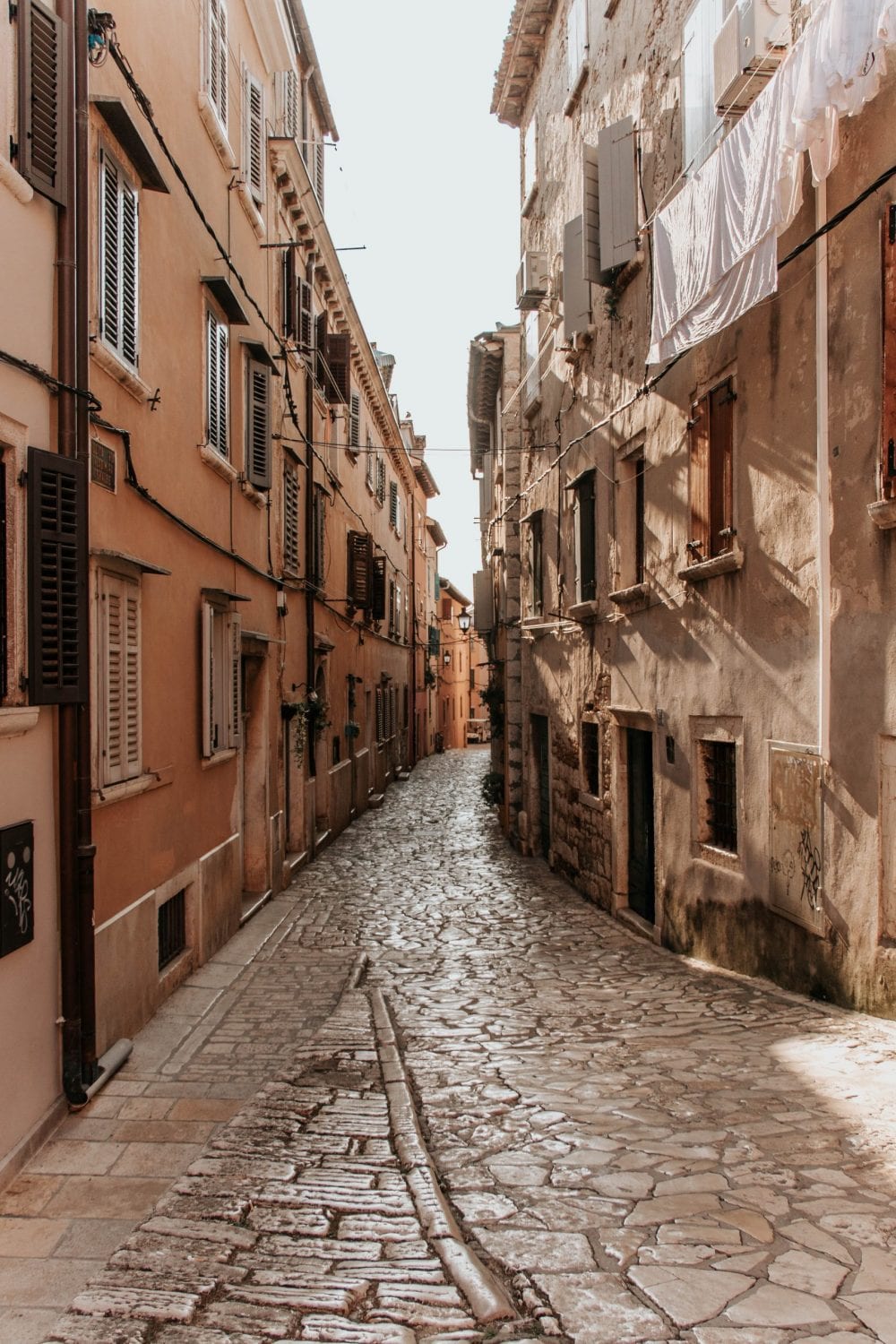 I could list a million things to do in Rovinj's Old Town, but I think it's something you'll find special to navigate yourself. That's because the historic part of Rovinj is a labyrinth of passageways, to which you never know where it leads!
Some take you to alcoves along the sea, some are narrow and steep uphill, and others are occupied by tiny restaurants with tables cascading down the cliff.
---
Gelateria Italiana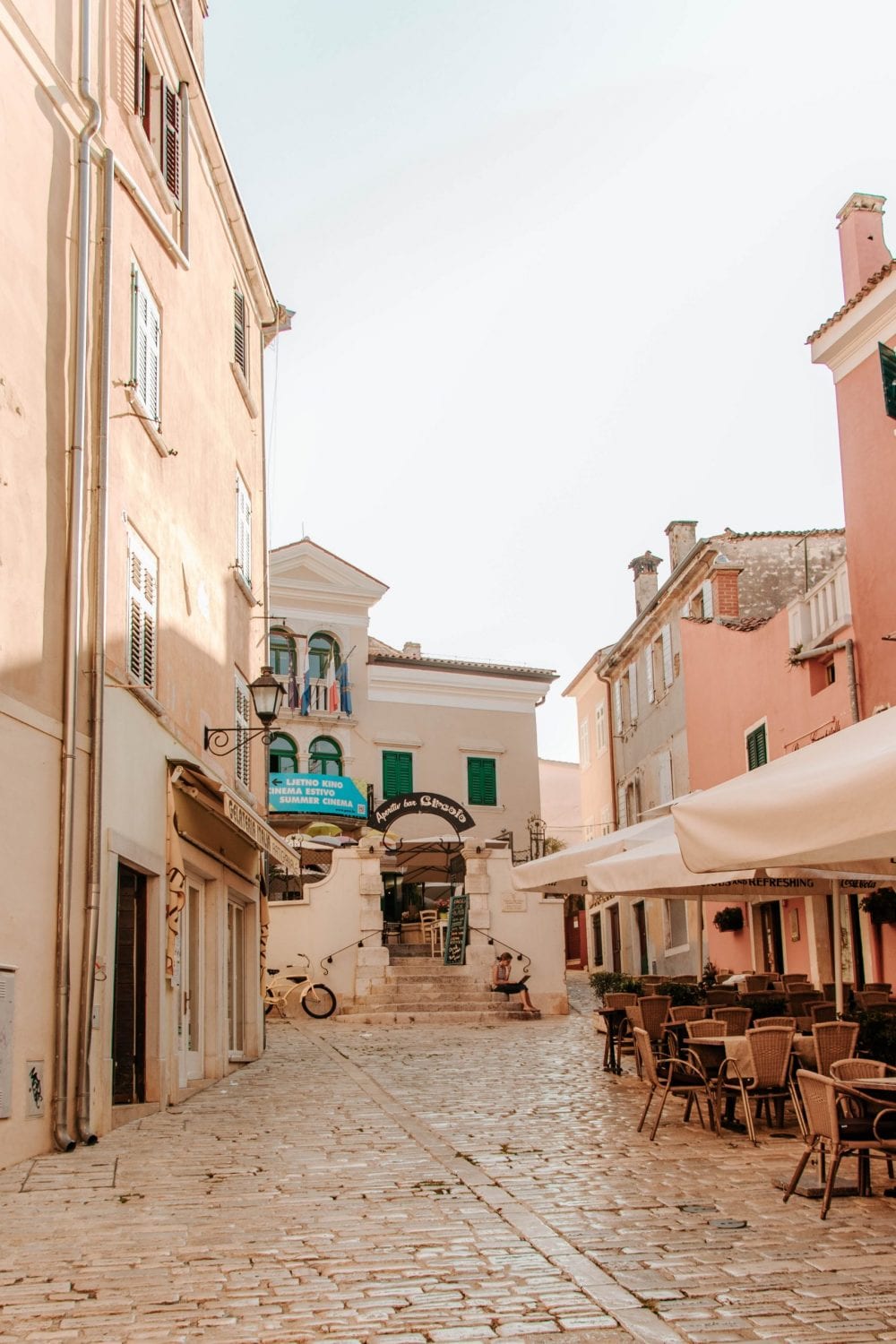 You'll find out quickly where the best place in town to get refreshing ice cream is. You'll see the line outside Gelateria Italiana from the other side of town!
I'm perhaps being hyperbolic, but you shouldn't underestimate the sweetness of the treats inside this humble ice cream shop. It's run by authentic Italians serving up their nations favorite summer dessert.
Gelateria Italiana is really a cultural symbol of the region of Istria and the town of Rovinj. The region is not a far boat ride across the Adriatic to Italy. It's also a minimal drive north through Slovenia to reach Italian borders.
You'll see many people speaking Italian, as well as signs written in both Croatian and Italian all throughout the region of Istria. At one point in history, this was part of Italian territory! It's incredible to see the blending of two cultures and two histories continue to evolve. And yes, all that cultural significance is represented in just one humble ice cream shop.
---
Sip Cocktails Cliffside
I may have mentioned restaurants fitting themselves between the narrow passageways all around the Old Town peninsula. Well, some have decided to use the peninsula's edge to its fullest and created cascading restaurants on the cliffside.
Slip discreetly off the walkway and down to the shore to enjoy a cocktail at sunset. Valentino Champagne & Cocktail Bar and the Mediterraneo Cocktail Bar are neighbors, occupying some of the most lucrative seats in Old Town.
The experience is unique and one-of-a-kind to Rovinj's particular landscape and well worth the pretty price tag for a drink.
Find Sweeping Views at the Bunker Panorama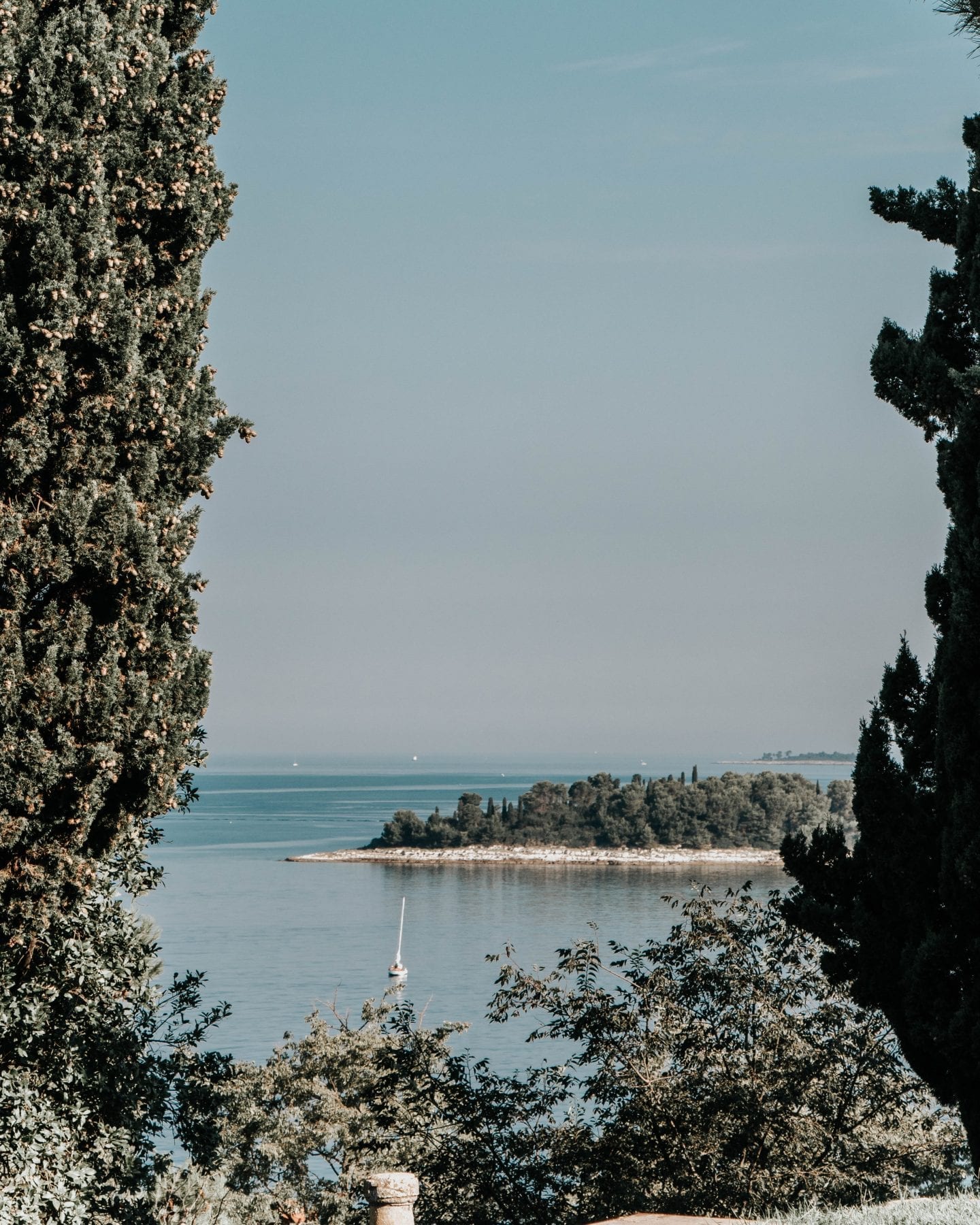 At the very tip of the Old Town peninsula, where the land meets the sea is a vast viewing point into the endless Adriatic.
In the morning, you'll find this the most peaceful spot to sit on a bench and start your day. If you're into exercising while traveling, do as the locals do and jog or run along this area, which is part of a park in front of the church.
---
Rent a Bike
Rovinj is a vacation destination for many Europeans. You could say it's one of their best kept secrets! The laidback landscape just outside the Old Town is scattered with beach houses, many of which are denoted as vacation homes or Airbnb rentals by a little blue plaque.
Outside the cramped Old Town, the streets get wider, the beaches get closer, and the relaxing days begin as many people choose to leave their rental car at the beach house and bike beneath the bright sun to the beach.
You'll see many people getting around by bike and it's because the landscape is perfect for it. Rovinj is and feels like a vacation destination where you come to unwind and be outside. The calm neighborhoods make perfect settings for a stroll or, as I suggest, a refreshing bike ride.
---
Have a Beach Day (Or A Few)
There's a reason it's a vacation town. Some of the best things to do in Rovinj are to explore and enjoy its many beaches.
Cuvi Beach
Cuvi Beach is a nature lover's paradise. It's part of a long forested park, where many people cycle, run and enjoy the outdoors. Part of the beach is sandy, which is my favorite thing about Cuvi Beach! As a Florida girl visiting the Med, I'm so not used to the rocky beaches (and I don't think I ever will be!)
It's secluded and long, so you'll be able to find your own space without feeling crowded. There's also room for sun and shade-lover's alike.
Lone Bay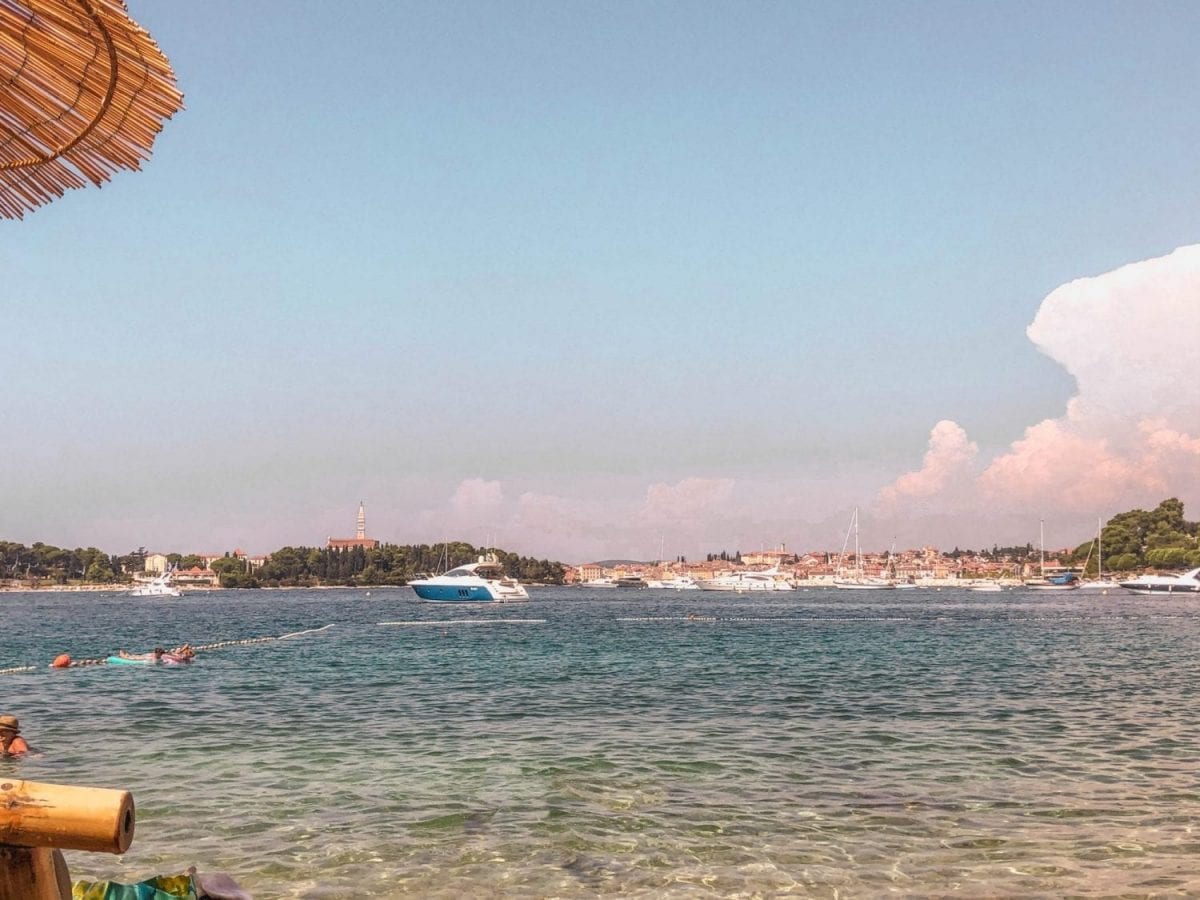 My favorite beach in Rovinj had to be Lone Bay. It's not as secluded as Cuvi Beach but it has a gorgeous view of Rovinj Old Town. It's one of those views that makes you pinch yourself – how am I on this beach in Croatia, with this beautiful blue water, and a stunning view of the historic town?!
There's not as much space at Lone Bay, so get there early if you plan to spend the whole day laying out. You can rent beach chairs and sit directly at the water's edge.
---
Swim Like a Local at Plaza Balota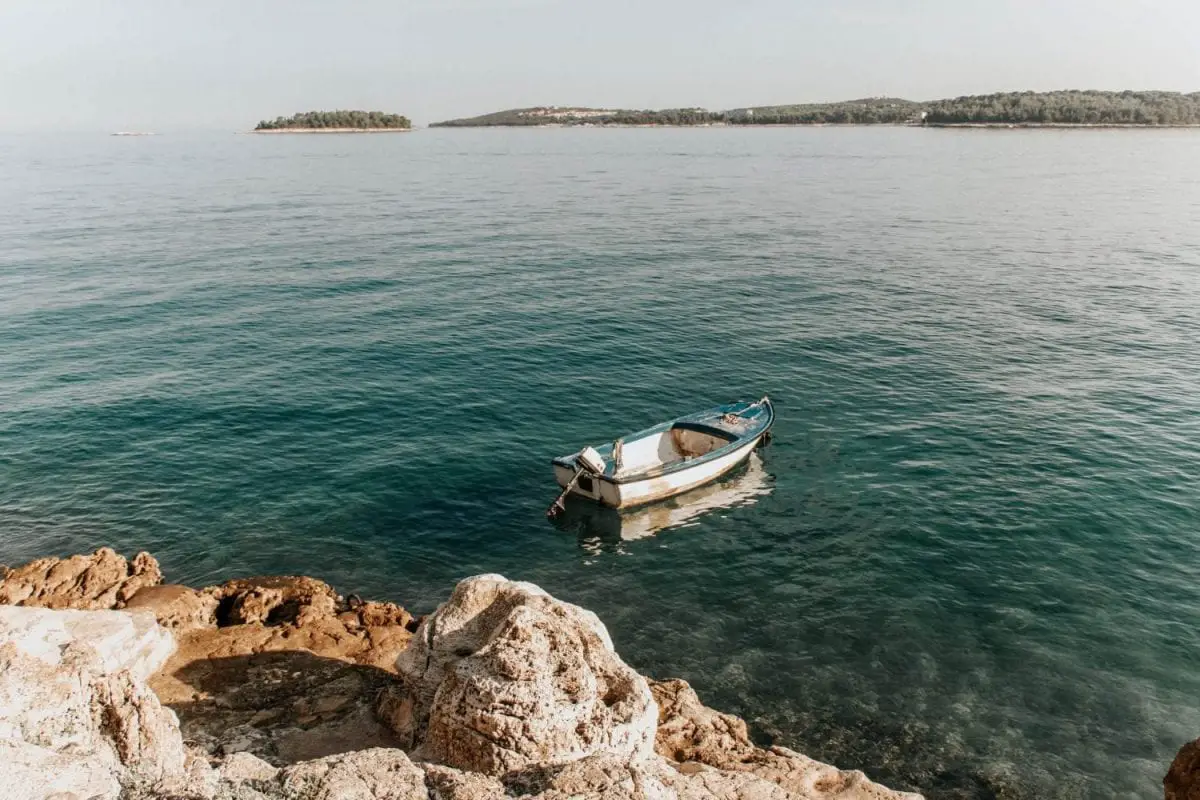 A beach day at Plaza Balota looks – and feels – a bit different from the beaches I shared above. Plaza Balota is actually at the very end of the Old Town peninsula and is not more than a group of large rocks.
While I'm used to laying out on a beach chair, locals throw all comfort to the window to take in the sun on these stones. There's no real "beach" area here, so they also bravely venture out into the open sea from the rocks.
If you're adventurous and seeking a new experience, it's a memorable way to live like a local in Rovinj!
---
Party at Mulini Beach Bar
On the walk to Cuvi Beach, you'll pass a massive hotel and a small beach. This is the Hotel Monte Mulini and Mulini Beach Bar.
The hotel is one of the most luxurious accommodations in Rovinj but well worth it for the views and amenities. Plus, the price tag is nowhere near as much as what a luxury hotel would be in more popular places like Split or Dubrovnik.
The beach bar and small beach are open to everyone, though they do get very crowded in the summer months.
Visit the Church of St. Euphemia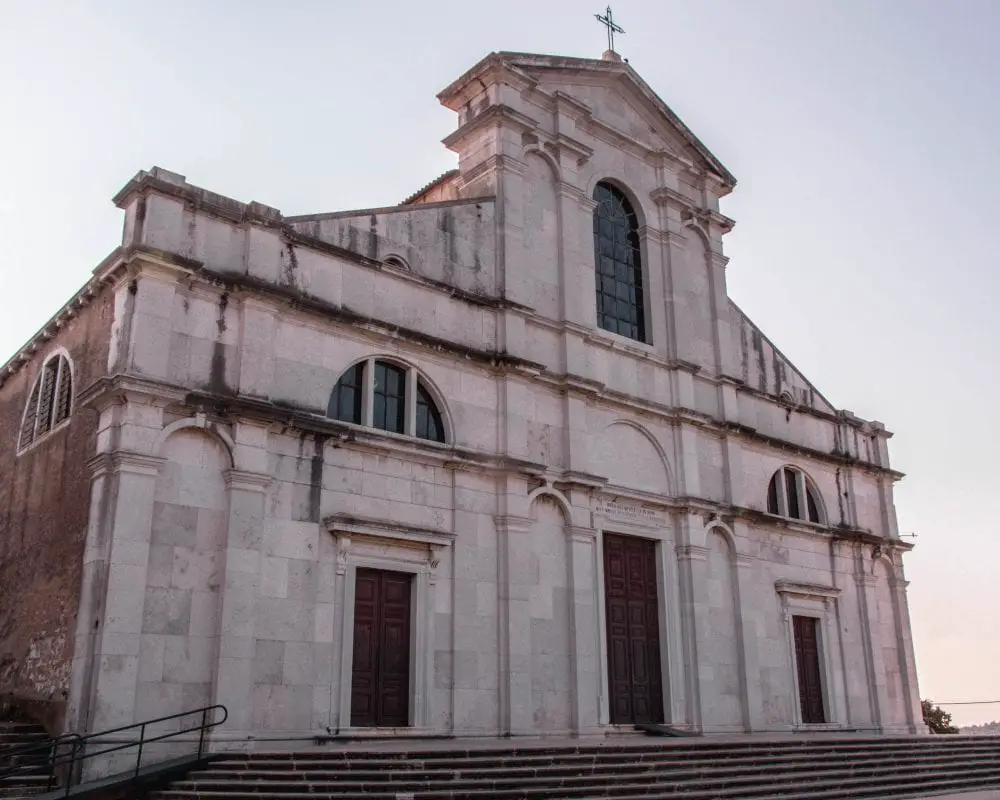 I always say you can't visit a town without seeing its church. It's usually the epitome of its architectural and cultural heritage. The Church of St. Euphemia is no different!
The church's bright white stone facade is grand in size, but humble in decoration. Its location is maybe the most beautiful part about it. It's situated at just about the highest point of the Old Town peninsula, which is itself one big hill. Its position overlooks the sea and offers sweeping views out to the horizon.
---
Climb the Bell Tower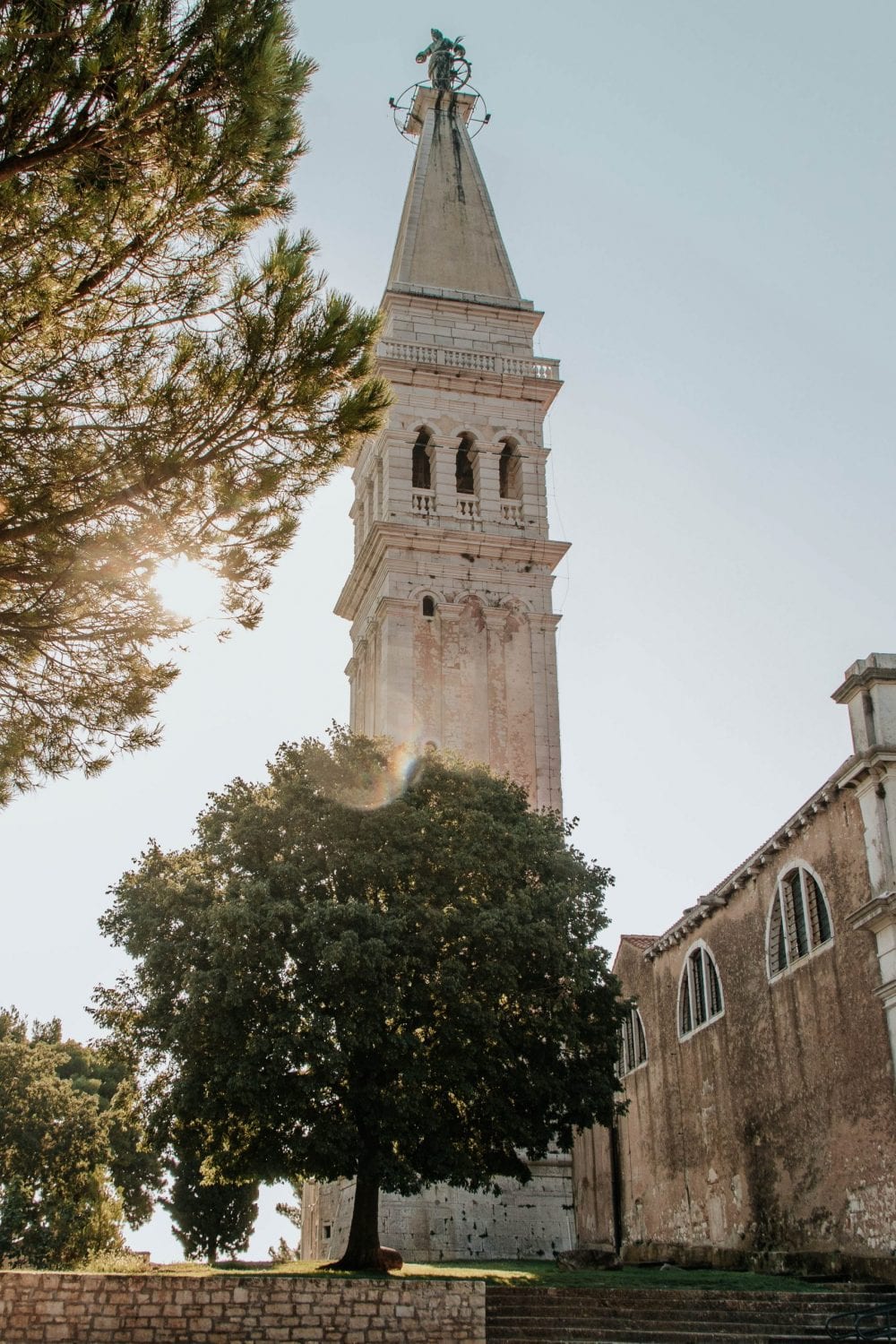 Next to the Church of St. Euphemia is what you've seen soaring from Old Town this entire time – the bell tower. Rovinj's bell tower is even older than the church beside it. It was built in the mid-1600s and was designed to be similar to Venice's San Marco Campanile.
You can climb to the top of the tower if you have a few kunas to pay a small fee – and the courage to face its dilapidated steps. It should be well worth it, as the tower provides 360-degree views overlooking the town and Adriatic.
---
Take Insta-Worthy Photos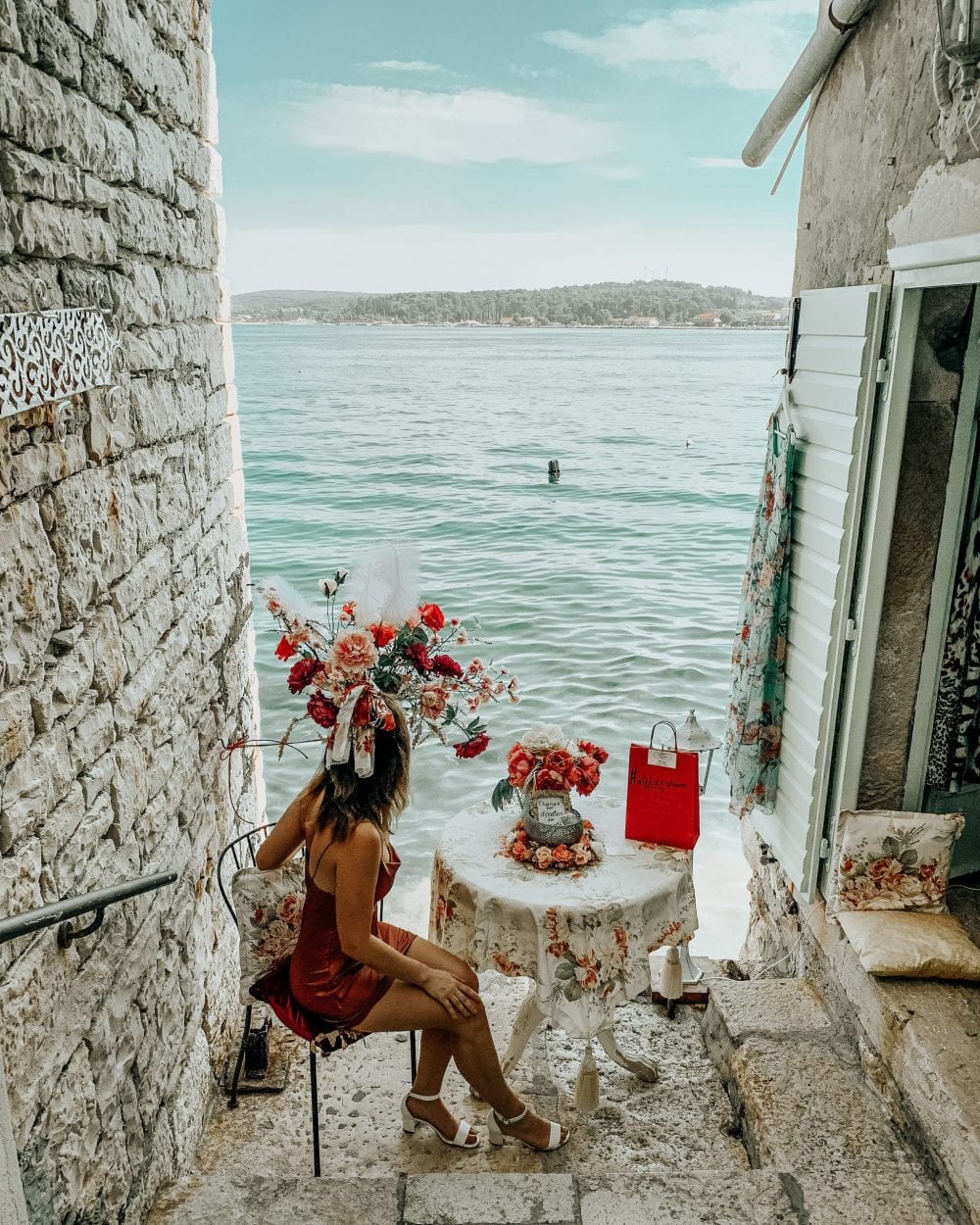 Rovinj is scattered with beautiful nooks to take unique travel portraits. One shop in particular goes all out to attract Insta-fame by setting up the most darling, attractive photo spot the Old Town has to offer.
The dreamy spot is set up by Atelier Charm. This local shop produces beautiful silk dresses and is worth a peek inside after you take your photo!
---
Pro Tip: I mention this in my 3-day Istria itinerary, but the setup is taken down each evening and set up again when the shop opens. When I visited in the summer, that was at about 9 am each morning! I tell you this because the picturesque alley attracts nearly every person who walks by, so if you want to take a photo without people and with ample time, I suggest heading there when the shop opens!
---
Do an Istrian Wine Tasting
The region of Istria is one of the best known in Croatia for its fertile soil. That translates to good wine!
I'm not much of a wine drinker myself, but I am captivated by the rolling hills and vineyards dotted along the roads on the outskirts of Rovinj.
You can easily book a wine tour perfect for your budget.
---
Dine in a Vineyard at Tipico Green Garden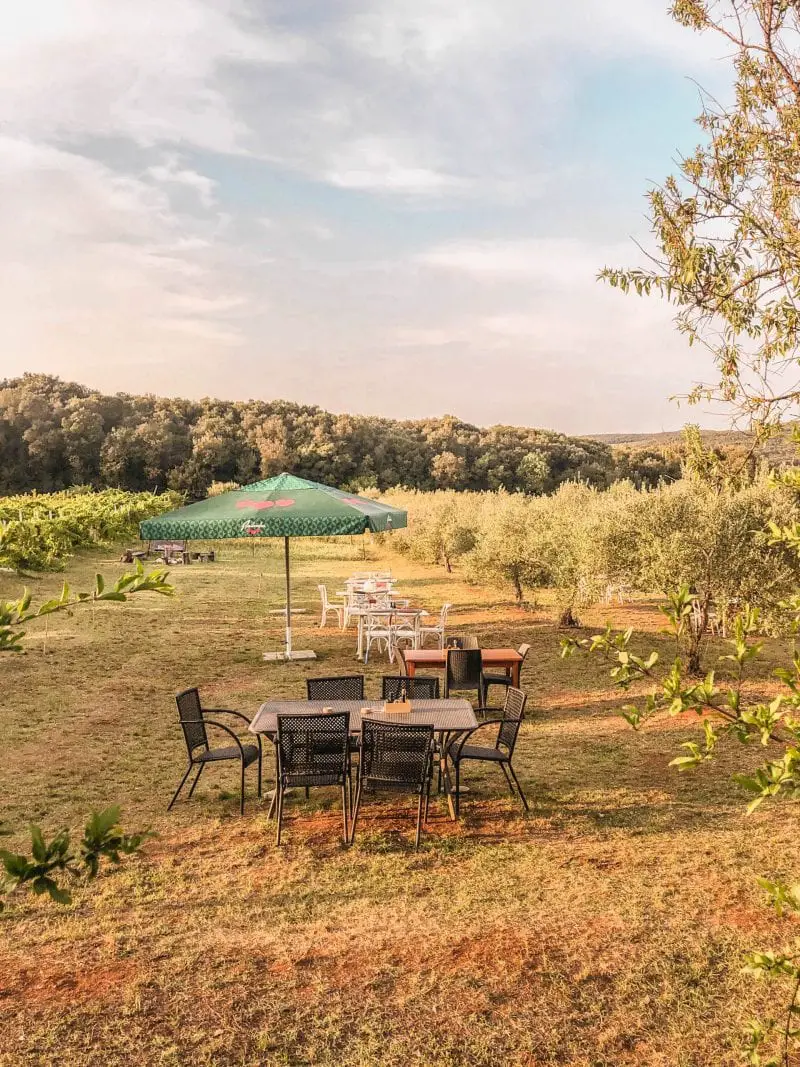 Speaking of wine and unique things to do in Rovinj, combine the best of both worlds and dine in a beautiful vineyard.
I mean in it.
Tipico Green Garden offers this incredibly unique dining experience, with tables scattered down the rows of grape-growing vines for you to dine at. As the sun sets, magical lights glow across the garden and you can sit in one of the many hammocks between the vines. If this isn't fairytale enough, there are horses roaming the grounds.
---
Day Trip to Pula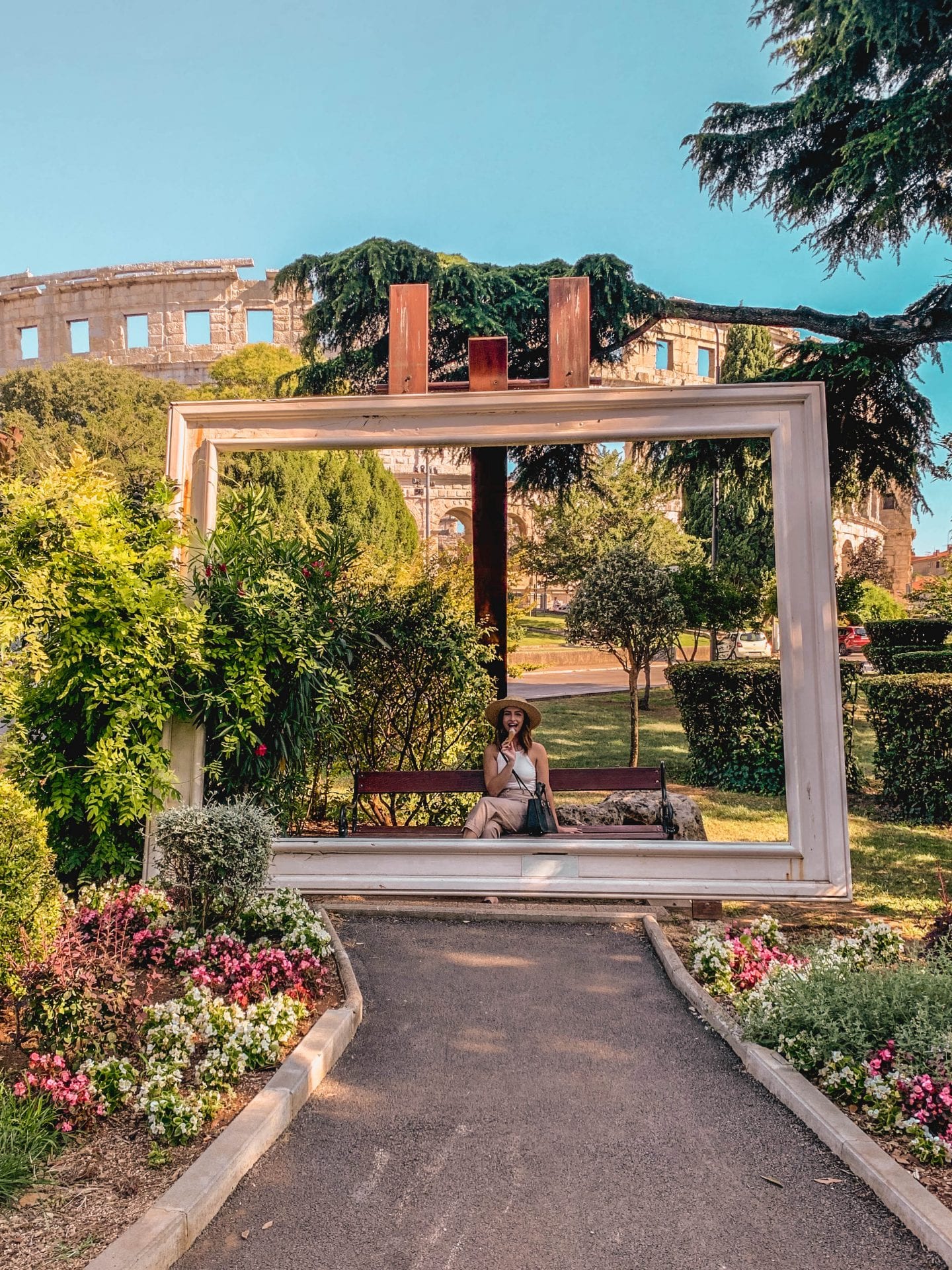 I'm not trying to take you out of Rovinj, but if you have a free afternoon that you don't know what to do with, then consider making a day trip to Pula.
Pula is the largest town in Istria and is home to many historical monuments from the period of the Roman Empire.
You'll see the Pula arena and think that you're in Rome!
---
Brijuni Islands & National Park
The Brijuni Islands are off the coast near Rovinj. You can easily make a day trip there from the Rovinj Marina or opt for a tour company to take you. The islands are stunningly peaceful – you'll enjoy nature and various historical buildings and ruins.
There is even a safari and zoo within the National Park! If going on a safari isn't one of the most unique things to do in Rovinj, Croatia, I don't know what is.
Extra Tips for Visiting Rovinj
Rovinj is not a big city, but rather a laidback beach town. It's pretty easy to navigate, but here's a rundown of tips to help you prepare for your trip.
Where To Stay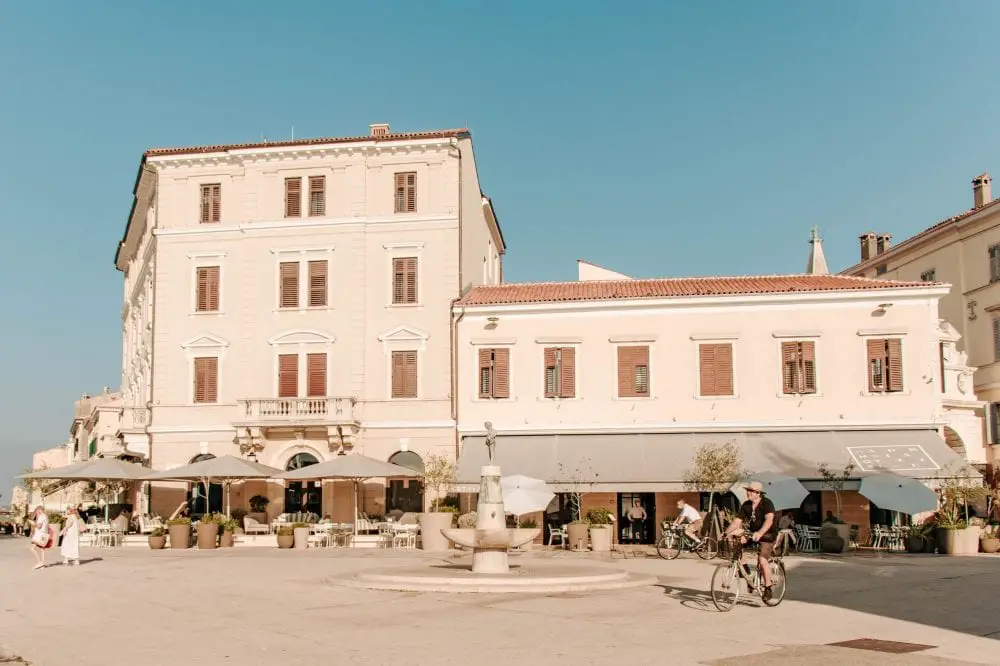 Rovinj is abundant in vacation rentals. That may sound unnerving, like it's just a tourist town, but I promise with the easy-going atmosphere you won't feel that way at all. Rovinj is still one of Europeans' best kept secret vacation spots.
That being said, Rovinj can fit into anyone's budget.
If it's luxury you seek, resorts like Hotel Monte Mulini or Grand Park Hotel are the place to be near the beach.
For luxury accommodation in Old Town, Hotel Angelo D'Oro has the best views and location.
Budget travelers and backpackers will love staying in Old Town. Hotel Adriatic is a perfect mid-range option in Old Town, right on the marina.
Beach-goers should stay in the outskirts of Old Town in a vacation rental for the best compromise on budget and location.
Getting Around
The easiest way to arrive in Rovinj is by car (so it's the perfect addition to your Croatia road trip.) Pula Airport is the nearest international airport if you want to fly straight to Istria.
Getting around within Rovinj is super easy. From the Old Town to the outskirts, Rovinj is very walkable. Pack comfy shoes!
Make sure to stay somewhere that includes parking. The neighborhood streets are not wide enough for you to park on, so it can be annoying trying to find a spot close to your accommodation. If you're staying in the Old Town, cars can't pass through there at all, so you'll need to find parking on the outskirts.
Lastly, as I mentioned before, I highly recommend biking! Whether you can bring your bike, find a stay that includes one, or rent one in town, you'll discover why it's well worth it to bike around. The weather is beautiful and the town is built for people to bike!
Share these beautiful spots in Rovinj on Pinterest!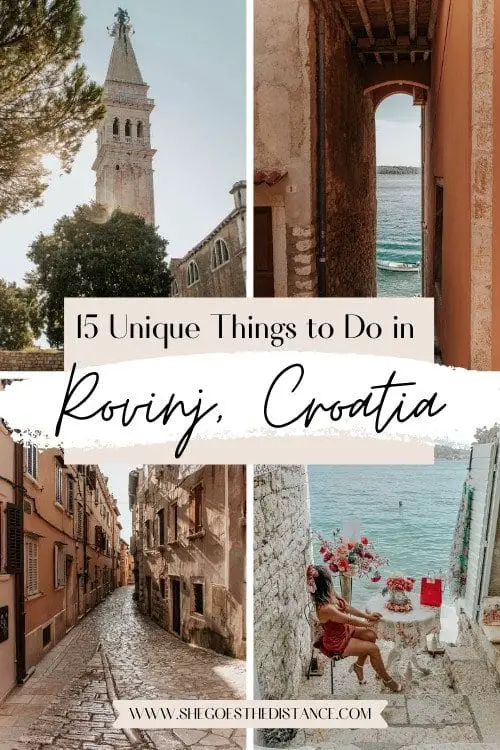 Rovinj is the perfect place to round out your Croatia itinerary. I hope you are inspired to visit more underrated places in Europe!
XOXO
Michela