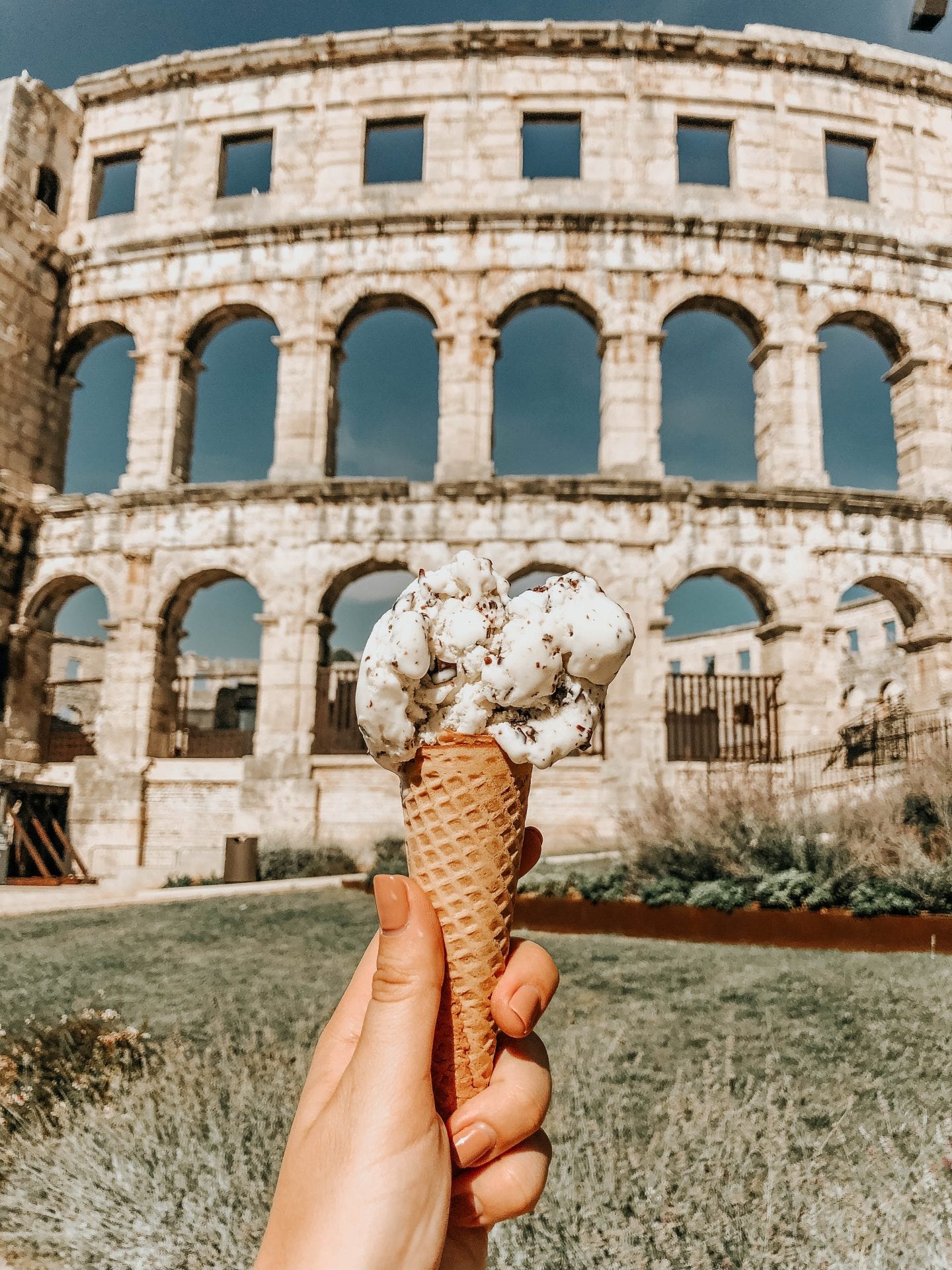 Last Updated on February 23, 2022
One of the most unexpectedly beautiful destinations I've been to is the region of Istria, a peninsula in the northwestern-most point of Croatia, hugged by the Adriatic. Most US travelers hear about Split and Dubrovnik, the larger cities on Croatia's coast. However, Istria is European travelers' best-kept secret. Pristine beaches, historic old towns, and a mix of Italian-Mediterranean cuisine draws tons of visitors in the summer. If you've never heard of the region, you'll be convinced you want to visit after this read. So, plan your future trip with this guide on how to spend 3 days in Istria, focusing on its two most beautiful towns, Pula and Rovinj.
As soon as you're driving through the wine country of Istria, you'll see endless green fields cushioned by a big blue sky.
Istria is a huge draw to summer travelers, the same as all of Croatia's coast, for it's beautiful weather and clear blue beaches. There's a vibrant energy in the month of August, where people from all over the continent congregate in the port towns for a little sun and relaxation.
Pula and Rovinj have even more to offer beyond their dynamic atmospheres and coastal allure. Make the most of your trip, whether its a few days or a week-long beach getaway by discovering these hidden gems!
Some of these links are affiliate links. This means if you make a purchase through that link, I receive a small commission at no extra cost to you. Read my full disclosure!
How to Spend 3 Days in Istria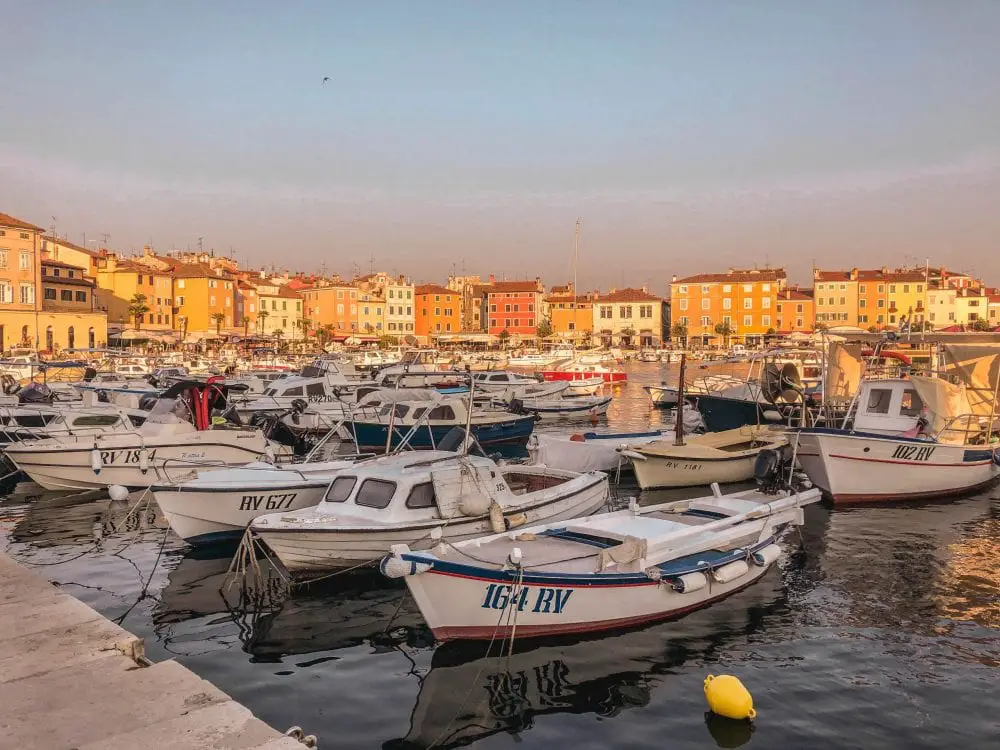 In my own experience, I spent one night in Pula and two more nights in Rovinj.
Both towns are fairly small, so a day or two is enough to see the main attractions. What you really can enjoy with extra time there is the limitless stunning beaches!
That's why this guide to what to see and where to eat in Pula and Rovinj is more of an outline than a strict itinerary.
I wanted to highlight my favorite spots and share my insight for planning a trip to this region – so much of mine was unplanned and I stumbled my way through it!
---
Pula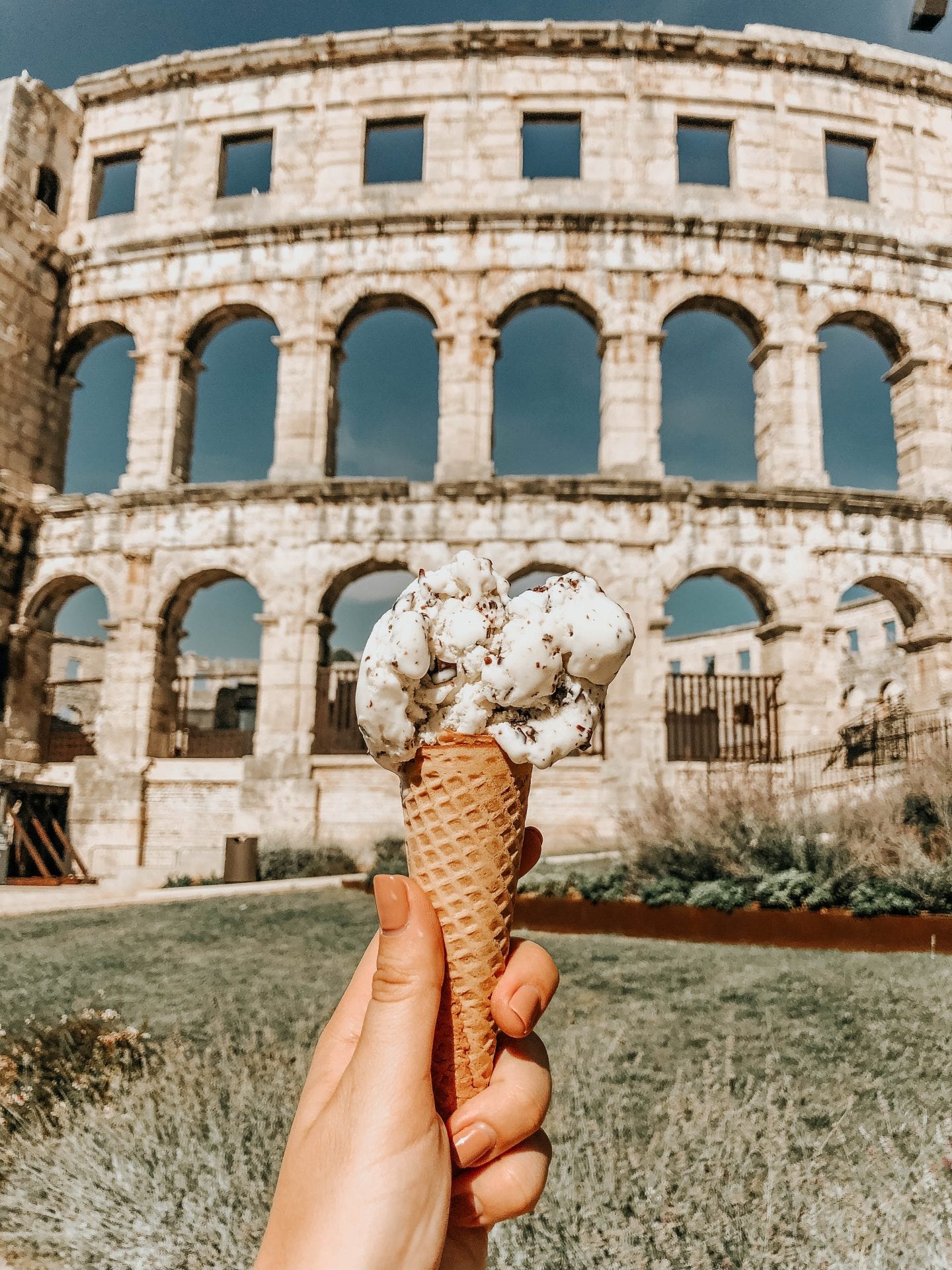 Start off your 3 days in Istria in Pula. Pula is the largest city in the region and overflowing with historical monuments. As I mentioned, I suggest traveling to Pula for one night and spending your next few in Rovinj, where personally I felt there was more to explore.
Another note I wanted to add if you're planning on traveling to Pula is that I found many restaurants and locales in the morning and afternoon were closed.
I simply say it as forewarning so you are able to plan your breakfast or avoid a late lunch, otherwise you won't have many options besides the McDonald's!
Let's get into the main attractions Pula has to offer!
Amphitheater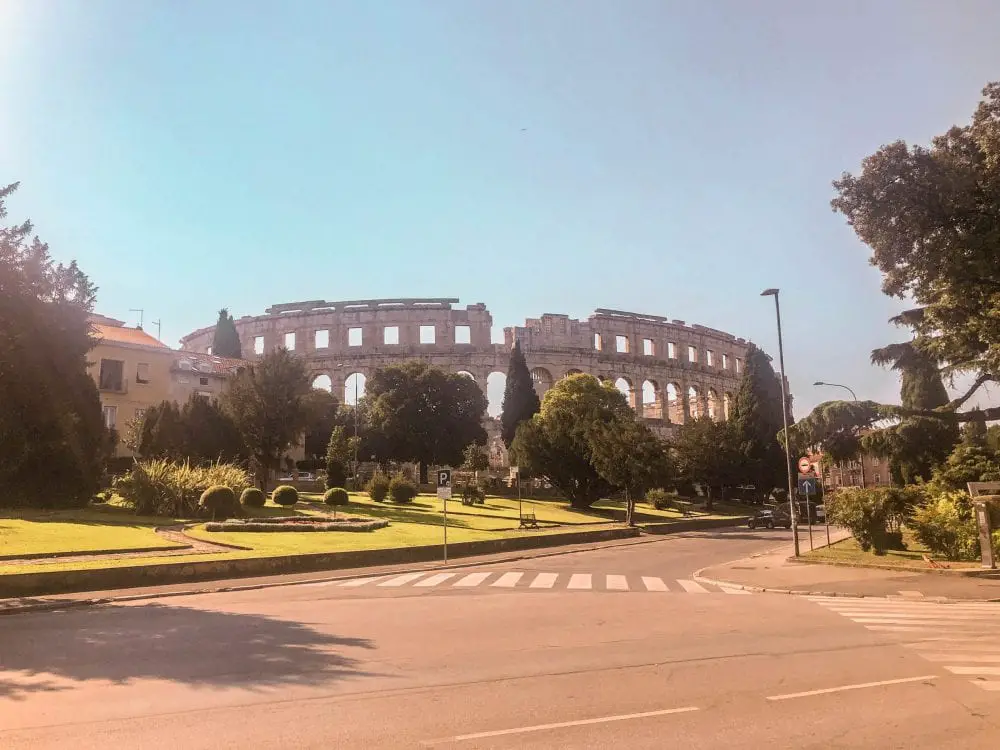 No doubt, Pula's main event is its Arena. Seeing the Arena in photos or in person, you will likely think it's Rome!
But nope, there's a very similar amphitheater in Pula, constructed in 27 BC and is the only Roman Arena to have four towers completely preserved.
It's one of six surviving Roman arenas – and it's right in the heart of the city.
You can enter the arena for 70 kunas (about 11 dollars.) For hours throughout the year, visit the Pula Tourism Website.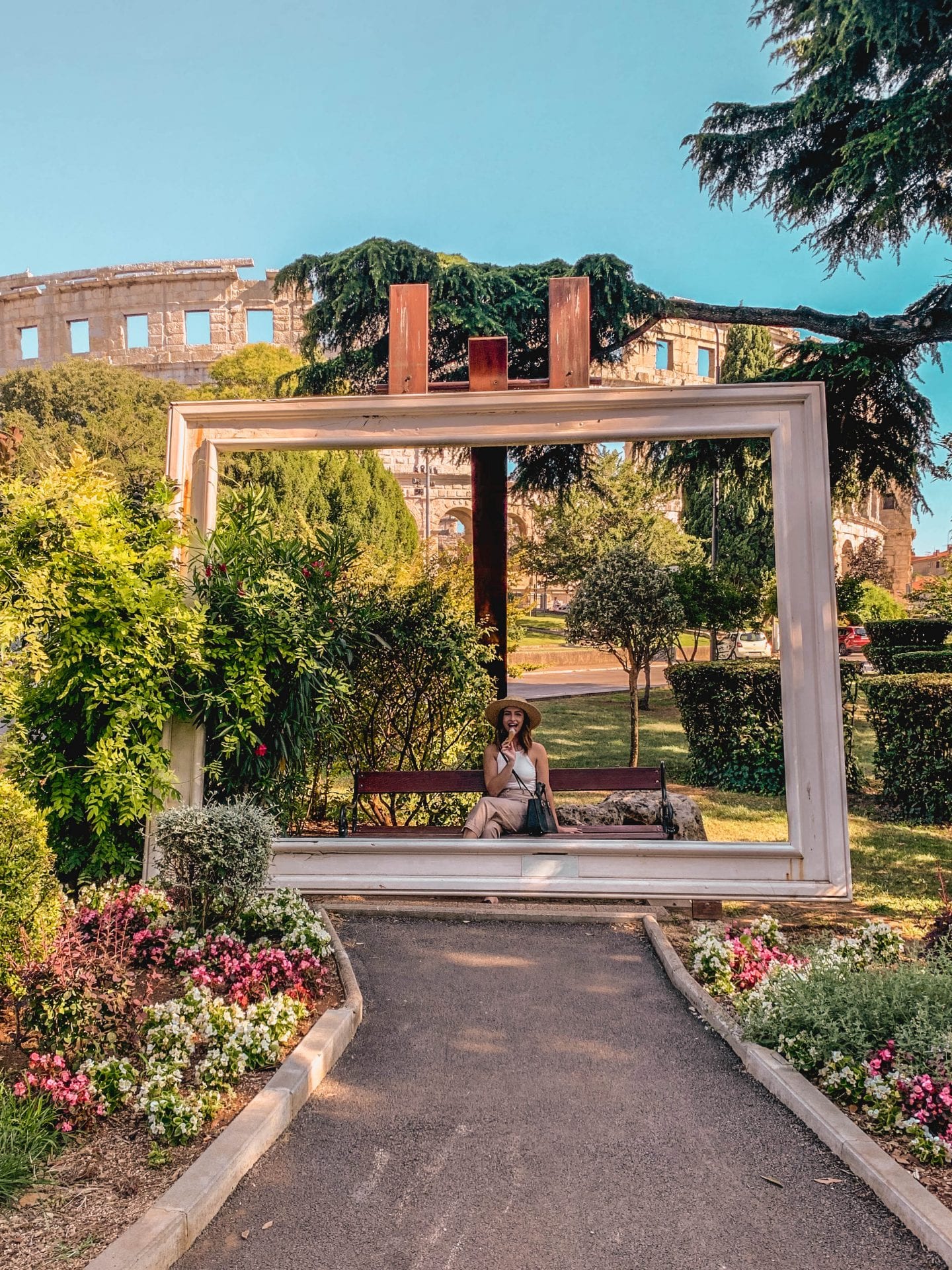 Cute Tourism Tip!: There's a park right across from the Pula Arena, and on the outskirts of the park is a lovely photo spot! There's a big open frame with a bench and the Arena in the background. Your trip to Pula is now a piece of art with this picture!
Pizzeria Jupiter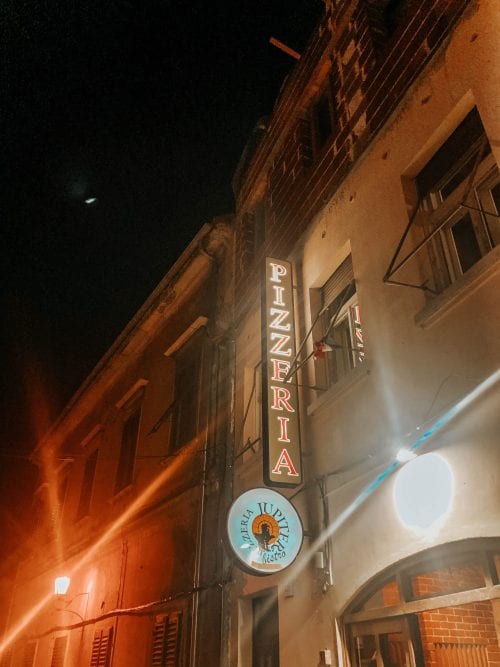 One wonderful part about the region of Istria is its cultural relationship with Italy. The whole region is practically bilingual with Italian!
Because Istria is in the northwest-corner of Croatia, it's border is only a 20 minute drive through Slovenia to Italy. Plus, Italians flock to this region for vacation, bringing along their Italian cuisine.
Thank goodness! Pizzeria Jupiter, or on some sites Jupiter, has tons of good reviews online and they are well worth it.
I recommend this spot for not only the authentic food, but for the ambience. There is a beautiful outside terrace with twinkling lights and wild plants.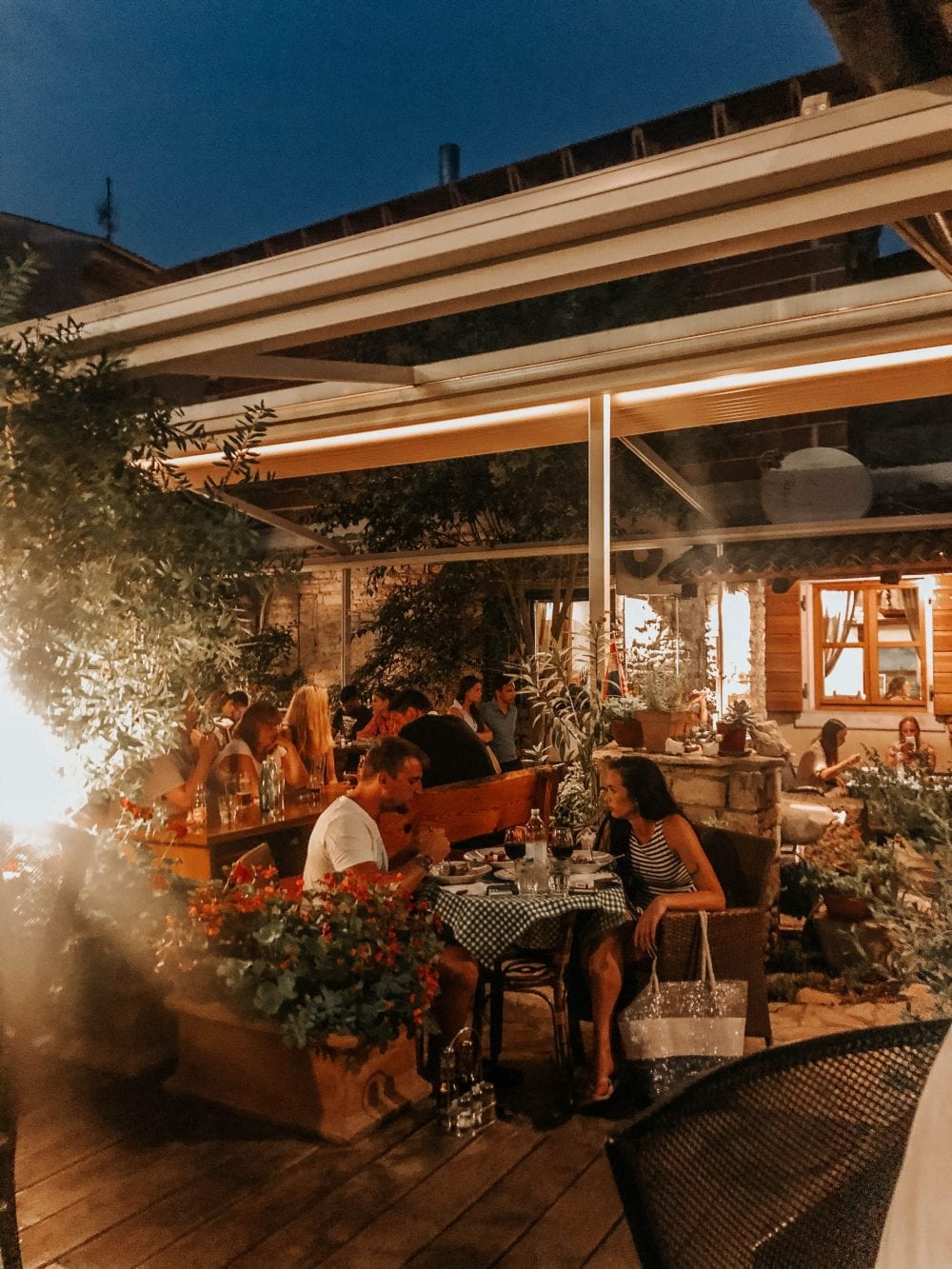 Make sure not to arrive too late into dinner time, otherwise, there won't be any availability!
Sergijeveca Street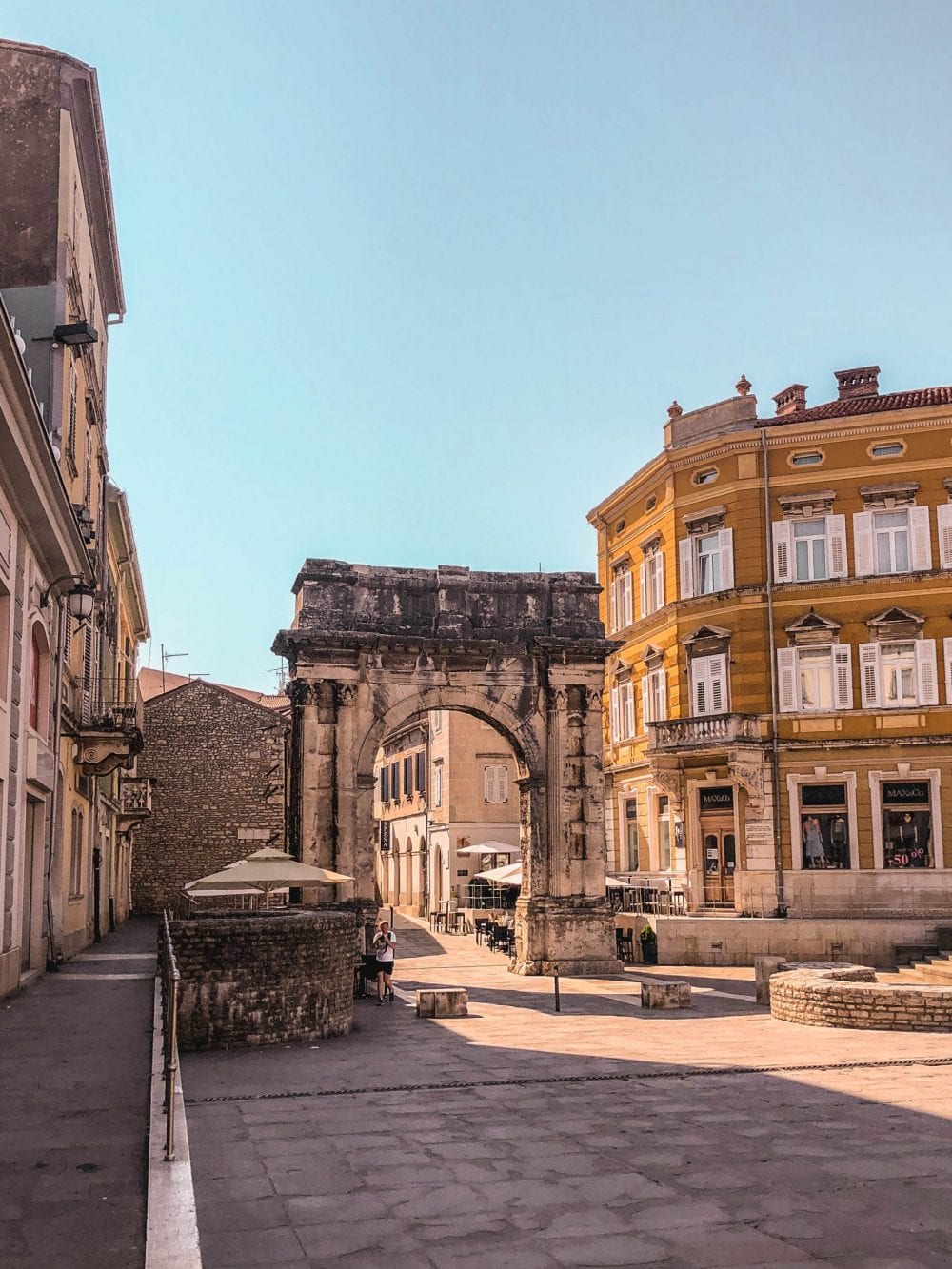 After you're done with dinner at Pizzeria Jupiter, walk down the hill you climbed to get up there and make a left to stroll the lower street. This is the main boardwalk street of Pula and you'll love the exciting energy.
Experience live music and local shops on Sergijeveca street while strolling past famous monuments like the Arch of the Sergii and the Temple of Augustus.
---
Rovinj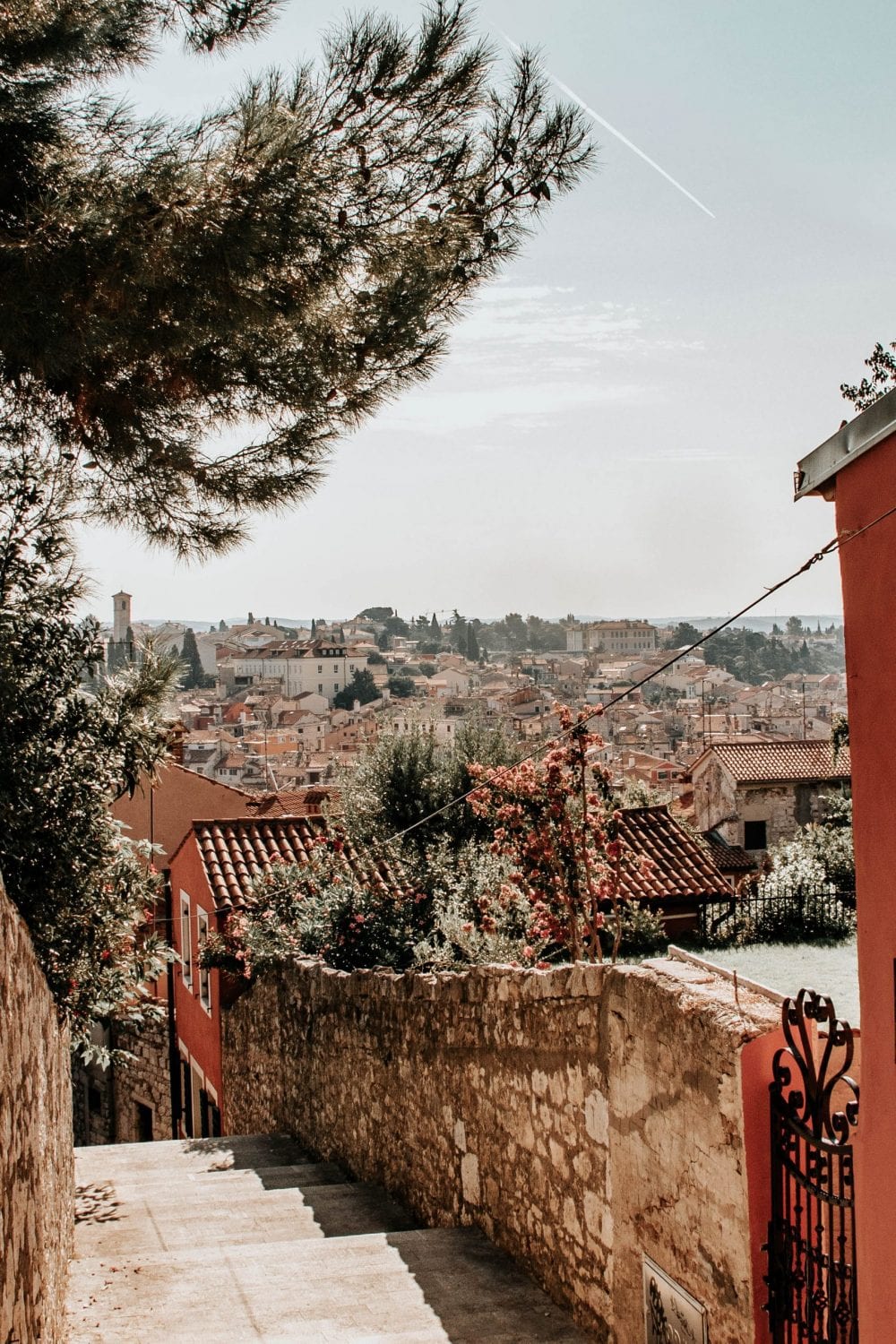 Rovinj is a hidden gem in Europe. Quite small and quaint, the historic old town and surrounding beaches have so much to offer.
If you're going to spend 3 days in Istria, you have to visit Rovinj!
You can actually tell that Rovinj is a popular tourist destination for Europeans – whether it's by the diverse license plates or the number of vacation homes listed on Airbnb!
I'd also love to point out that bike-riding is super popular here. Some AirBnB rentals even provide bikes for you to use!
Where can you bike to you might ask? Luckily you can bike or walk to all the main attractions in Rovinj incredibly easily.
Check out even more fun things to do in Rovinj for planning your trip!
Beaches
Being on the Adriatic Sea typically translates to jaw-dropping beach locales.
Rovinj does not disappoint. After visiting two different beaches, I can tell you both have their pros and cons.
Cuvi Beach is part of a forested park and it's one of the largest stretches of beach in Rovinj.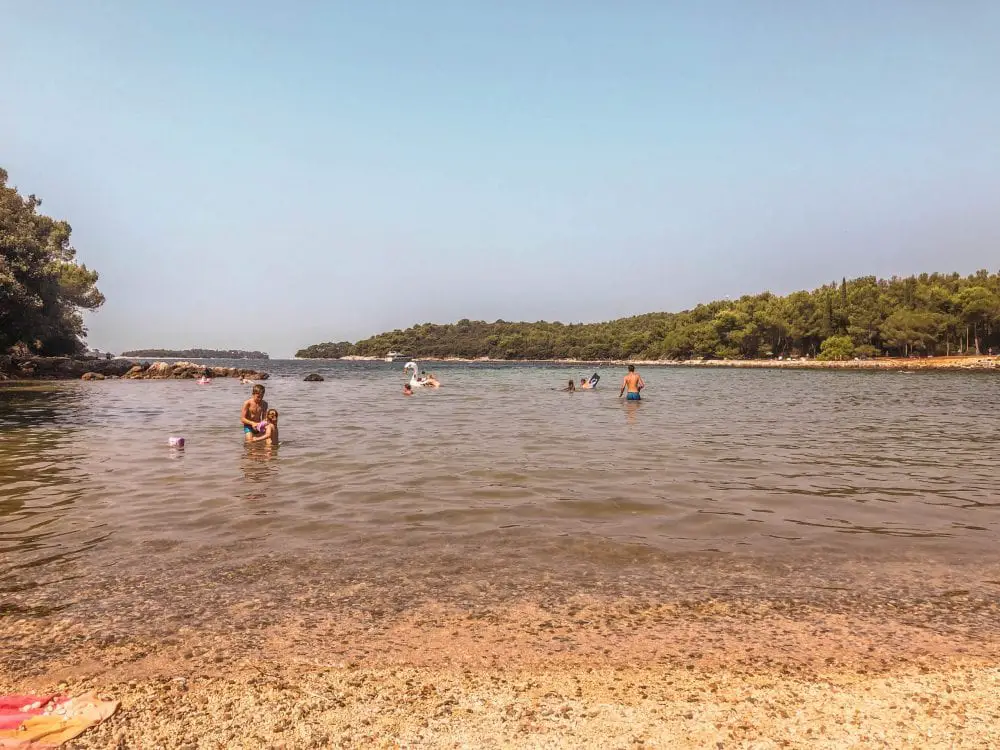 This is a great option if you're not a fan of crowded beaches (I mean, who is?) There is more room to spread out, especially if you arrive earlier in the day to choose a prime spot.
There's also options for shade cover or sunbathing, as well as a few sandy parts of the beach. Believe me, as a Floridian I had been craving a sandy beach instead of rocky pebbles after 2 weeks in Croatia!
However, I will say the water did not feel as clear and spotless at this beach compared to others. The sand was nice on your feet in the water but there were lots of plants and a bit of debris buildup, so it isn't the picturesque bright blue sea Croatia is known for.
But, no worries! There is a bright blue beach that I loved even more than Cuvi. With views of Rovinj's old town, shade and sun, and bright blue water, Lone Bay beach was my favorite I visited in Rovinj.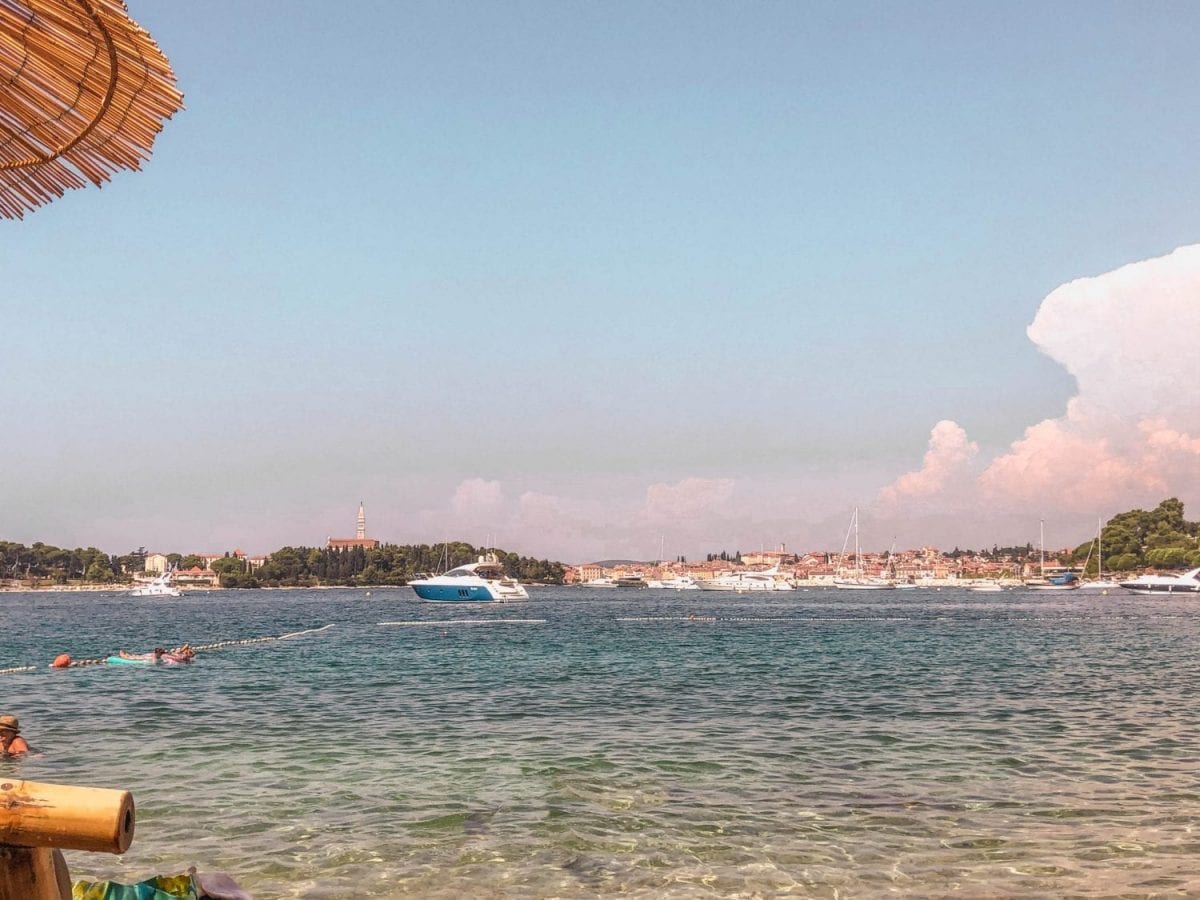 The downside to this beach was its crowding. It is a smaller beach and it definitely feels a bit tight in peak afternoon times. Oh, and watch out for jellyfish! Multiple were found floating in the swimming area!
Old Town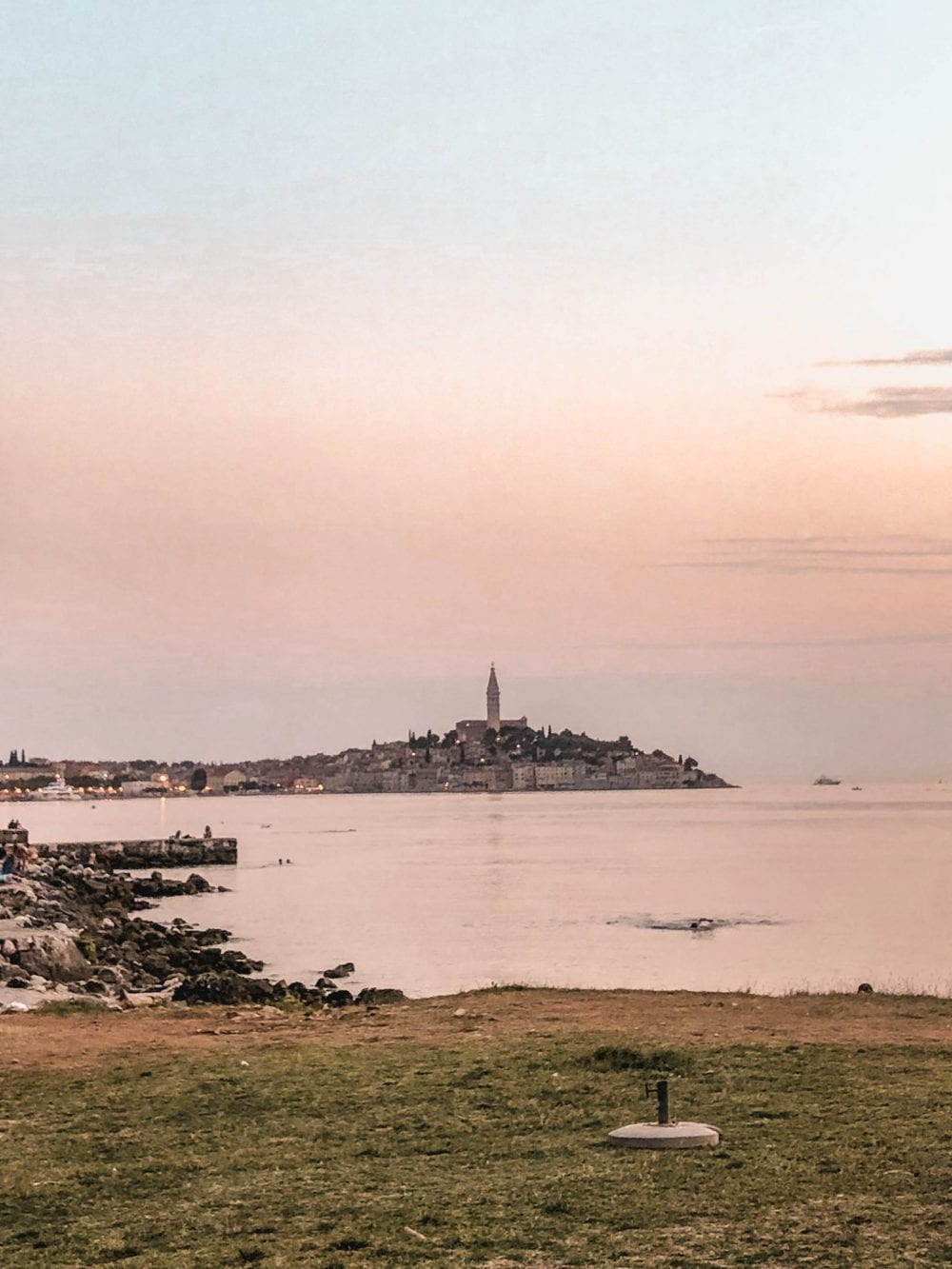 The main attraction of Rovinj is the Old Town. Old Town is a little peninsula peeking into the sea.
In the evenings, visitors staying in the vacation rentals of the residential neighborhoods can be seen flocking to the Old Town for a seaside dinner and the bustling energy.
As soon as you transition from paved street to cobblestone, you've reached Old Town. There's a beautiful marina and main square, but the gems are on the crooked uphill and downhill streets leading you to intimate viewing spots of the endless sea.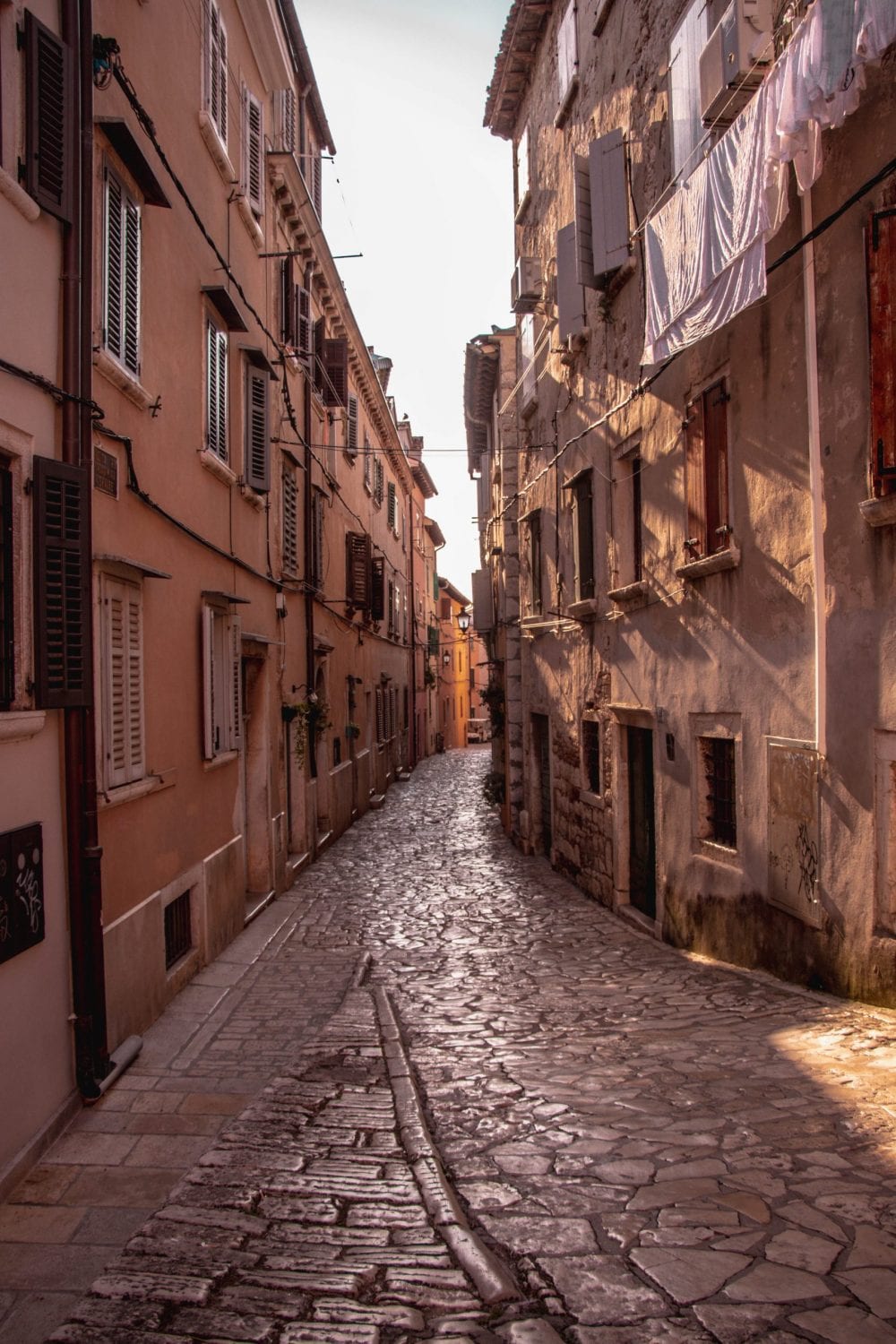 Local shops line the main street for you to peruse, luxury port-side restaurants and unique waterfront dining draw you in – oh, and don't forget to stop at Gelataria Italia at the end of the night for a sweet summer treat.
Atelier Charm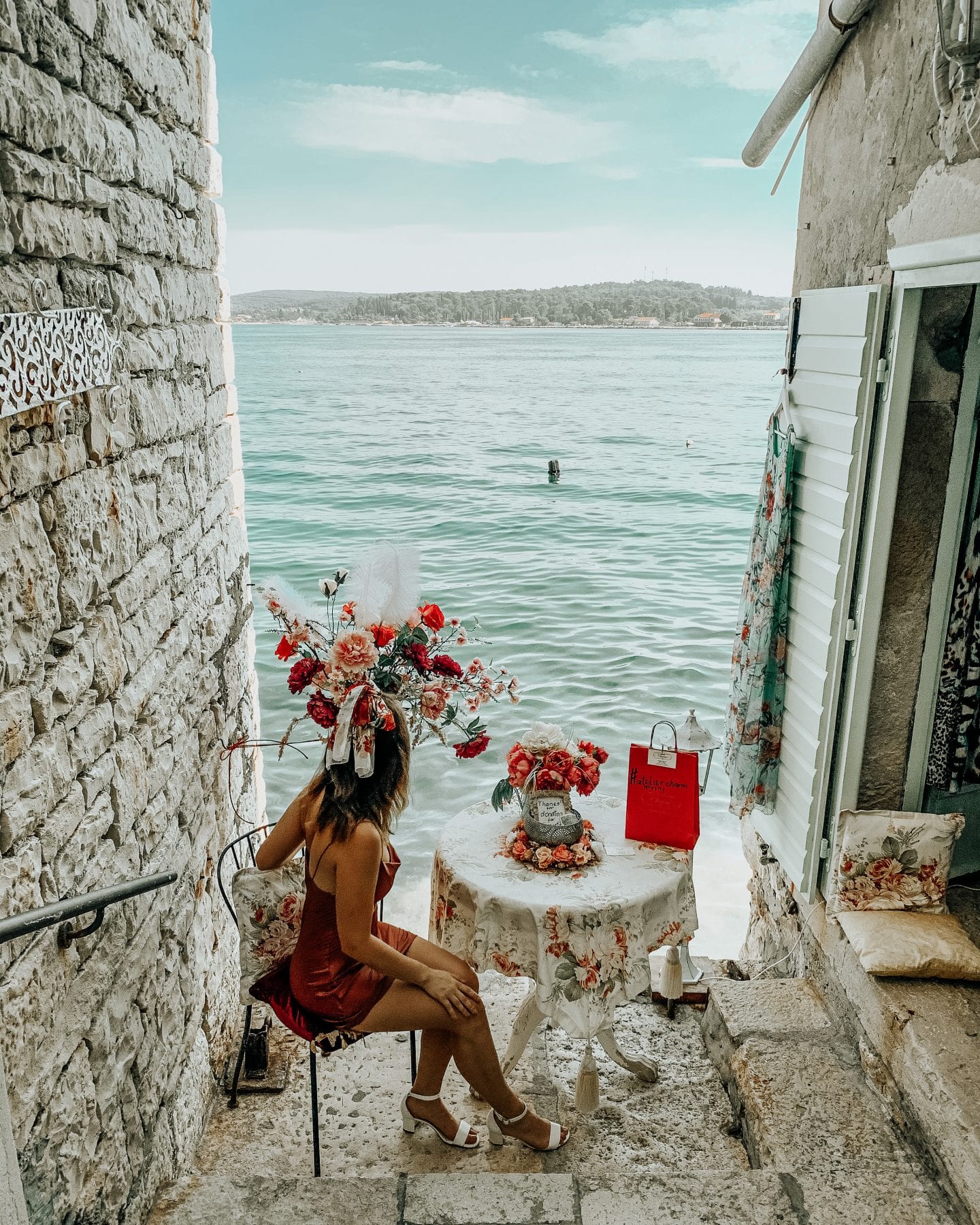 If you love searching for the most Instagrammable locations around the world (like my favories in Venice or Paris!) then you will love the aesthetic girliness of Atelier Charm.
As I mentioned, the Old Town of Rovinj is completely surrounded by sea. Atelier Charm is a store tucked down one of the sloping alleys leading down to the sea.
But there's more. It's not just a store filled with beautiful silk dresses! The shop sets up the girliest display at the edge of the water to draw your eye (and your camera!)
---
Pro Tip: I saw Atelier Charm the first day I was in Rovinj and was set on returning early in the morning the next day to get photos and videos alone so I wasn't rushed! The little setup draws nearly every person who walks past it.
Welp, who knew the store had specific hours and the setup was taken down and put back up every day! It's logical now that I look back upon the moment, but in the moment it was a simple travel planning mistake!
If you want to visit early and have moments to take pictures by yourself, the store opens at 9 am (at least during the summer months.) I don't regret waking up early though – you'll see why in a second!
Church of St. Euphemia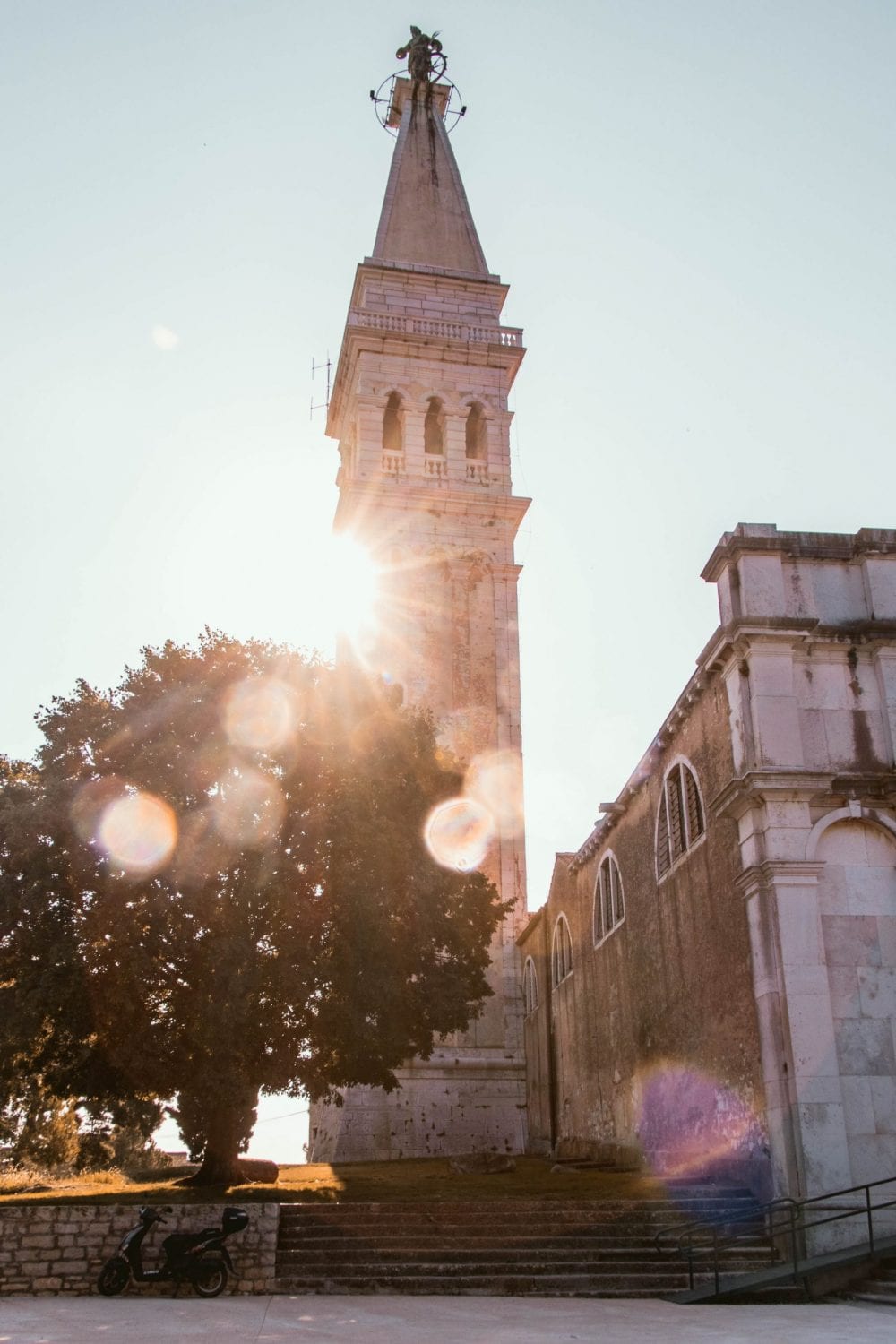 There is not doubt that the literal standout feature of Rovinj is the Church of St. Euphemia. You can spot the iconic bell tower from any surrounding area, as the church is built upon the highest point of the Old Town Peninsula.
You'll get to know that the Old Town is one very big hill quite quickly!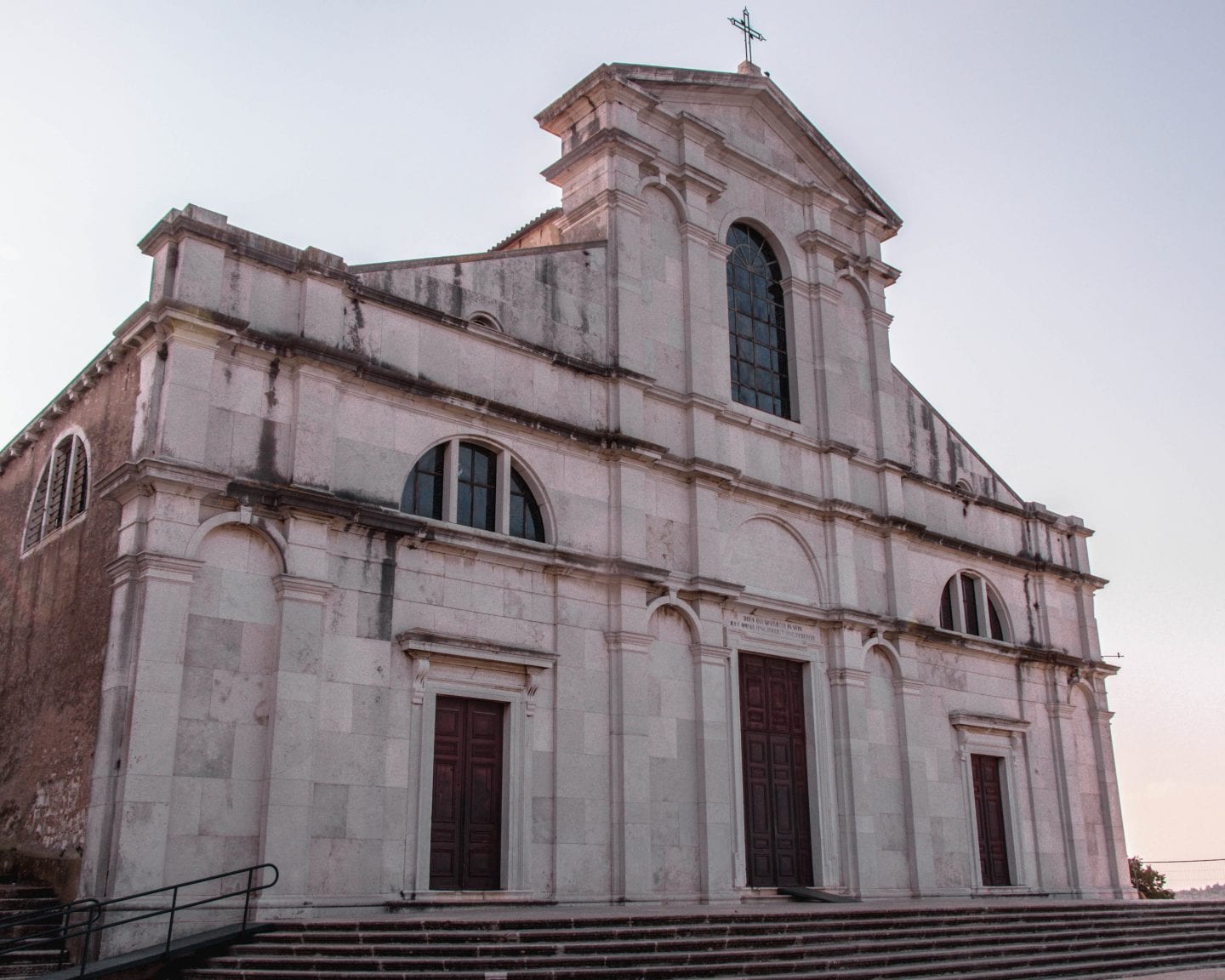 I recommend getting to Church of St. Euphemia early in the morning for a few reasons. For one, you have the opportunity to explore the Old Town with very few people around.
Secondly, the peaceful morning views where the water is calm and the only other living thing around are the pigeons and seagulls are one for the lifetime-memories-book. I often seek these types of moments where I can reset and appreciate the place I am in.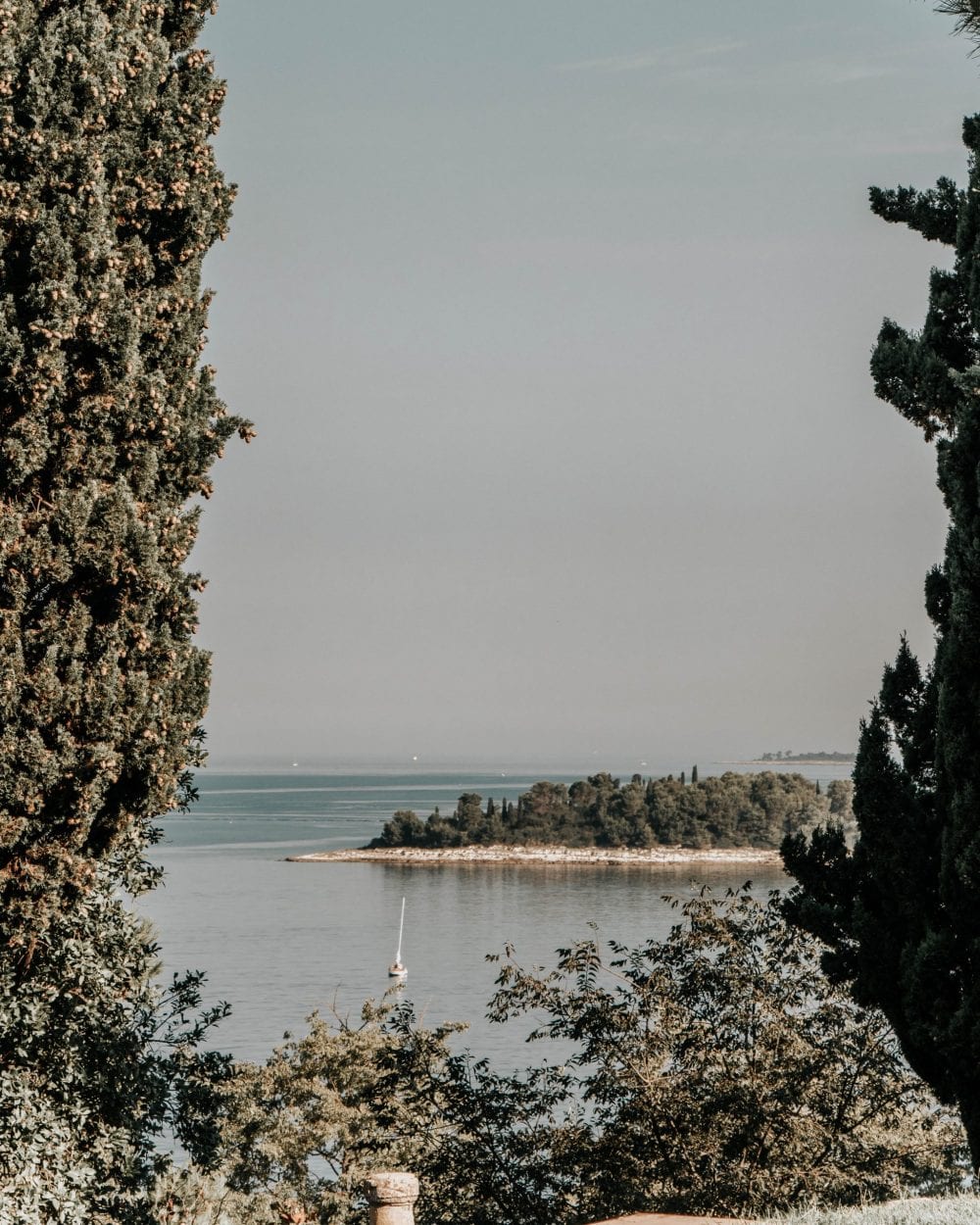 The only downside to arriving to the church early is that it doesn't open to visitors until 9 or 10 am. It actually didn't open at all while I was there because of a construction project!
Tipico Green Garden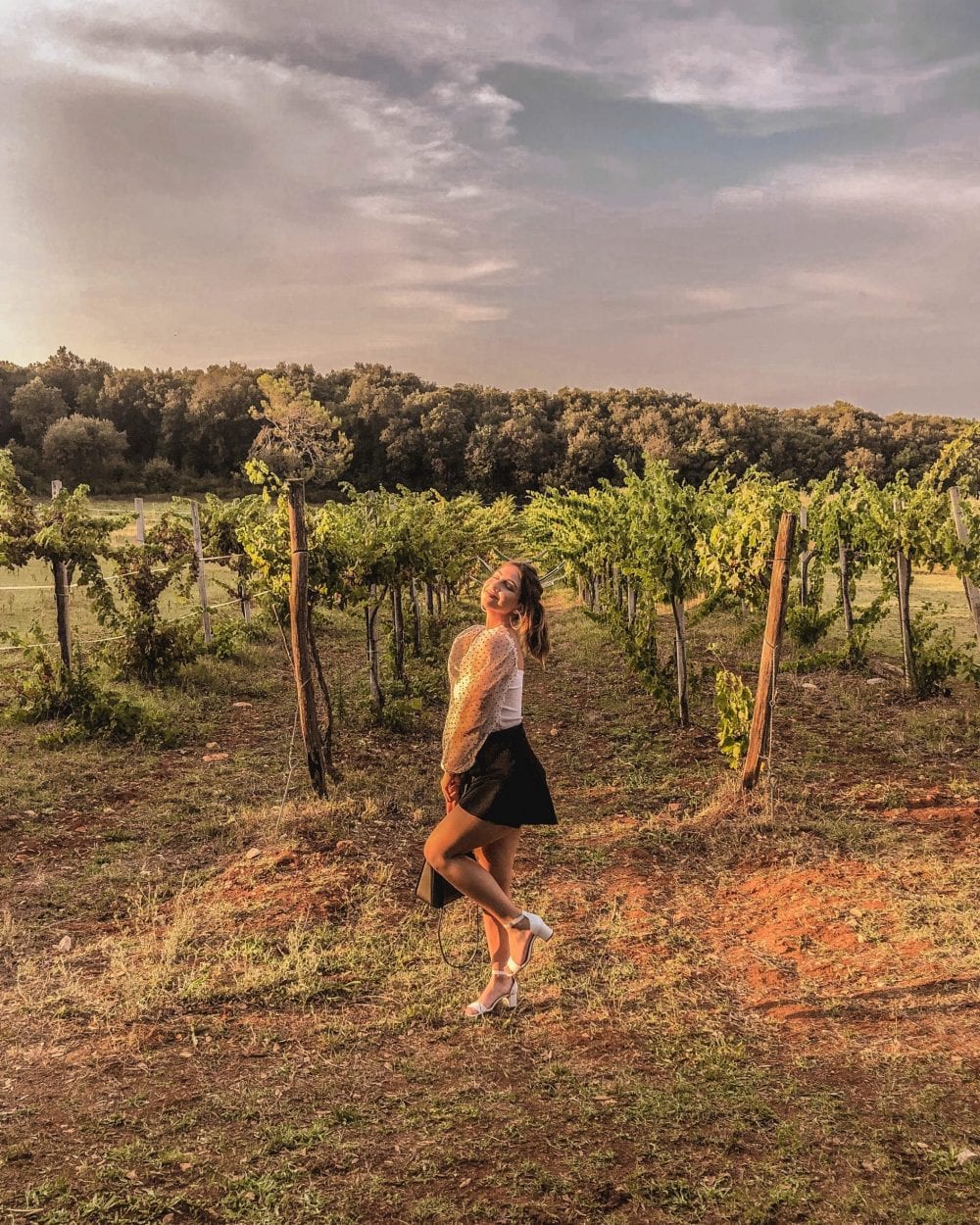 Last but not least, of everything I've recommended on how to spend 3 days in Istria, Tipico Green Garden may just be one of the top experiences.
Tipico Green Garden is a unique restaurant experience. It's close to the Old Town, but you will need a car (or those bikes) to reach it.
One thing I haven't mentioned yet is that Rovinj is famous for its wine-producing countryside.
Tipico Green Garden takes complete advantage of the allure of Rovinj's vineyards by making their restaurant live within it.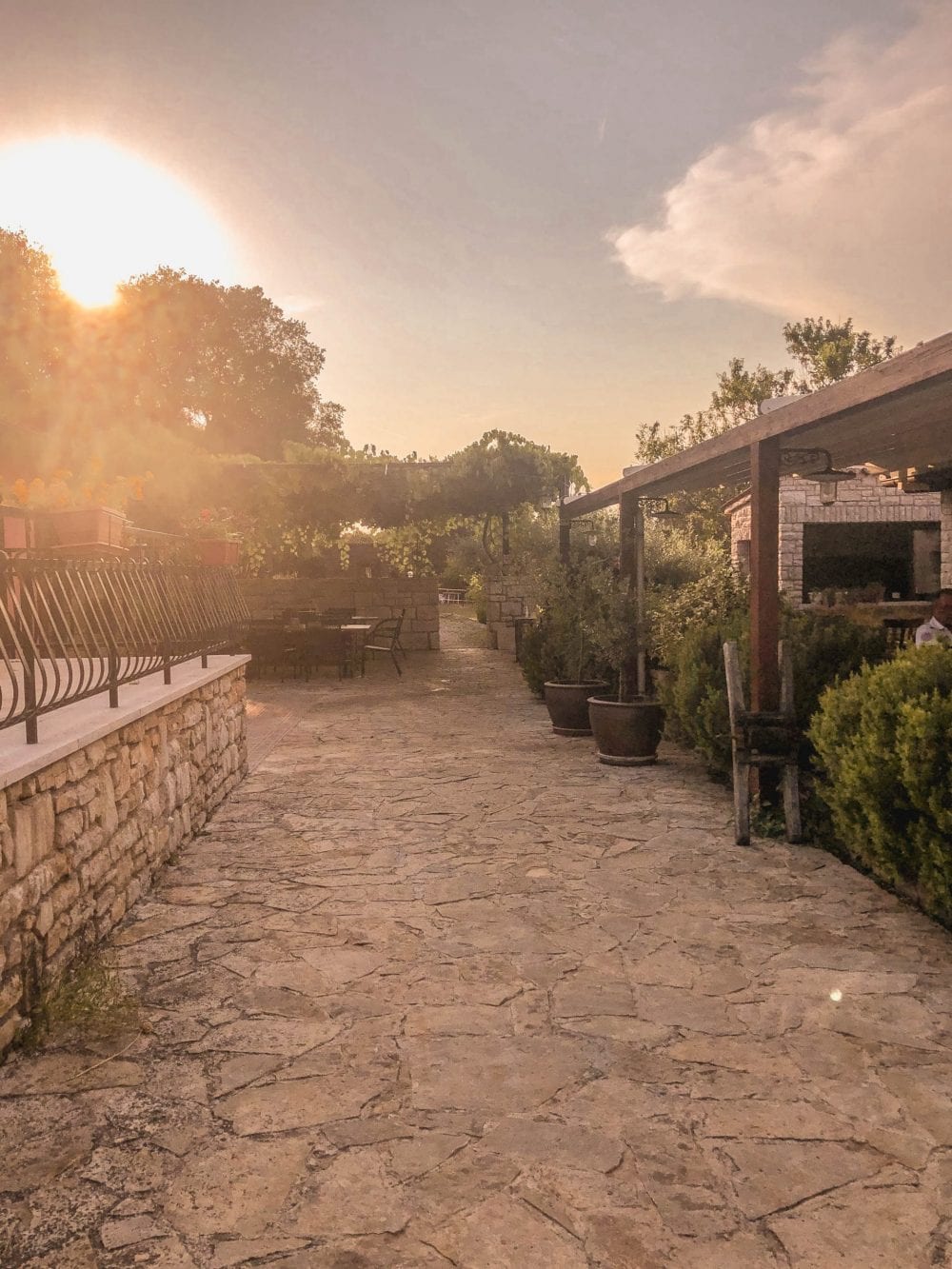 The restaurant is outdoors, a combination of trellised patio seating and dreamy tables set in the middle of the vineyard itself.
It gets even better – there are horses right on the property that roam and hammocks between the rows of vineyards.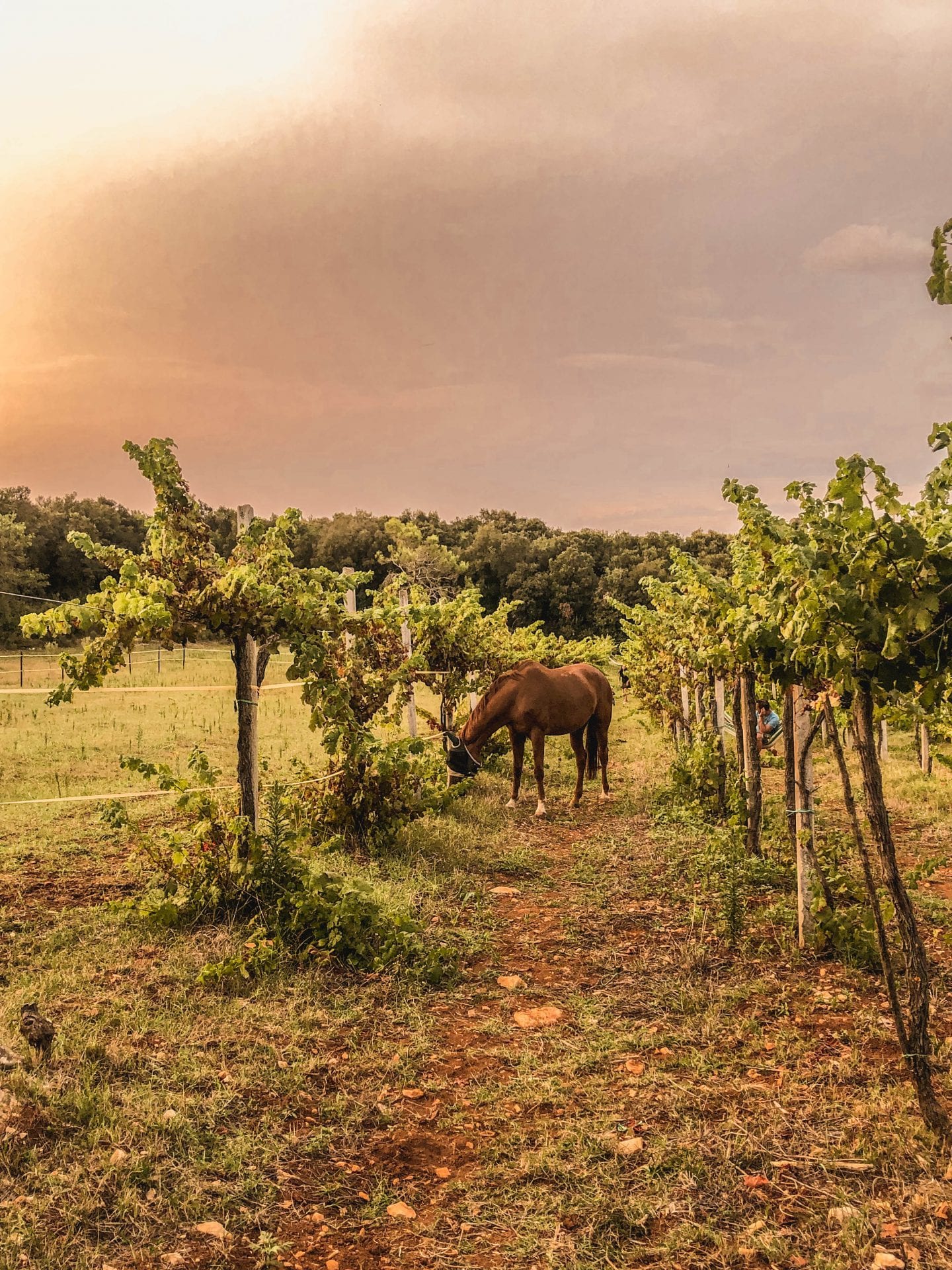 I'm trying to think of something more aesthetic and special than this place – and I don't think I can!
Don't be fooled by the way to get to the restaurant – which is following a long gravel road. The hidden gem will greet you once you reach the end!
---
Where to Stay & How to Get Around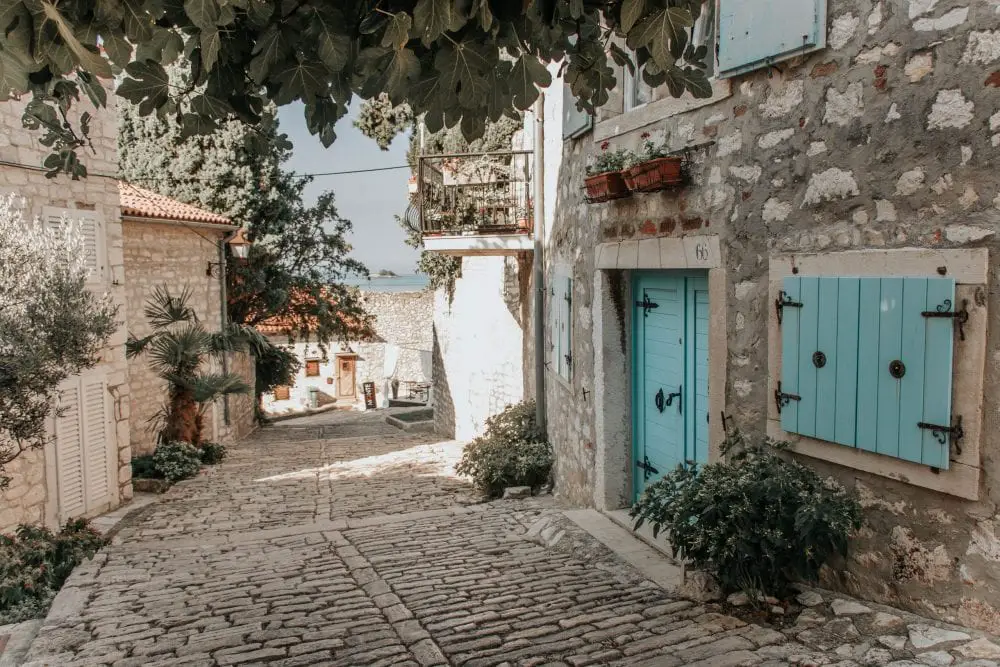 Make the most of your trip to Istria by keeping these extra tips in mind!
Opt for Airbnb accommodations. Hotels are a bit scarcer to come by in this region, but even more importantly, AirBnBs are super affordable! Booking.com also has AirBnB-like accommodations, so it's good to compare the two to find the best option!
The easiest way to spend 3 days in Istria is to get around by car. I usually rent cars through AutoEurope!
Remember, Croatia uses kunas for currency. Definitely make sure you have cash in kunas when traveling this region! It's more rural than areas like Split or Dubrovnik, so some small cafes and shops only take kunas.
Don't forget to save these trip-planning tips to Pinterest!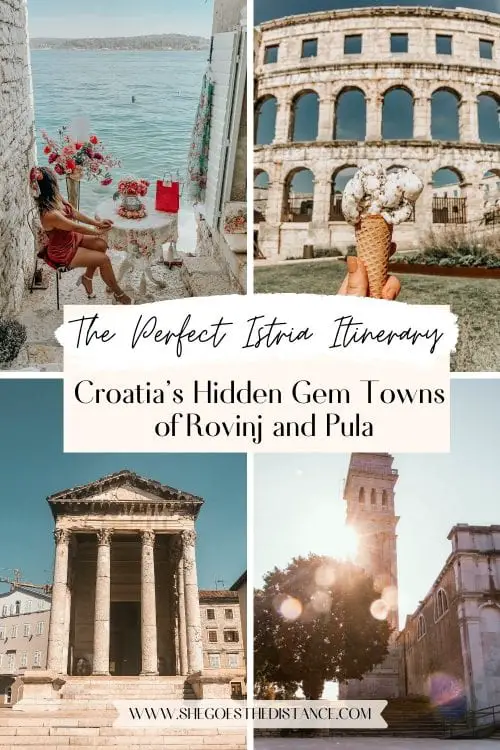 I hope you found these tips on how to spend 3 days in Istria helpful for planning your trip. Pula and Rovinj are underrated, budget-friendly destinations that deserve to be discovered!
XOXO
Michela