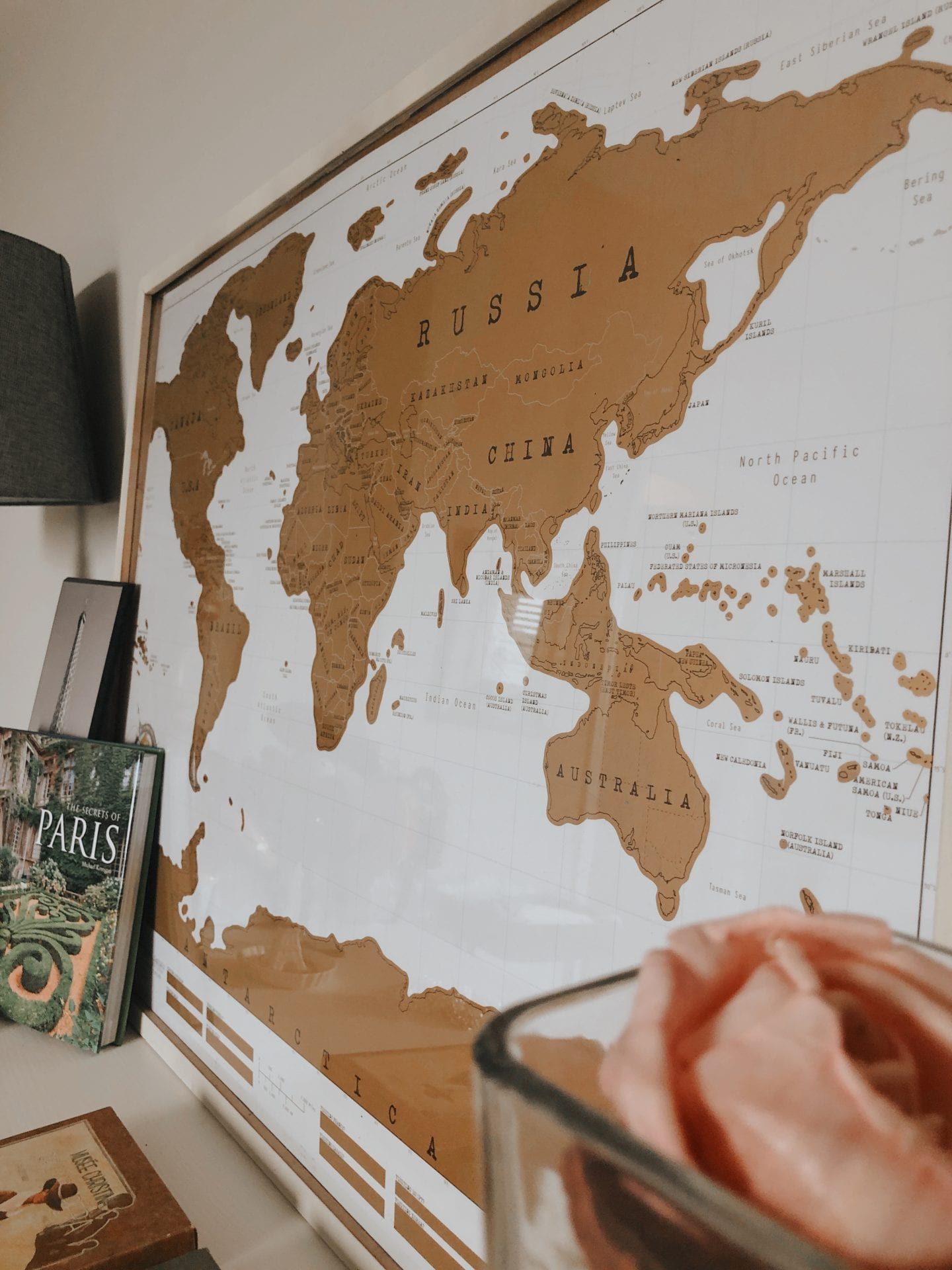 Last Updated on February 23, 2022
While we may not be jet-setting across the world every day, suddenly the idea that we don't have the option to makes us miss it so much more! You truly don't appreciate something as much as you could until it's gone. But no worries! Use this list of travel-inspired things to do at home to soothe that travel itch.
I'm sure I'm not the only one whose trips have been canceled or whose aspirations put on hold. Plus, being locked down in the house makes you dream of all sorts of places you want to go to! Even though travel is down at the moment, there are a ton of travel-inspired things to do at home if you're craving worldly adventure.
This post contains affiliate links which means if you make a purchase through that link, I receive a small commission at no extra cost to you. Read my full disclosure!
---
Make a Travel Vision Board or Bucket List
I know we've all been thinking of the places we'd like to go in our heads since we were little. But take this extra time to really visualize how you want to see your travel bucket list accomplished!
Putting travel goals onto paper puts them right in front of your face so you can actually visualize, work towards, and manifest the achievement of that goal.
Maybe that's in the form of photos on a vision board. Or it's taking the time to write down dream destinations and how you're going to get there.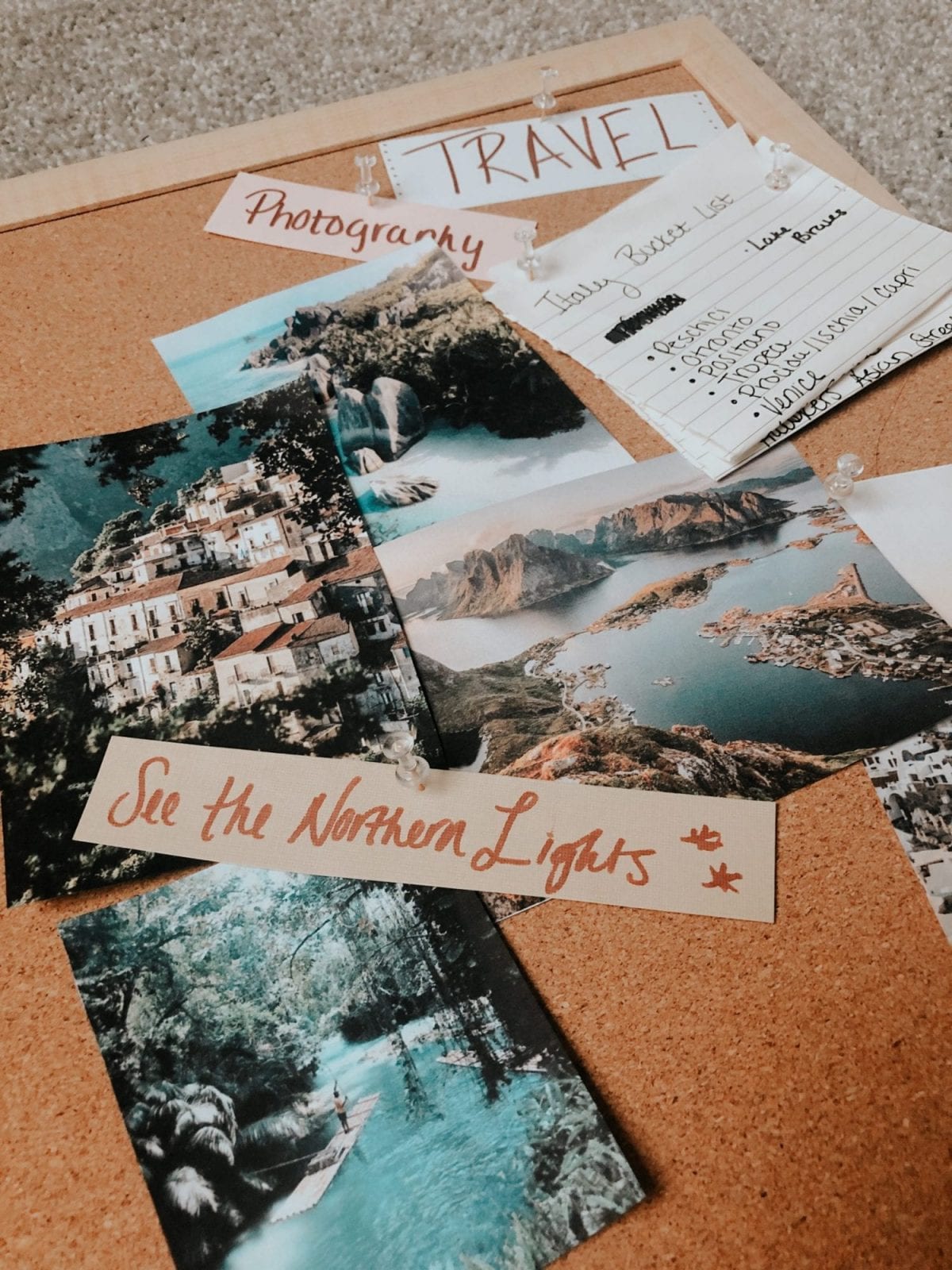 I'm using a simple but sturdy corkboard for my vision board, which you can find here.
---
Learn a New Language
I personally have been learning Italian for 4 years now and it was easy to keep up with it when I was taking college courses for the language.
Now, a year out of school, it's more difficult to recall all I've learned.
Whether you are just starting out or are like me and need a way to keep up with the language, there are many resources to look into!
My favorite is Duolingo, which can be completely free and I find it has the best teaching structure and strategies of language apps I have used. I also like MemRise if you are looking for something a bit less intense!
---
Follow a New Travel Blog or Magazine
As a new travel blog myself, I love the idea of this being one of the more constructive and fun travel-inspired things to do at home.
There's so much to learn and be exposed to, no one magazine or blog could cover everything. So, this is a great time to discover new content to follow!
I personally live for Condé Nast Traveler and their magazine, online publication, and Instagram content.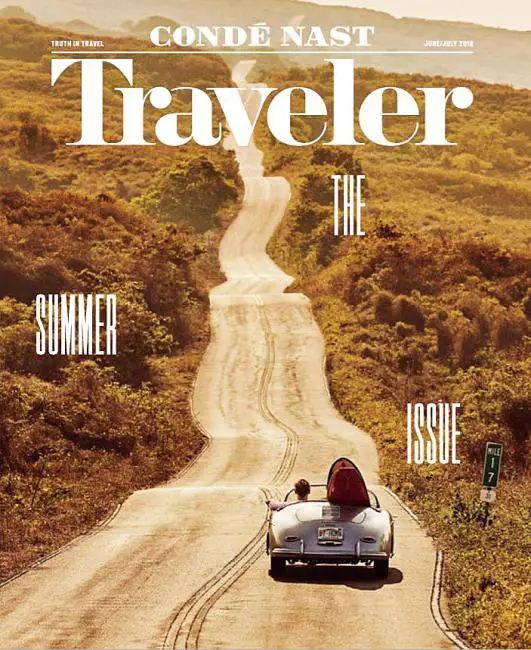 The Blonde Abroad is my all-time favorite travel blogger, with loads of information and experiences to pull inspiration from.
You can also follow YouTube channels, one of my favorites being TOPJAW where they spend 48 hours in different cities and show you really cool restaurants and bars around the world!
Refine Your Travel Wardrobe
Yes, this is the perfect time to go through your closet and give it a cleanout!
Of all the travel-inspired things to do at home, this is my personal favorite. It's productive, it's fun to play dress-up, and it frees up closet space for future purchases – oops, don't tell your significant other that.
I often find when I'm packing for a trip that I am always choosing the go-to pieces that make me feel good and are versatile. Consider downloading my free packing guide to use alongside your cleanout to weed out the essentials from what you never wear!
---
Take a Free College History Course
You may have heard that some Ivy League schools have been releasing free online courses during this period. Harvard on eduX has released courses about Japan's westernization, the Pyramids of Giza, and Imperial China that can seriously take you out of your living room and into new cultures.
There are so many more to choose from, so if you need a little escape and want to learn something out of it, this is a great option to try.
---
Scrapbook Your Previous Trips
I can't be the only one who has so many pictures on my phone or my camera of trips with nowhere to put them.
The lovely thing about a scrapbook is that it's an emotional and visual tie to a time and place you once were. Putting all of your memories into a physical artifact that you can always look back on will make your old travels come to life!
Don't forget to add some journaling to your scrapbook so you can remember far from now how you felt seeing a new place or experiencing a new culture!
---
Watch a Foreign Movie or TV Show
Netflix is really benefitting from this whole pandemic, don't you think? Check out foreign films and TV shows to get immersed in a new language and culture. Some of my favorites…
Money Heist – Has everyone watched this by now? Filmed in Spain, all in Spanish and an amazing, thrilling watch.
Terrace House – About young adults living in Japan as strangers and then developing friendships and relationships. It's not scripted, which makes it cool to see how different Japanese culture is in an authentic way. My whole family is hooked!
Baby – Dark Italian teen drama. It's based on a true story and transports you right to Rome!
Let me know if you have any recommendations!!
---
Have an Italian Wine Tasting
Head to your local supermarket, grab that bottle of Chianti, and set up the most magical wine tasting in your own home. Add a few pictures of Tuscany, the best pecorino cheese & bread you can find and it's like you are there!
This travel-inspired thing to do at home would be super fun as a Zoom girl's night idea.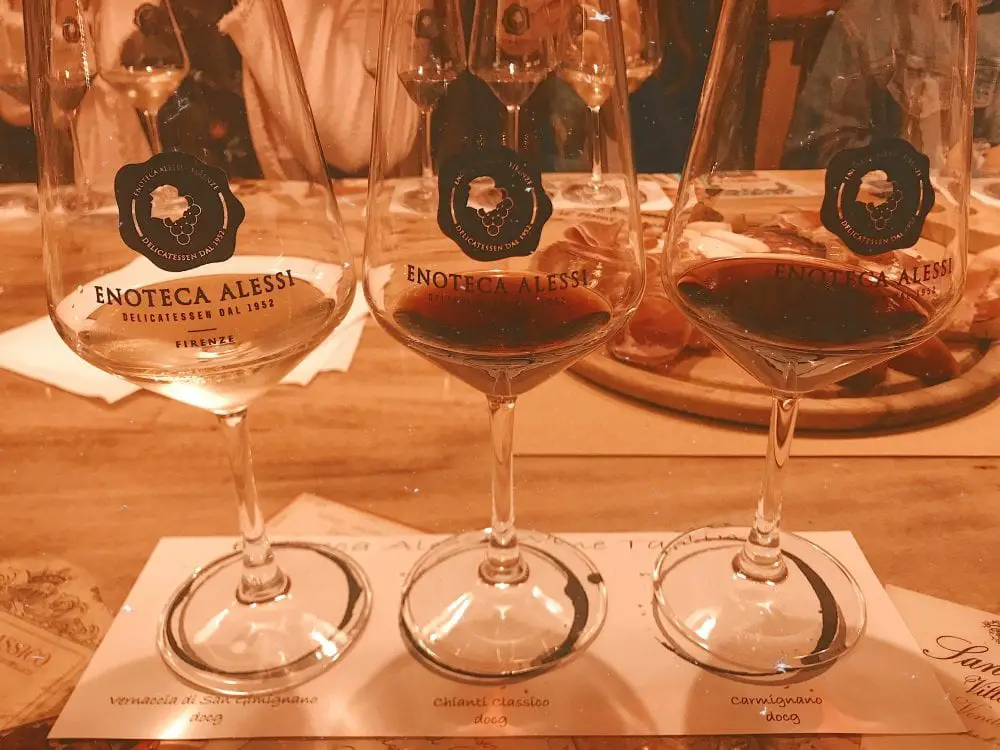 ---
Watch Travel Themed Shows
Still in front of the TV? Me too.
Check out shows on the Travel Channel or PBS to get some good old authentic travel content.
One of my favorites is Rick Steves' Europe. It not only shows off amazing landscapes but teaches you so much about the history and culture of places.
---
Start a Travel Blog
Maybe this one is not up everyone's alley, but if you have something to share, SHARE IT!
I have an entire guide on how to start a travel blog from scratch.
For so long I would be scared to do something like this. But if you have the photos, the experiences, or if you just wanted to document your life personally, this would be a great time to start blogging.
Here are the first steps that I recommend getting started with:
Get a WordPress.org website. Super easy to work with and gives you so much freedom.
Choose self-hosting for ultimate flexibility. I use SiteGround and I love it. I've just started with the basic plan, which is all you need for a new blog!
Choose your theme! I paid for my theme at pipdig and I do suggest just starting with a paid theme. Initially, I had a free one, but I just found there was so much I couldn't customize. I am in love with the professional quality and ease of use of my current theme.
If you want to know more about set up and getting started, leave a comment or send me a message here!
---
Watch a Food Themed Show
Some cooking shows aren't the most relevant to travel, but there are tons that are!
I love Chef's Table on Netflix, which is a huge series of episodes with chefs all around the world sharing their gastronomic culture. While it focuses on the food, there is also a lot of opportunity to see sights of that place, my favorite being the episode with Massimo Bottura in Modena, Italy.
---
Finally Edit those Photos
Get inspired by your own travels!
Just like you may have photos of your old travels sitting on your phone or SD card, you may have tons lined up to edit in Lightroom if you love travel photography. I always say I don't have time to edit them, but now is the time to take on the project!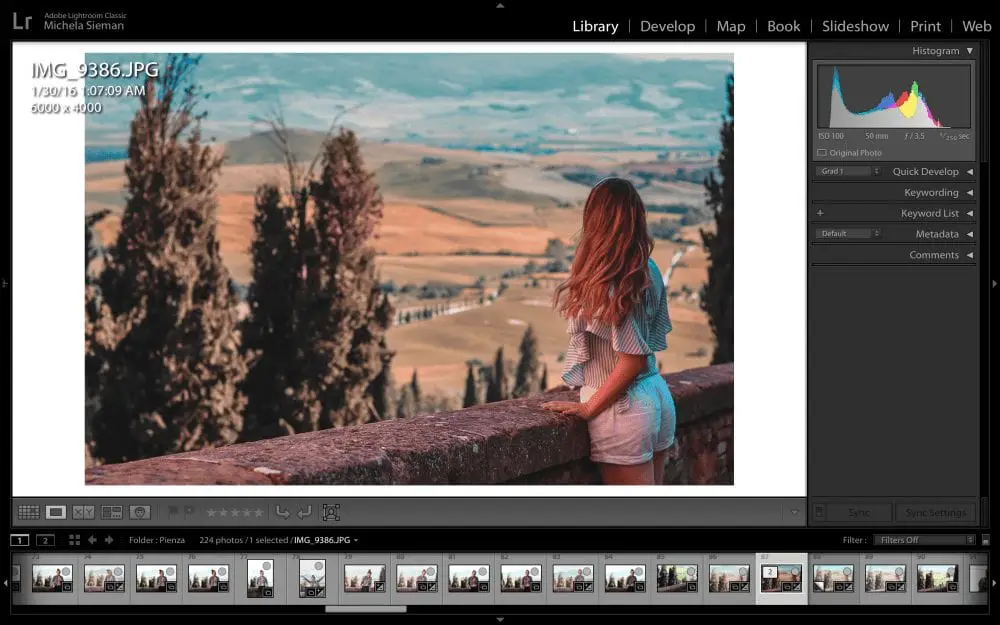 You can also take this time to organize your photos on whatever device into folders according to each place. That way, they will be easier to access!
---
Take Virtual Tours of Museums and Landscapes
This has also been a popular trend, as the free college courses, and take you to a new place right from your couch. There are so many tours available, from the Louvre to the Great Barrier Reef. Search any museum or landmark on google as a "virtual tour" and you'll find one!
---
Stalk Airbnb Homes
I might be the only one who does this, but Airbnb has so many amazing stays that it's fun to dream about the possibilities!
You can search for any place in the world to find the most expensive or most unique places to visit. They also are now hosting online experiences.
This would be a great thing to do in quarantine that gives you the opportunity to interact with cultures around the world!
---
Plan Your Next Trip
Of course, there is uncertainty at this time of when travel will become available again. But it's never too early to start planning your next trip! Maybe you want to backpack South America… or you're dreaming of a luxury paradise vacation in the Maldives.
No matter the dream, start doing your research now into stays and activities. Then, you are ready for your next adventure as soon as it's time to hit "book!"
Let me know your favorite travel-inspired things to do at home!
And don't forget to share on Pinterest so everyone gets these ideas!
I hope these ideas of travel-inspired things to do at home satisfy your itch to jet-set for now. The world just needs a bit of our patience before we can take off again.
The most important thing is to stay healthy and stay safe everyone!
To the next adventure…
XOXO
Michela