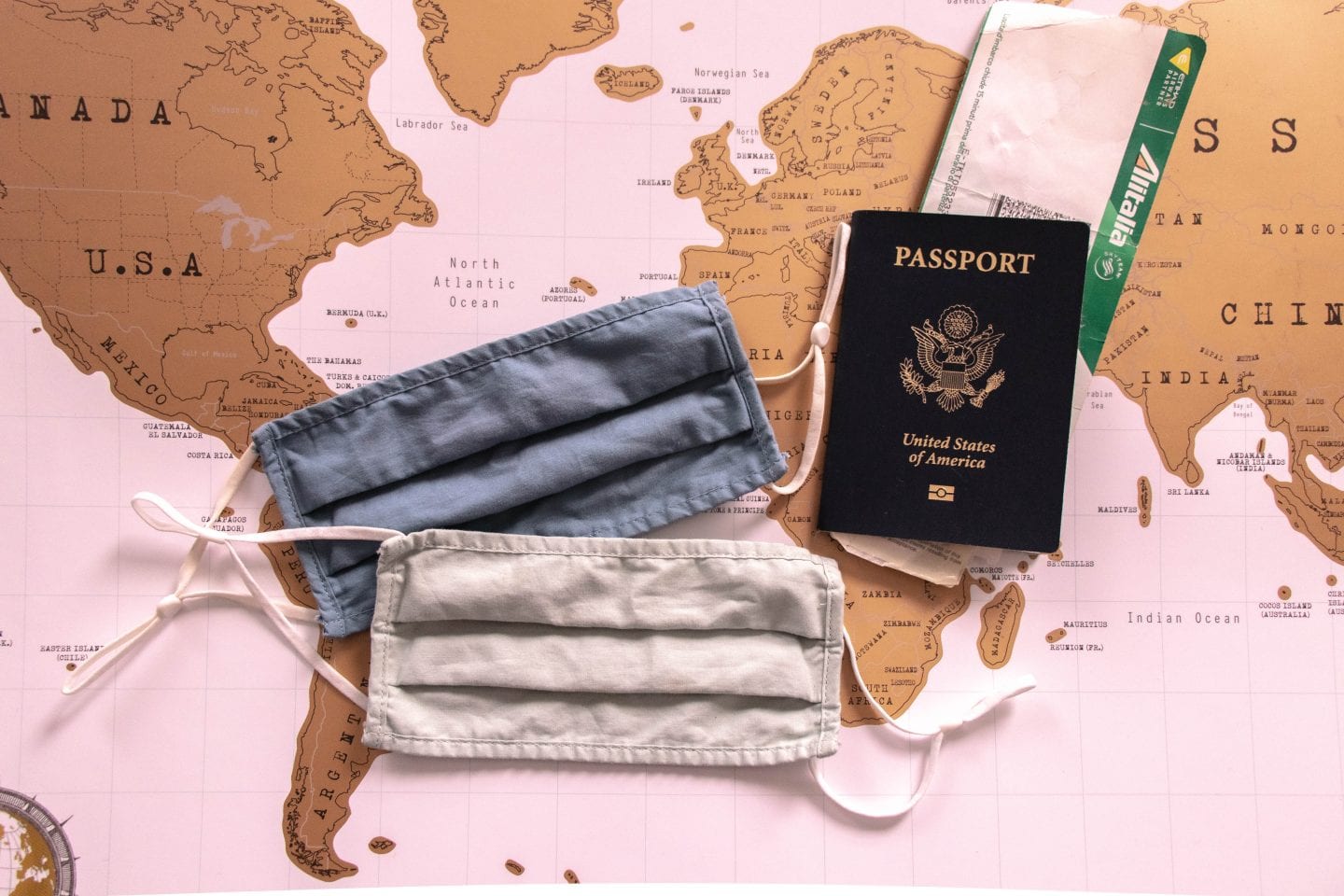 Last Updated on February 23, 2022
The world is changing and no doubt travel is looking a bit different these days. As we adapt, we face new challenges in making this travel work for us, one of those being the search for the perfect travel face mask. Not only is it important to find one comfortable and protective, but to employ the tips in this survival guide for traveling with face masks on long-haul flights so you can have the most seamless experience possible.
There are so many things to think about when traveling that having to consider travel restrictions makes the process a bit more stressful!
This new prep step before your upcoming trip will be thoroughly flushed out with these tips, from what's healthy for you to how to follow the airline's guidelines.
And to add another layer to it, flying with a face mask on a lengthy flight is no easy feat. Over the summer, I traveled on 3 airplanes for a total of 18 hours just to get to my final destination (then did it all again to get back home!)
So I know the struggles of finding the best face mask, as well as experienced the pros and cons of masked airline travel. I want to help anyone I can who is wanting to travel but is wary of how it works with the new measures in place.
Some of these links are affiliate links. This means if you make a purchase through that link, I receive a small commission at no extra cost to you. Read my full disclosure!
The Best Face Masks for Long-Haul Flights
When deciding what is the best face mask to wear on your long-haul flight, you want to think all about comfortability.
I'll mention this later, but one of the best tips for traveling with face masks on long-haul flights is to bring multiple to switch between.
The best face masks for long flights firstly need to follow airline policies (which I will address in the next section.) Some airlines will only want you to wear a medical mask. Most airlines prohibit masks with vents.
That's why the best face masks for long-haul flights are two things: adjustable and cloth. I'll dive more in-depth to the reasons why later in the article, but for now these are the kinds of masks you should be purchasing for your upcoming long-haul flight.
---
Follow Airline Guidelines
First and foremost, follow the face mask guidelines provided by the airline you're flying. The last thing you want is to start your airport experience in a stressful way by overlooking a safety detail!
I'm making this my first tip because there are specific guidelines made by each airline even for the type of mask that can be worn. For example, I have flown on airlines that specifically disallowed cloth face masks or masks with filters. It's simply important to go over the mask policies of the airline, which will be included in your itinerary emails.
Most airlines would provide a mask for you if yours doesn't comply with their guidelines, but it's likely not the most comfortable thing. That's why I recommend reading ahead and being prepared!
What are Airline Face Mask Policies?
To help you figure out what your airline is saying about face masks, I am linking to popular airline's policies. Use this shortcut to understanding what the airline is requiring of you!
Lufthansa and Air France, for example, only allow medical face masks on their flights. It's always best to keep updated with your airline as you prepare for your itinerary!
---
Make Sure Your Face Covering is Clean
In the few days before your trip, make sure to through your reusable face mask in the wash so its clean. Air travel stresses our skin and putting a bacteria-filled face mask on top of it won't do us any good.
If you're opting to use disposable masks, make sure they haven't been used before and that you are keeping them stored so no germs are making their way onto them.
---
Choose Cloth Over Paper
I've found that cloth masks are so much more comfortable on my face compared to the blue paper surgical masks. When traveling with a face mask on long-haul flights, my priorities, and I'm guessing yours too, are comfort and safety.
I find most cloth masks provide both, but especially comfort. They are softer and more breathable for the skin. Your skin is already going through a lot being 30,000 miles in the air so don't stress it out even more with a scratchy mask!
---
Adjustable Masks Are Key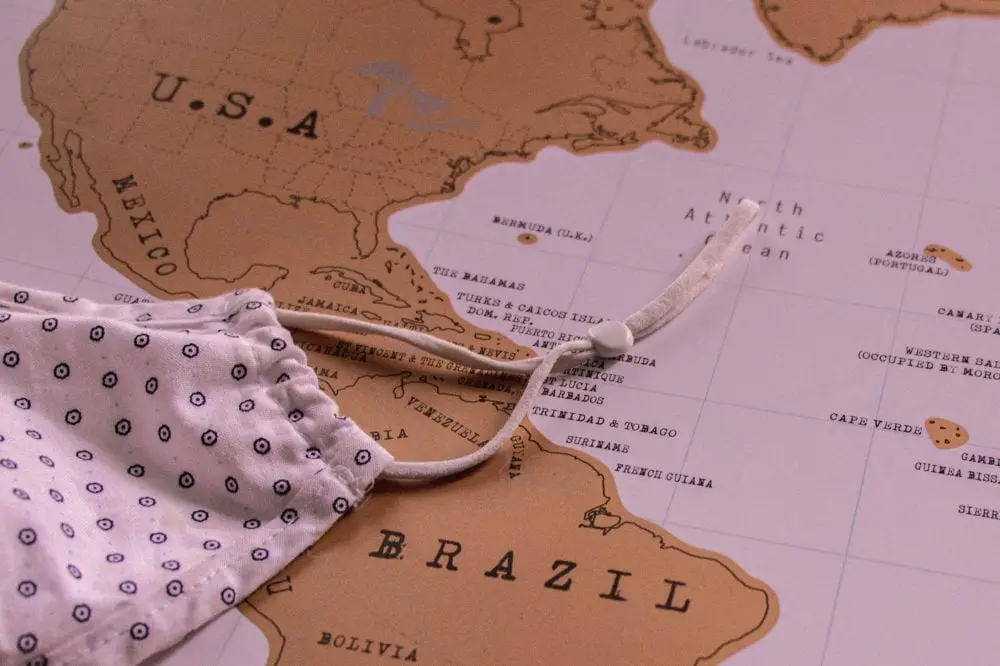 To me, there is nothing worse than a 'one size fits all' face mask. Having the ability to adjust it your face is another layer of added comfort.
My favorite adjustable masks are those from Perry Ellis. They have comfortable ear straps and an adjustable piece on the bridge of the nose to keep the mask hugging the curves of your face. I always feel extra protected from particles getting in.
---
Don't Bother With Cutesy Masks
I have a face mask that ties behind the ears instead of loops. It seemed like a cute idea when I bought it, but I can't stand having the tie strings in my face and getting caught in my hair as often as they do!
My point in this tip is to choose style over substance. I wouldn't bother using any mask that had ties, even ones that tie around the head for comfortability. I think it's more uncomfortable to put a strain on your entire head while traveling, in comparison to just around the ears. And if you have the right adjustable mask, it won't hurt around your ears anyways!
---
Skip the Makeup
As I mentioned, flying already takes a toll on our skin, drying it out. Now, add to that the impossibility of letting our skin even breathe!
Wearing makeup under your mask is a trap for bacteria and clogged pores. You want to allow your skin to breathe as much as you can even with a face mask on.
Moreover, makeup rubs off onto your mask. If you want to have makeup on at your final destination, pack a small toiletry bag in your purse or carry-on with a few essential products. Then head to the bathroom before you leave the airport and do a quick face!
---
Bring Multiple Masks & Store Them Properly
Bringing multiple masks was something that worked so well for me staying comfortable taking three flights in a row. At each stop, I would change the mask I was wearing so I felt a bit more refreshed.
To keep these extra masks as hygienic as possible, opt to store them in a baggie enclosed from the rest of your stuff. Or, turn to the internet and invest in a face mask carrying case (here's a 3 pack from Amazon for $10!) Try to only touch the bands of the mask so you're not getting germs on the actual covering.
---
Find Moments to Take a Mask Break
Last but most certainly not least is my reminder to you to take a break wearing your mask when you can and in a safe manner.
When you're stopping at airports in between flights, grab a snack and socially distance you can have a few breathers with your mask off. Even go to the bathroom in an enclosed stall and just take a few seconds to let your face breathe.
Traveling with face masks on long-haul flights can really start to feel uncomfortable after the first, second or even third stop. It's important to find moments for your comfort to take off the mask in a safe way.
---
Final Thoughts
This survival guide is short and sweet but provides you with actionable tips on how to have the best experience traveling with face masks on long-haul flights.
As I mentioned in the beginning, I did my longest flights ever during 2020 with the new restrictions and navigated the waters so you didn't have to! I'm hoping my insight helps to ease any travel anxiety you may be having.
The tips are simple, however, we all need to be reminded of how to make the best out of air travel. If I could take away even one worry about your travel stress, I feel I've done my job!
For more travel safety information and resources, check out the CDC Travel website.
For more long flight resources, check out these posts!
Share these tips on Pinterest!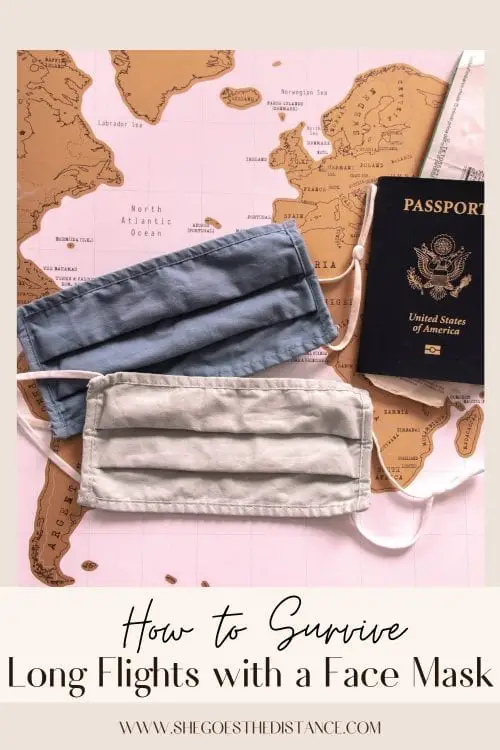 I hope everyone has safe travels as we navigate the anxious and stressful waters of air travel right now. Hopefully, you can now feel excited and confident about your next adventure using face masks on long-haul flights!
XOXO
Michela