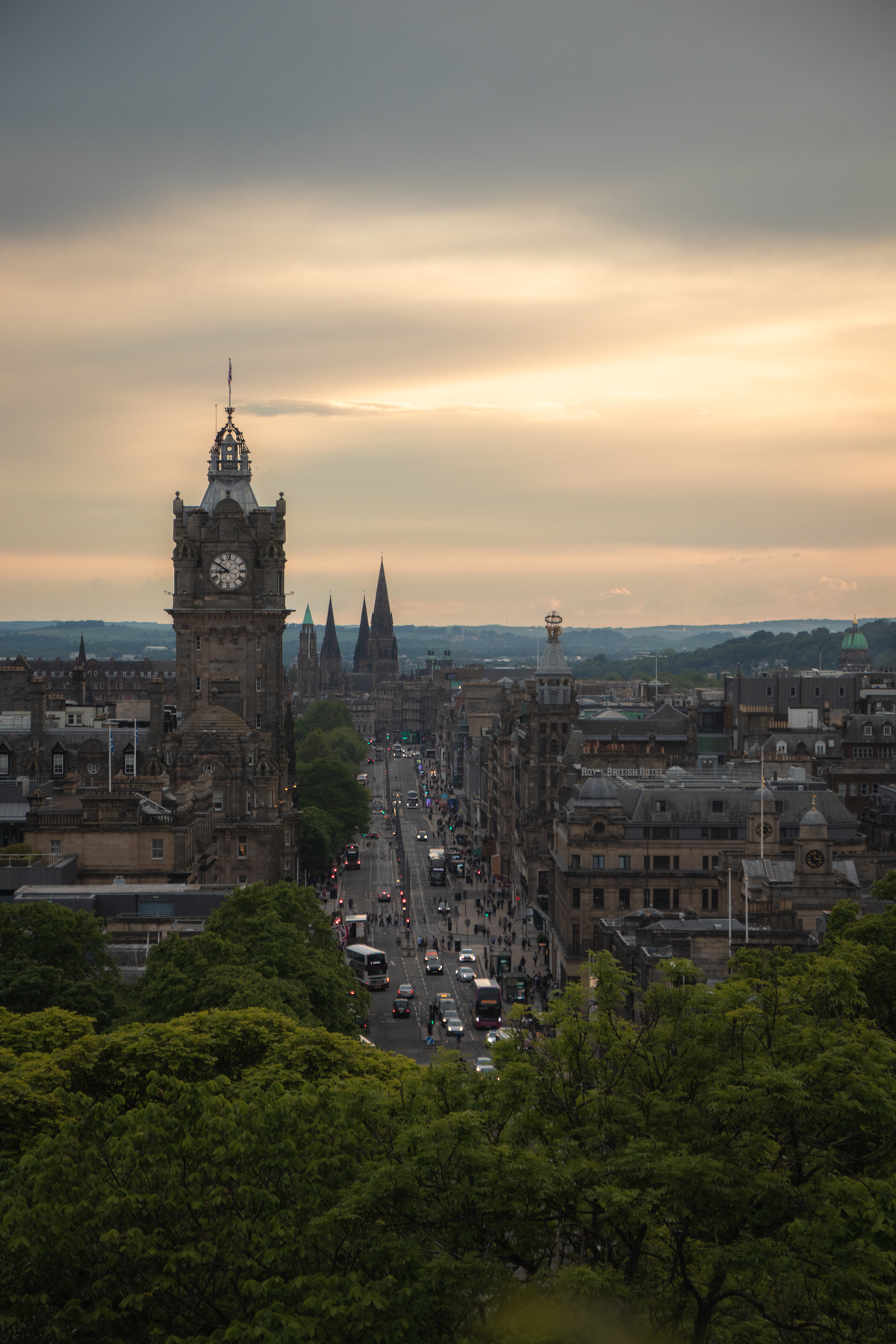 Last Updated on September 29, 2023
History, vibrancy, natural beauty: Edinburgh, Scotland has it all. Between the incredible amount of things to do, how much you can actually accomplish seeing in a short amount of time, and the variety of free activities available, Edinburgh is the best weekend city break. Make the most of your time in this one-of-a-kind city: this is how you spend the perfect weekend in Edinburgh.
The Edinburgh Old Town and New Town are both UNESCO World Heritage Sites, still telling their storied pasts through their striking Medieval and Georgian architecture. This is why Edinburgh is a place like no other: you're surrounded by the city's history 360°, you are immersed in it, and you get the unique and unusual experience of living it.
This weekend itinerary is full of must-sees and dos for any first-time visitor to Edinburgh, as well as hidden gems and unique spots to uncover the secrets of the city. Scale it back if you're a slow roller or up the ante by also checking out the extra experiences at the end of this article.
A Weekend in Edinburgh – Is it enough?
Once you see just how many things are listed on this itinerary, you may get overwhelmed – but you can truly do so much in just one weekend in Edinburgh!
Thanks to Edinburgh's compactness as a city, it's conveniently walkable. And you'll be passing many of the same attractions if you stick to visiting one area at a time. Since most things to do aren't too far apart from each other, it's easy to adjust your itinerary as you go.
Of course, we all wish we had more time while traveling to explore new destinations. But, luckily, a weekend in Edinburgh is enough to see and experience the New and Old Town to the fullest.
Two days in Edinburgh is enough to see the main attractions and walk around the entire city center.
A three-day weekend allows you to explore some of the lesser-hyped or further-away attractions.
Four days allows you to capitalize on experiences as well as attractions, giving you time for tours and activities, for example, the Scotch Whisky Experience or even a day trip to the Scottish Highlands!
Pro Tip: Edinburgh is a hub for budget airlines. You should be able to find cheap flights for a weekend getaway!
---
Weekend in Edinburgh: Day 1
The first day of your weekend in Edinburgh starts in the slower-paced outskirts of town to get you warmed up after your arrival.
If you look at a map of Edinburgh, the first day is mainly made up of visiting places at or north of Princes Street.
Breakfast at Cairngorm Coffee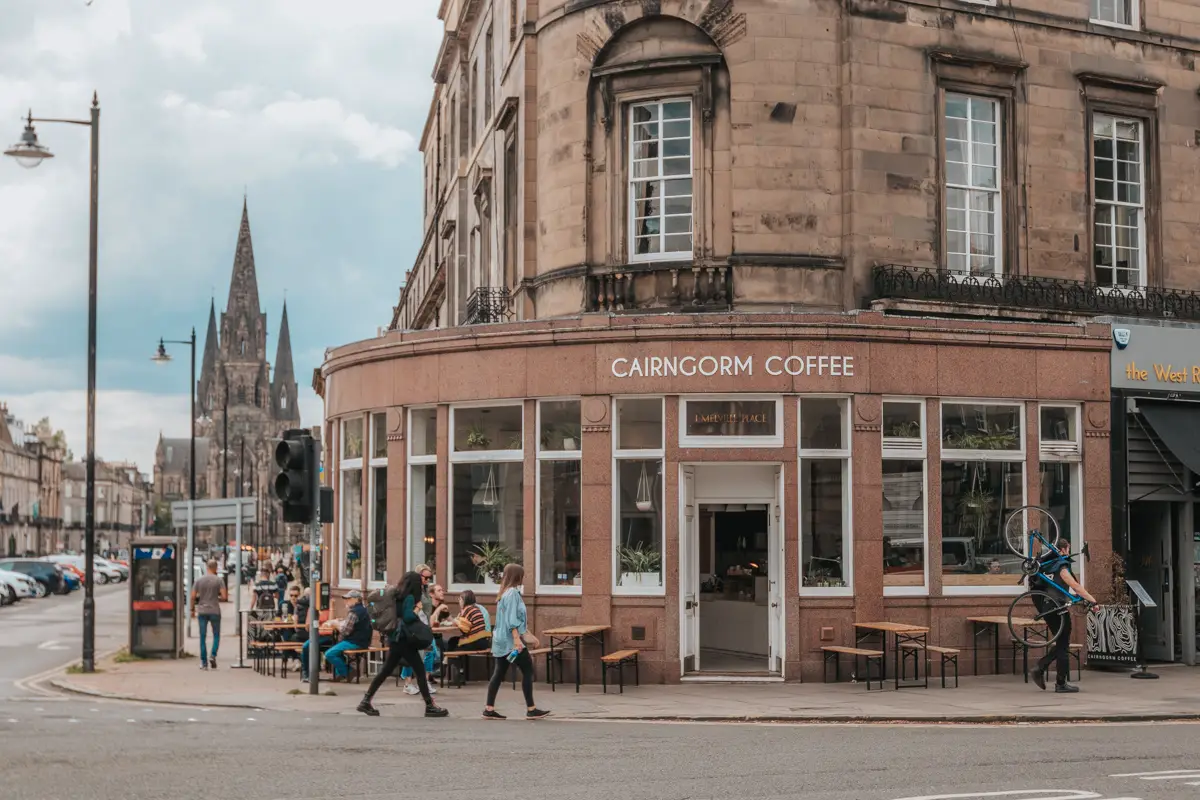 I won't tell you where to eat all your meals in Edinburgh but this cute coffee shop is a must-visit if you're strolling around the West End neighborhood! The menu is small but delicious and the baked goods are all you could wish for in a sweet breakfast.
And their coffee is authentically roasted in Scotland from Cairngorm National Park
If you catch a sunny day on your weekend in Edinburgh, sit on one of the picnic benches outside to enjoy the view.
Dean Village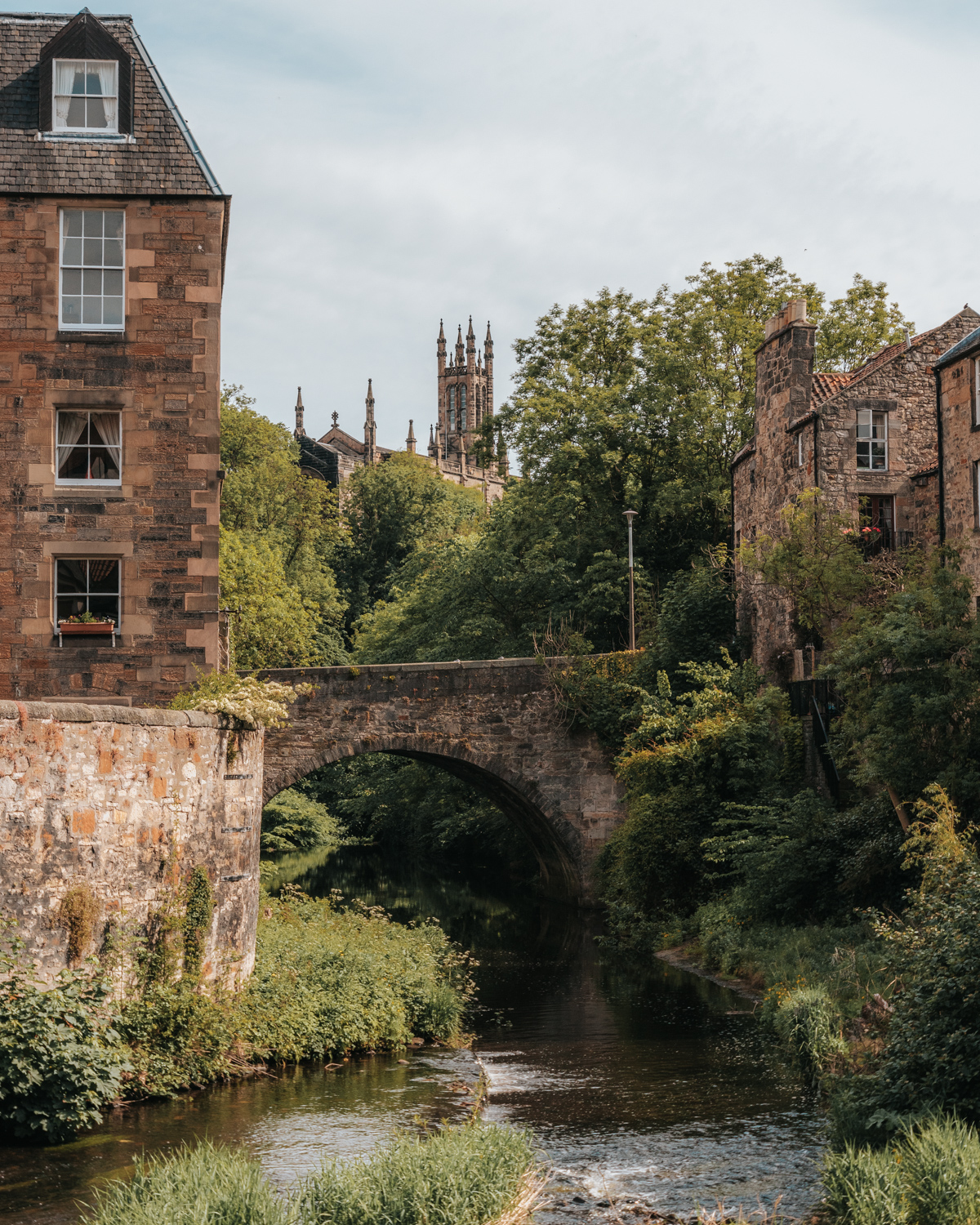 Dean Village is a quaint, storybook hamlet of a neighborhood just steps away from the more modernized areas of Edinburgh. It sits on the Water of Leith, the river that travels through Edinburgh and to the port of Leith on the North Sea.
The village is one of the best starts to your Edinburgh weekend itinerary for its tranquility. And not to mention one of the first instagrammable places in Edinburgh you'll visit!
St. Bernard's Well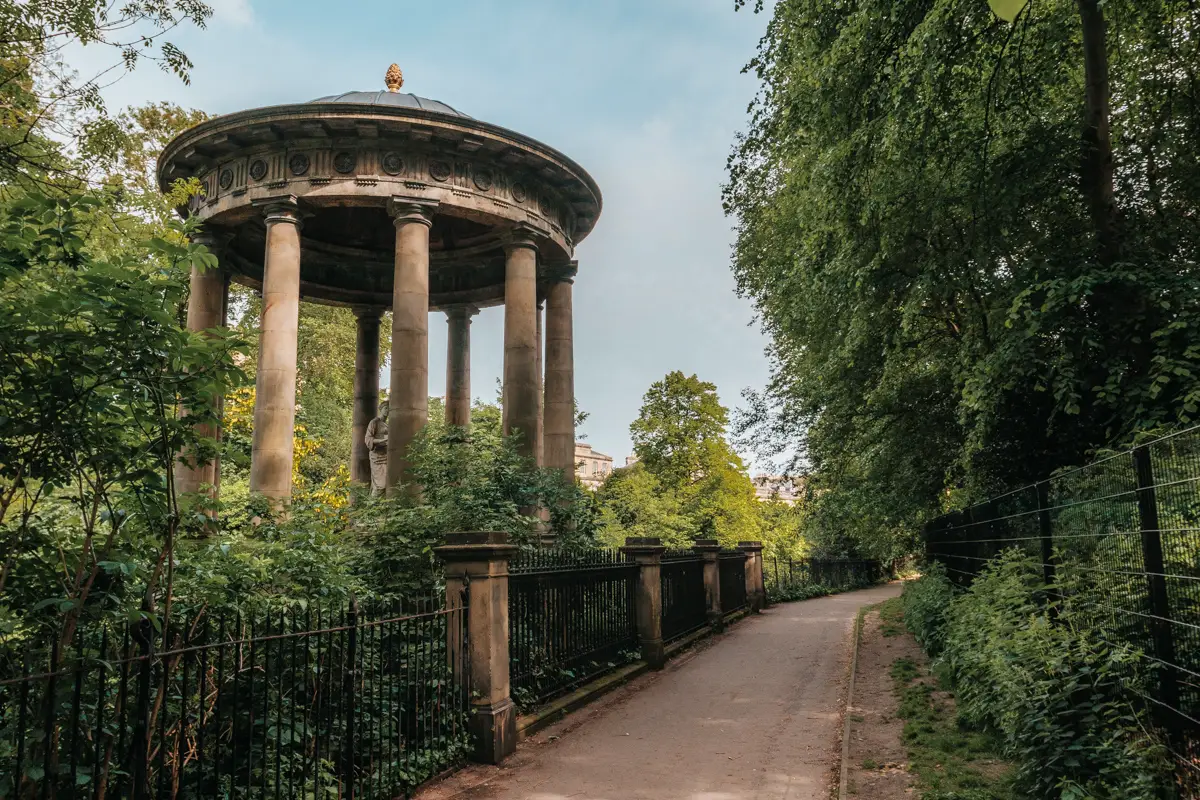 Continue down Miller Row alongside the Water of Leith to reach the next picturesque spot (you'll be seeing a lot of them in Edinburgh), St. Bernard's Well.
It's a historic monument surrounded by greenery and the soothing sound of flowing water.
Royal Botanic Garden Edinburgh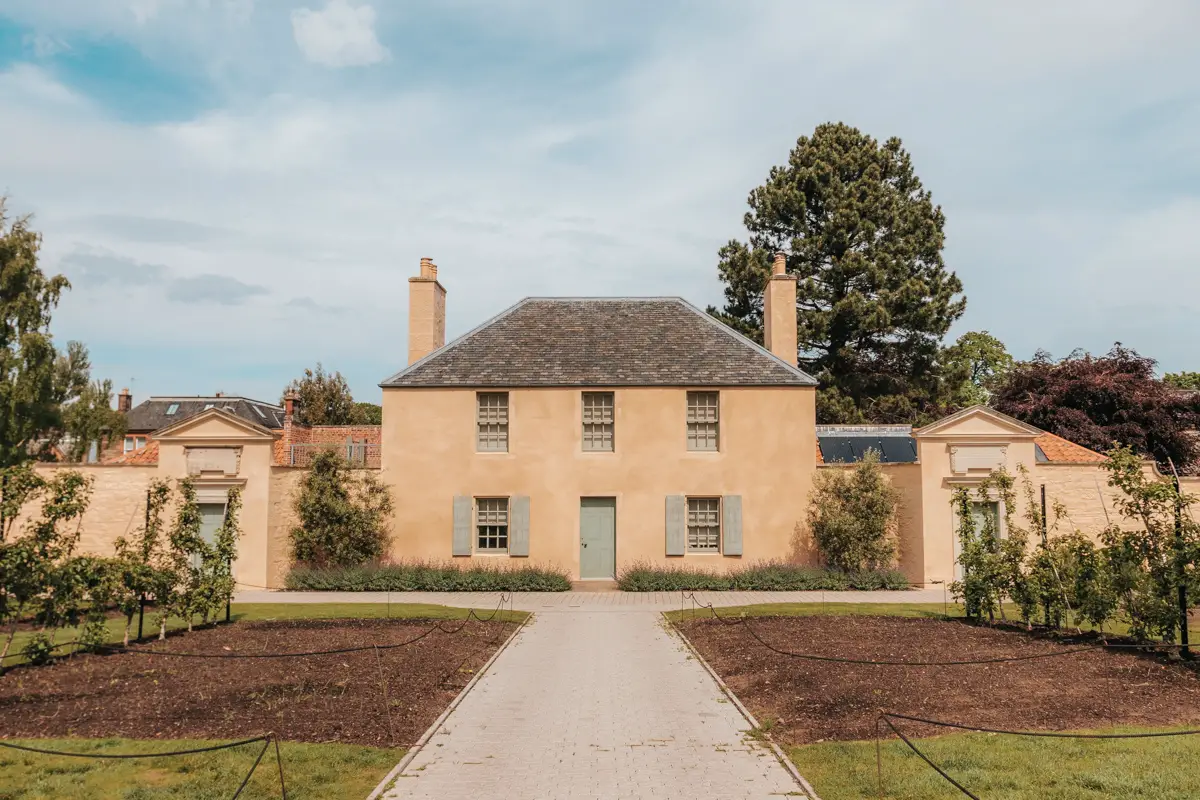 The Royal Botanic Garden is the place that is most out of the way of things to do on this Edinburgh itinerary, but not far that it is impossible to reach! Walking along the Water of Leith, you area already on your way.
Crossing through the neighborhood of Stockbridge and more residential areas of Edinburgh, head toward the West Gate entrance.
The Royal Botanic Garden is huge but some of the special locations you should visit are the Inverleith House, the Botanic Cottage, and the Glasshouses. Unfortunately, for now, the Glasshouses are closed with no stated reopening date.
The Royal Botanic Garden is free to enter.
Circus Lane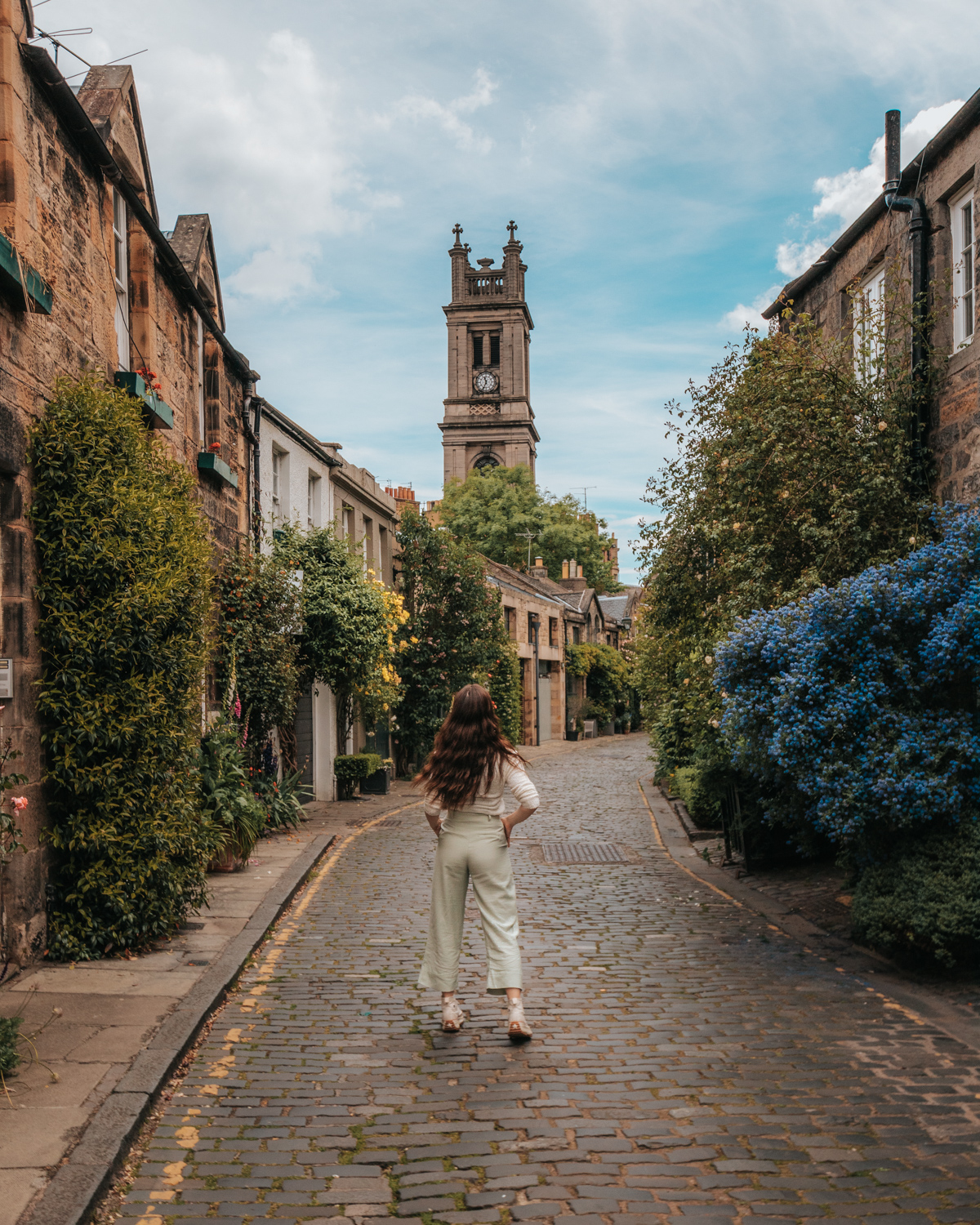 After you have explored the gardens, you can start making your way back towards the city center – but not without a stop at Circus Lane in the Stockbridge neighborhood!
Circus Lane is simply a residential street. But it's potentially the cutest street in Edinburgh!
The street is lined with pastel houses covered in flowers and curves slightly. From a photographer's point of view, the curve in the street, the flowers stretching out from the houses and the tower of St. Vincent's Chapel creates a beautiful composition.
The Georgian House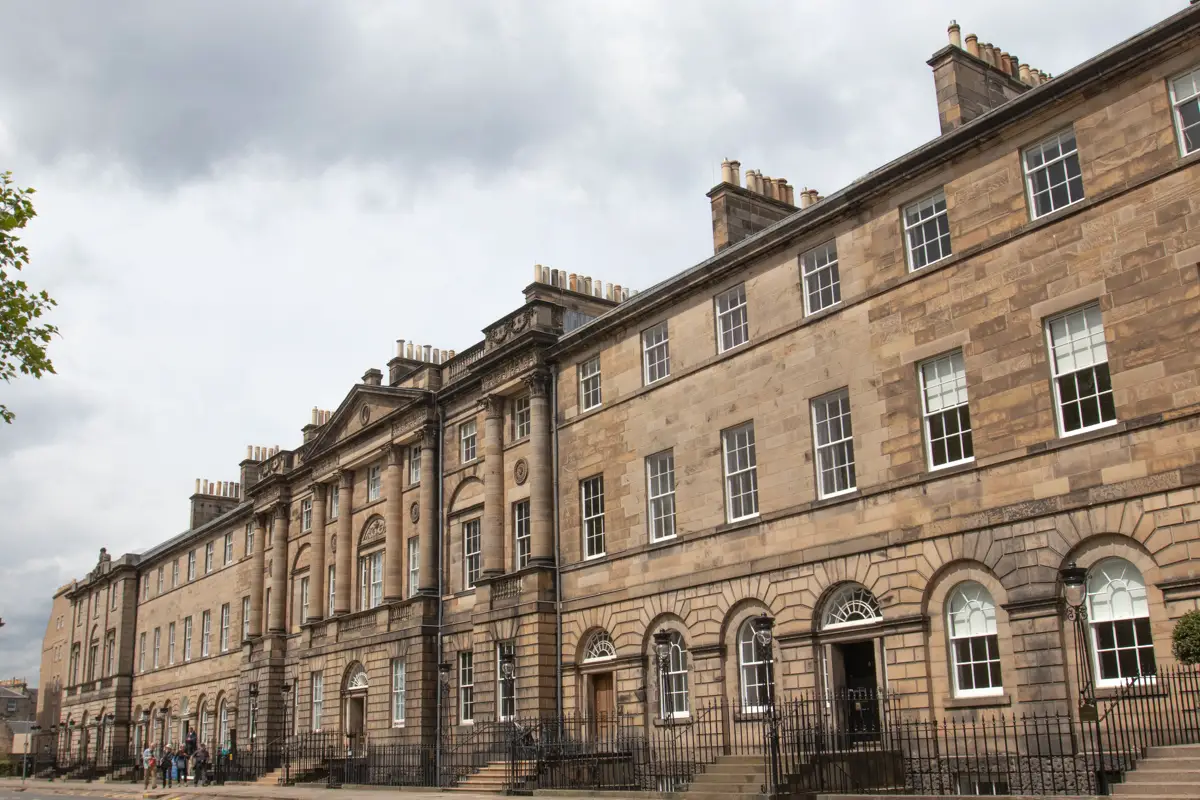 If you're a history-lover then you will fall in love with all the museums in Edinburgh. Many are free but a few come with an entrance fee, like The Georgian House.
The Georgian House is one of the central residential structures of the New Town and tells the story of the rich and poor who called it home.
The best part about The Georgian House is how interactive it is! There are several activities set up to help immerse you in the history and lead the lifestyle of those who lived there in the late 1700s. For example, you can dress up in costumes, write with a quill, and play with childhood toys of the time period.
Tickets cost £8 for adults. I will say if you are not a history-lover, I recommend skipping The Georgian House to save money and getting your dosage of Scottish history from the free museums.
Pro Tip: Are you a student? Many of the paid museums in Edinburgh, including The Georgian House, give student discounts if you show them a university ID or related proof!
Lunch at The Painted Rooster
While you're back around West End, head next door to Cairngorm Coffee to grab lunch at The Painted Rooster, a small, shabby chic locale with a fairly budget-friendly menu.
Its specialty? Pierogis! The food may be Polish, but at The Painted Rooster you can choose a traditional Scottish ingredient like Haggis as your fiiling if you are seeking a more authentic taste of Edinburgh.
Princes Street & Princes Street Gardens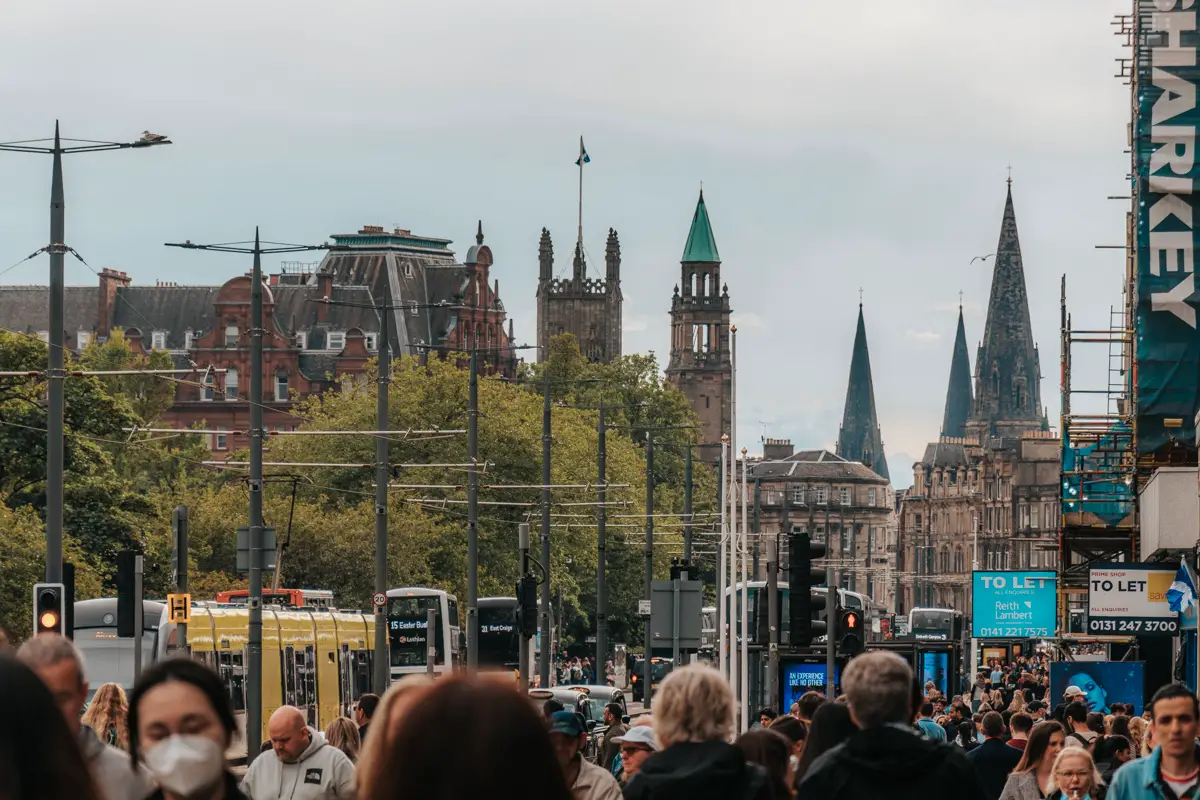 After a late lunch, I recommend you check into your accommodation in Edinburgh. You can reset for the rest of your evening before heading to the very city center.
Princes Street is one of Edinburgh's busiest streets. It's the main tram drop-off, the modern shopping hub, and practically the fulcrum between New and Old Town.
And one of the highlights of the street is the Princes Street Gardens, an expansive park at the foot of the mighty Edinburgh Castle. Even though the park is heavily trafficked, there's enough space that you don't feel crowded like its namesake street just a few feet away.
It's the perfect area to stroll through and calmly take in the surroundings before diving into the heart of Edinburgh's activity.
There are several statues and monuments in the park – my favorite being the Wojtek Memorial, a statue of a bear who served in the Polish military in World War II. Another must-visit spot is the Ross Fountain, a centerpiece of the park with the dramatic backdrop of the Edinburgh Castle cliffs.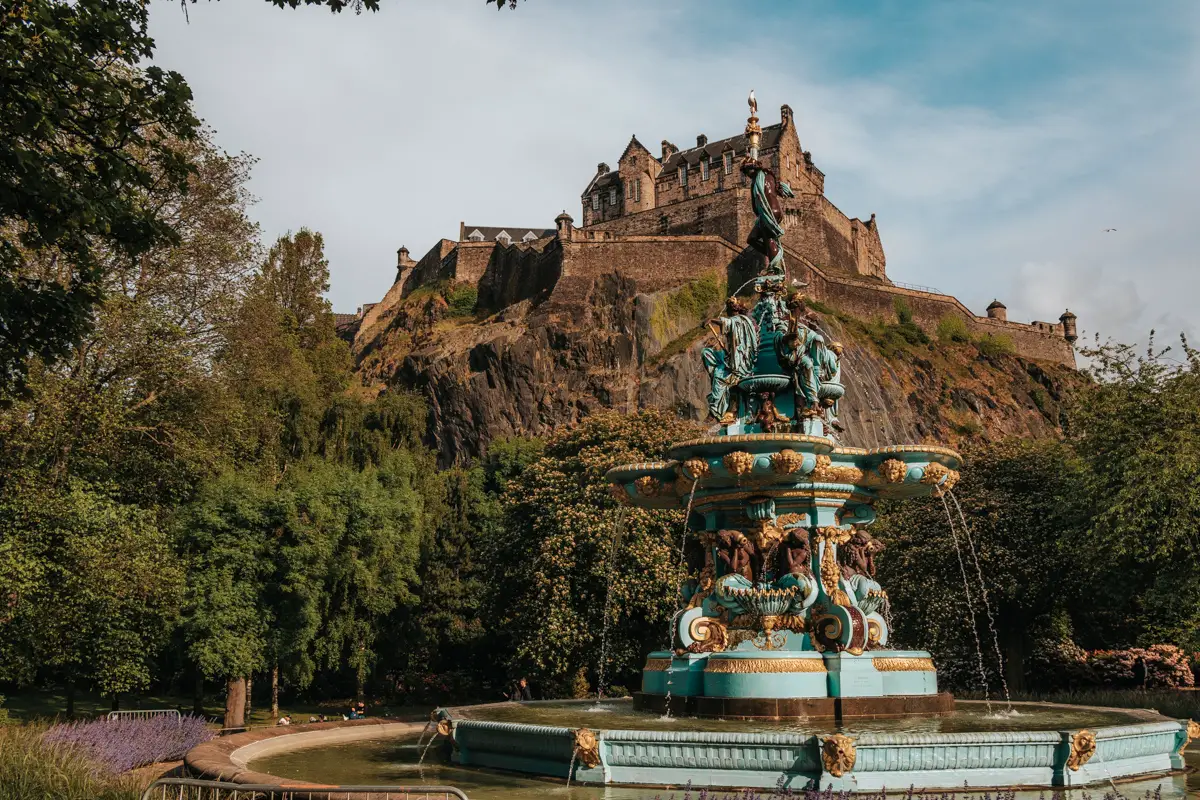 Waverley Bridge & Scott Monument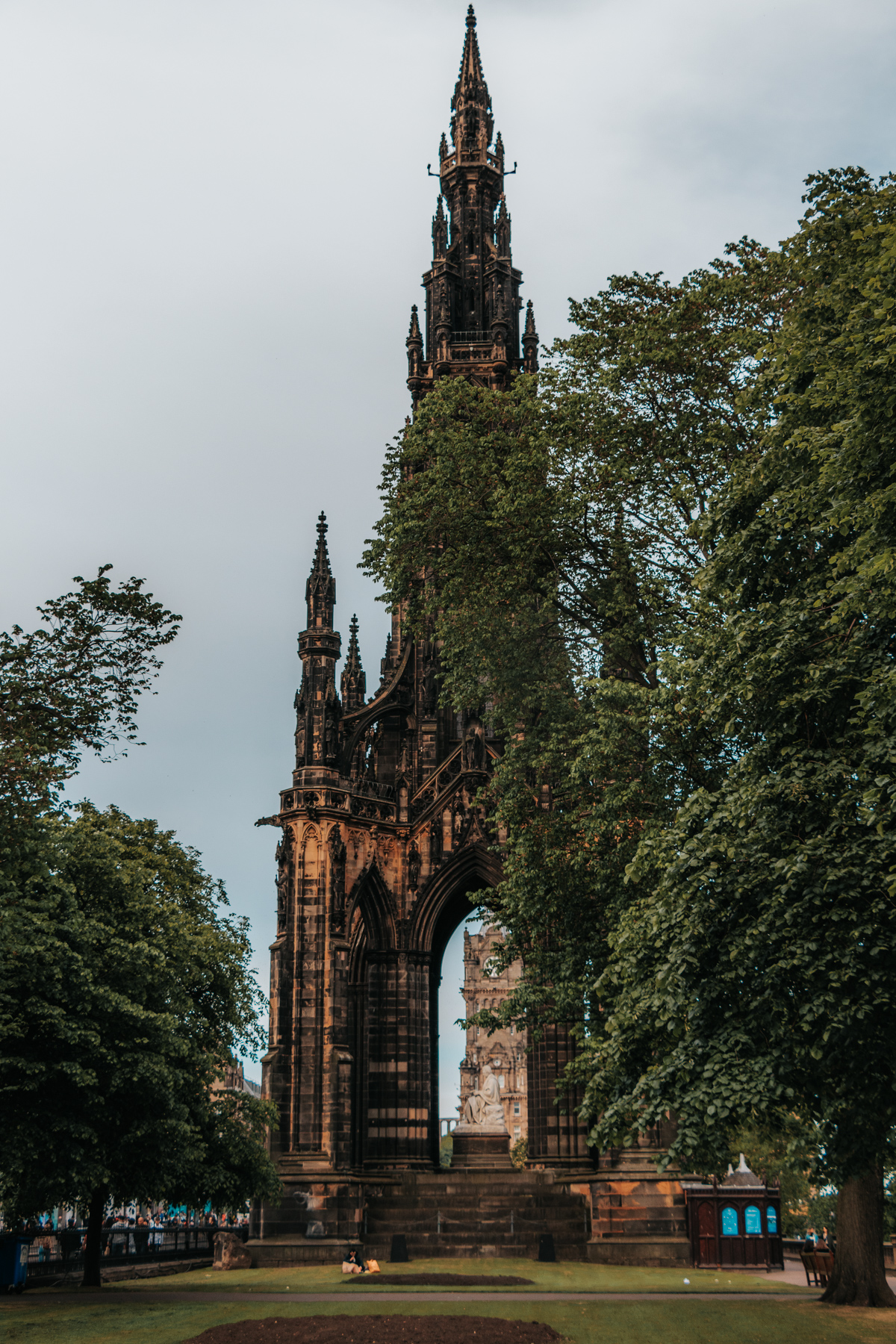 Head down Princes Street toward Calton Hill and you'll pass the Scott Monument. You can't miss it because it's incredibly huge and equally as beautiful.
You'll also be right beside Waverley Station, the train hub of the Edinburgh city center. It empties out to the pedestrian-only Waverley Bridge.
And here you'll find a unique perspective where the cluster of old, withered buildings in the historic town center meet the modern paved bridge of New Town – a storytelling dream for photographers!
Just a short walk from Waverley is St. Andrew's Square, another important stop if you are taking the trams in Edinburgh, but mainly just a mini garden park amidst modern hotels and restaurants.
Dinner at Festival Village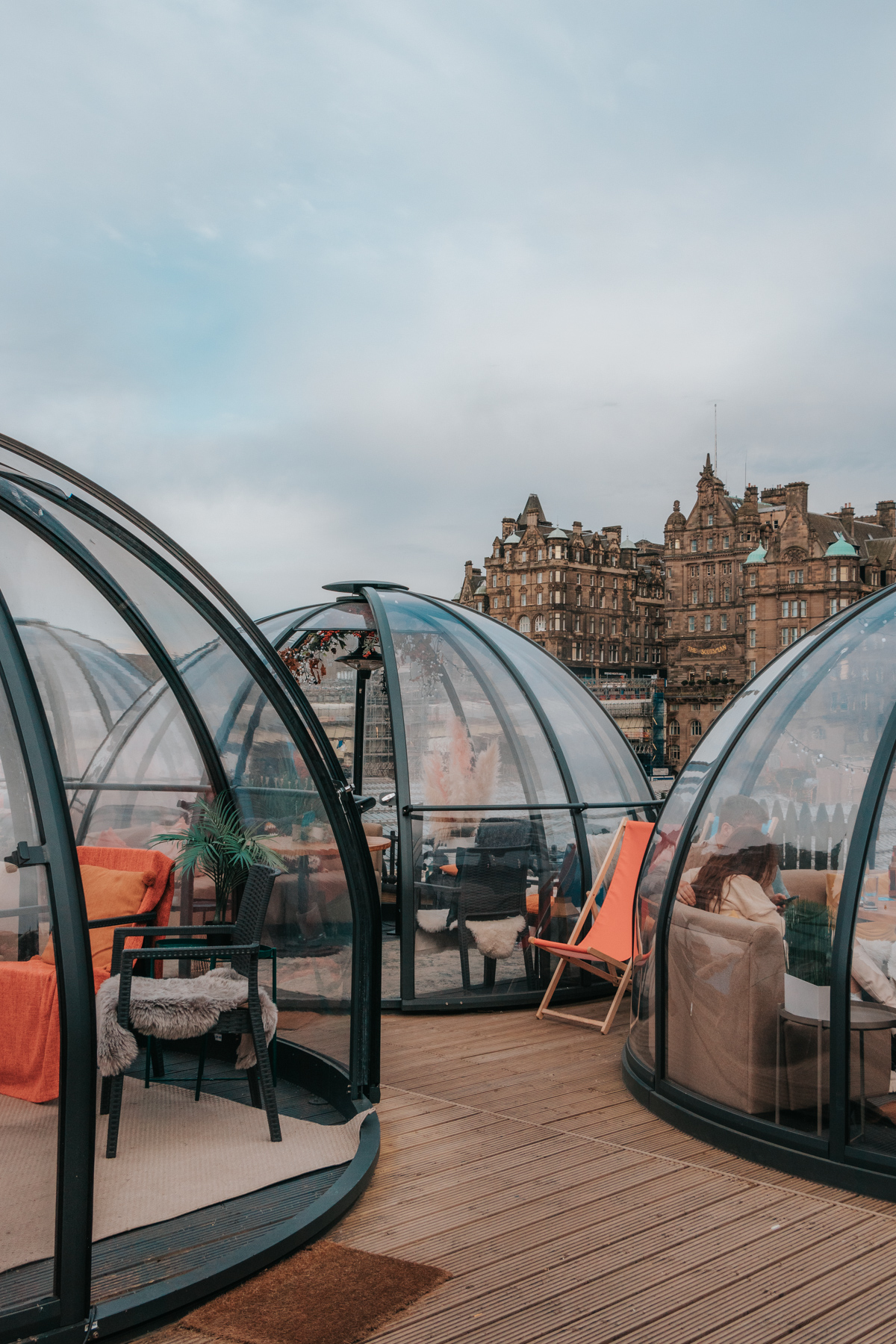 One of the liveliest, coolest places to experience and get a taste of Edinburgh is at Festival Village, right next to the iconic Balmoral hotel.
Festival Village is an outdoor eating area with a variety of food vendors and bars, plus live music! I personally tried and loved Pizza Geeks, while my boyfriend dug into a Butcher Boy burger!
The food options aren't too expensive (£7 for the pizza) but the portions are kind of small. However, the atmosphere in the heart of the city, surrounded by the gorgeous architecture and vibrant people of Edinburgh is so worth it!
Good to know: There is a very unique bar at this very spot called Cask Smugglers. Besides the regular eating area, they also have a special seating arrangement – glass domes! You can reserve this chic setting for 2 hours at a time for an unforgettable first night in Edinburgh.
Calton Hill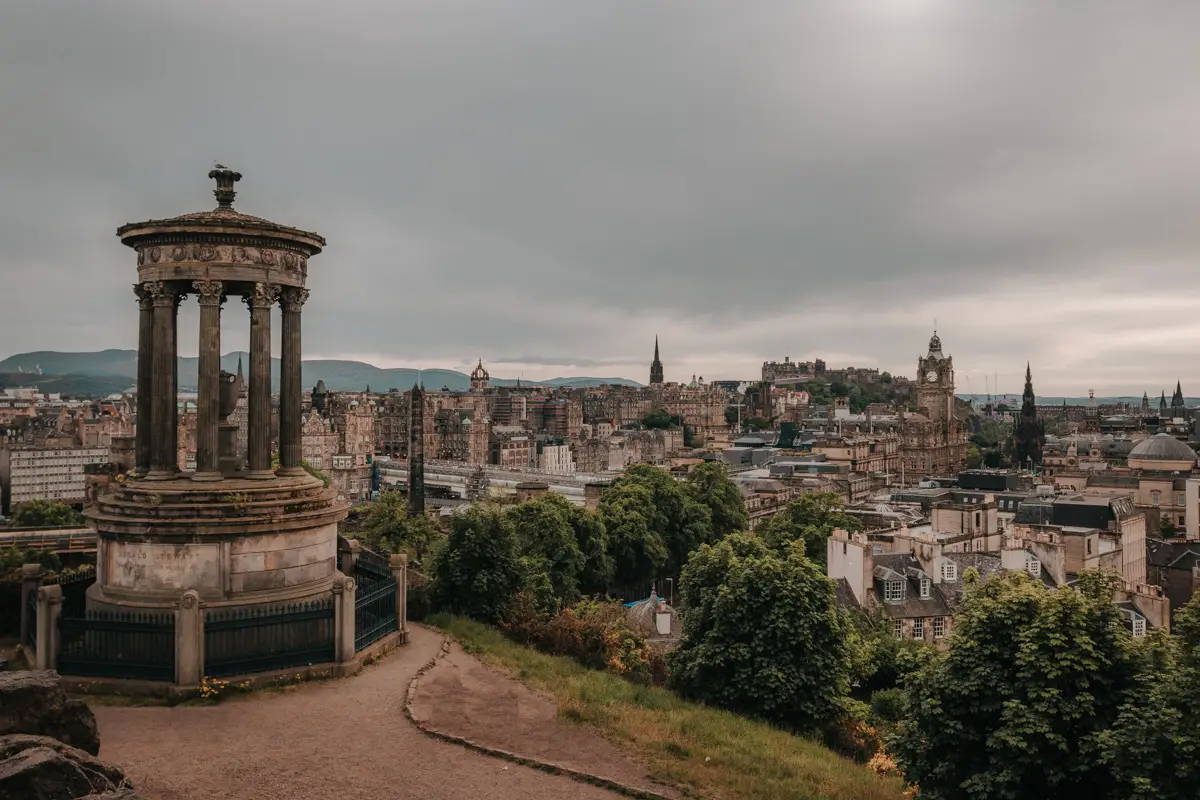 Calton Hill is one of the most special places to visit in Edinburgh, perfect to visit at sunrise or sunset.
It's close to the city center and super easy to reach. Walk 5 minutes from Waverley and another 5 minutes up some stairs for an intimate view of the stunning city skyline.
The most famous lookout point is just above the Dugald Stewart Monument, the rotunda structure you see in the photo above.
But there are several other monuments worth checking out on Calton Hill, so expect to spend at least 45 minutes walking around and soaking up the view.
The National Monument of Scotland is a pantheon-esque structure that offers 360° views from the North Sea to Edinburgh City Center to Arthur's Seat.
And one of the most unique places on Calton Hill is The Lookout – a fine dining restaurant positioned to take advantage of the skyline view. If you're not on a budget, or feeling like a splurge, make it this place!
Calton Hill also hosts an art gallery, the Nelson Monument, and the Monument to Scottish Parliament. Once you've been to Calton Hill, you'll be monumented-out!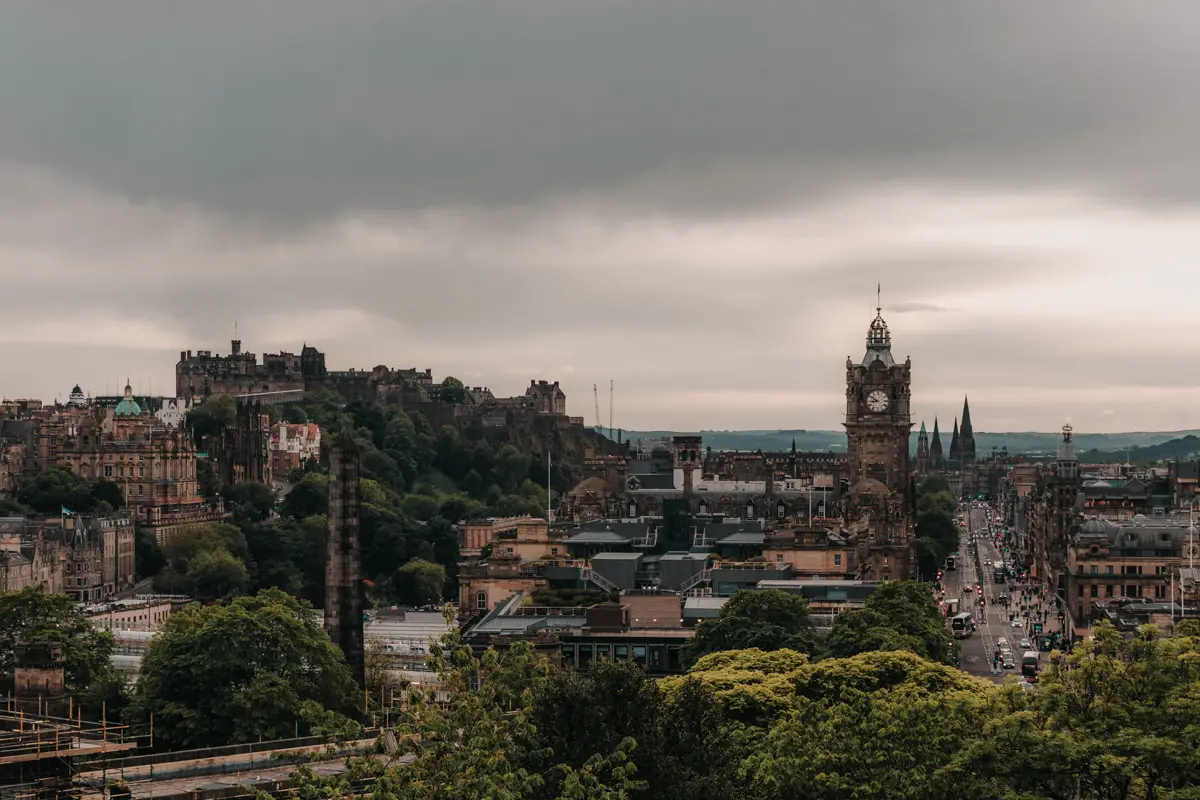 ---
Weekend in Edinburgh: Day 2
If you look at a map of Edinburgh, the first day is mainly made up of visiting places mainly south of Princes Street.
Edinburgh Castle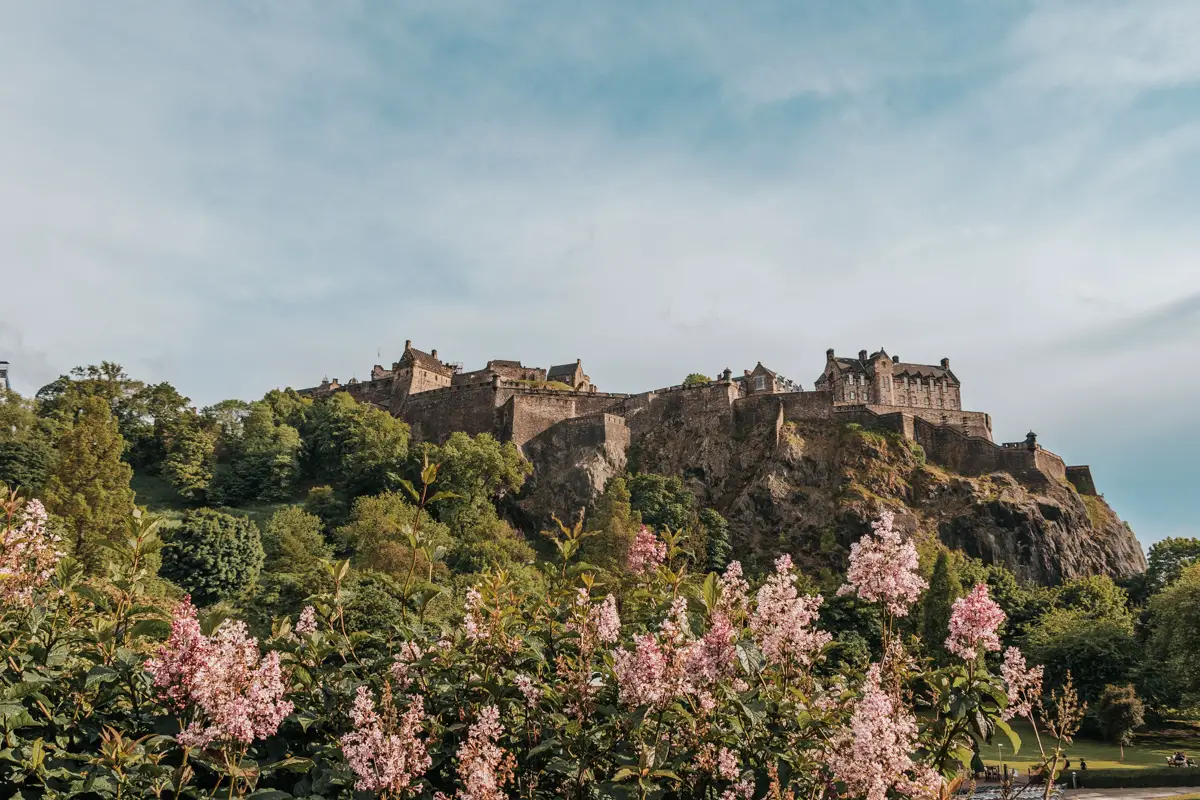 If you want to enter Edinburgh Castle, your shot at having the best experience possible is to arrive at the castle right when it opens. You cannot enter the castle or any of the surrounding grounds without a ticket.
I recommend buying your tickets ahead of time as part of a skip-the-line tour, especially with weekend crowds.
In fact, we didn't book ahead and missed out on going inside the castle because tickets were all sold out for the weekend! So, this is an experience you should definitely book before your trip.
The Vennel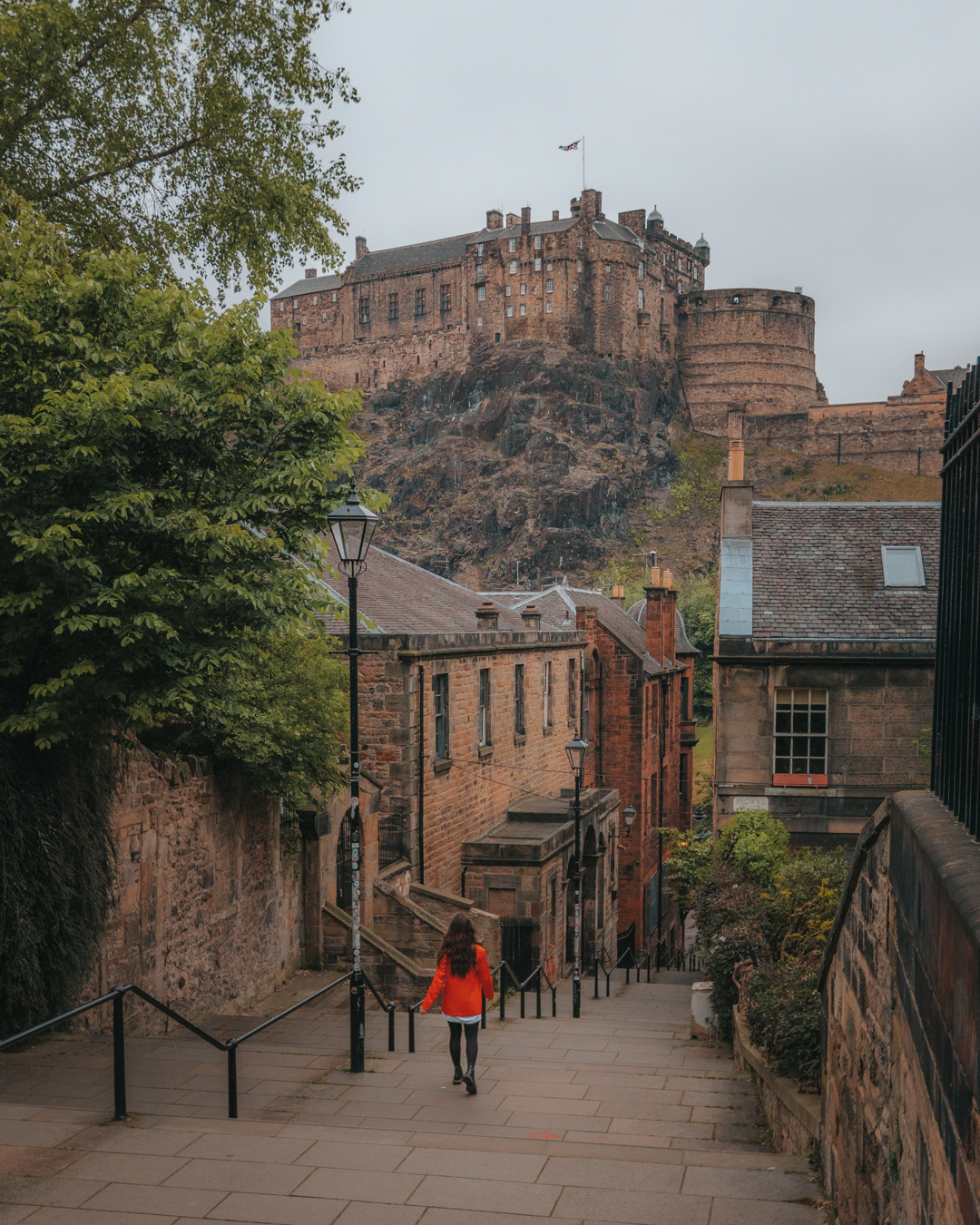 The Vennel is one of the most Instagrammable spots in Edinburgh. It is a side street full of stairs off the Grassmarket Square and offers an iconic view of the Edinburgh Castle.
If you want to take pictures without people in the background, I recommend getting here early in the morning, even before your visit to the castle.
Pro Tip: This location is searchable in Google Maps but not searchable on other platforms like Apple Maps. To make it as easy as possible to get here, just search "The Vennel Viewpoint" in Google Maps.
Victoria Street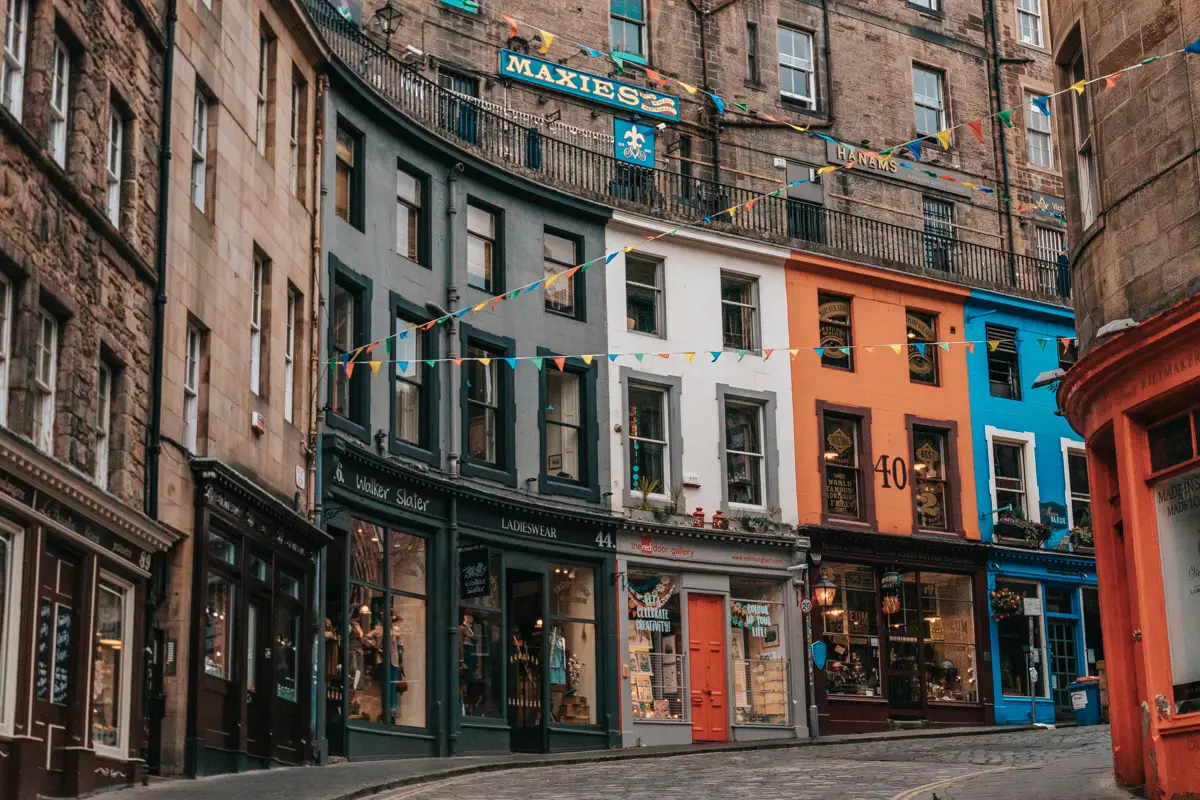 Victoria Street is one of the most iconic streets in Edinburgh.
The colorful string of buildings and unique shops speak to the eclectic vibe of modern Edinburgh in the middle of its Old Town.
Victoria Street is also said to be the inspiration for Diagon Alley from Harry Potter. And there are two dedicated Harry Potter stores now on this street!
Pro Tip: See Victoria's Street from above by walking along Victoria Terrace. You can take a set of stairs up by the Walter Slater Menswear store to reach this narrow sidewalk.
The Royal Mile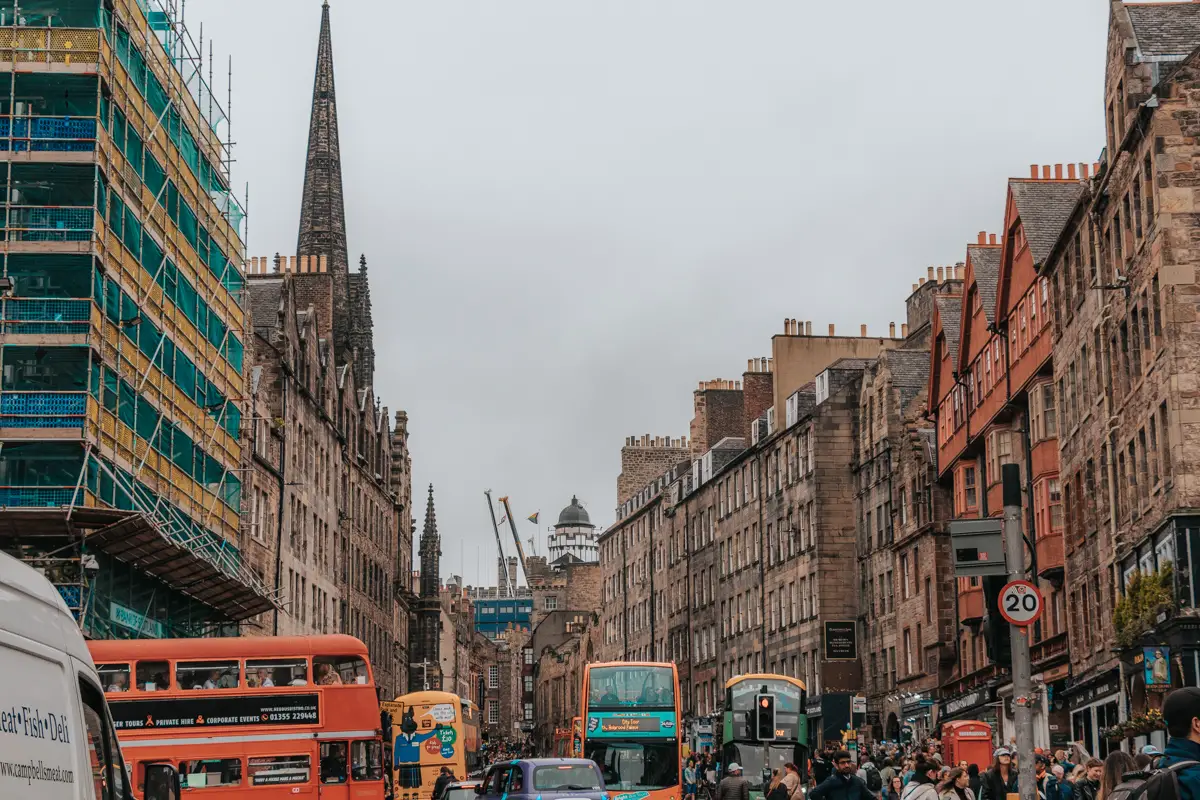 Okay, I promise, this street is the most famous street in Edinburgh. But it is SO overcrowded that it may be my least favorite.
The Royal Mile is the center of activity in Edinburgh's Old Town, with Edinburgh Castle at one end and the royal residence of the King and Queen of England at the other, the Palace of Holyroodhouse.
It's full of historically-significant buildings and structures, like Gladstone's Land and St Giles Cathedral.
Another unique feature to look out for? All along The Royal Mile are what are called "Closes", little alleyways, potentially leading to an intimate square.
One of the most famous is Real Mary King's Close. Dunbar's Close even has a secret garden. And another you may recognize and want to visit if you're a fan of the TV series Outlander is called Bakehouse Close.
These narrow alleys add to the mysterious aura of Edinburgh's medieval Old Town!
Gladstone's Land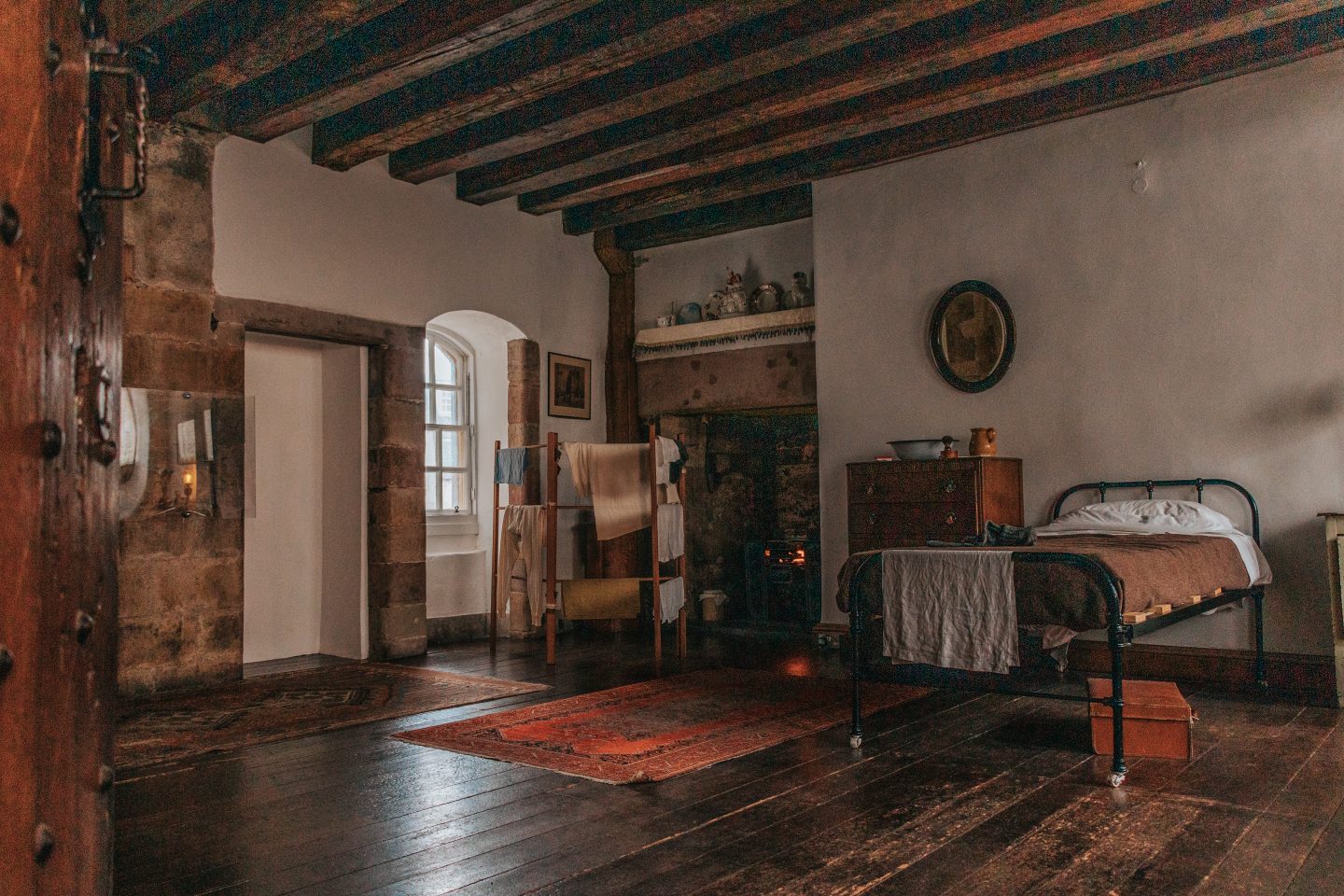 Gladstone's Land is the best surviving example of a boarding house from 17th-century Old Town Edinburgh.
This museum costs £7.50 for adults (there is a student discount) and the structure of the visit is very similar to The Georgian House, except there are less interactive elements.
You start at the top of the house and make your way down while local volunteers walk you through the rooms, recounting the social and political dynamics of the various tenants throughout history.
There is also a very cute café and ice cream parlor, which is where you will buy your tickets to visit.
If you like history, you should visit Gladstone's Land. But if it's not your top priority, I would suggest you stick to the free museums to save money.
St Giles Cathedral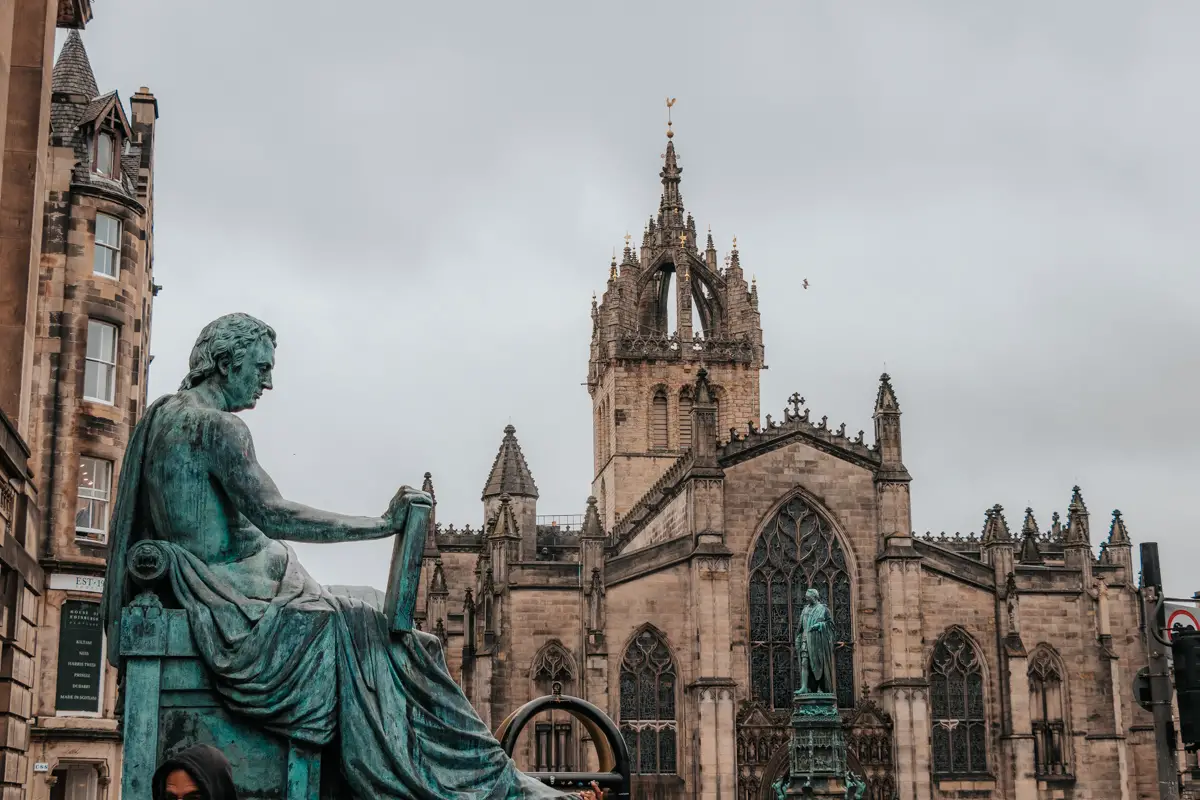 Just a few minute's walk from Gladstone's Land is St Giles Cathedral. This impressive church is one of the most important medieval parish churches in Scotland.
The interior of the church is very spacious, surrounded by stained glass that stands out from the dark, gothic-looking stone. The ceiling is a striking bright blue in certain areas.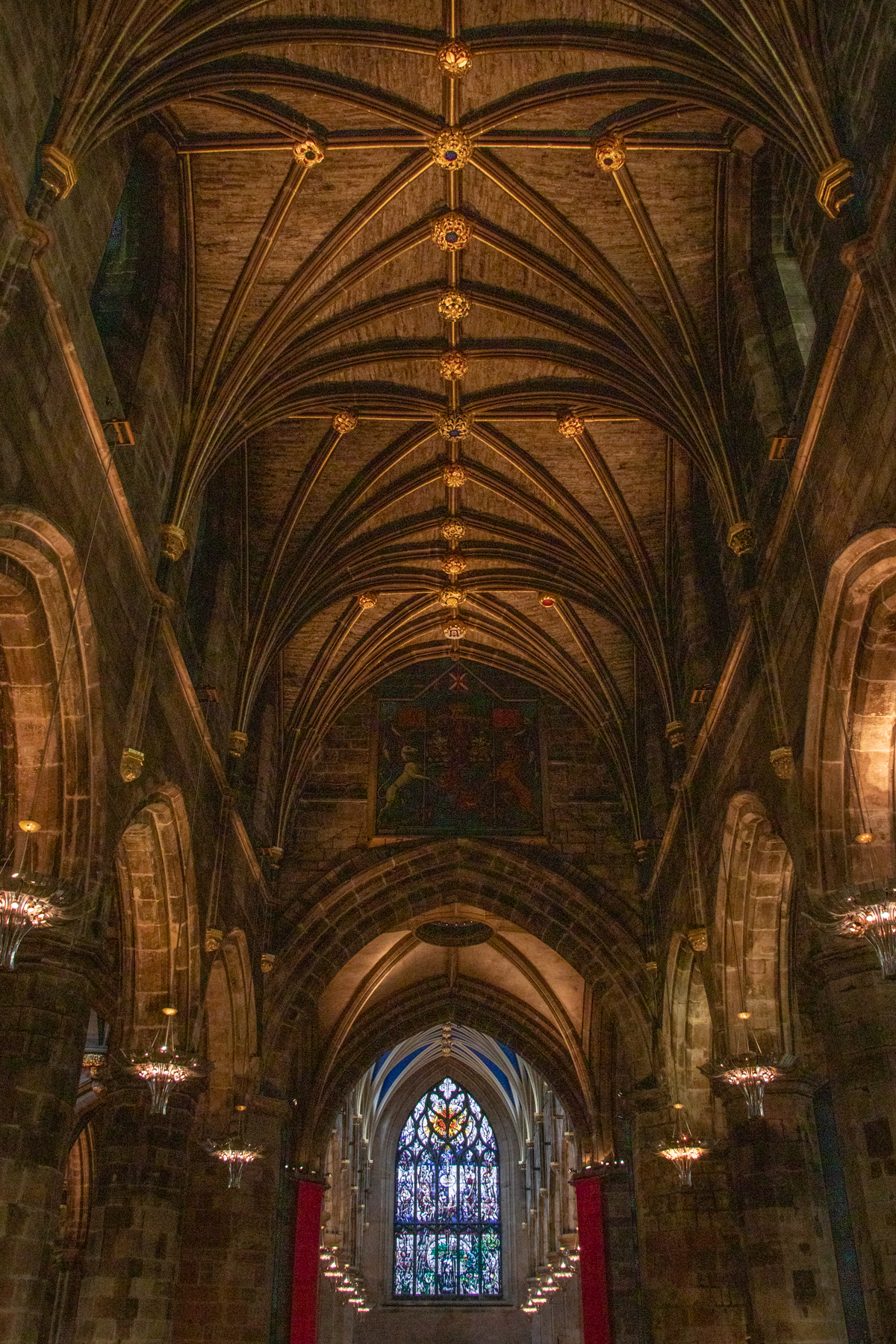 One unique thing about this church is that the altar is at the center and not at the far end of the church entrance.
My favorite part about the church and what I recommend you visit is the Thistle Chapel. You will be blown away by the intricacy of the ceiling stone, the woodwork, and the stained glass.
Good to know: You are allowed to photograph in many of the churches and museums, but they never allow flash photography.
Greyfriar's Kirkyard & Greyfriar's Bobby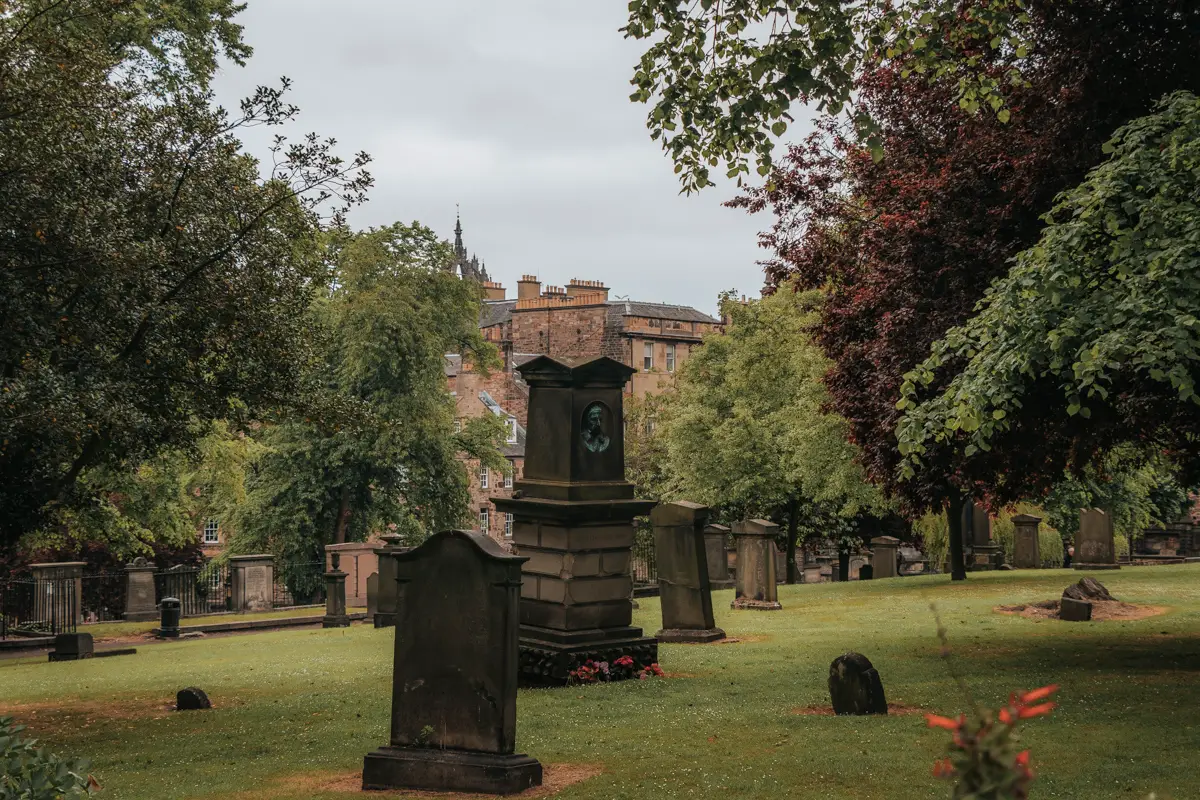 Greyfriar's Kirkyard is one of the most famous and haunted graveyards in the world, right in the heart of Edinburgh's Old Town.
You can enter for free and walk among the spooky grounds, walking past 400 years of history.
Among the burial sites is also a section of Flodden Wall, a fortified wall constructed in the 1500s for an English attack that never arrived.
And Harry Potter fans must visit this storied graveyard: here you'll be able to find Tom Riddle's grave, as well as recognize names used in the books, including Potter.
It's not that much of a surprise, given that J.K. Rowling was writing Harry Potter in a little café just minutes from here. Unfortunately, this café The Elephant House, suffered a fire in 2021, so for now, it is closed.
However, the most famous grave in Greyfriar's Kirkyard is not of a human, but of his four-legged friend.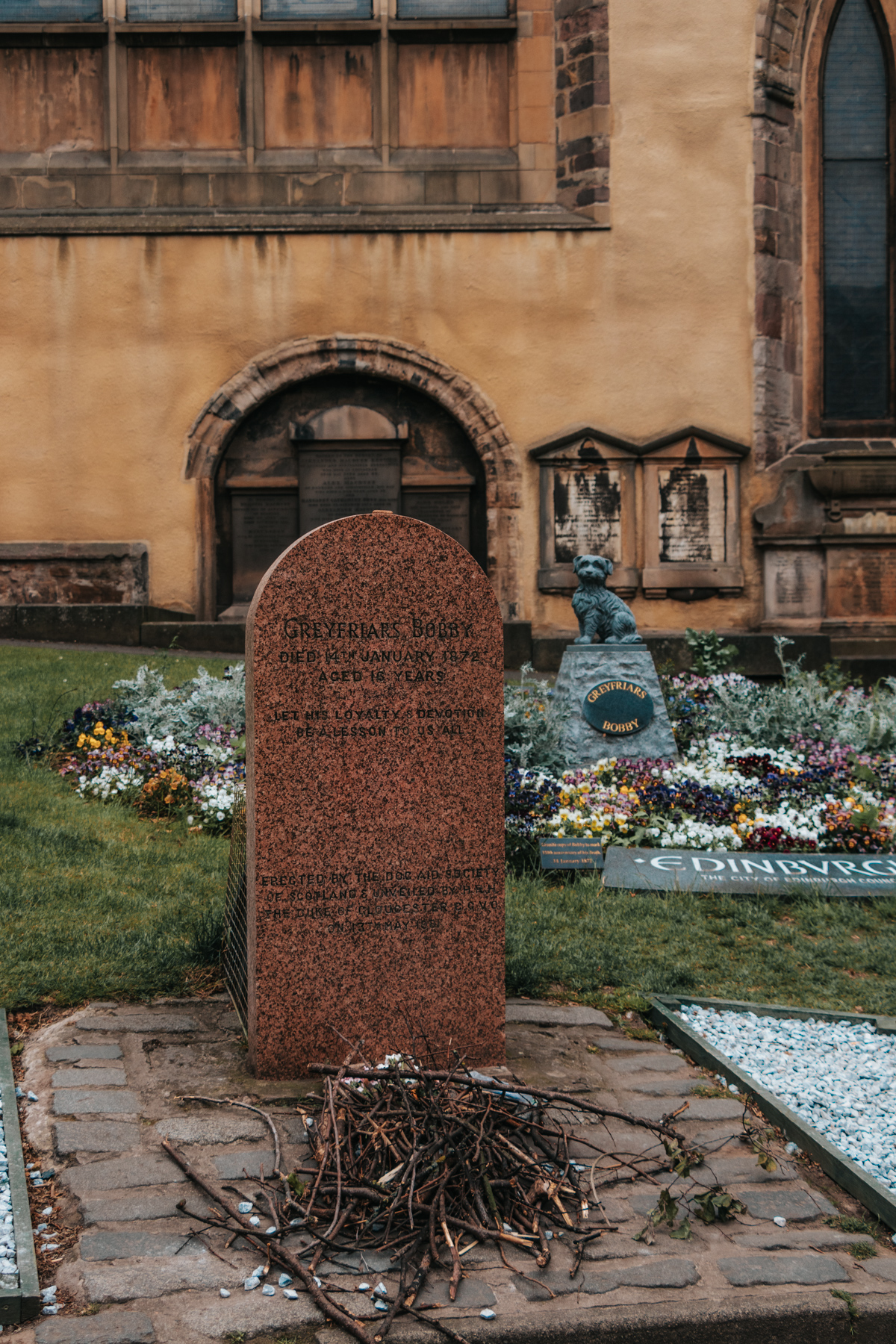 Greyfriar's Bobby is a statue to a legend – Bobby the Skye Terrier – who sat at his owner's grave for 14 years until he himself passed away. His grave is now at the graveyard entrance, where visitors will leave him a stick as tradition.
The statue is located on the main street just outside of the graveyard.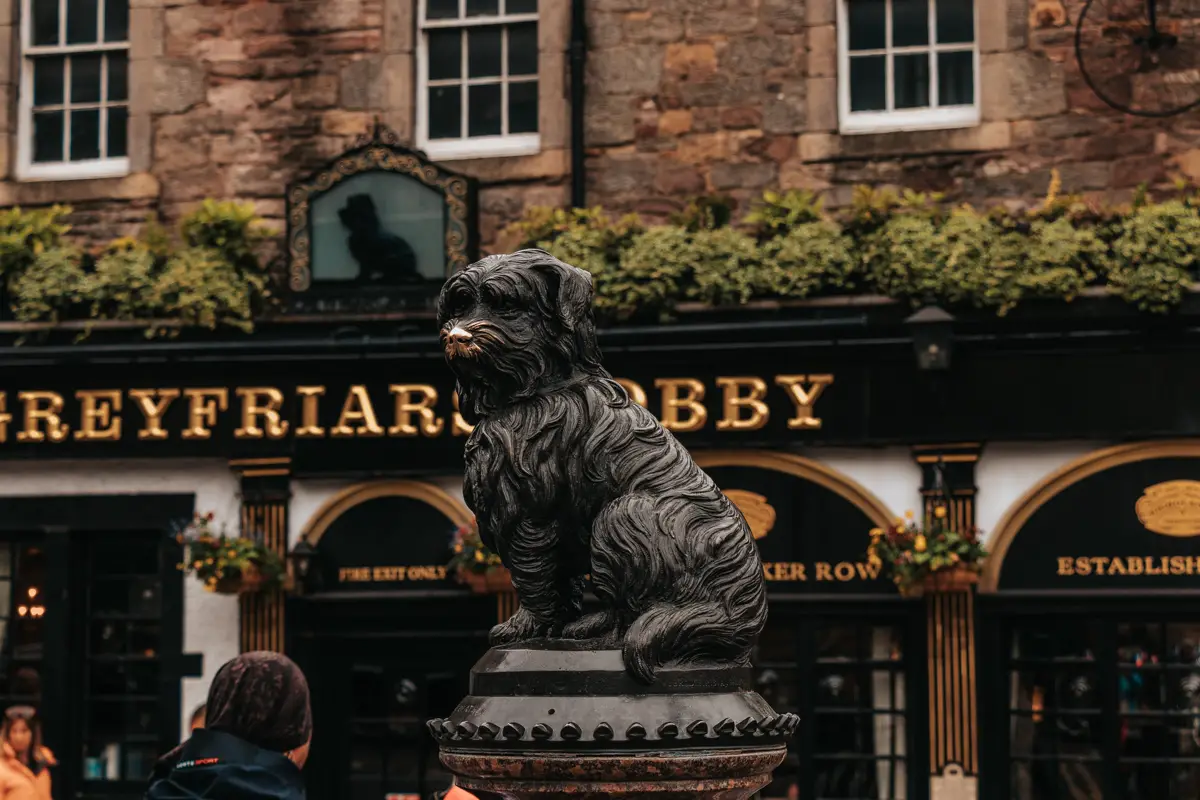 Good to know: It is said if you touch the nose of the Greyfriar's Bobby statue that you will have good luck. But that's actually not the case! I overheard a local tour guide explain that this "tradition" was a rumor spread only in recent years and that because everyone visiting the statue is touching its nose, the statue is actually getting ruined. Be respectful and let Bobby stand in peace!
National Museum of Scotland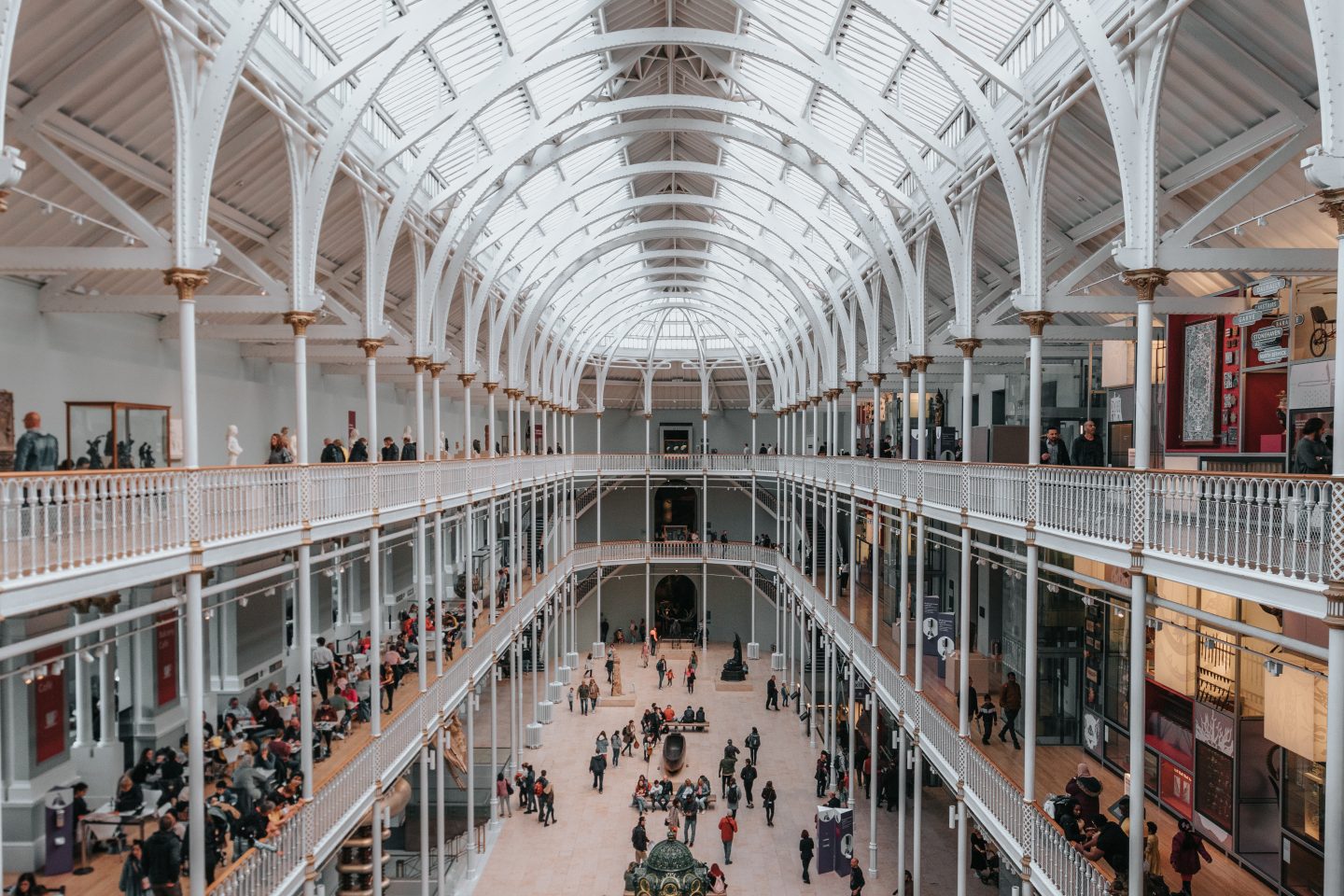 Across from Greyfriar's is the National Museum of Scotland. If you can only attend one museum, this should be the one.
It's free to enter, it's huge, and it has a variety of exhibits, all with interactive and engaging features.
The main hall is a stunning, vibrant white structure, surrounded by three floors of rooms filled to the brim with artifacts.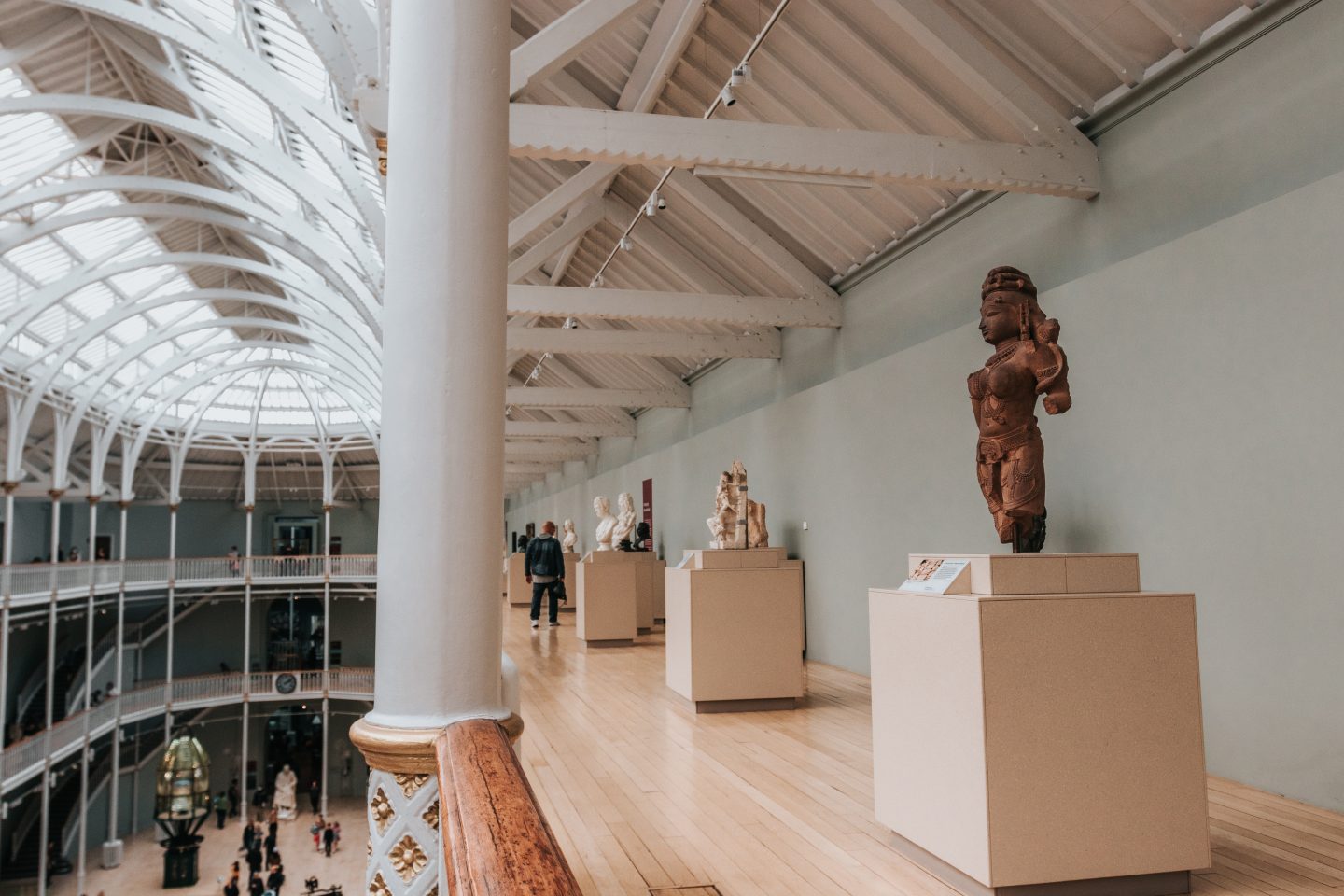 Palace of Holyroodhouse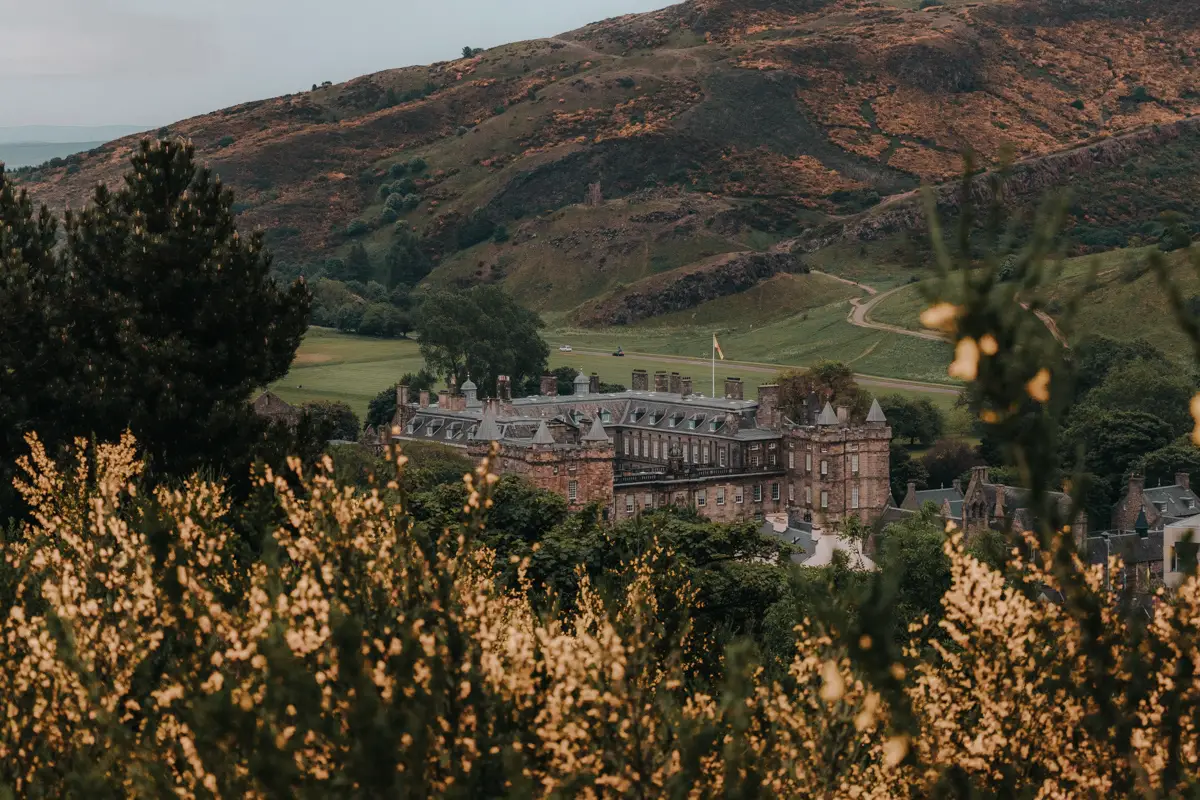 Make your way back to The Royal Mile but head the opposite direction of Edinburgh Castle. You will eventually escape the massive crowds as you make your way down to the Palace of Holyroodhouse.
Across from the Scottish Parliament (which is a unique building to photograph) is the Palace of Holyroodhouse. This is where the Queen of England stays and conducts her business while visiting Edinburgh.
It was also the residence of the famous Mary, Queen of Scots. You can even tour her bedroom and other rooms of significance to her reign.
You can only enter the Palace of Holyroodhouse with a tour. Buy tickets for the Palace of Holyroodhouse here.
Good to know: Keep in mind that the Palace of Holyroodhouse admission is only open from 9:30 to 3:15 in winter and 9:30-4:30 in summer. If entering is one of your bucket list items, you may need to move this to an earlier section of the day on your itinerary.
Arthur's Seat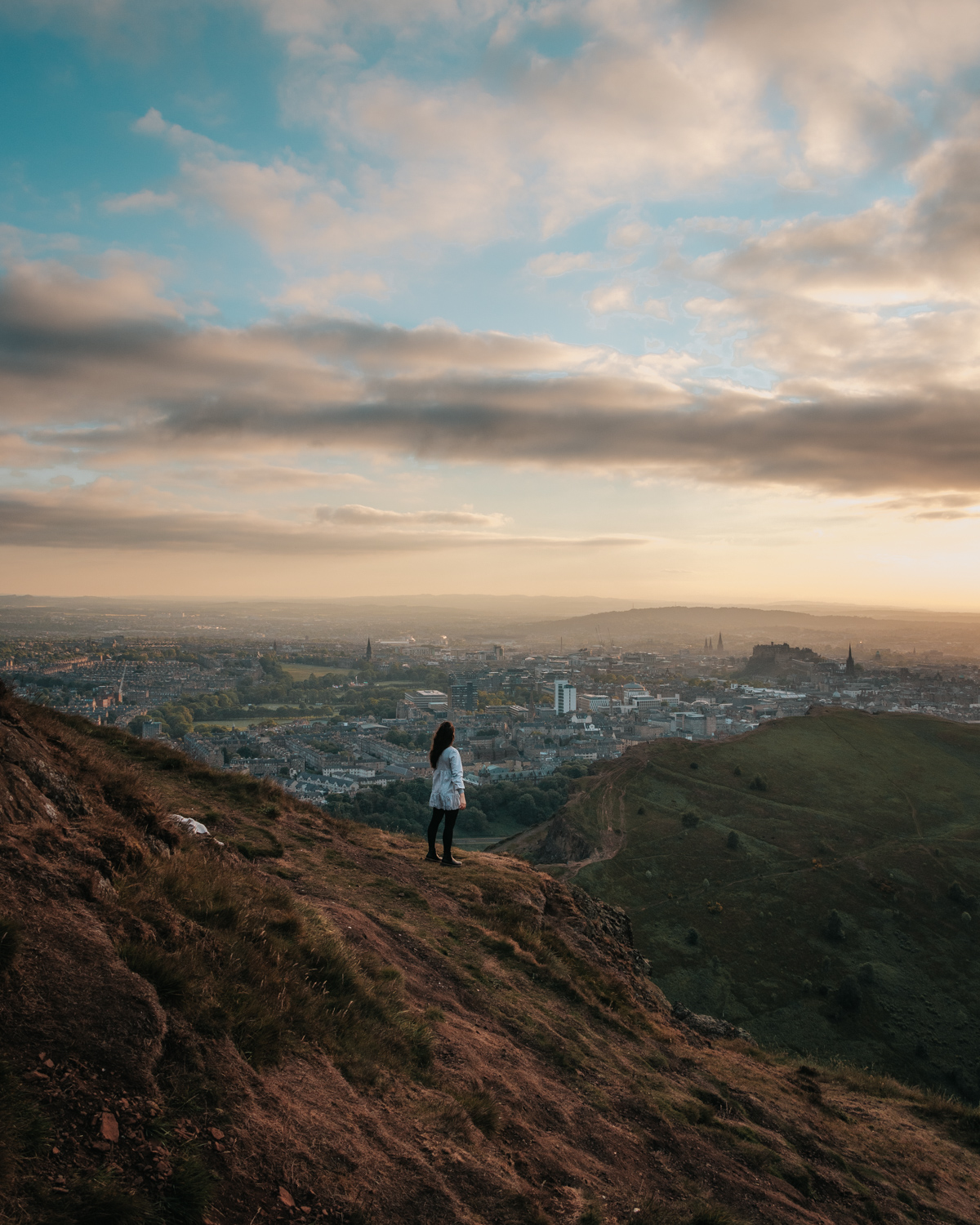 One of the most incredible locations in Edinburgh is Arthur's Seat.
Once an ancient volcano, Arthur's Seat is now a towering hill above the city. There are several paths to reach it, most of them being quite steep.
You should budget at least 45 minutes to get to the top of Arthur's Seat. And I wouldn't mess around with footwear. Wear your comfiest active shoes (or at least closed-toed shoes). Like I said, many areas are steep and it can be easy to slip.
Once you do reach the top, you are rewarded with incredible 360° views from city to sea.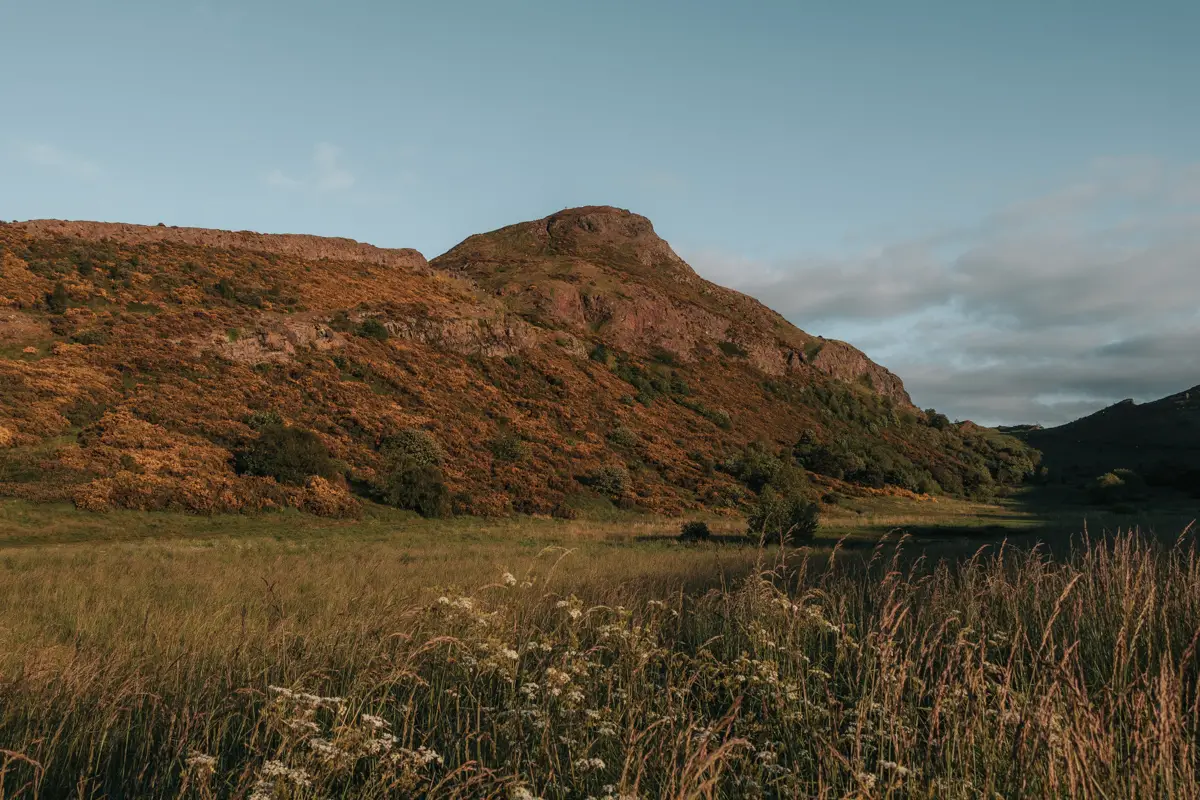 Salisbury Crags
To finish off the second day, head down from Arthur's Seat to the lower cliffs called Salisbury Crags. The descent from Arthur's Seat will take you about 15 minutes if you head to the stairs on the hill next door.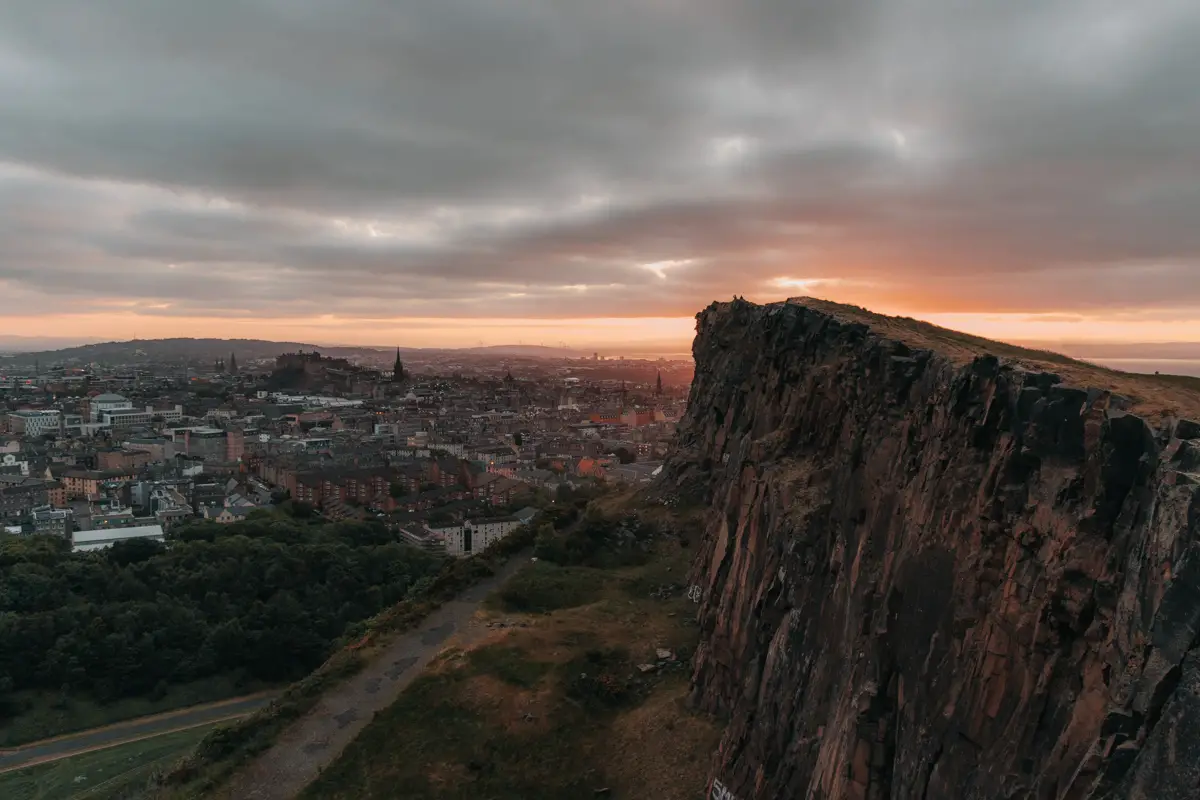 The Salisbury Crags are an even better sunset viewing point, so try to time your walks to arrive here when the sun is really going down.
This is because the city seems larger-than-life from this viewpoint, whereas at Arthur's Seat, it feels much further away.
The walk is not as steep, nor as long, to reach Salisbury Crags, so if you think Arthur's Seat is too much, these cliffs are the perfect compromise for still getting to soak in the incredible city view.
---
Weekend in Edinburgh: Day 3
I'd like to say your third day in Edinburgh is your catch-up day. Head back into Old Town during the morning to cover the remaining attractions.
Breakfast at Indigo Yard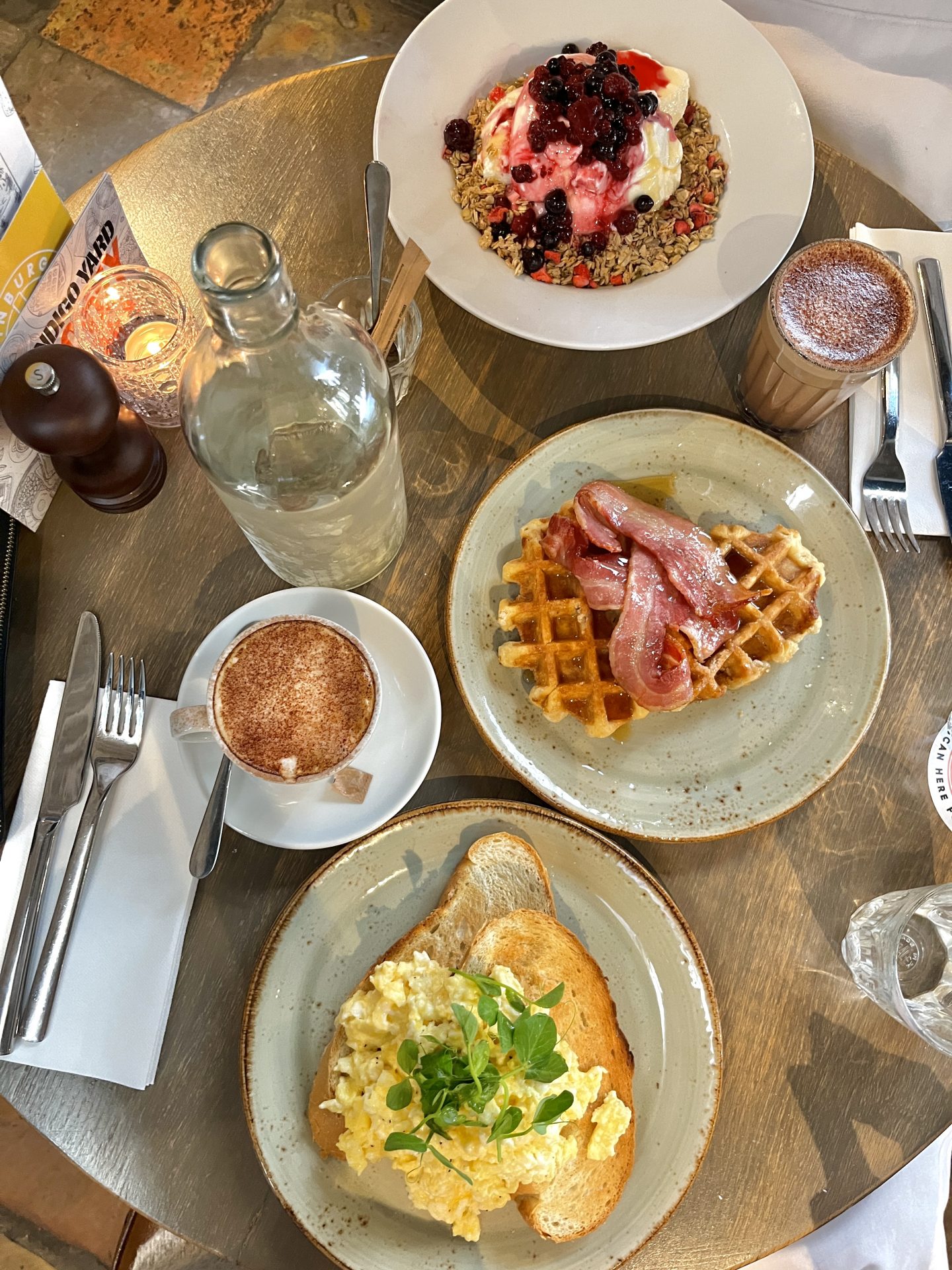 Just looking at this photo is making me hungry! Indigo Yard was hands down my favorite breakfast place in Edinburgh.
This hideout in the West End has all the modern, industrial vibes you want in an atmosphere. But of course, the best part is the food. (You must try the waffles!)
Simple and delicious are the two words to describe breakfast at Indigo Yard. Plus, the meal is such a great value. It was actually one of our cheapest breakfasts (even though we ordered an extra meal to split between the two of us!) and the portions were huge.
Scottish National Gallery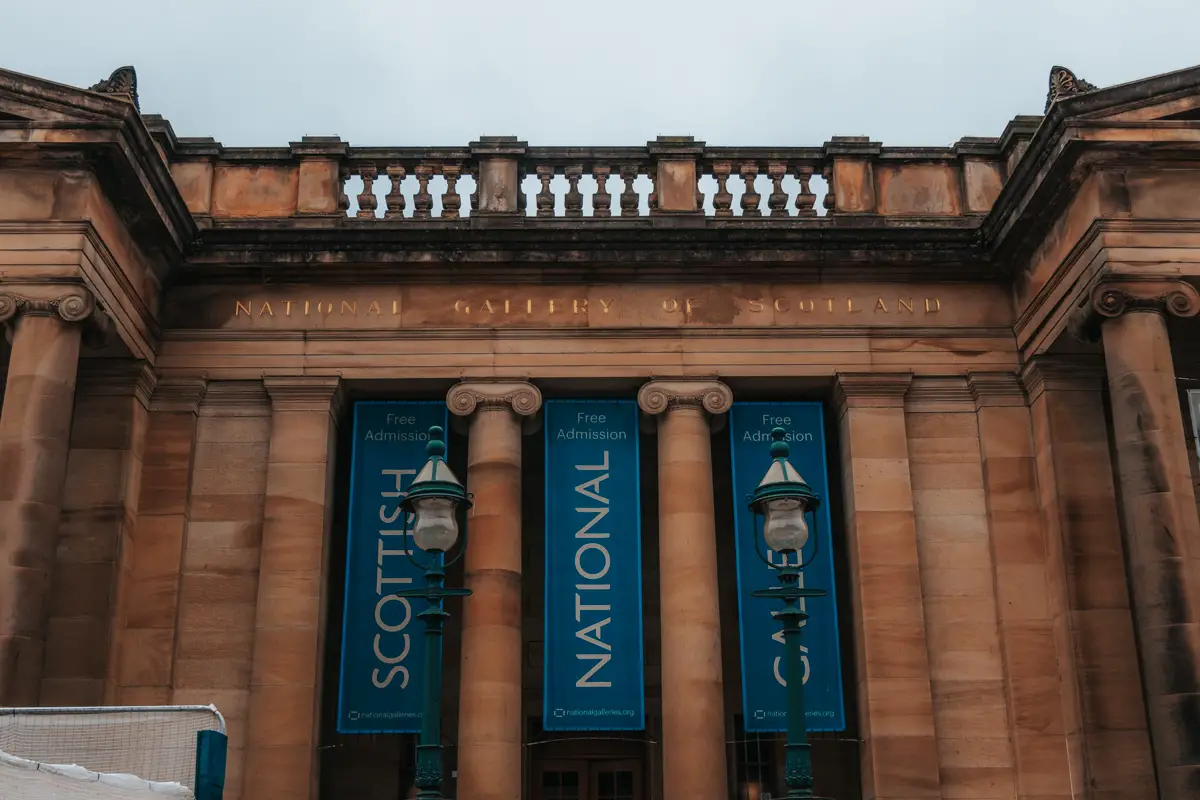 Like almost every day on your Edinburgh itinerary, you'll find yourself starting out on Princes Street. And from here you won't have to walk far because your first stop is the Scottish National Gallery.
The Scottish National Gallery is located on what is called The Mound. The Mound is practically the uphill street that connects the Old and New Town.
The gallery is free to enter and fairly small, so you can spend as little as 30 minutes walking around and briefly viewing all the rooms.
From Picasso to Botticelli to painters of Scottish heritage, the artwork is incredibly impactful and the museum is a nice, laidback way to start your last day.
Museum On The Mound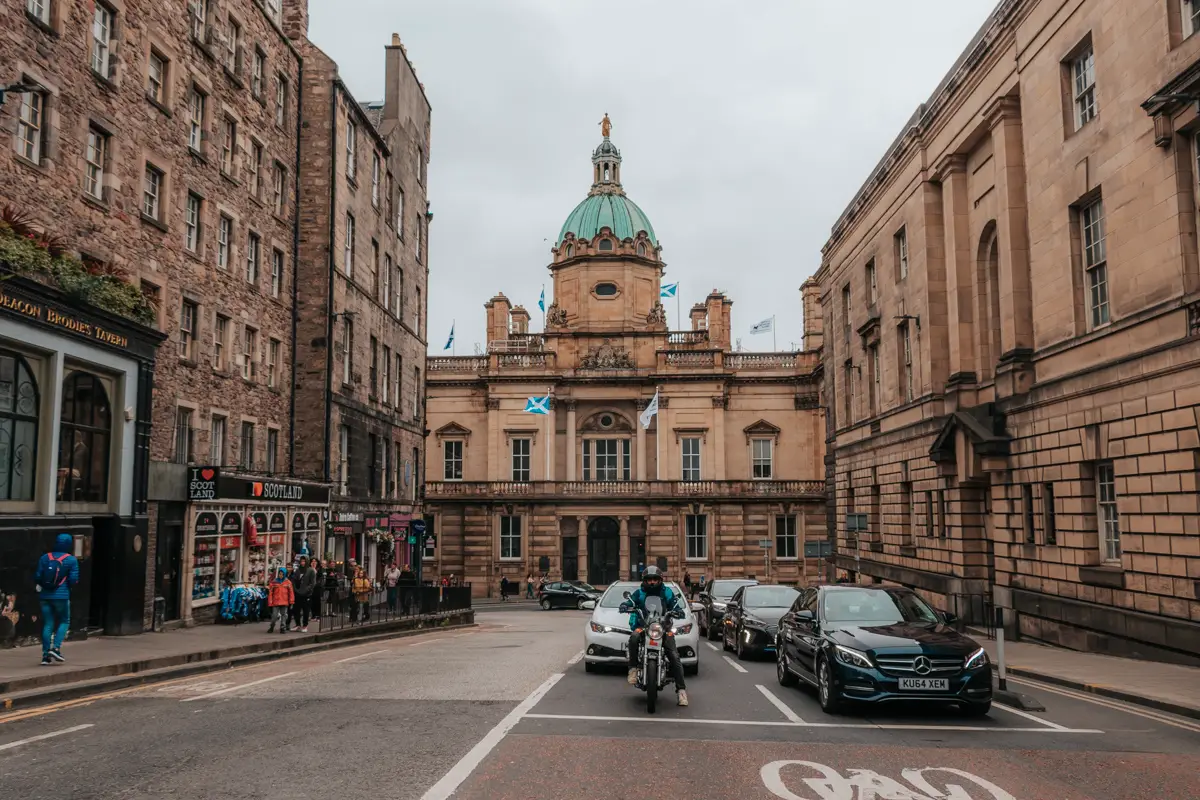 The Scottish National Gallery is chill, but the Museum on the Mound is pure fun! This museum, which is also free to enter, tells the history of the financial institutions in Scotland.
Like many other museums in Edinburgh, this museum is very interactive! There are games in nearly every room that help you deepen your understanding of the exhibits.
And the games aren't just for kids – there is one where you answer questions to unlock a safe and are then rewarded with a prize from the gift shop. My boyfriend and I spent 20 minutes just going around the museum to find the answers! (We succeeded in unlocking the safe, but I'll let you find out what the prize is yourself in case you're up to the challenge!)
There's another interactive screen where you can put together a life insurance policy like they would a hundred or so years ago.
I didn't think I was going to like the museum since financial history isn't something that's ever appealed to me before. But it turned out to be a great surprise beyond my expectations, and I encourage you to visit especially since it's free!
The Writer's Museum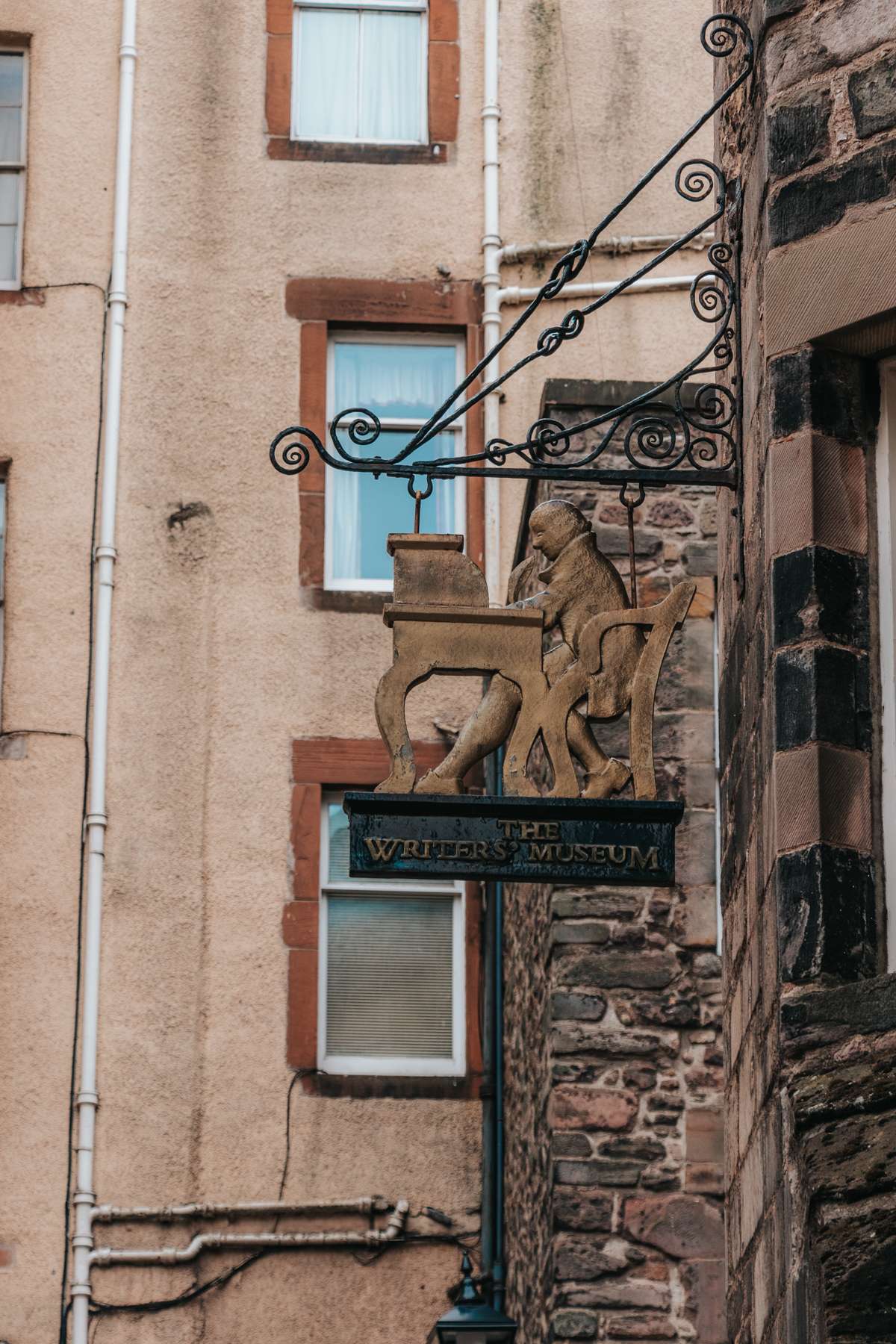 The Writer's Museum is nearly across the way from the Museum on the Mound. This museum is also free, so why not get (Scottish) cultured!
It's a very small museum, so you can walk through it quickly. It's hosted in a characteristic building within the Lady Stair's Close, one of those secret alleyways/squares, right off the Lawnmarket (the upper part of The Royal Mile.)
The museum highlights 3 Scottish authors: Robert Burns, Walter Scott, and Robert Louis Stevenson, telling their stories through trinkets, paintings, and of course, their writings.
If you like these types of museums, consider also visiting the Museum of Edinburgh and The People's Story, both free to enter and off The Royal Mile.
Grassmarket (Sunday market)
The Grassmarket is just off Victoria Street, so you'll probably have already passed it on your second day. But if you're doing a true weekend in Edinburgh, you should have arrived at Sunday by now and, in that case, the Grassmarket is worth a revisit!
On Sunday, local vendors and vendors from around Scotland come to this square to set up a farmer's market. Antiques, books, food, handmade jewelry, paintings, and artisan goods are all at your disposal.
There's nothing better than exploring a new city by its markets and getting a taste of local life.
Edinburgh Vaults
The Edinburgh Vaults, or South Bridge Vaults, are underground chambers that date back to the 18th century, created with the construction of the South Bridge.
These underground rooms were first a site for businesses and trades, but living conditions worsened in these unbreathable spaces. The poorest of the poor then moved in until even for them the conditions were too much to bear.
And of course, their mysterious nature also breeds rumors and suspicions of paranormal activity, one that you can explore on a vaults ghost tour.
The company Mercat Tours is the only one able to provide tours of the vaults. Buy your tour tickets here.
---
Extra Edinburgh Experiences
Obviously not every traveler is the same!
This is the best Edinburgh weekend itinerary for seeing as much of the city as possible. But you may want to switch out some attractions that better fit your interest or travel style!
Edinburgh provides lots of unique experiences for those with specific interests that you can't get anywhere else in the world like the Scotch Whisky Experience, Camera Obscura, which is an illusion museum, and Harry Potter tours of all the locations that inspired J.K. Rowling and the series.
Some experiences are on Edinburgh's outskirts, requiring you to sacrifice a few hours one day of your itinerary to reach. One of these is the Royal Yacht Brittania, which is in Leith, the neighboring town of Edinburgh. The boat is the royal sea residence of the Queen of England.
Pro Tip: One way you can fit in more activities is by taking one of the many Edinburgh hop-on hop-off bus tours that can also include admission and transportation to the Royal Yacht Brittania and other big attractions.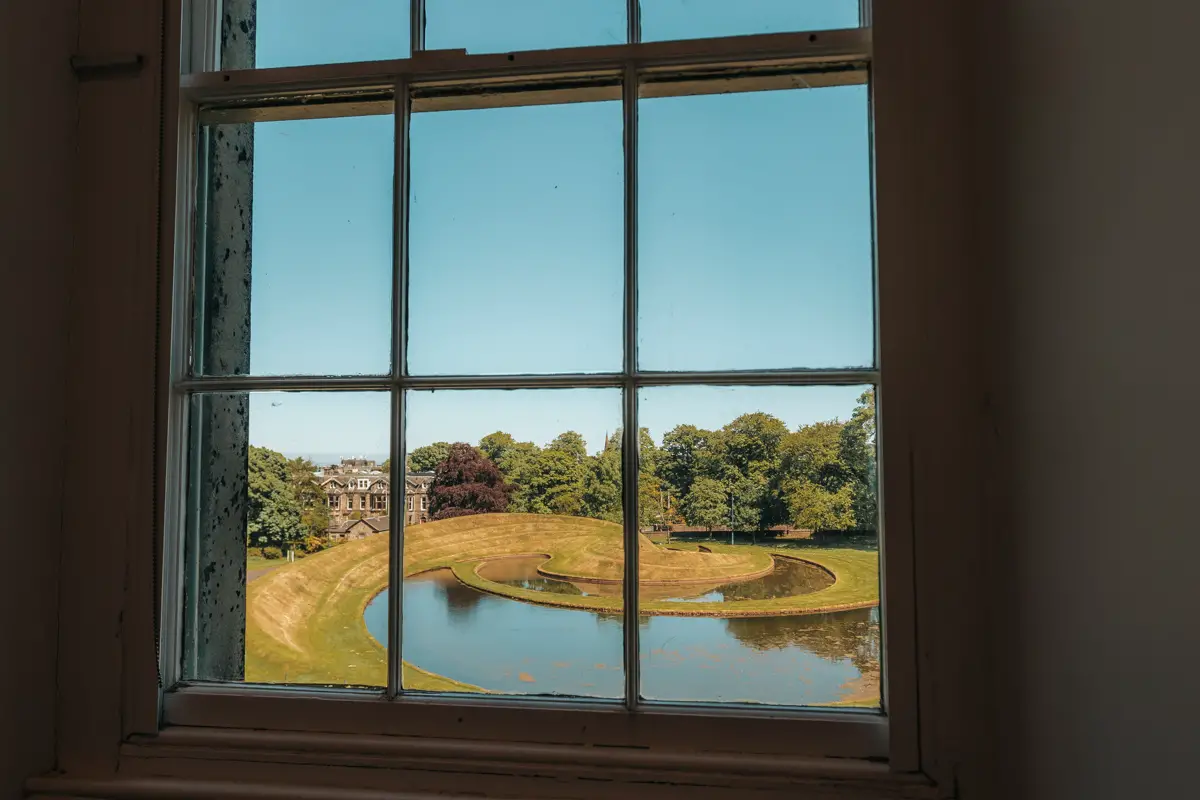 Art lovers may want to venture past Dean Village to the Museum of Modern Art One and Two.
One last experience I wanted to share with you is none other than where to see highland cows in Edinburgh!
Just south of Edinburgh is an area called Pentland Hills Regional Park. Here, there is a farm called Swanston Farm, which is also a hotel and restaurant. On their farm, high up on the hills, you will be able to find those cute, furry cows!
---
Quick Tips for Visiting Edinburgh in a Weekend
Edinburgh is walkable but that doesn't mean it won't tire you out. Make room for rest and consider taking getting around Edinburgh partially by public transportation like trams and buses. You can buy single or day tickets or explore Edinburgh tourism's offers on the Edinburgh City Pass or Royal Edinburgh Ticket.
Book accommodation as far in advance as possible for weekends. Prices go up during weekends and the summer.
Bring rain gear and a sweater. The wind from the North Sea is no joke, even in summertime in Edinburgh. And Edinburgh can often be rainy, so pack a travel umbrella and rain jacket.
You are allowed to photograph in many of the museums but they always ask you do not use flash photography.
Remember that the currency in Scotland is pounds (£).
---
Map of Edinburgh Weekend Itinerary
Because there is so much to do in Edinburgh, it really helps to map out your itinerary.
Feel free to look at this itinerary on Google Maps Trip Planner and use it as a baseline to make adjustments and personalize your own Edinburgh weekend!
---
Final Thoughts
Edinburgh is such a great destination because it can appeal to so many kinds of travelers.
This weekend in Edinburgh itinerary may be busy and active but it also means that you can maximize the memories you pack away and bring home with you.
And because there are so many things to do in Edinburgh, you can take this itinerary and truly personalize it to squeeze in all the activities that appeal to you the most.
I hope your trip to Edinburgh is a wonderful whirlwind weekend and that this itinerary has helped you in your travel planning!
What are you most curious to see in Edinburgh? Share in a comment!
Save this Edinburgh itinerary for later reference on Pinterest!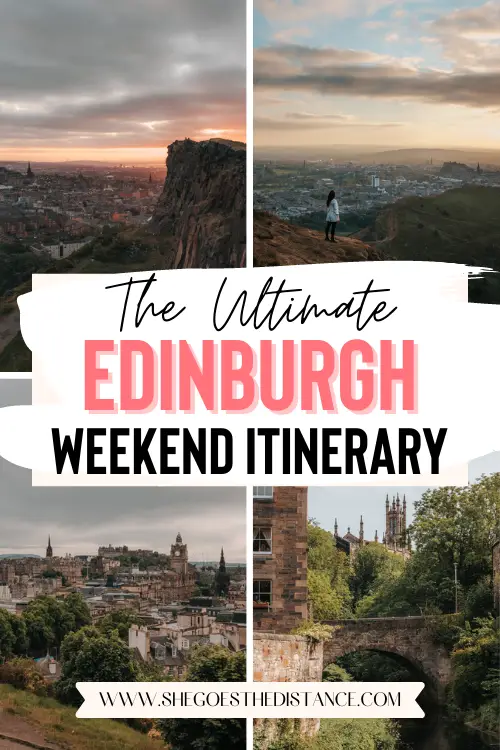 If you haven't discovered it by now, a weekend in Edinburgh is an unforgettable, action-packed experience. Now that your itinerary is planned, the only thing left to do is pack your kilt! Happy exploring.
XOXO
Michela